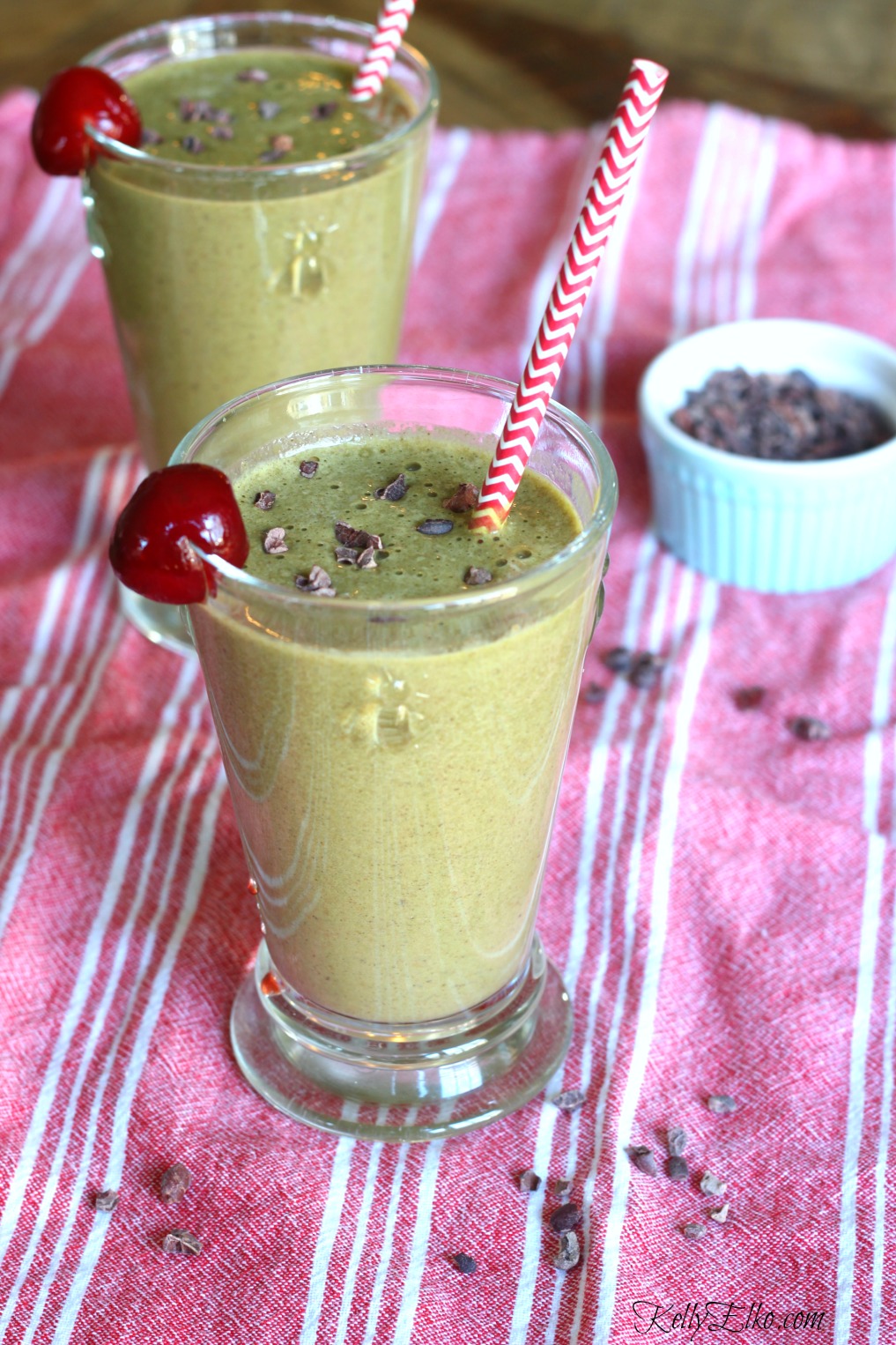 Have you ever heard of blogger butt?
It's a verified affliction that affects millions of bloggers.
Working from home is amazing but often involves lots of sitting which in turn leads to the dreaded blogger butt.
Gone are the days I could eat whatever I wanted and not gain a pound.
It's time to get serious if I want to get healthy and slim down.
I've developed some great new habits and I love starting my day by doing three things.
post contains affiliate links
1. First thing in the morning, before I eat anything, I drink a mug of hot water with lemon and take a probiotic (gets rid of bad bacteria and reduces bloat). I like this probiotic because it doesn't have to be refrigerated.
2. Work out – My workouts kind of came to a standstill in October so I joined a new gym and go every weekday – it mixes cario and strength training with nutrition focusing on clean eating.
3. After my workout, I make my favorite Chocolate Cherry Smoothie.
I'm a chocaholic and not the person who would choke down something that tastes awful just because it's good for me.
When friends come over, I whip this up for them and it always gets two thumbs up.
Chocolate Cherry Smoothie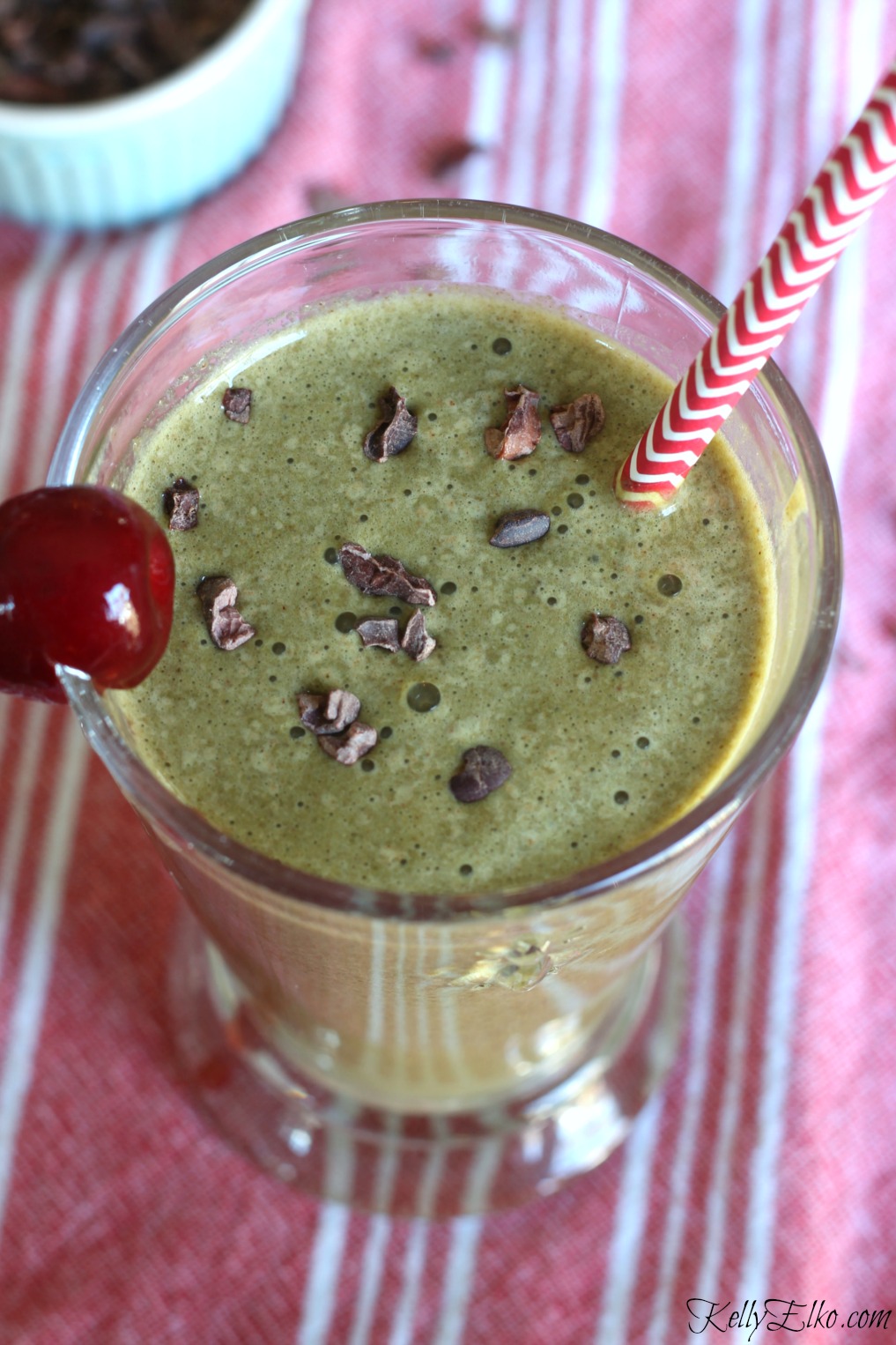 Ingredients
8 oz almond (or cashew milk)
1/2 frozen banana
5 frozen cherries
1 - 2 scoops chocolate protein powder
1 tbsp chia seeds (or flax seeds)
1 tsp cacao nibs
handful spinach
Instructions
Add all ingredients in order listed to a blender
Blend until smooth and lump free
Enjoy!
https://www.kellyelko.com/chocolate-cherry-smoothie/
Cacao nibs are made from whole, raw cacao beans – none of the junk that goes into regular chocolate bars. A little goes a long way and they really pack a chocolate punch. My daughter likes eating them right out of the bag – she says they have a cherry flavor. You can use them in place of chocolate chips.
I like these cacao nibs – a little pricy but one bag has over 150 servings so it will last a long time.
This is my favorite protein powder – it's grass fed whey and it doesn't have that grainy texture found in some powders.
Chia seeds add healthy fat which keeps me full so make sure to add something like chia or flaxseed or even some avacado.
I try to use organic fruit whenever possible and like to cut bananas in half and put in a large ziploc then store in the freezer.
Any blender will work but I absolutely love my Vitamix (bonus that it's red)! We use it every single day for smoothies, soups, dips, dressings …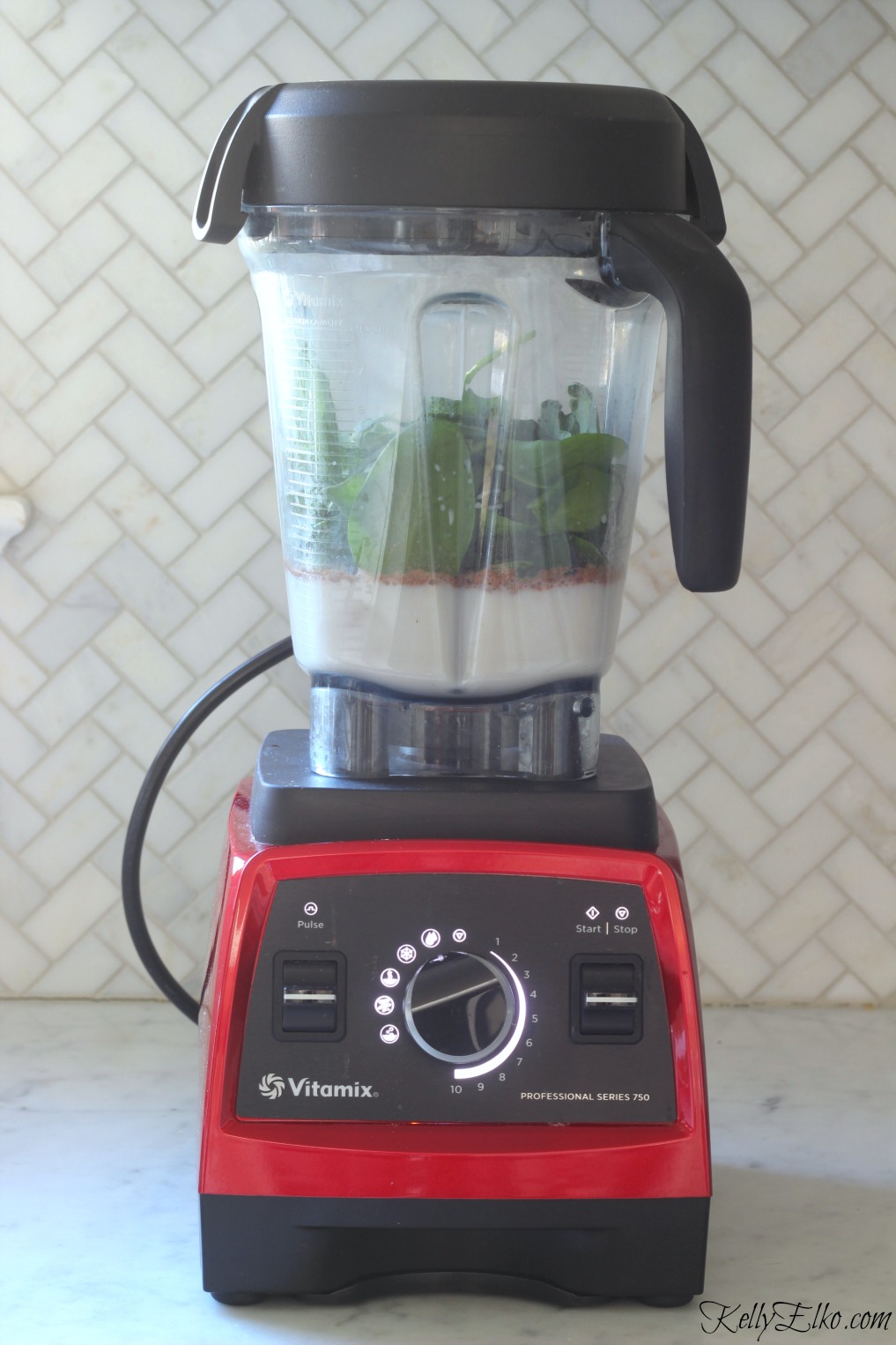 A handful of spinach adds a serving of greens and even my veggie hating friends love it.
I like using a pretty glass like this one from HomeGoods with little bees on it.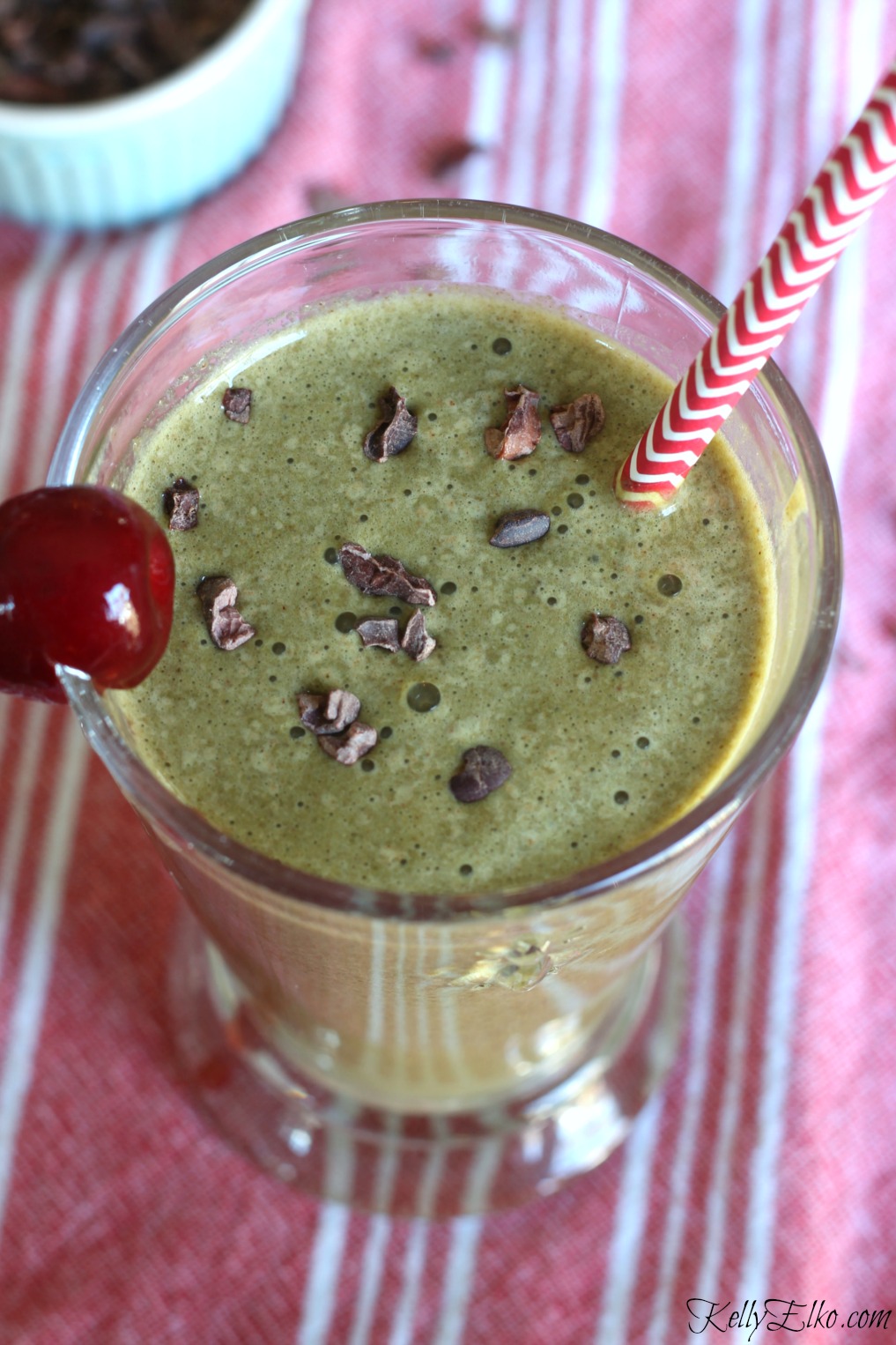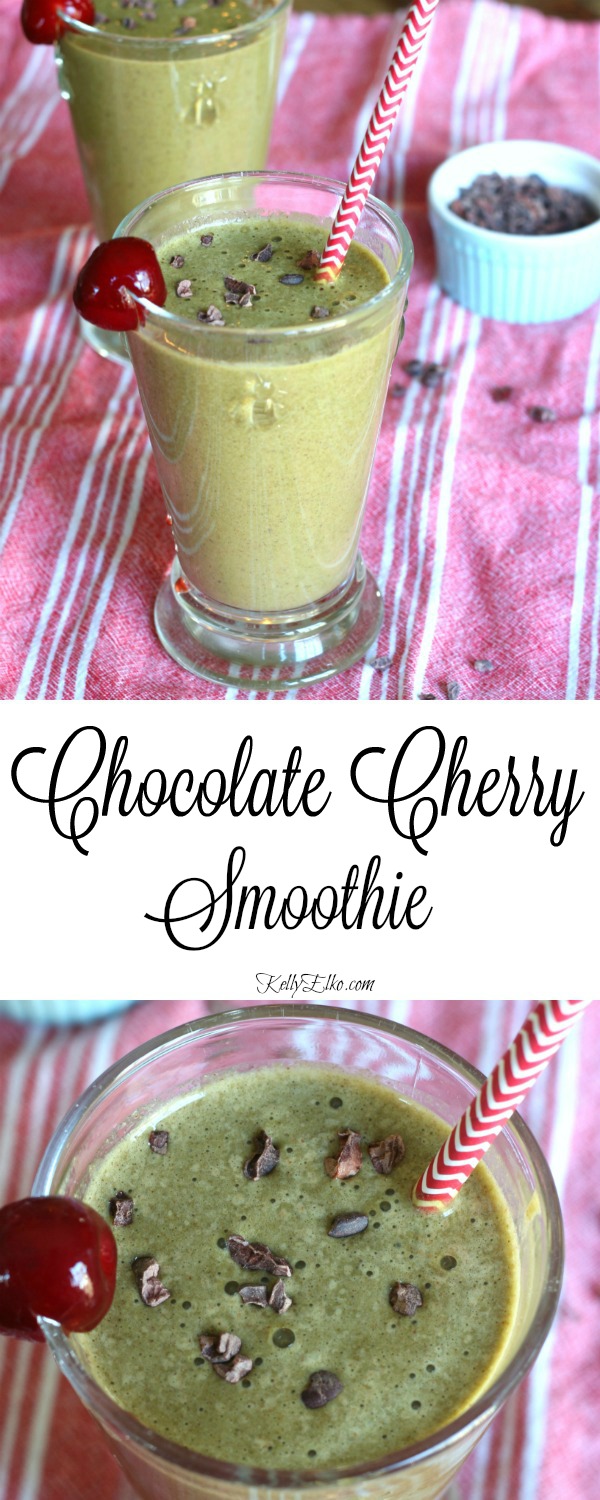 What do you do to start your day off on the right foot?