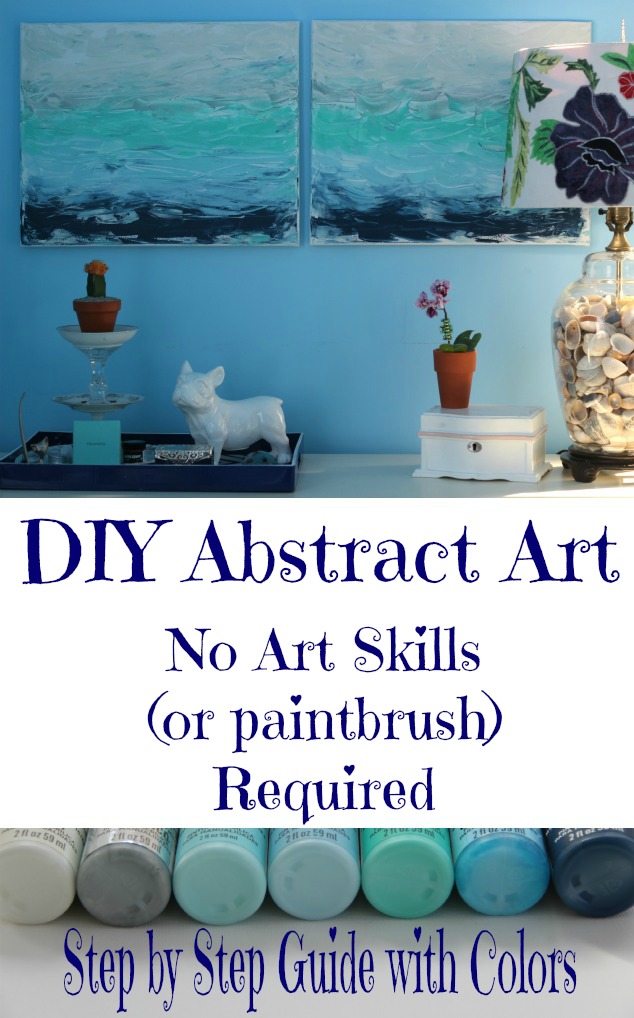 First I want to thank everyone who left a kind comment about the loss of my father.  It means the world to me.  I haven't been doing much for the last week so it's time to get back in the saddle …
I'm going down the shore.
Translation for anyone not from the New Jersey area: I am traveling to the beach.
Since I can't bring myself down the shore when the temps are 14 degrees, I'll do the next best thing and bring the shore to me – well, to my daughter's room anyway – with an abstract painting that reminds us of ocean waves.
Best part – it literally takes just minutes to create.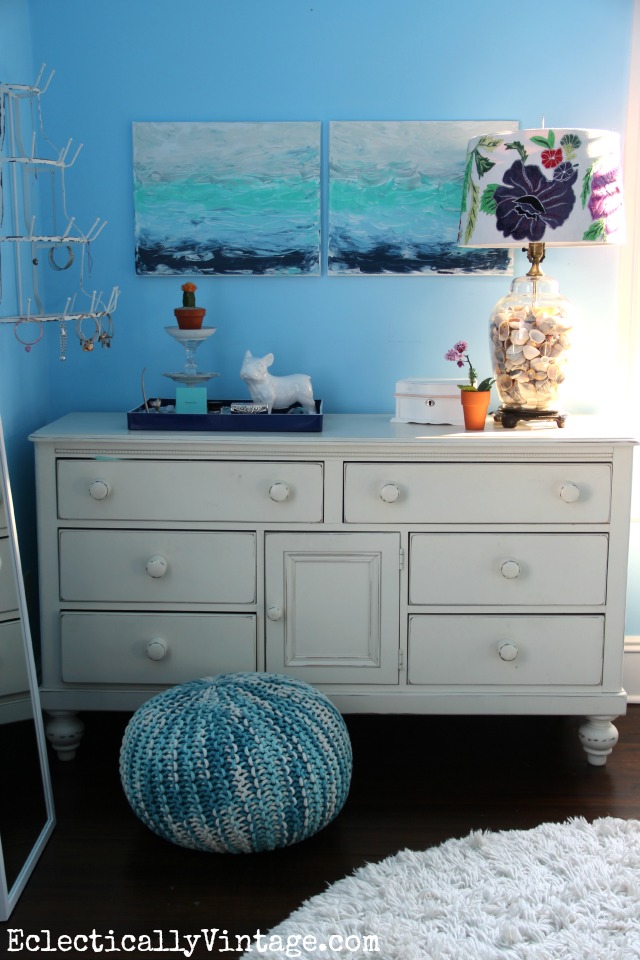 I don't want to hear any moaning and groaning like, "I'm not an artist" or "the only thing I can paint are my nails."
No negative thoughts because anyone can do this – even a monkey (oh no, what does that say about me)?
DIY Abstract Art Diptych
Materials
Canvas (I used two 16″x20″)
Craft Paints – I love Martha Stewart Paints and chose seven in a range of ombre colors with a little silver and white thrown in but use whatever colors you love …
– Wild Blueberry, Blueberry Slush (glitter), Surf, Diving Board, Blue Sky, Sterling (metallic), Summer Linen
Martha Stewart Craft Squeegee (or you can use a putty knife)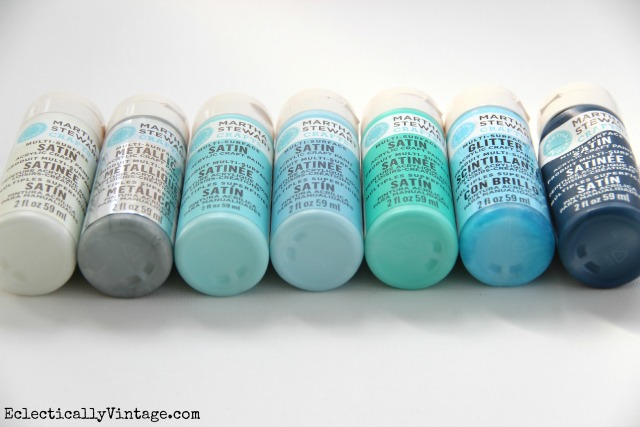 1) Lay your canvases side by side and squeeze a few drops of your darkest color paint near the bottom of each canvas
2) Use your craft squeegee to spread the paint around the bottom few inches
Note: I like a textured look so I made sure to have thicker areas of paint on the canvas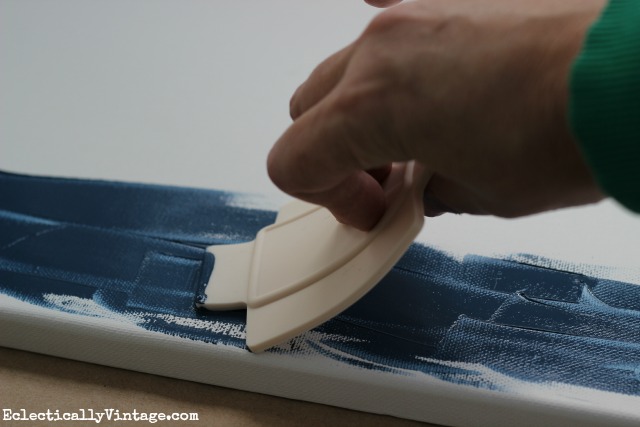 3) Repeat dotting the other colors of paint onto the canvas (one at a time, from darkest to lightest) and continue to spread with the squeegee
Note: Make sure to overlap the colors while they are wet for a blended look and rinse the squeegee after every couple of colors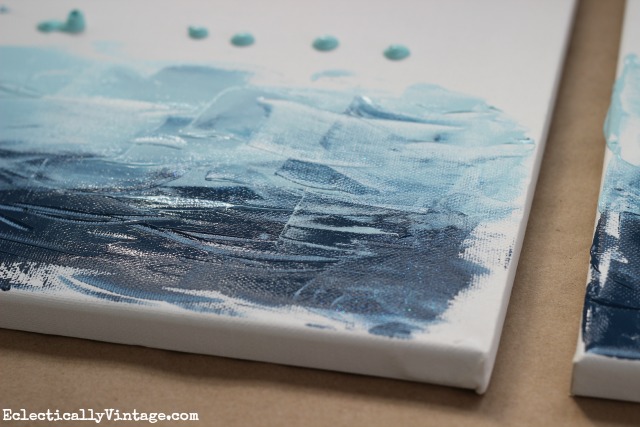 4) When done, go back over some areas of the canvas with the darkest and lightest colors to give it more texture and depth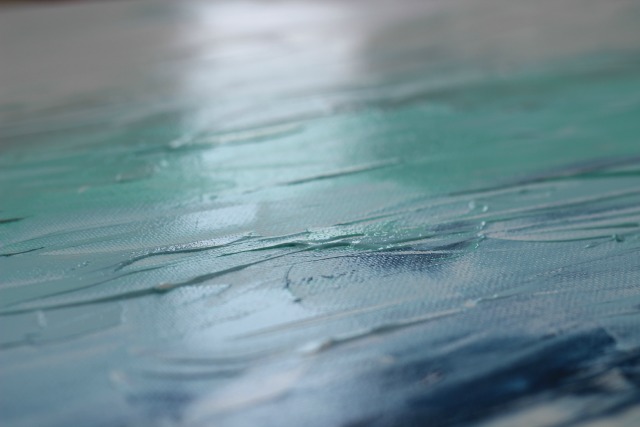 5) Hang your diptych (fancy word for a two piece painting), step back and pretend you're down the shore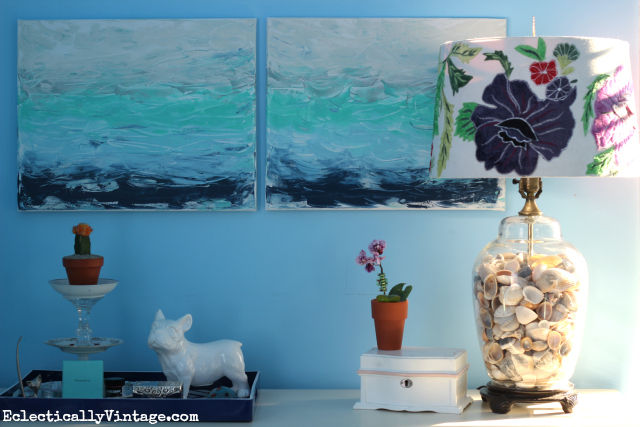 She sells seashells by the seashore.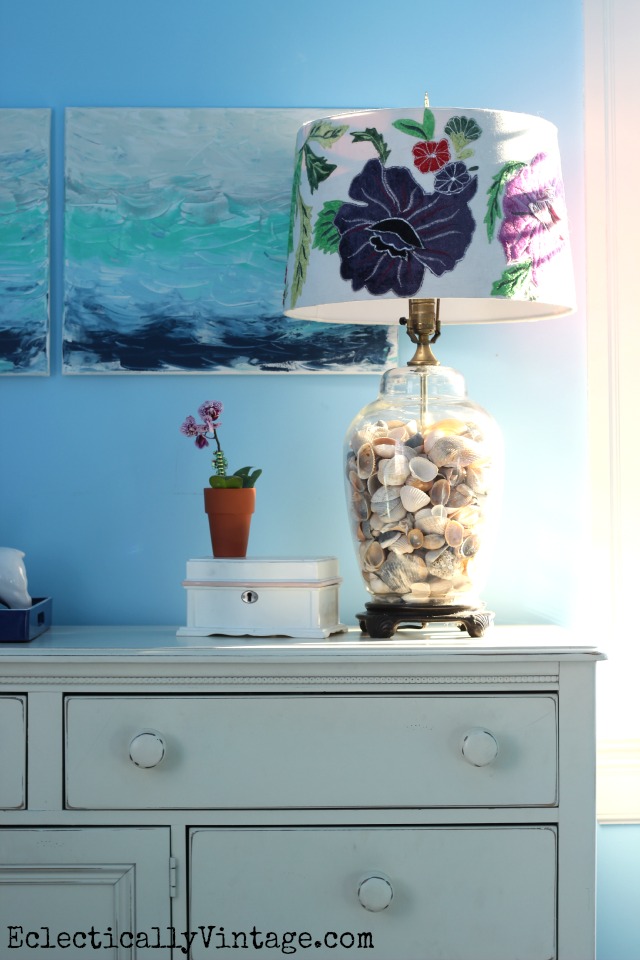 I also am excited to have finally found the perfection solution for the jumble of my daughter's jewelry with this bottle drying rack turned jewelry holder.
Fingers crossed that it will stay this neat (a mom can dream).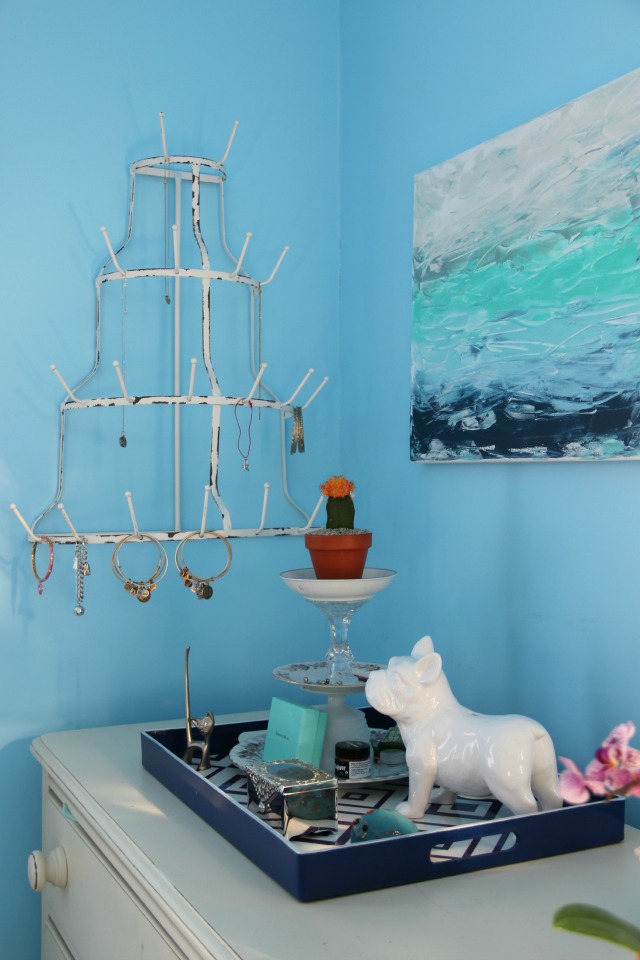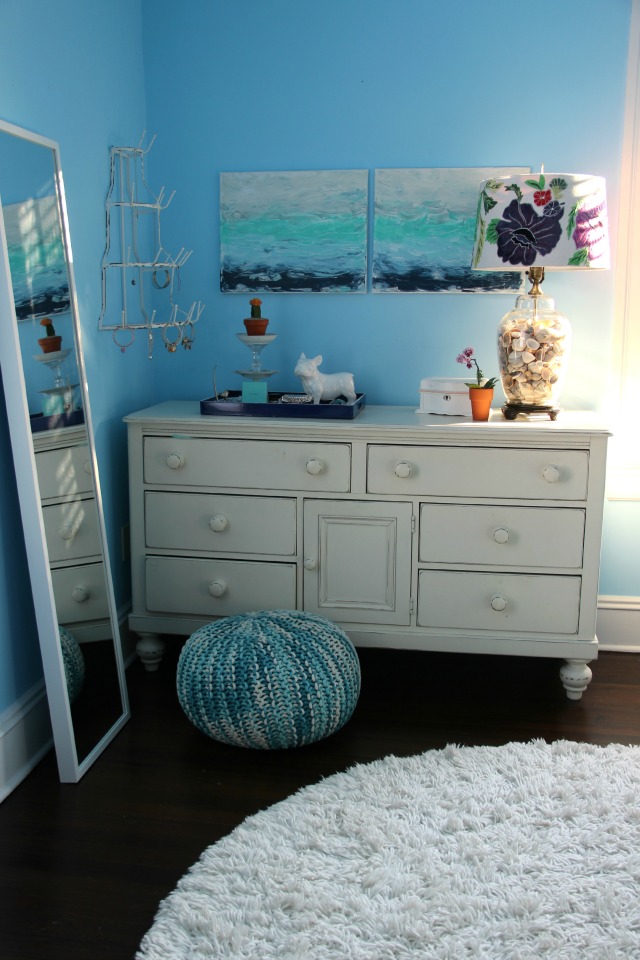 Gotta run – there's snow to shovel.
Now hop over (we are sharing our fave 10 Minute Decorating Ideas every month) to see what my three fabulous friends did in under 10 minutes.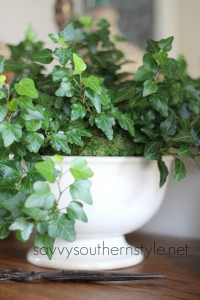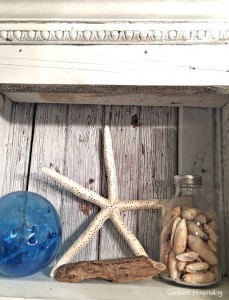 Sources:
Shell Filled Glass Lamp – thrift store
Floral Lampshade – HomeGoods
Bottle Rack Jewelry Holder – HomeGoods (find similar here)
Blue Tray – HomeGoods
Floor Mirror – Ikea
Shag Rug – Overstock.com
Blue Pouf – Target
Dog Bank – Target
This is my third year as a 12 Months of Martha blogger where I create cool things from mystery boxes sent to me from my BFF Martha.  I only speak the truth.