Make Personalized Gift Tags – with Bling!
When I was a kid, my sister used to make me wrap the gifts she would give to me!
She watched over me so I wouldn't peek inside the boxes.
Let's just say her wrapping skills resembled a crumpled bag of garbage!
I was only too happy to help – and made my gifts from her extra fabulous – with yards of curled ribbons and bows.
The pretty packaging is half the fun.
How to Make Personalized Gift Tags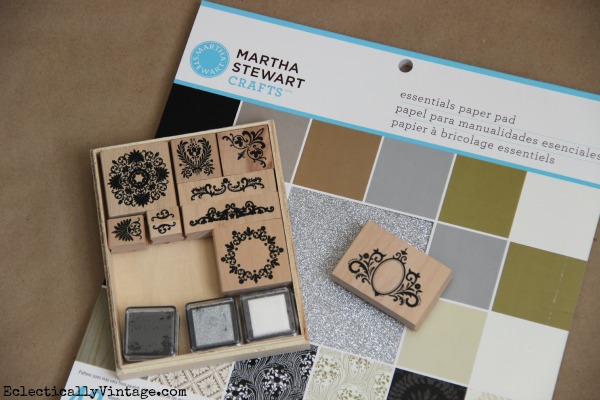 1) Gather your favorite scrapbook paper and stamps.  I am going with a bling theme this year.
2) Cut your gift tags making sure they are big enough for your stamps to fit – I love this circle cutter.
3) Stamp onto the cut out shape.  I like using stamps that have an empty center so I can stamp my family's initials inside.  This stamp set comes with 10 stamps and 3 colors of ink.
4) Wrap up your gifts with the same scrapbook paper.  Get creative by cutting strips from different papers and adding it to your packages.
5) Add your tags and maybe, just maybe, your kids will ooh and ahh the pretty gifts before they rip them open in a frenzy.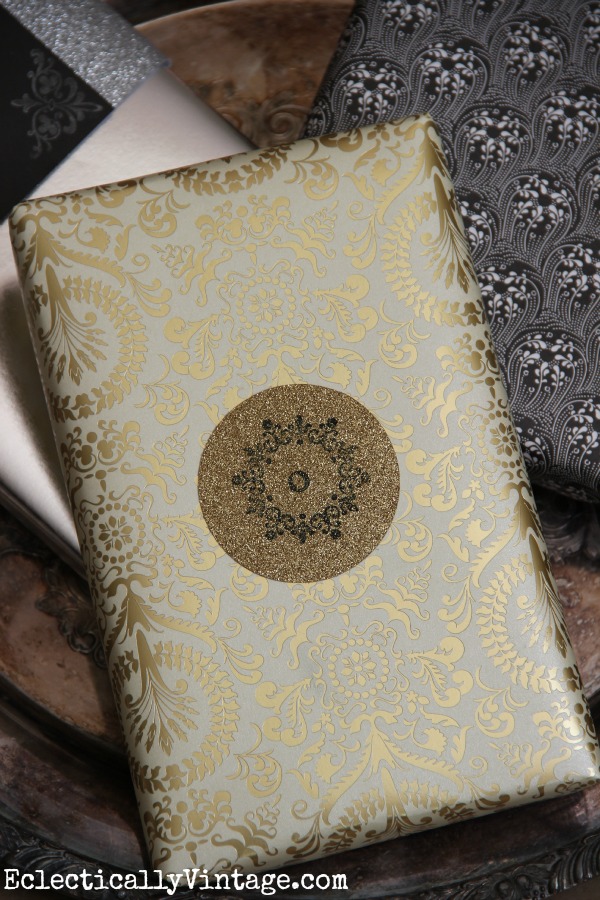 Forget brown paper packages tied up with string …
I'd much rather get a blinged out box any day of the week!
See all of my 12 Months of Martha Projects
January – Valentine Table
February – Peter Cottontail Silhouette
March – DIY Paisley Plate Wall
April – 3-D Butterfly Art
May – Key to My Heart Statement Necklace
June – Mason Jar Memory Jars
July – Chevron Antique Window Tray
August – Decoupage Pumpkin
September – 3D Paper Pumpkins

Thrilled to be part of 12 Months of Martha – where I create something fabulous every month from a mystery box from my BFF, Martha.  See my full disclosure policy here.
P.S. Make sure to stop by the Lamps Plus blog where I'm sharing my favorite DIY trays.