Coincidence?
Destiny?
Stalking?
Call it whatever you like but something very cosmic happened today.
As I was driving down the road, minding my own business, I spotted a pile of castoff stuff on a busy street in front of someone's house.
Naturally, I u-turned and went back to investigate.
As I was making my way towards the pile, cars zipping by, I heard a beep and someone yelling.
I turned to find The Hubs driving by while screaming out the window, "Just Leave It There!".
Then, like the Loch Ness Monster, he disappeared.
With pulse racing from being scared *#$%less, I hauled two things that looked promising into my car and sped away.
Immediately, I called The Hubs (on my Bluetooth of course) and we laughed til it hurt.
On top of a good laugh, which is one of my favorite things, I also got two great freebies!
This great blue metal console will look fantastic on my patio (or maybe inside, haven't decided yet) once I have a piece of marble cut for the top (I go straight to the fabricator).
The cute Italian marble top table had a ton of grime but cleaned up nicely.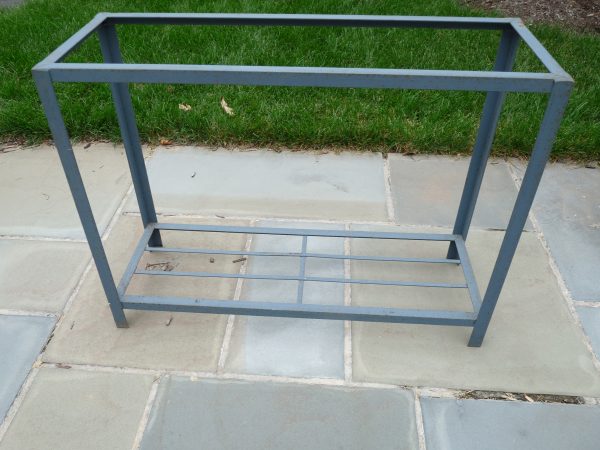 Great blue metal console table – just needs a marble top
Great finds, but I was now in somewhat of a pickle.
How would I smuggle my loot past The Hubs.
Oh come on, we've all been there!
Although he encourages my crazy junking habit, I know it drives him a bit nuts when I keep lugging more stuff into the house.
My saving grace was having the perfect spot for the Italian table.
The Hubs had been after me for ages to buy a table to elevate one of his speakers so he could have optimal listening pleasure.
His wish finally fulfilled, hopefully he's been converted to my junking lifestyle – well a girl can dream!