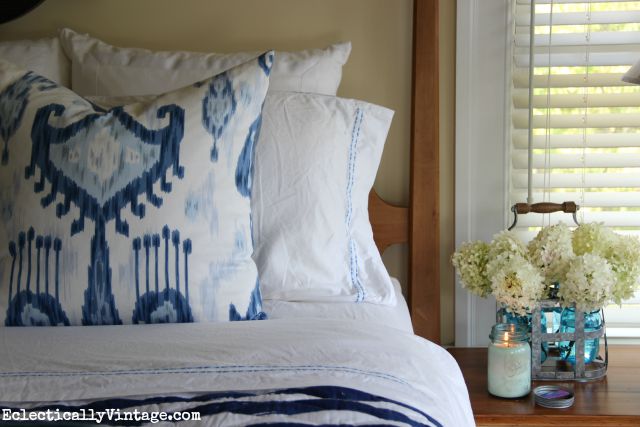 "Life's too short for bad sheets!"
As I read those words on the Perfect Linens website, shame flooded my very core.
You see, I have only one old, threadbare, worn set of sheets.
Every time I do the laundry, I have to wait patiently for them to dry so I can make my bed.
Then I want to immediately cover up the sheets so I don't have to look at their ugliness.
Those days of shame are finally over thanks to my new Perfect Linens sheets (plus see below for a very special discount code).
I know what you're thinking.
Big deal Kelly, you got new sheets.
Well, these sheets have changed my life.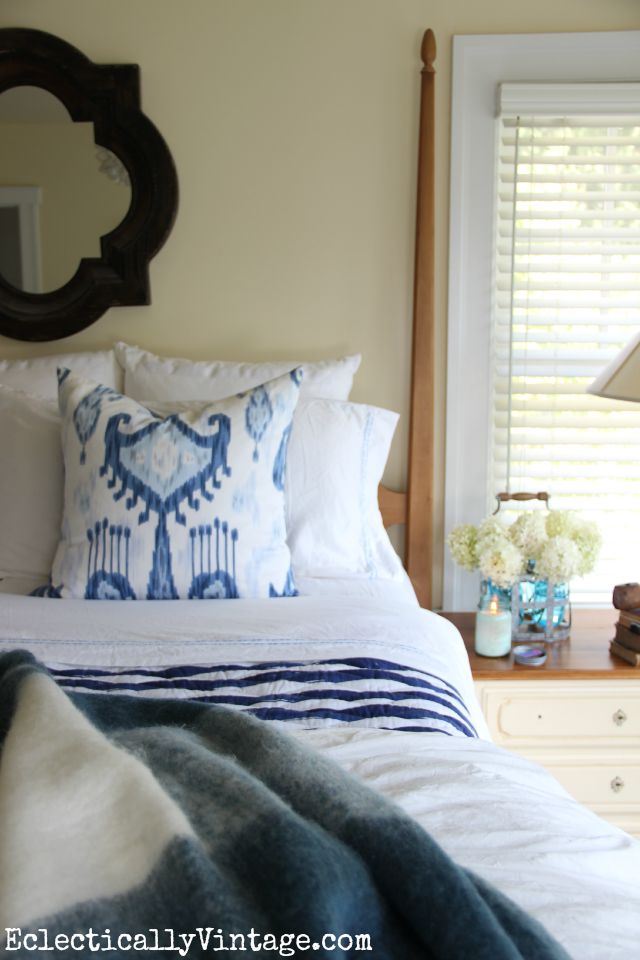 I feel like Joan Crawford (minus the whole wire hanger thing).  Picture me propped up in bed, surrounded by fluffy pillows, fully made up, in a flowing silk robe.  I will soon start demanding breakfast in bed complete with a single red rose in a bud vase and a crystal flute filled with the finest French champagne.
Until then, I'll settle for hydrangeas from my garden in this cute bottle carrier I found at HomeGoods.
Ever go shopping for sheets only to be overwhelmed with the amount of colors, thread counts, sizes, patterns and more.  It's kind of like buying a mattress.  You're never really sure what you're buying and it's hard to compare brands.
That's what I love about Perfect Linens.  They do all of the work for us by testing hundreds of sheets and selecting only the most comfortable few.
I chose "Second Skin".  I'm a big fan of white sheets but the blue stripe border really adds that extra bit of luxury and looks great when I turn down my sheets to make my bed (other colors and patterns available).  They are 400-thread count and 100% cotton.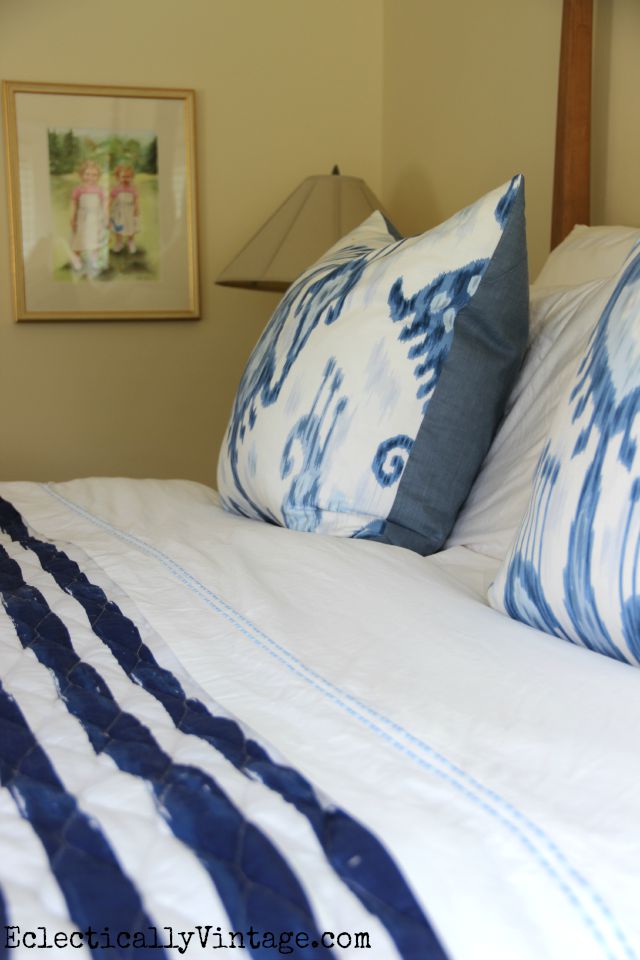 Tip: Remove sheets from the dryer when they are damp – make the bed right away – voila, less wrinkles!
Nobody puts these sheets in a corner – they are on display.
Because everyone should feel like a movie star, here's a Perfect Linens special discount code just for my readers!
Get $50 off your entire order – use code EclecVintage50 
P.S. Still waiting for someone to bring me breakfast in bed.
Thanks Perfect Linens for the sheets that make me feel like a movie star.
Sources:
Striped Blue Quilt
Ikat Pillows, Metal Bottle Carrier and Throw Blanket – HomeGoods
Mason Jar Candle – Antique Candle Works