Fall is my favorite time of year with the crisp air and vibrant leaves.  In fact, I chose my favorite month, October, to get married (Friday the 13th!) and just celebrated 16 years of wedded bliss.
I love decorating during this season and using natural elements that are easy to find like pumpkins in all colors, gourds, nuts, apples and flowers.  Here's what I'm doing around the house this year.
This past spring, I planted a dozen hydrangeas (my favorite flower) in my backyard.  During the fall, they turn georgous shades of rust and green. I am trying to dry these so they can be enjoyed all year.  Simply snip a few and put them in a couple inches of water until it evaporates (check out Heather Bullard's blog for more tips on drying hydrangeas).  Straight into a yard sale find silver pitcher and they look inviting on my desk.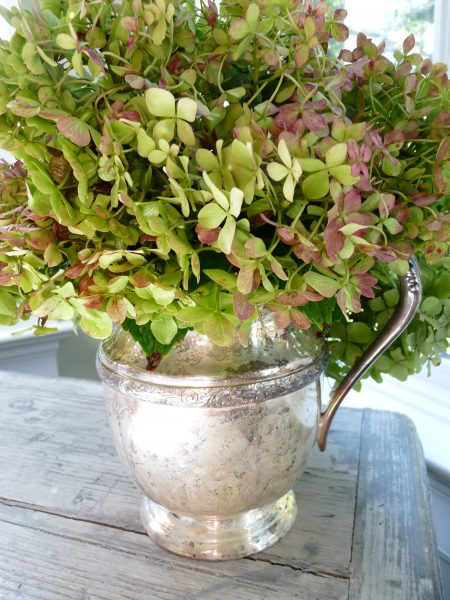 Remember that old, paint splattered wooden stepstool I found at the thrift store the other day?  It makes the perfect display for these beautifully colored grayish/green fairytale pumpkins (Trader Joe's has a huge selection), mini white and green striped pumpkins, itchy balls (someone from Ohio laughed when I called them that!), and a couple of old wooden downspout finials used to help divert rainwater.  Everything sits on my back deck which is covered in morning glories that are past their prime but I just can't bring myself to cut them down just yet.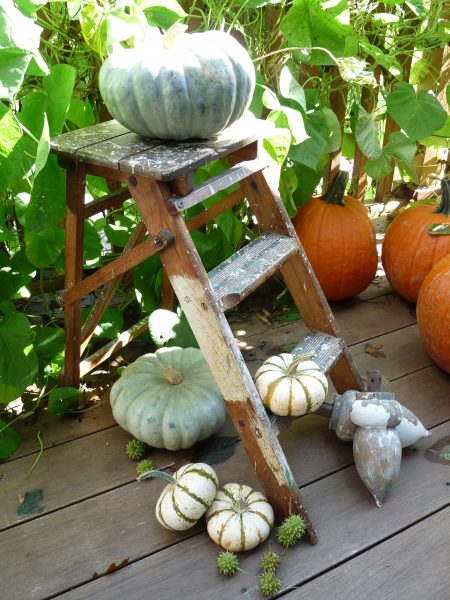 My $1 thrift shop Cosco stool find holds pumpkins before they go under the knife and a vintage buoy.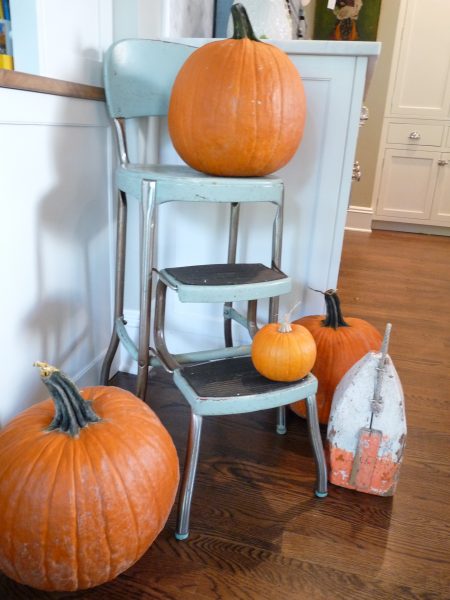 Get out that silverware (who cares if you run out of spoons for your cereal – this is more important!) and make this adorable turkey.  He would look great as a Thanksgiving table centerpiece.  Get directions at 
I Gotta Create!
Easy – put some mini pumpkins under a glass cloche.
These candy corns add a fun touch sitting in a glass apothecary jar but I can't stop eating these evil things!  I have no idea why I still like them especially after an incident as a kid when someone threw a handful of candy corn into my bag – no wrapper, just loose candy!  My girls like to remove the white tips and pretend they lost a tooth!  They play that trick on any unsuspecting person who knocks on our door.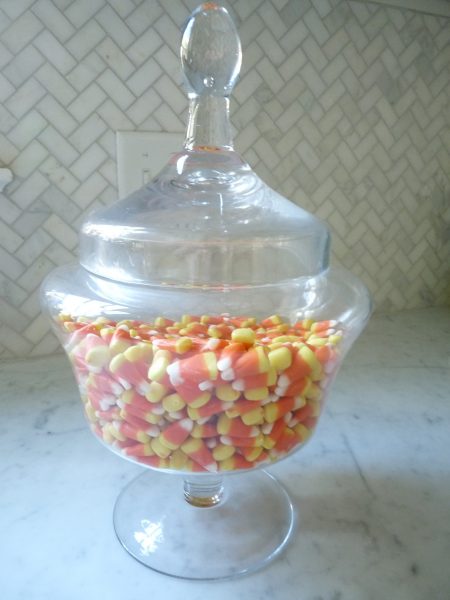 Enjoy the change of seasons!