When I was a kid, my parents took my sister and I to the Knights of Columbus for their annual Easter egg hunt.
We searched every blade of grass for the egg that would win us the Ultimate Grand Prize. The competition was fierce but we had trained for this moment.
"Watch out," I screamed to my sister as her freshly polished Mary Jane was about to land smack dab in the middle of a pile of dog doo.
My sister swooped down and scooped up that piece of dog doo (which was in fact the grand prize winning brown egg) and marched right up to the stage where she was waited patiently to be awarded her prize.
Feelings of anger and resentment washed over me as tears streamed down my chubby cheeks. That prize belonged to me! I had led her to the pile of poo – I mean the winning egg.
My anger quickly faded when my sister was awarded a giant chocolate covered coconut egg.
You see, we both hated coconut so we brought it home and nibbled on the chocolate shell until it was nothing but a pile of gooey white coconut and then we tossed it in the trash.
The moral of the story …
if you see something brown hiding in the grass on Easter morning …
pick it up first and ask questions later.
Now let's talk something for spring that doesn't involve painful memories and dashed dreams.
Let's talk about a spring toolbox centerpiece.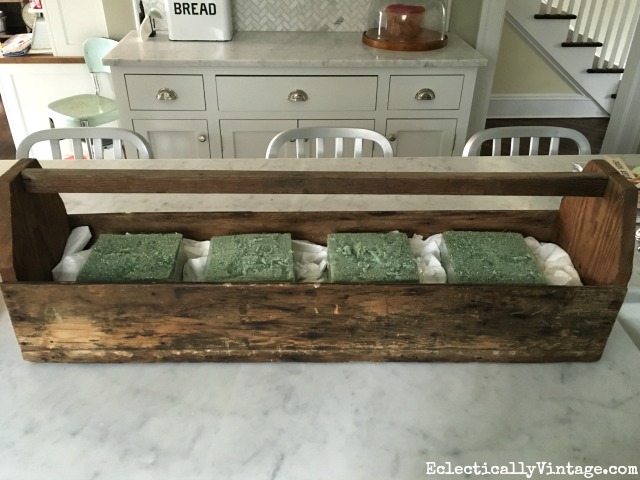 1) add floral foam to the box (I cut off the top of each foam piece with a serrated knife so they would be lower than the toolbox)
2) stuff paper towels into the box around the foam (you'll use less moss this way)
3) add moss on top
4) if you can't find a pre-made egg hunt kit (I found this one at HomeGoods), print favorite spring pictures (bunnies, eggs) on heavy card stock and glue to wooden skewers and toothpicks
5) finish it off with some speckled eggs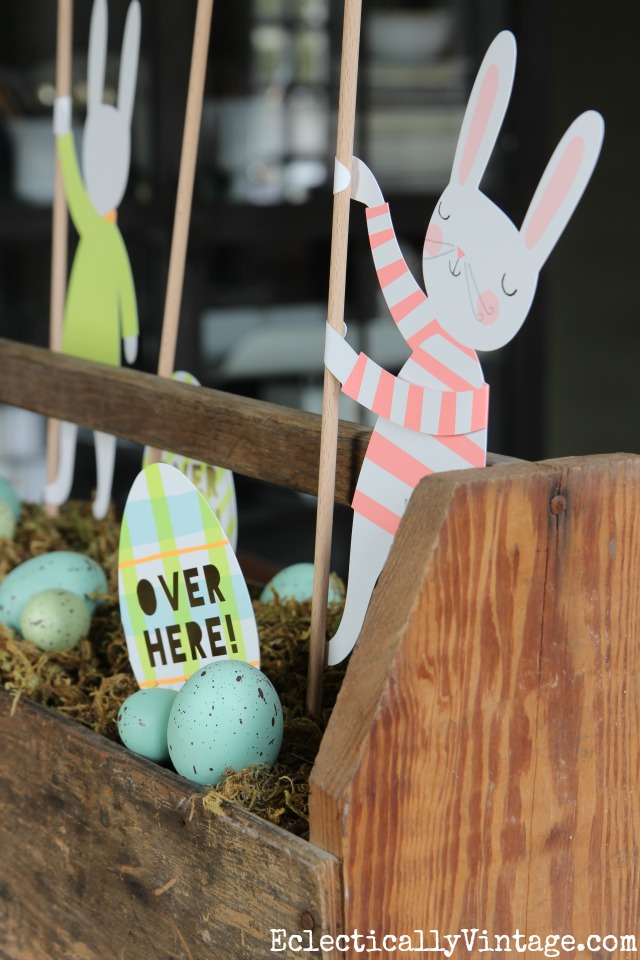 I'm suddenly craving coconut.
Some more of my creative spring ideas …