Tips from owner of Estate Sale company!
+ See My Finds of the Day
Another great day estate sale shopping.  I came away with some fun finds (see below) once again and managed to get estate sale shopping tips right from the source – April, the owner of 
April's Estate and Tag Sales
.  The sale was very well run with most things marked and displayed nicely.  Wearing brightly colored yellow shirts, April's employees were easy to spot and made asking for help simple.
According to April, she's been in business a very looong time!  She's seen everything from dead rodents to customer catfights (recently a man and woman battled it out for a lamp – he won!).  She's even had to call animal control when she reached into a box in a dark basement and a hissing creature with sharp fangs popped out!  Turned out it was only a baby possum but one never knows what lurks in those dingy basements!
Although great deals abound at estate sales (the most expensive of April's being a 2007 Mercedes which sold for $44,000!), April stresses that she works for each client to make them the most money possible.  Sometimes, people are unreasonable and ask for huge discounts (or to have things thrown in for free).  April's clients sometimes put reserves (a minimum amount they will accept) on certain items so April can't accept super low ball offers.  And remember, negotiating is more acceptable on the last day of a sale, not the first.
Thanks April for the inside info.
Today's Finds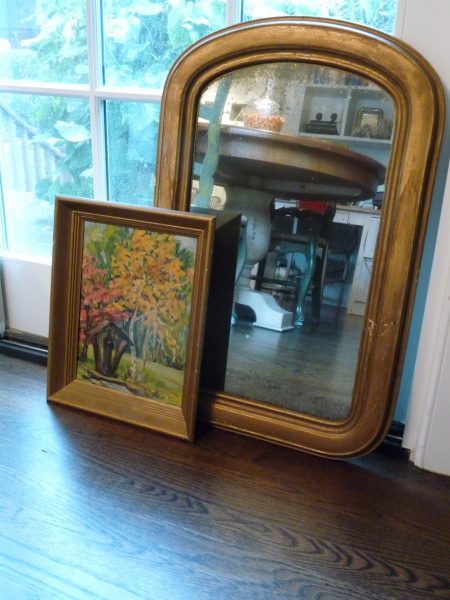 This was a three day sale and I got there on the first day (not too early to avoid the long line).  Great vintage pieces spanned the decades (lots of 70's owls!)
Most of my finds were in the garage so don't overlook that area when you're hunting.  A cute small milk can (I've only seen the larger ones so this was a great find) and an old typewriter table on casters (will make a great nightstand) were calling to me in all their cobwebbed glory.  There were many things I coveted at the sale but since I am already near capacity at my own house, I limited myself to a vintage landscape and a great old gold wooden mirror.  These old mirrors have such character with their speckled glass.  (Remember, if you're looking for something special, shoot me an email and I will keep my eyes peeled for you).
Bonus:
  On my way home, I popped into a thrift shop and found a large colorful print that I thought would look great in a room I recently rearranged.  I texted a quick pic – she loved it – bought it and will deliver to her tomorrow.