Cue the choir music – yes, I hear angels singing!
It's judgement day!  
The day of reckoning where I put before you pictures of my basement cleanup.
I was finally motivated to get cracking on 16 years worth of "stuff" that's accumulated in my basement –
now onto the big reveal!
Here's the skinny:
6 packed to the gills trips to the dump
6 trips to the thrift shop
(a bit of bickering between The Hubs and I while suffocating on basement dust bunnies)!
2 1/2 loads to the consignment store
1 carload to a friend
1 barter for an elliptical machine
(a little bit more bickering)!
2 batches of toys for some cute kids
more than a few bottles of wine consumed!
This is a 100+ year old unfinished basement.  It ain't pretty – but I am happy to say it's now clutter free!
The Agony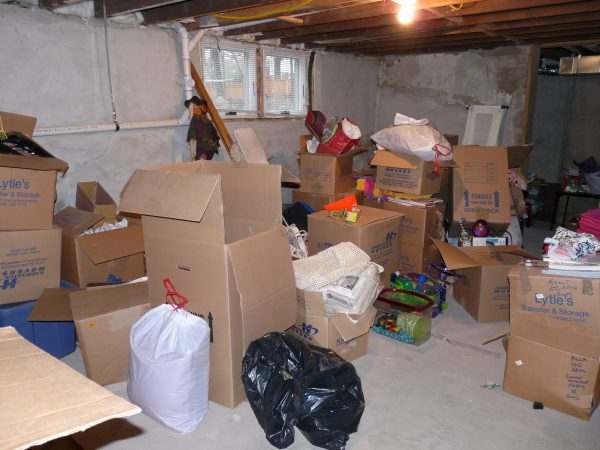 The Ectasy (kind of!) – Sorted by Season!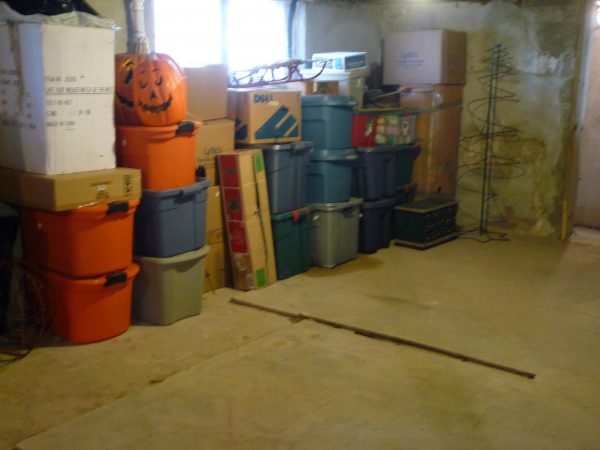 Before – "Gym"
Using the term home gym very loosely here!  Not conducive to peace and tranquility (let me use that as my excuse for never coming down here)!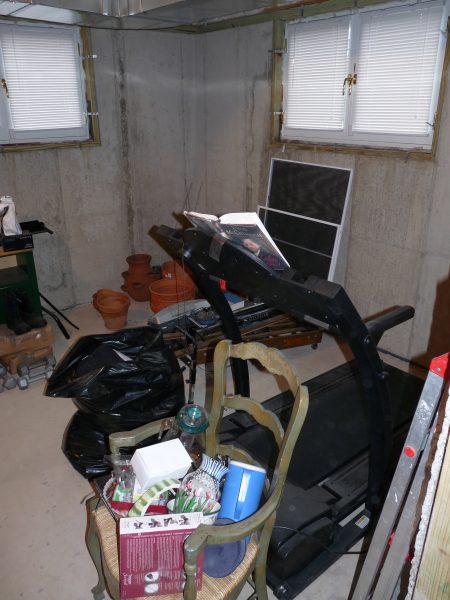 After – Gym
Thanks to a barter with a friend (my giant birdhouse for her elliptical), the gym will be expanding!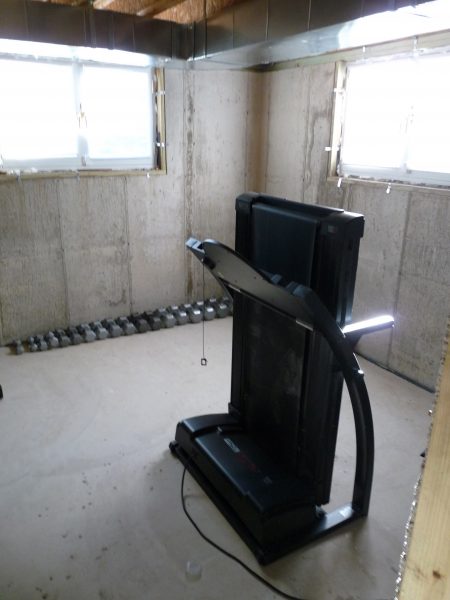 Before – Clutter
Donated 3 pieces of luggage and put the rest in big green garbage bags to product from dust.
The piano was The Hubs when he was a kid – we don't play piano – this will be going soon.

After – Decluttered
The cardboard boxes have framed pics ready for hanging on my gallery wall upstairs.  Plastic bins hold my girls school work from over the years.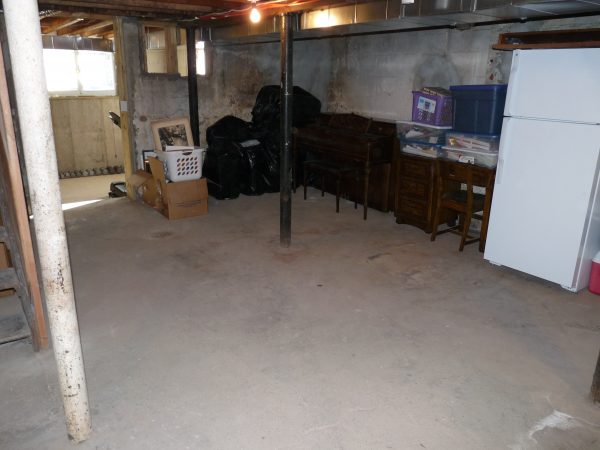 Before – Whining about Wine Storage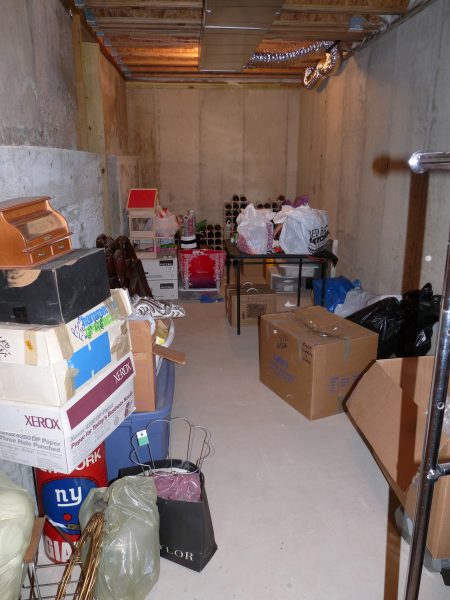 After – Wine and The Hubs!
The Hubs portrait in 70's attire watches over his beloved bottles (what, you think I'm gonna hang that thing upstairs)?!
Before – Disorganized Shelves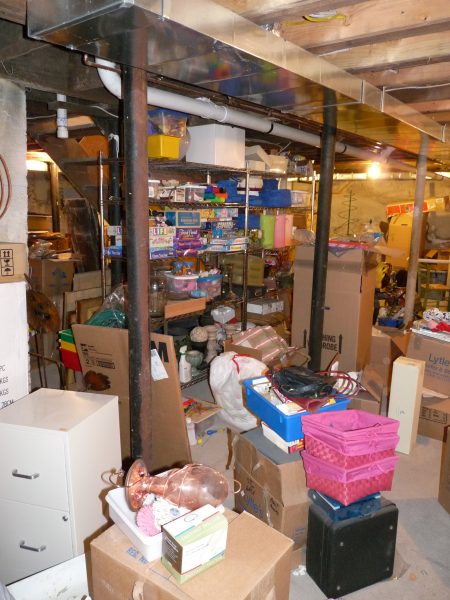 After – Shelving Organized & Easy to Reach
Before – This is Where we Hide the Bodies!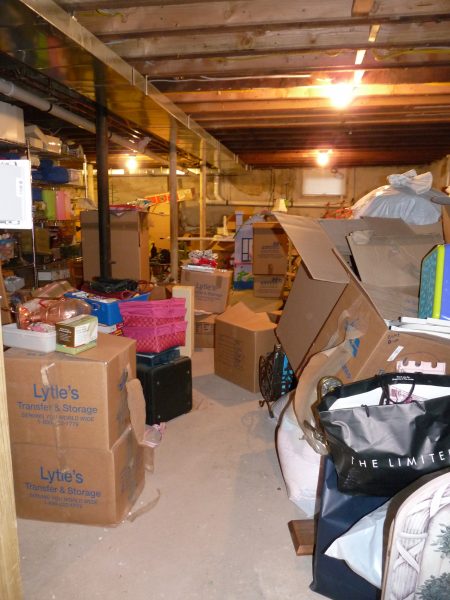 After – Let there be Light!
This is what a 100+ year old foundation looks like!  It's aggregate which is a mixture of rocks and concrete.  Not pretty!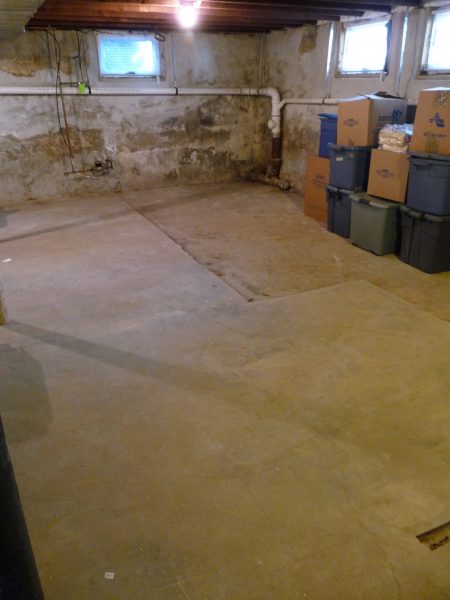 Whew, glad that's over (time to raid the wine)!  Next step is painting the floors and walls to eliminate the dreaded dust that keeps appearing.