Hydrangeas scream summer to me! I always get tons of questions about hydrangea care so I thought it would be fun to gather up all the information I have learned over the years (including lots of trial and error) and share it with you. We'll talk about the different types of hydrangeas and how to choose the best variety of hydrangea for your yard, planting and growing tips, when to prune hydrangeas (this is crucial!), sun requirements, how to change the color of blooms and even drying tips. What I love most about hydrangeas is that once you know what you're doing, they are pretty easy to care for but plants can be fickle as we all know. So whether you're a beginner gardener or have a Kelly green thumb, I hope you find this Hydrangeas 101 Guide helpful so you too can enjoy beautiful blooms.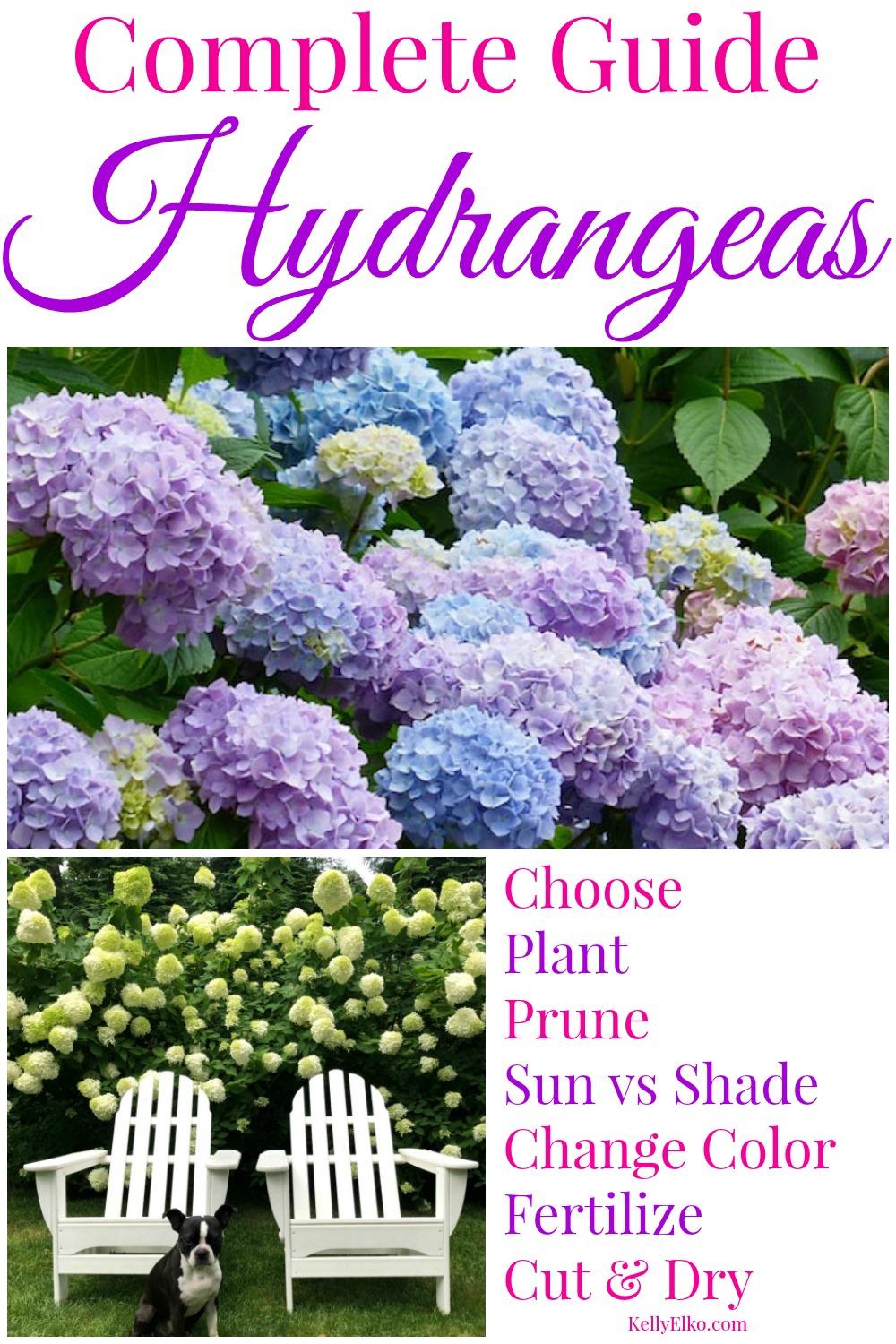 Before you buy any plant, you must know your planting zone! The Department of Agriculture website has this handy, dandy plant hardiness zone map.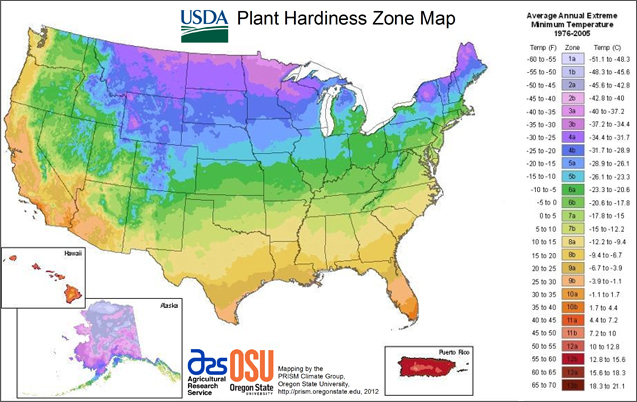 Just click on your state on this map from the Department of Agriculture website for more specific info because your state may have several planting zones like my state of New Jersey. I am zone 7a which is the perfect region for growing all kinds of hydrangeas.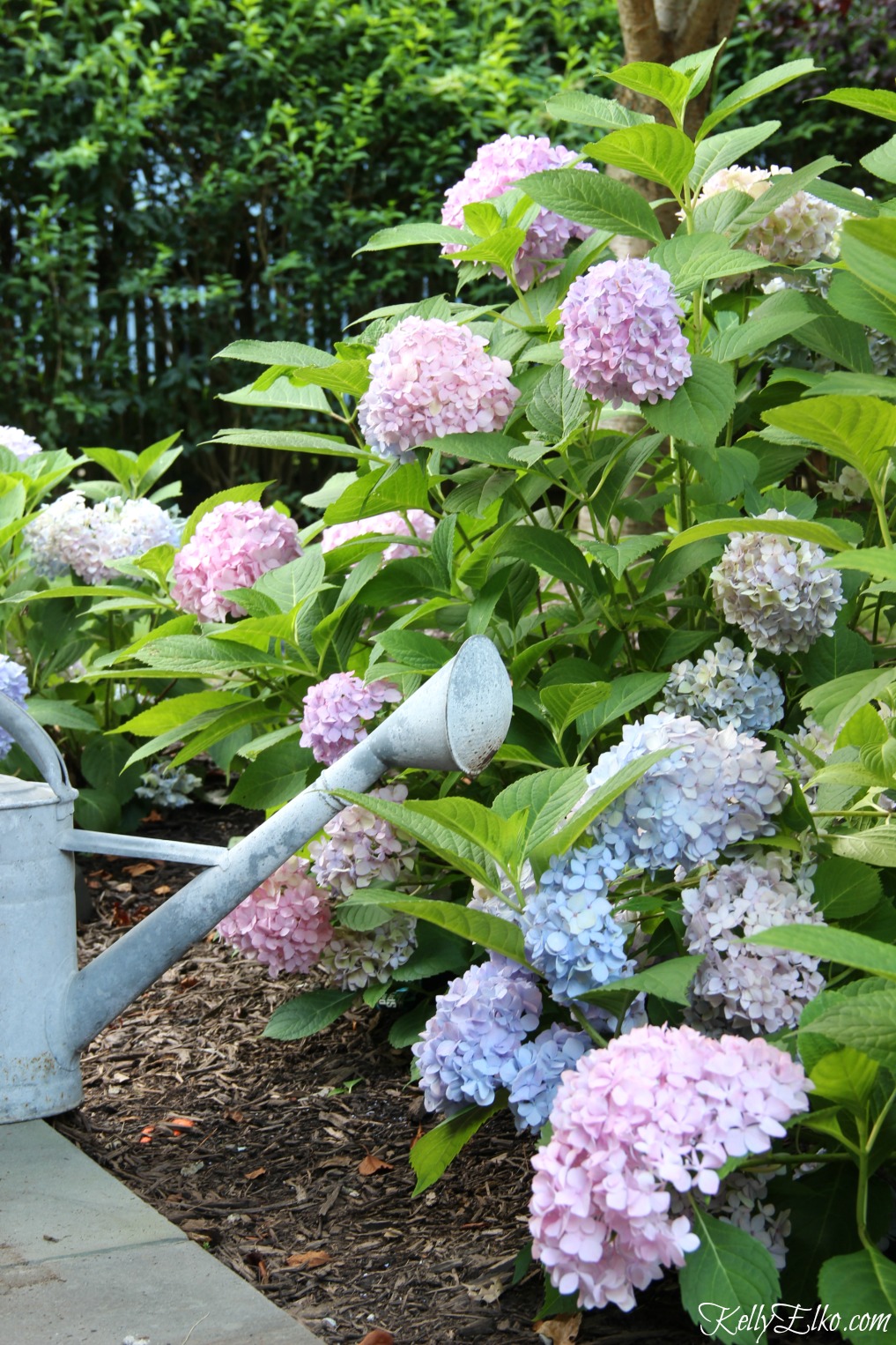 Types of Hydrangeas
Hydrangeas come in hundreds of varieties and dozens of species, but most hydrangeas that you'll find in U.S. garden centers are one of these three …
1 – Old Wood Hydrangeas
Mophead and Lacecap Hydrangeas (typically pink, blue or purple) bloom on old wood meaning that their buds start to form in the fall for next summer's blooms. If they are trimmed in the fall, winter or spring, all of those precious buds will be removed and you summer hydrangeas will be flowerless. Only prune in June or July if necessary!  Only prune if the shrubs are too large for their space.
Don't be afraid to remove dead stems or flowers any time of the year – this should be done annually and will not affect regrowth.
2 – New Wood Hydrangeas
PeeGees and Annabelle hydrangeas (usually white) bloom on new wood meaning they can be pruned in the fall and will bloom on new stems in summer.
3 – Everbloomer Hydrangeas
There is a group of Mopheads that will bloom on old and new wood and whenever they are pruned – one common type is called Endless Summer.  These are the exception, not the rule, so make sure you know which type you have before cutting. You can spot them in the garden center because they are in the bright blue pots.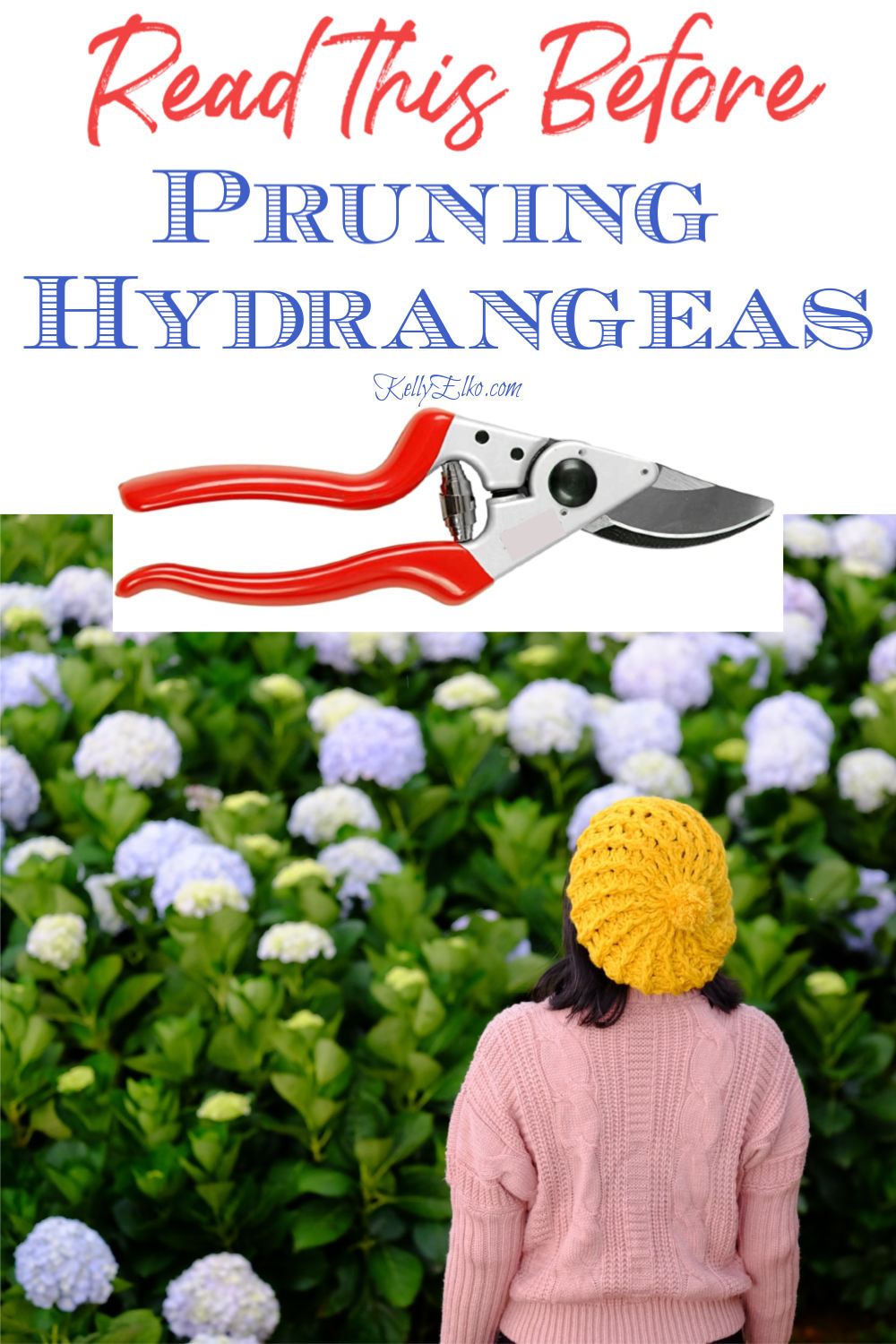 This post contains affiliate links which means if you make a purchase, I receive a small commission.
The photo below of my Endless Summer Hydrangeas was taken right after I planted them in spring and you can see the flowers just starting to bloom.
Here are the same Endless Summer Hydrangeas after a few years in all their stunning pink and purple glory!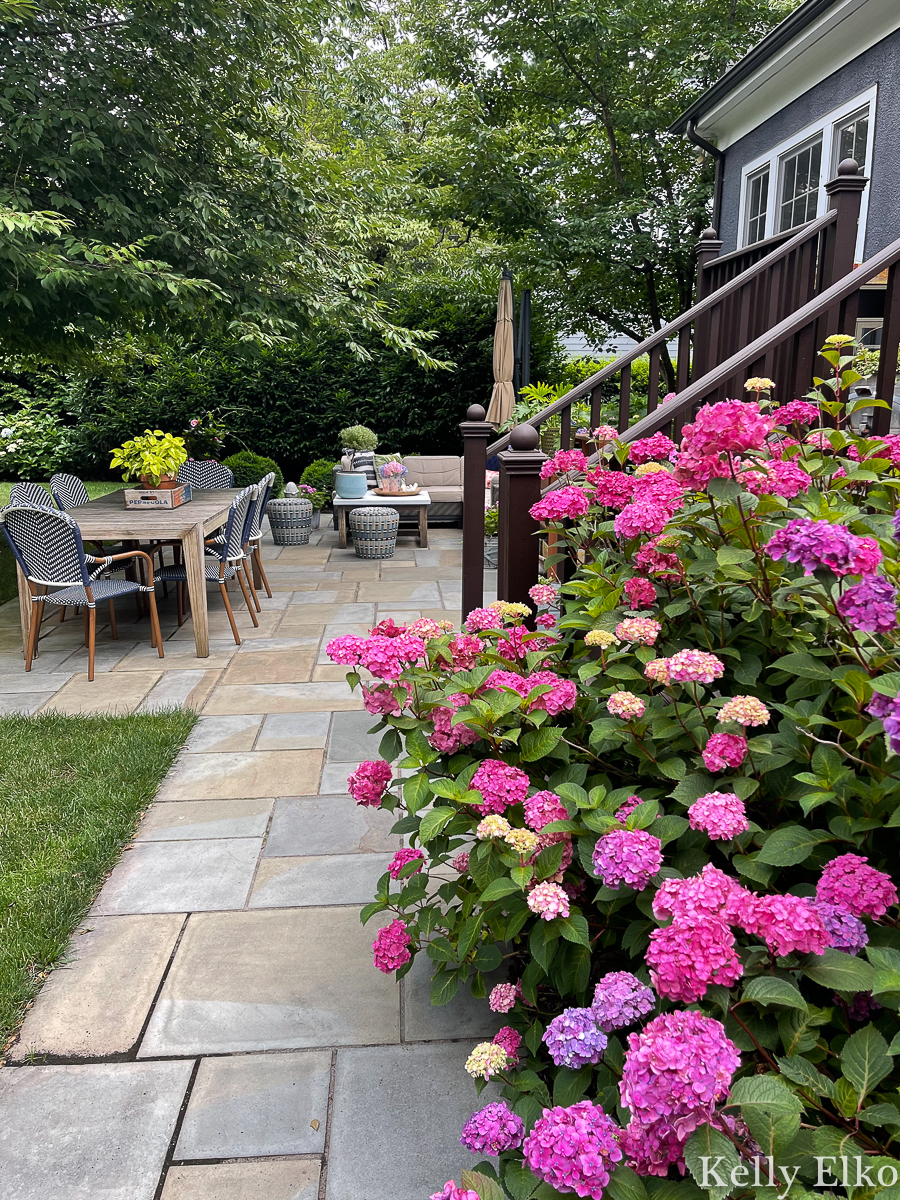 If you're looking for a unique, show stopping hydrangea, you need a Summer Crush hydrangea in your life! The raspberry red color is so unique.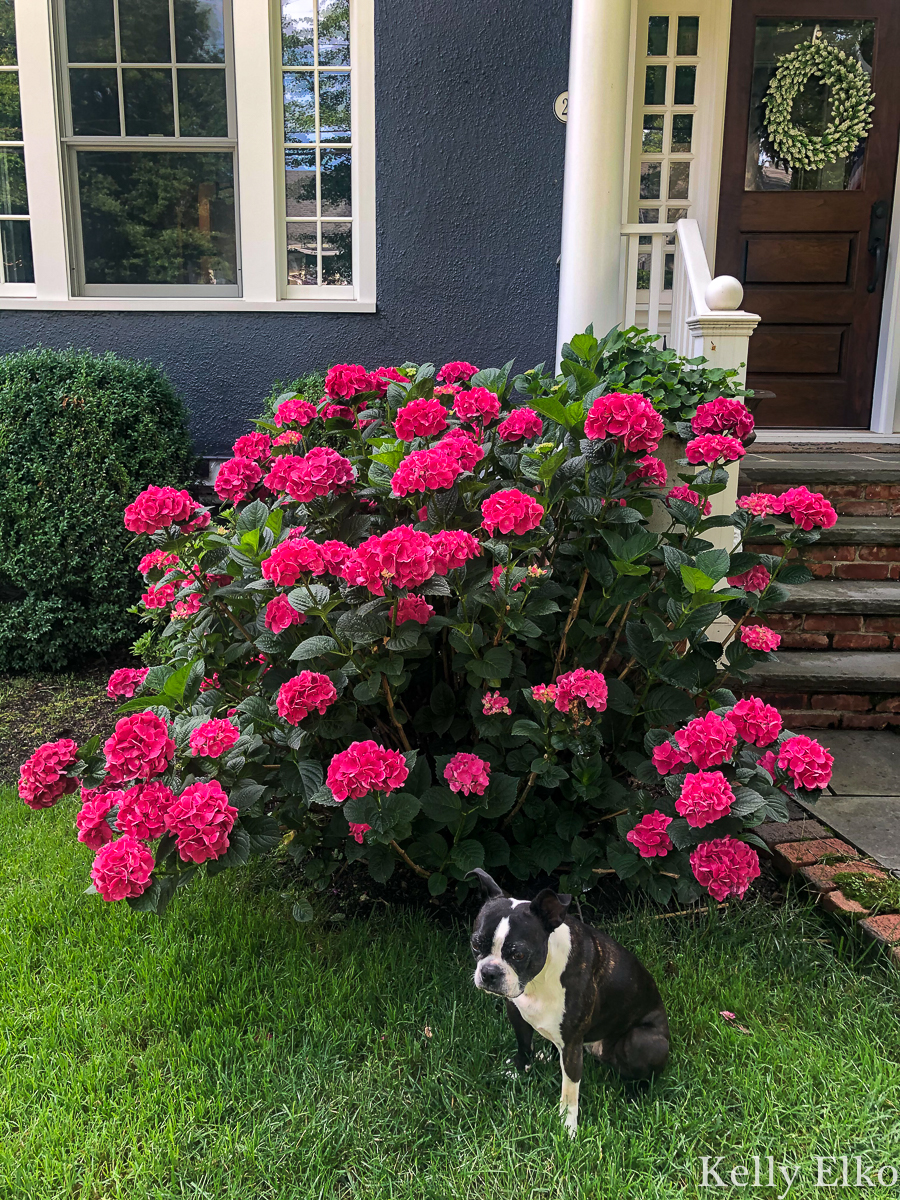 Limelight Hydrangeas
Limelights make a show stopping hedge as you can see from my hedge in the photo below! They have large, cone shaped blooms that start out a beautiful chartreuse color in early summer, turn white in late summer, then a lovely rust shade in the fall. They grow quickly and in only two seasons, mine are now well over eight feet tall! I like to prune these down to about three feet tall in the spring because they grow quickly and will reach their full height by summer.
My Limelight Hydrangeas create a beautiful hedge, grow quickly and love full sun and they are beautiful when dried.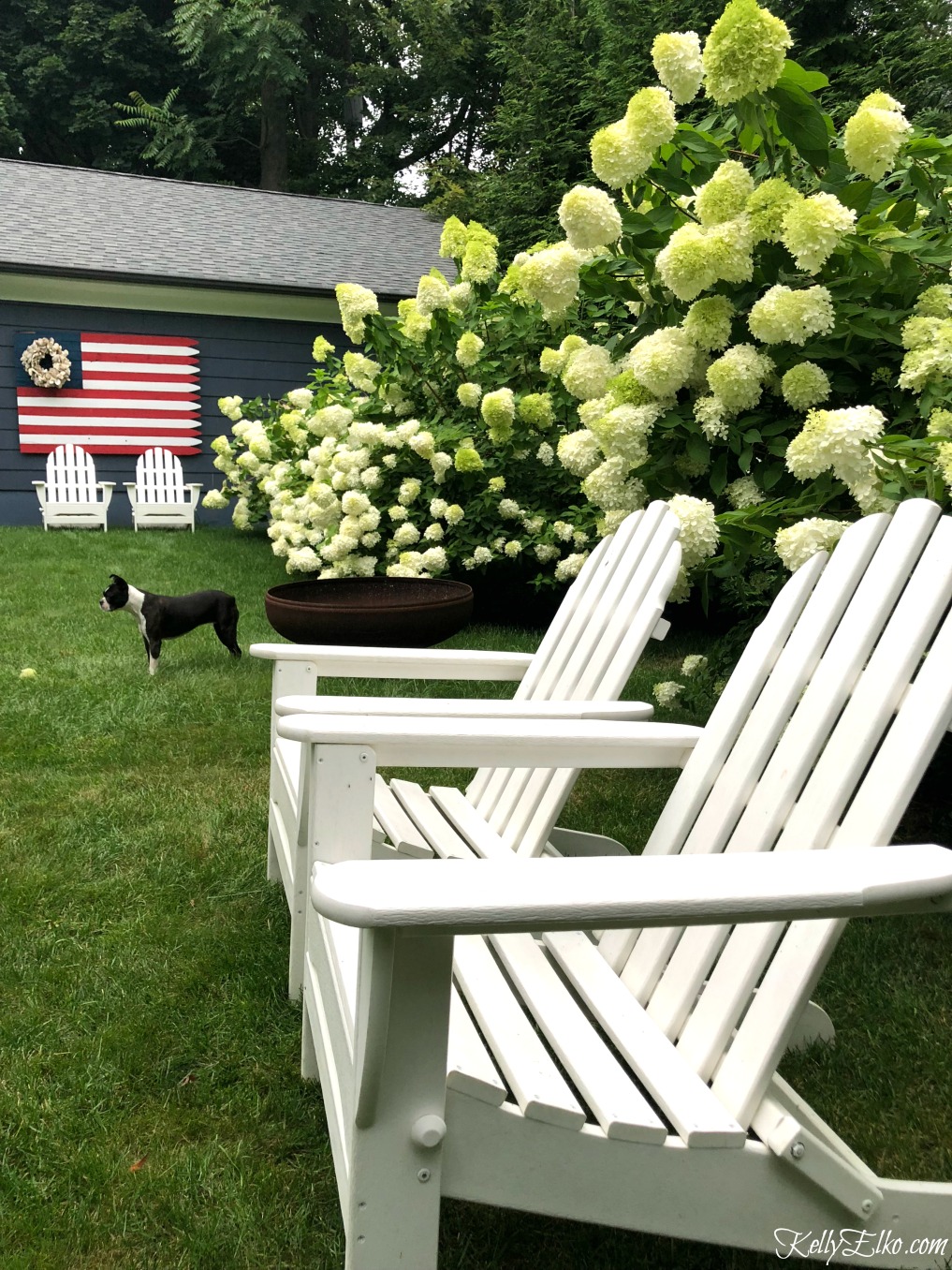 Why Won't My Hydrangeas Bloom?
There is nothing worse than when your hydrangea bushes grow green leaves but don't bloom! There are a few reasons this could happen …
Pruning – If you prune at the wrong time, (remember we discussed old vs new wood hydrangea varieties in this post), you will remove all the little buds that would have been this seasons flowers!
Sun / Shade – Hydrangeas need several hours of sun every day and they prefer morning sun with indirect afternoon light. If yours is in a shady spot and isn't blooming, it may be time to move it.
Winter Frost – A spring frost can kill flower buds which means no blooms that season! Read the post below with my tips for dealing with winter frost hydrangeas.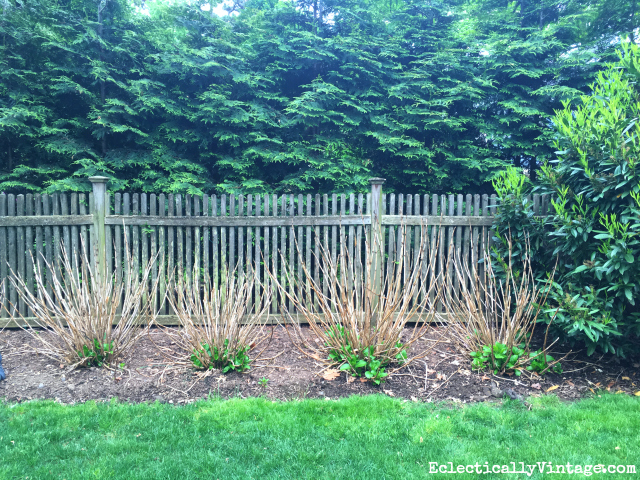 Full Sun vs Shade
Just like real estate, it's all about location, location, location when it comes to planting hydrangeas. Most hydrangeas prefer a few hours of morning sun with dappled afternoon shade. As a rule of thumb, the farther south you live, the less sun your hydrangeas can tolerate.
Dwarf Hydrangeas
If space is limited, choose a variety of hydrangeas that stay compact. Little Lime Hydrangeas are the smaller versions of Limelight Hydrangeas and they love full sun. Summer Crush Hydrangeas like partial shade and their unique color, a deep and rich fuchsia, is a show stopper. I have two in my front yard and always get tons of compliments.
Hydrangea Watering Tips
Did you know that overwatering can cause hydrangeas to produce less blooms! The type of soil you have determines how much and how often you should water. Clay soil holds water and will not need to be watered as frequently as sandy soil.
When the temperatures soar, hydrangeas may wilt in the afternoon sun. That is perfectly normal but they will perk back up when the temps cool down. I like to water in the early morning or early evening (I set the timer on my sprinkler system). If you don't have a sprinkler system, use a soaker hose or water by hand at the base of the plants. Make sure to mulch around your plants so you can water less frequently.
Hydrangea Fertilizer
I like to use
Holly-Tone
, an organic plant food made especially for Hydrangeas and other acid loving plants.
Hydrangea Colors
The acidity, or pH level, of your soil will determine the color of your hydrangeas. Don't be surprised if the pink hydrangeas you planted turn blue or vice versa! Depending on the acidity, you may even get a mixture of colors on one plant or even purple! If you want to change the color of your hydrangeas, you need to modify the soil with fertilizer. These two fertilizers are great for getting the hydrangea color you prefer: Color Me Blue fertilizer & Color Me Pink fertilizer.
How to Cut Hydrangea Flowers
When cutting blooms for flower arrangements before August, you can cut long stems but when you cut blooms after August 1, it's important to cut ABOVE any buds. Cut short stems so you don't risk cutting off developing buds for next year.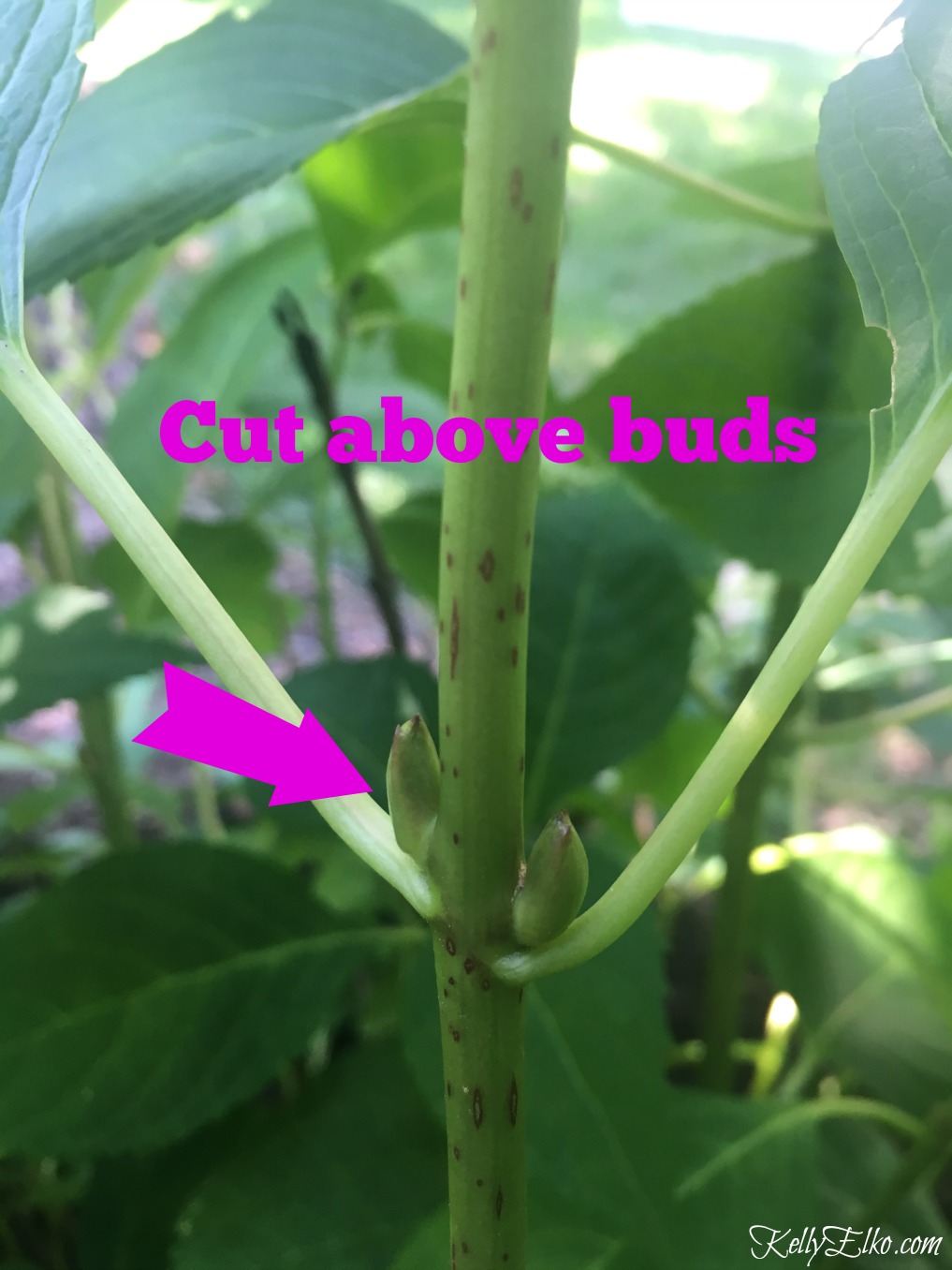 How to Dry Hydrangeas
Dry hydrangeas at the right bloom time and you'll enjoy blooms indoors all year long. Click the link below to read my tips.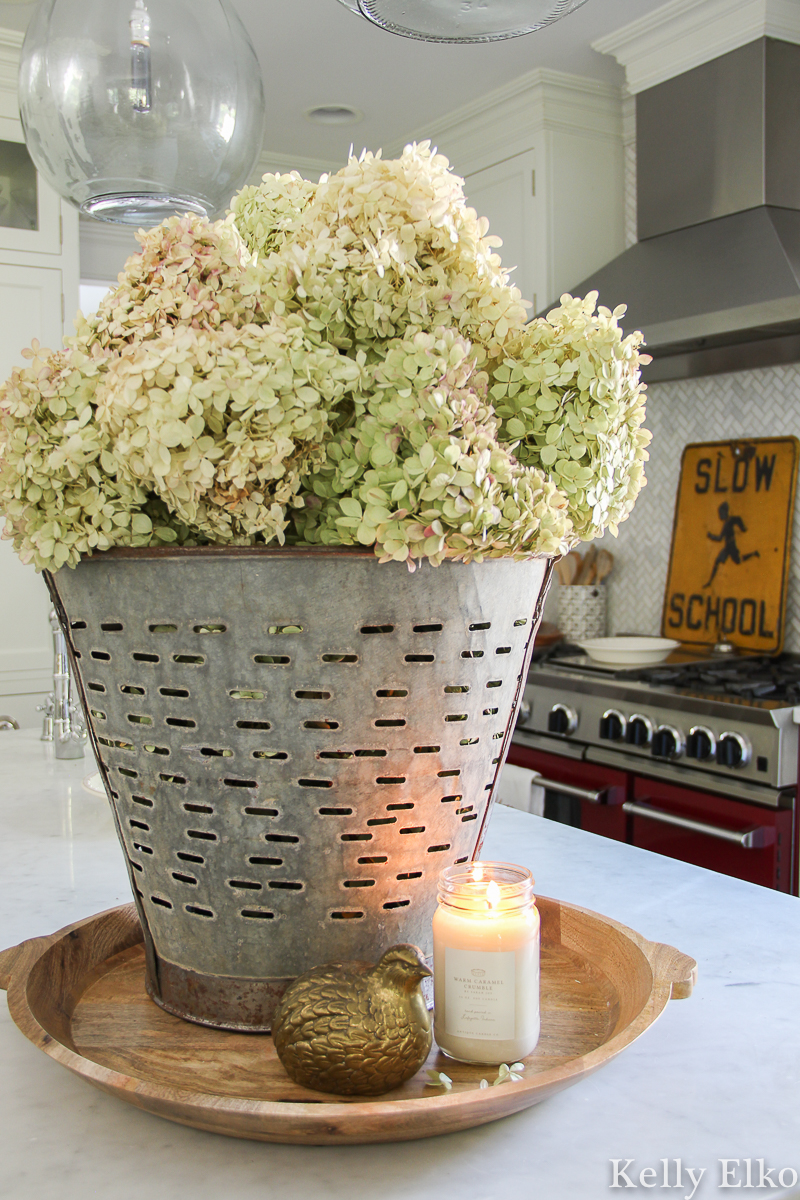 I created this beautiful wreath above my mantel with dried Limelight Hydrangeas.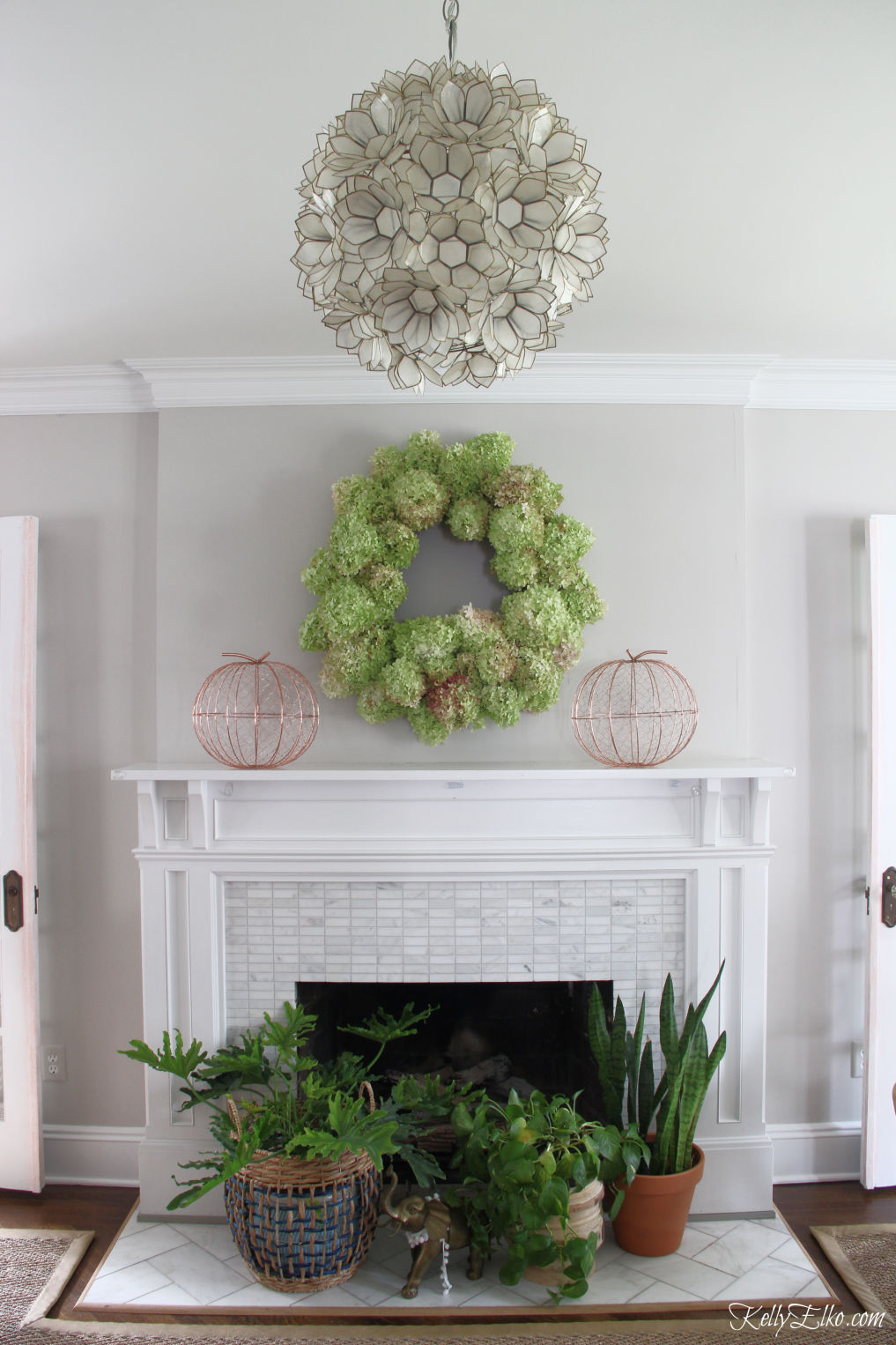 So there you have it. Everything I know about hydrangeas. If you have any questions or tips to add, please feel free to leave a comment.