I'm so excited to share a sneak peek of my Christmas mantel! I had so much fun making the focal point of my mantel where I combined two of my favorite things … Christmas and disco balls. I am also sharing some super fun and festive Christmas disco ball decorating ideas including disco ball trees, snowmen, wreaths and more that will impress everyone from here to the Studio 54 at the North Pole!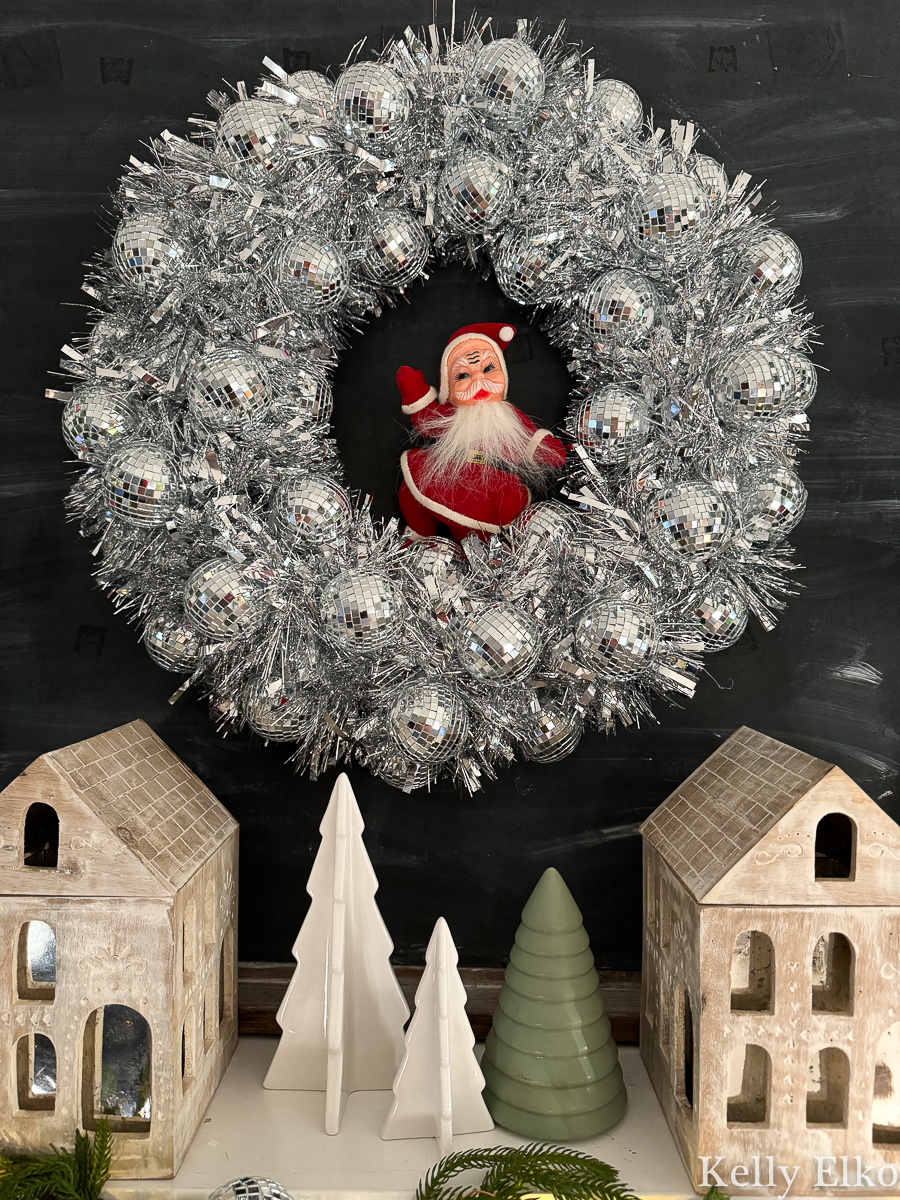 See My Disco Christmas Mantel Here
If you love bling, this is for you! The way the disco balls catch the light creates a fun sparkle that is especially festive for Christmas
My adorable disco ball wreath turned out even better than I imagined and I cannot wait to show you the whole mantel very soon. It may be my favorite one of all time!
This post contains affiliate links which means if you make a purchase, I may earn a small commission at no extra cost to you.
How to Make a Disco Ball Wreath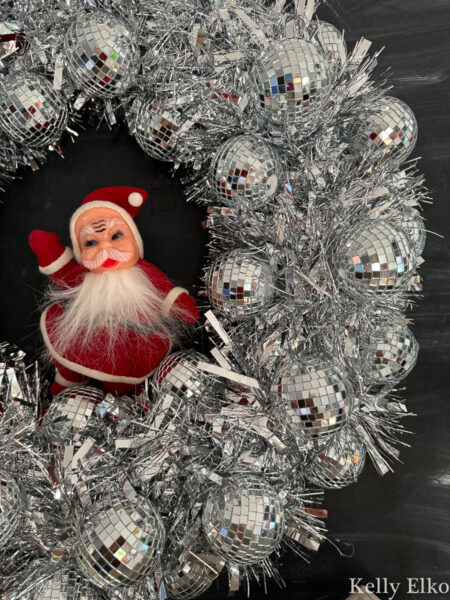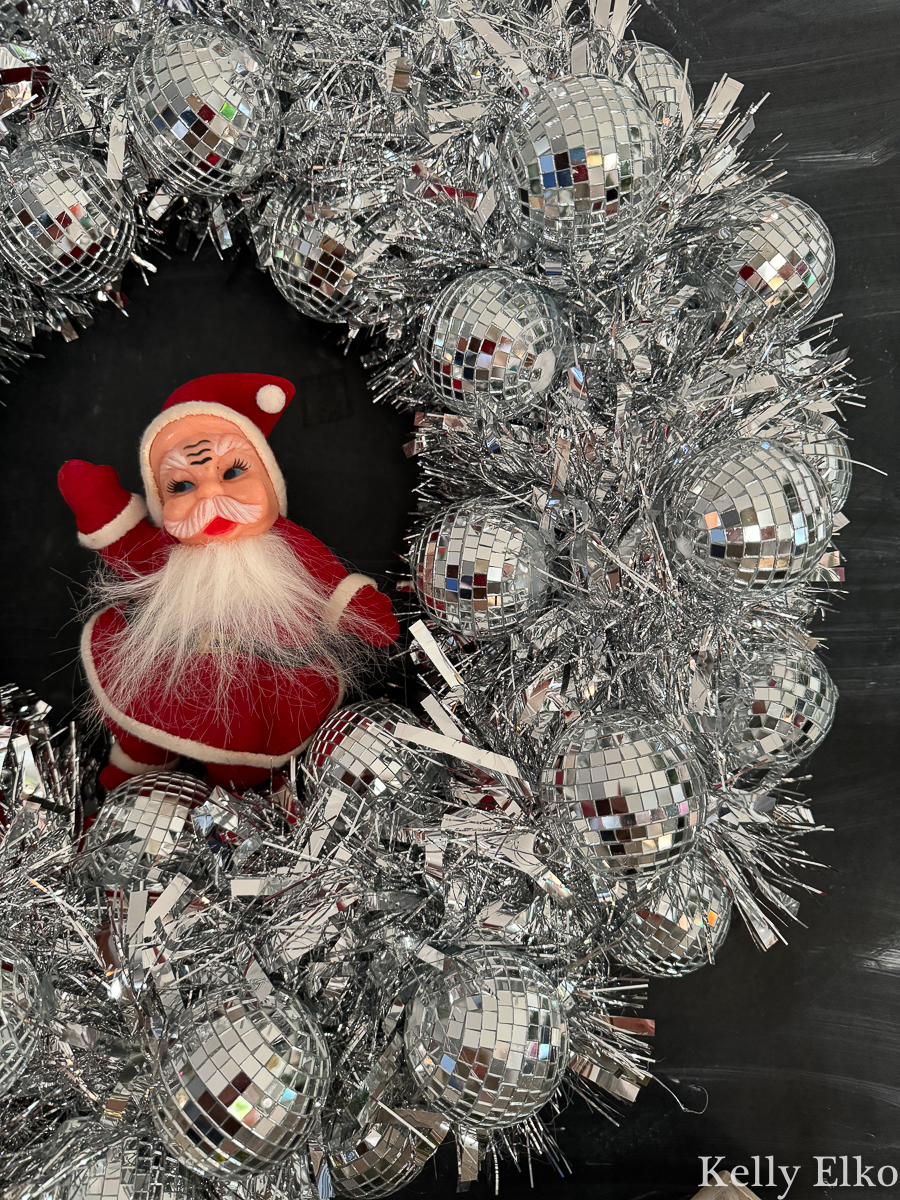 Supplies – Disco Ball Wreath
Wrap fluffy silver tinsel garland tightly around a straw wreath form gluing in place as you wrap. Note: a straw wreath form will support the weight of the ornaments better than styrofoam. I used around 22 feet of garland on my 18″ wreath.
Remove ornament hangers by twisting and pulling off with your fingers.
Lay wreath flat on a table (use a piece of cardboard or paper bags to protect table) and begin gluing disco ball ornaments with hot glue gun. Note: make sure ornaments don't extend past the back of wreath to ensure it will hang flat.
Add a cord and hang.
Prop (I did not use glue) a fun little something in the center of the wreath like my cute vintage Santa.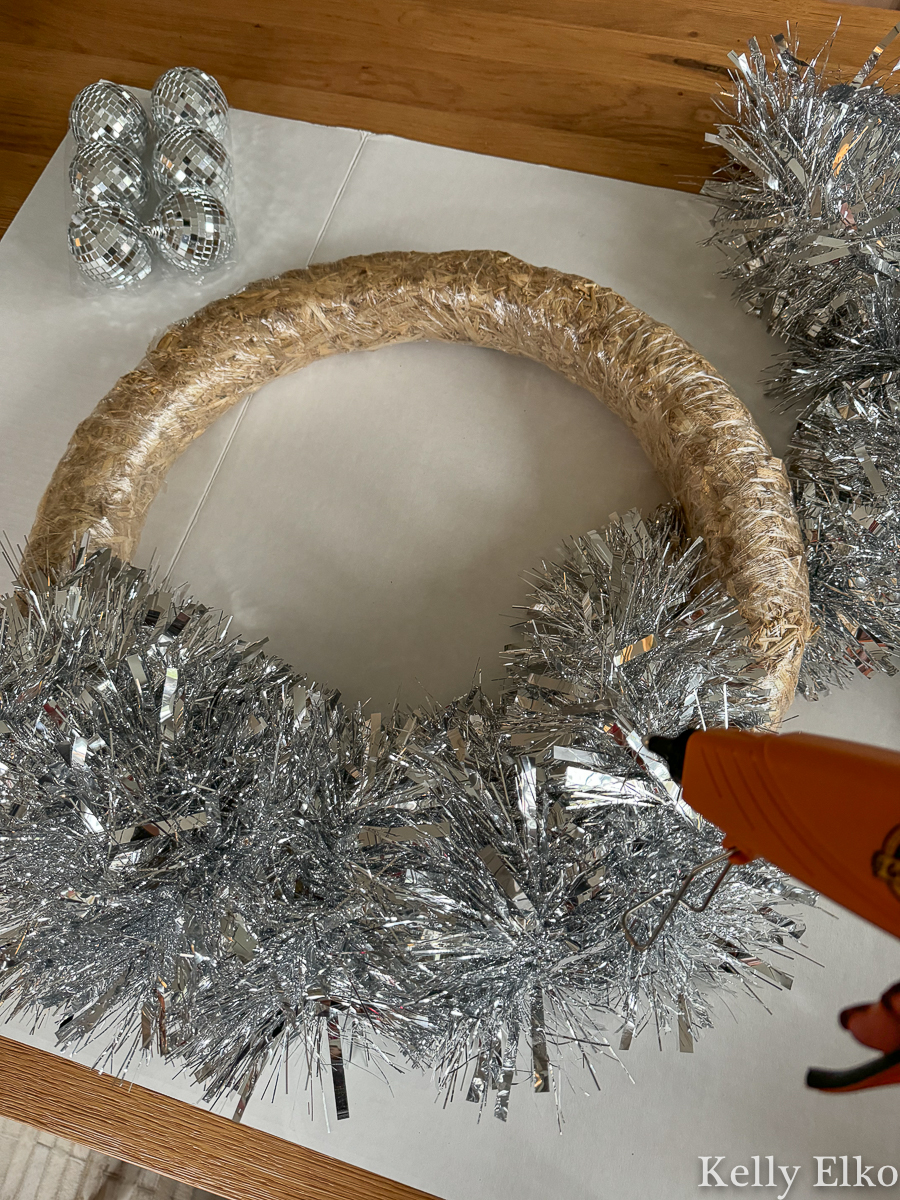 Look for fluffy, full garland and wrap it tightly making sure to secure it with hot glue every couple of wraps.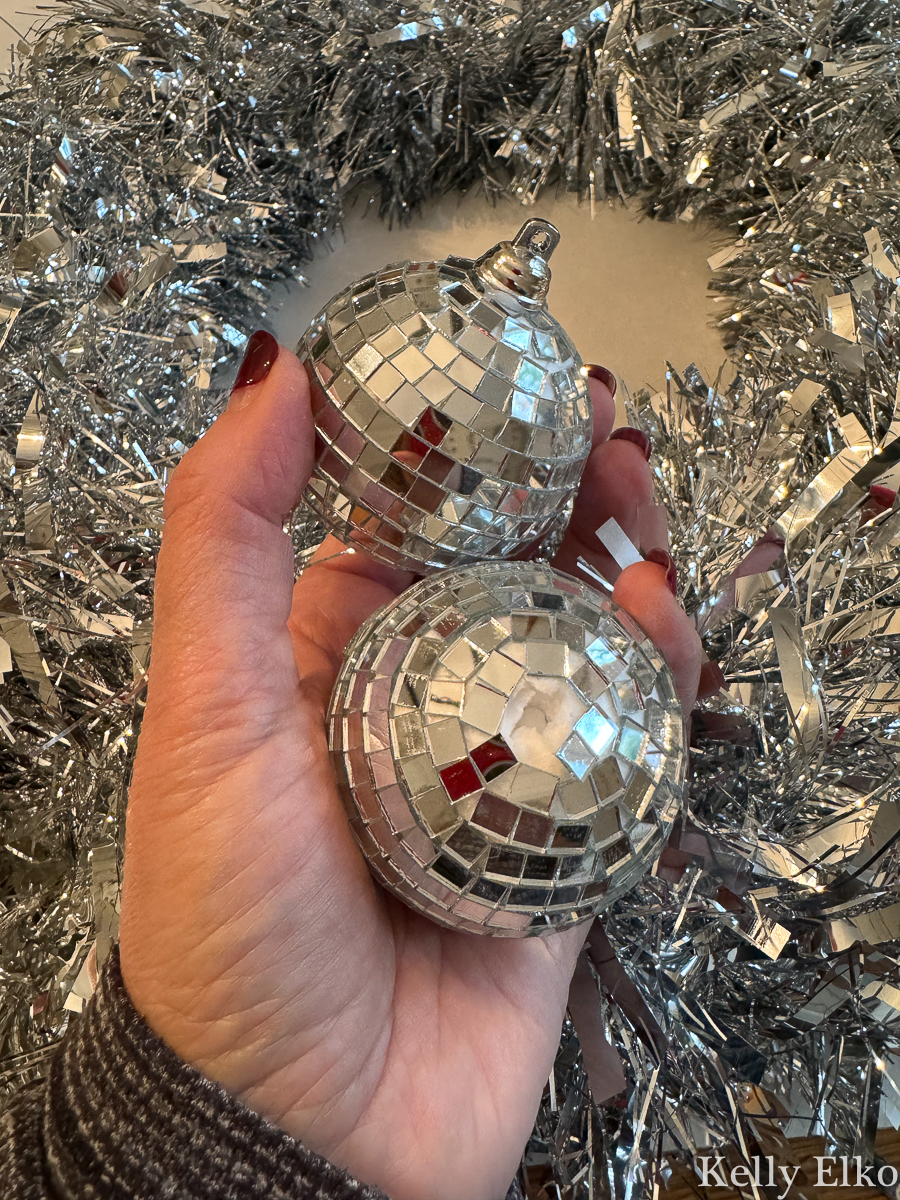 It's easy to pop the top of the ornaments off with your fingers!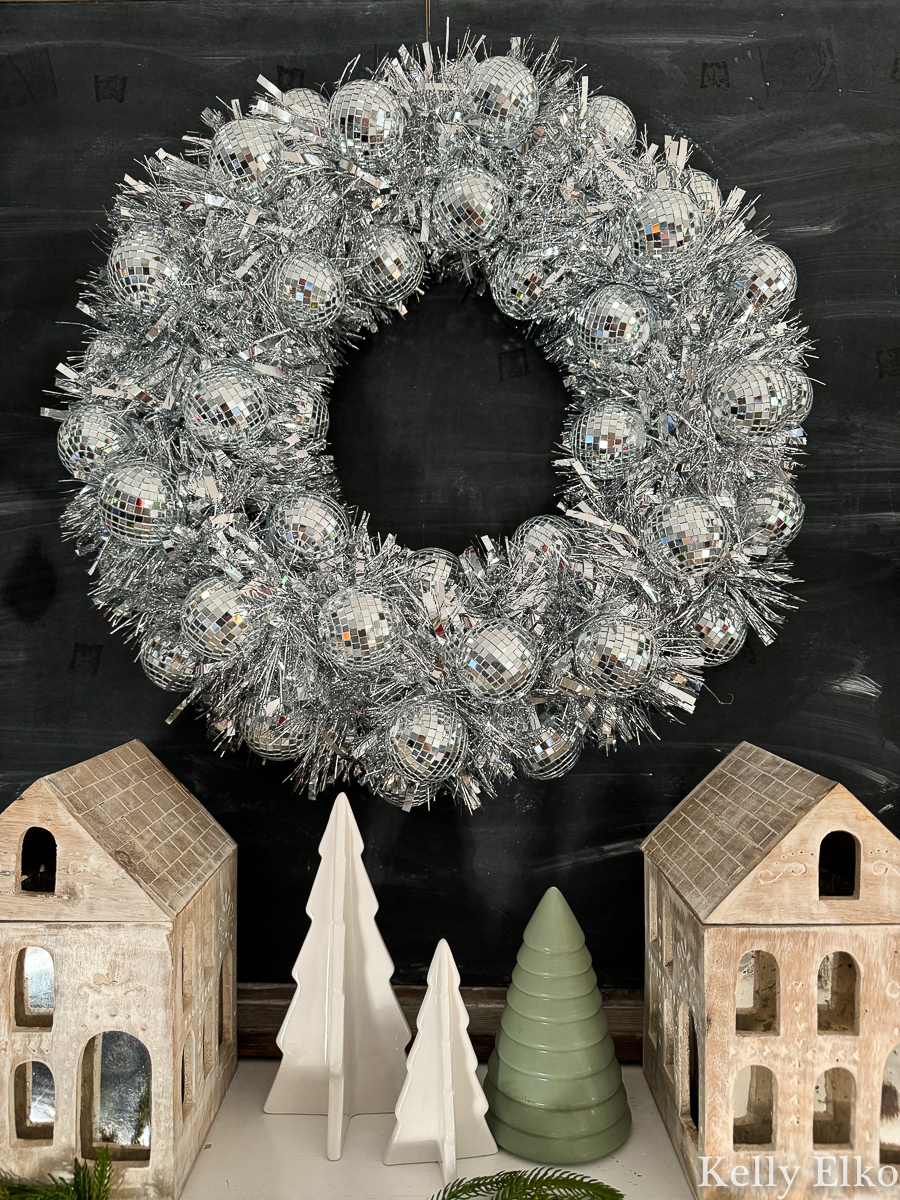 Dim the lights and light up the dance floor because this disco ball wreath is ready for her close up!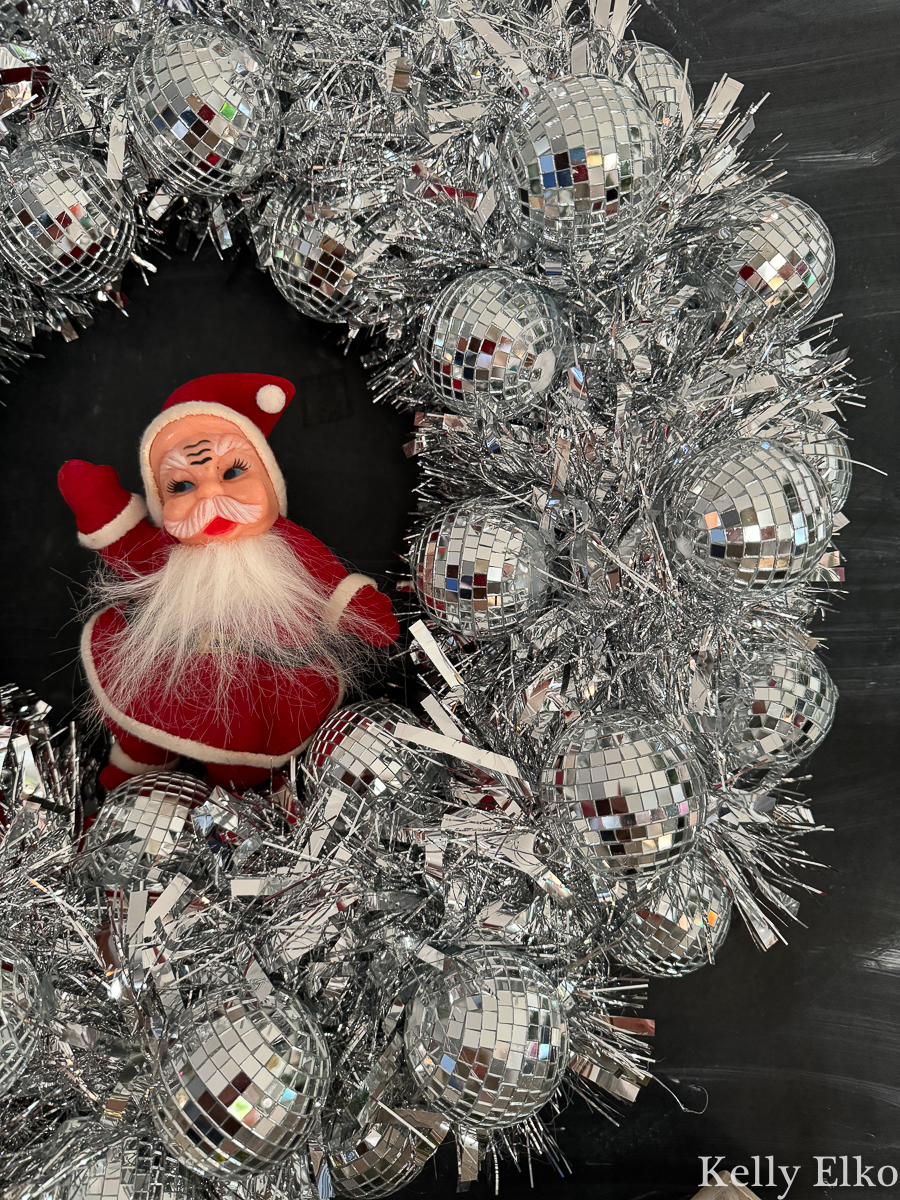 If you love disco balls as much as Mrs. Claus and I do, here are some more fun and creative Christmas disco ball decorating DIY ideas for you.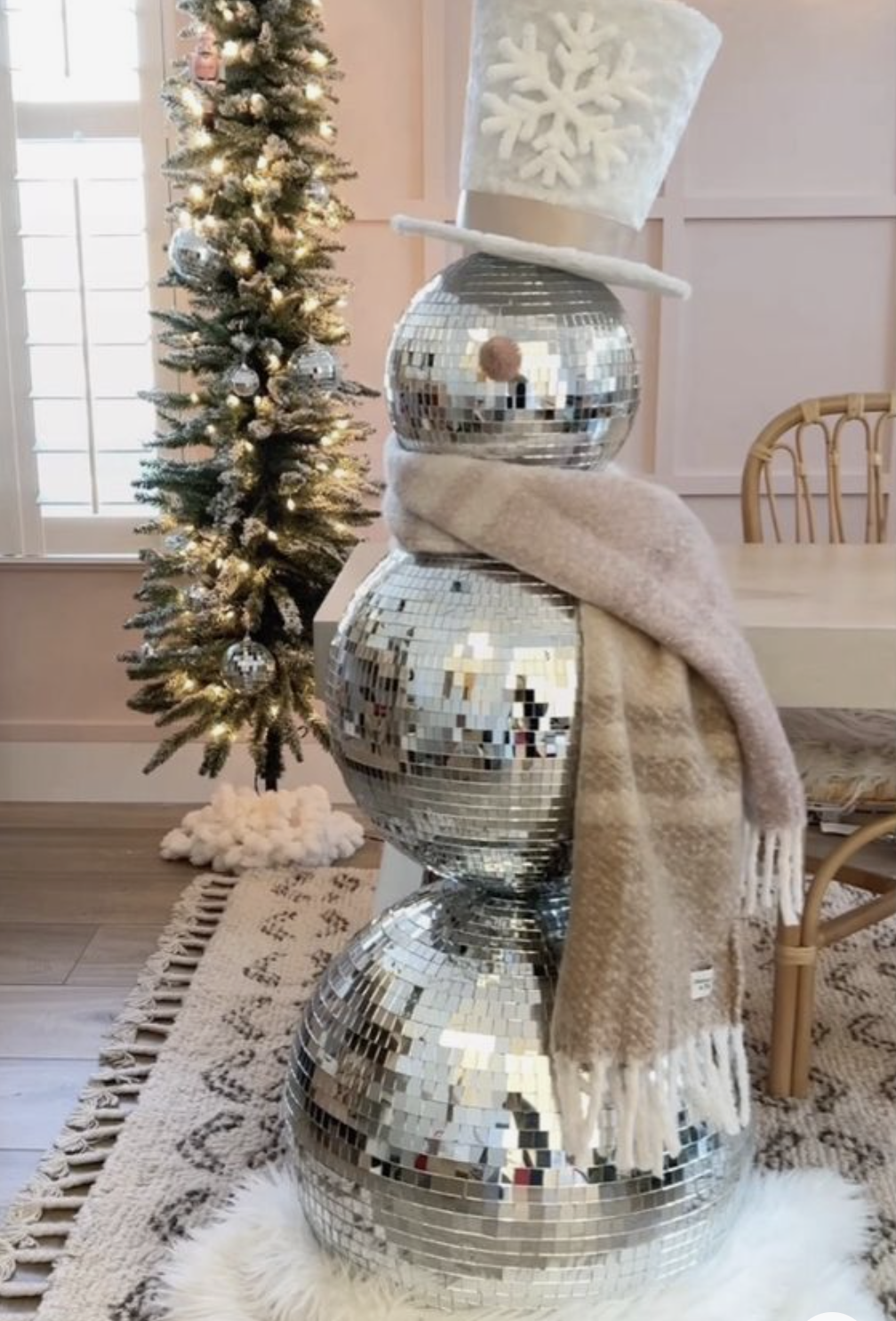 The only thing melting on this disco ball snowman will be his dance moves. Three stacked disco balls are held together with PVC pipe and a scarf and top hat complete the look from Stephanie Hanna.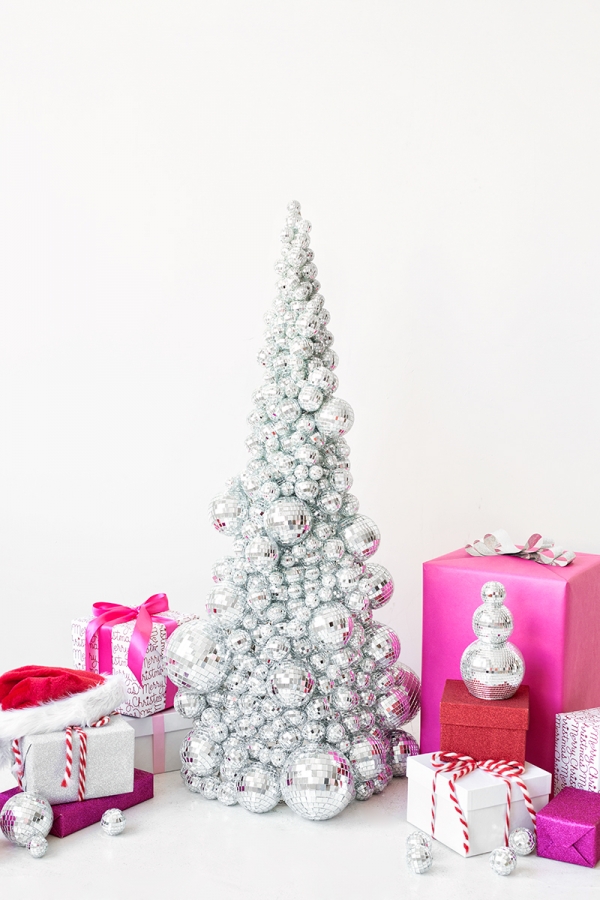 Santa's elves will be disco dancing around this 4 foot tall disco ball tree from Studio DIY.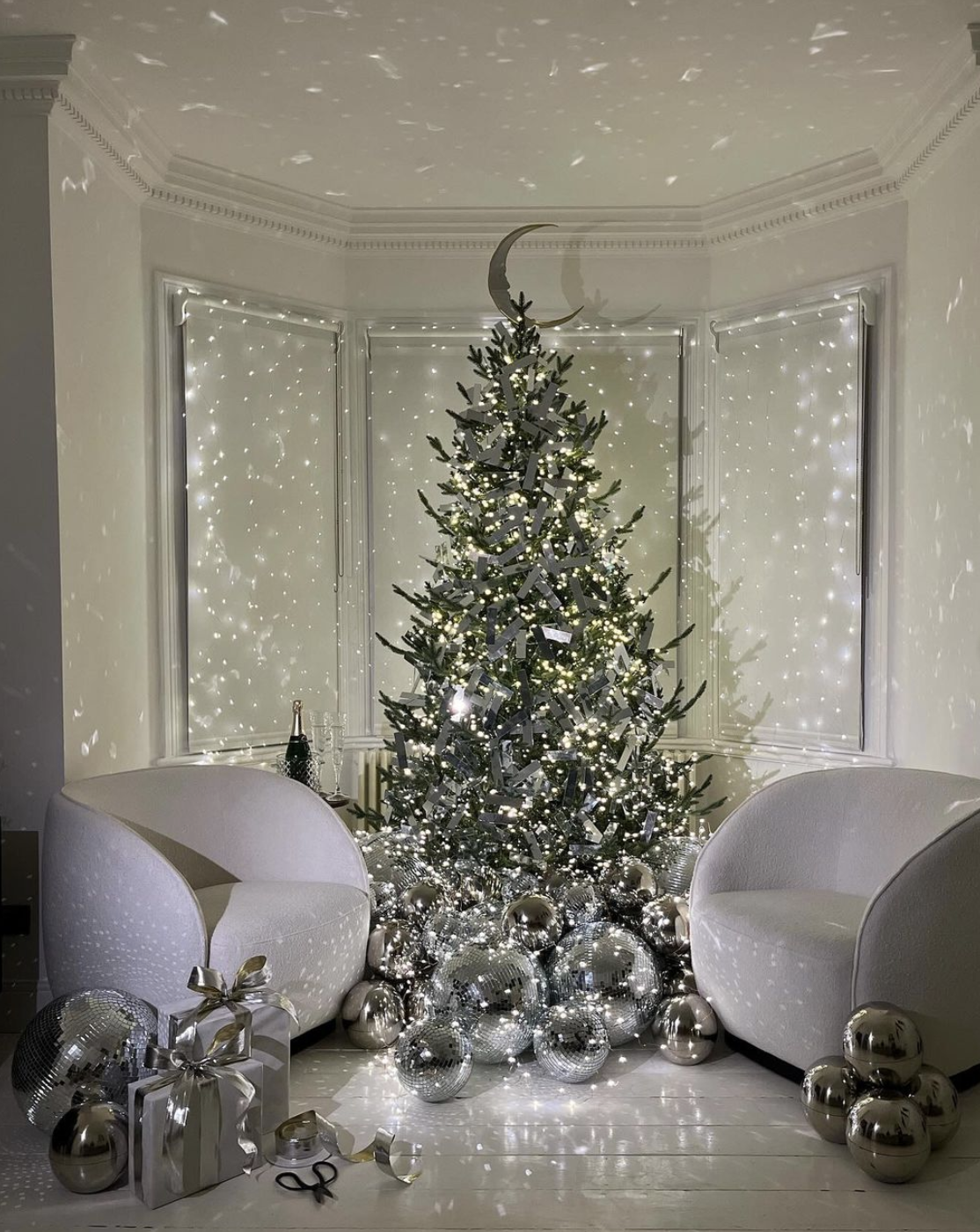 Shimmering disco balls are nestled under the tree and mirrored garland adds extra sparkle to this disco diva mirrored tree.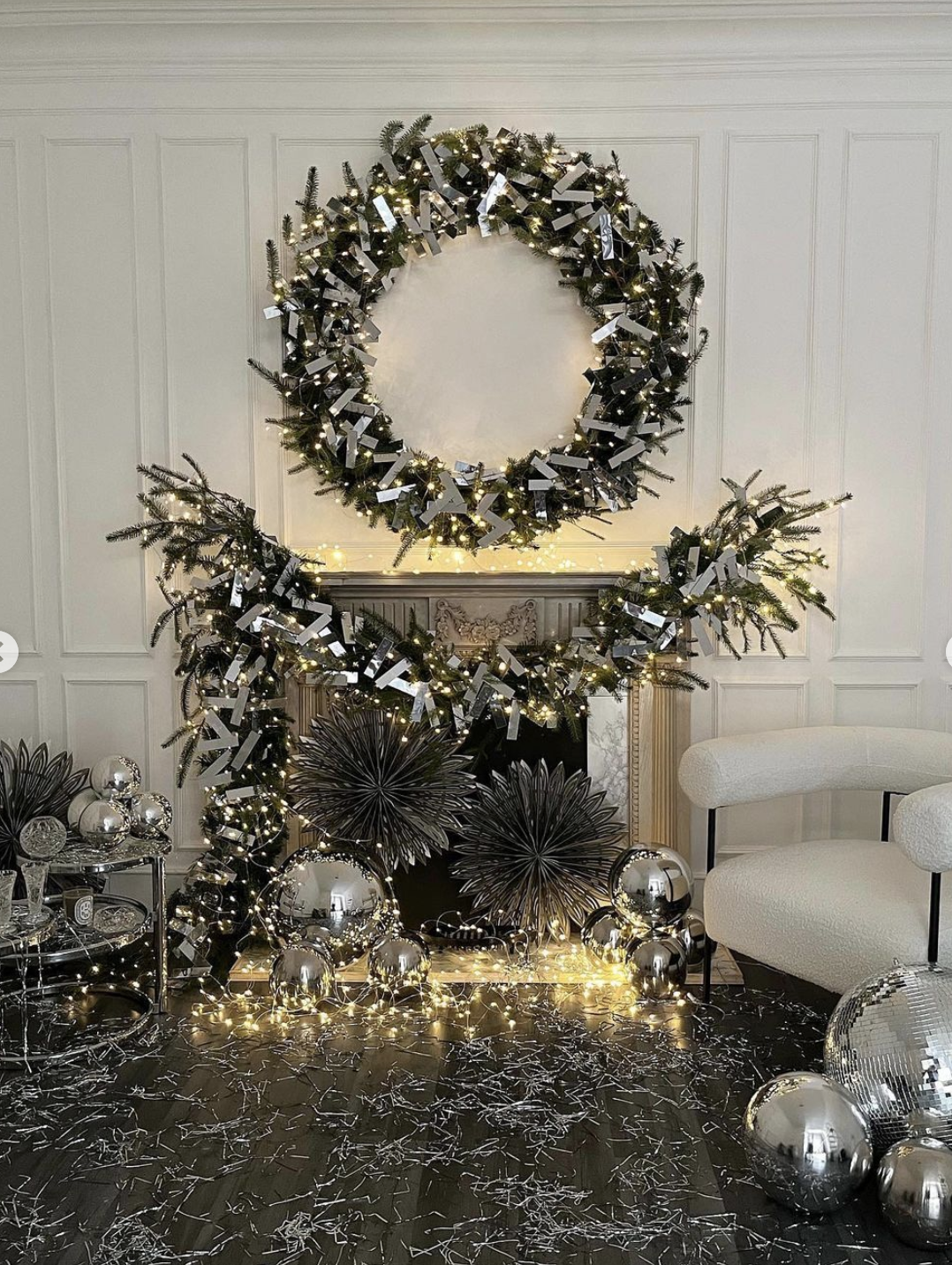 David Lawson Design didn't just stop at the tree! Check out this disco mantel with the same mirrored garland on the wreath and more disco balls on the hearth.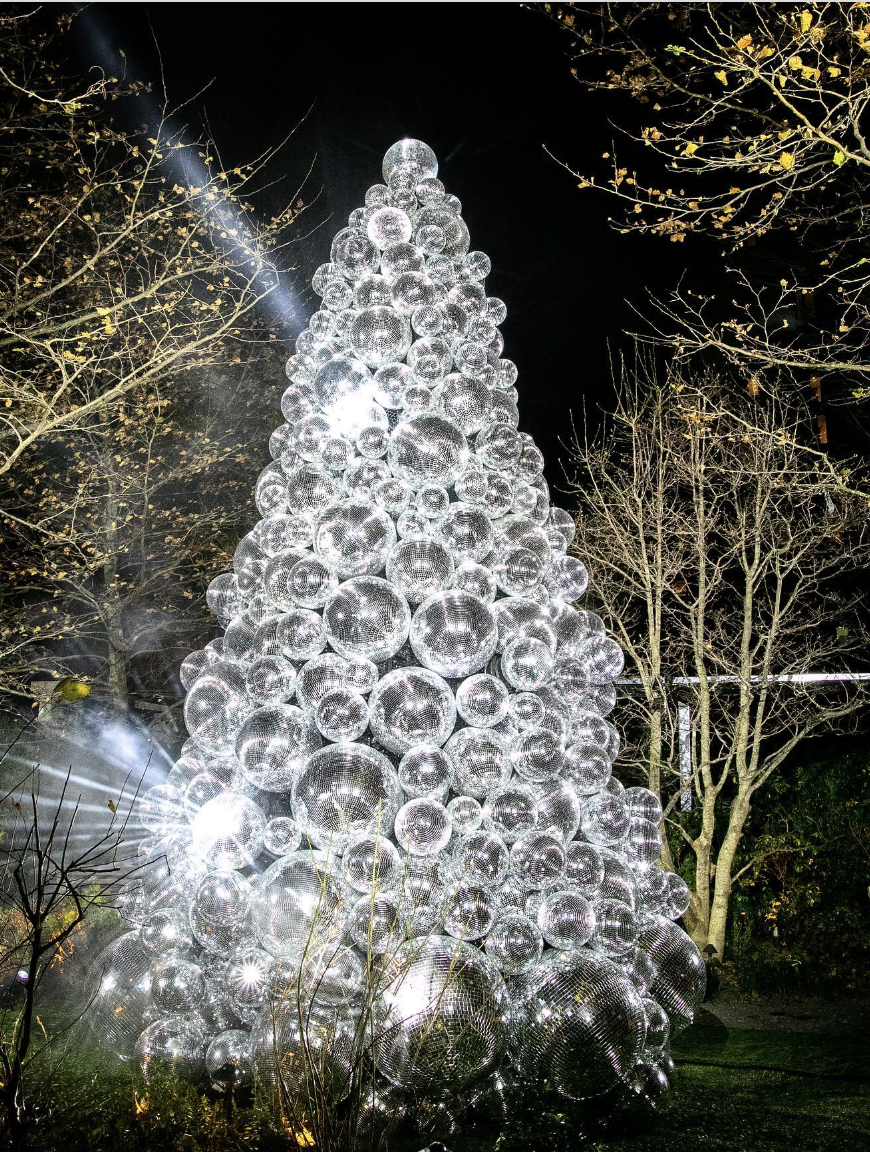 Rudolph can't miss this shimmering beacon of dancing light at the Public Hotel in New York City! This larger than life (20 feet tall) disco ball tree is the most festive tree on the planet (and can probably be seen from outer space).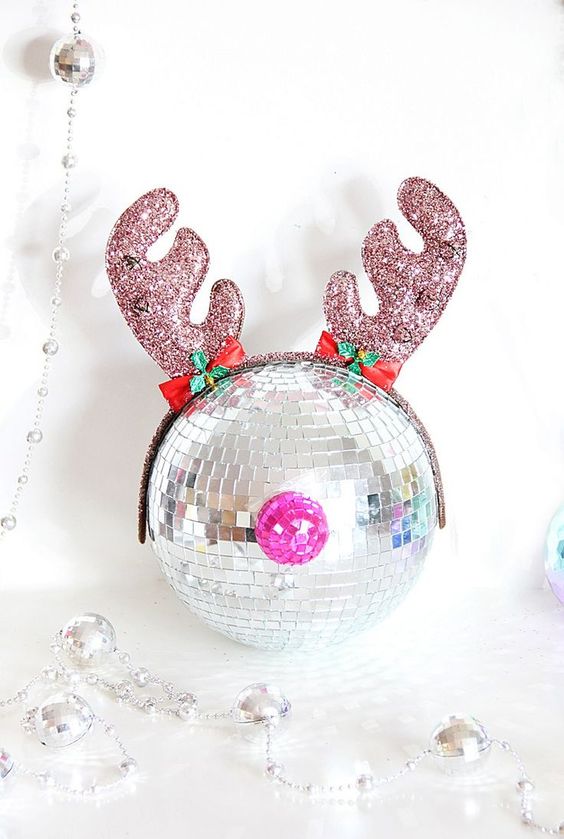 Rudolph with your nose so pink! Add a colorful pink (or red!) disco ball to a larger disco ball to create an adorable reindeer disco ball. Antlers complete the look (she jazzed hers up with glitter).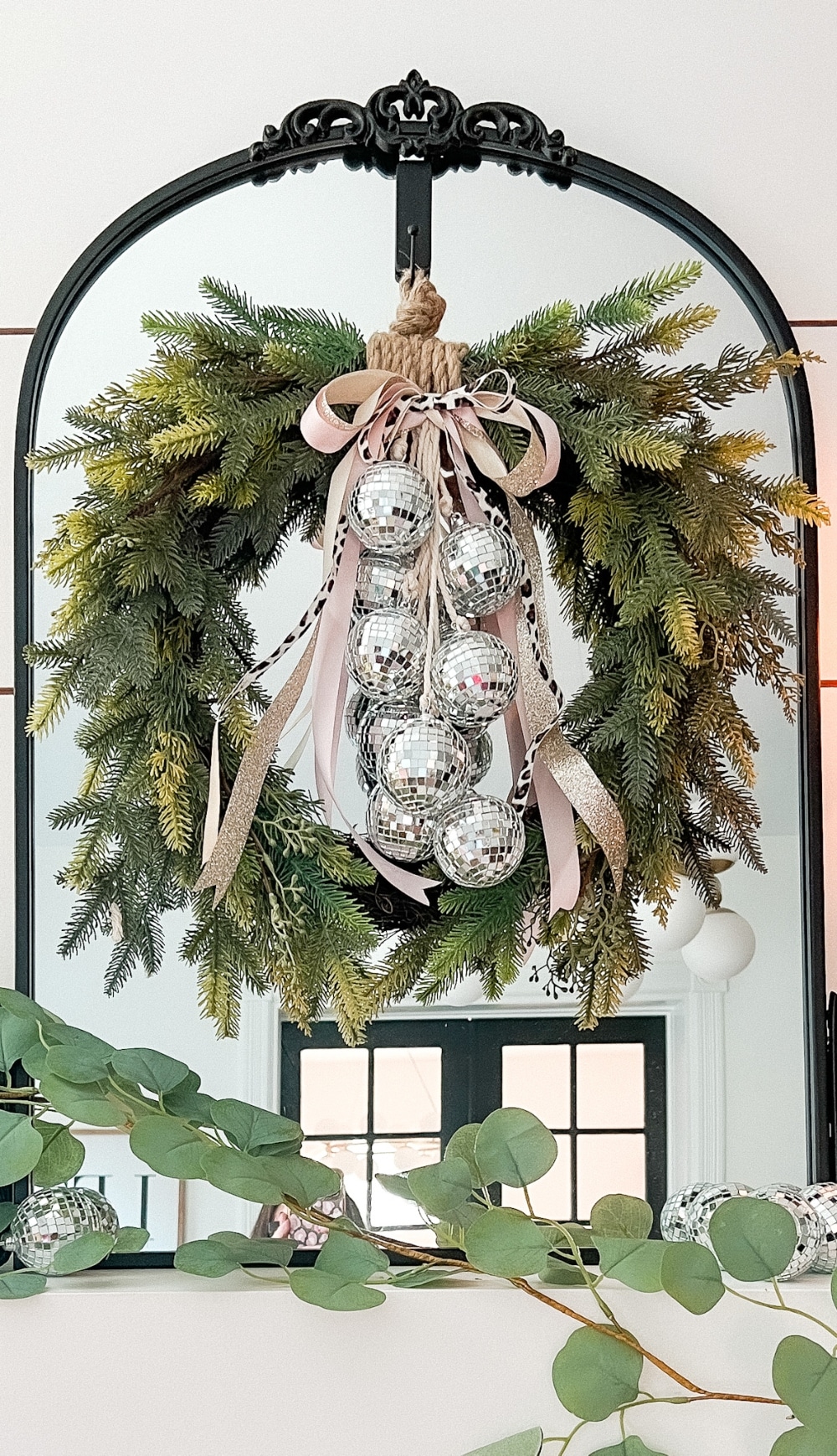 Jazz up a boring wreath with disco balls and Santa will surely put you on the nice list. I love the rustic rope, cord and colorful ribbons added to this festive disco ball wreath from Tatertots & Jello.
Santa will be wearing his white suit and practicing his Saturday Night Fever dance moves on his way to visit these festive, disco themed Christmas homes.
See My Entire Disco Christmas Mantel Here
Shop Disco Ball Christmas – Click the Pics Below