Favorite Sparse Christmas Trees
Every year, the number one questions I'm asked is, "Where did you get your sparse Christmas trees?" I LOVE SPARSE CHRISTMAS TREES because there is plenty of room between the branches to show off treasured ornaments! The secret is out because it seems like everyone is loving sparse Christmas trees (including me for the past seven years) and I am excited to share sparse Christmas tree inspiration plus the best, most realistic, top rated, and most affordable Christmas trees for you (I update my source list every year so you can be sure to find your favorite)!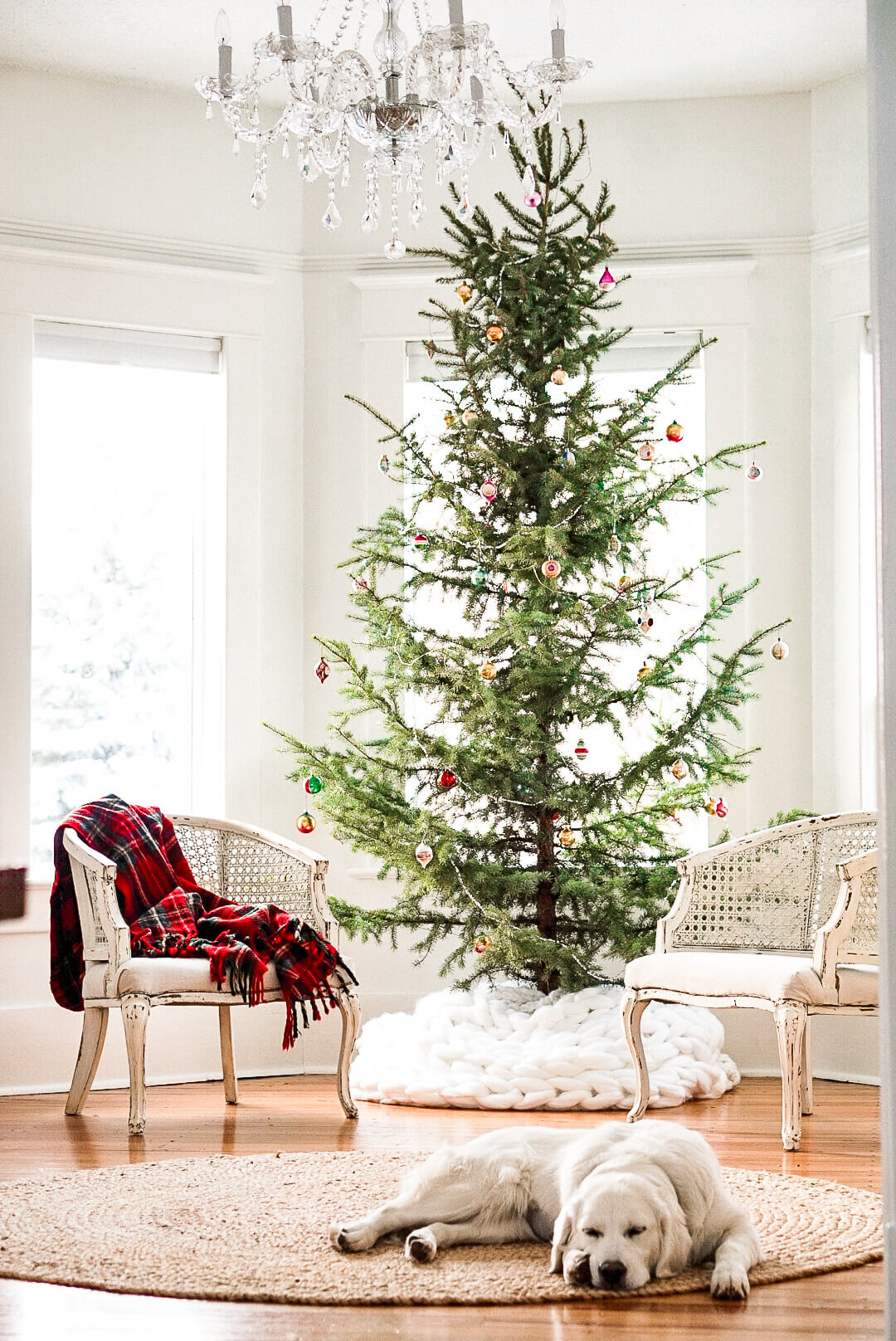 There is nothing like the real thing this real sparse Christmas tree from Vintage Society Co. is the inspiration for all the artificial trees shared in this post. The chunky wool blanket as a tree skirt looks like snow.
This post contains affiliate links which means if you make a purchase, I may earn a small commission at no extra cost to you.
Click Here to see the viral Christmas tree everyone is talking about!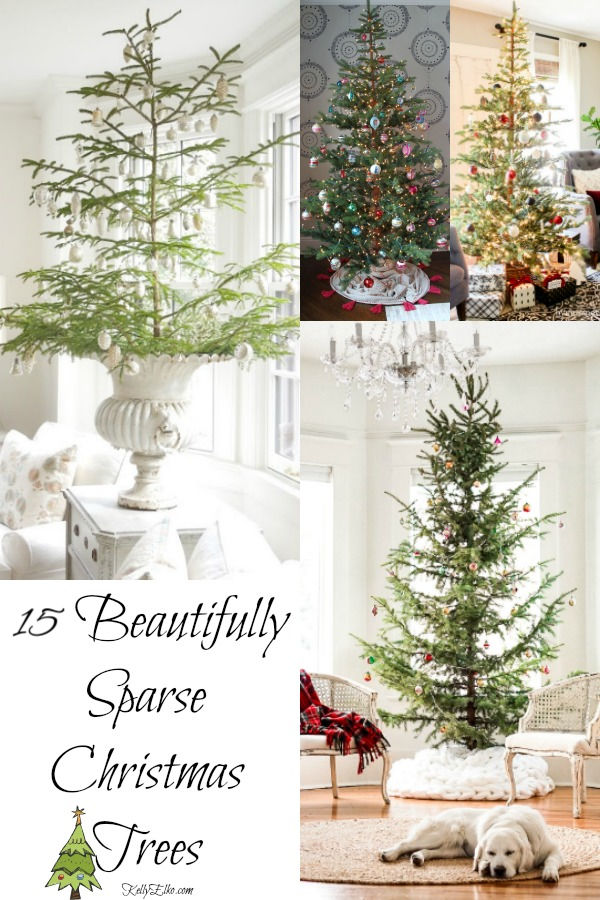 I've always wanted a fresh Silver Tip Christmas tree because they have the most stunning, spaced out branches that are perfect for displaying ornaments. The fact that they grow high in the mountains of Oregon and California means they are difficult to come by for this east coast girl. So for the past few years, I've been decorating with sparse Christmas trees because I love their imperfect shapes which makes them look much more natural in my humble opinion.
If you're searching for your own sparse Christmas tree, fear not! I'm sharing some of my favorite sparse Christmas trees below including full size and table top trees, flocked and plain trees, green and tinsel trees, pre-lit and unlit trees. Order early to make sure you get your sparse Christmas tree with plenty of time to enjoy it!

This flocked sparse tree needs nothing more than a few paper snowflake ornaments to make it shine.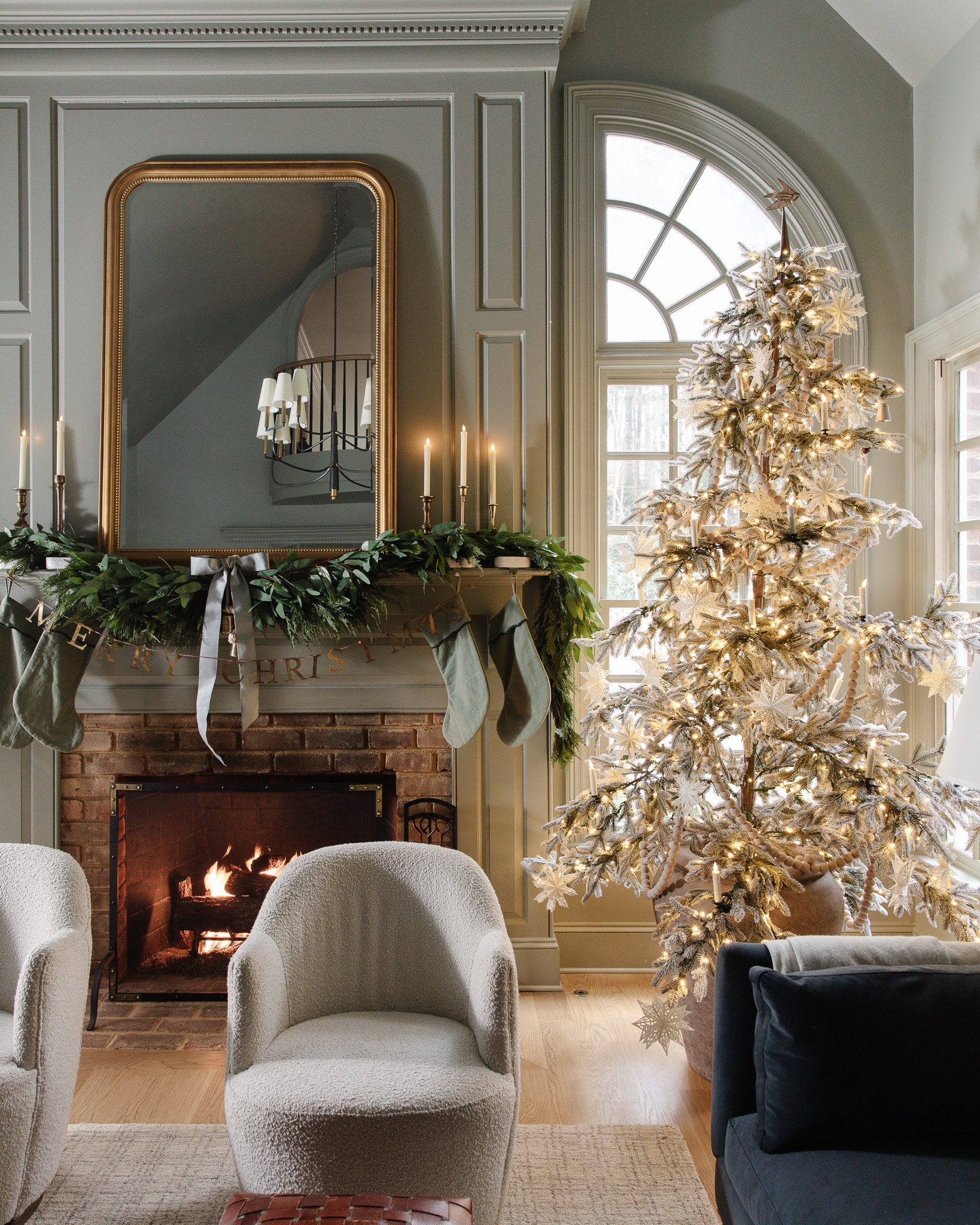 Tone on Tone shows us that less is way more when he planted this live little tree in an antique urn and decorated it with mercury glass ornaments.
Mercury Glass Christmas Tree in Urn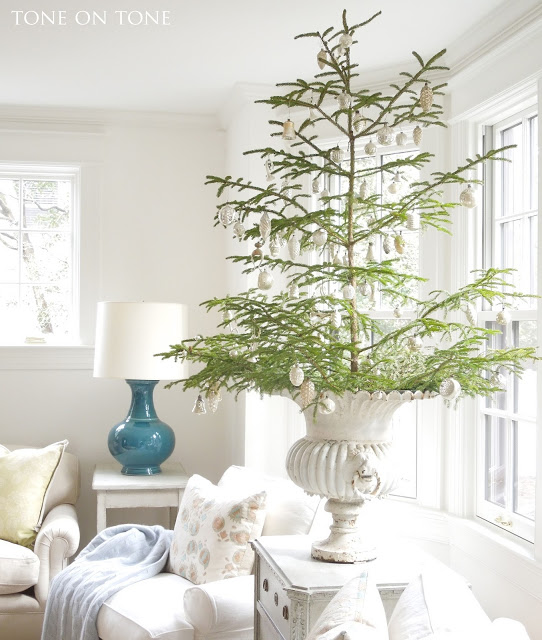 Clip on candles and string lights create a warm glow in Dear Lillie's bedroom.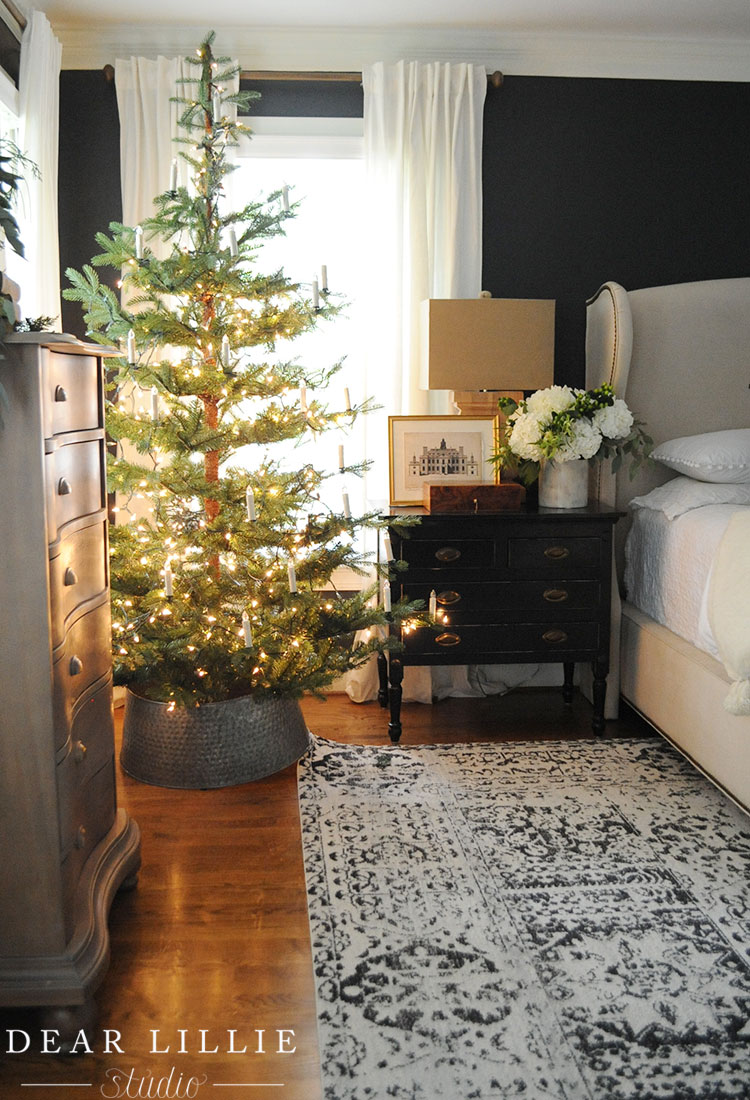 Far Above Rubies gets her trees from the woods surrounding her home and this Hemlock is the prettiest Charlie Brown tree I've ever seen decked out in vintage tinsel and Shiny Brites.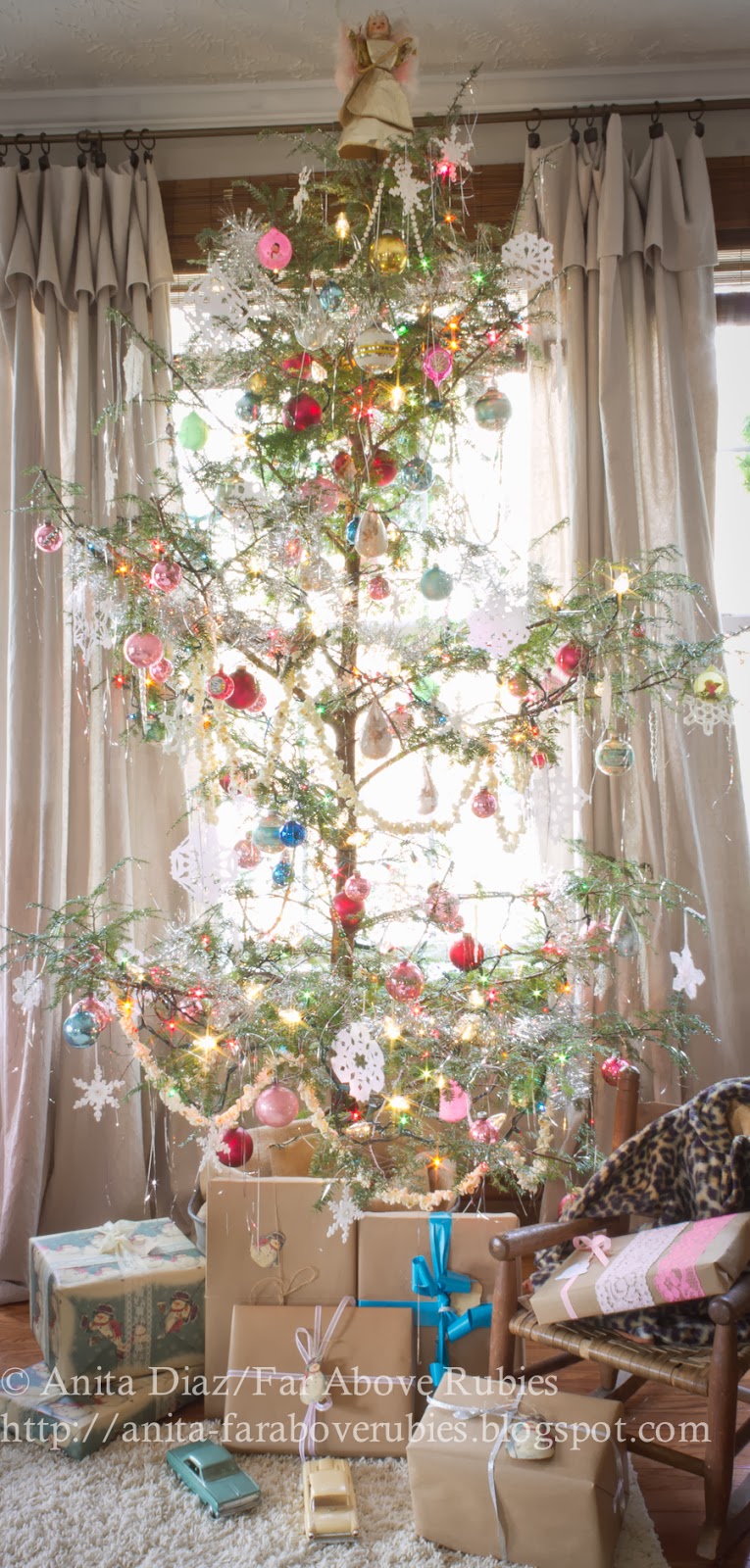 Brooklyn Limestone keeps it simple with a wood bead garland on her flocked tree.
Flocked Tree with Bead Garland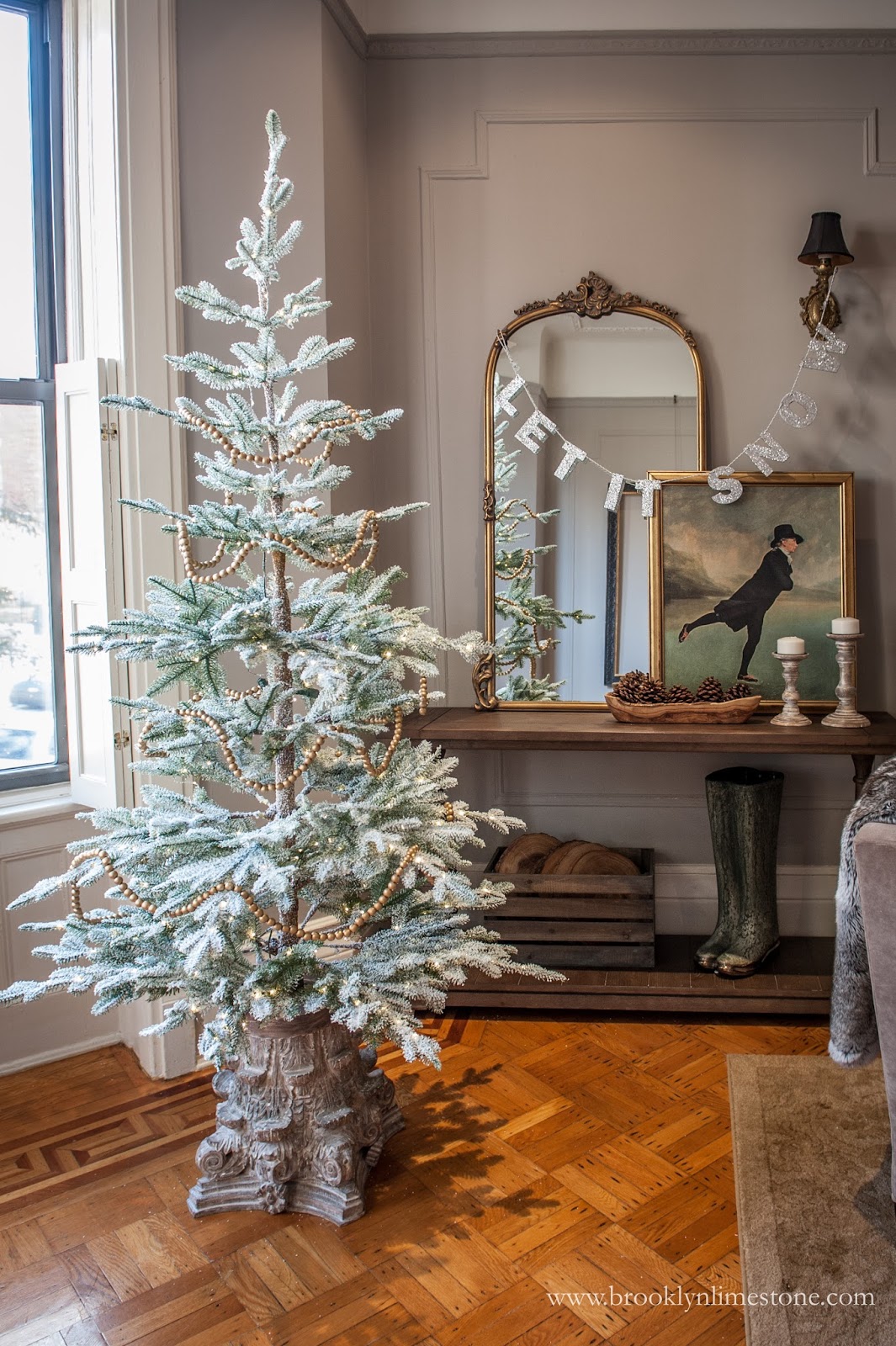 If one tree is good, two is way better and I especially love the way My 100 Year Old Home turned vintage wood crates into tree skirts brimming with ornaments.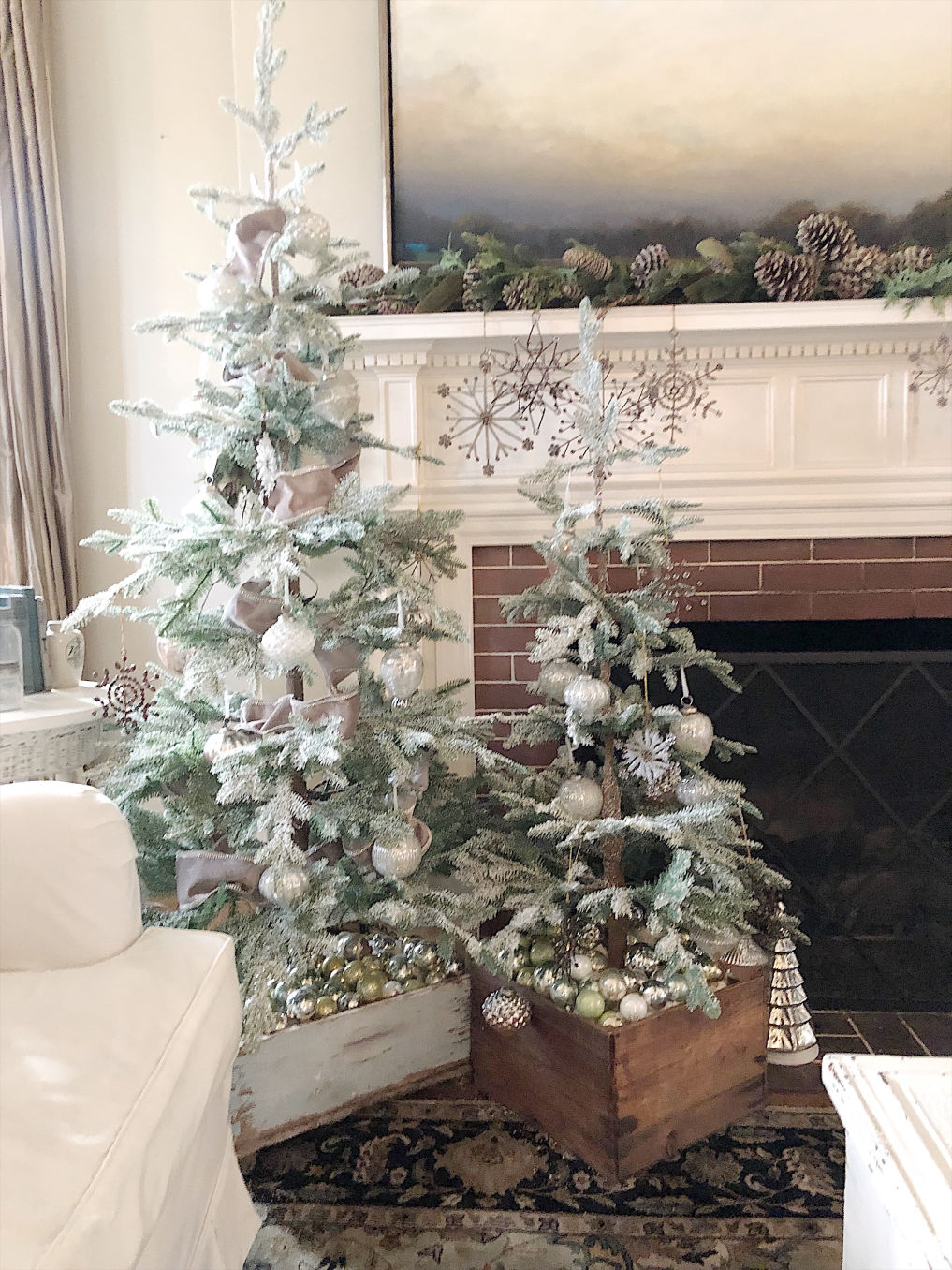 Shop My Favorite Sparse Christmas Trees
click on each pic to see more

I love the vintage green ornaments, including a beautiful tree topper, on Faded Charm Living's tree.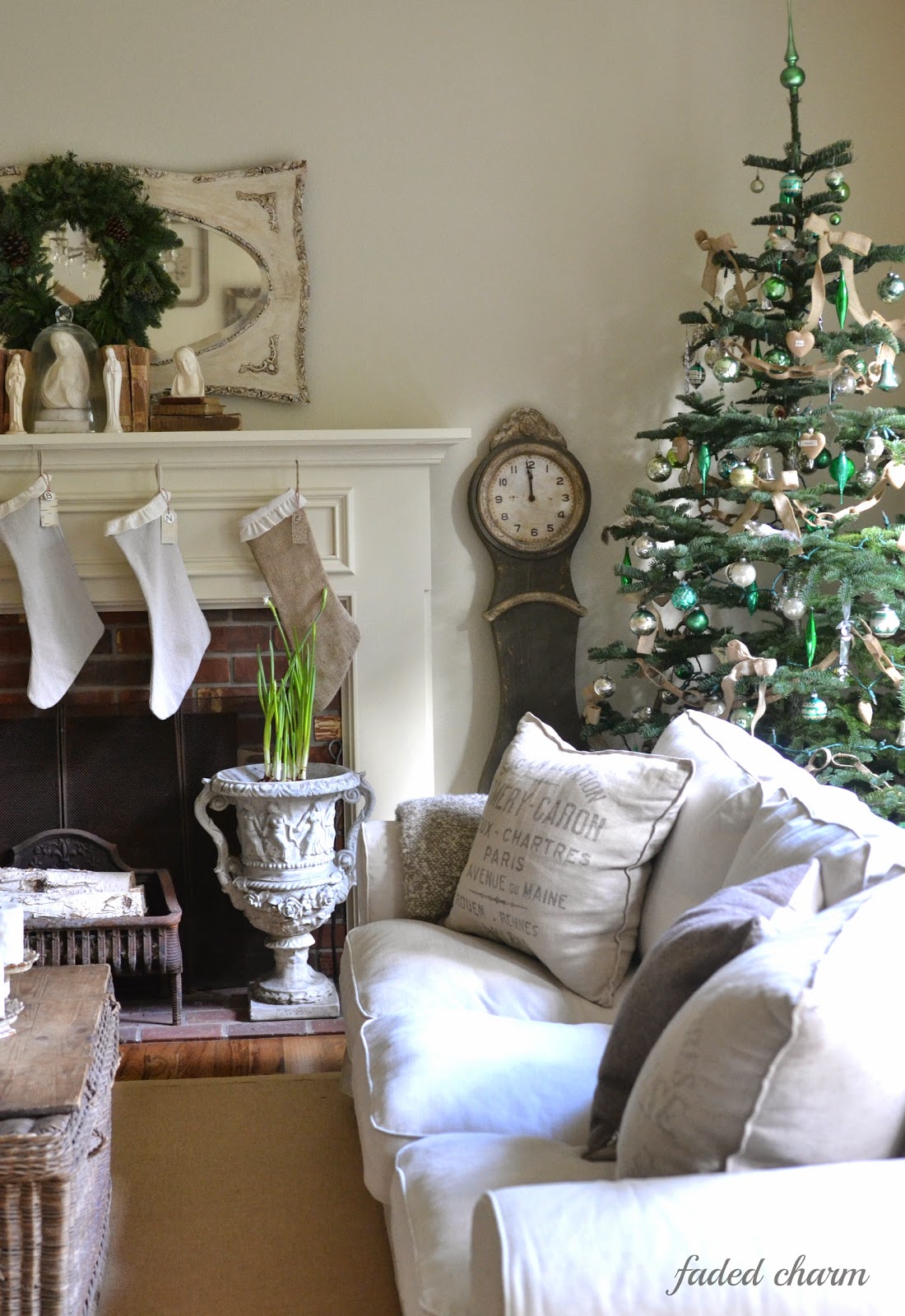 These trees are especially welcome in homes that don't have space for massive trees. I love that this type of tree is equally gorgeous in a farmhouse as it is a modern home and everything in between.
This tree gets festive with touches of red, black and white and how fun is the antique piano bench turned Christmas tree stand from Adams and Elm Home.
Antique Piano Stand Christmas Tree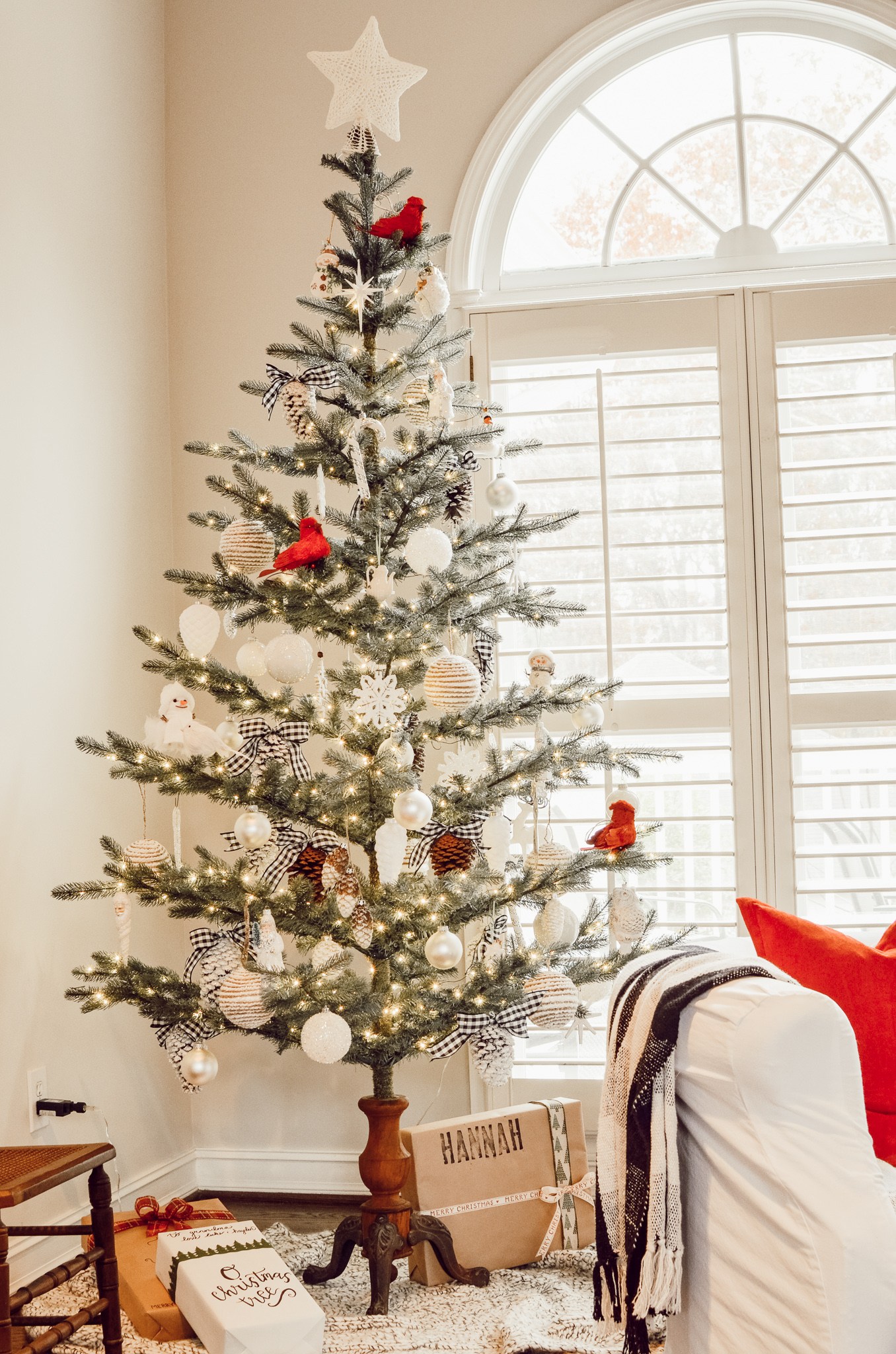 My friend Doreen of Hymns and Verses bought the same tree as the two I have in my dining room! I love the way you can see the bark between each branch and how her color scheme carries down to her beautifully wrapped gifts.
Whimsical Sparse Christmas Tree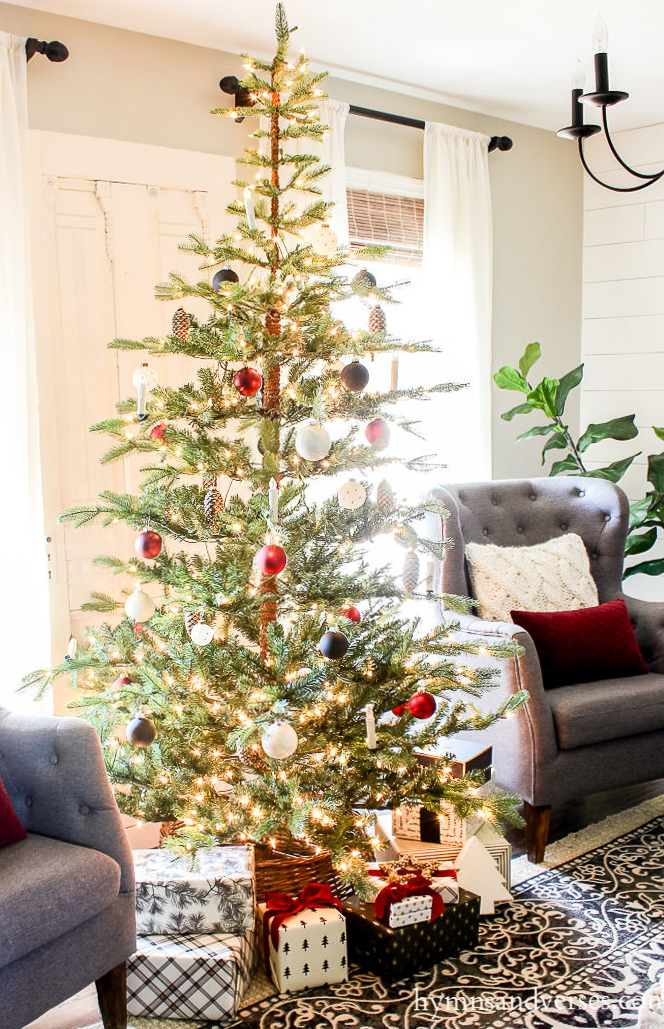 Just look at the way the ornaments pop between the branches of this tree! It seems like there was a memo passed around where everyone, including Emily Henderson, decided to decorate their trees in black, white and red!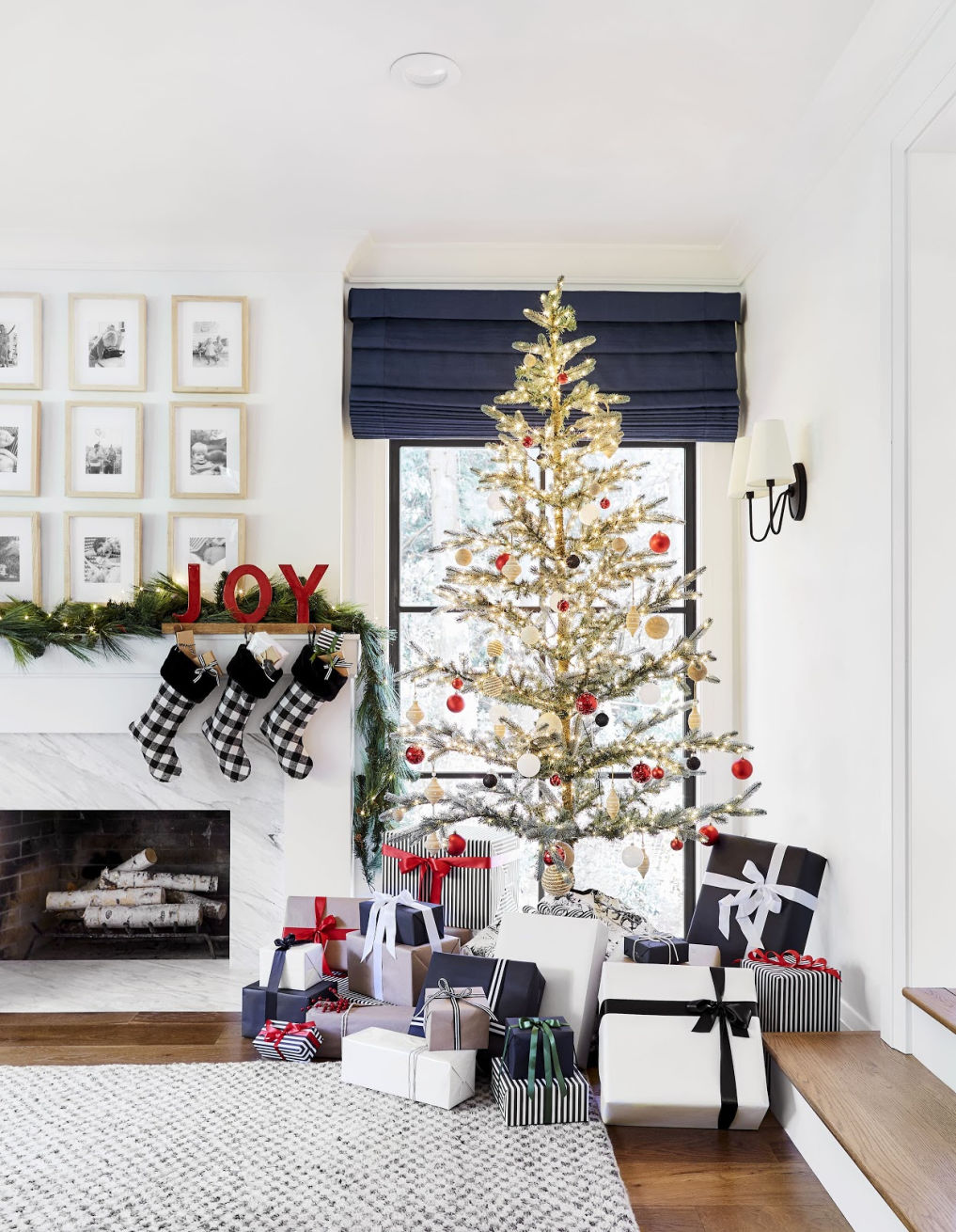 Now let's take a look at my sparse Christmas trees including the pair in my dining room. I covered them with vintage Shiny Brite ornaments last year and love how all sides of the ornaments can be seen.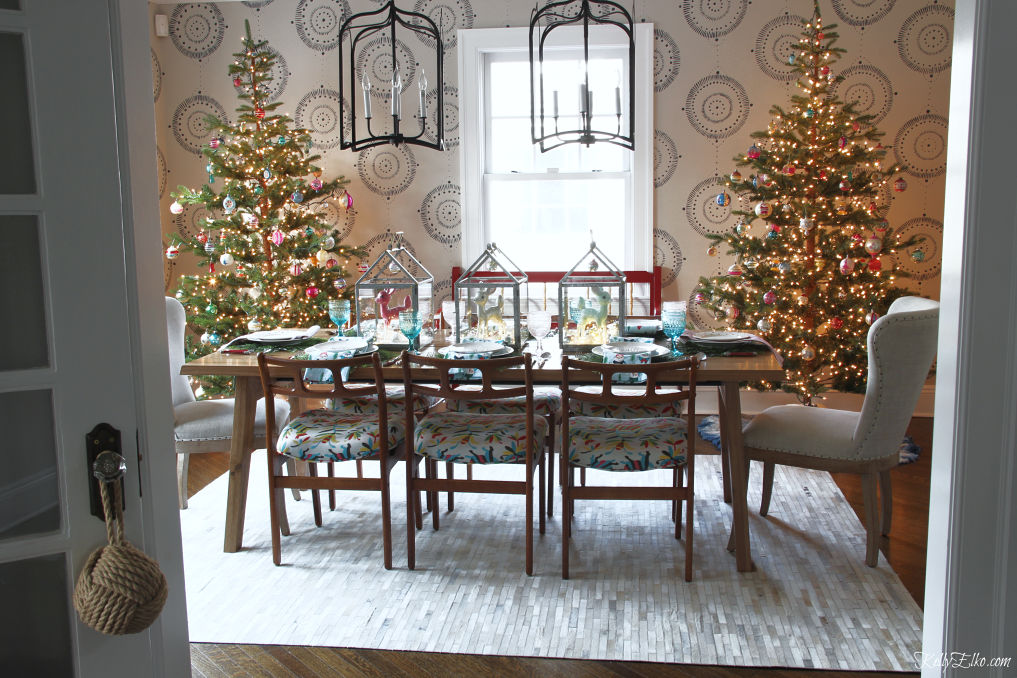 I've had this little feather tree for years (in fact, I have two) and love displaying small ornaments on it. Vintage Pepsi bottles create a "tree skirt" which makes it the perfect kitchen counter tree.
Soda Bottle Tree Skirt Feather Tree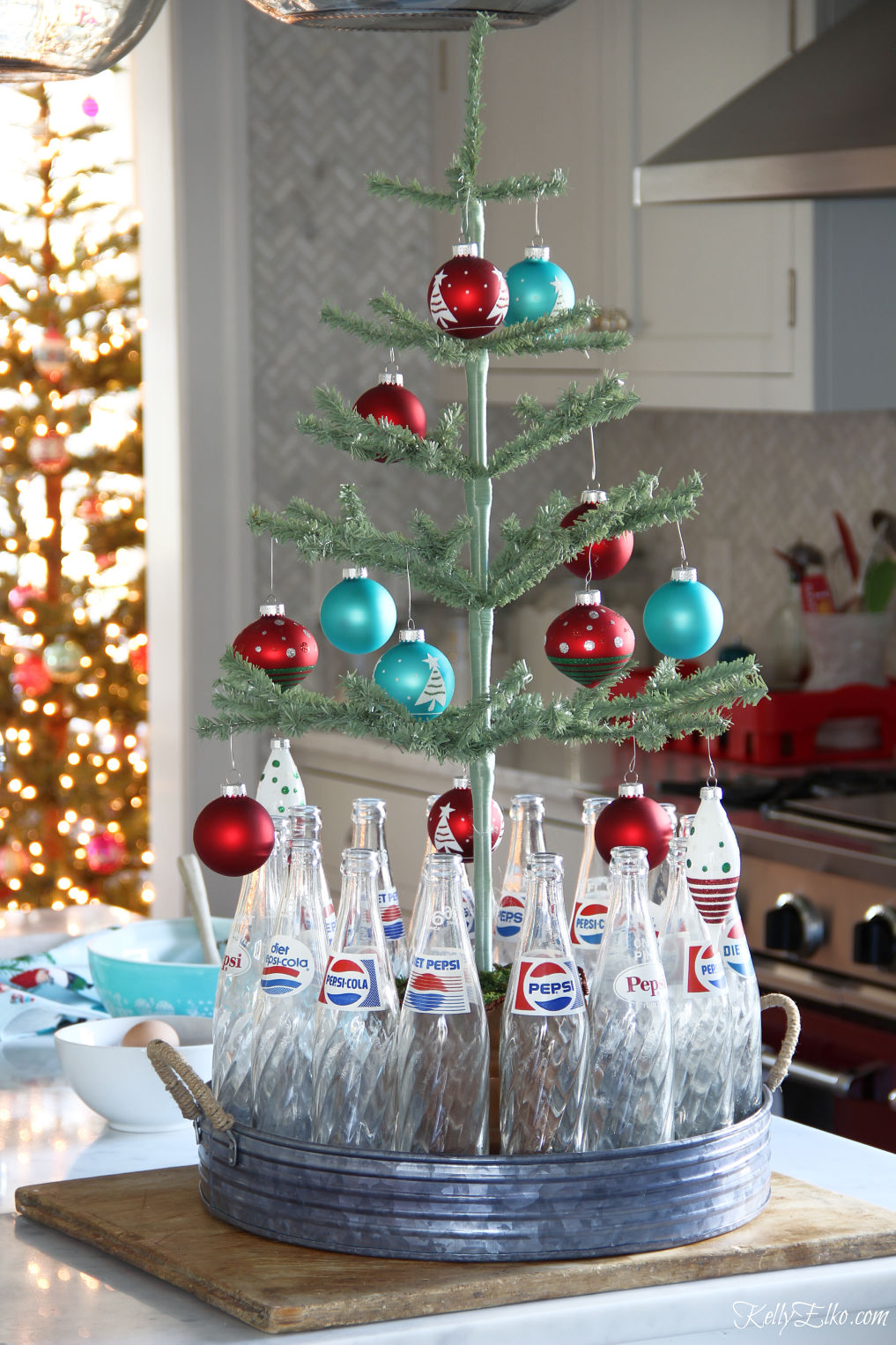 Although not quite as sparse, this Christmas tree is very realistic looking because of its irregular shape. I decked out the tree with over 1600 string lights, clip on candle lights and hundreds of my treasured vintage Shiny Brite ornaments.
You can read more about my realistic looking Christmas tree in this post.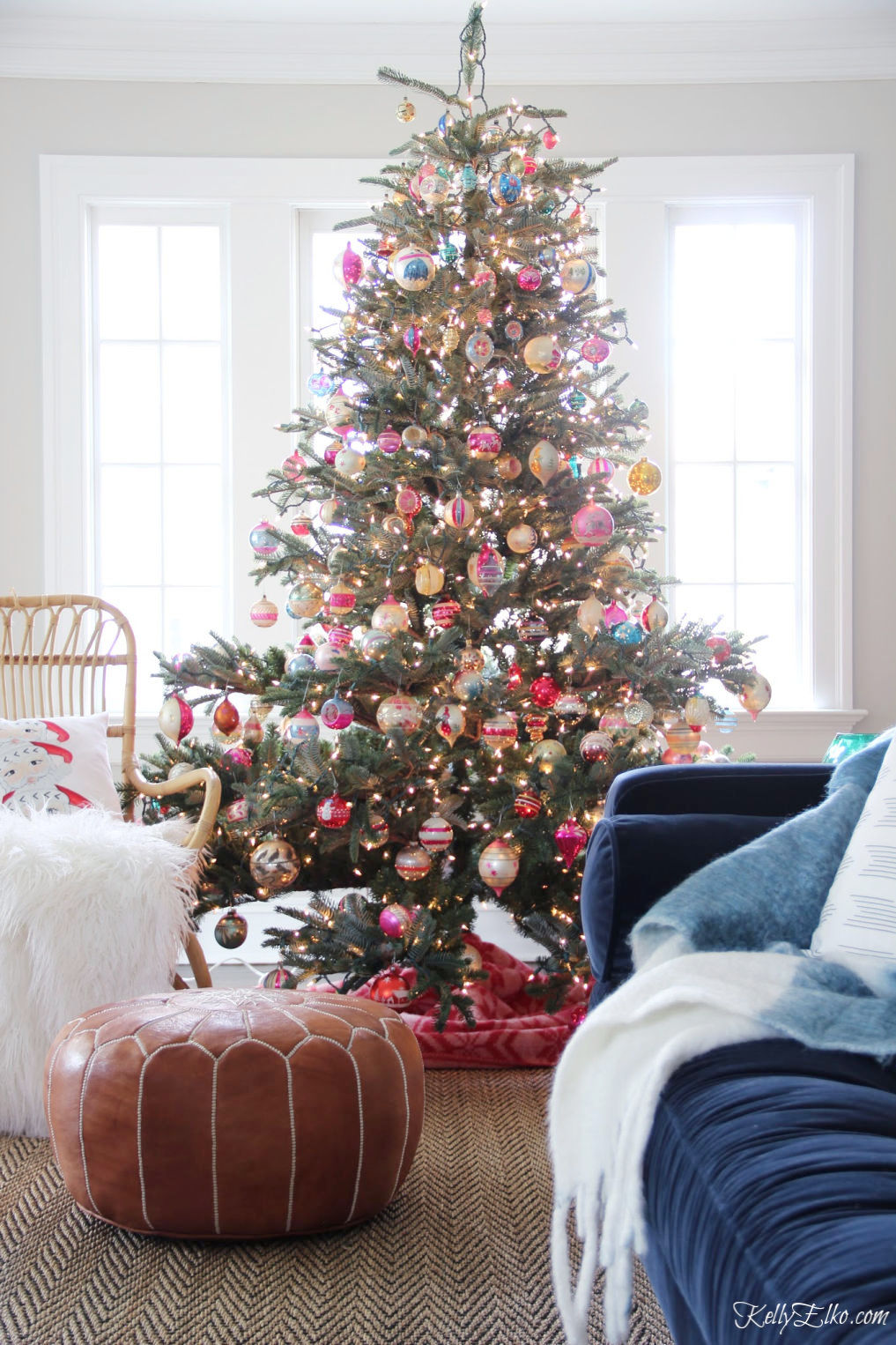 Here's my little Charlie Brown tree complete with tiny little pine cones. I added a flock of bright red cardinals.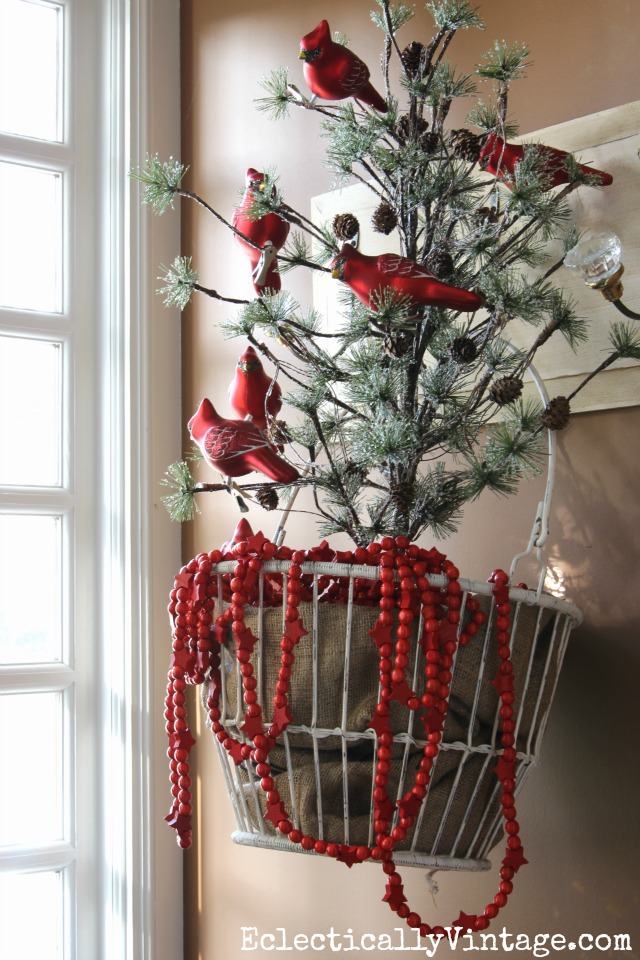 I love the realistic look of sparse trees and I'm sharing my favorite and most highly rated sparse trees below.
My Favorite Sparse Christmas Trees
click on each pic to see more