Home Sweet Home Christmas Home Tour
Welcome to my Home Sweet Home Christmas Home Tour. This is my favorite time of year and each year I always strive to create a unique Christmas home filled with one of a kind decorating ideas (this is my tenth Christmas tour)! I've been decking all my halls and trimming all my trees with lots of fun vintage finds and I'm excited to welcome you into my home.
I'm kicking off the first day of the Jennifer Rizzo's Holiday Housewalk which means that all week long, you can hop from blog to blog to see some amazing holiday homes. The tour begins at Jen's house here so don't miss it.
If you're visiting from my good friend Shannon's house at Fox Hollow Cottage, welcome! You don't want to miss her All is Calm Home Tour.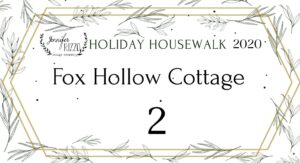 I added a source list at the end of this post in case you spy something that you have to have!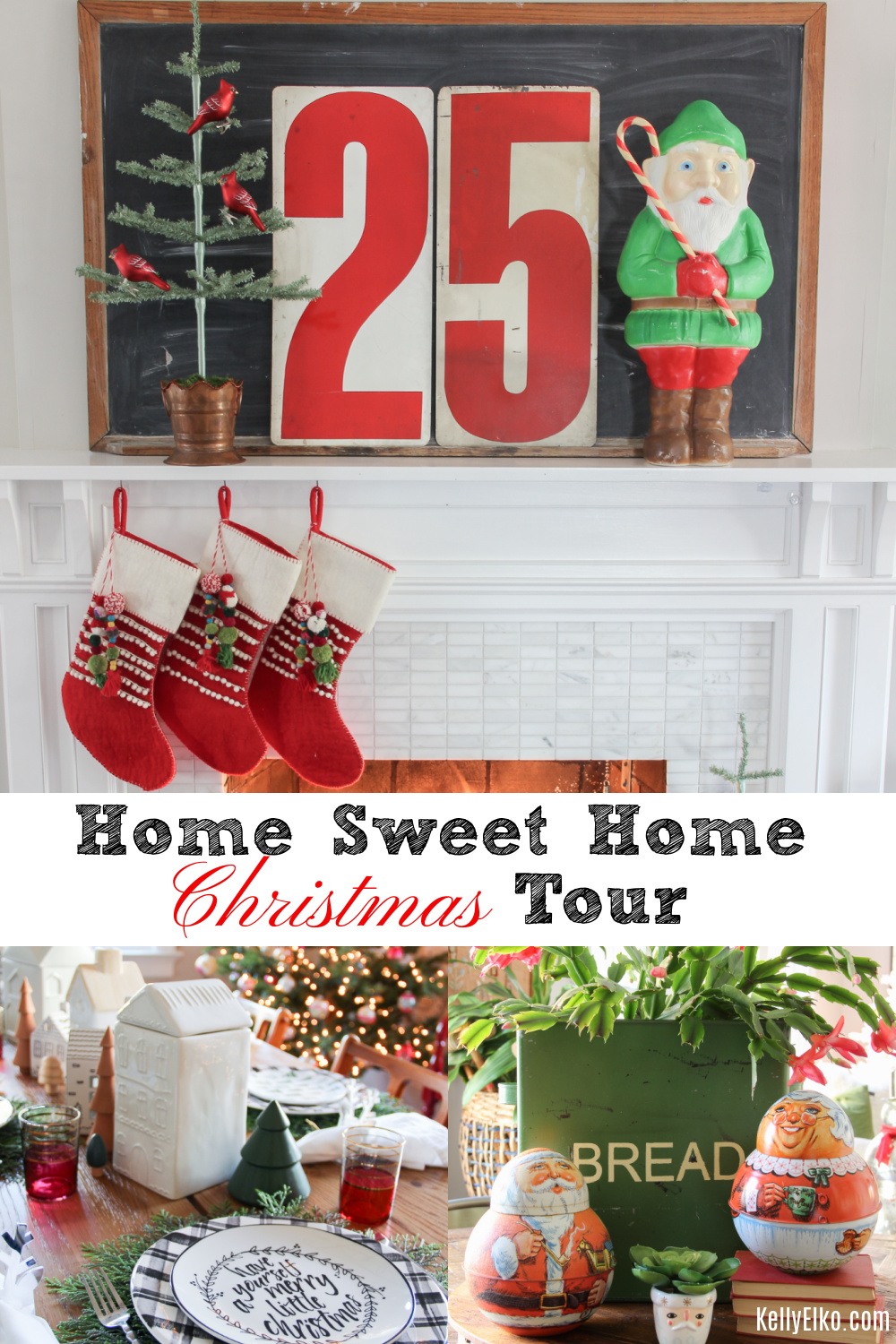 I always start my Christmas decorating with my mantel and I think this is my favorite one so far!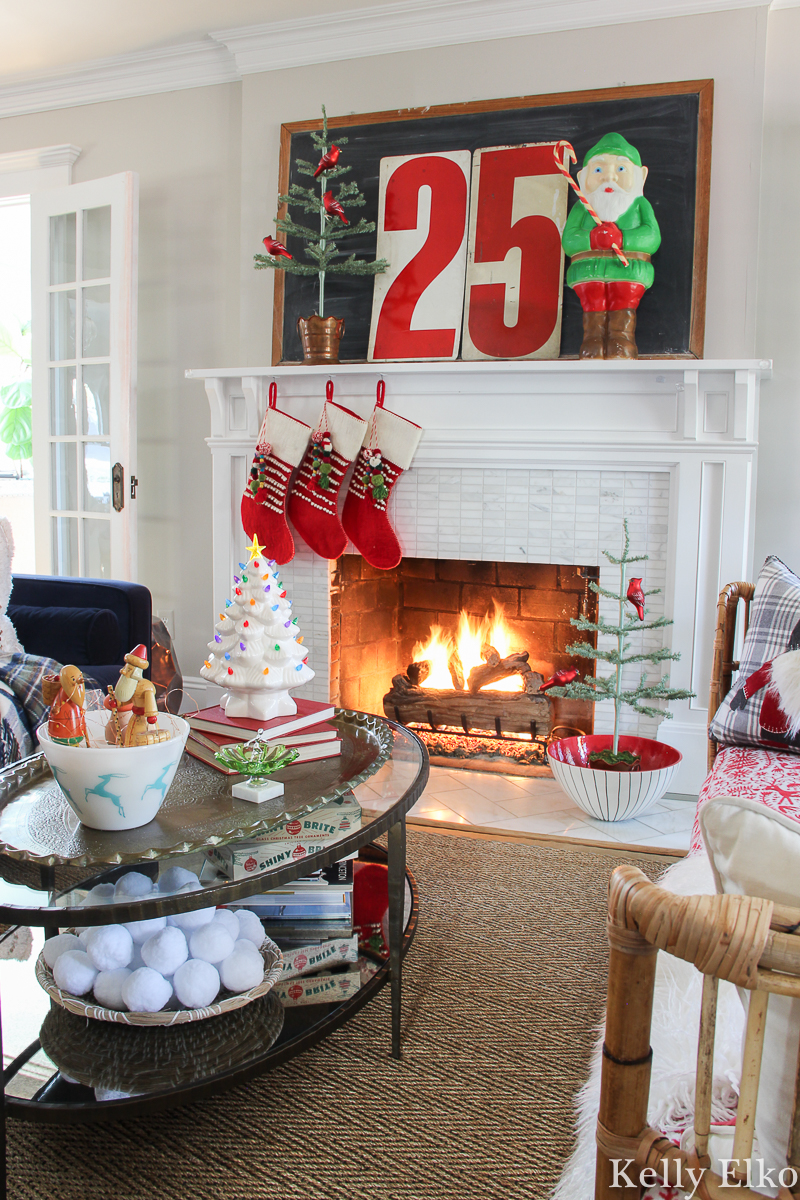 I'm on the look out for Christmas decorations 365 days a year so when I found the old metal numbers and vintage blow mold over the summer, I snatched them up and waited patiently.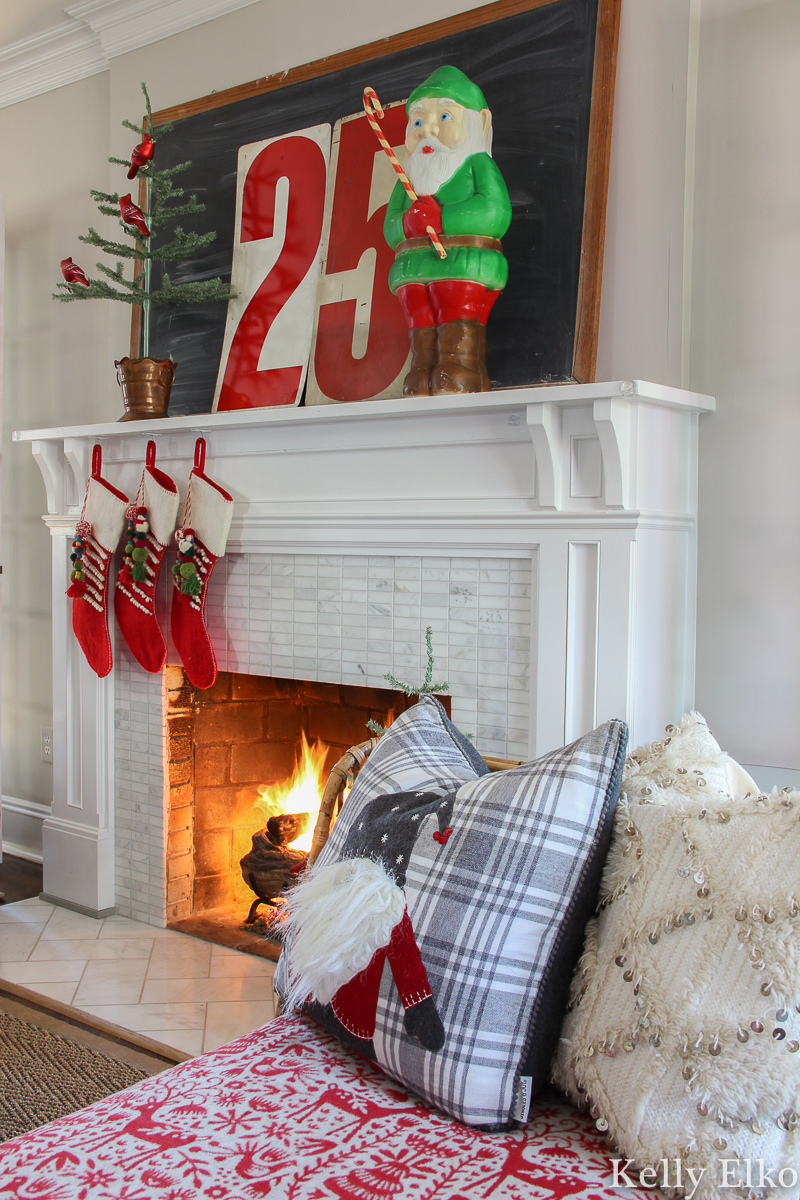 Meet David! I asked a friend to pick up this vintage elf blow mold for me and when I gave her all the sellers info including his name (David), she asked if that was the seller's or the elf's name! How could I resist those big blue eyes not to mention that huge candy cane!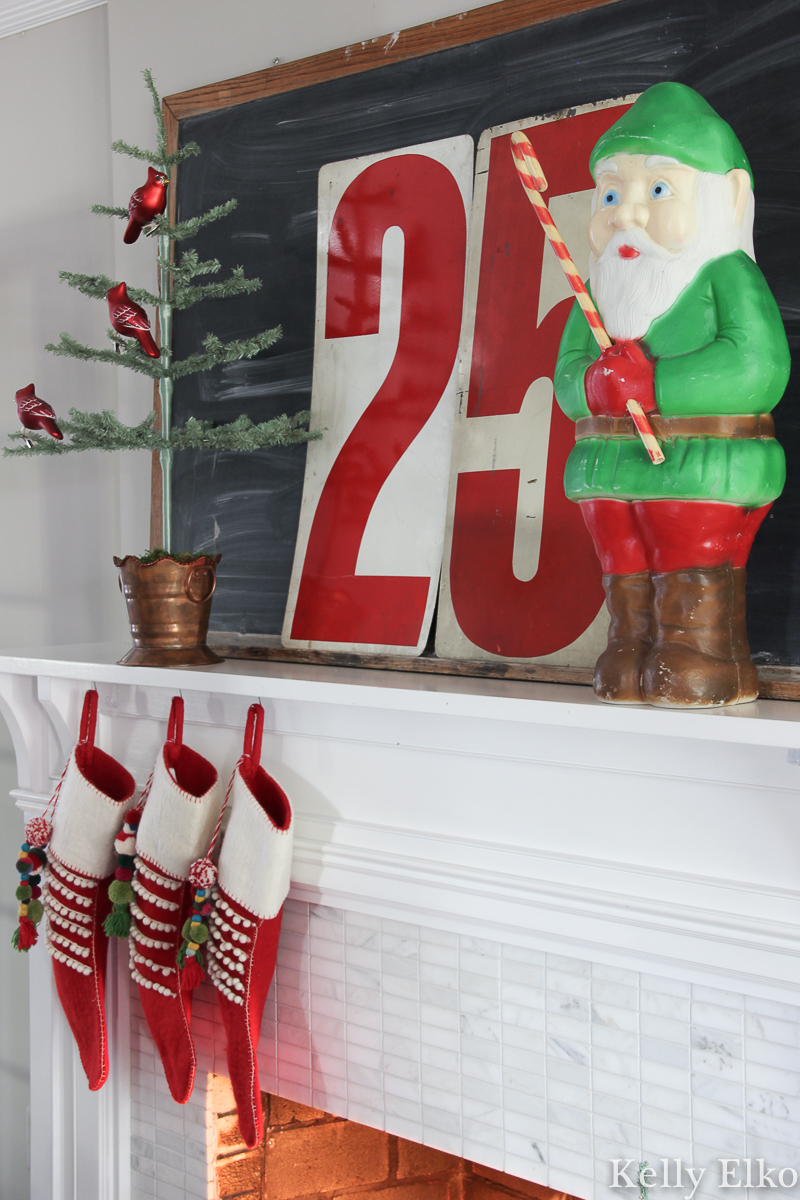 You'll notice that I love using unusual containers as Christmas tree stands and this big bowl adds a fun pop of color to my feather tree!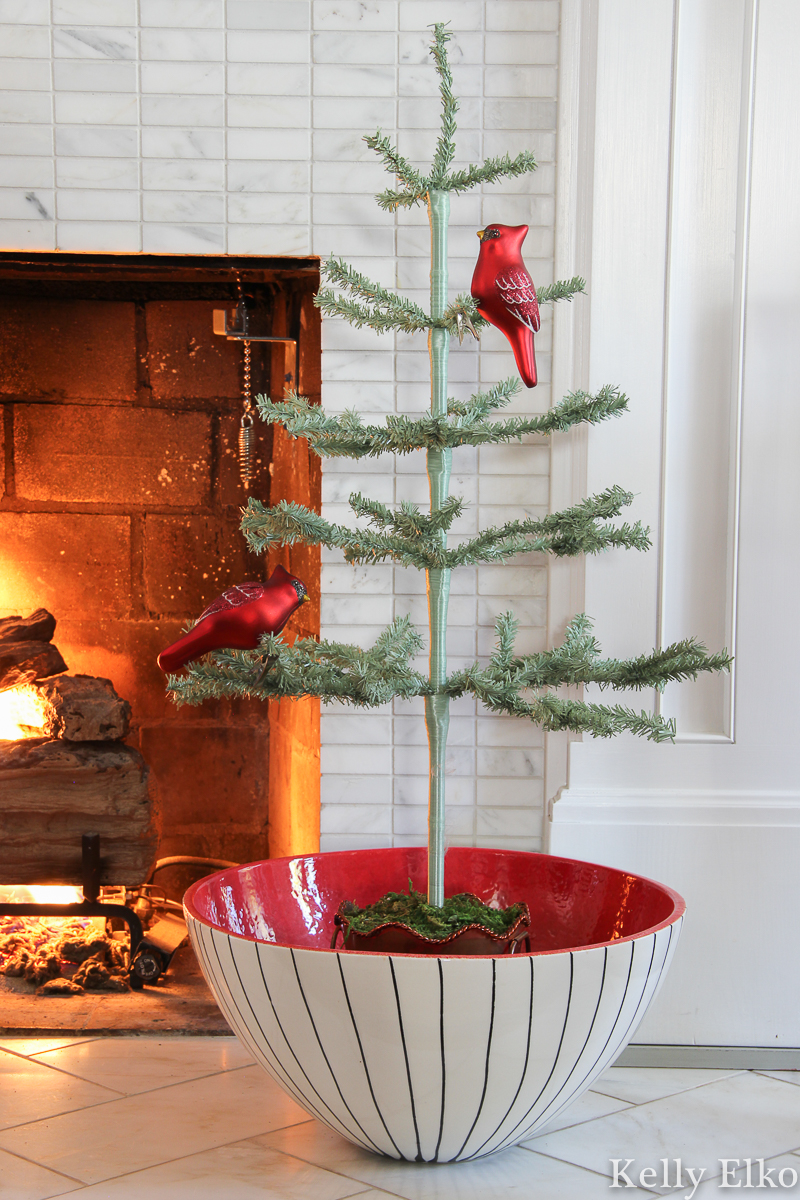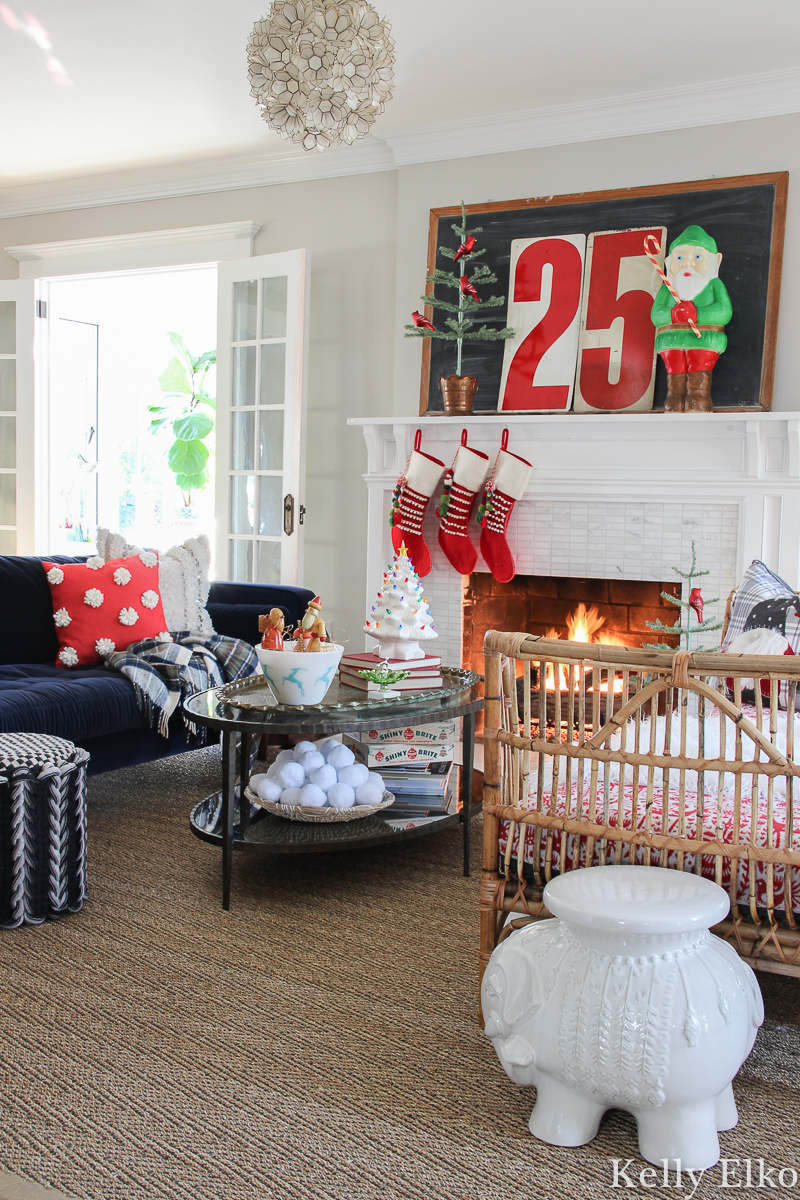 I'm usually a fan of symmetry but I'm loving the way the odd number of stockings on the left balance the little feather tree in a big bowl on the right side of the hearth.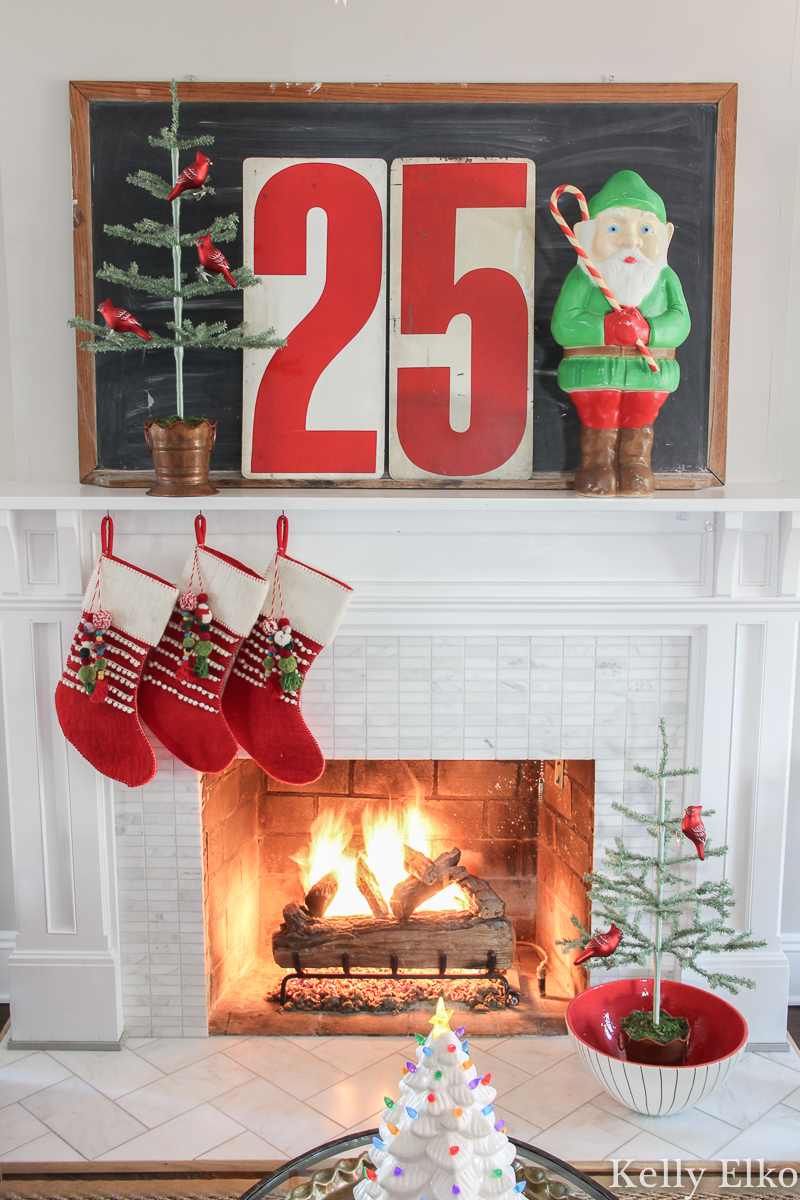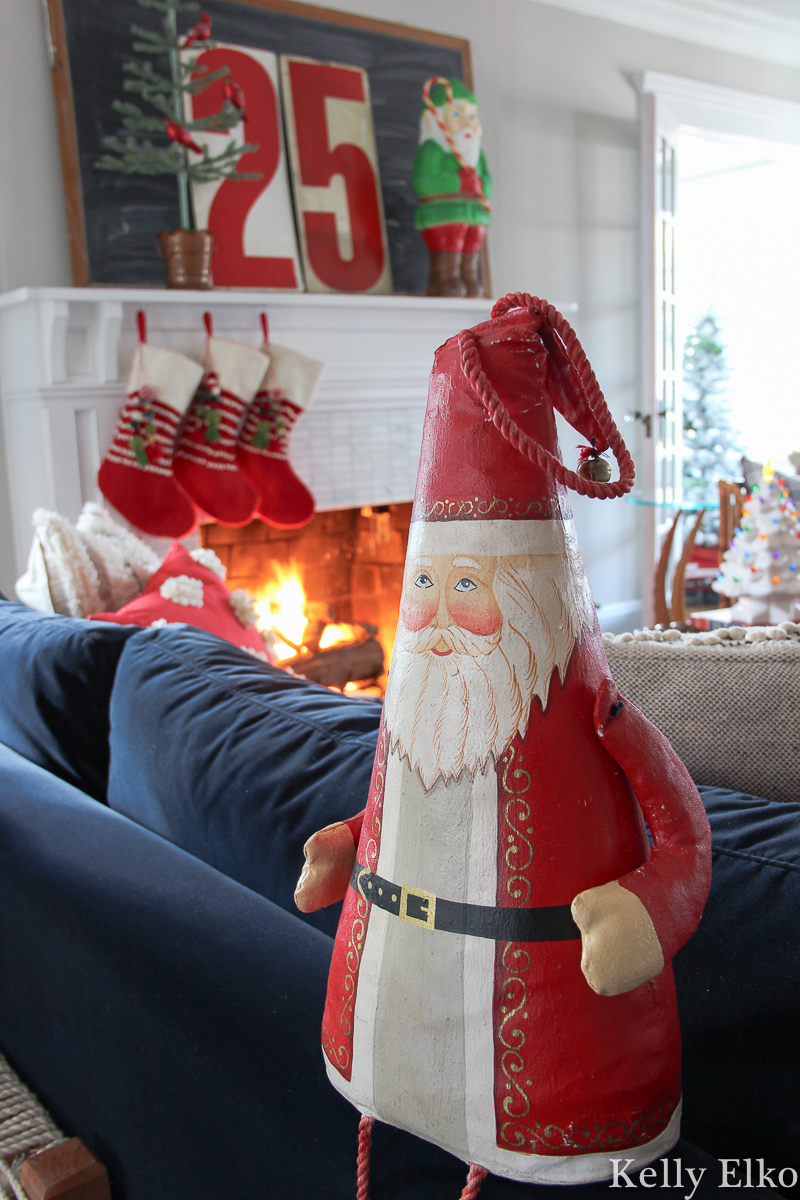 I'm a big believer in adding lots of one thing for an abundant look and this flock of red cardinals adds festive color to my Christmas tree. It doesn't get any easier than nestling faux snowballs in the branches. This tree is the European fir from Balsam Hill and I prefer getting unlit trees because we all know what happens once the lights burn out!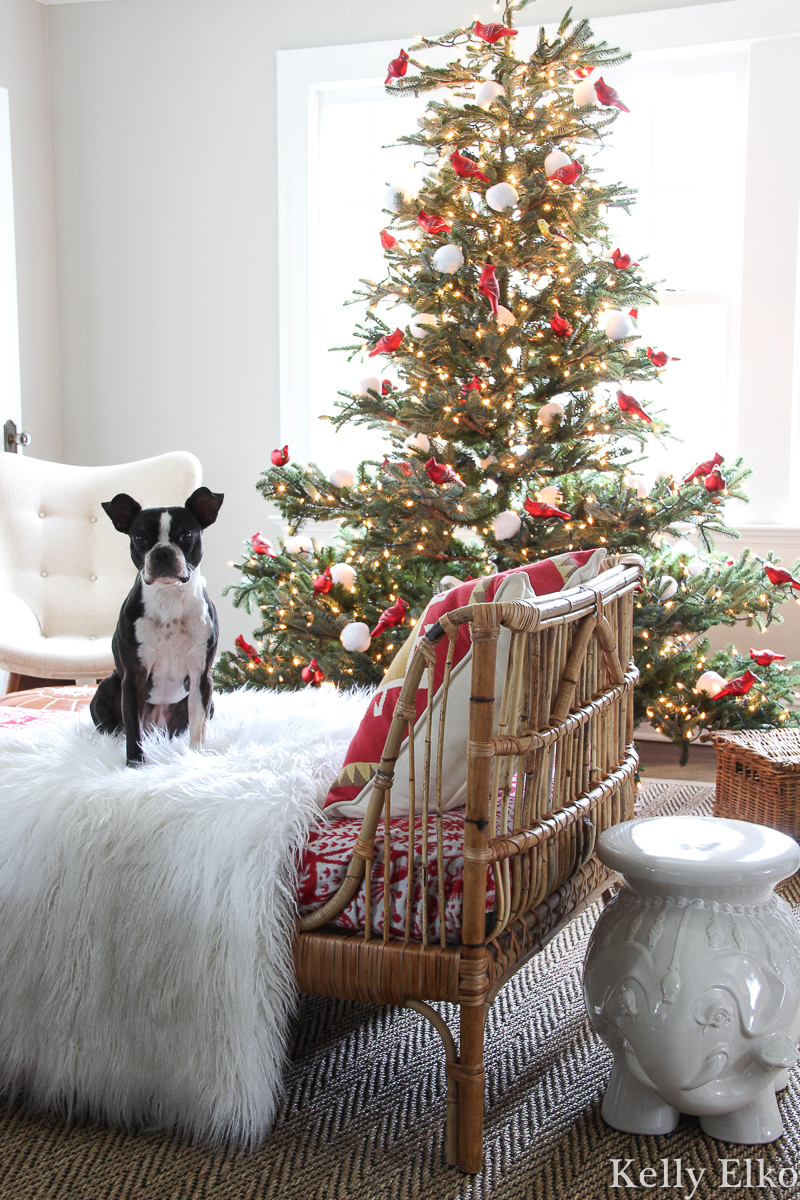 On Thanksgiving, my daughter wanted to decorate the tree with our family ornaments that we have collected over the years so down came the snowballs (but I kept the birds) and now our tree is filled with meaningful memories.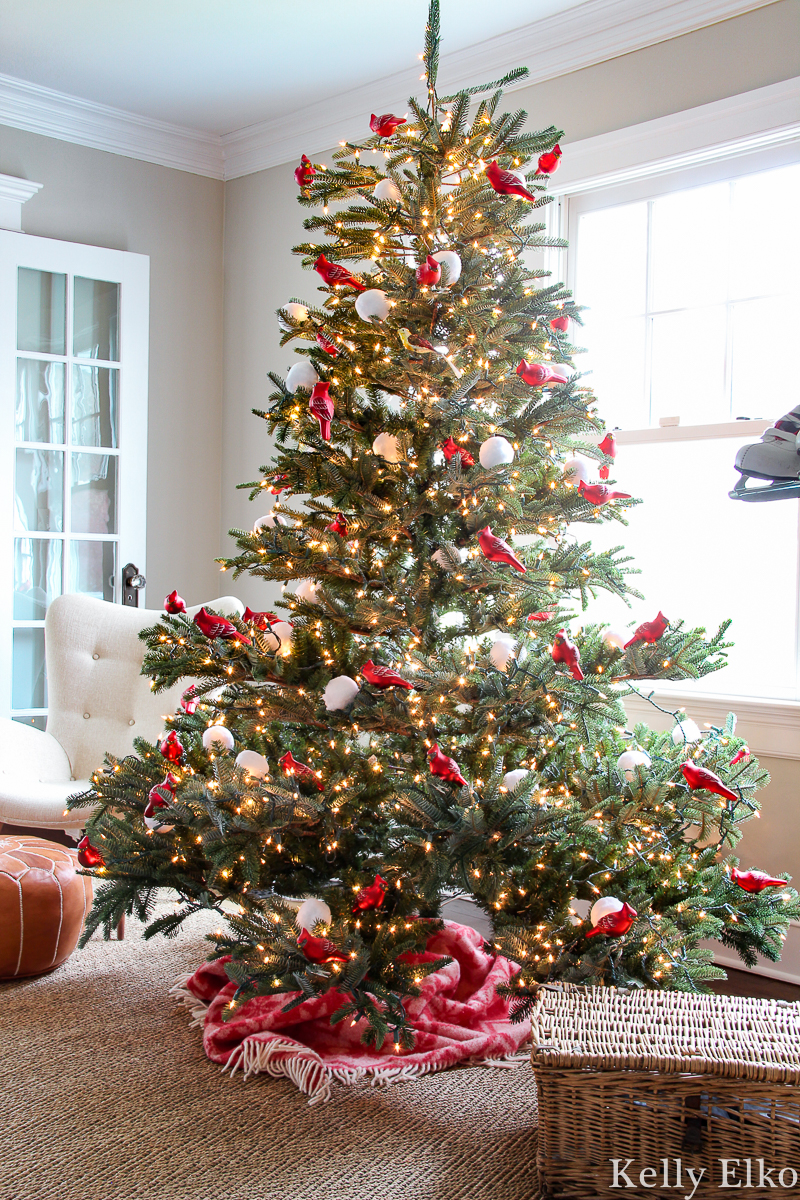 Last year, this Season's Greetings art hung on my mantel and I loved the retro inspired look so much that I decided to do a trio of vintage looking art in my foyer.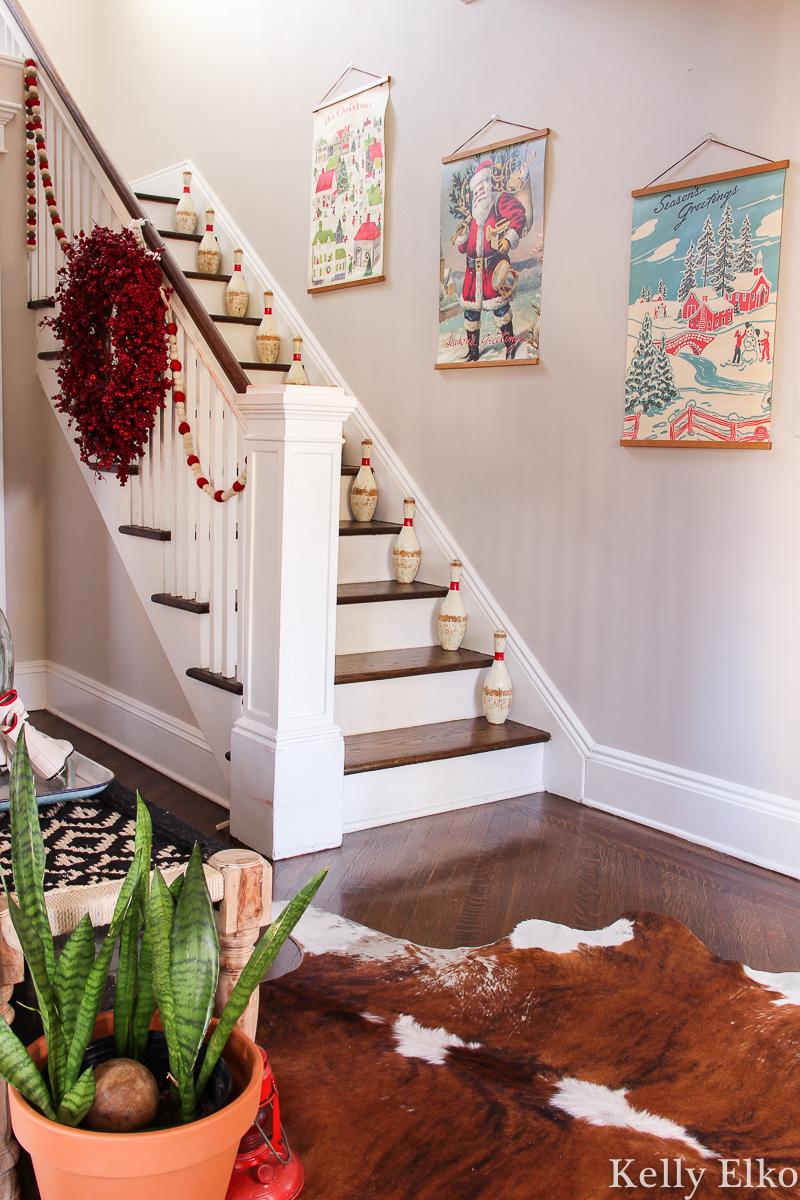 This post contains affiliate links which means if you make a purchase, I may earn a small commission at no extra cost to you.
I didn't feel like lugging out the big green garlands that I normally hang on my bannister so this year I went with a much more pared down look with a simple red berry wreath flanked by a couple of felted wool garlands.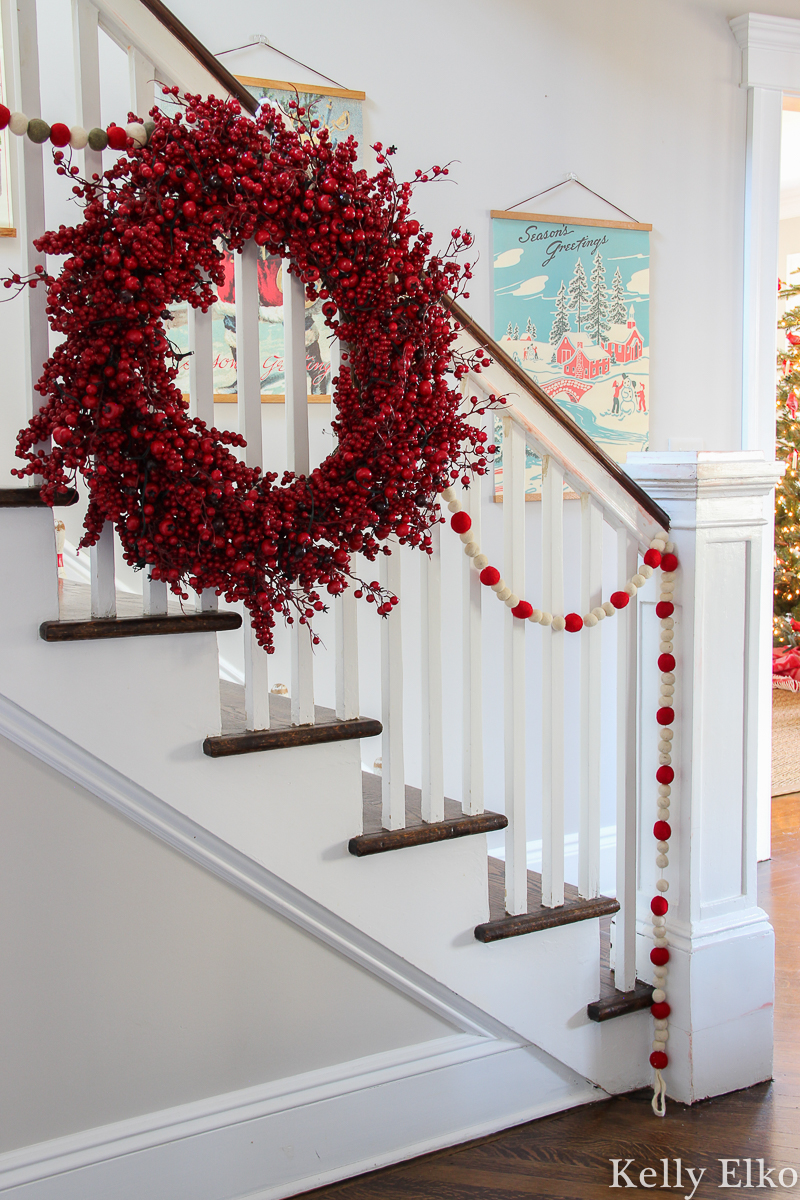 It doesn't get easier than adding a sprig of greenery to a glass jar and my daughters old ice skates add a little pop of red.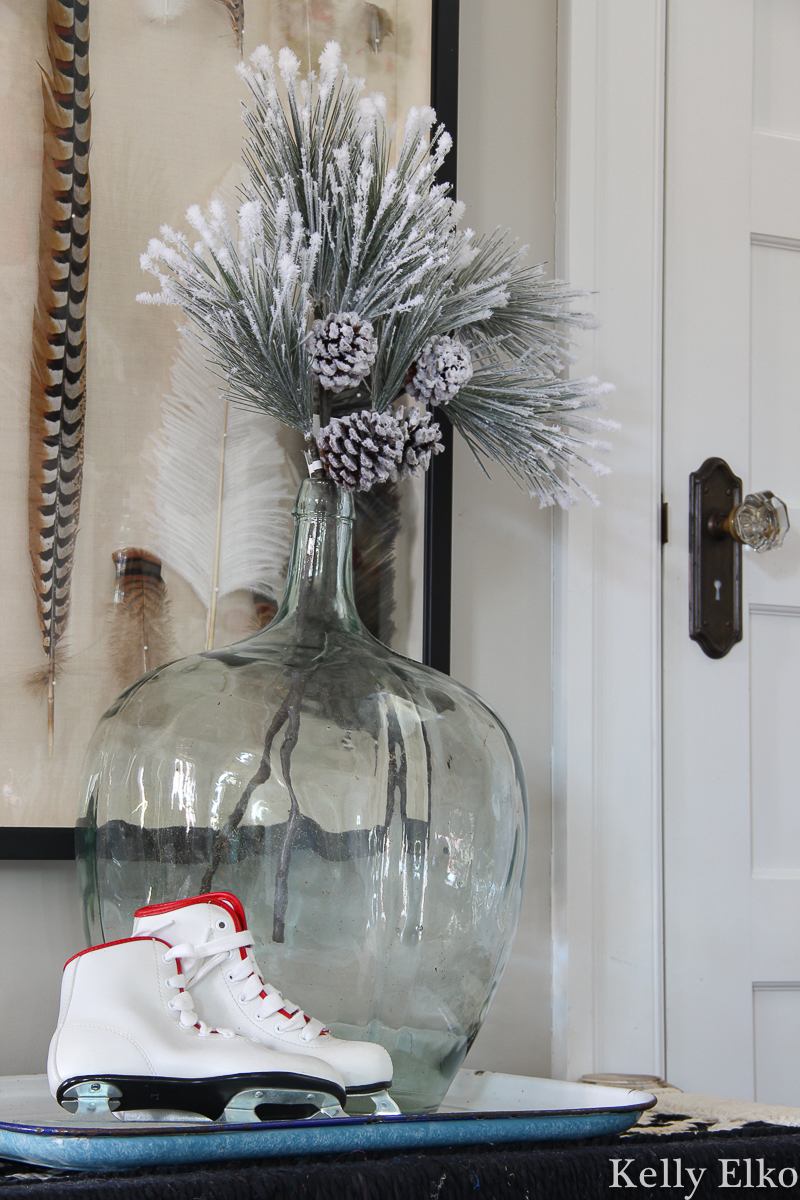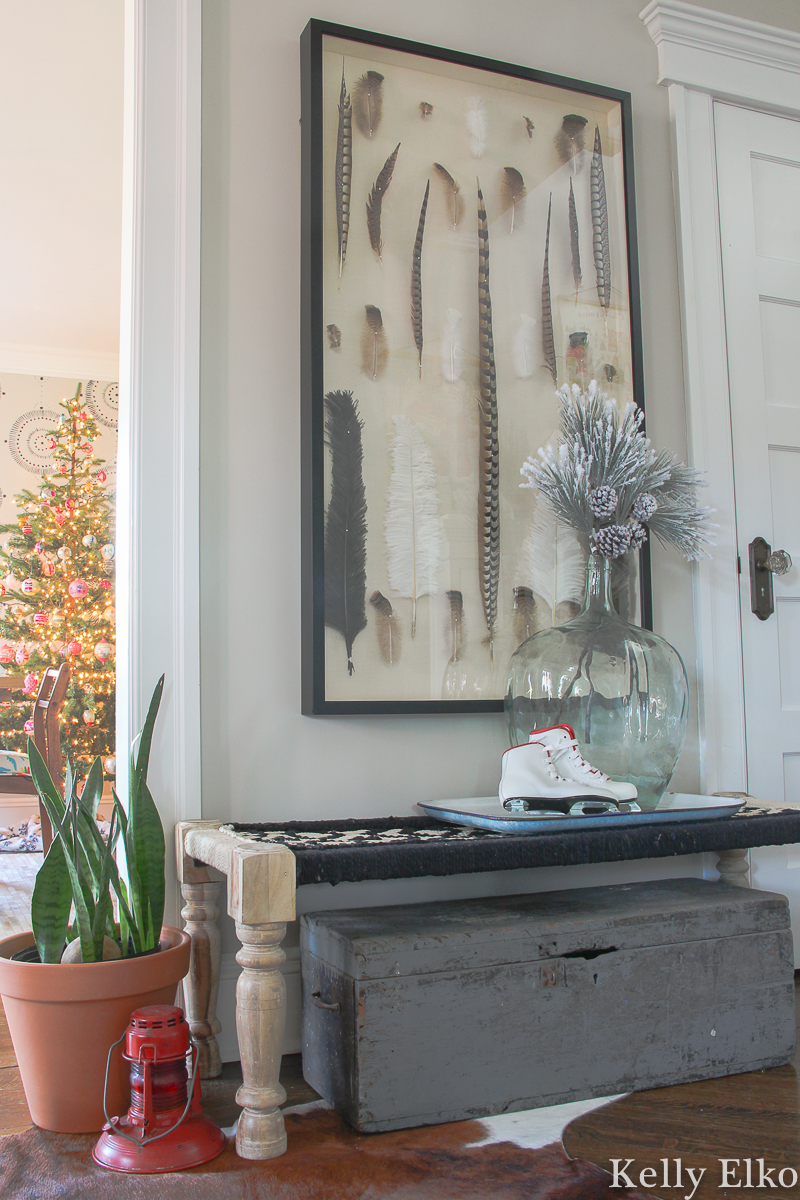 My hubby used to shovel snow when he was a kid with this adorable little shovel.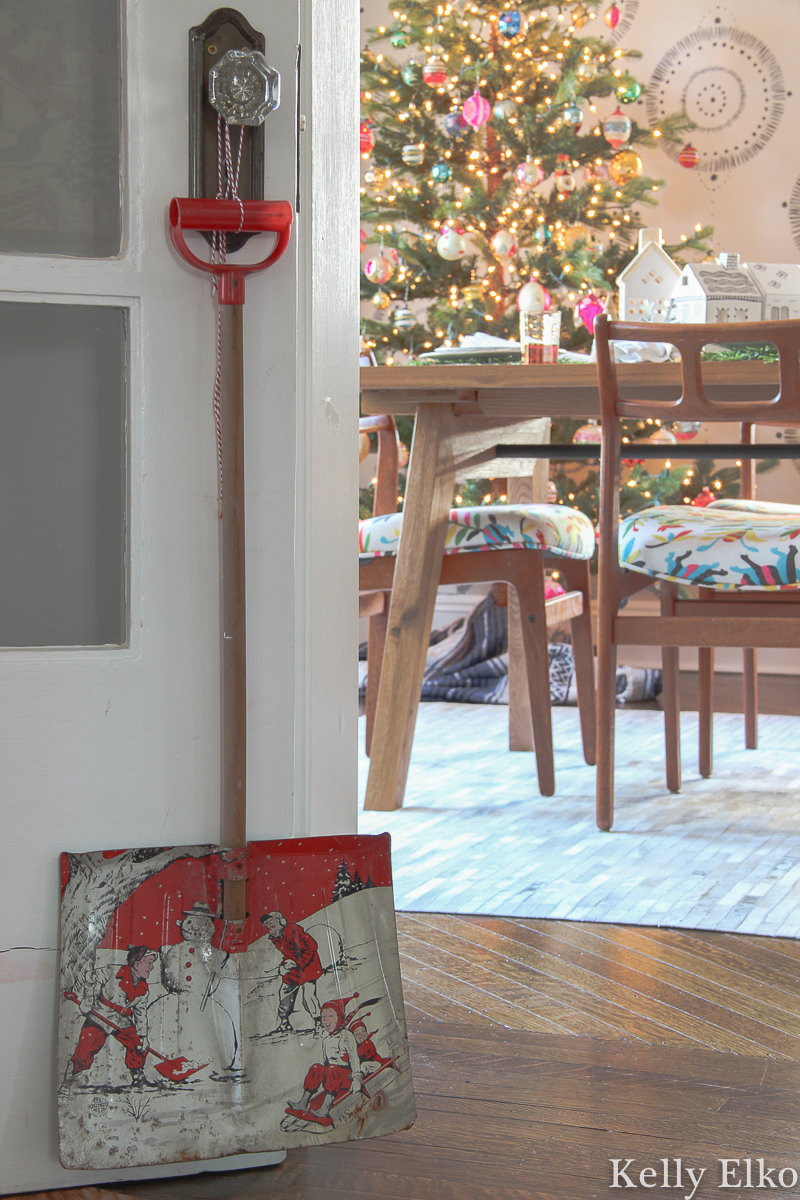 I've been putting a pair of Christmas trees in my dining room for years and the twinkling lights make us want to linger longer over meals.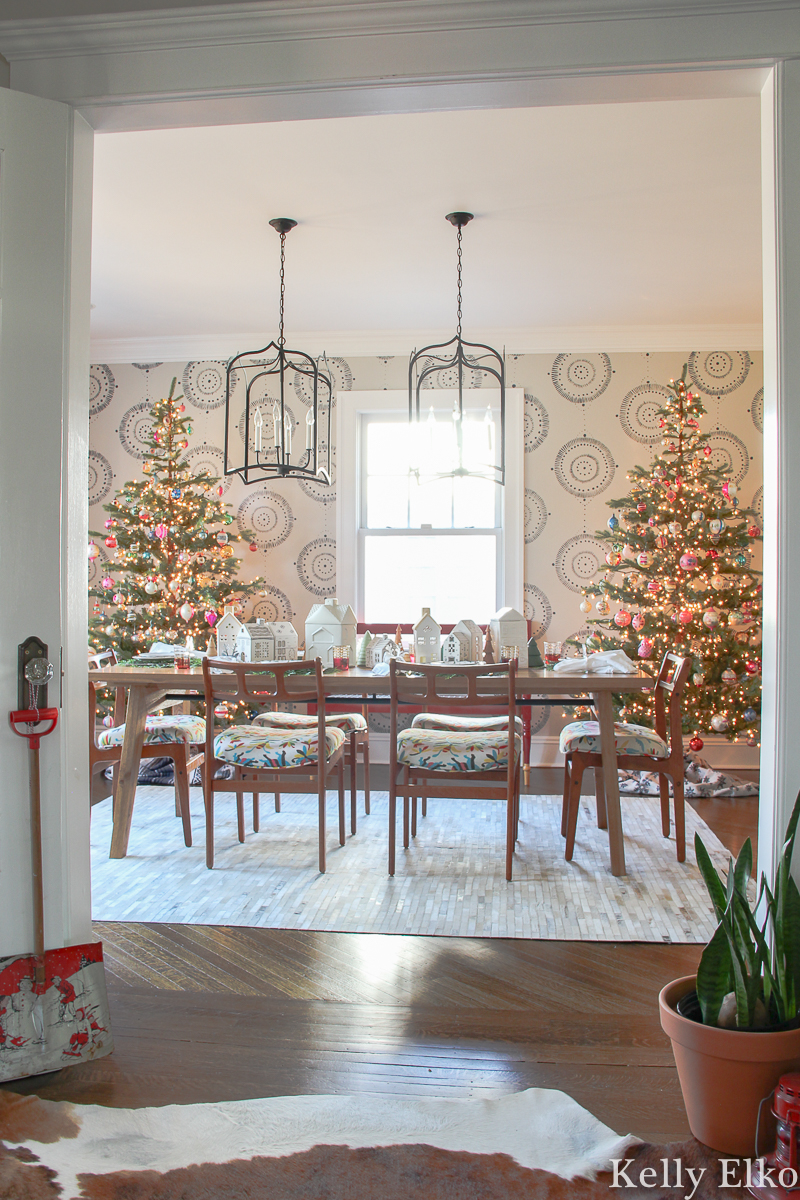 My collection of vintage Shiny Brite ornaments (well over 300) are on full display and I love that the sparse Christmas trees really let the ornaments shine.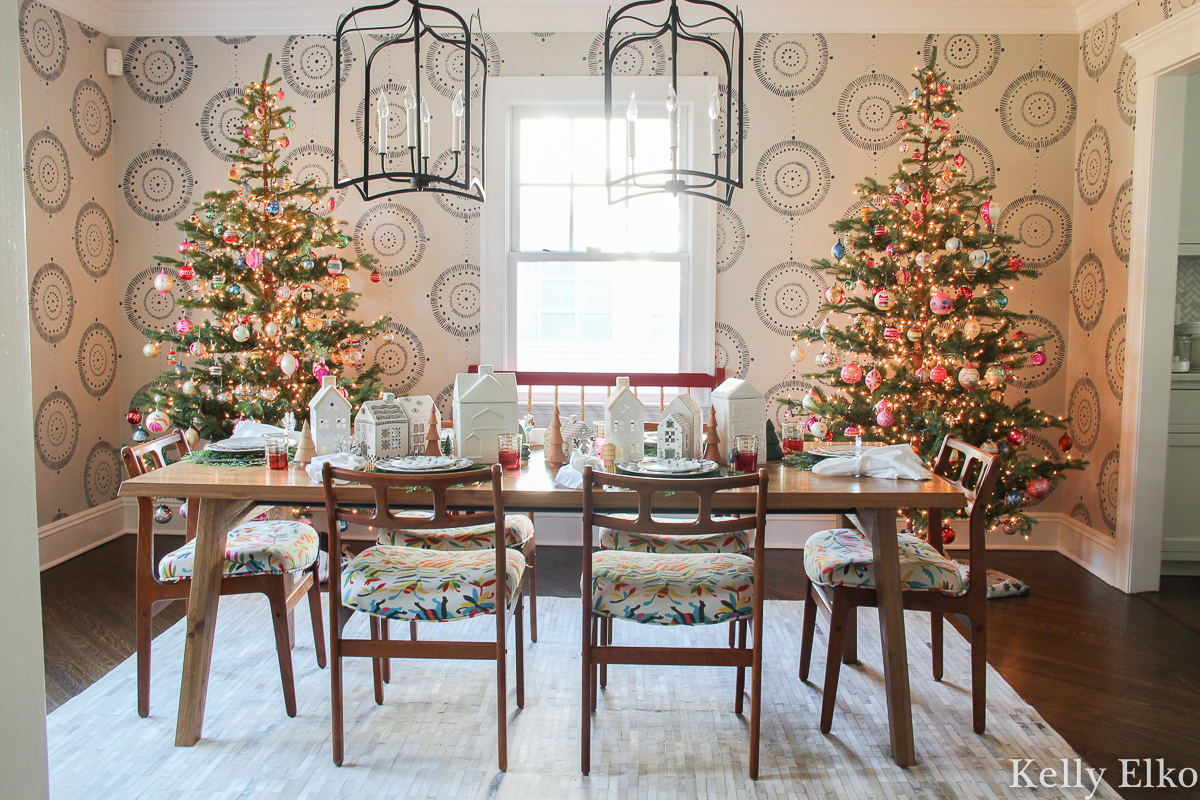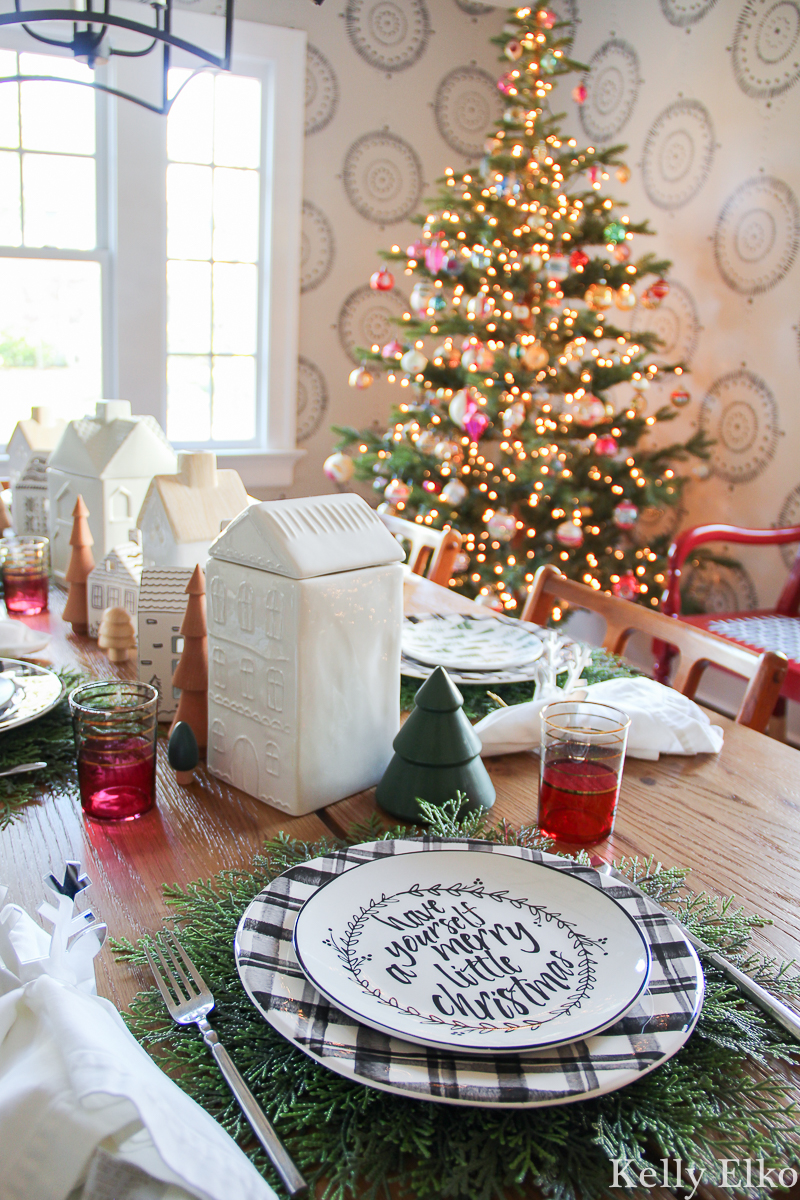 This winter village may be my favorite Christmas centerpiece of all time. I brought out the Doodle Houses that I made years ago and a couple of house cookie jars then surrounded them with wood and ceramic trees including this adorable set of little wood trees that are actually kids toys!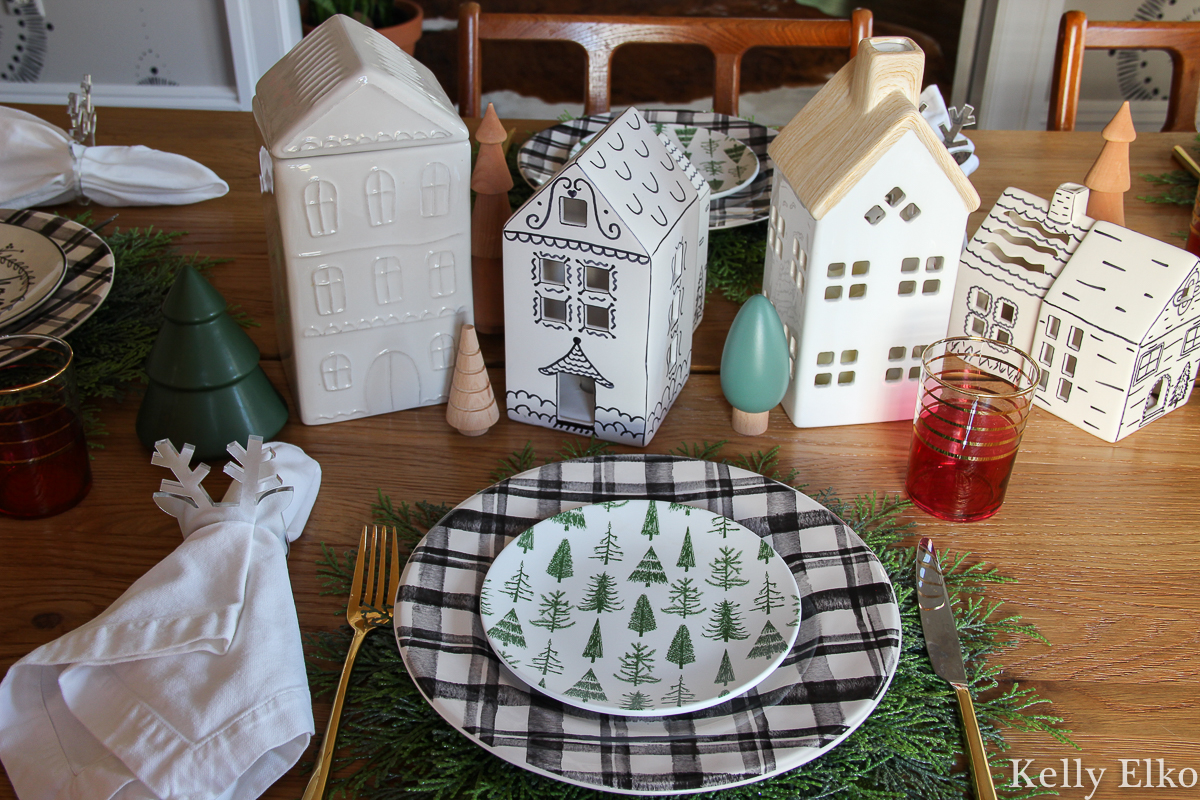 These whimsical tree covered plates are the perfect finishing touch. Don't feel like you have to buy a complete set of matching plates. As you can see, I put the tree plates at four place settings and different ones at the other two.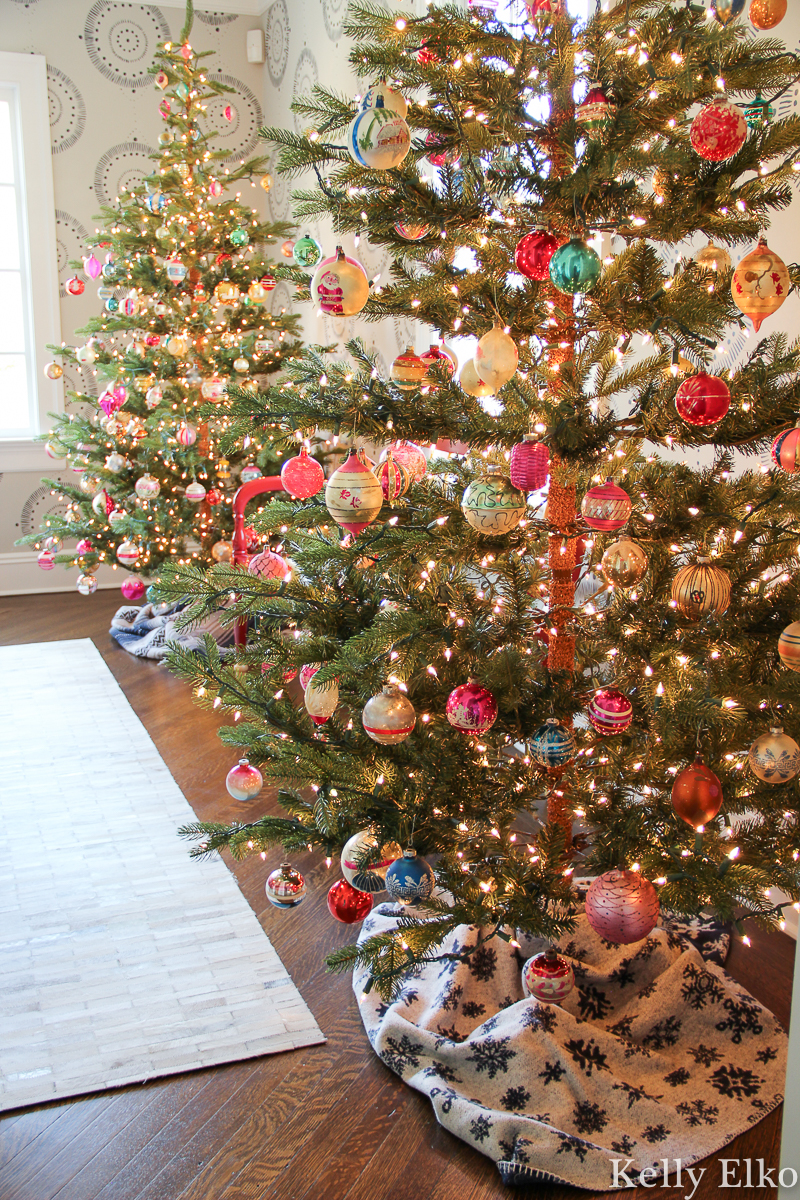 Throw blankets make great tree skirts and the best part is that they serve more than one purpose.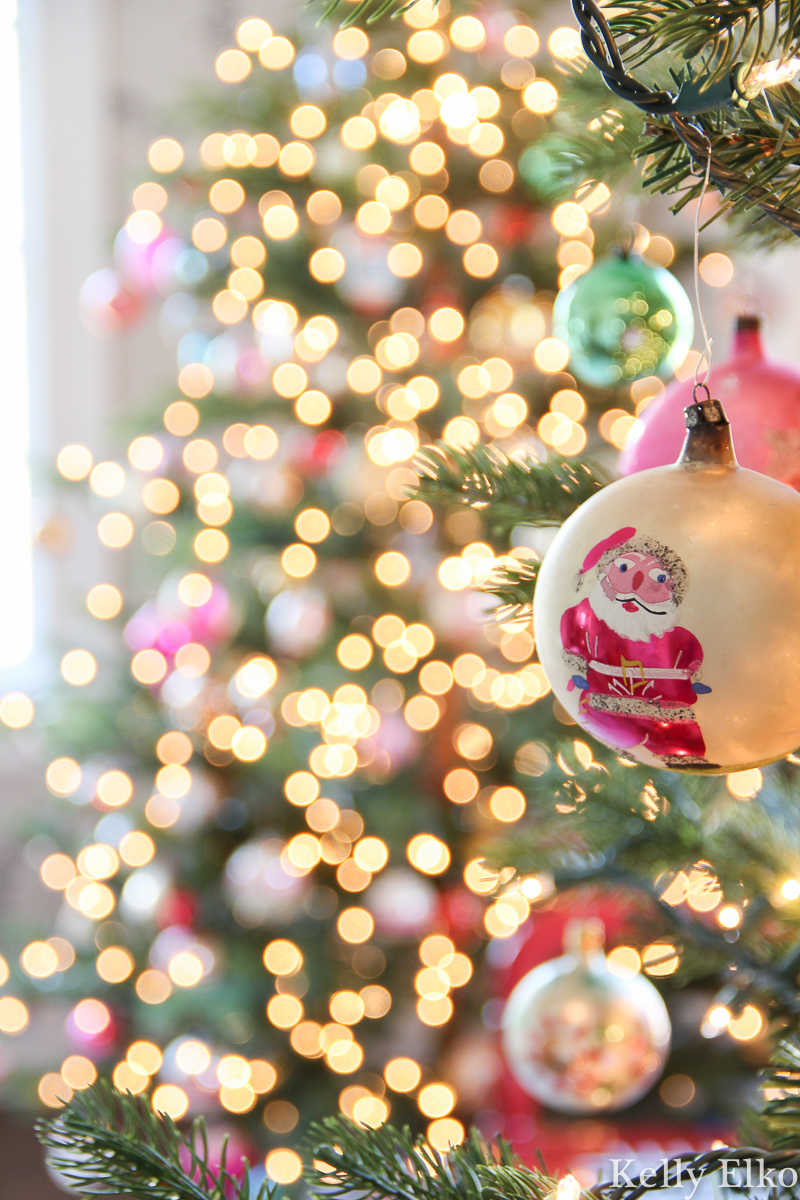 My sunroom got a touch of Christmas too.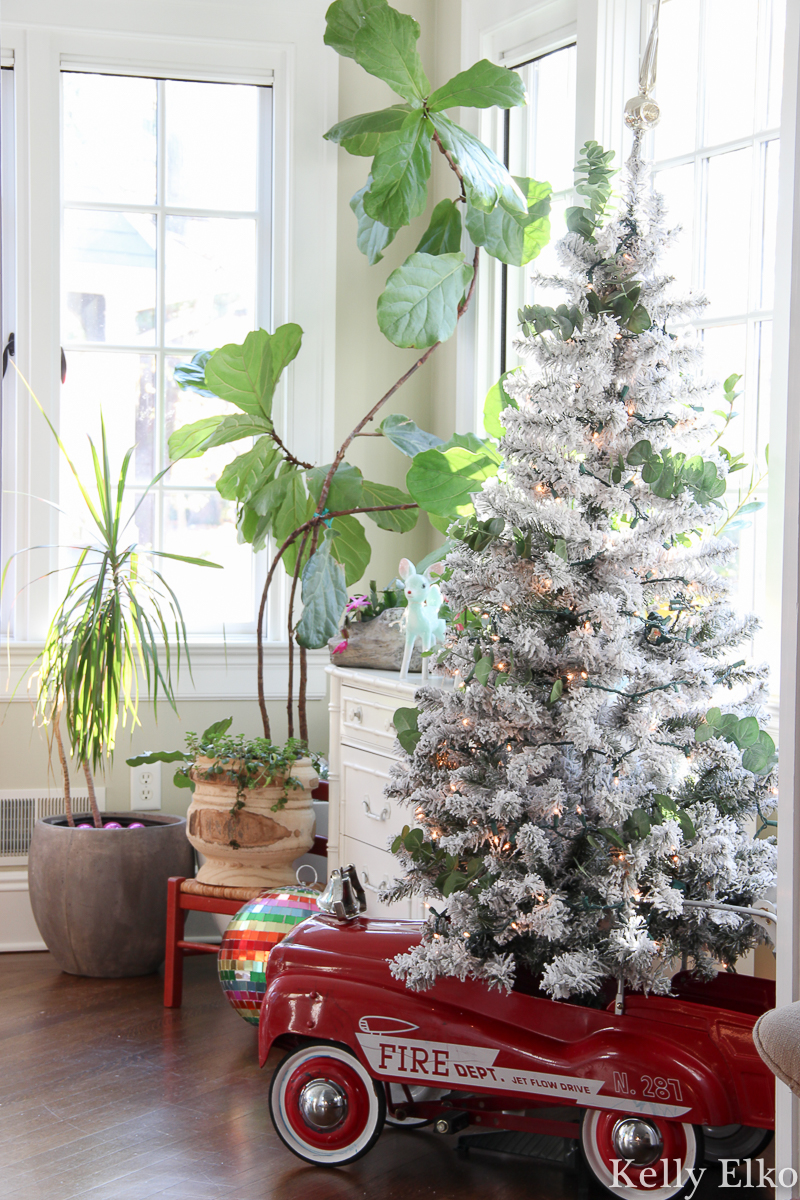 My vintage fire truck pedal car is the perfect tree skirt and I added sprigs of faux eucalyptus for even more greenery on the flocked tree.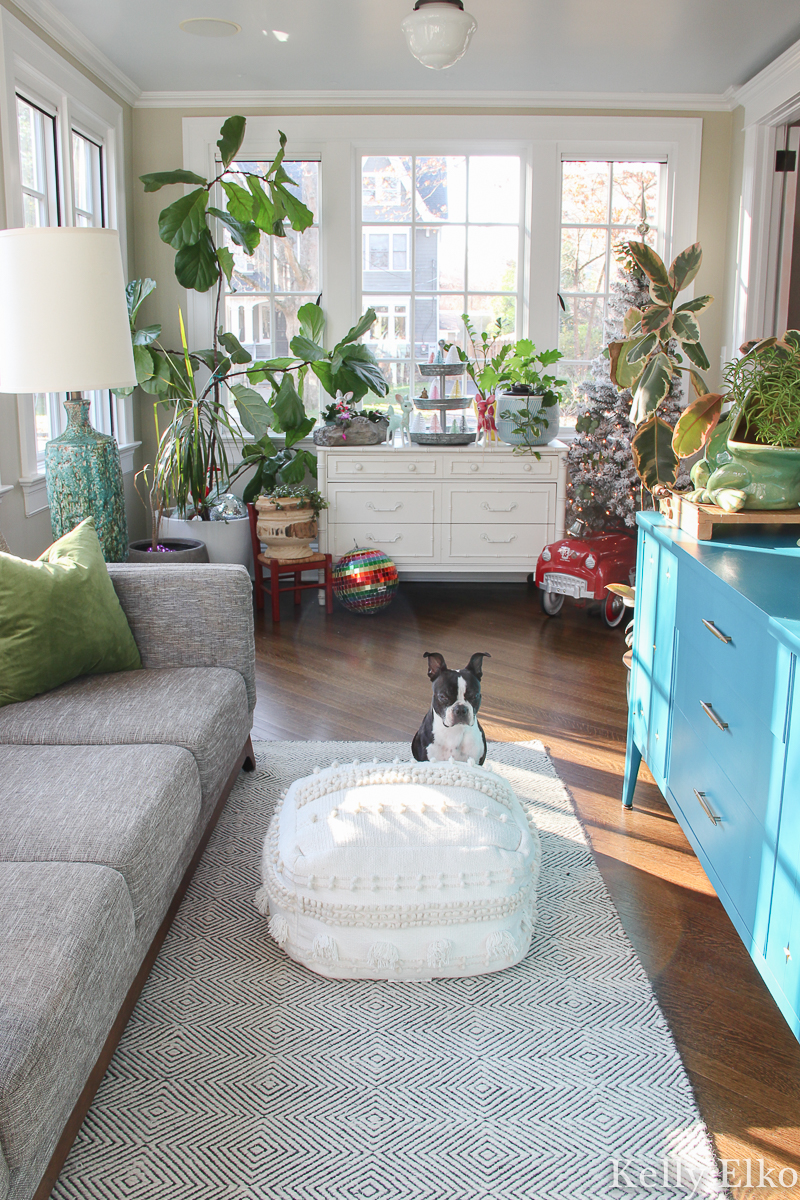 As you can see, my little helper is beside herself with excitement.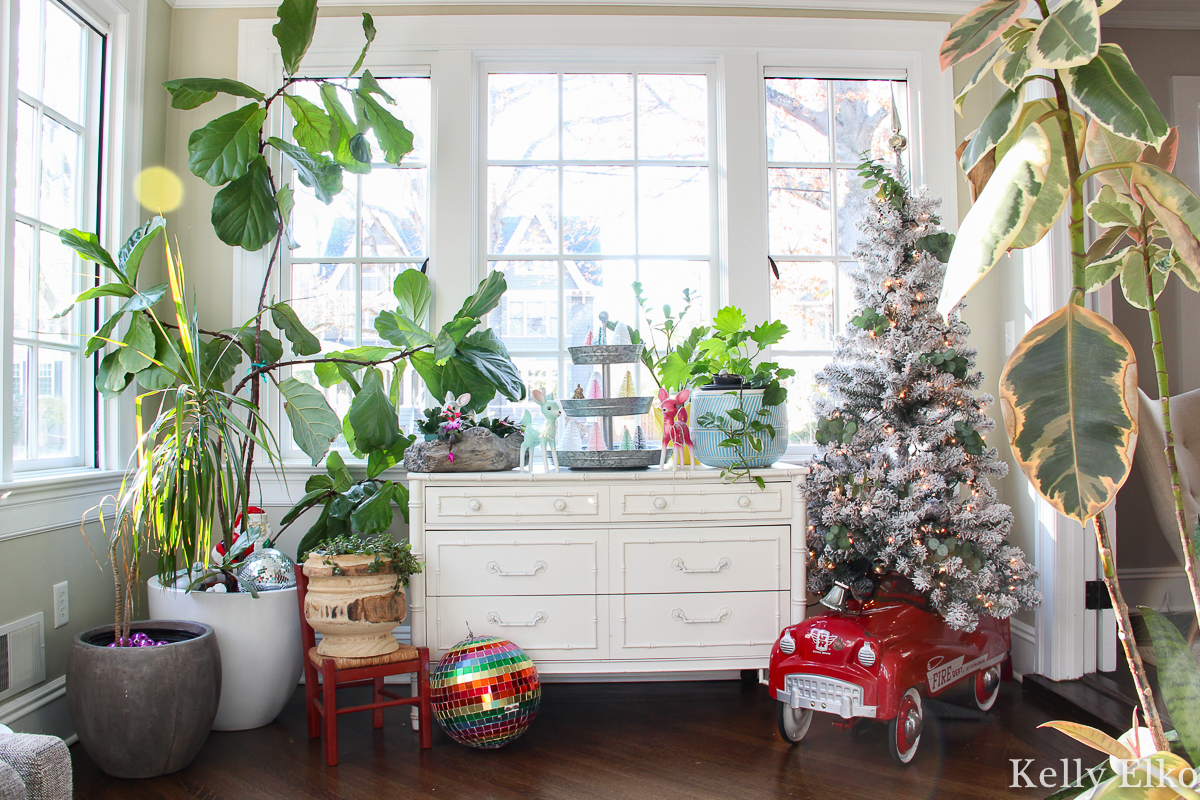 I love being able to use my kids childhood things in new ways and one of their little red chairs makes the perfect plant stand.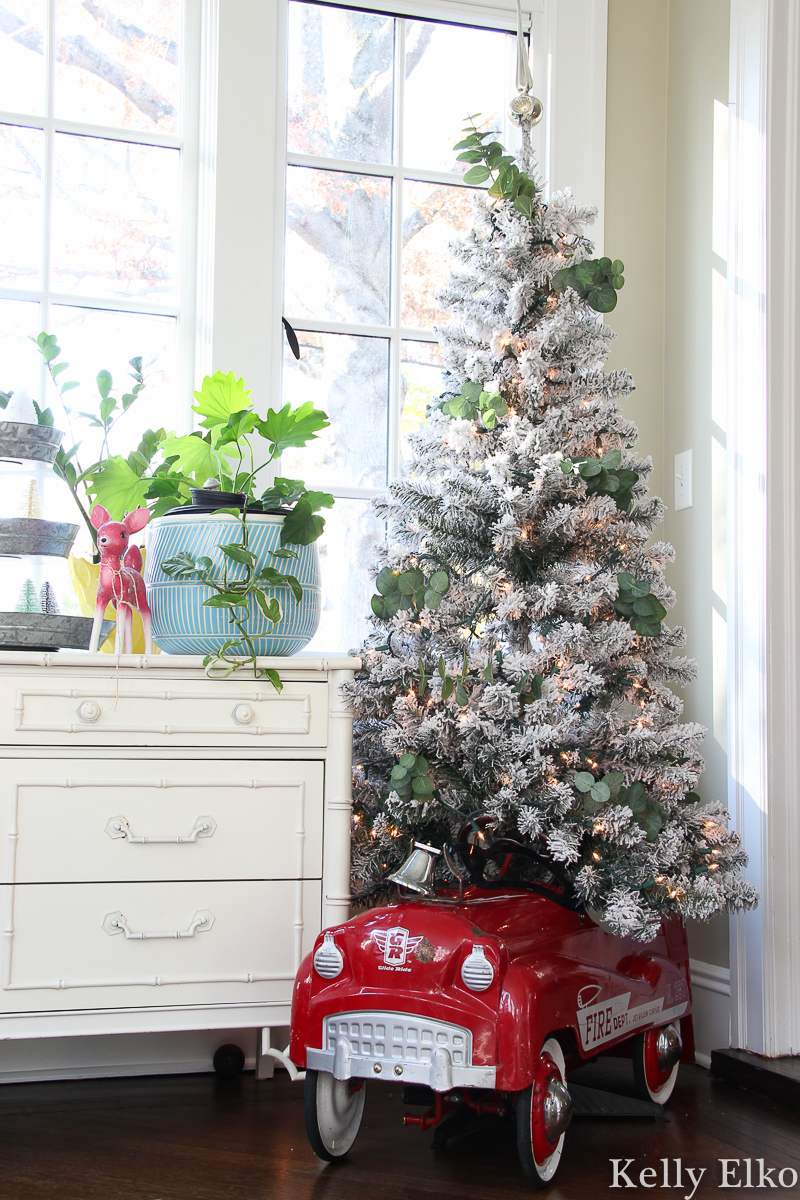 Salt is a great snow substitute in this little bottle brush tree village.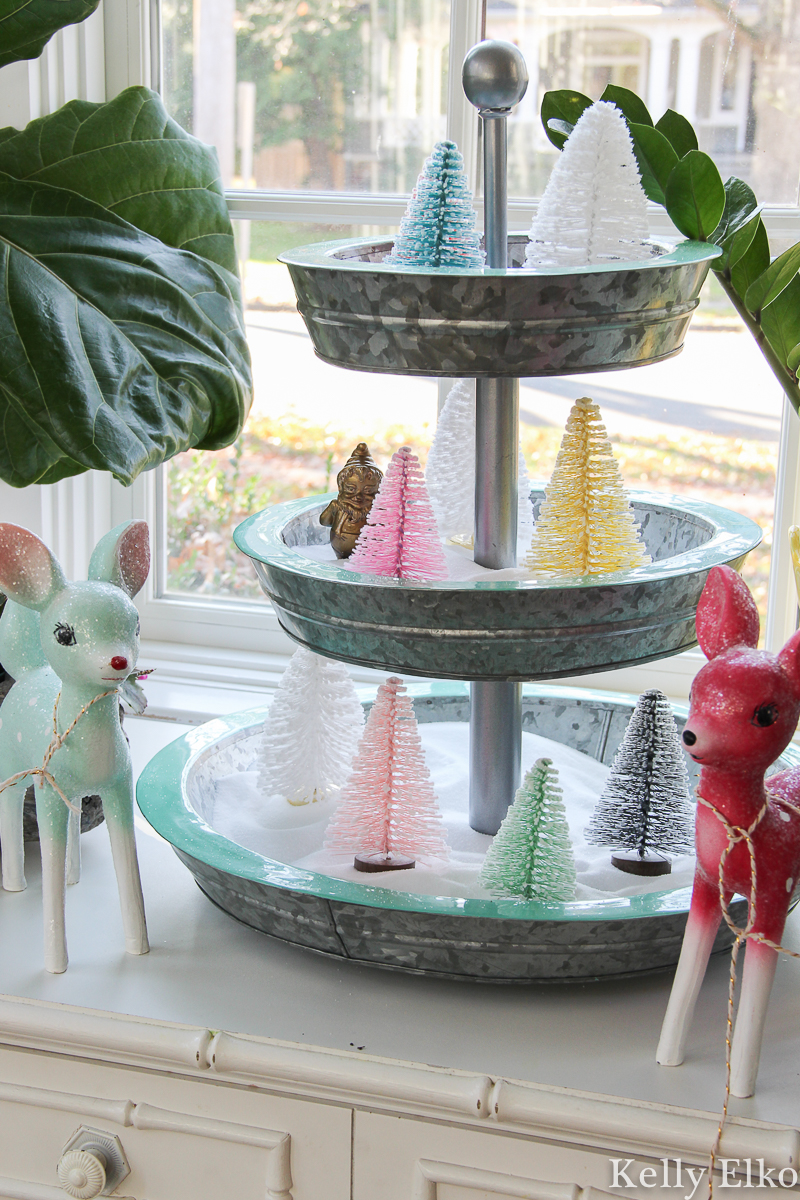 The kitchen is where the magic happens … and by magic, I mean cookie baking!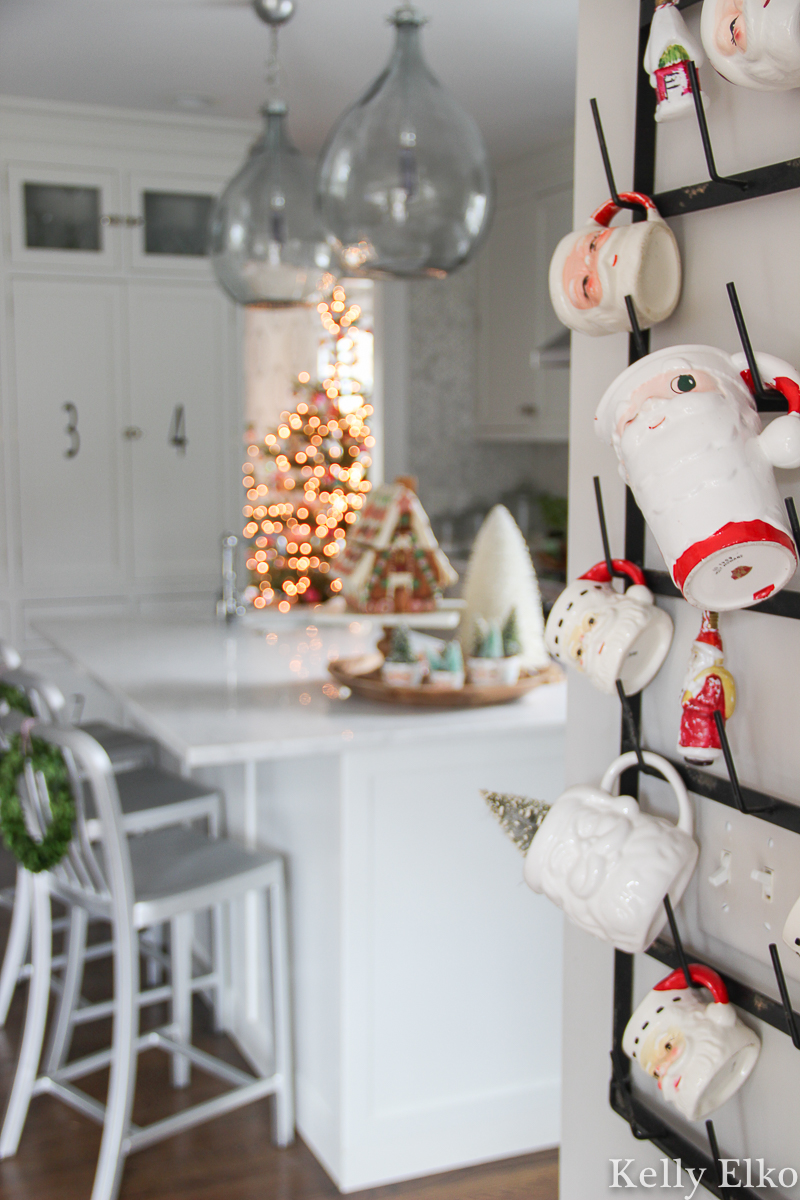 Over the summer, I scored more vintage Santa mugs including the Holt Howard pitcher and the tiny little mug! Mixed in with reproduction Santa mugs, it makes for such a cute display!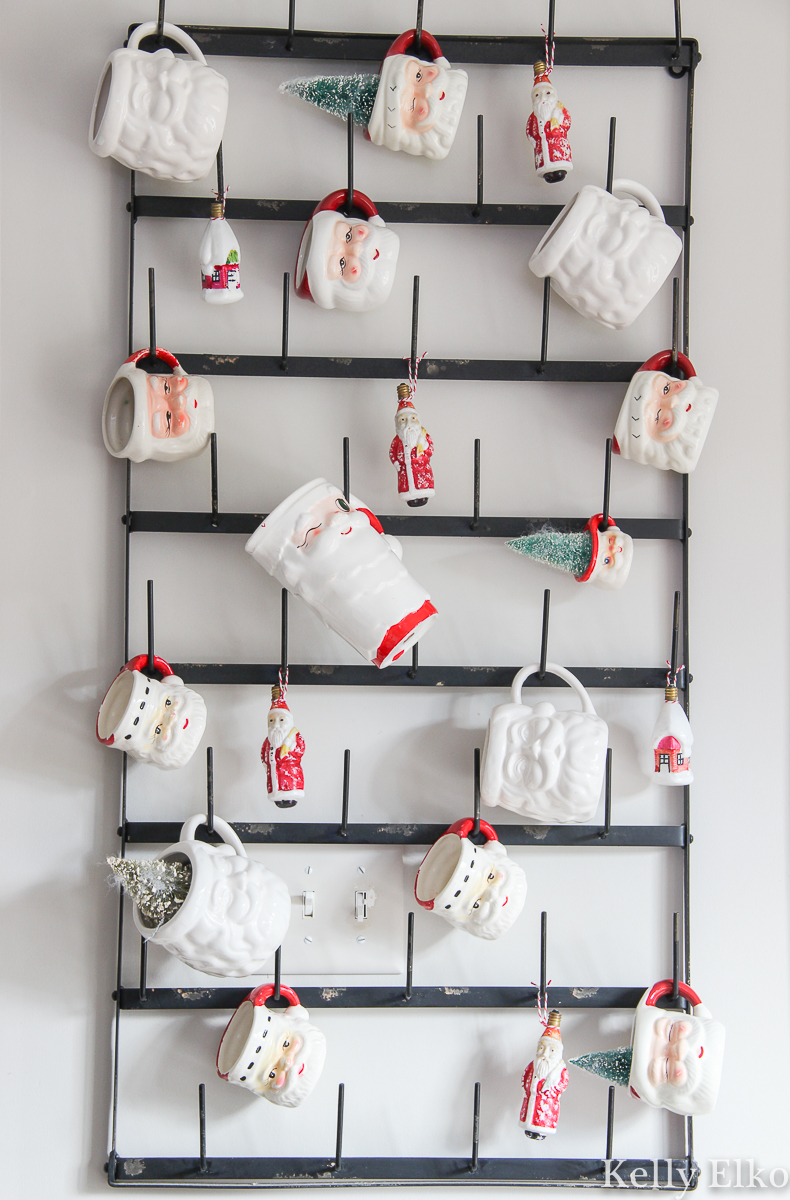 And just the other day, I found these vintage figural milk glass lights at an estate sale. I removed the electric cord and now they make really cute ornaments.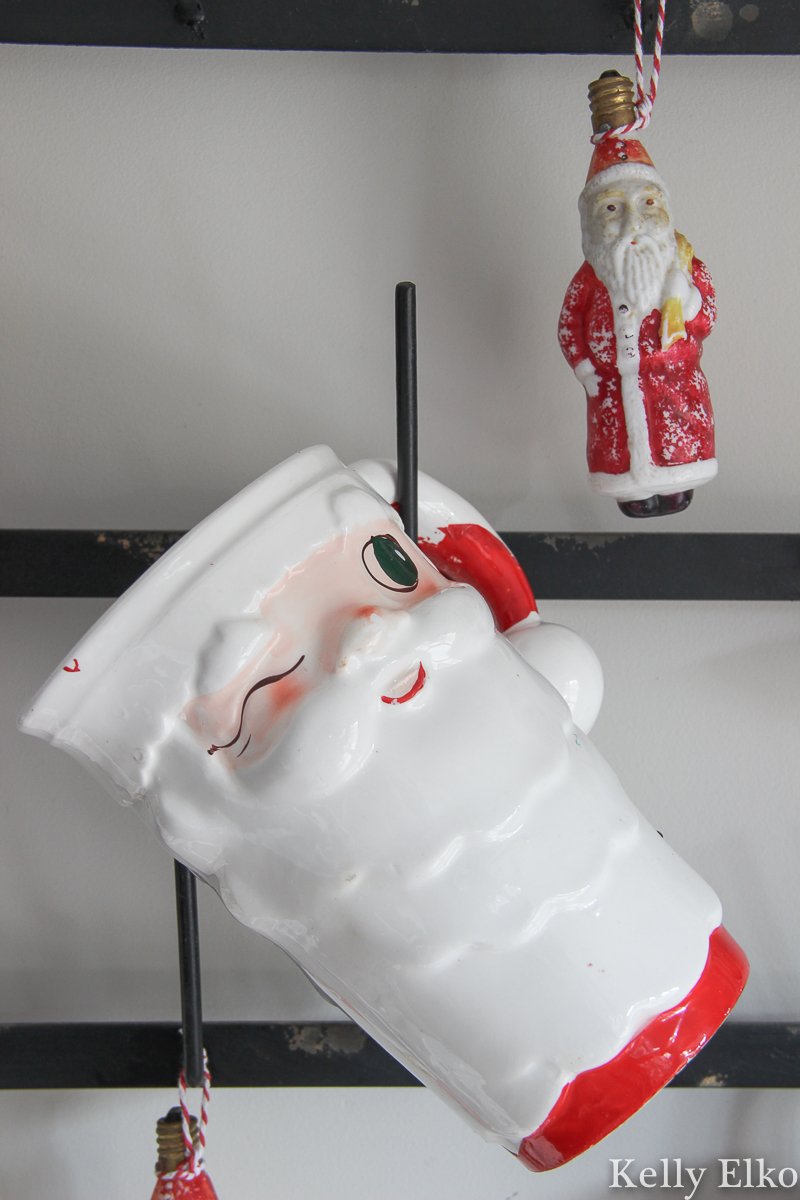 A white kitchen is the perfect backdrop to pops of Christmas color and I love the way this trio of little preserved boxwood wreaths looks hanging from the back of the stools.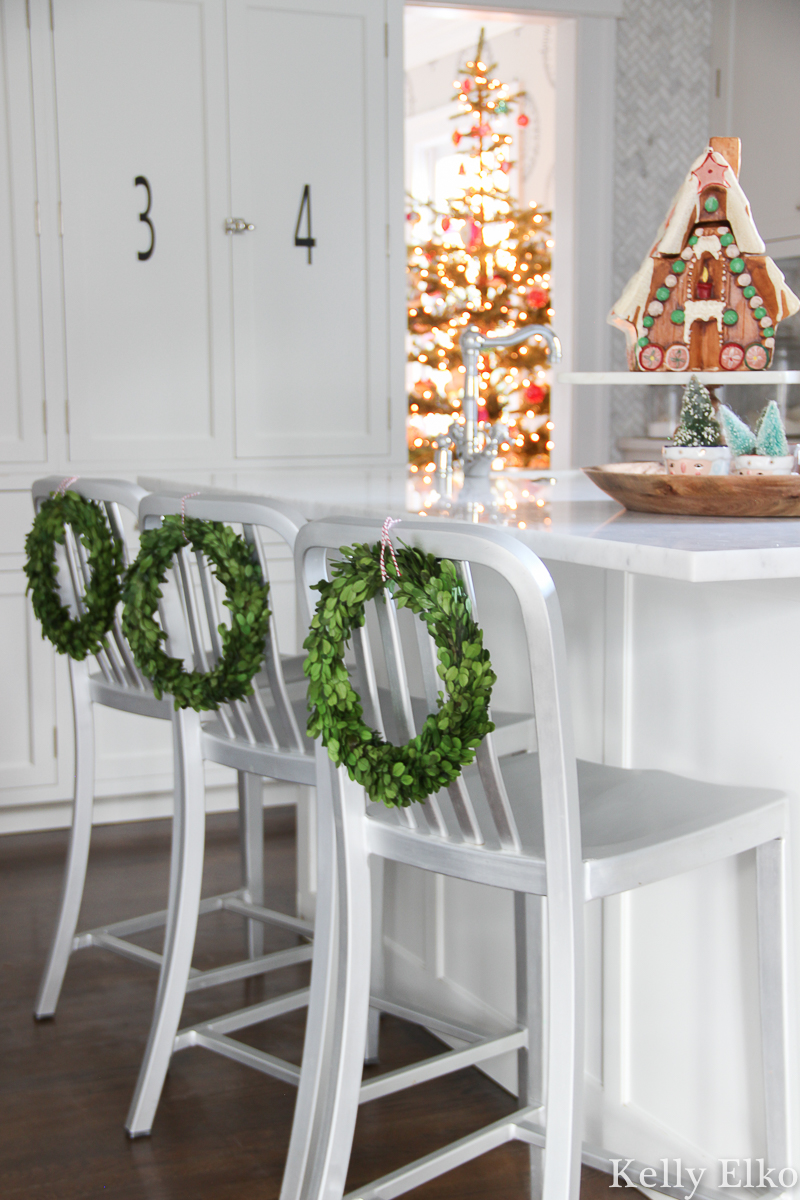 This old canvas laundry bin is such a fun tree stand!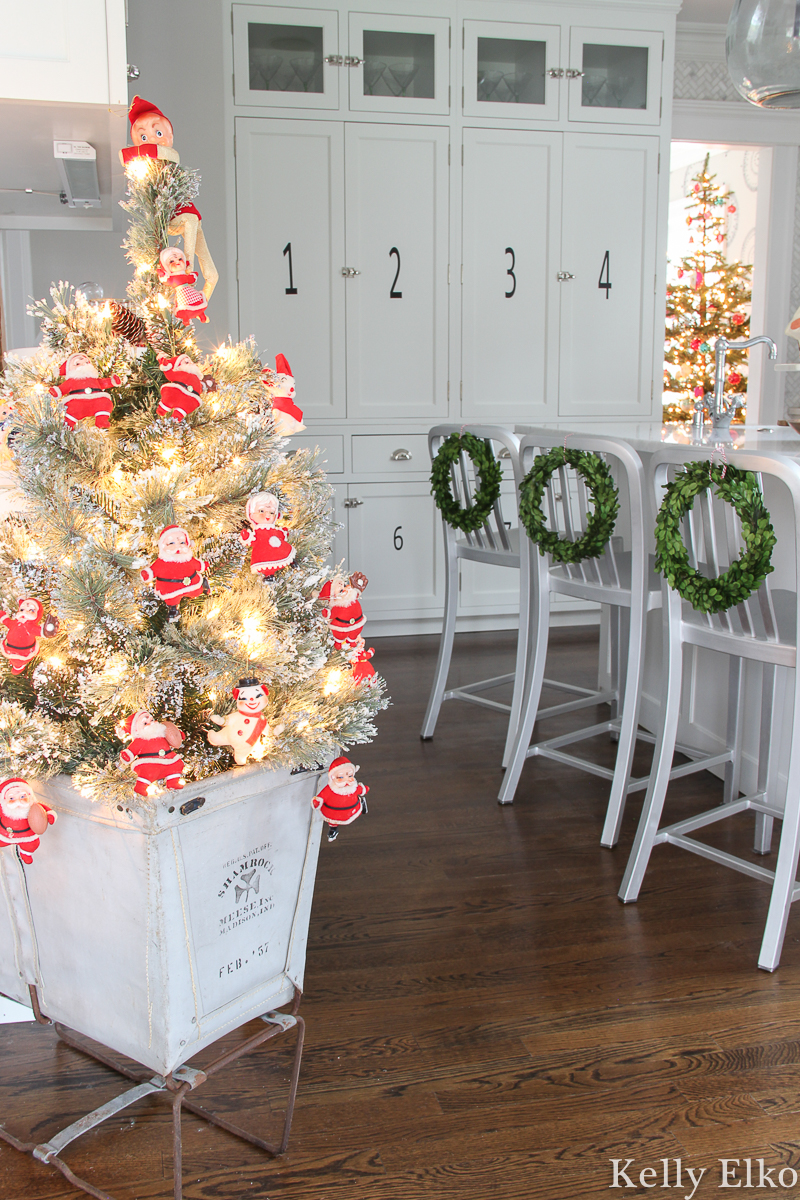 I have been on a vintage Christmas find roll and I was so excited when I scored this set of 20 little velvet Santas and friends the other day! My husbands old elf knee hugger clings on for dear life and makes the perfect little tree topper.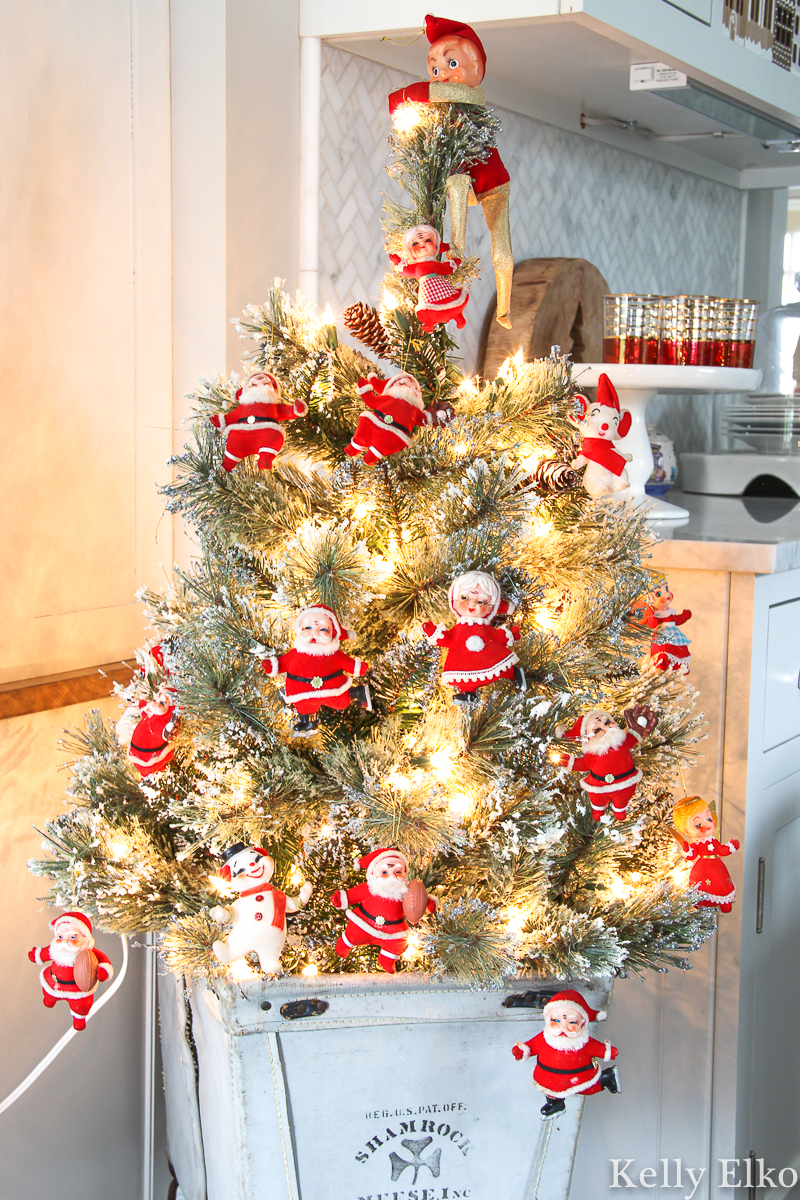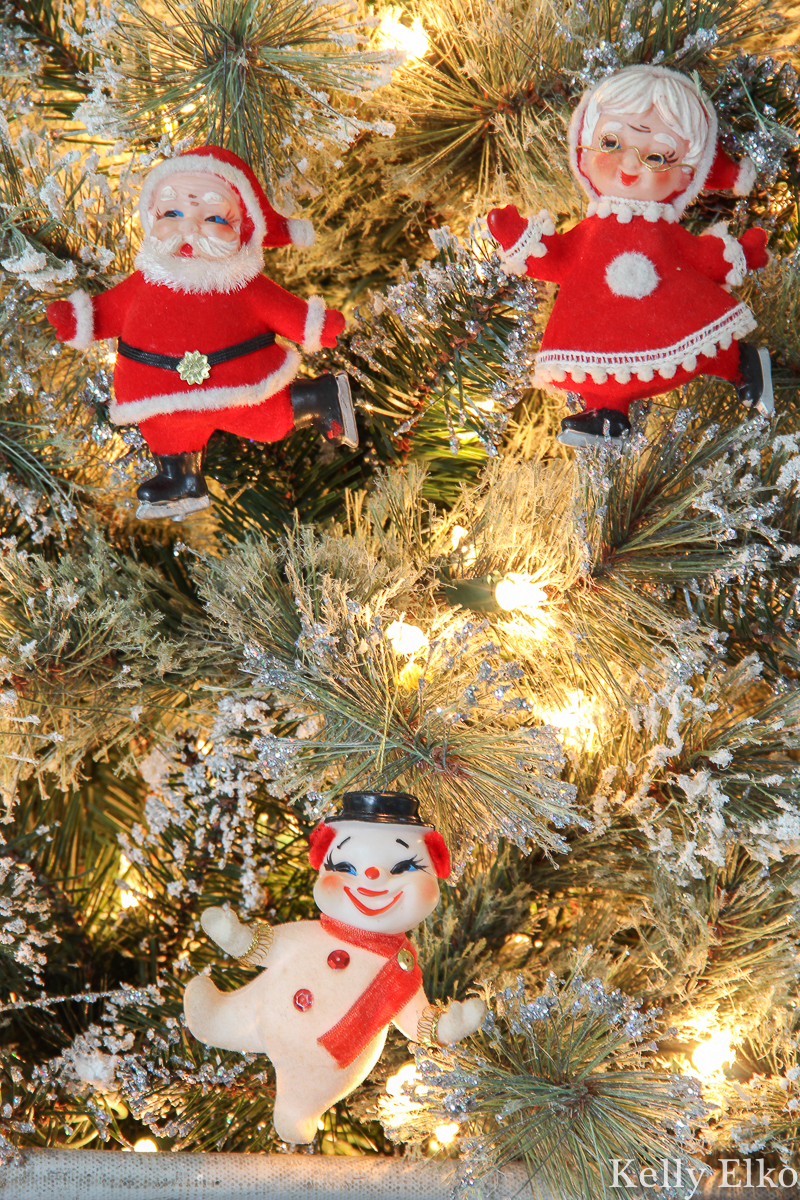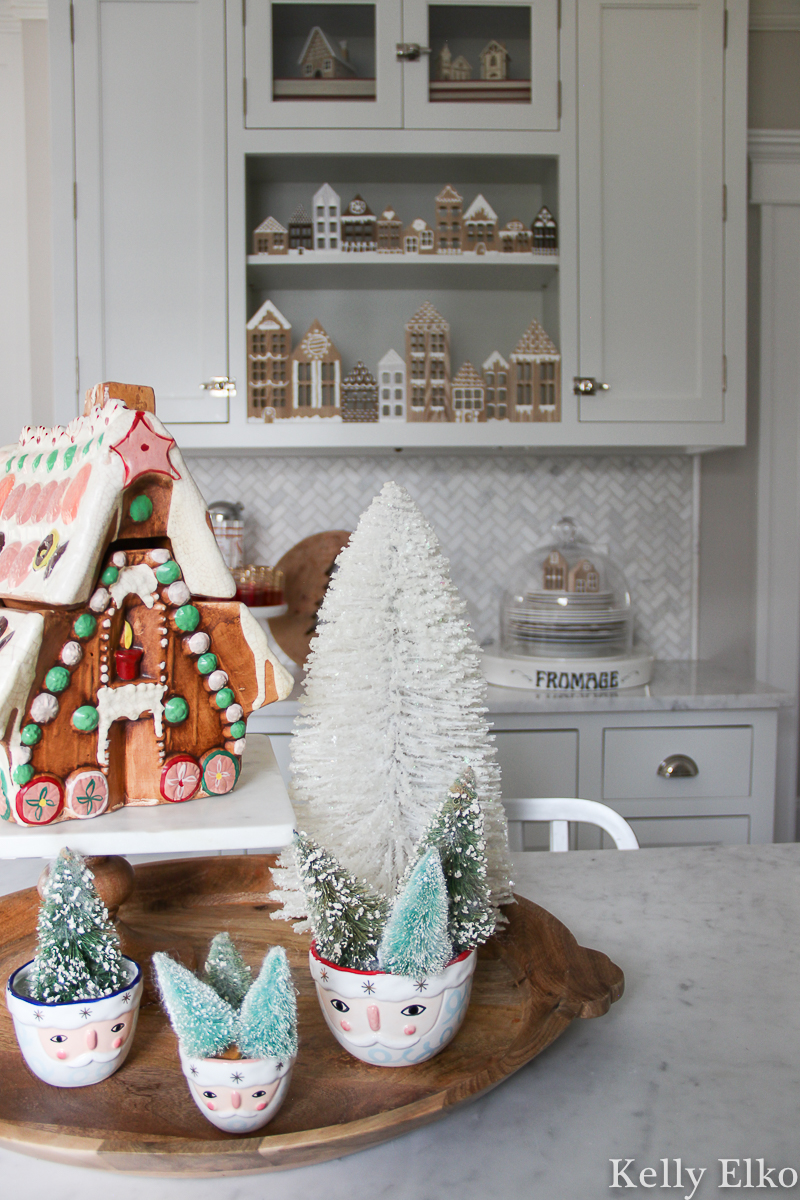 My gingerbread house cookie jar was kept out all year long in my house when I was a kid. I used to have to pull a chair up to the fridge so I could climb up to reach inside for a cookie.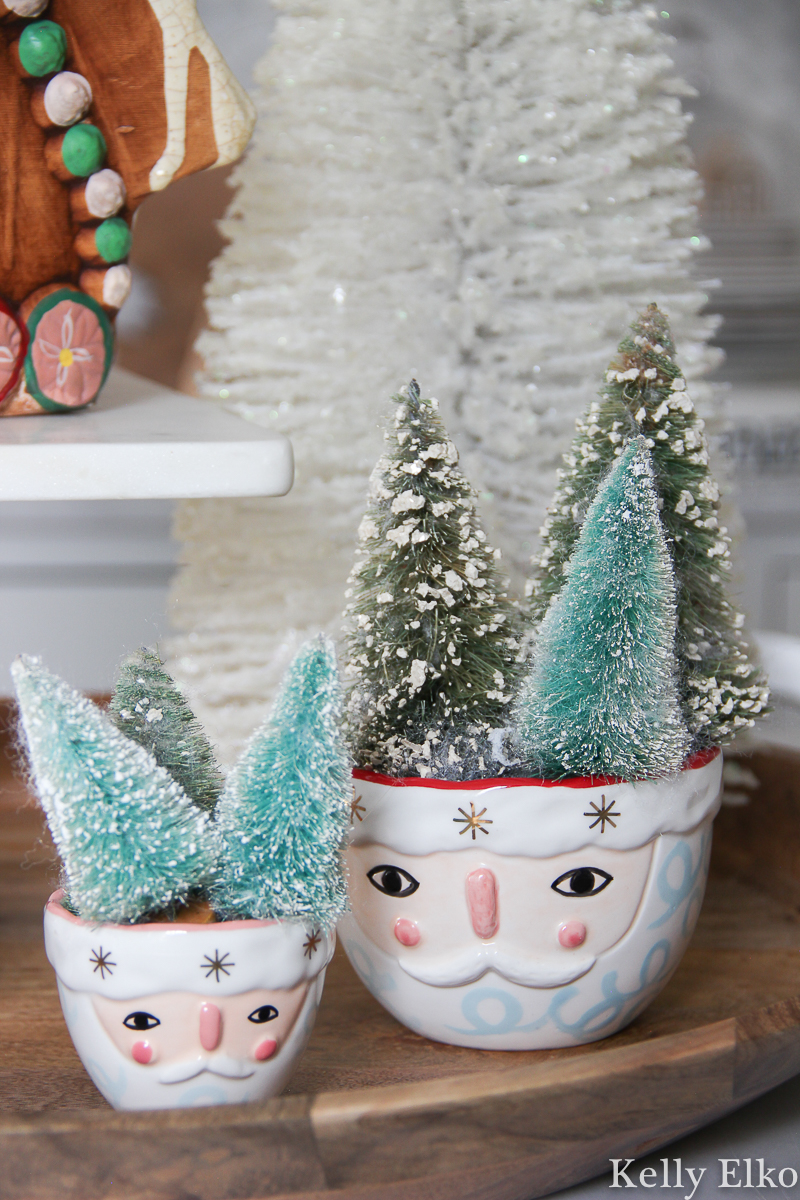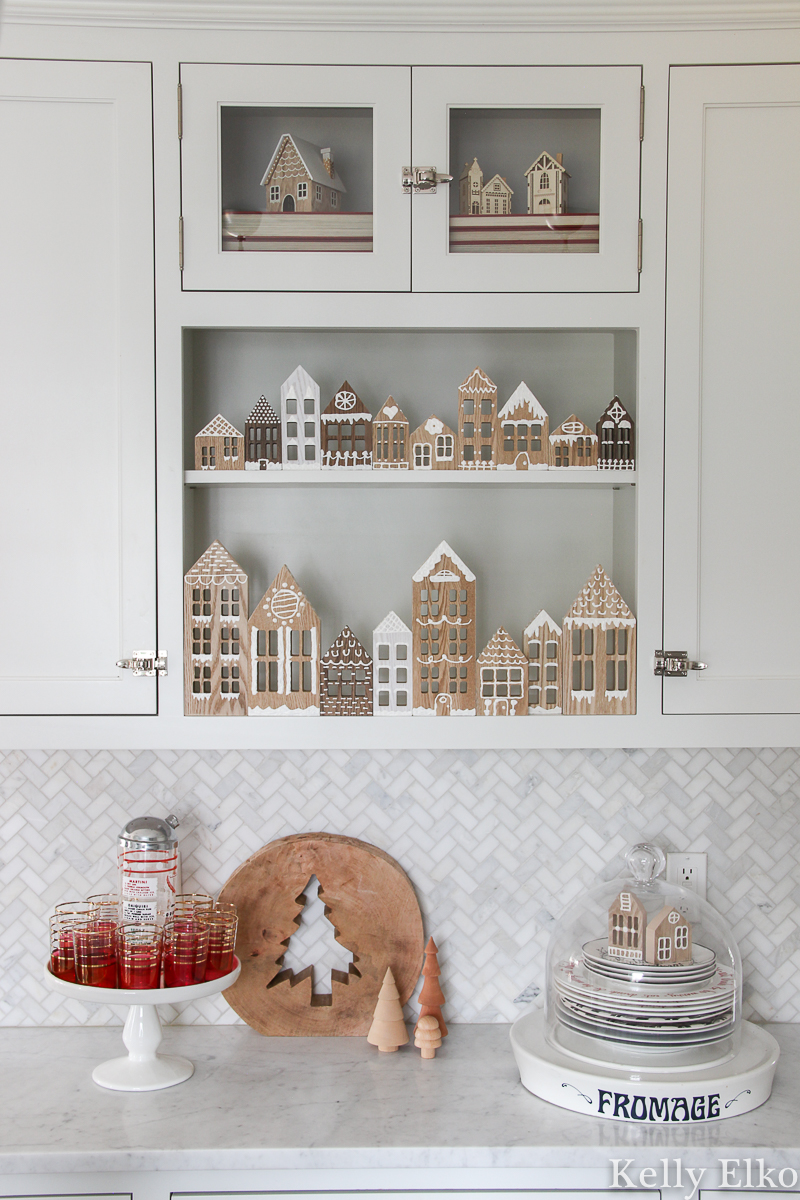 If one gingerbread house cookie jar is good, a village of DIY gingerbread houses is even better! You can see how I made them and get sources for my favorite little wood houses HERE.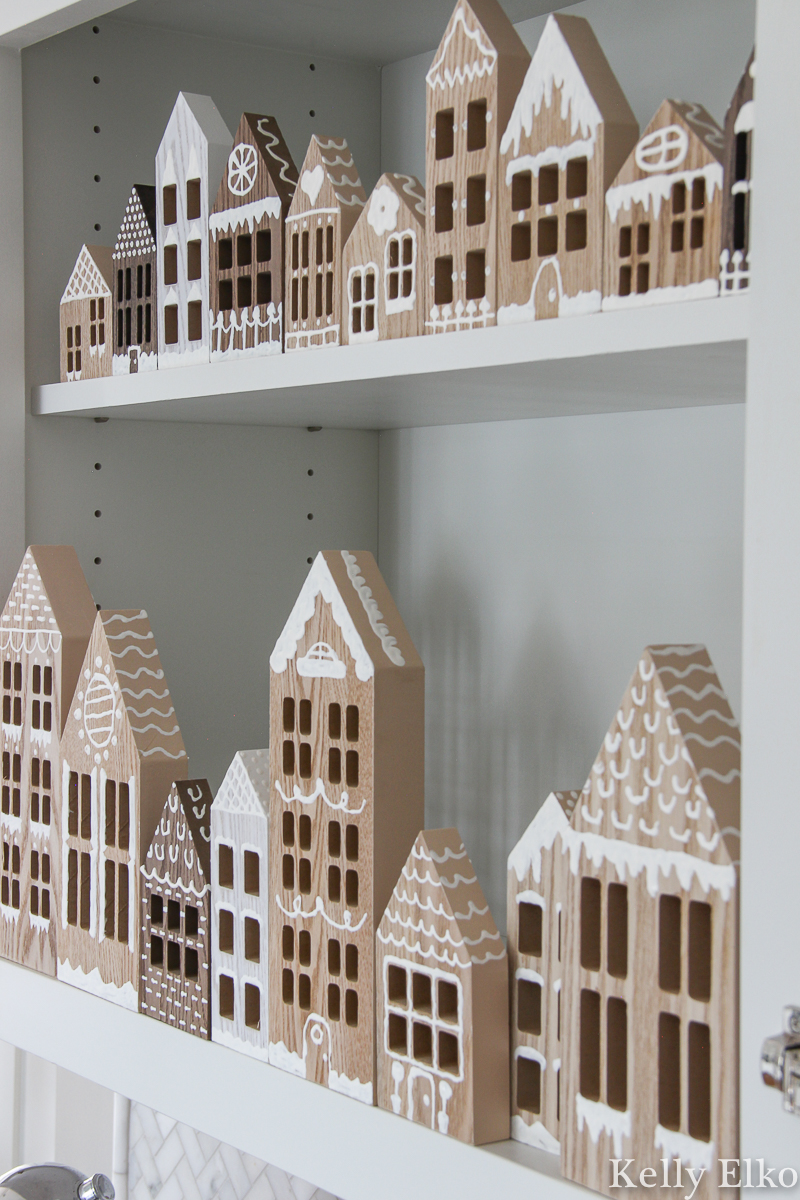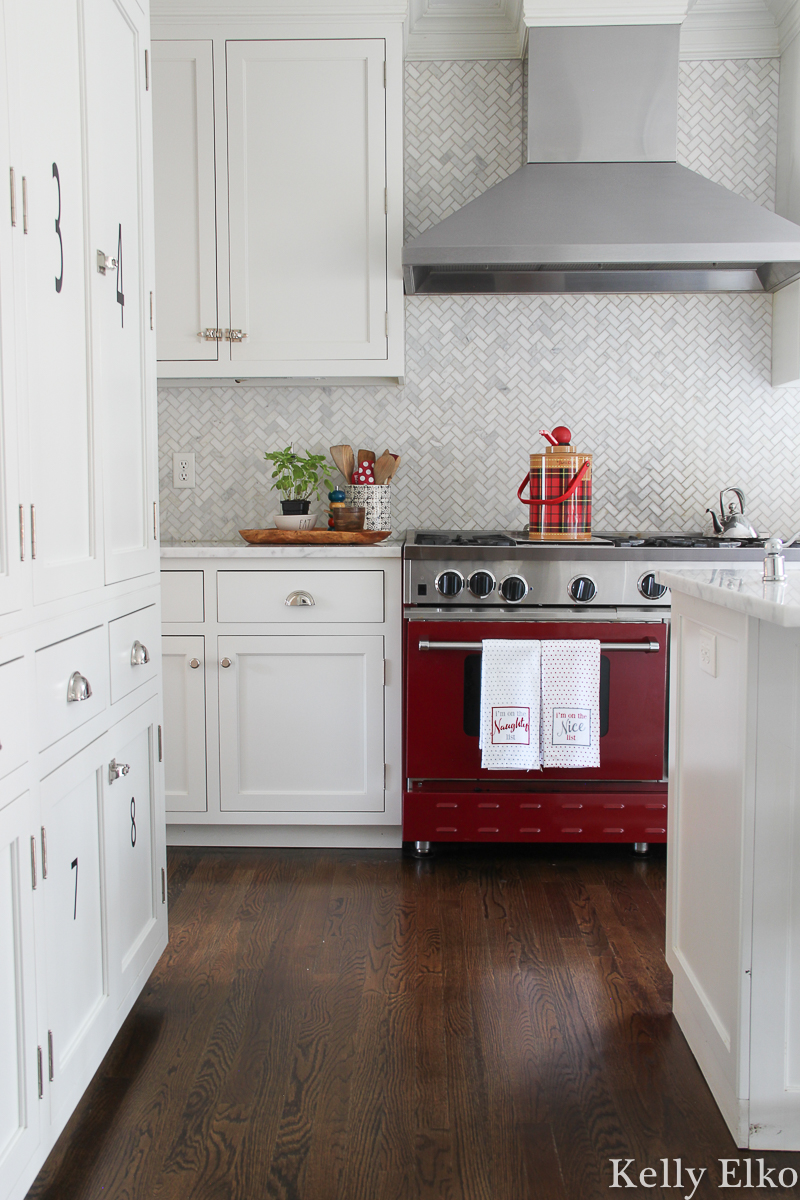 I feel like Mrs. Claus when I'm cooking on my red stove that is especially festive at Christmas!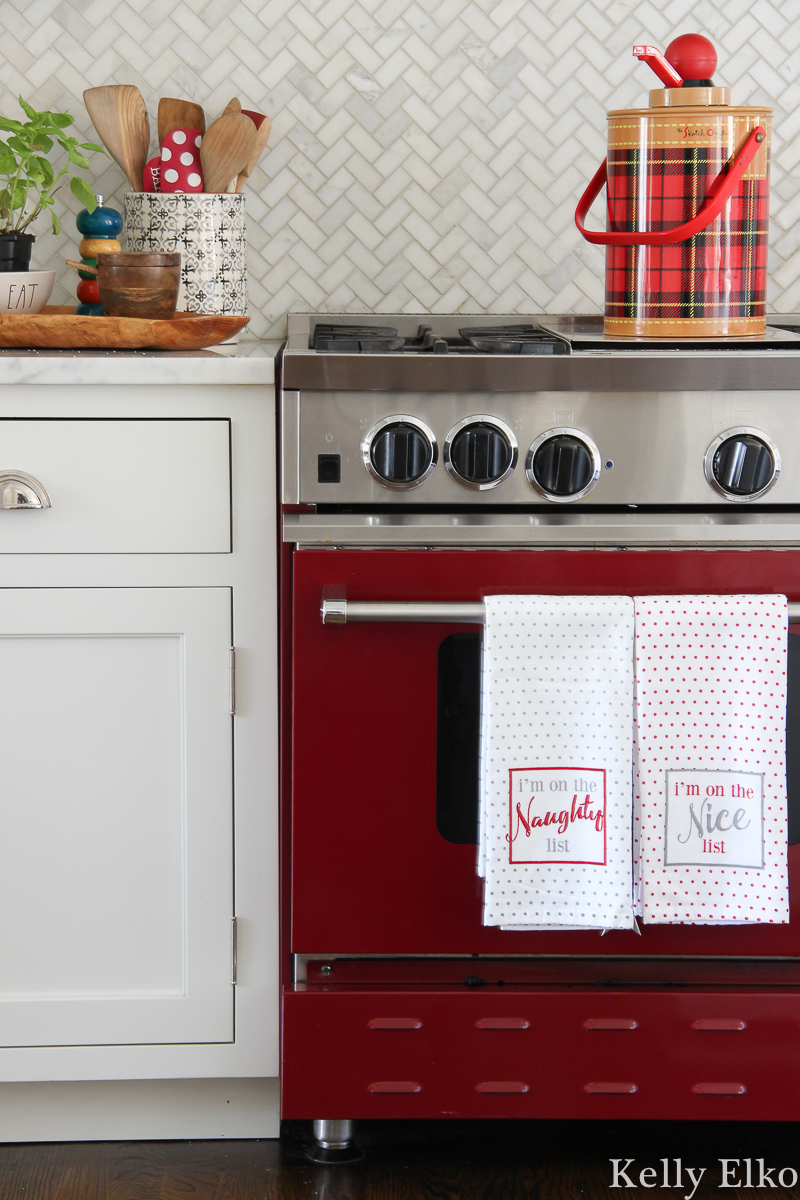 My Thanksgiving cactus bloomed just in the nick of time and the bright red flowers add color to my vintage green breadbox. The roly poly Santa and Mrs. Claus are vintage tobacco tins.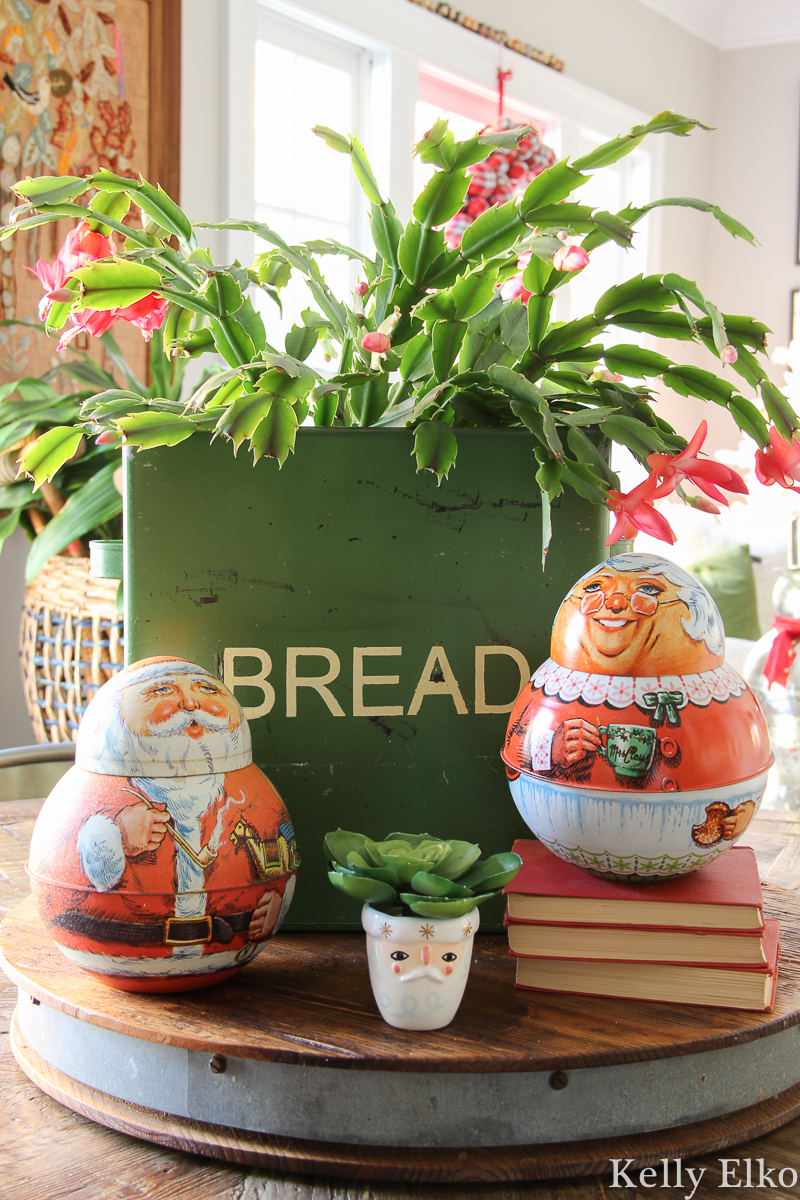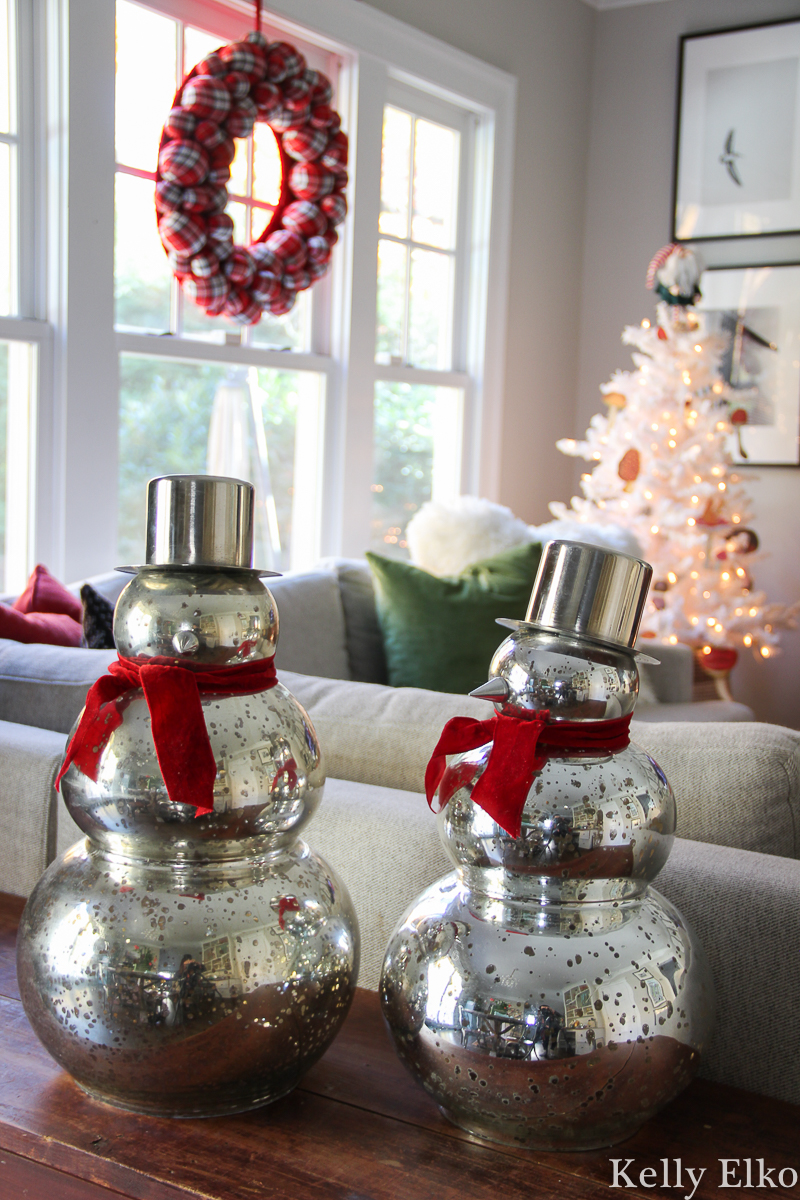 My cozy little family room doesn't leave room for furniture rearranging but I love to add festive throw blankets and pillows including one of my dog disguised as Rudolph (you can get the Rudolph puppy pillow here).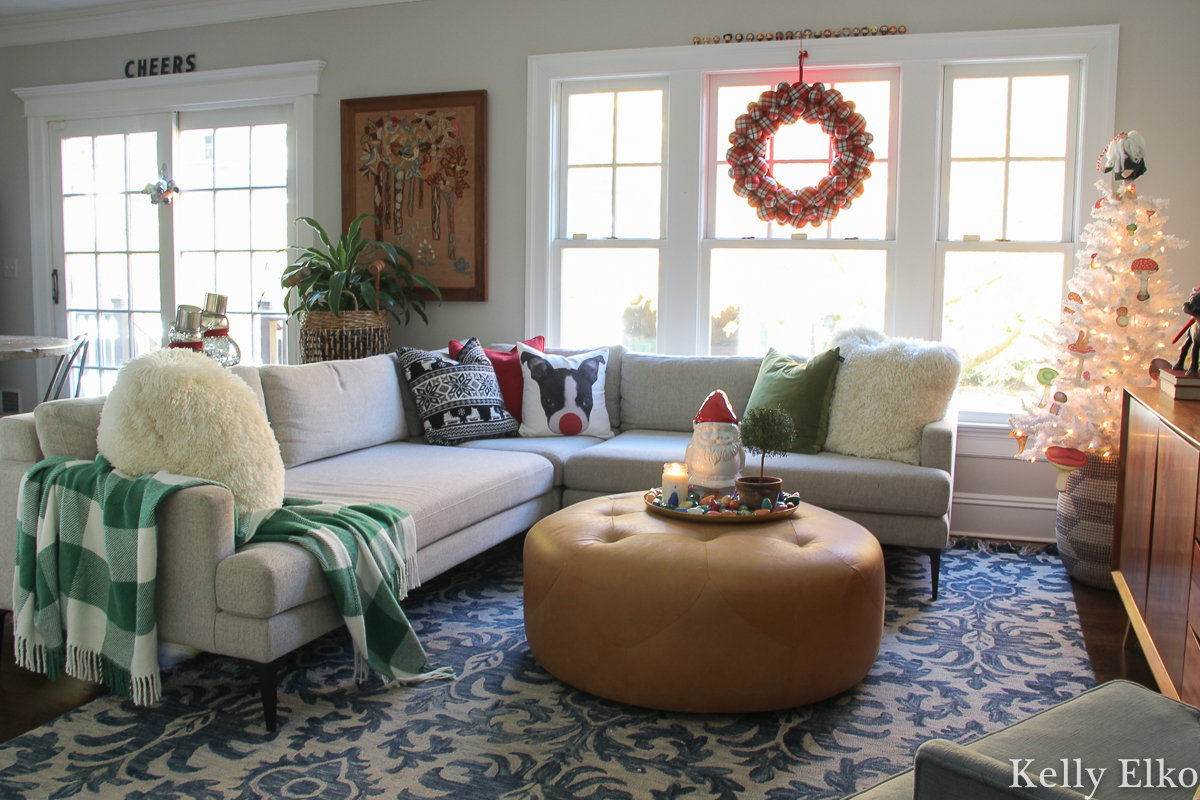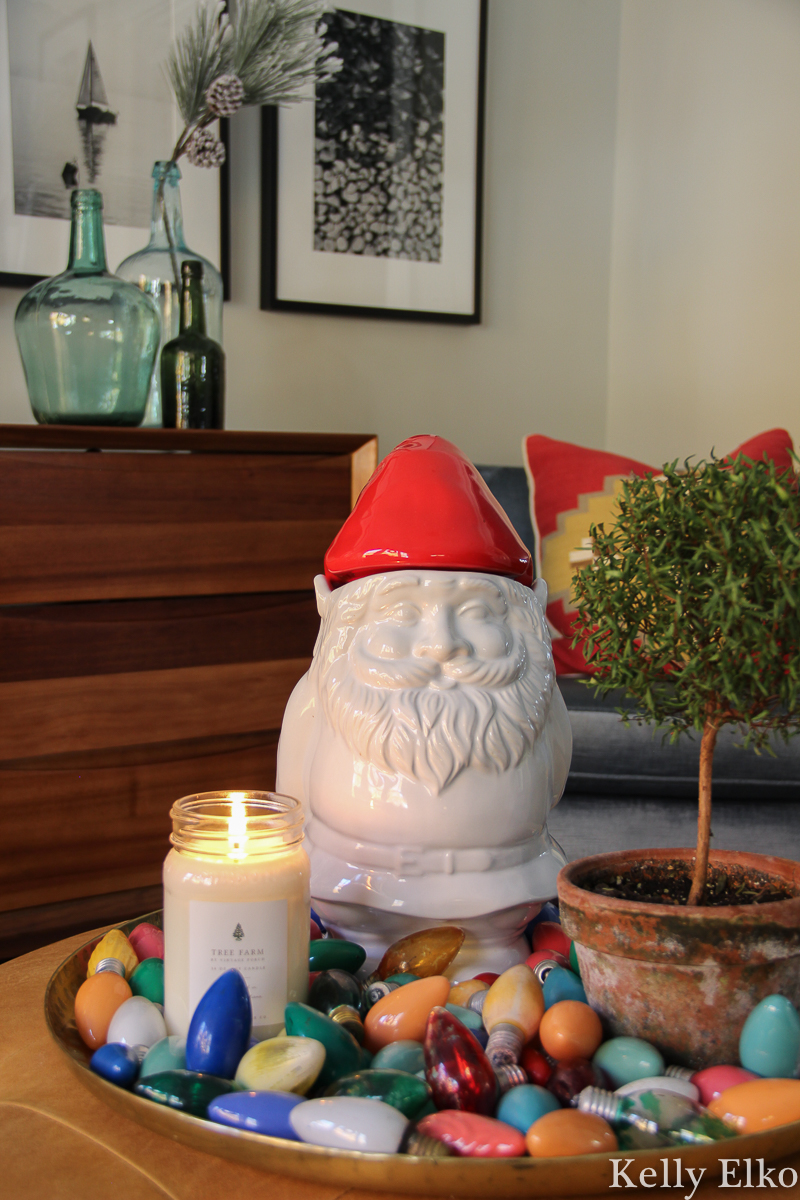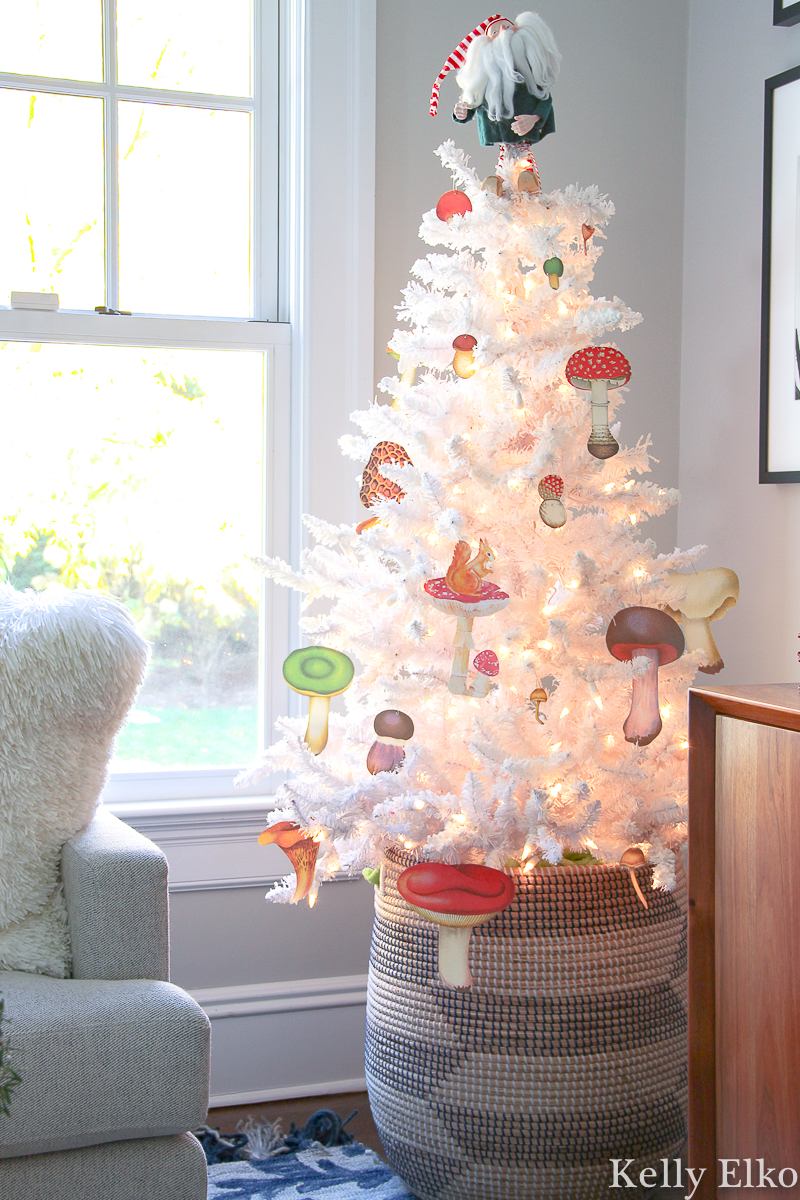 Can you believe my mushroom ornaments are paper? I cut them from this sheet of mushroom wrapping paper and think it looks like an enchanted little Christmas forest.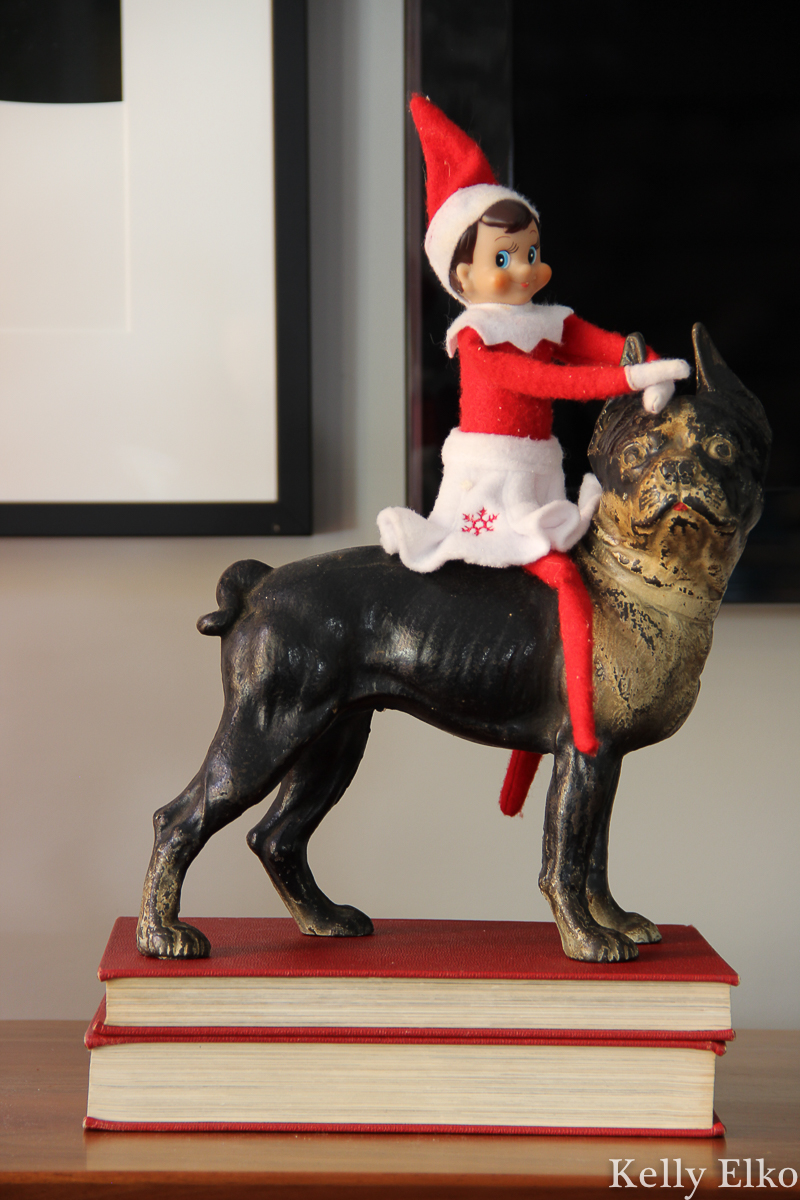 The stress of remembering to move Hot Tamale, our Elf on the Shelf, around has thankfully stopped so now he's content to catch a ride on my antique Boston Terrier doorstop.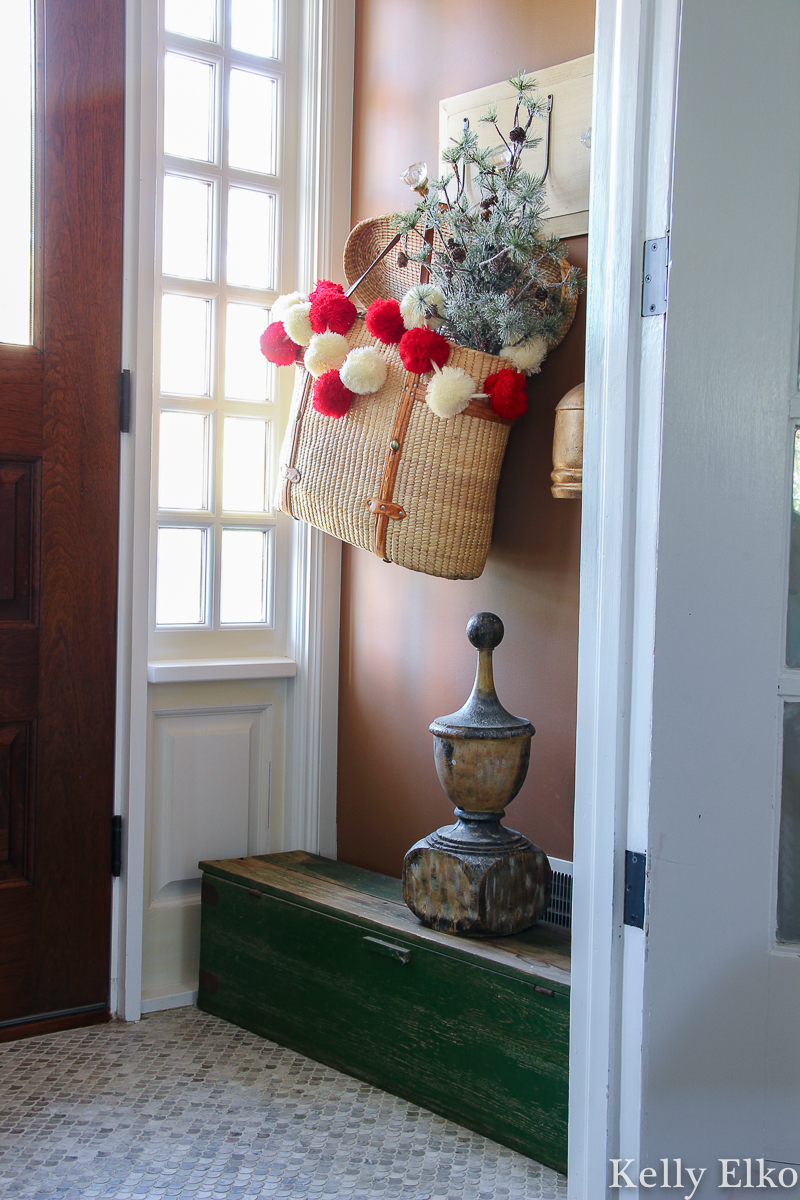 If you need a pop of color somewhere, add a colorful garland.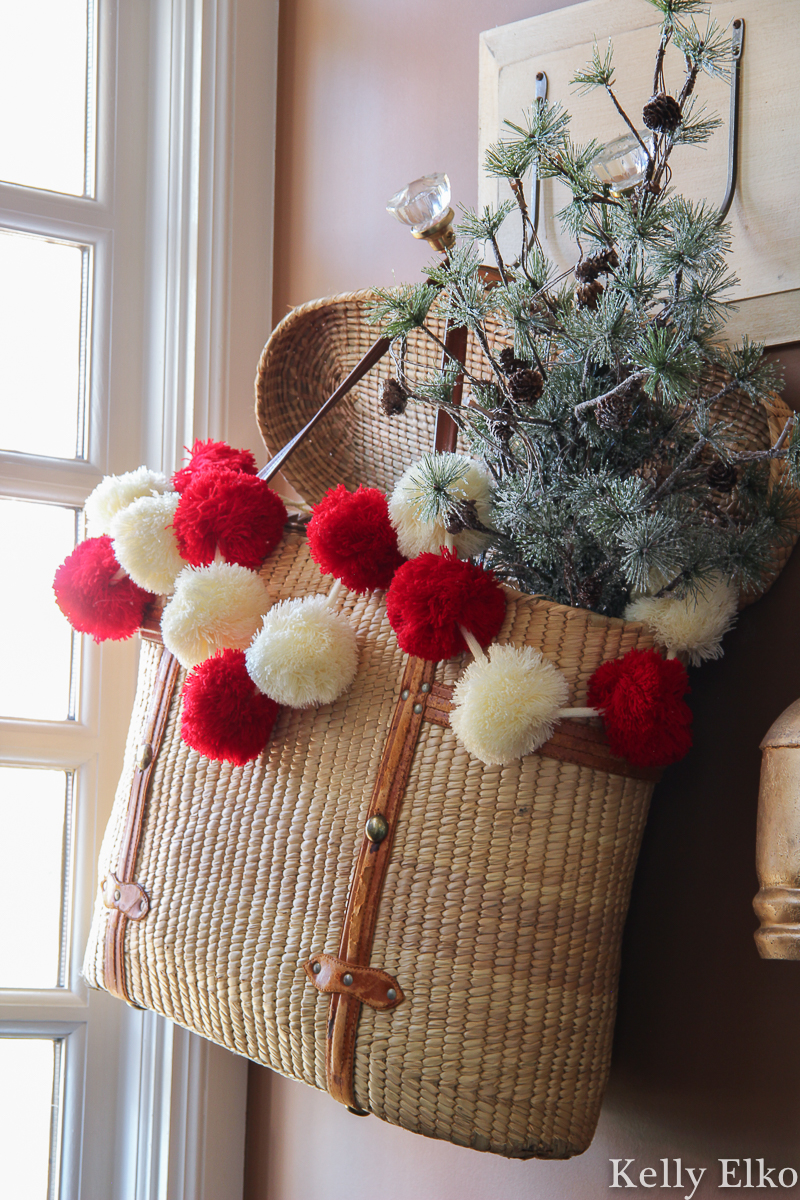 Since I took these photos, I added the cutest pillow from my very talented friend Jen Rizzo. It is the perfect addition to all the little houses that I have scattered around the house and I love that it can be kept out all winter long!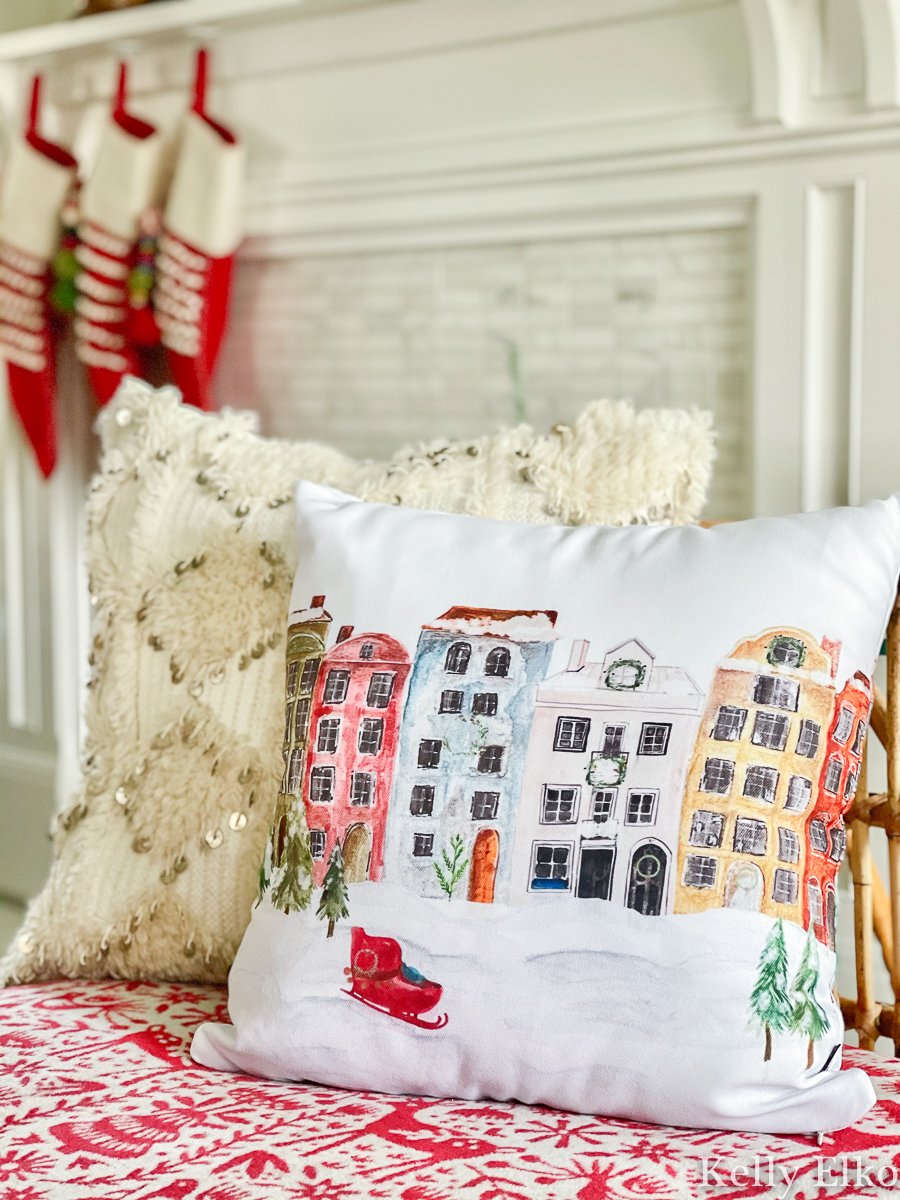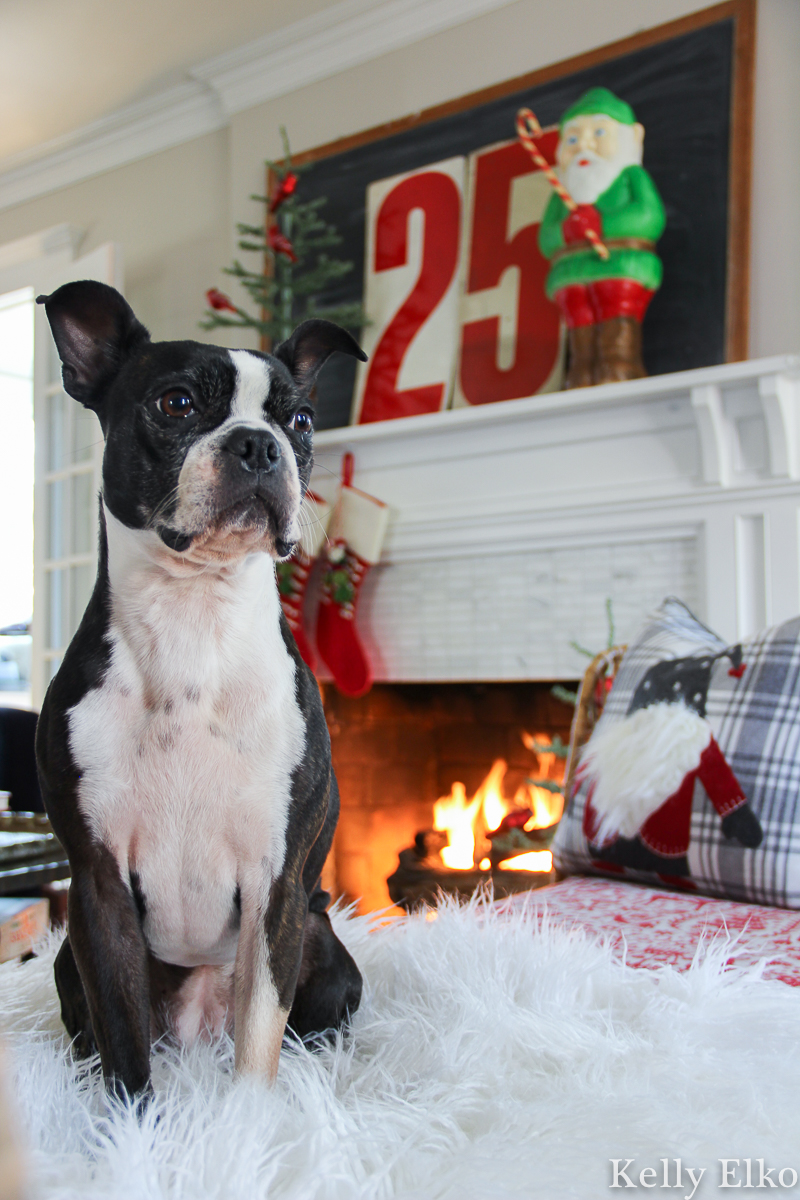 Sushi wishes you a very Merry Christmas and is thrilled that I didn't humiliate her by forcing her into a Christmas sweater like I have in the past!
I ho ho hope you enjoyed my house all decked out for Christmas. There is more to come all month long and I share lots more on Instagram.
Don't miss my past Christmas Home Tours …
Please Come Home Christmas Tour / There's No Place Like Home Tour / Let's Stay Home Tour
Now hop in my sleigh so I can fly you over to the next home tour of Dear Lillie. Her home is always a stunner!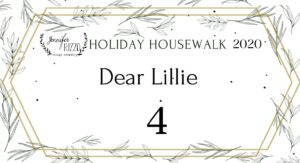 Click on the Photos Below to Shop My Christmas House

Don't miss some past Christmas tours …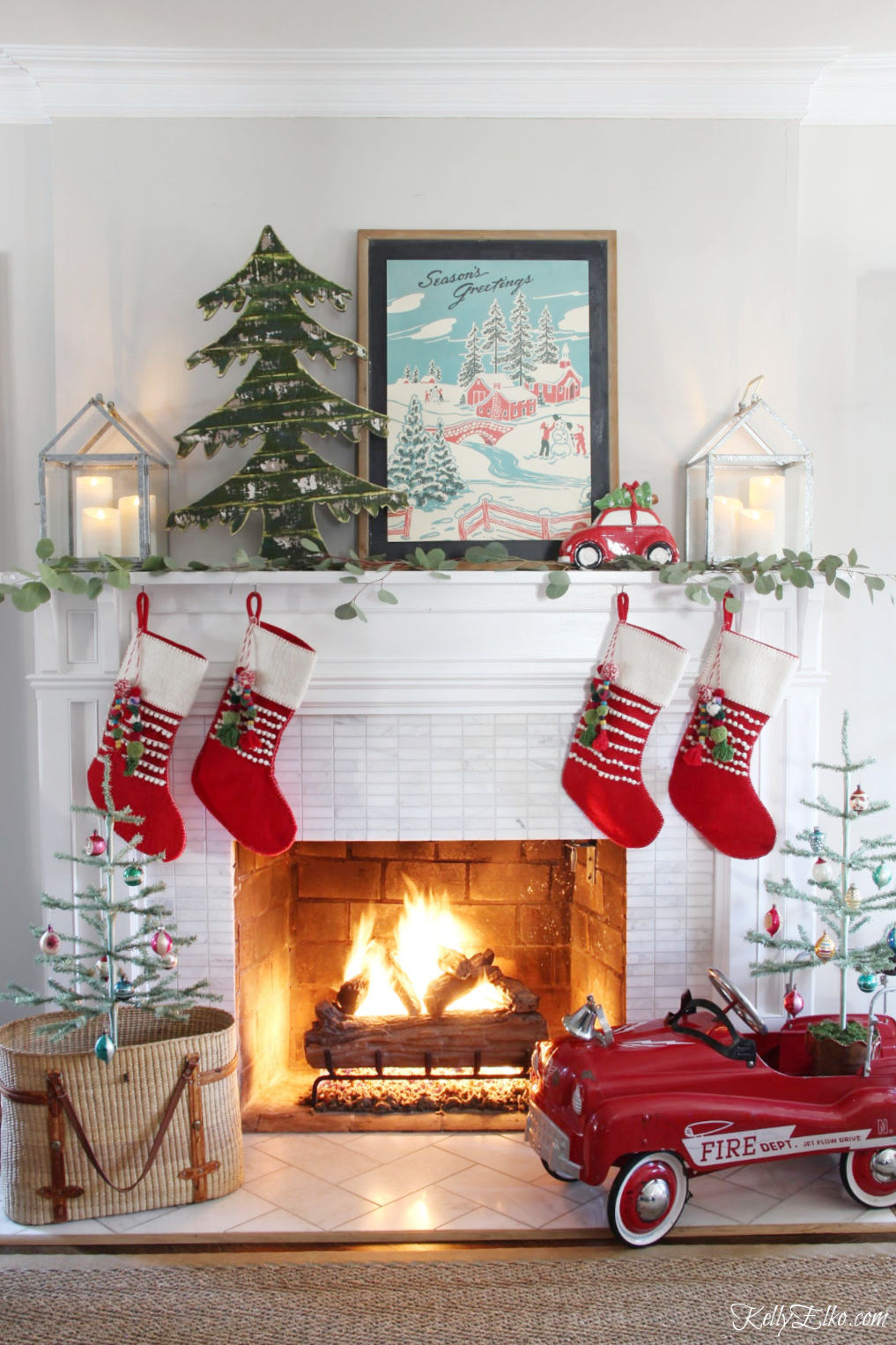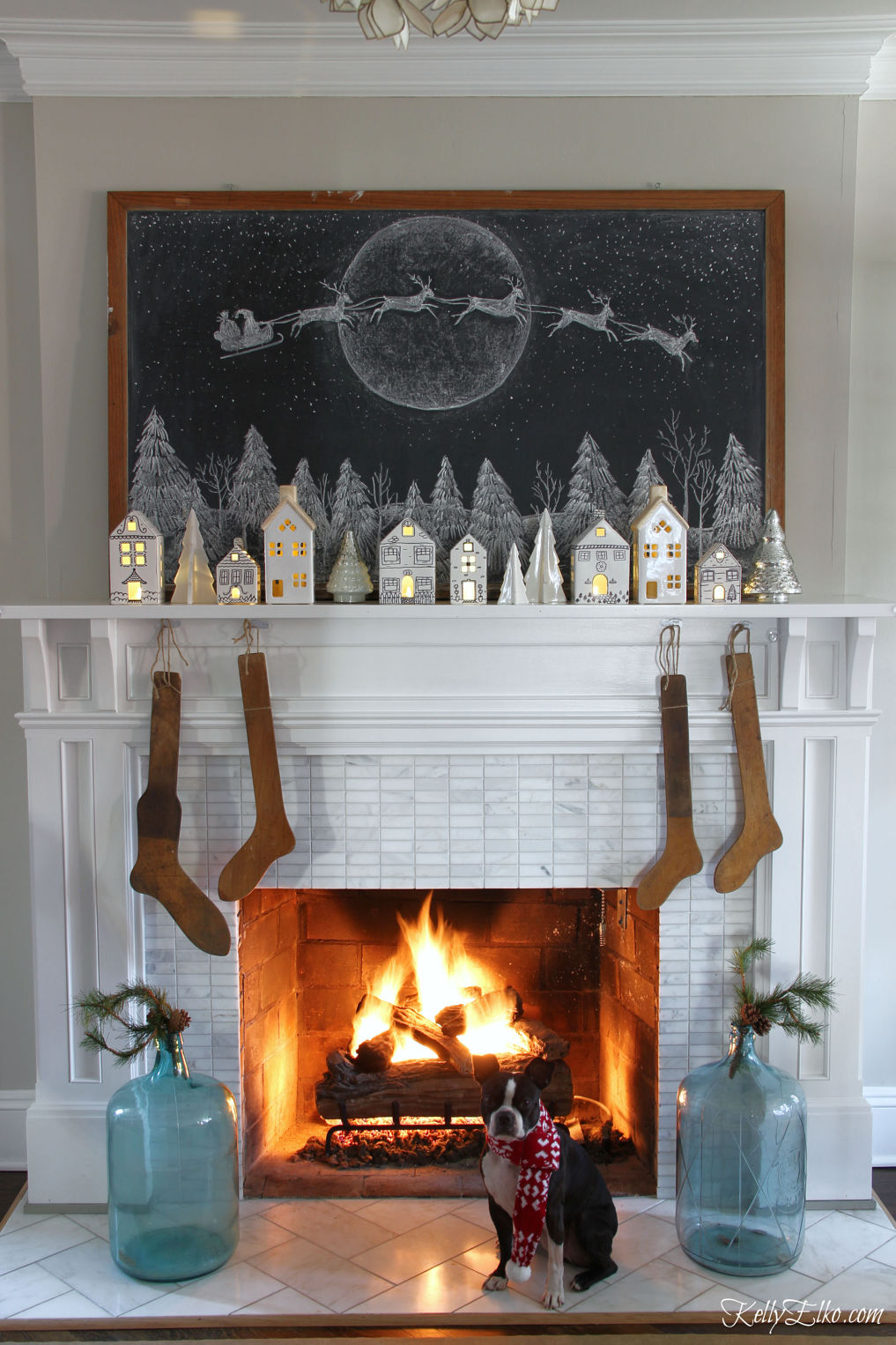 If you love old fashioned Christmas decorating ideas, don't miss this post below.