There's No Place Like Home Christmas Home Tour
Welcome to my There's No Place Like Home Christmas Home Tour. I've been decking and trimming and drinking spiked eggnog and I'm excited to share my new cheery Christmas home tour and decorating ideas.
Once again I'm part of Jennifer Rizzo's Holiday Housewalk which means all week long you can hop from blog to blog to see some amazing homes all decked out in their holiday finery. The tour begins with Jen's stunning house so don't miss it.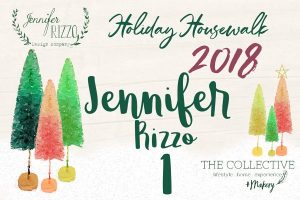 If you're visiting from Nesting with Grace home tour, welcome.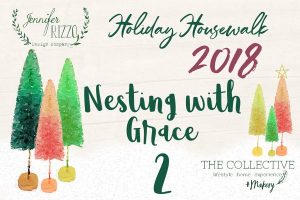 Now let's get down to business – come on in (full source list at end of post).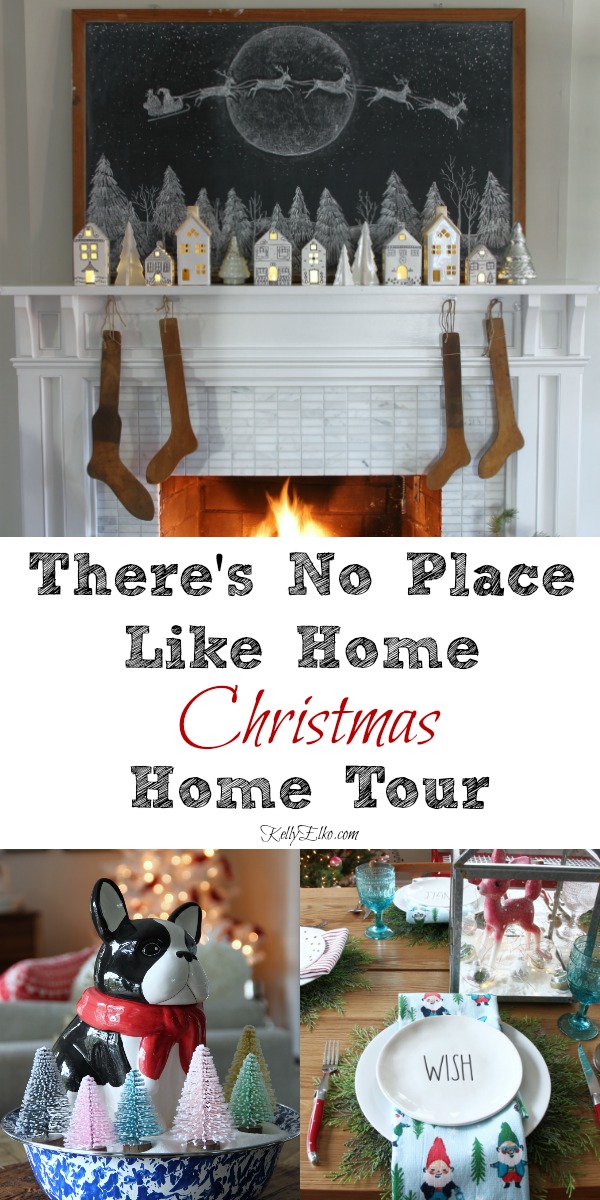 post contains affiliate links which means if you make a purchase, I may earn a small commission at no extra cost to you.
This year, I took inspiration from homes and gnomes. You'll see little houses scattered throughout my house and a few fun gnomes too.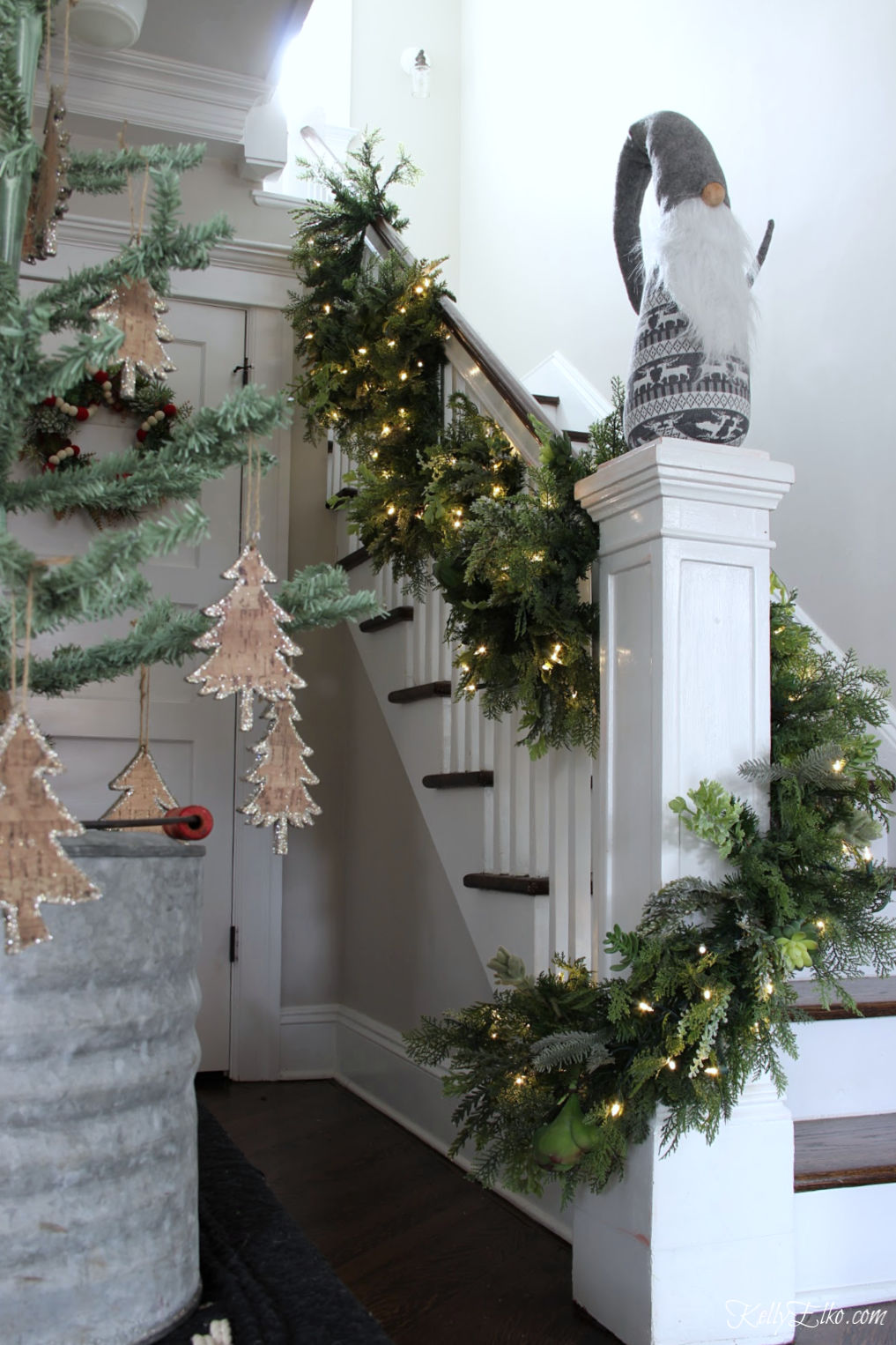 I added felted ball garland to my succulent wreath to put it in the holiday spirit.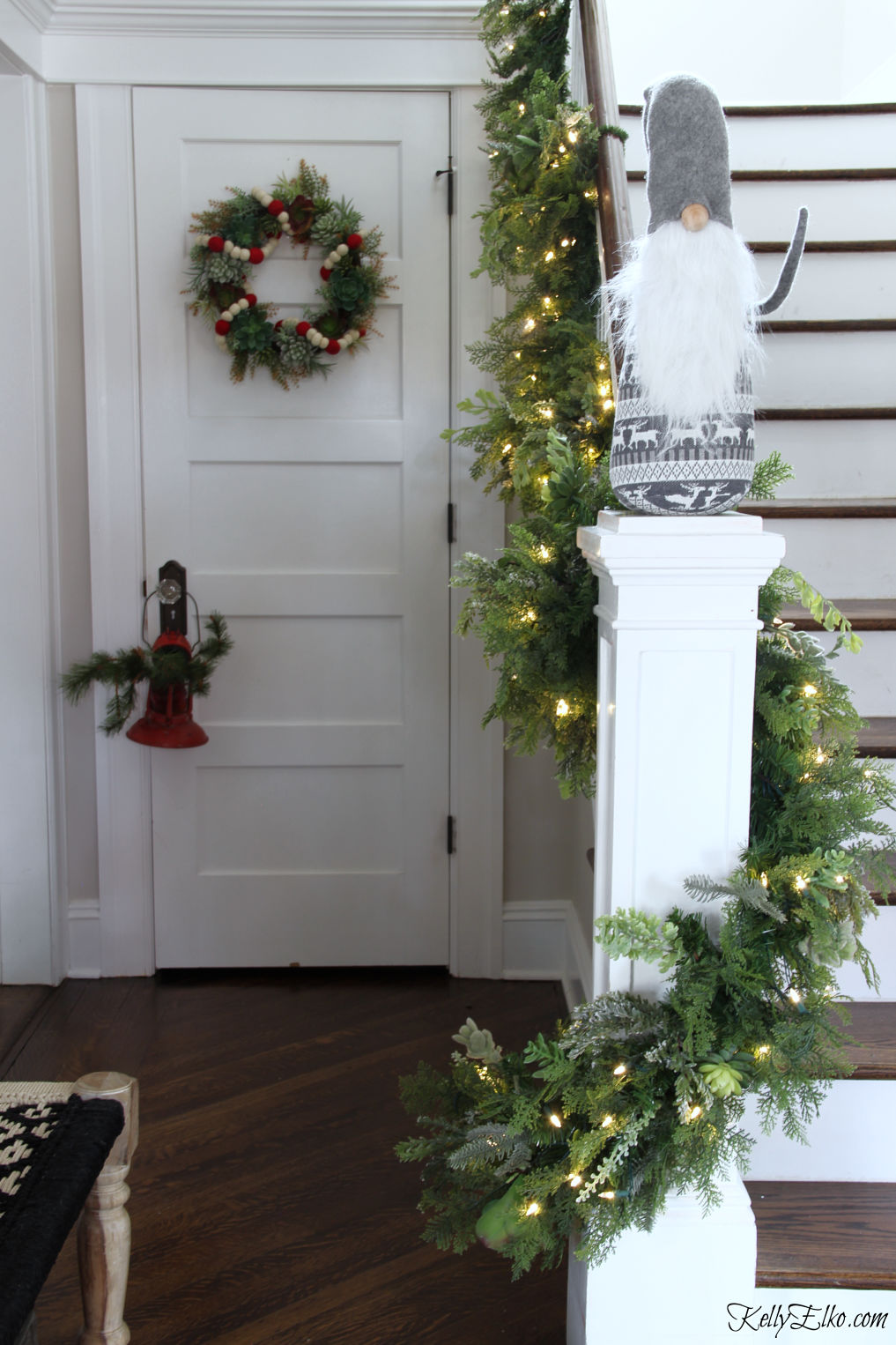 This is my all time favorite mantel and I'll be offering the chalkboard art as a free printable soon. The children inside these tiny houses are nestled all snug in their beds as they anxiously await Santa's arrival.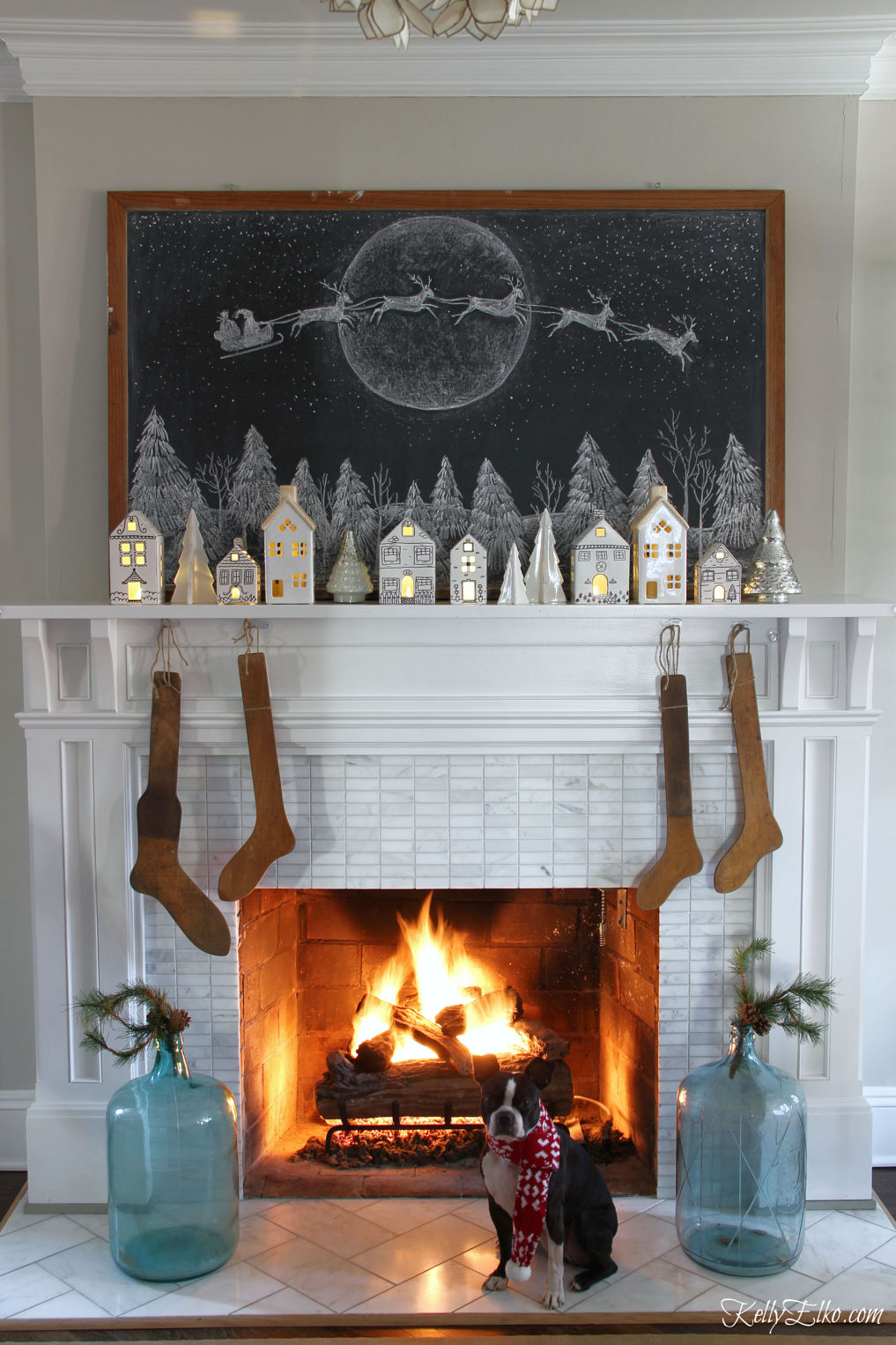 Antique stocking stretchers are hung by the chimney with care.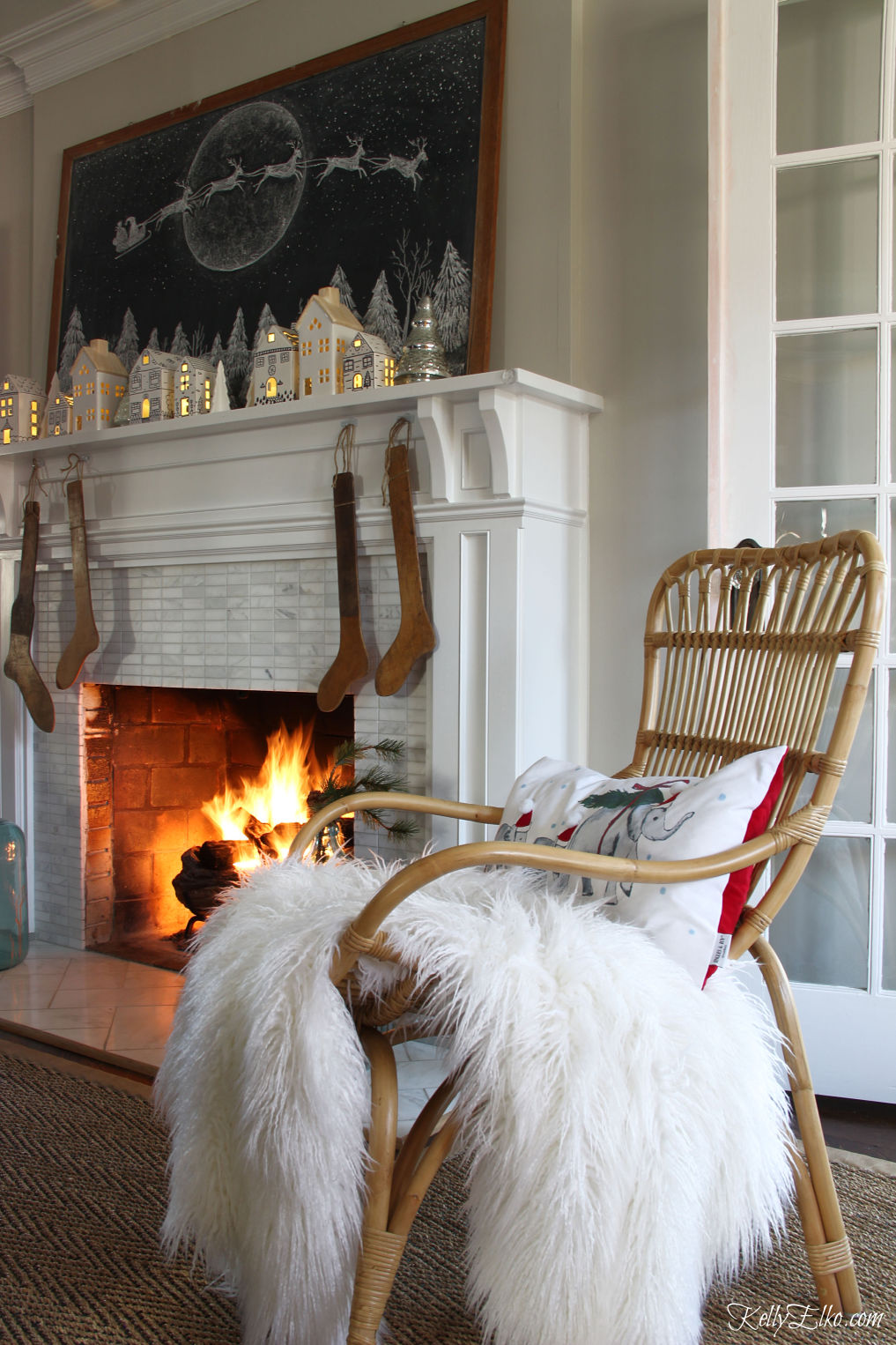 I wanted to put my own spin on these white ceramic houses.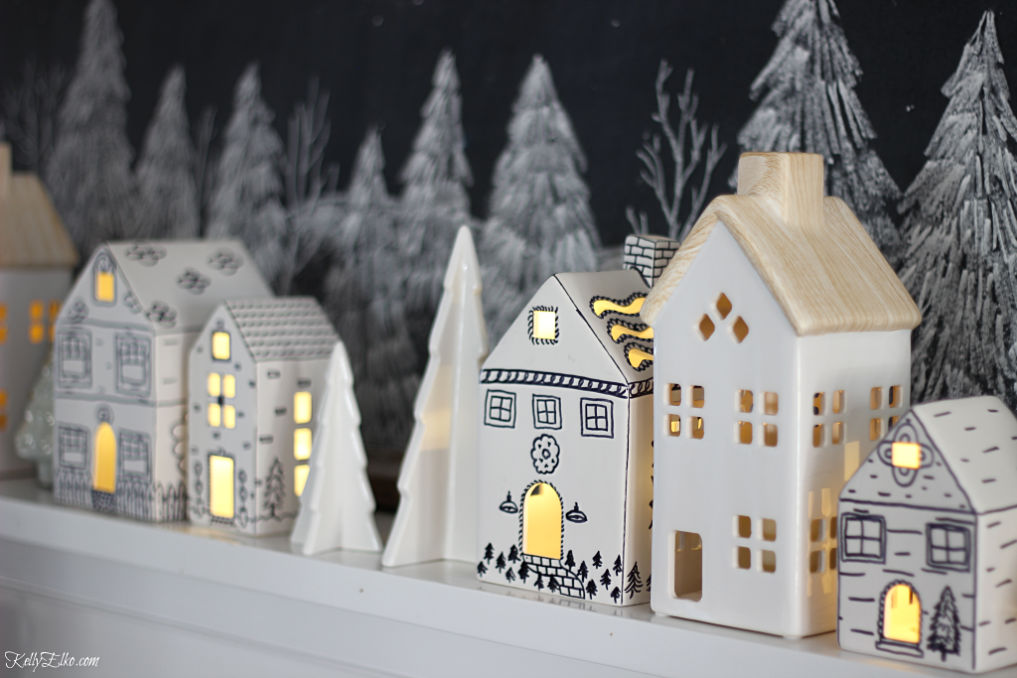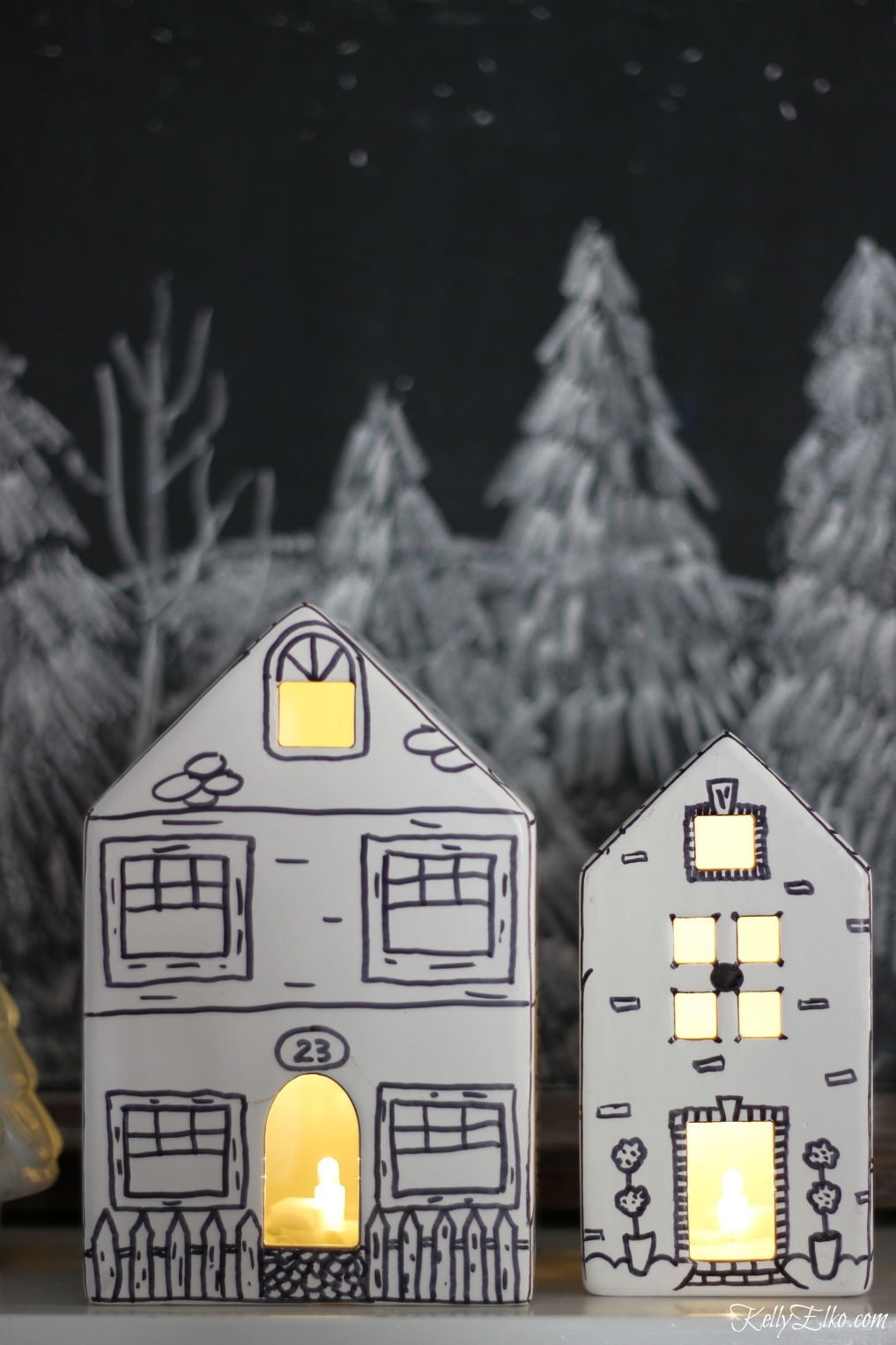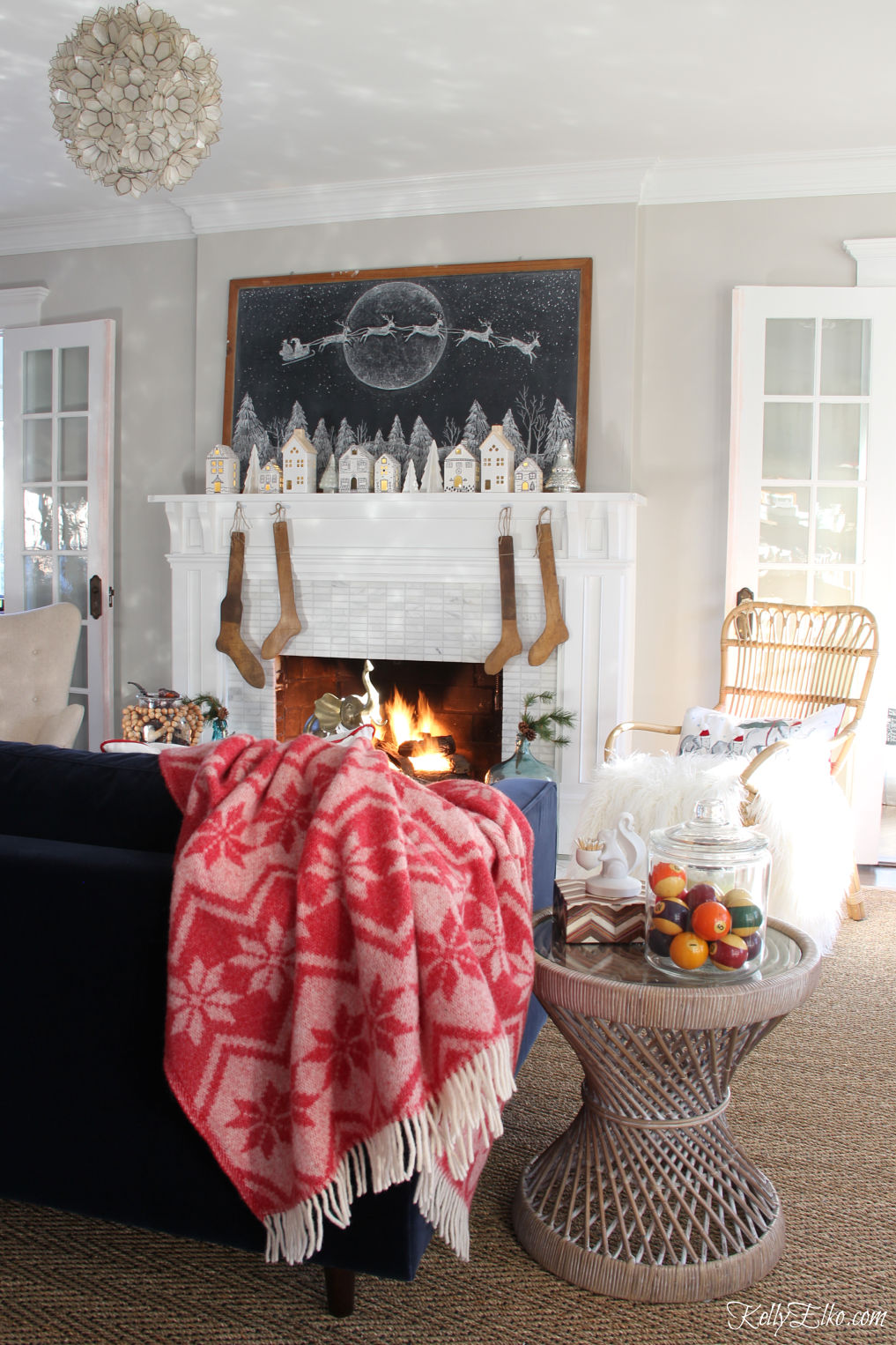 I added 1600 lights to really make my tree glow.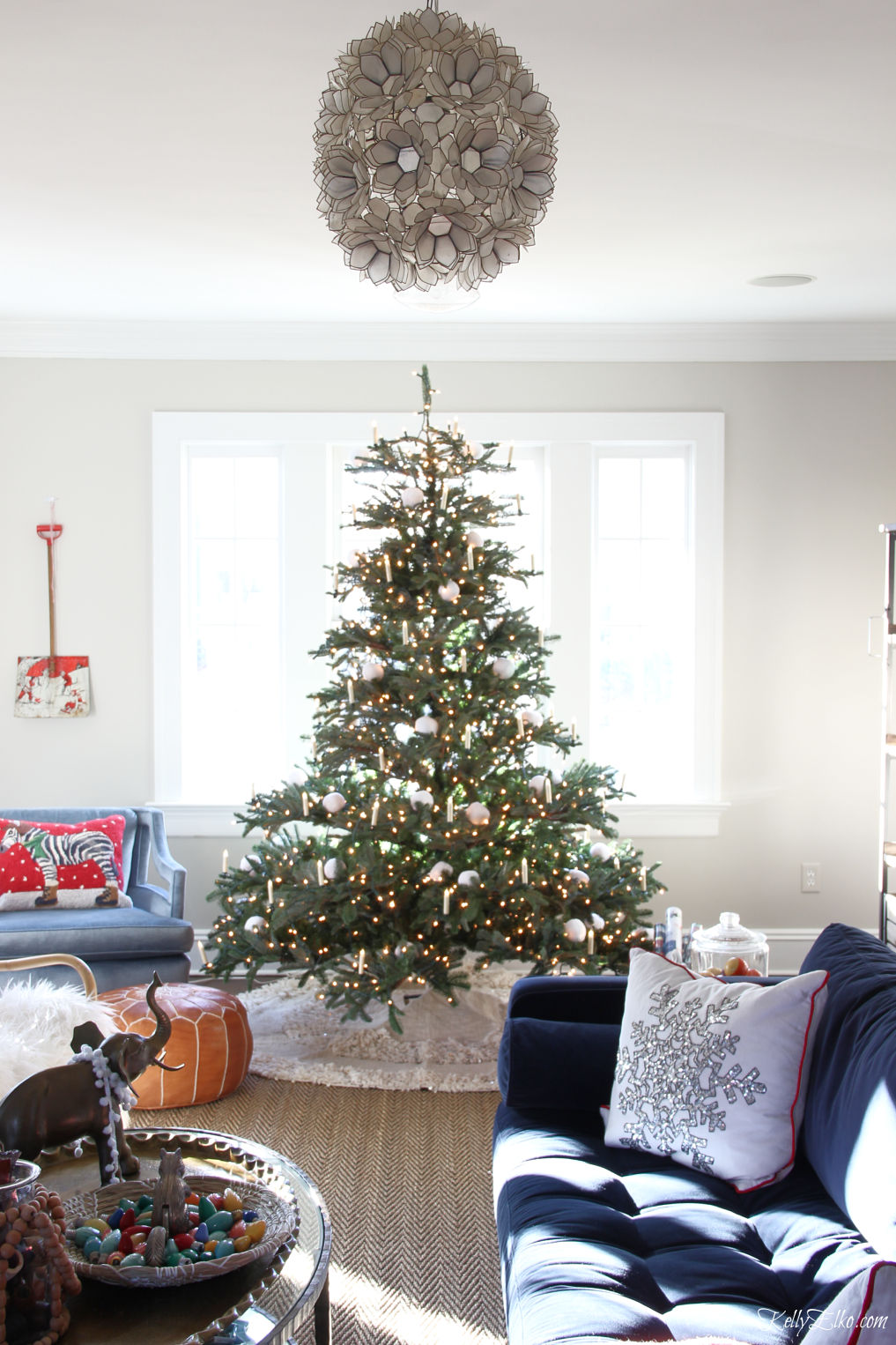 I went super simple this year with these clip on candle lights that add such charm and "snowballs" nestle in the branches.
When my girls come home from school, we'll add our family ornaments that we've collected over the years.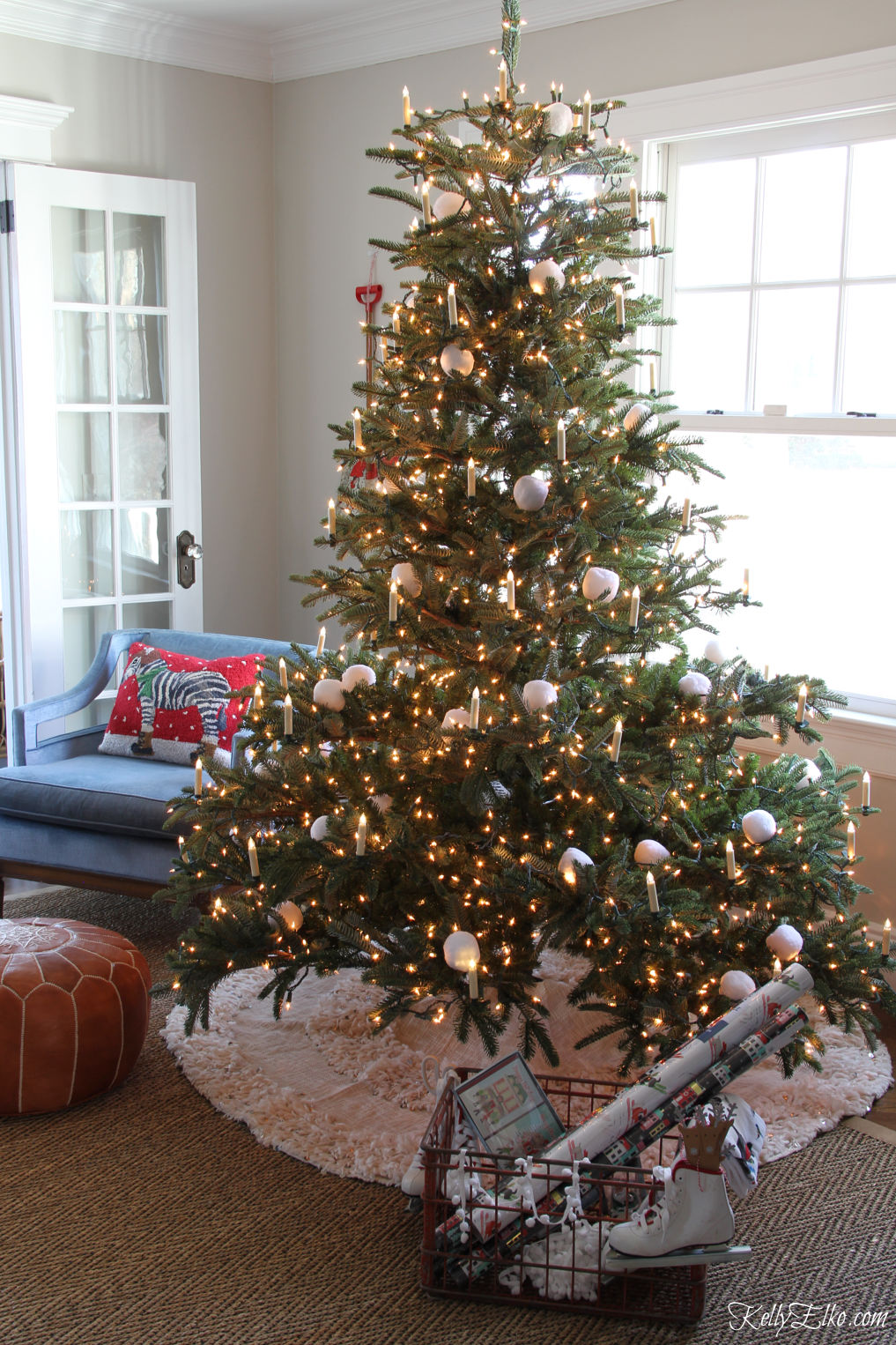 A little gift wrapping station holds everything needed to wrap up a storm.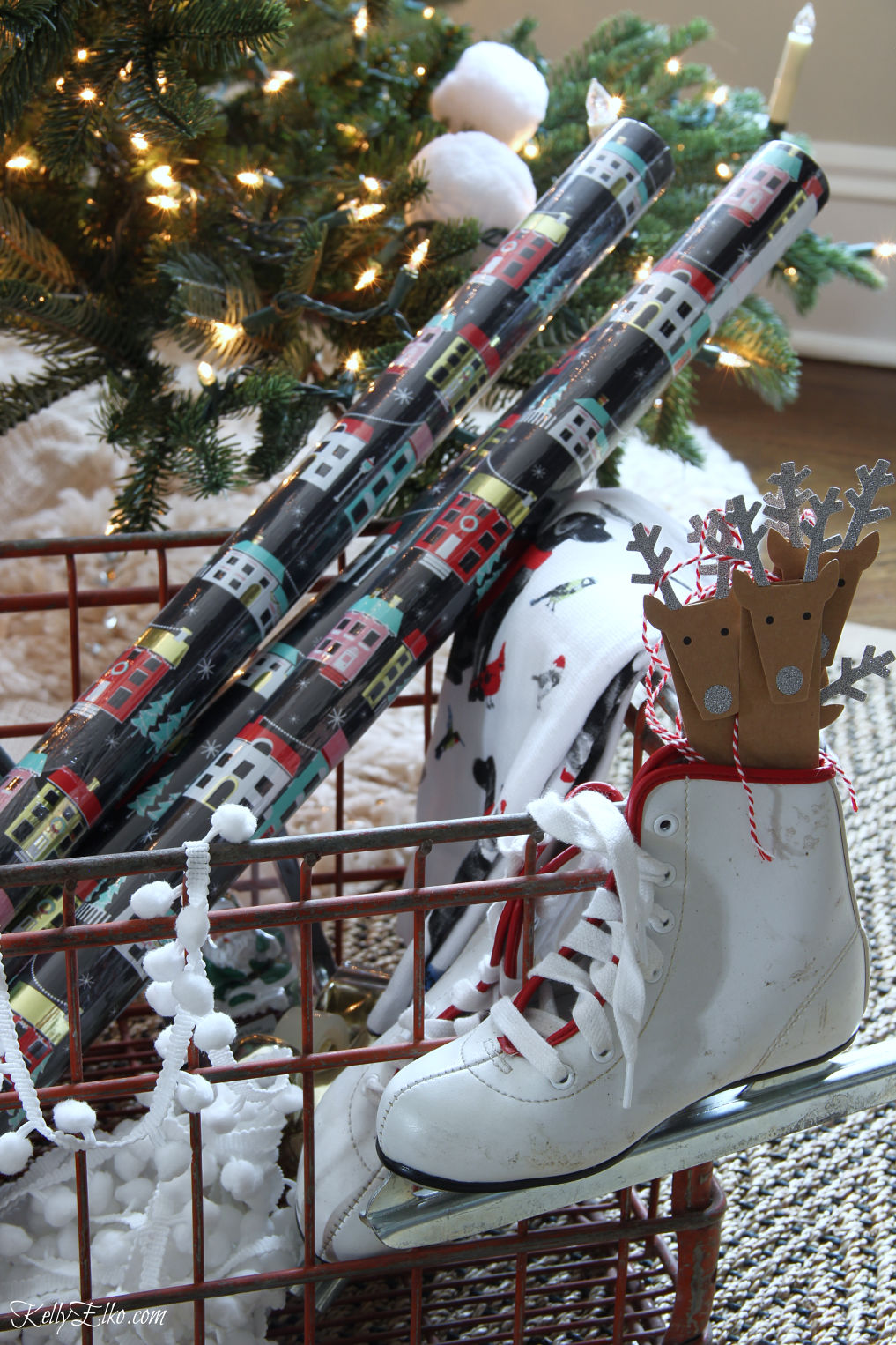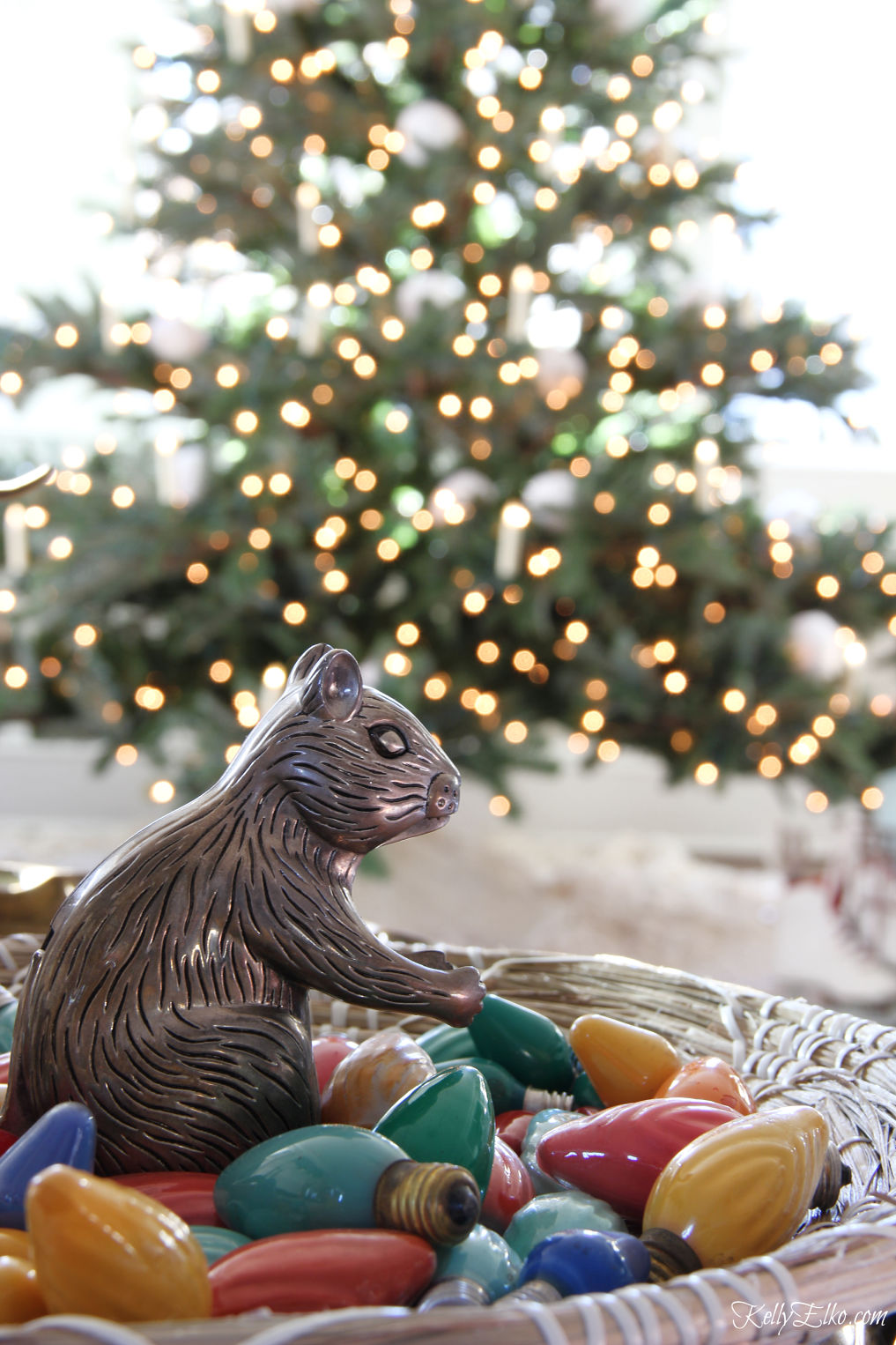 I love that my mother in law saved my husband's childhood shovel.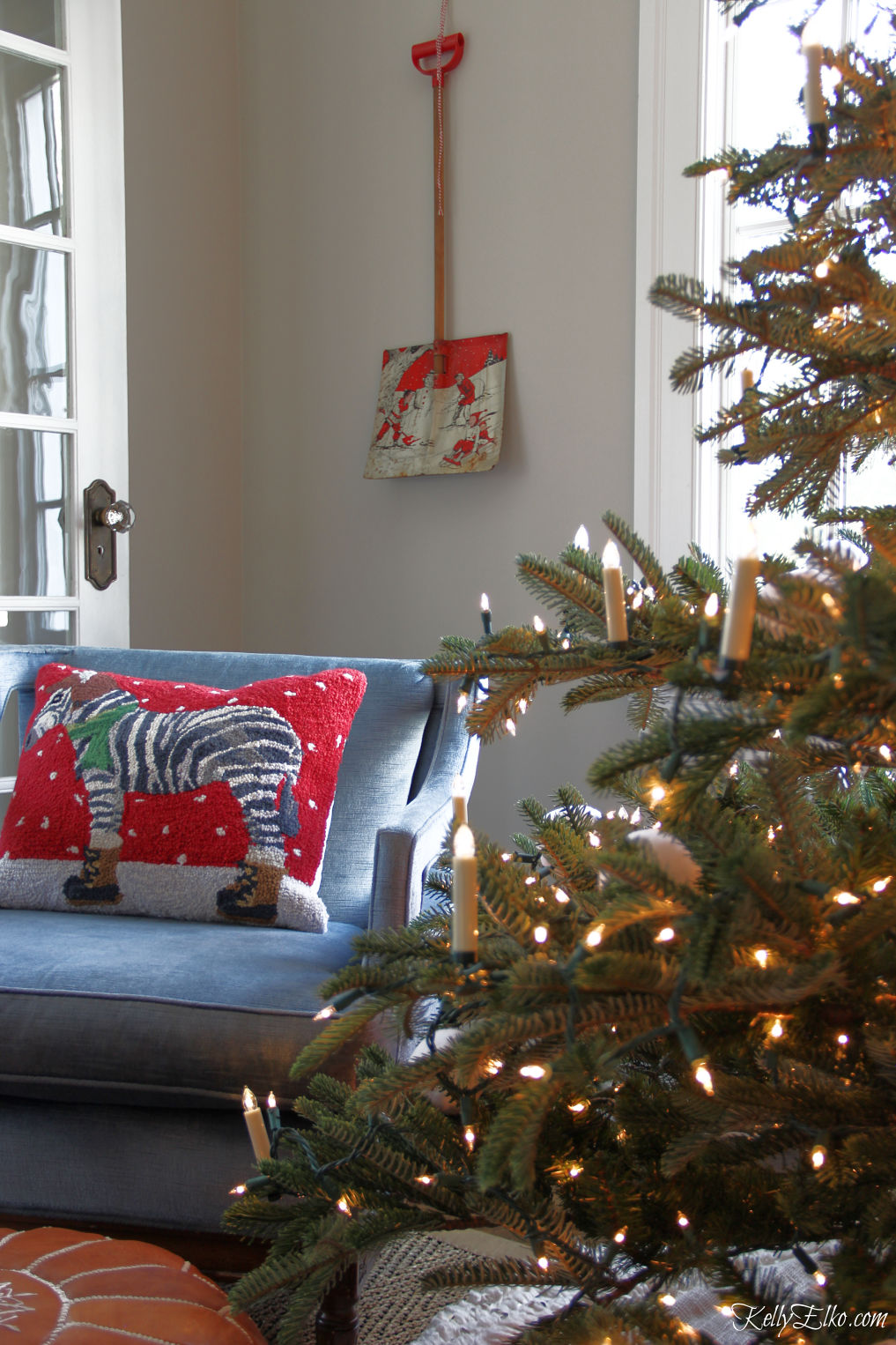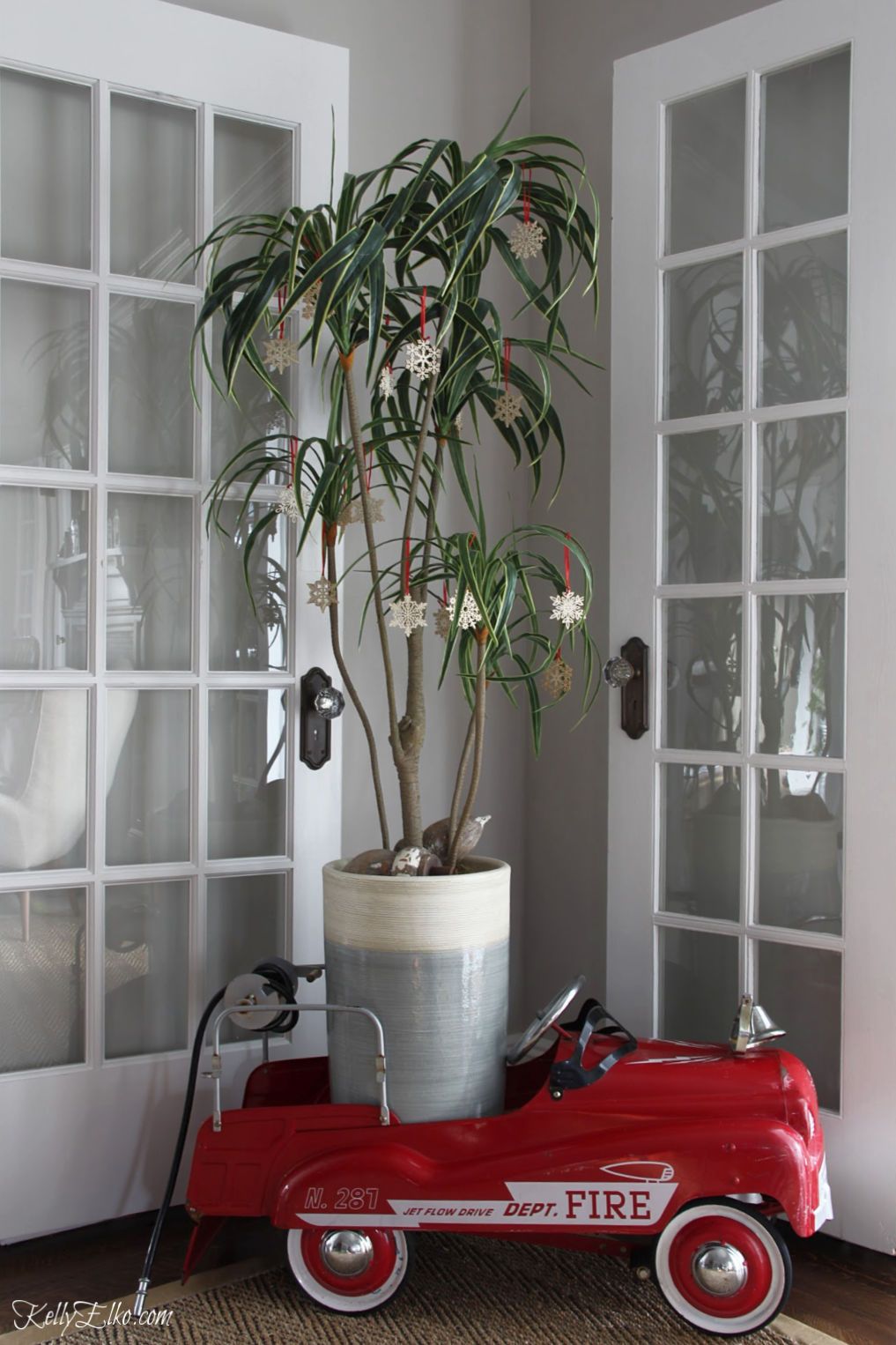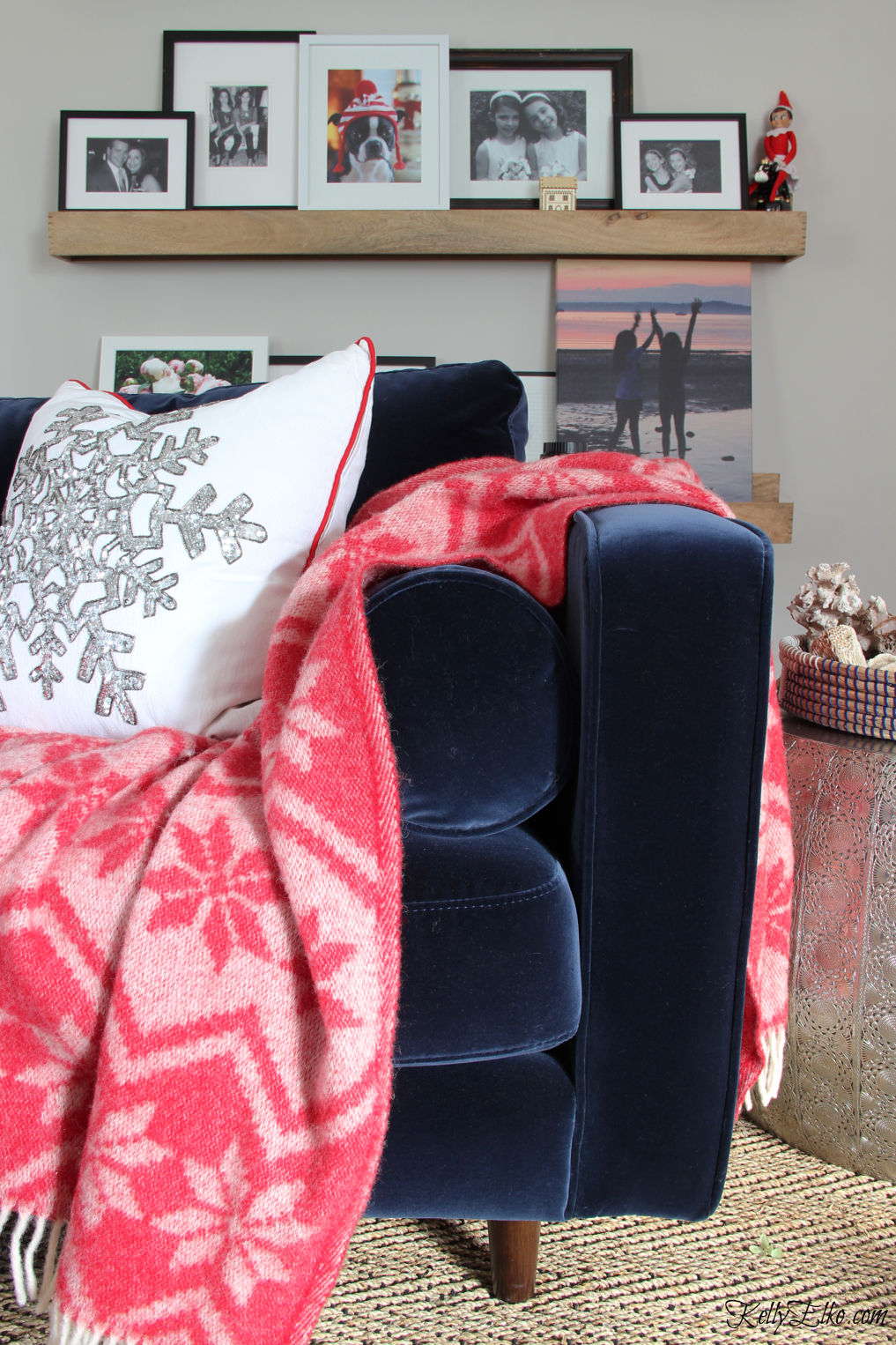 Here's a peek into my sunroom – you can see more photos of my Christmas sunroom here.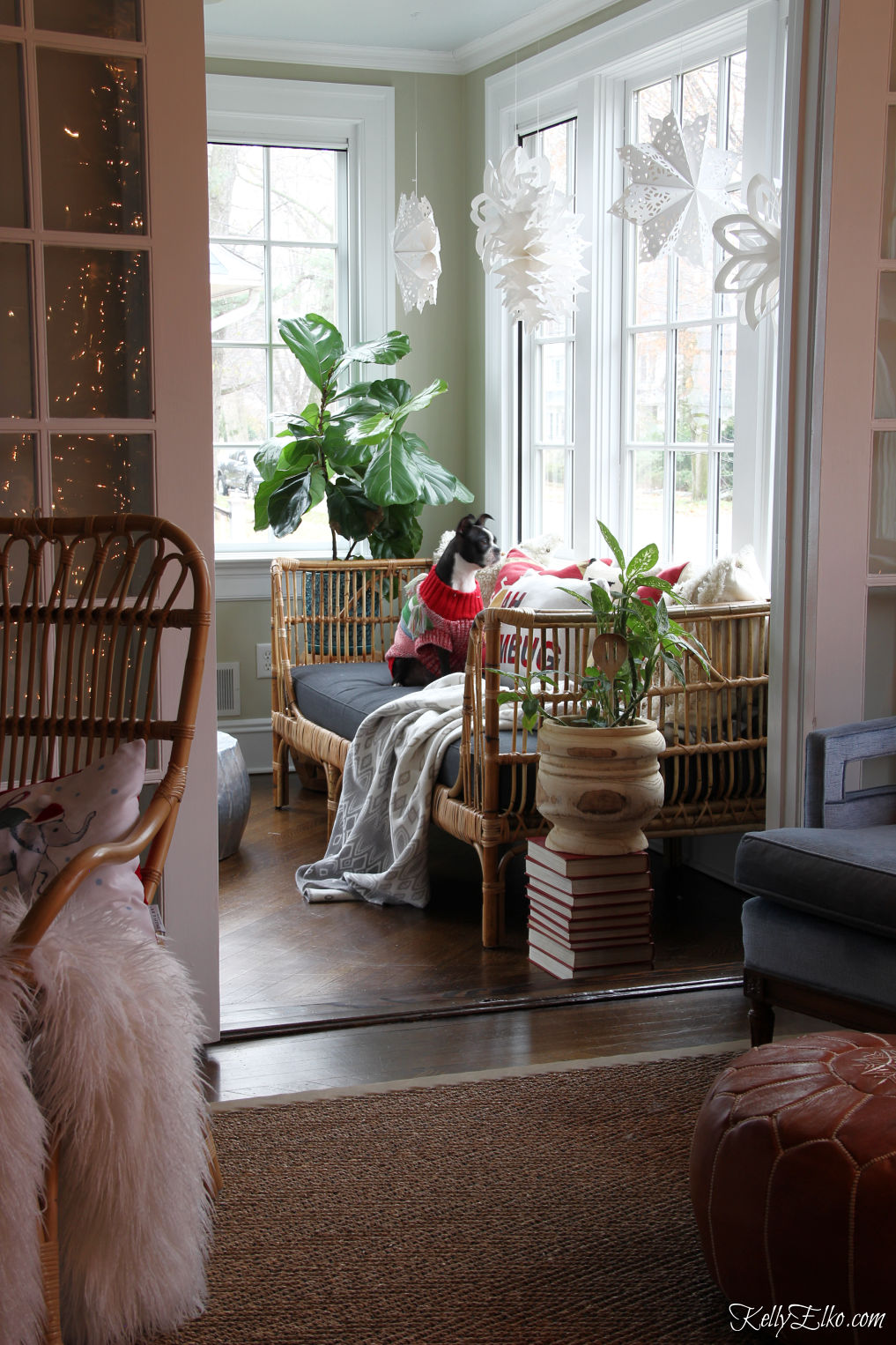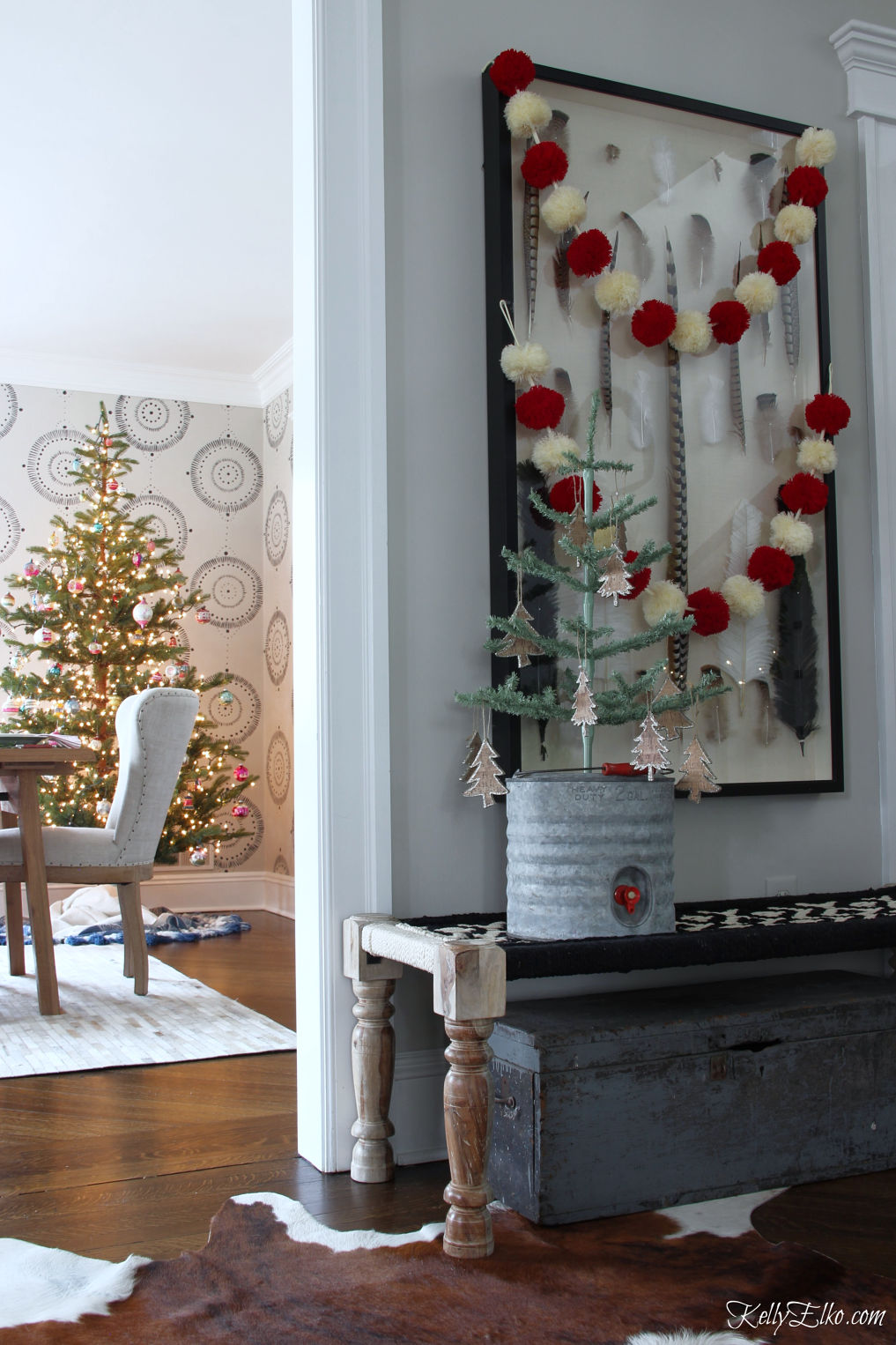 I love adding a pair of sparse Christmas trees to my dining room and piling all of my vintage ornaments onto them!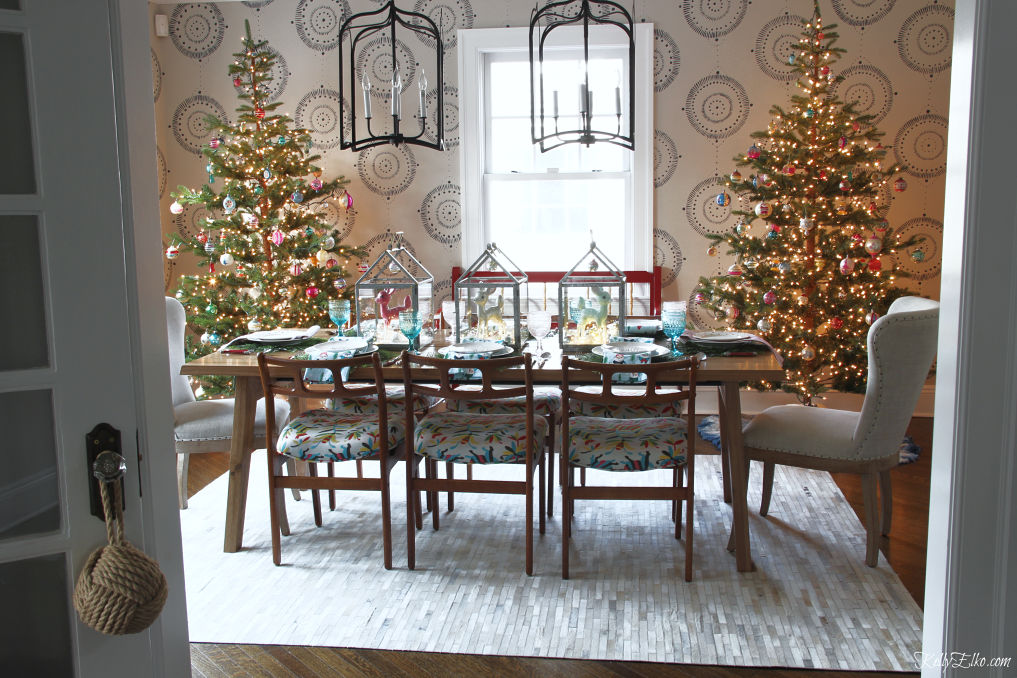 This is my favorite Christmas table of all time! I love the retro deer and non traditional colors that pair perfectly with my vintage Shiny Brite ornaments.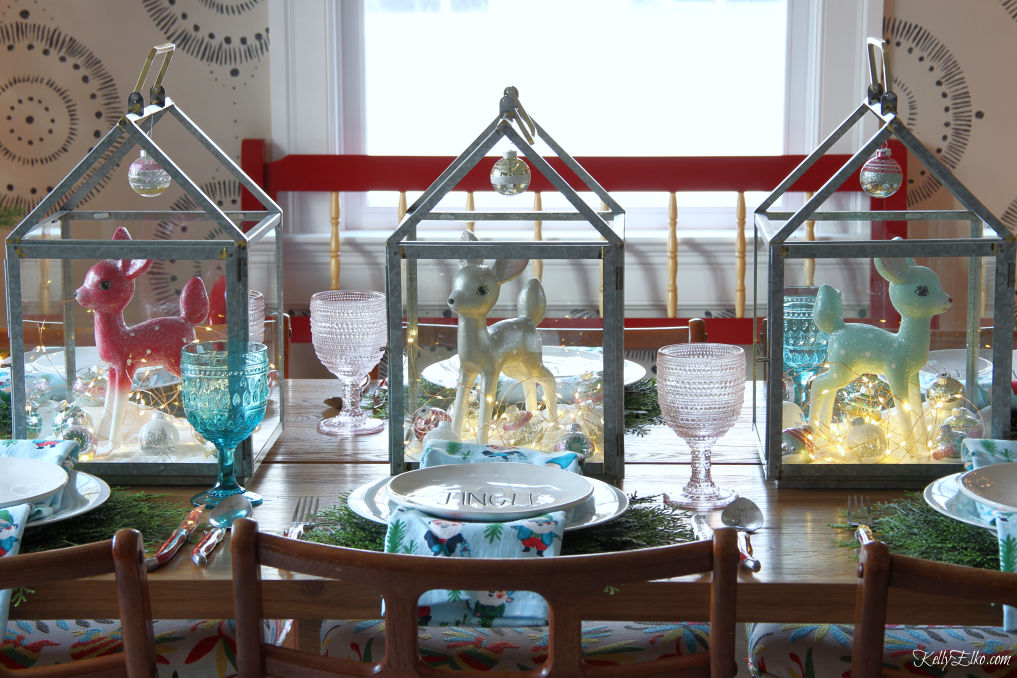 The house theme from my mantel carries over onto my dining room table with these adorable reindeer fairy houses.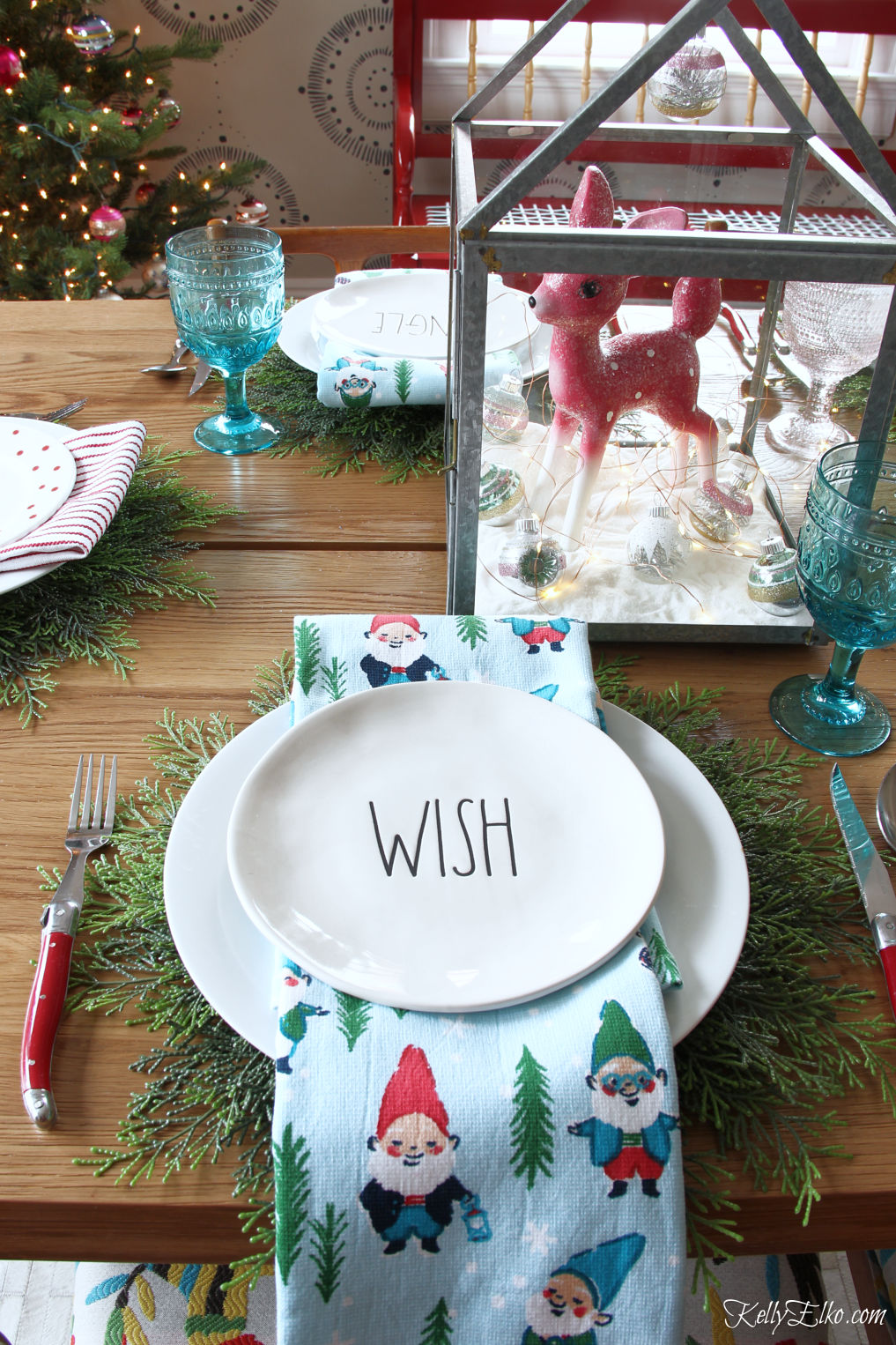 I'll be gnome for the holidays!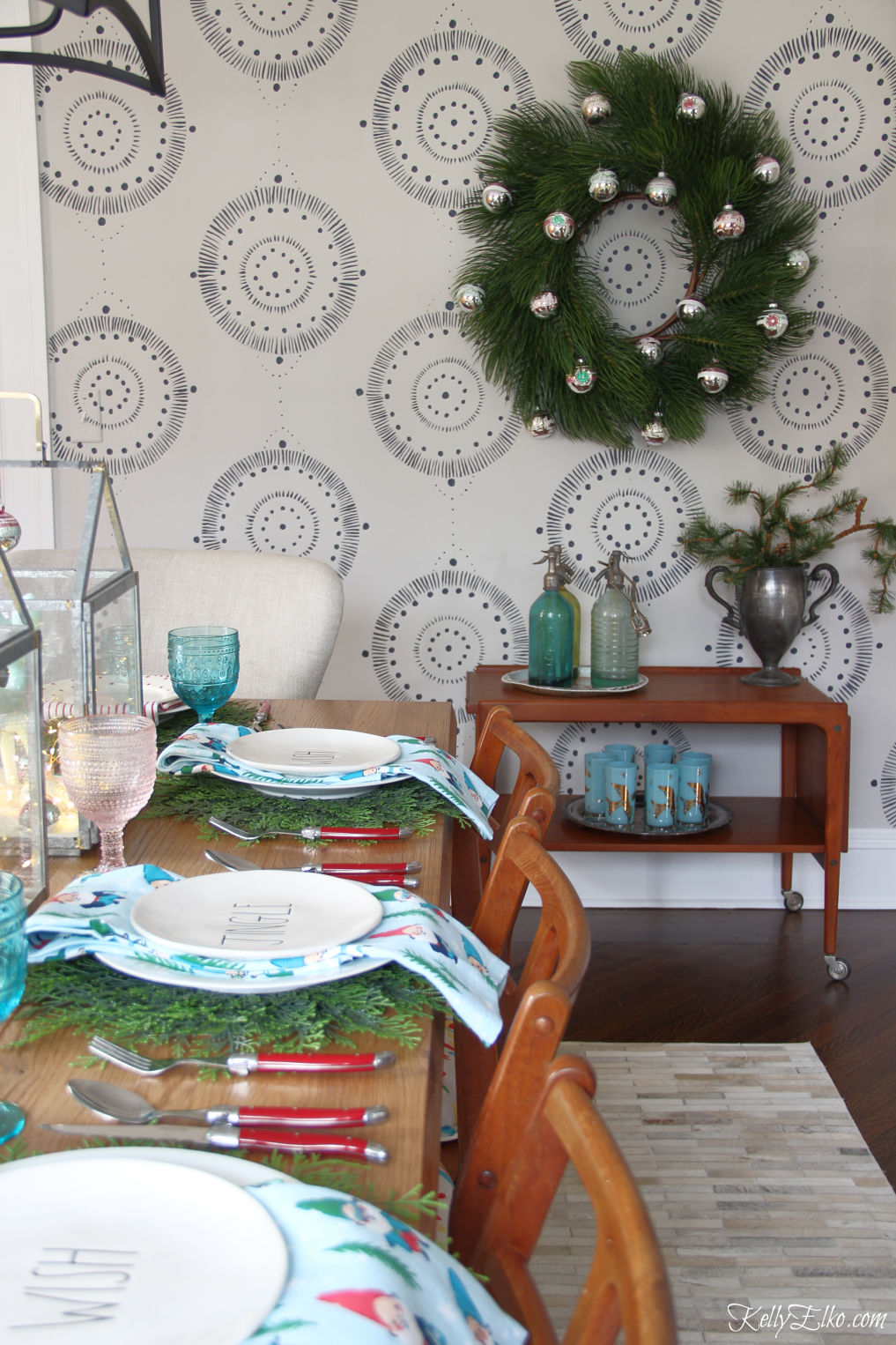 Tassel throws become whimsical tree skirts.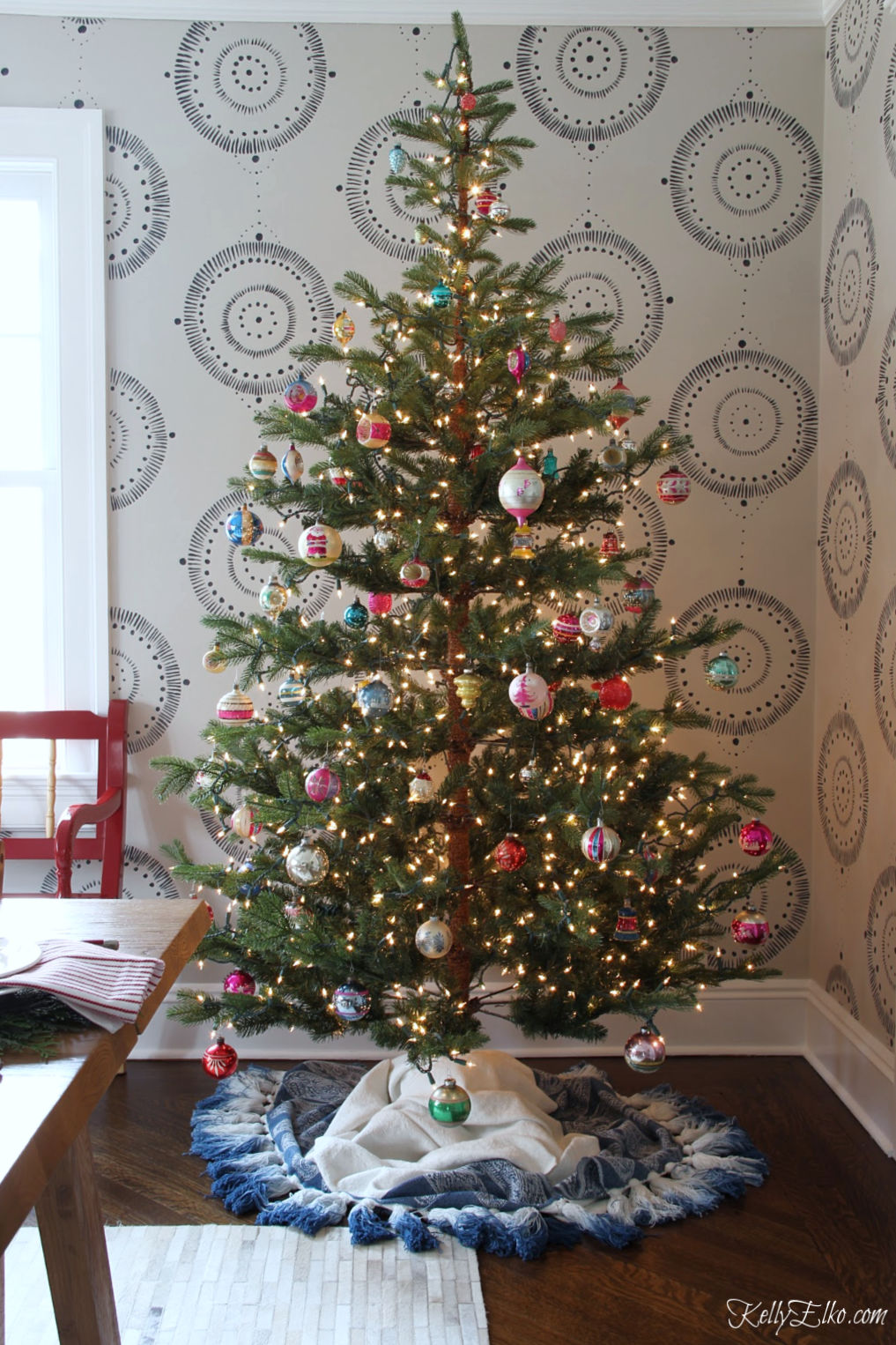 My bubble chandelier has the look of clear glass ornaments.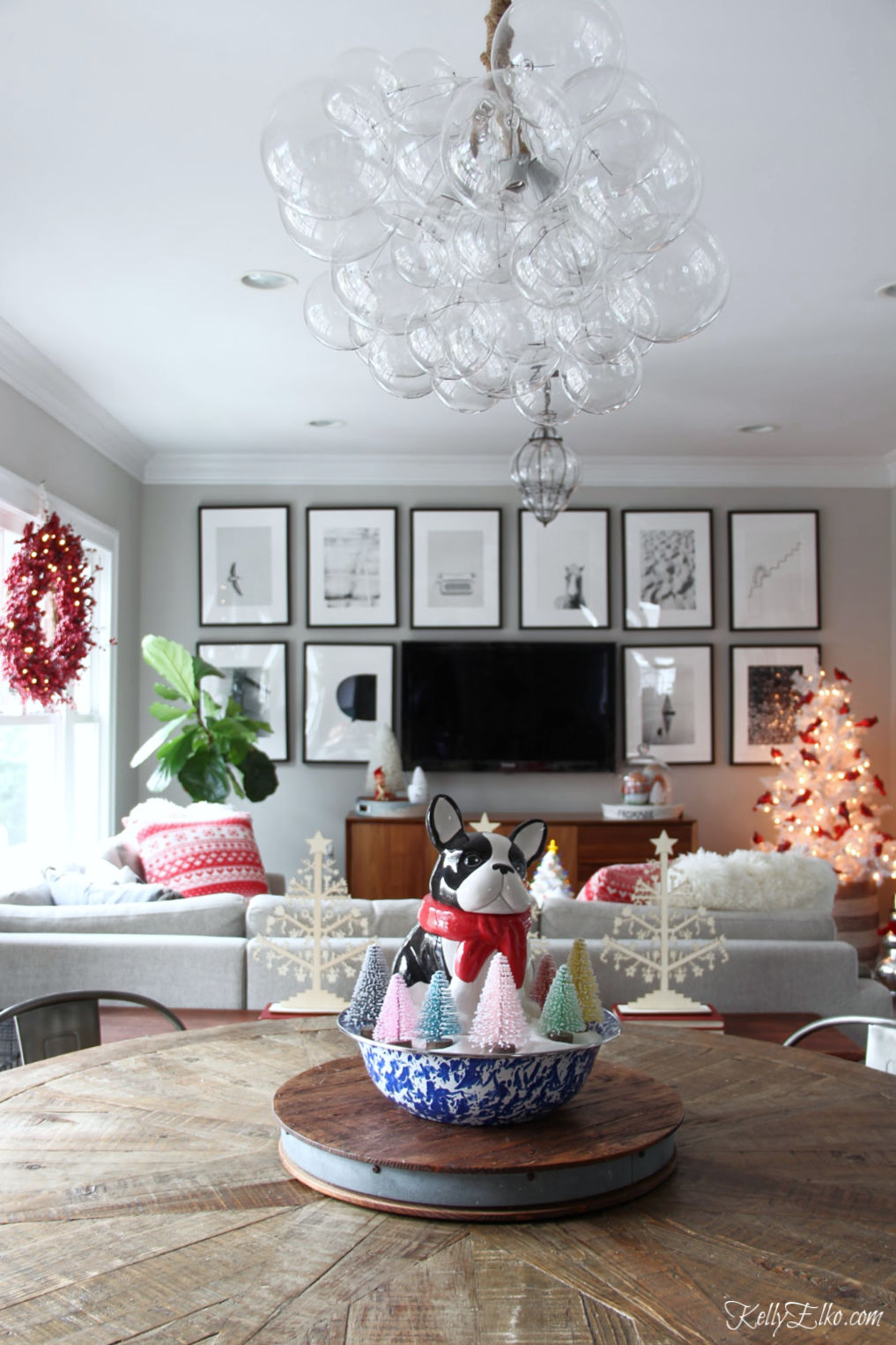 I love using trays and bowls for unexpected displays like this adorable cookie jar that looks just like Sushi, my Boston Terrier.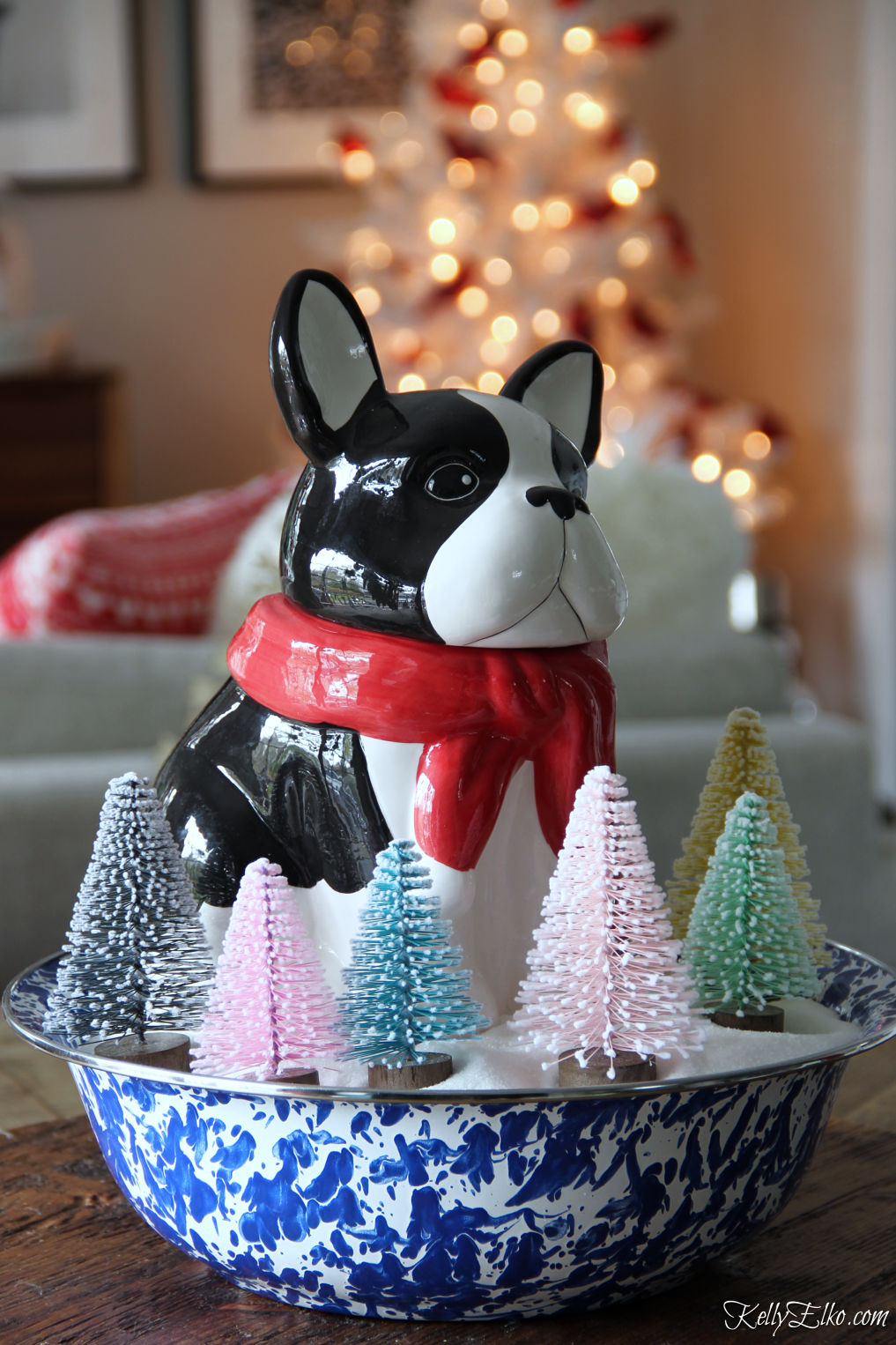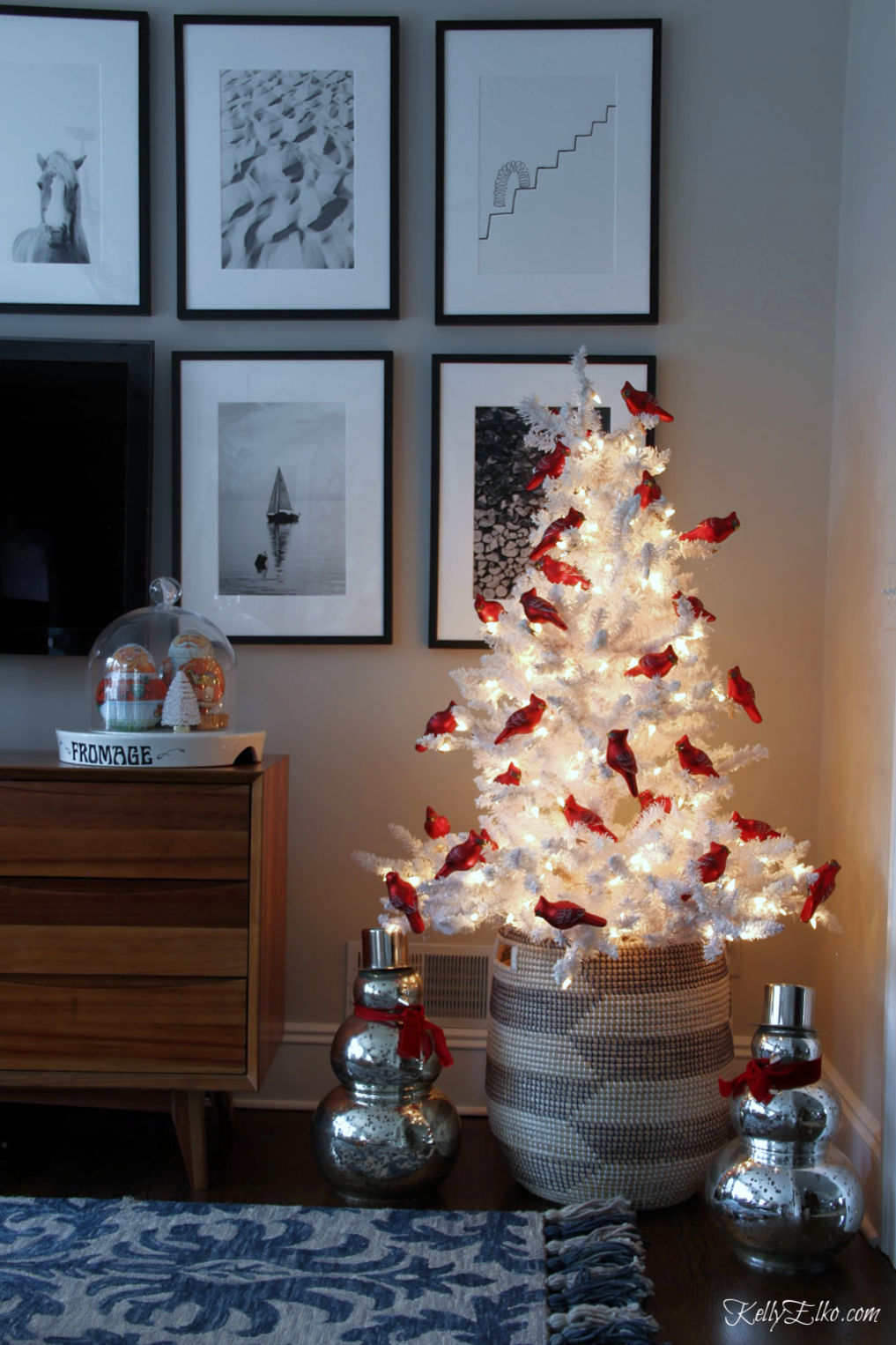 A flock of red cardinals really pops against this flocked white tree. I elevated the small tree by popping it into a basket.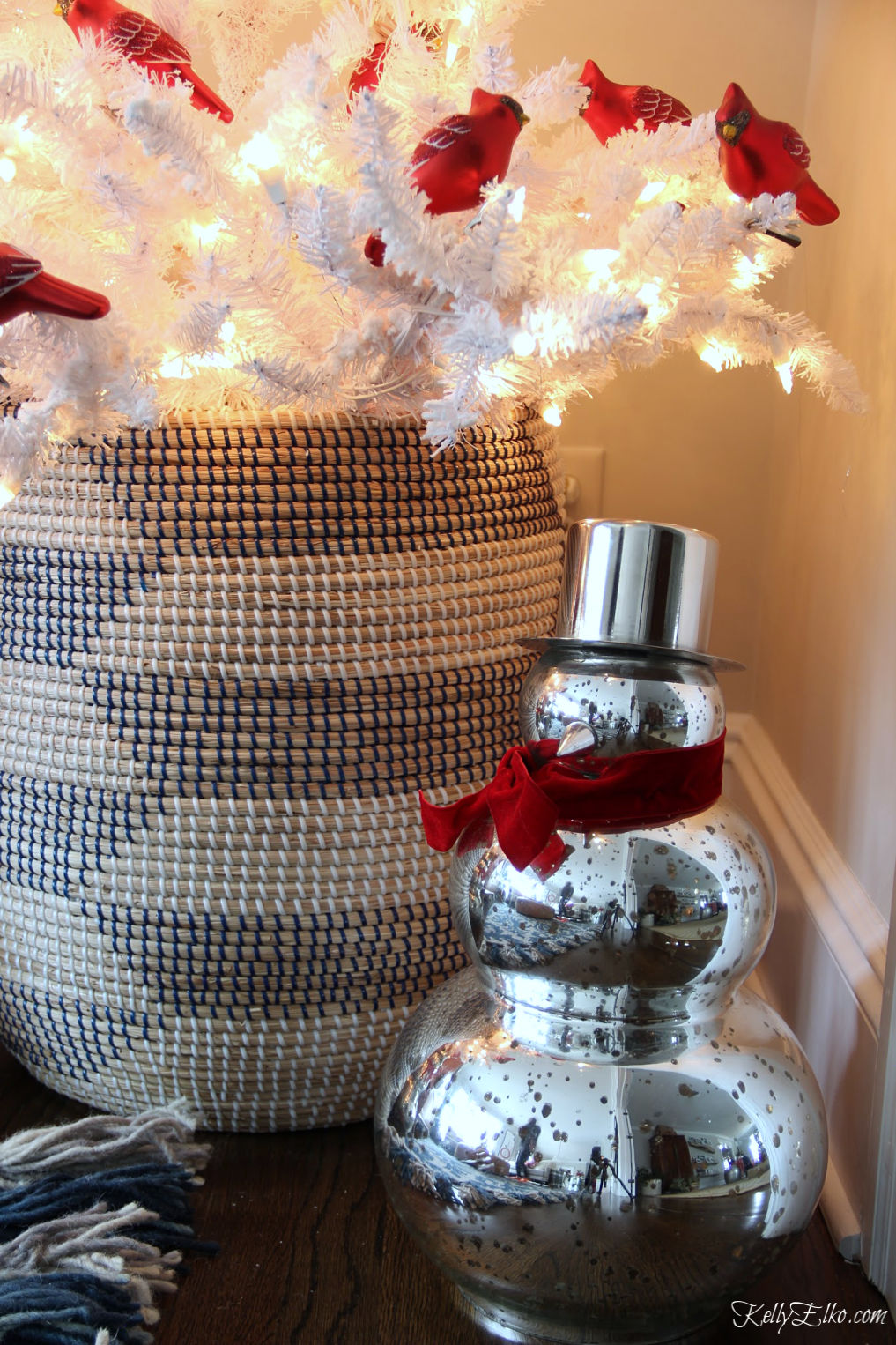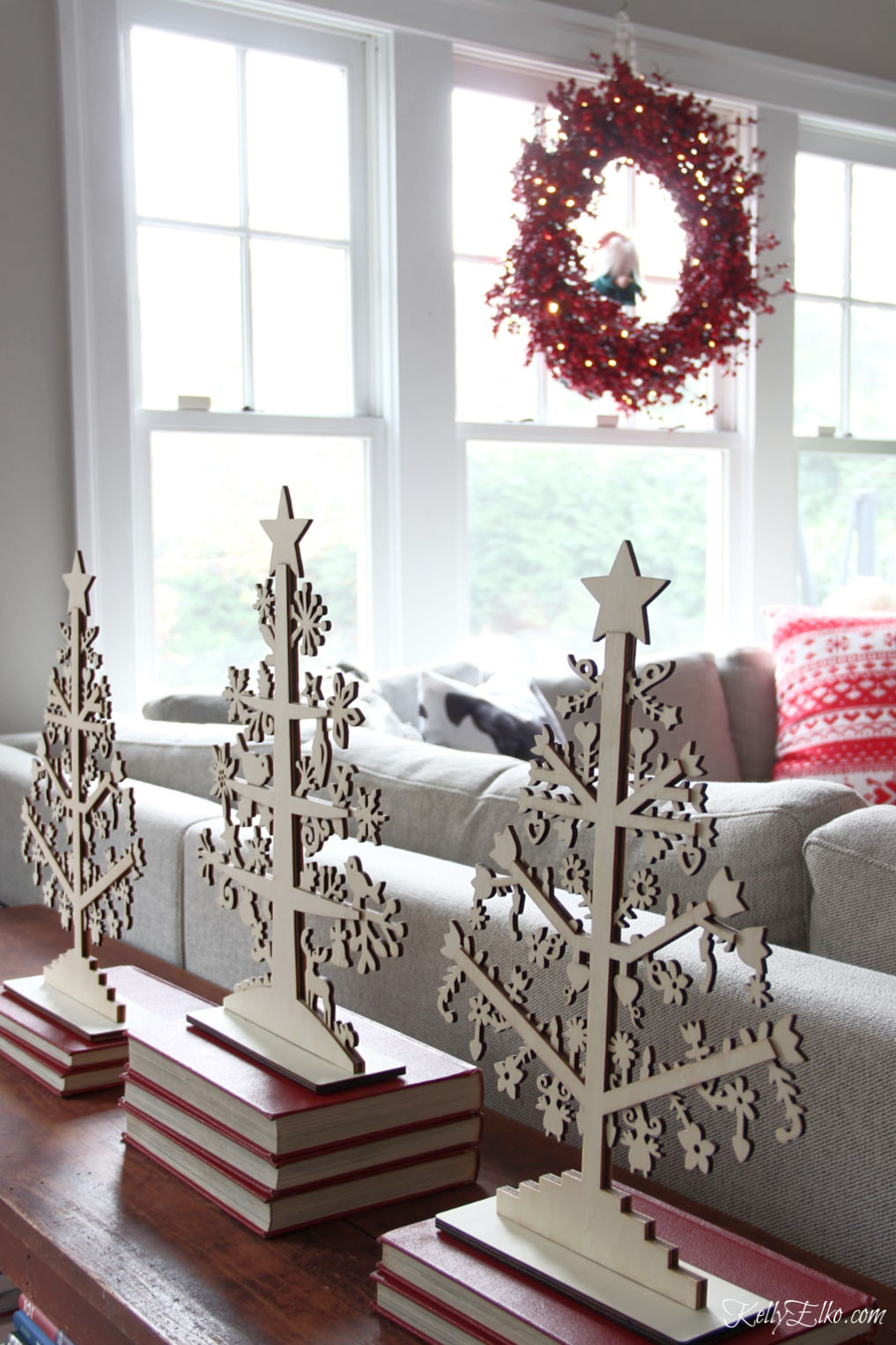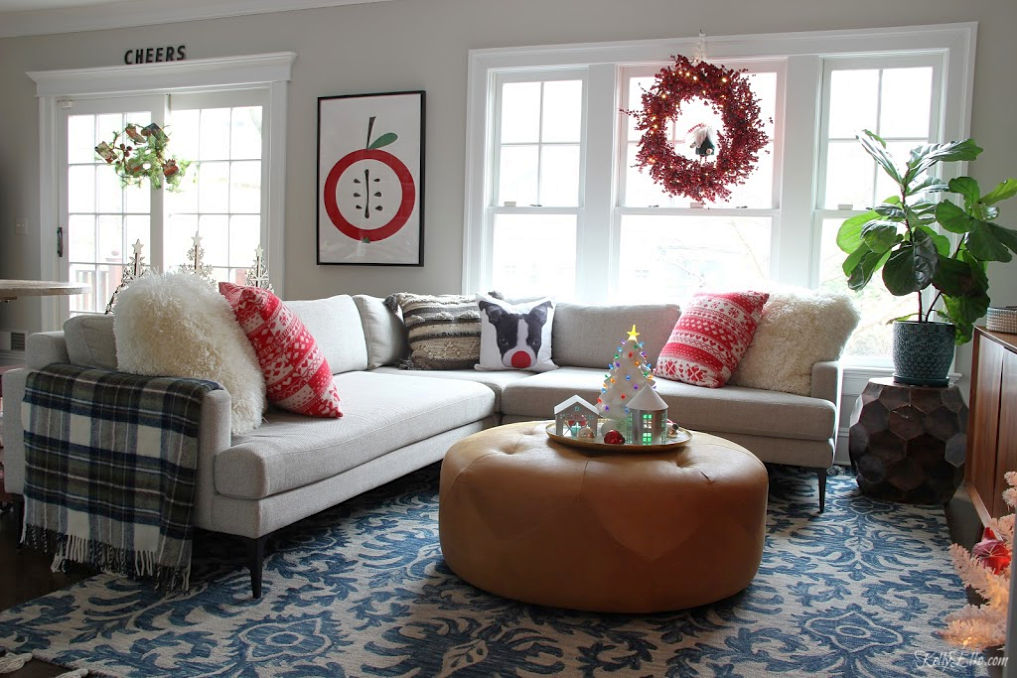 A few touches of red including a huge berry wreath and my dog turned into the cutest Rudolph pillow cozy up the family room.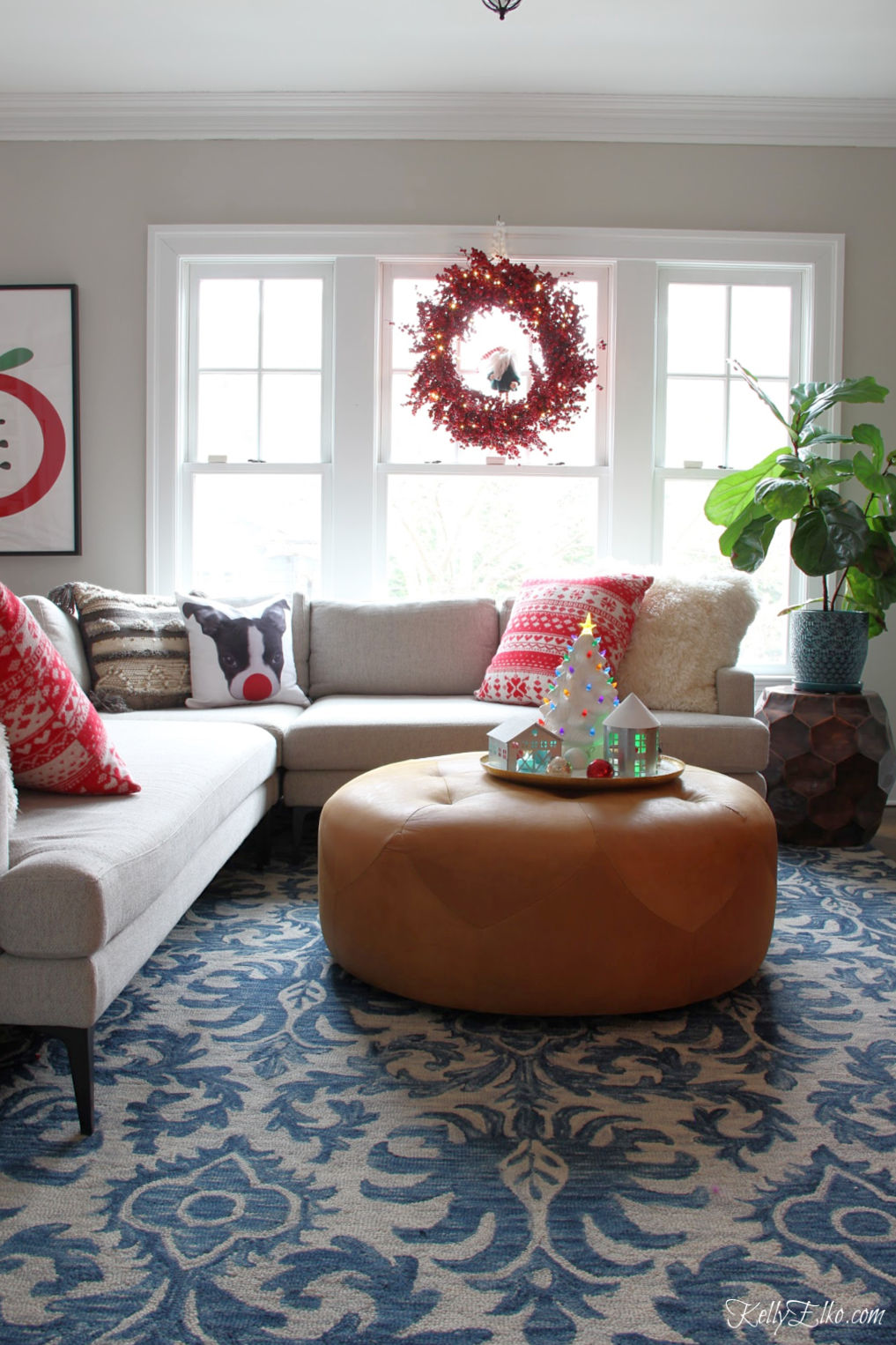 This ceramic light up tree is such a fun replica of the vintage ones.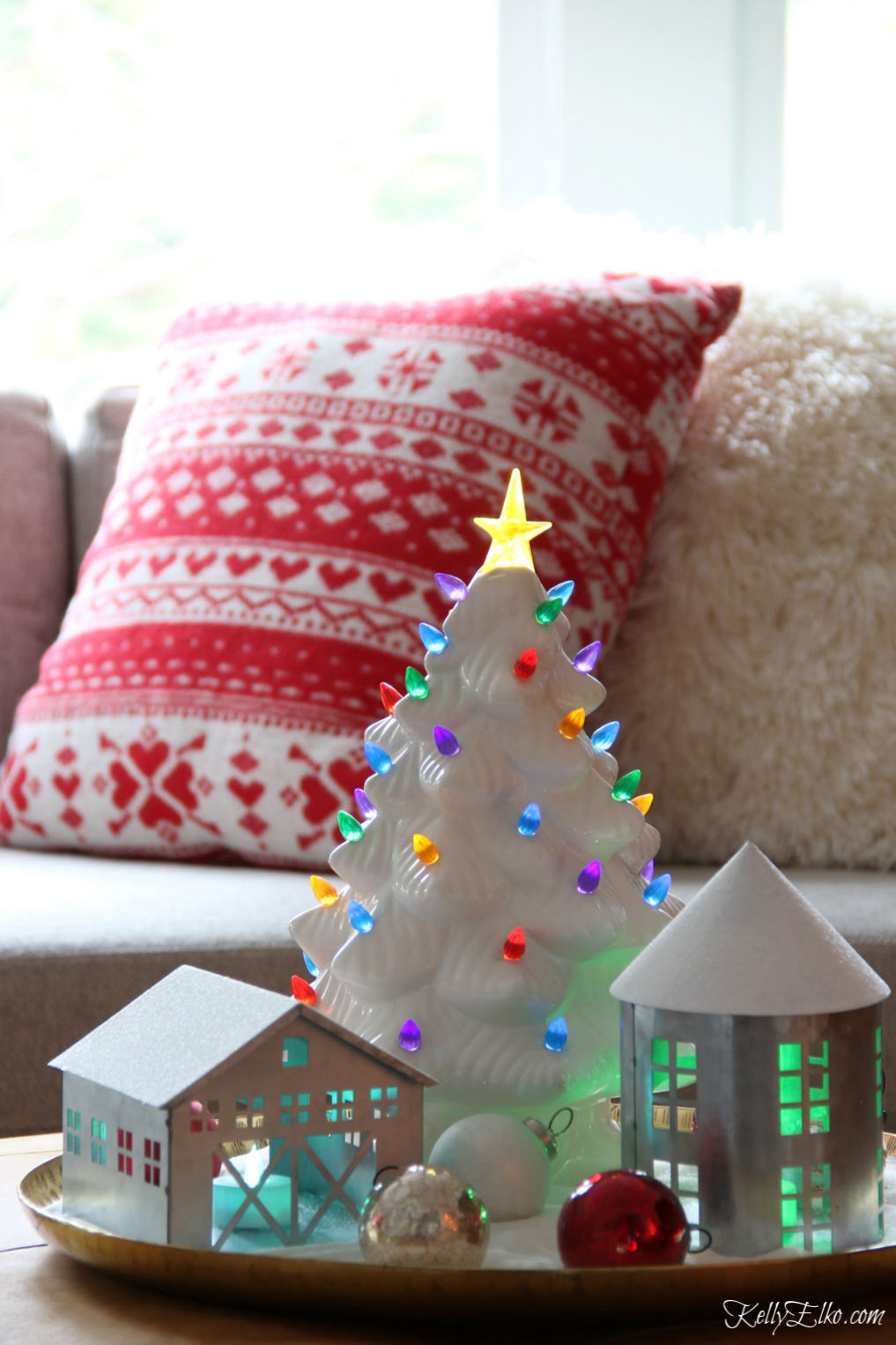 Roly poly Santa and Mrs. Claus are vintage tobacco tins.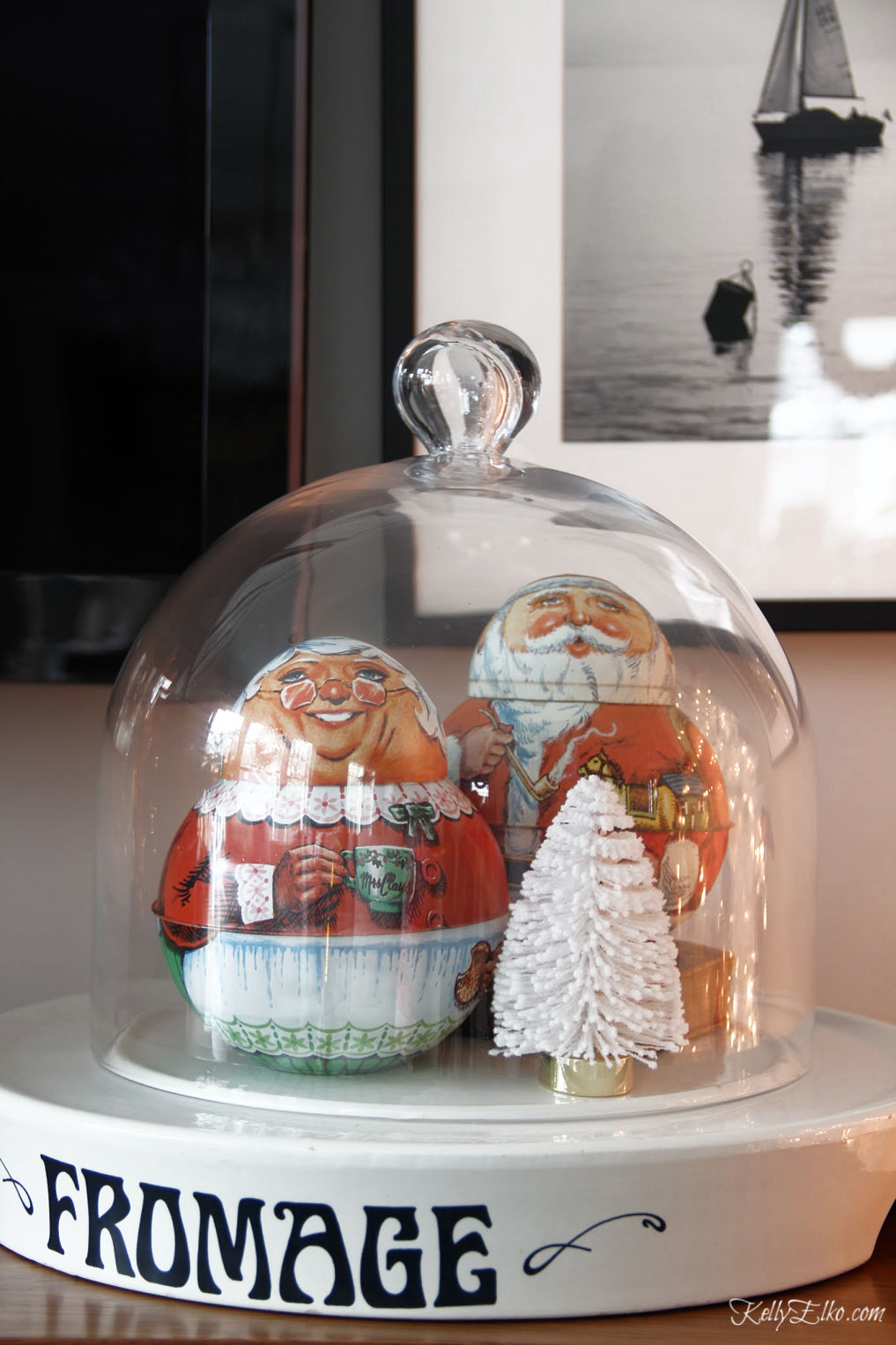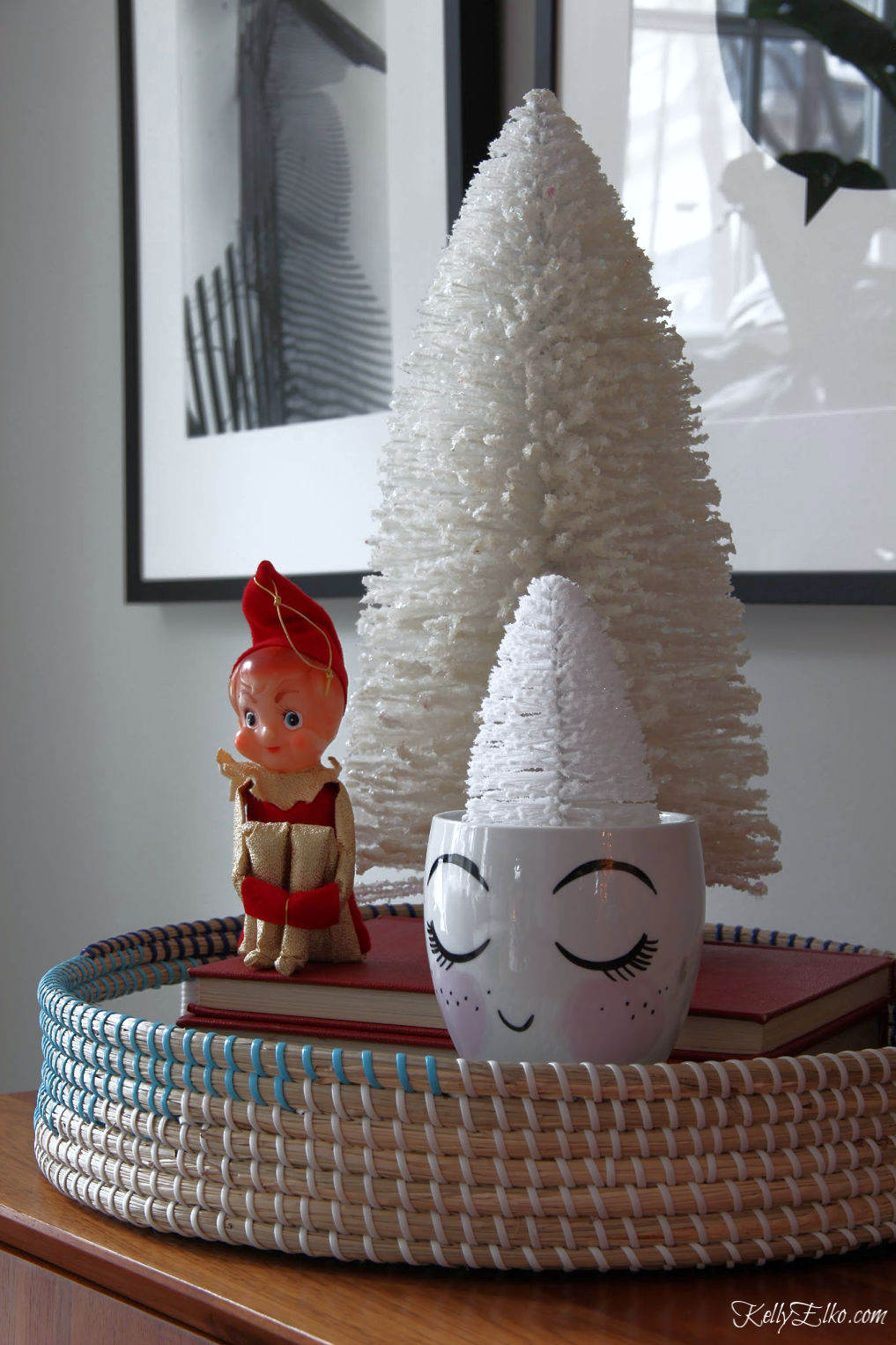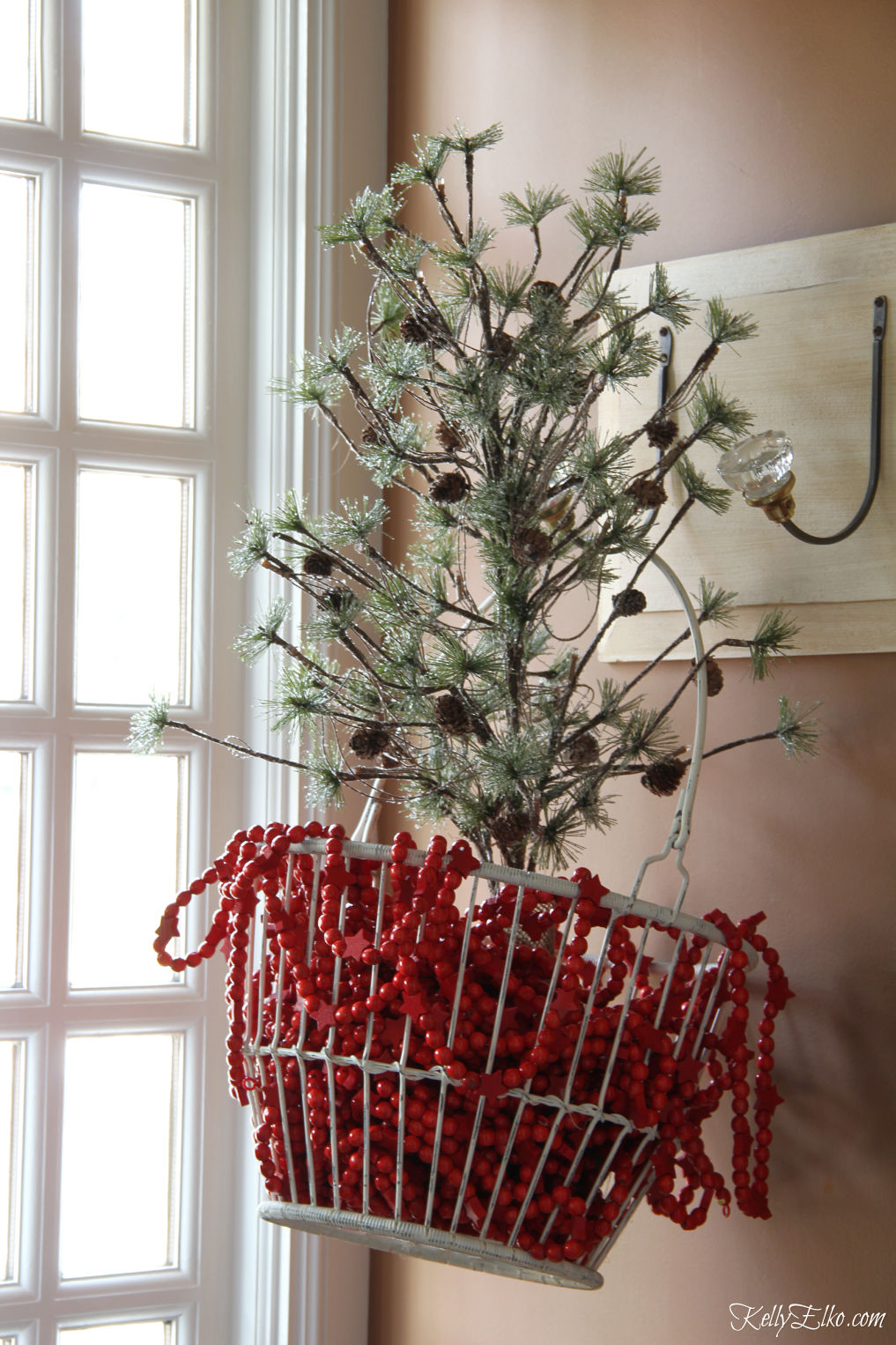 Santa is coming for a visit so I decked out the guest room for him.
See more of my Christmas bedroom here.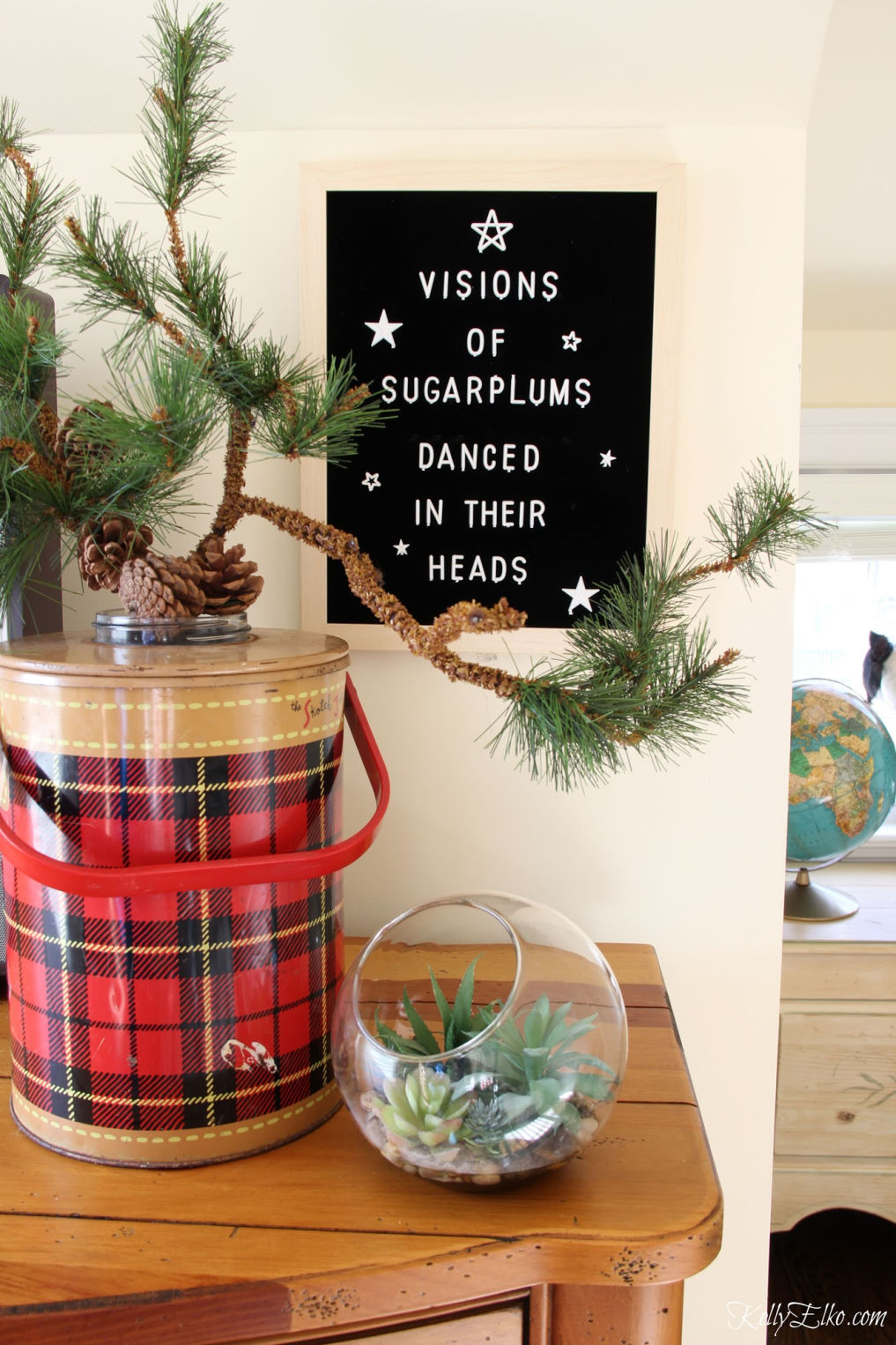 Sushi wishes you a very merry Christmas!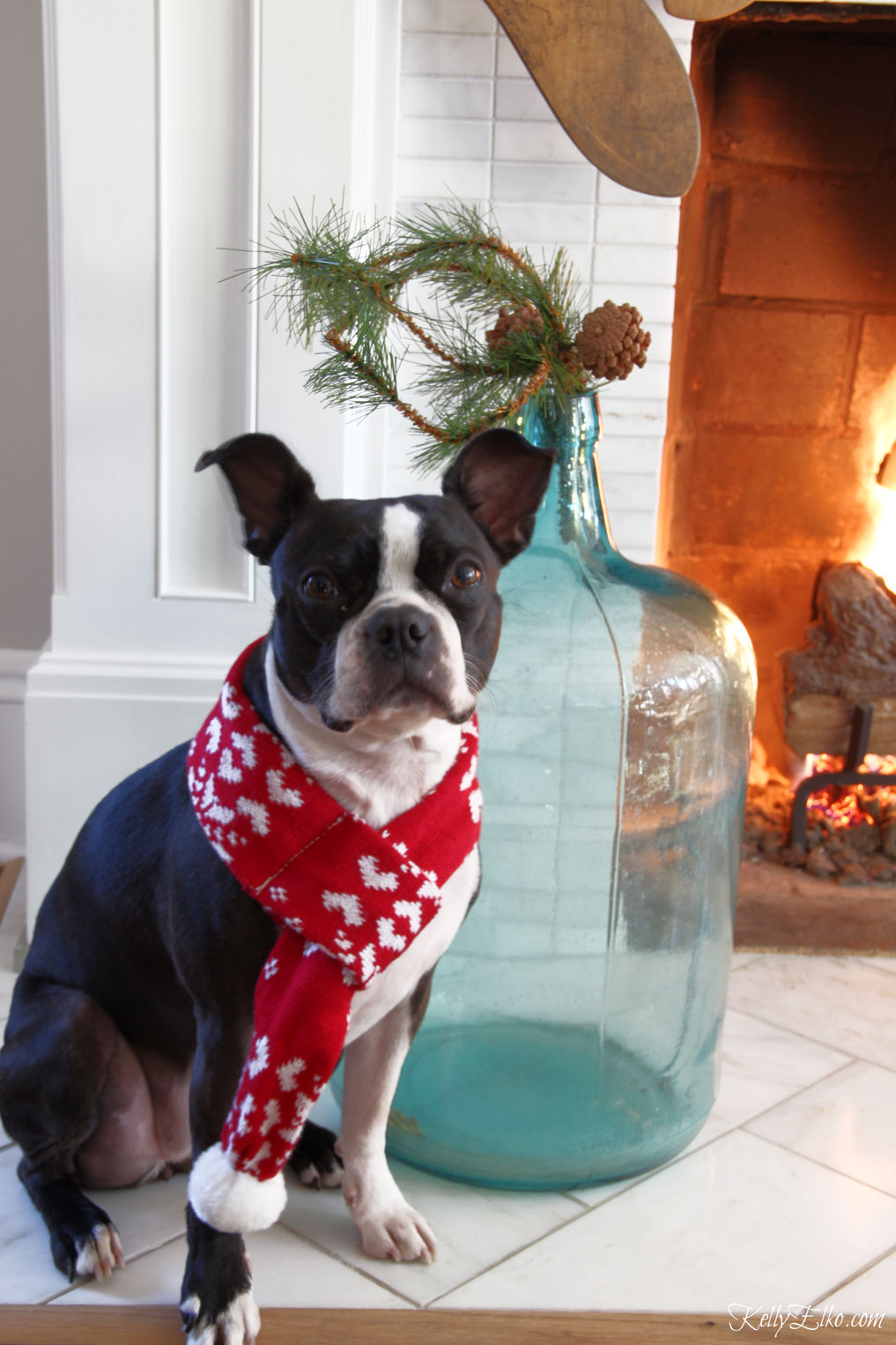 I hope you enjoyed my Christmas home tour! I'm still decking my halls and will be sharing more rooms soon.
See more of my Christmas Decorating Ideas here.
Hop in my sleigh and I'll take you to the next house on the house walk … Rooms for Rent.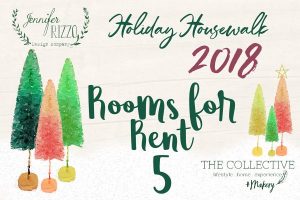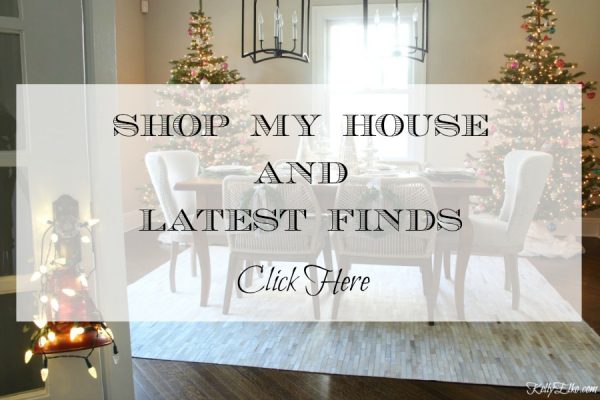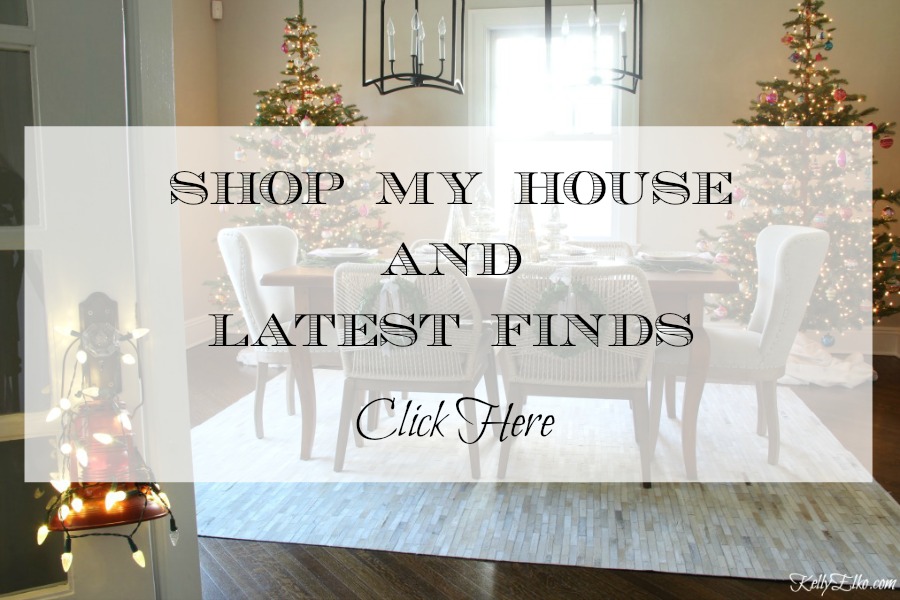 Source List – if it's not listed, it's either vintage or no longer available
Foyer
Succulent Garland
HomeGoods – Gray Gnome
Black & White Woven Bench
Living Room 
Capiz Shell Chandelier
Blue Sofa – Article
Rug – Sisal Rugs Direct
Christmas Tree
Moroccan Christmas Tree Skirt
Clip on Candle Ornaments
HomeGoods – Faux Palm Tree,
Dining Room
Dining Table
Side Chairs – vintage
End Chairs
Cowhide Rug
Galvanized House Lanterns
Retro Reindeer
Red Cutlery
Cedar Placemats
Battery Operated Fairy Lights
Homegoods – Rae Dunn Plates, Gnome Napkins, Blue and Pink Drinking Glasses, New Shiny Brite ornaments, Tassel throw tree skirts
Kitchen Table
Dog Cookie Jar – Michaels
Bubble Chandelier
Family Room
Sectional Sofa
Leather Ottoman
Dog Pillow
White Flocked Christmas Tree
berry wreath
White Light Up Ceramic Christmas Tree
Tassel Rug (similar)
Media Cabinet (similar)
HomeGoods – Pillows, Throw, Tree Basket, Mercury Glass Snowmen