Vintage Shiny Brite Christmas Dining Room
I love vintage Shiny Brite ornaments and have a huge collection. Their vibrant colors inspired my Christmas dining room this year and I couldn't love it any more! From the vintage ornaments on my pair of Christmas trees to the retro reindeer centerpiece, my dining room is shiny and bright.
So turn on the Christmas carols and take a tour of my festive dining room.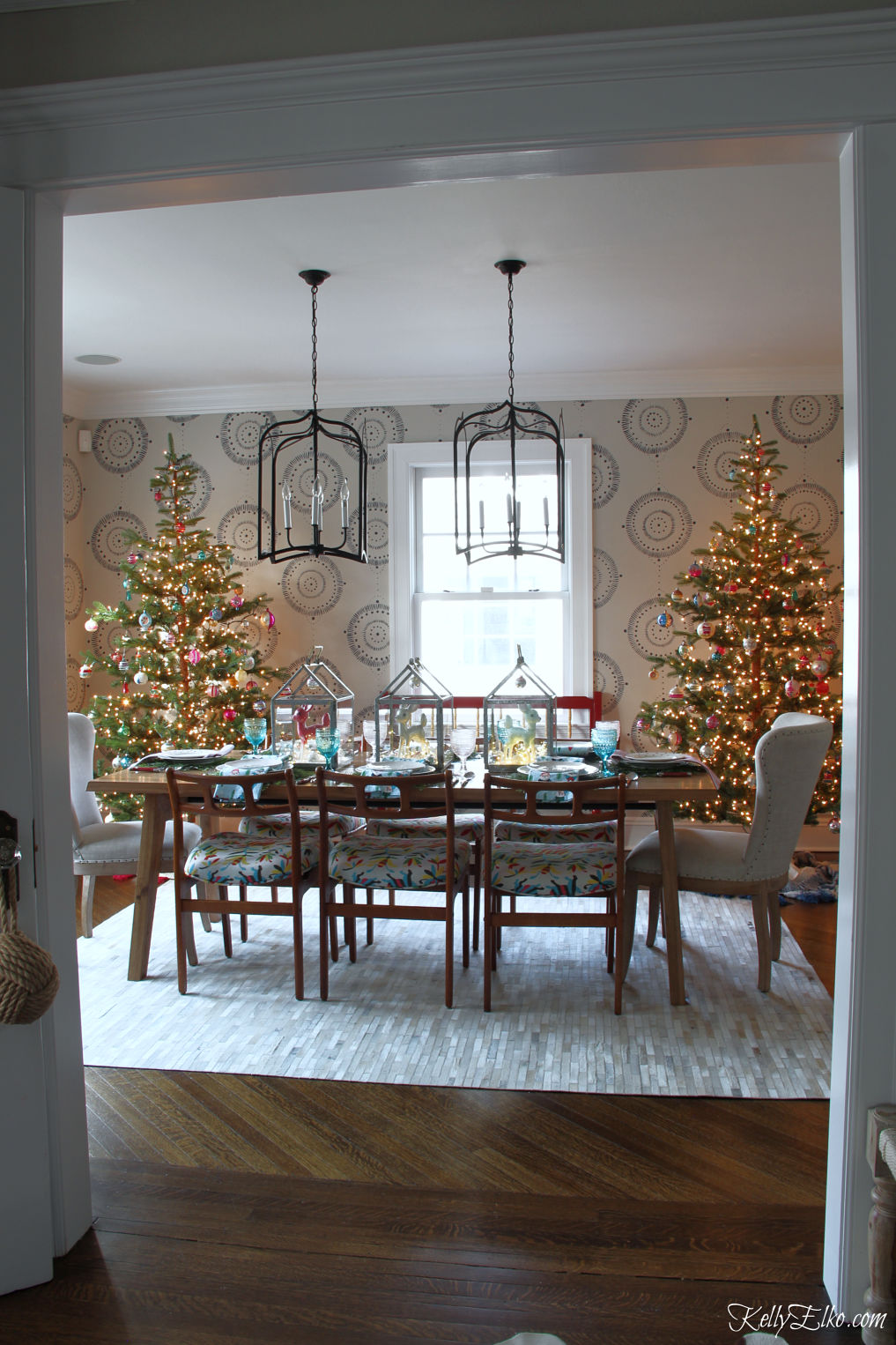 Oh deer! This is my favorite Christmas table of all time. When I spotted the deer family, I had to snatch them up and it was definitely fate that led me to these adorable galvanized metal house lanterns on clearance.
post contains affiliate links
Here's everything you need to make your own reindeer fairy light houses …

The key to making these are my favorite battery operated fairy lights with remote control. Just press a button to turn them on without disturbing your masterpiece.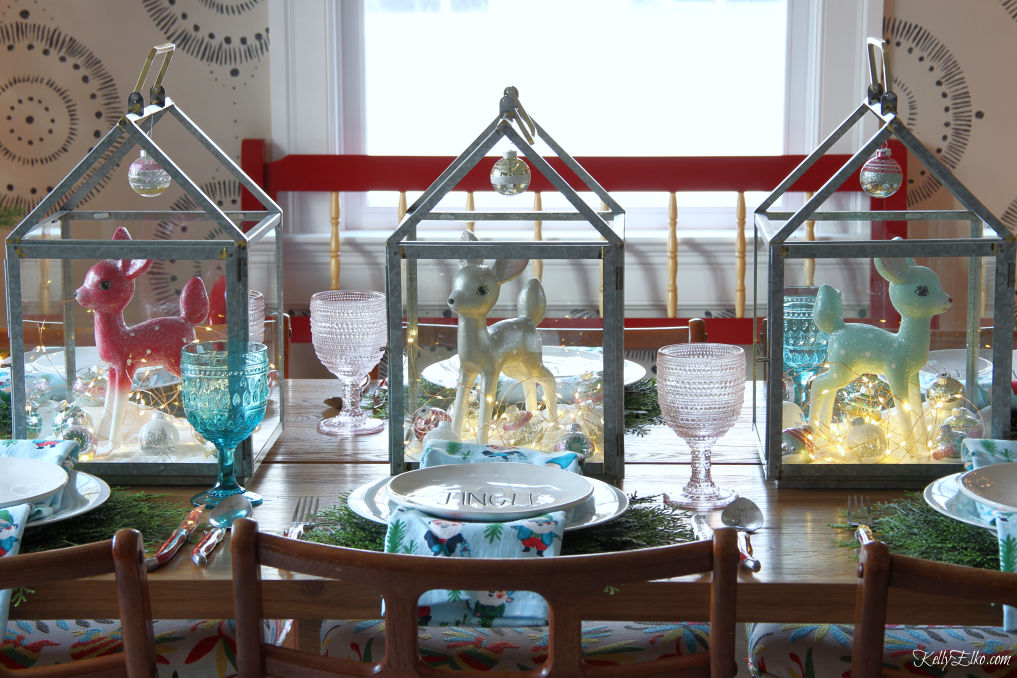 I am so excited to see that Shiny Brite ornaments are back with the look of the originals. I saved the vintage ornaments for the trees and used new ones on the table.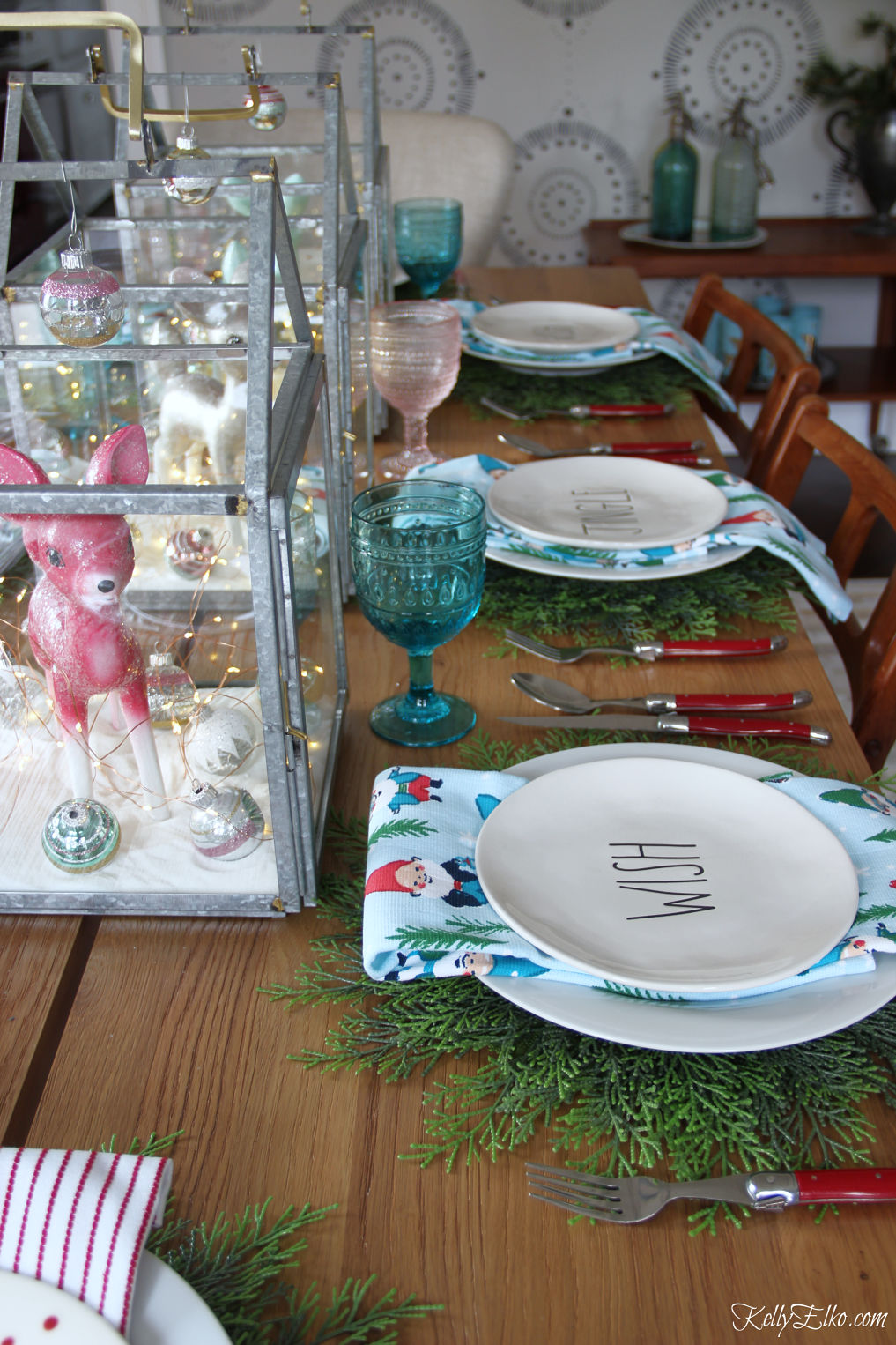 I love using dishtowels as napkins and find the selection to be so much better. I have a weakness for anything gnome related and the colors go perfectly with my Shiny Brite theme.
I can't get enough of my cedar placemats so they had to make a comeback this year.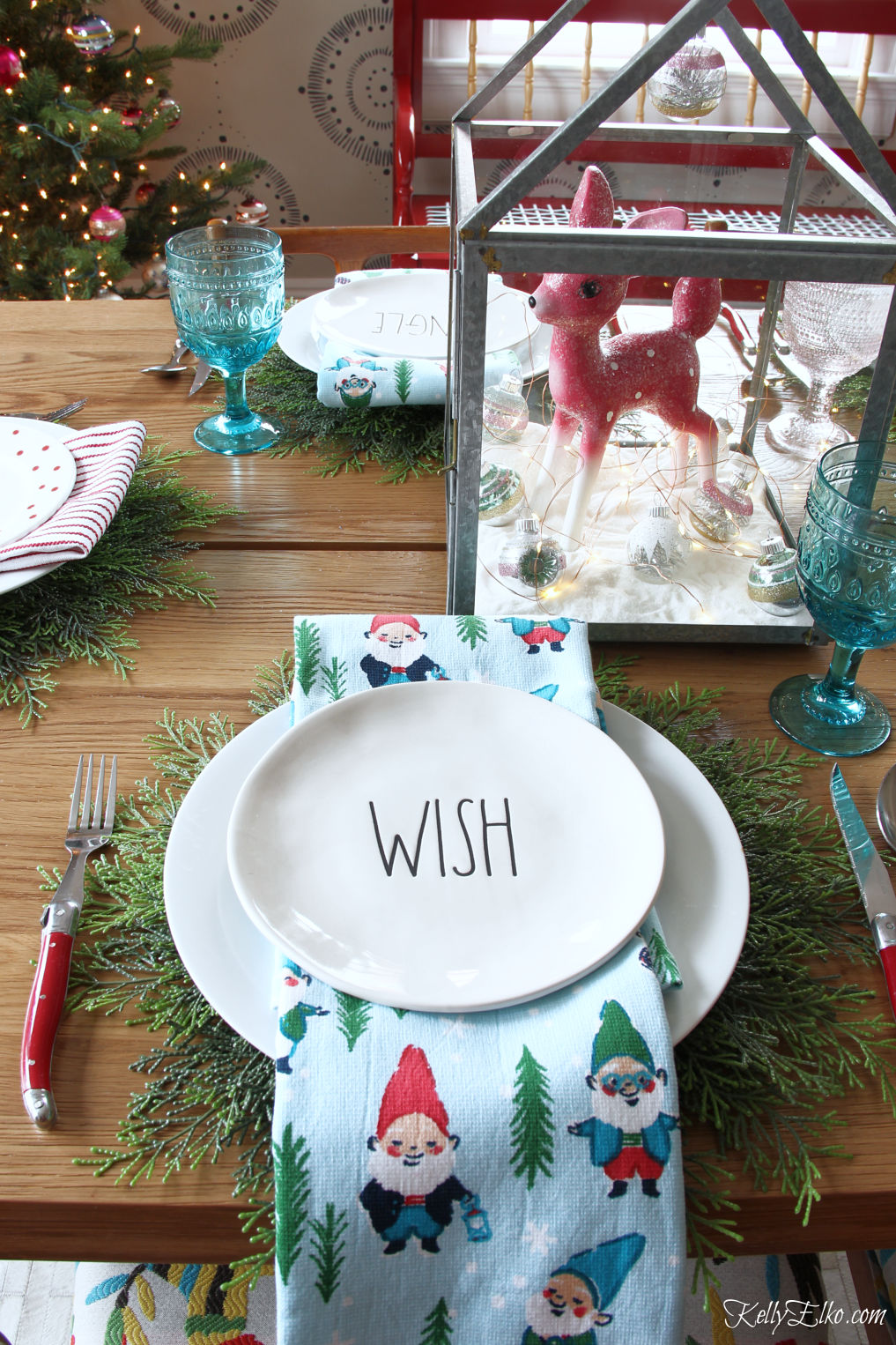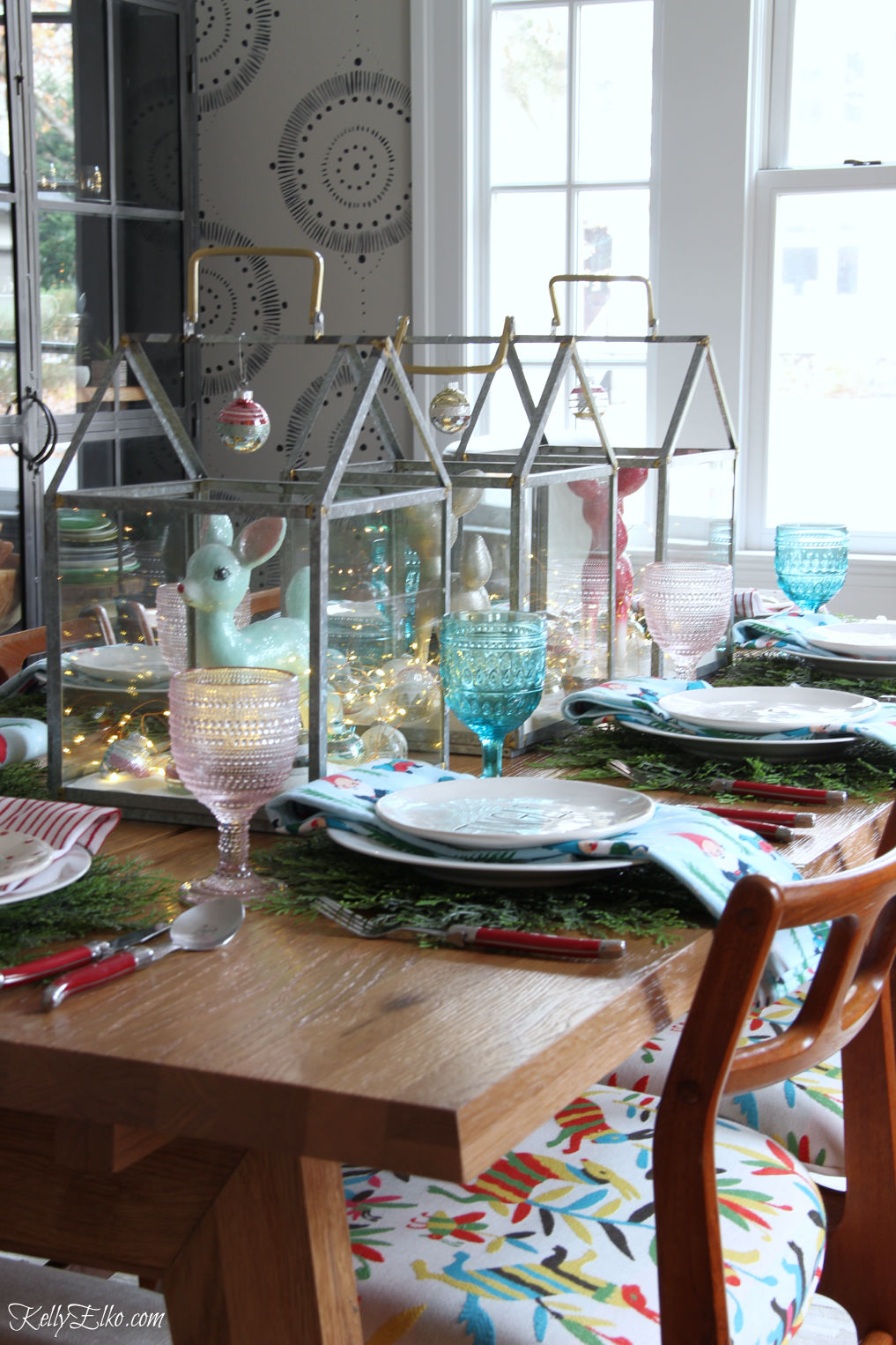 It's funny that we normally think of red and green as traditional Christmas colors but if you look at Shiny Brites for color inspiration, you'll find every color in the rainbow.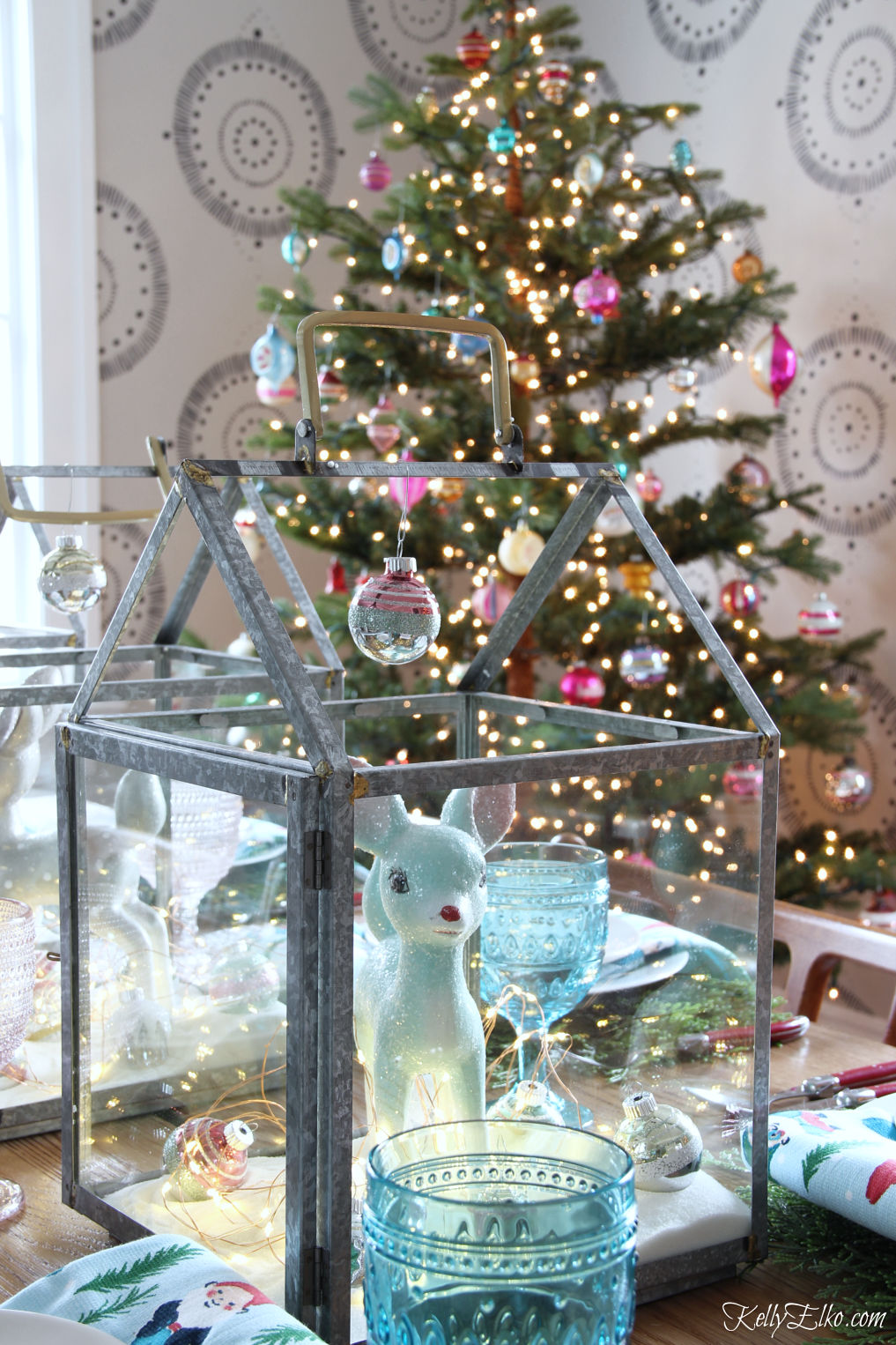 Every bar cart needs a little bling and these new Shiny Brites do the trick.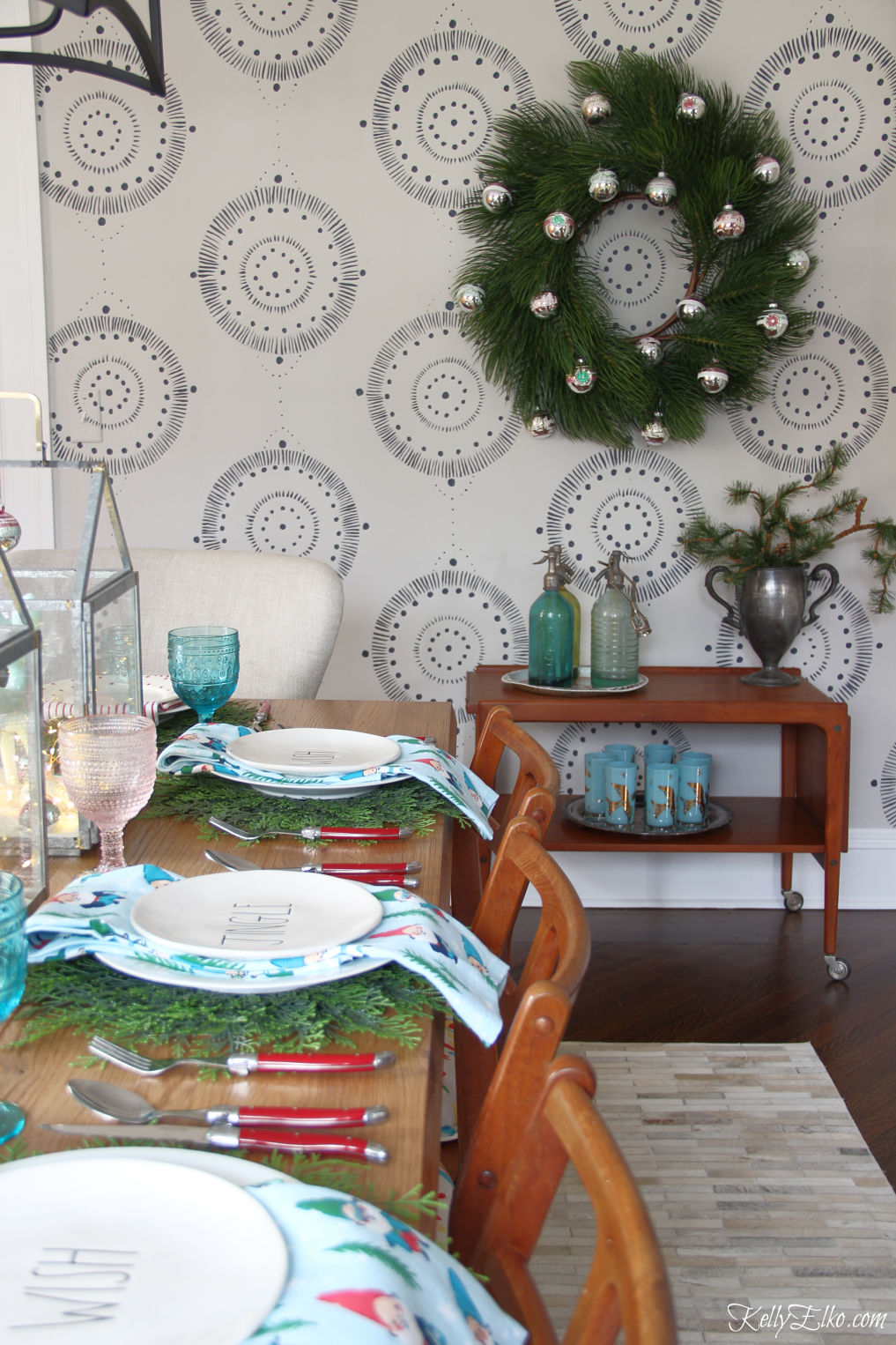 I love how the wreath mimics the shape of my hand painted mural.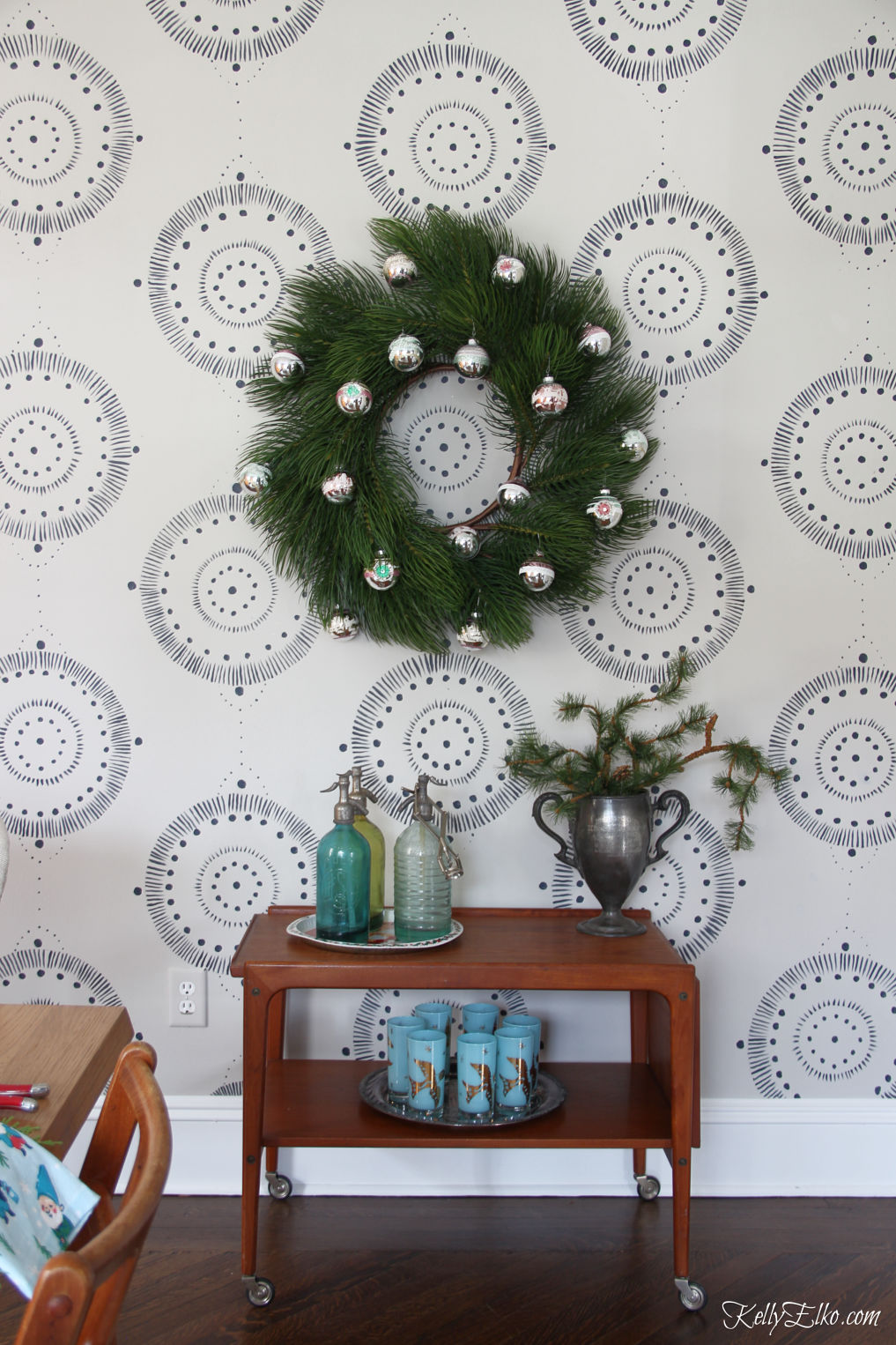 What's better than a Christmas tree in the dining room? A pair of Christmas trees to add sparkle to the dinner table.
I love these sparse and airy trees that are perfect for displaying ornaments. These are no longer for sale but here are some other sparse trees I'm loving.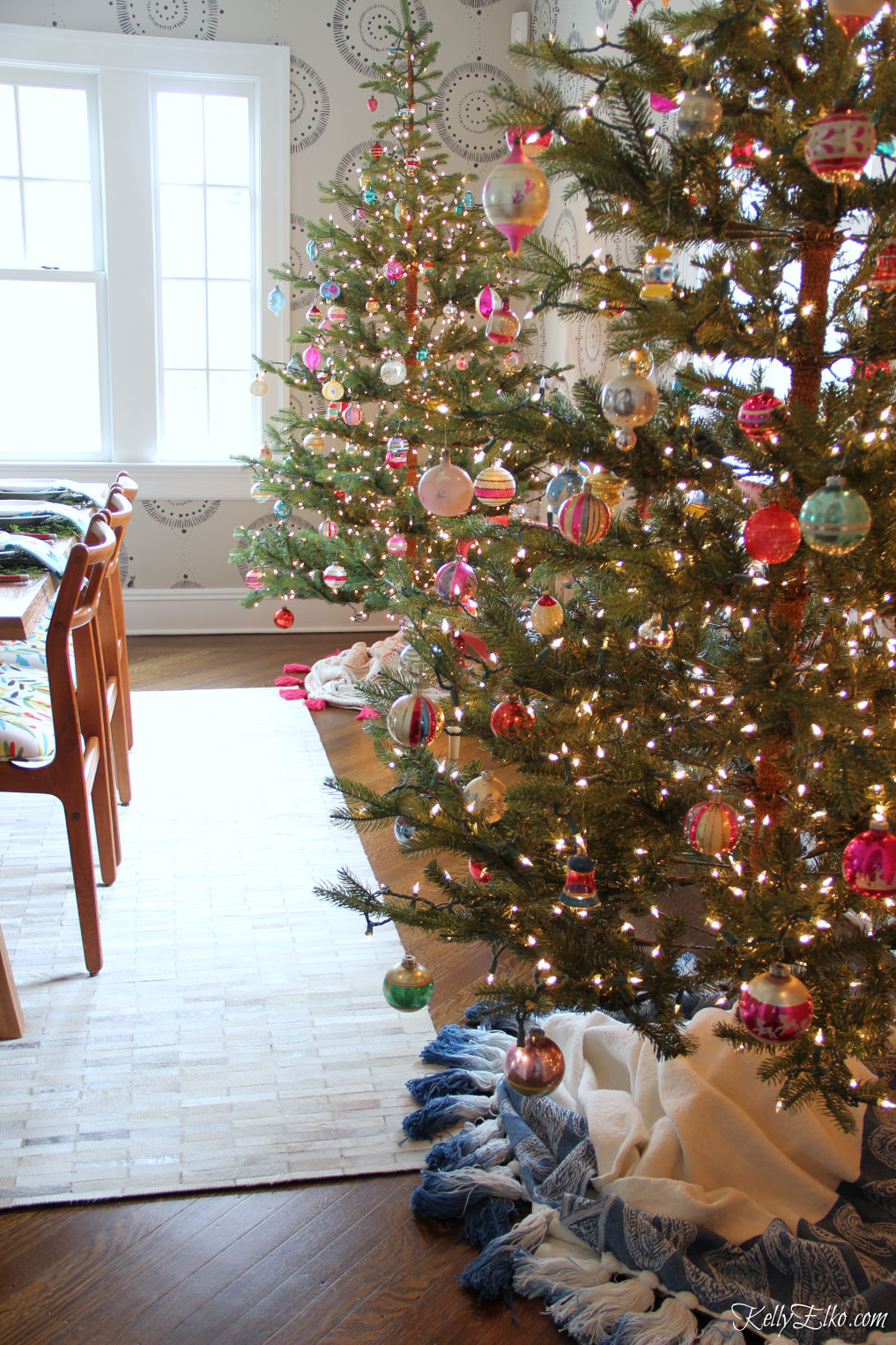 Who needs a tree skirt when you can use a favorite tassel throw instead!
One blue …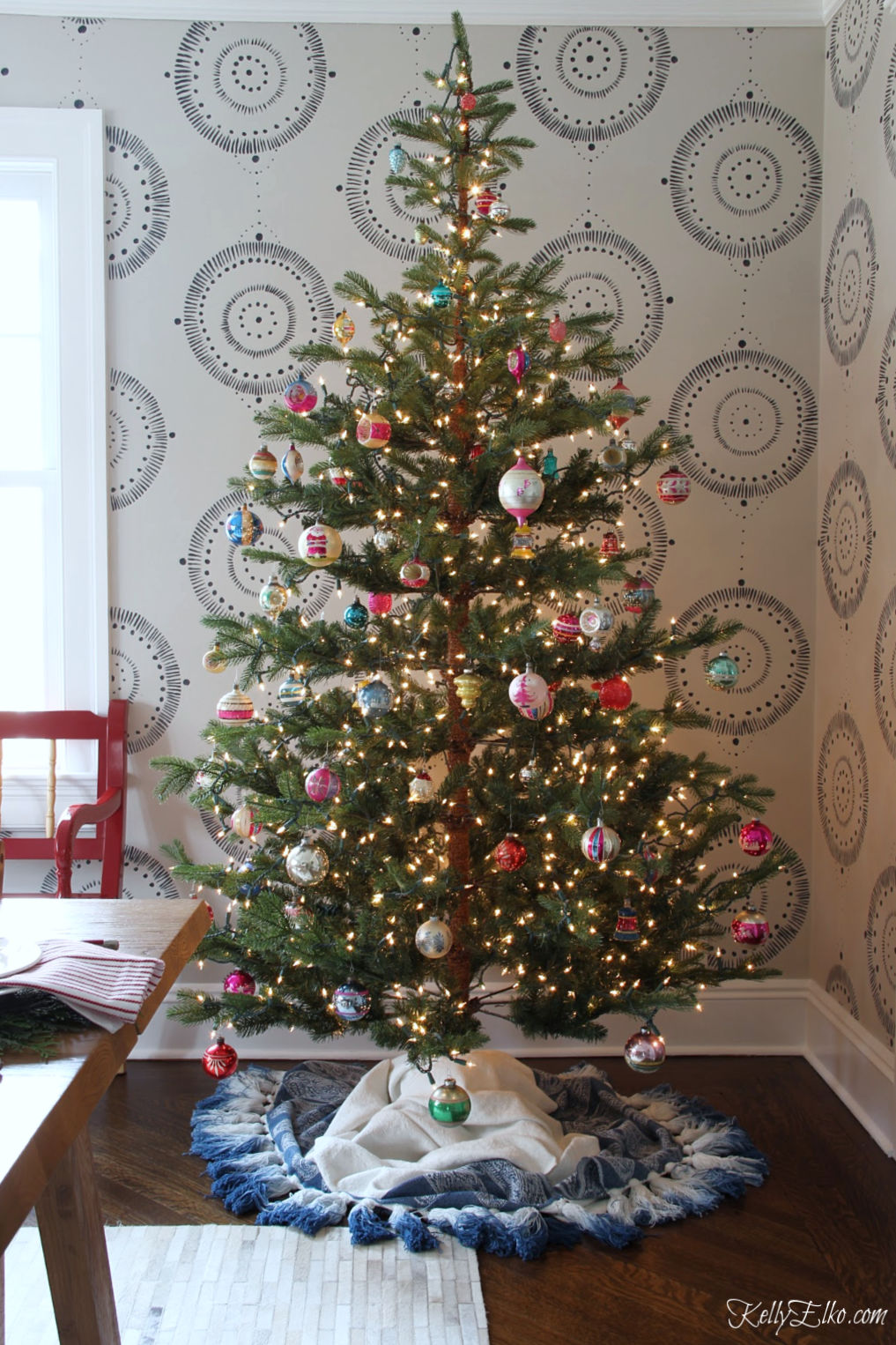 and one pink. They add such whimsy to the trees!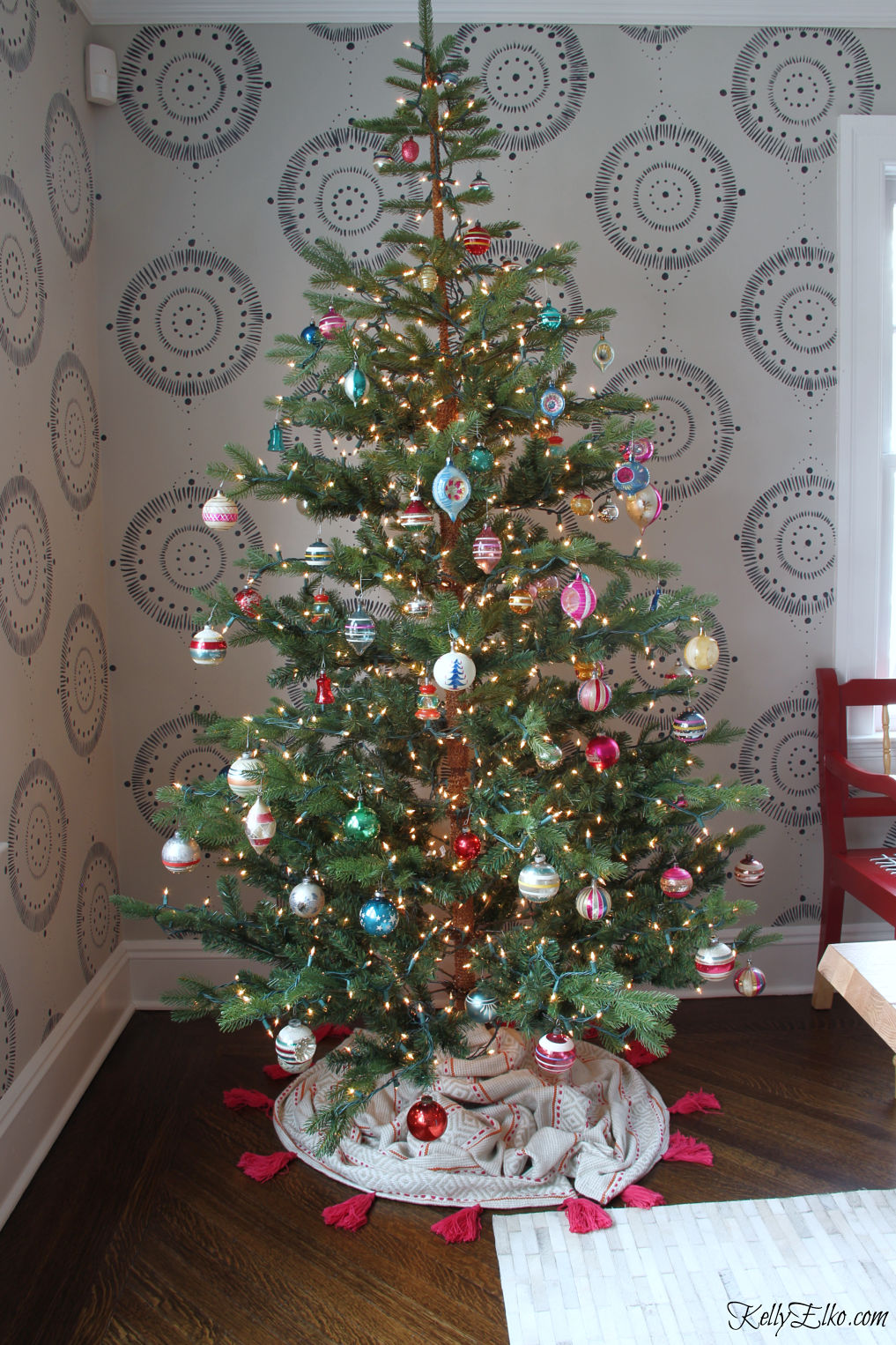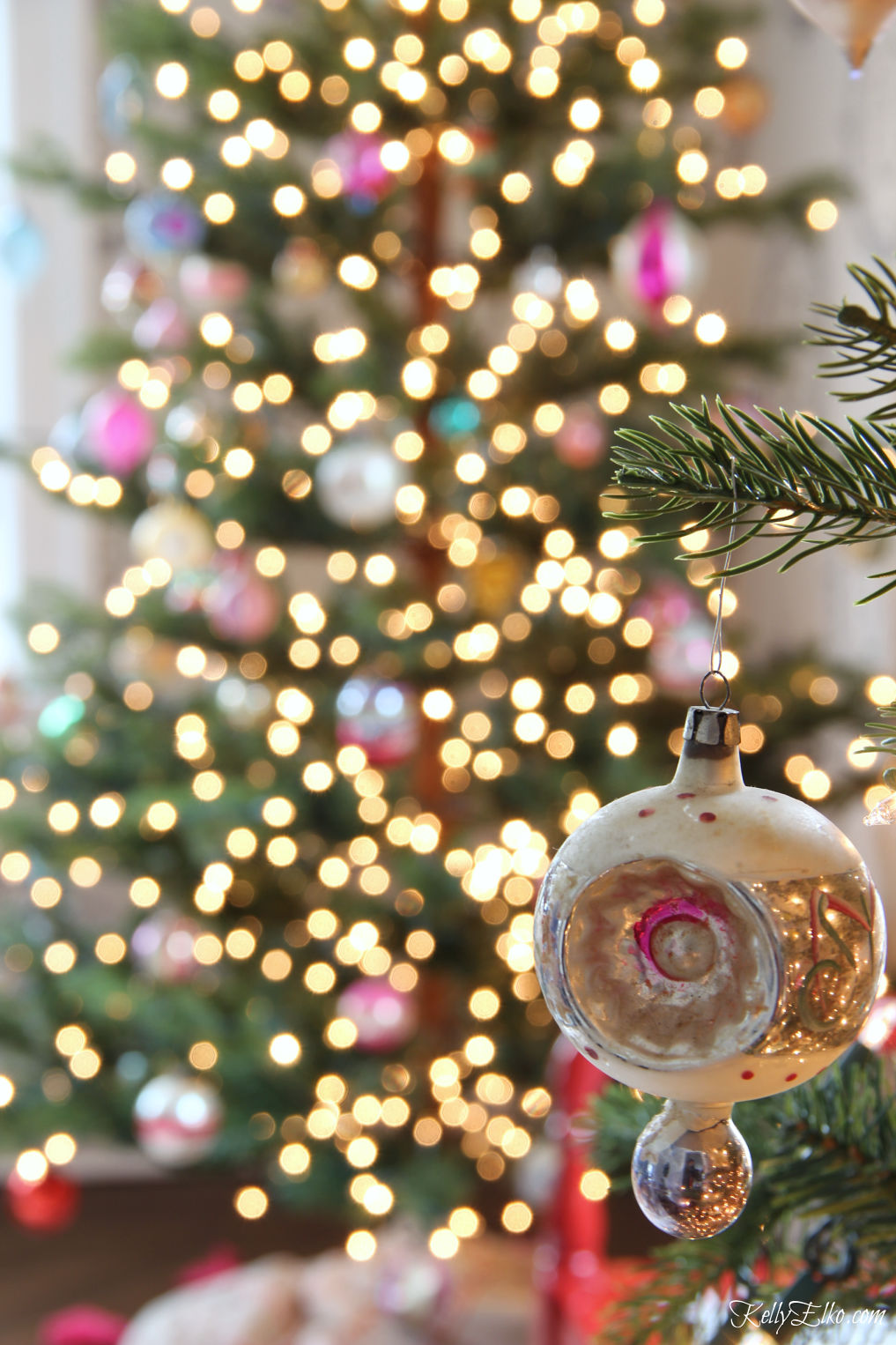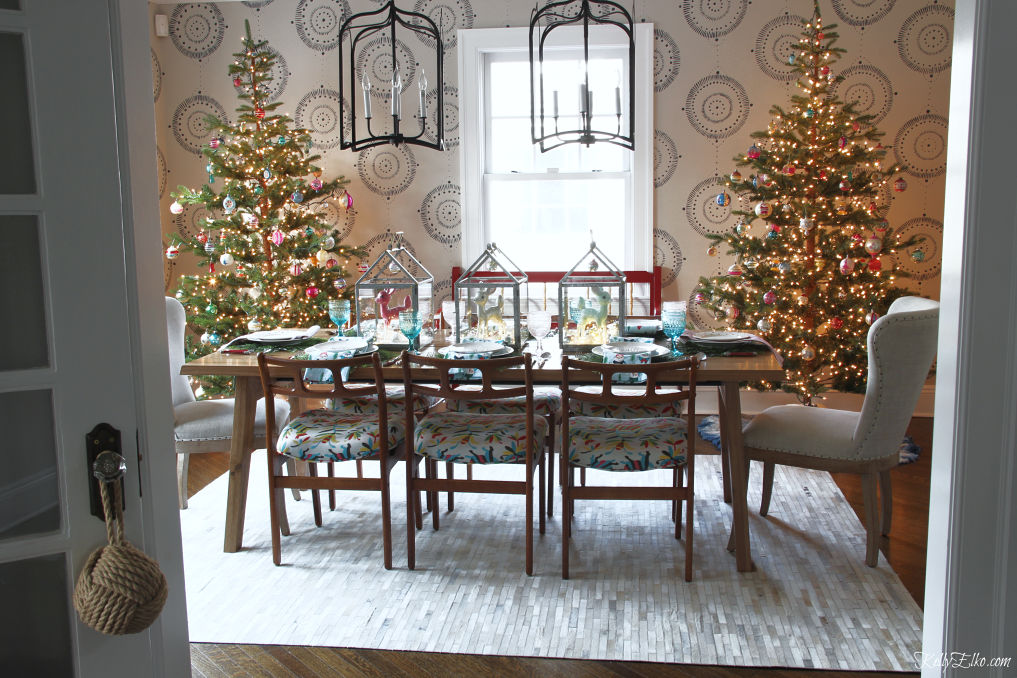 I wish I could invite you over for some figgy pudding in my Shiny Brite dining room.
Stay tuned for my Christmas home tour on Monday!
Sources:
Table
Side Chairs – vintage
End Chairs
Cowhide Rug
Galvanized House Lanterns
Retro Reindeer
Red Cutlery
Cedar Placemats
Battery Operated Fairy Lights
Homegoods – Rae Dunn Plates, Gnome Napkins, Blue and Pink Drinking Glasses, New Shiny Brite ornaments, Tassel throw tree skirts