Extra! Extra! – Chapter 1
Welcome to Extra! Extra! A new weekly series where I'll feature things that inspire me, favorite things, thrifted finds, glimpses around my house and more!
I love these pumpkins perched on a picket fence in my neighborhood and look forward to seeing it every fall!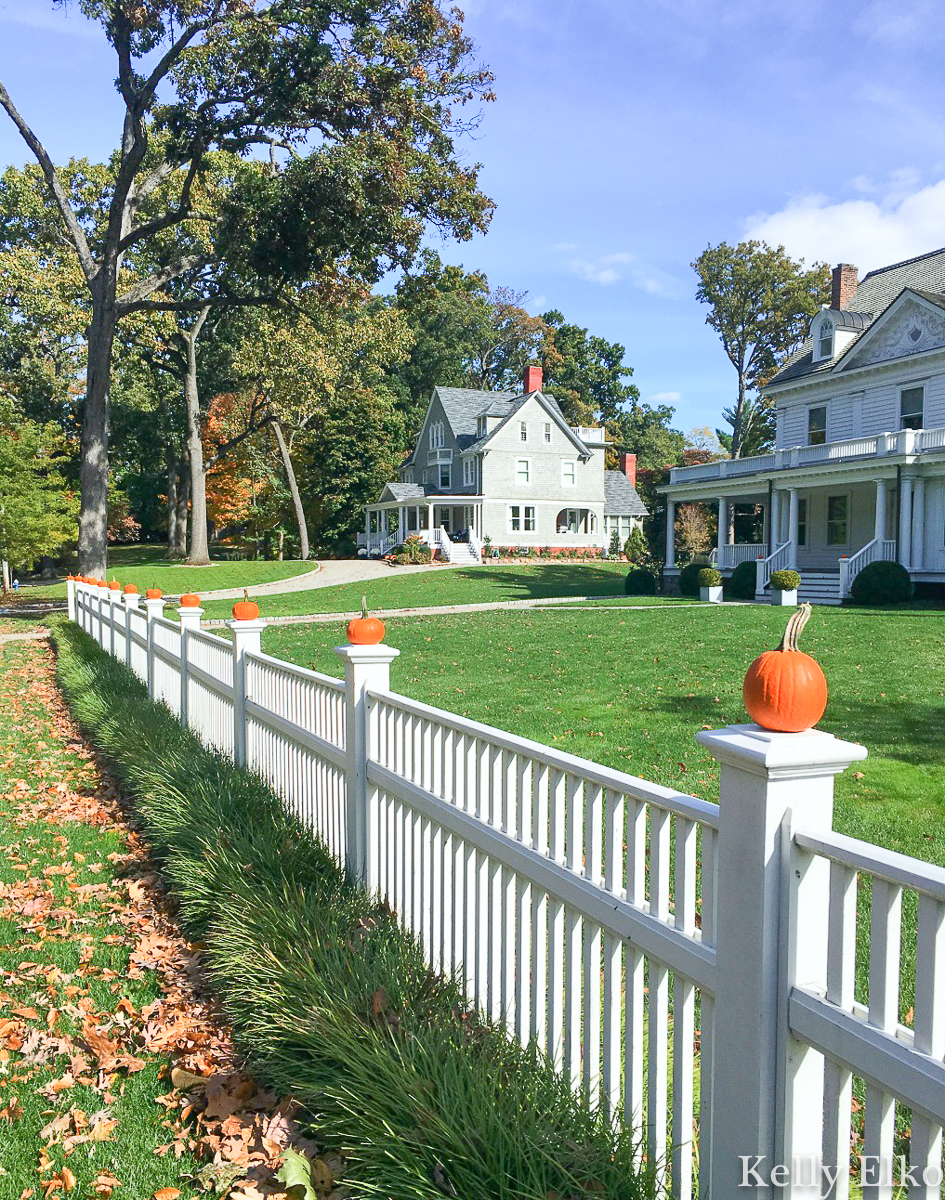 Decorating
It's fun to come up with creative ways to display vintage finds and this idea of using an old wooden rocking horse to show off favorite books is genius!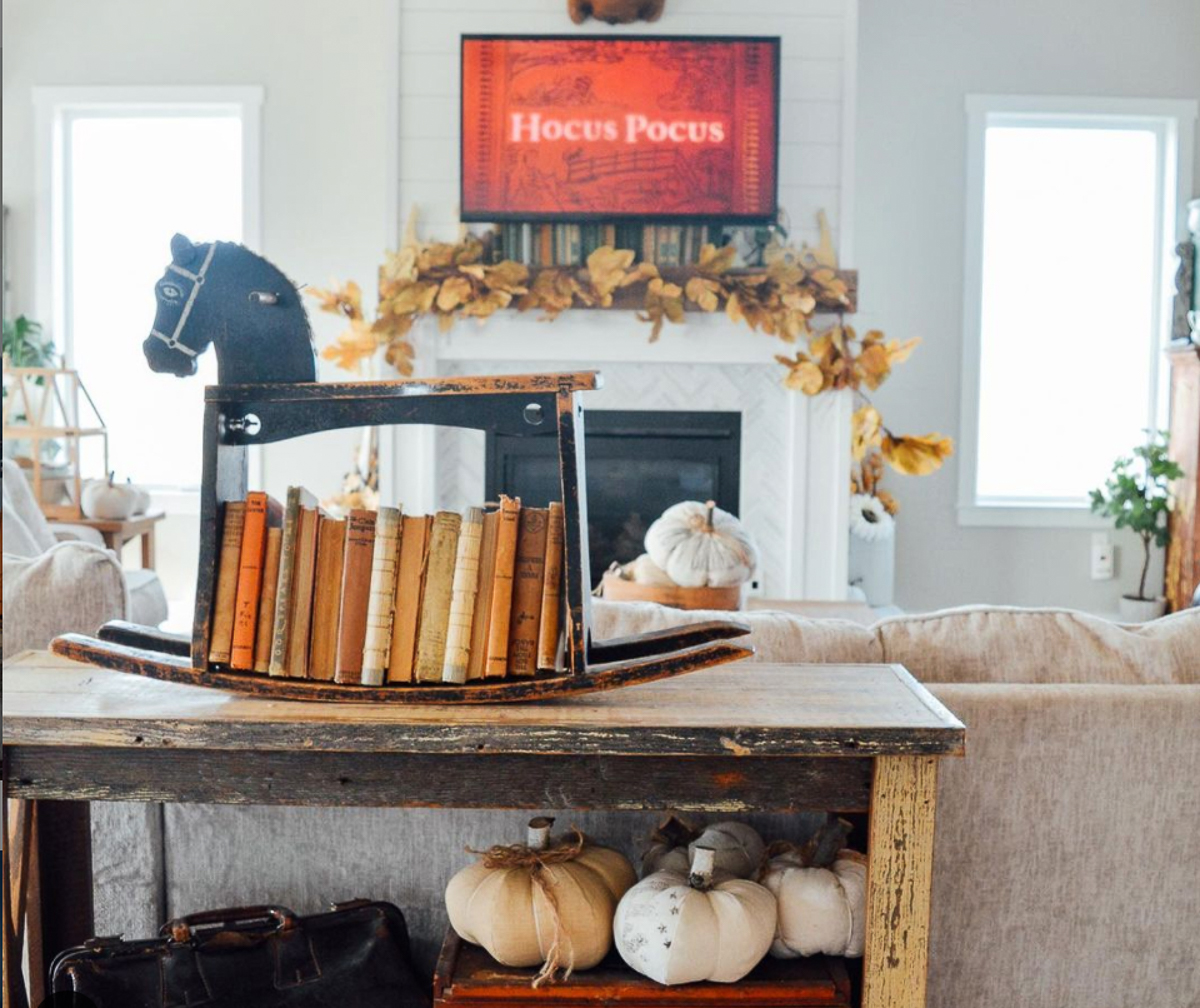 Crafting
My friend Matt hates ugly plastic pumpkins as much as I do so he gave his trio of jack o'lanterns a glow up with some baking soda and paint.
Baking Soda Paint Plastic Pumpkins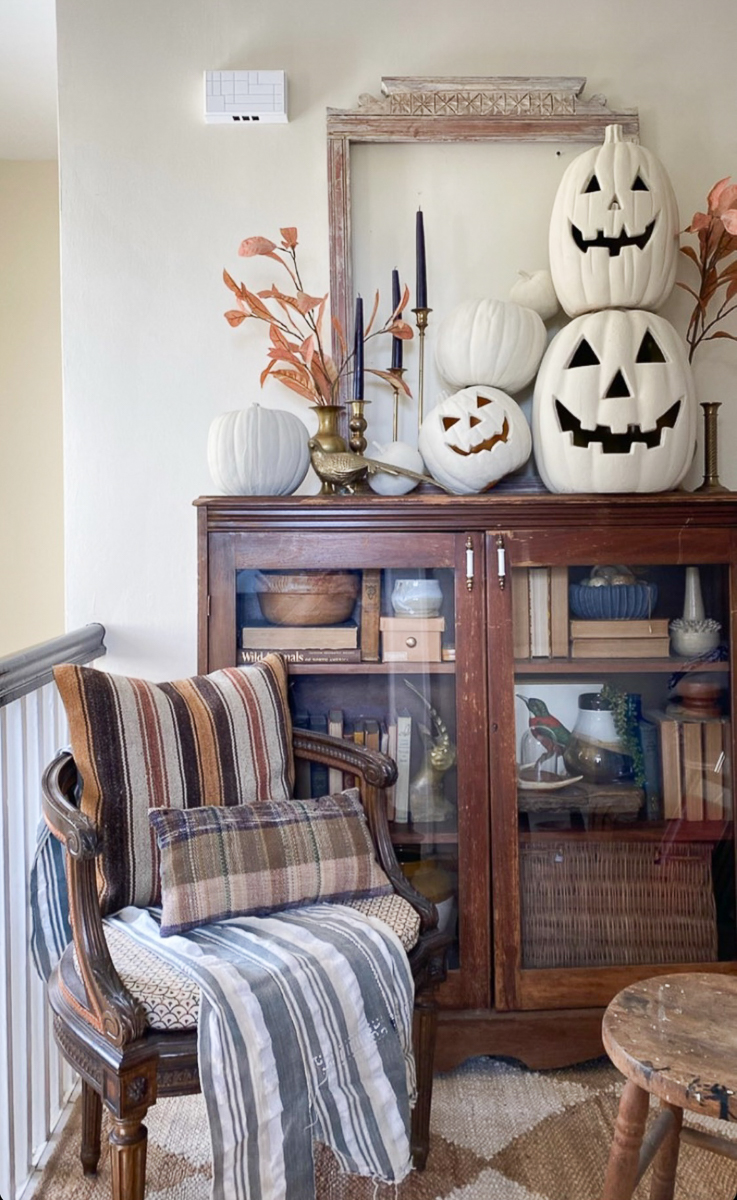 Matt says, "Mix together baking soda/powder and paint (50/50 ratio – whatever paint color you want) and go wild! Glob on paint, criss cross your brush strokes, flick it, twist it, bop it! The texture is beautiful and you'll have amazing affordable decor!"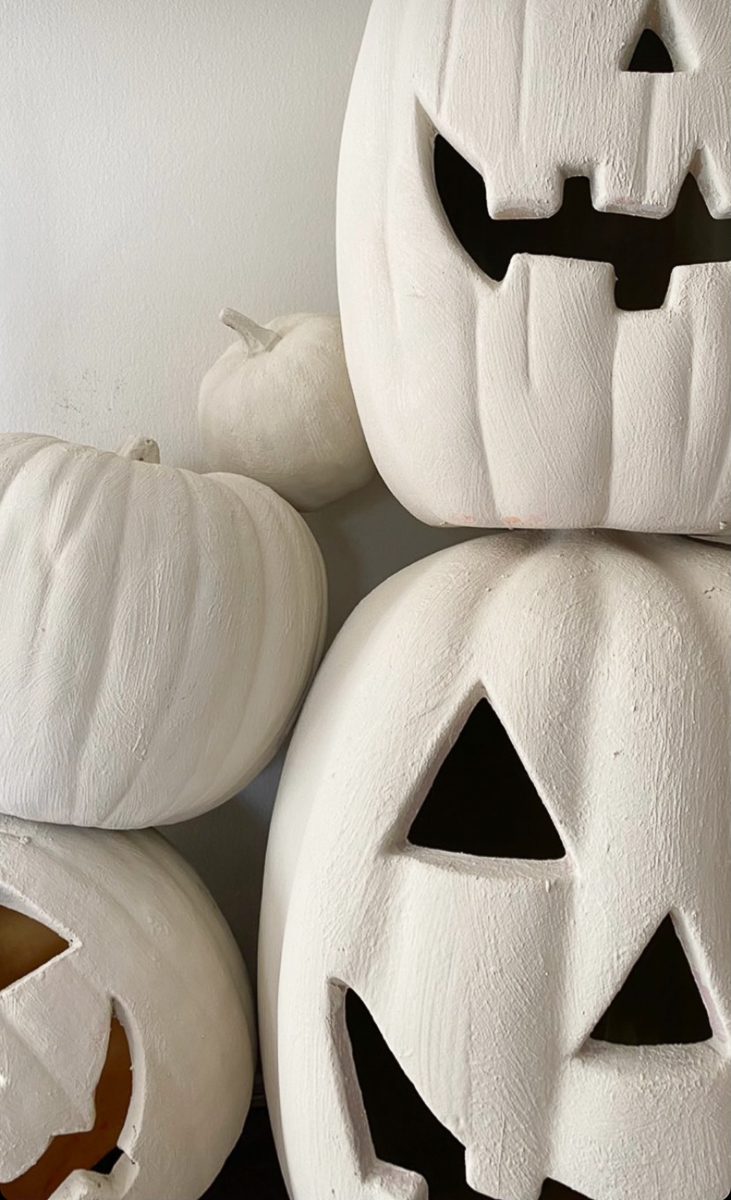 Thrifting
SCORE! To know me is to know about my love affair with vintage glass ornaments and I am thrilled to report that in just one weekend, I scored not only this HUGE bin filled with layers of old ornaments, but also the basket of ornaments found at an estate sale, and the bags of ornaments and old bulbs at the thrift store!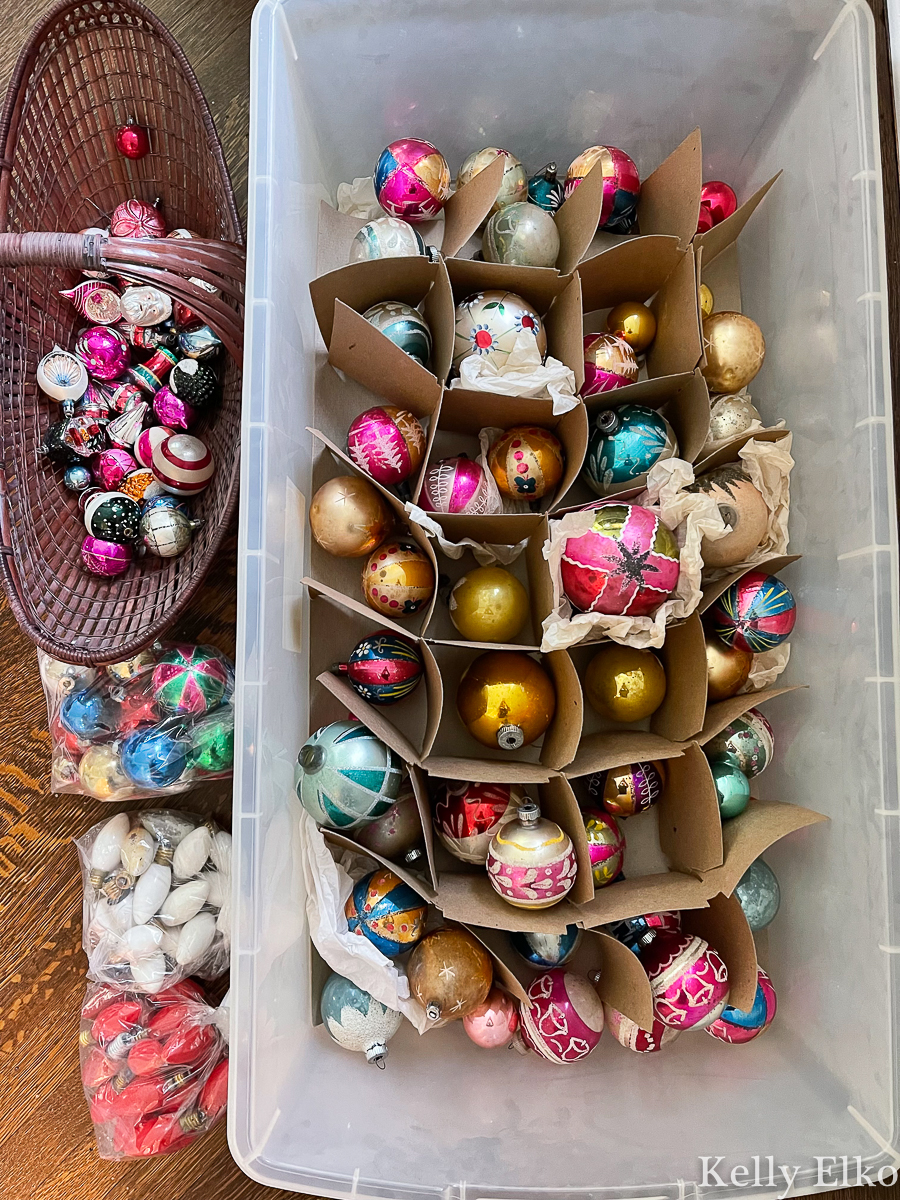 This post contains affiliate links which means if you make a purchase, I may earn a small commission at no extra cost to you.
In the Kitchen
I have been eyeing air fryers for ages and finally pulled the trigger and bought this smart oven air fryer because it can do so much more than just fry (without all the oil)! It toasts bread to perfection, reheats pizza and burgers perfectly and I am addicted to the zucchini fries I have been eating morning, noon and night.
If you have an air fryer, please share your favorite recipe in the comments!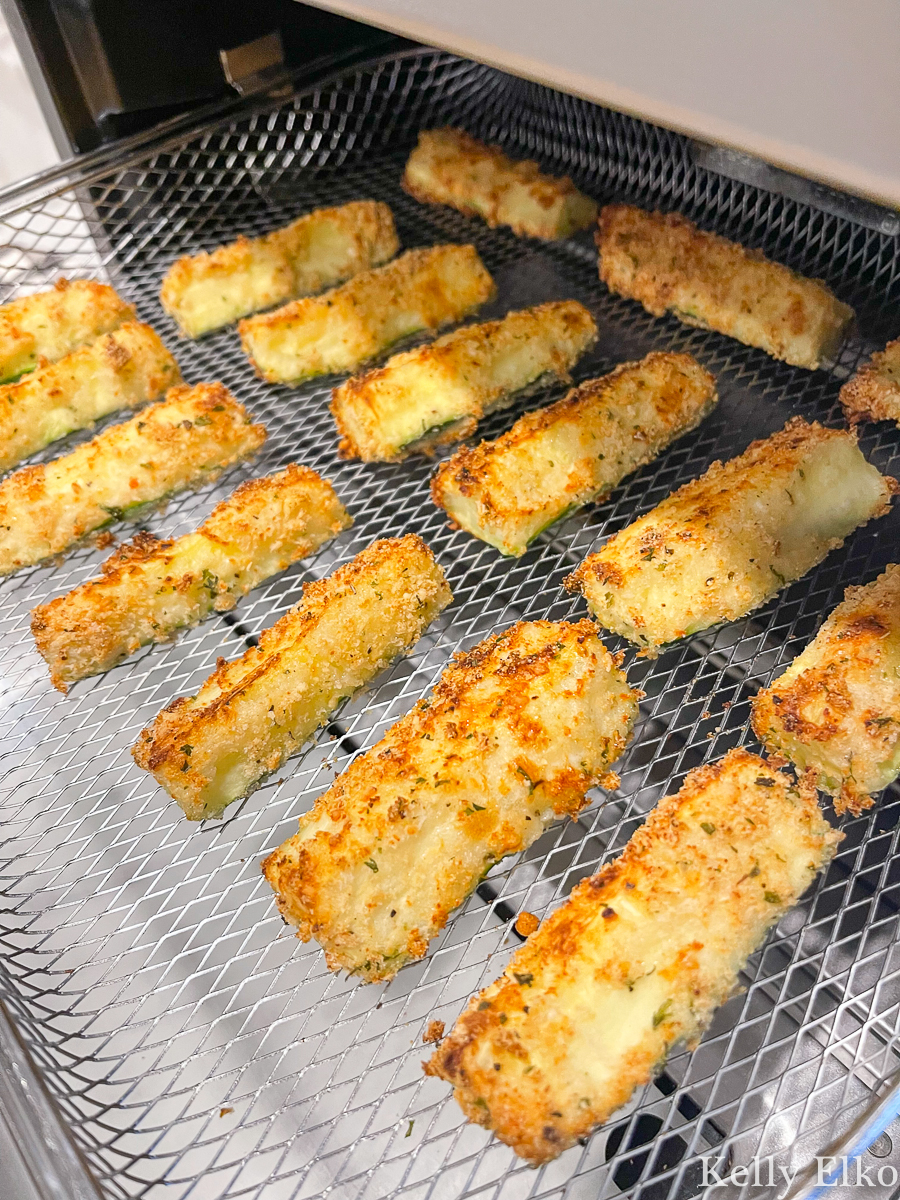 Wearing
I splurged on these leopard pajamas and absolutely love them! They are 100% cotton which this hot sleeper appreciates and come in so many more fun prints and colors.
I also couldn't resist this concert t-shirt which looks great alone or under a blazer.
Reading
Have you heard of Little Free Libraries? I found a cute one when I was in Maine last month and am loving my pick … What You Have Left.
My friend Ashley built her own Little Free Library!
Help! I need book recommendations so please share in the comments so we can all see!
Watching
I'm loving Only Murders in the Building (on Hulu) with Martin Short, Steve Martin and Selena Gomez!
Last month was a whirlwind and I was away from home for more than half of it! I can't wait to share my trip to Maine with you but have to go through the 8 billion photos I took!
P.S. Don't miss my latest Eclectic Home Tour of this stunning riverside farmhouse. You will not believe her story and all the trials and tribulations she went through to get the house of her dreams!
Have a great day and thanks for taking the time to read my posts!