Eclectic Home Tour – Angela Fahl
This charming 1931 brick Tudor covered in trailing vines that burst into color every fall looks like it's straight out of a fairy tale! Today's Eclectic Home Tour of Angela Fahl shows us that old house quirks should be embraced and with a little ingenuity and creativity, those quirks can become the best part of the home!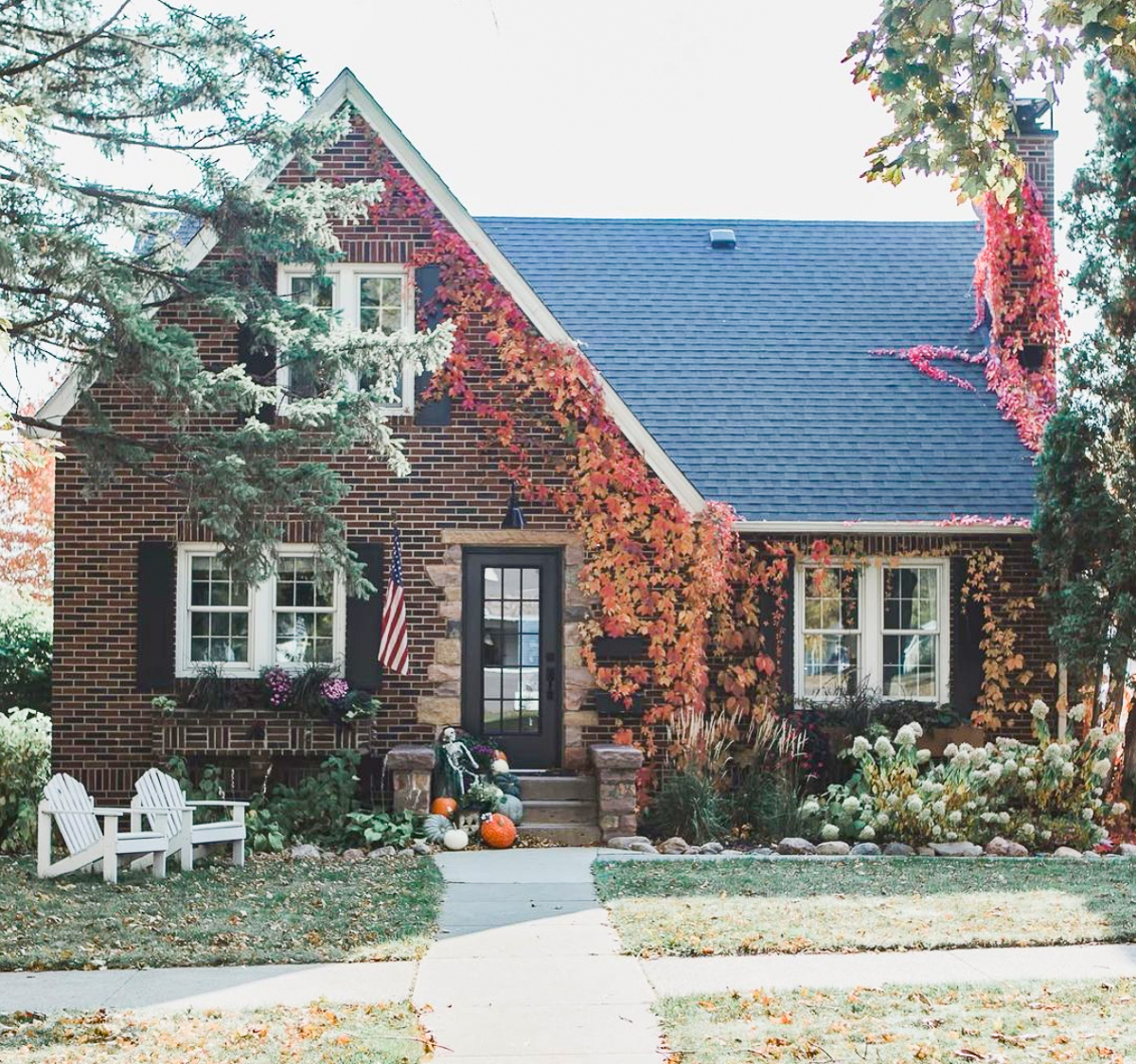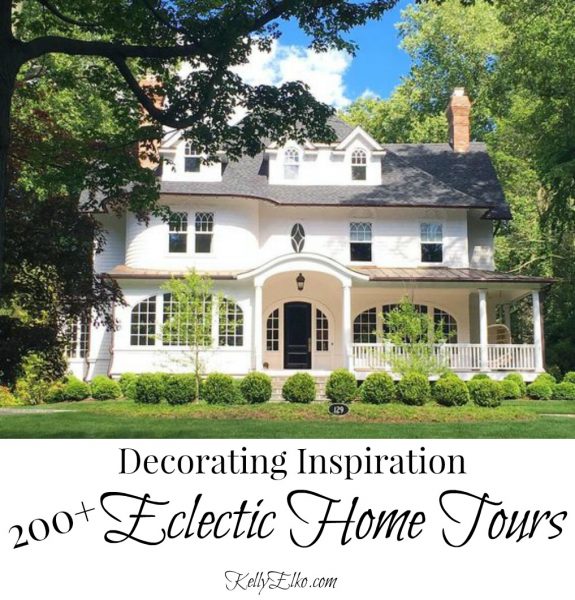 Says Angie, "While I know old homes aren't for everyone I TRULY want to show people how you can make old homes work for a modern day family. I'm living proof you can survive without a pantry, kitchen island, and master suite."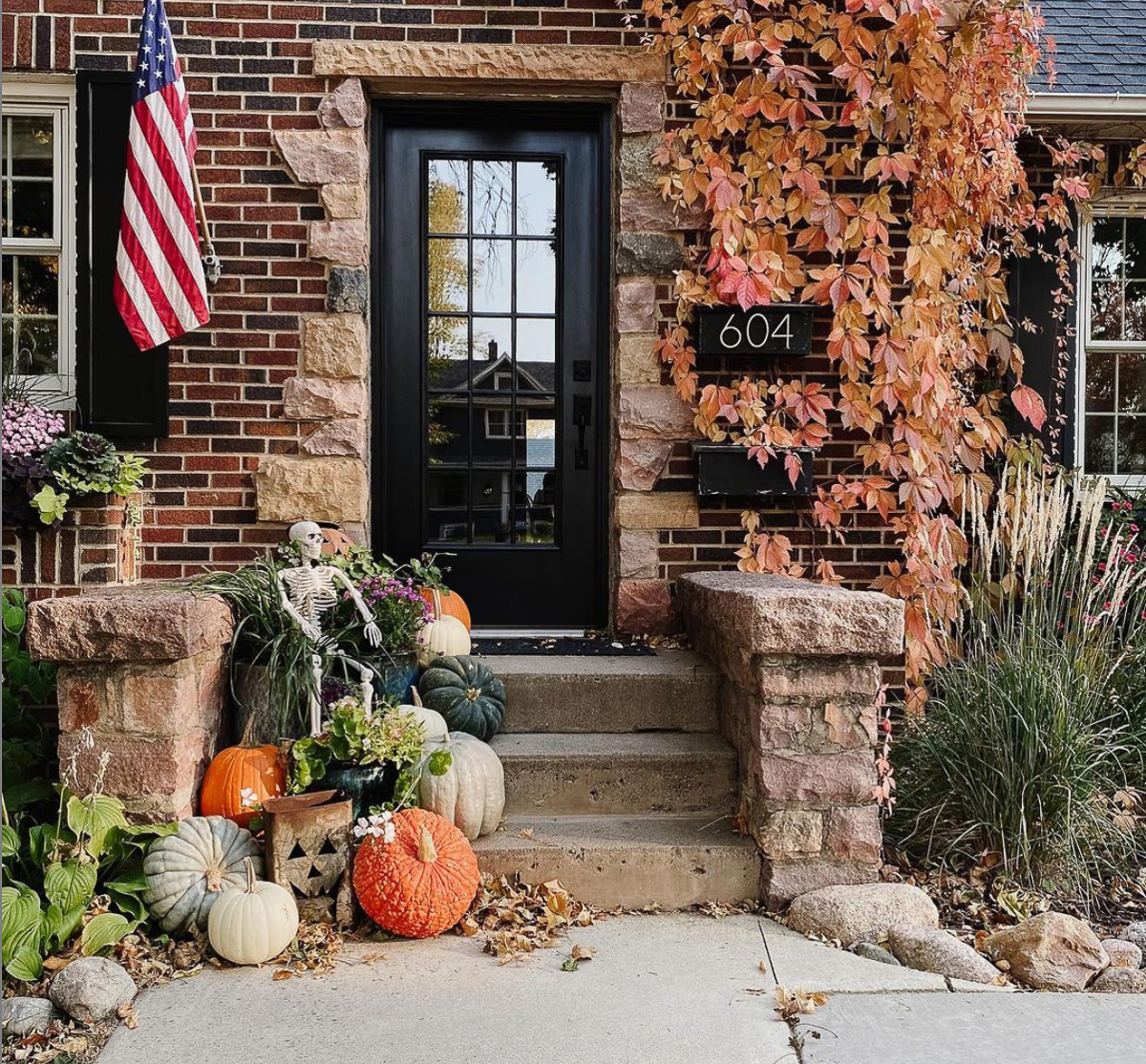 "I live in a 1931 brick Tudor with my husband, four kids, & one dog. We do our best to simplify and make this old quirky house work for a modern day, bigger family", explains Angie.
Angie believes that "old homes are worth saving even if they lack things like closets, pantries, & fancy clean basements."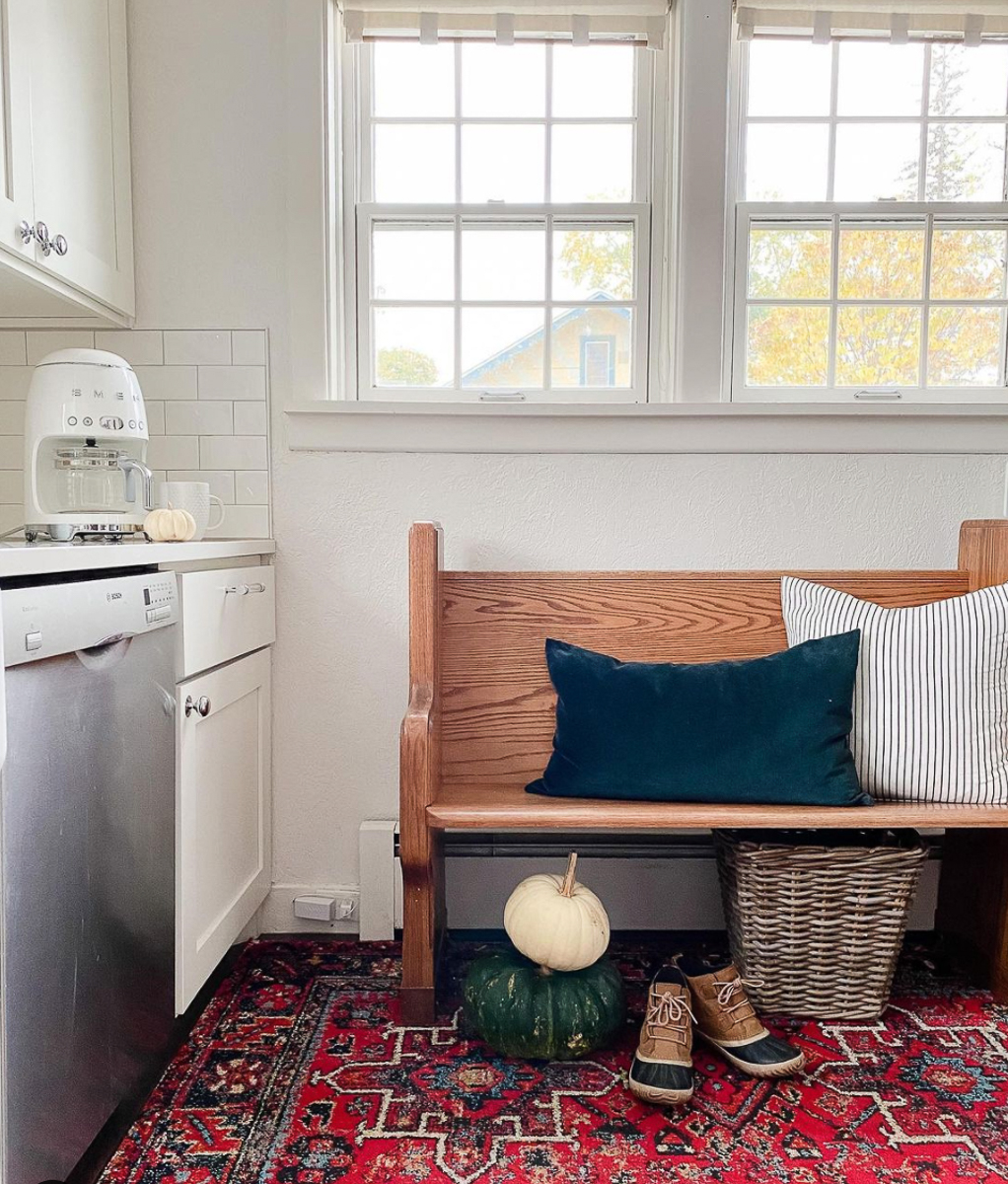 The galley kitchen doubles as a mudroom with an old church pew the perfect place to unload groceries.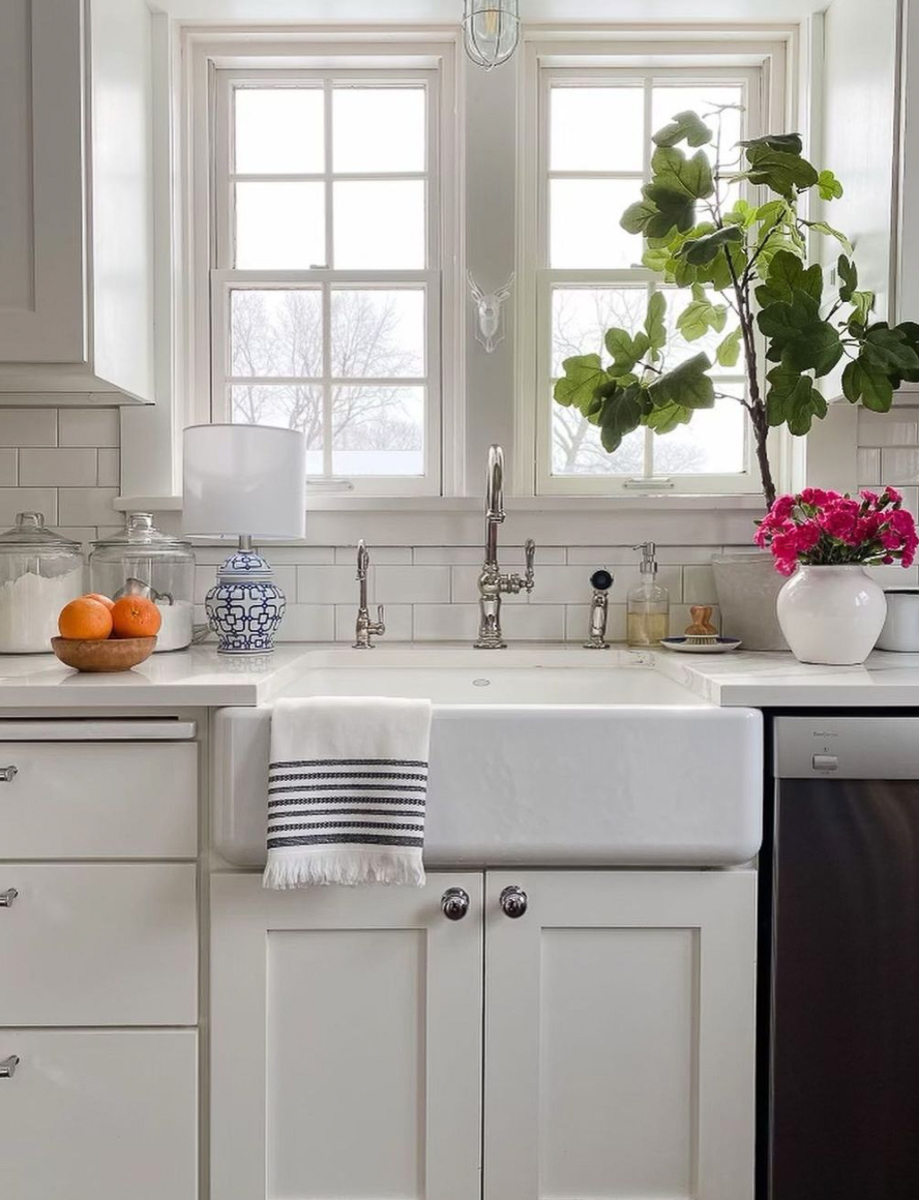 The old red cabinets were ripped out during the renovation but the layout remained the same.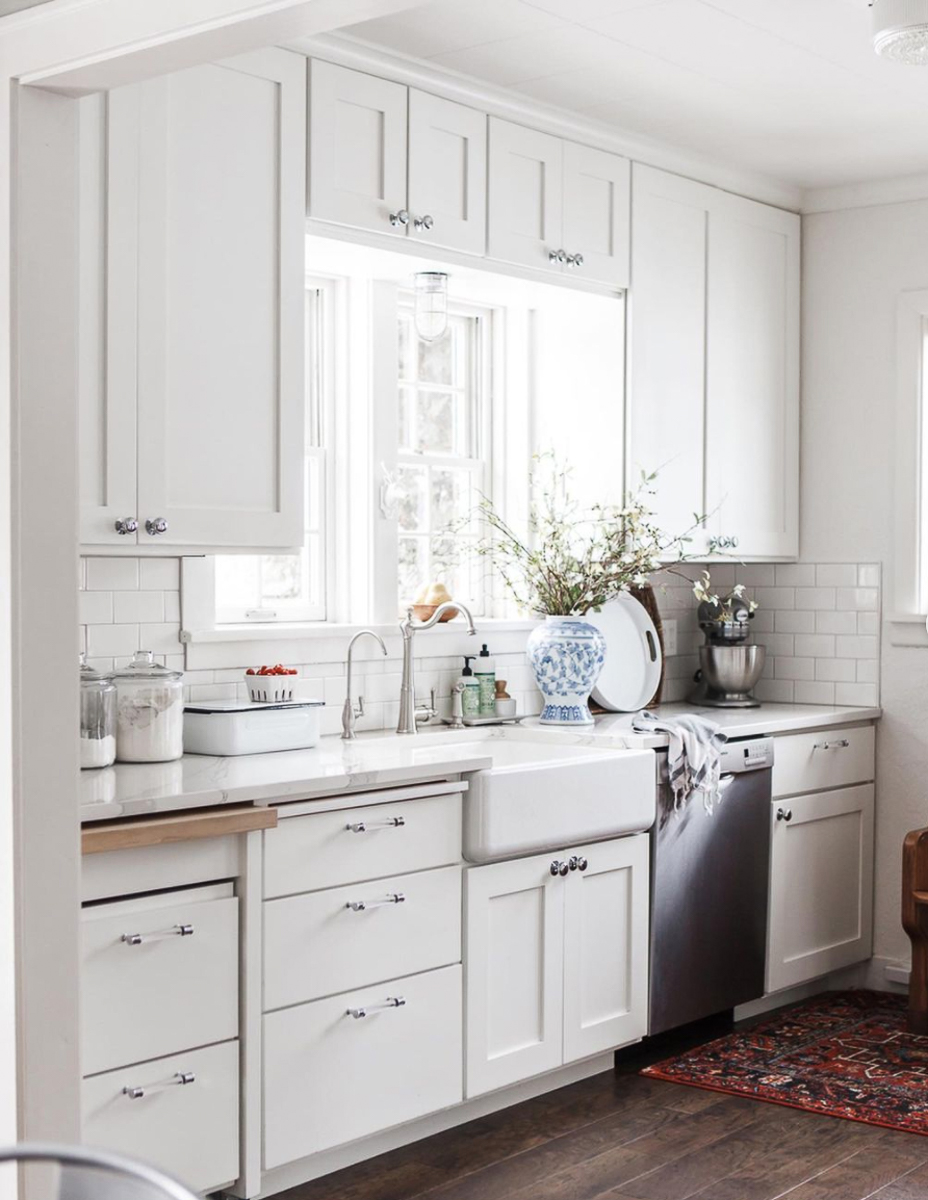 Angela explains, "This is our rolling kitchen cart. While I'd love to have an island it just wouldn't work. We considered knocking out the wall and having a peninsula BUT our house is made of concrete and we entertain all the time. I worried the peninsula would create a bottleneck. My compromise was this awesome cart that can be used as prep space or a table for 4."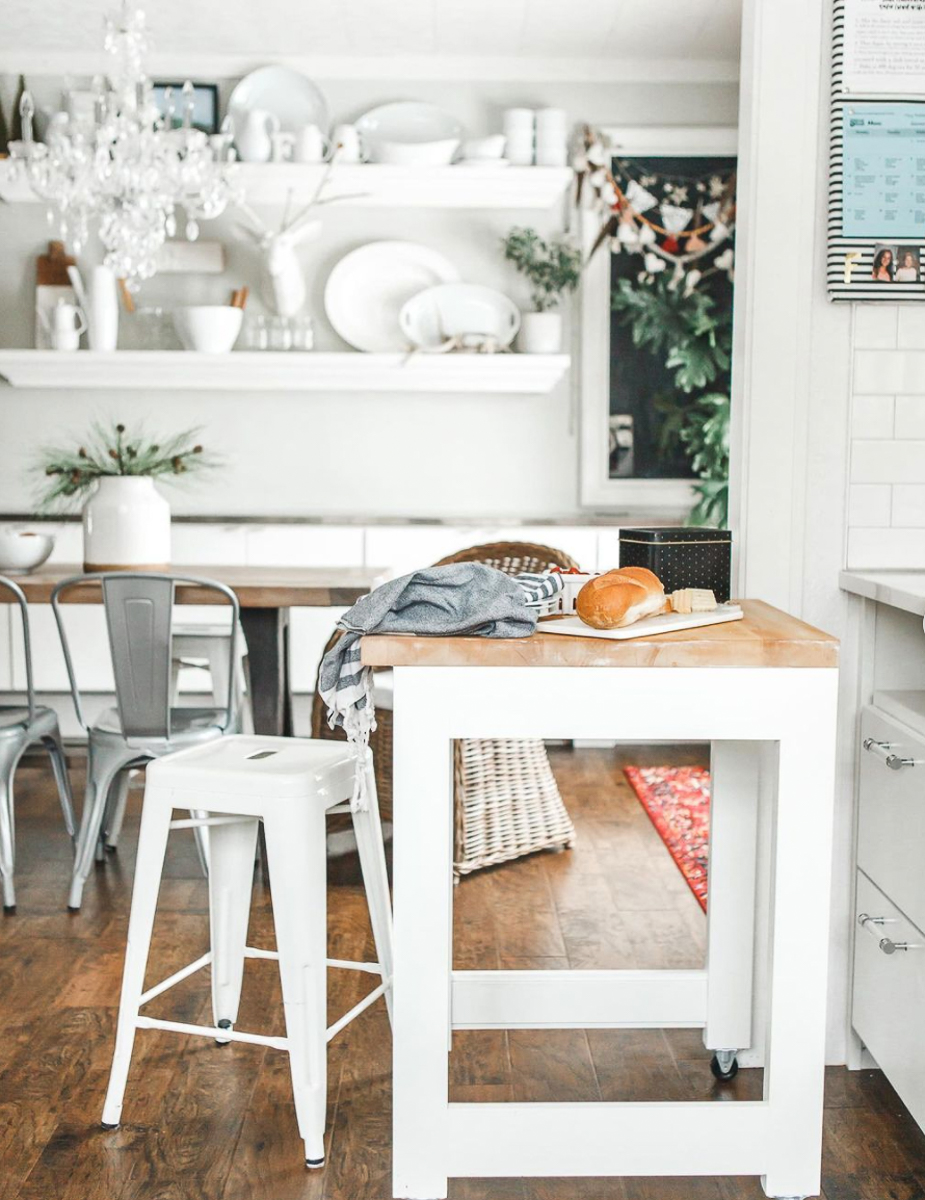 When you have a small kitchen, you need to get creative and I love that the cart can be rolled under the counter when not in use!
The small "closet" is the only one on the main floor and Angie says, "it's a bit of a jack-of-all-trades that stores, bedding, towels, medicine, paper towels, & soap."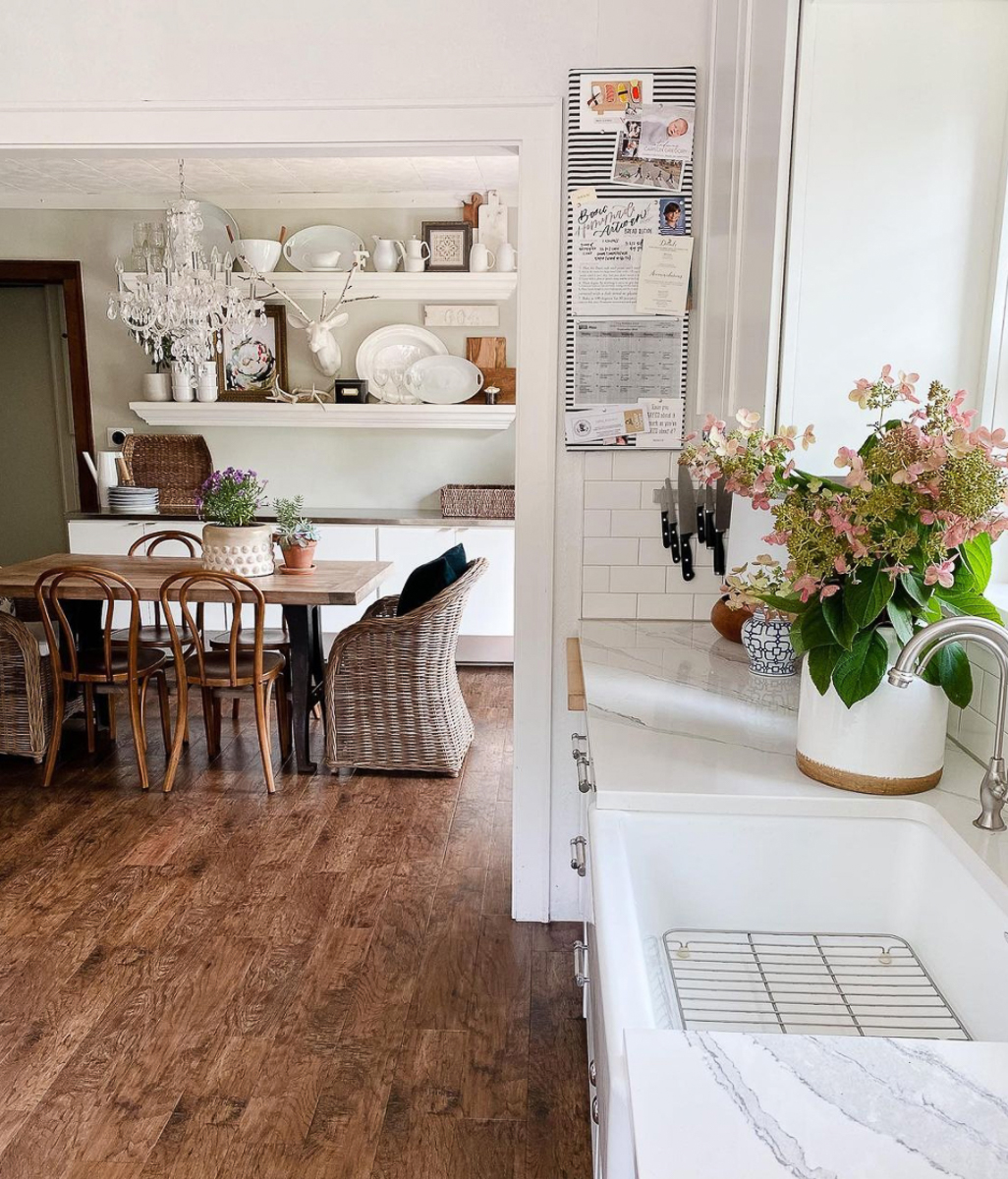 Stacked shelves allow for extra storage as well as display space. Angie chooses mostly white pieces to keep the space from feeling cluttered.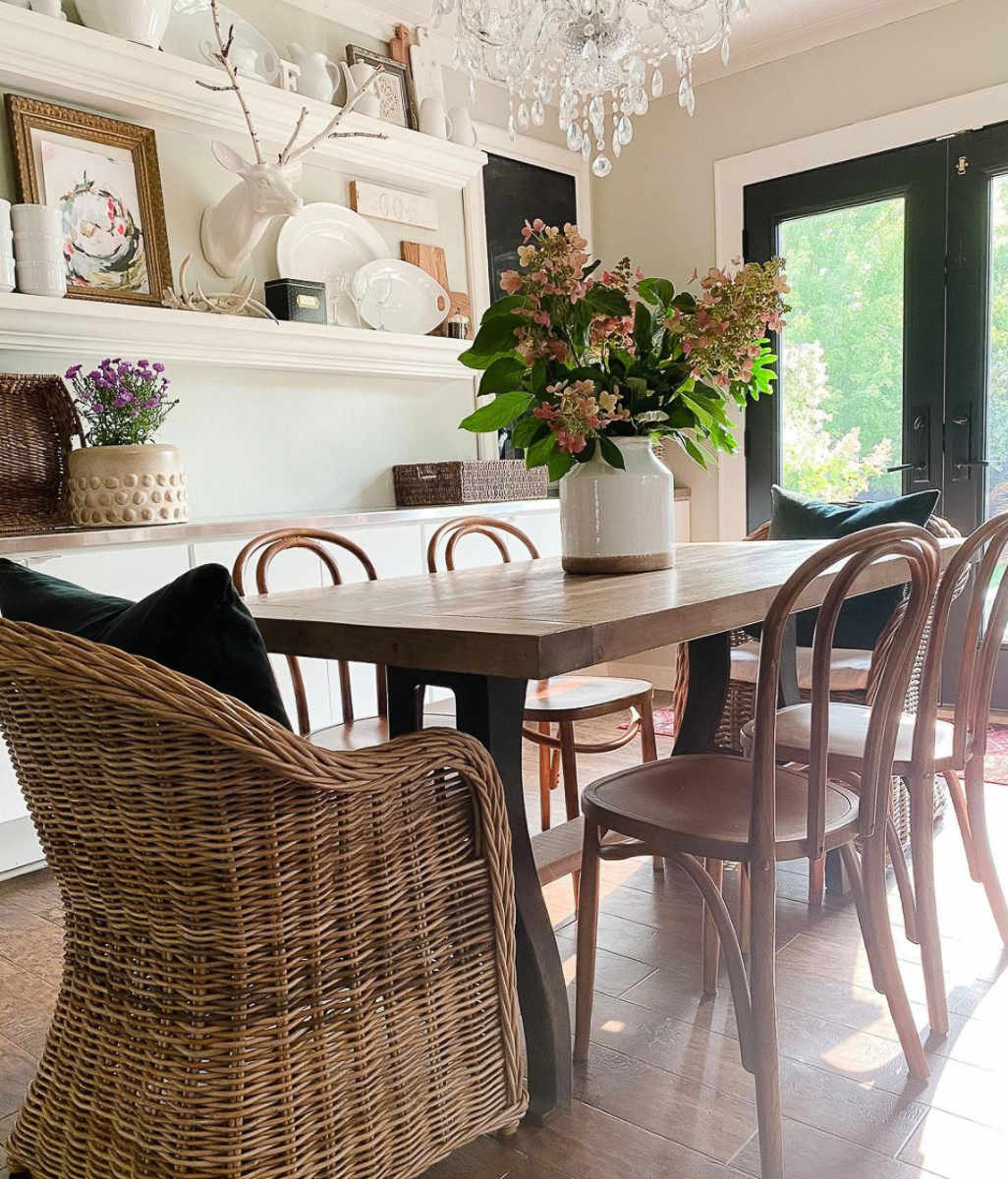 Angie's dad (who lives across the street in an old Craftsman) made the dining table out of salvaged white pine and old metal factory legs. Bentwood chairs paired with wicker complete the informal look while an ornate crystal chandelier adds drama.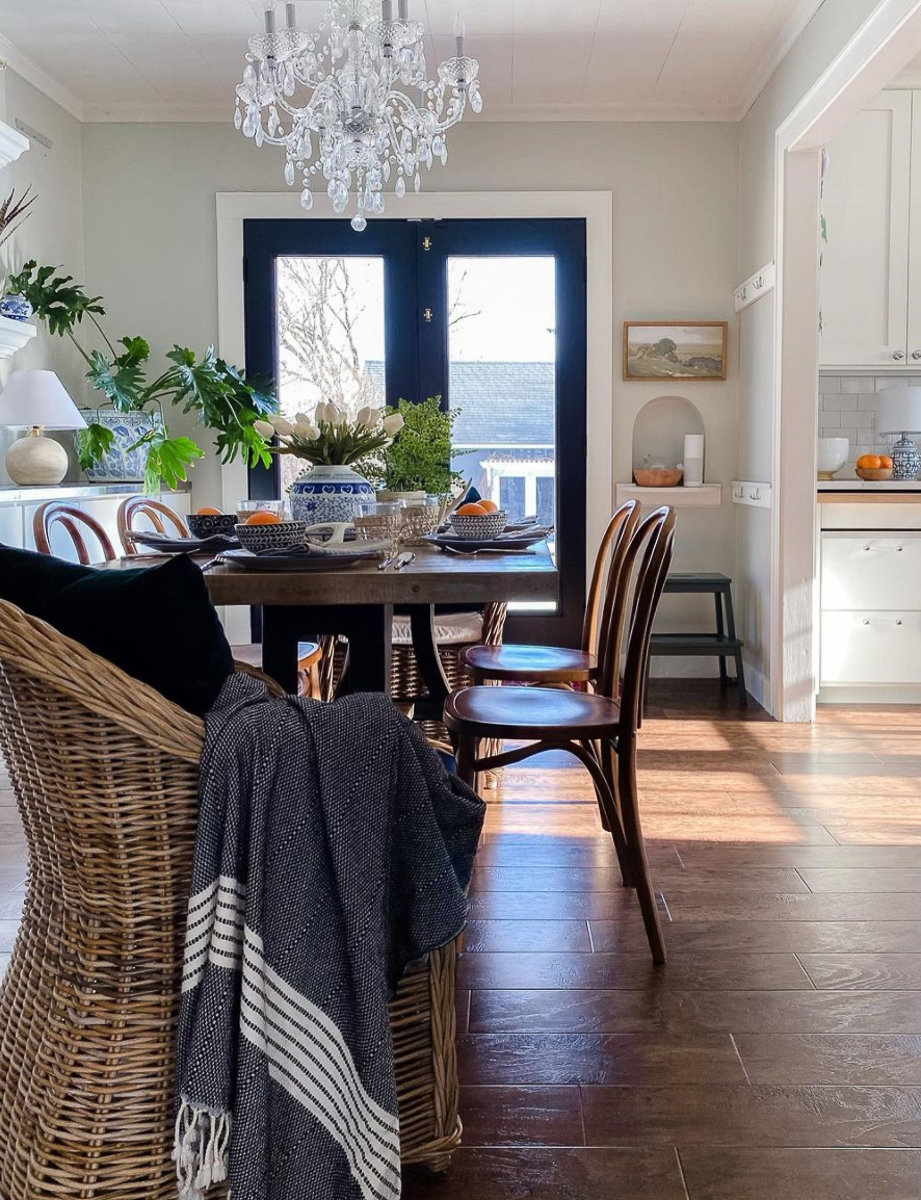 Star shaped decals add fun pattern to the small entry which Angie says nobody ever uses!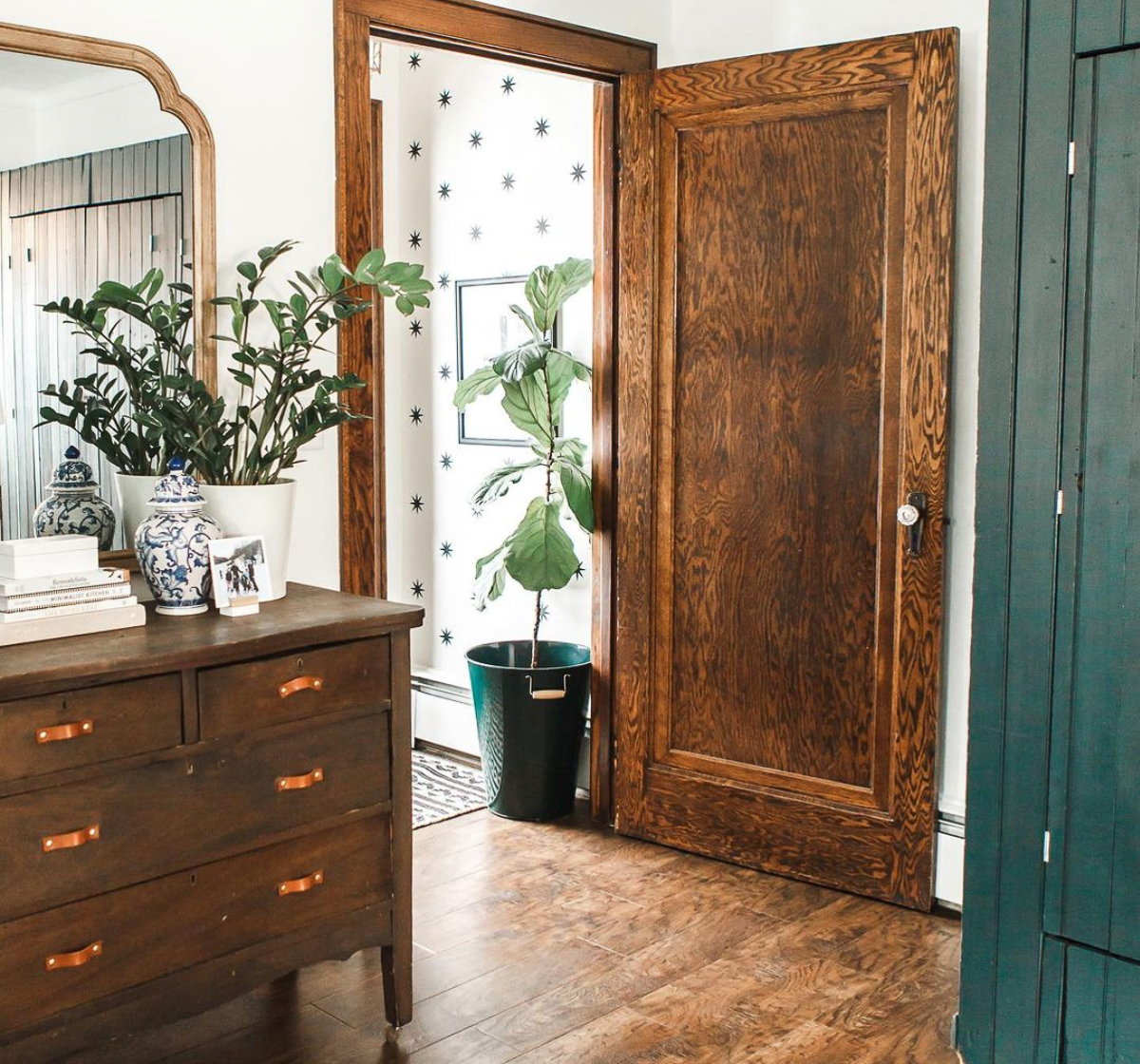 Angela says, "I originally found this cabinet in the garage filled with rakes, shovels, and a lot of dirt. Immediately I knew it would be perfect for our tv. Thanks to my dad for reworking the doors and adding shelves. I painted this BM Salamander a few years back and am still loving it."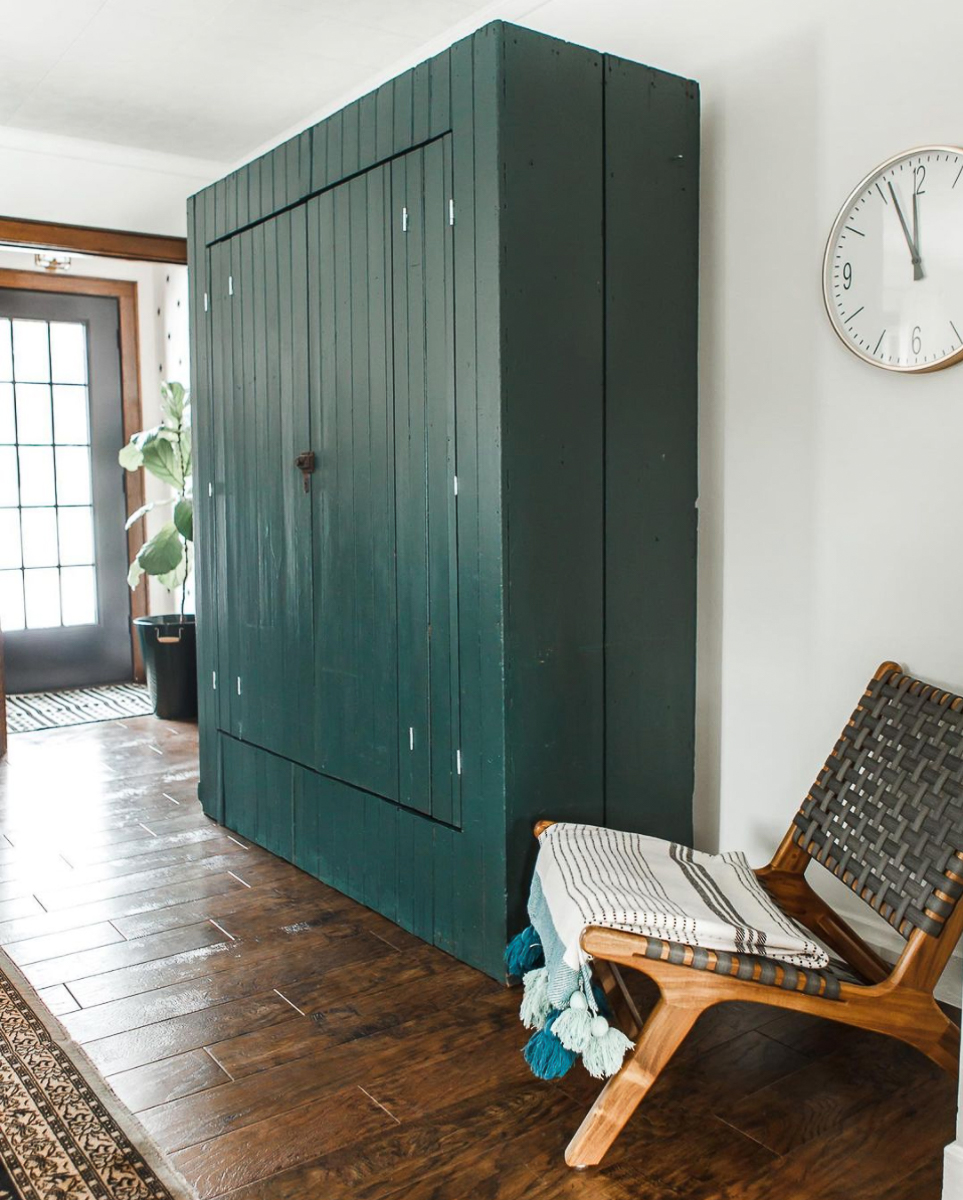 "Don't be afraid to use pieces around your home that work for YOU. It's ok to use something in a totally different space then it was intended," says Angie.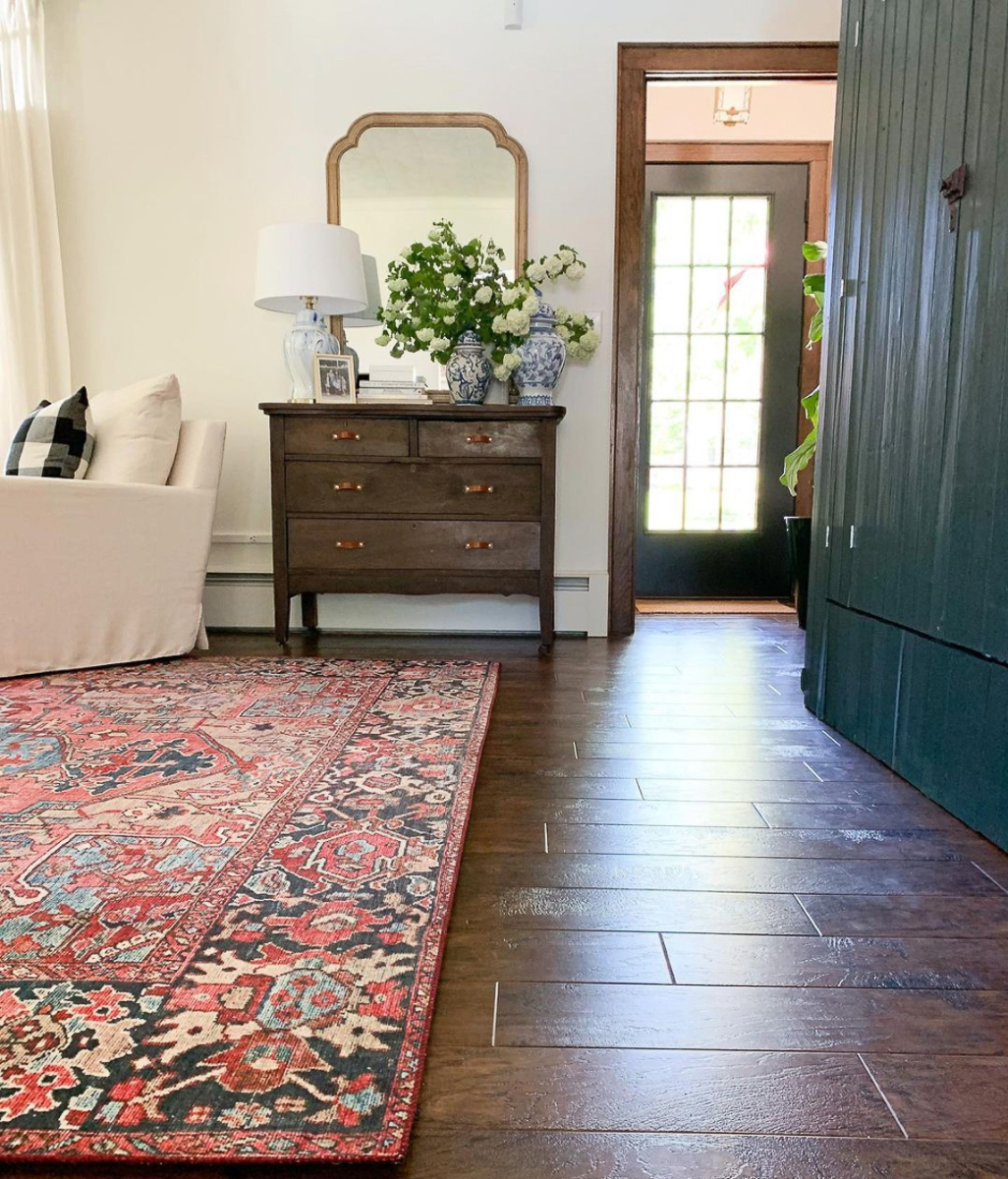 Trying to keep a small home filled with kids neat and organized is no small feat and Angie says, "my goal for less stuff AND only having things we need and love continues to make life easier around here."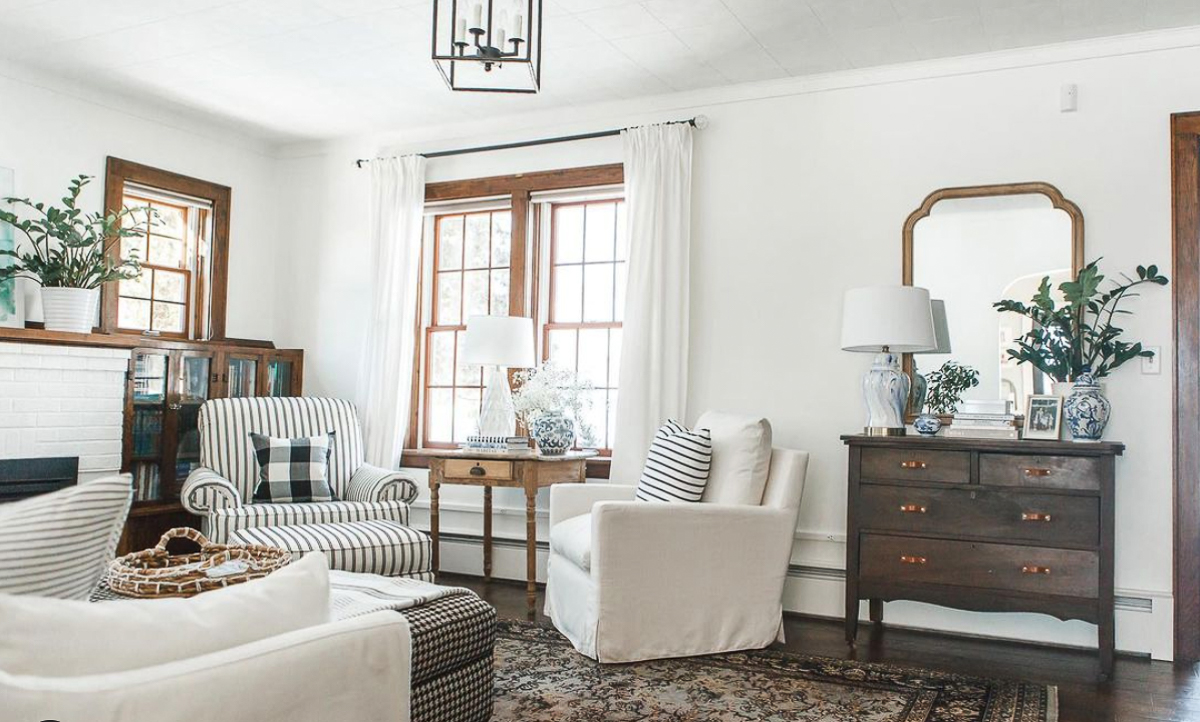 An original feature of this old Tudor is the beautiful built in oak cabinet and bookcase surrounding the mantel.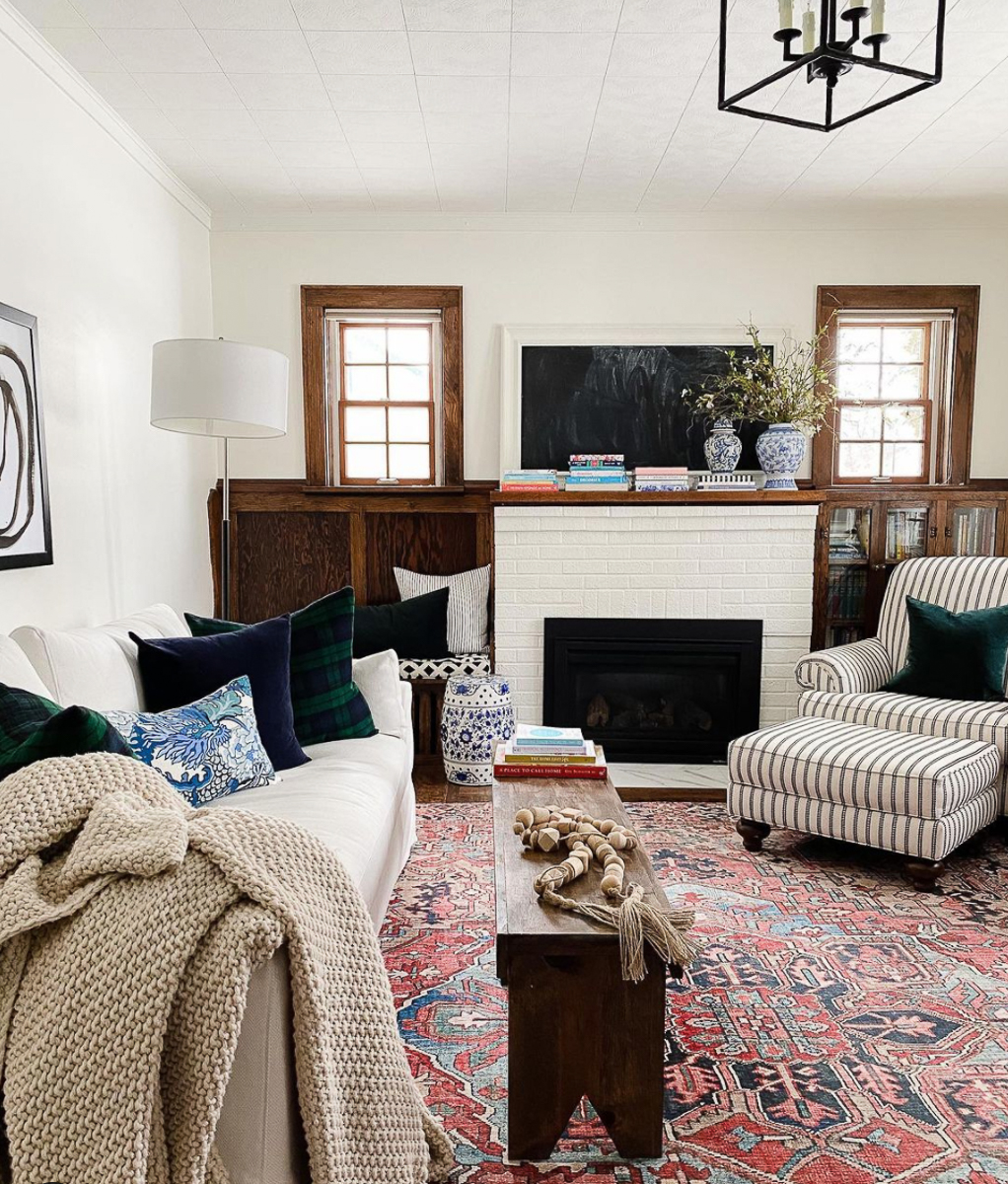 Angela says, "White + wood= happiness. We are lucky enough to have a home filled with white walls and wood trim. It may seem weird to some with this mix but to me it's the best of both worlds."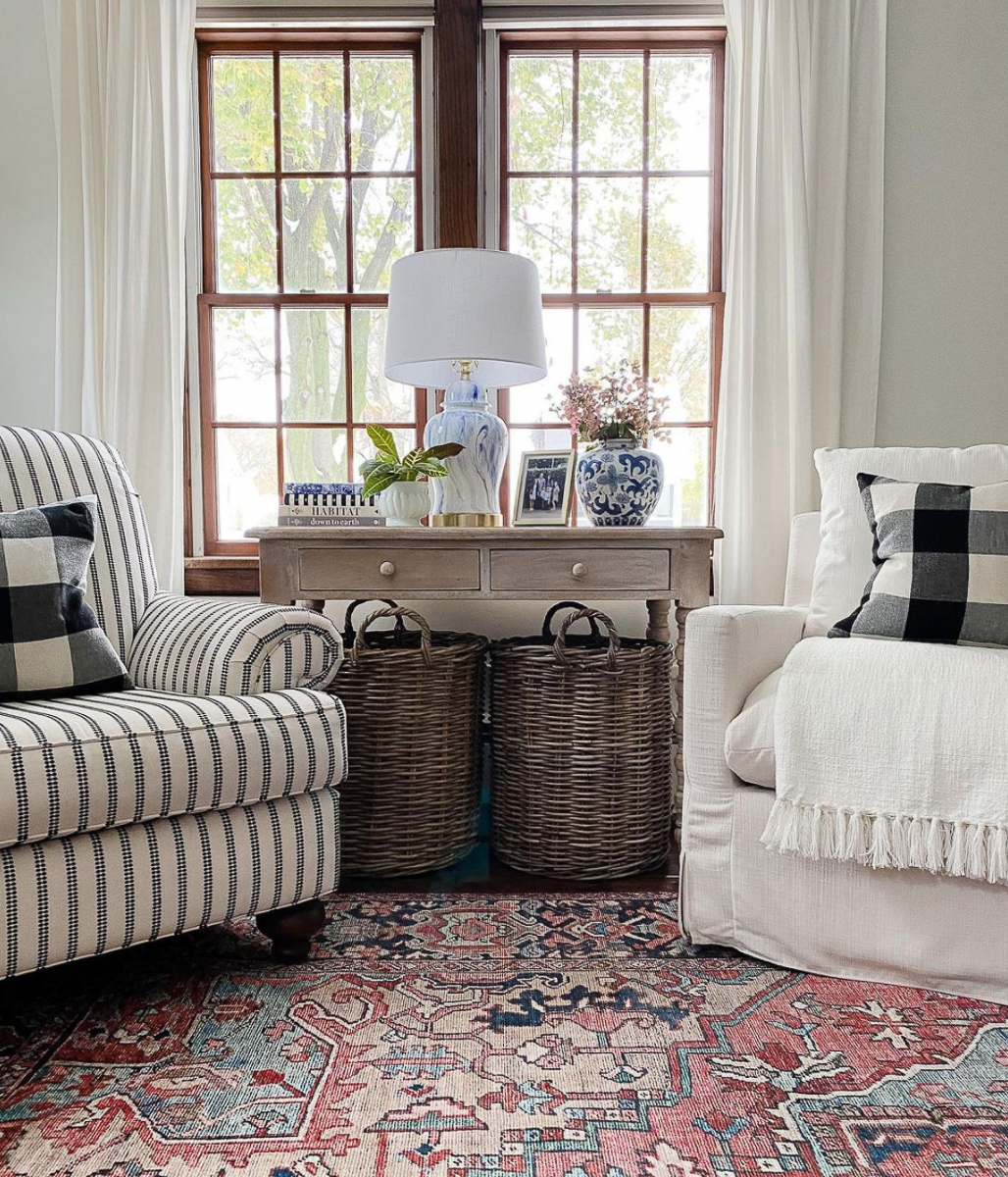 Angela painted the back entry her favorite color … black!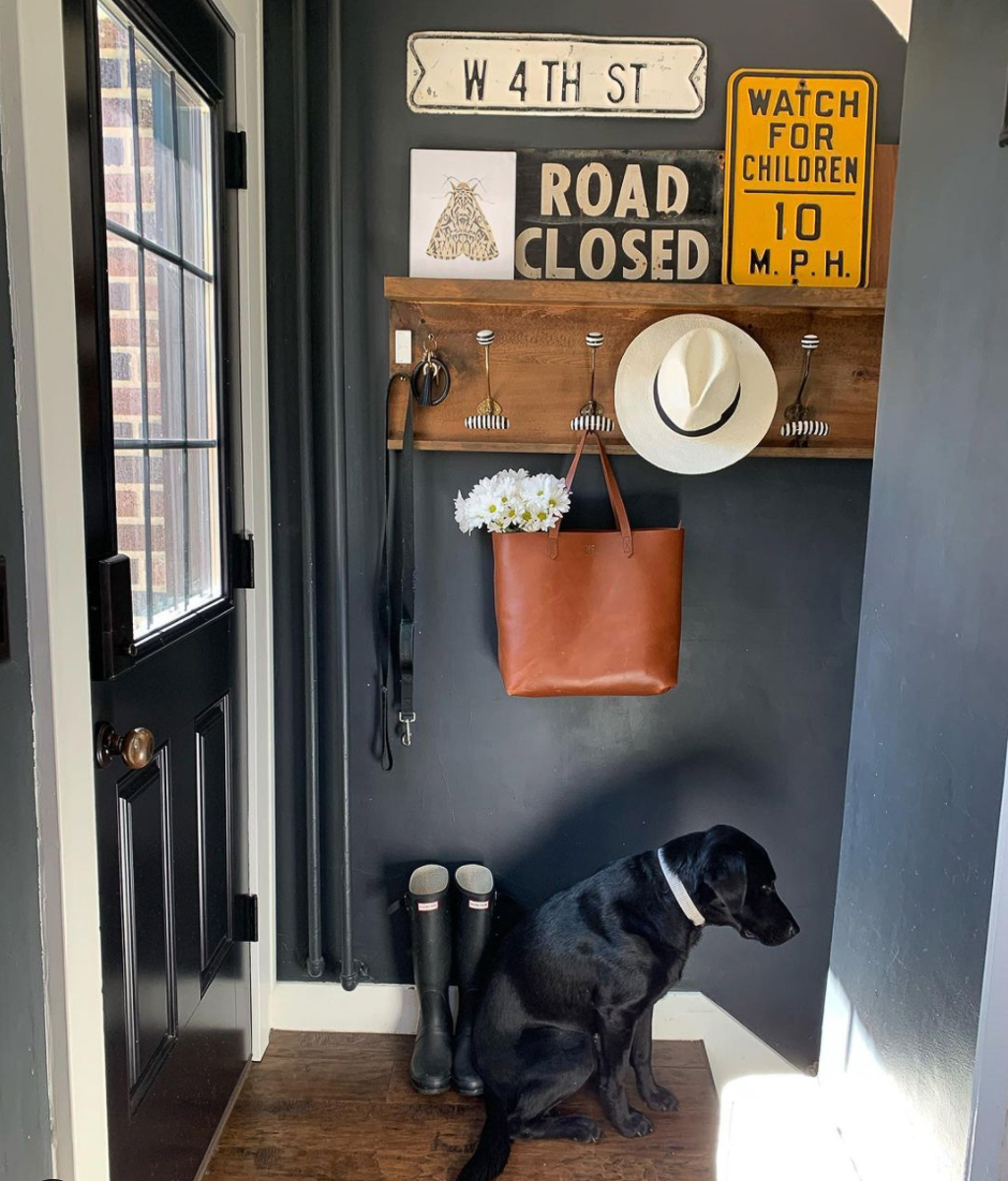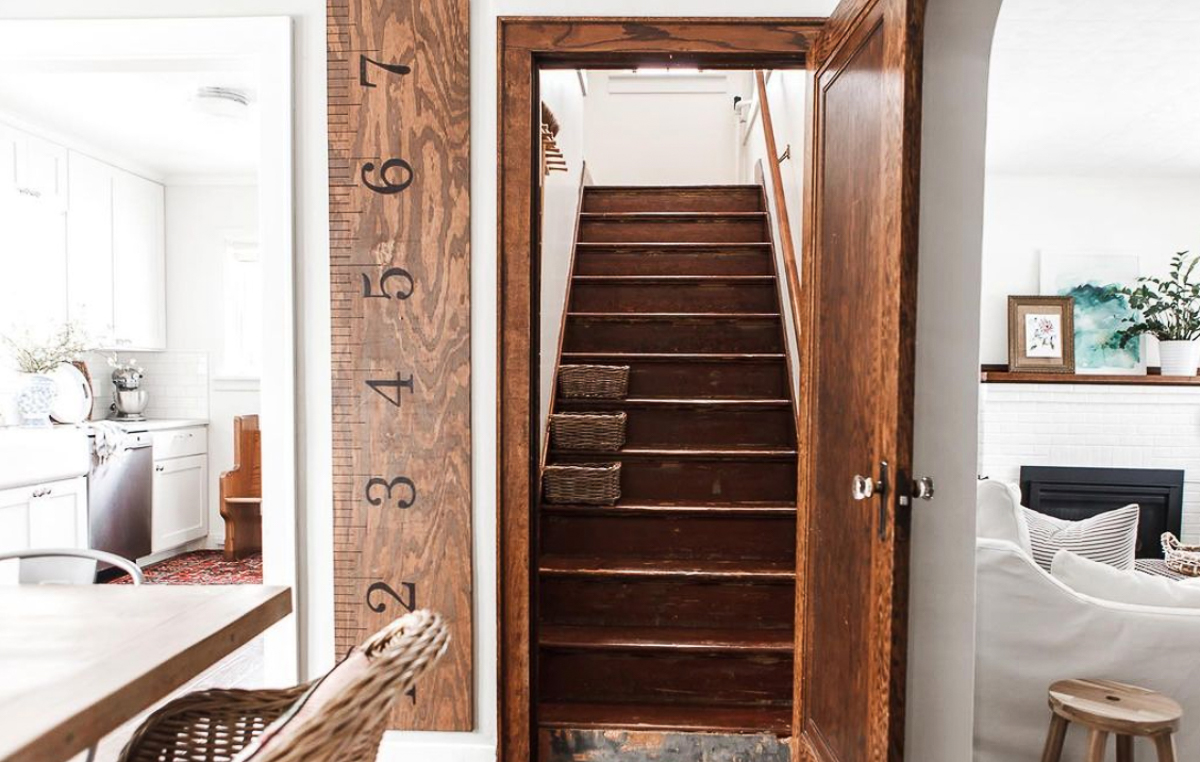 The hidden staircase divides the kitchen from the family room.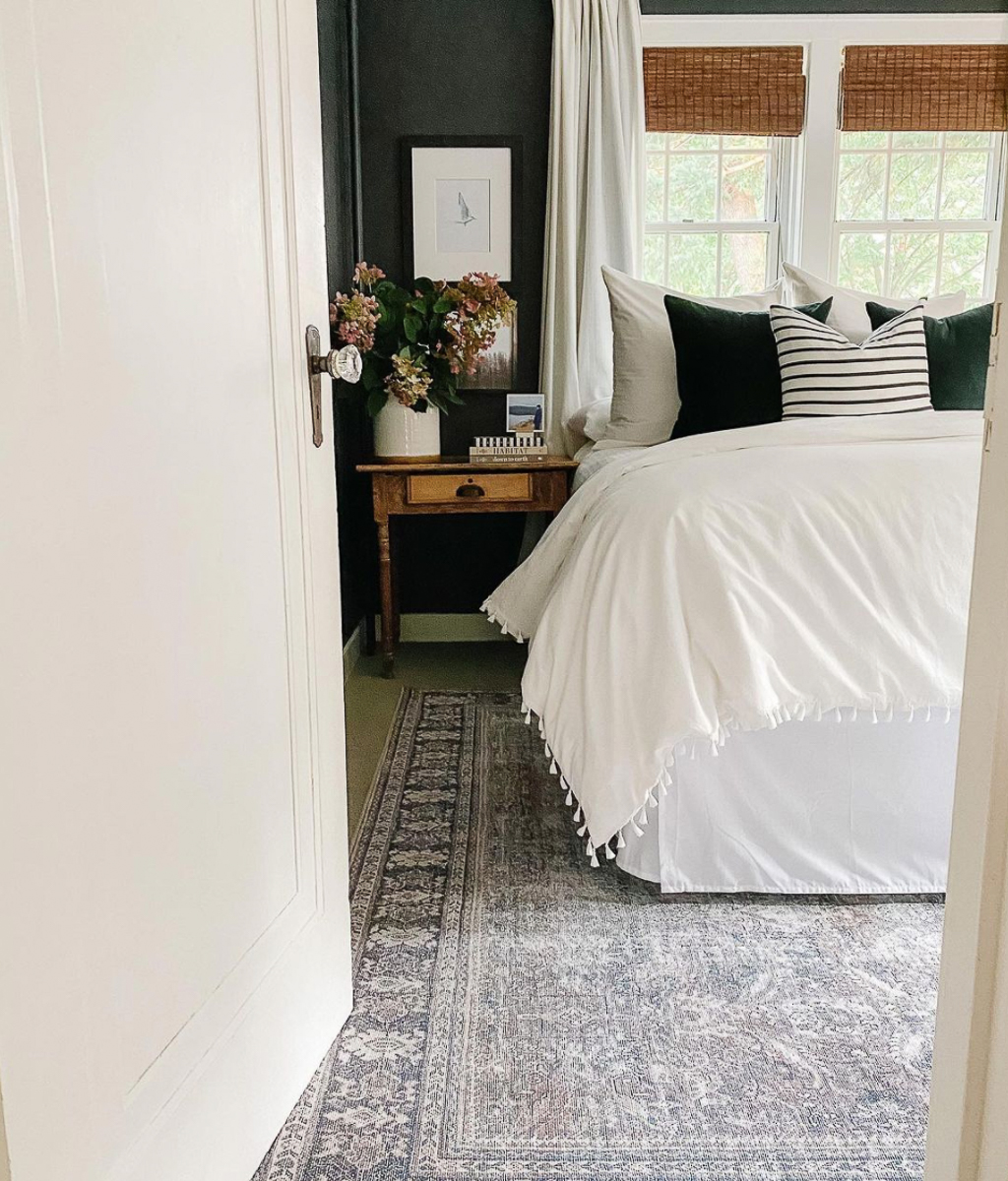 Because she isn't fond of the green wall-to-wall carpet, Angie layered an area rug on top.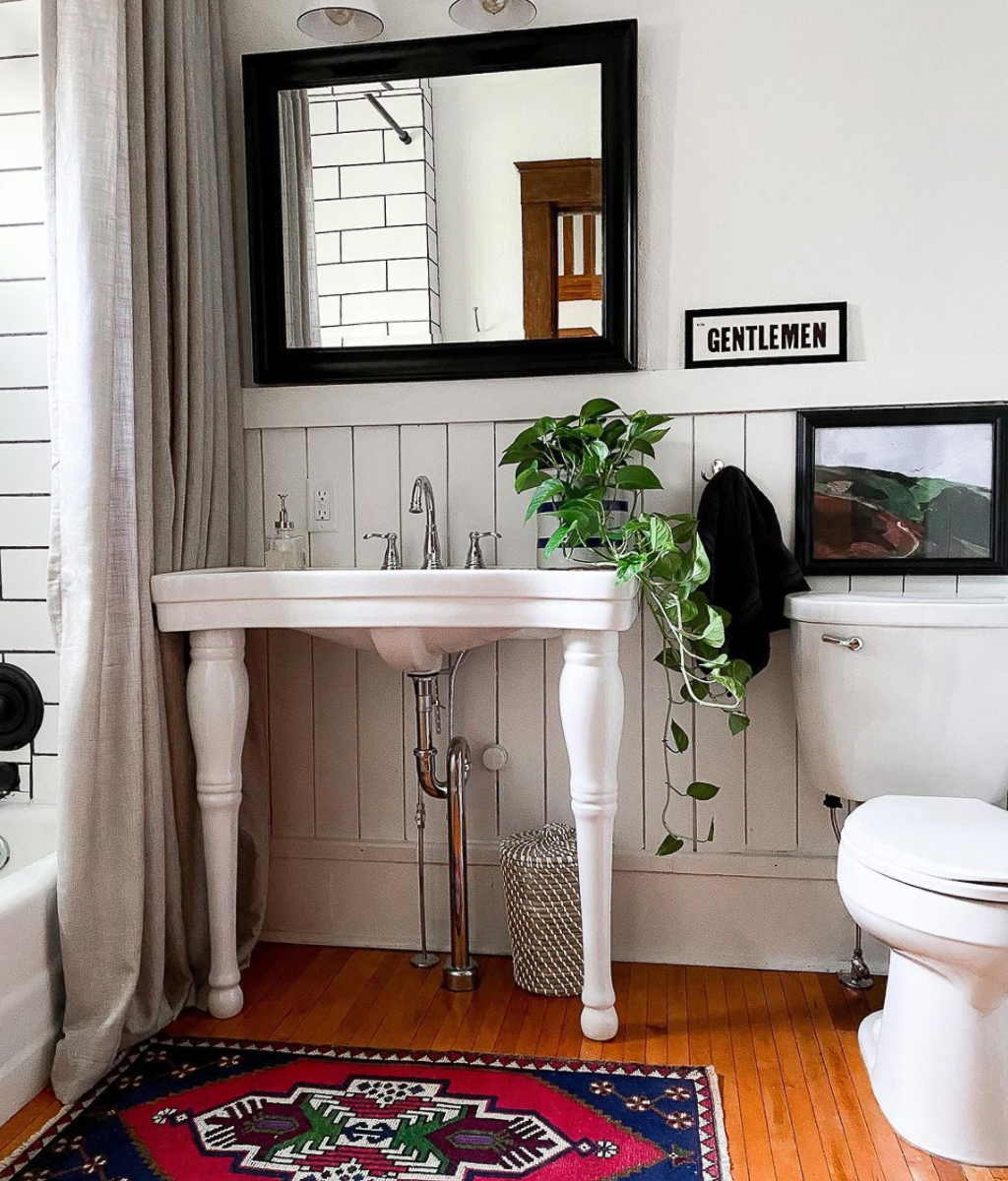 A great tip from Angie is to use drapes in place of a shower curtain.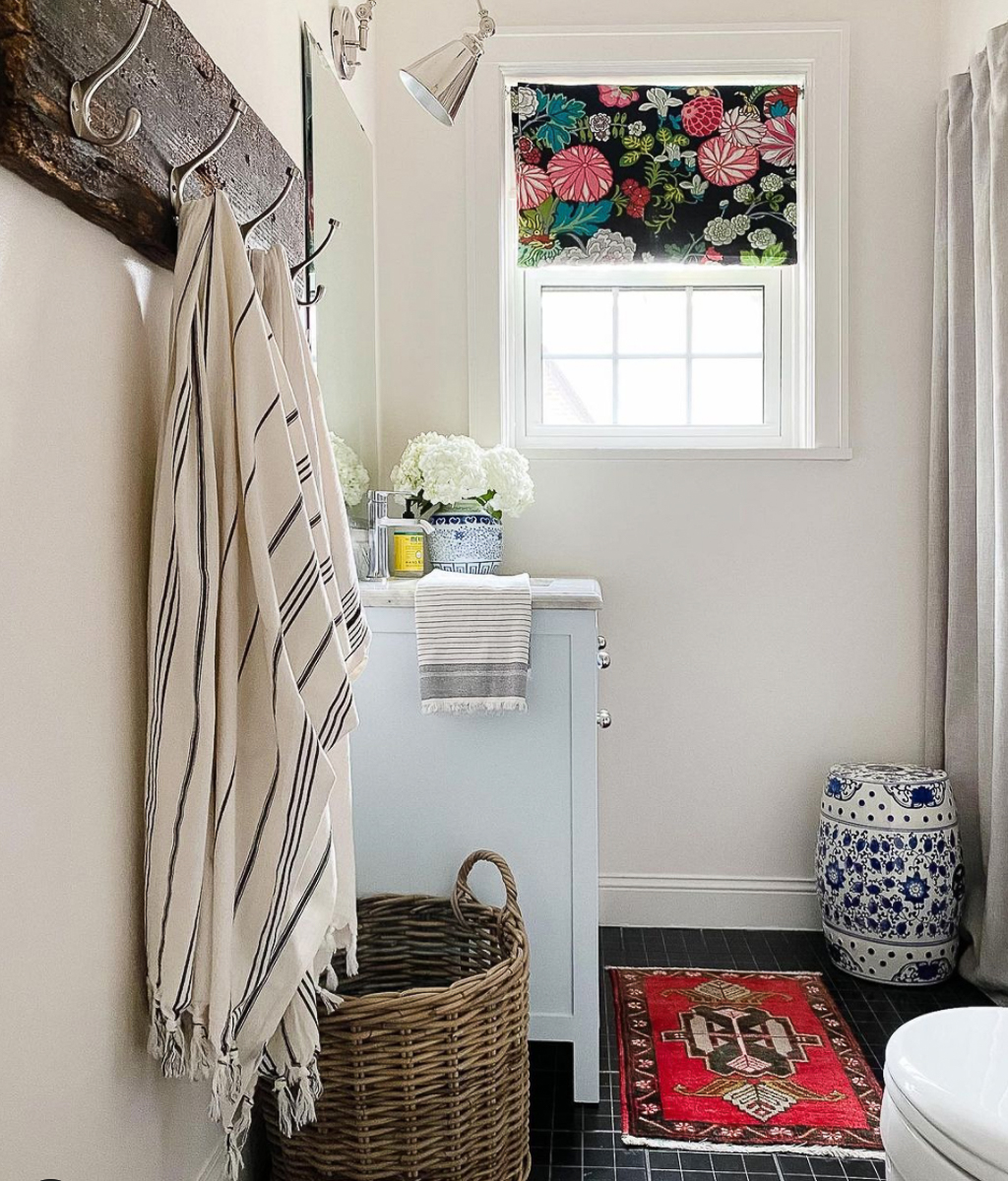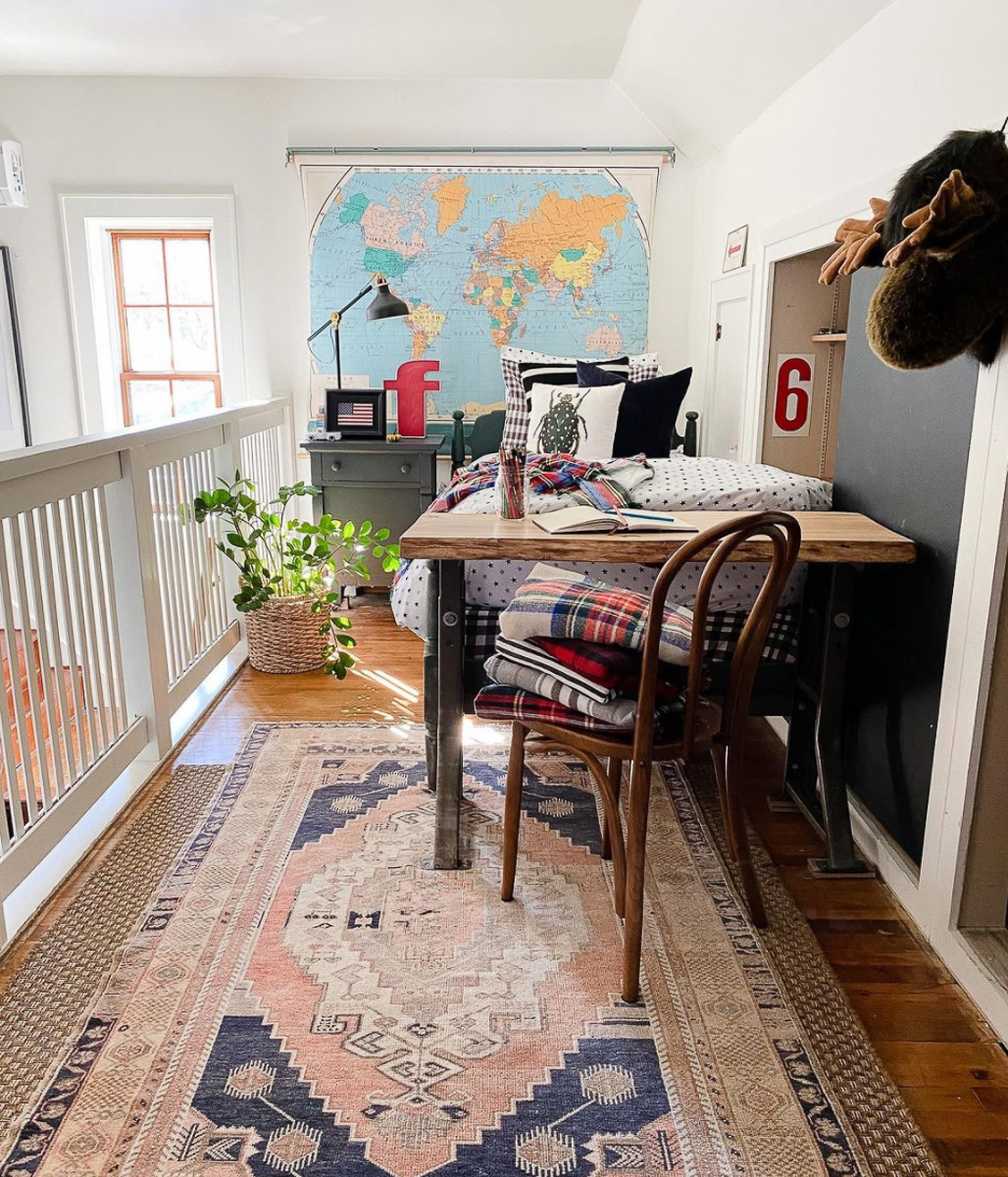 The upstairs landing does double duty as Angie's sons bedroom which she hopes to turn into a bathroom one day.
Even the unfinished basement/laundry room is charming complete with a huge antique sink and Smeg refrigerator that Angie found on Facebook Marketplace!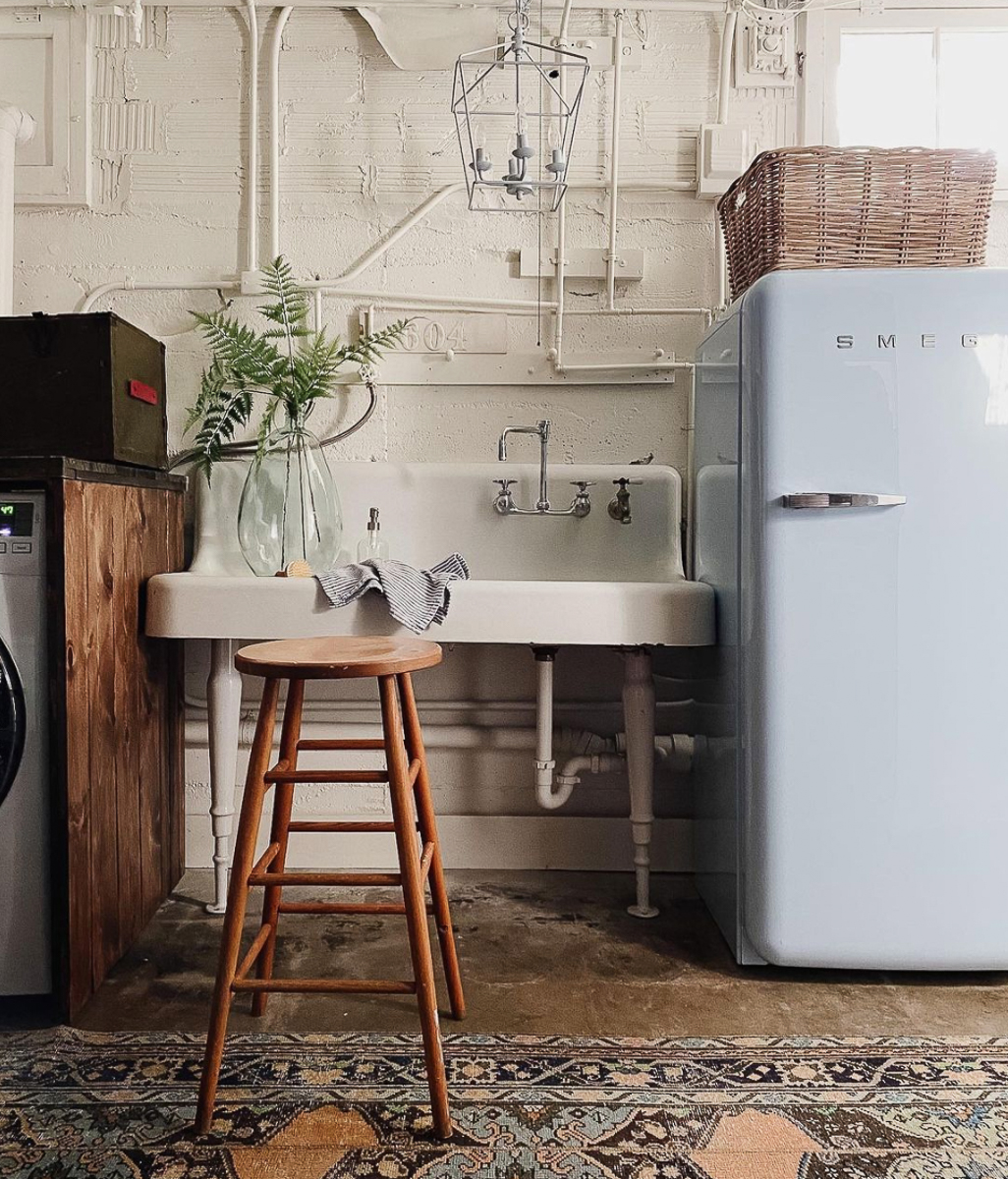 Angela turned her garage into a pool house by adding doors from Habitat for Humanity on the side. A vine covered pergola over the door adds cottage charm.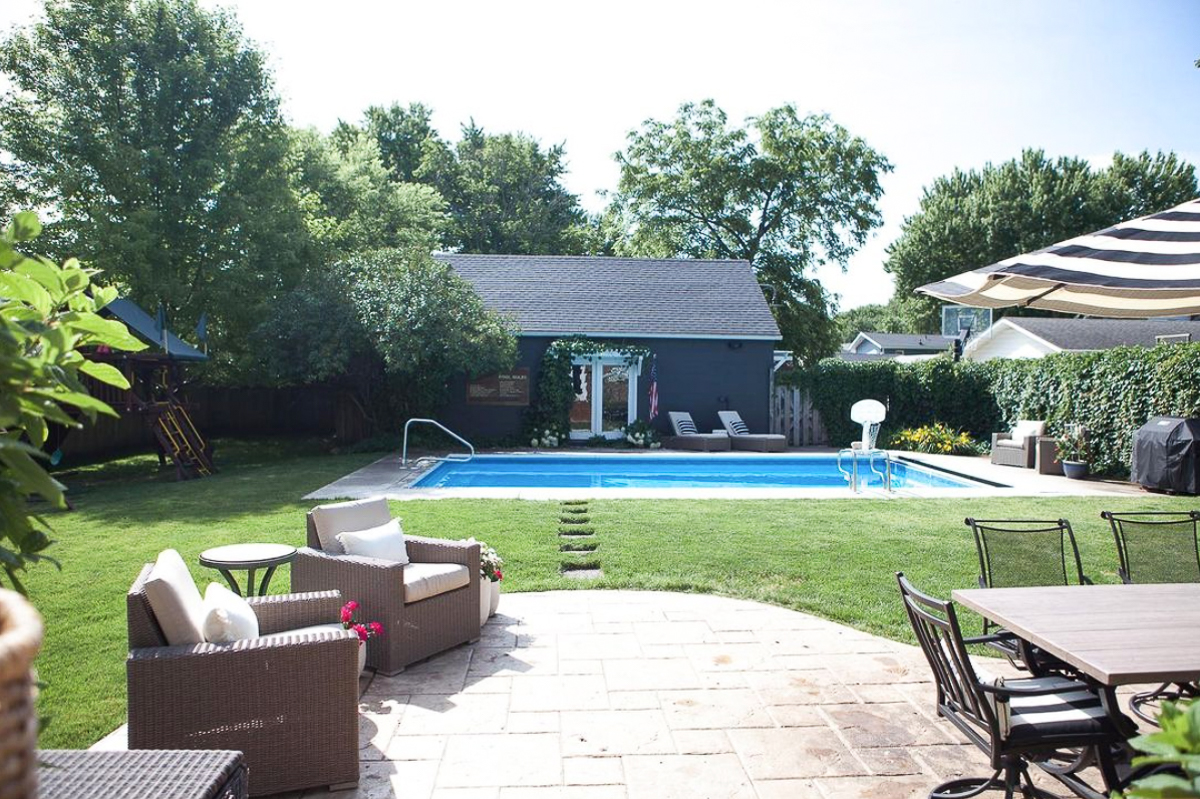 Visit Angie to see more of her charming Tudor and her dad's Craftsman which she is helping him renovate.