Please Come Home for Christmas Home Tour
Welcome to my Please Come Home for Christmas Home Tour. This is my favorite time of year and each year I strive to create a unique Christmas home filled with one of a kind decorating ideas (this is my ninth Christmas tour)! I've decked everything in my path, including my dog, and I'm excited to welcome you.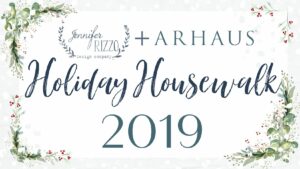 Once again I'm part of Jennifer Rizzo's Holiday Housewalk which means all week long, you can hop from blog to blog to see some amazing homes all decked out in their holiday finery. The tour begins with Jen's house so don't miss it.
If you're visiting from Bre at Rooms for Rent, welcome!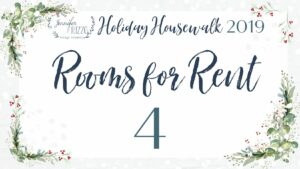 My house was built in 1903 and we did a complete gut renovation about 10 years ago (my hubby called it a crack house)! I am a big believer in using what you have in creative ways, mixing old and new, and putting a creative holiday twist on everyday objects.
Follow @kelly.elko on Instagram here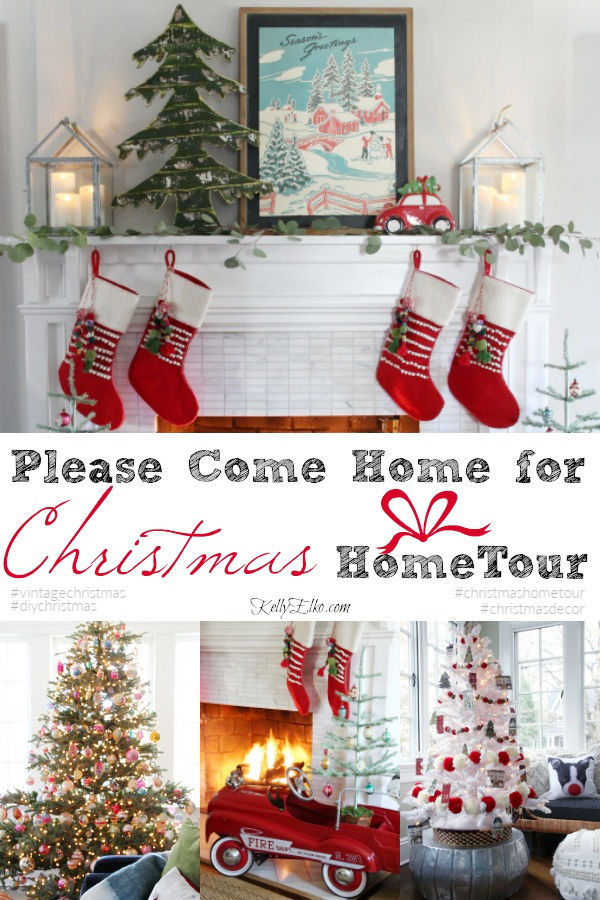 This post contains affiliate links which means if you purchase something, I will earn a small commission at no extra cost to you.
There are a couple of common themes running through my home this year.
Theme 1: Houses – you'll see little Christmas houses scattered throughout my house.
Theme 2 : Abundance – I created looks of excess around the house by using lots and lots of the same things grouped together (like this flock of cardinal ornaments on my bannister)!
My dog Sushi is clearly not impressed (or maybe it's the fact that I made her wear that giant pom pom sweater).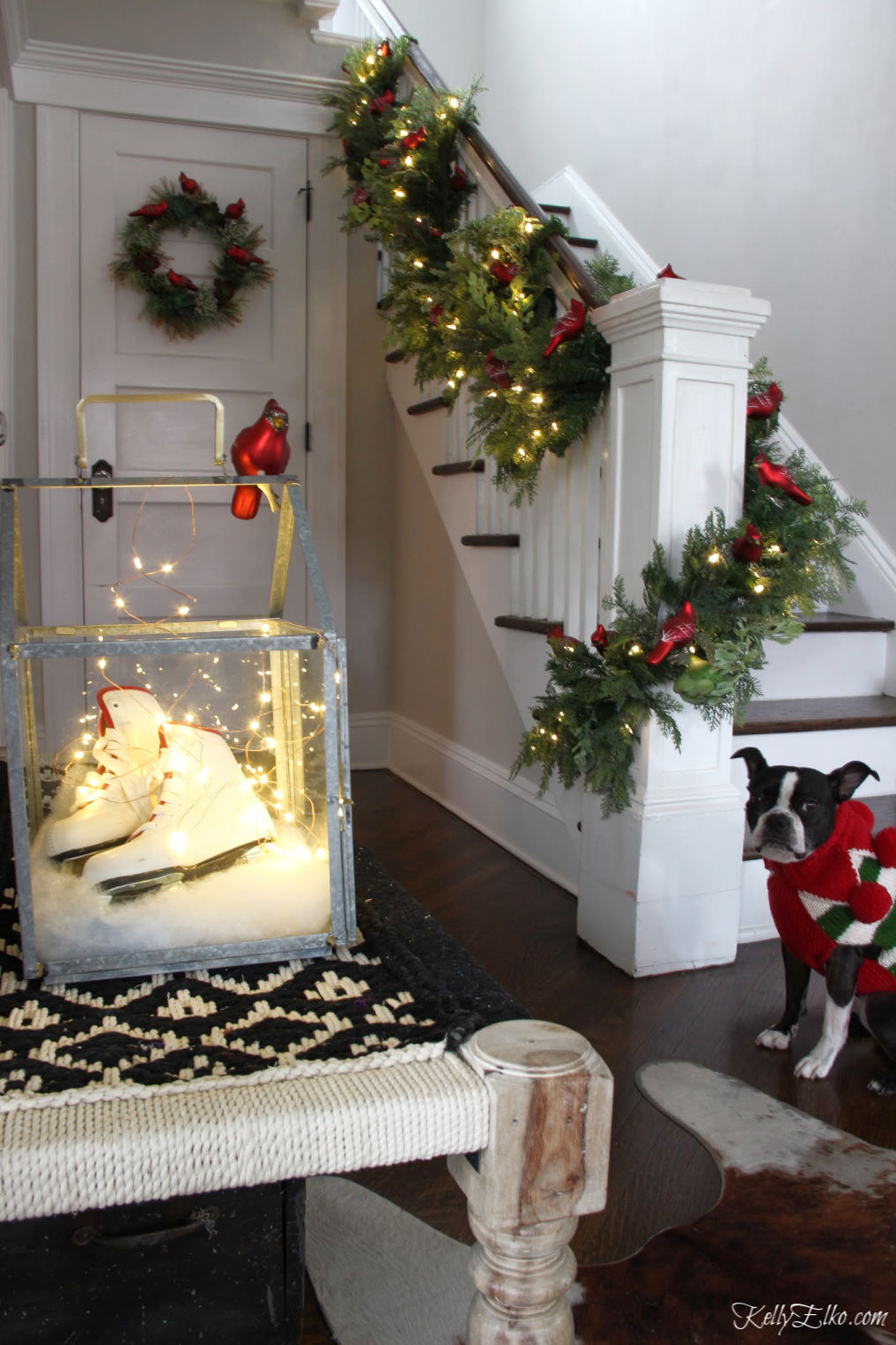 This little fairy light filled house lantern houses my daughters old ice skates.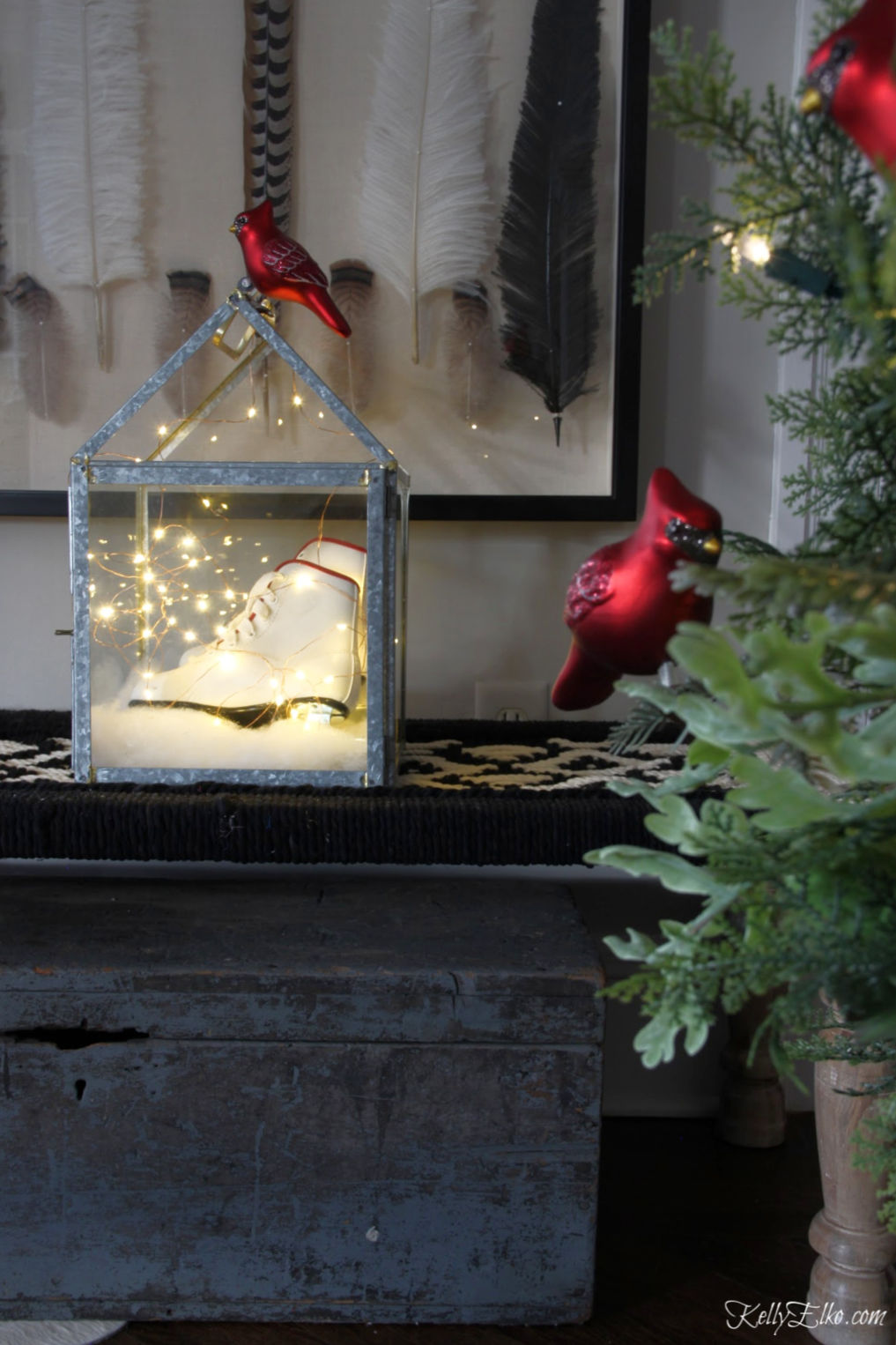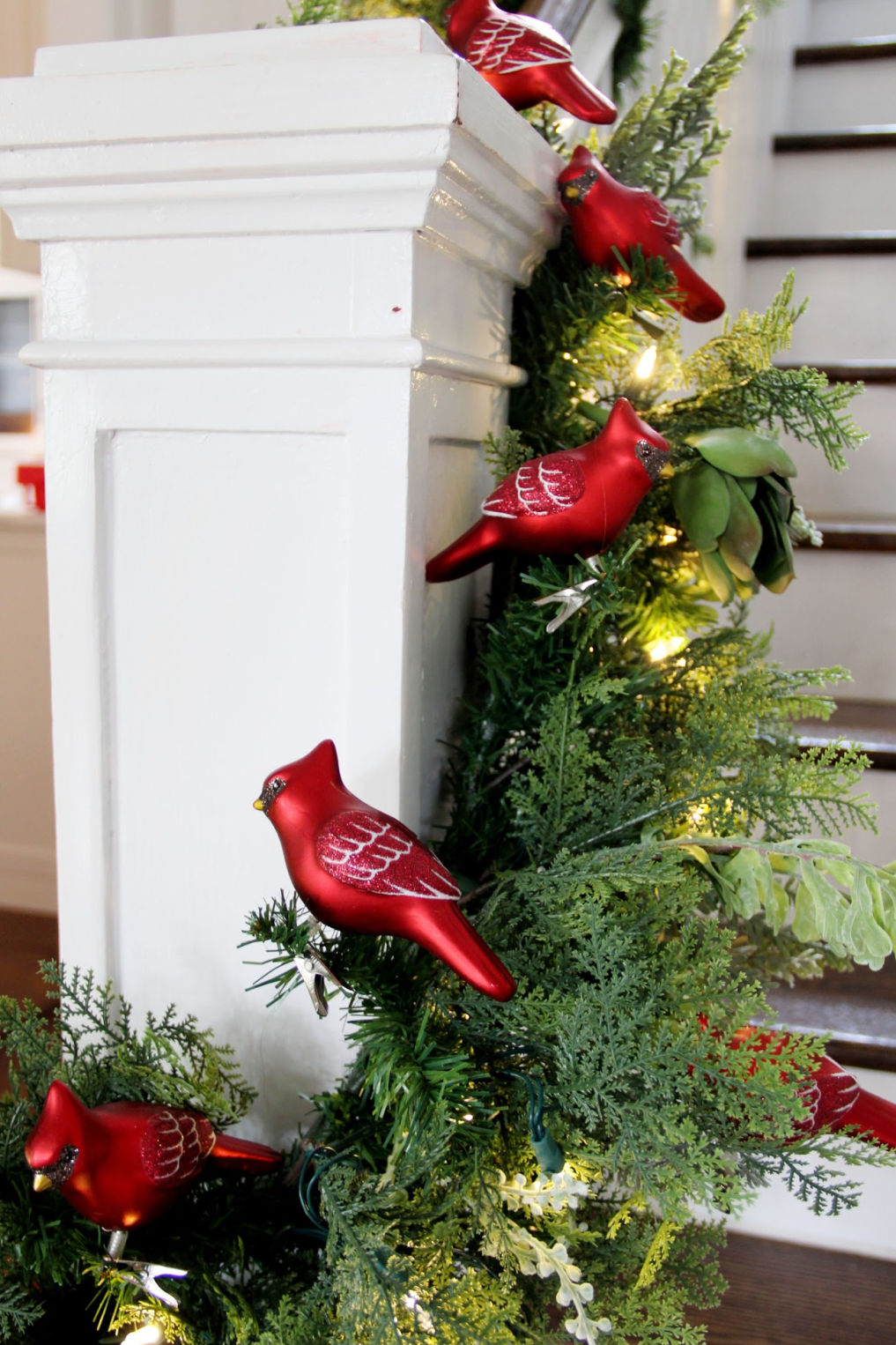 Shop the Look – Foyer


I didn't think I was going to be able to top last year's mantel but I think this is my favorite mantel of all time!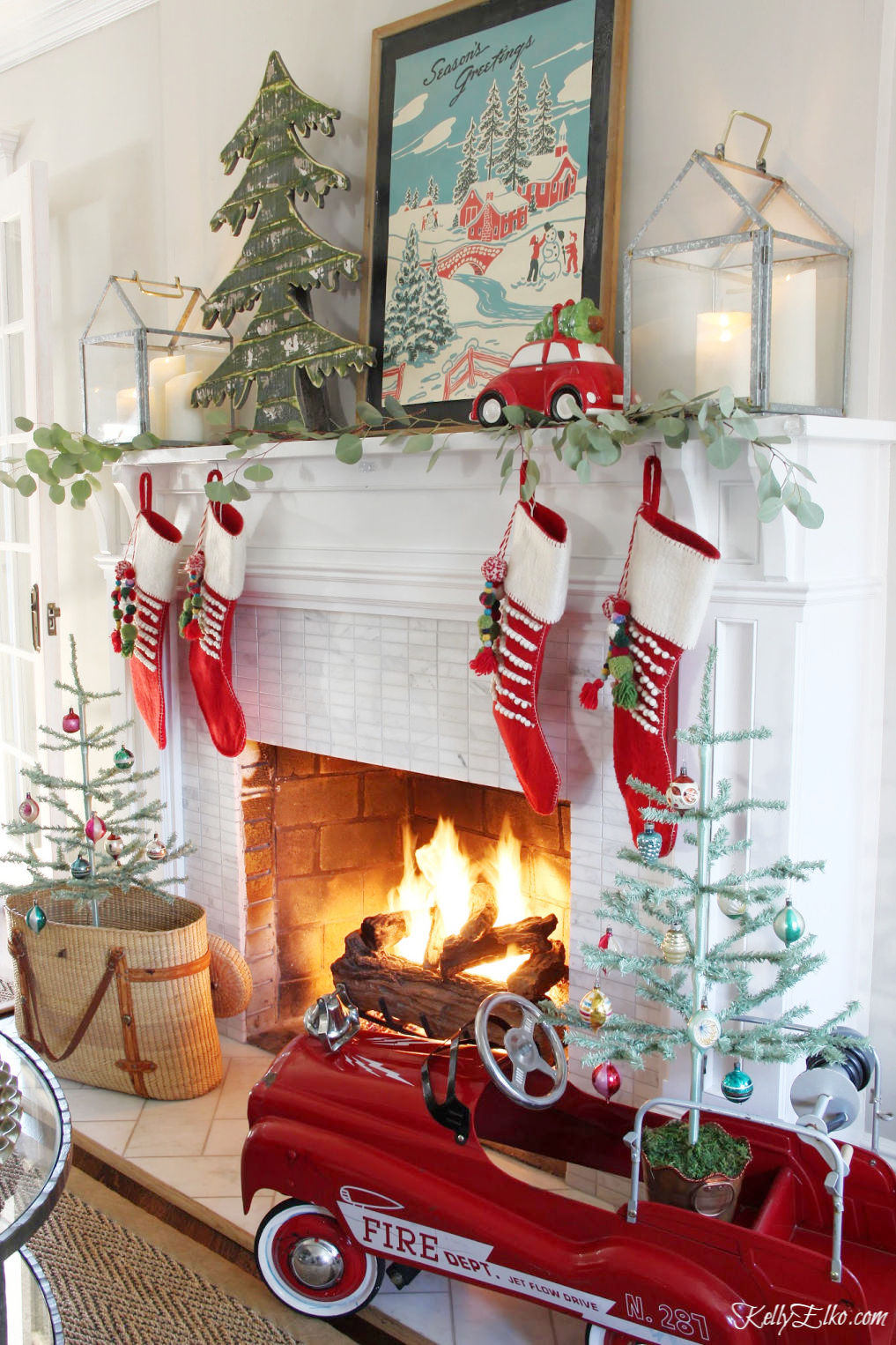 Every year, I like to use what I have in new ways. I've used most of these pieces throughout my home over the years, including these fun red pom pom stockings, but putting them together in a new way creates a fresh look.
This year, I added more little houses on the mantel including vintage inspired art with a little snow village and lanterns with flickering candles.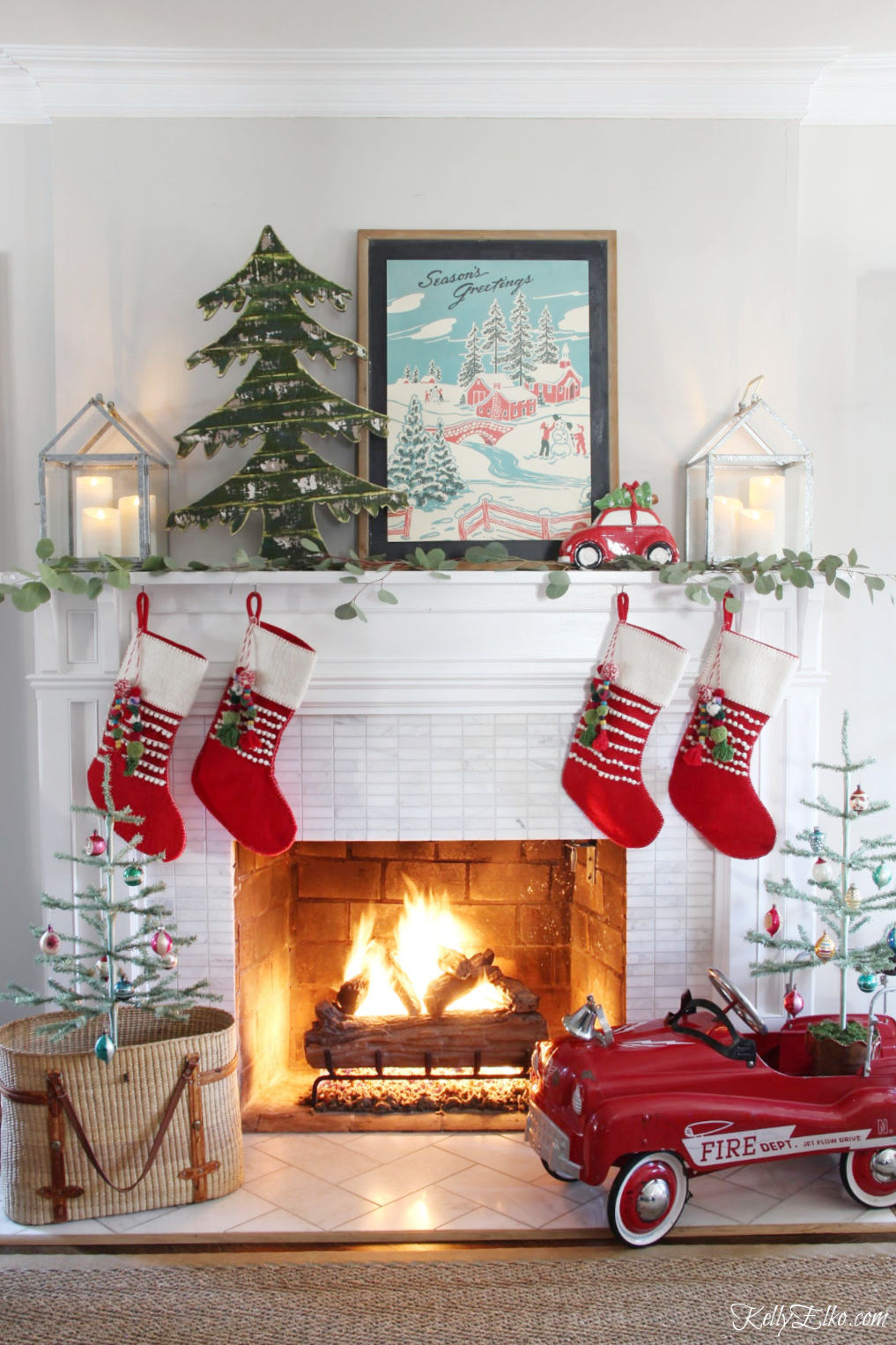 The art is a piece of flat wrapping paper taped to an old chalkboard.
Kelly Tip: Tuck sprigs of fresh berries or eucalyptus on the mantel. They are easier to arrange than a bulky garland.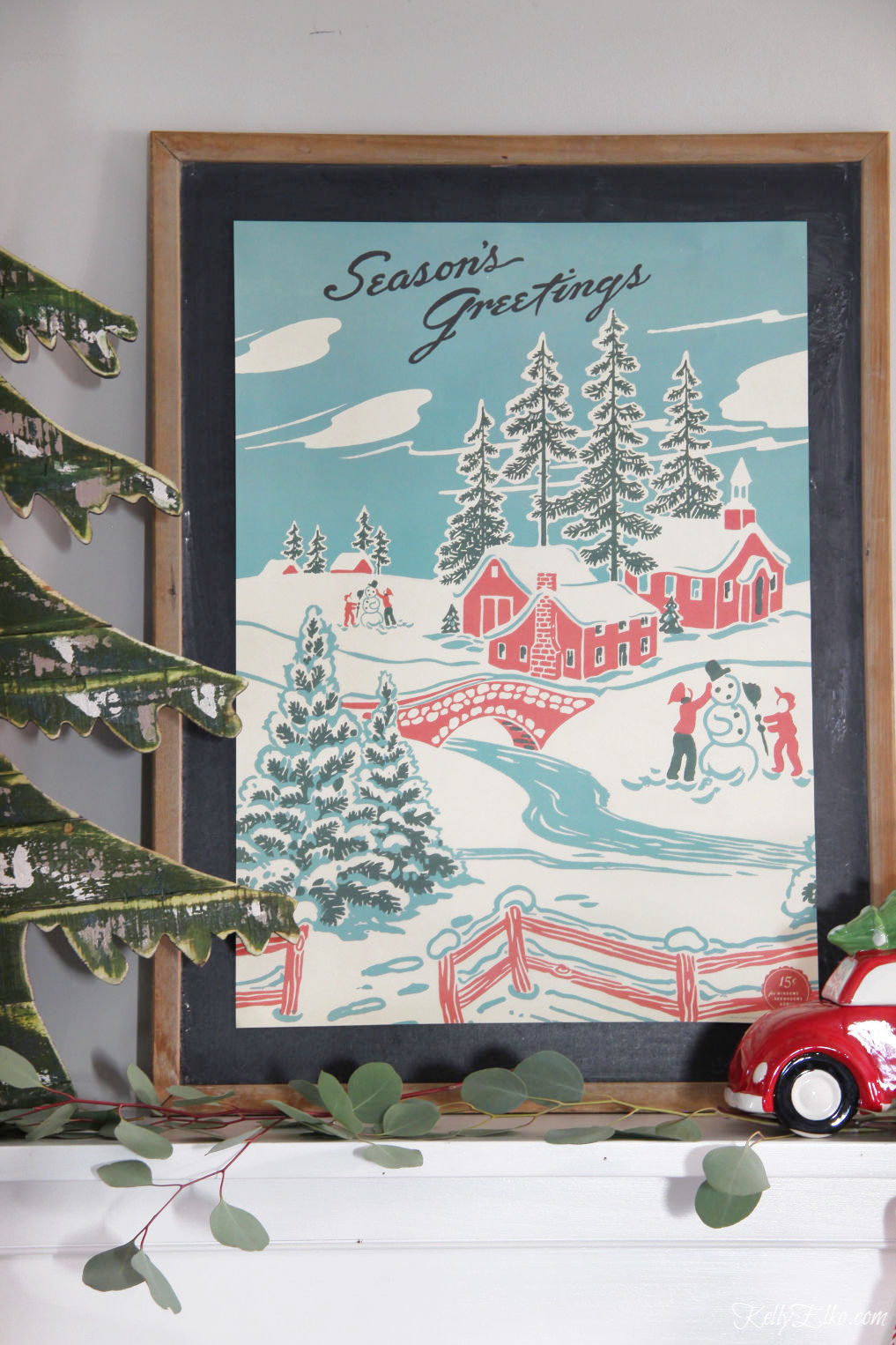 A pair of feather trees each get their own unique "tree skirt" including this vintage pedal car fire truck …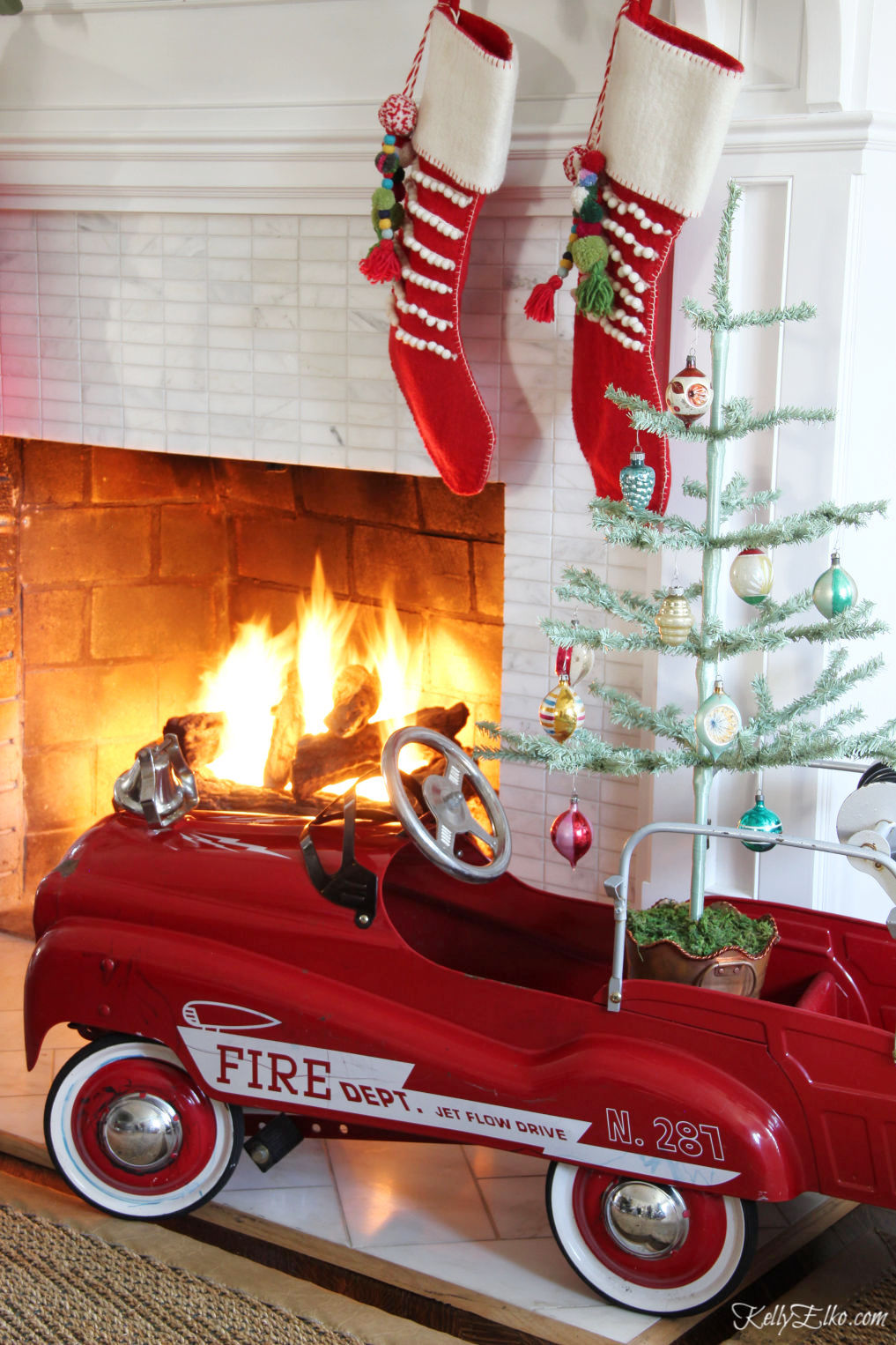 and this old basket. I am usually a symmetry kind of girl but love the whimsy this mismatched look creates.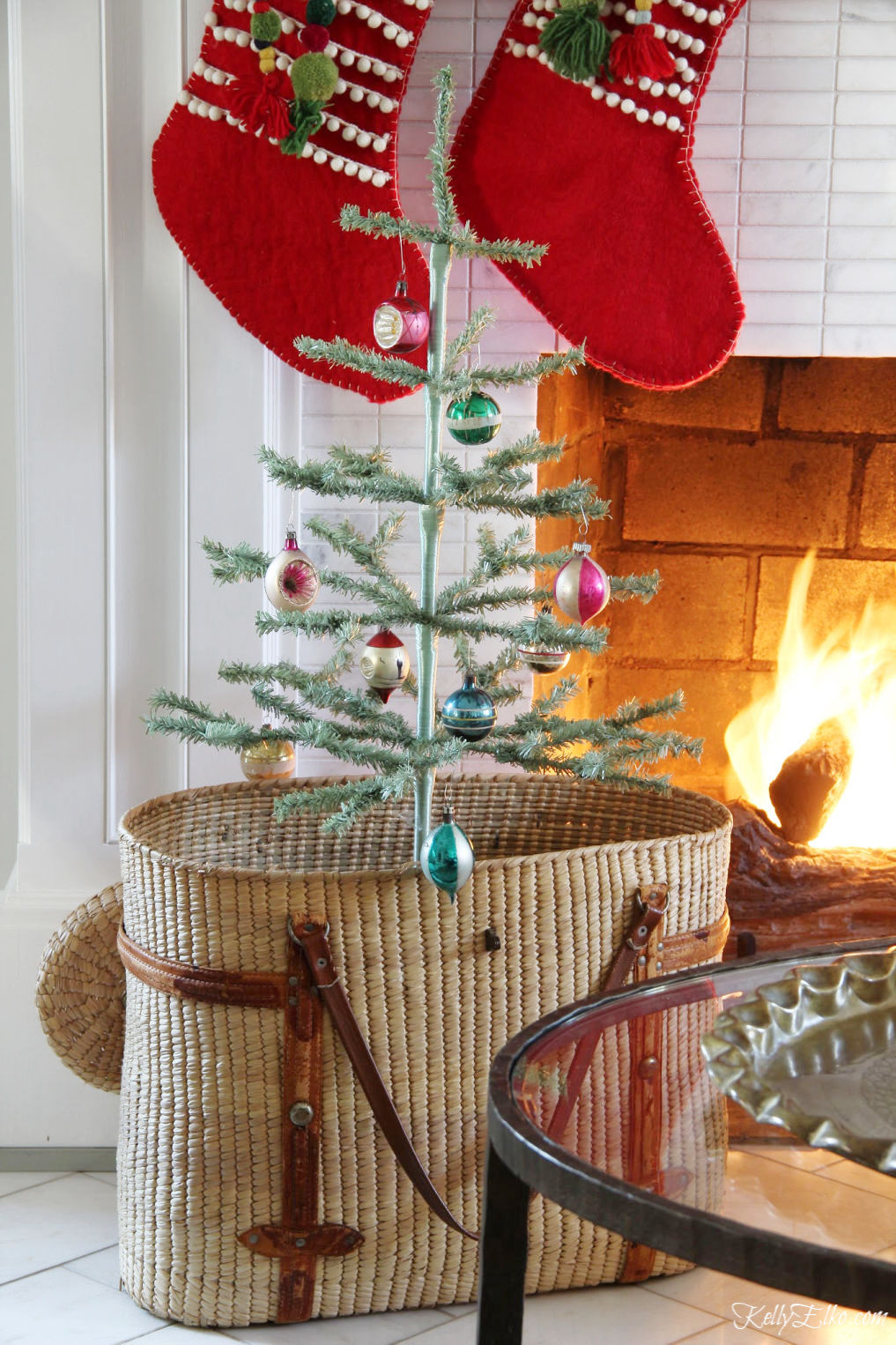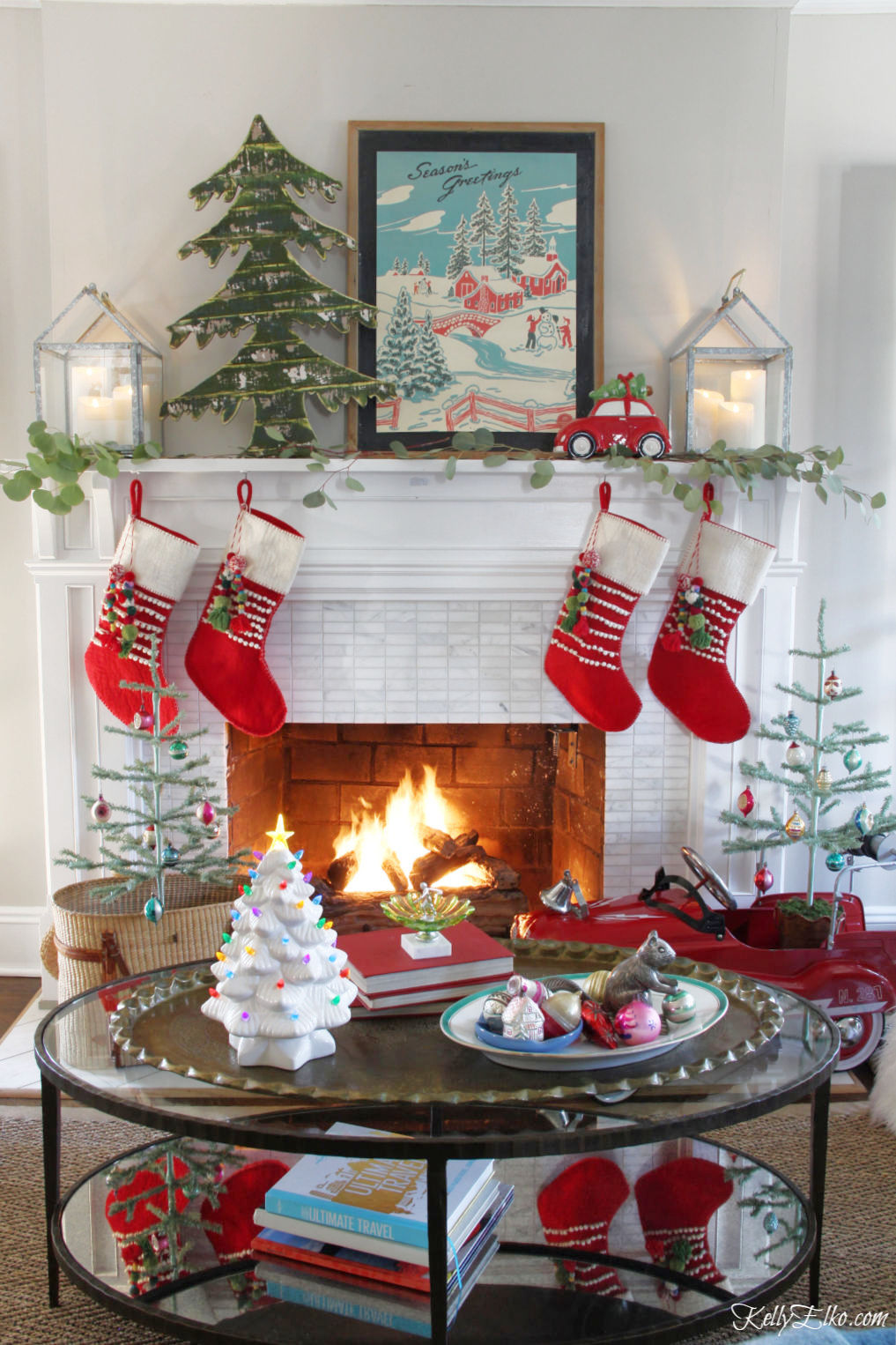 I never met a thrift store I didn't screech to a halt for and everything on my coffee table (except the white light up Christmas tree) is a vintage, thrifted find. The green rimmed hotel china platter works as a tray within a tray to hold my squirrel nutcracker and an assortment of old ornaments missing their caps.
Kelly Tip: Create a focal point for a collection of smaller things by displaying them on a tray or platter.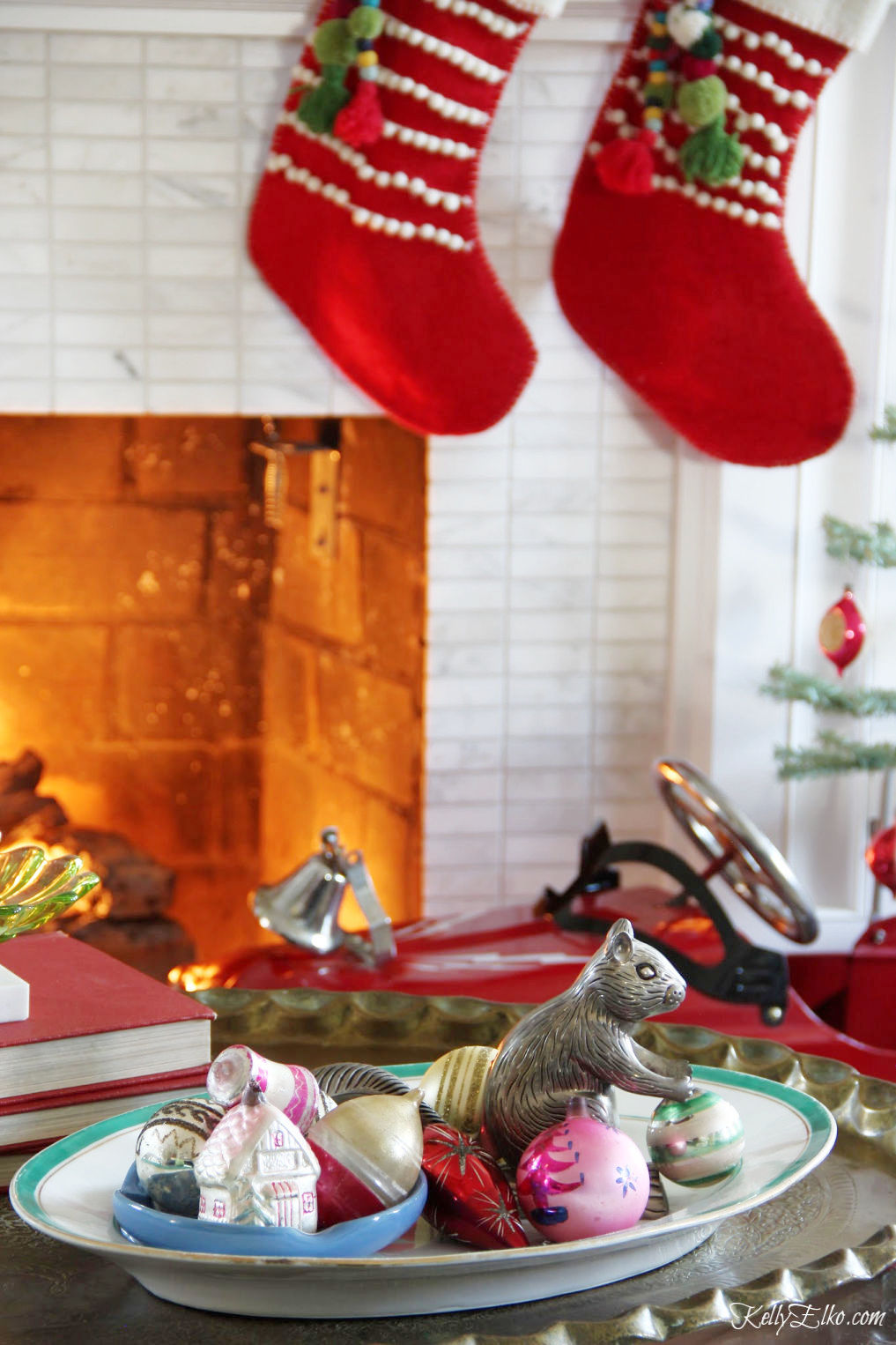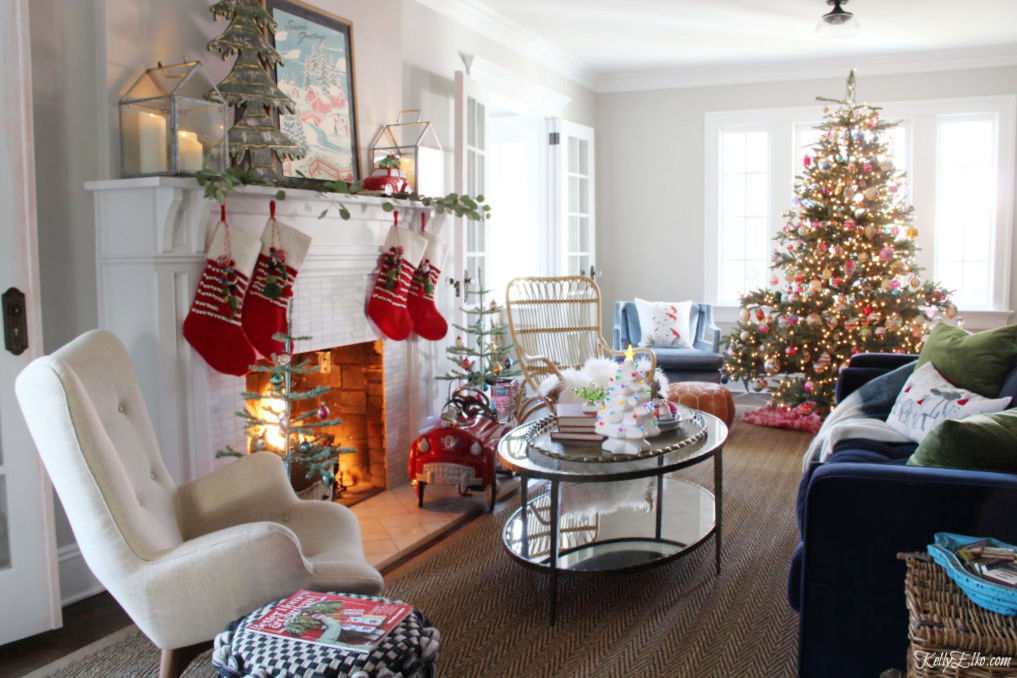 My Christmas home is featured in this month's issue of Better Homes & Gardens! It's fun to see the differences in the way my house was decorated from last year to this.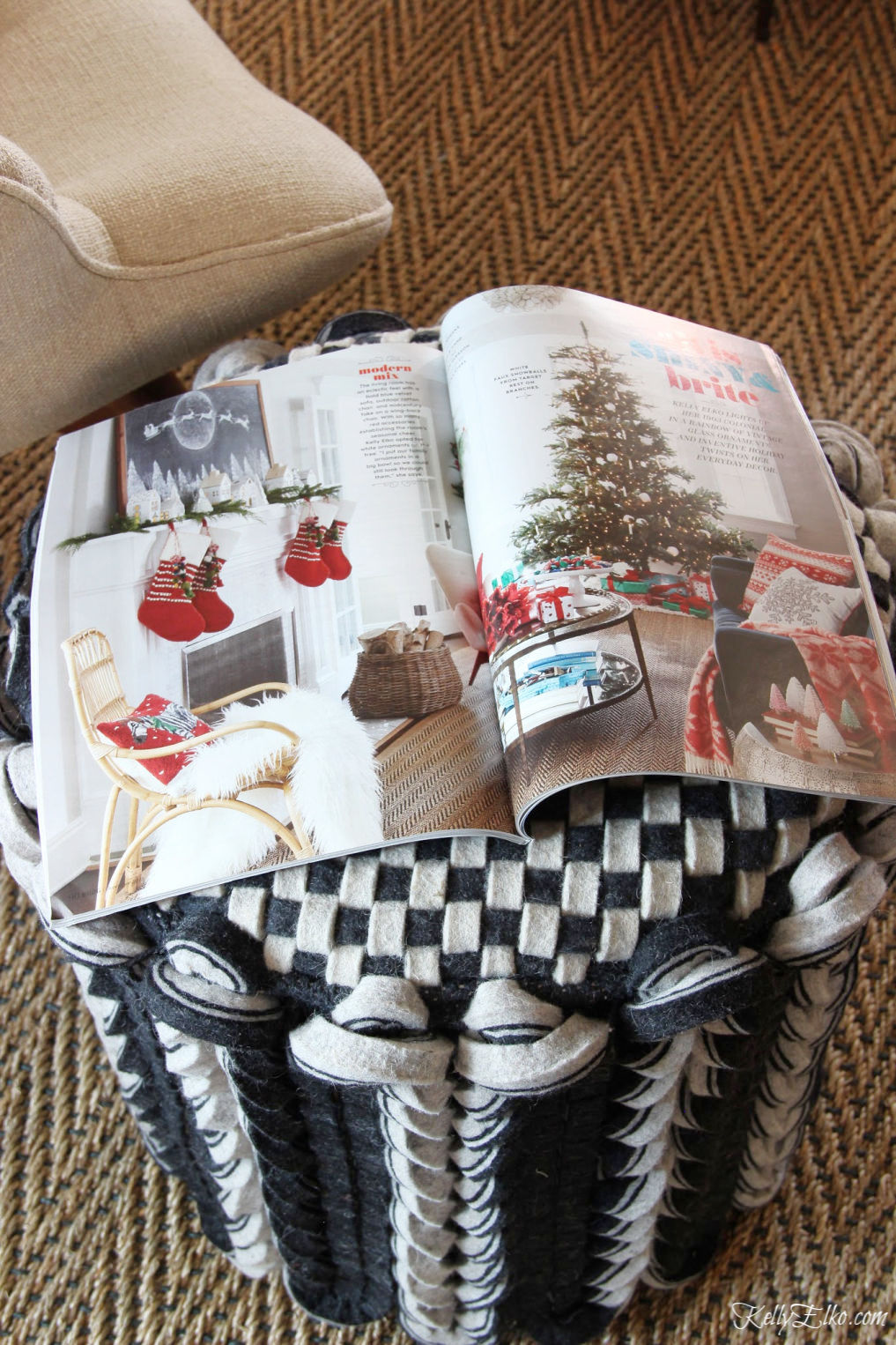 Shop the Look – Living Room & Mantel


Talk about abundant! In my Thrifting Diaries, I shared how I scored over 100 vintage ornaments on Facebook Marketplace and while I lost count of how many I now own, there are well over 300 vintage Shiny Brites crammed onto my colorful Christmas tree!
Kelly Tip: The secret to this lush look is to hang more than one ornament on each branch and tuck them into the deeper parts of the tree. I also rested ornaments on open branches making sure to secure them with ornament hooks.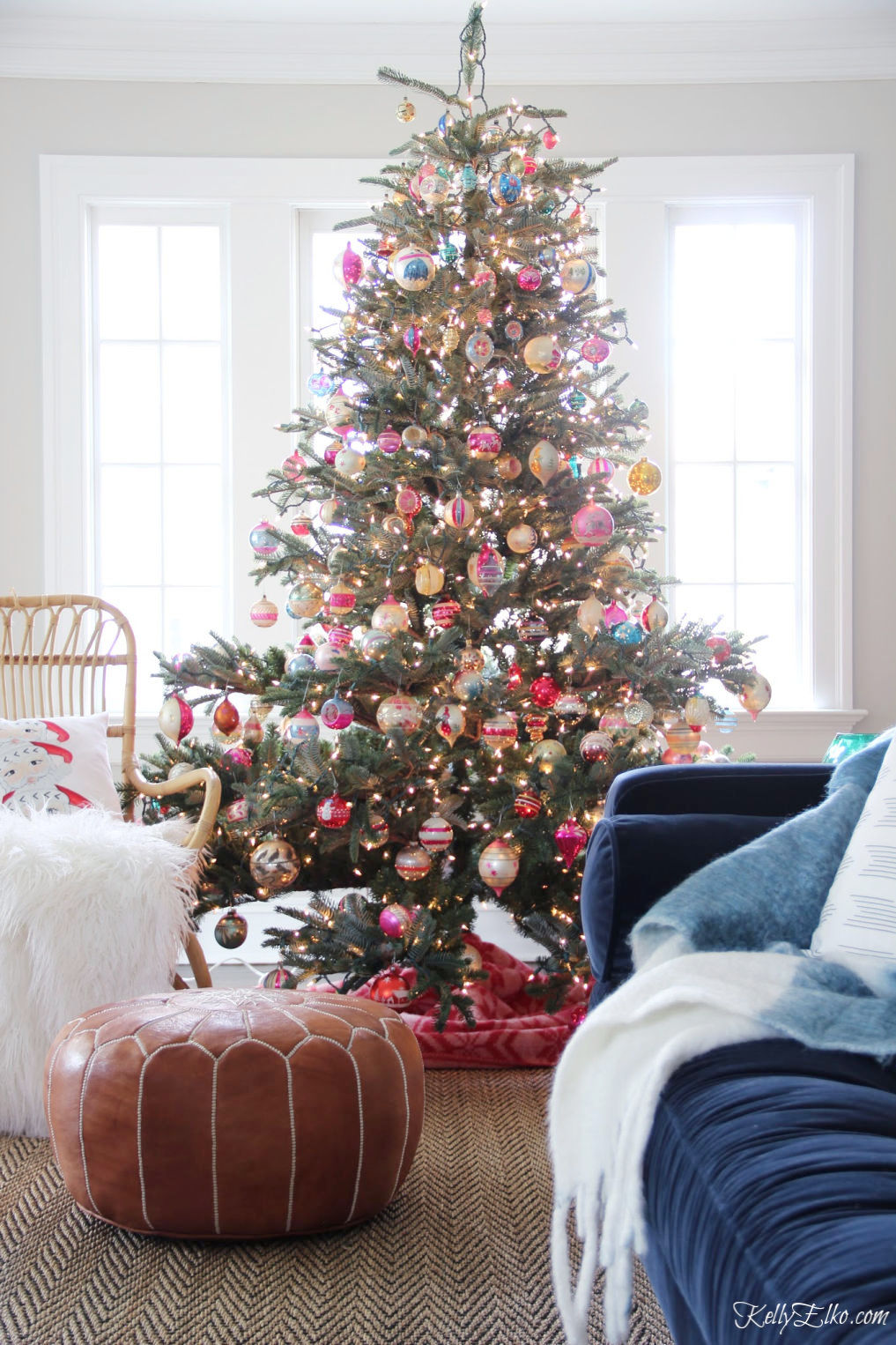 One really great thing I bought this year is a pack of wireless remote control outlet switches so I can turn my Christmas tree lights on with the click of a button. Now I don't have to contort myself into advanced yoga poses between the tree and the wall every time I want to turn them on or off.
Shop the Look

My living room and dining room are polar opposites with one being a riot of color and the other all calm and bright.
A pair of sparse Christmas trees create a magical glow in my dining room and make me look 10 years younger at dinner parties! Everyone thinks this is wallpaper but the walls are actually hand painted.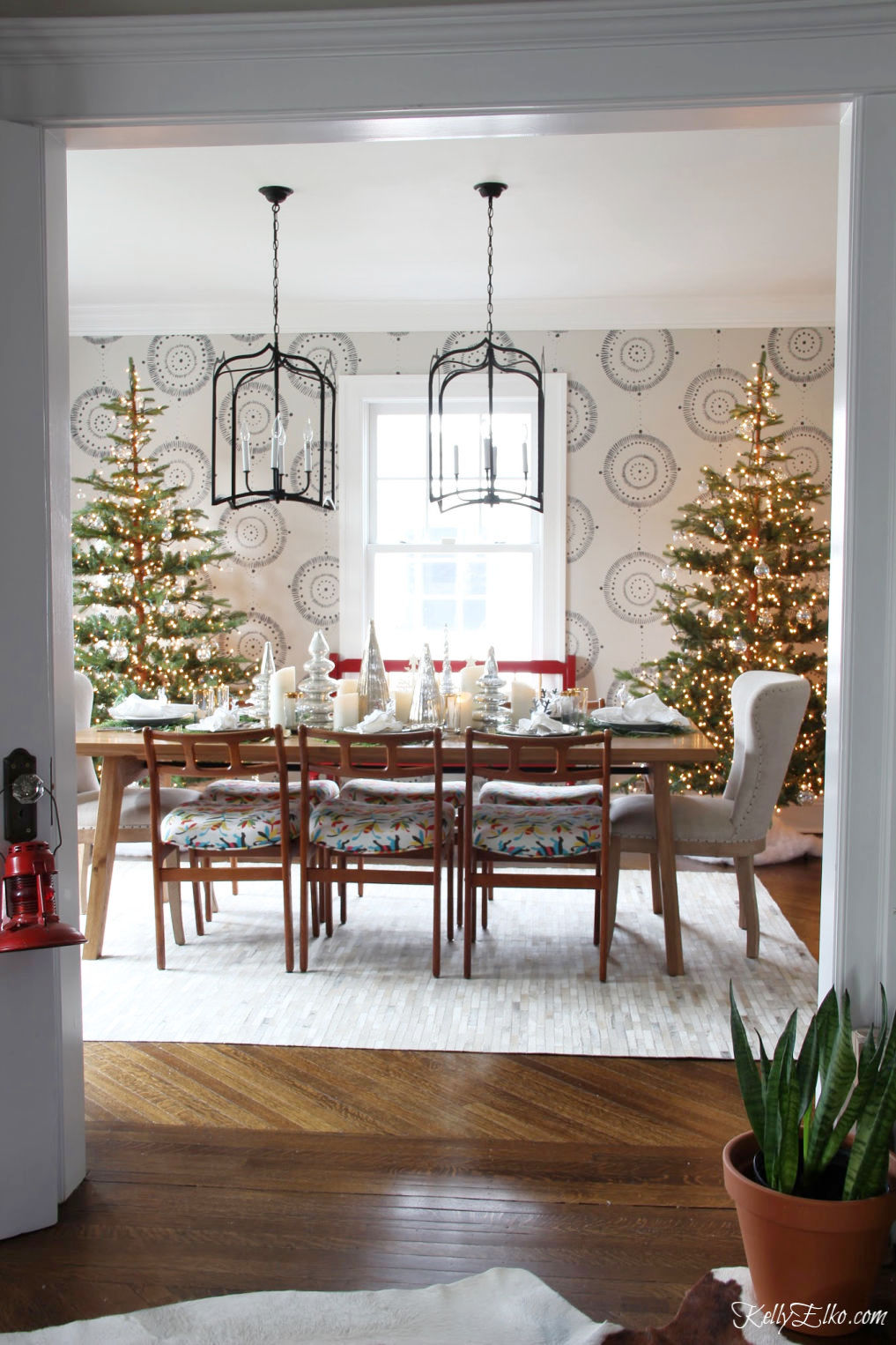 The abundance of clear glass ornaments is not only gorgeous in its simplicity but it's a cheap way to deck out a tree. I paid only $20 (I waited for a sale) per tree to bling them out in three different sizes of clear ornaments that remind me of champagne bubbles. They will be perfect for ringing in the new year.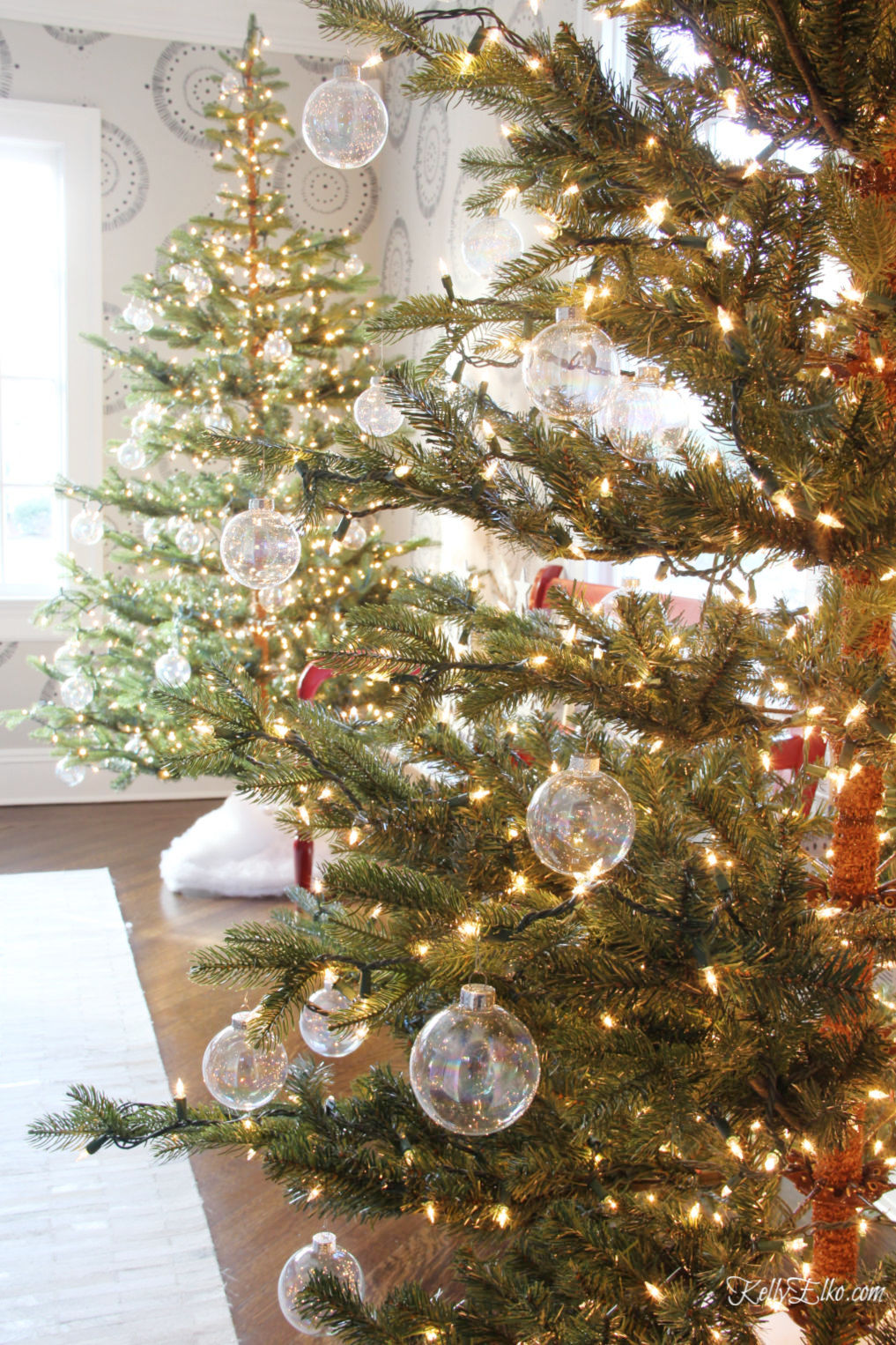 The tree looks so pretty on a bed of freshly fallen snow … I mean that faux snow that comes in a roll!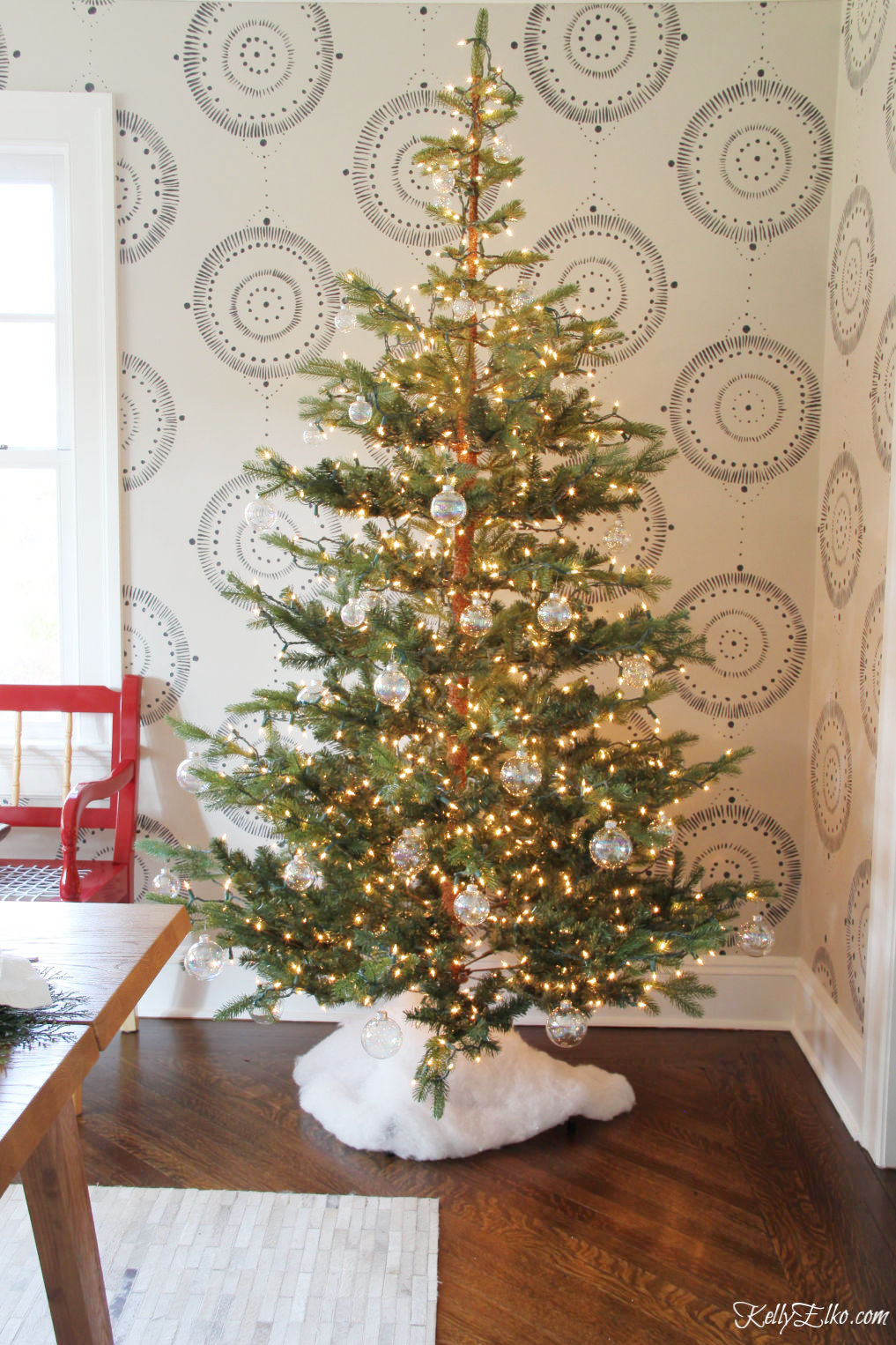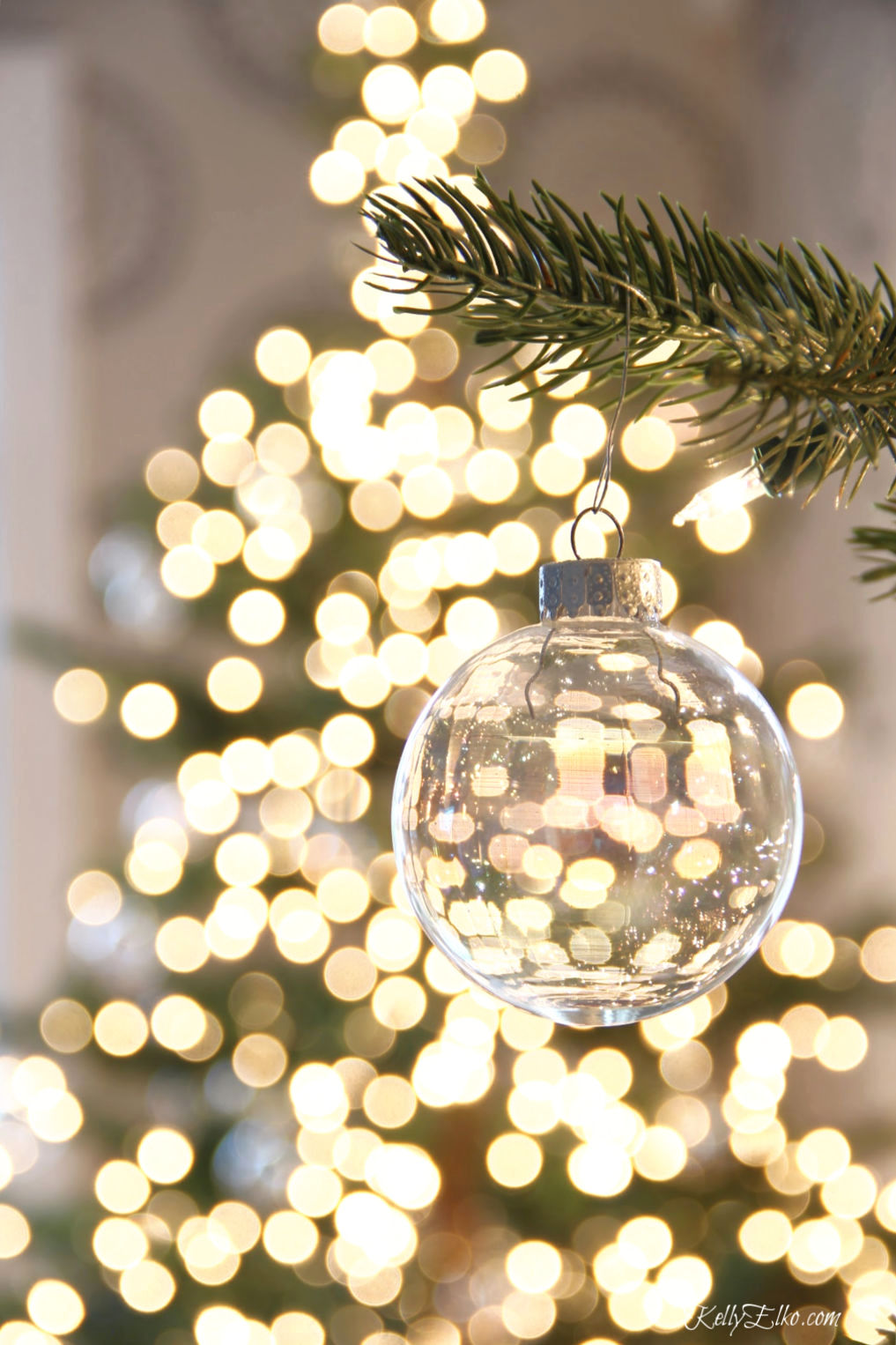 I scattered more clear glass ornaments around the room and love that they resemble ice around the base of these wood trees in a dough bowl.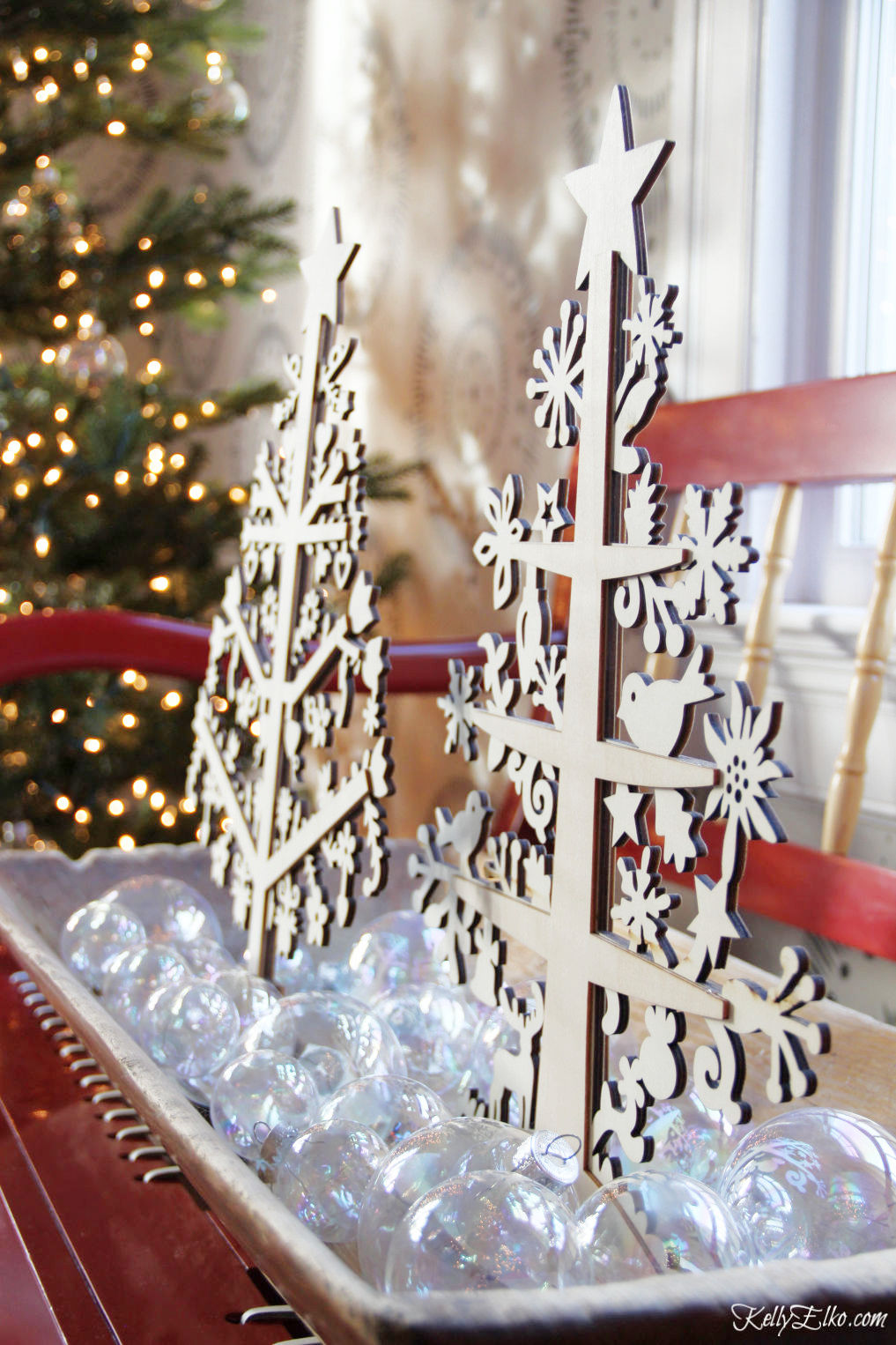 I'm usually a white dinner plate devotee but I could not resist these black and white plaid plates and think they look especially festive on my favorite cedar placemats that add a pop of color to the table.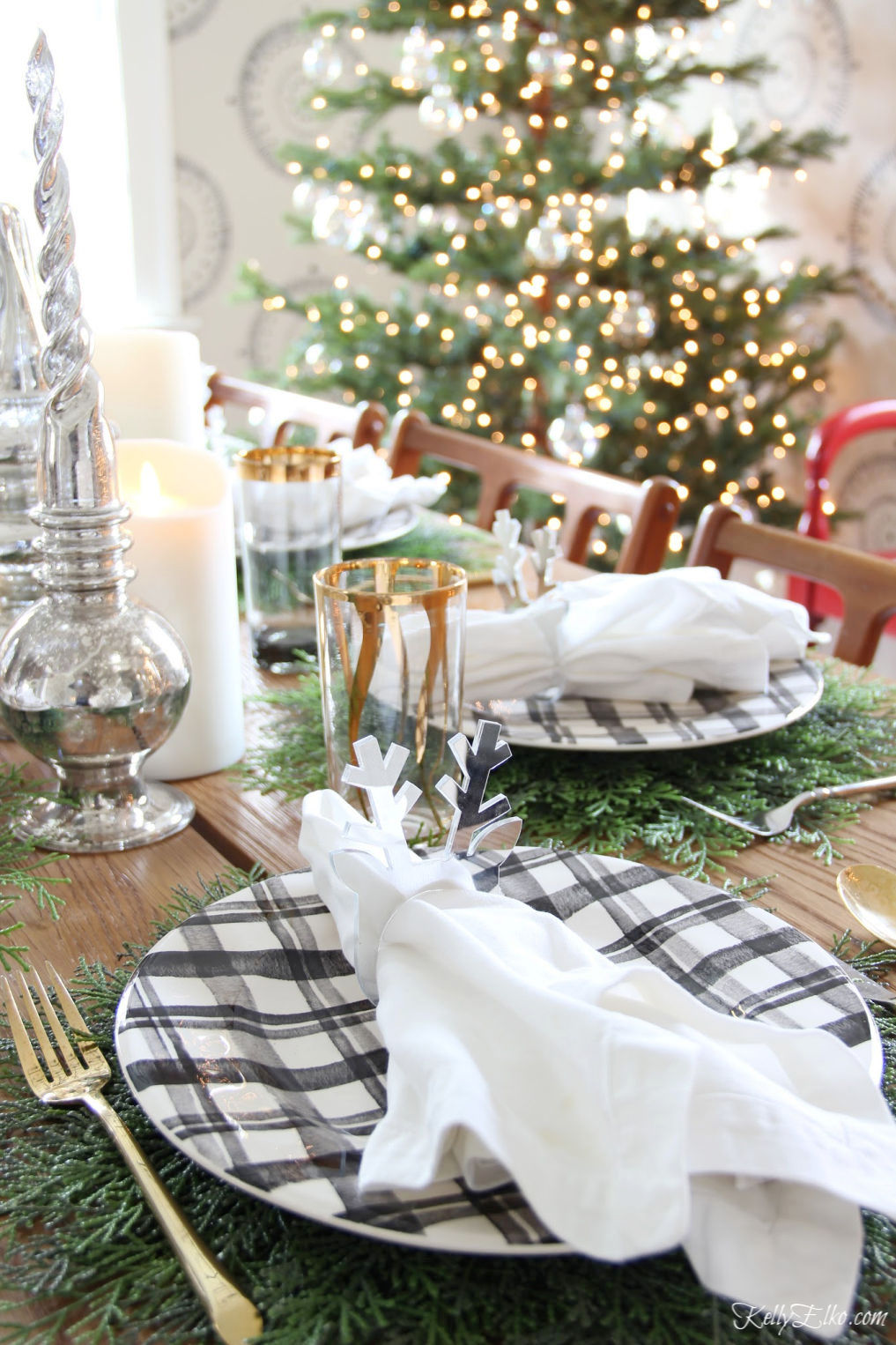 My collection of mercury glass trees sparkles in the candlelight.
Kelly Tip: Mix silver and gold flatware and different drinking glasses for a one of a kind look.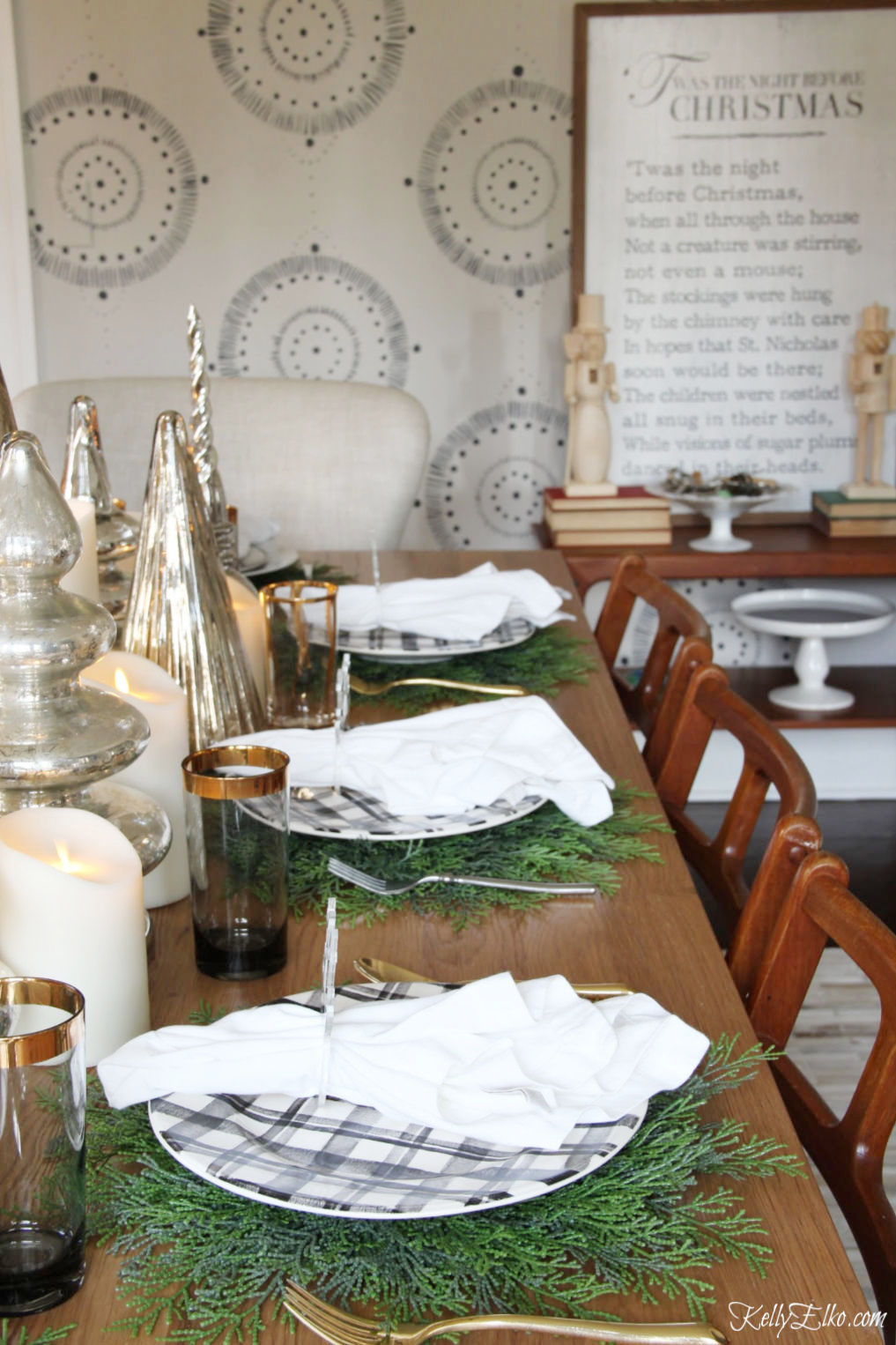 Since the pair of Christmas trees is the focal point, I didn't want anything else in the room to compete so I stuck with a neutral color palette so when I found this Twas the Night Before Christmas sign, I knew it belonged here. The Danish modern bar cart was a $5 thrift store find.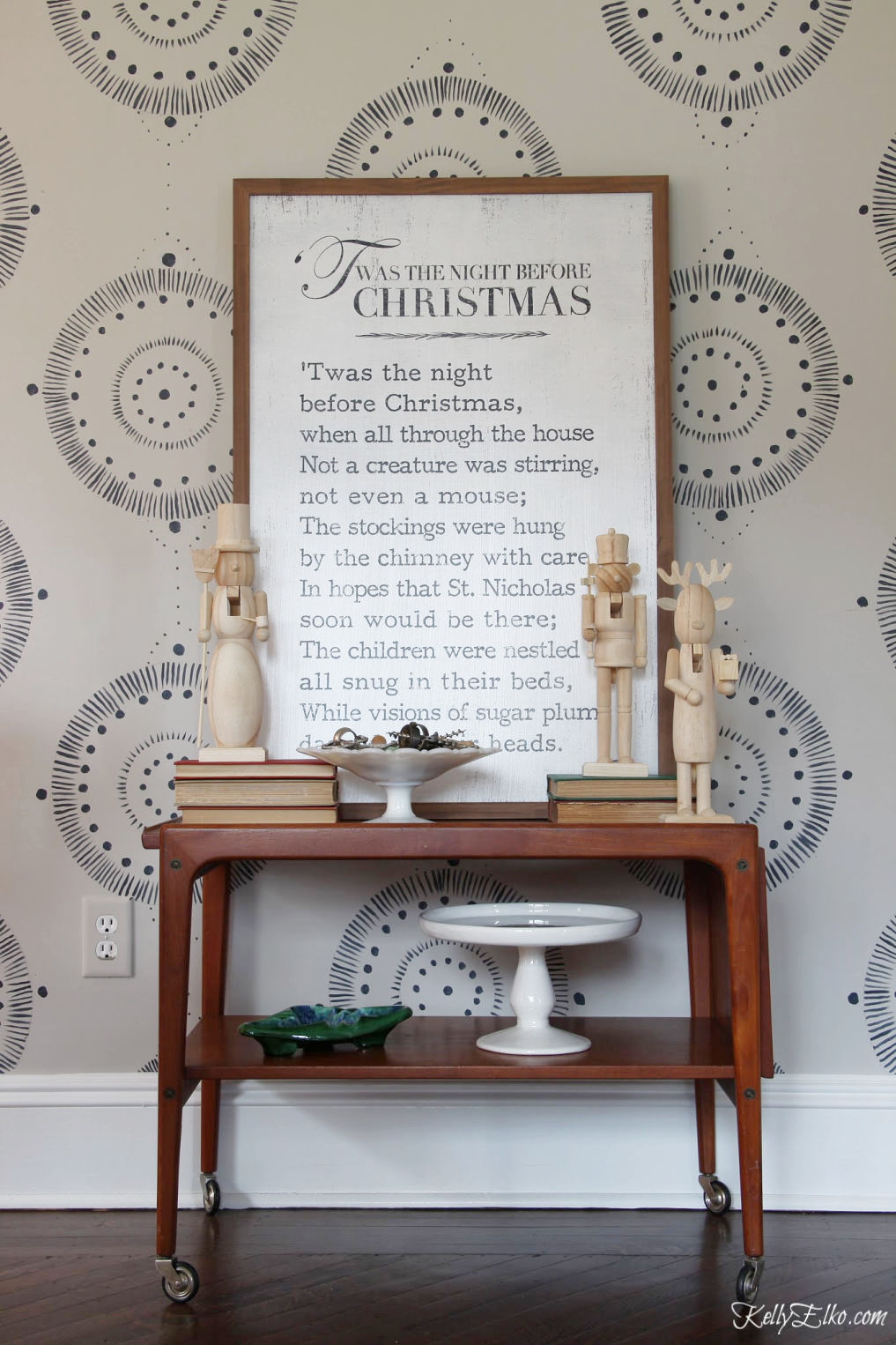 Not a creature was stirring, not even a mouse. My original plan for these raw wood nutcrackers was to paint them but I love the way they look in their natural state.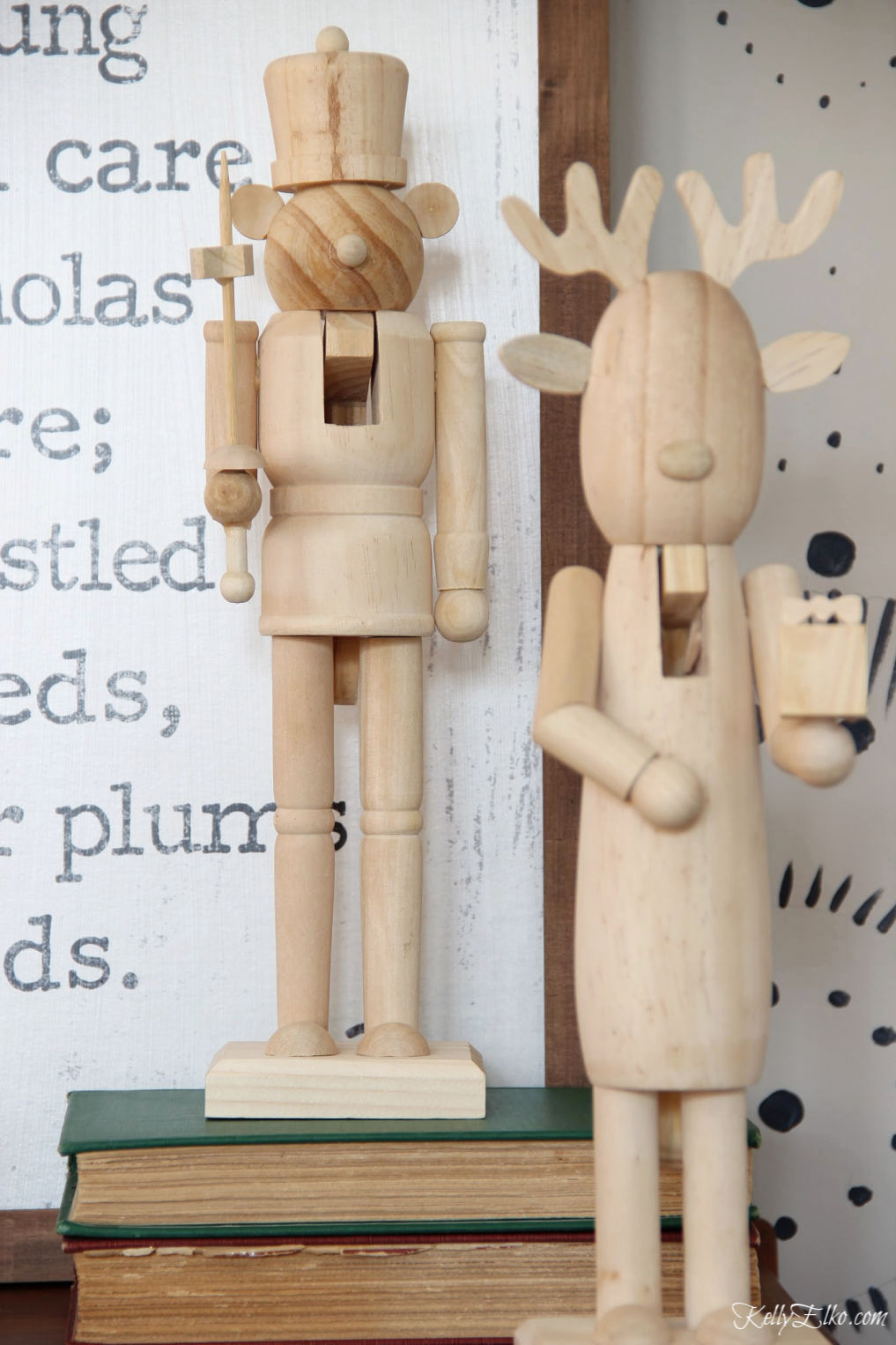 Dinners in here are truly magical and I'll be sharing a nighttime Christmas lights tour in a couple of weeks.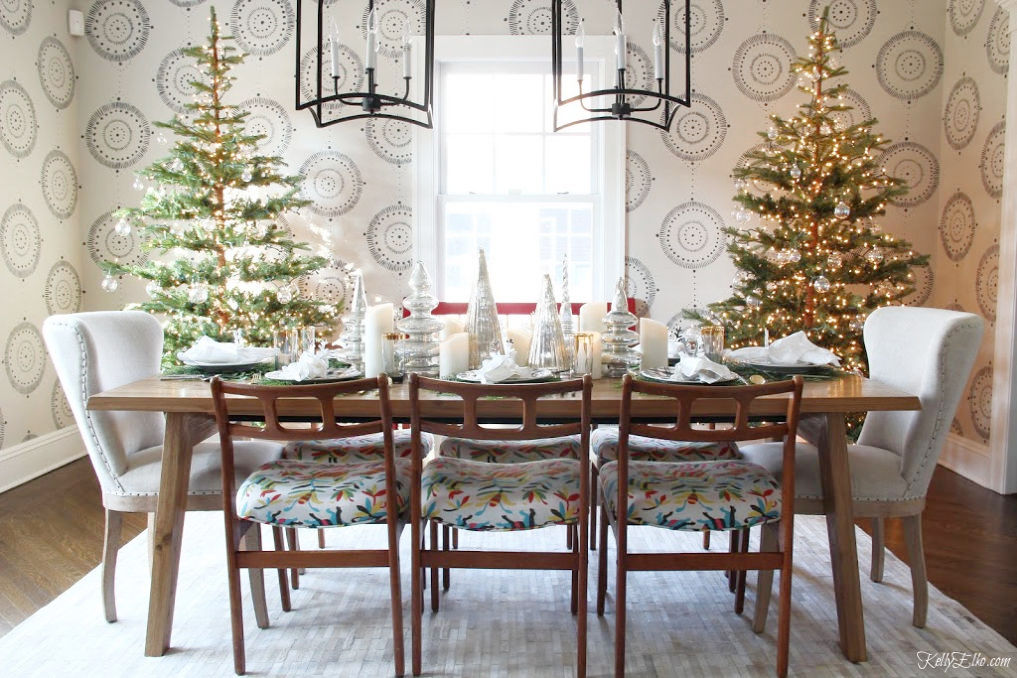 Shop the Look – Dining Room


I like to keep things simple in the kitchen because who wants to move 8 million things out of the way when it's time to cook.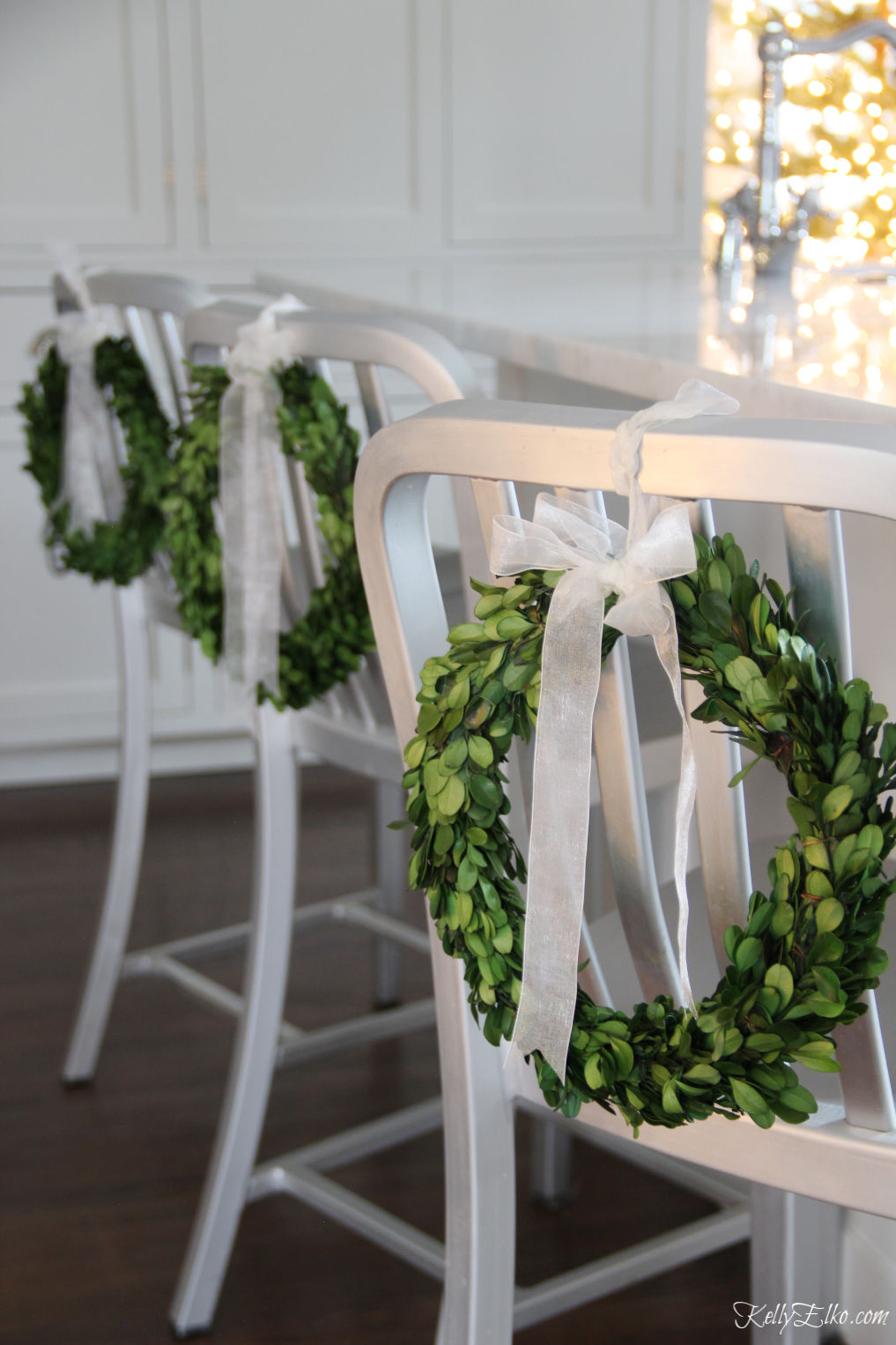 Mini boxwood wreaths add color to my white kitchen.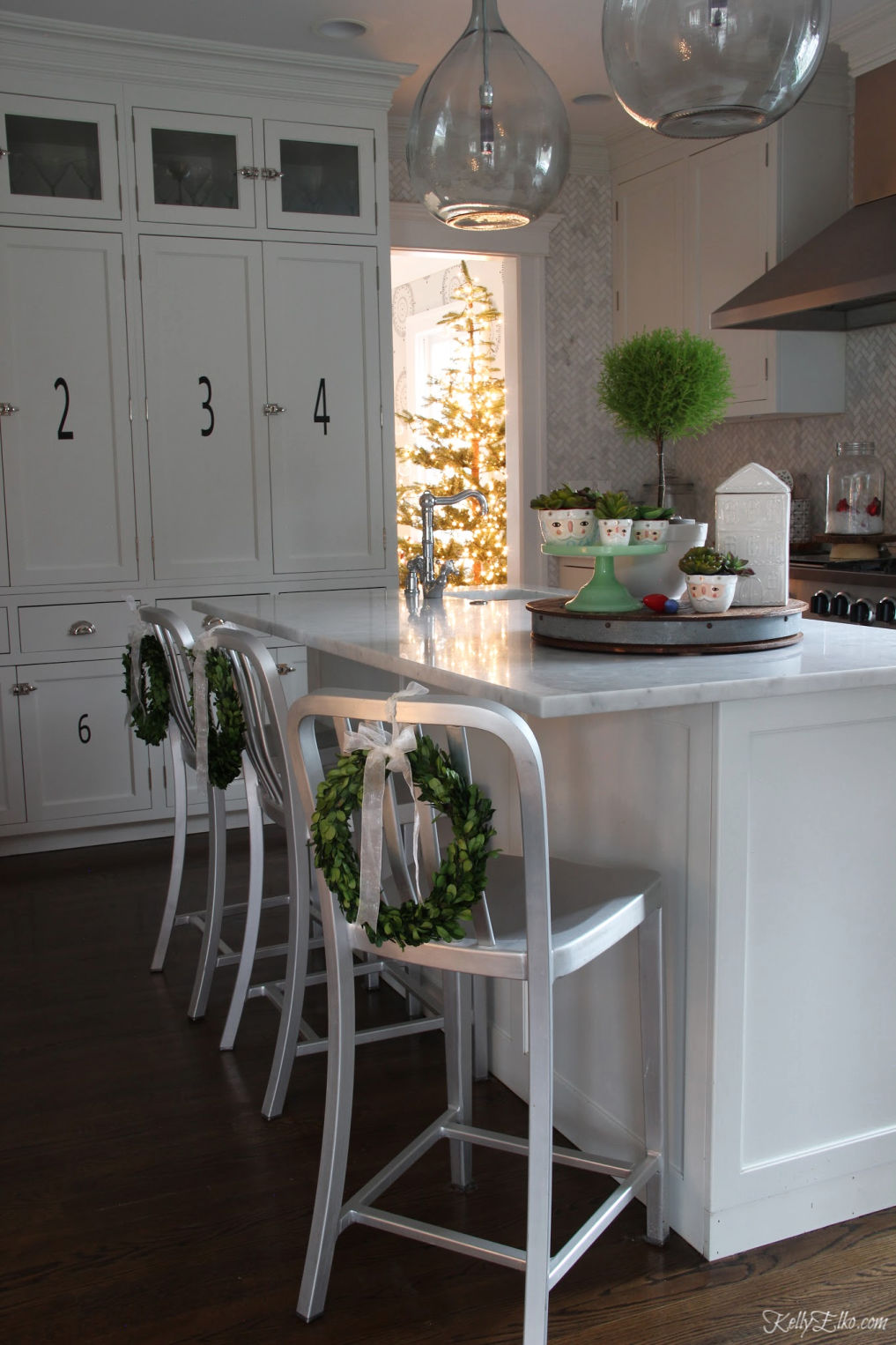 These are a few of my favorite things … Santa measuring cups complete with succulent hair, a jadeite cake stand, a topiary and a house cookie jar (the raised detailing looks like frosting on a gingerbread house).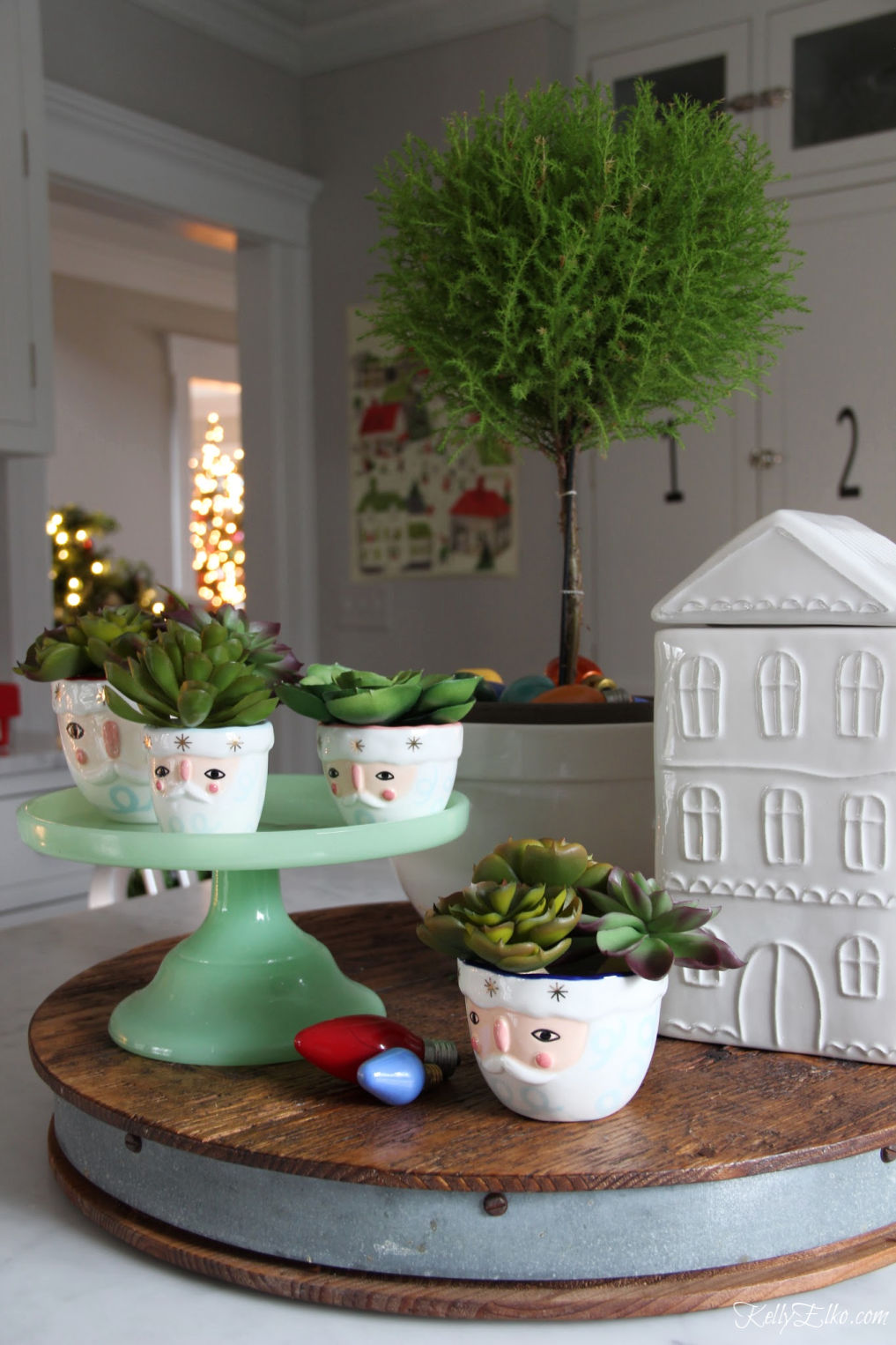 The lights on part of an old pre-lit Christmas tree died so instead of tossing the whole thing, I saved the top piece and now have the perfect mini tree tucked into my huge vintage crock.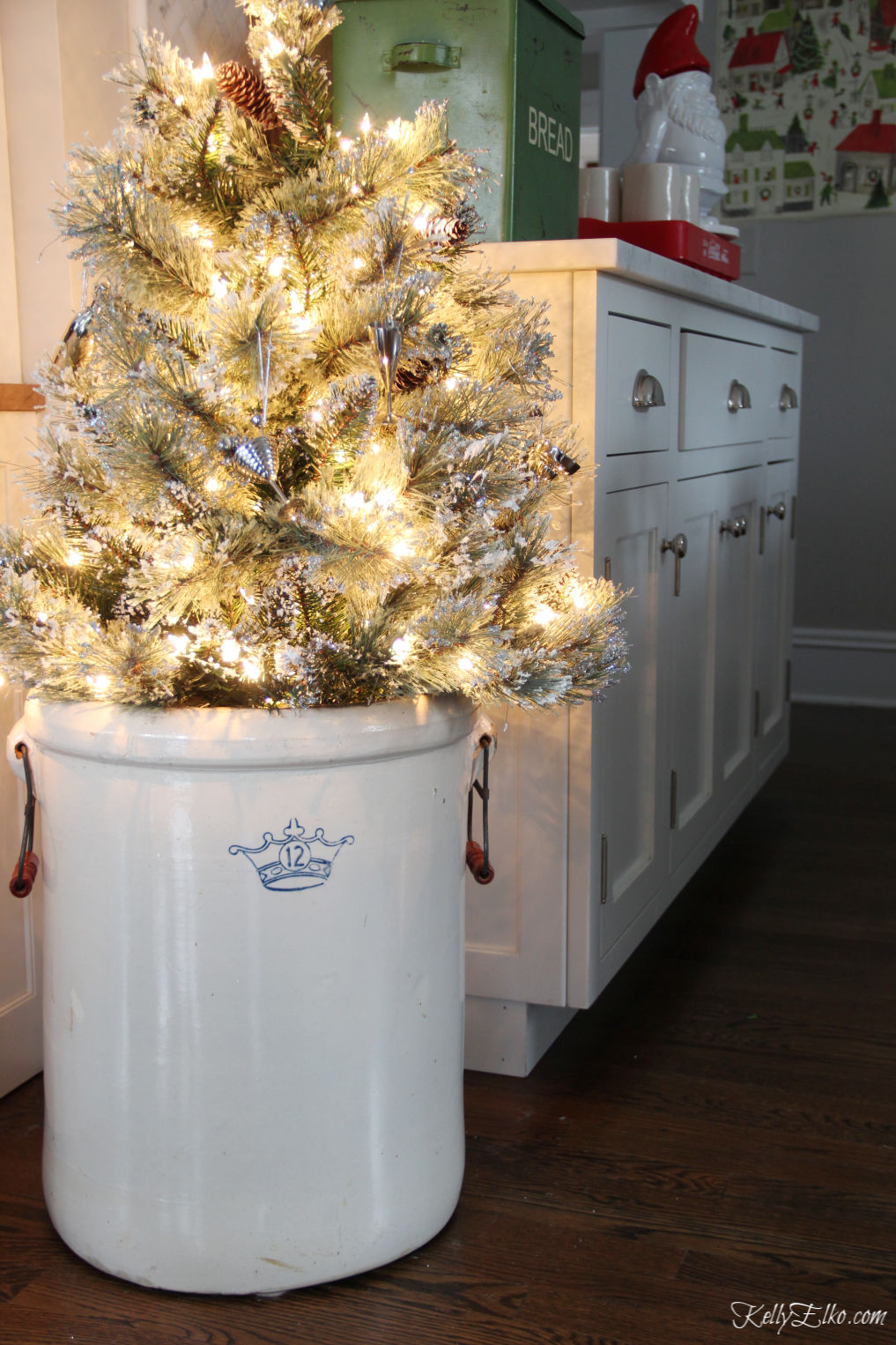 Just like on the mantel, this art is a piece of flat gift wrap that I just taped to the wall! It's such a bright a cheery neighborhood scene.
Kelly Tip: Use gift wrap as art!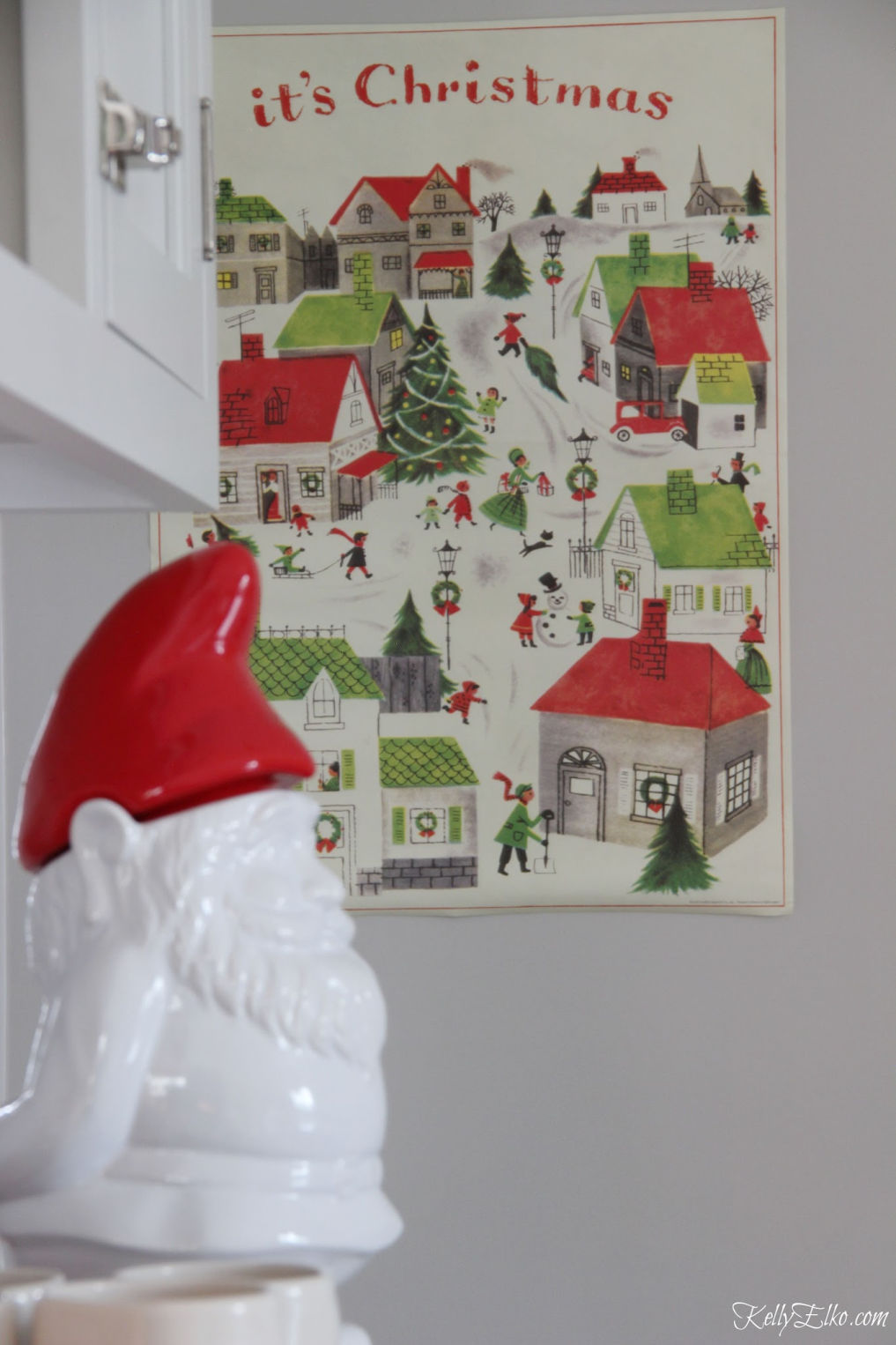 My red stove is Mrs. Claus approved and ready for some slice and bake cookies.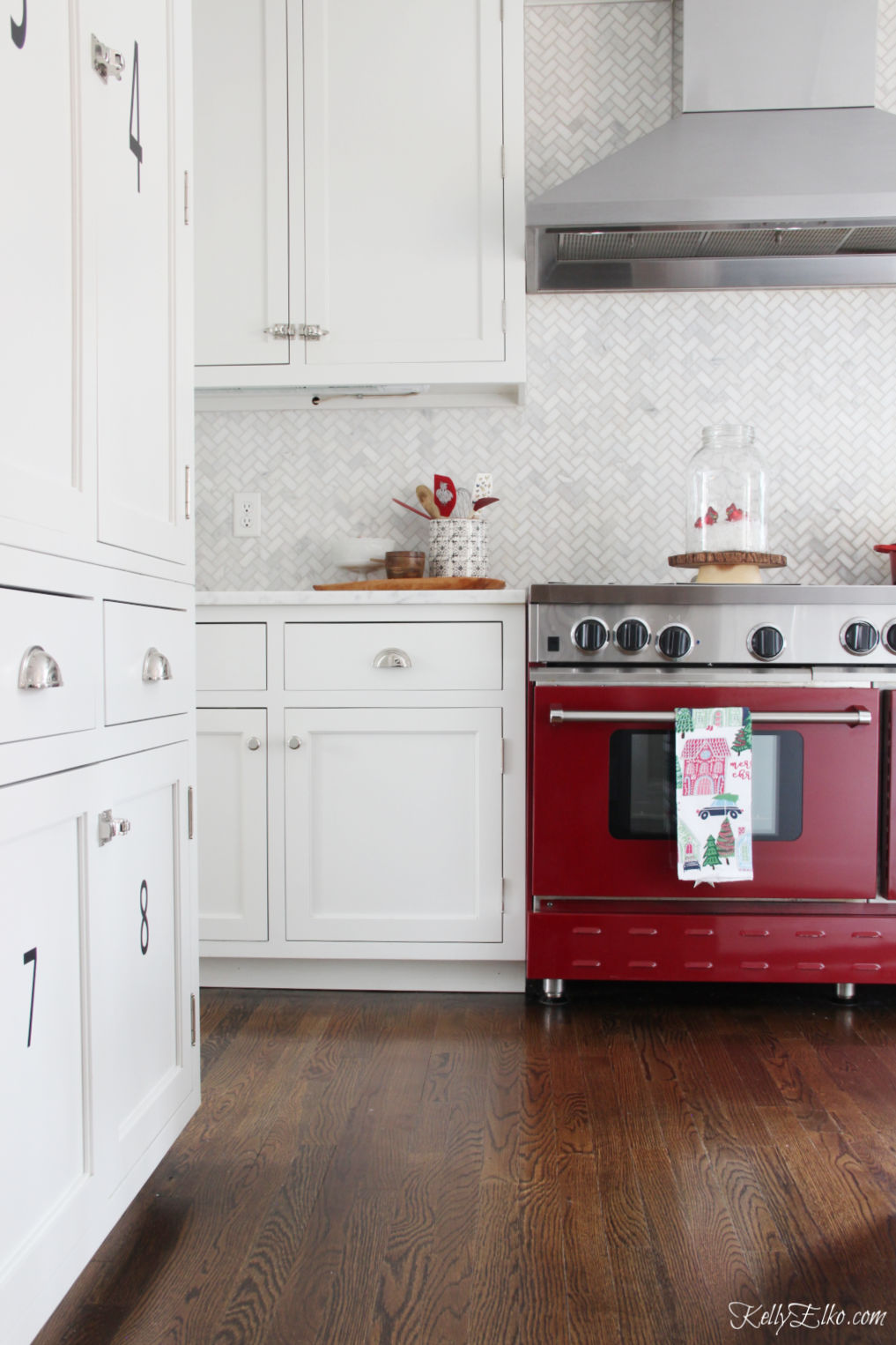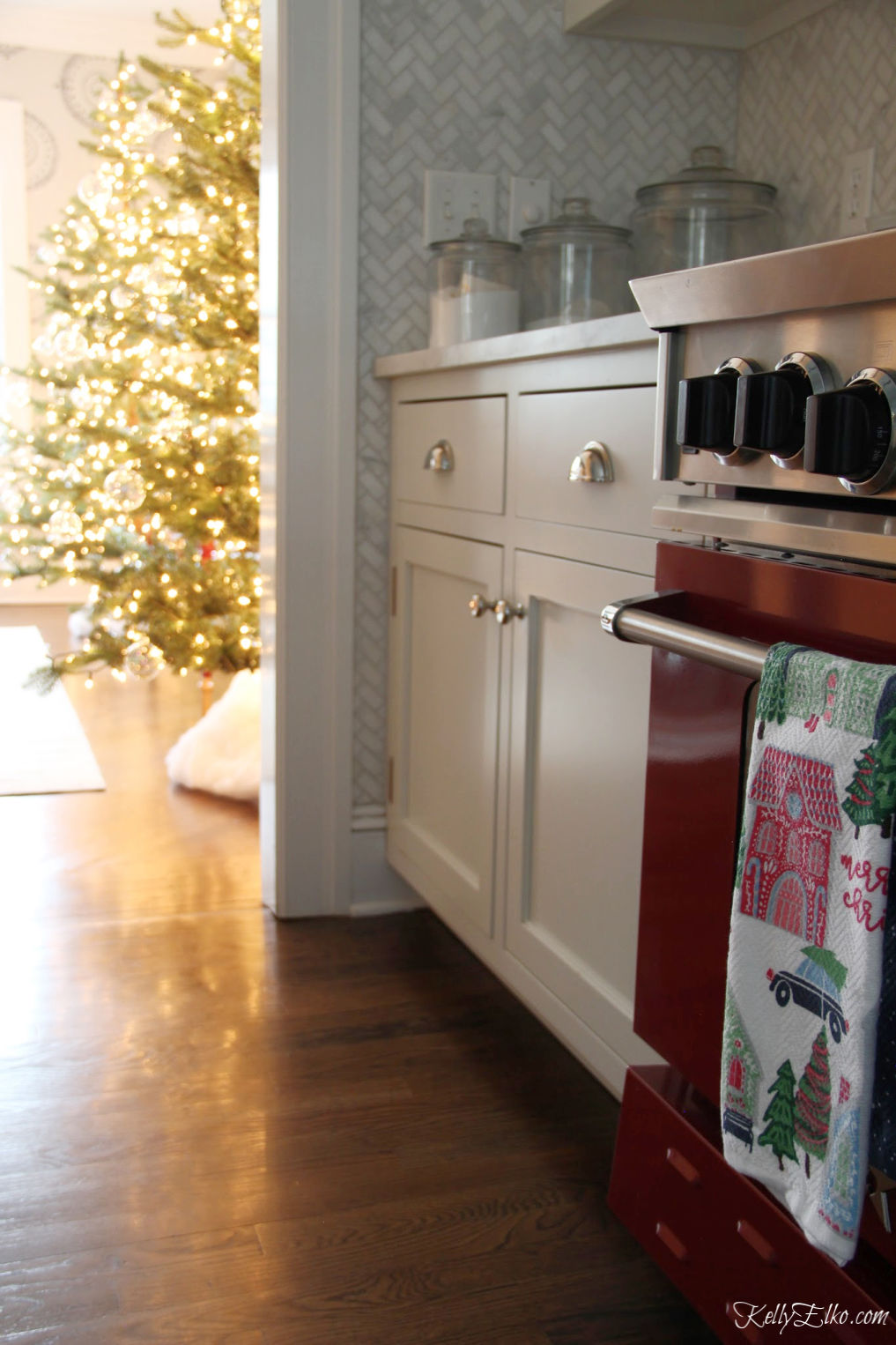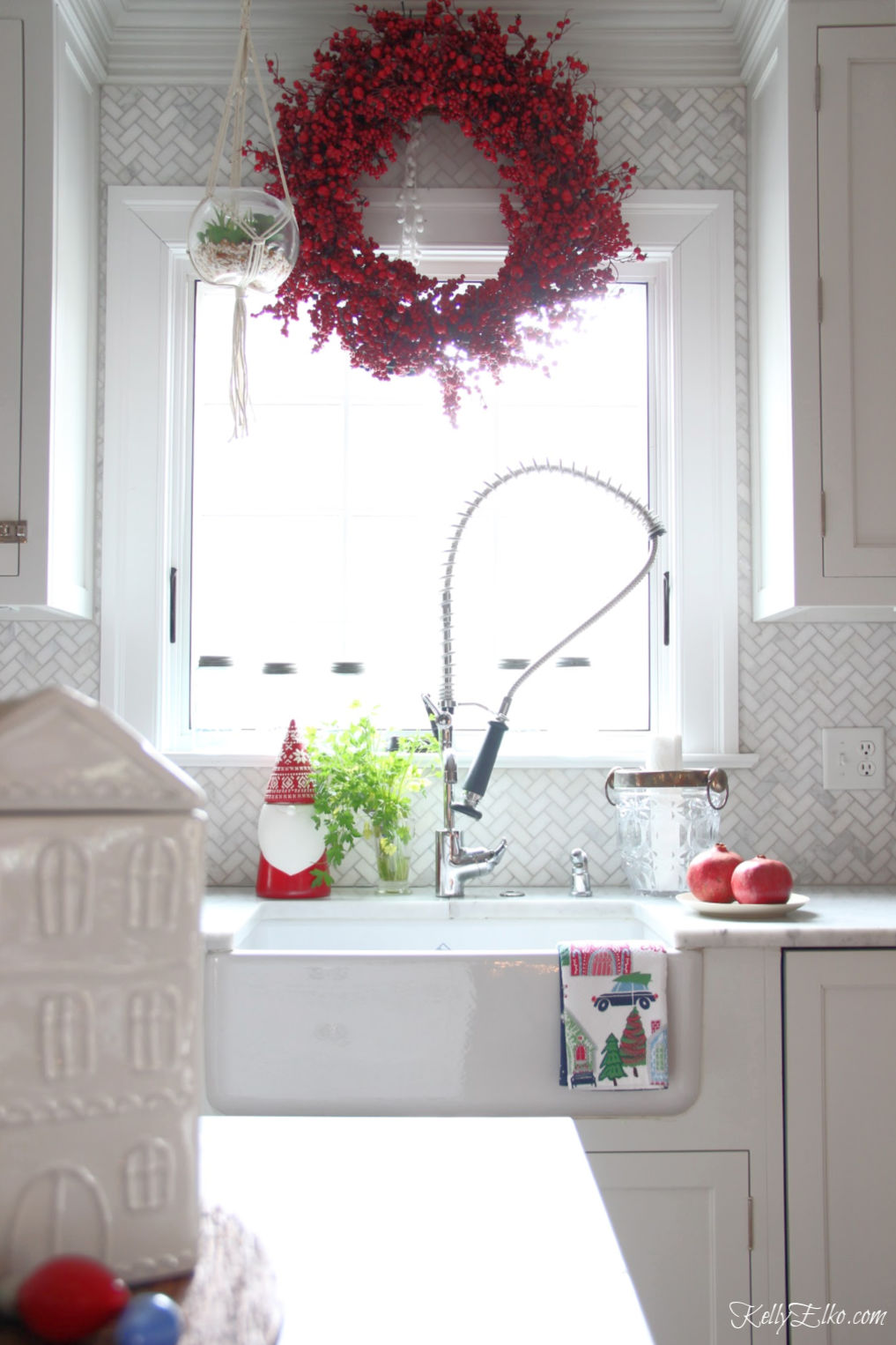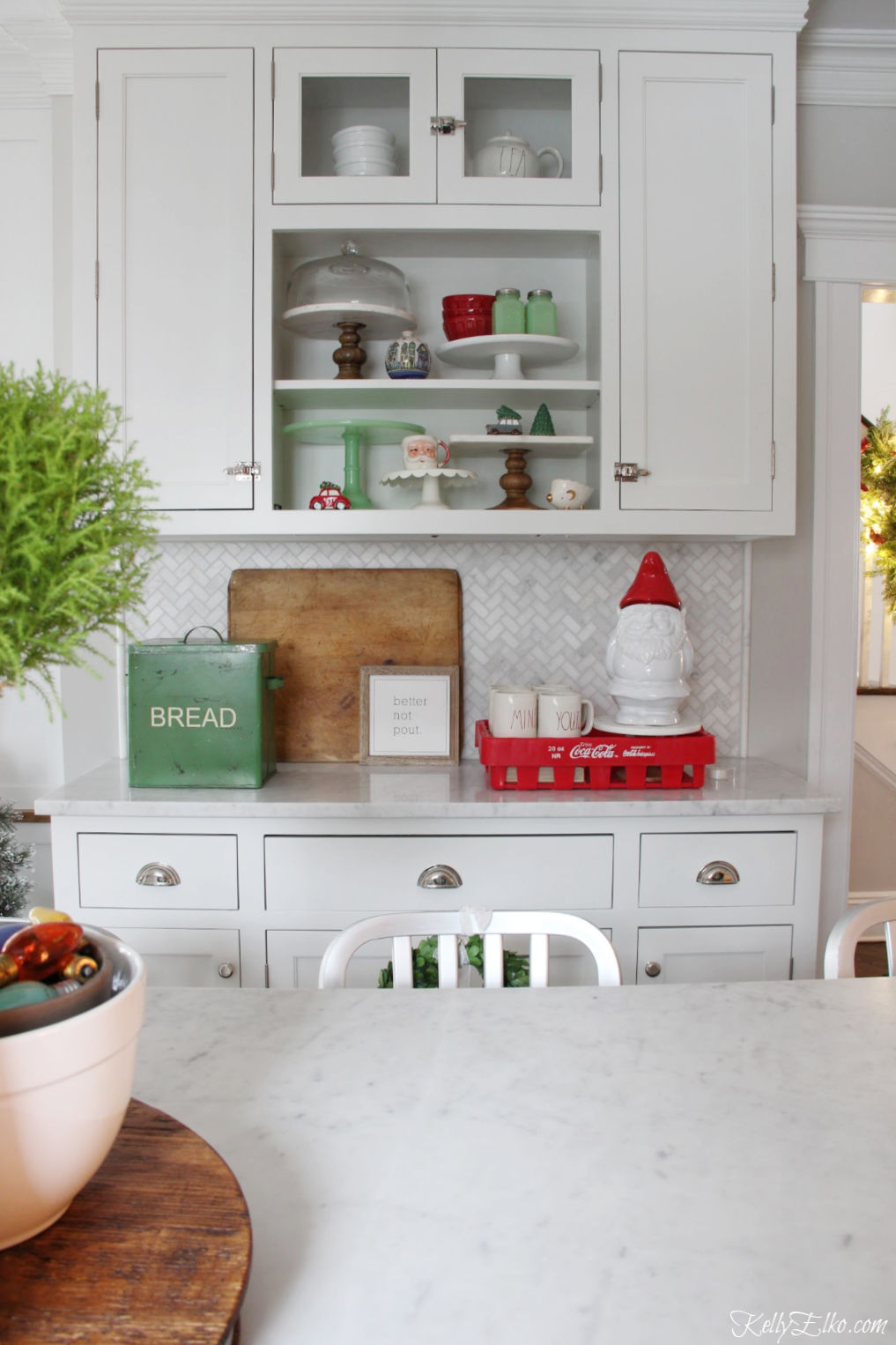 I always have fun decorating my huge bottle drying rack and this year, it's a kitschy Christmas with Santa mugs with mohawk haircuts, cute little elves (both old and new) and colorful thermoses.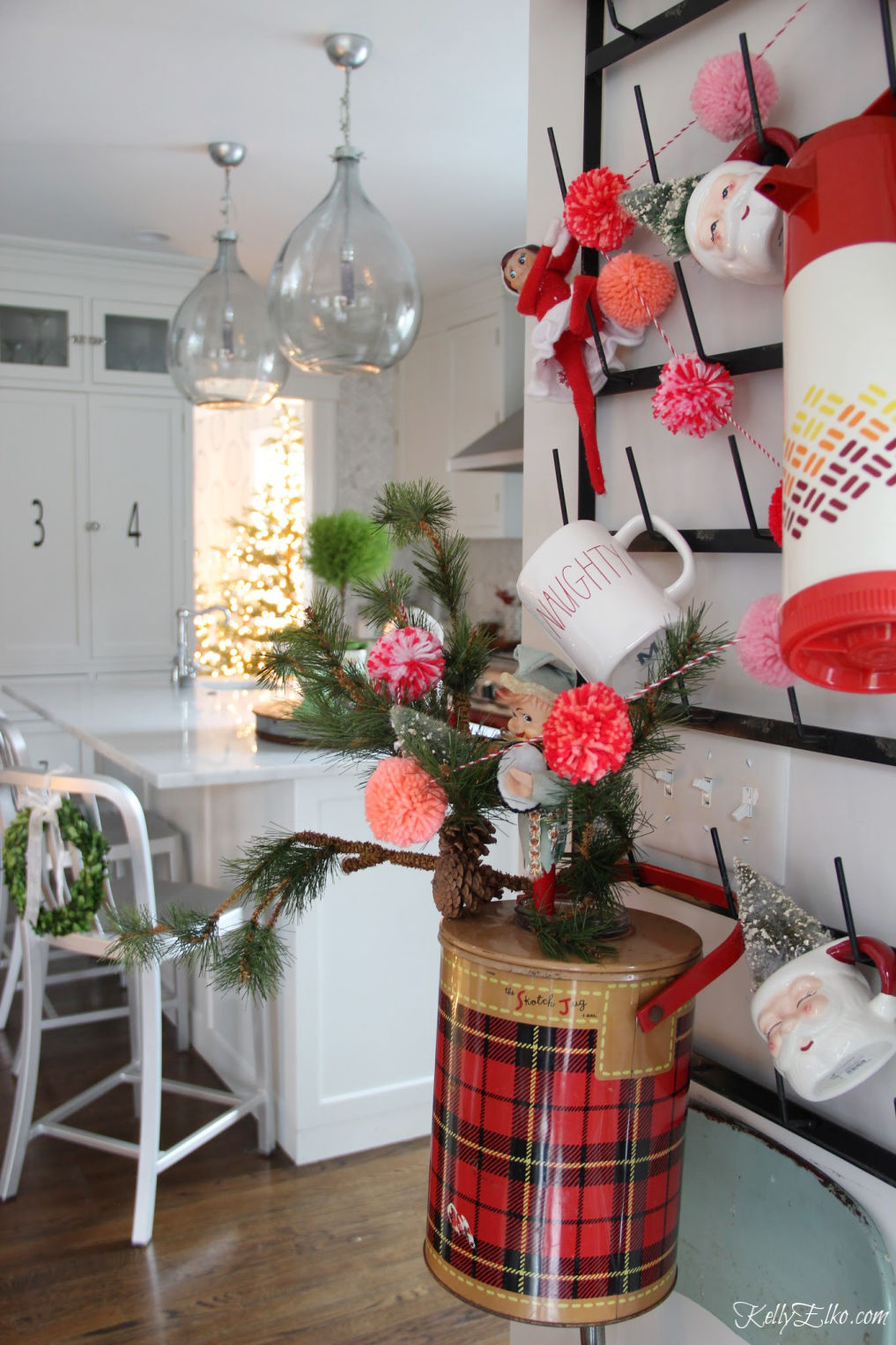 Thankfully, the stress of moving our Elf on the Shelf (his name is Hot Tamale) is over since my girls are in college but that doesn't mean he can't stay put in one place.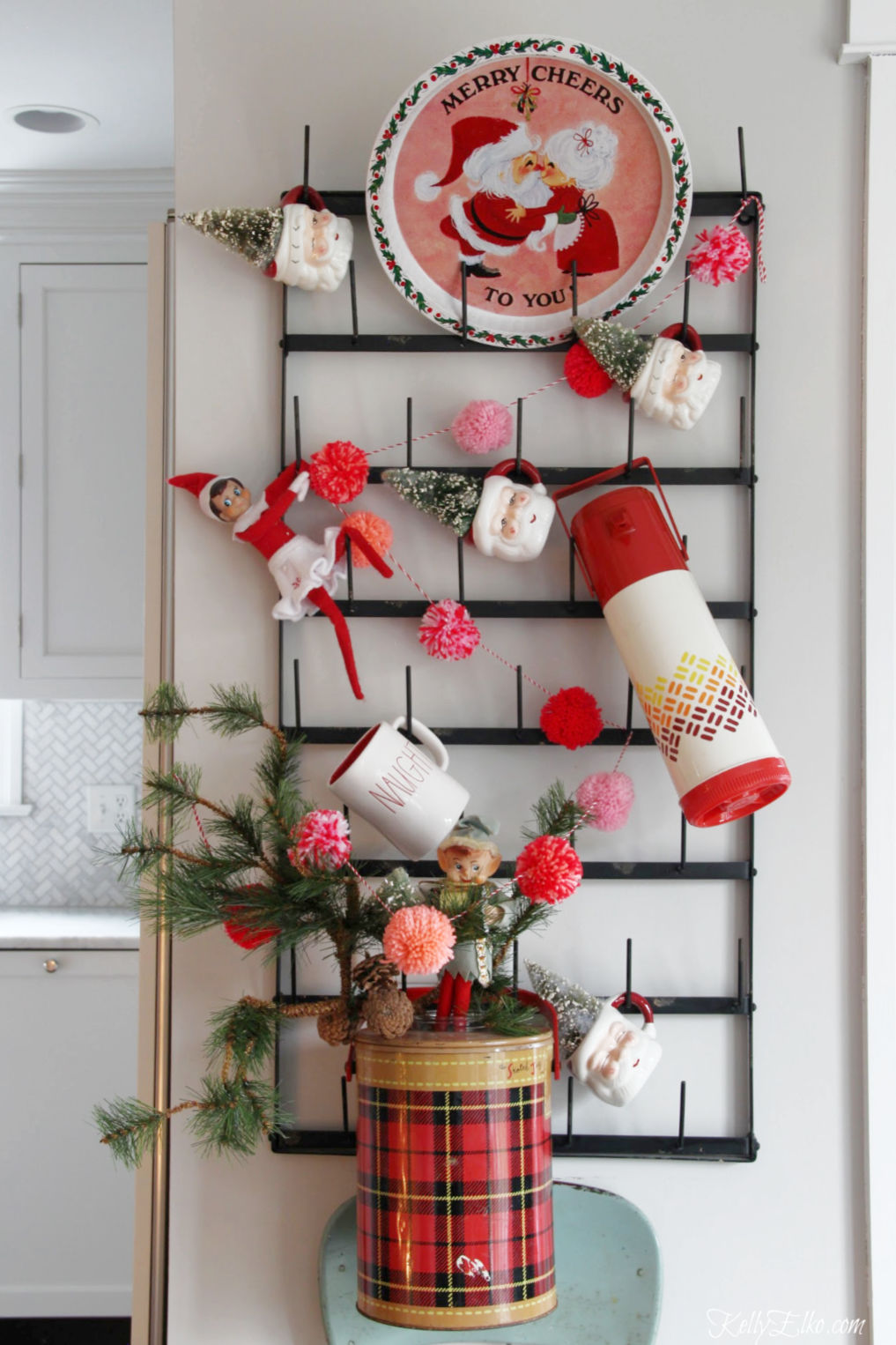 My daughter loves pomegranate seeds and I love setting the whole fruits out in a bowl until she's ready to cut them open.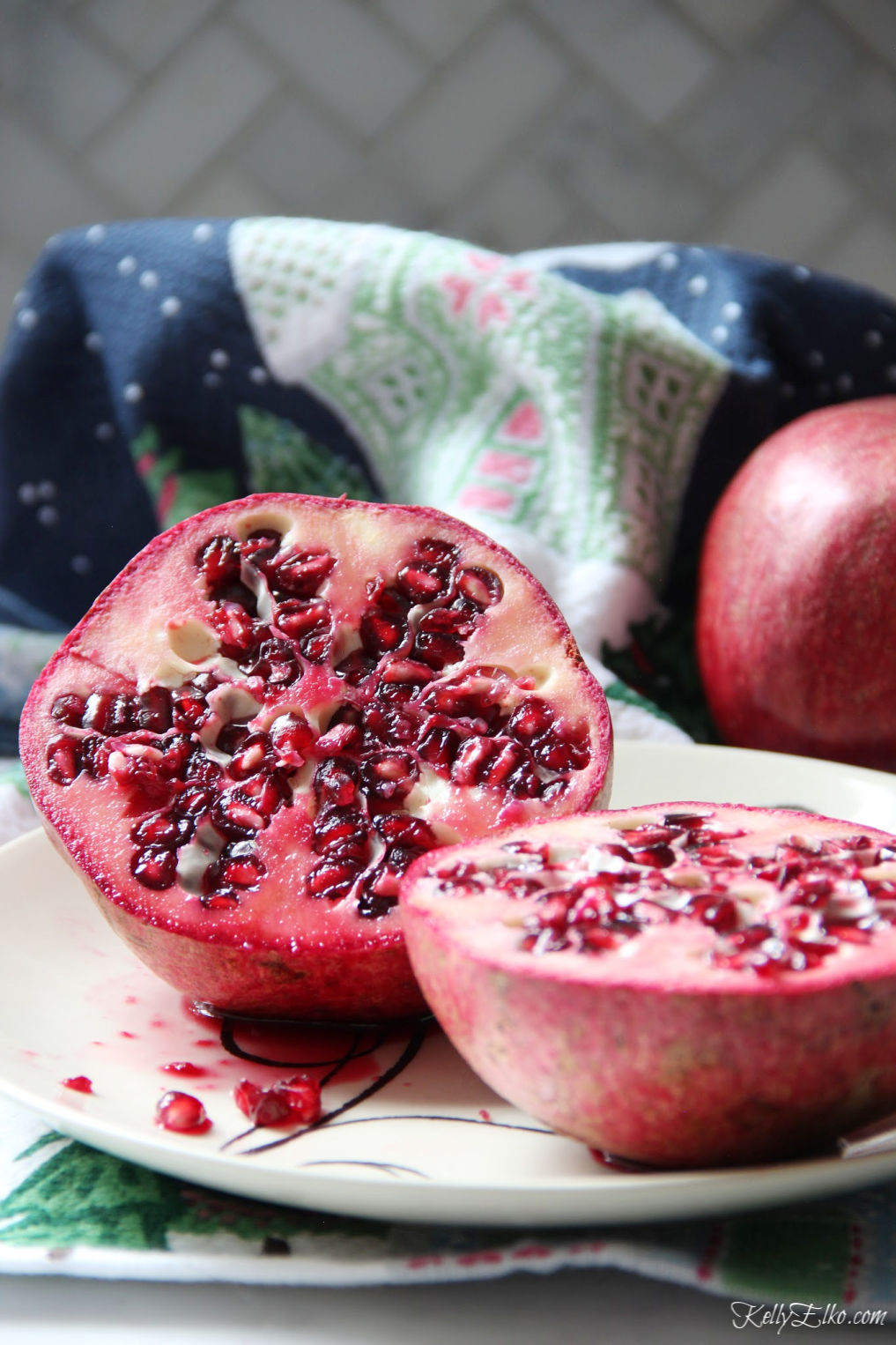 Shop the Look – Kitchen


This is where the Hallmark movie watching happens!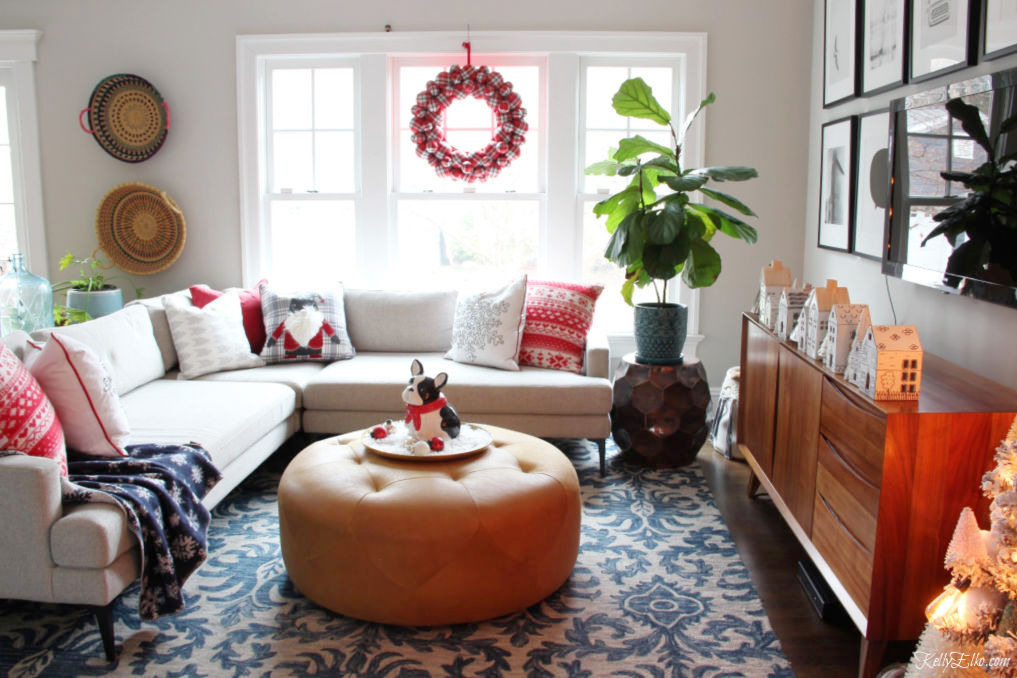 The doodle houses that I made last year had to make a comeback.
Kelly Tip: Put your creative mark on store bought Christmas decor or crafts.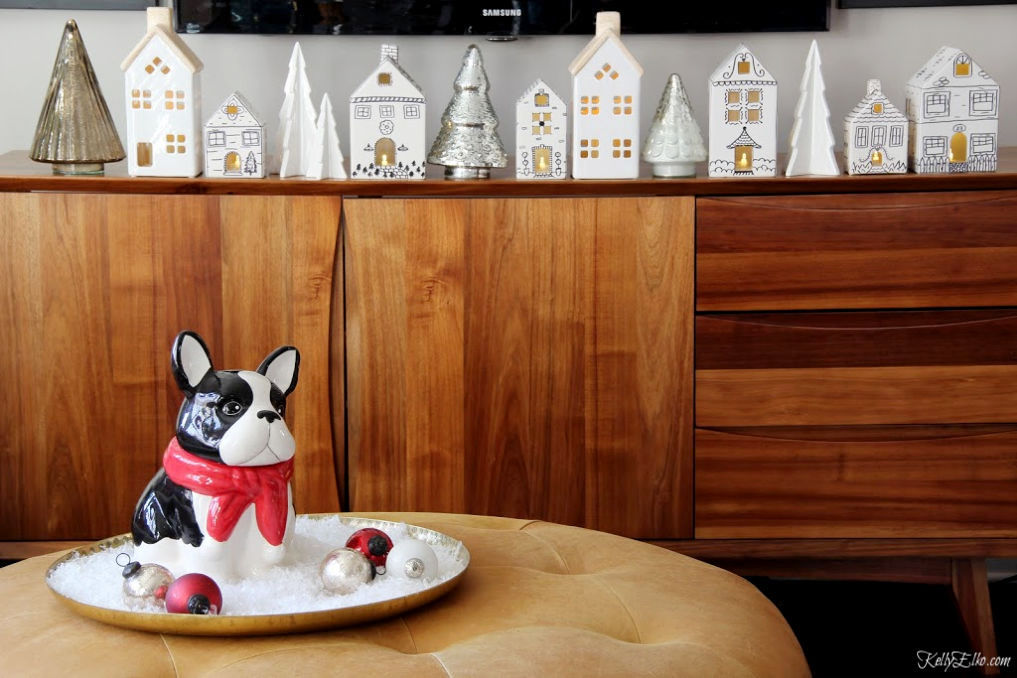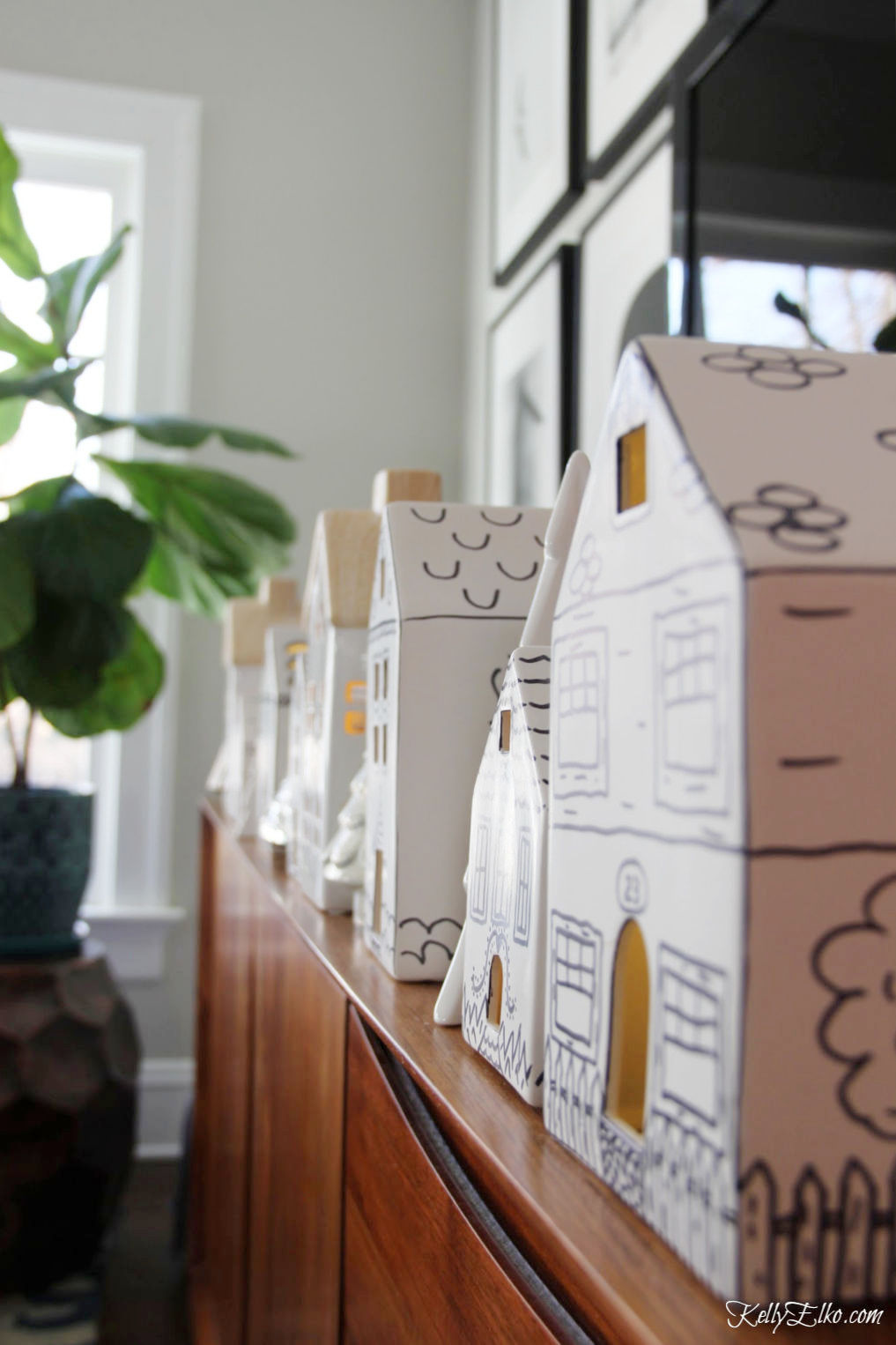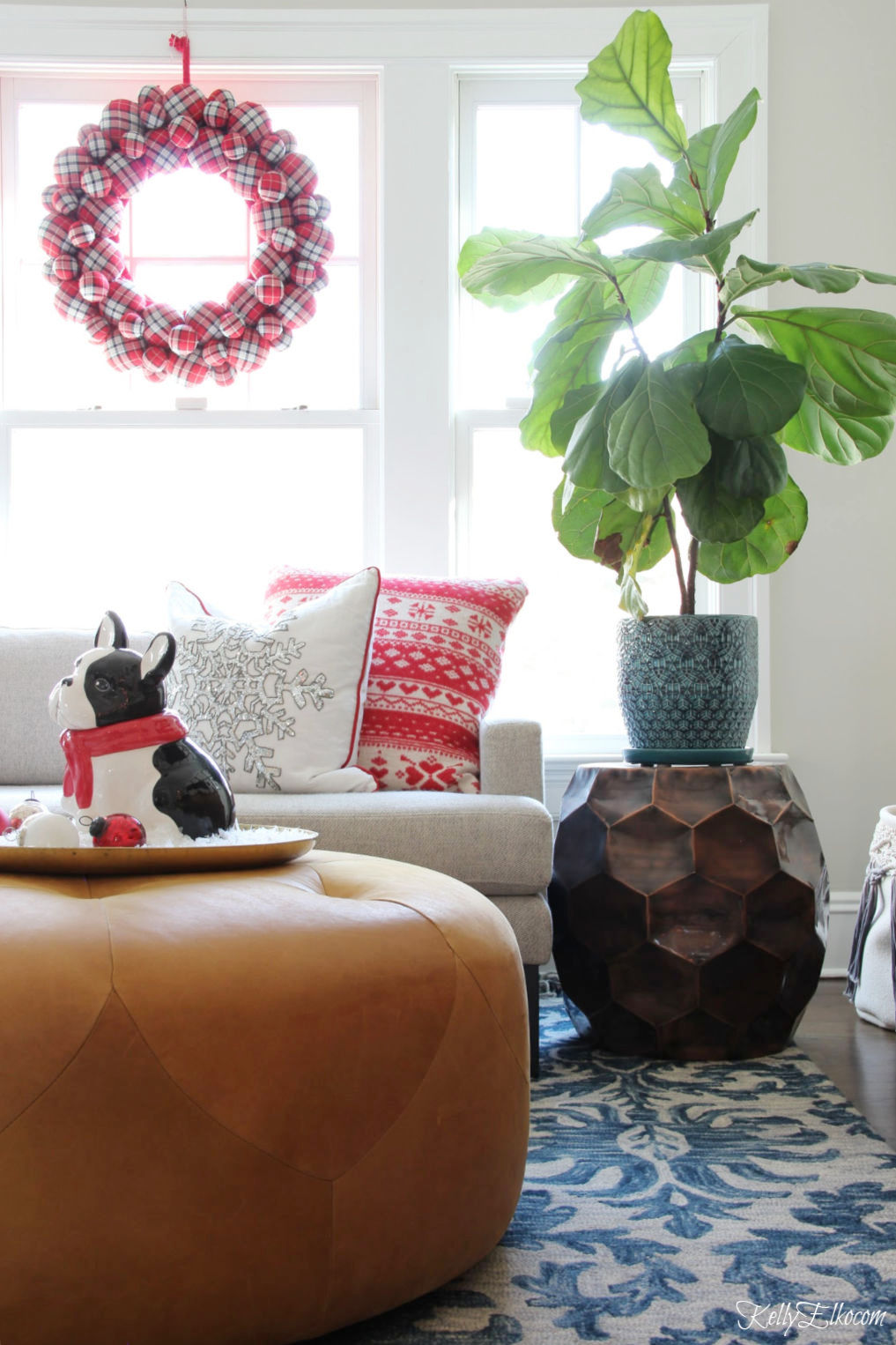 This little guy complete with festive red scarf looks just like my Boston Terrier even though my dog has a bladder of steel when it's cold outside!
Kelly Tip: cookie jars aren't just for the kitchen (I love my dog cookie jar in the family room and did you notice the car cookie jar on my mantel).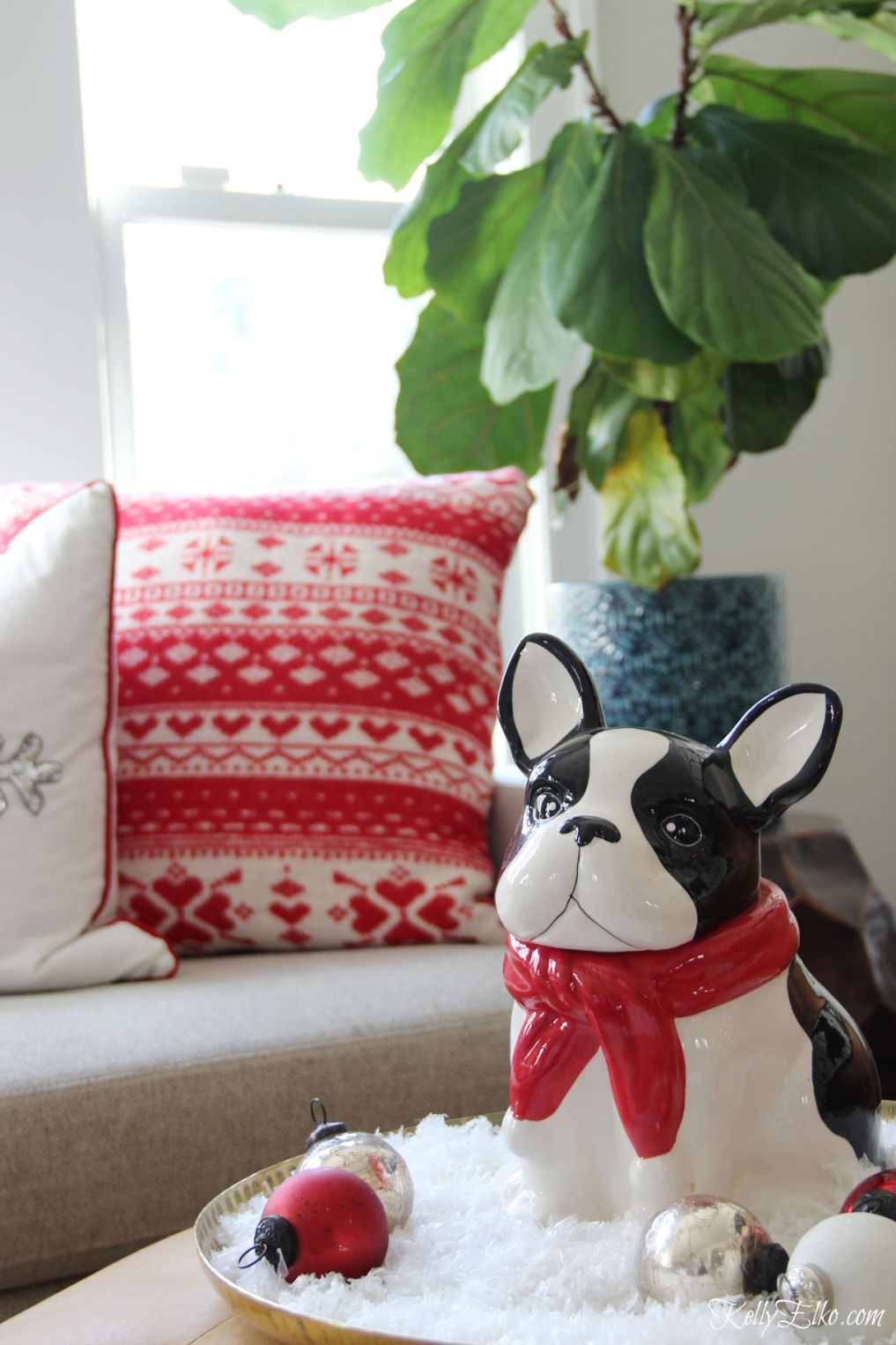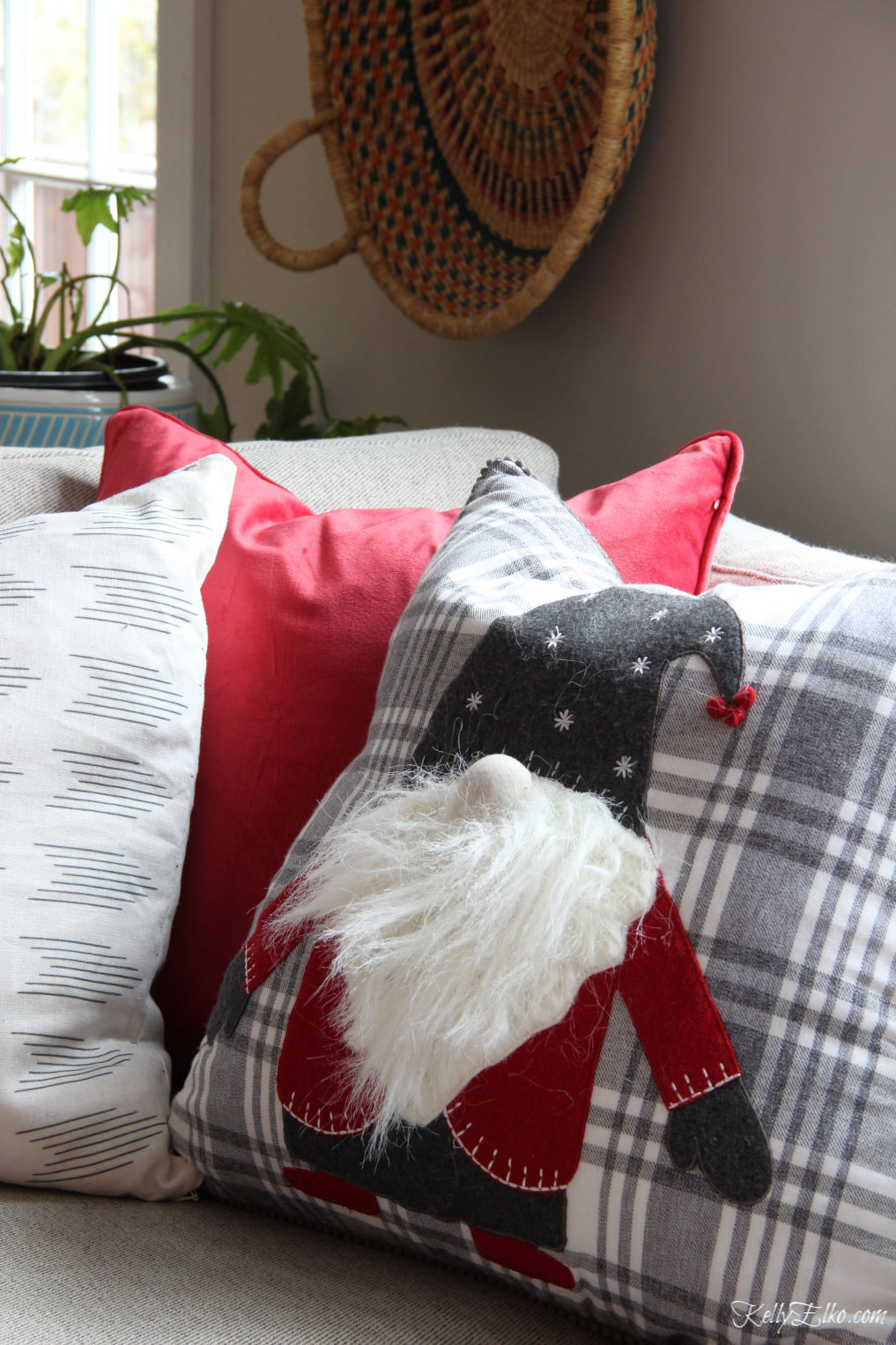 My car will forever be covered in flocking but finding this unboxed $20 thrift shop flocked Christmas tree makes it worth it!
An abundance of bottle brush trees (some new, some vintage) and snowballs turns the tree into a wintery forest.
Kelly Tip: remove the Christmas tree stand so you can fit the tree into a unique container like this vintage galvanized water cooler.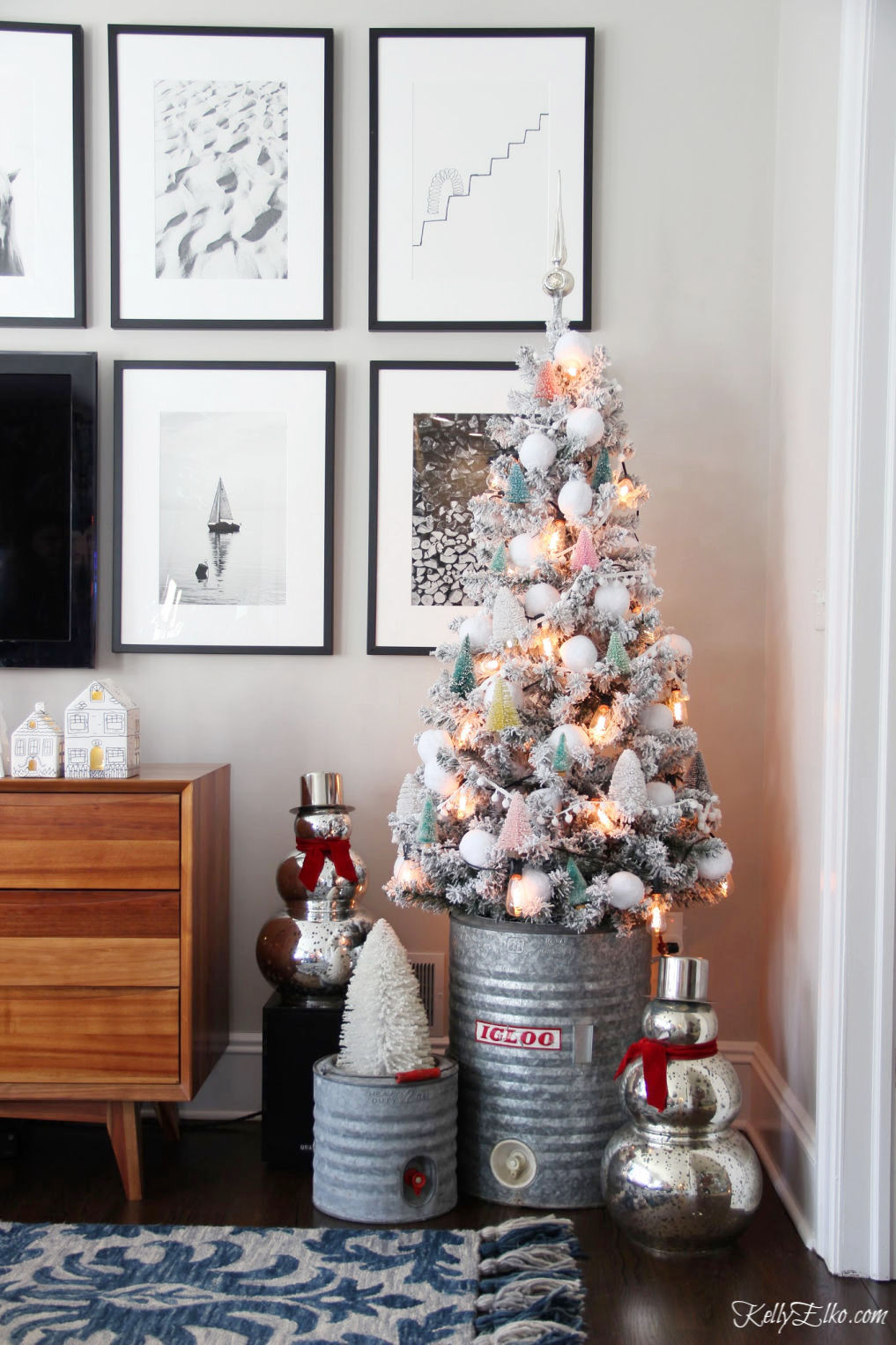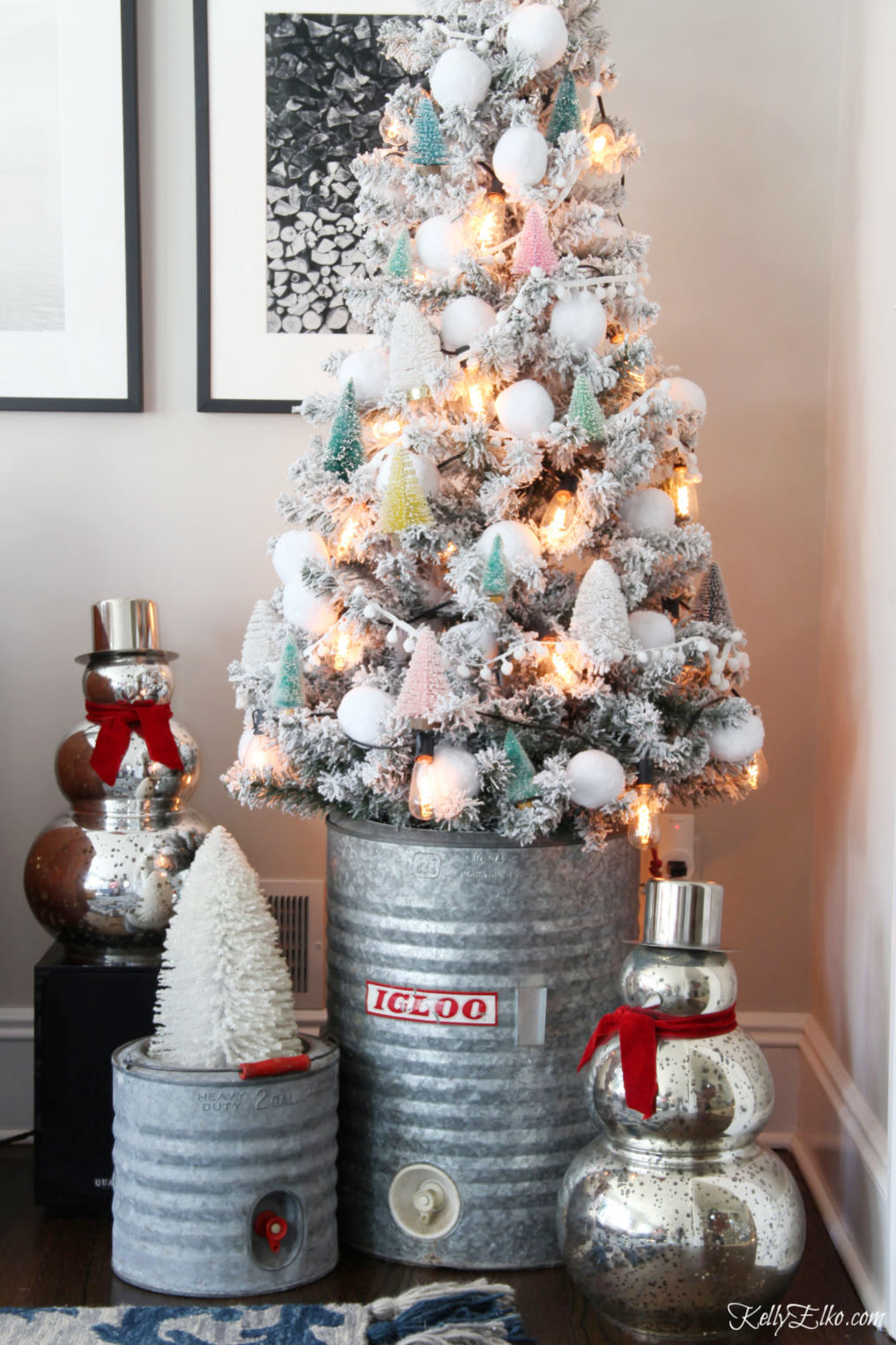 A trio of old glass water jugs glow from within.
Kelly Tip: put lights on, around and into everyday objects.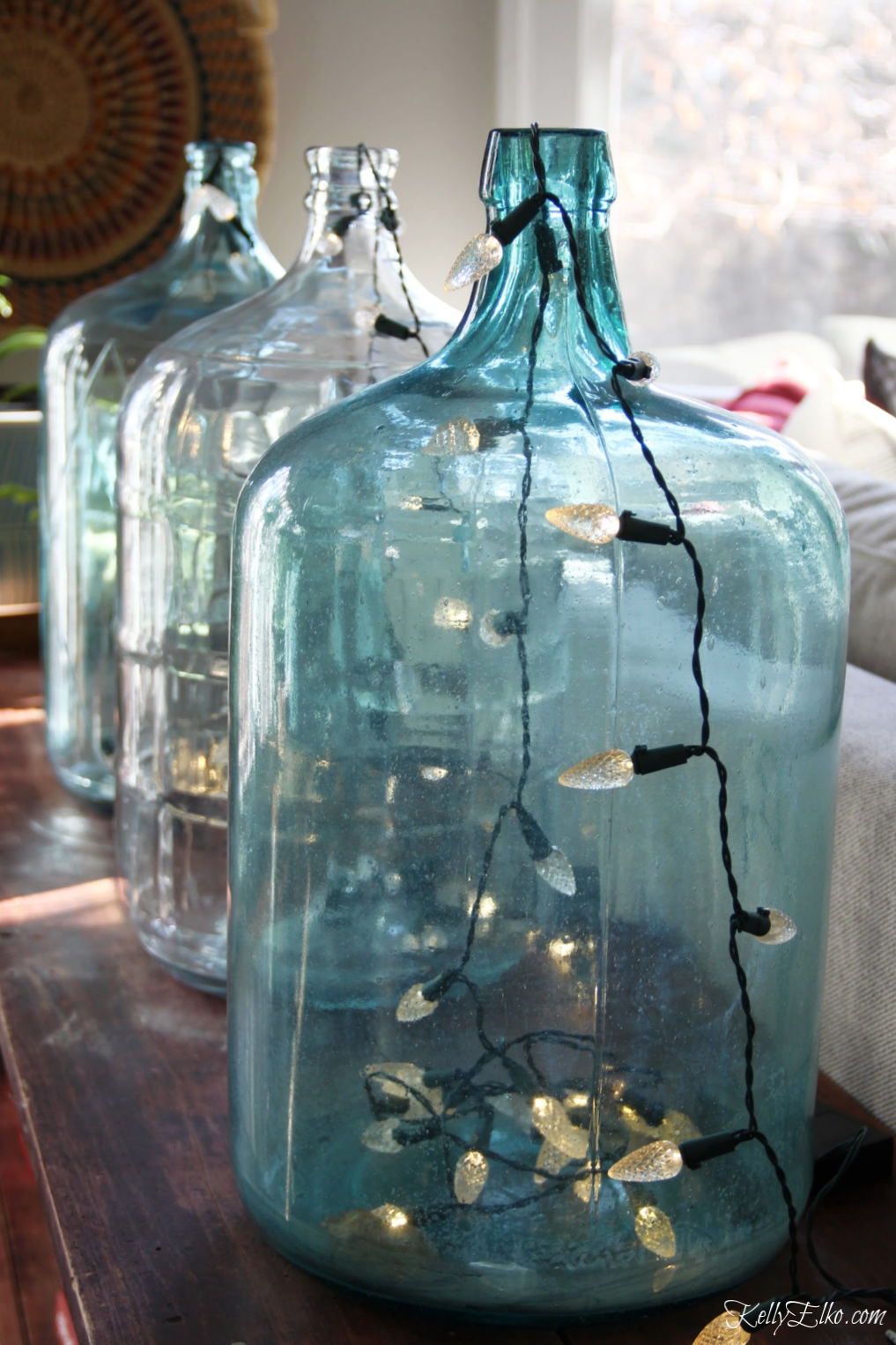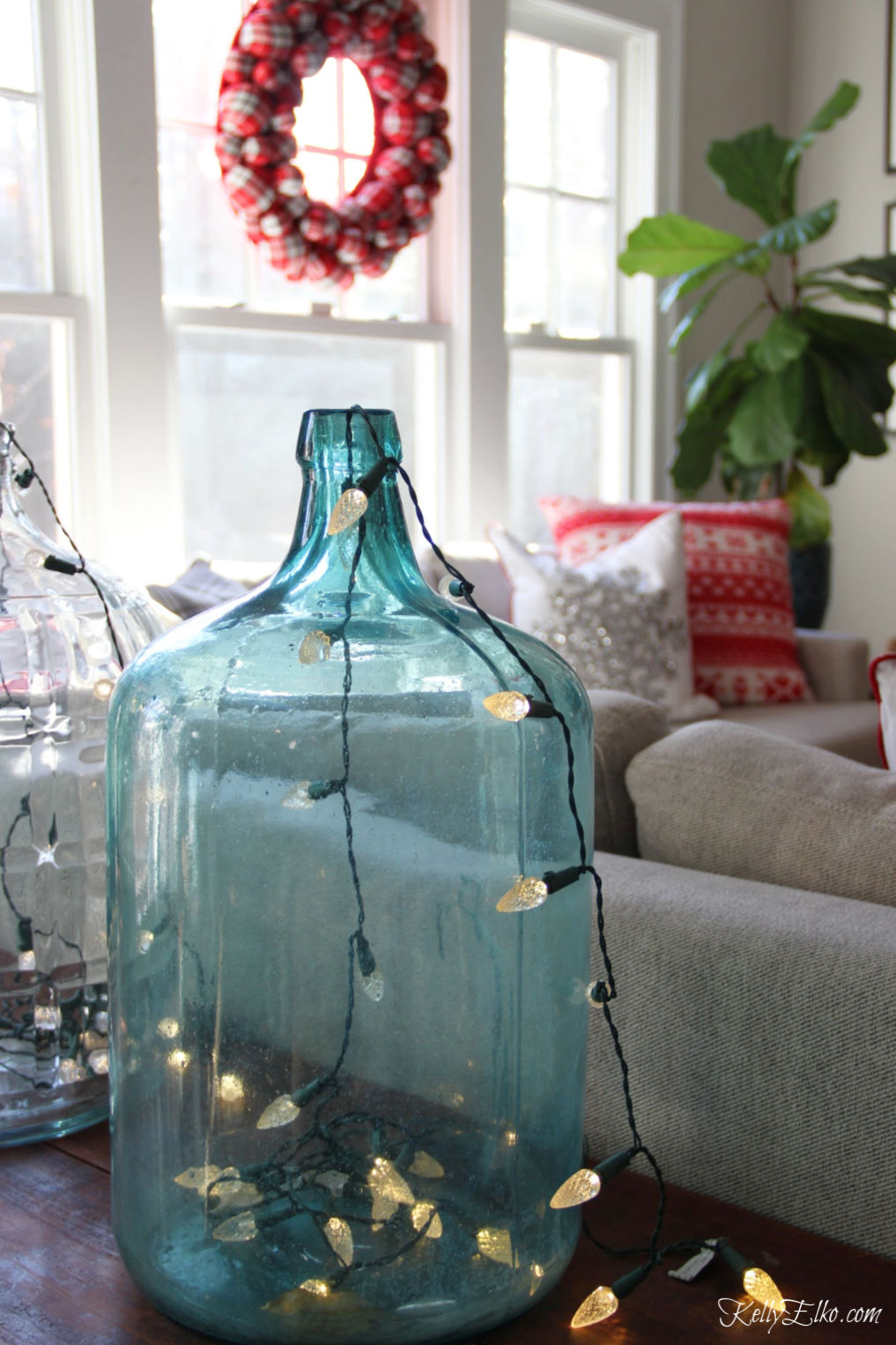 Shop the Look – Family Room



I shared all about my Christmas Countdown Calendar here and I love the numbered fabric houses so we can countdown the days til Christmas. There's another house perched on top as a tree topper. Mismatched pom pom garlands give the tree a lighthearted look.
Kelly Tip: Cut apart a garland to create individual Christmas ornaments on the cheap.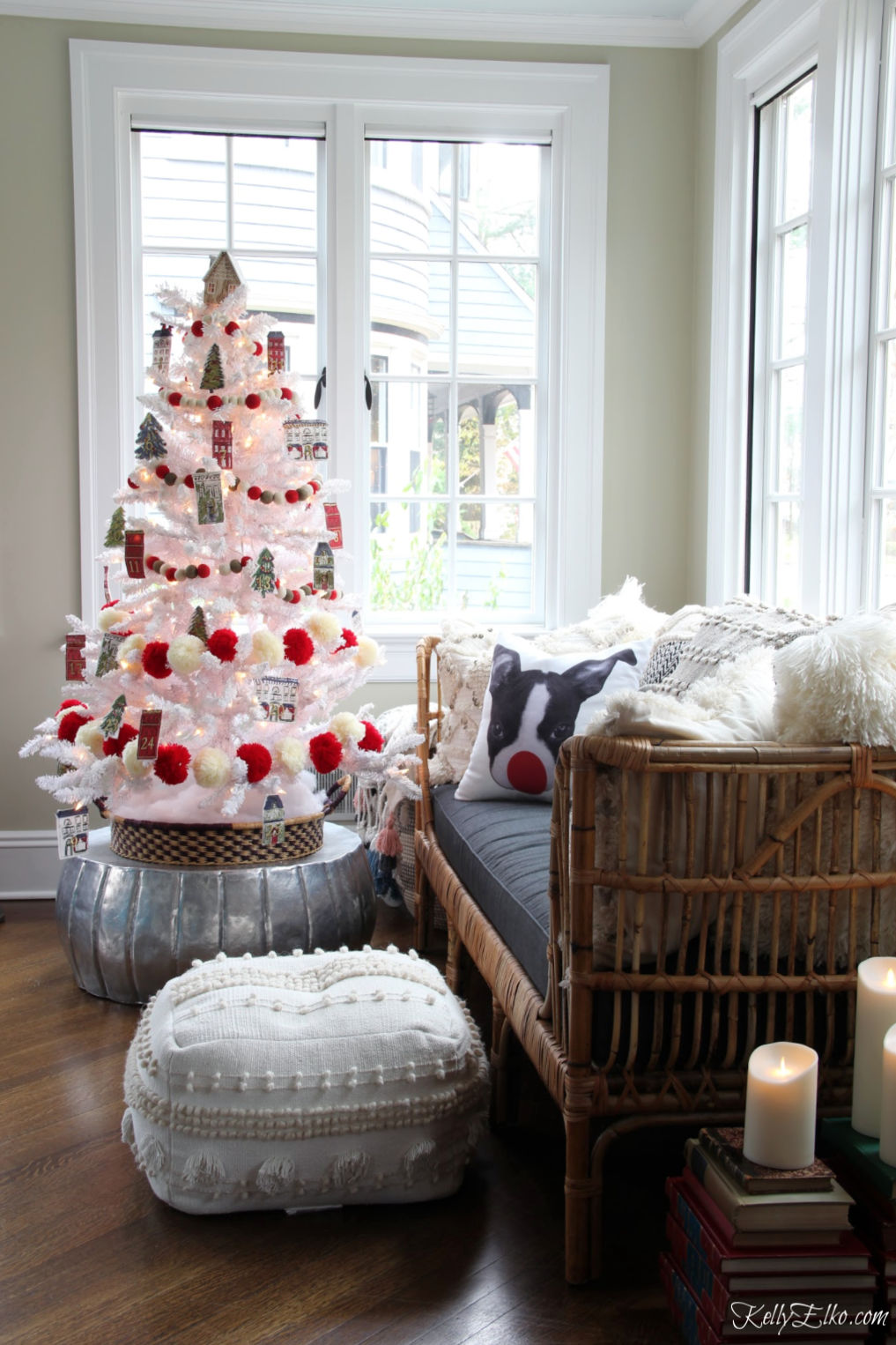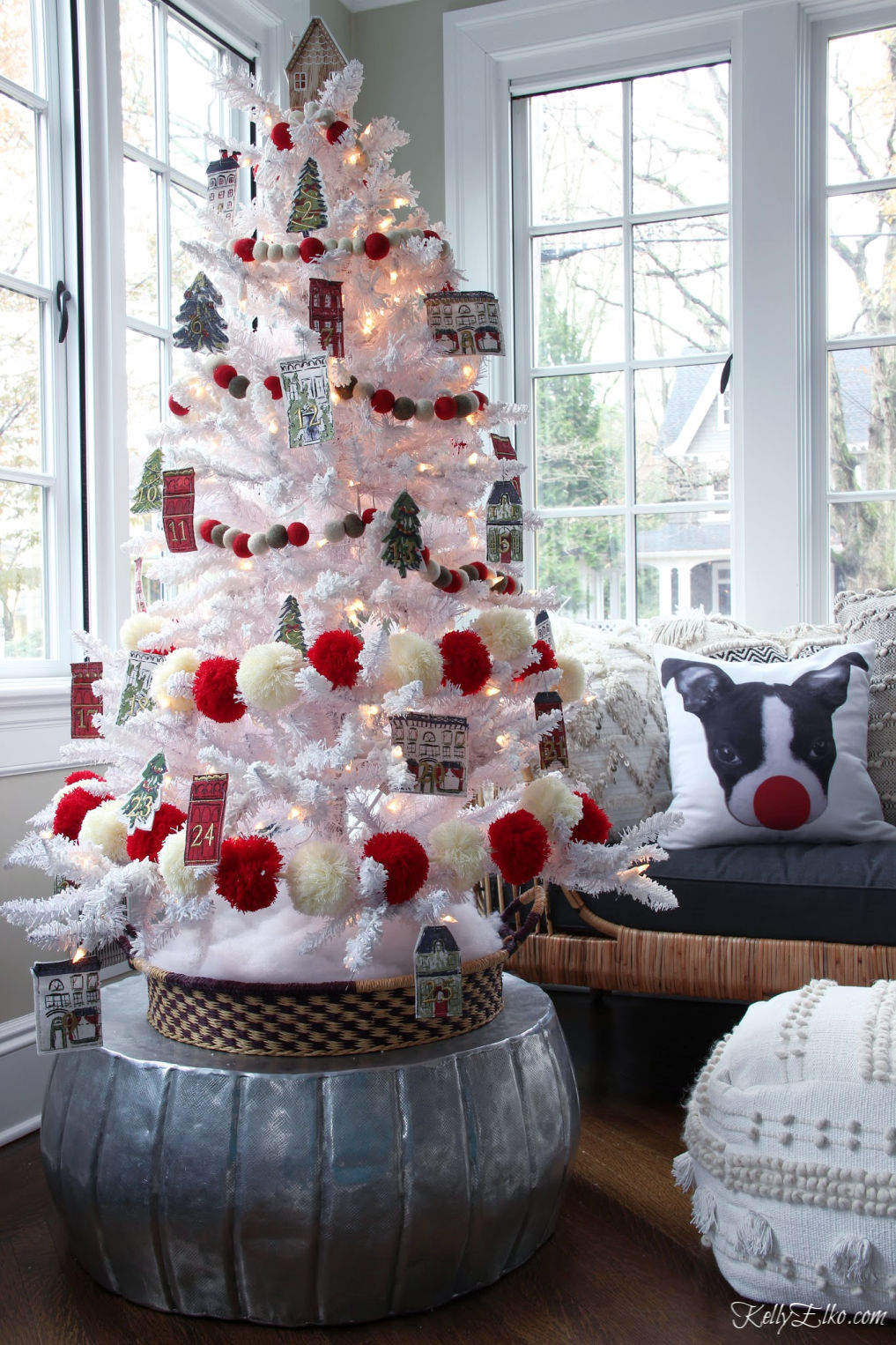 My Christmas home is not complete until I get out my "Rudolph" pillow that is actually my dog Sushi. You can get the Boston Terrier Christmas pillow here.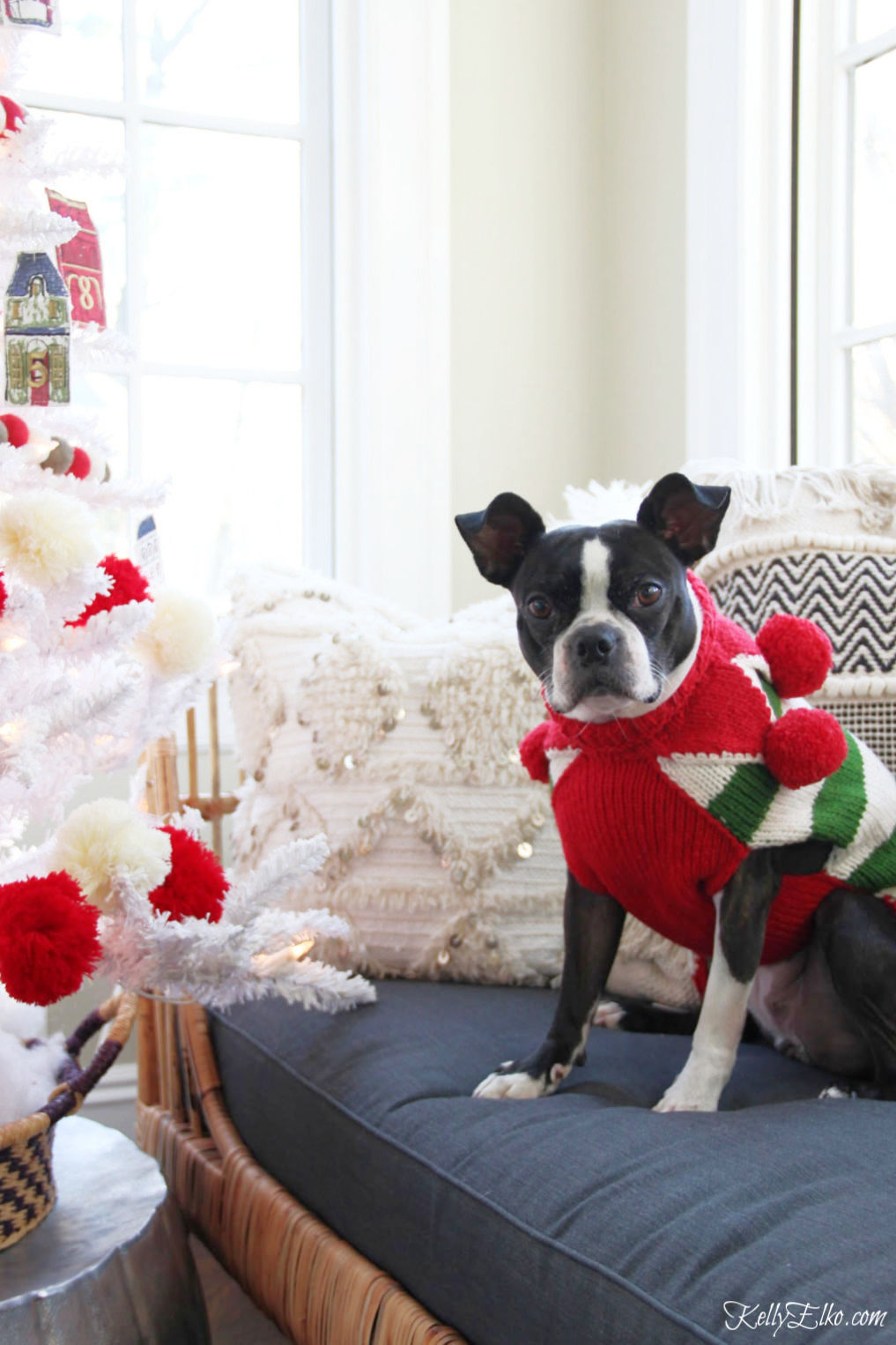 Shop the Look – Sunroom


I ho ho hope you enjoyed my house all decked out for Christmas. There is more to come all month long.
Don't miss my past Christmas Home Tours …
There's No Place Like Home Tour / Let's Stay Home Tour / Cozy Christmas Home Tour
The next stop on the Holiday Housewalk Polar Express train is … Jeanne Oliver.