Little Christmas Houses Creative Decorating Ideas
I have a slight obsession with little Christmas houses. Today, we're looking back at all of the creative ways I've incorporated these little houses into my Christmas decor over the years (including some easy DIYs). I also scoured the world to find my favorite little Christmas houses decorating ideas and I think they are going to knock your socks off! I made sure to update this post with sources for finding your own little houses too.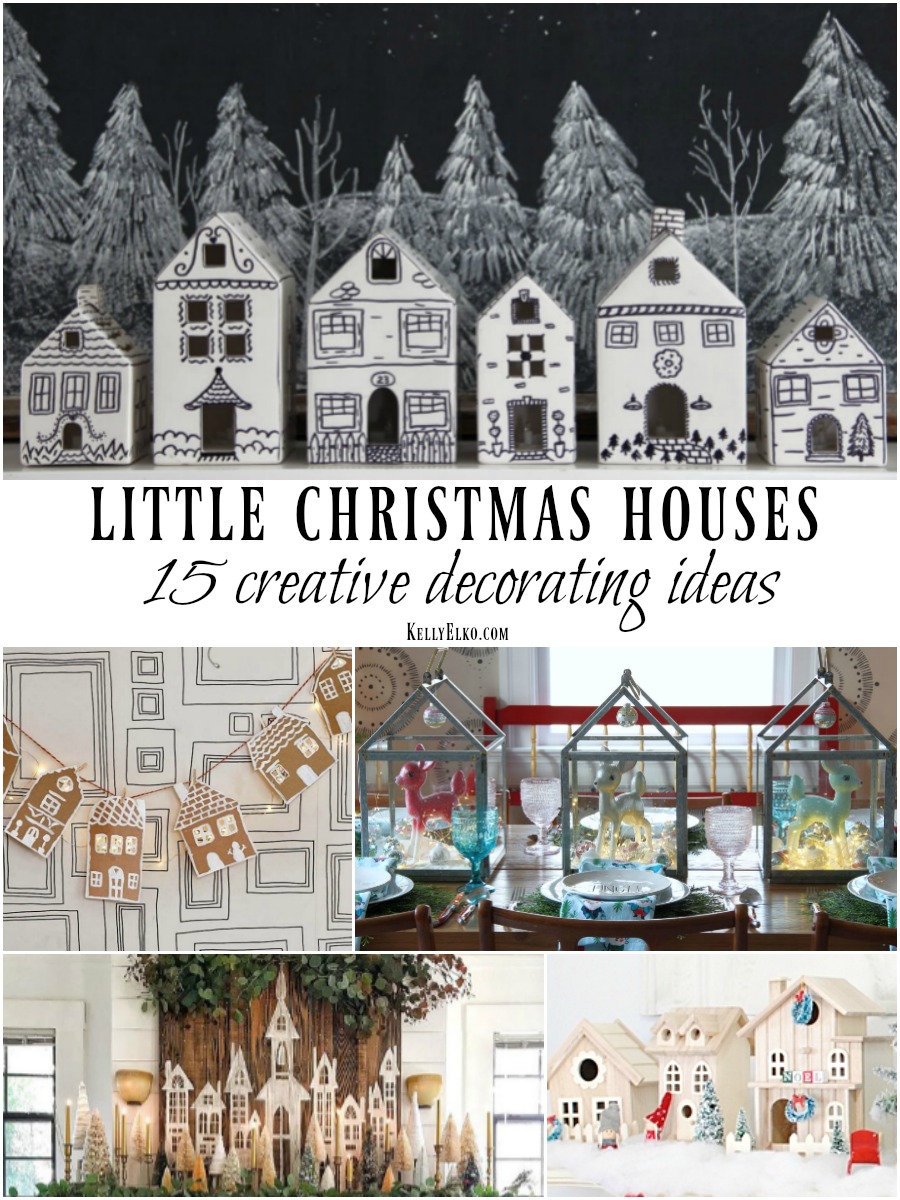 Don't miss my Christmas Home Tour Here – it's filled with so many more little Christmas house decorating ideas.
Have you ever read the book, If You Give a Mouse a Cookie? The little mouse asks for a cookie which leads to him wanting a glass of milk which means he needs a straw then a mirror to avoid a milk mustache and on and on and on.
Just like that little mouse, my first little Christmas house DIY led to me creating many more over the years.
This is my latest little house creation and I couldn't love it more!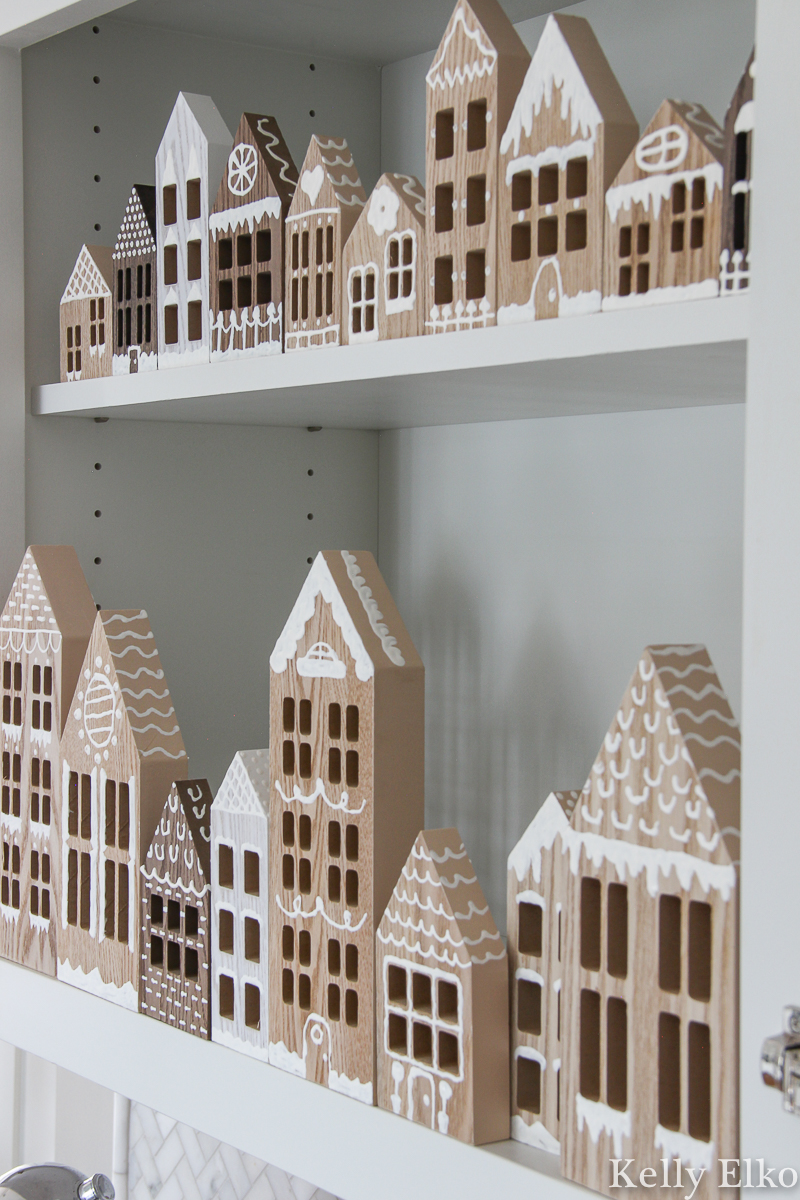 Click the pics below to shop some fun little wood Christmas houses …

I was first bitten by the Christmas house bug six years ago when I put my creative spin on ugly dollar store houses.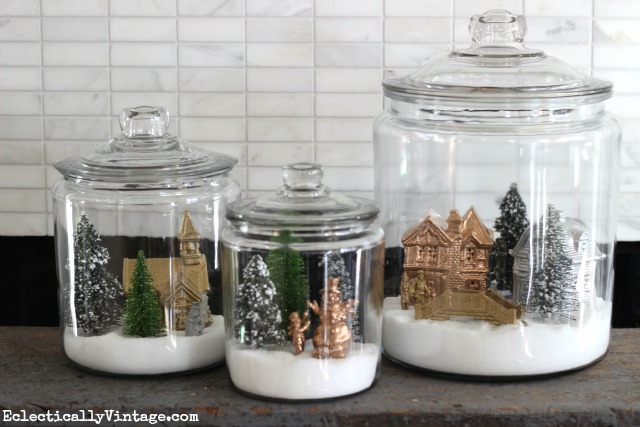 Which led to making this adorable winter village wreath.
This post contains affiliate links which means if you purchase something, I will earn a small commission at no extra cost to you.
Which led to creating a snowy winter village filled with my favorite battery operated fairy lights.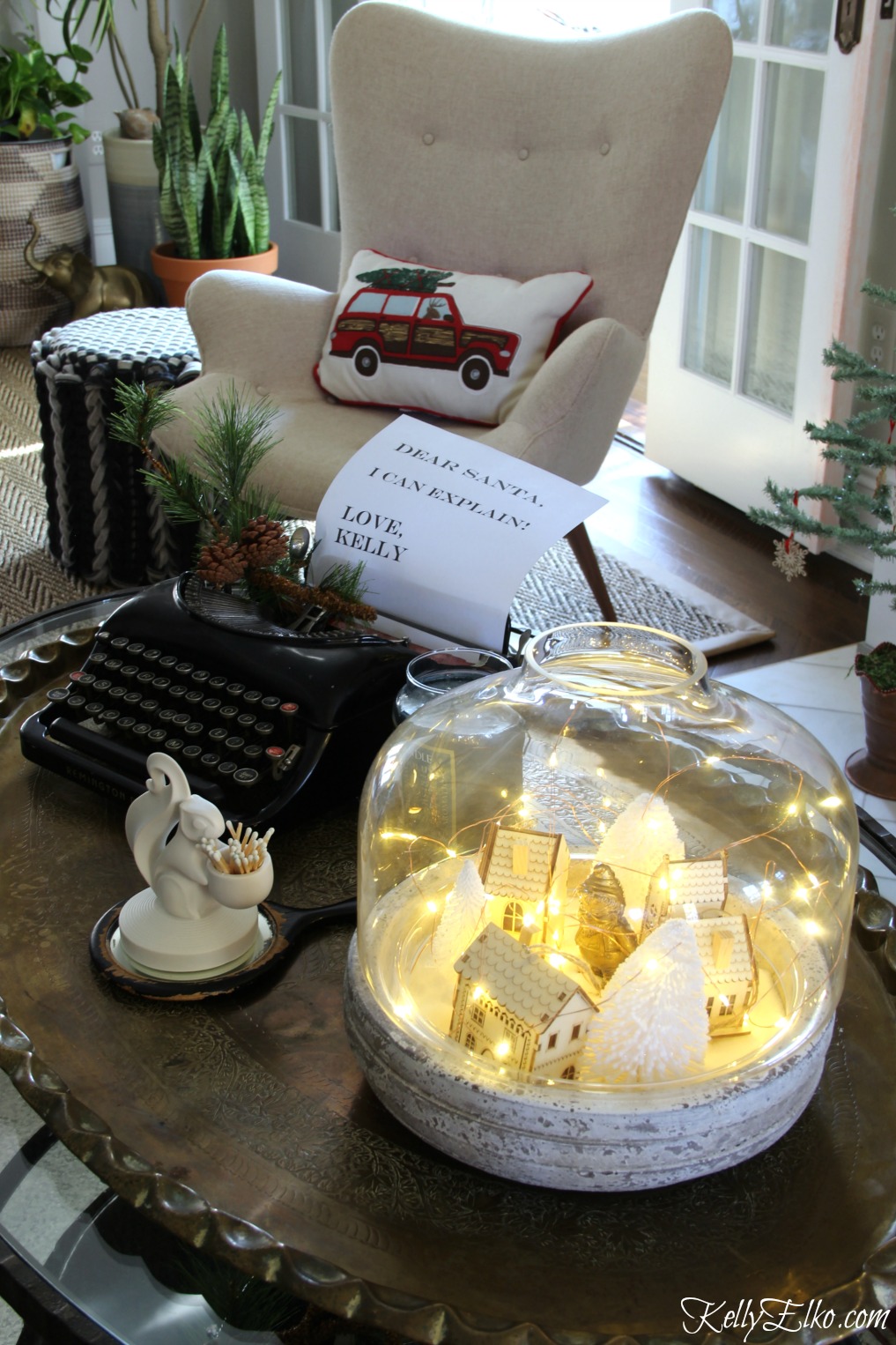 Which led to turning plain Jane ceramic houses into homes full of personality.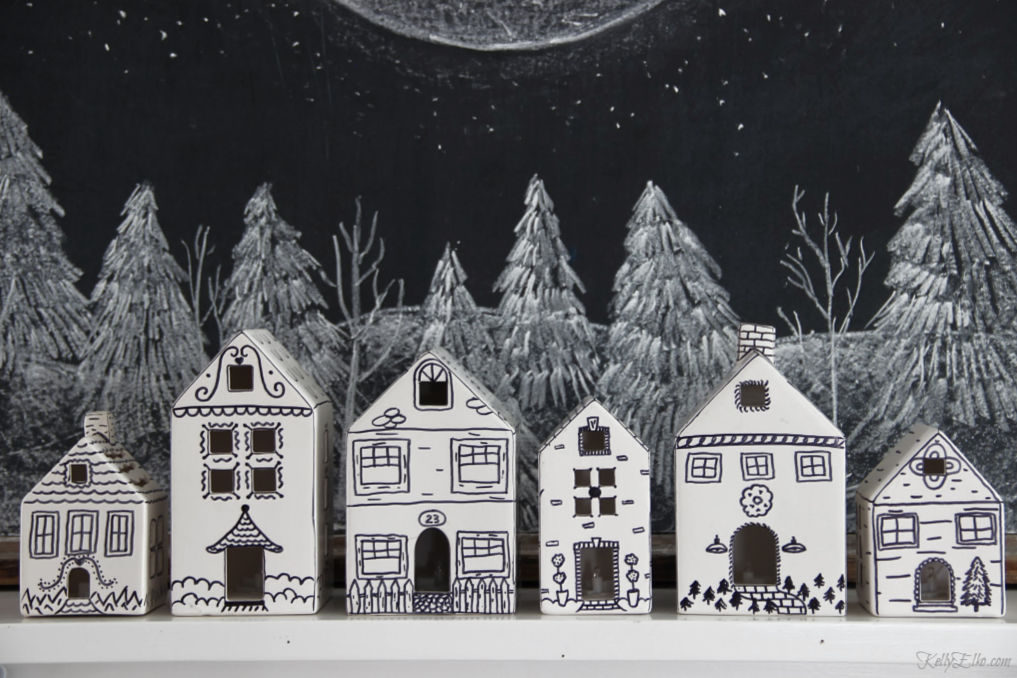 Click the pics below to shop my favorite ceramic Christmas houses …

Which led to giving three retro reindeer their own fairy light filled houses. See more of my dining room that includes a pair of Christmas trees decked out in vintage ornaments.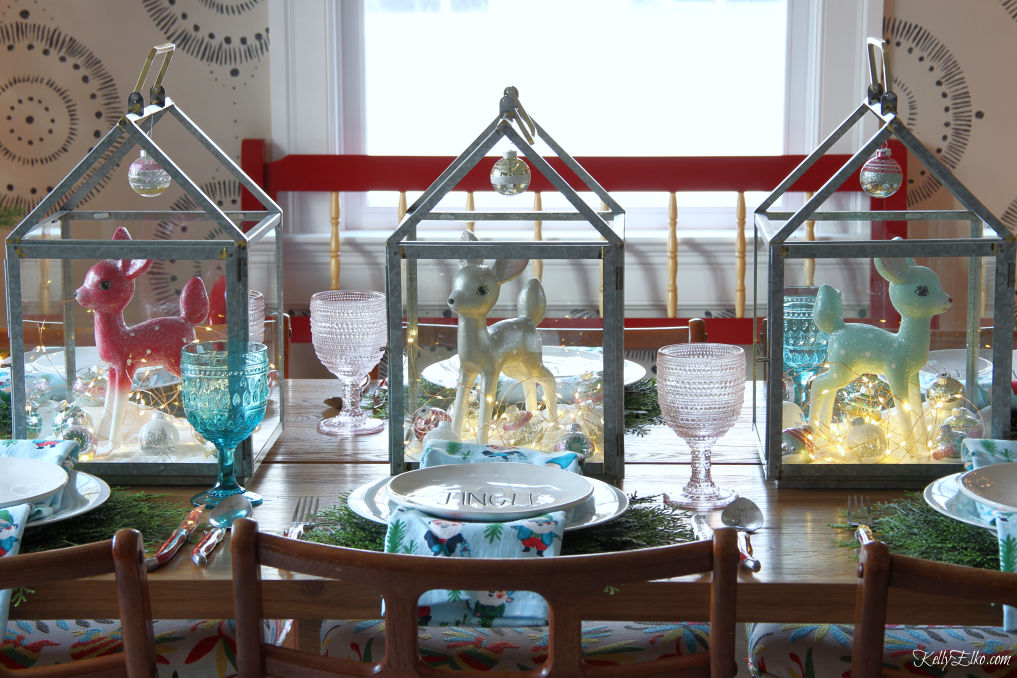 Which takes us to this year when I turned this Christmas countdown banner into the cutest fabric house filled Advent tree complete with its own little wood chalet tree topper.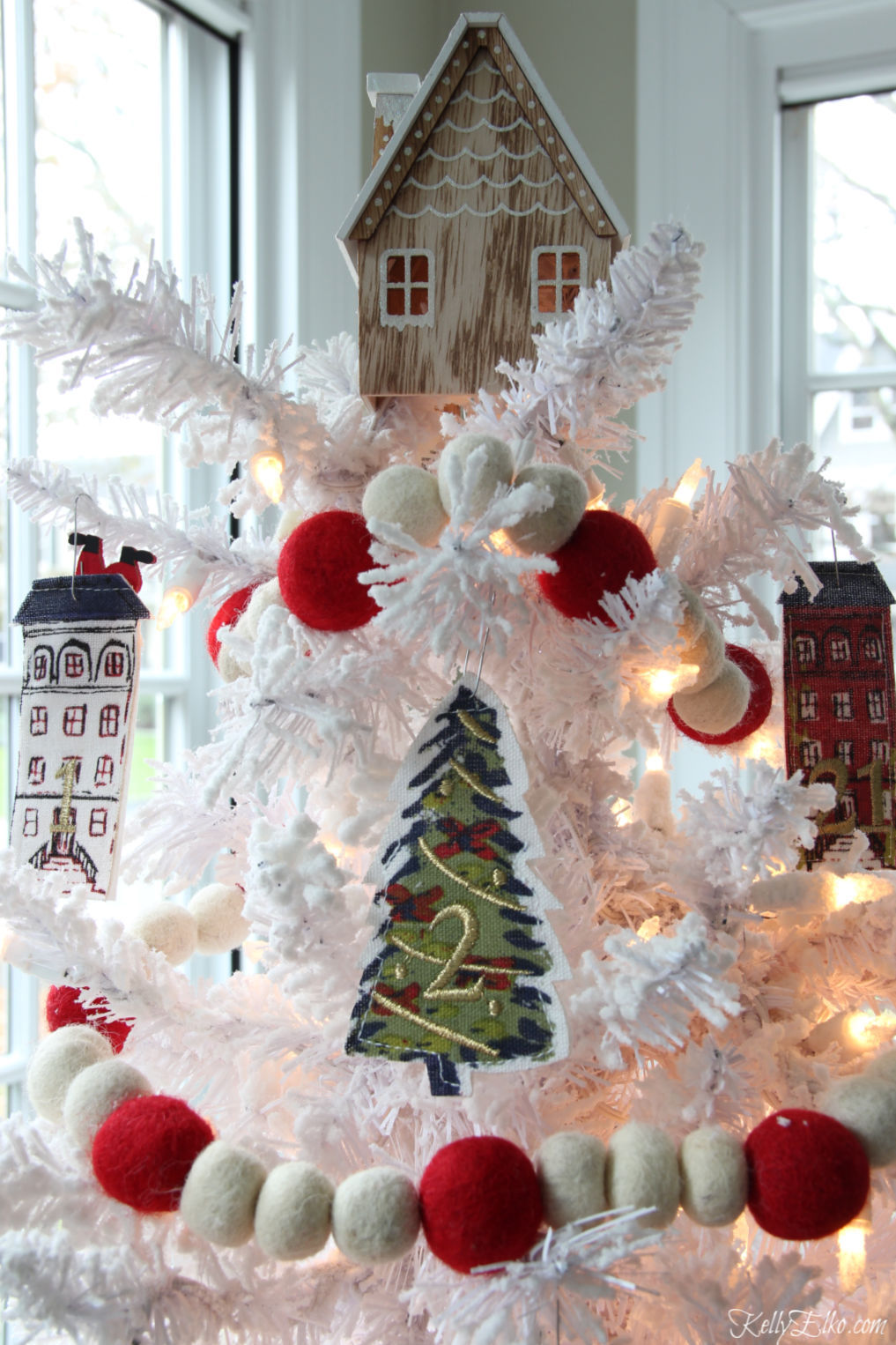 My obsession even forced me to buy a cute little house cookie jar!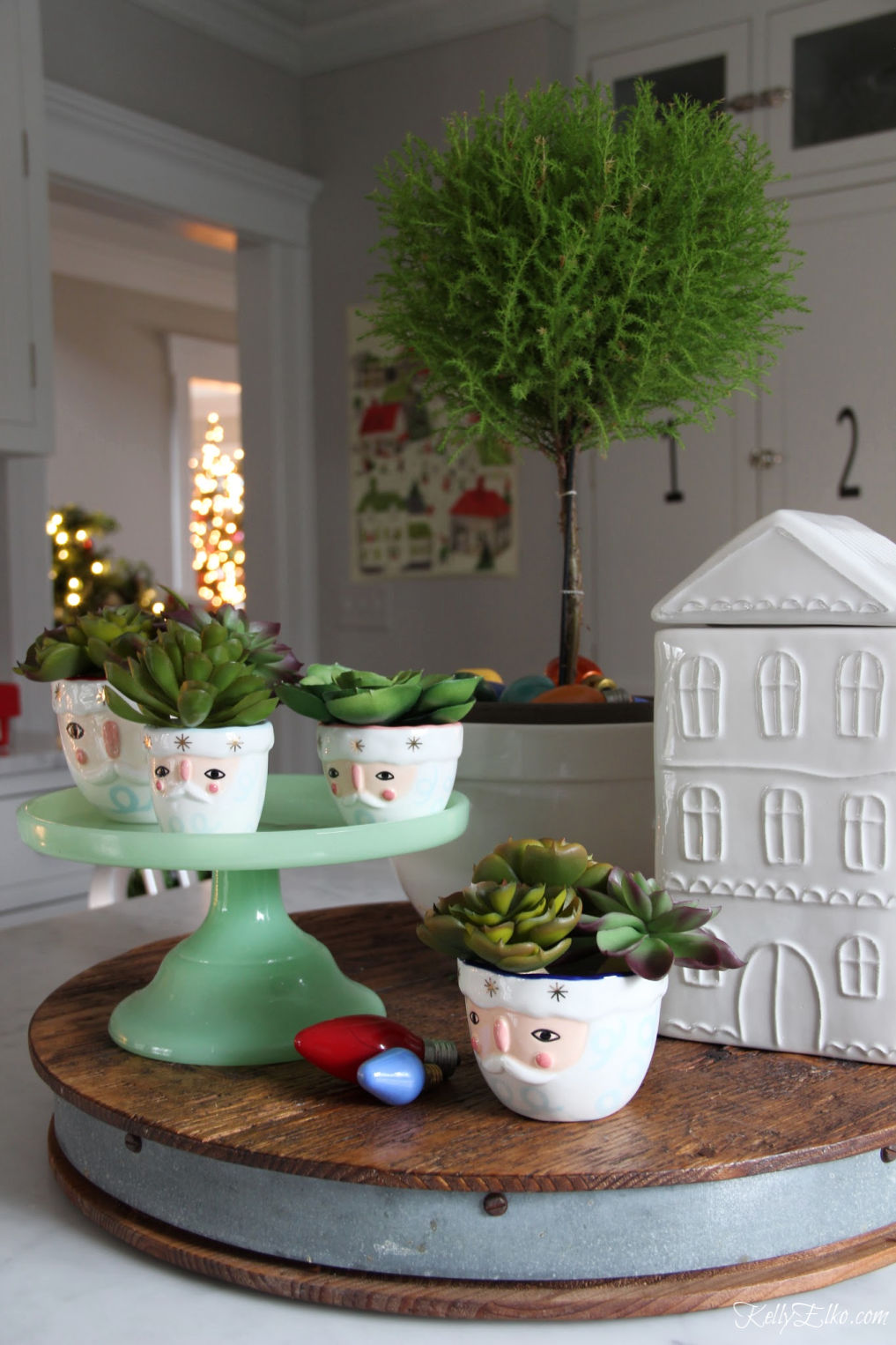 And it doesn't end there because you will see lots of little houses scattered throughout my house again this Christmas so stay tuned.
Speaking of houses, I'm sharing some of my favorite Christmas house decorating inspiration.
I love this cardboard gingerbread house garland from Pillar Box Blue and she even includes little house templates for you to trace.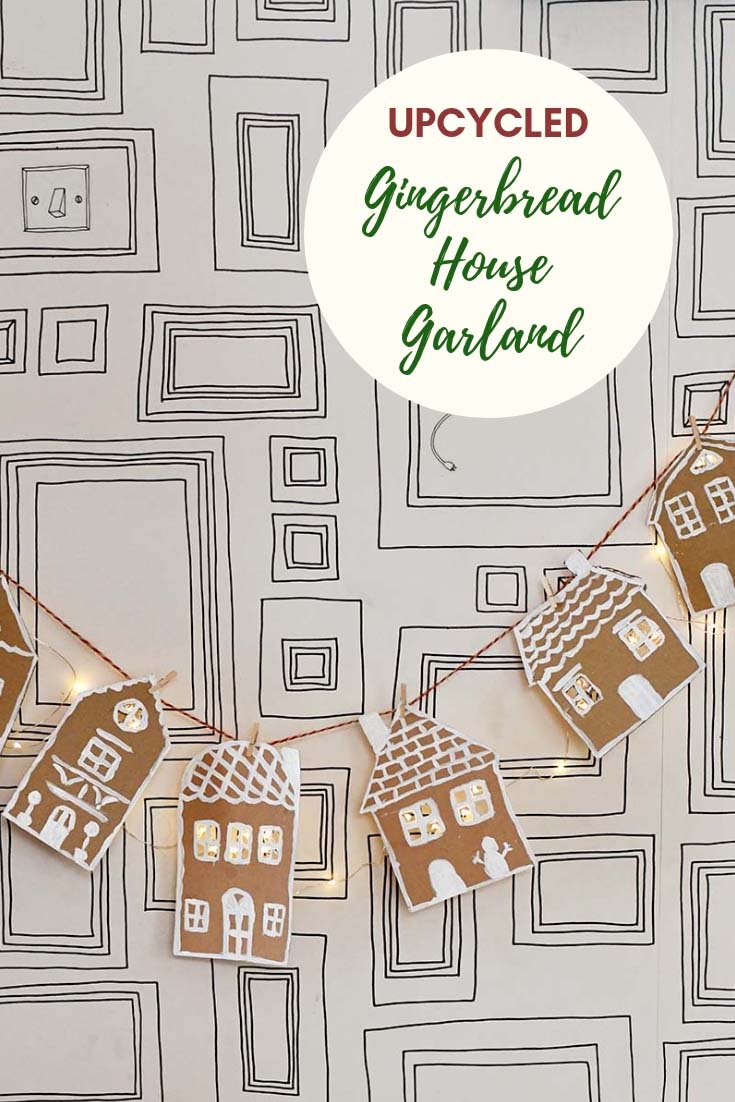 Toni Marianna's husband painted this beautiful row of houses with a church as the center. I love the forest of snow covered bottle brush trees and the pop of color from eucalyptus garland.
Hand Painted Christmas Village Art Mantel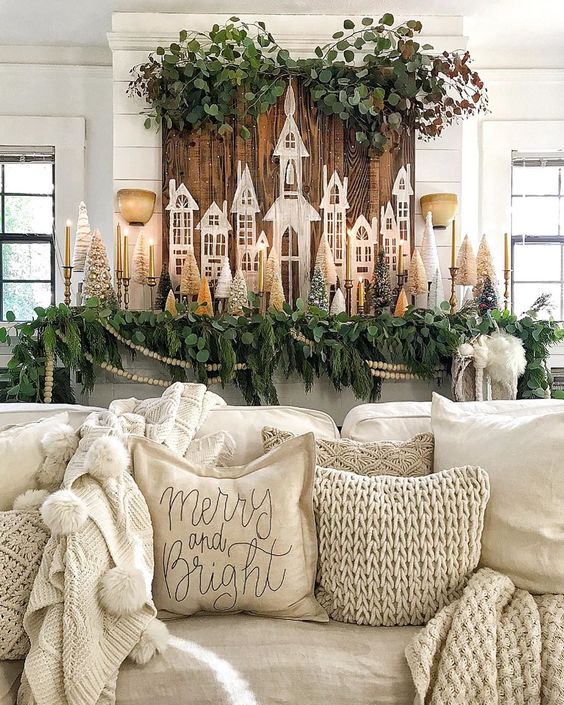 How fun is this idea from my friend Jen at City Farmhouse! She took the same wood houses I used for my gingerbread village but gave them a botanical twist.
DIY Botanical Christmas Houses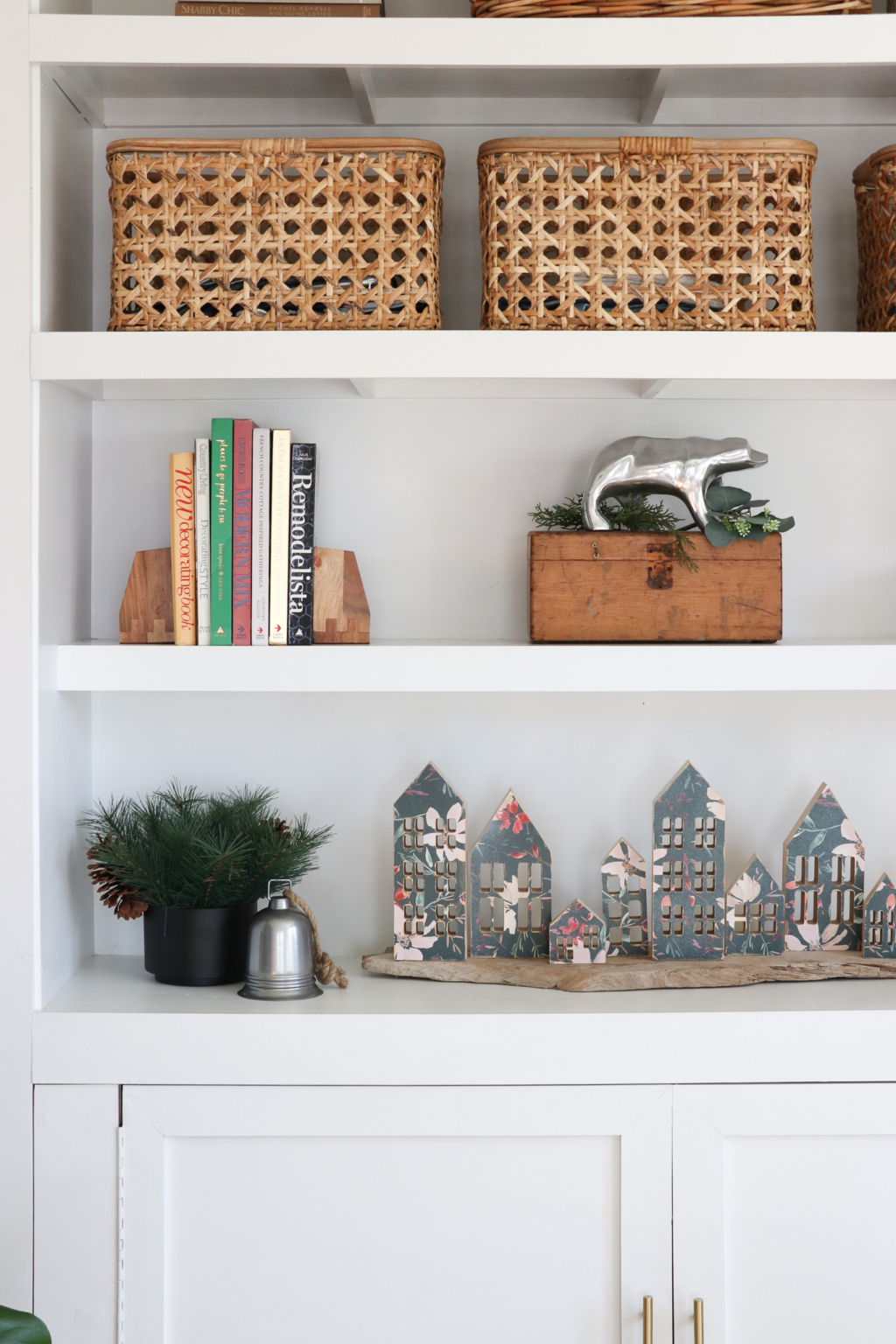 I love that each cardboard house on The Calvert Cottage's mantel has its own wreath and the chunky knit stockings with music paper rolls are a fun little touch.
Cardboard House Christmas Mantel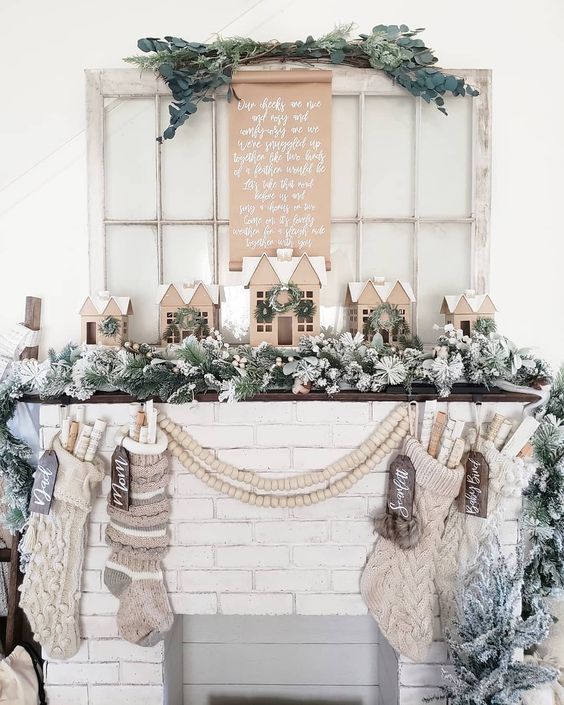 How completely adorable are these modern Putz houses including a Patisserie, a pet shop with mini white poodle waiting to be groomed, and a boutique complete with mint green Vespa parked in front.


Jennifer of Town n Country Living decked out plain wood bird houses and I love their simplicity.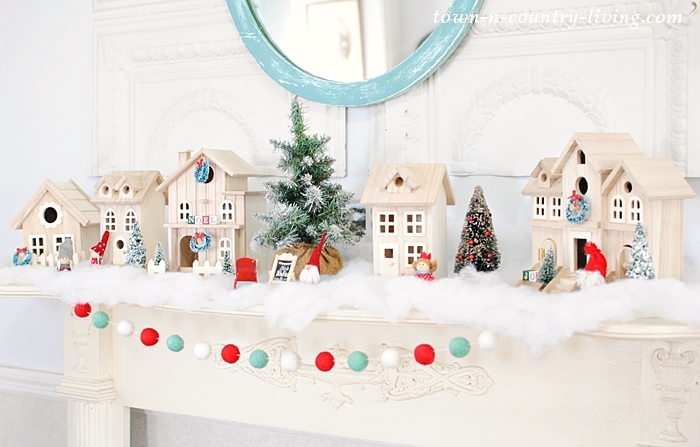 Fresh greenery clipped right from the farm of Fancy Fix Decor is a colorful backdrop to a row of white houses under a sky of snowflakes.
White House and Fresh Greens Christmas Mantel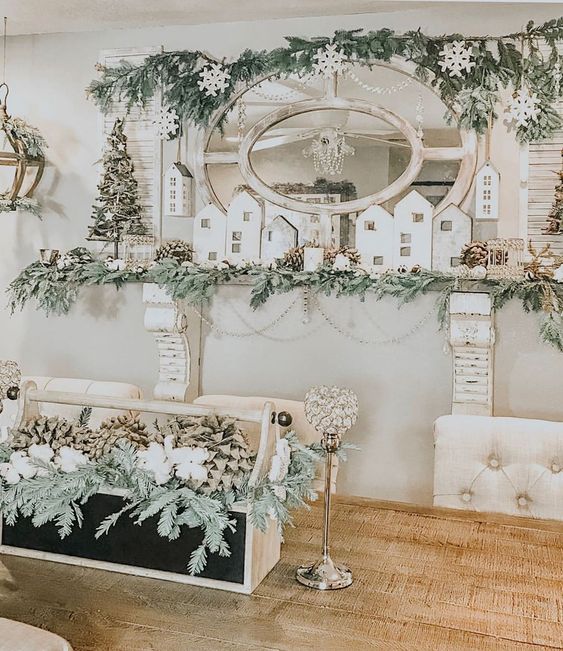 Thrift shop houses get a colorful new lease on life atop At Charlotte's House mantel.
Colorful Christmas Houses Mantel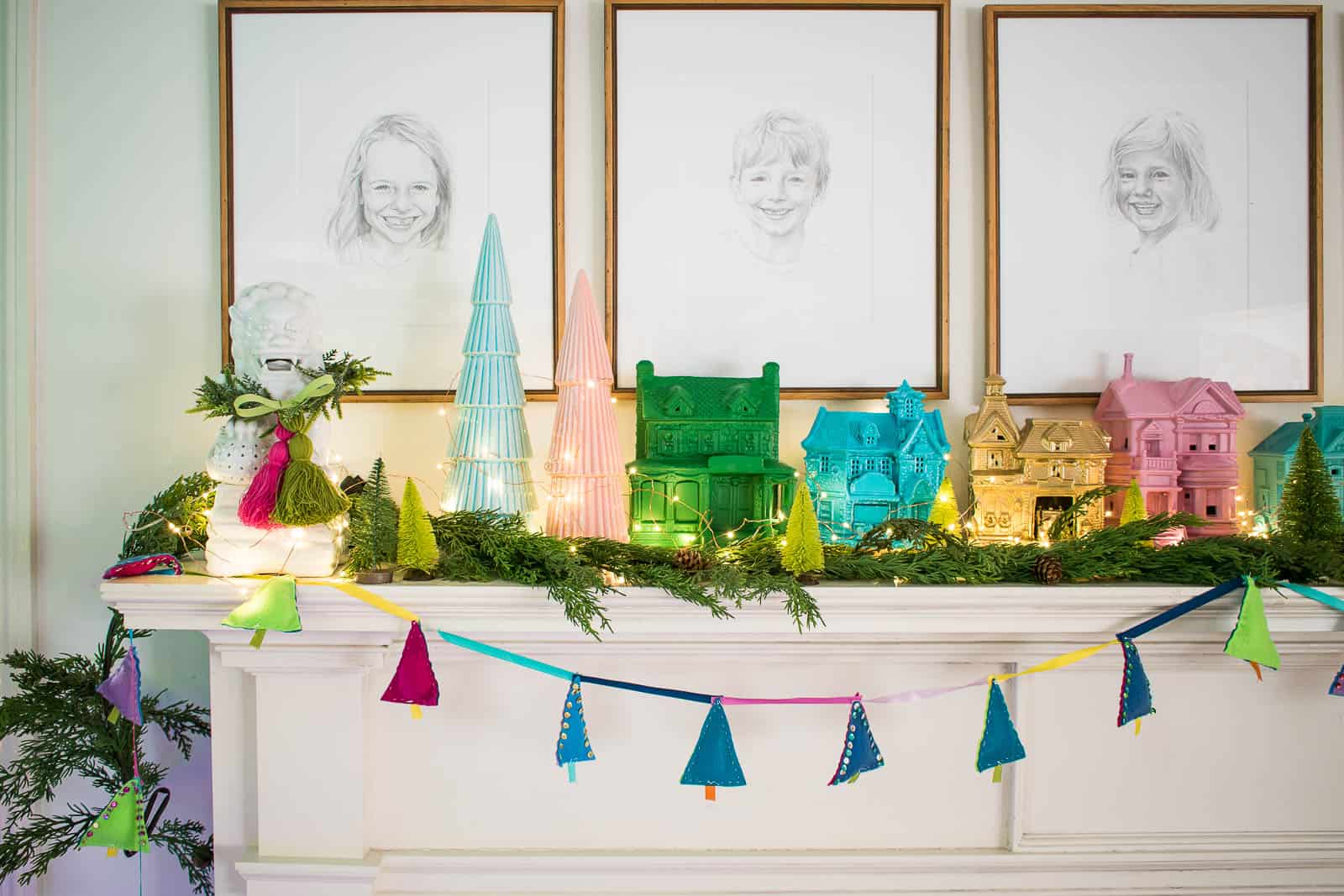 Fairy lights light up a snowy winter wonderland of galvanized houses by Just Destiny Mag. The icicle laden tree is pretty stunning too!
Winter Wonderland Christmas Village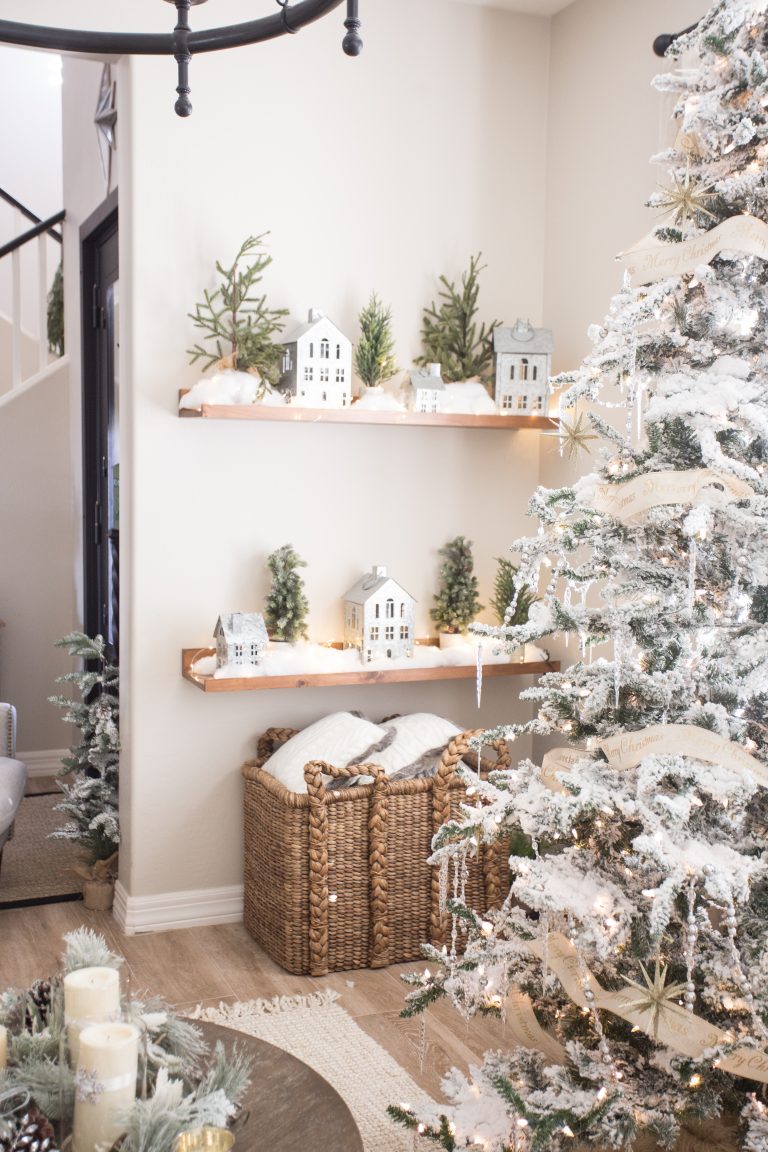 My friend Shannon at Fox Hollow Cottage had the great idea to hang her lanterns above her mantel and I love her chalkboard wall backdrop.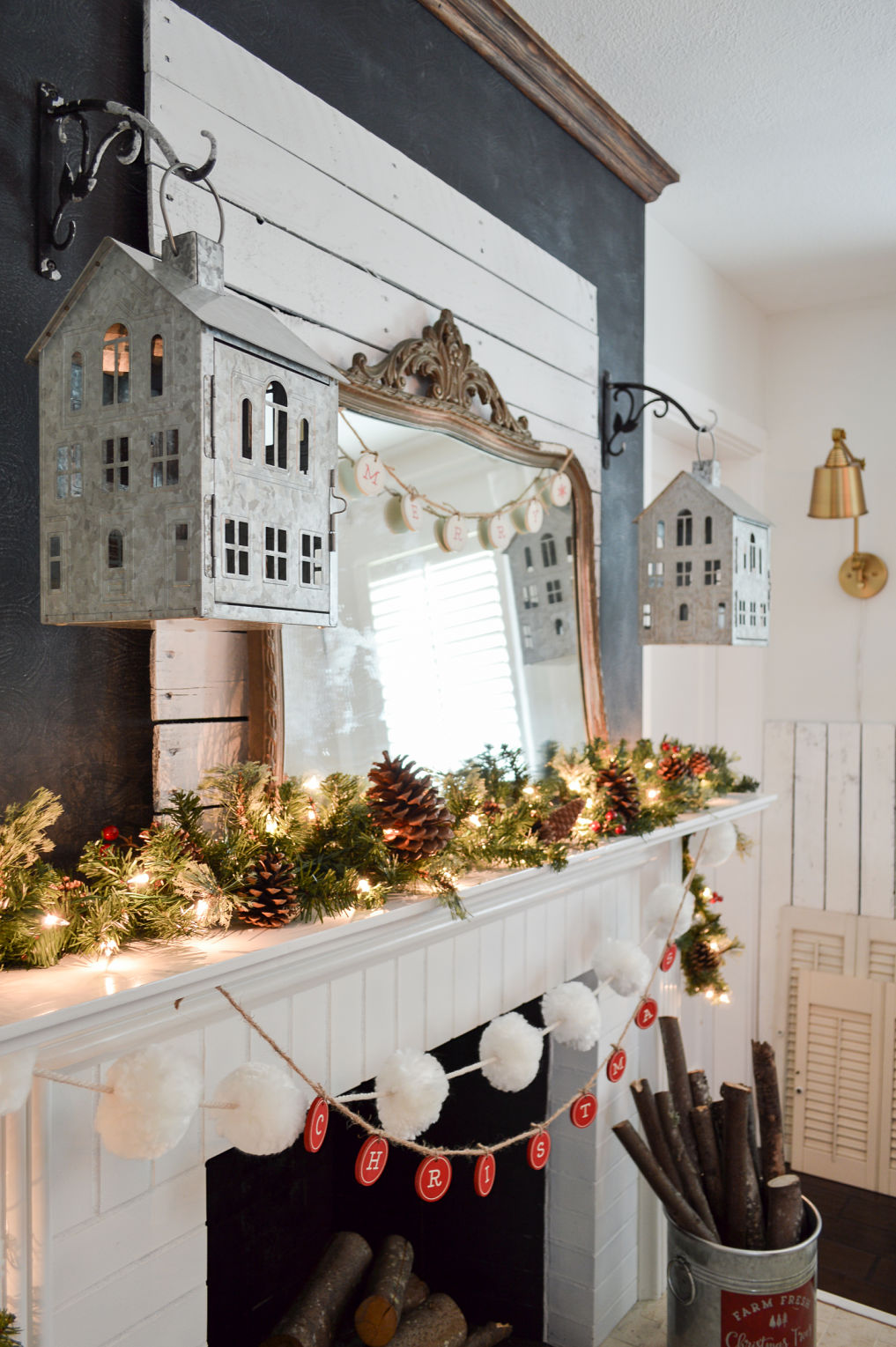 Have you hopped on the little Christmas tree bandwagon?
Here are some of my favorite little Christmas houses …