If you love vintage, you're going to love these vintage Christmas porch decorating ideas. See how to creatively display everything from old soda crates to thermoses to sleds to shovels to snowshoes and more for a unique and welcoming winter porch. I'll share some of my favorites from my Christmas porches past as well as introduce you to some gals who always create North Pole worthy porches. So lace up your ice skates and let's go.
I am so excited because yesterday I found the most amazing live Charlie Brown tree at my local tree lot! My Christmas tree porch dreams are coming true and I can't wait to share it with you! In the meantime, let's take a walk down Candy Cane Memory Lane.
For the last few years, I've been adding two old sleds (the one on the left is my old childhood one) to my porch and I'll probably continue to do so for many years to come because why mess with a good thing!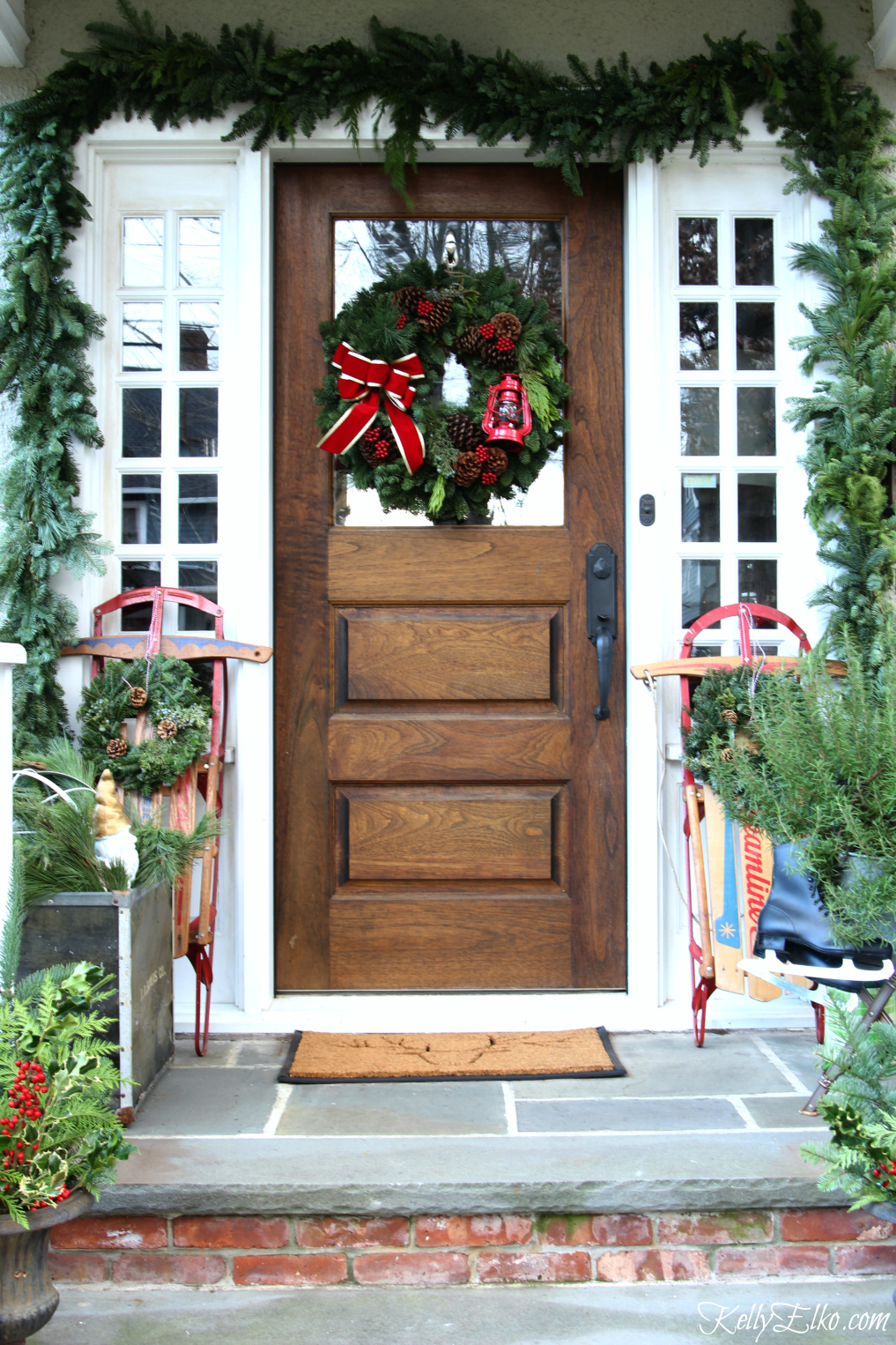 If you've got old metal bins or wood crates, they are the perfect place to add greenery. I like to cut apart fresh garland and tuck the springs in containers then add an unexpected surprise like this little gnome.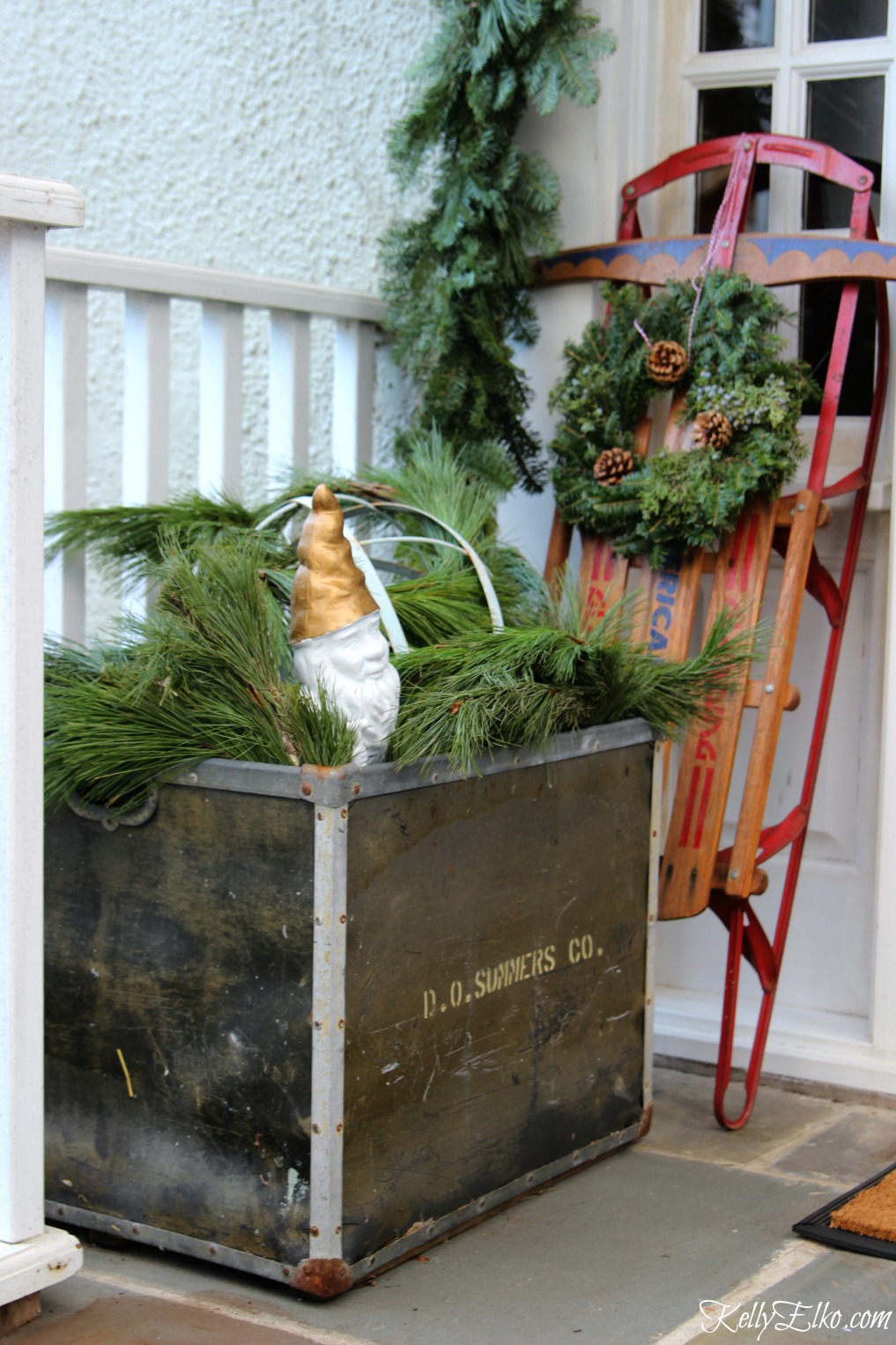 We must have had a mild winter the year this was taken because the rosemary was still thriving! A little metal child's chair is the perfect plant stand.
I honestly prefer the looser, more wild look of this cheaper garland I got at Trader Joe's. I like to layer two garlands together for a fuller, more lush look.
My daughters old ice skates are not technically vintage but they are cute so we'll overlook that minor detail. My hubby was used as child labor when he was forced to shovel the driveway with his little metal shovel (we actually have two of these – the other was his sisters)!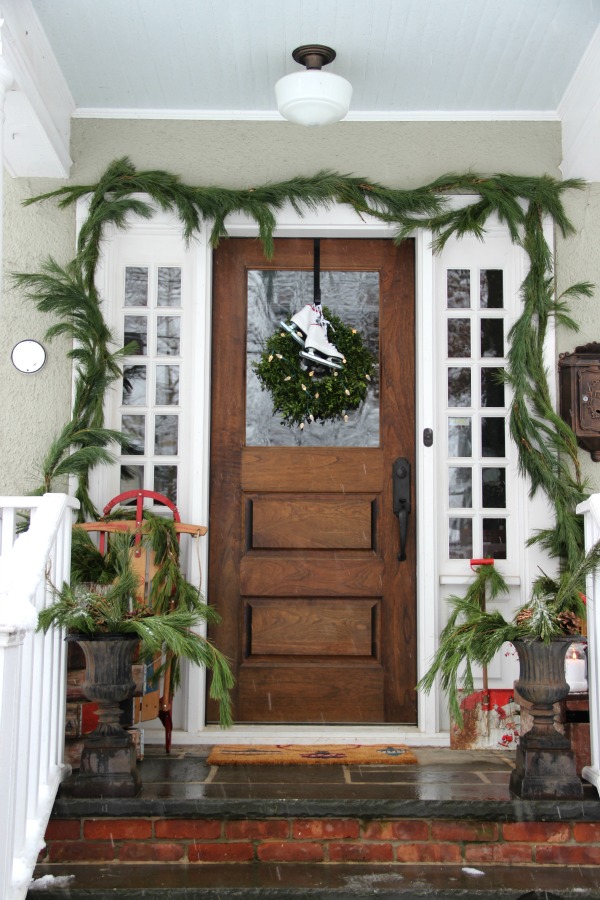 A stack of old soda crates becomes a charming little plant stand.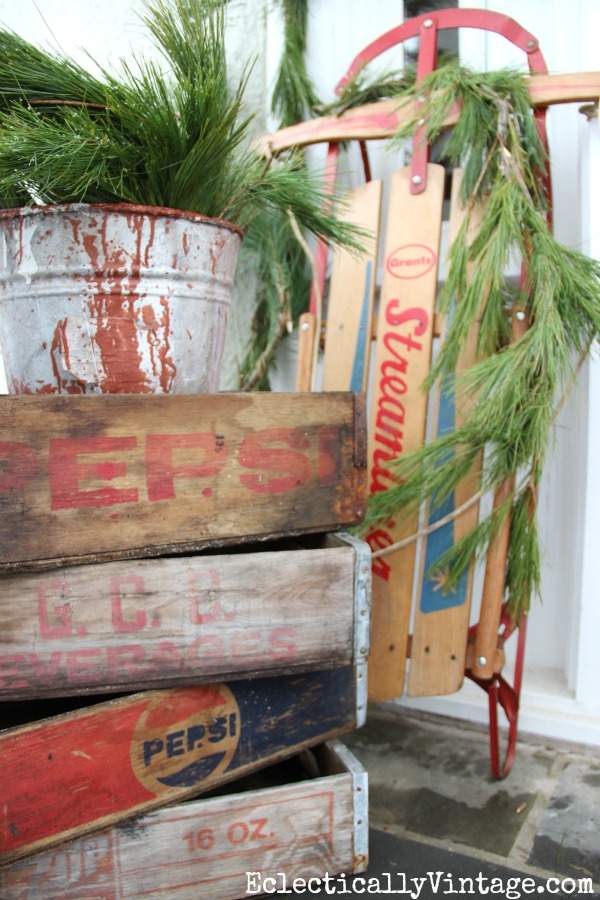 Another year, I used my hubby's shovel as a backdoor wreath.
Now let's meet some gals who know how to deck a mean vintage Christmas porch.
Pam knows that the best finds are tucked away in the basements of antique shops and estate sales. She scored this pair of snowshoes and jazzed them up for Christmas with a swag of greenery. She's got so much vintage goodness on the porch including old crocks, metal bins and thermoses, an little tree stand painted with the cutest little winter scene and you don't want to miss what she used as a front door "wreath."
Antique Snowshoe Porch – House of Hawthornes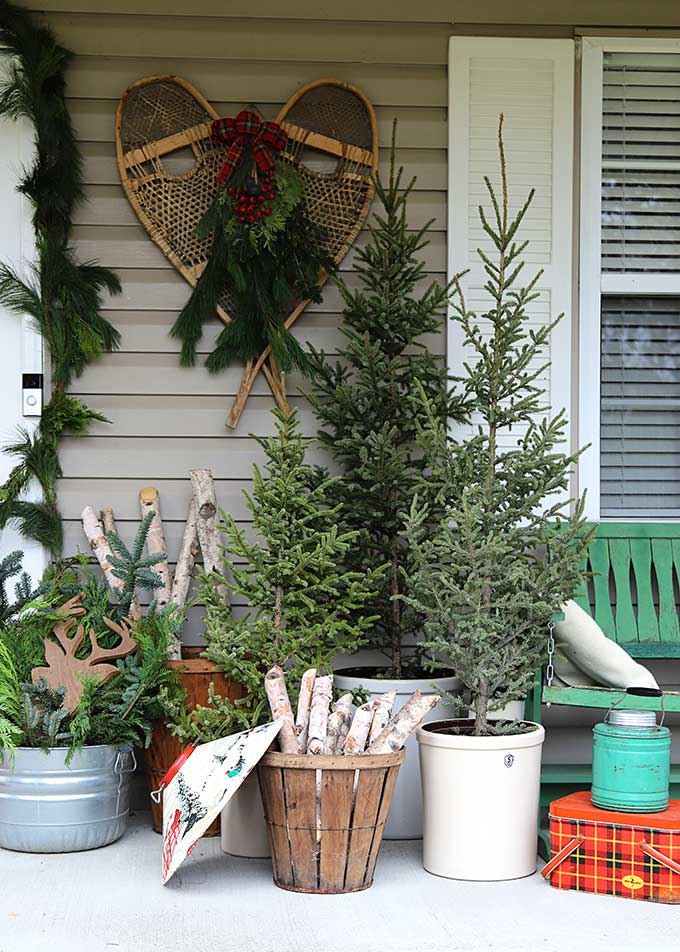 This screened in porch is a vintage Christmas lovers paradise! From the Santa blow mold, to the vintage coolers, to a dairy crate filled with ornaments, to her brother's childhood sled, right down to the circa 1970's red and gold satin ornaments, there is something fun to look at in every corner. There's even a pair of rocking chairs to sit a spell. Paula created lots of cute little displays around the porch so make sure to hop over for a walk down Christmas memory lane.
Vintage Christmas Lovers Porch – Virginia Sweet Pea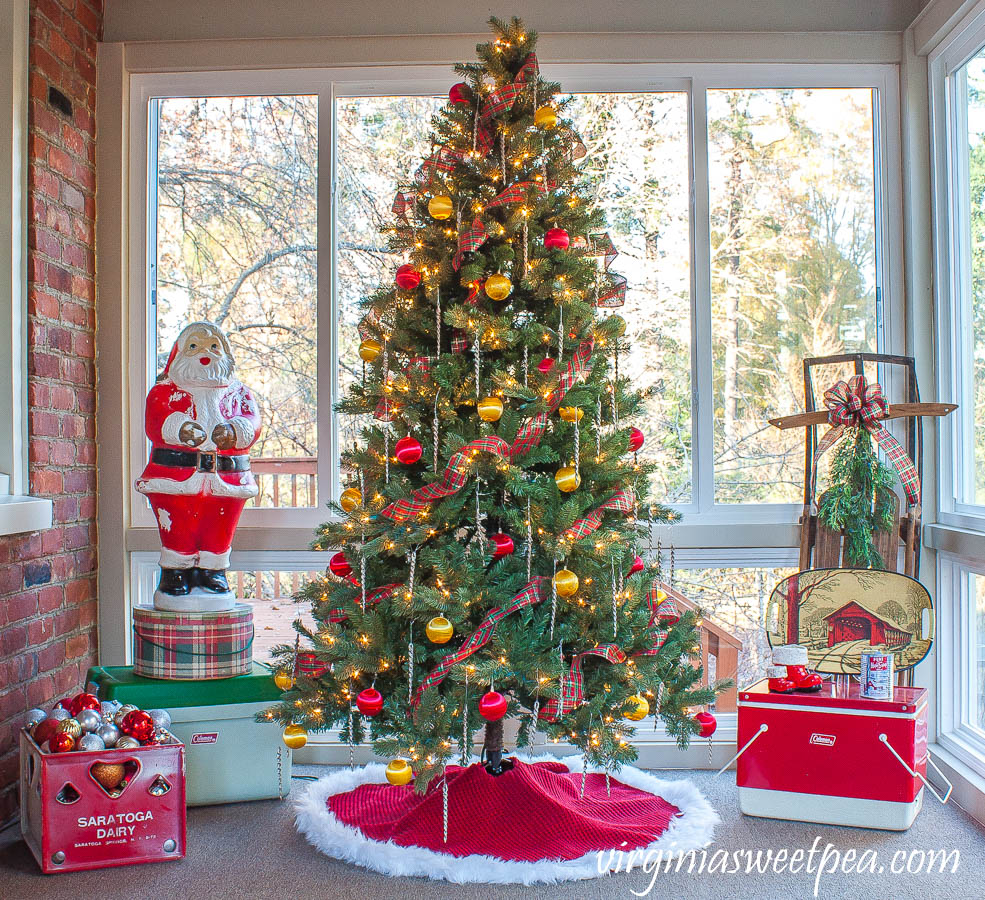 I hereby dub Amy to be the queen of Christmas porches! She goes all out every year to the delight of her neighbors. The sled coffee table is the perfect place to set down a steaming mug of hot chocolate and I love that she displays lots of little vintage toys and games around the porch. Don't miss this creative mix of old and new.
Queen of Christmas Porch – Atta Girl Says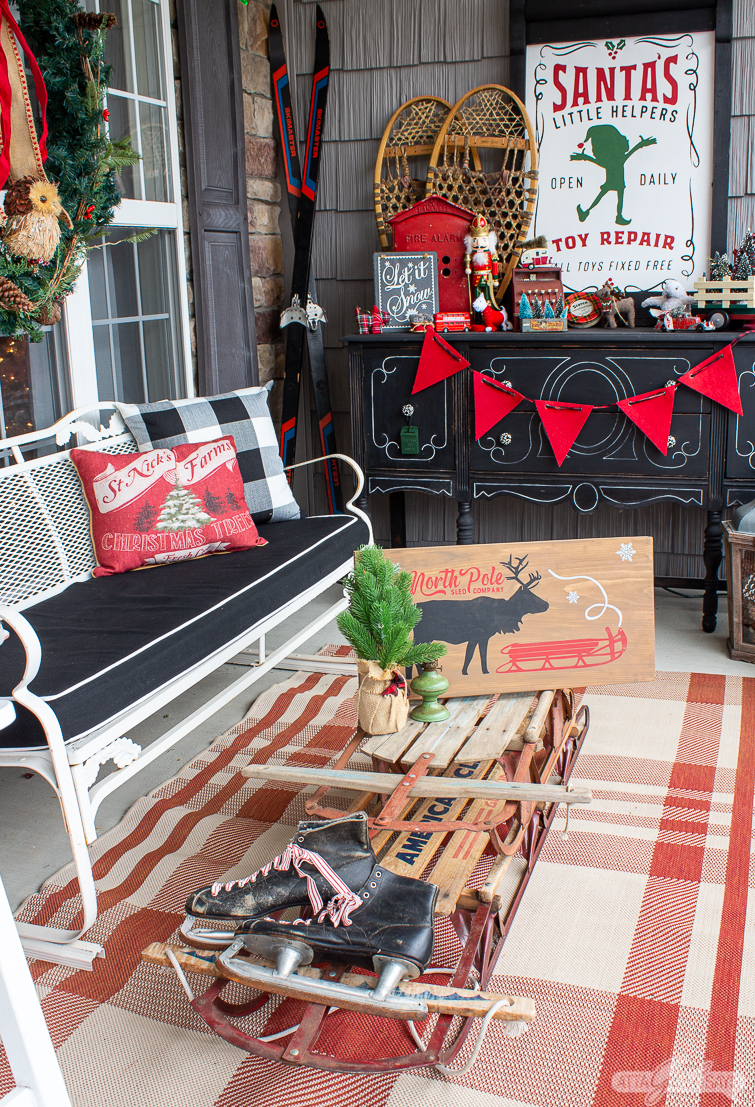 Do you love using vintage finds on your Christmas porch?
I'm still recuperating from decking the inside of my house so hopefully, I'll get some spring in my step and head out to deck my porch in vintage goodness.