Taking down Christmas decorations is just as much fun as putting them up … said no one ever! If you love decorating for Christmas but dread the thought of Christmas undecorating, you're not alone. Warning: you won't find perfectly packed and labeled bins or expensive storage solutions here. Instead, I'm sharing my tried and true, quick and easy ways to take down and store Christmas decorations.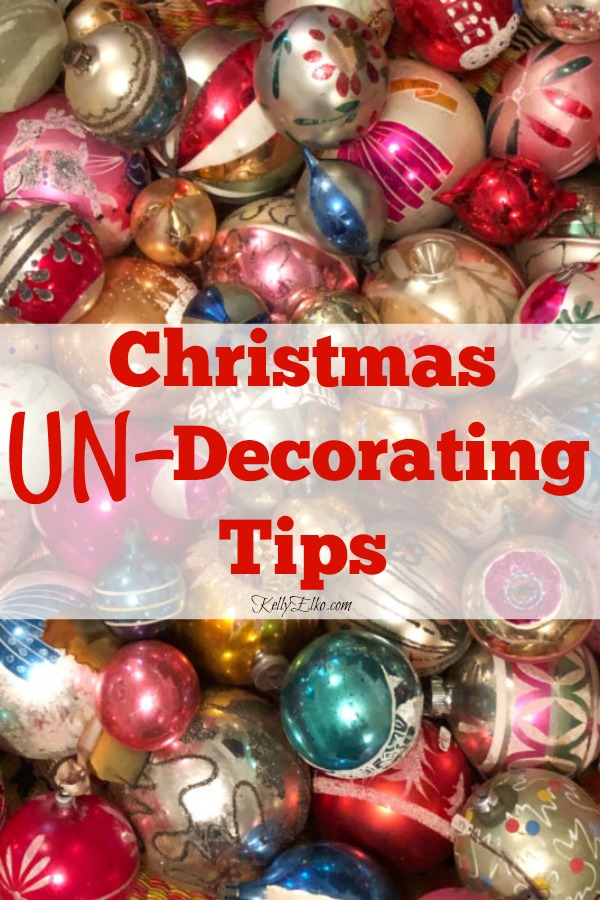 This post contains affiliate links which means if you purchase something, I will earn a small commission at no extra cost to you.
If you saw my Christmas Home Tour, you know I have a lot of Christmas stuff and that is just the tip of the ice burg!
Leave the Tree for Last – Taking down all the decorations isn't as overwhelming when it's done in stages plus I love being able to enjoy the glow of the tree through the new year. Who said you have to keep the box your tree comes in? I like these heavy duty Christmas tree storage bags. I always use divided ornament containers to store my precious Shiny Brite ornaments.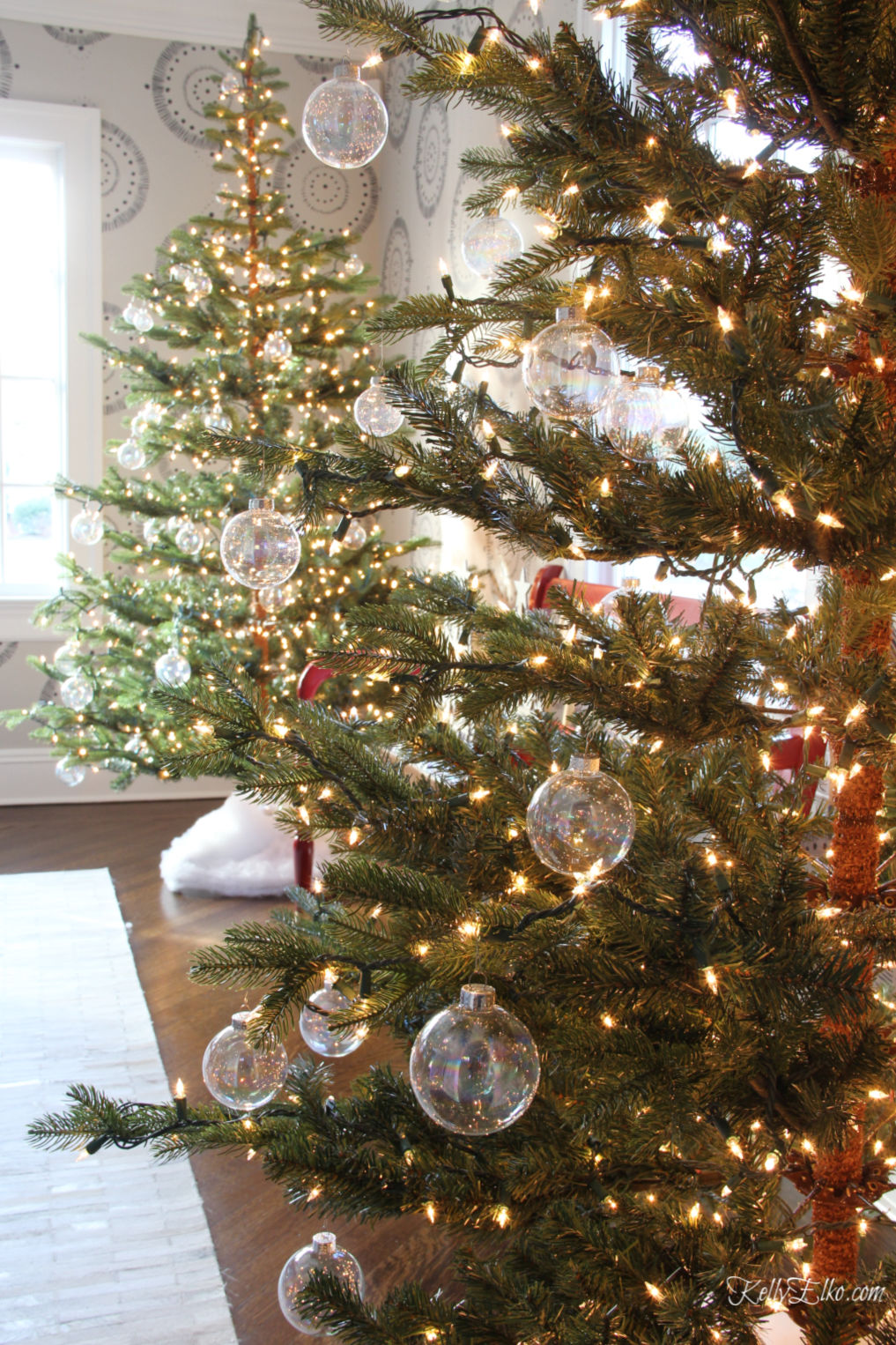 Pile it On – I gathered all of my decorations on my kitchen table where I could see everything at a glance. This made it much easier to store similar items together.
I Hate Big Bins – I've been transitioning to these 56 quart clear bins and they are a game changer! The smaller size means I can find what I need without having to rummage through huge amounts of stuff and they are easier to carry up and down my basement stairs. Of course, I do have some large bins for bigger, bulkier items. If you're an over achiever, you could even label your bins so you don't even have to open them to know what's inside.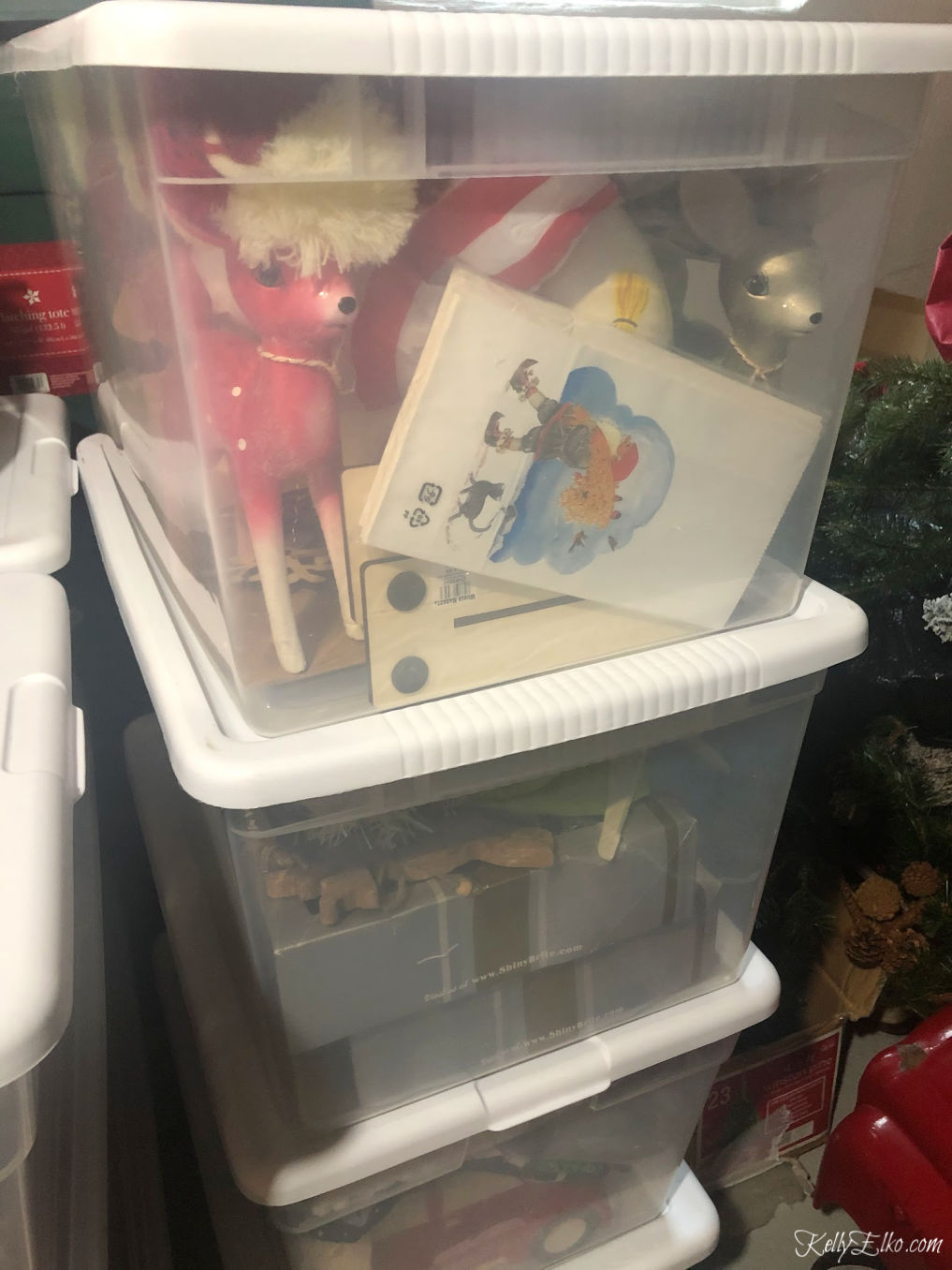 Use Decorations to Store Breakables – Soft things make great "wrap" for breakables. I stored Santa mugs in our stockings and used Christmas dish towels to wrap around my cookie jar collection.
Smart Storage – I store anything that isn't too precious or breakable in plastic gallon bags, keeping like things together.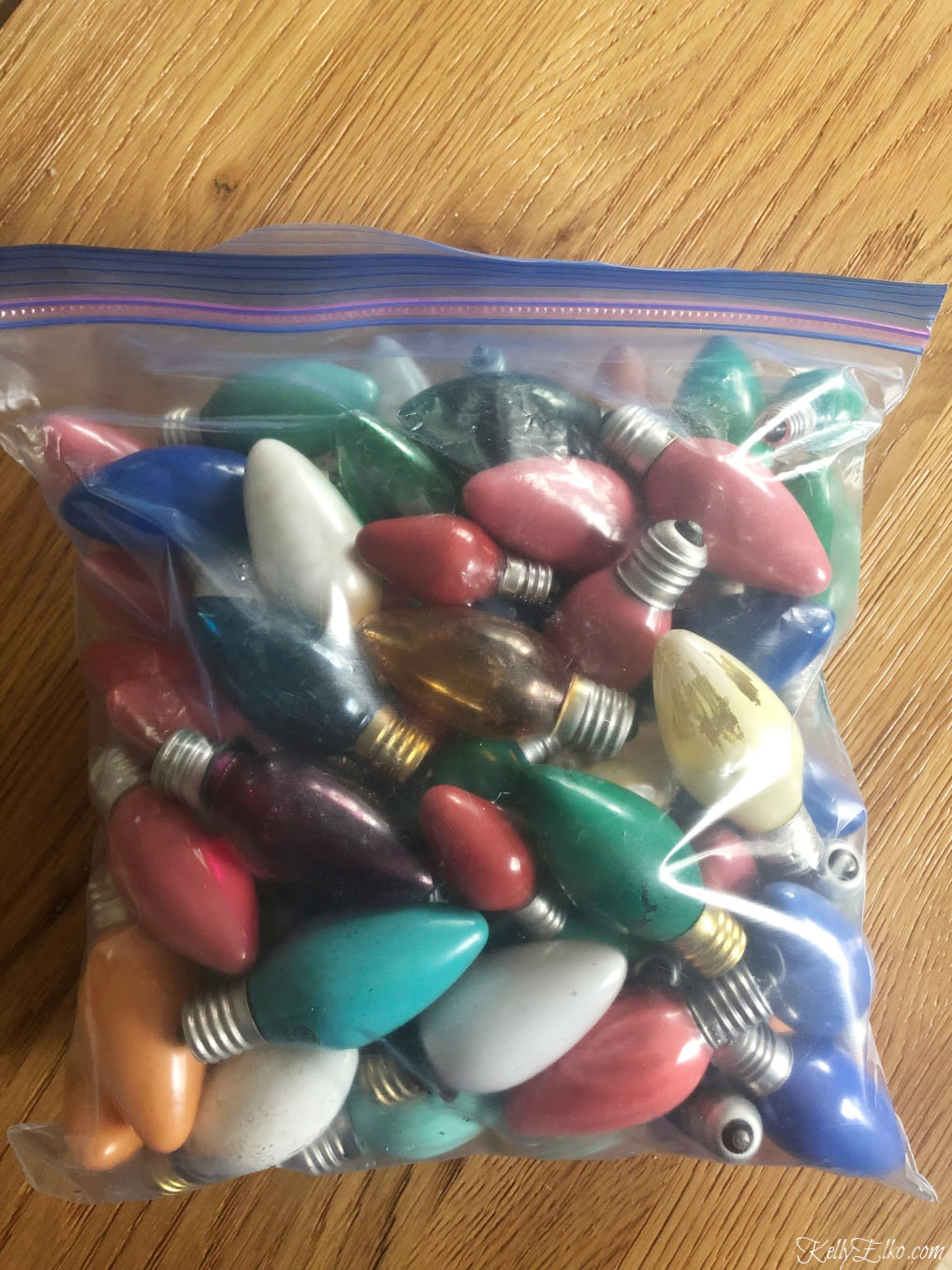 Weed Out – Your future self will thank you if you take this time to gather up decorations that you no longer love or use and add them to the donation pile.
Don't Store Everything – Candles, faux evergreens, little trees, garlands, string lights, and mercury glass will help warm up your house during those dark winter months.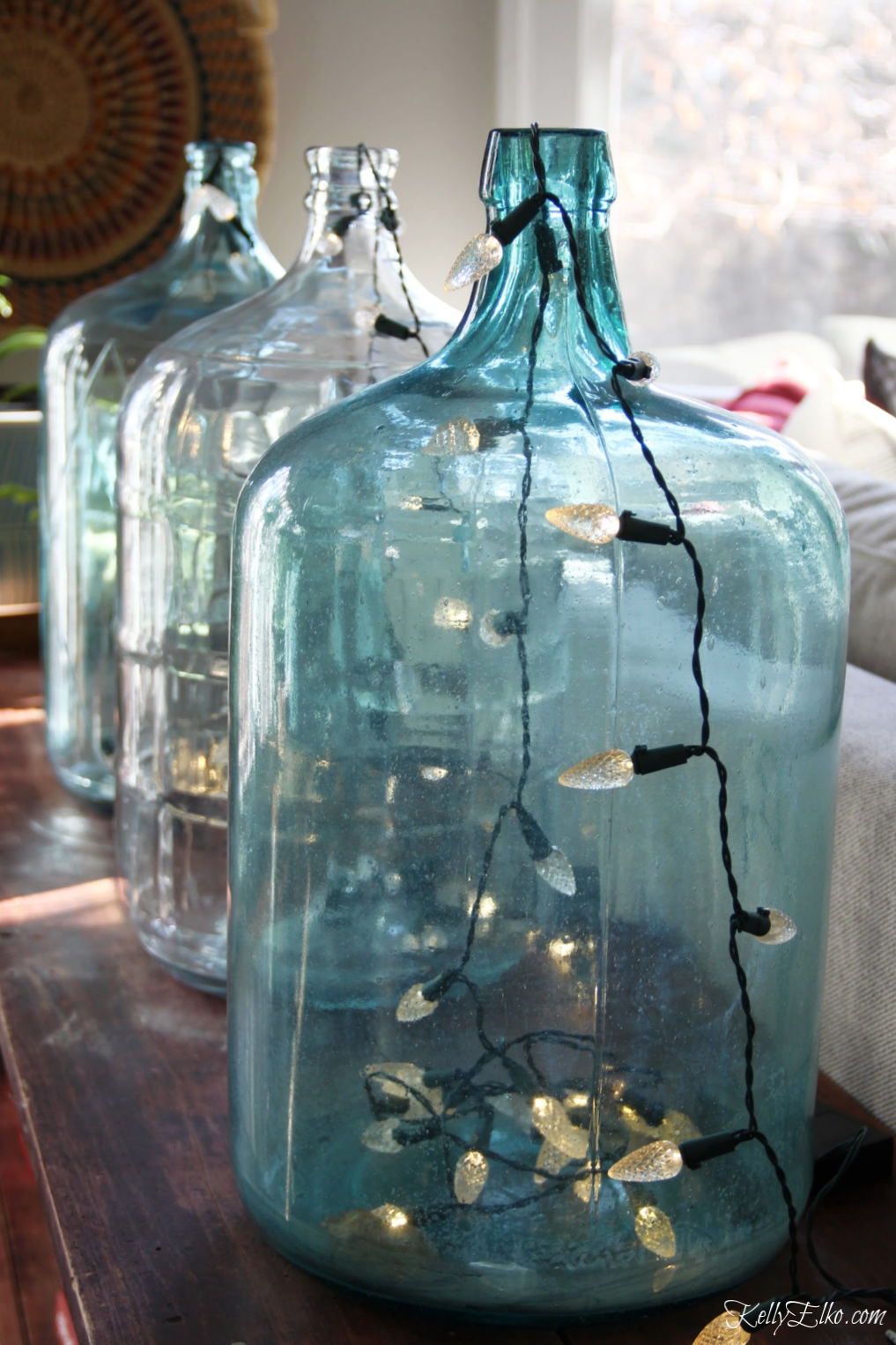 My little ceramic house village will be sticking around for awhile.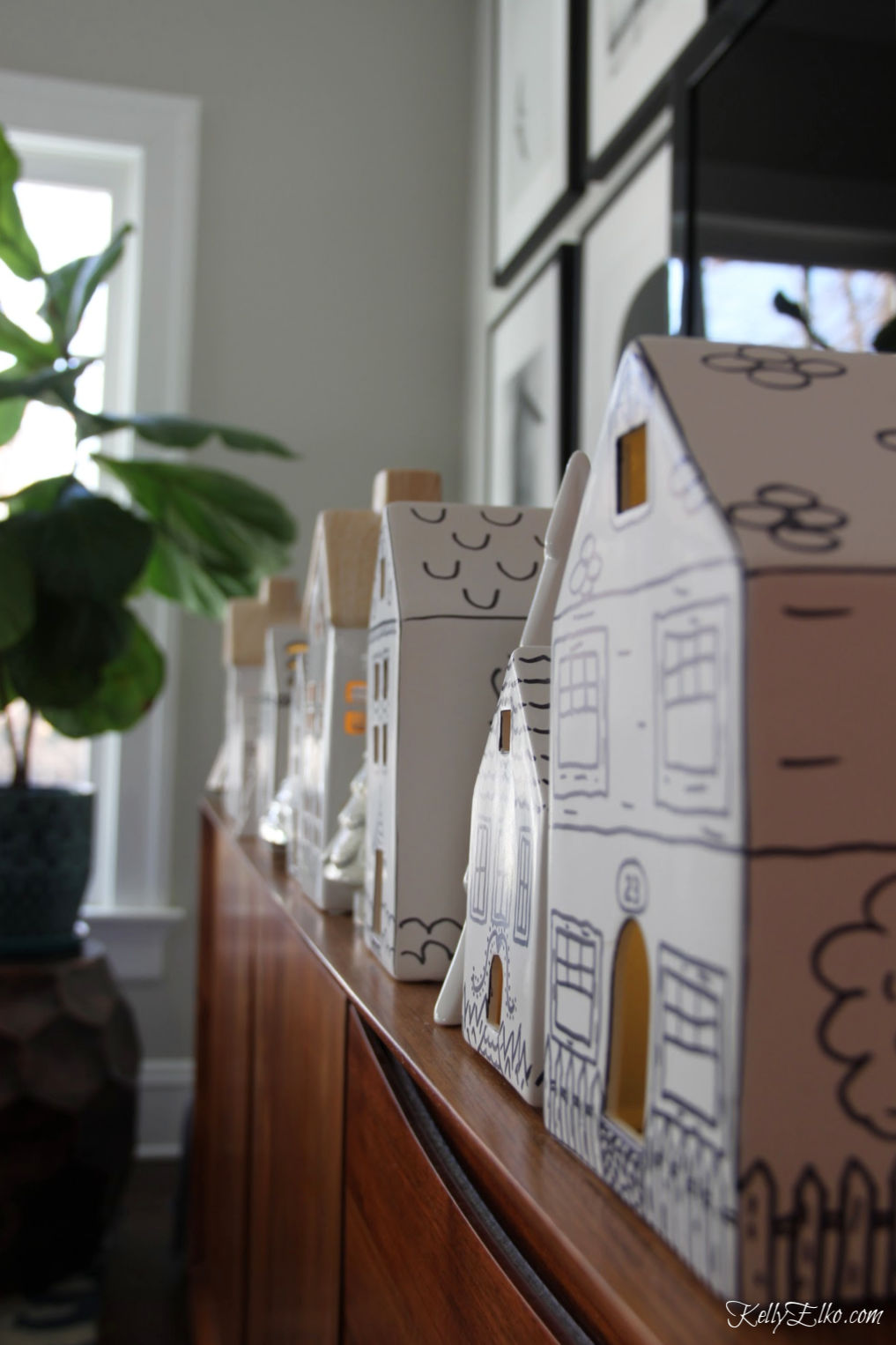 The house seems very empty without the abundance of Christmas decorations but I'm happy to have a fresh slate.