Very Vintage Christmas Home Photo & Video Tour!
I've been decking and trimming and stringing and hanging and I'm excited to share my 11th Christmas home tour with you! It's a little bit vintage a little bit modern and I had so much fun using vintage and thrifted finds in unique ways. I'm not one of those gals who give you a room or two … I'm giving you a whole house tour with tons of pics and a video tour of my home. Welcome to my Very Vintage Christmas Home Tour!
I'm kicking off the first day of the Jennifer Rizzo's Holiday Housewalk which means that all week long, you can hop from blog to blog to see some amazing homes decked out for Christmas. The tour begins at Jen's house here so don't miss it.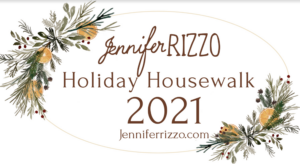 If you're visiting from my friend Jenny at Dear Lillie … welcome! Make sure to check out her always stunning home!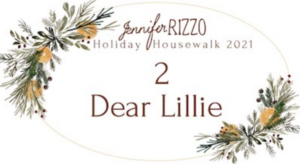 I added a source list at the end of this post in case you see something that you have to have.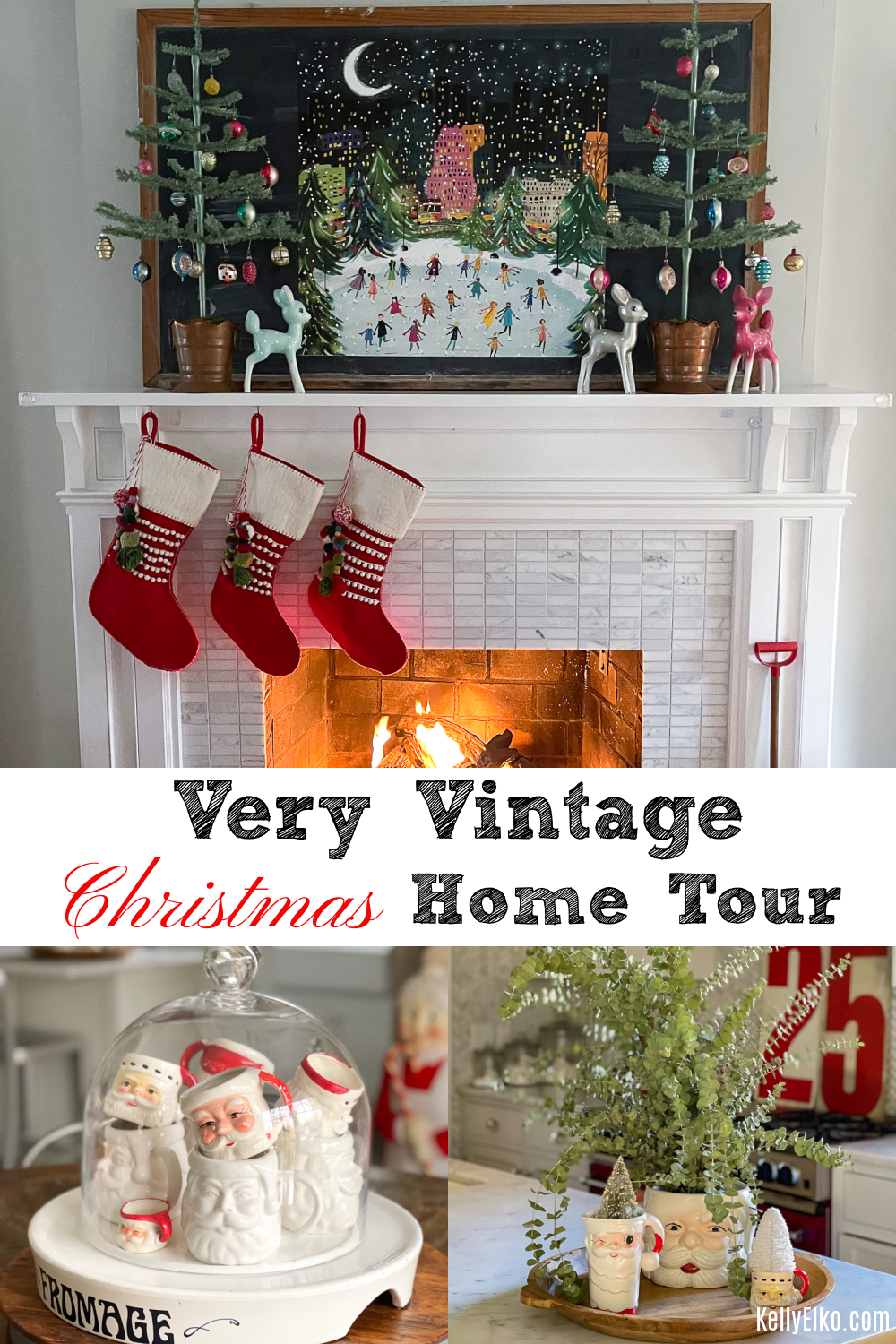 I am so excited to include a video tour of my home all decked out for Christmas so make sure to watch it (after the short ad) below!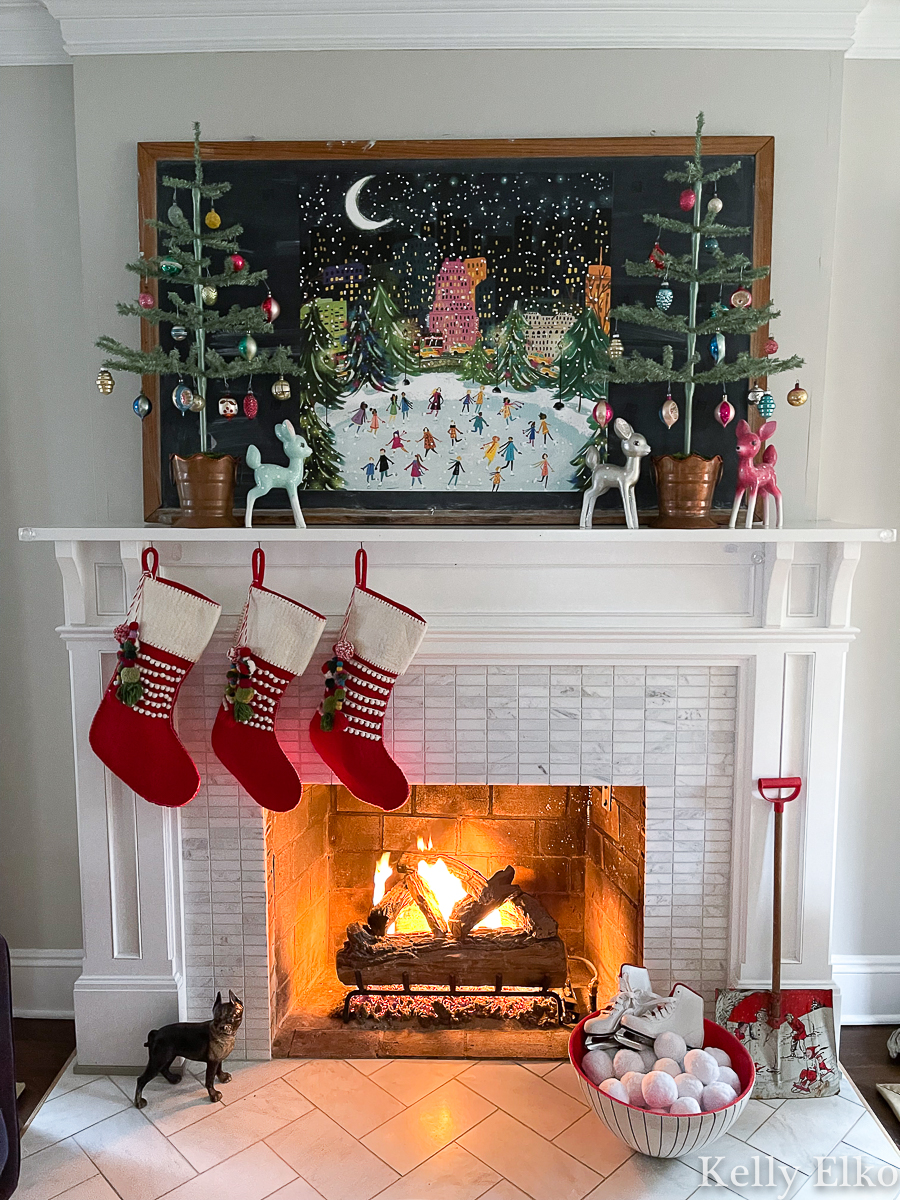 For those of you new to my blog, I live in New Jersey in a circa 1913 house that we did a complete gut renovation 12 years ago. We now have the old bones of an old house with the modern conveniences and updates of a new one! Just like my house, I love mixing old and new for a one of a kind look … especially at Christmas!
The mantel is the first thing I decorate and when I have that figured out, everything else seems to flow from there. I've said this before over the years, but I really think this may be my favorite mantel yet!
This post contains affiliate links which means if you make a purchase, I may earn a small commission at no extra cost to you.
Can you believe this ice skating scene art is a page out of this calendar that I had enlarged at Staples?! I love the whimsical ice skaters and the colorful skyscrapers and knew it would make the perfect focal point for my mantel.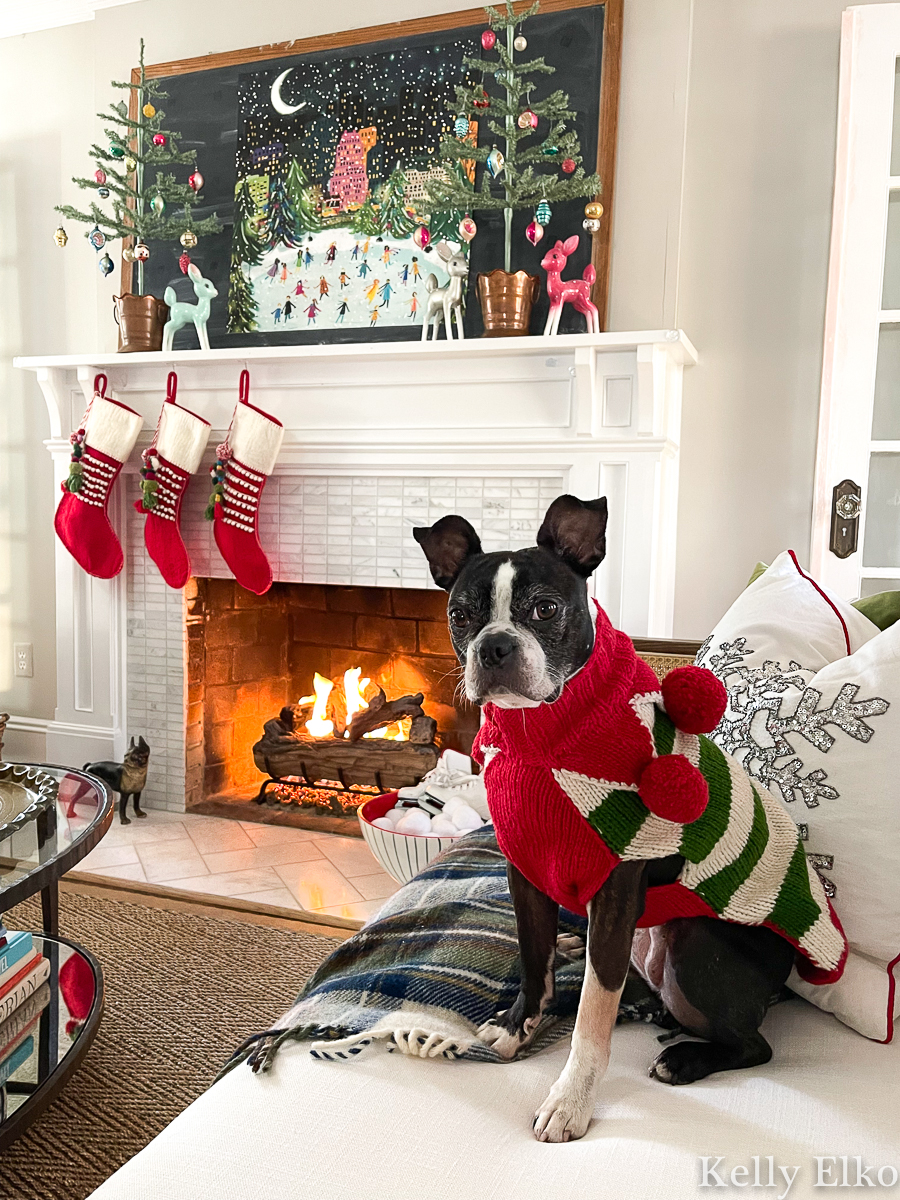 Sushi's favorite time of the year is when she dons her favorite Christmas sweater! Although she asked me if the horizontal stripes make her look chubby (I assured her they do not)!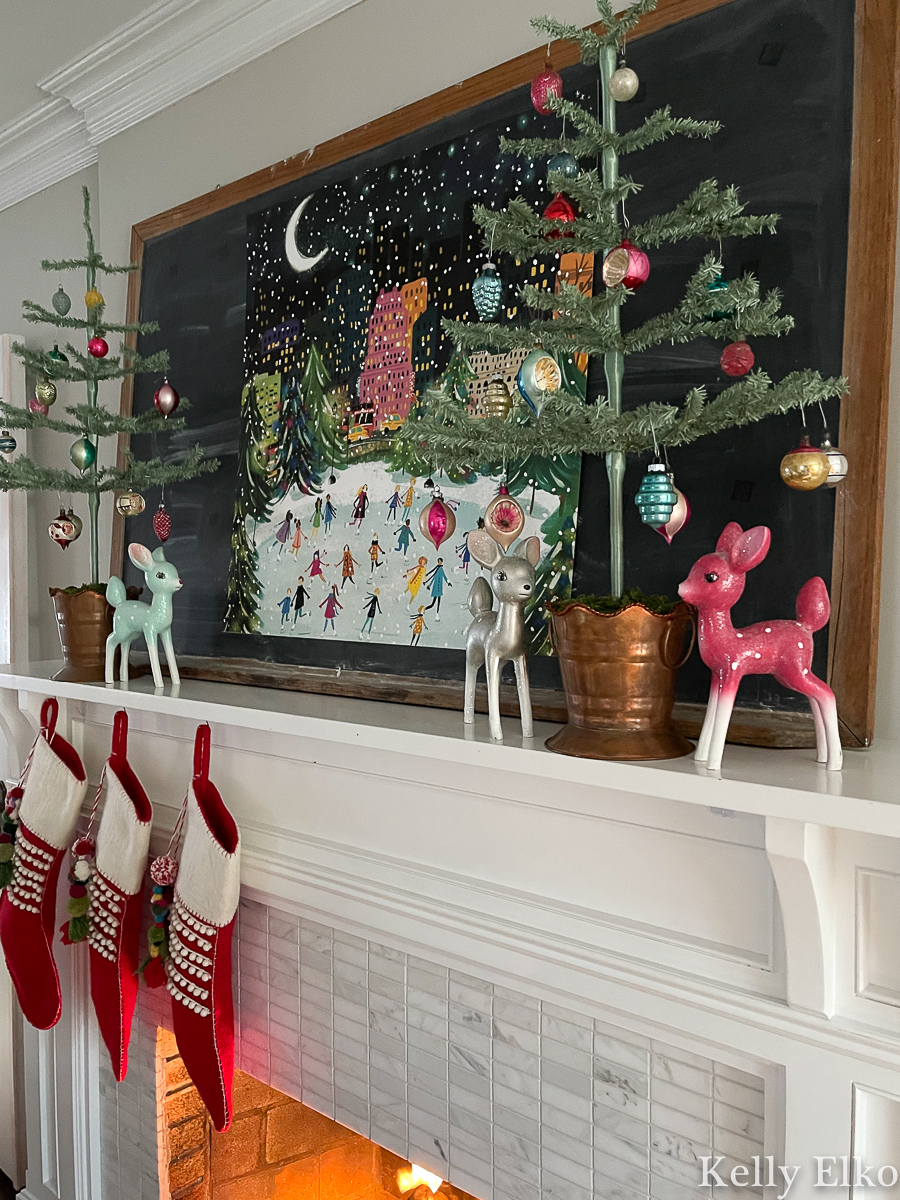 While these may not be antique feather trees (those are made with real goose feathers), I've had these reproductions for years and knew they would be perfect on the mantel dripping with vintage Shiny Brite ornaments.
I found similar looking trees here.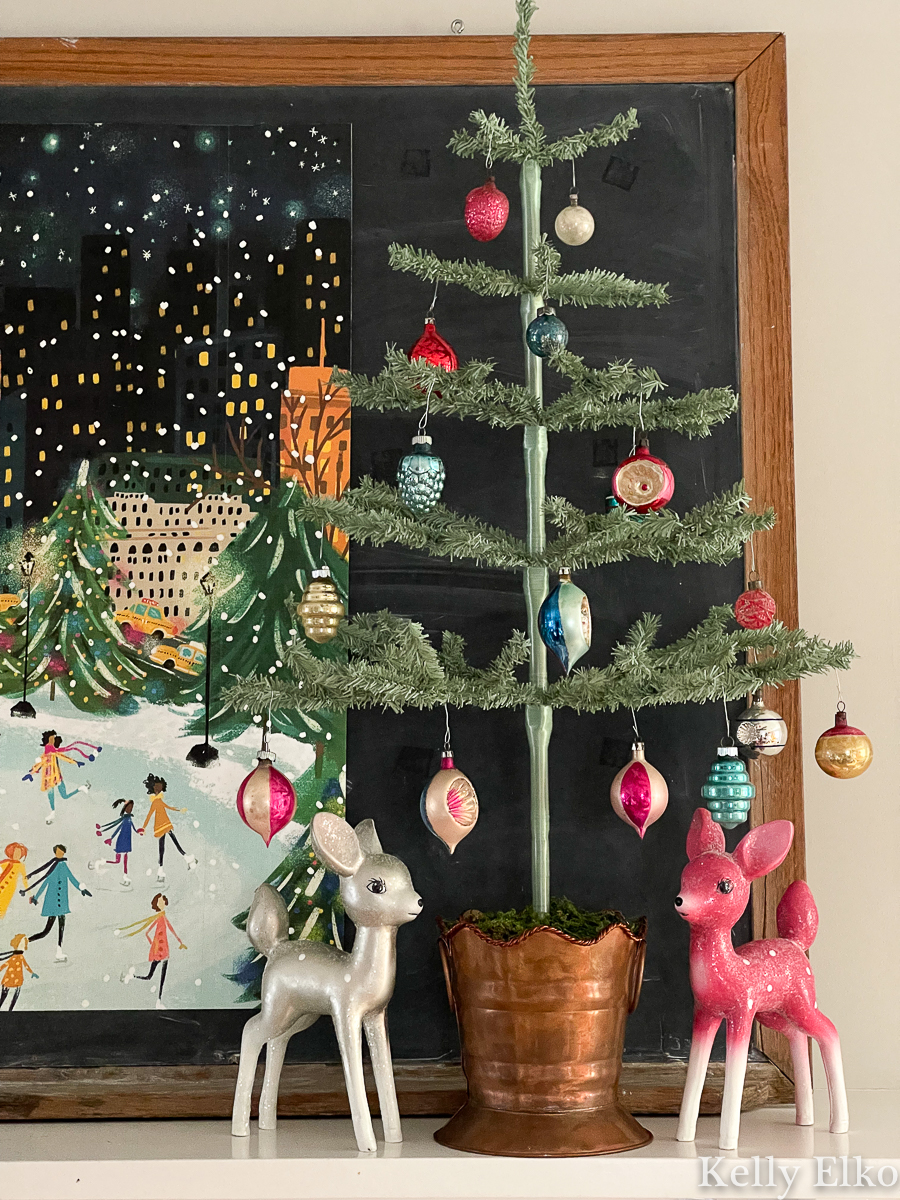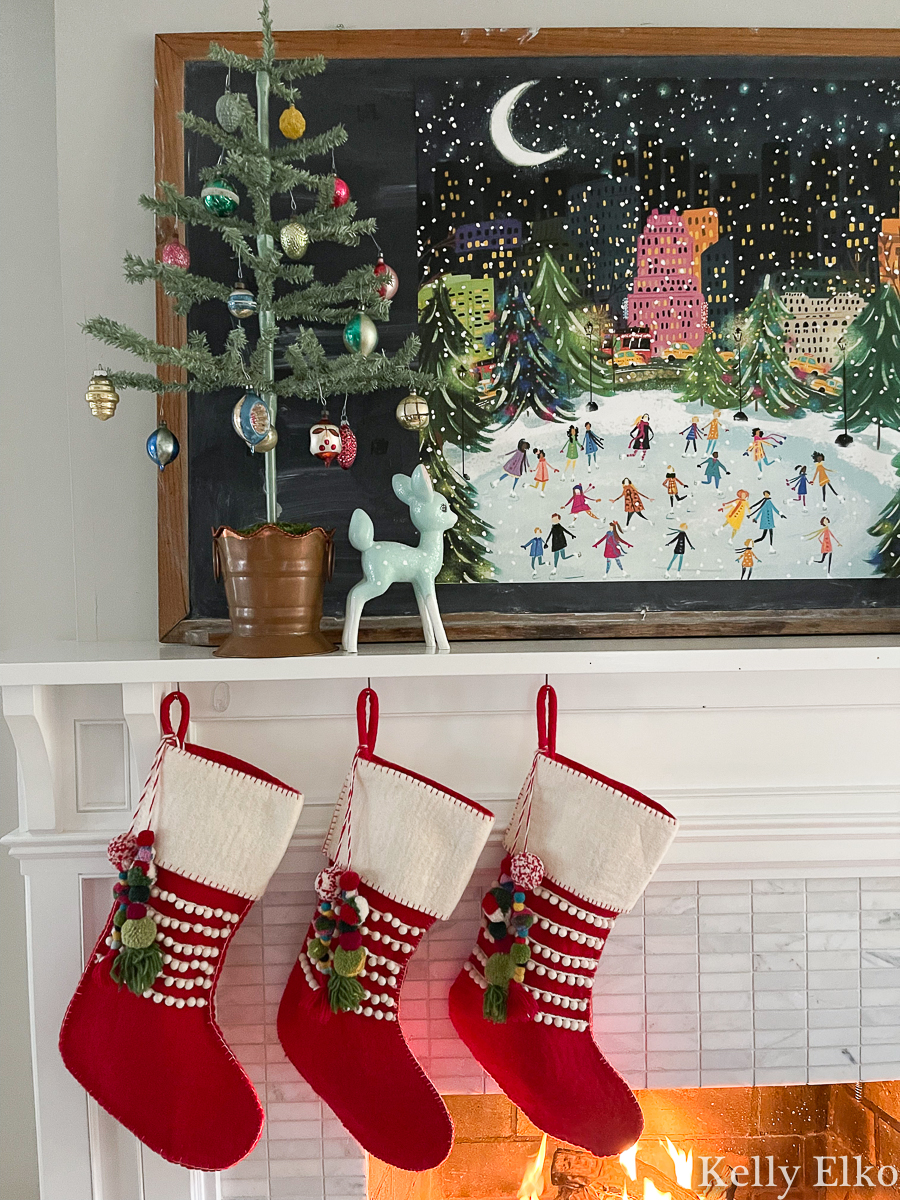 A trio of pom pom stockings hung on the left side of the mantel visually balances out the bowl and shovel on the right side of the hearth.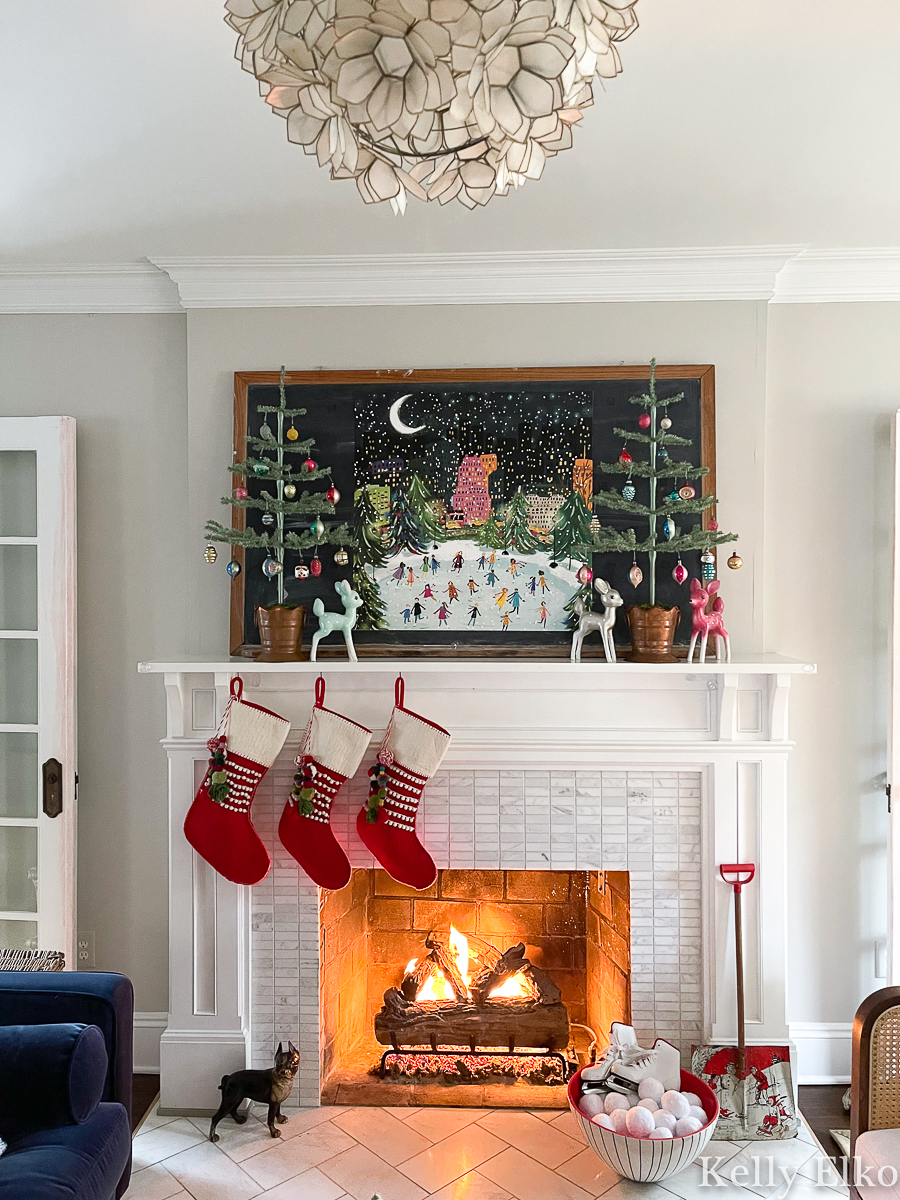 I carried the ice skating theme down to the hearth and filled a big bowl with faux snowballs then nestled a pair of my daughters old ice skates among them.
My hubby's childhood snow shovel completes the look!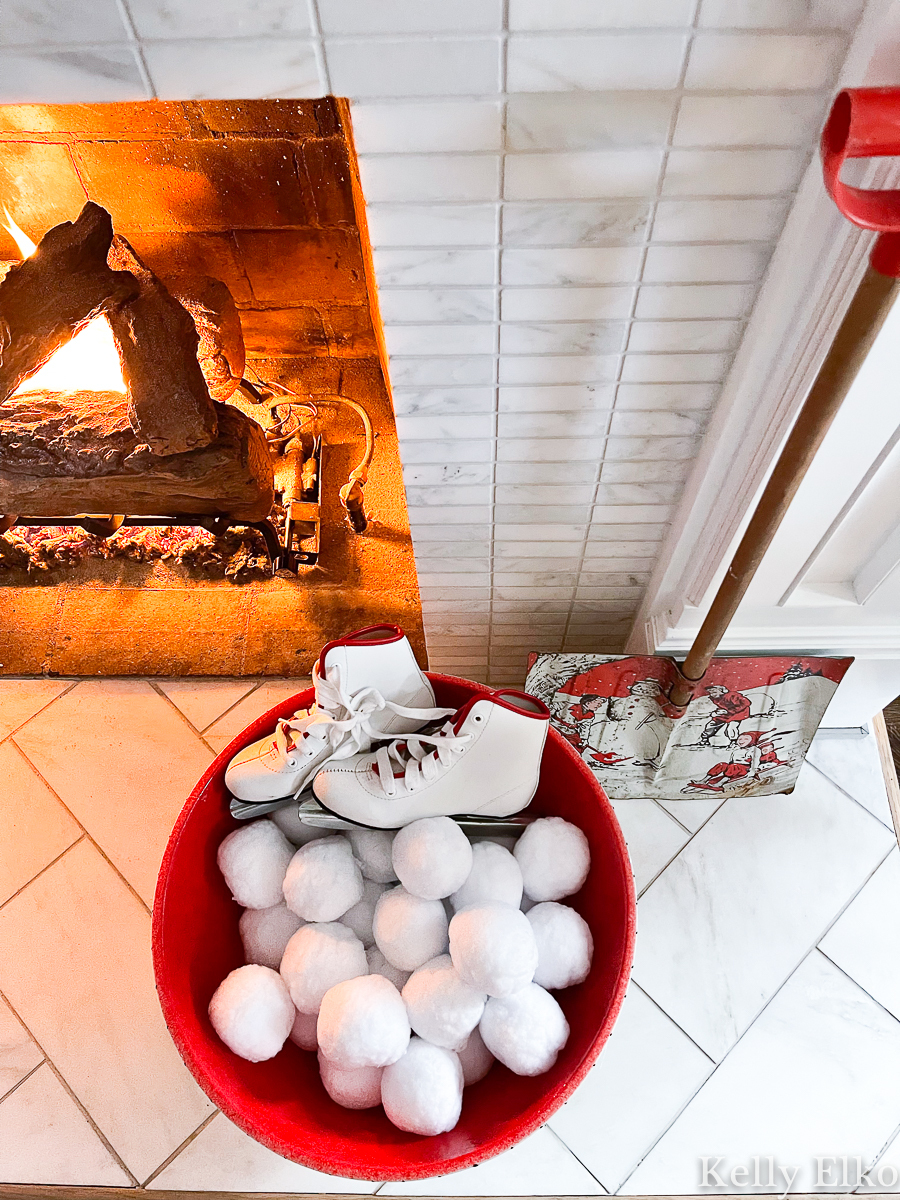 A forest of vintage bottle brush trees continues down onto my coffee table with my collection of loving cups acting as tree stands.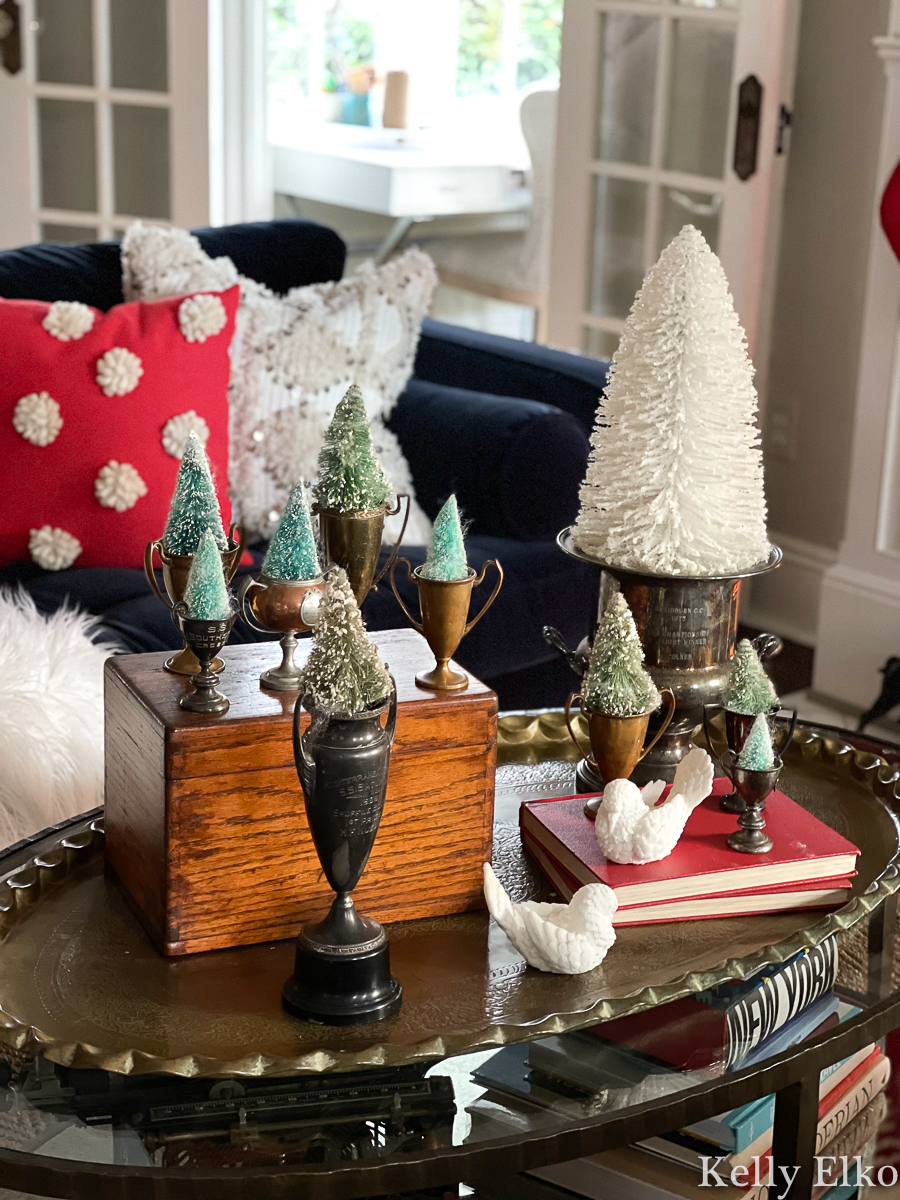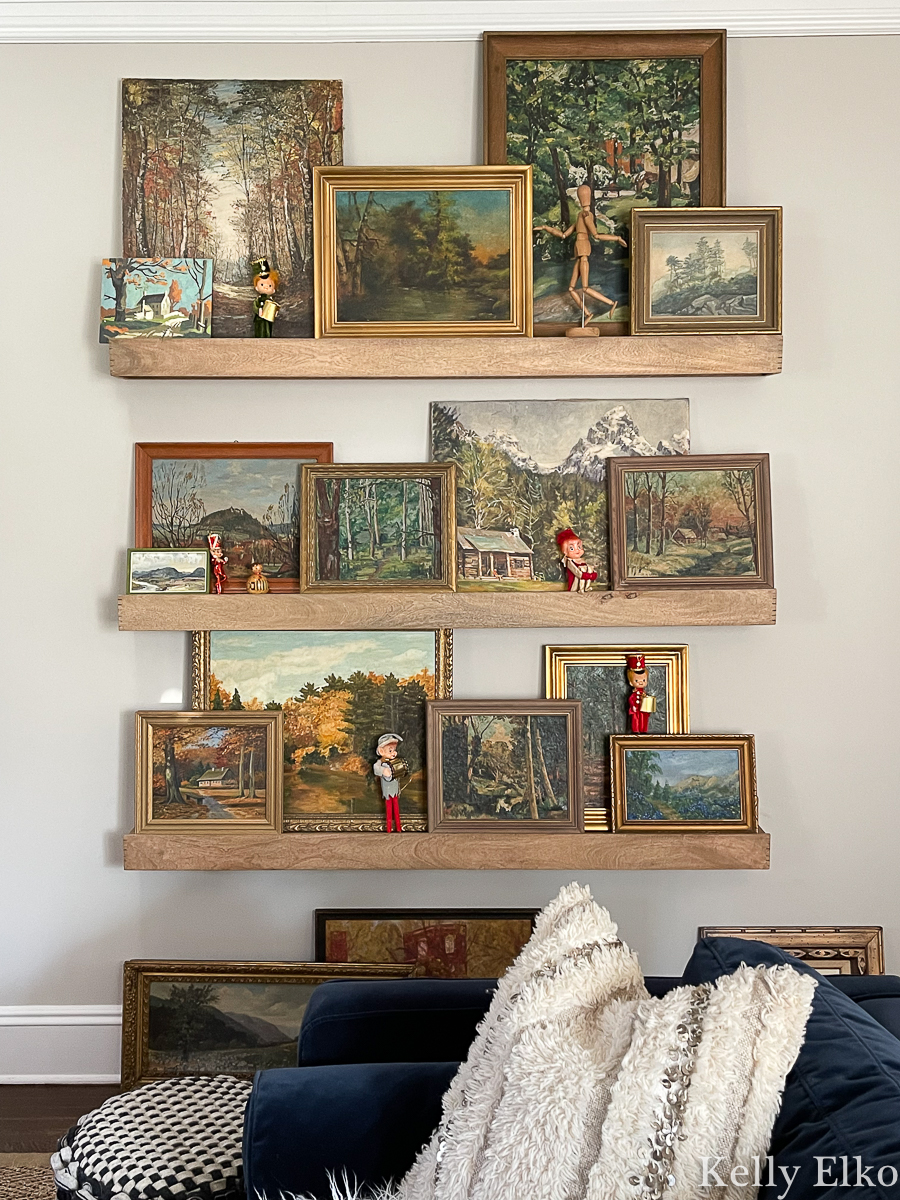 I'm trying to work with what I have as opposed to changing out my entire house for Christmas and a few elves peeking from the shelves of my vintage gallery wall adds a touch of Christmas whimsy.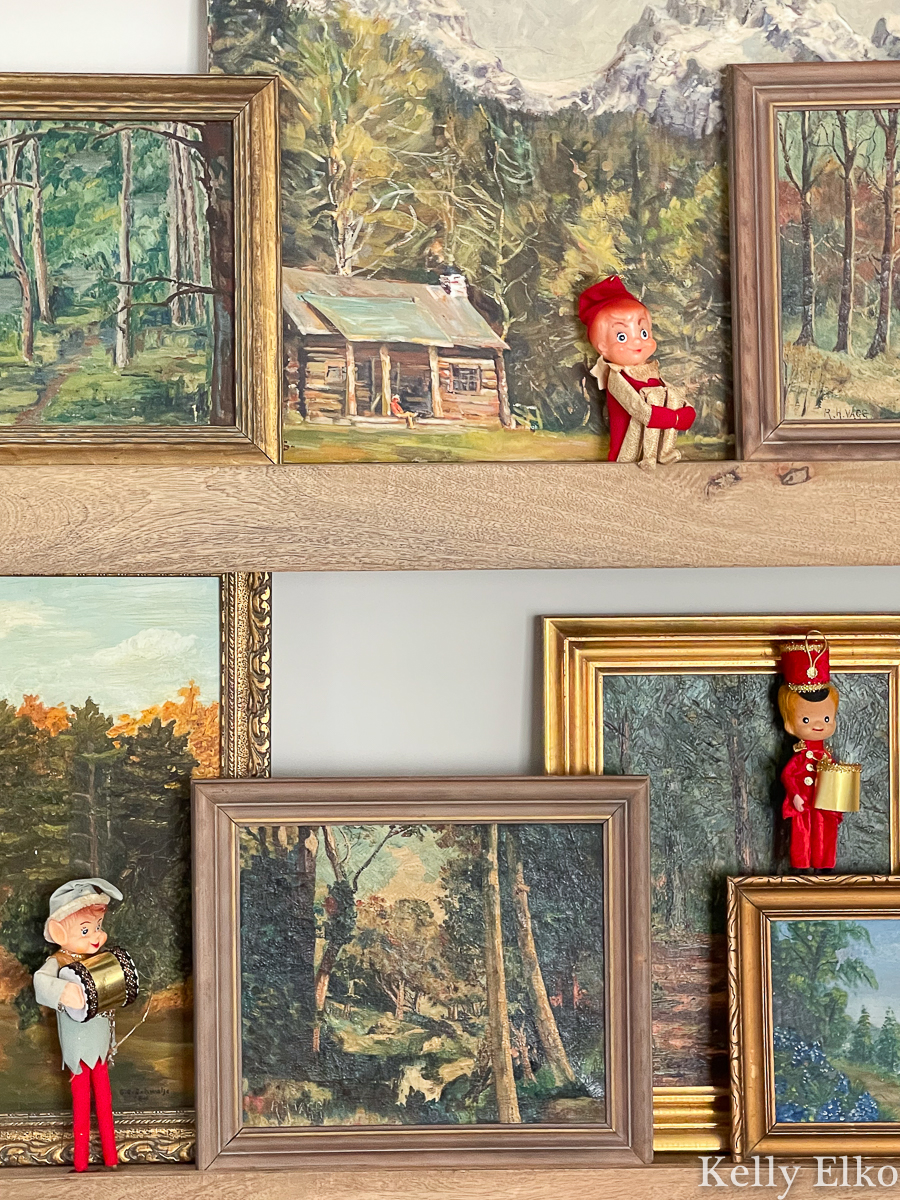 A roaring fire makes this the coziest spot in the house.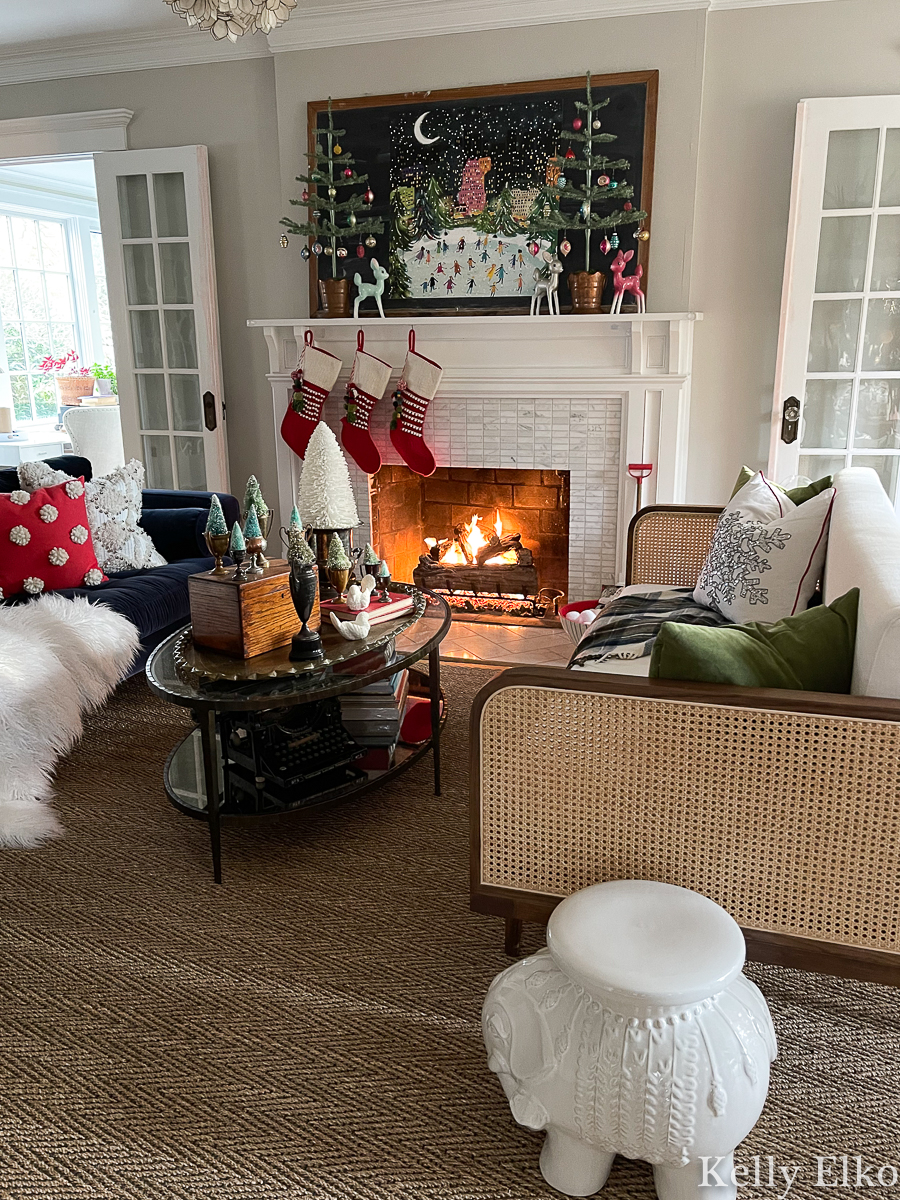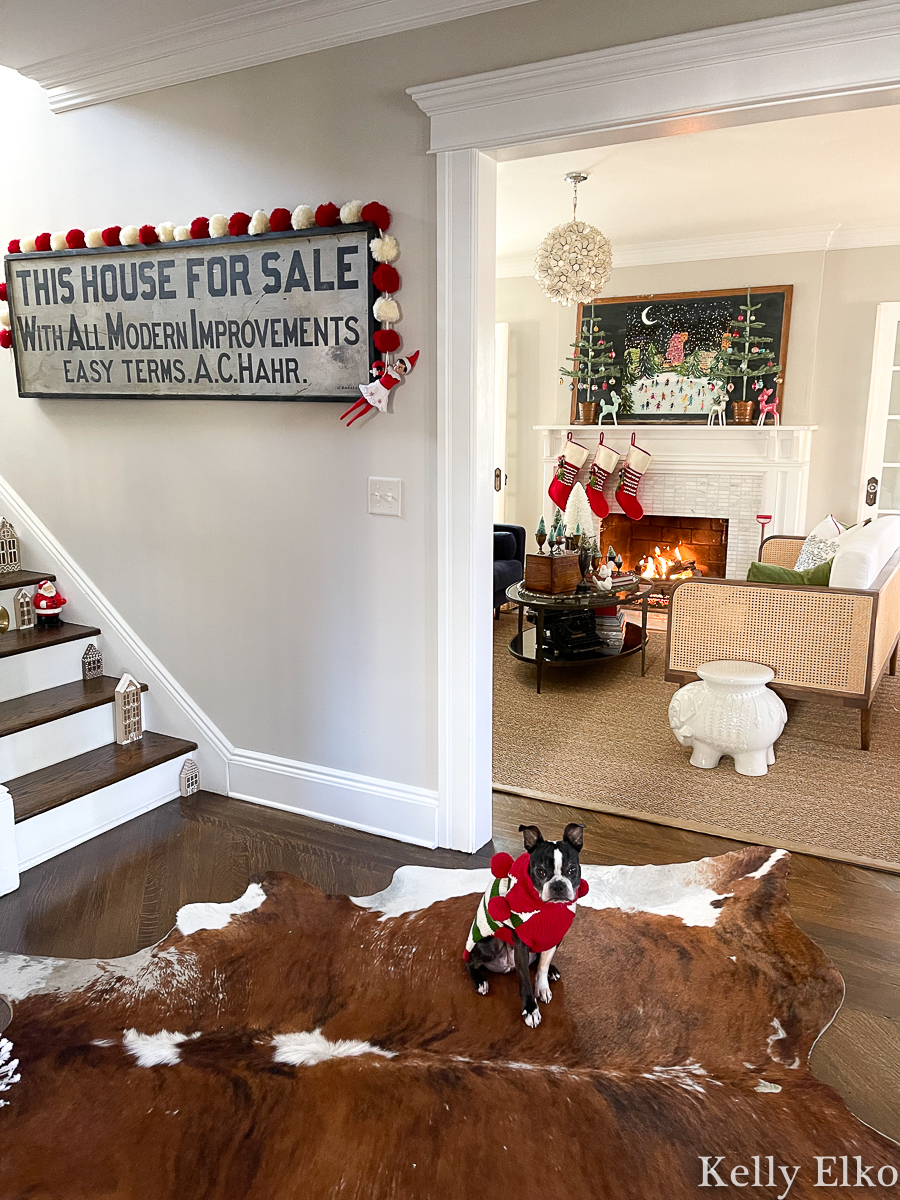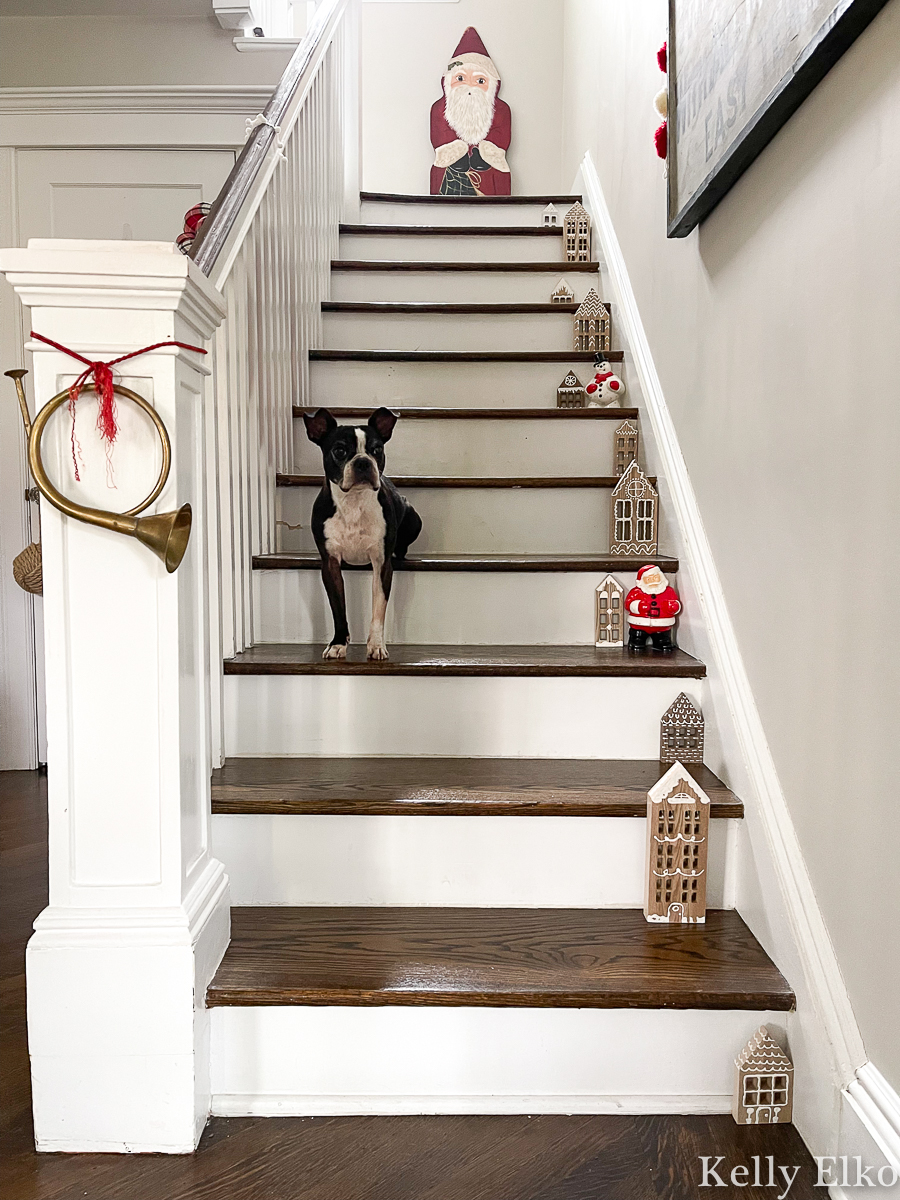 Last year, I turned these plain wood houses into a gingerbread village and I love being able to reuse my decorations in unique ways year after year.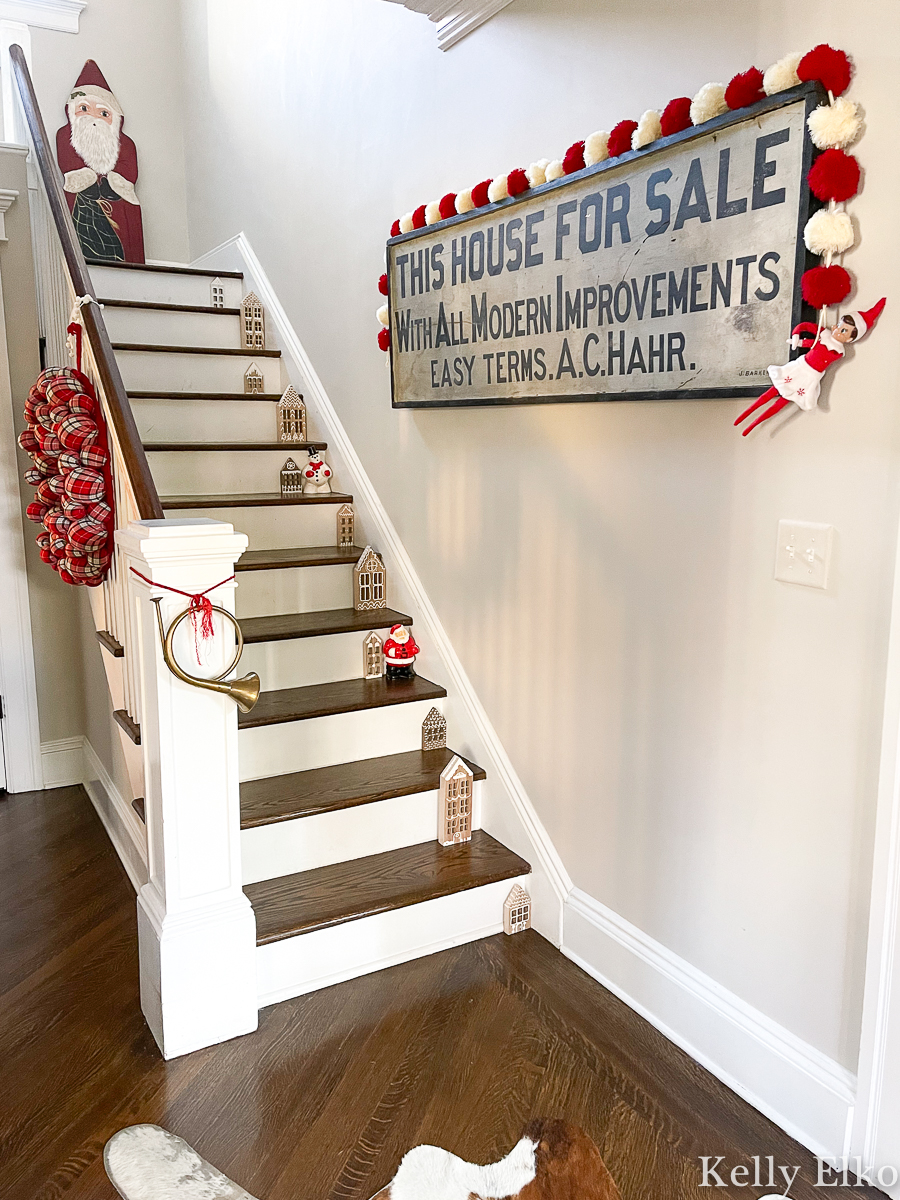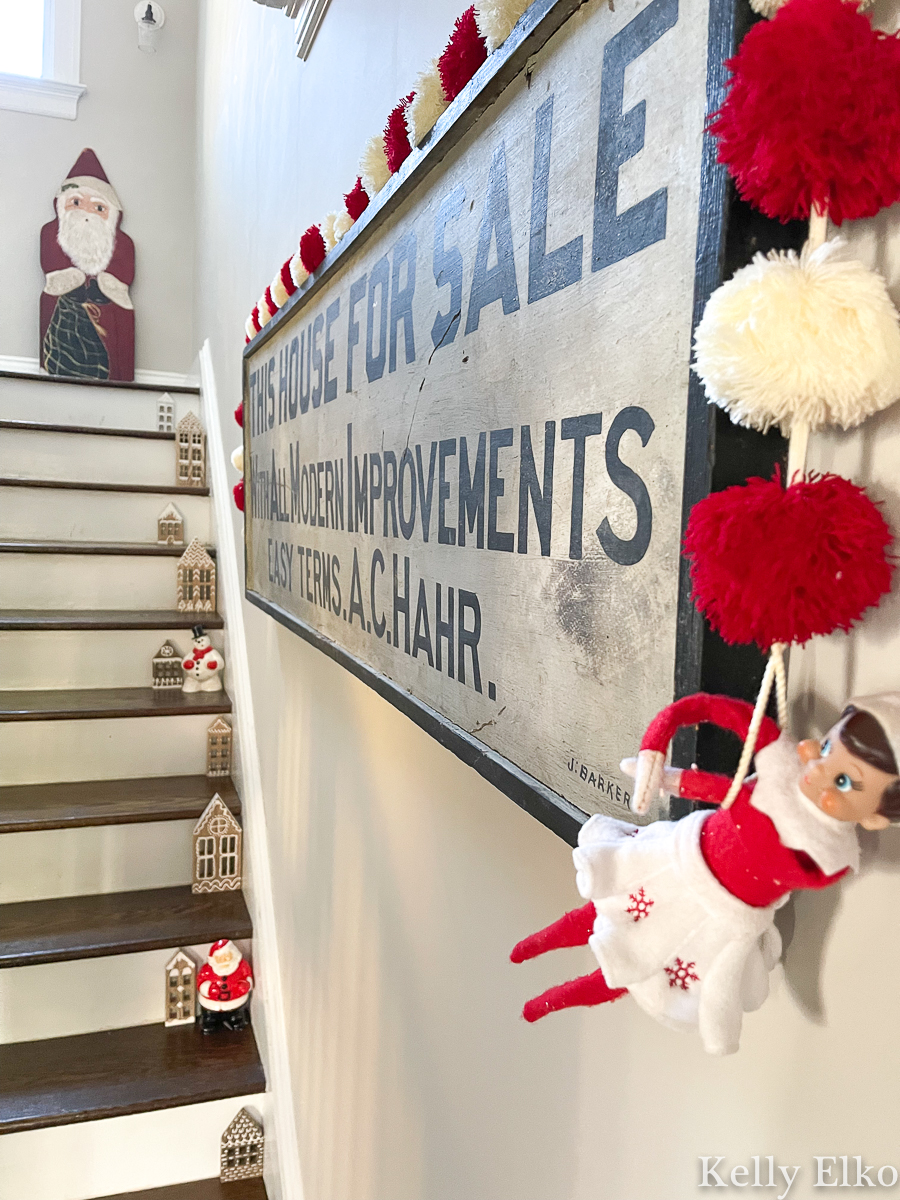 Small vintage Frosty and Santa blow molds add a pop of color to the stairs and our long retired Elf on the Shelf (Hot Tamale!) looks on from above.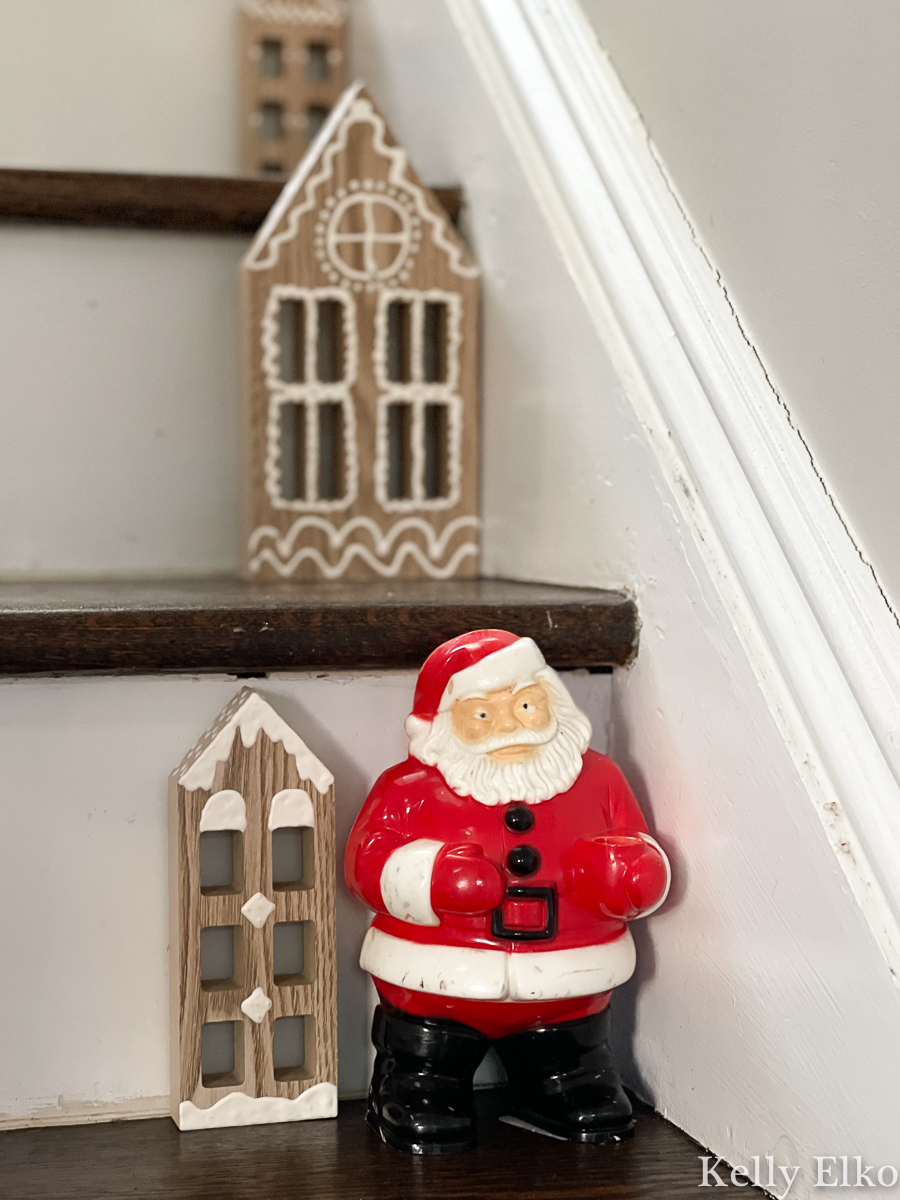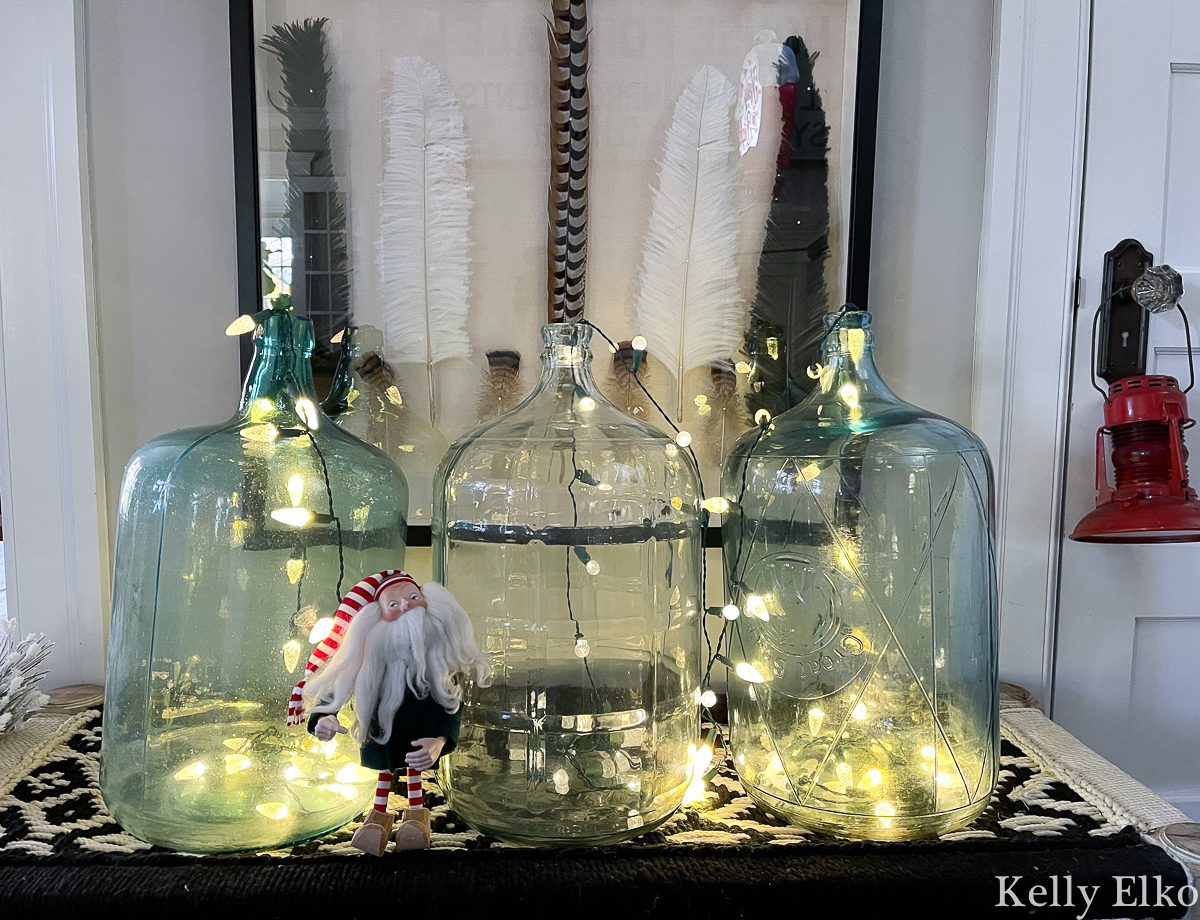 It doesn't get much easier than putting string lights into glass jars.
An old Christmas tree stand becomes a cute vase to display clippings.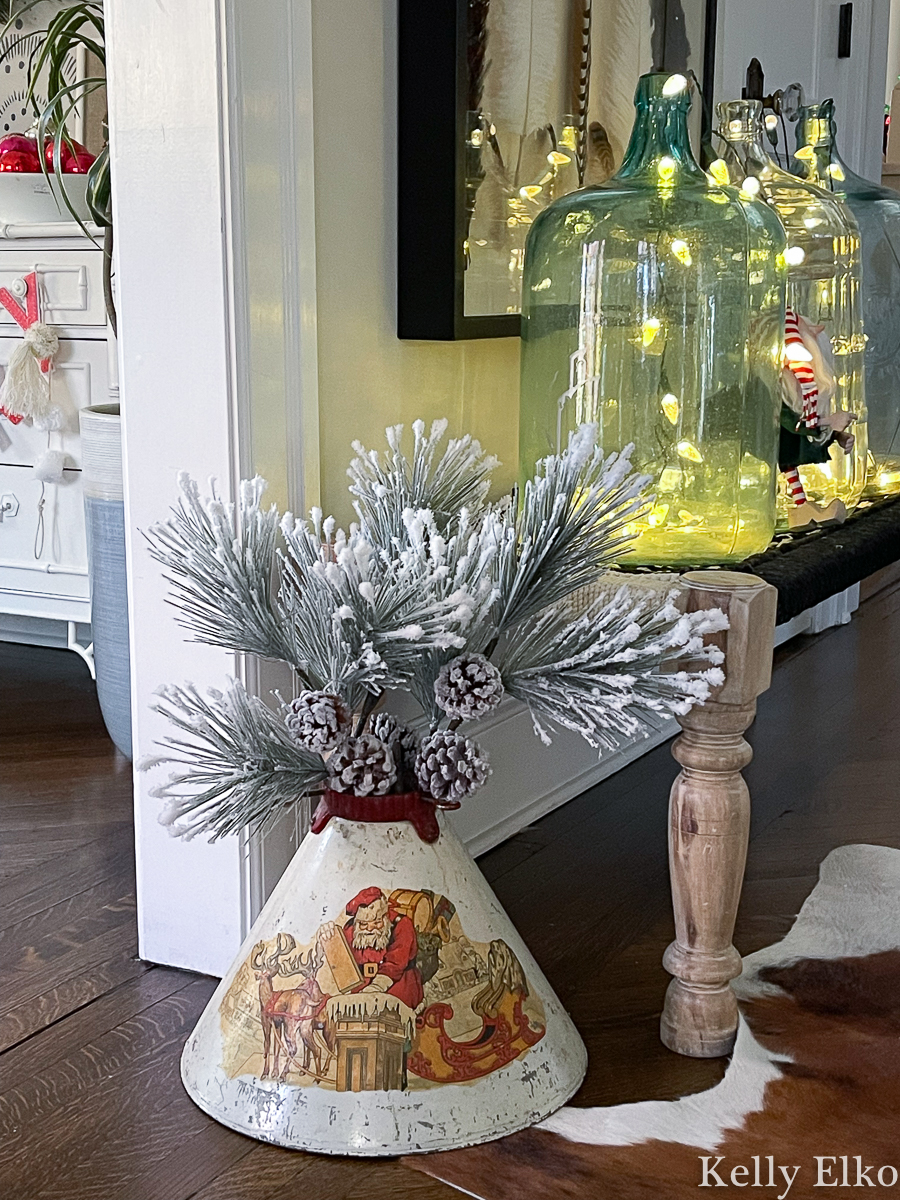 I've been going simpler and simpler on my bannister and no longer feel the need to wrestle garland into place. Instead, I love hanging a big wreath for a festive pop of color.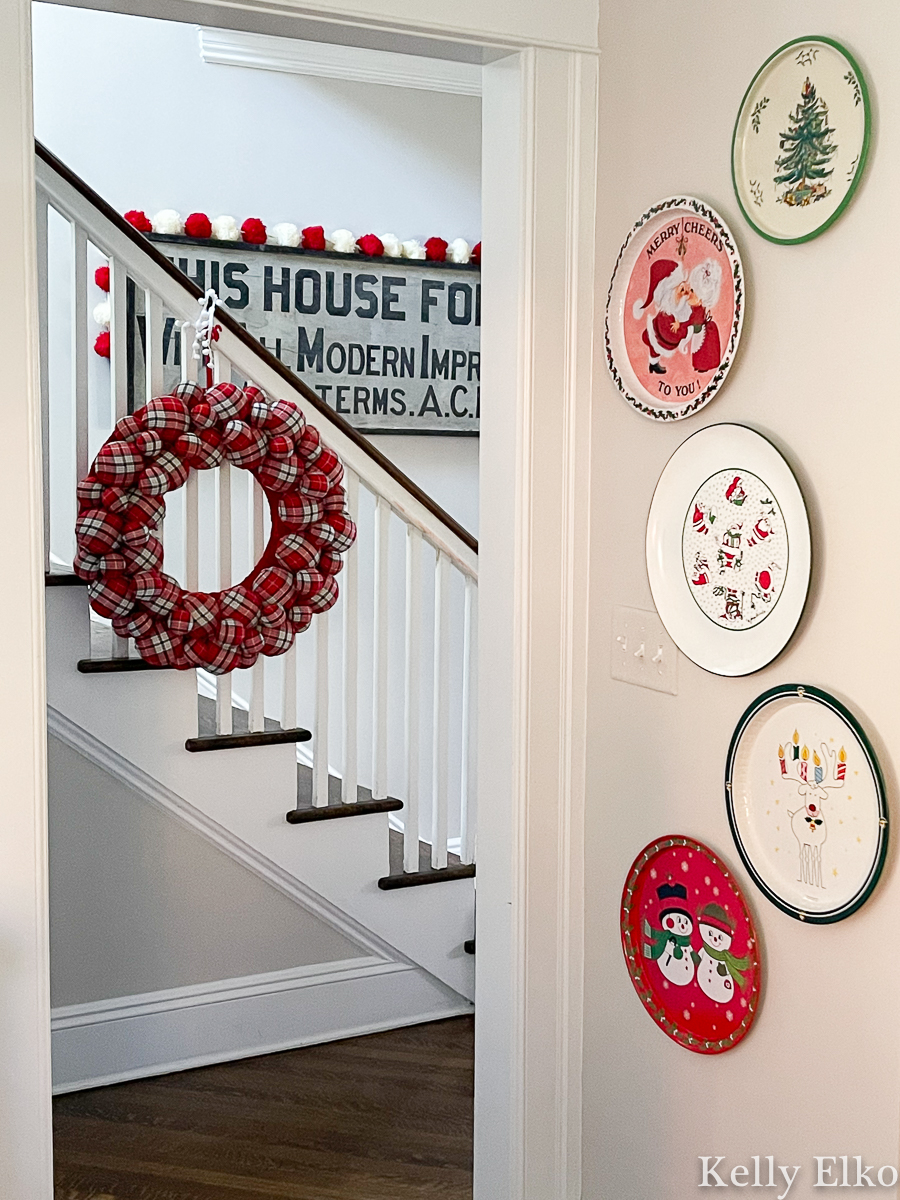 I love a good gallery wall and had fun finding these vintage Christmas trays while thrifting.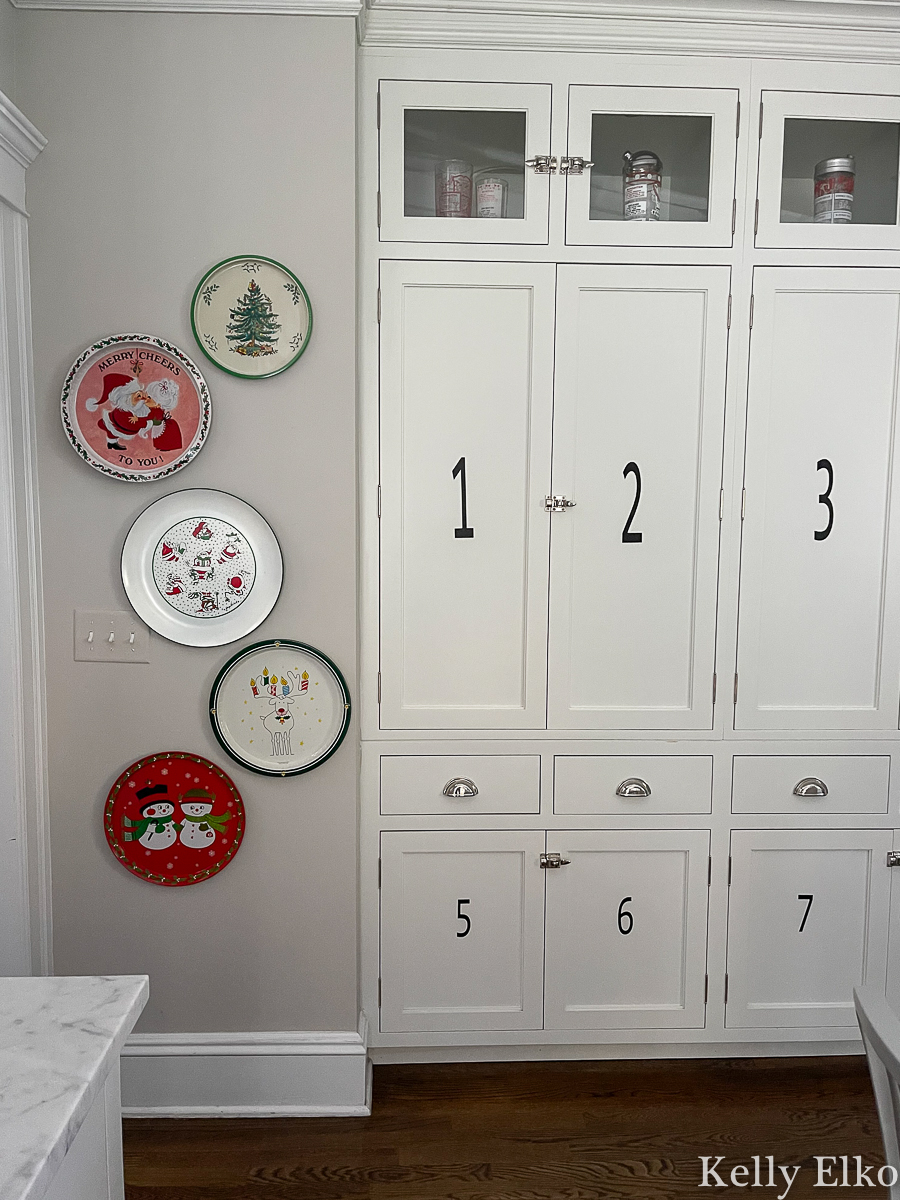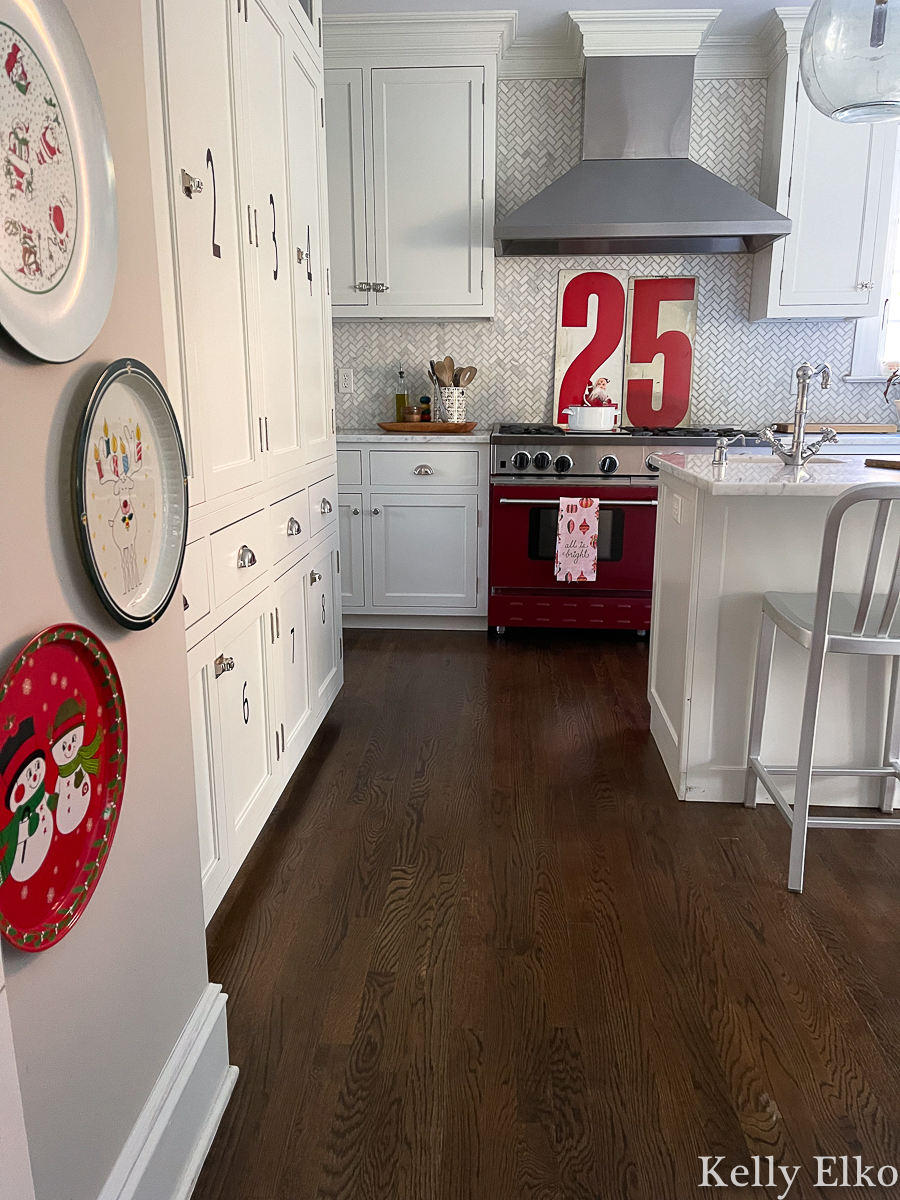 Huge vintage metal numbers remind us that Christmas will be here sooner than we think!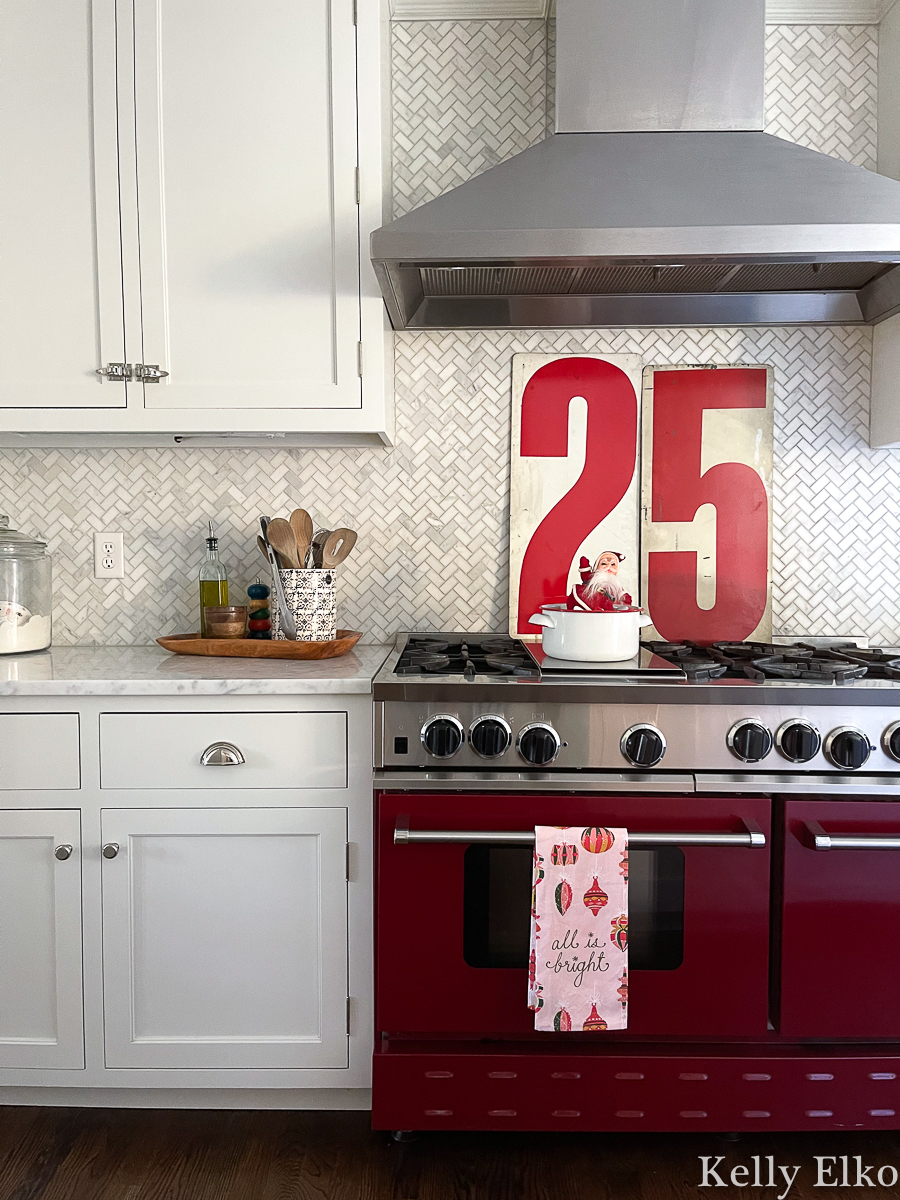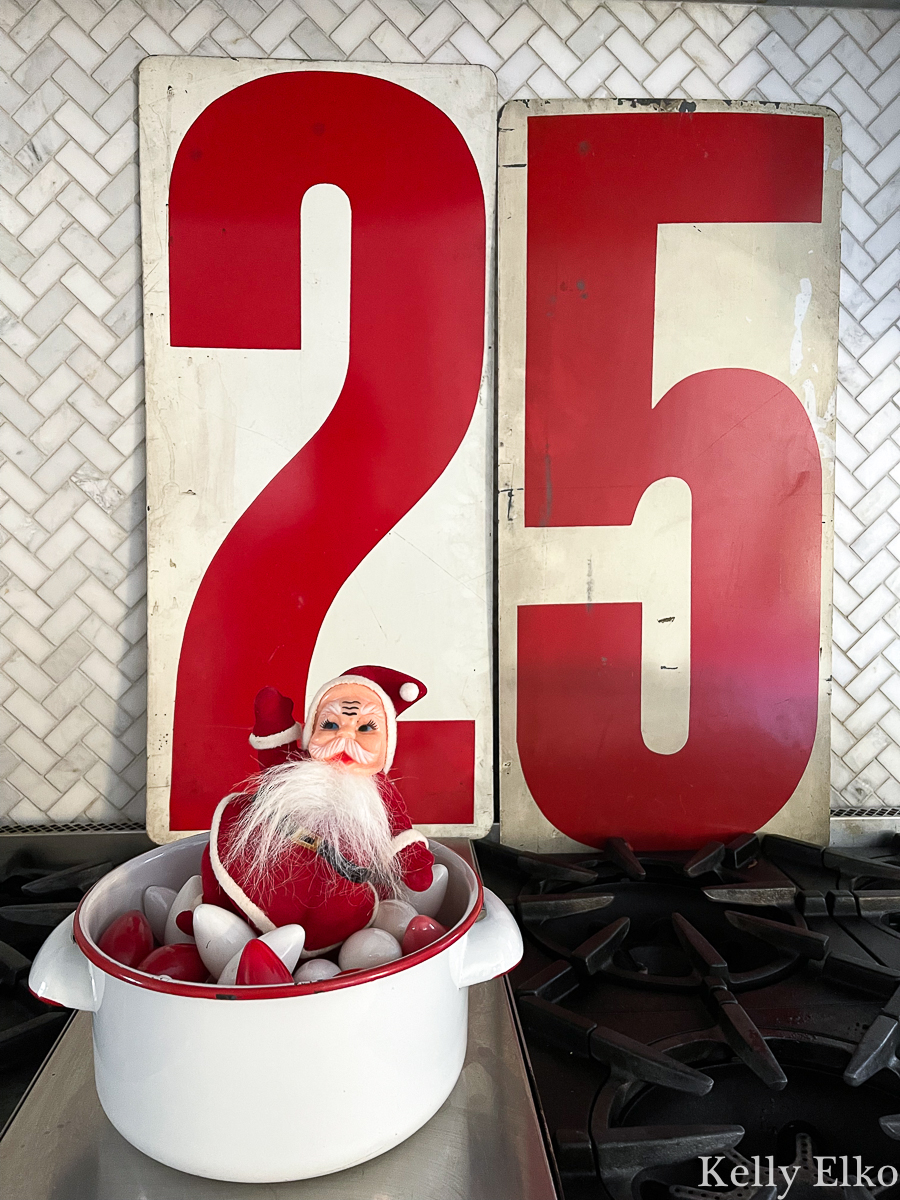 Mr. and Mrs. Claus stand guard and make sure nobody steals any cookies.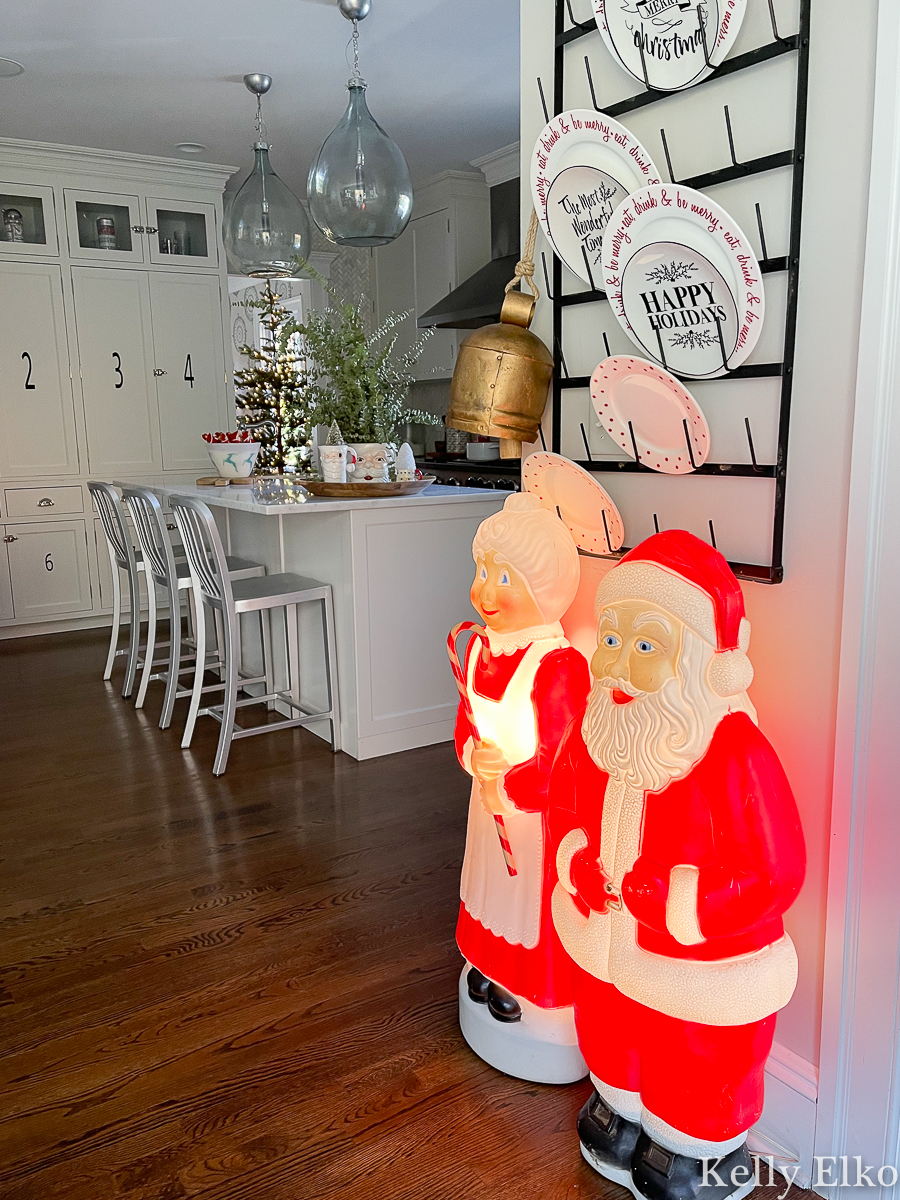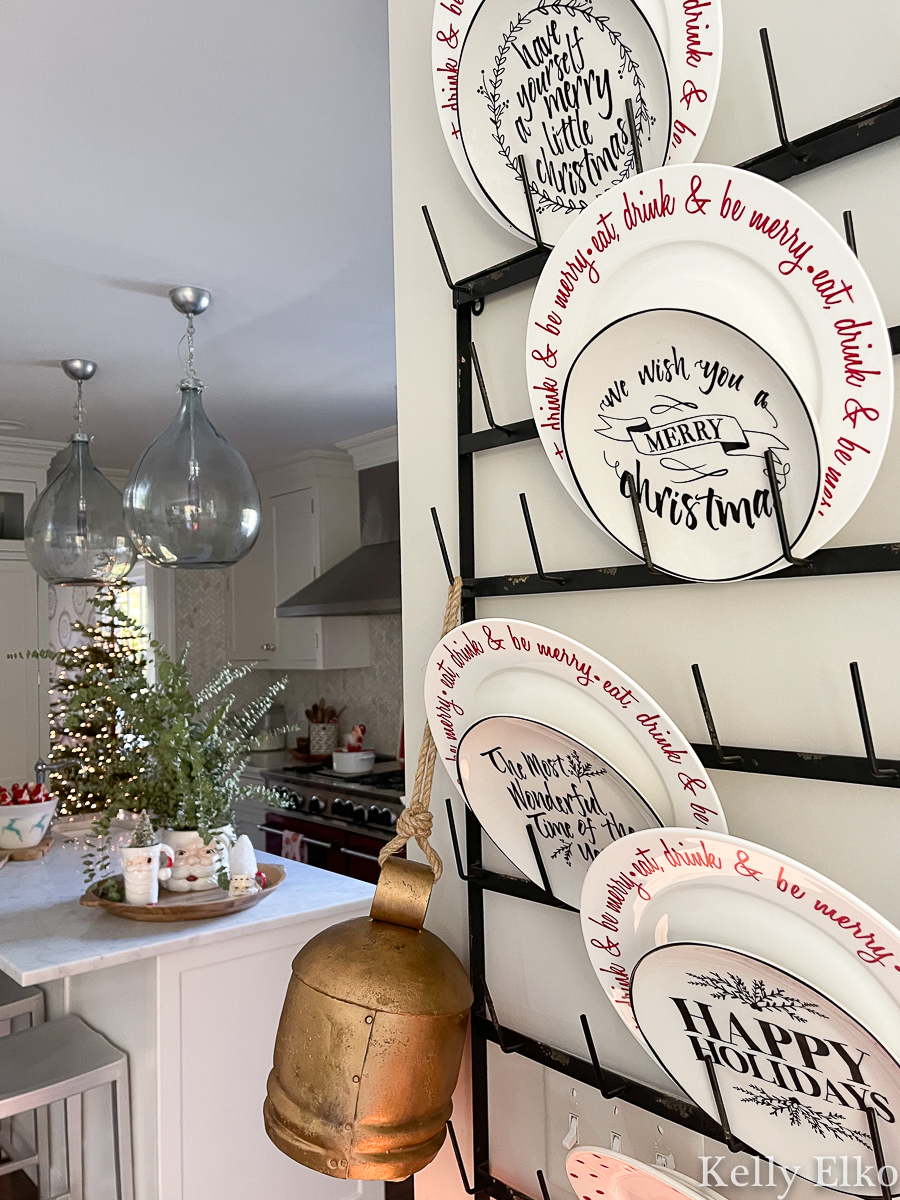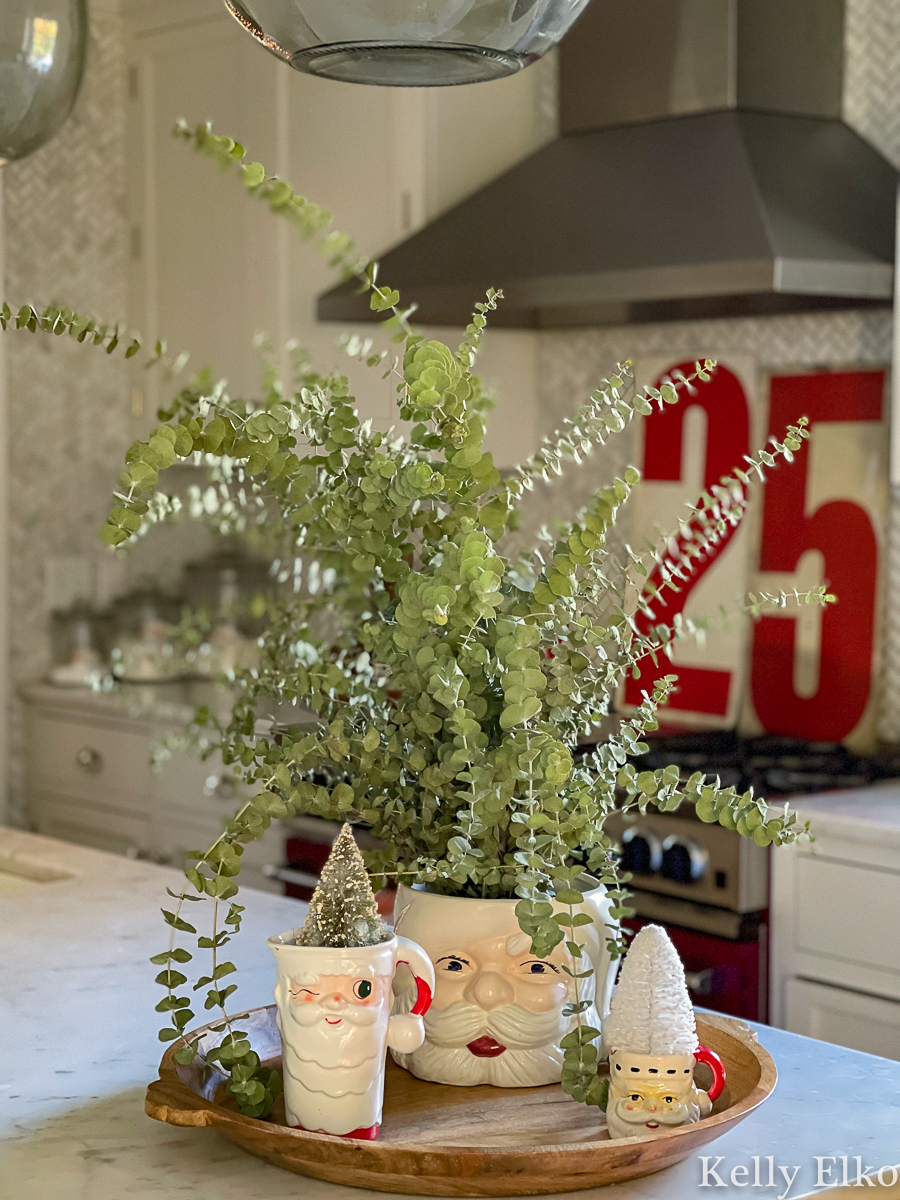 Santa could use a trim!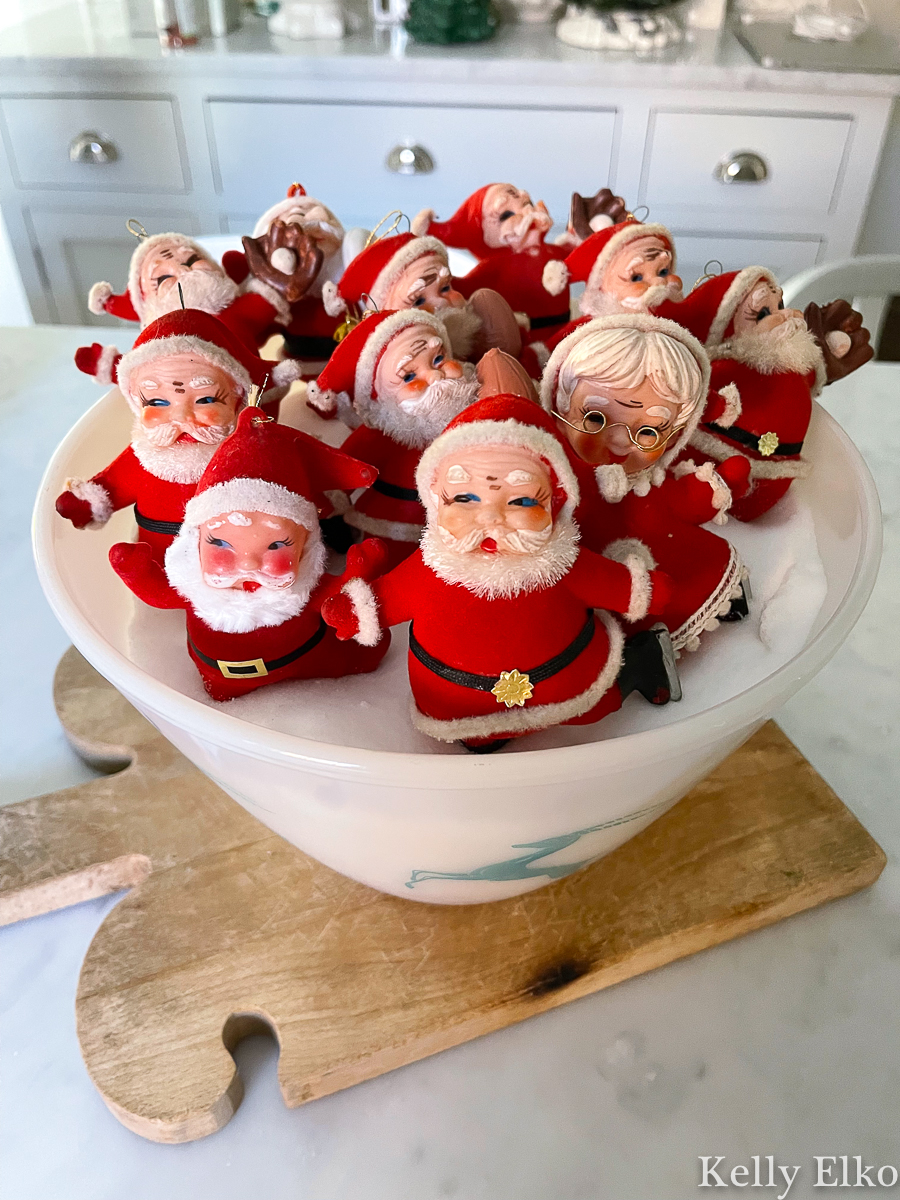 I'm a big believer in displaying little things together to make a big impact like this bowl of velvet Santas!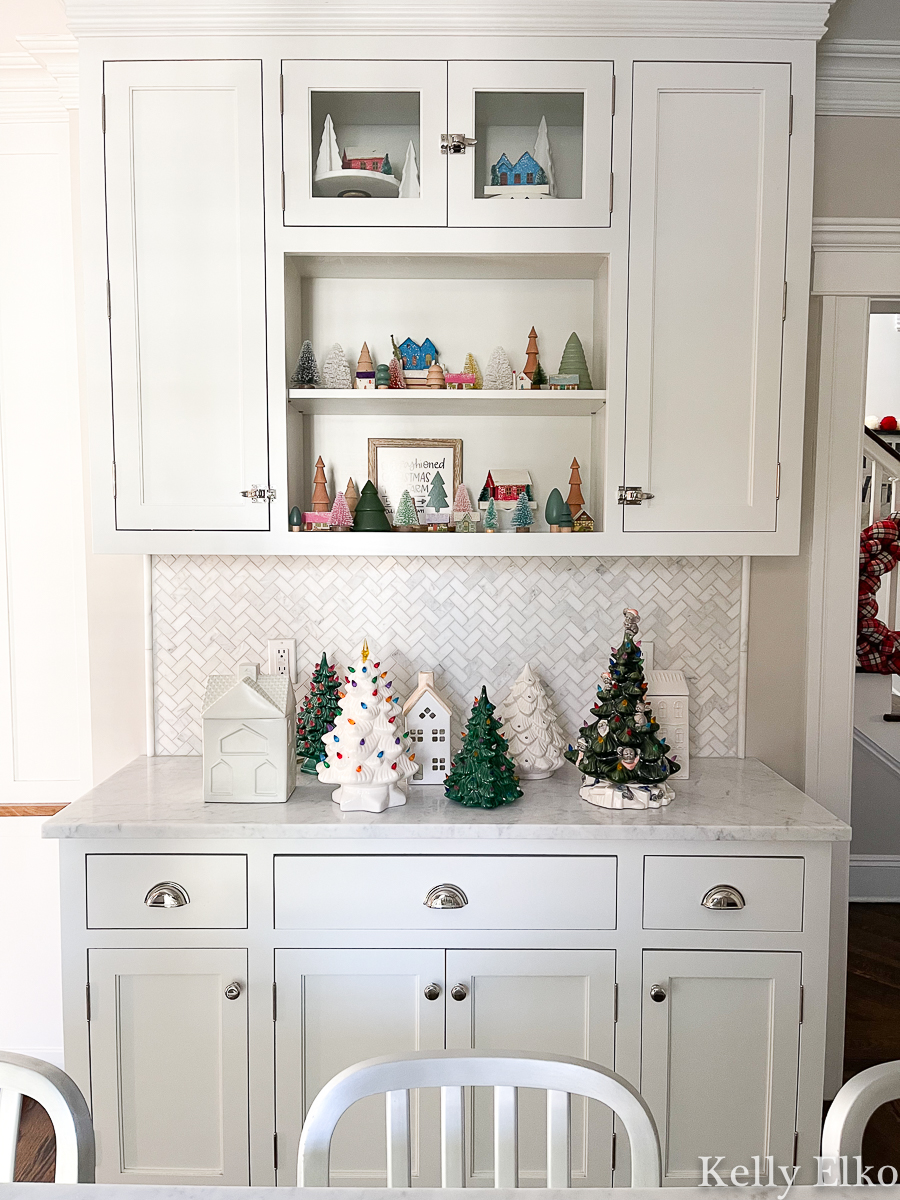 These vintage Putz houses were a recent find and I love they way they look grouped together to form a little village on my kitchen shelves.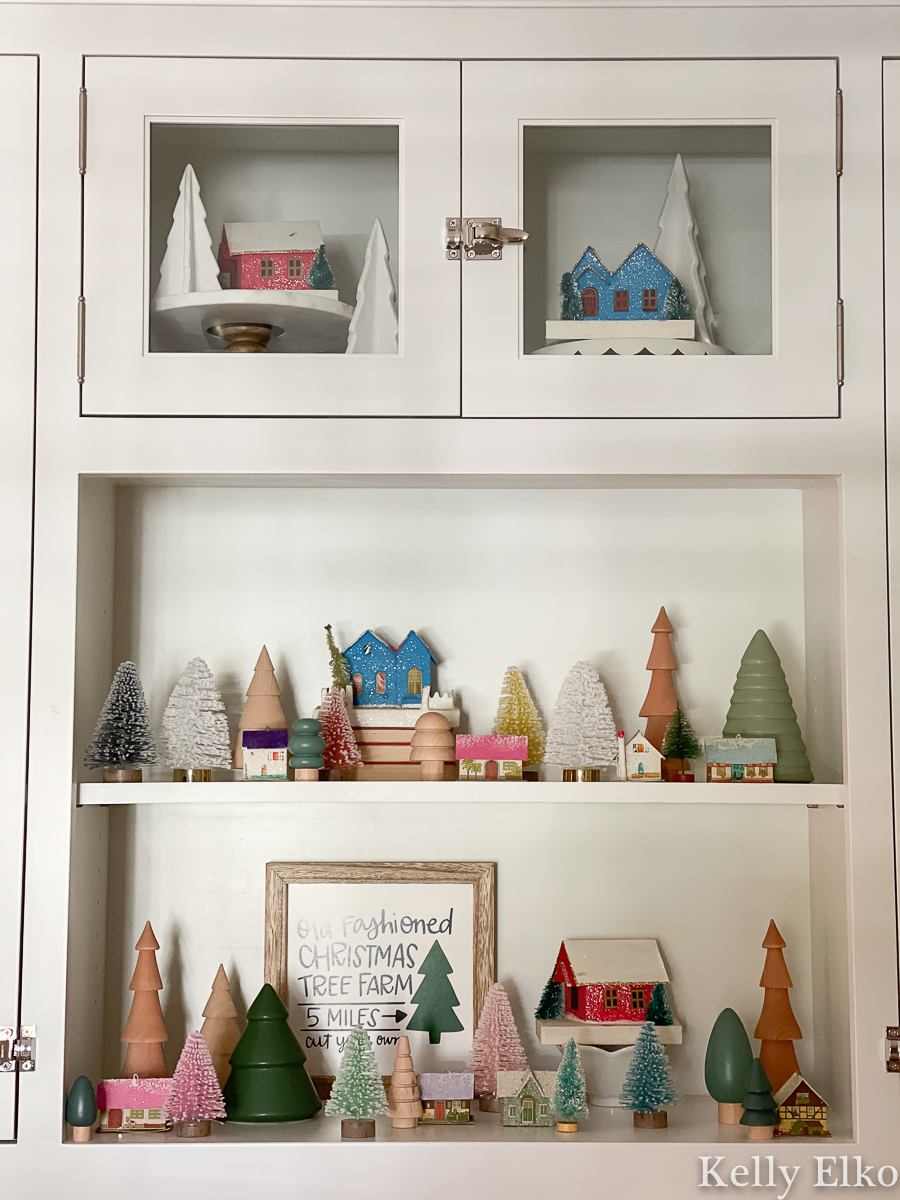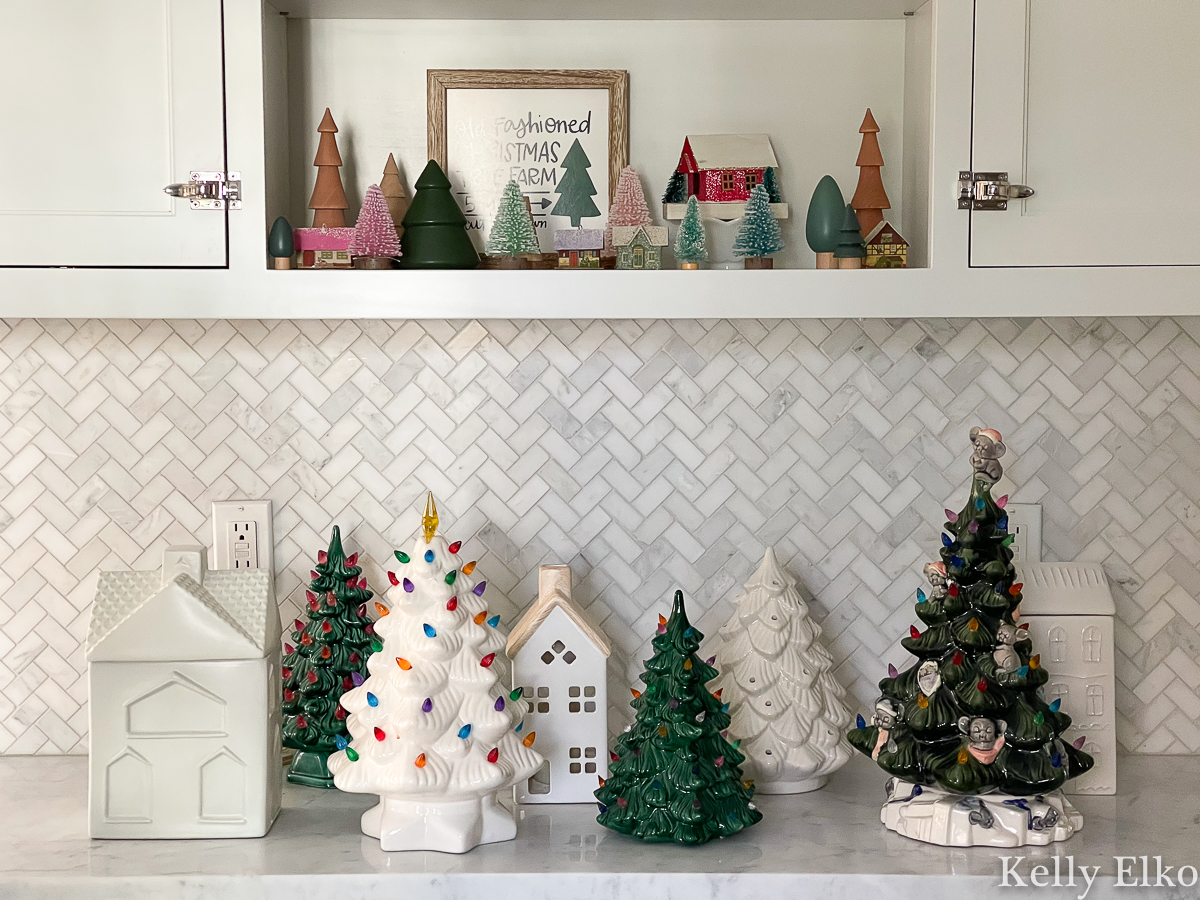 I am most excited about my new collection of ceramic light up Christmas trees! All of them are vintage except for the white tree with colorful lights.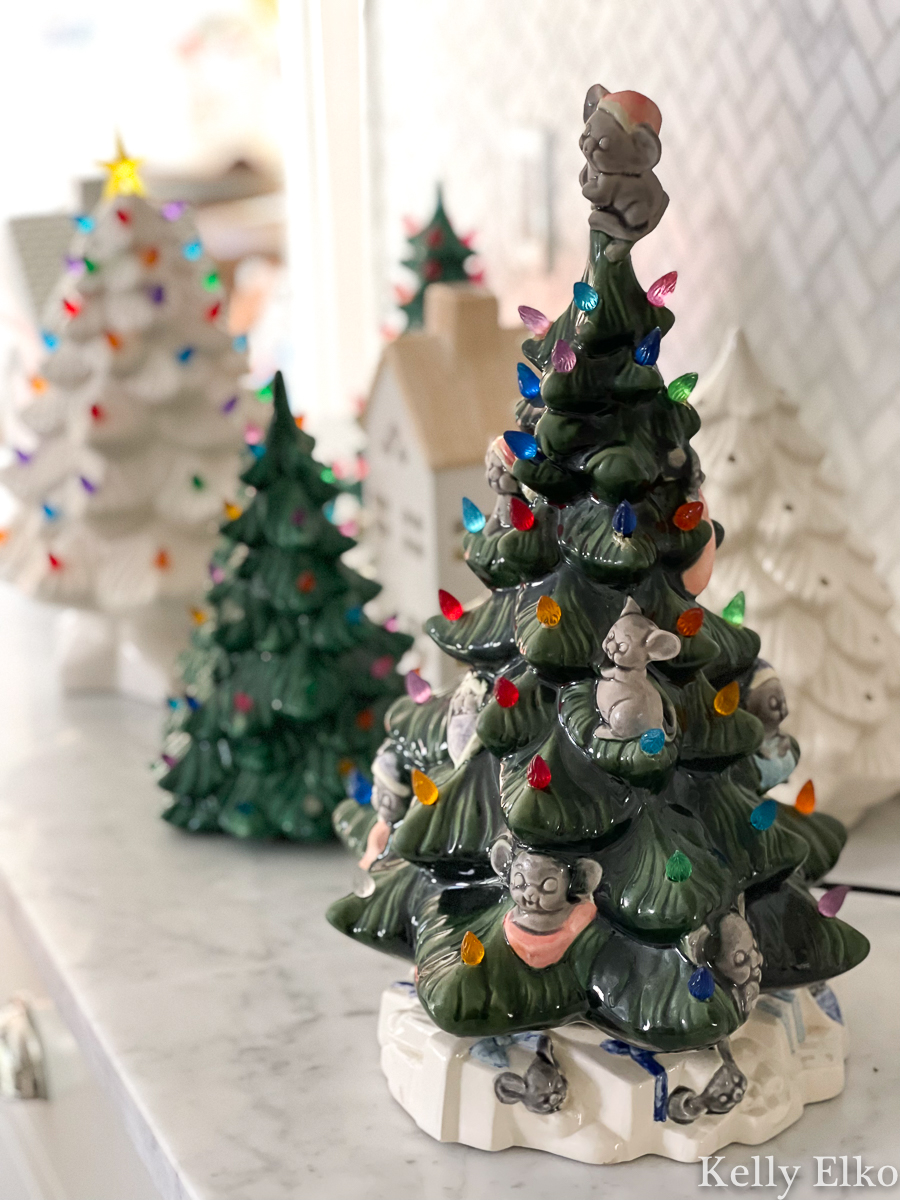 Not a creature was stirring, not even a mouse and my mouse tree is a rare find.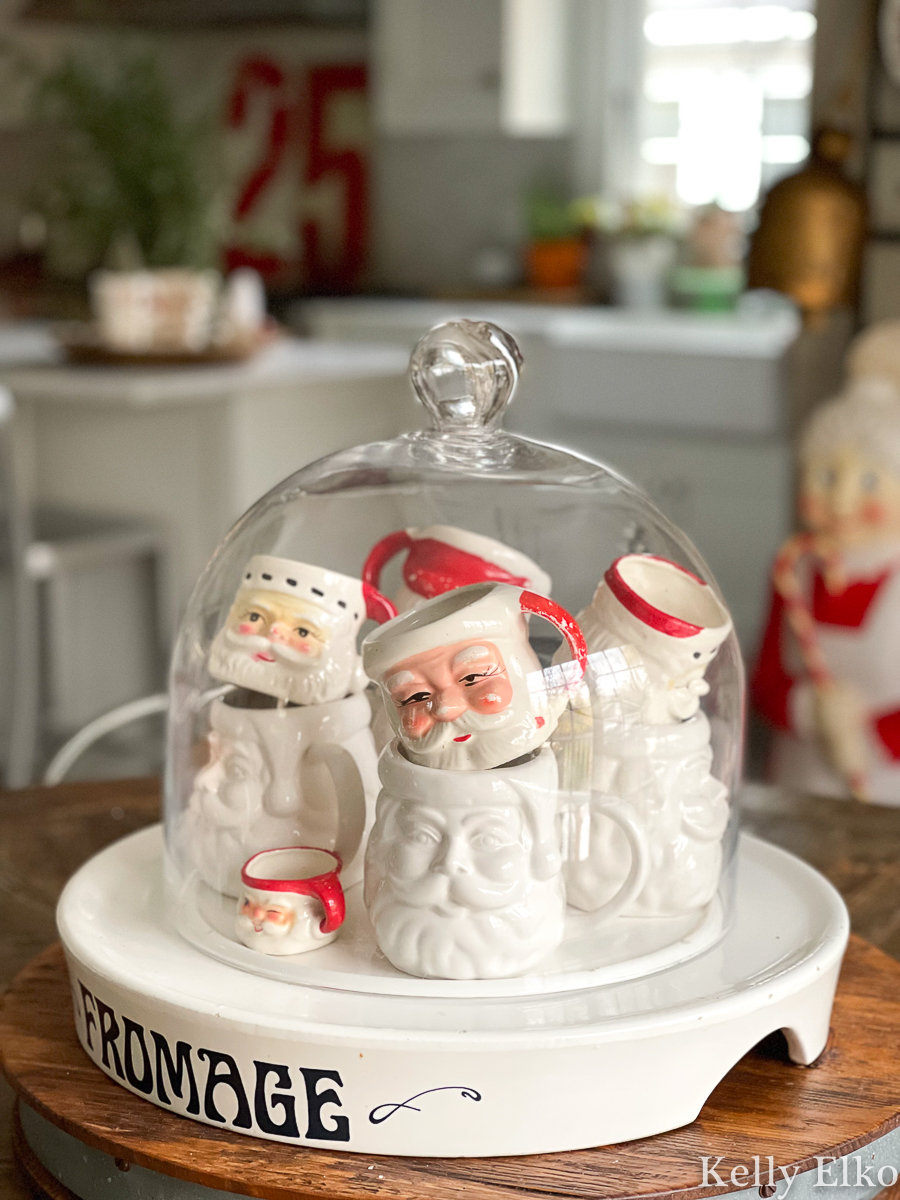 Vintage Santa mugs mix with new to create a fun display under glass.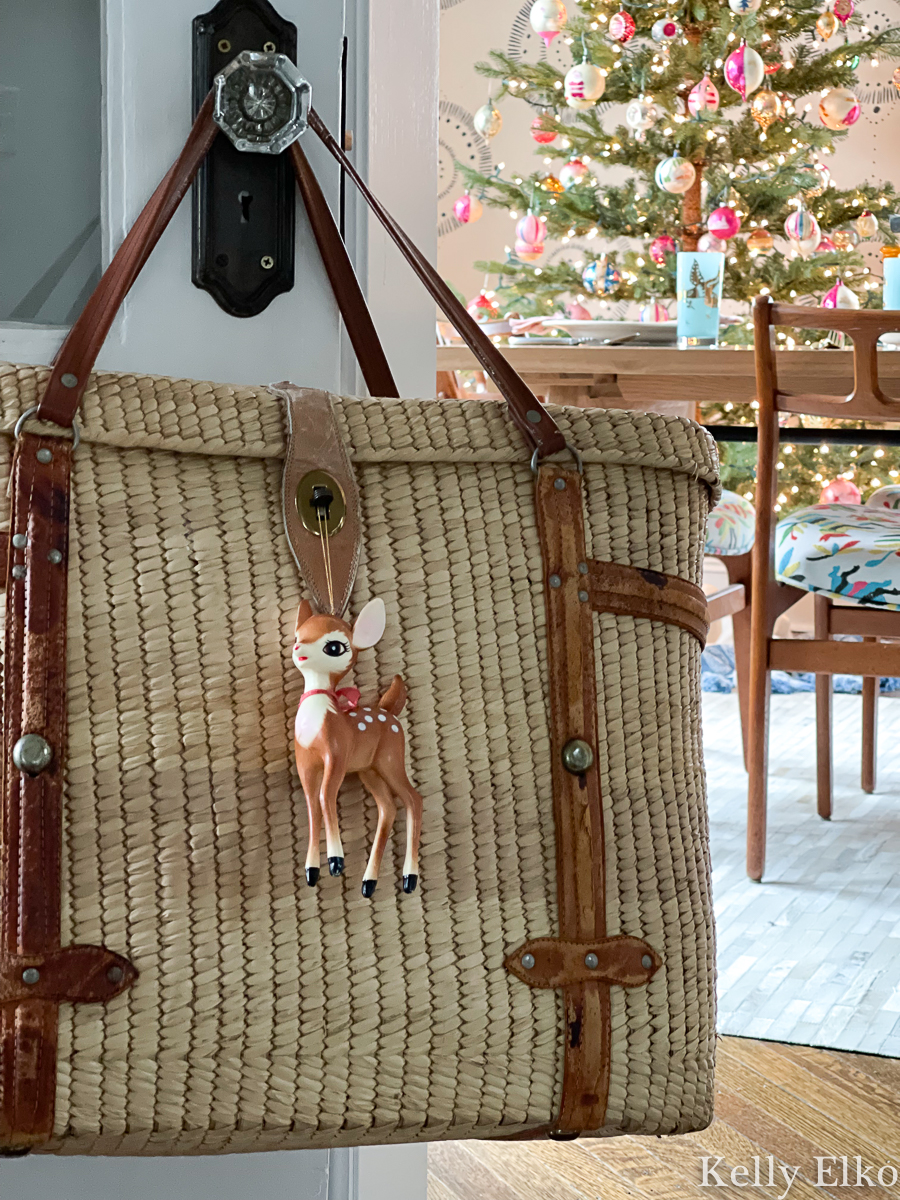 I've been putting a pair of sparse Christmas trees in my dining room for years and don't see myself stopping this tradition any time soon.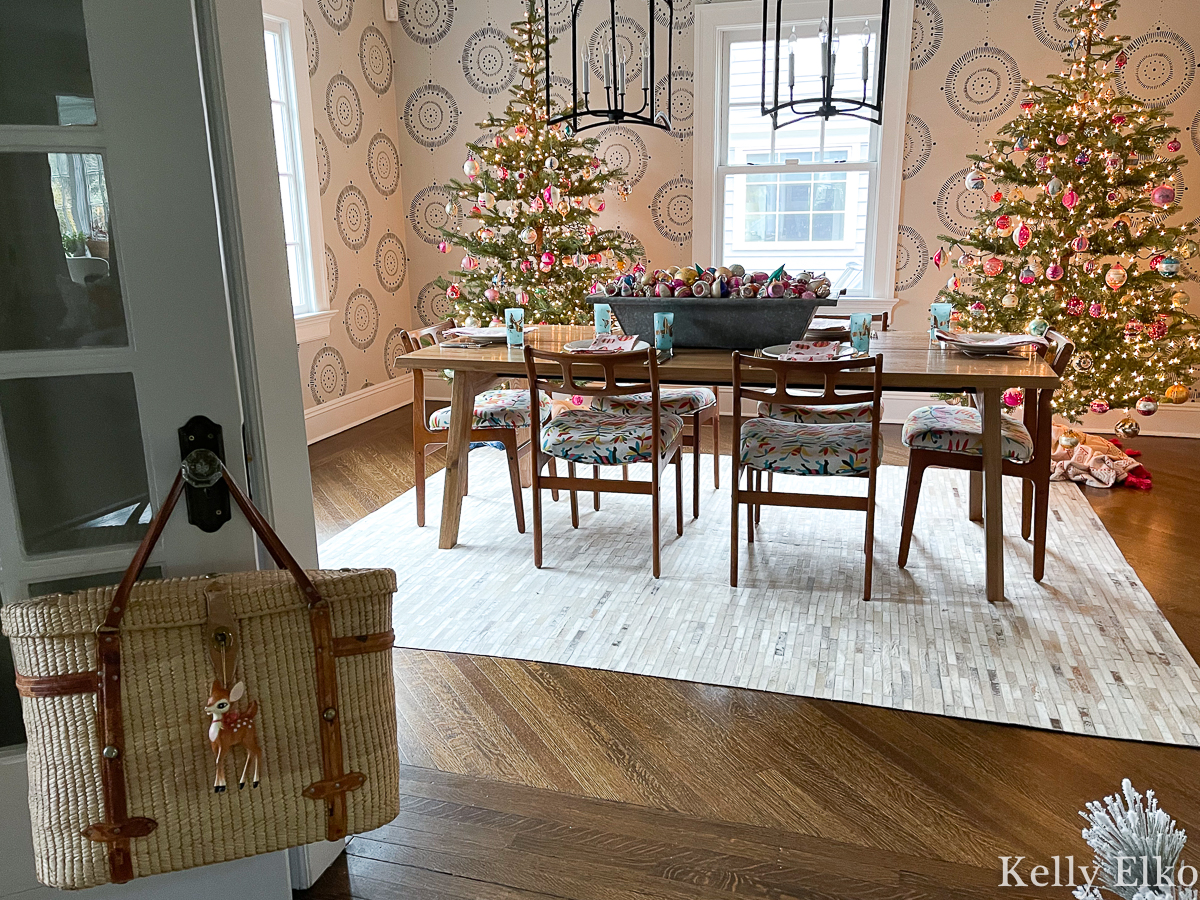 Because I've been on a vintage Shiny Brite ornament finding roll lately, I decided to pile up my latest finds in a zinc trough for the world's prettiest centerpiece.
My favorite tip for setting a table is to use dishcloths as napkins! These $3 All is Bright dishcloths are perfect for any vintage ornament lover!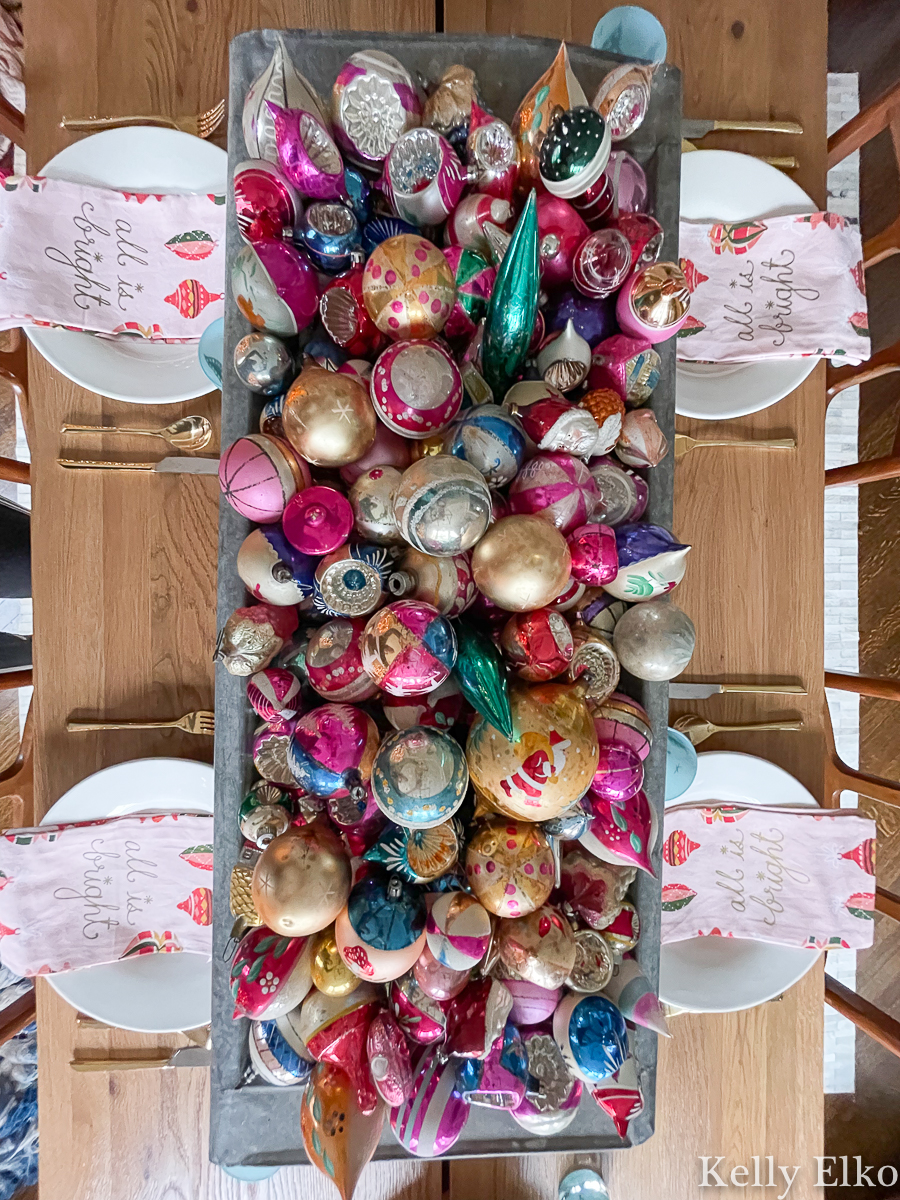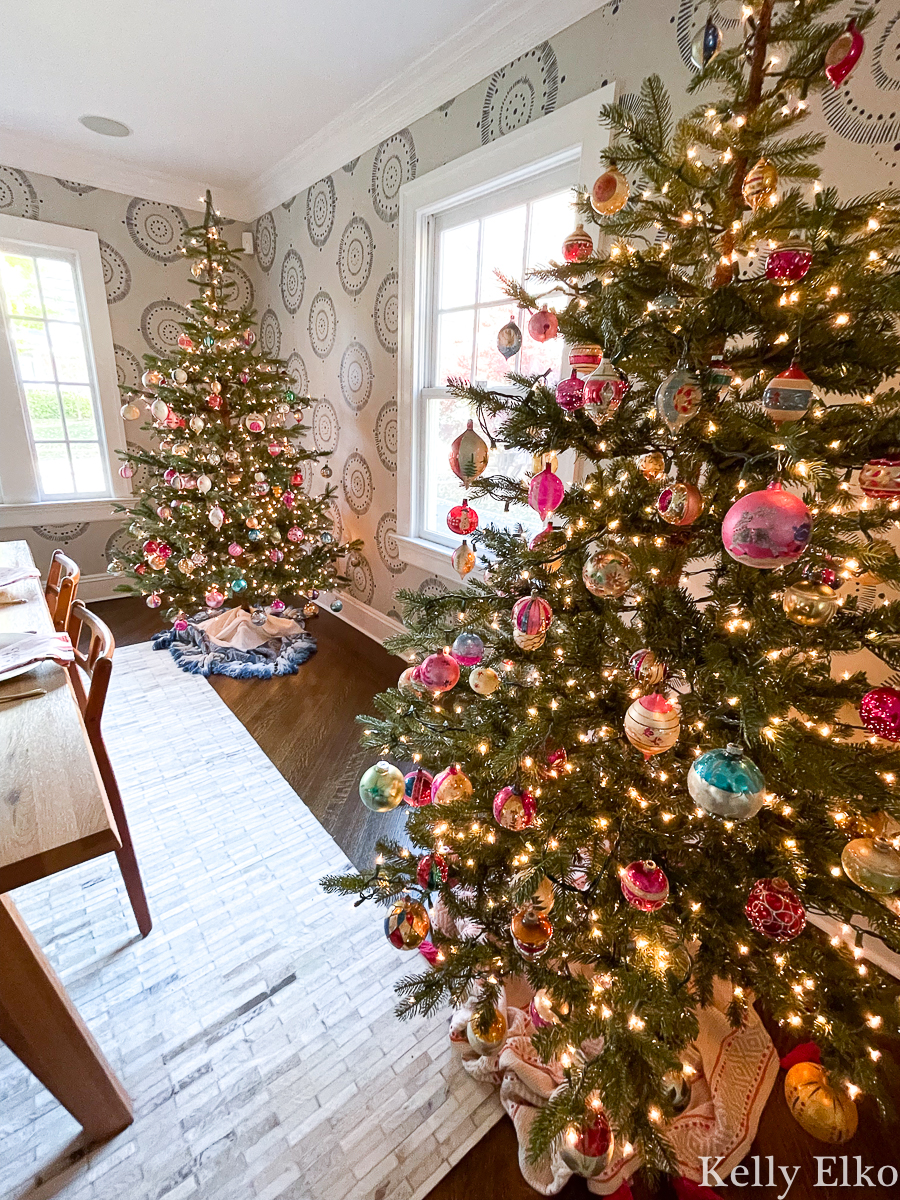 Because I like things that do double duty, I'm a big fan of using throw blankets as tree skirts. The tassels on these are so much fun!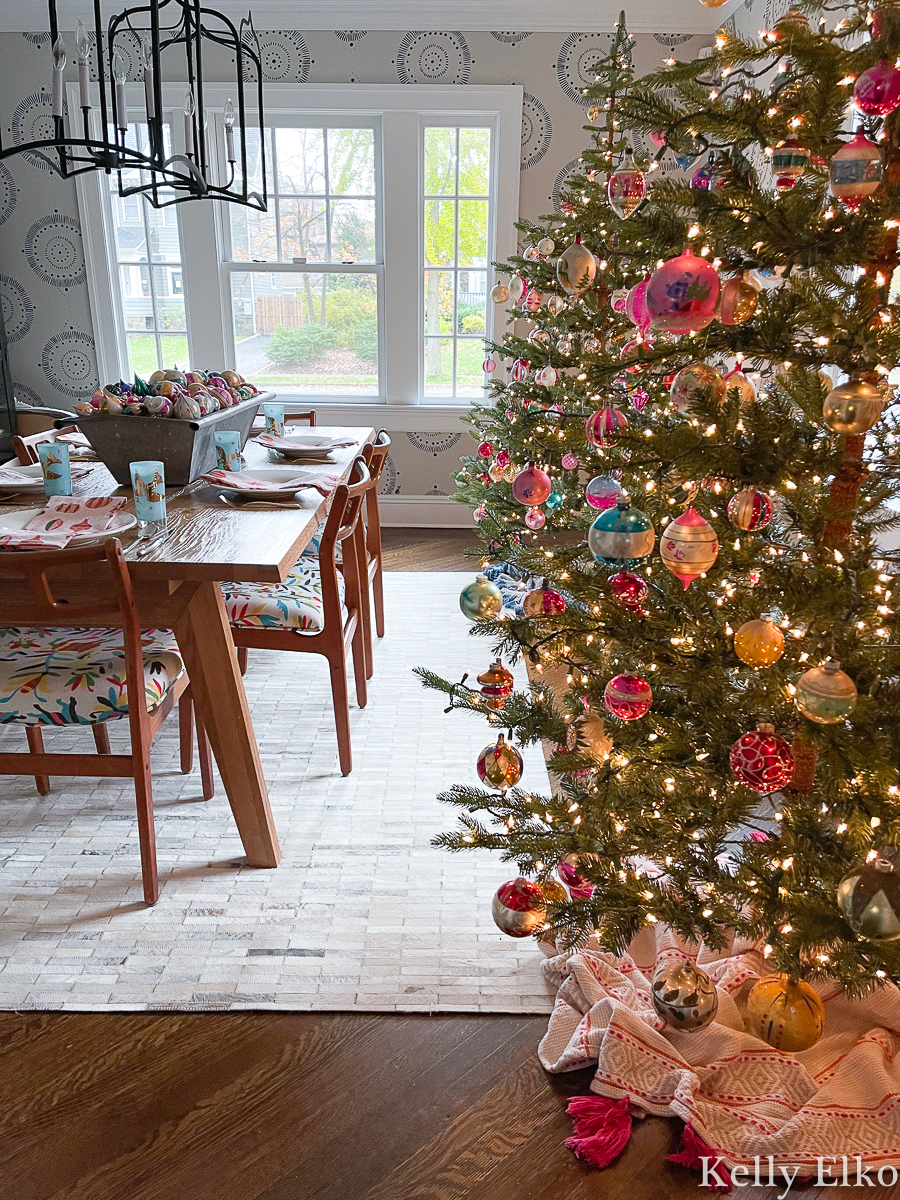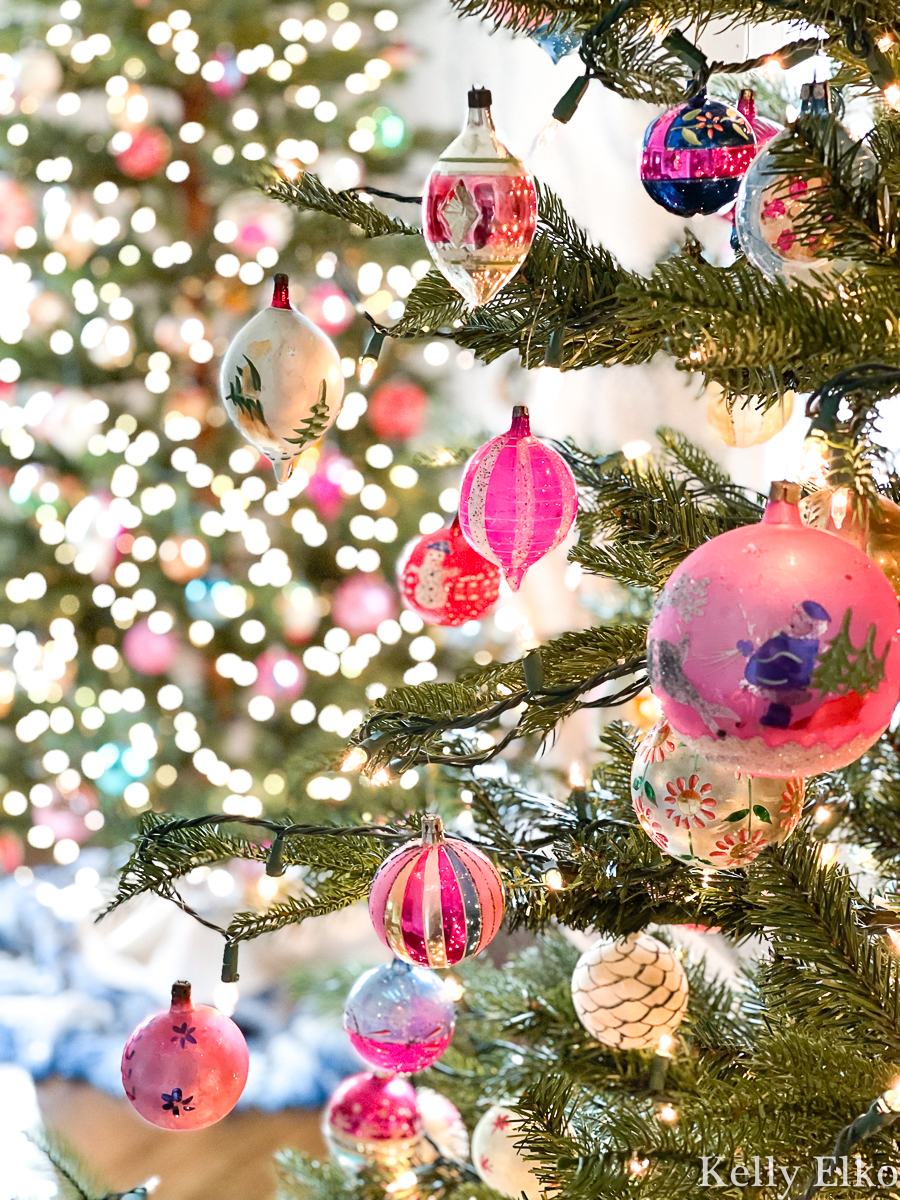 My dining room is the perfect blend of old (vintage Danish modern chairs that I recovered in new Otomi fabric) and new (dining table).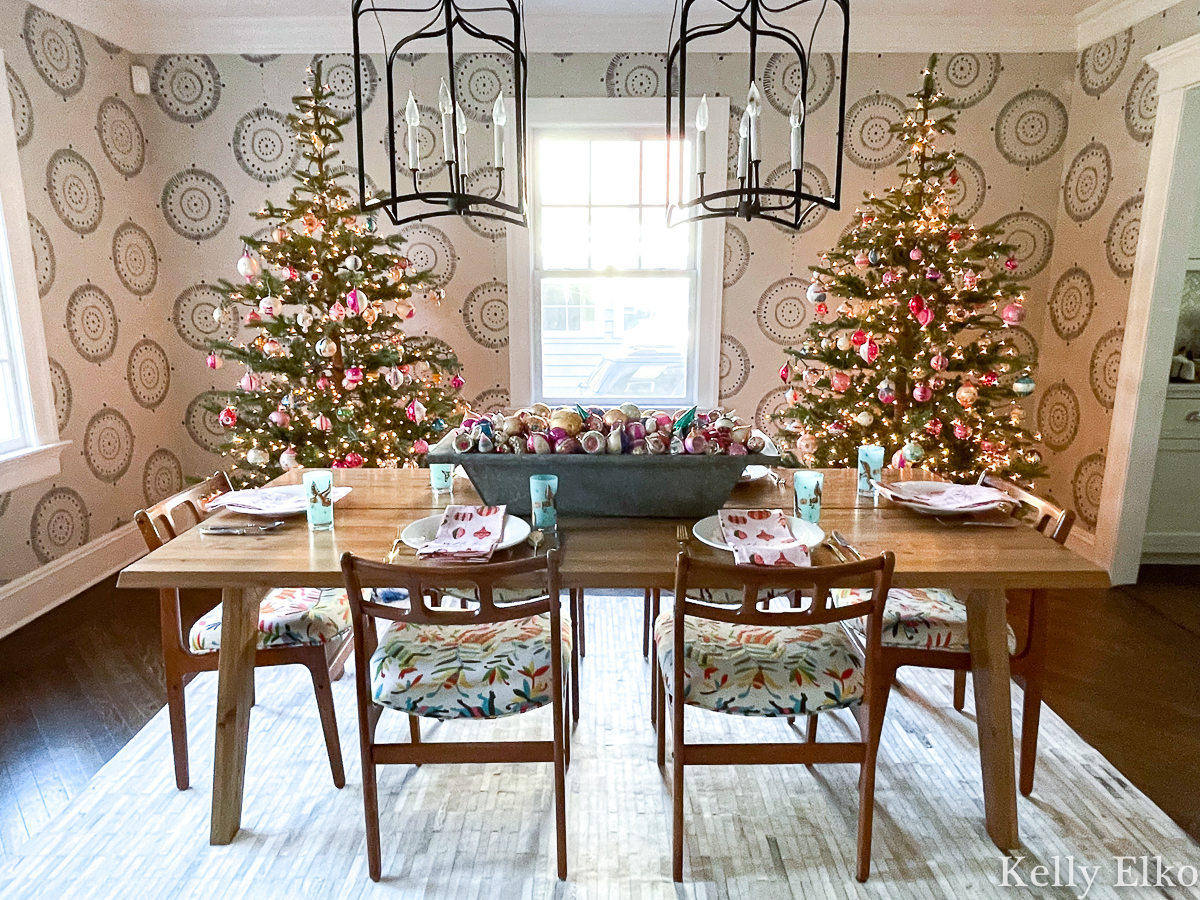 One of the best things I've ever done was hire an artist to paint this mural onto my dining room walls. I got the look of wallpaper for a fraction of the cost!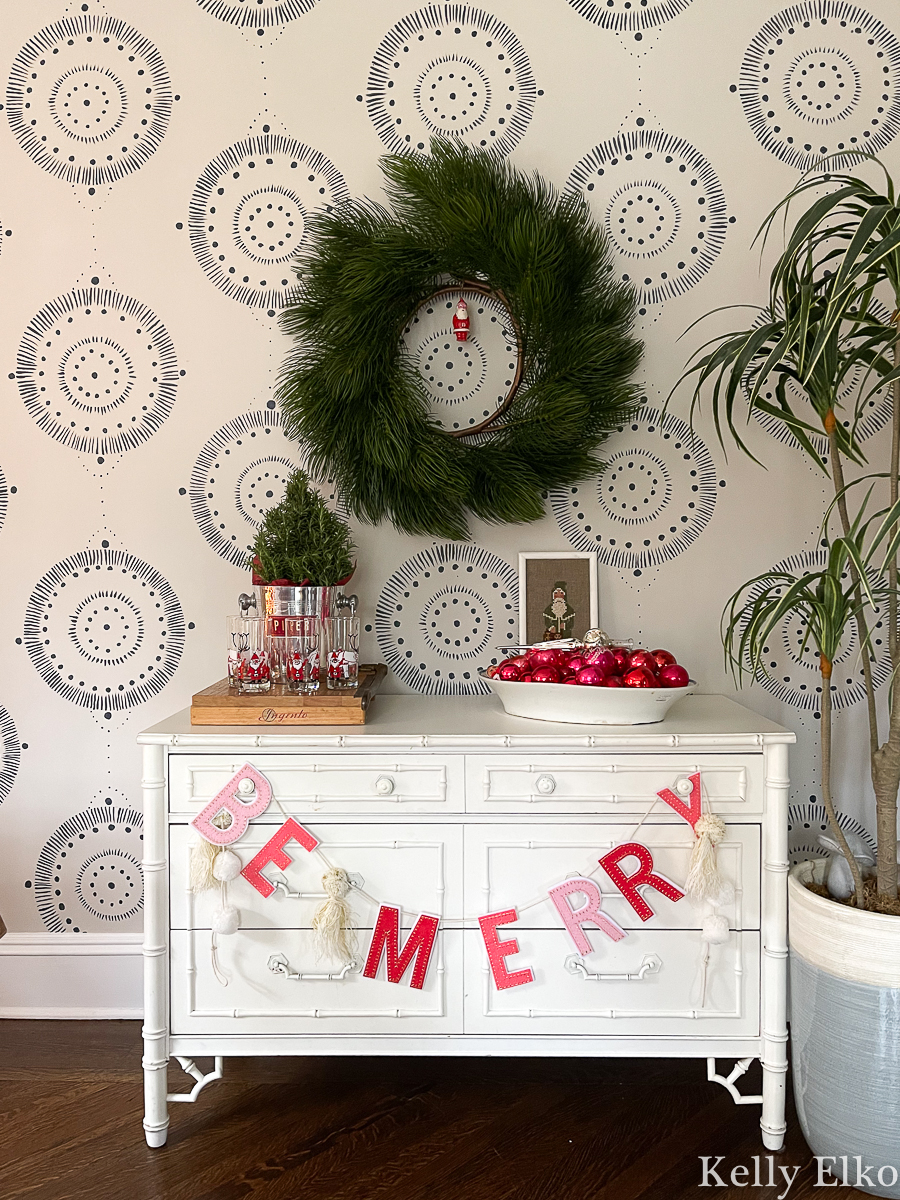 My bar cart is a vintage bamboo chest of drawers that got jazzed up for the holidays with this cute Be Merry banner.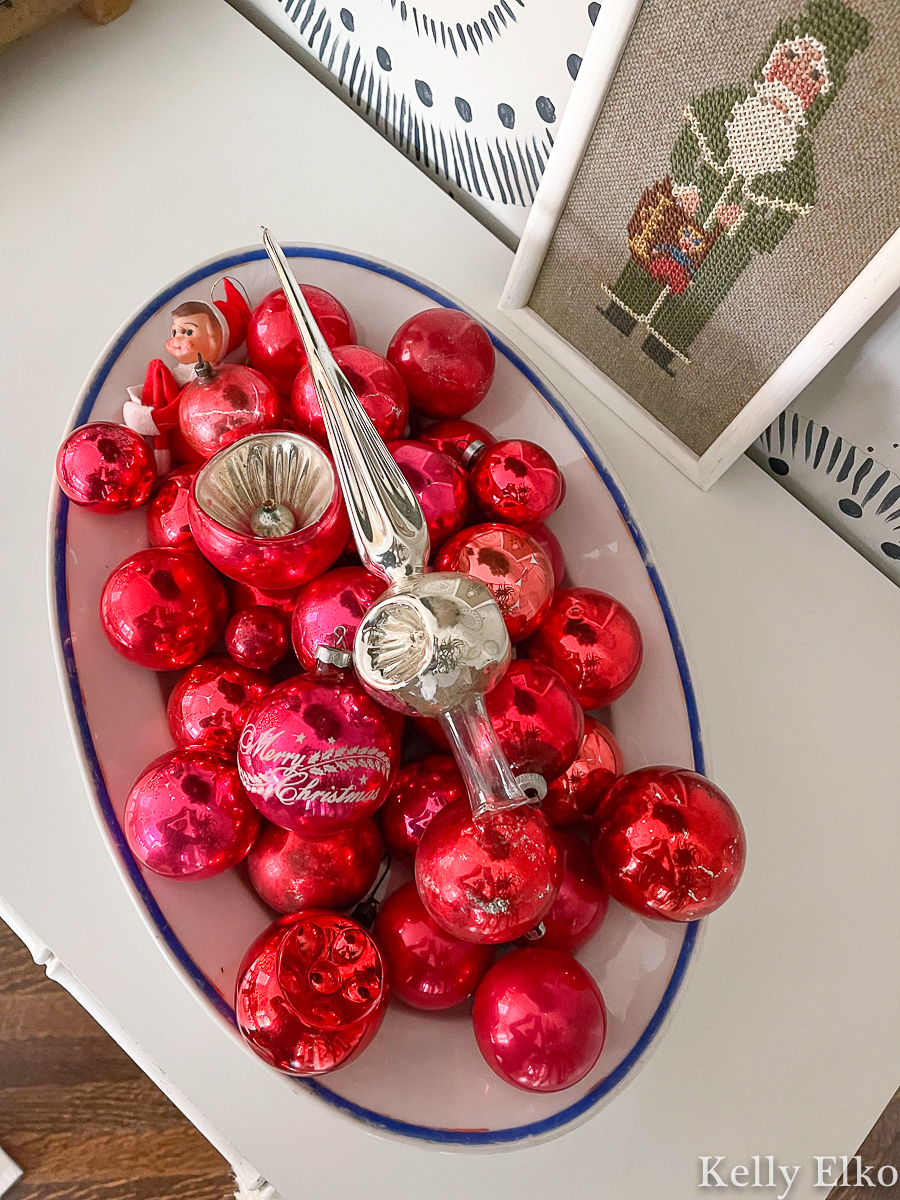 I stumbled across a huge amount of vintage red ornaments at the thrift store and knew they would look amazing piled high on an old ironstone platter. I added the vintage tree topper and tiny little knee hugger elf for fun!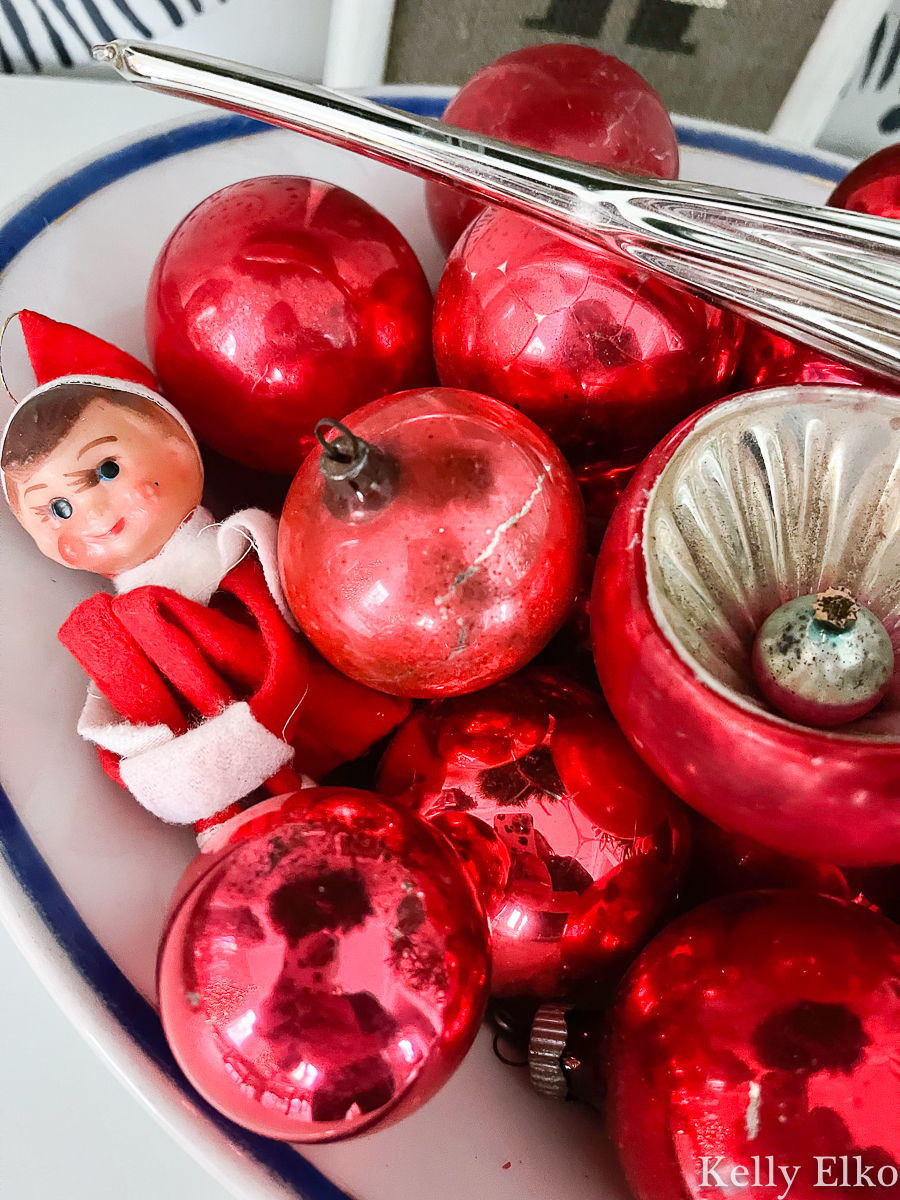 No bar cart is complete without a set of vintage drinking glasses and a vintage champagne bucket.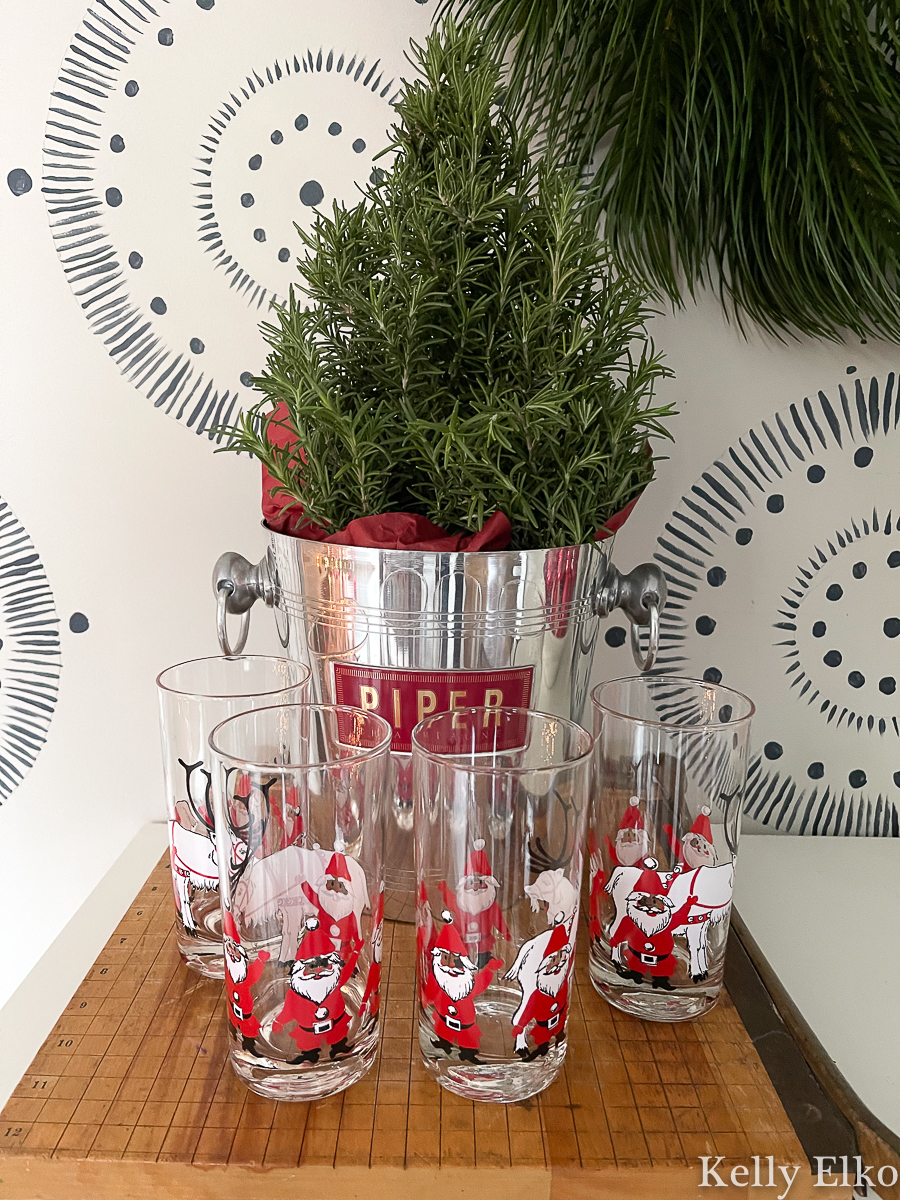 Let's get cozy in the family room where our judgmental blow mold elf with his giant candy cane resides.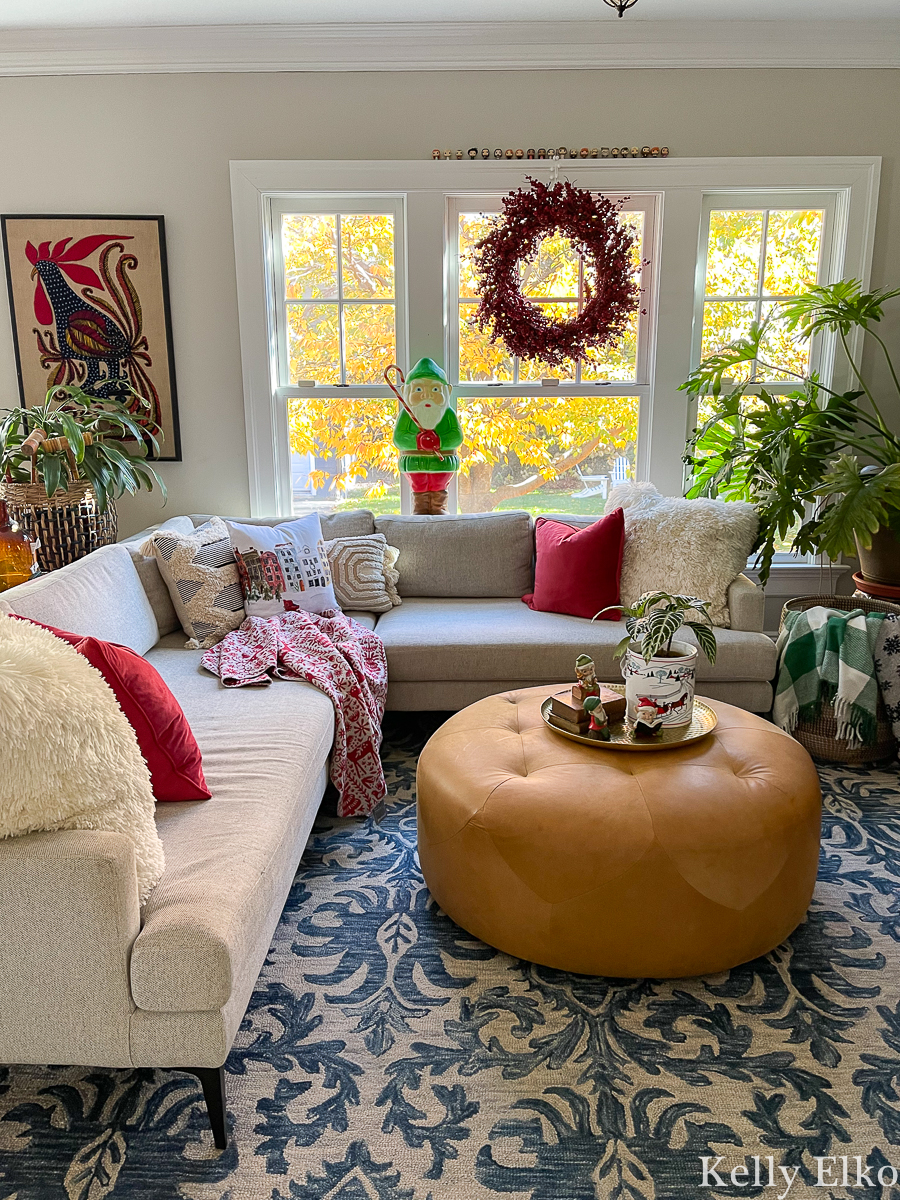 Blow molds are the life size version of elf on the shelf and it's fun to move this big elf to unexpected places around the house (he insists on holding not only his candy cane … but the remote control too)!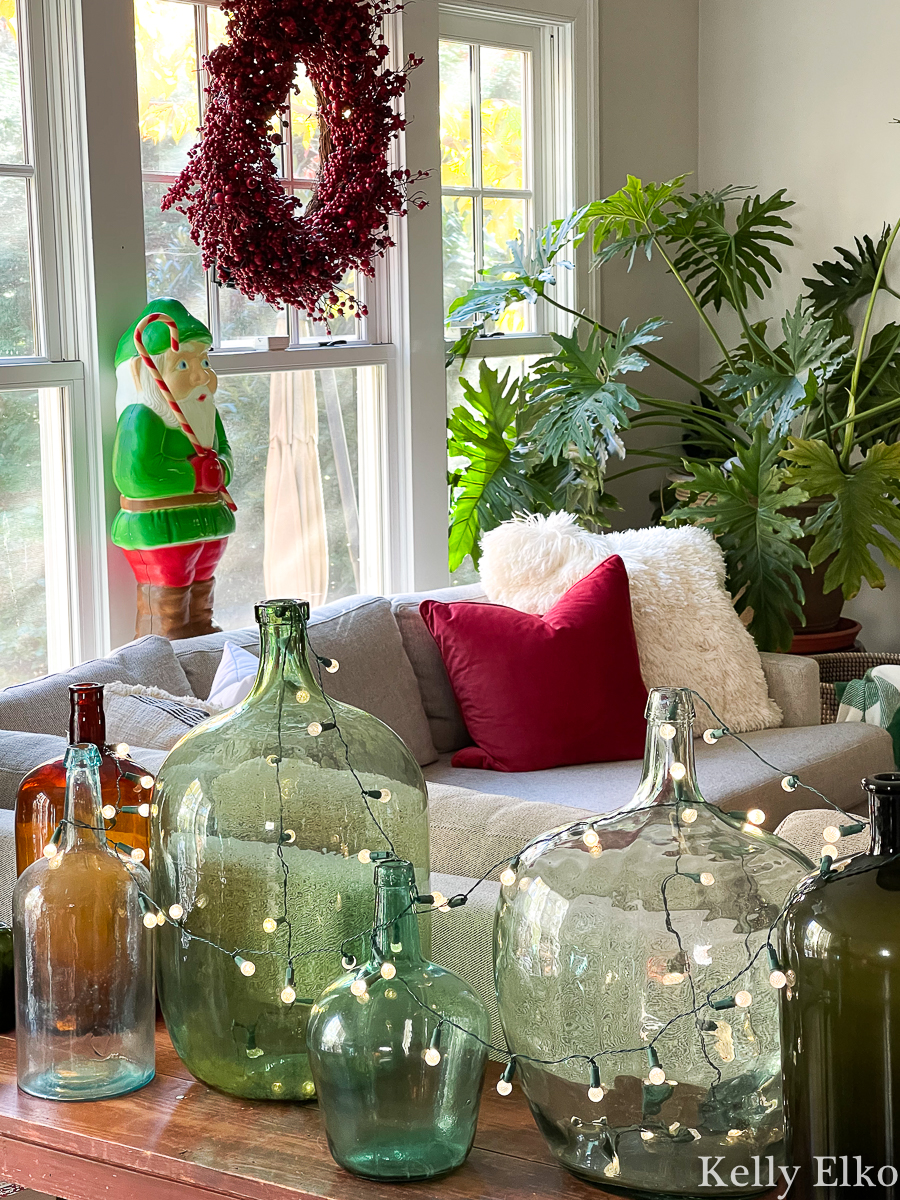 More string lights draped in and around my collection of vintage demijohns (wine jugs) creates a warm glow at night.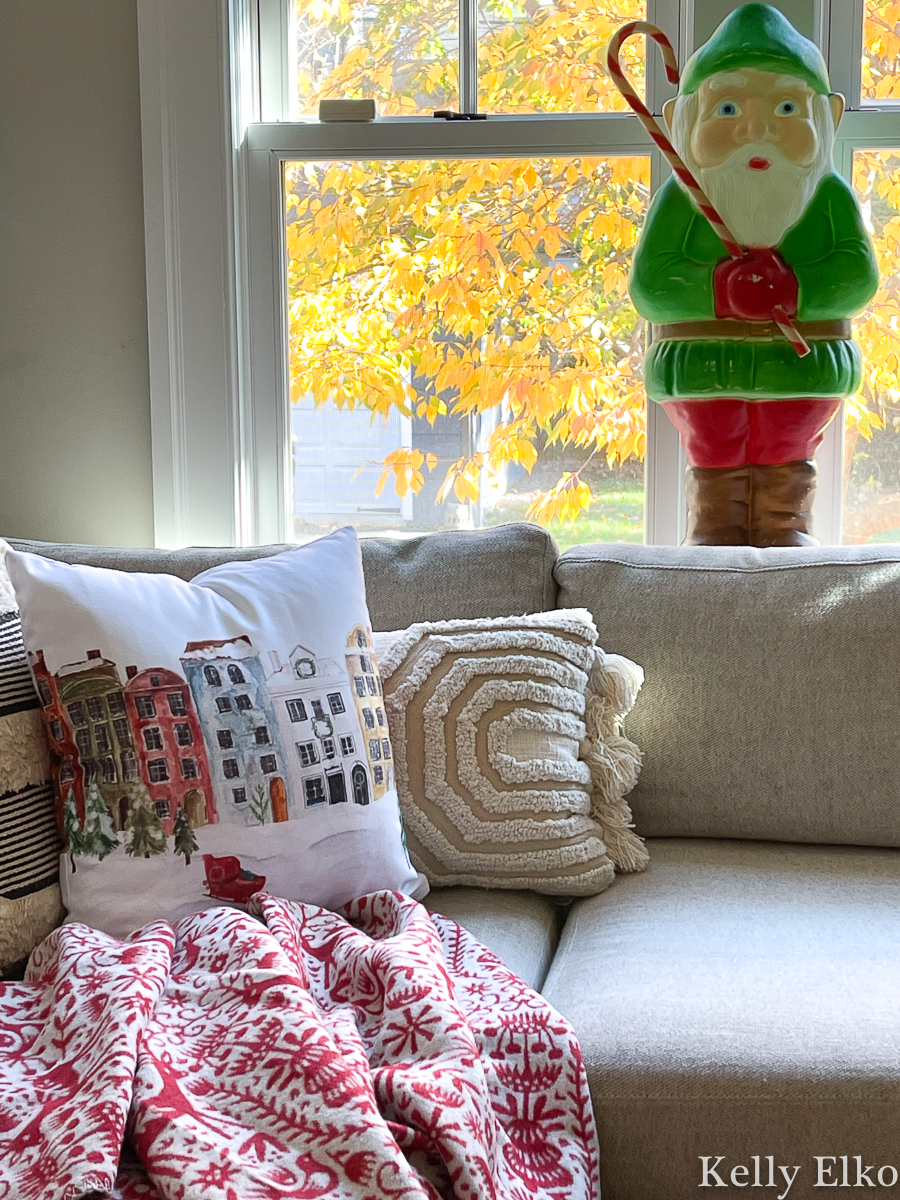 I love this colorful row of houses in the snow pillow and can leave it out all winter long.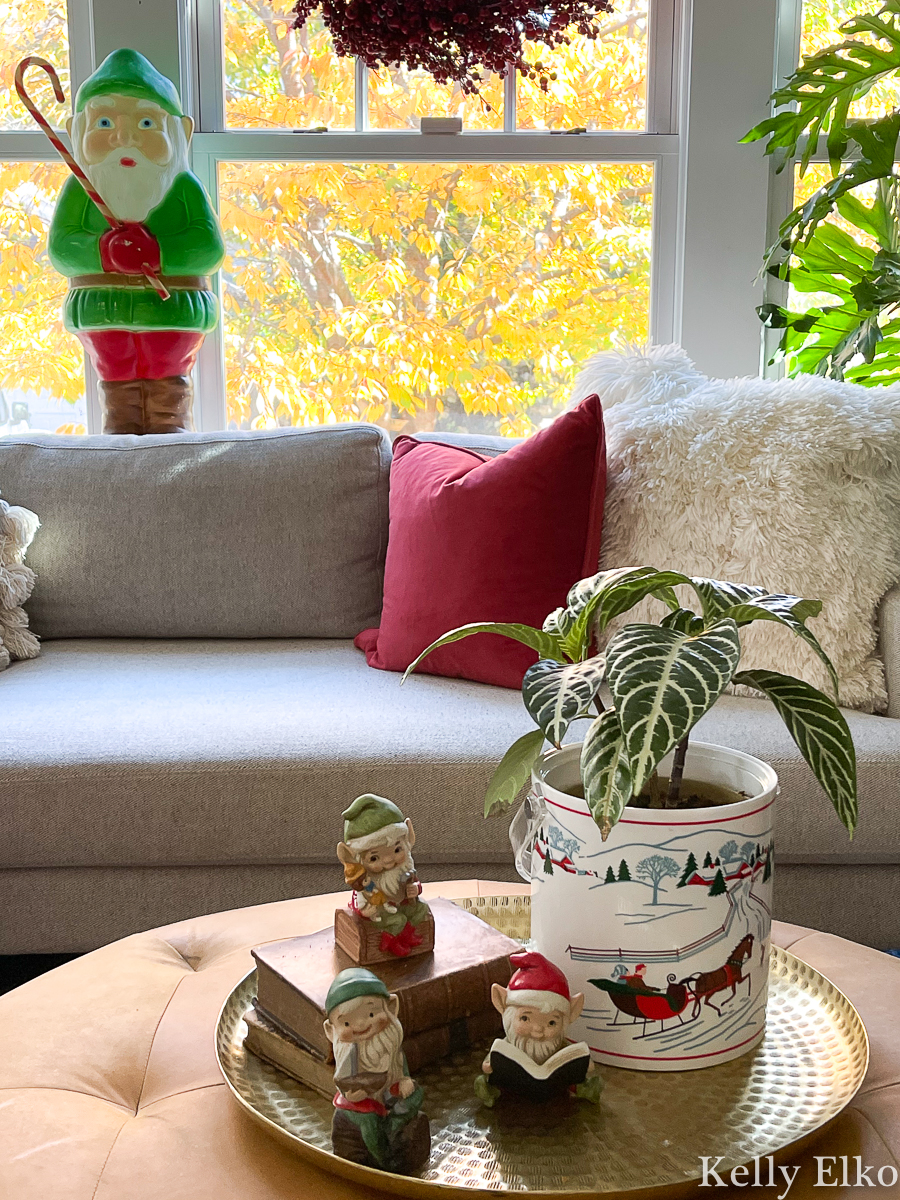 Using vintage ice buckets as planters is one of my favorite things to do and this snowy scene is so fun for winter.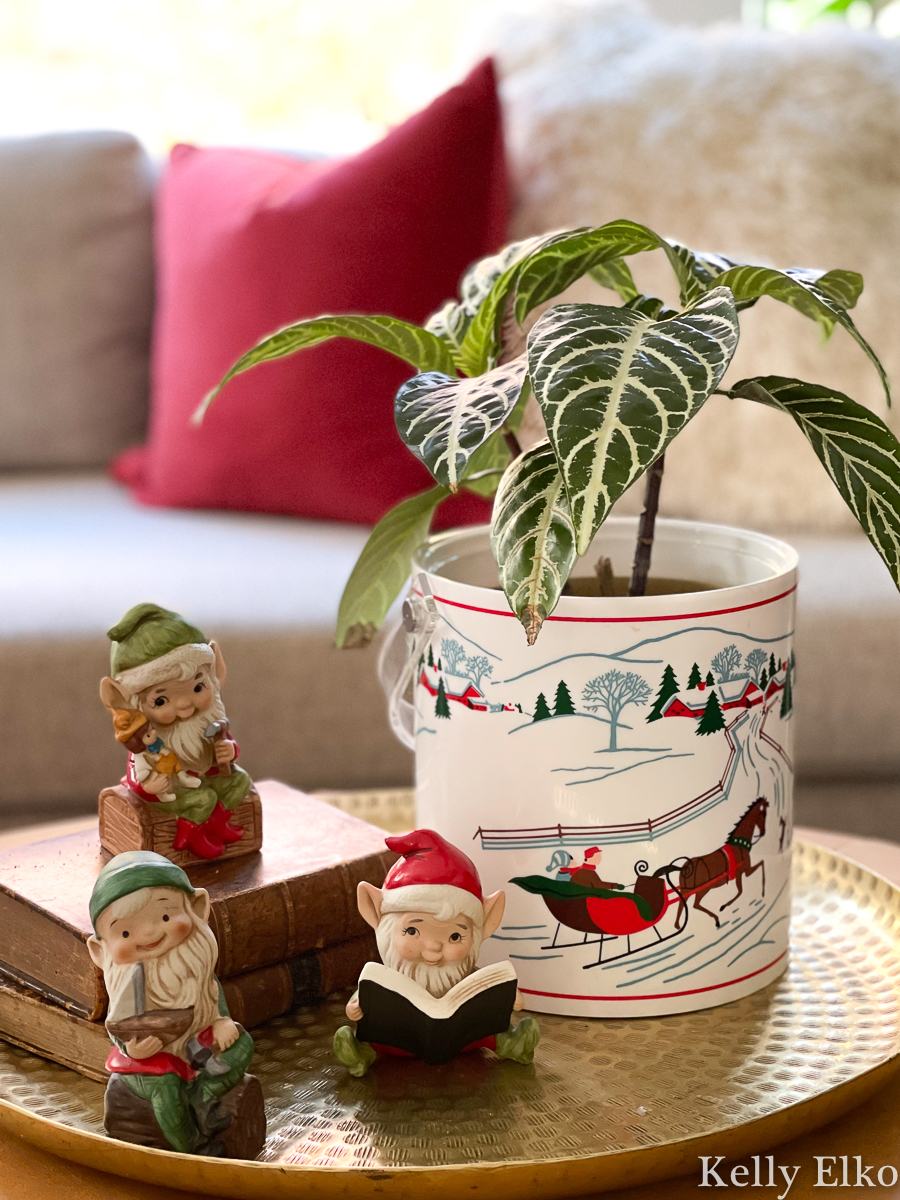 Christmas came very early when my friend gave me this HUGE grapefruit tree for my sunroom!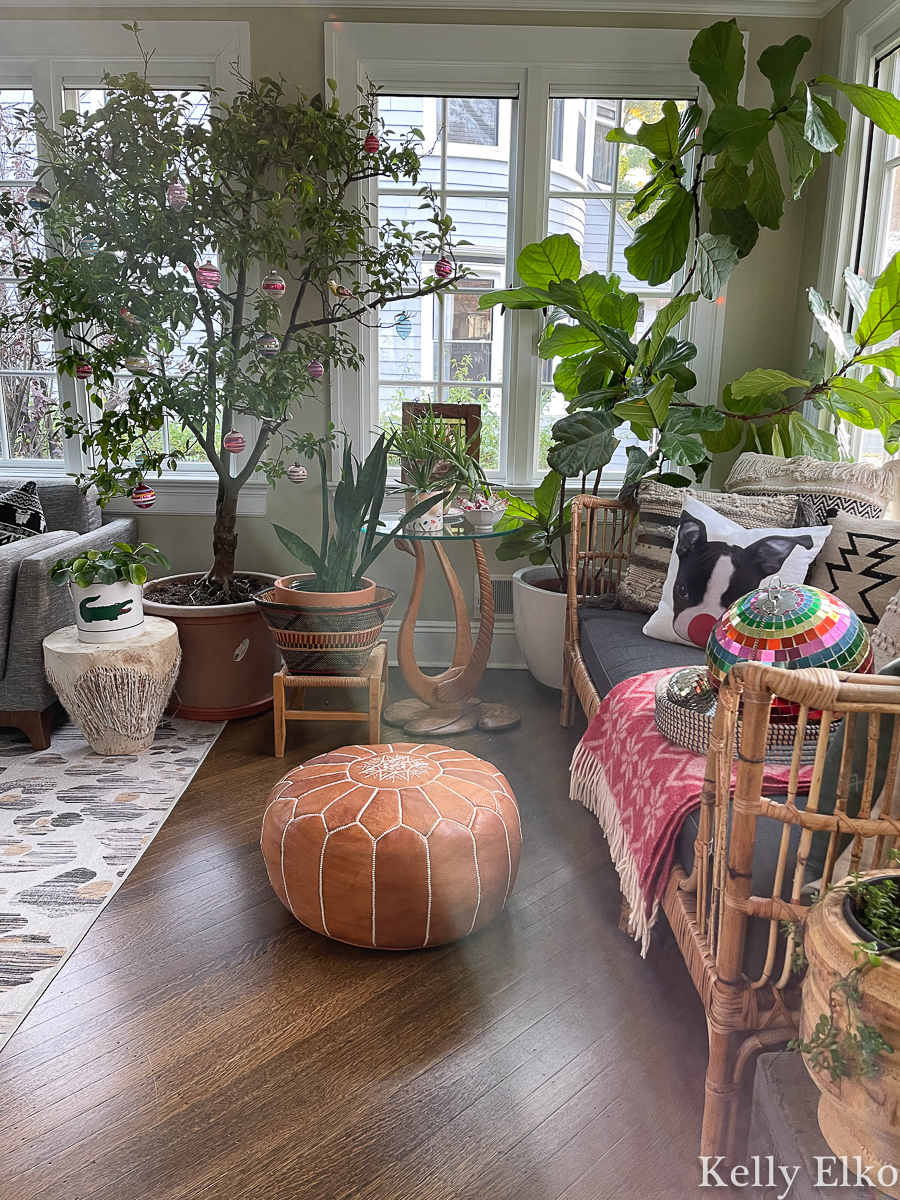 I love a disco ball any time of the year because they catch the light and create magical patterns on the walls and ceiling.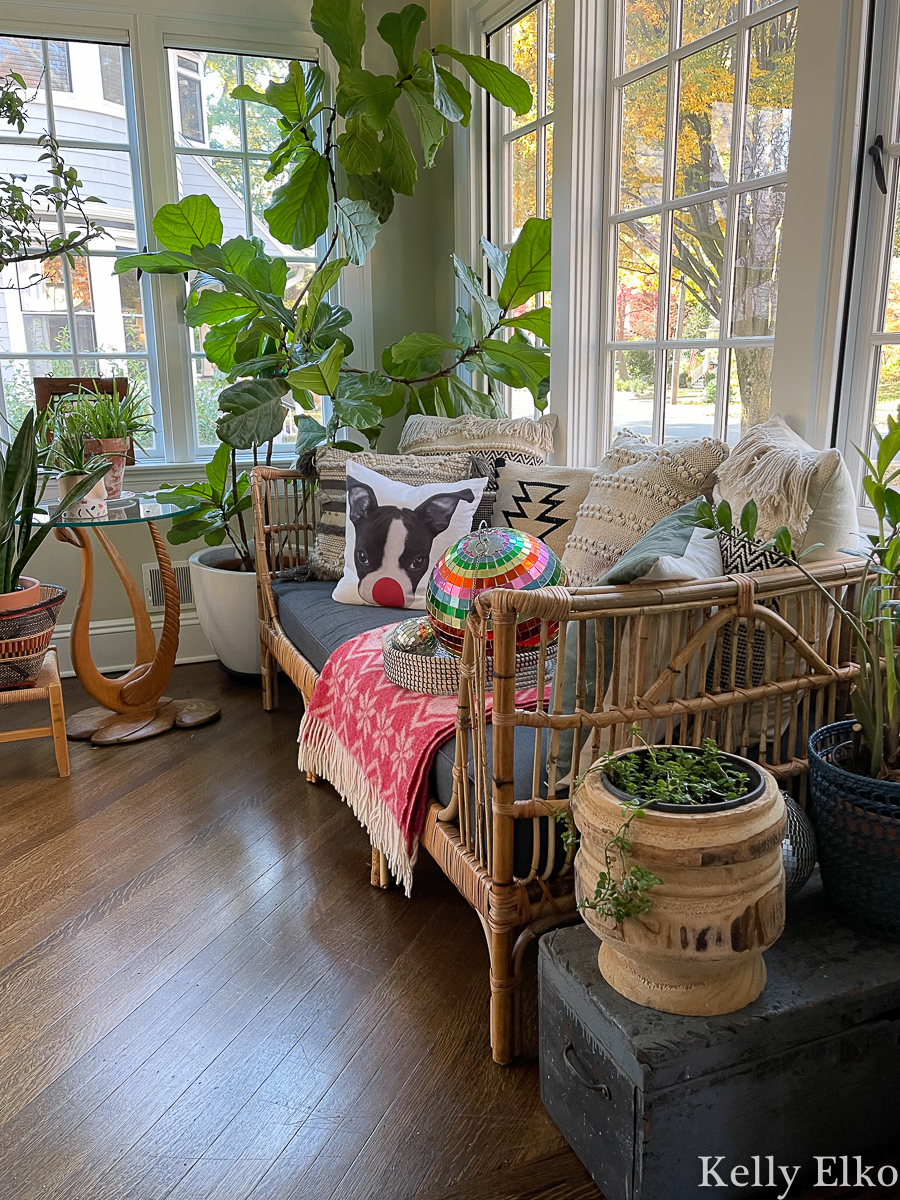 This is where I surround myself with all the plants!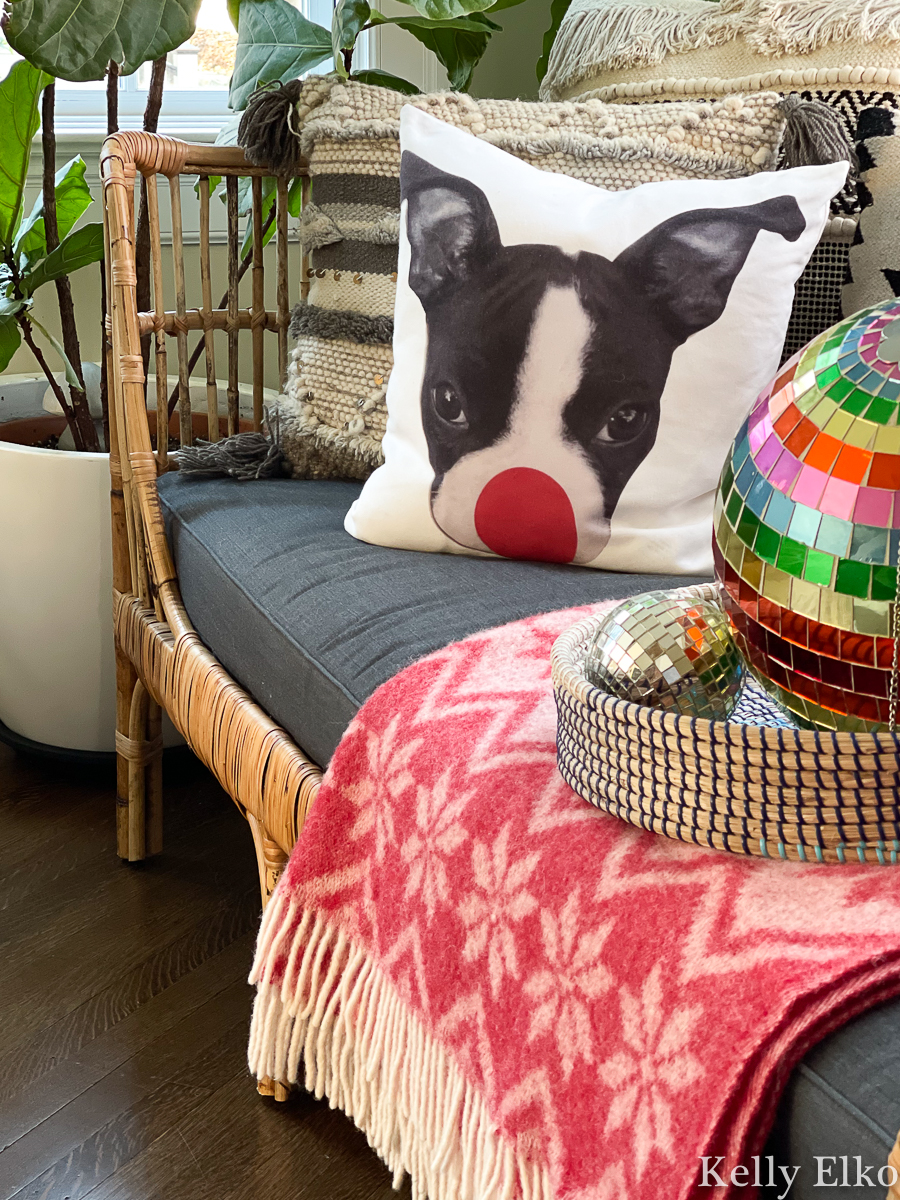 The pillow is actually my dog Sushi! I added a big red Rudolph nose to her cute little face and turned her into a pillow that you can get here.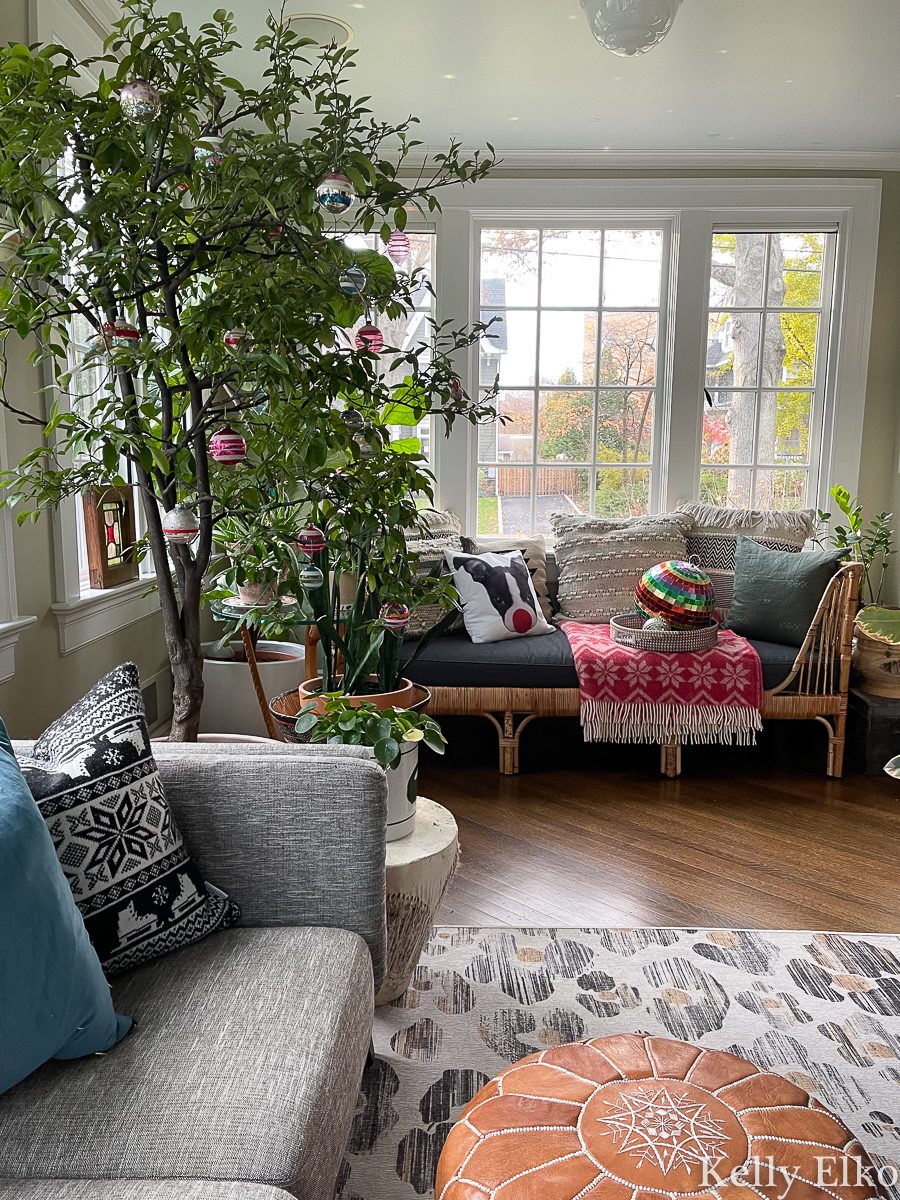 Who says Christmas trees have to be evergreen? My grapefruit tree got a Christmas glow up with the addition of all of my striped Shiny Brites.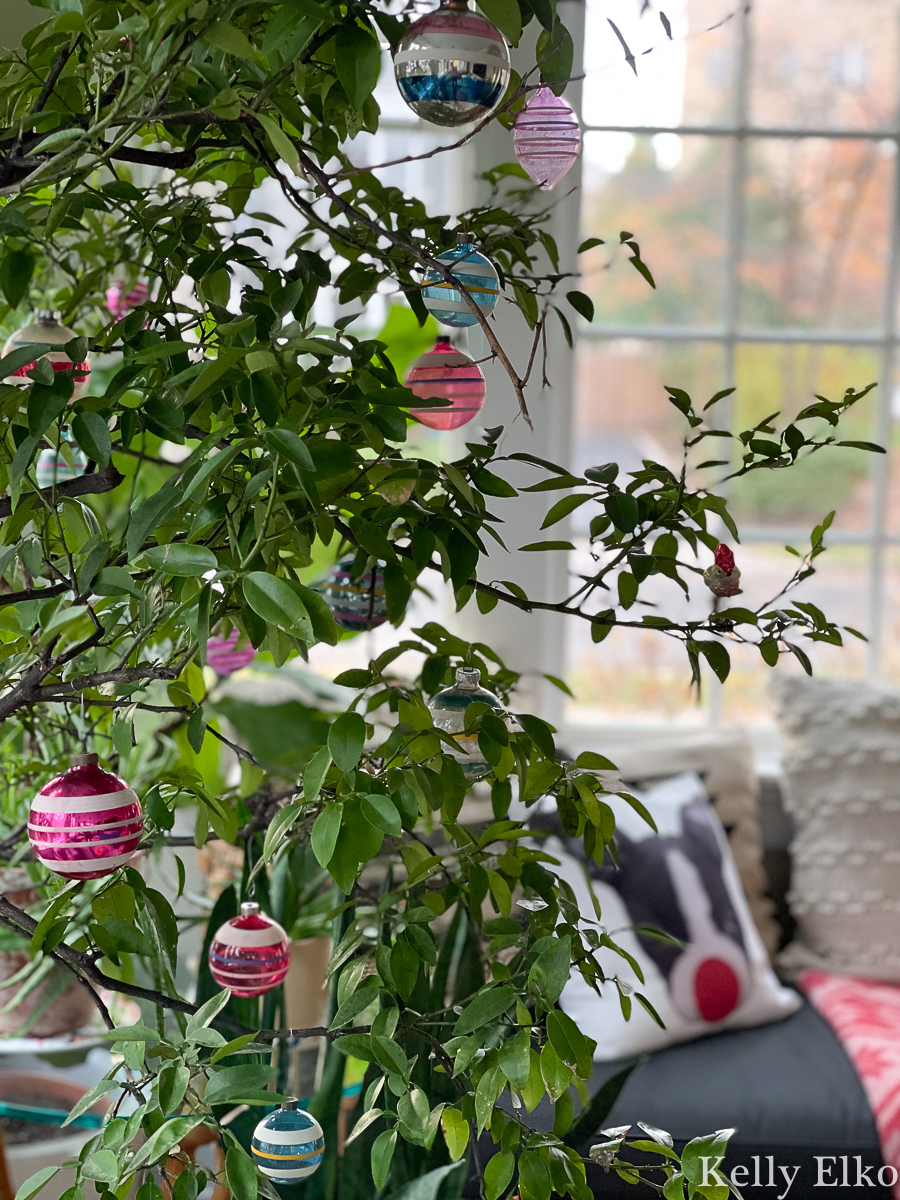 Scattering bowls of ornaments (or in this case vintage figural milk glass light bulbs) around the house is a quick and easy way to add a little bit of Christmas to every room.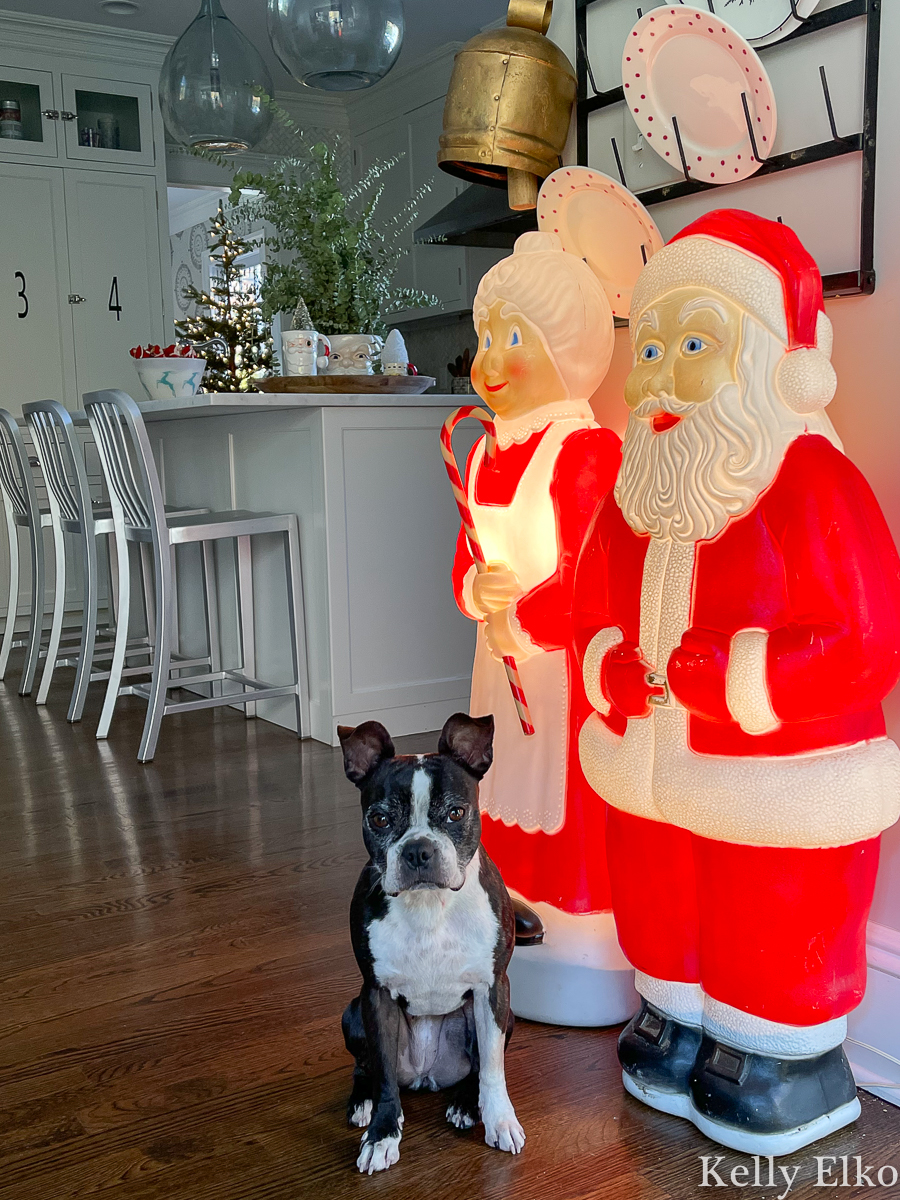 Remember, the Clauses (and Sushi!) know when you've been naughty so try to be on your best behavior (at least until you get your gifts)!
Wishing you and your family the merriest of Christmases.
I'll be sharing more Christmas inspiration so stay tuned.
Don't miss my past Christmas home tours …
Home Sweet Home Christmas Tour / Please Come Home Christmas Tour / There's No Place Like Home Tour
Next on the Christmas tour hop is my good friend Shannon of Fox Hollow Cottage so be sure to pay her a visit.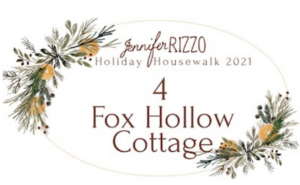 Shop my Christmas house – click the pics below to see more …