Vintage Drinking Glass Collection
I'm excited to share my vintage drinking glasses display! By grouping like colors together and varying the heights, you can create a unique look to show off your collections. I'm also sharing some fun history behind my glasses which will hopefully make you a much savvier shopper when it comes to finding the best deals on vintage drinking glasses.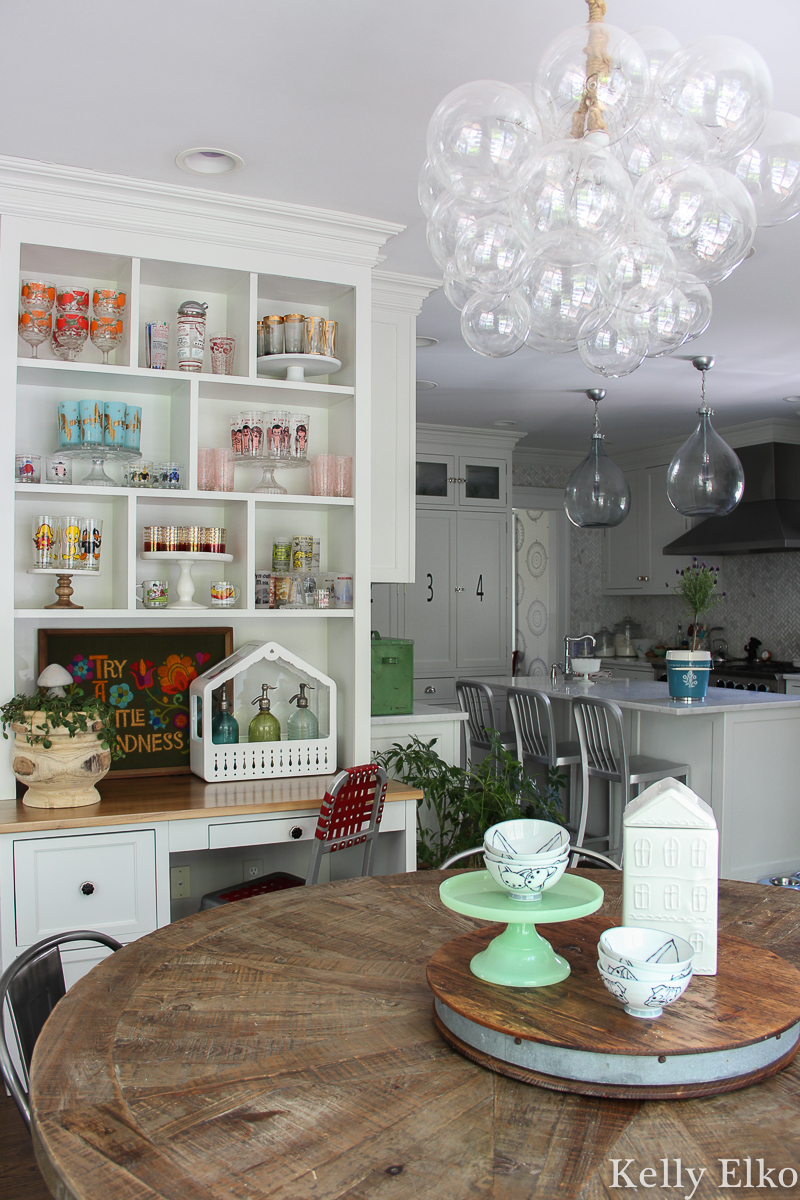 I love to collect and have too many collections to count. I wanted to display my collection together for maximum impact so I gathered up all of my thrift store glasses that I've collected over the years.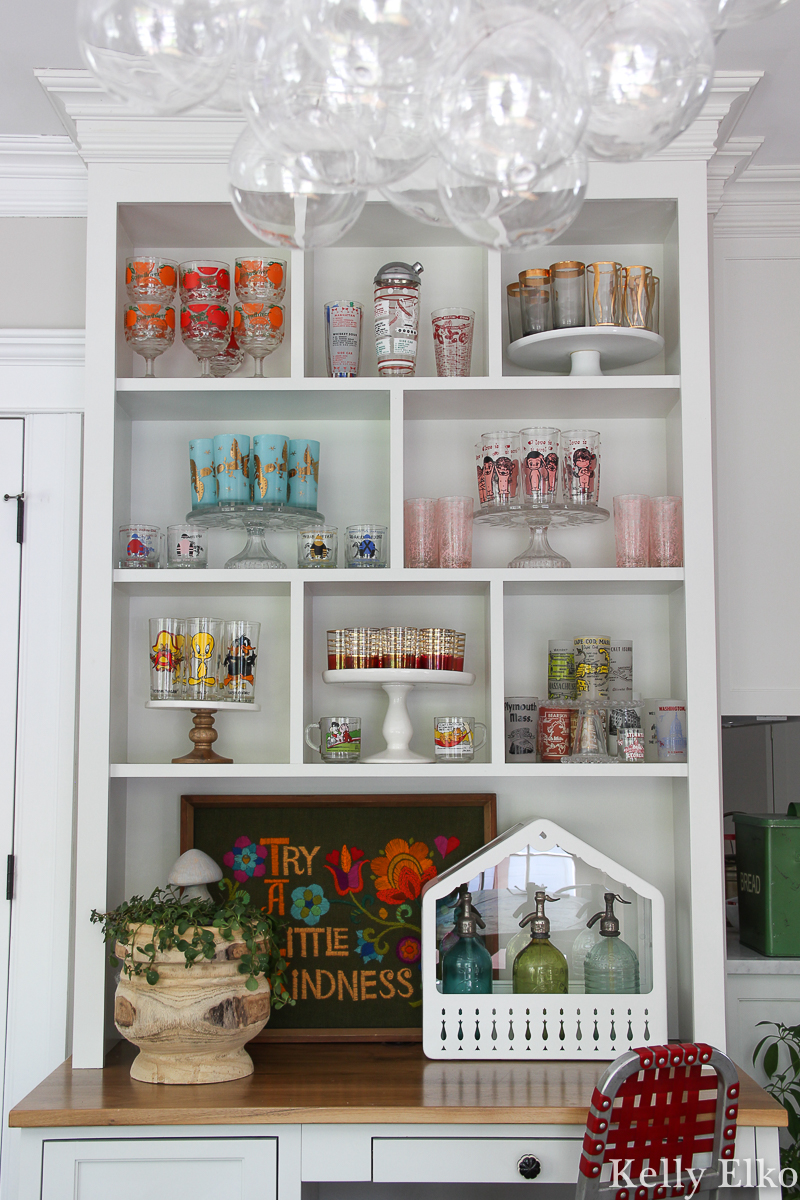 I have a confession because I know this is a judgement free zone. I hate this built in desk in my kitchen! I designed the desk and cubbies when we renovated our 1903 house over 10 years ago and we never, ever use it! But I do love the open cubbies for display and I am really loving the fun pops of color the drinking glasses add to this space.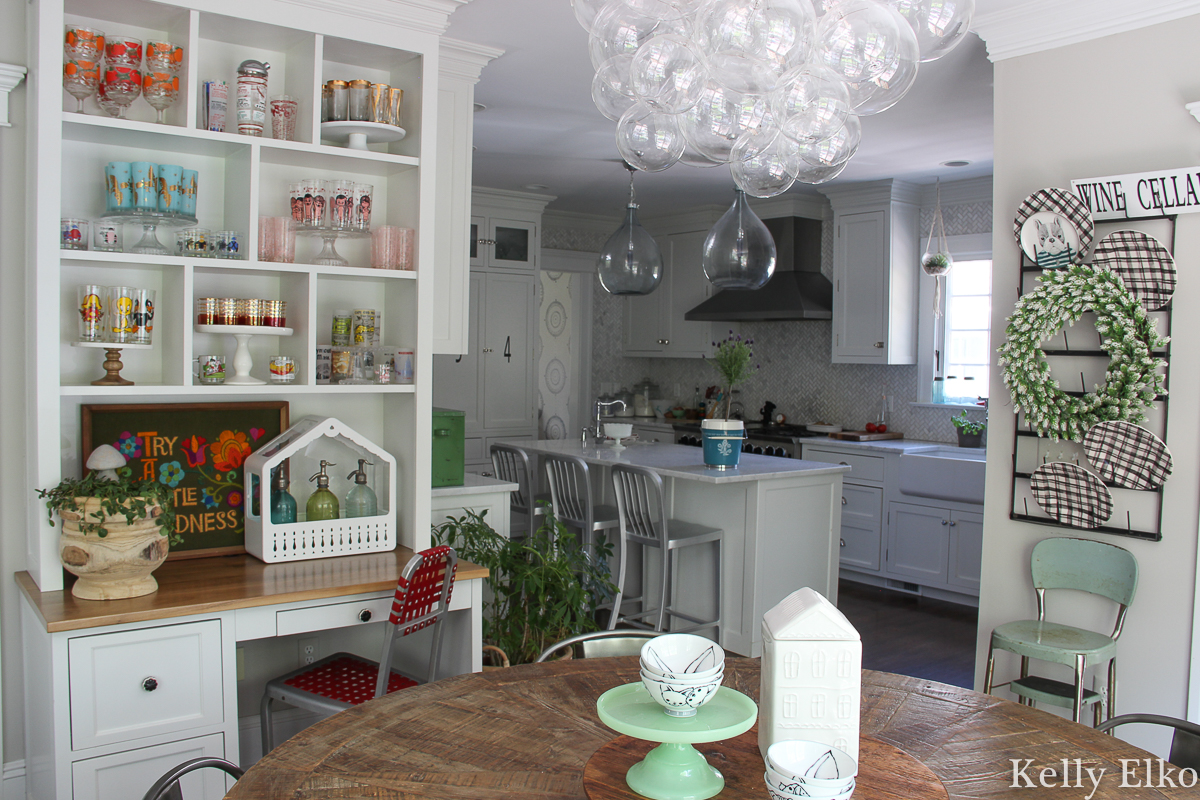 This post contains affiliate links which means if you make a purchase, I earn a small commission at no extra cost to you.
Back in March, before the world came to a screeching halt, I was thrilled to find a set of cranberry and gold drinking glasses at the thrift store (in the bottom, middle cubby) and scooped those babies up! As you can see, I have three sets of glasses with gold accents and I displayed one set to each level, put all the pink in one cubby, and mixed and matched the more colorful glasses until I was satisfied with the result.
Cake plates are the perfect way to elevate the display so they don't look lost in the cubbies. Stacking the goblets in the top left cubby also created height.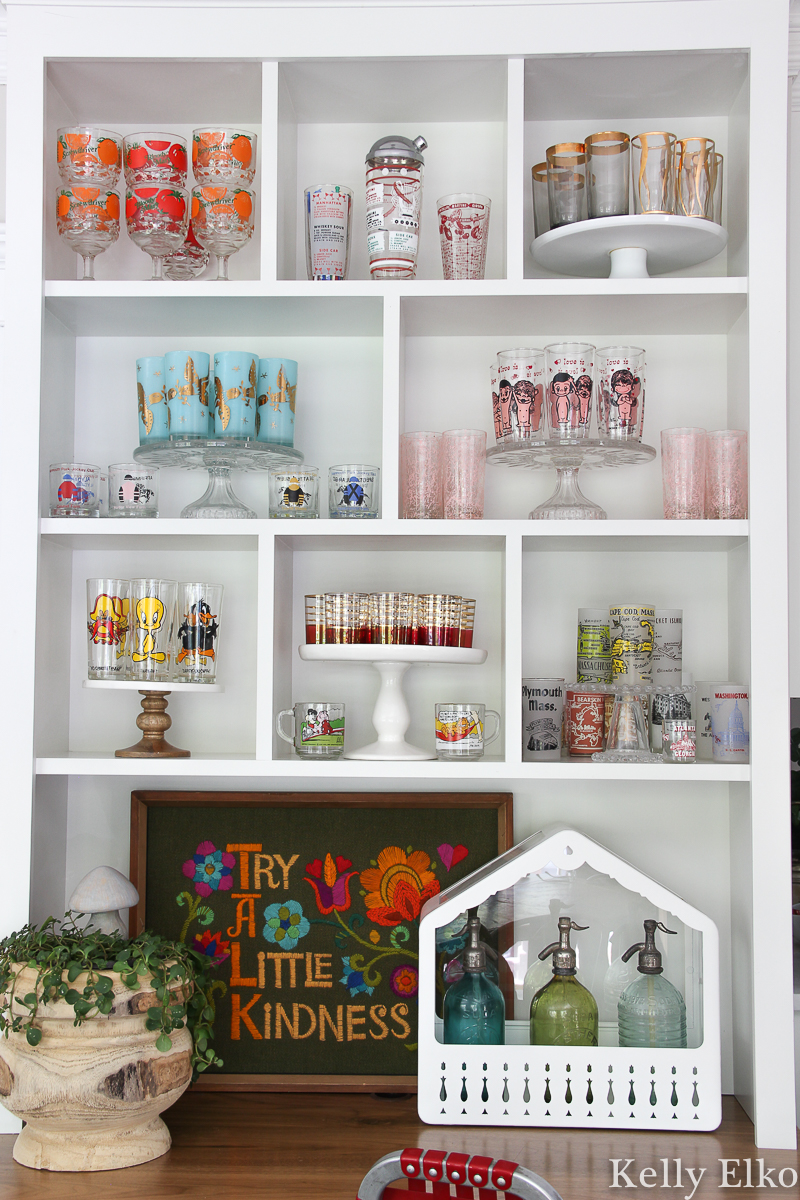 Remember the "Love Is" kids? Back in the 70's, a sour cream company packaged their product in these adorable "Love Is" glasses with artwork from Kim Casali. You can find a variety of colorful art on vintage sour cream glasses here.
I found this never before used set of eight mid century collins glasses with a pink spaghetti string pattern in my mother-in-laws house (thanks mom) and the vintage state glasses were a gift from a fellow hoarder!
The Garfield mugs are 1978-1980 promo glasses from McDonald's (I have two of the set of eight). Don't you wish McDonald's still gave these out instead of the cheap plastic toys in Happy Meals!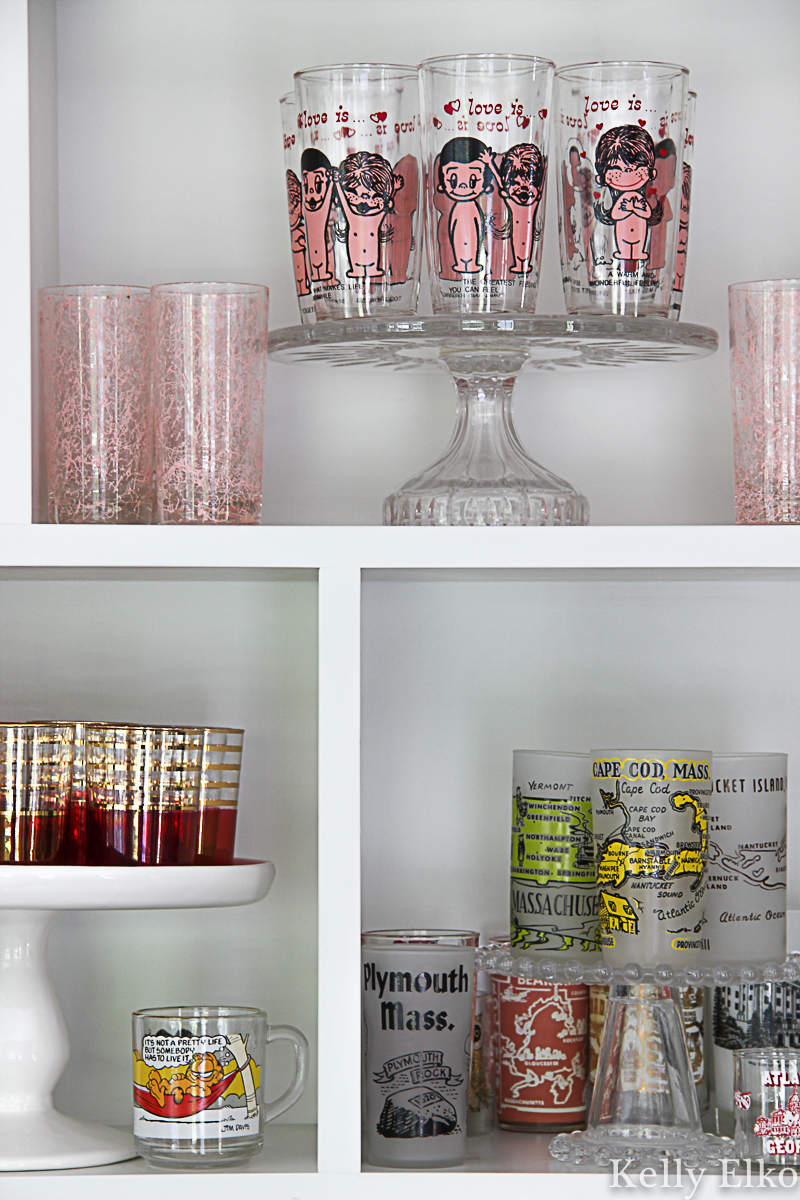 You will have a guaranteed hangover after drinking just one Screwdriver or Bloody Mary from these huge goblets!
The blue and gold doves are my favorite glasses in my collection and the colorful jockey shirt glasses are from a local racetrack.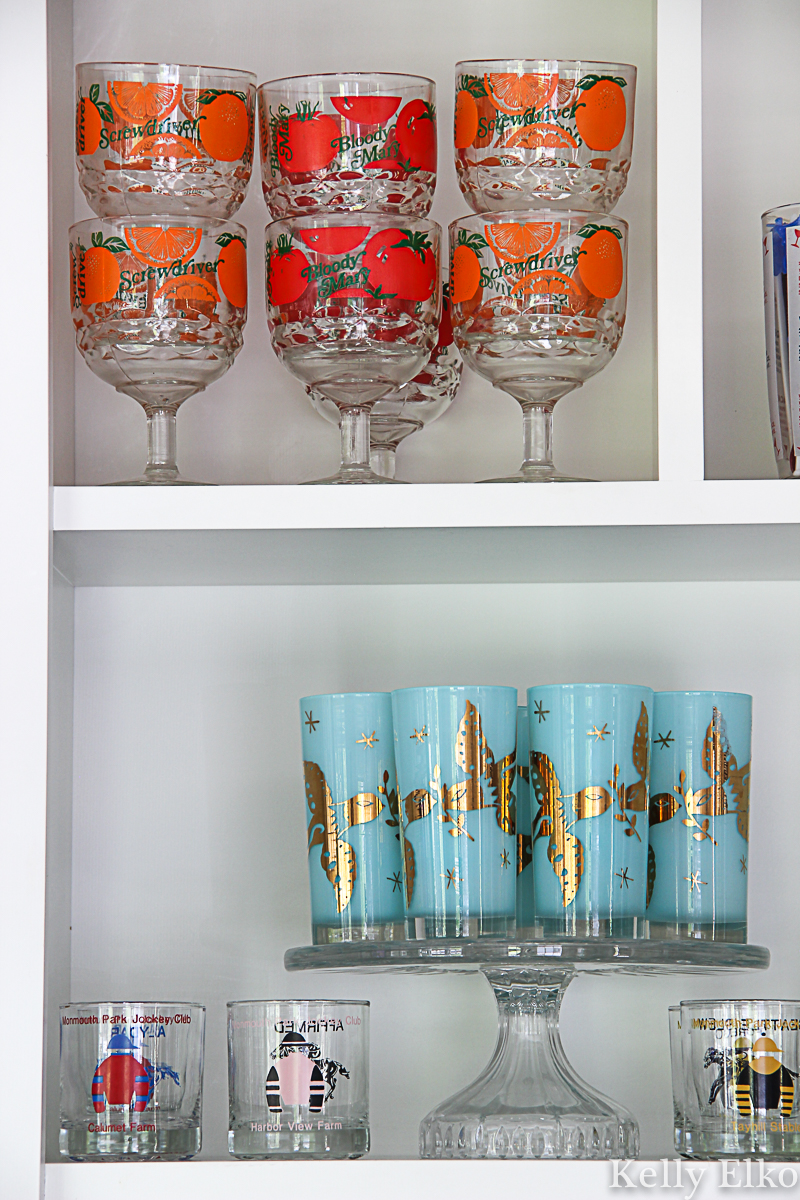 My Bugs Bunny glass broke but I have Tweety, Daffy Duck and Yosemite Same to console me. I would love to get every single character in this collection.
There are 18 Glasses in the 1973 Pepsi Collector's Set: Bugs Bunny, Sylvester, Tweety, Pepe Le Pew, Cool Cat, Henery Hawk, Elmer Fudd, Daffy Duck, Beaky Buzzard, Wile E. Coyote, Road Runner, Speedy Gonzalez, Porky Pig, Petunia Pig, Yosemite Sam, Tazmanian Devil, Foghorn Leghorn, and Slow Poke Rodriguez which is the most rare glass.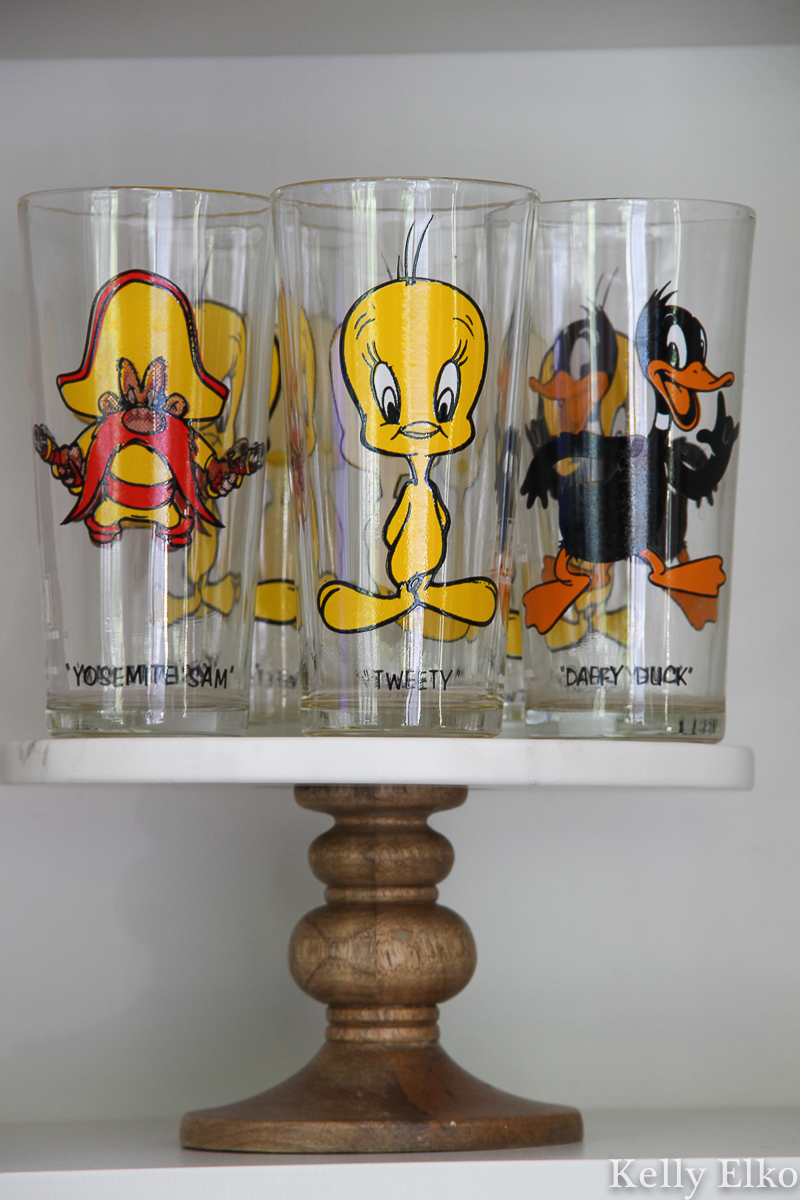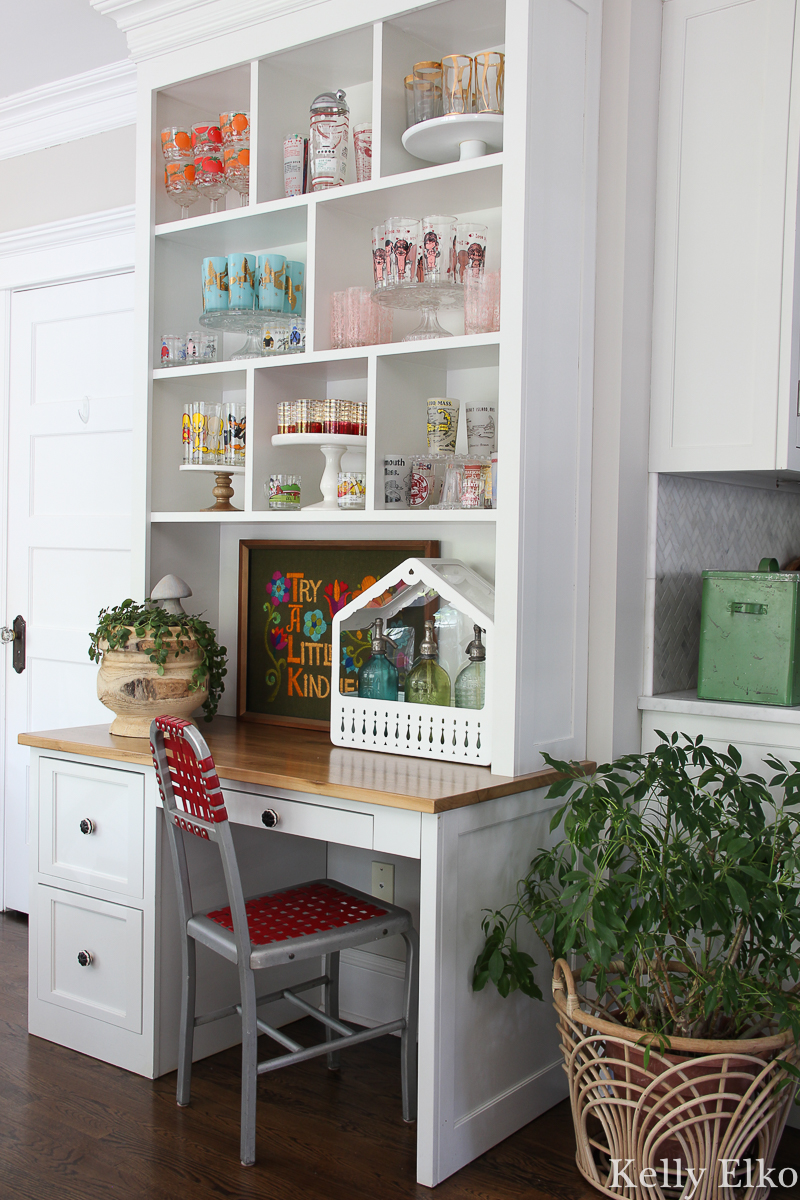 All the colors in the glasses are picked up in my Try a Little Kindness needlework. Mine is vintage but you can recreate the look with this vintage inspired crewel kit!
I love the way they brighten up my kitchen.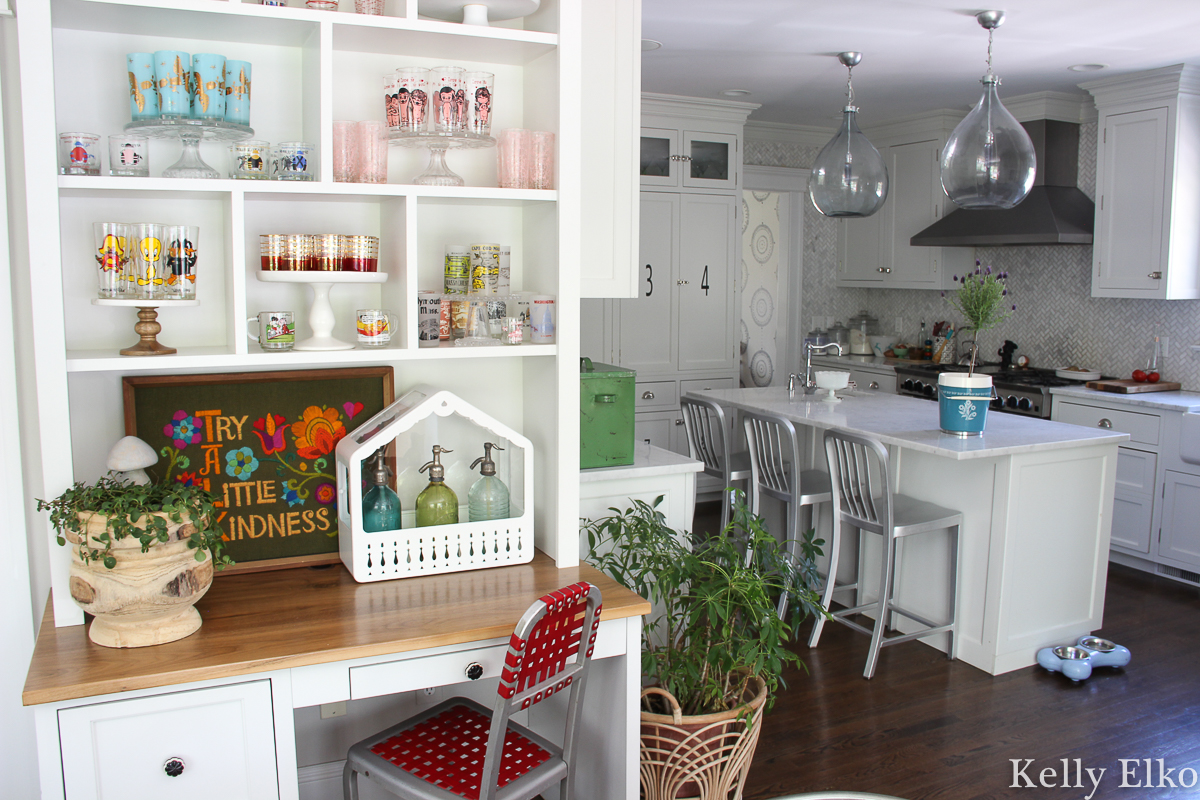 Almost all of my vintage glasses were thrifted but I try to limit the amount I spend on each one. Sadly, I had to pass up some vintage state glasses a few months ago because I refused to pay $10 each!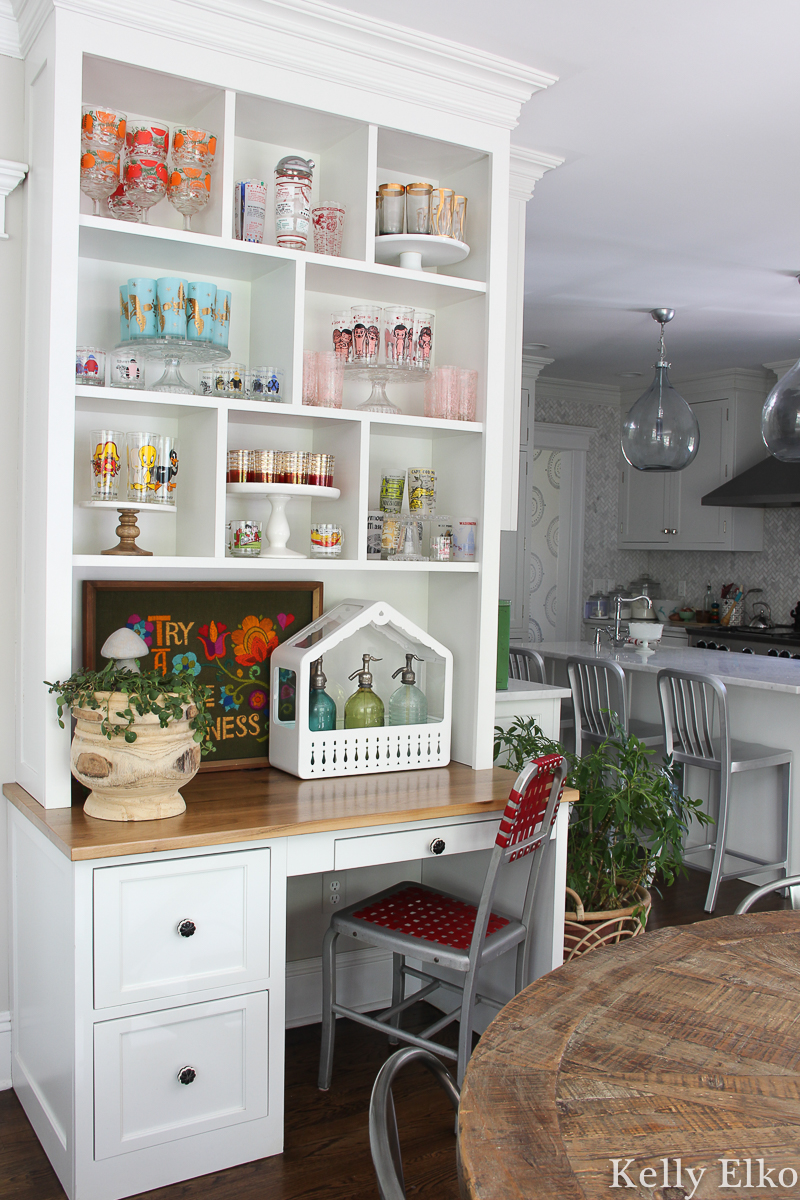 In case you were wondering, we do actually use these glasses to drink from! They are not everyday glasses because they have to be hand washed but they are fun to use for nice family dinners and cocktail parties (remember those things called parties where people would get together)?!
I hope you enjoyed a peek into one of my favorite collections.