Gingerbread Christmas Table
It's all about the gingerbread! I'm sharing my fun and festive gingerbread theme table setting that's a unique mix of vintage and new so come on over and pull up a chair.
When I shared my Christmas Home Tour a few weeks ago, I didn't have my act together in time to get my dining room decorated but better late than never! I ho-ho-hope you like it as much as I do.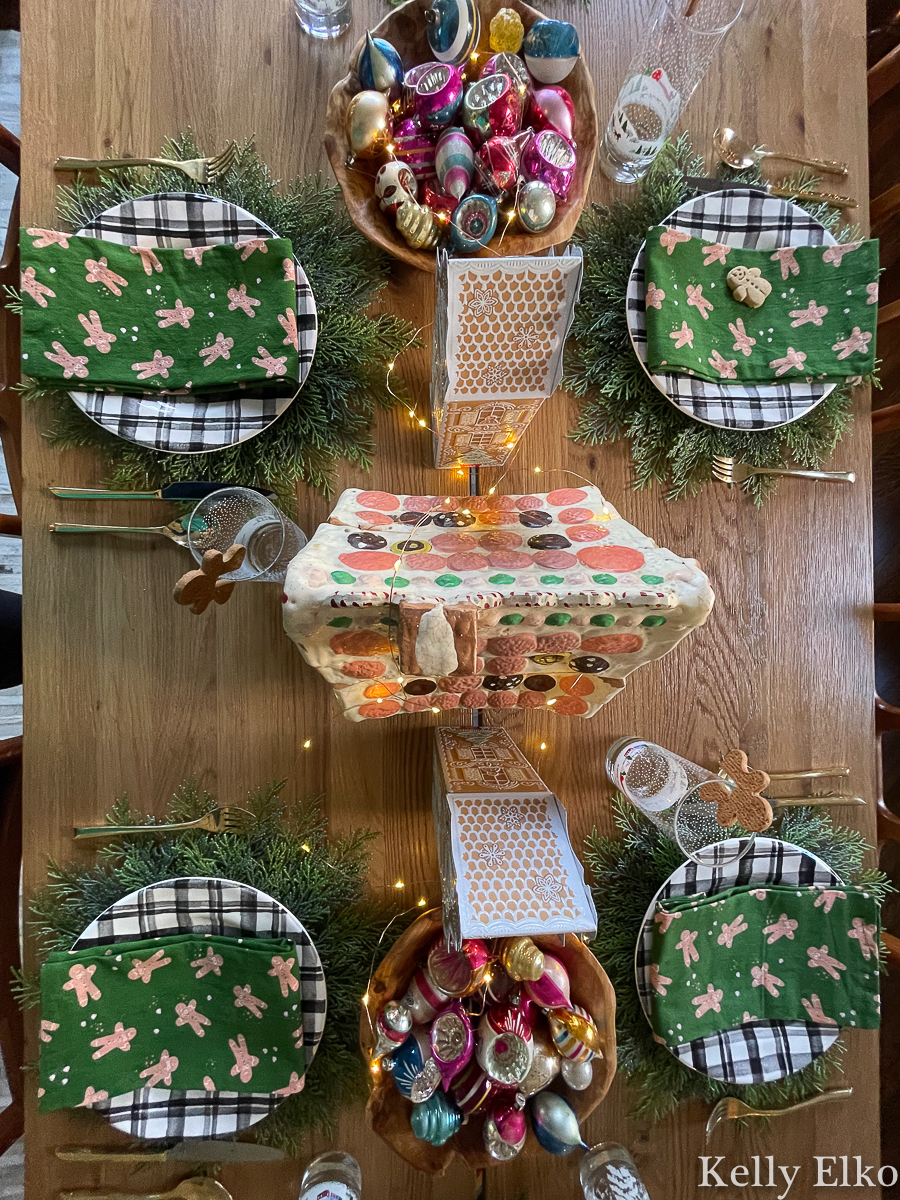 I'm on a gingerbread decorating kick this year! It started with my gingerbread village mantel and now I'm moving on to my dining room and I just can't get enough of this adorable theme.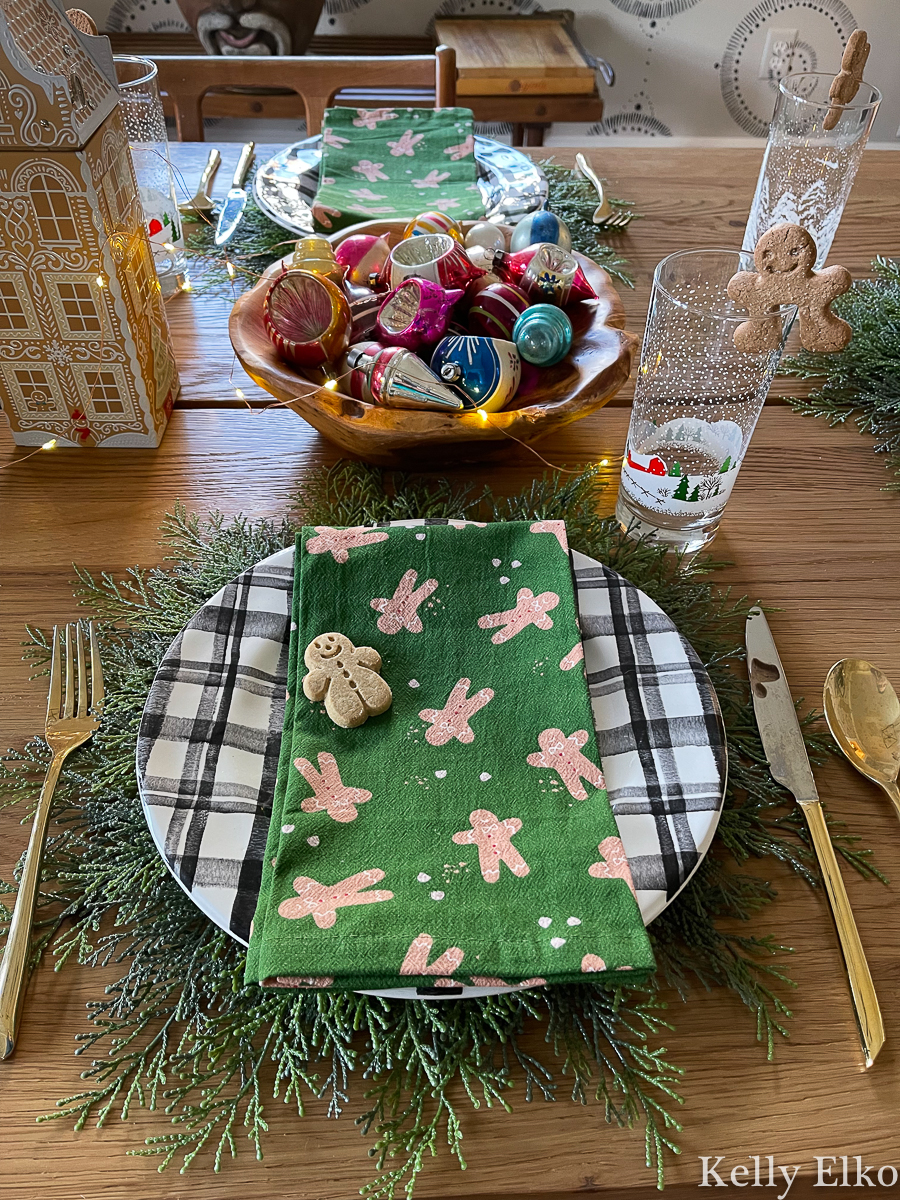 This post contains affiliate links which means if you make a purchase, I may earn a small commission at no extra cost to you.
I love using inexpensive dish towels as napkins so when I spotted these little gingerbread men dish towels, I knew I had to incorporate them into my Christmas table.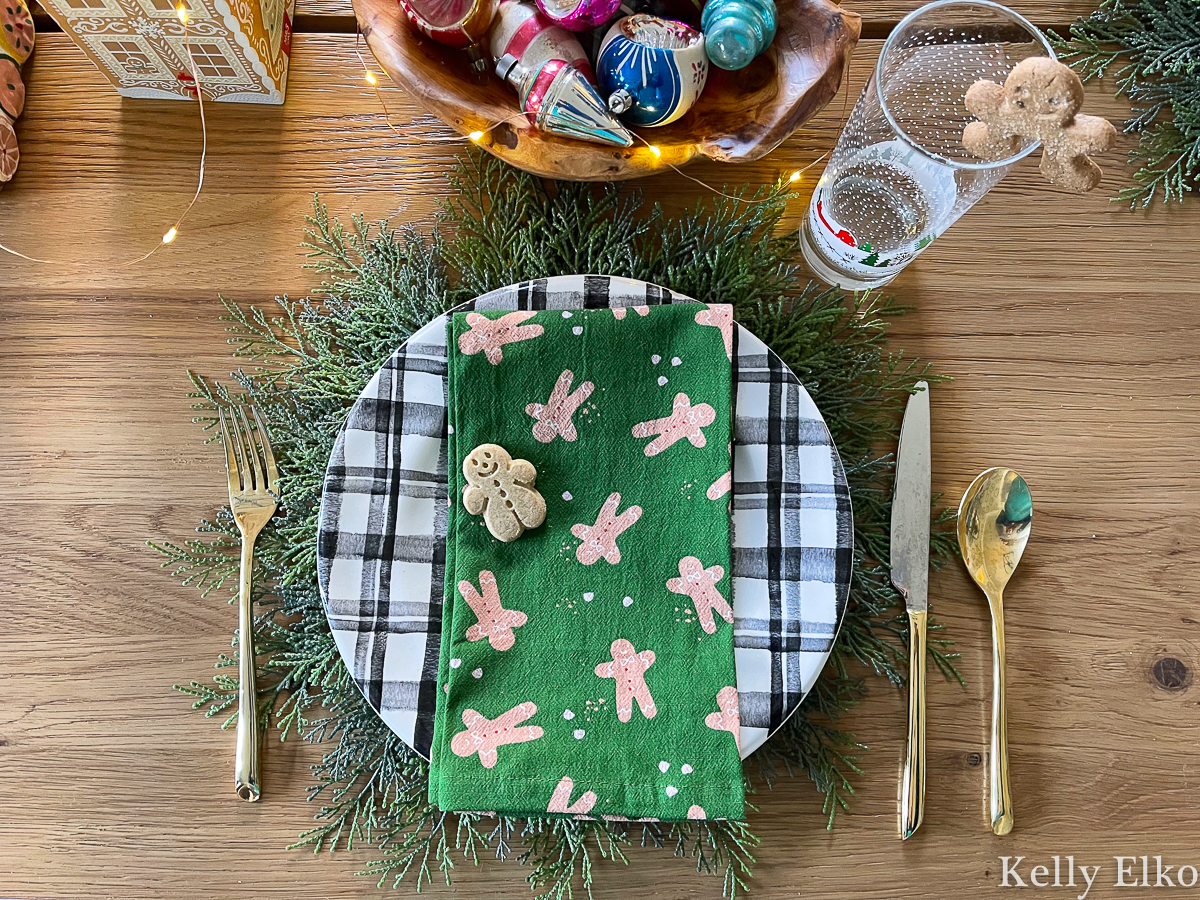 Layers create interest so I started with this faux cedar placemat (that I've been using for years), added black and white plaid plates then topped them off with fun little dancing gingerbread men napkins in the prettiest shade of green, and finally, gold flatware adds more sparkle.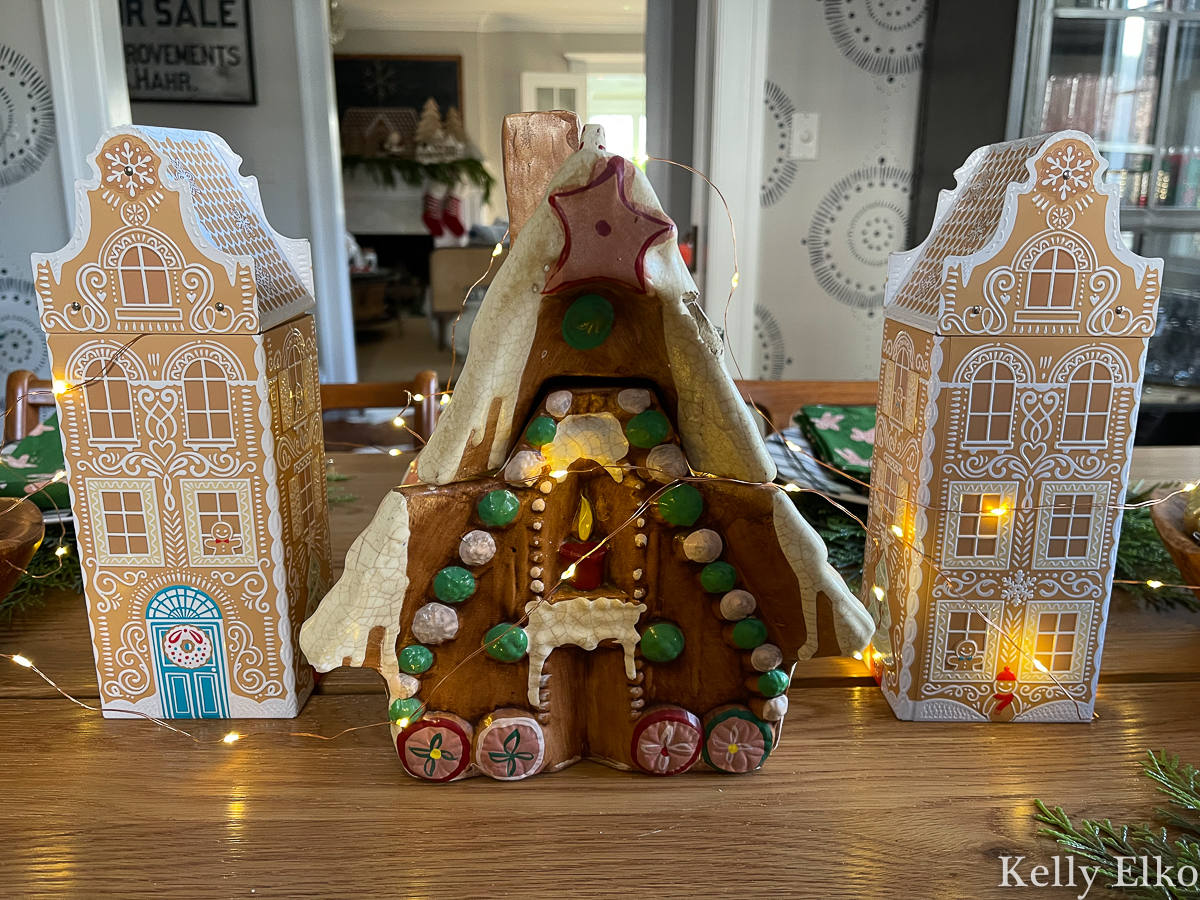 My childhood gingerbread house cookie jar takes center stage and is surrounded with the cutest gingerbread townhouse music box tins that came filled with gingerbread men cookies (they would make the perfect hostess gift too).
A string of my can't live without battery operated copper wire fairy lights make sure that the table will be lit up for late night dinners.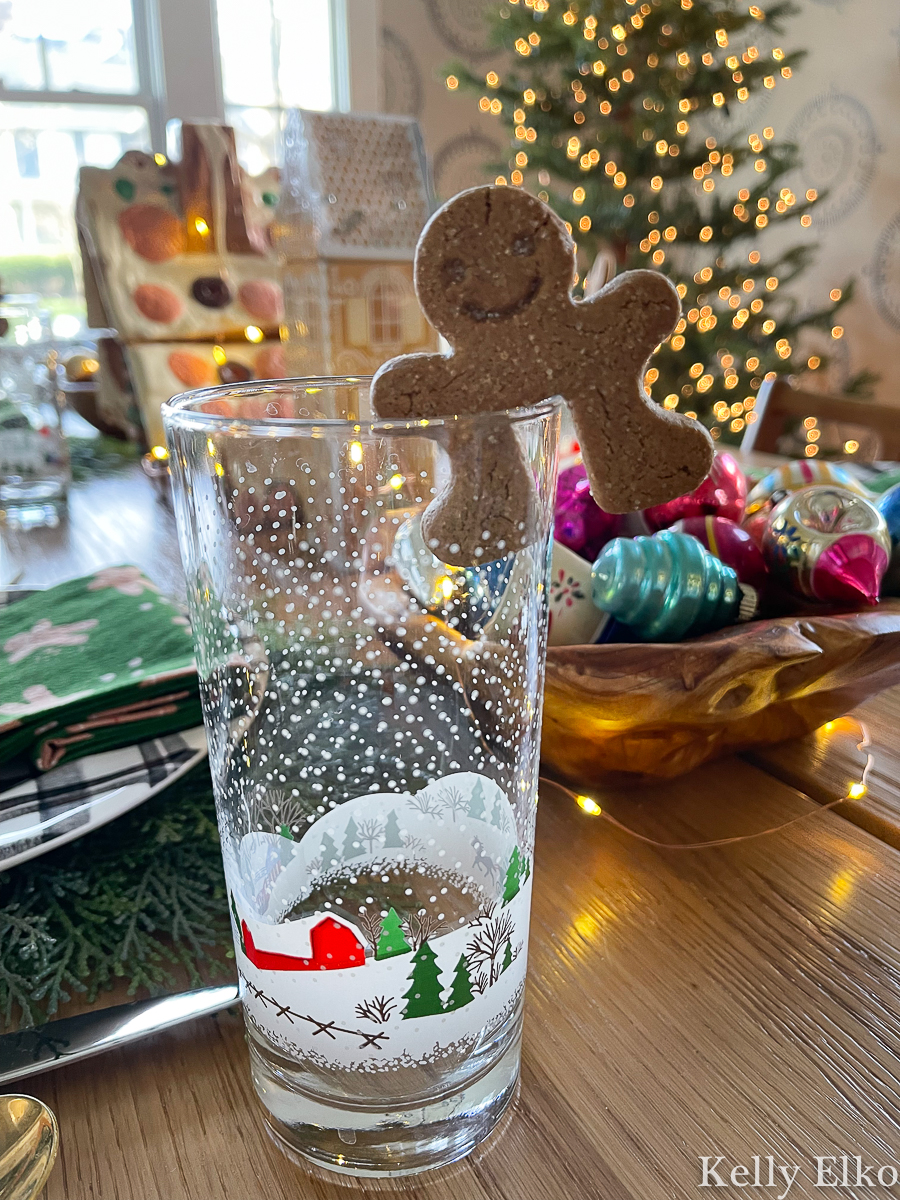 I have a weakness for vintage drinking glasses and these snowy winter wonderland glasses with red barns are topped with cute little gingerbread men mug toppers from Trader Joe's that are a steal at only $3.99 for 16 cookies!
If you don't have enough of the same glasses (or plates), feel free to mix and match for an eclectic look (notice the two glasses at the ends of my table are different).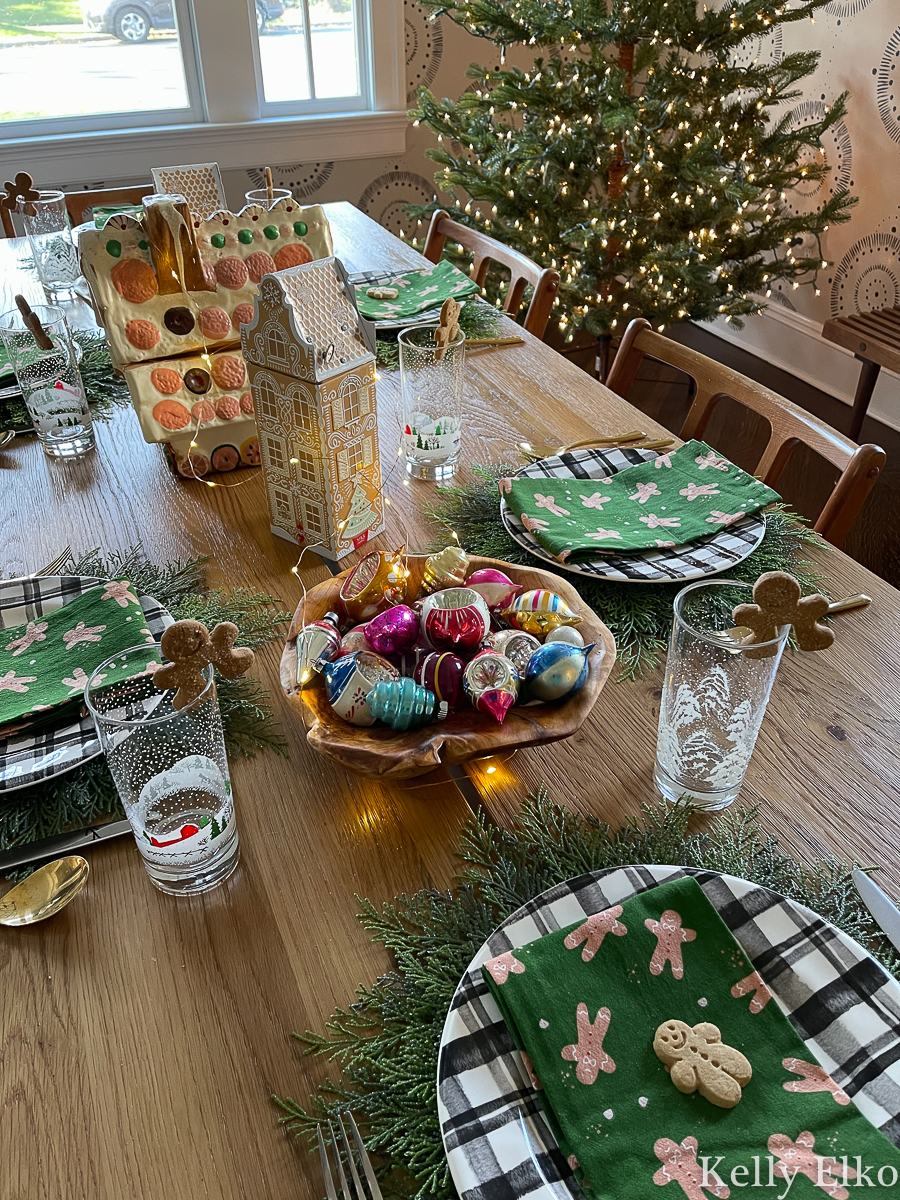 Because no table would be complete without my favorite Christmas collection making an appearance, I filled wood bowls filled with vintage Shiny Brites that add color and sparkle to the center of the table.
I wonder if my love for gingerbread has anything to do with Gingy from the Shrek movies?!
Love gingerbread? Don't miss these posts …