Welcome Home Christmas House Tour
I've been decking all the halls and I'm excited to share my 12th Christmas home tour with you! I like to pull out all the stops for Christmas and every year, I challenge myself to come up with new and unique decorating ideas using mostly vintage, thrifted finds with a little bit of modern thrown in. I'm also thrilled to cordially invite you into my home … well it will be like you're almost here when you watch the fun little video tour I created for you! Welcome to my Welcome Home Christmas House Tour in pics and video!
I'm kicking off the first day of the Jennifer Rizzo's Holiday Housewalk which means that all week long, you can hop from blog to blog to see some amazing homes decked out for Christmas. The tour begins at Jen's house here so don't miss it.
If you're visiting from Jenny of Dear Lillie, welcome! You do not want to miss her always gorgeous home.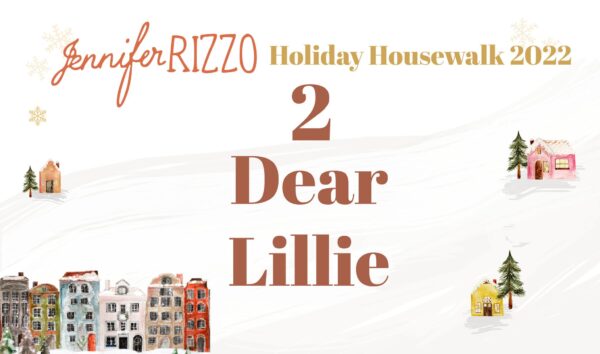 Full Source List at the End of This Post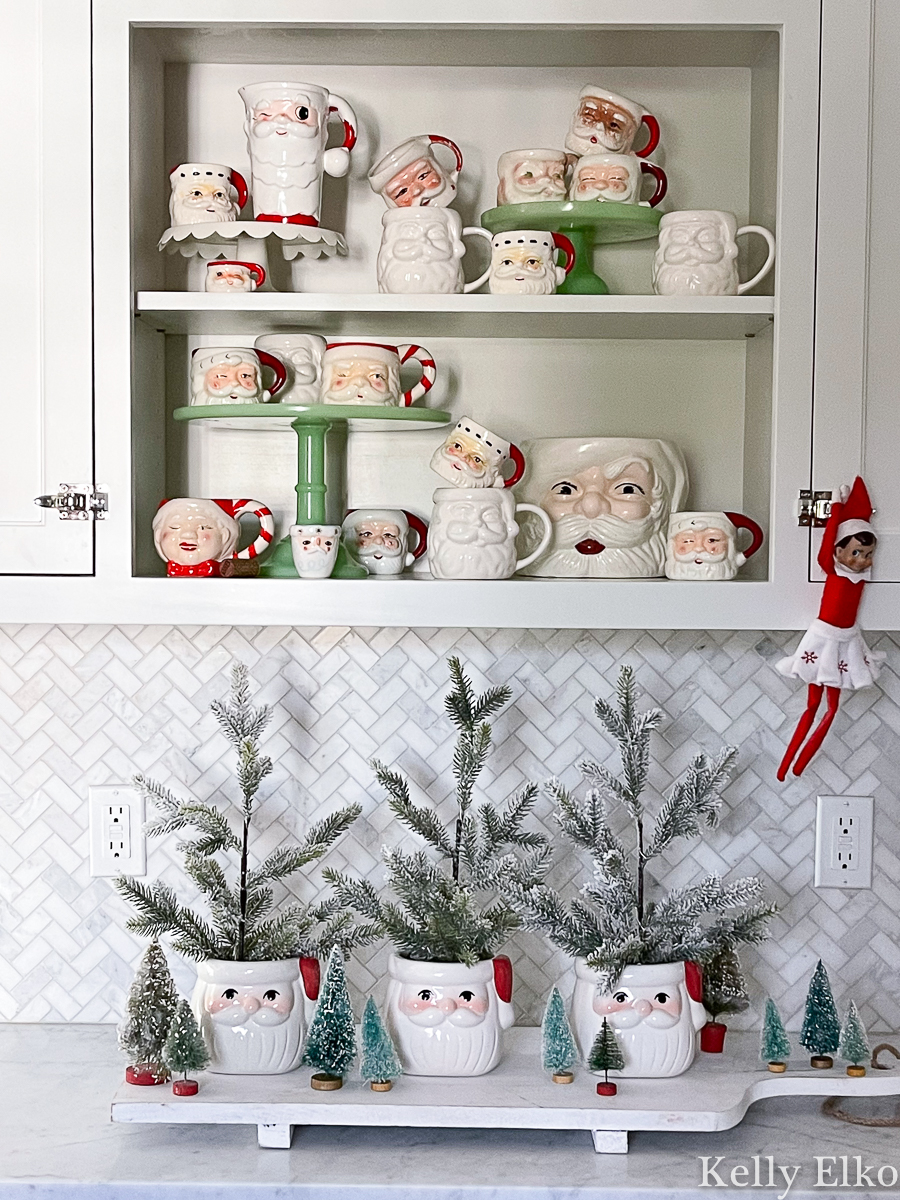 For those of you new here, I live in New Jersey in a 1913 house that we did a complete gut renovation on 13 years ago. I love mixing old and new for a one of a kind look … especially at Christmas!
I've been sharing decorating ideas with my blog readers for over 11 years and my Christmas home has been featured in a 10-page spread in Better Homes & Gardens as well as in Modern Farmhouse and this December, NJ Monthly will feature my home using my photos!
I always start Christmas decorating with my mantel and I couldn't be happier with how it turned out!
I shared my Christmas mantel the other day in a separate post here with lots more photos so I'll just share a couple of pics here.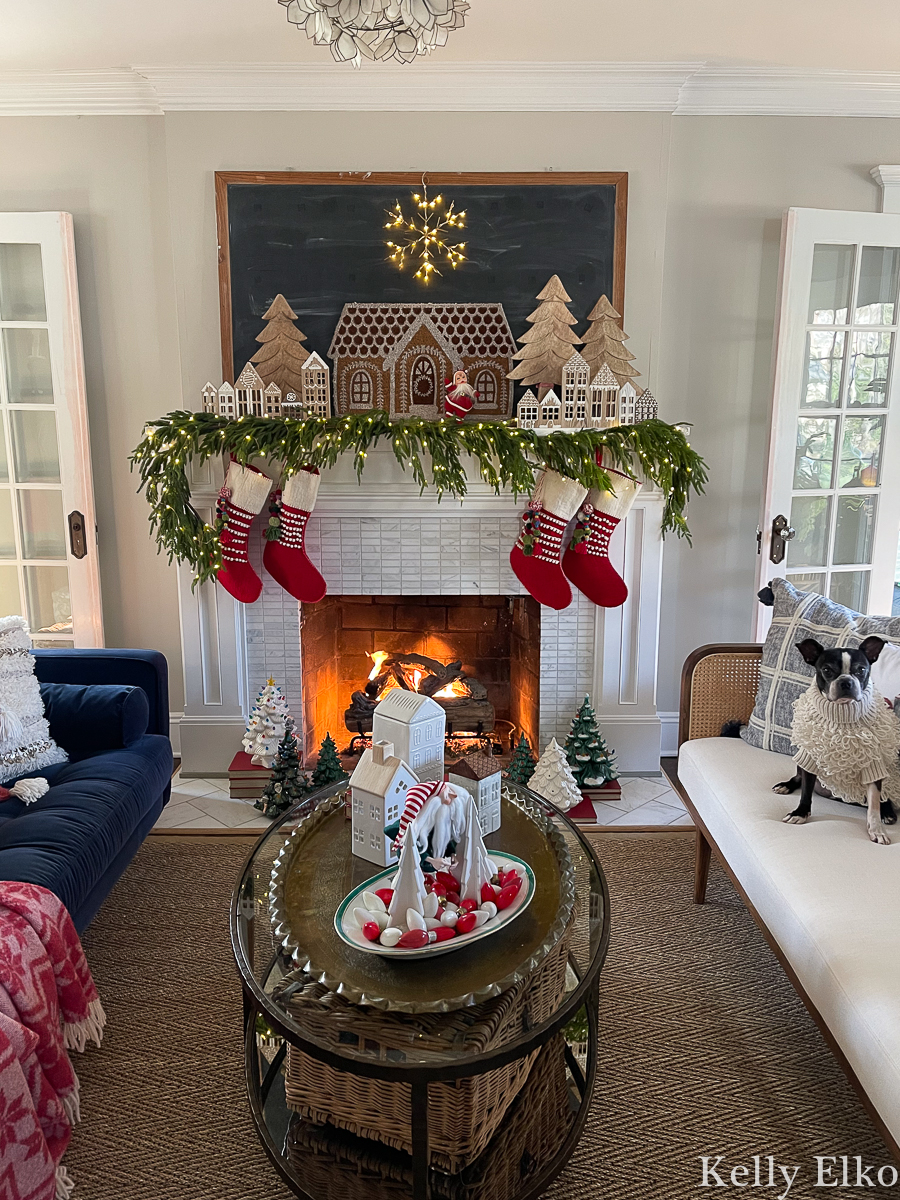 This post contains affiliate links which means if you make a purchase, I may earn a small commission at no extra cost to you.
It all started with a doormat! When I spotted this gingerbread house doormat, I knew it was too cute to wipe muddy feet on so I decided to give it a special place of honer as the centerpiece of my mantel.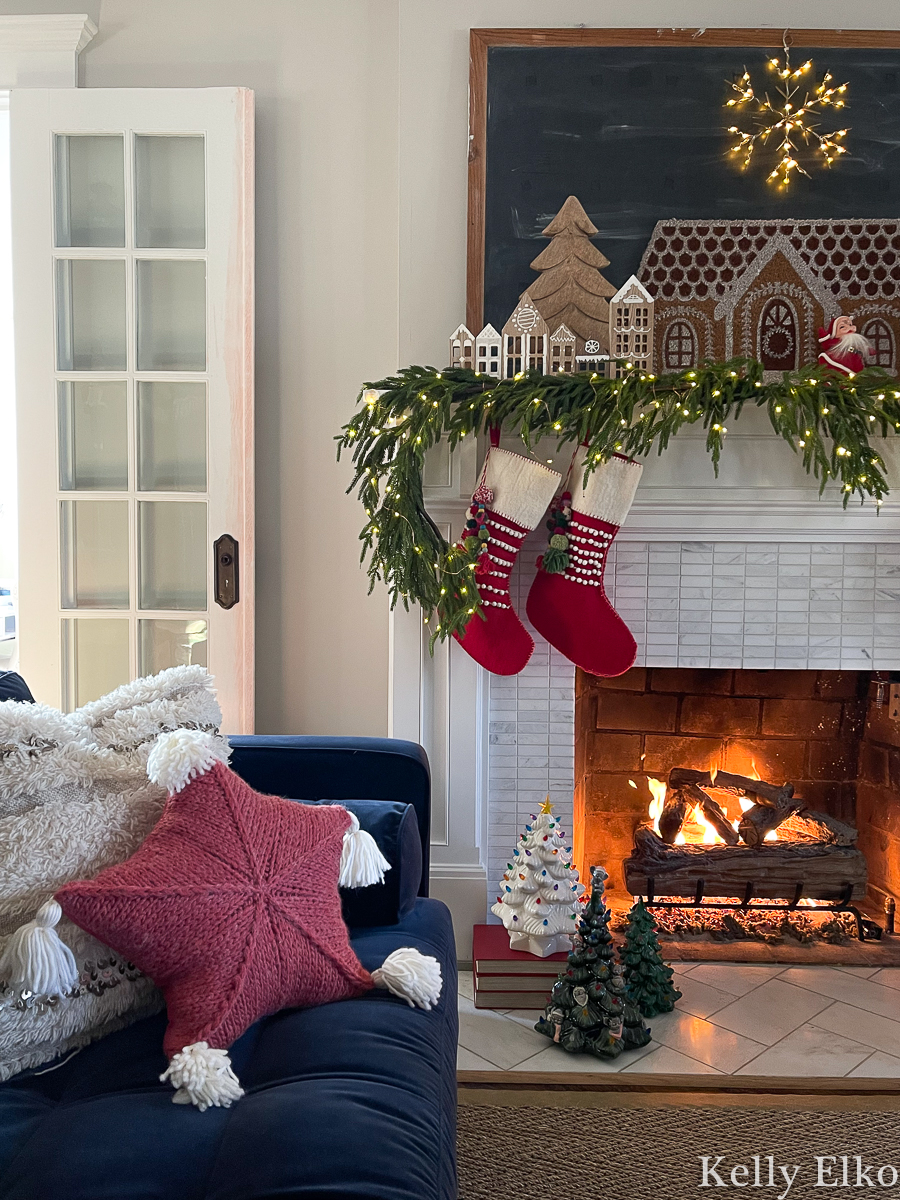 Little Wood Houses / LED Snowflake / Pom Pom Stockings / Star Tassel Pillow / Realistic Garland / Gingerbread House Doormat
I am all about using what you have in creative new ways and there is no need to go out and spend tons of money on new decorations. I've displayed these little wood houses (that I painted to look like gingerbread) on my staircase and in my kitchen in past years.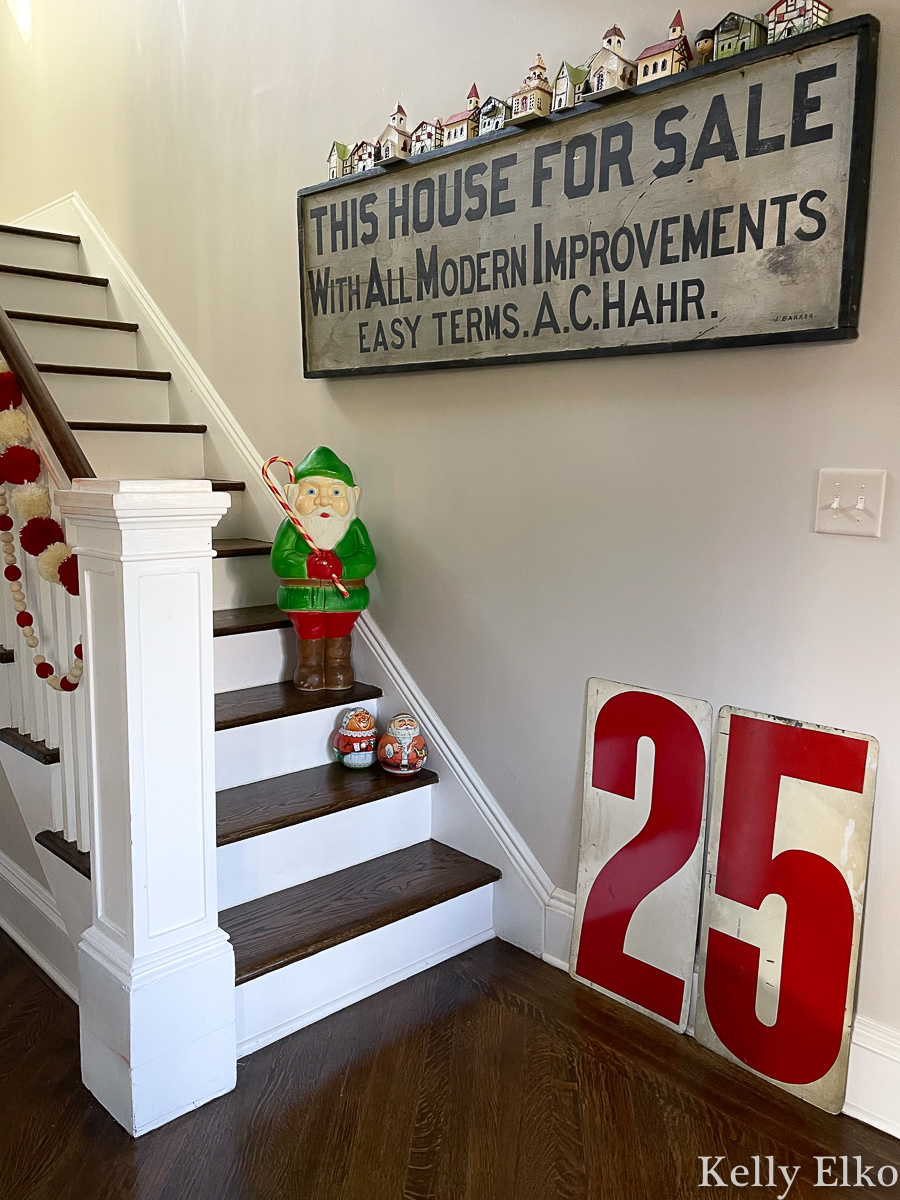 My antique dealer friend bought this "House for Sale" sign from a woman in my town which is where the sign originated and I had to top it with a row of houses!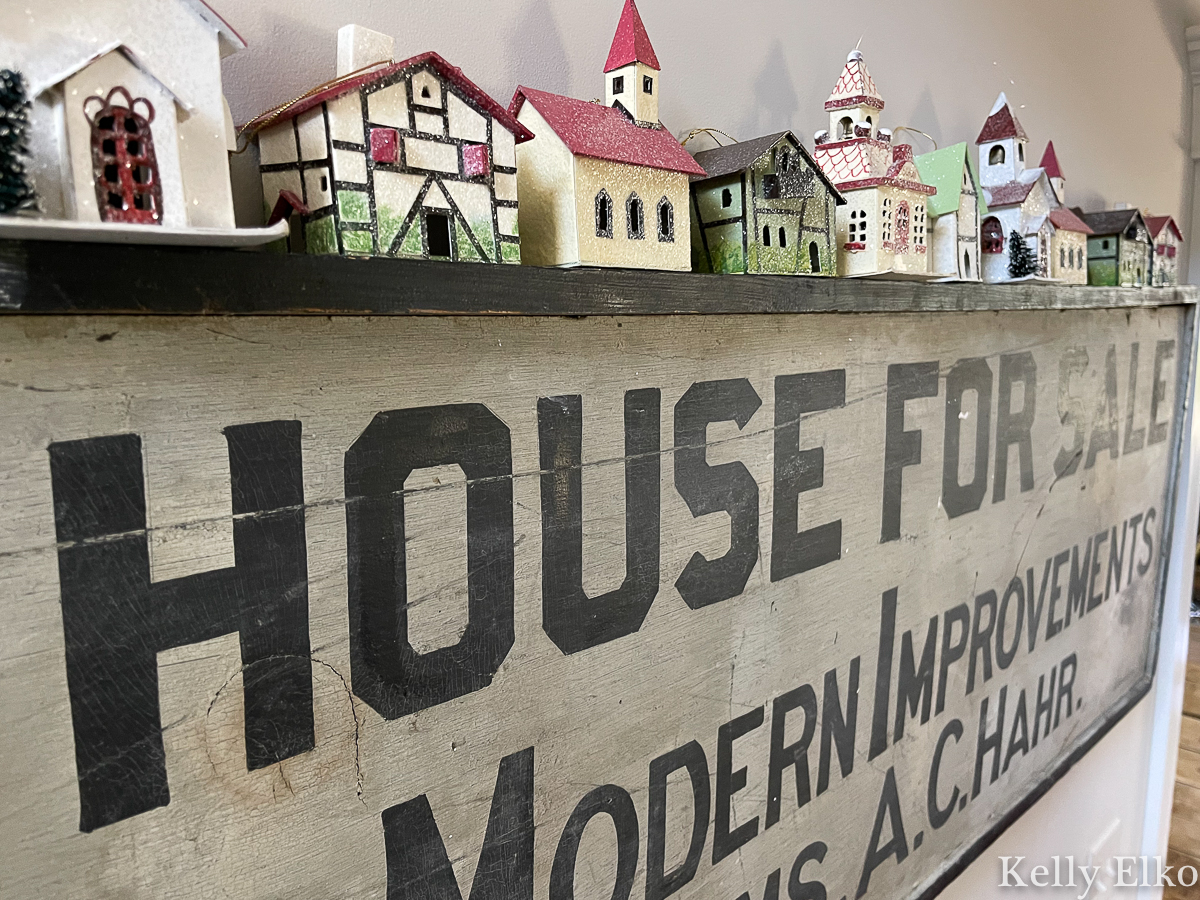 Say hello to my little friend!
This elf blow mold wields a giant candy cane and he knows how to use it!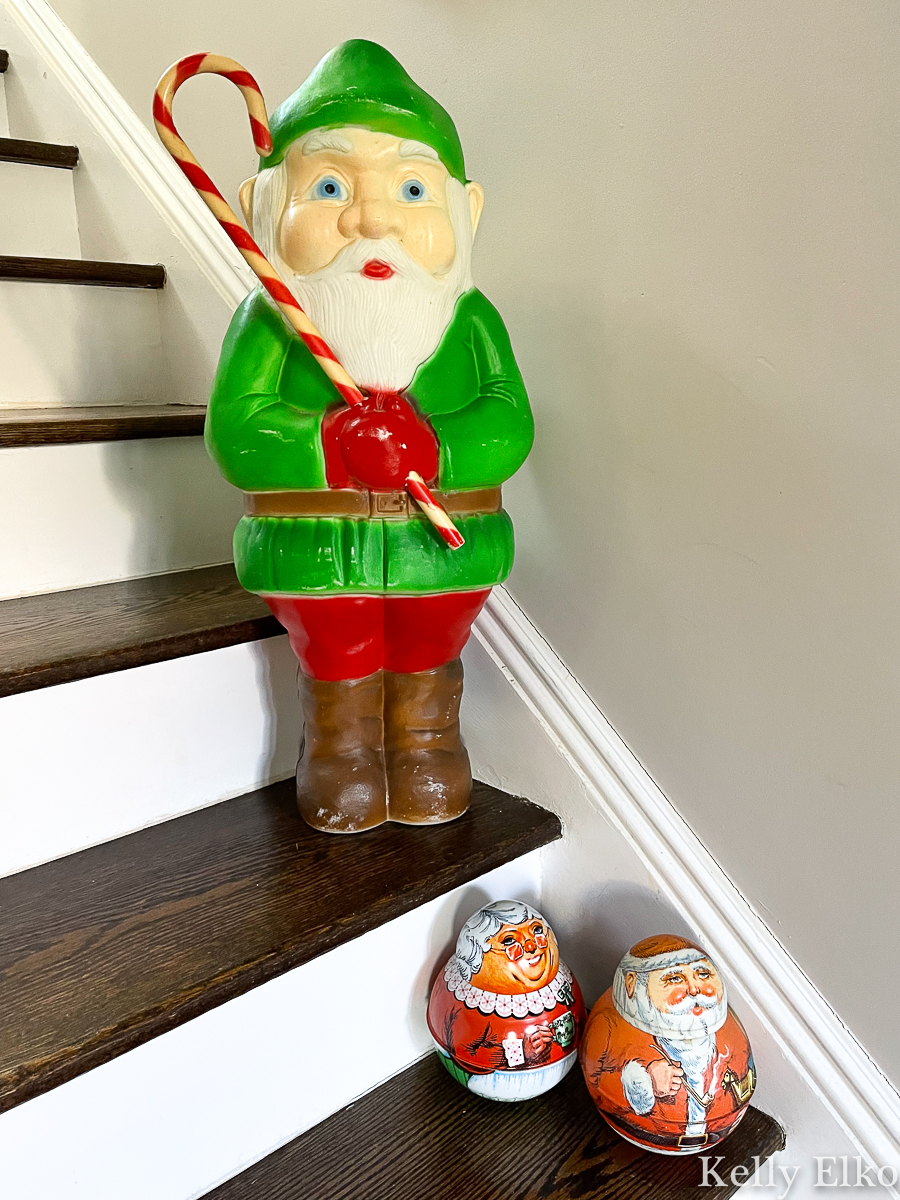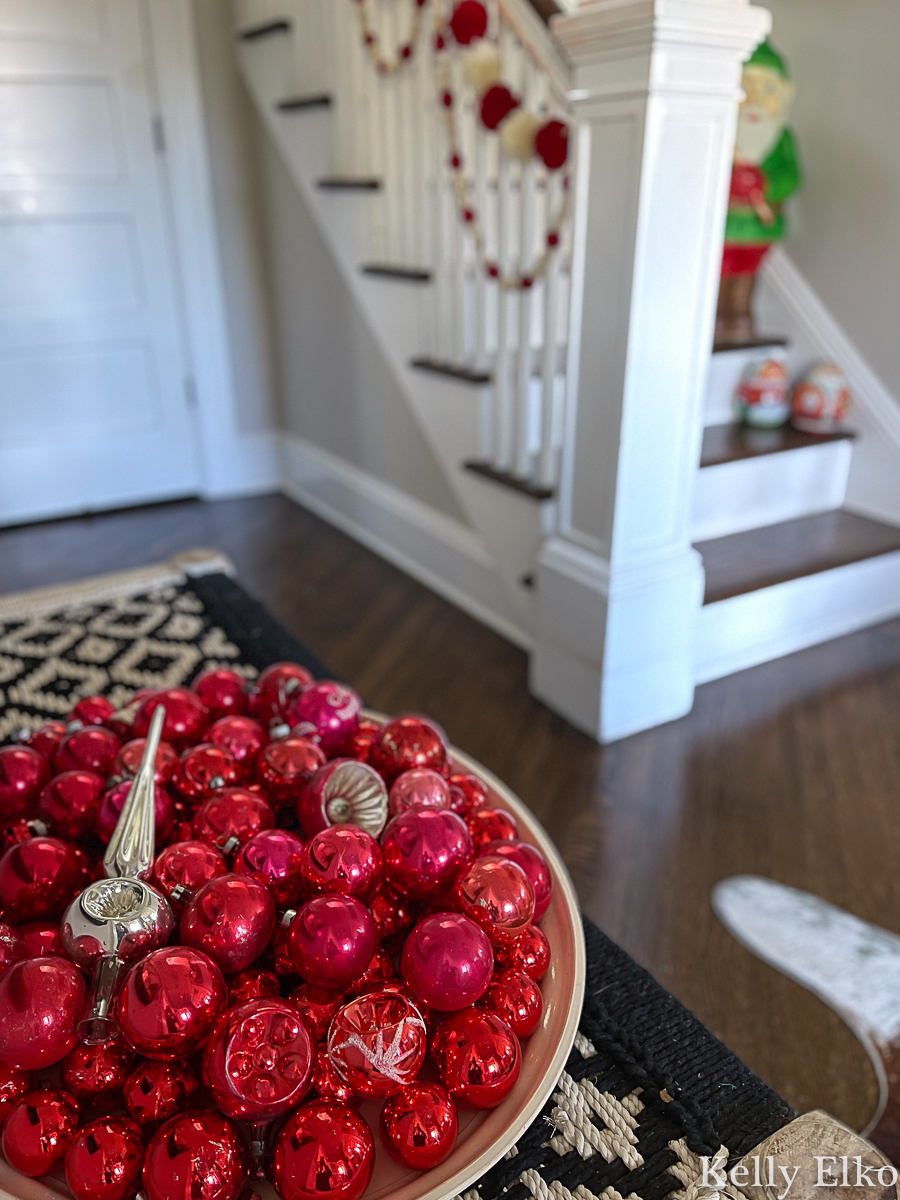 I'm on the hunt for vintage Christmas 365 days a year so when I spotted a huge container of vintage red ornaments at the thrift store, I snatched it up and to add to my collection! Amassed on a giant tray, they make a huge impact in a single color.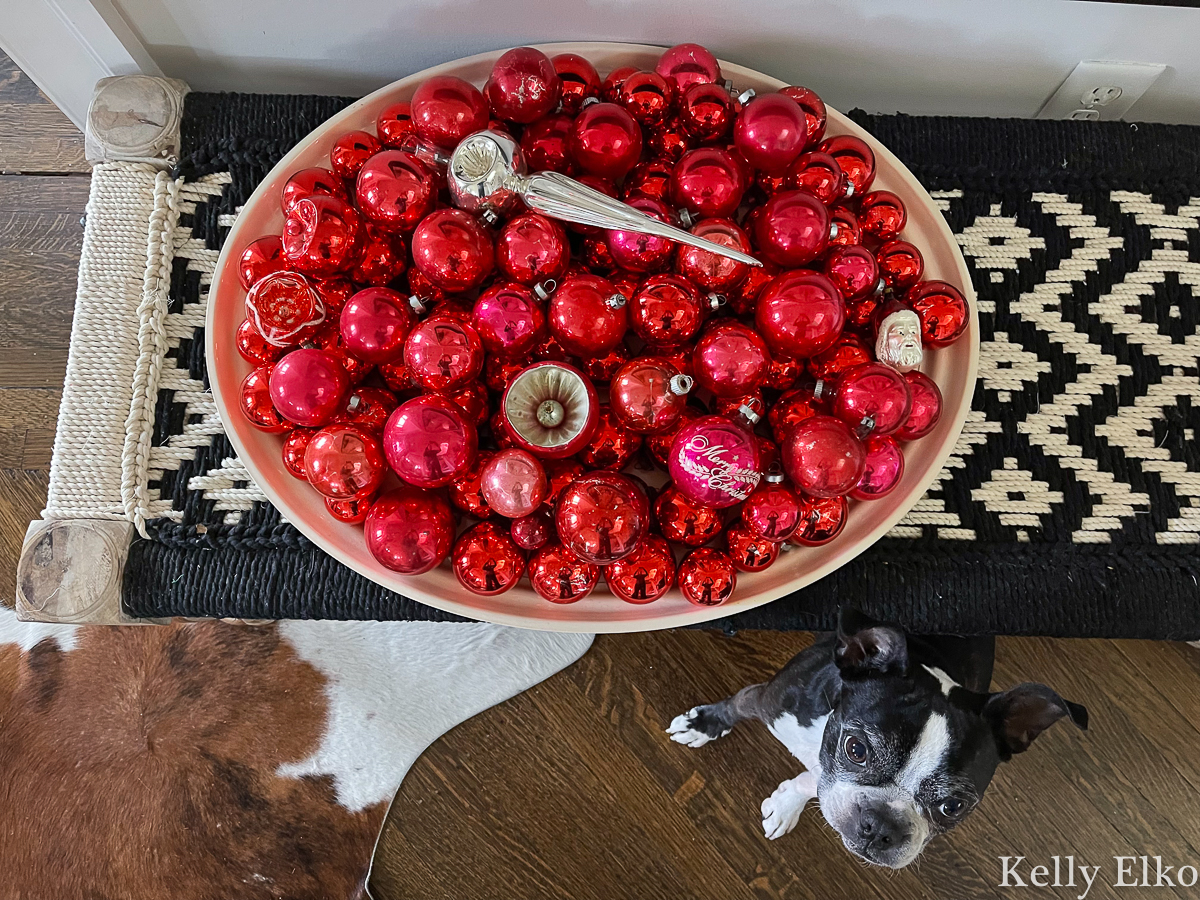 Sorry Sushi, those aren't tennis balls!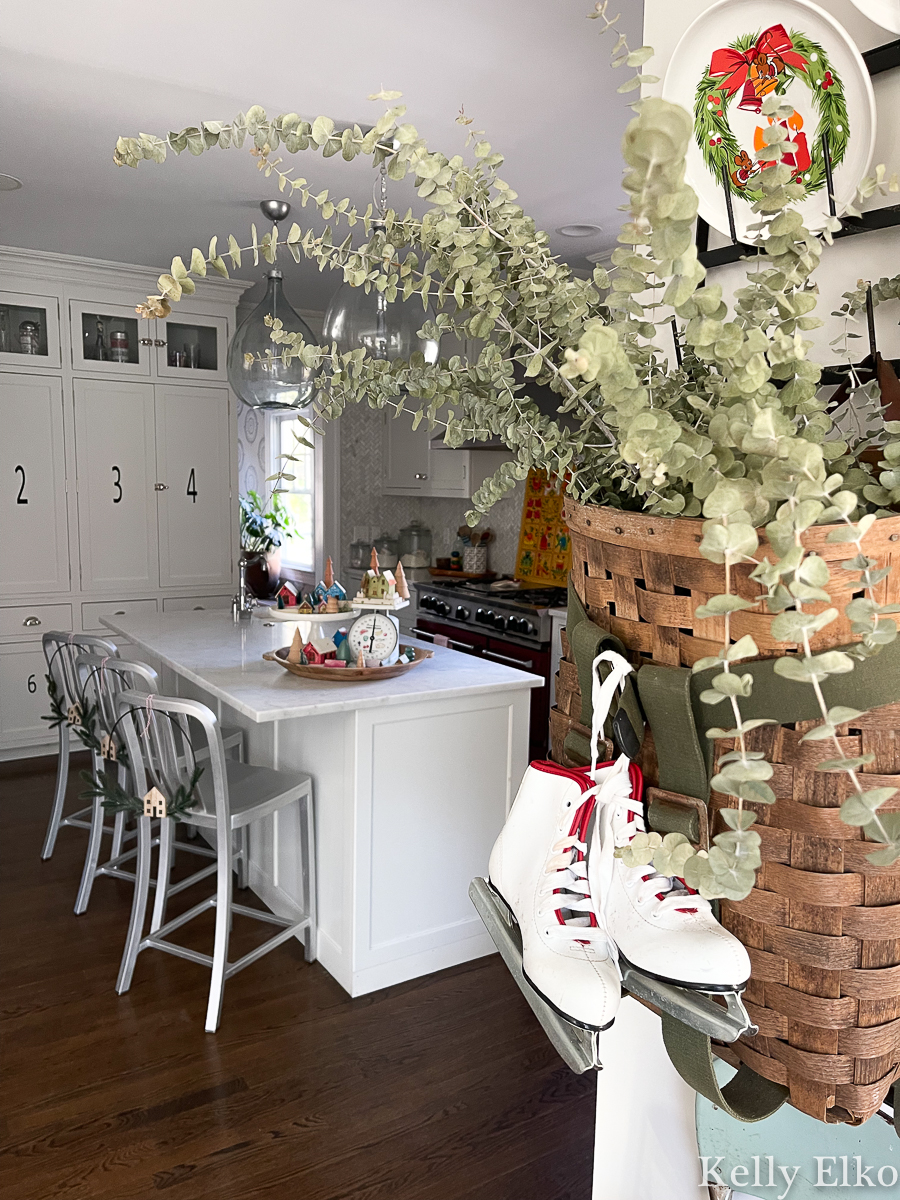 My white kitchen is a blank slate for seasonal decorating and I added lots of little surprises.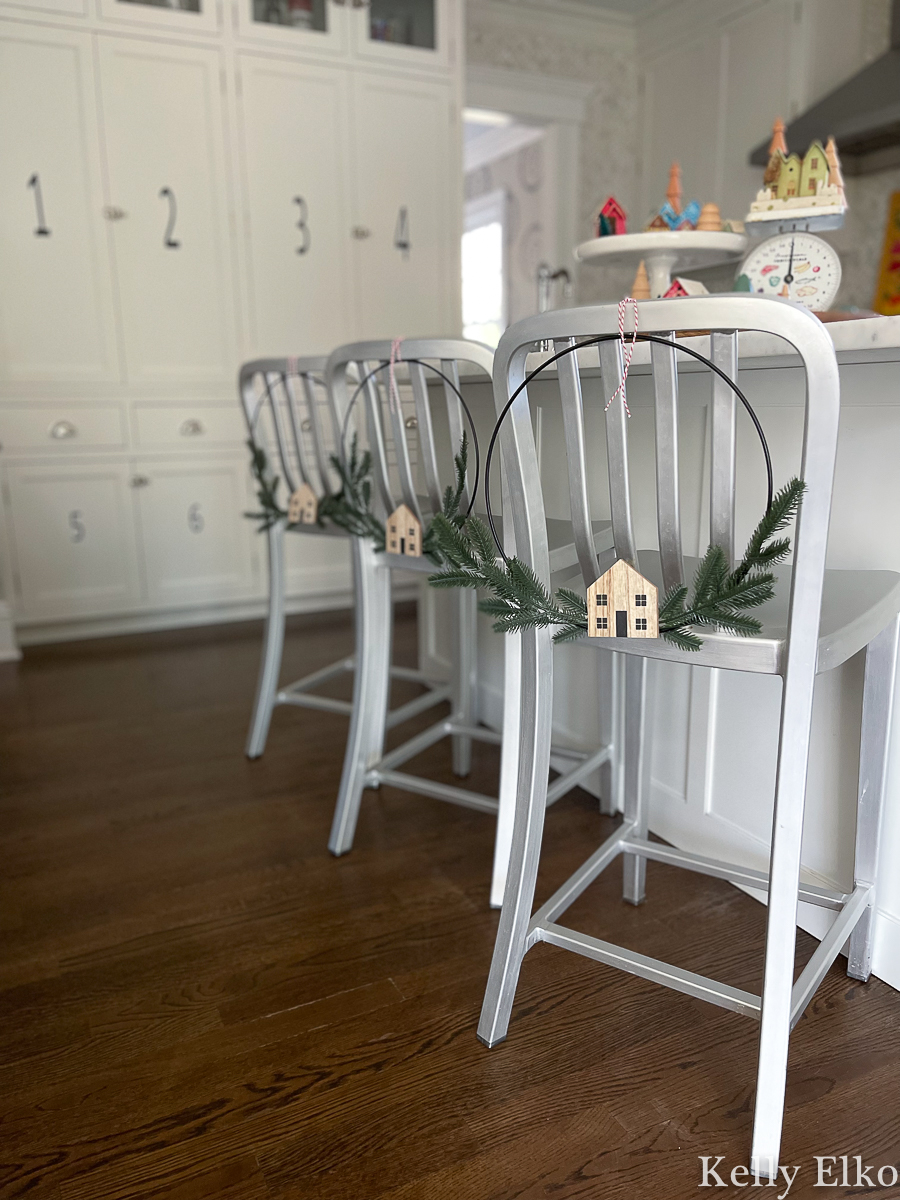 Of course, I couldn't resist the little wood houses on these wire wreaths and they add a festive touch and pop of color to the back of my counter stools.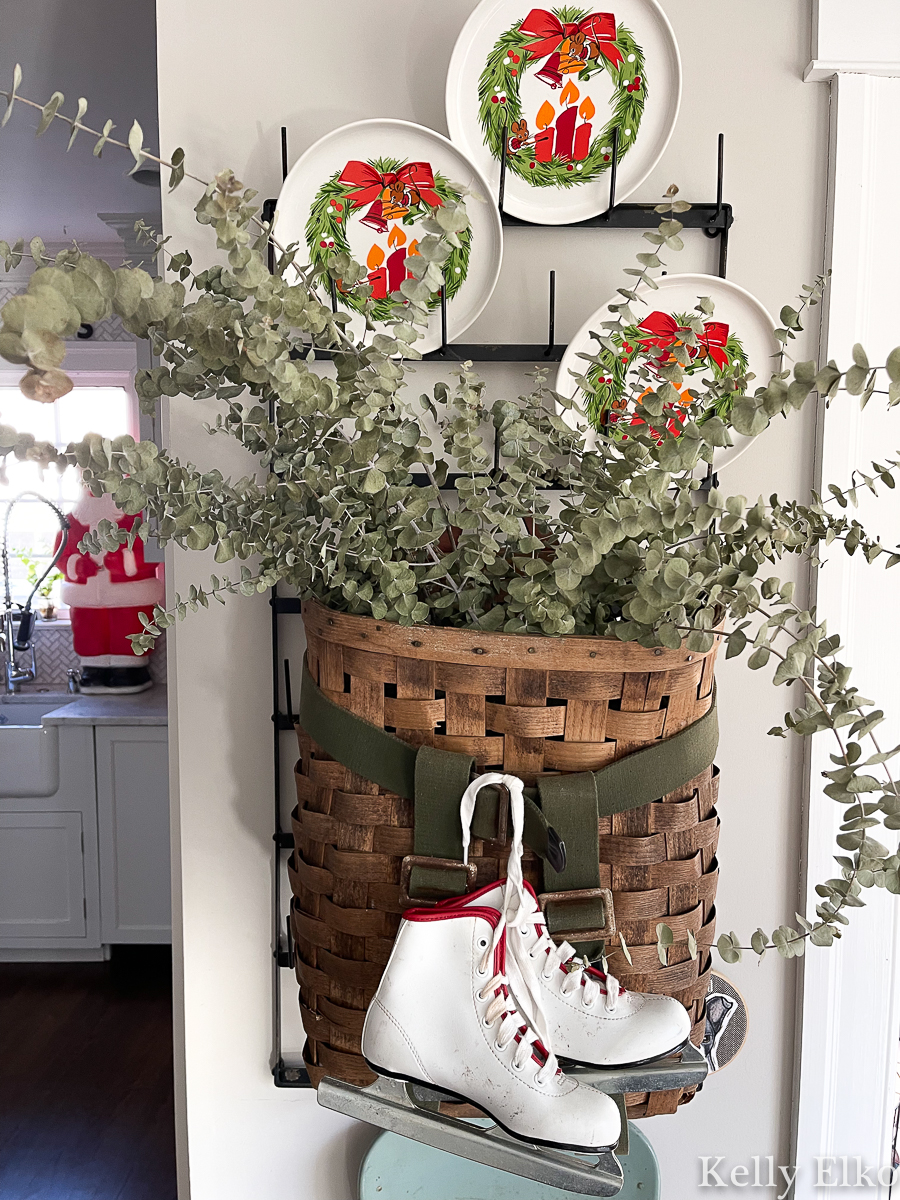 Can you believe I scored this old Adirondack basket for $1 a few years ago!
To add a seasonal touch, I tied a pair of my daughters childhood ice skates to it then topped it off with the cutest little vintage Christmas plates.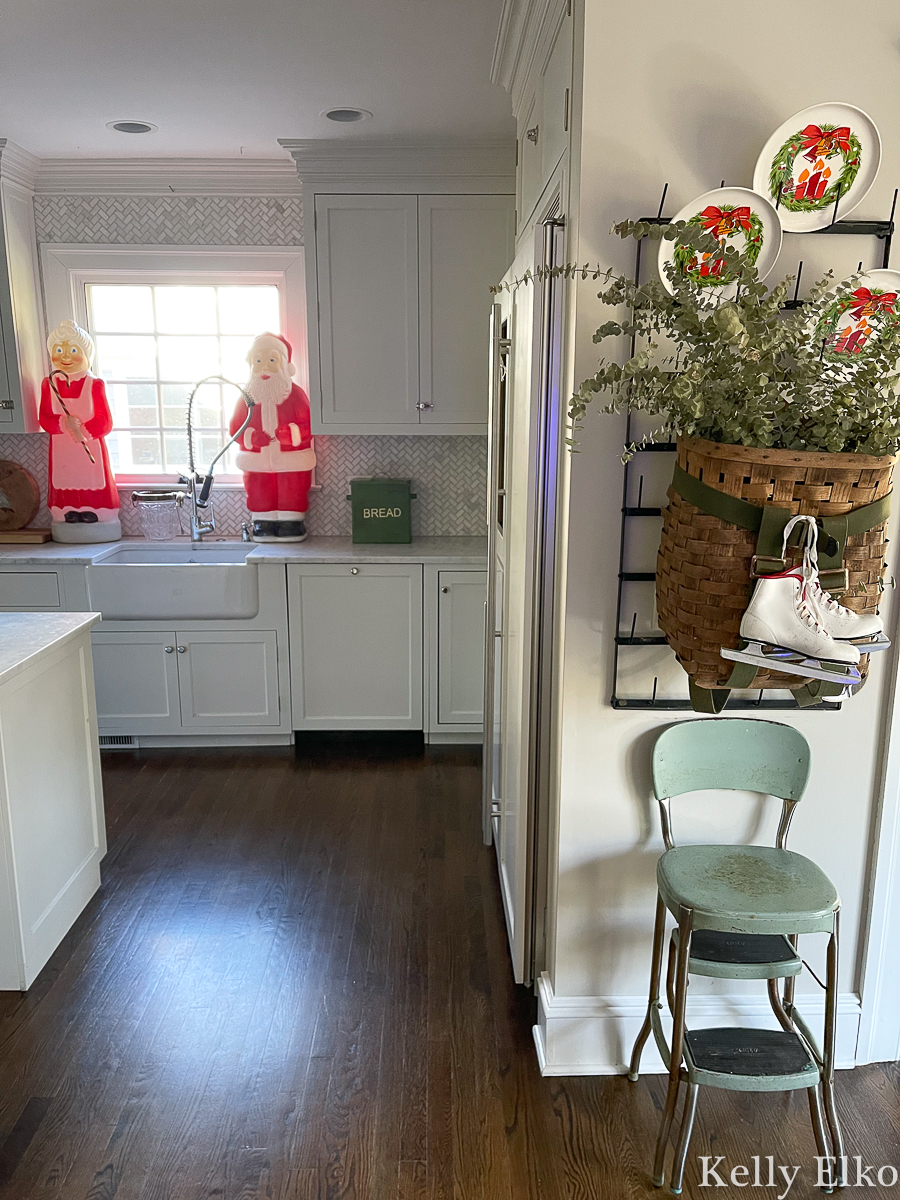 Vintage Santa and Mrs. Claus blow molds aren't just for show … I put them to work washing the dishes!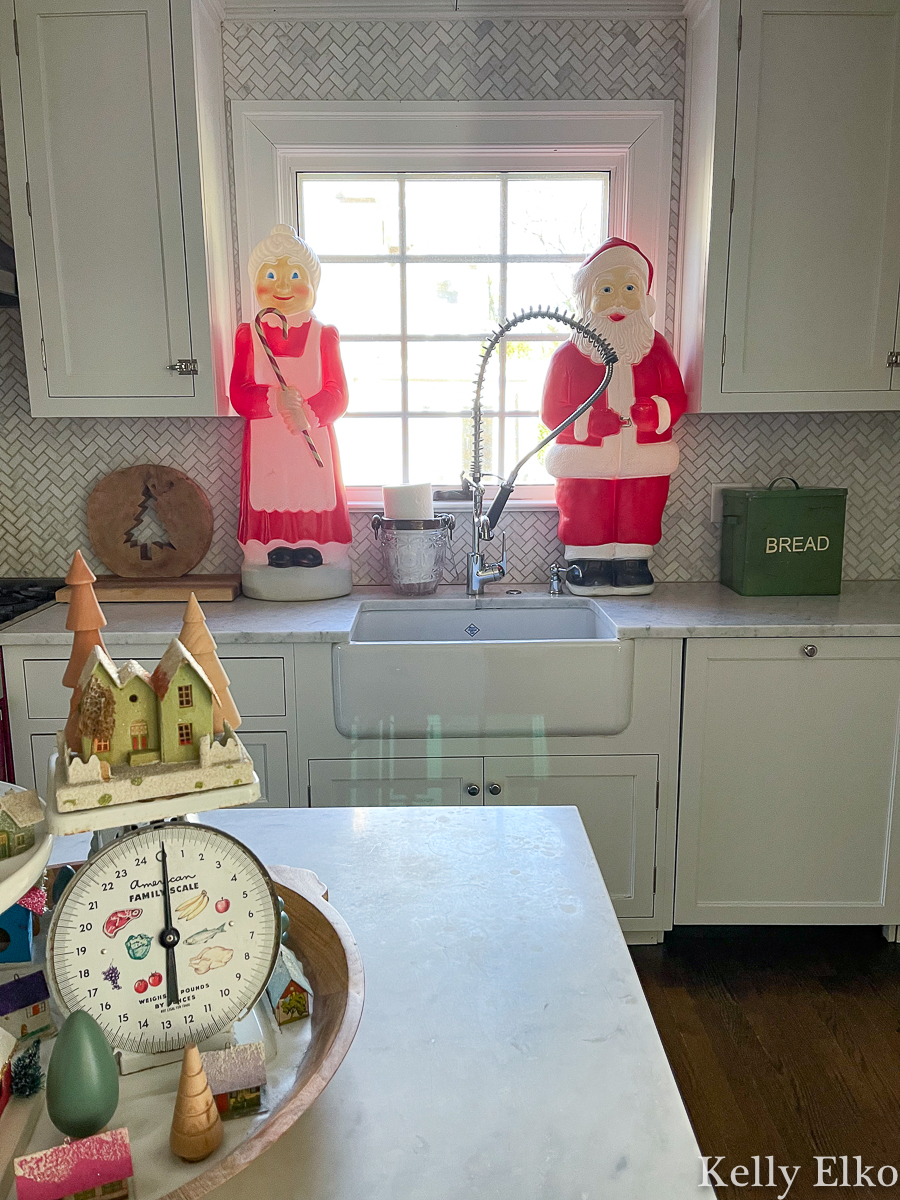 Don't let Mrs. Claus's sweet smile fool you because while Santa may be watching us, she's silently judging all of us so make sure to be on your best behavior!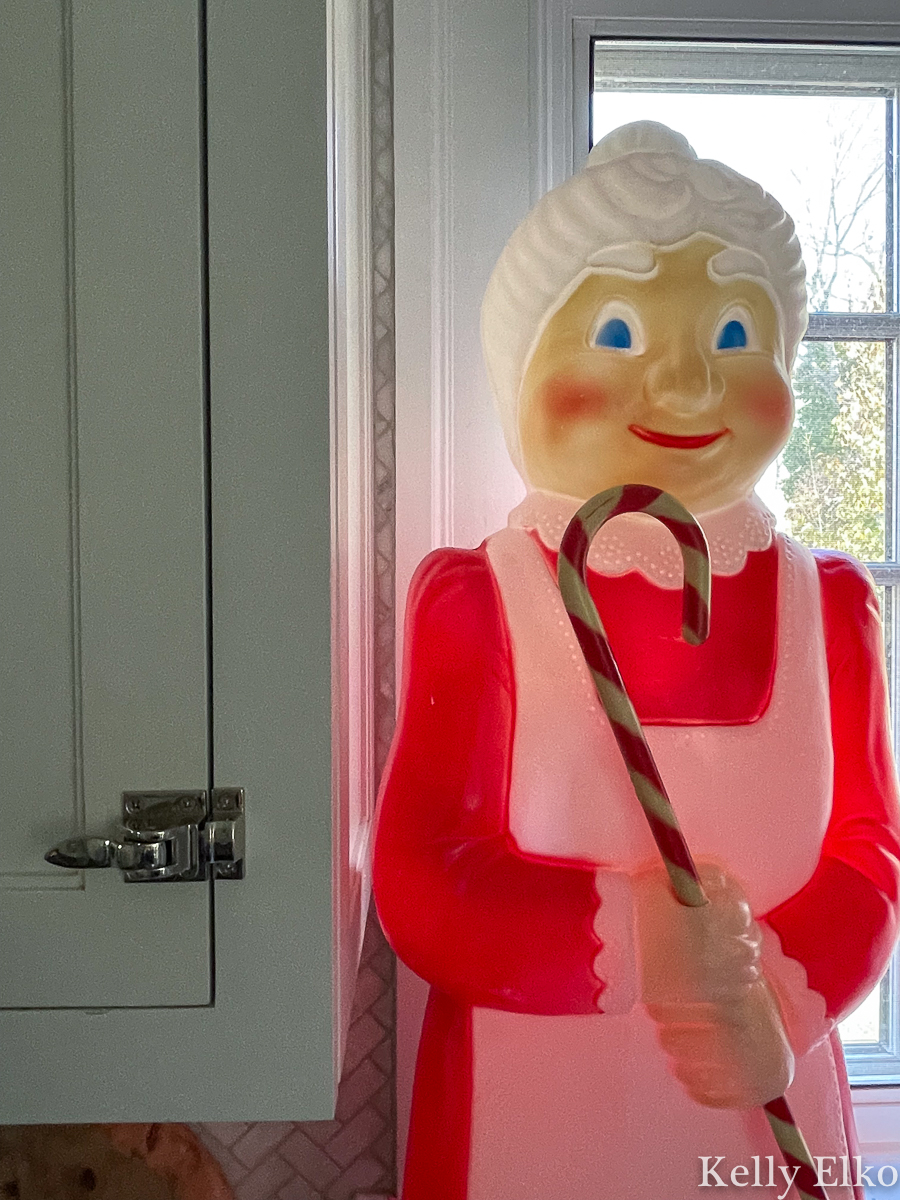 I love creating unique displays on trays and my little winter vintage Putz house village adds cheer and a pop of color to my counter plus it's a cinch to move if I need more space for baking cookies.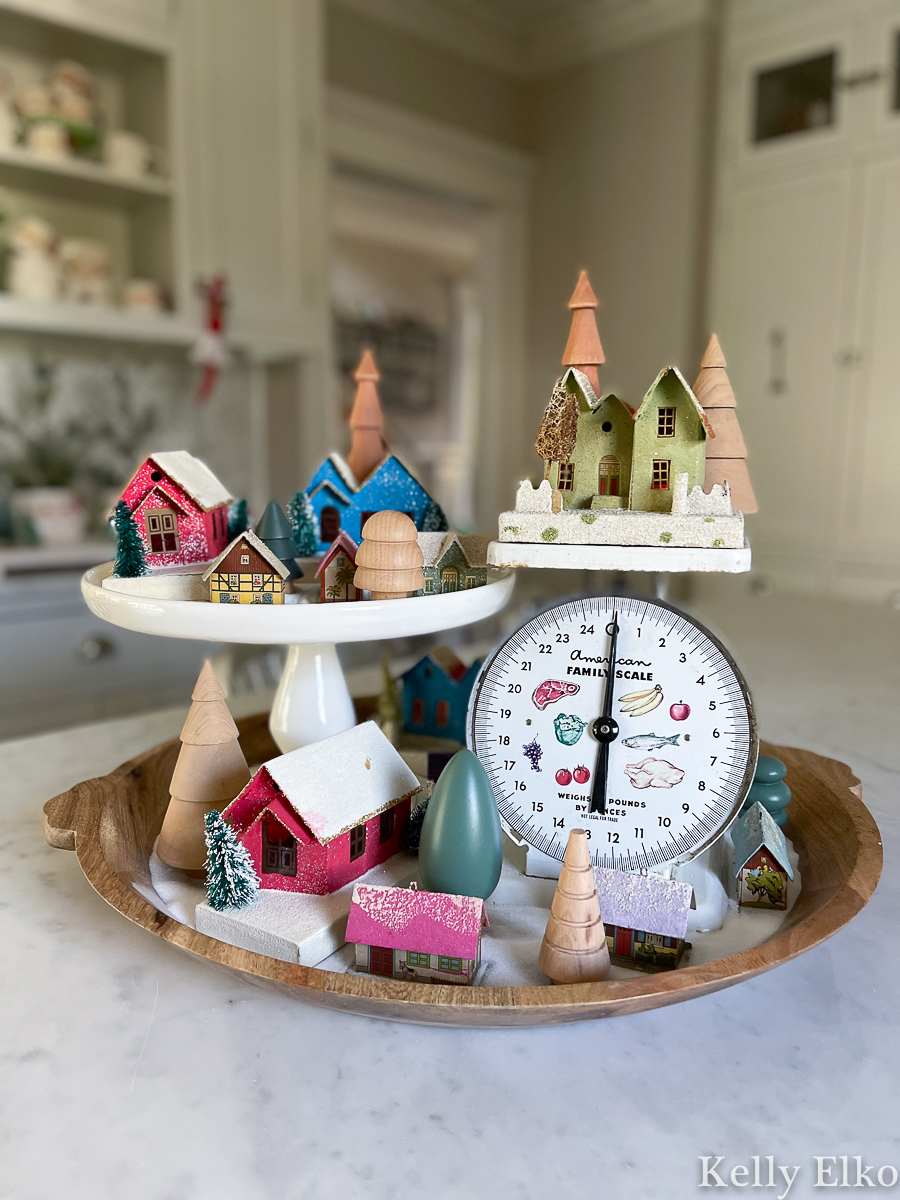 I added interest by varying the height of my display with a cake stand and an old scale then freshly fallen snow (salt) turns it into a winter wonderland.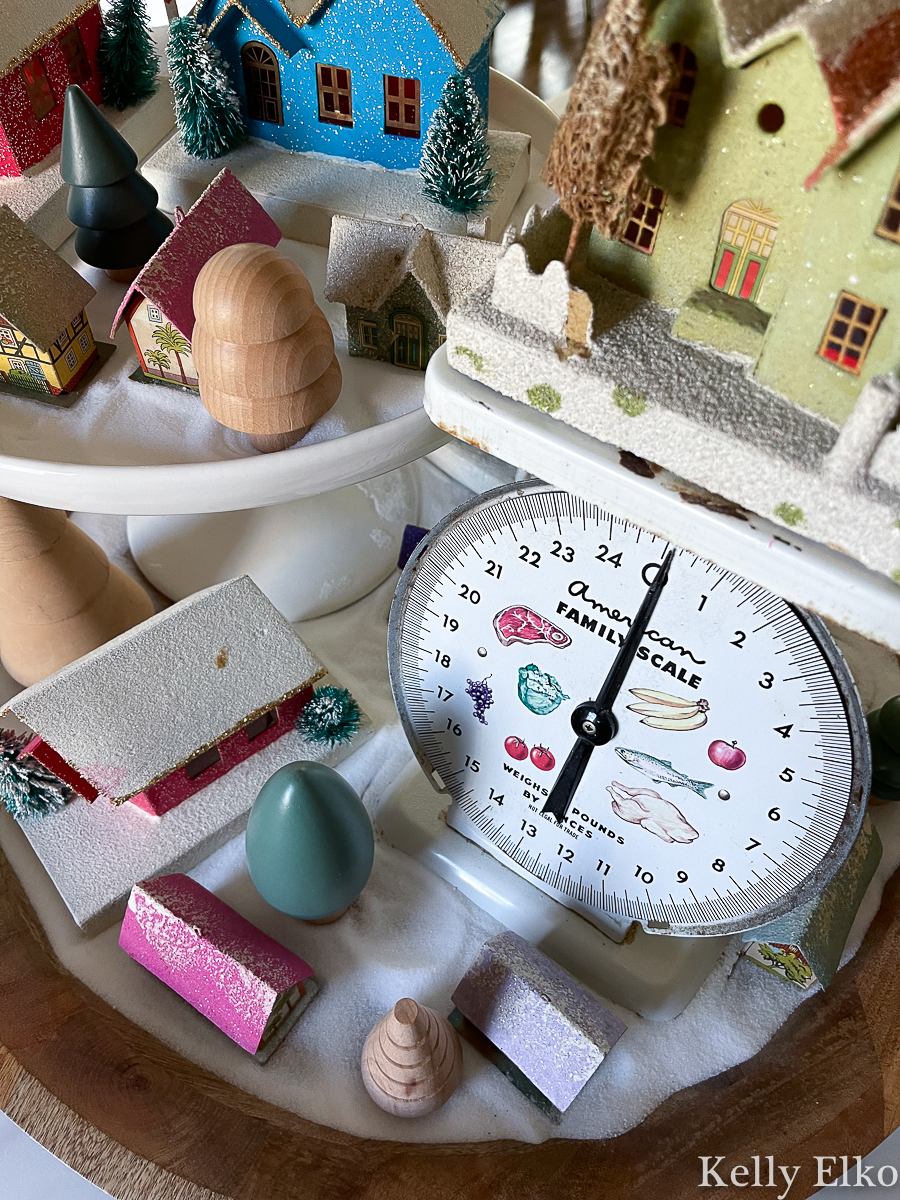 It doesn't get much easier than filling a giant bowl with faux snowballs, a colorful assortment of bottle brush trees and a tiny little vintage knee-hugger elf.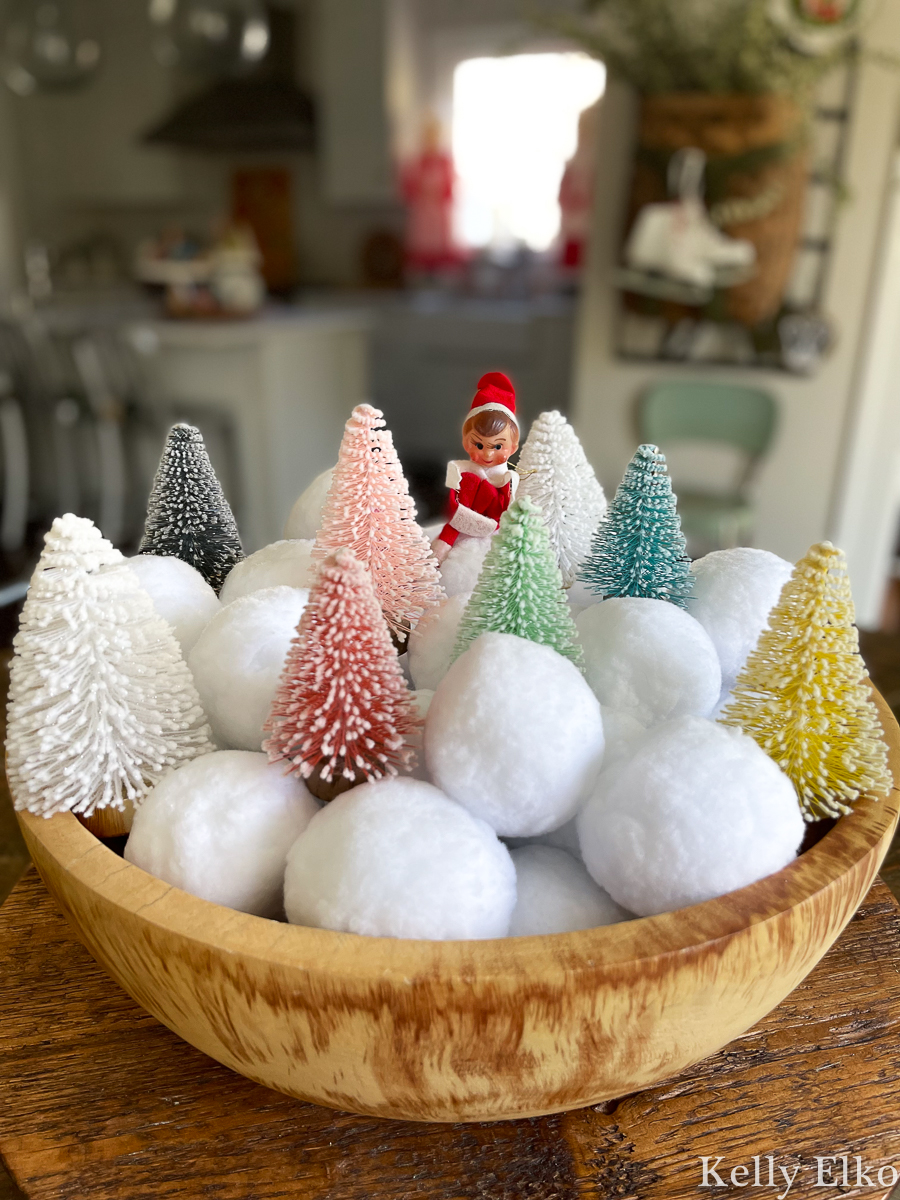 HO HO HO! I gathered all of my Santa mugs (old and new) because a collection is best displayed together.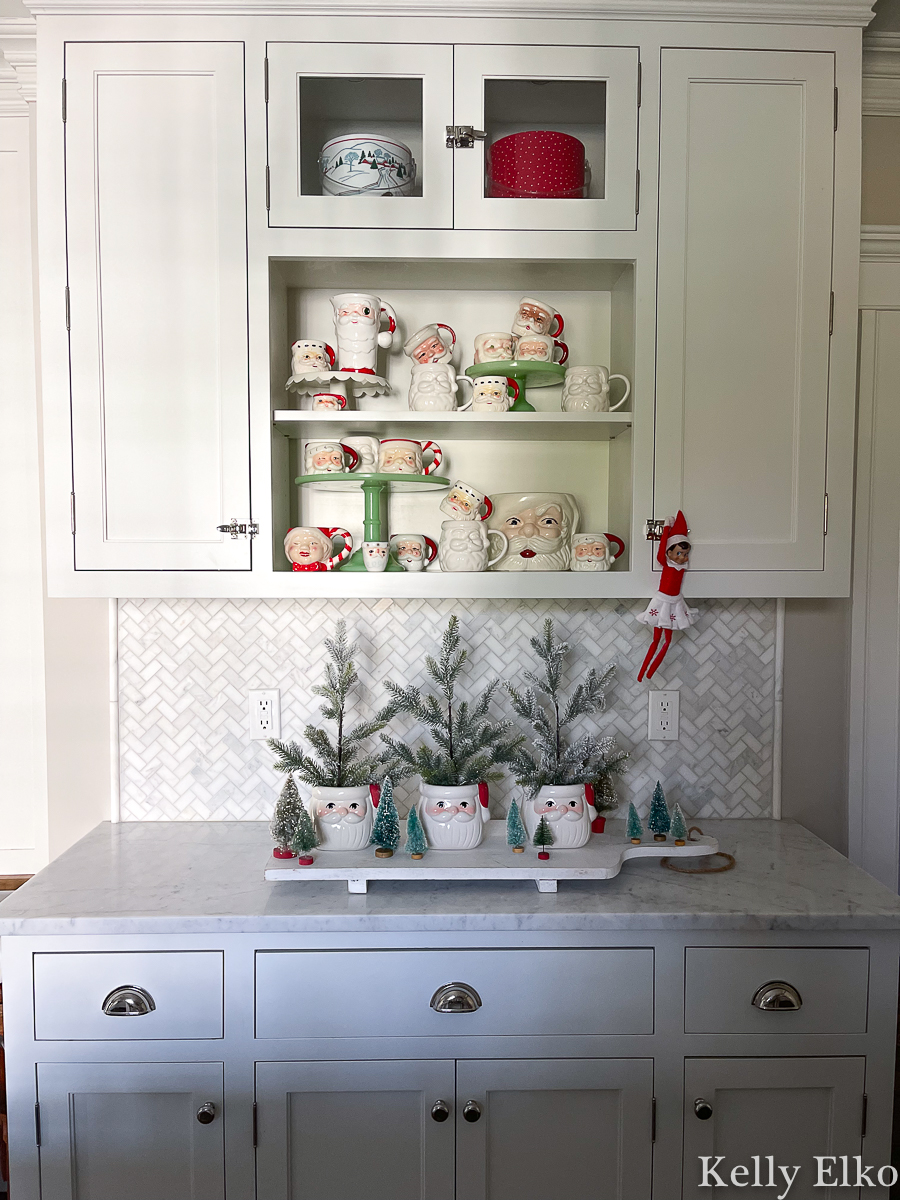 Mixing old and new is a great way to grow a collection and about half of my mugs are vintage.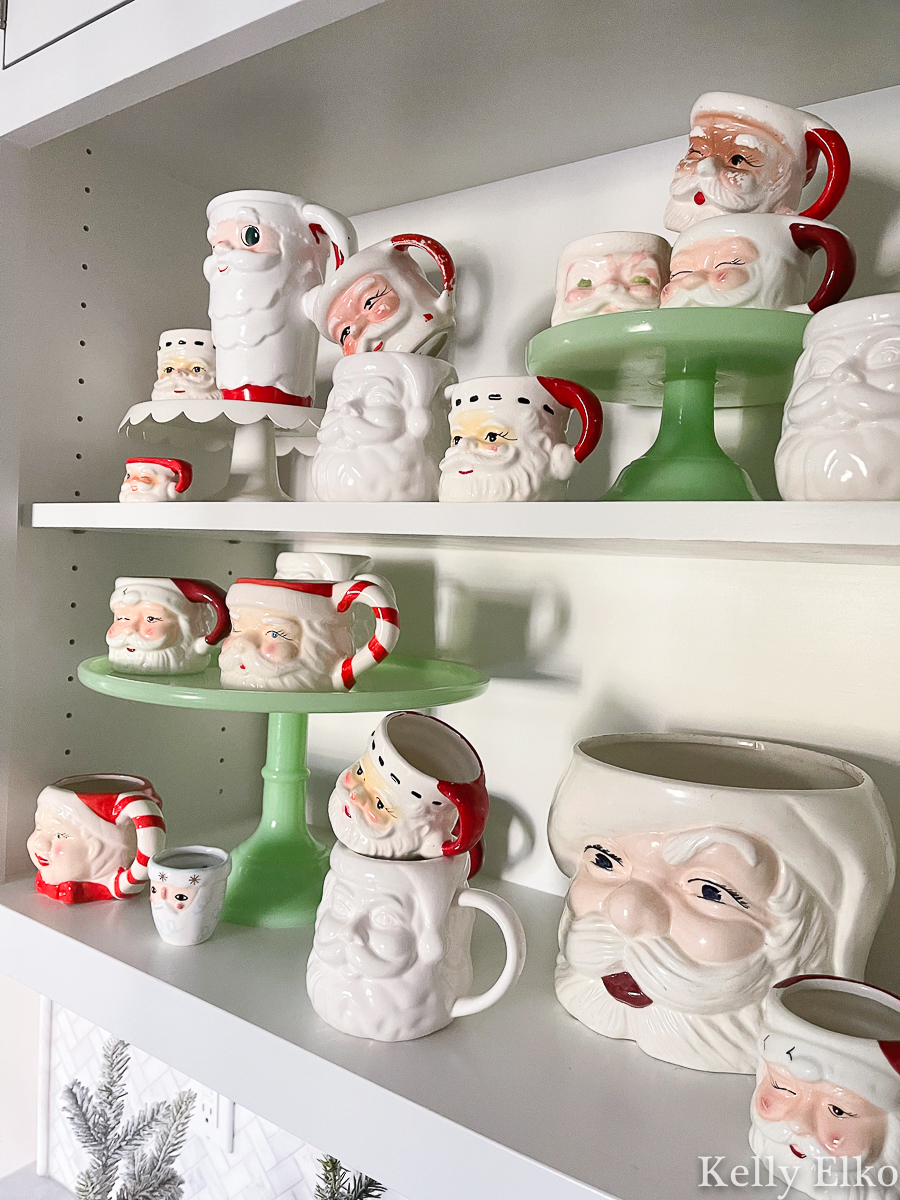 I removed the hats of these new Santa jars to turn them into planters and surrounded them with a forest of bottle brush trees.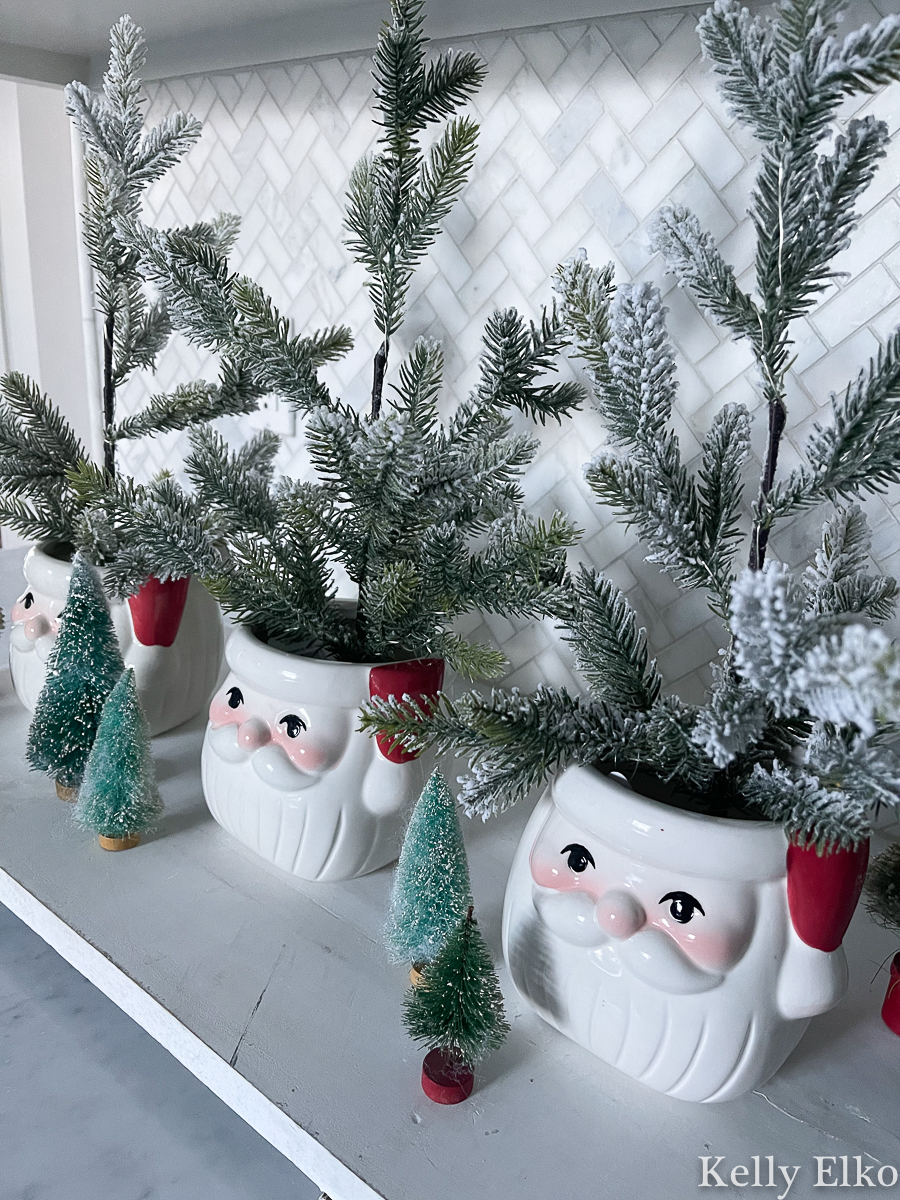 My red stove is especially festive during the holidays and of course I had to get this Santa mug dishtowel to go with my collection!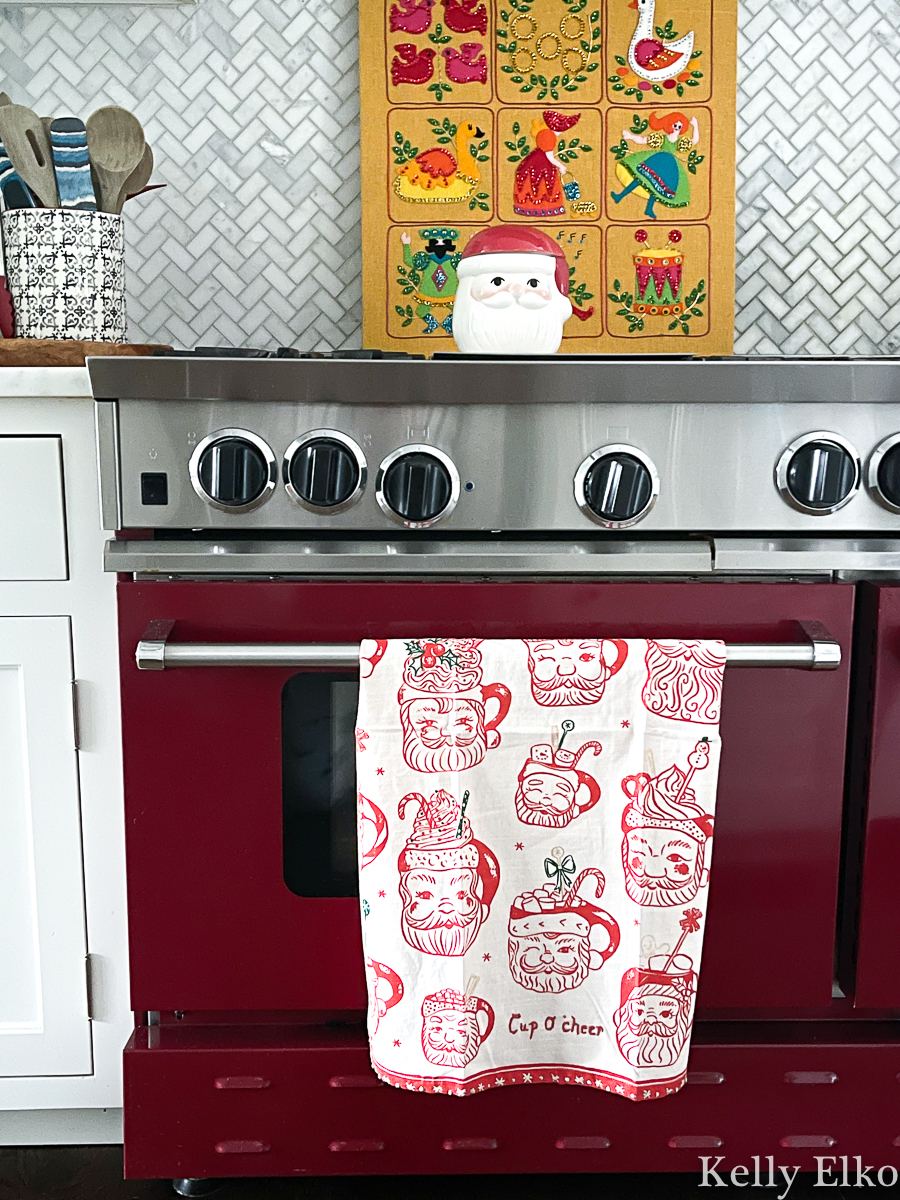 On the first day of Christmas, the thrift store sold to me, this vintage 12 Days of Christmas jeweled needlecraft!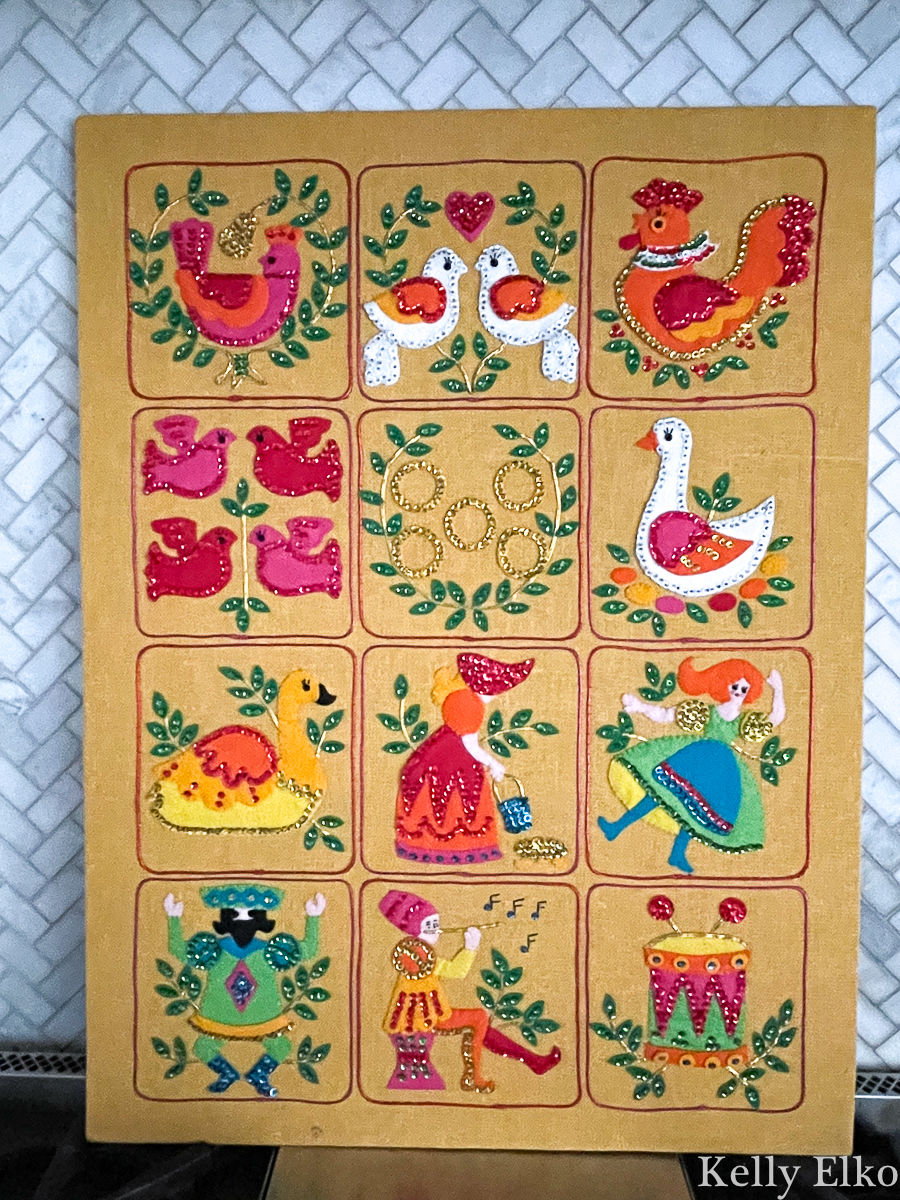 I keep things simple in my family room. A giant plaid wreath, a Santa mug pillow, a festive throw and a few touches of vintage Christmas is all this room needs.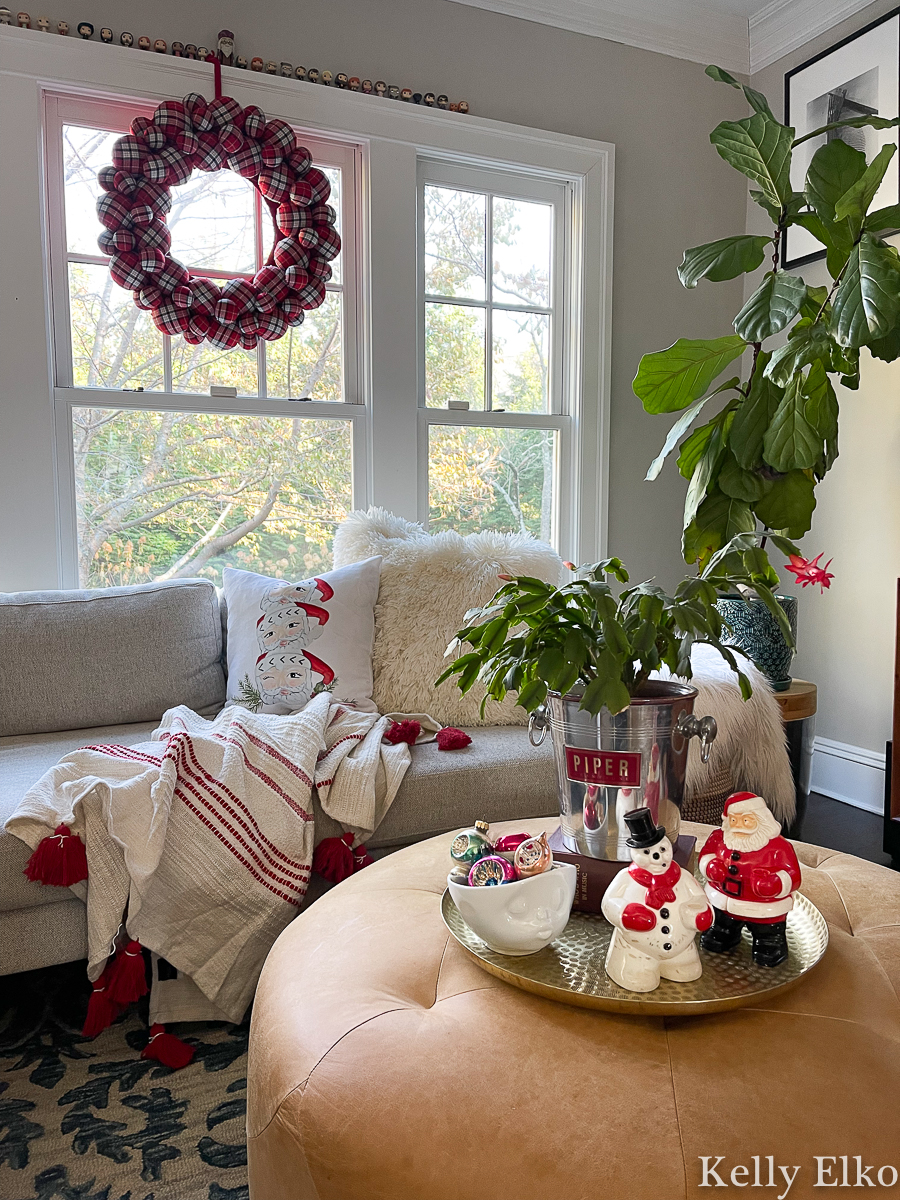 Back in the day, the hard plastic Frosty and Santa figures held light bulbs and you can still see the burn marks on them!
My Thanksgiving cactus started to bloom just in time and I love using vintage ice buckets as planters.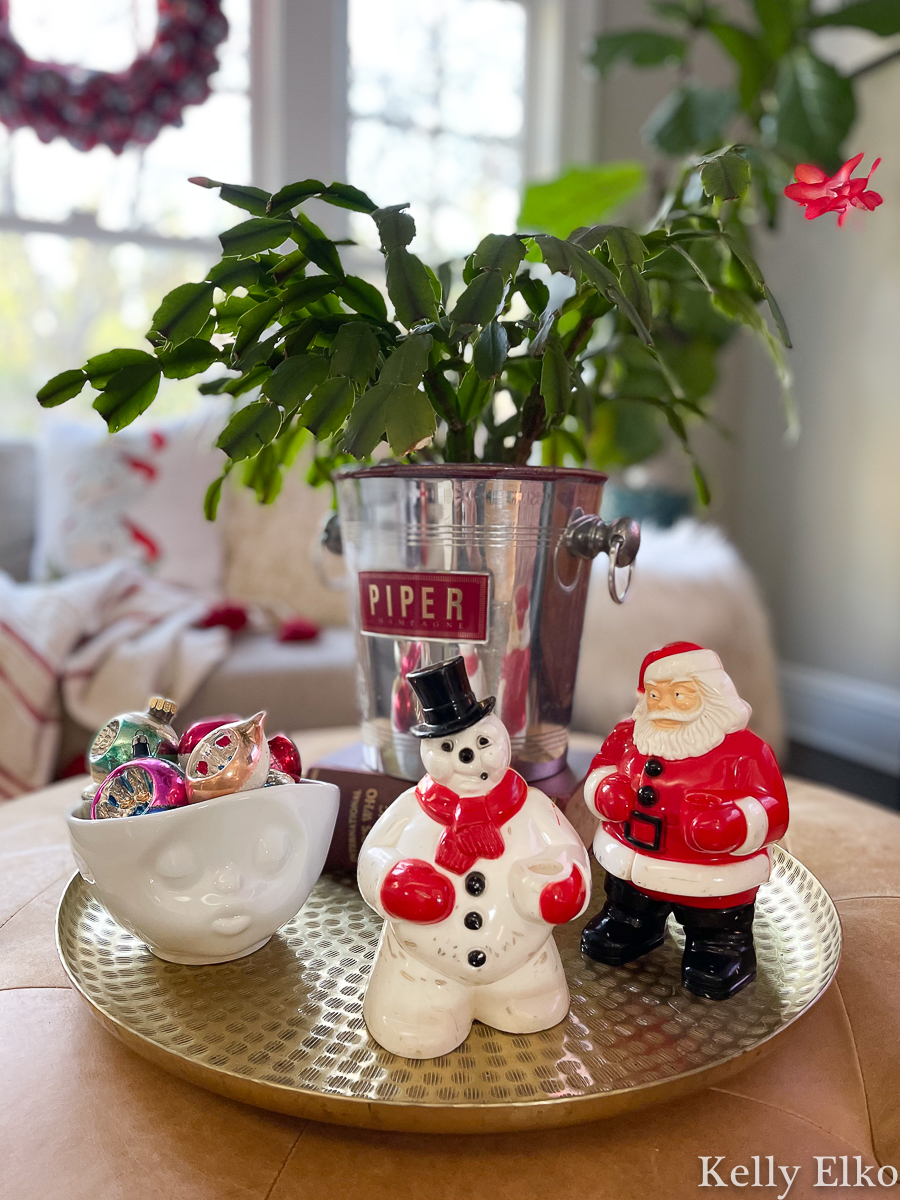 I carried my gingerbread theme into my dining room!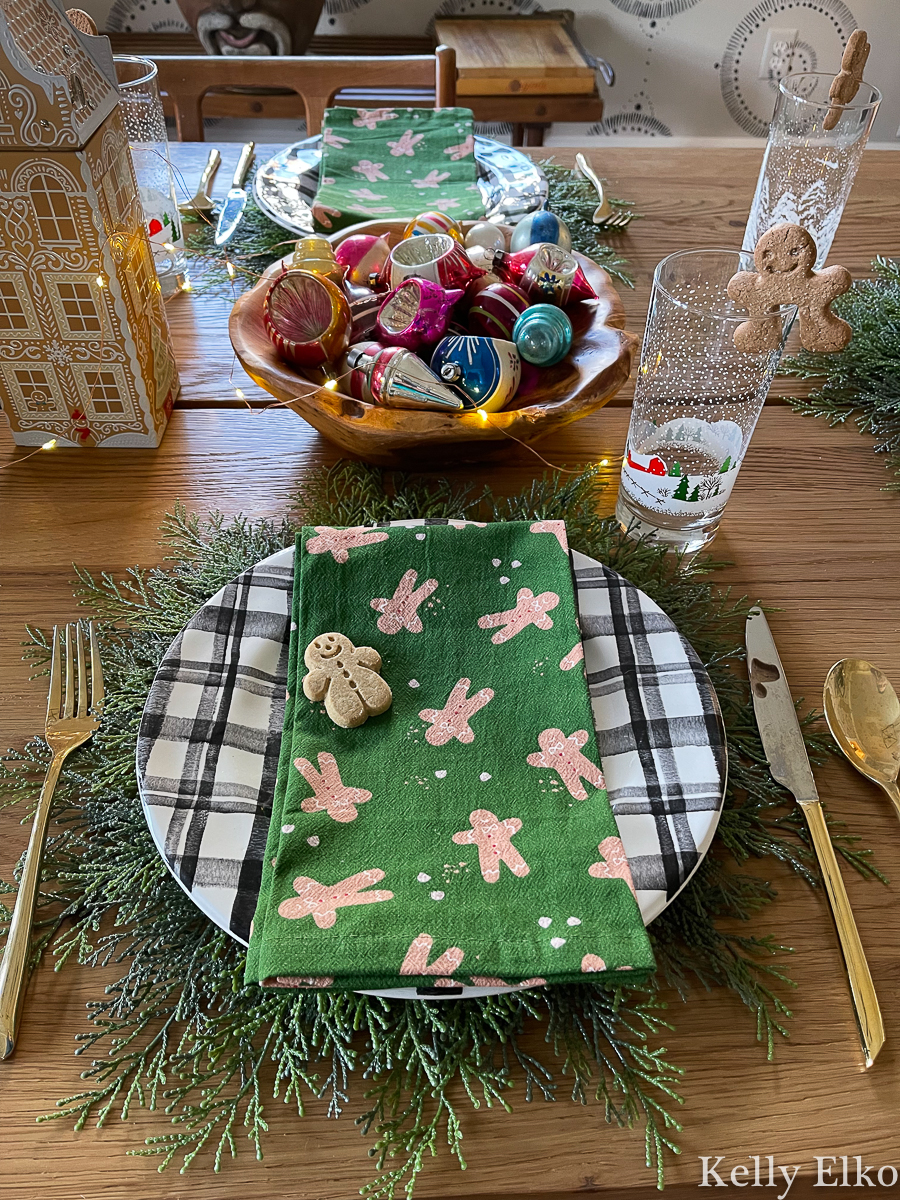 It's the perfect mix of vintage and new.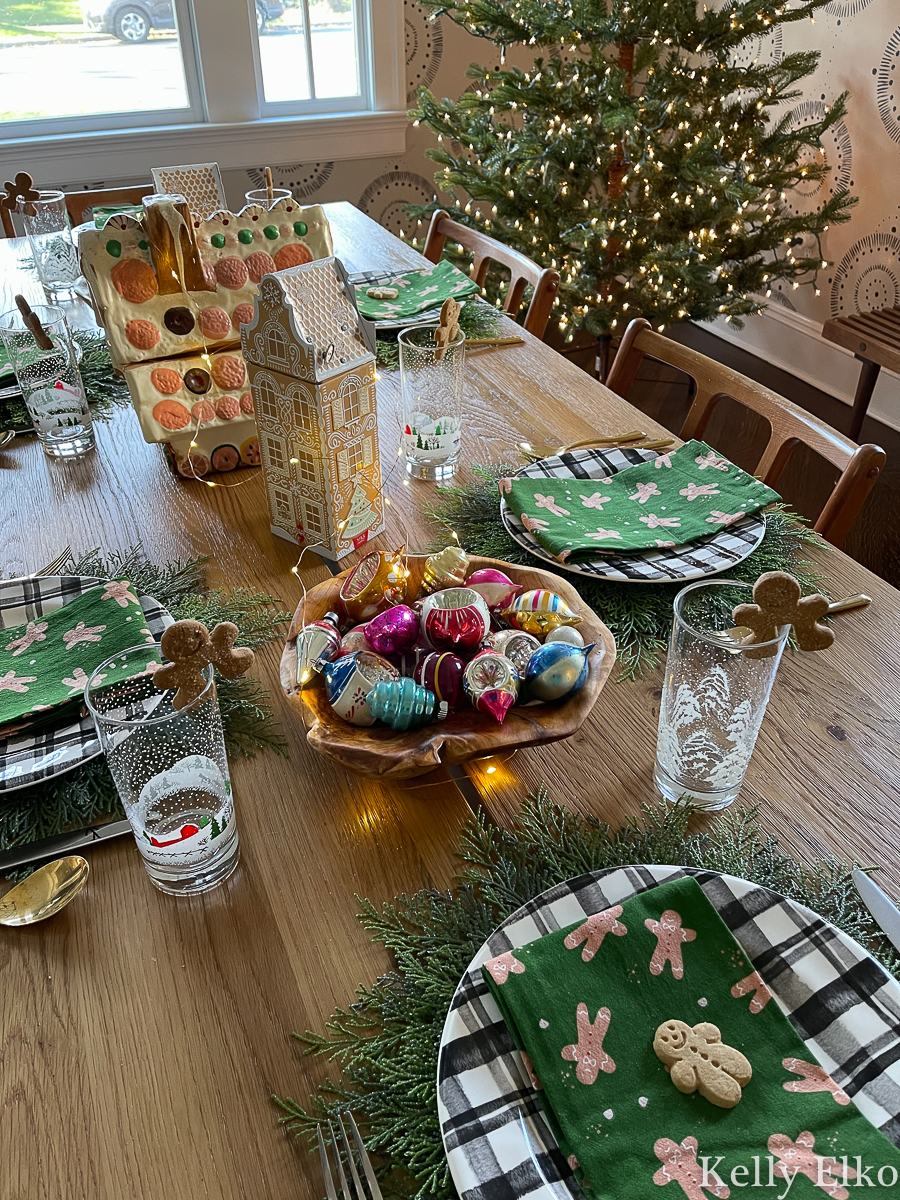 Twas the night before Christmas … I love this sign that welcomes everyone into my home.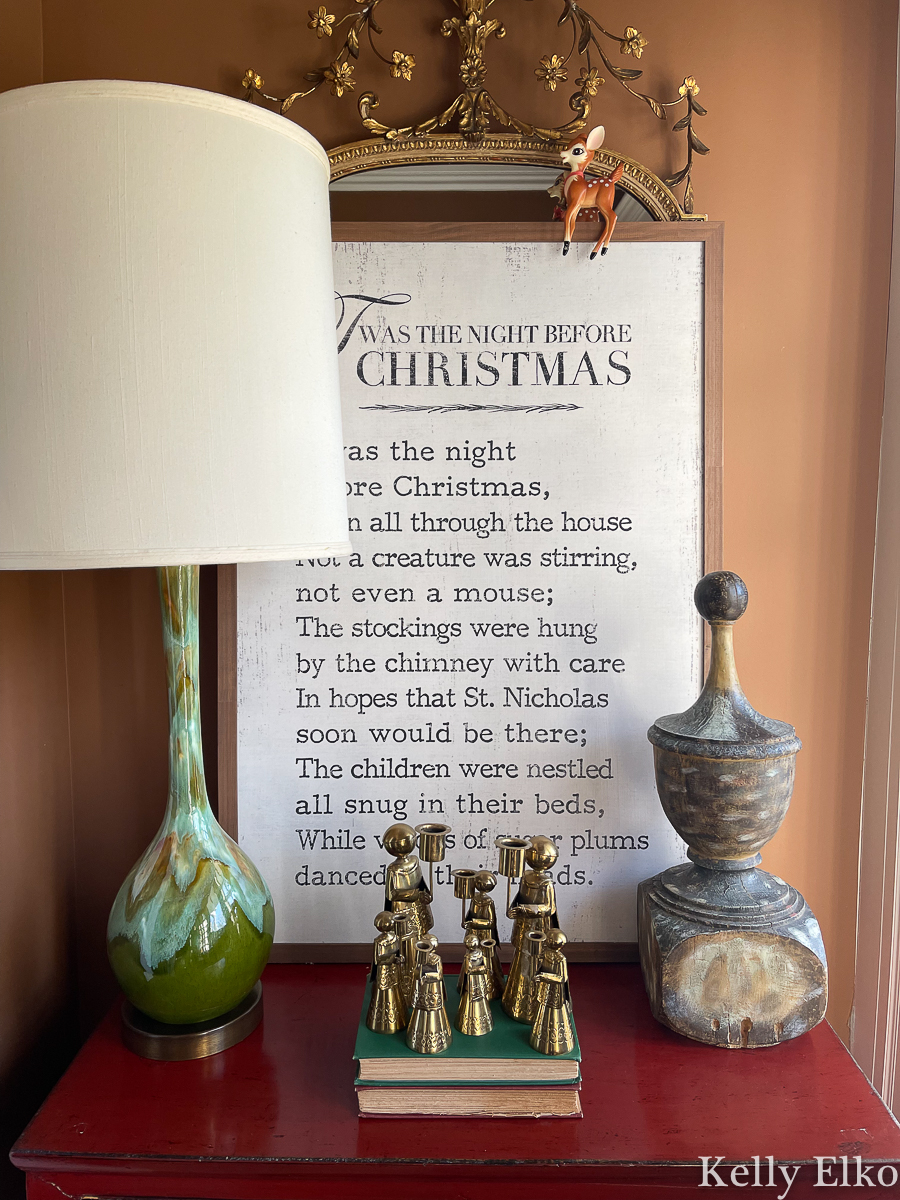 I have a weakness for vintage brass and and an even bigger weakness for vintage Christmas brass!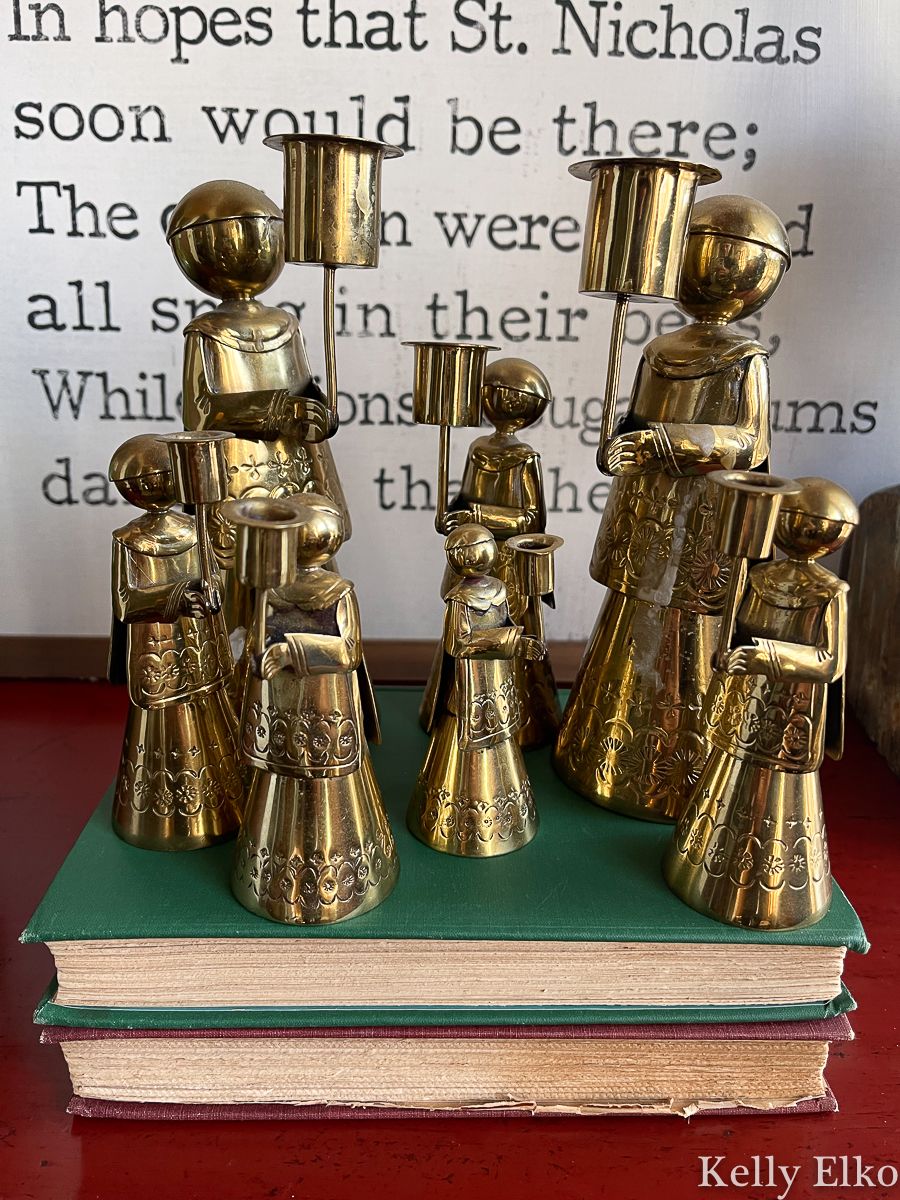 My little elf, Sushi, is dressed up for Santa's arrival.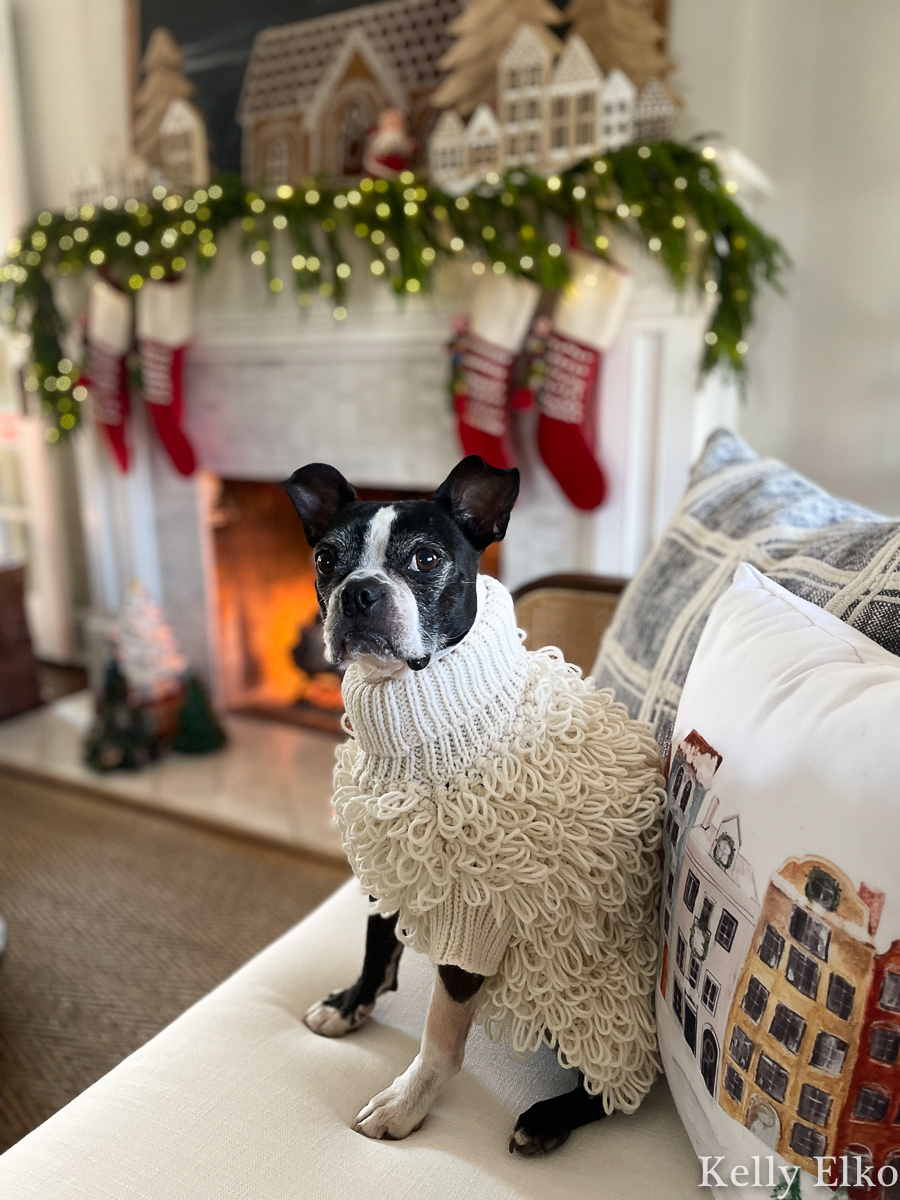 Get Sushi's adorable lamb dog sweater here!
Did you notice anything missing?
I did not have time to put up my three big trees or share my dining room but I'll share soon.
I'll be sharing more Christmas ideas so stay tuned or sign up to get my posts emailed right to your inbox.
Don't miss my past Christmas home tours …
Next on the Christmas tour hop is my good friend Stephanie of Casa Watkins Living. You are going to love her very merry, colorful and eclectic home!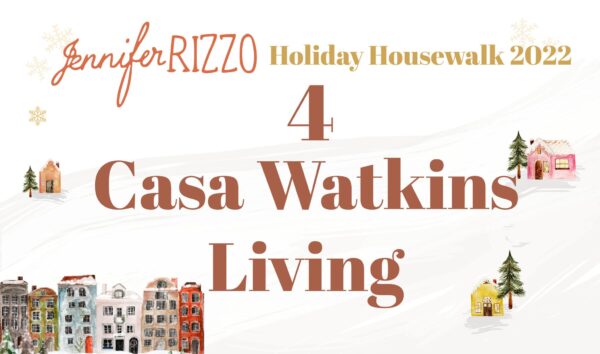 I love Stephanie's blinged out tree and how cute are those little wicker mushrooms under her tree.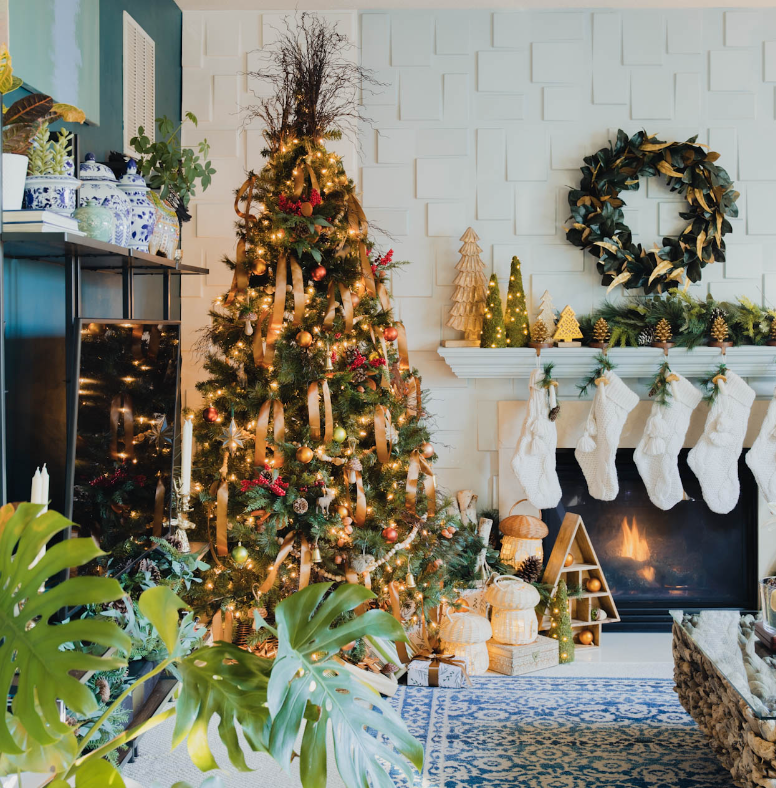 Shop My Post – Click the Pics Below