How to Display Christmas Decorations in Completely Different Ways Year after Year!
Hop into my magical sleigh and take a trip into the past to see how to display Christmas decorations in completely different ways year after year! I'm a big believer in using what you have and getting creative with decorating as well as saving money by not having to buy tons of new decorations every year! I am excited to show you that you don't need to buy new Christmas decorations every year. By looking at your stuff in a new light, you can reuse what you already have and get a whole new look!
Don't miss this video tour of my home below …
DIY Gingerbread Houses
I made these adorable wood gingerbread houses last year and loved they way they looked lined up on my kitchen shelves.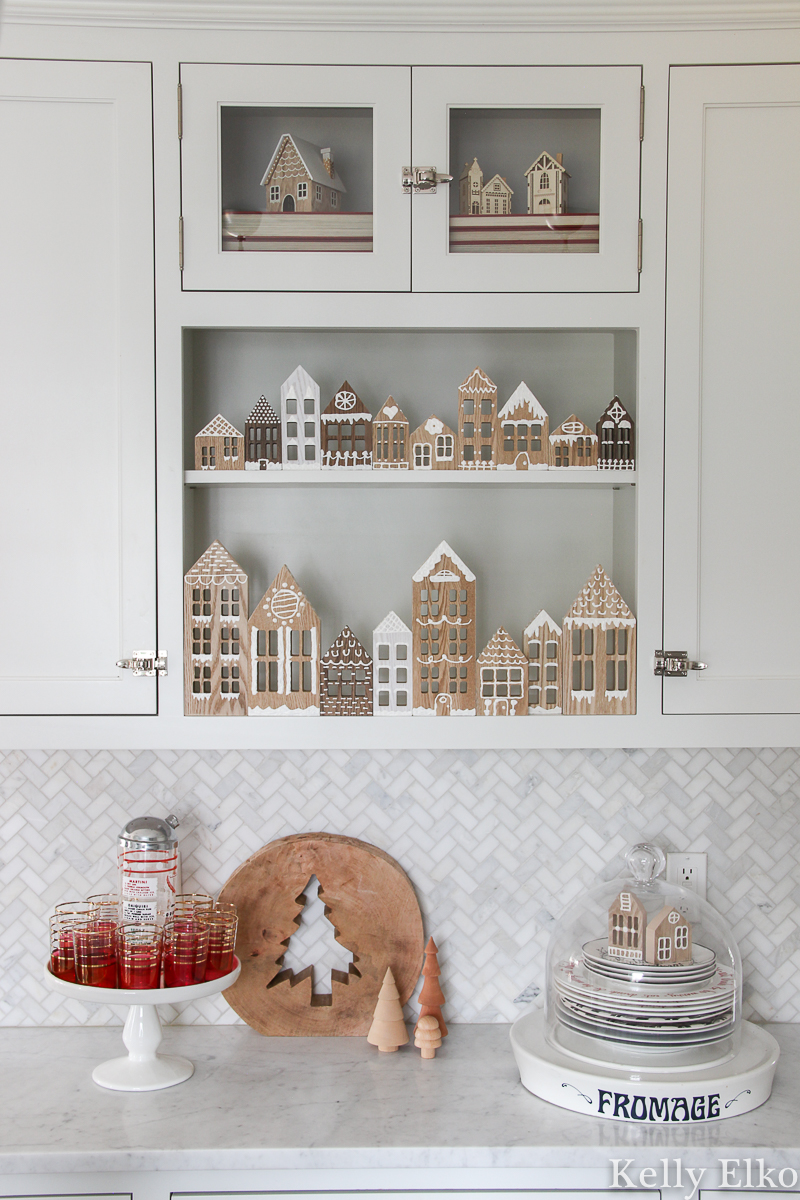 I had to display them again this year and the stairs are the perfect spot for them. I added a couple of vintage blow molds for pops of color.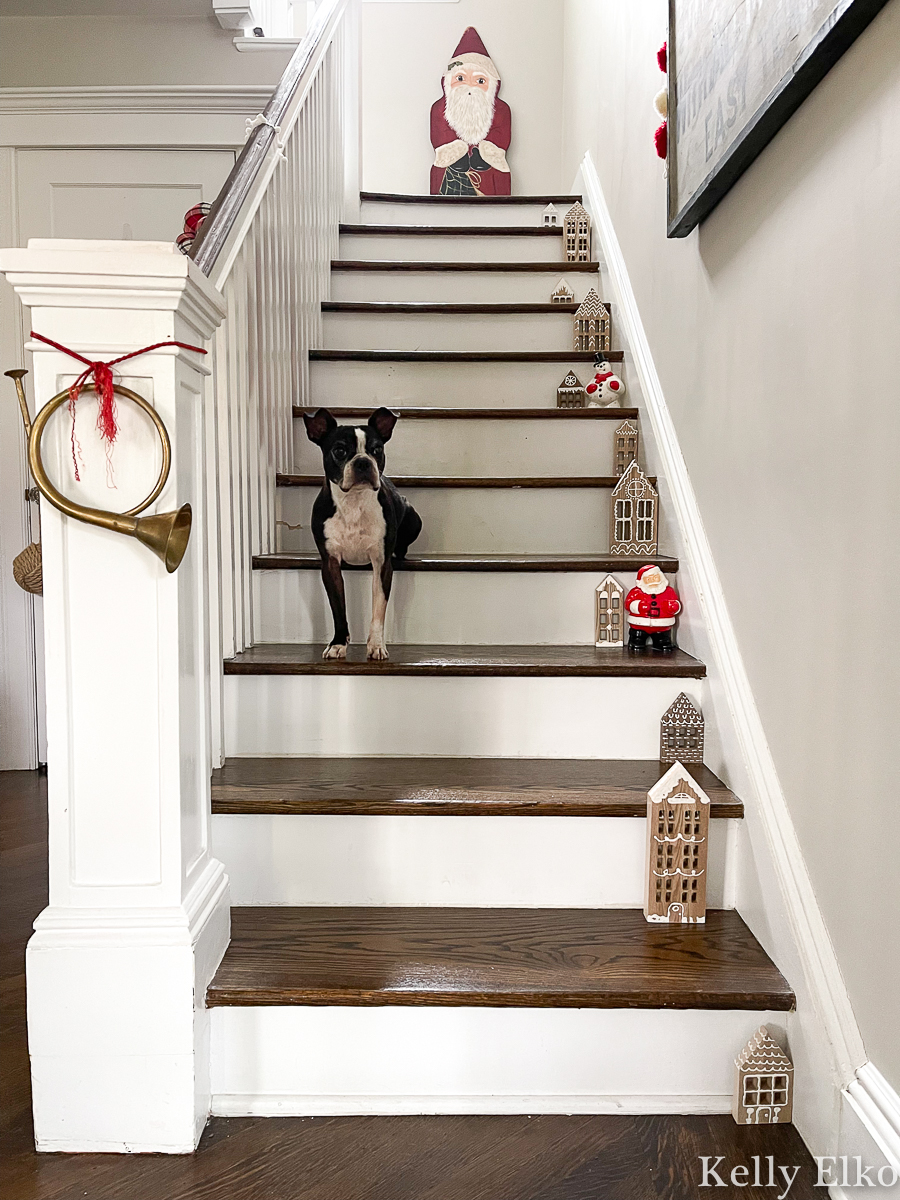 This post contains affiliate links which means if you make a purchase, I may earn a small commission at no extra cost to you.
Feather Trees
For the last three years, I used the same feather trees and red pom pom stockings on my Christmas mantel but still managed to create unique looks every single year. I even used the same giant chalkboard for the past two years!
This years mantel features my feather trees dripping with vintage Shiny Brites framing the colorful ice skater art (that's actually a page I ripped from a calendar and enlarged). The giant chalkboard creates the perfect backdrop.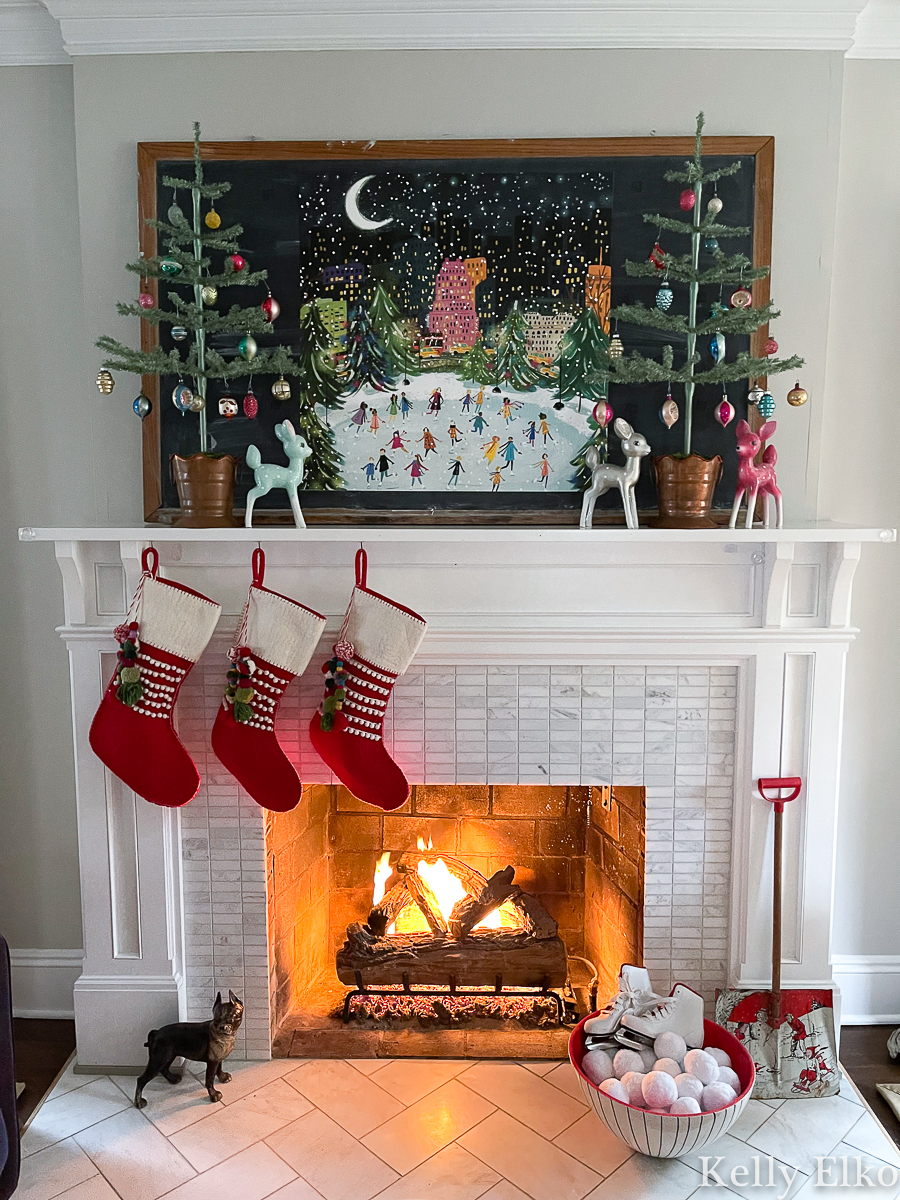 Look how the same basic elements take on a whole new look!
Three stockings hang in the same spot but this year, one of the feather trees moved down to the hearth,. Red cardinal ornaments replace vintage ones.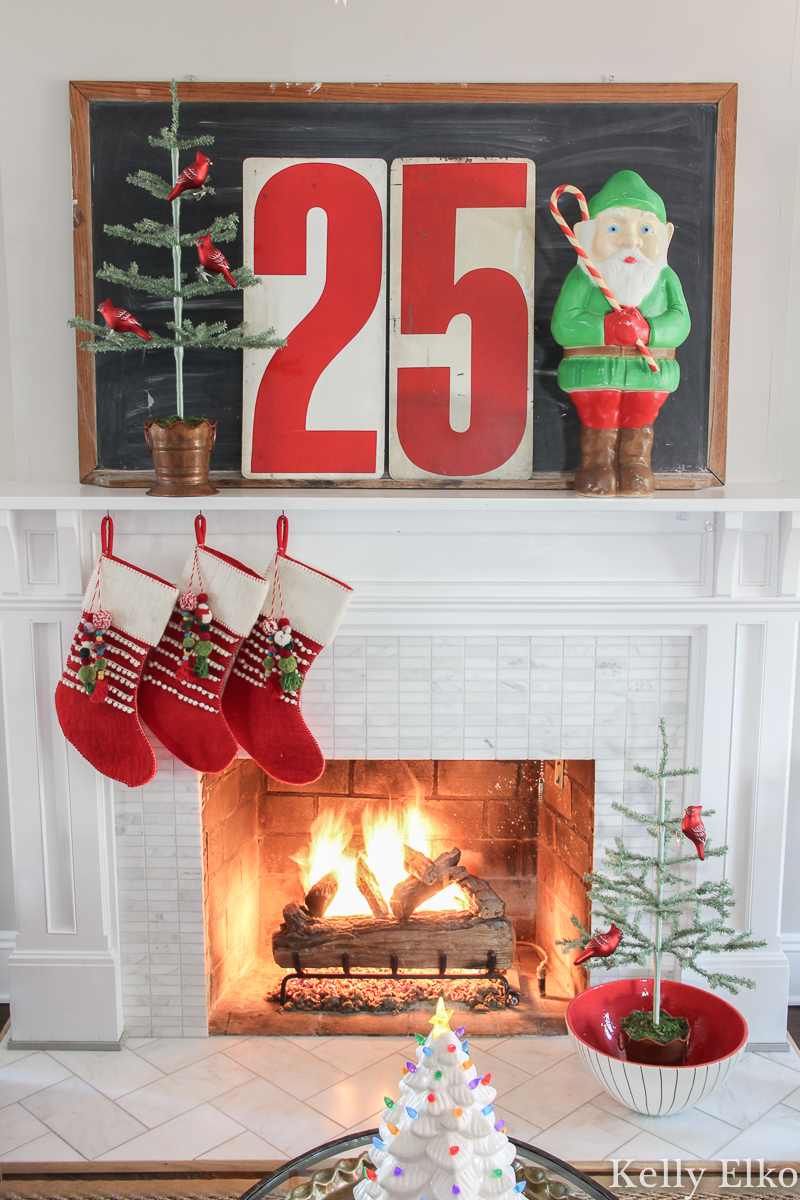 The chalkboard was smaller this year with a piece of wrapping paper used as art and I created a more symmetrical look with four stockings instead of three.
Feather trees on the hearth each get their own unique "tree skirt" including a vintage pedal car and an old basket.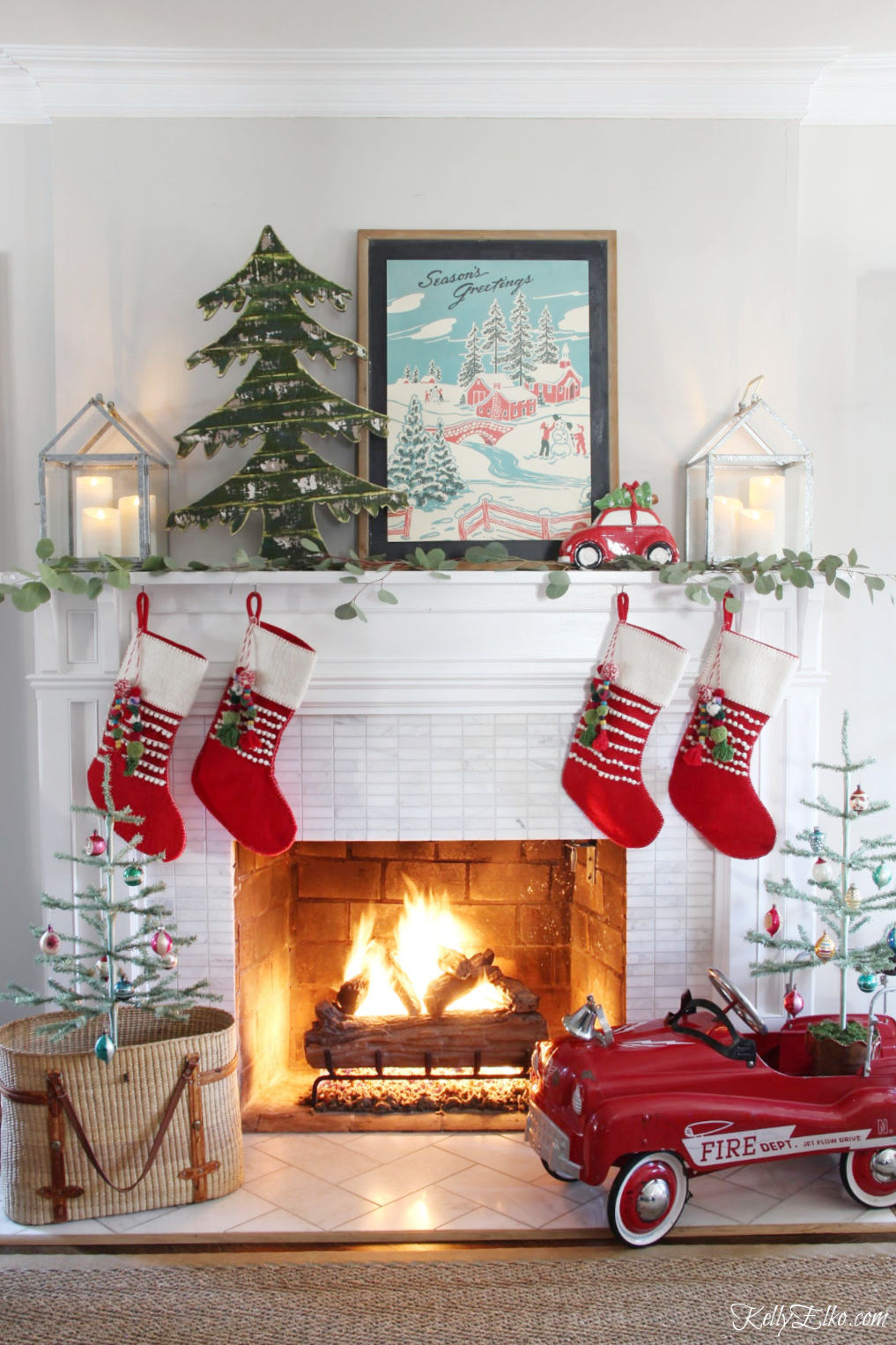 Santa Mugs
I can't resist the rosy cheeks on vintage Santa mugs! I love displaying things under glass and this collection of new and old Santa mugs makes the perfect centerpiece on my kitchen table.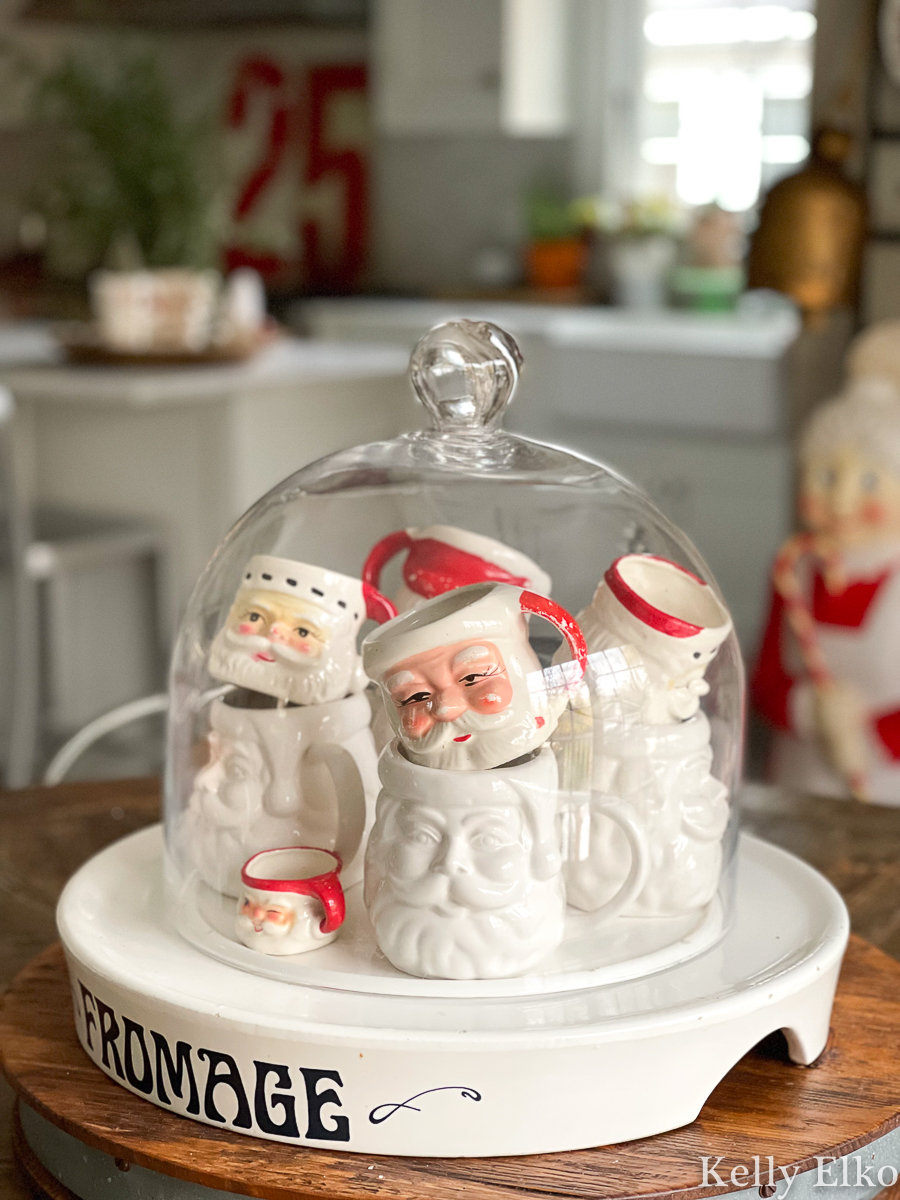 Last year, I simply hung the mugs from my bottle drying rack.

Santa Ornaments
These adorable little velvet Santa ornaments were the perfect addition to my kitchen Christmas tree last year.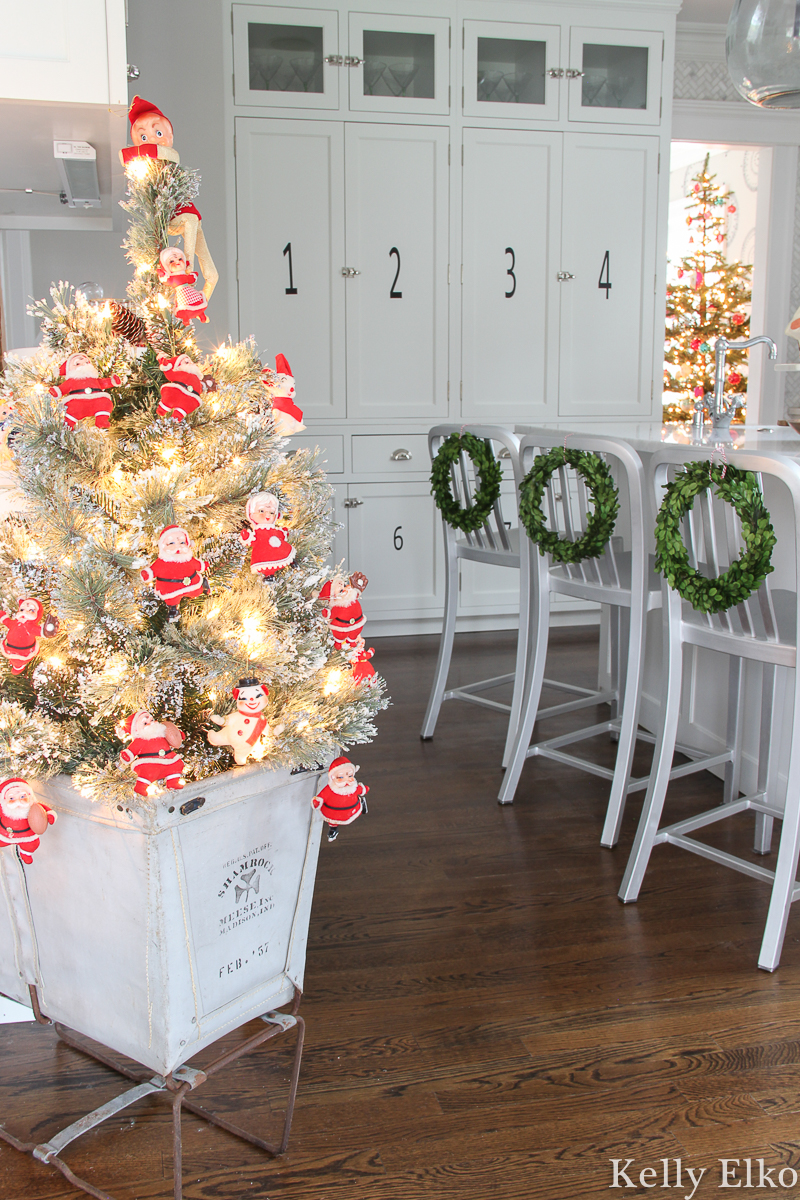 This year, the Santas and a lone Mrs. Claus party in the snow in a big bowl on my kitchen counter.
Grouping the ornaments together has a bigger impact than if they were scattered throughout the house!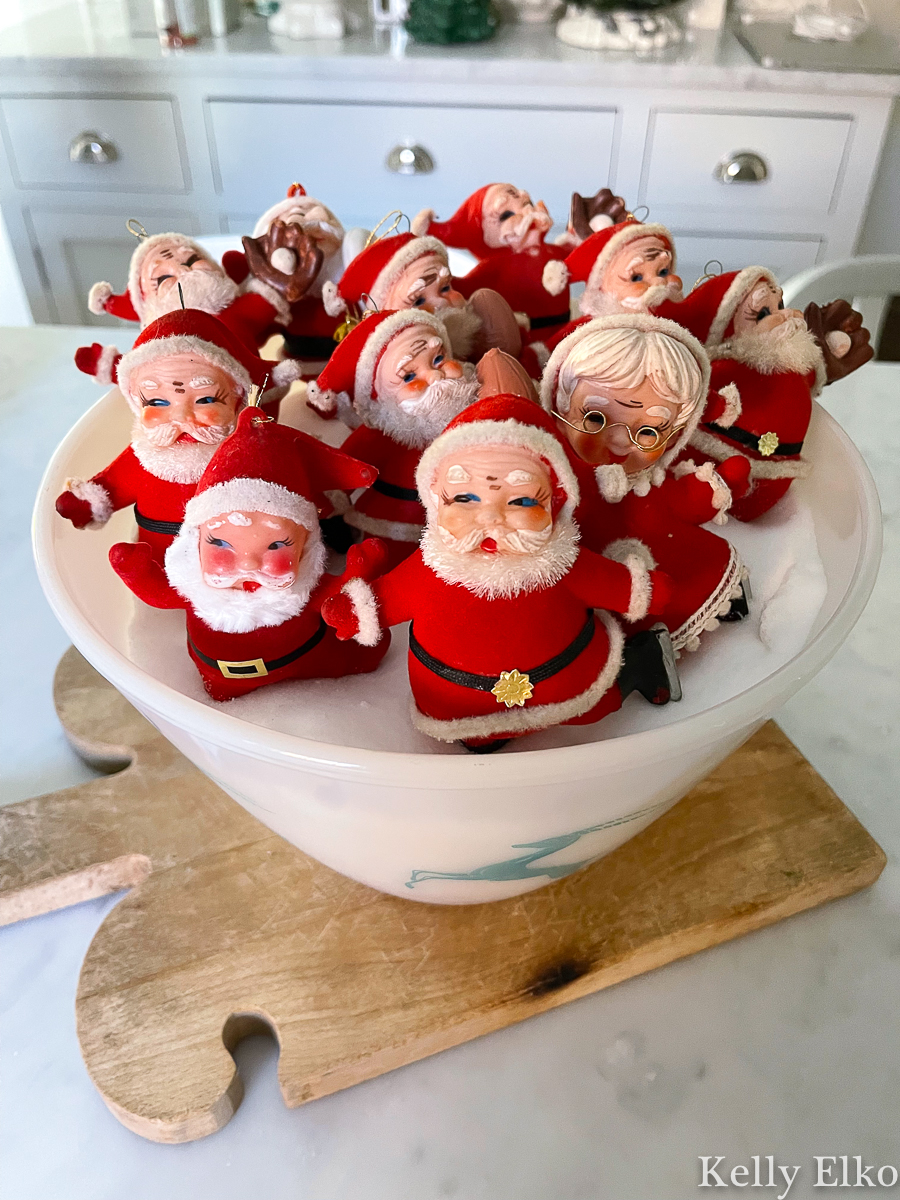 Ceramic Houses
One of my all time favorite DIY projects was creating these Ceramic Doodle Houses that glow in front of my Santa flying over a winter wonderland chalk art.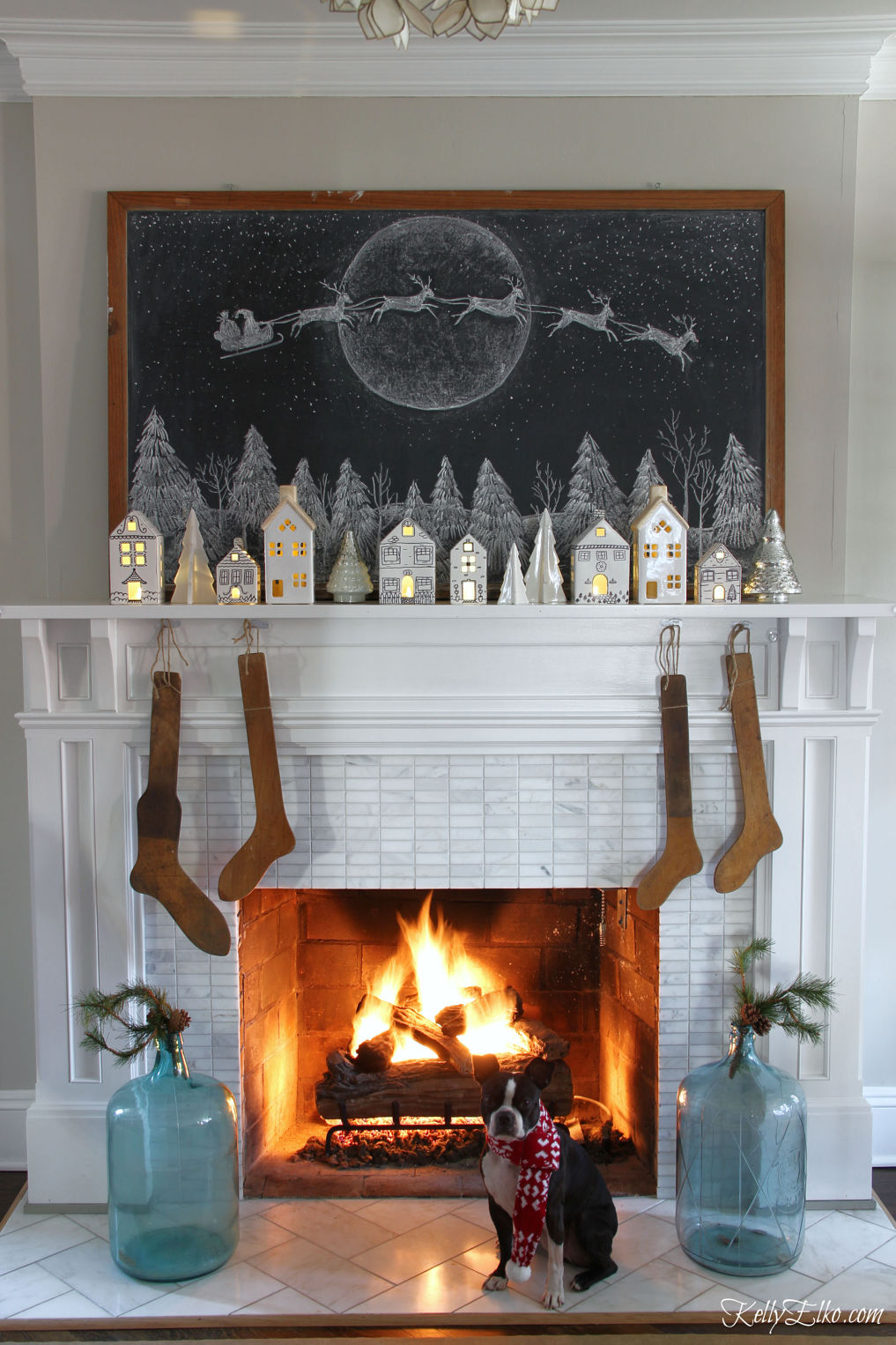 Last year, the same houses turned into my Christmas centerpiece.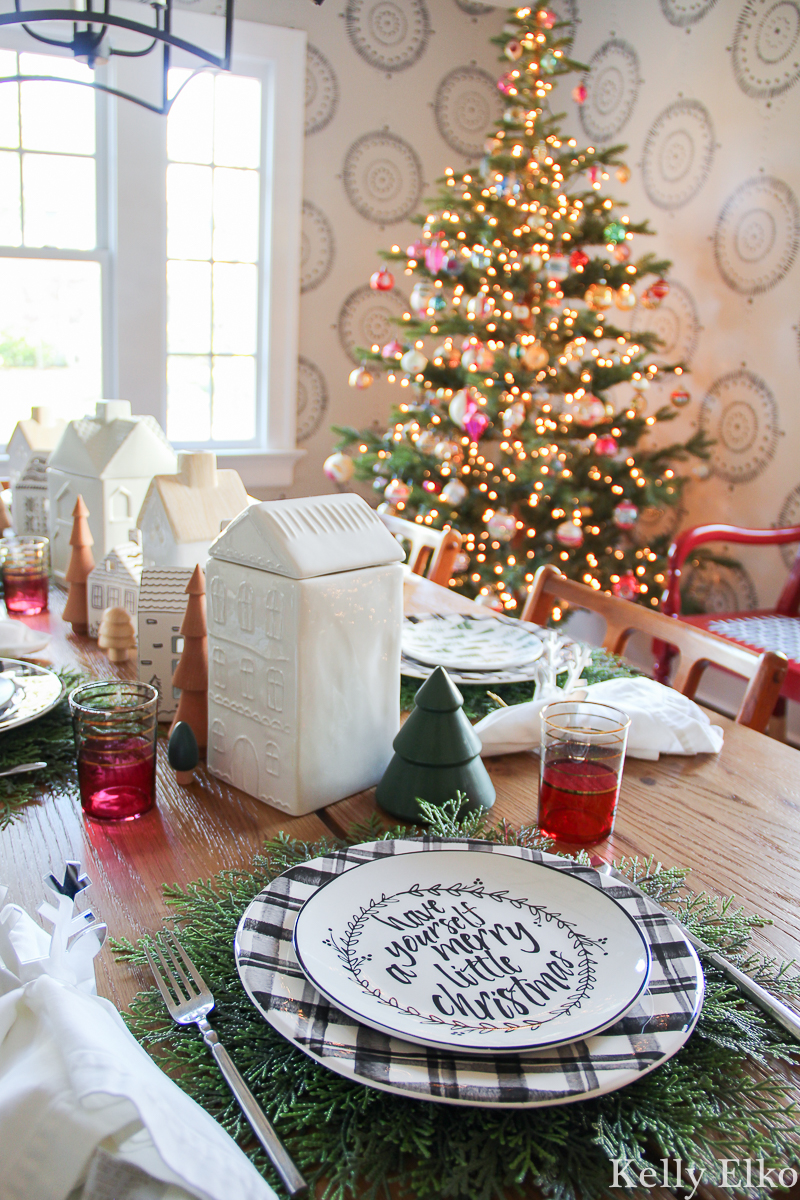 Bottle Brush Trees
This year, I turned my collection of vintage loving cups into tree stands to create a forest of little bottle brush trees.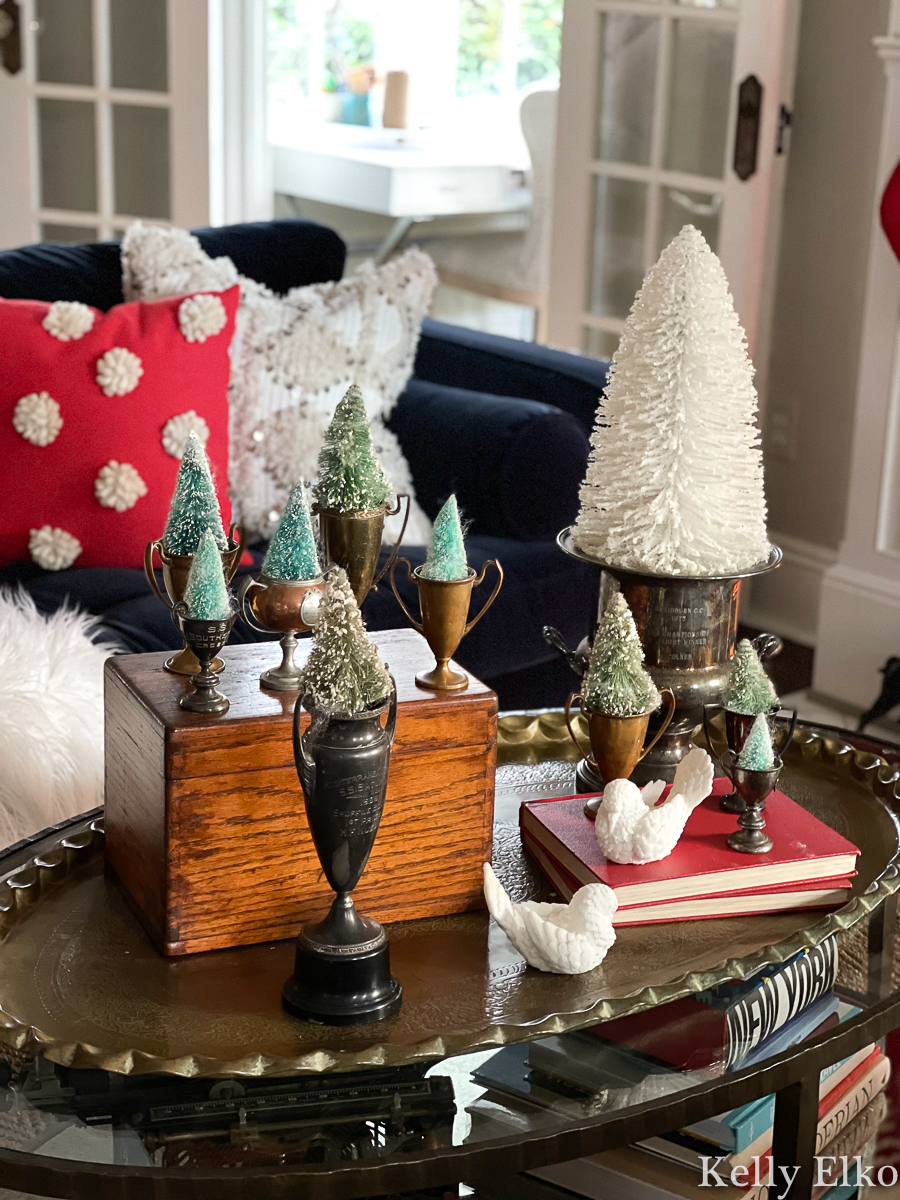 I also created a winter village with old Putz houses and a mixture of bottle brush, wood and ceramic trees.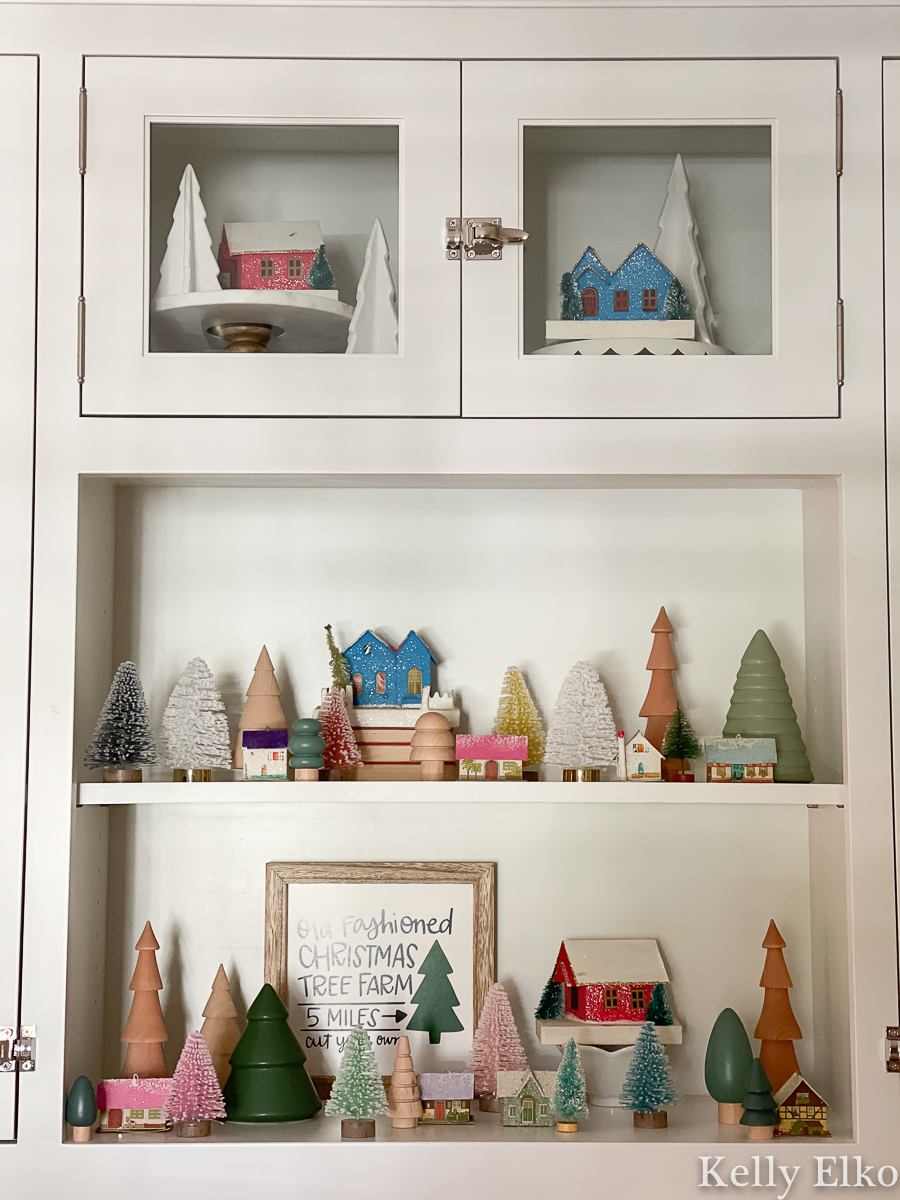 Another year, I had fun putting trees on a tree! I tucked bottle brush trees and faux snowballs into the branches of a flocked Christmas trees for a whimsical look.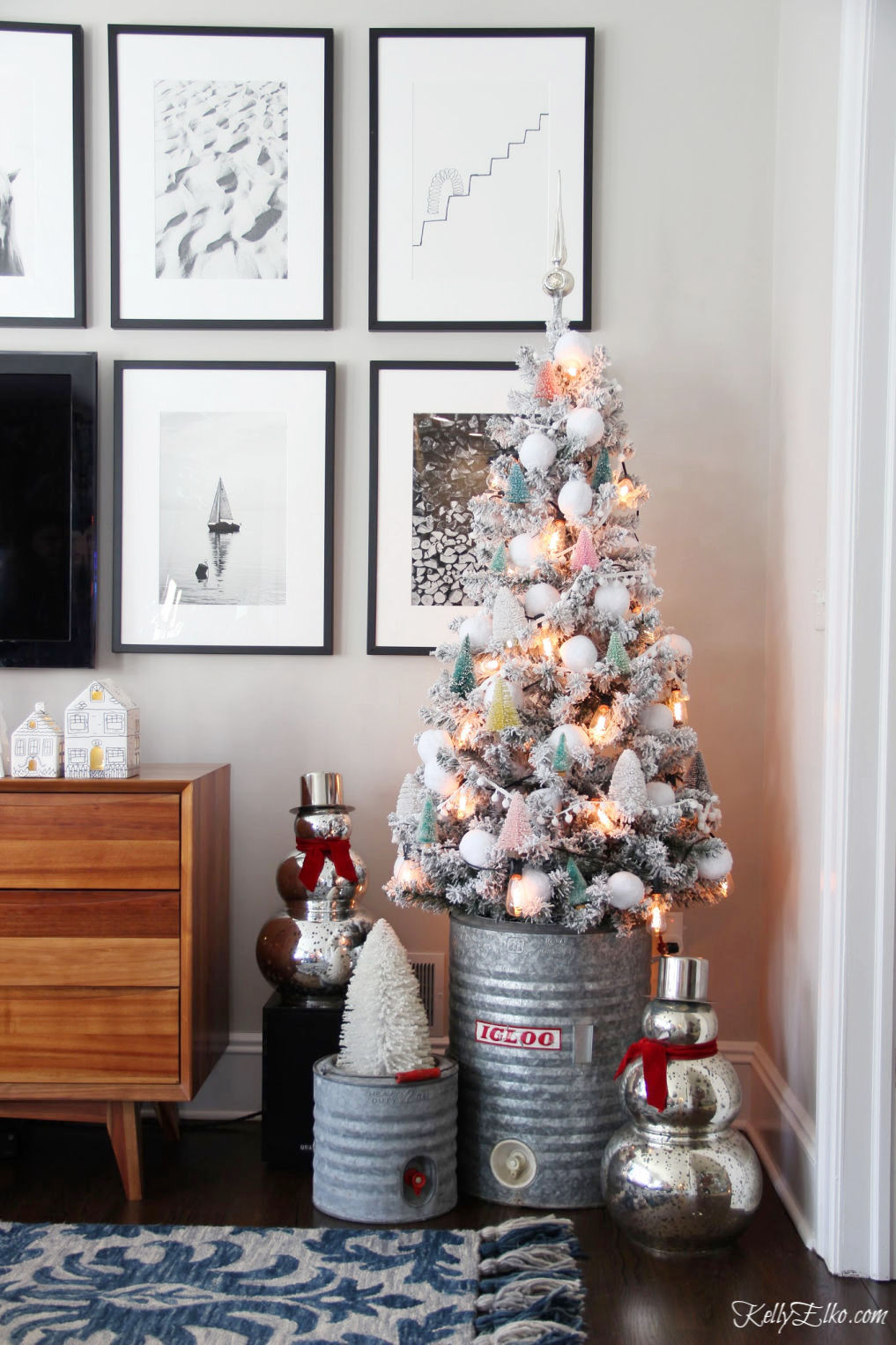 Giving these little Santa bowls a mohawk with a trio of little trees was fun!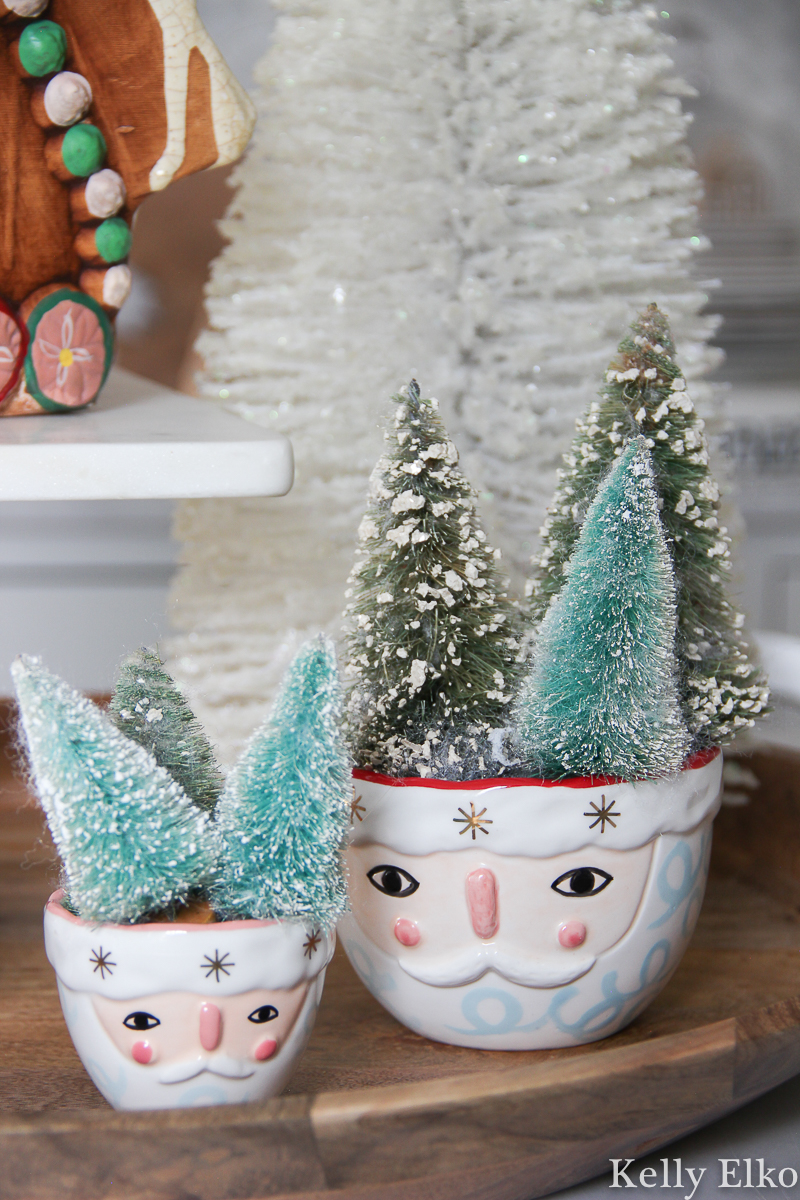 Cardinal Ornaments
Once again, lots of one thing makes a HUGE impact and this flock of red cardinal ornaments is all this Christmas tree needed to make it festive!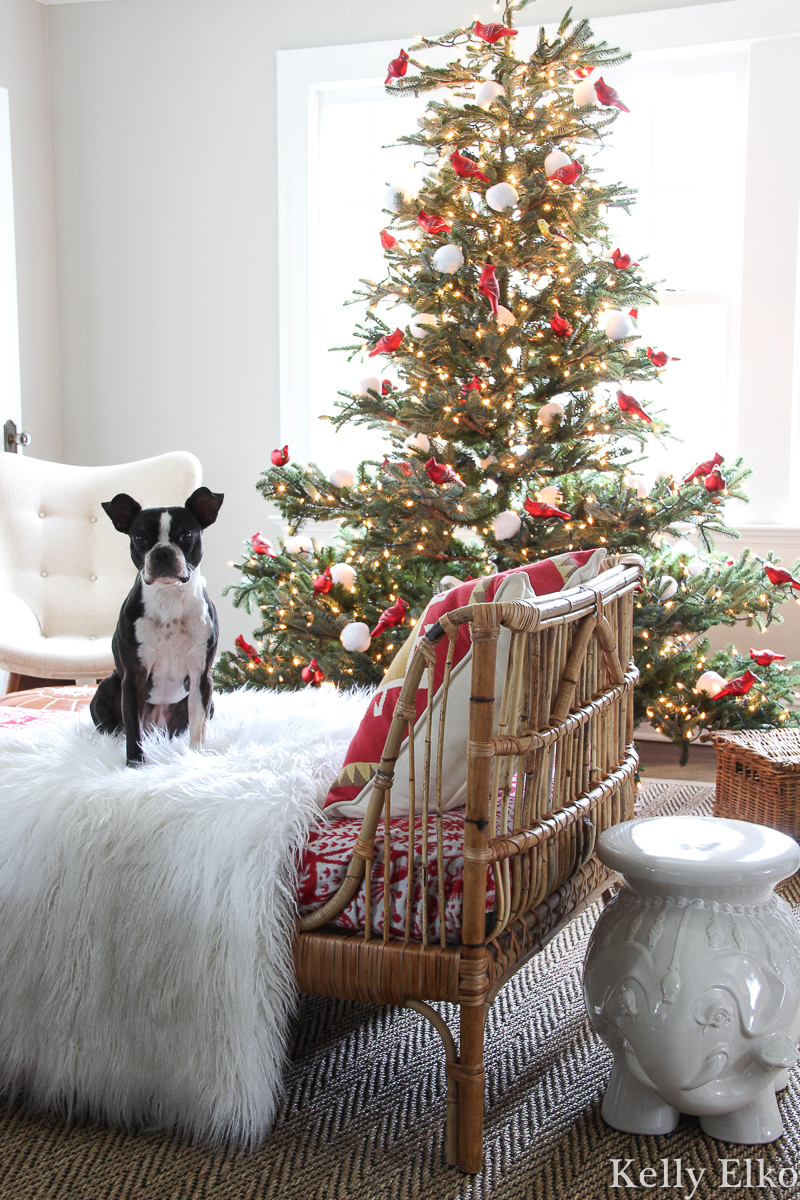 Ornaments aren't just for trees and this year, the flock moved onto my bannister garland and another year, I added some to a wreath.
Also notice my daughters old ice skates displayed in the lantern below. This year, the skates moved to my hearth, tucked into a bowl of faux snowballs.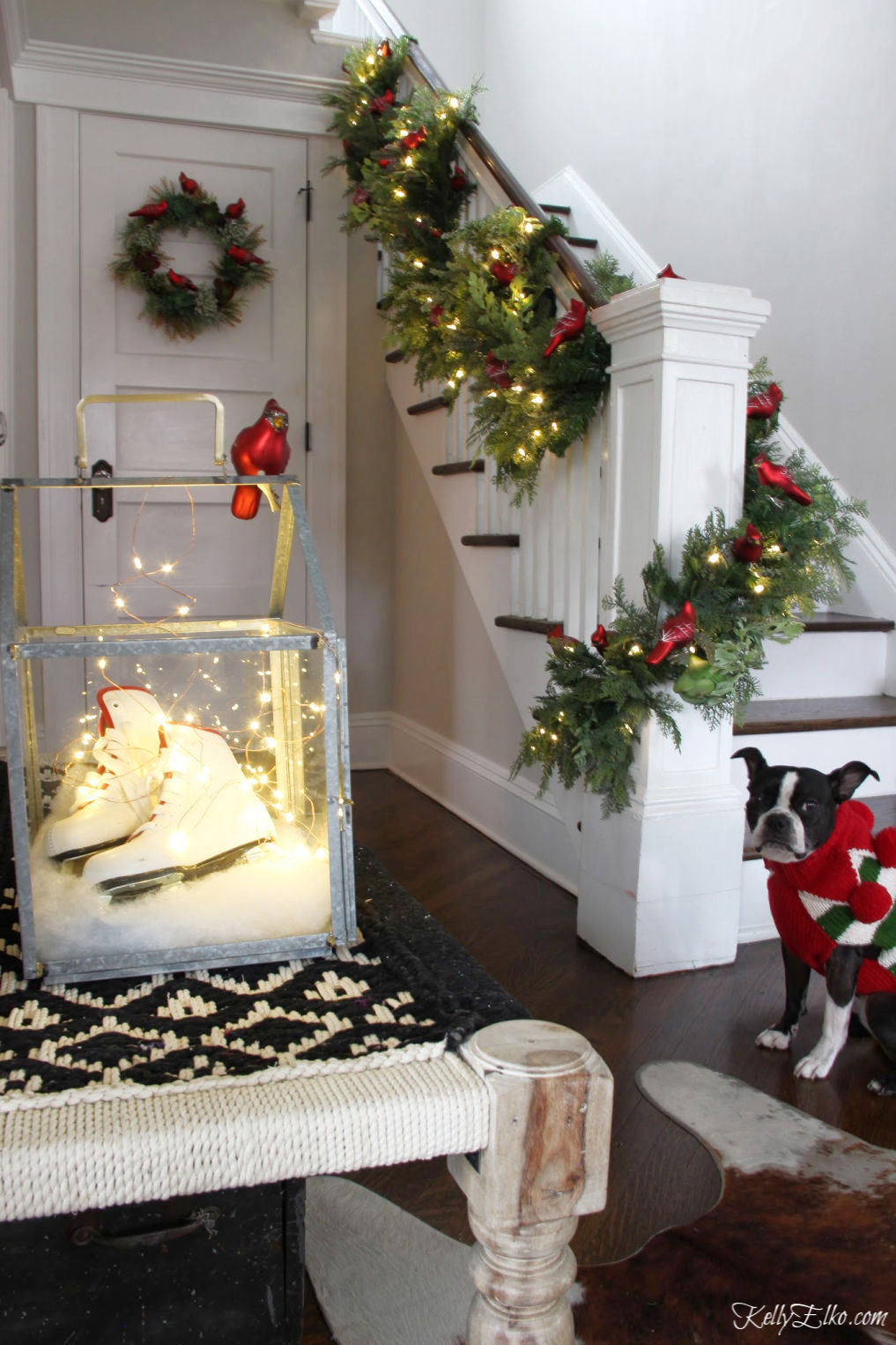 Clear Glass Christmas Ornaments
I loved the look of my "champagne bubble" Christmas trees a couple of years ago and think clear glass ornaments look amazing on their own.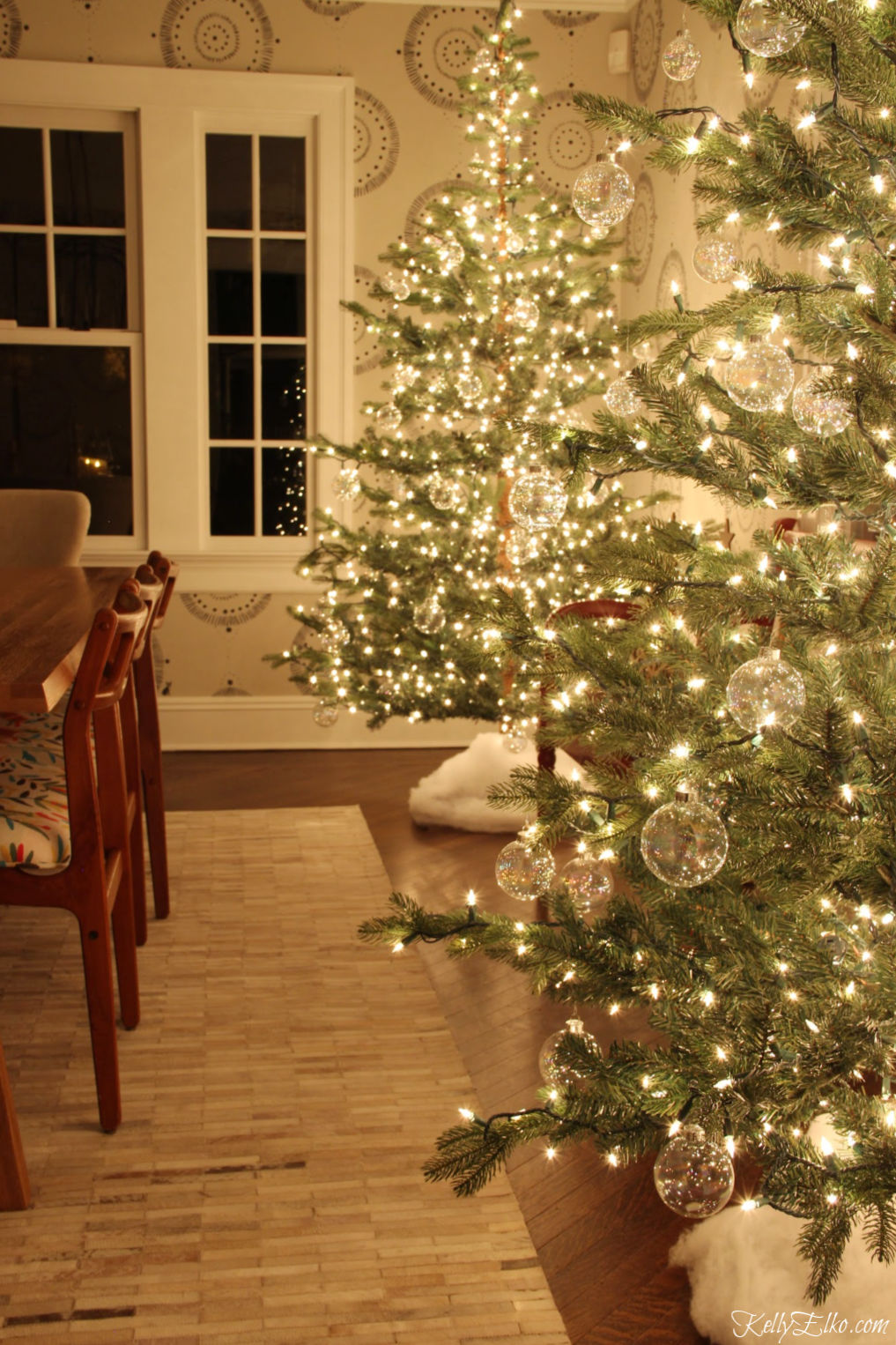 I displayed the same glass ornaments in a big dough bowl.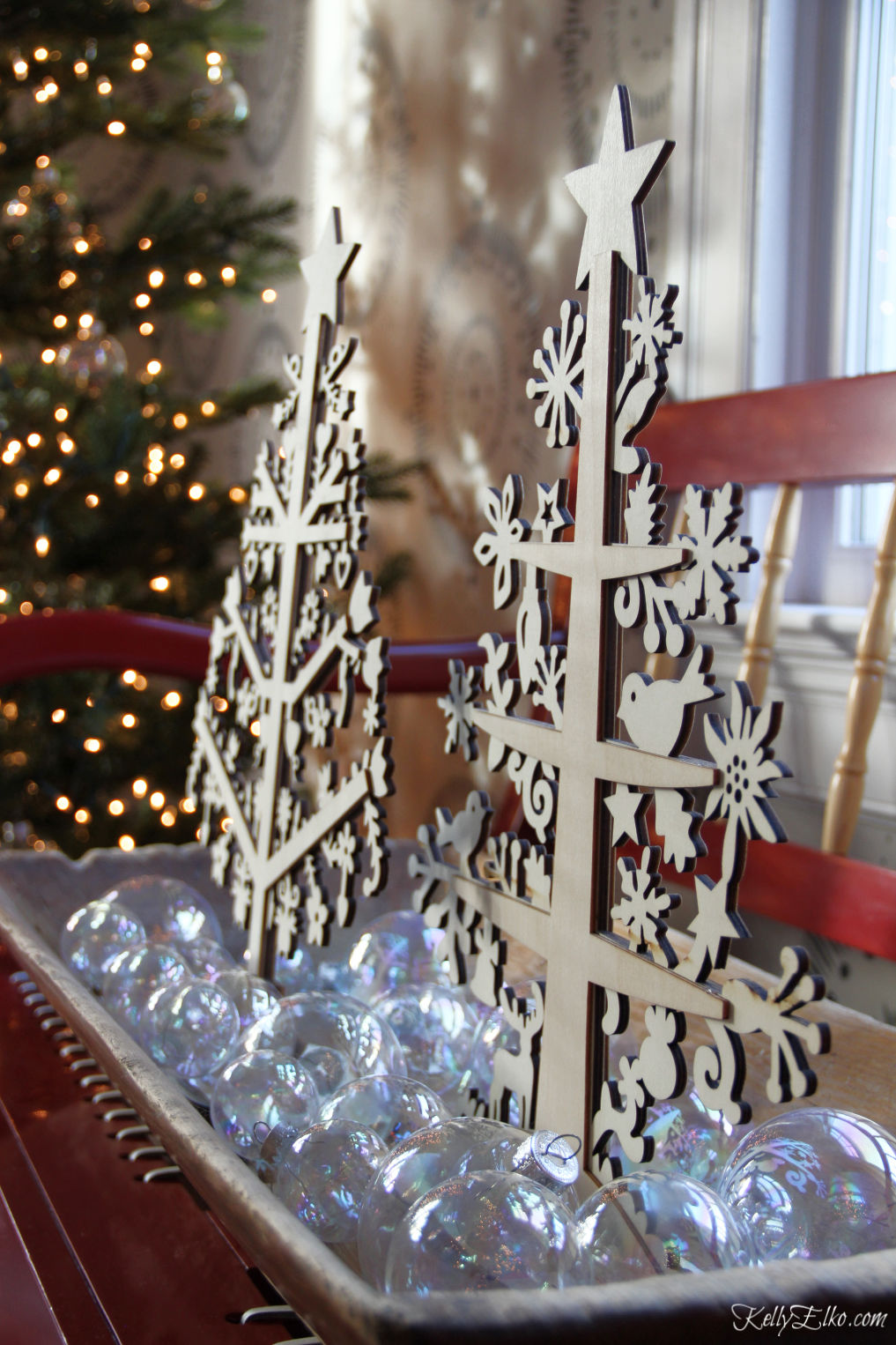 With 11 Christmas Home Tours on this blog under my belt, I have to get creative when it comes to decorating!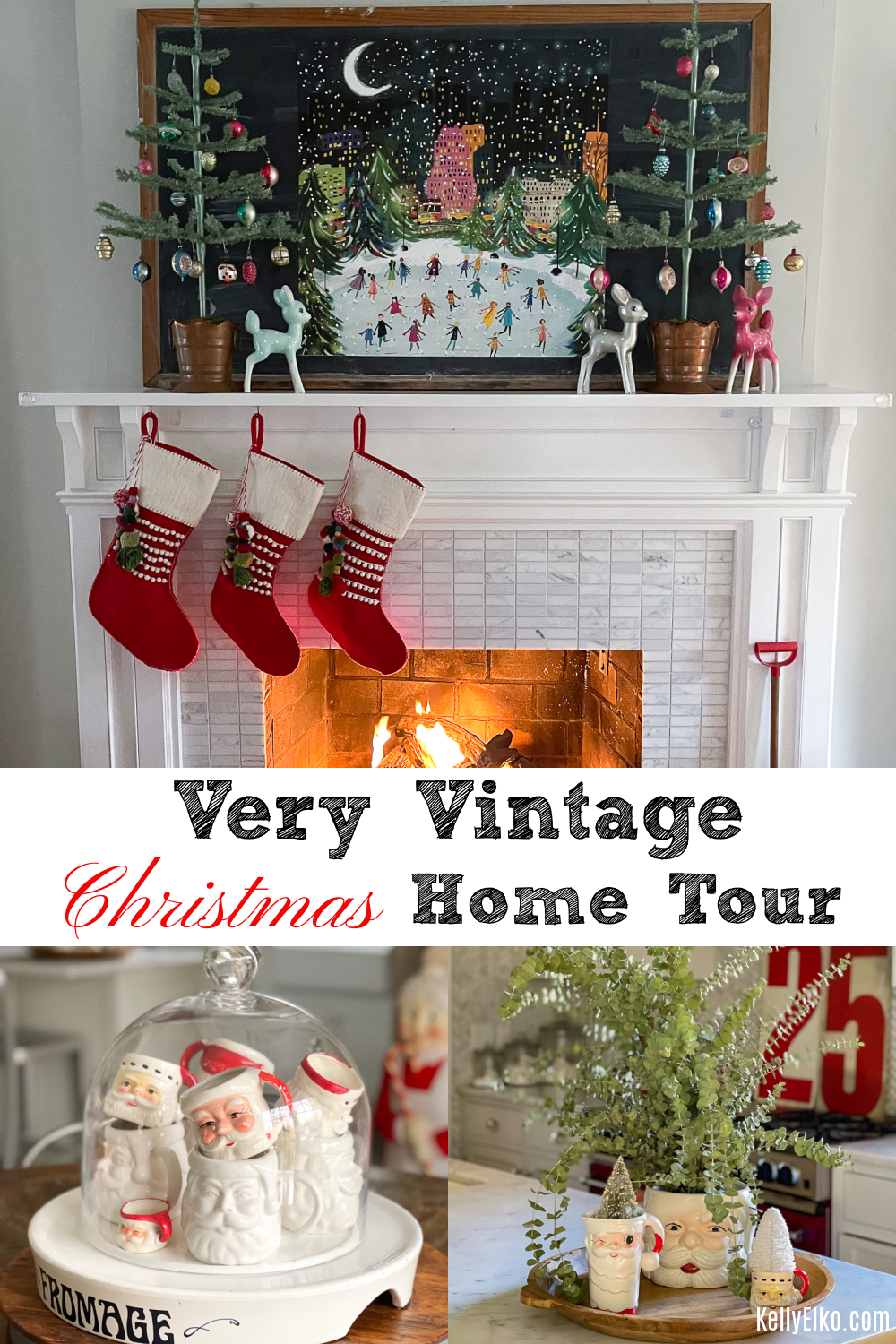 It's fun to reimagine what I have every year and I always seem to surprise myself!
I hope you got some ideas for reusing and repurposing what you already own.