12 Years of Christmas – The Best of My Christmas Home Tours!
I'm going where no blogger has gone before! I am taking you on a stroll down Christmas memory lane and sharing my past 12 years of Christmas Home Tours! I'll share the good, the bad, and the ugly (sometimes very ugly)! But one thing you will get is TONS of Christmas decorating inspiration because each tour has some very unique ideas that you can mix and match and use in your decorating! Plus, you'll see the progression of my decorating style and how it's evolved over the years. So hop into my magical sleigh and lets head back to my best Christmas home tours.
This post contains affiliate links which means if you make a purchase, I may earn a small commission at no extra cost to you.
It's hard to choose between this mantel and last years but I always tend to favor my most recent one! I usually don't use garland on my mantel but when I found this realistic looking faux garland, I had to use it. When I found this gingerbread house doormat, I knew it was too pretty to wipe feet on!
Things I loved about this tour:
Santa mug collection / Vintage putz house display / Santa & Mrs. Claus blow molds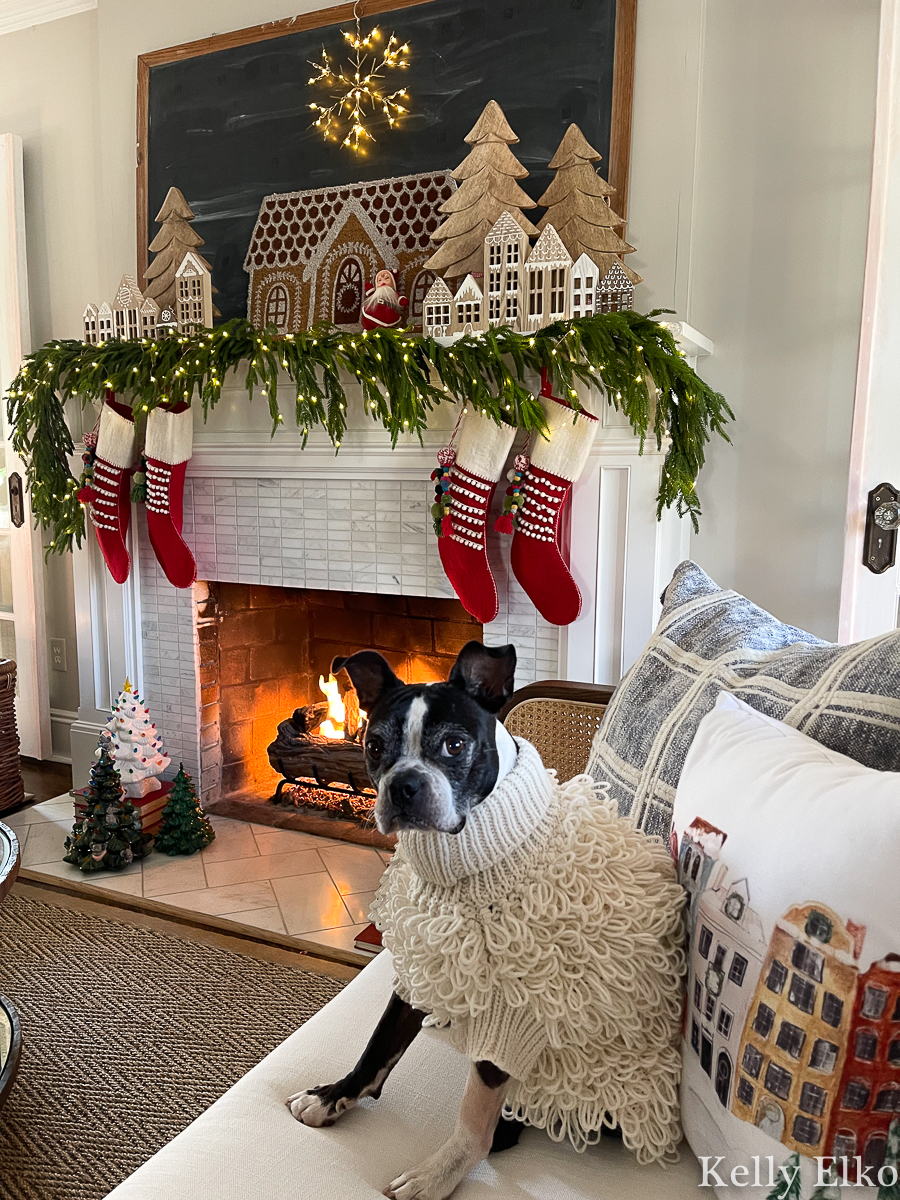 This mantel started with a page torn from a calendar and enlarged! The colorful skaters combine with colorful Shiny Brites to create a whimsical winter wonderland. It's hands down one of my favorite mantels of all time.
Things I loved about this tour:
Vintage Christmas tray gallery wall / Putz house and ceramic Christmas tree display / Huge trough filled with vintage Shiny Brites!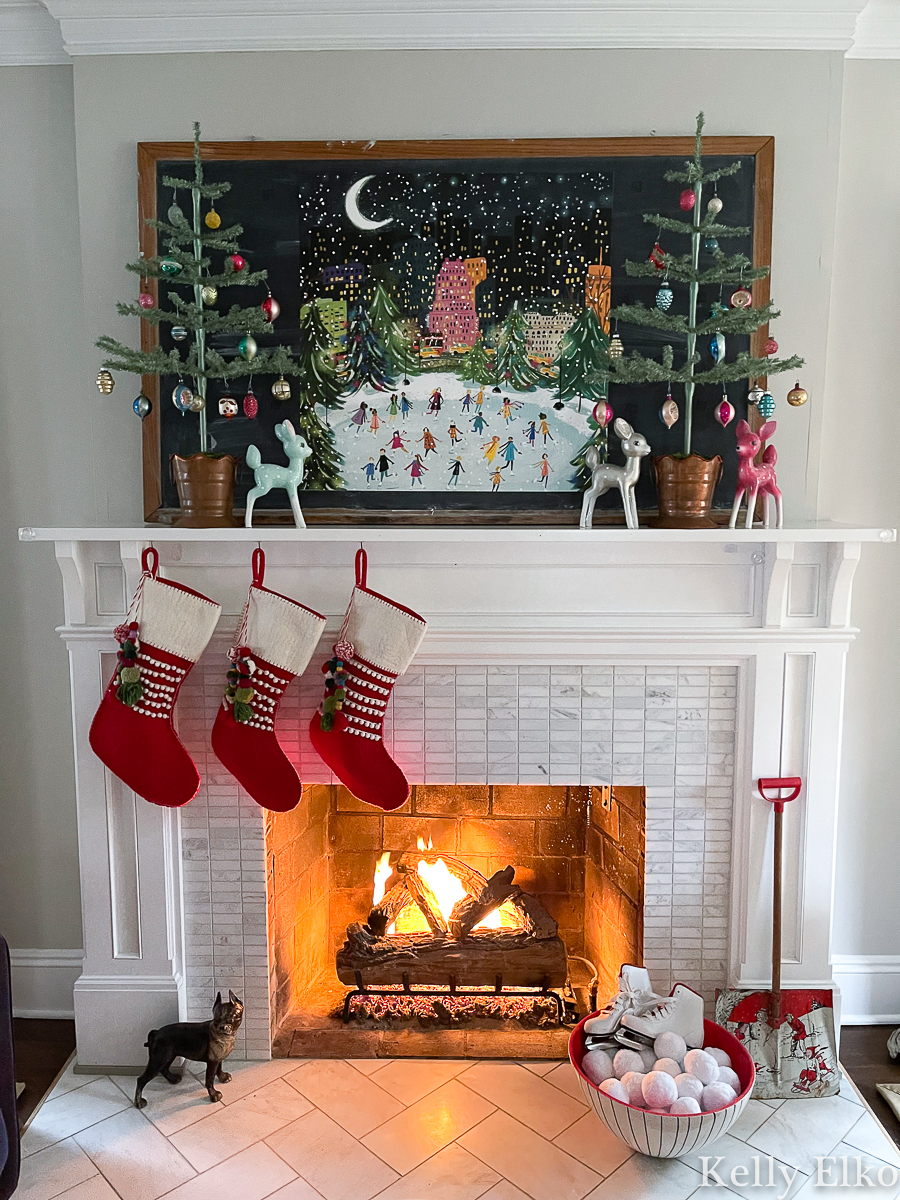 I'm still in love with this mantel featuring an adorable elf blow mold, and vintage metal numbers (from a gas station?). I would not change a thing about it.
Things I loved about this tour:
Old bowling pin staircase / Old fire truck pedal car tree stand / Mushroom tree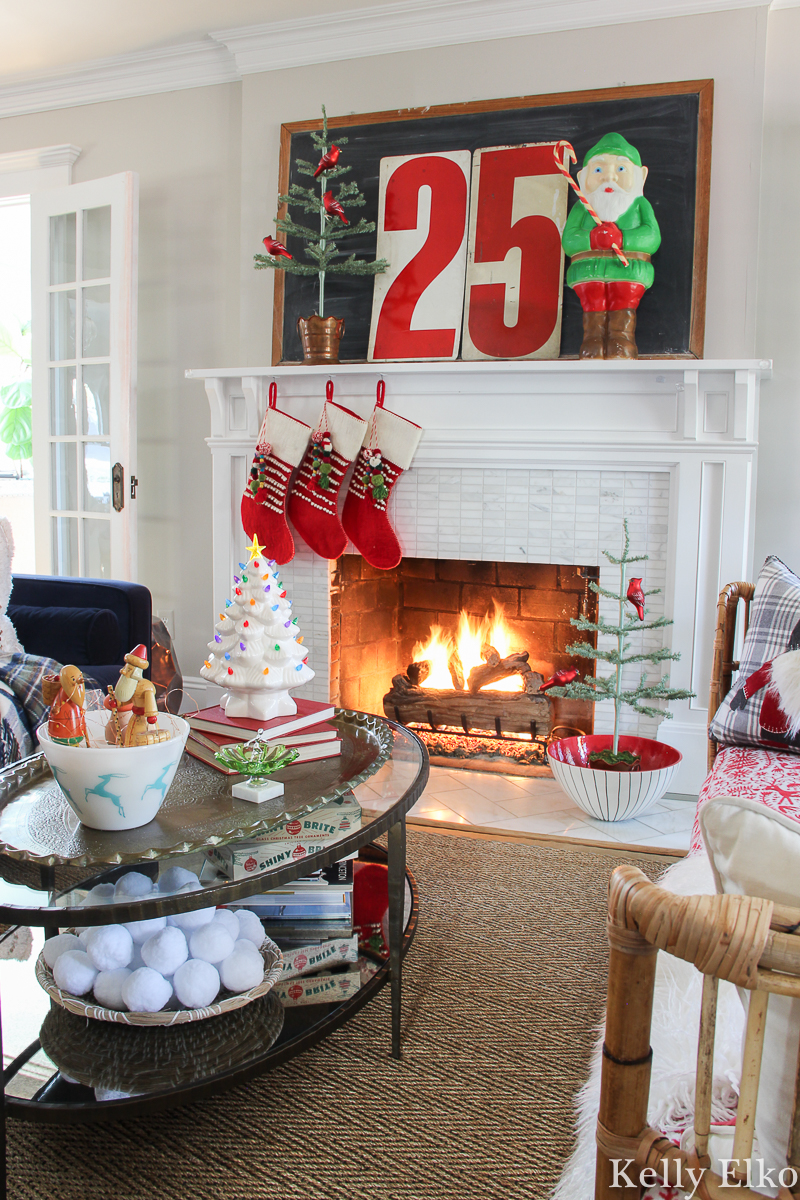 I really love this mantel  but I would probably remove the house shaped lanterns if I had to do it over again. The art is a piece of flat wrapping paper that I taped to a chalkboard. I love the little red pedal car too!
Things I loved about this tour:
Bottle brush tree Christmas tree / Advent calendar tree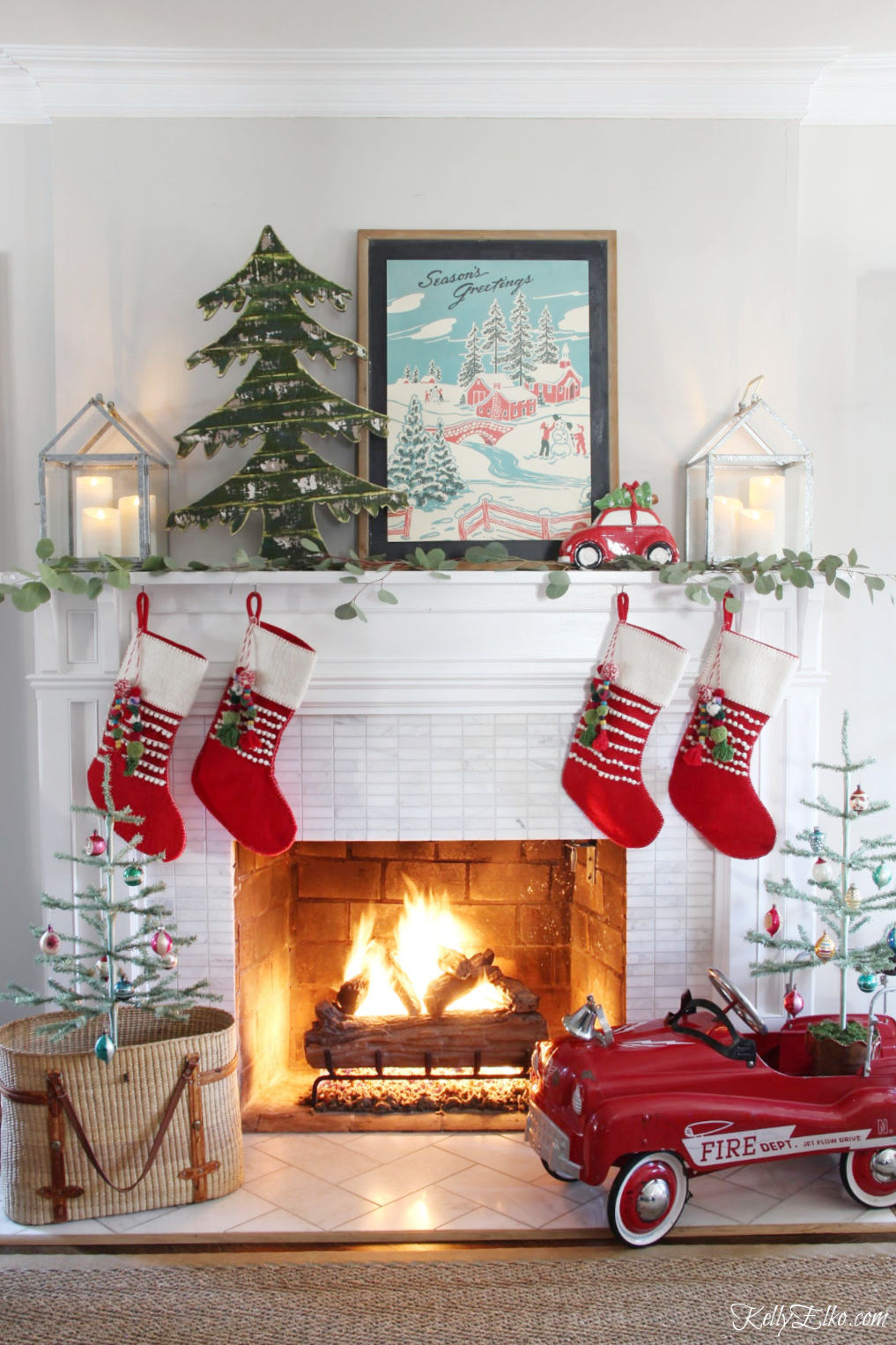 This is the mantel that broke the internet! It was also in the pages of Better Homes & Gardens magazine (along with the rest of my Christmas house)! I would remove the two glass jugs on the hearth though.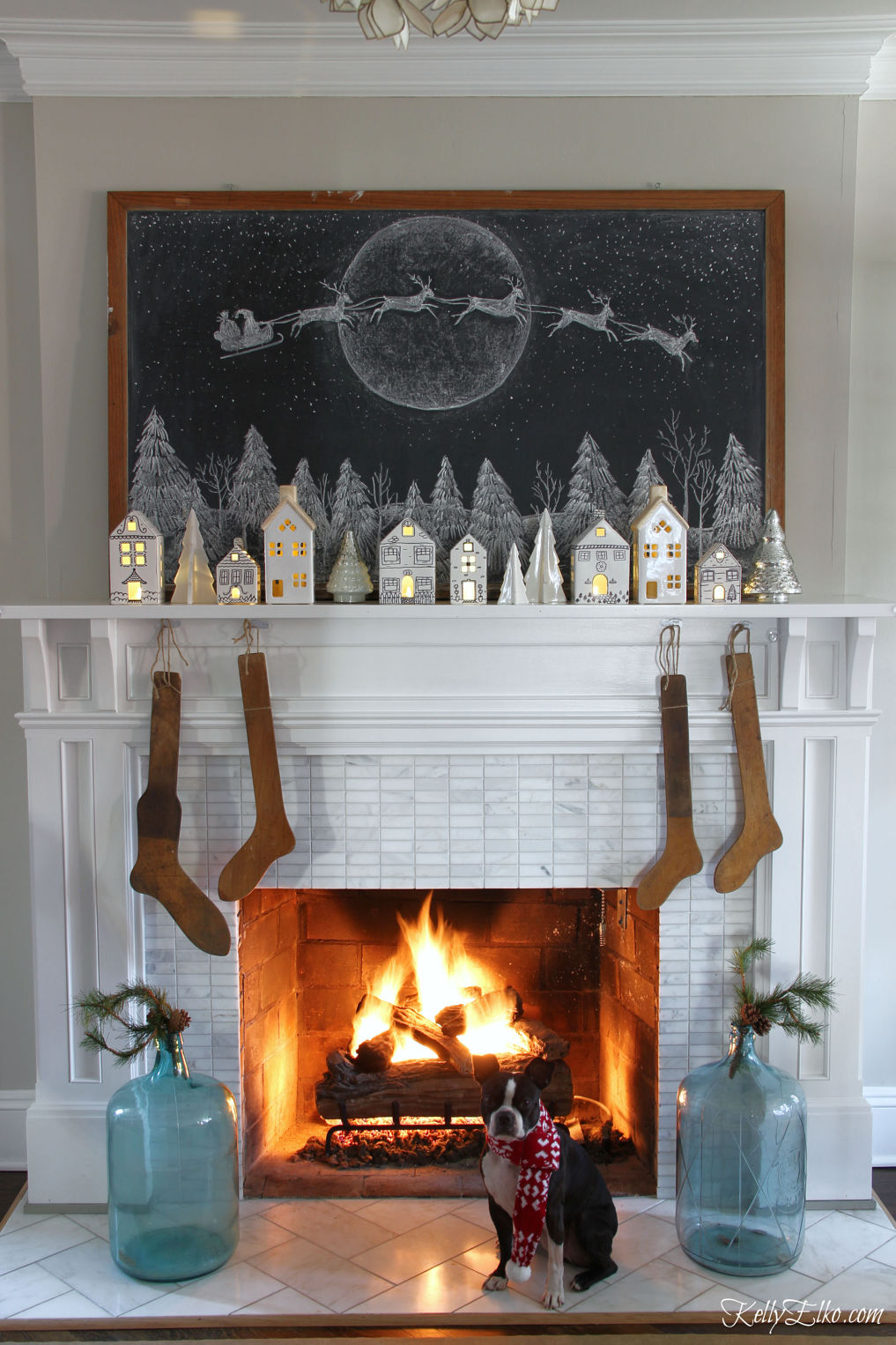 This is the year I got my giant chalkboard and my red pom pom stockings both of which you can still see in this year's mantel!
Things I loved about this tour:
First year I put a pair of sparse Christmas trees in my dining room / Antique typewriter note to Santa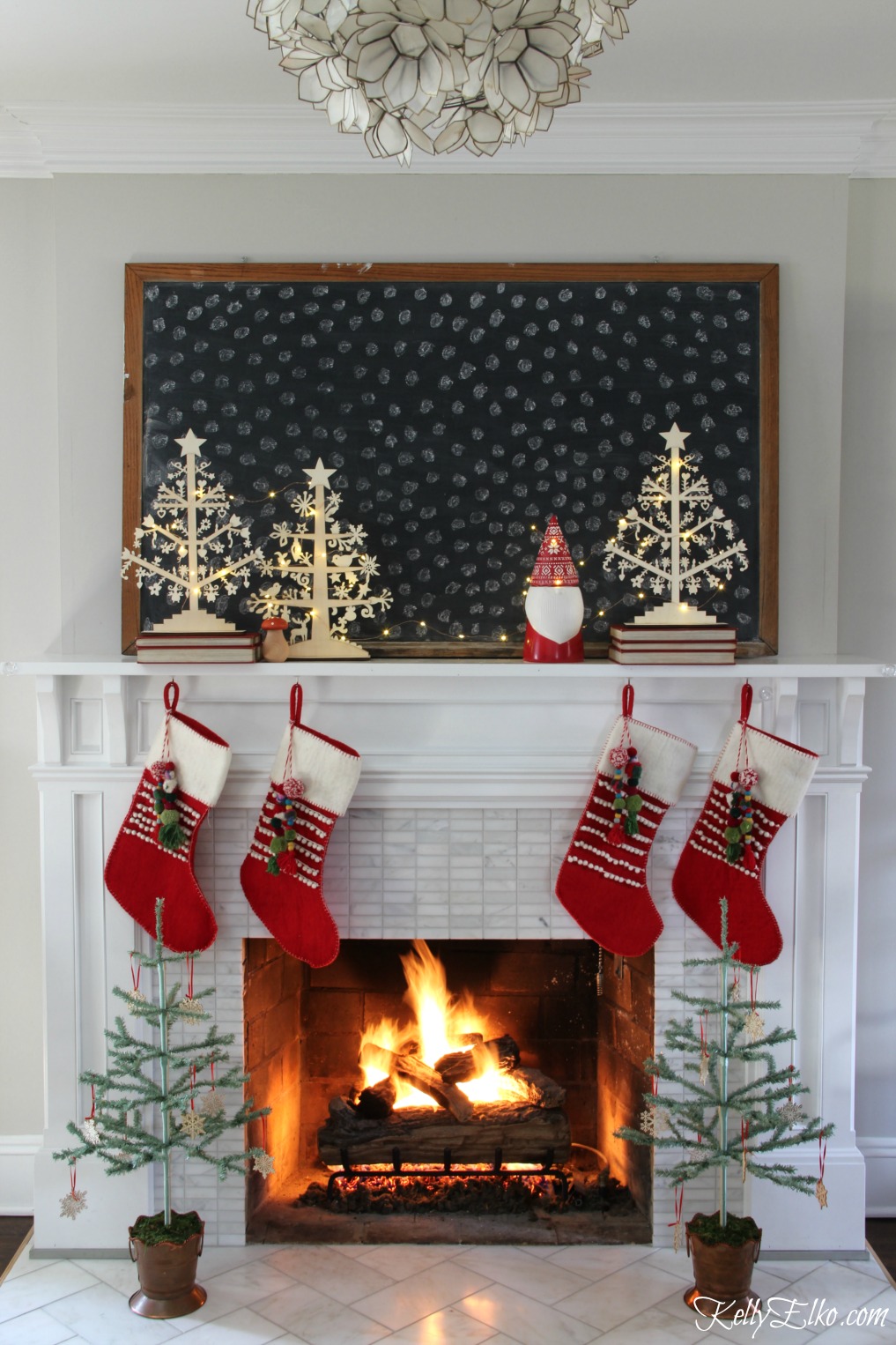 This mantel is not my proudest moment! There is just way too much going on (I stenciled a big piece of wood as a backdrop to too much stuff)! The best part is Sushi in her little striped hat!
What I love about my 2016 Christmas tour:
Gnome and mushroom centerpiece / Staircase garland with wood snowflakes / Tree in vintage cooler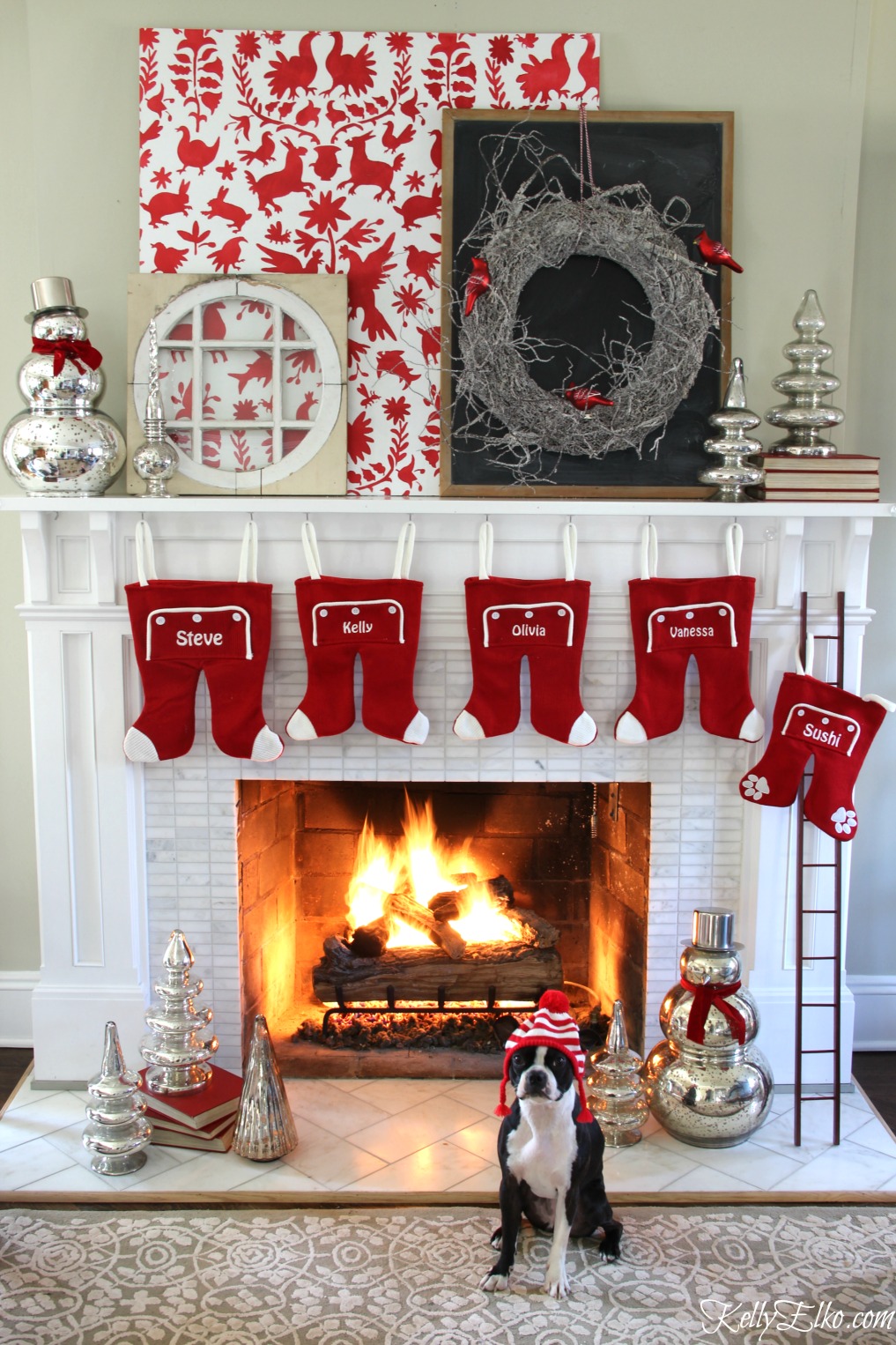 I loved the little red car cookie jar driving across this mantel and the flock of cardinals in the trees but the star of the mantel is my dog Sushi who was just a puppy in this photo! As you can see from the watermark, my blog name was different back in the day too.
What I love about my 2015 Christmas tour:
Old wood Pepsi crate centerpiece / Paper stars on stair railing / DIY winter village wreath that you can see here.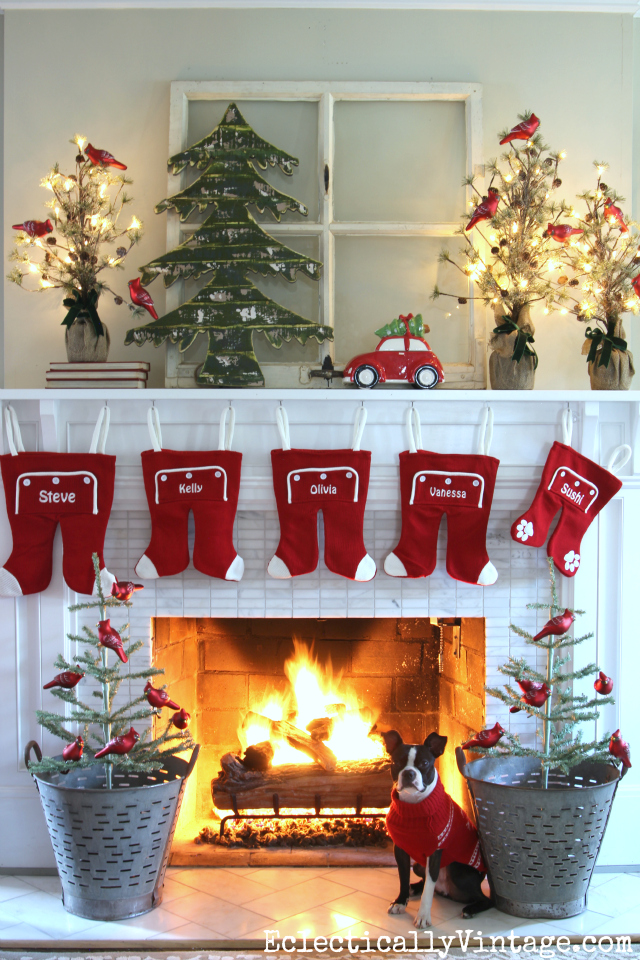 I thought I was so creative when I used a tree skirt as art over my mantel but I wish I had ironed the darn thing! I like the sled but what is up with that random log covered in lights?!
What I love about my 2014 Christmas tour:
Not a creature was stirring staircase / Vintage folding ruler stars / Antique lantern wreath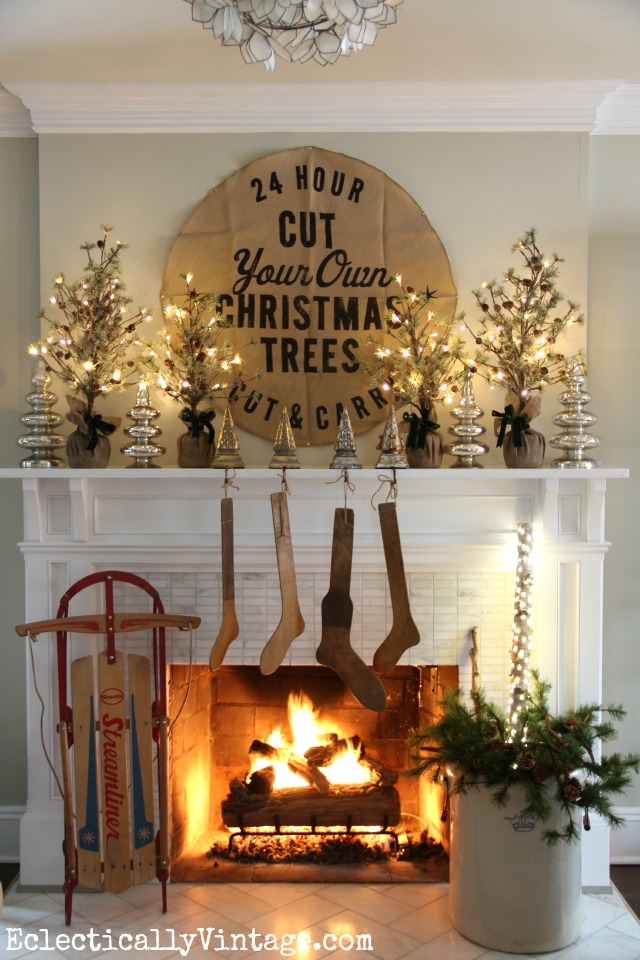 When I found that JOY marquee sign, I had to figure out a way to hang it while hiding the wires so I stenciled birch trees onto a pallet and voila! I also spray painted some metal stockings but I'm not a fan of that very unrealistic looking garland.
What I love about my 2013 tour:
Vintage hand mirror ornaments / Peace on Earth globe / First year I made my winter snow globe jars that you can see here.

I love the antique stocking stretchers and the mercury glass trees but I think there is way too much happening on this mantel!
Things I loved about my 2012 tour:
Real branch with ornaments over kitchen window / Snow shovel "wreath"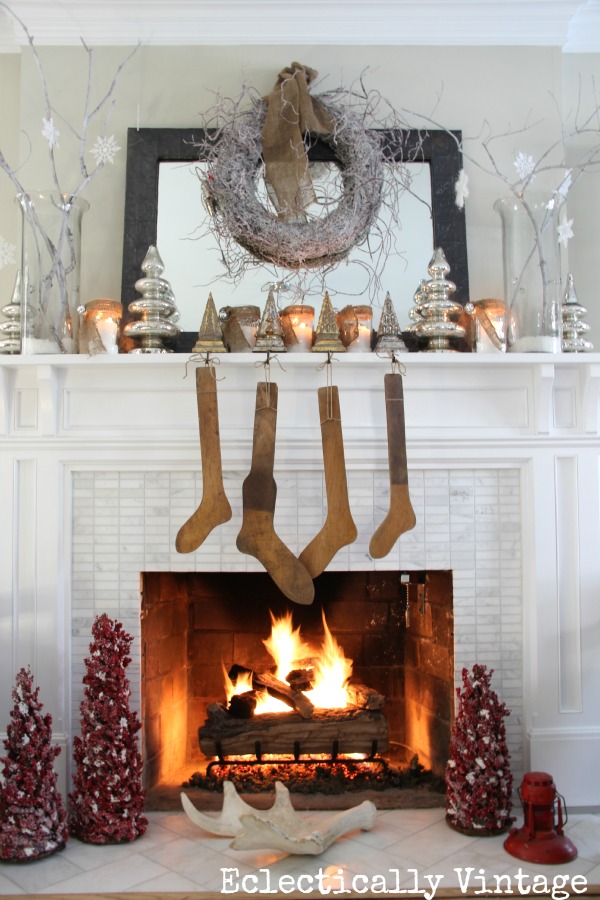 I had only been blogging for a couple of months when I debuted this crazy mantel with an antique green crib mattress as the backdrop which I love but the rest not so much!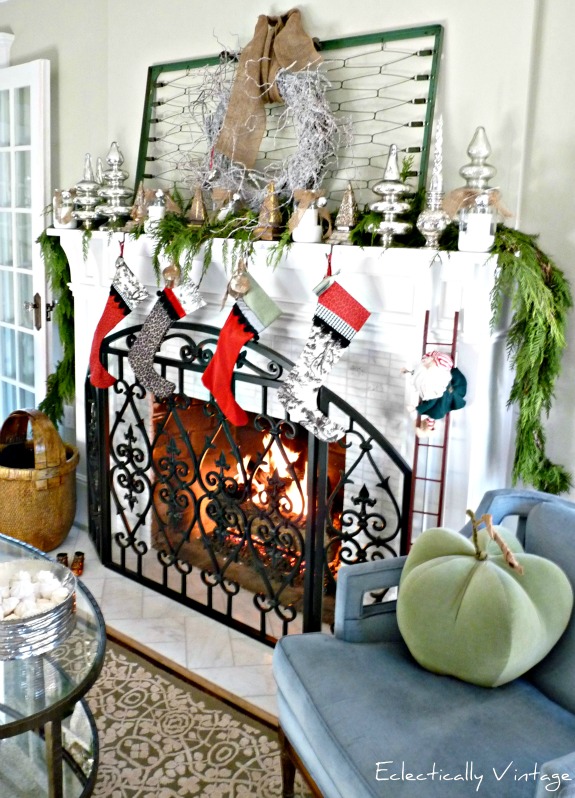 Wow that was a blast from the past!
I can't believe I've created 12 completely different and unique Christmas home tours!
I hope you got some Christmas decorating inspiration (or at least a good laugh or two).