Shiny Brite Christmas – Creative Display Ideas
Calling all vintage Shiny Brite ornament lovers! I've searched all the way up to the North Pole to find the most creatively amazing ways to display your favorite ornaments. These Shiny Brite decorating ideas are Santa approved. I'm also excited to share with you my latest Shiny Brite finds (I hit the motherload)!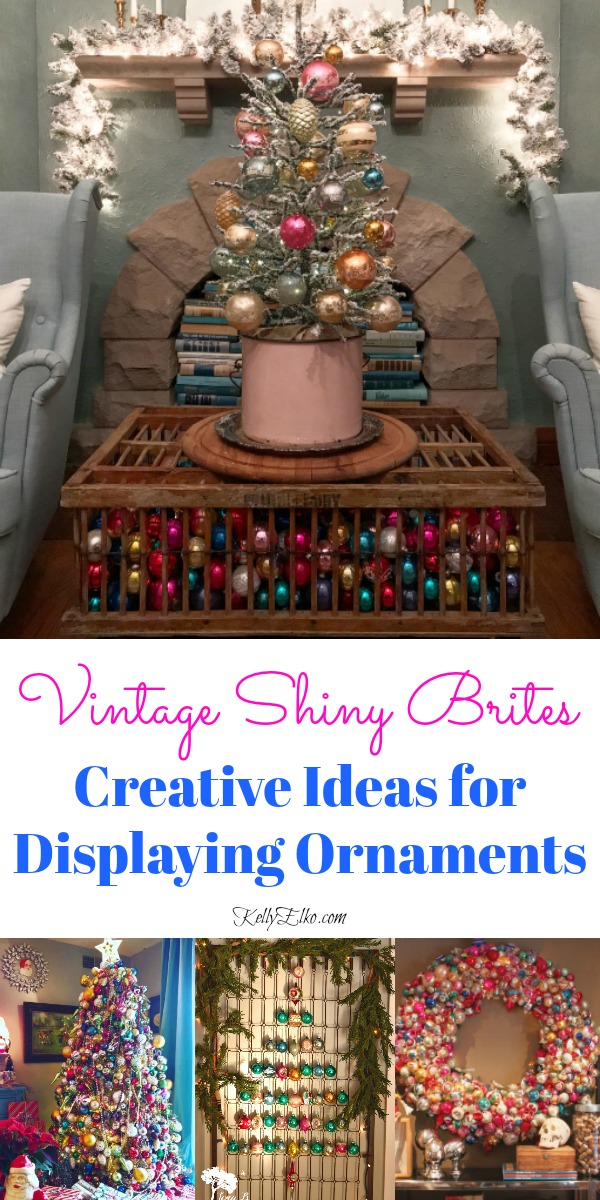 Don't miss this fun little video below showing off some of my favorite Shiny Brites from my huge collection.
This post contains affiliate links which means if you make a purchase, I may earn a small commission at no extra cost to you.
I am always on the hunt for vintage Shiny Brite ornaments and I scored big time on Facebook Marketplace recently. Here are just some of my latest finds …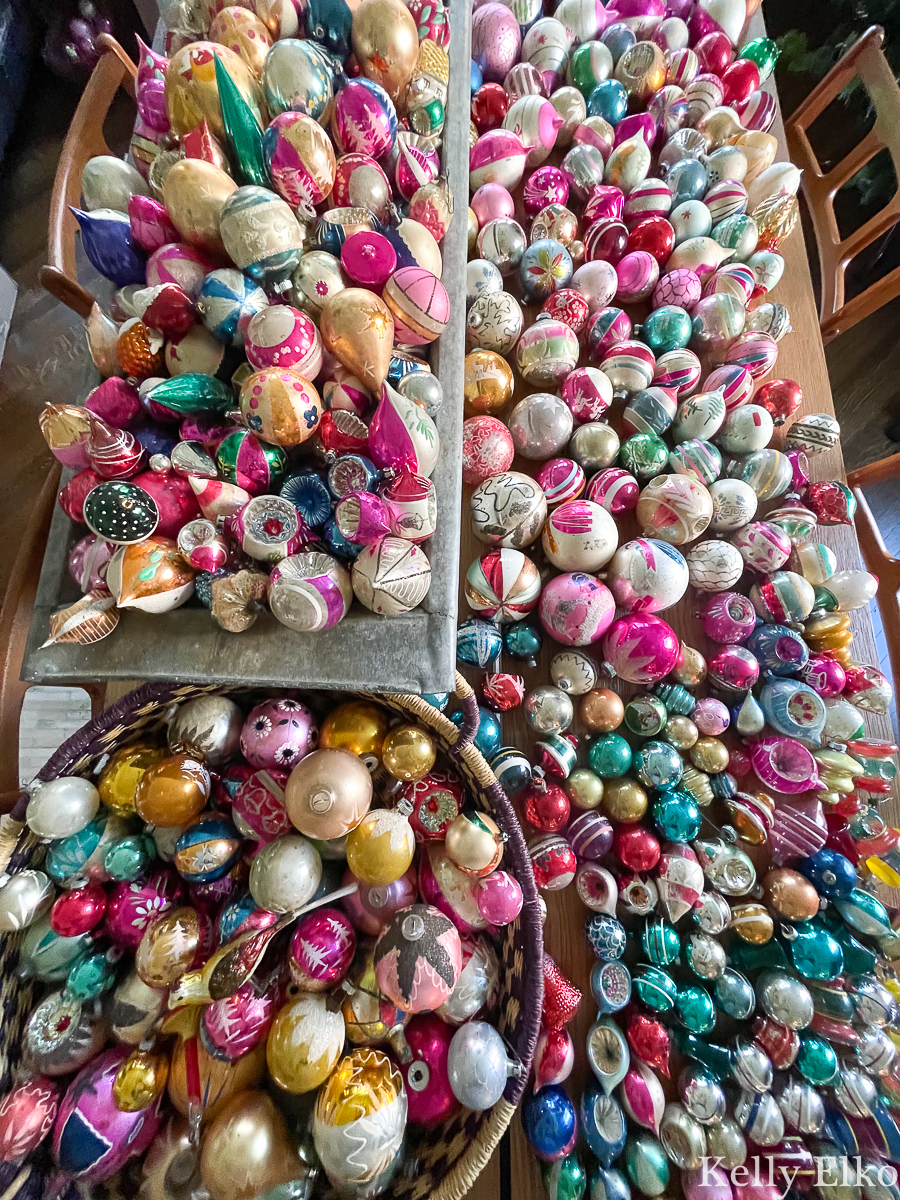 I am on the hunt for the unicorn of Shiny Brites … a jumbo, store display Shiny Brite like this one!
Here's a sneak peek at my Christmas home tour tomorrow which you don't want to miss!
I have so many ornaments, they won't all fit on my trees so I had to get creative. I filled a giant zinc trough with these beauties.
Get my All is Bright vintage ornament dishtowels here (I love using them as napkins).

As you can see, Cloverly Cottage loves Shiny Brite ornaments a lot and she even has the original boxes!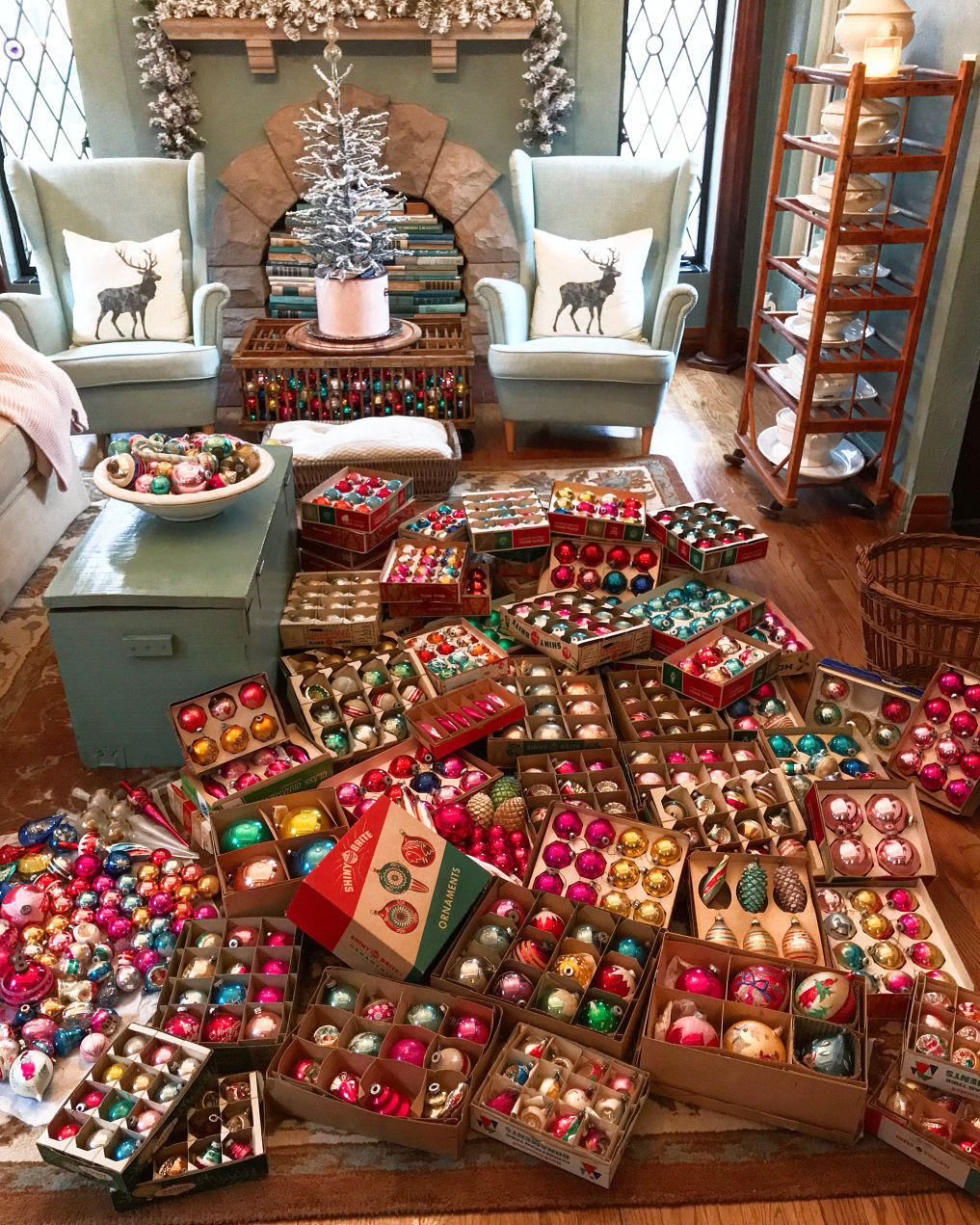 Her wood chicken crate brimming with Shiny Brites is definitely not for the birds! She used mostly plain ornaments as filler for the crate and saved the beautifully stenciled ones for the tree.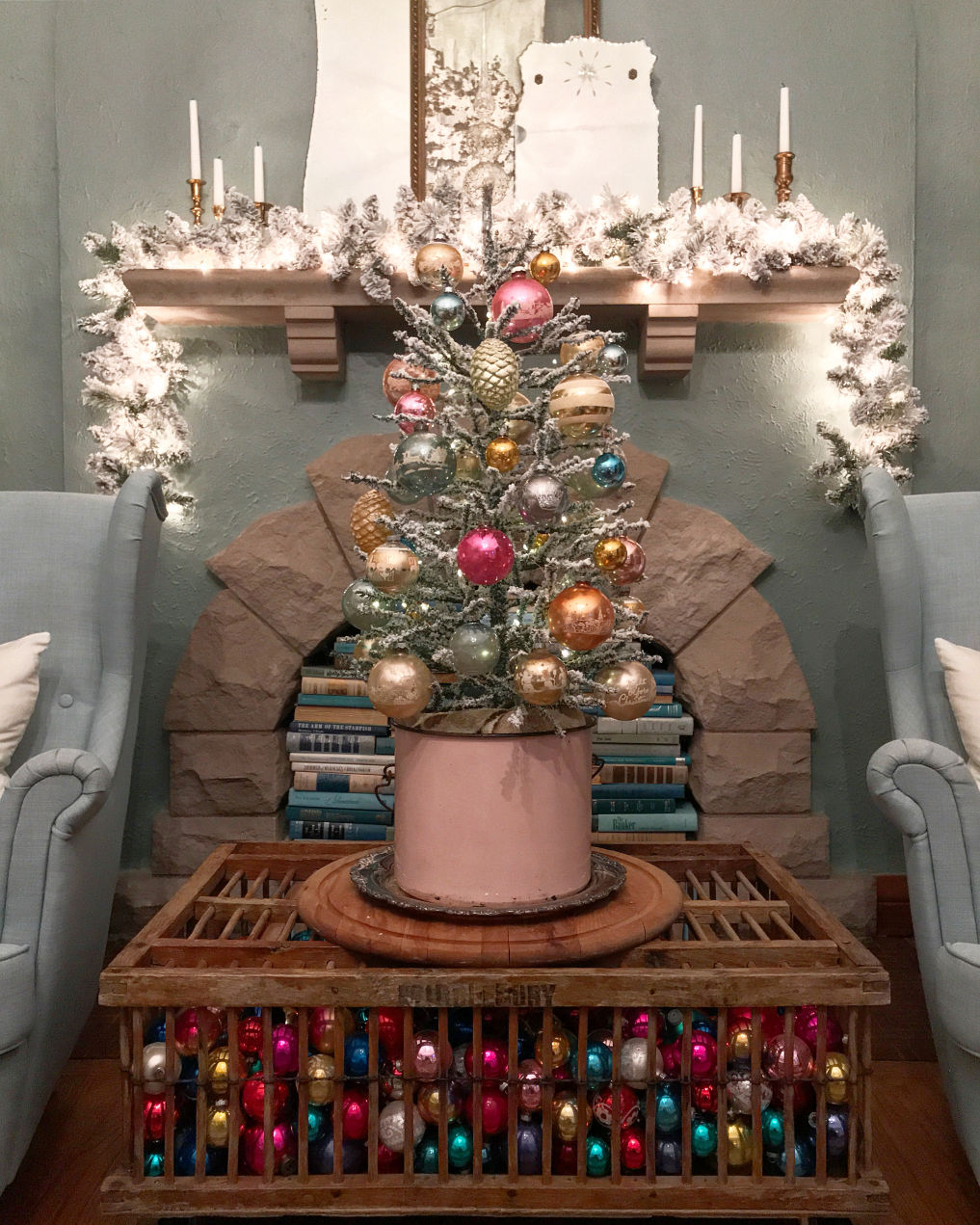 This jaw dropping 4 foot Shiny Brite ornament wreath is incredible and every December James of The Cavender Diaries assembles it on a wreath form. He doesn't use any glue because it would be too large and fragile to move so every March, he removes each and every ornament! I would be tempted to keep it up all year long.
If you don't have enough ornaments to make your own wreath, you can buy one of these beautiful affiliate vintage ornament wreaths.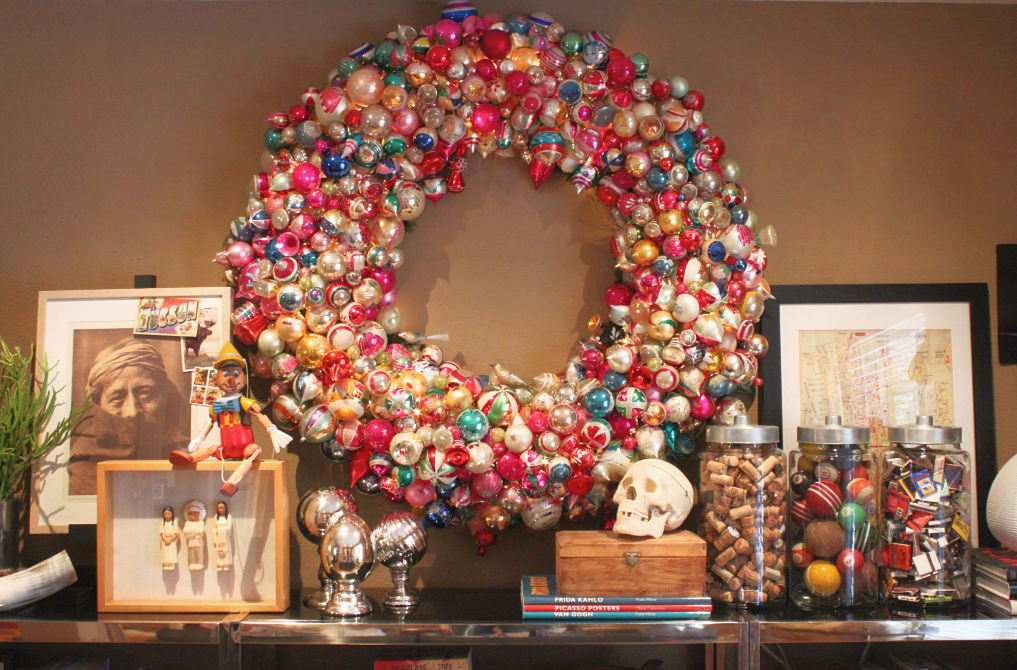 More is more when it comes to Christmas and I do believe there is a Christmas tree underneath that beautiful pile of vintage ornaments from Jeremy Lambertson.
How fun is this Shiny Brite plate wall decked out in vintage ornaments and sprigs of greenery from Lisa Horton.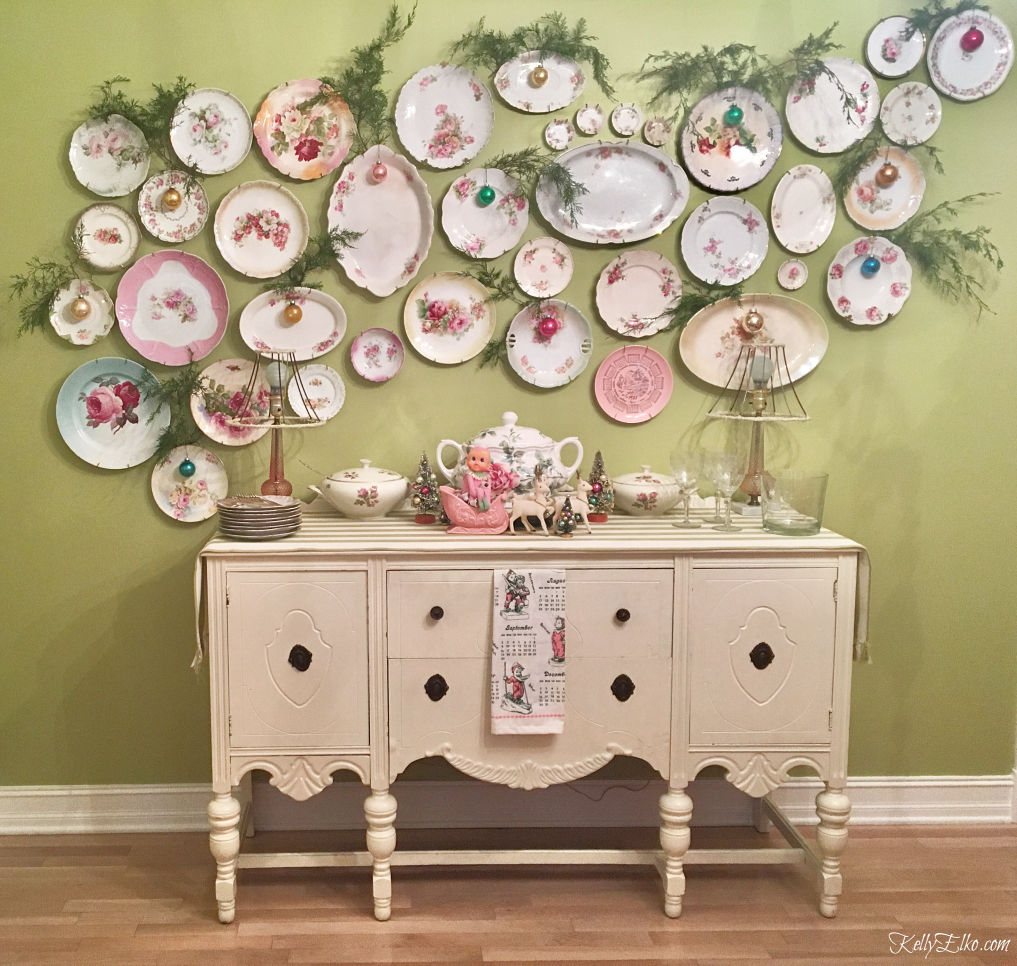 An old bedspring is the perfect backdrop for a Shiny Brite Christmas tree from Lora B.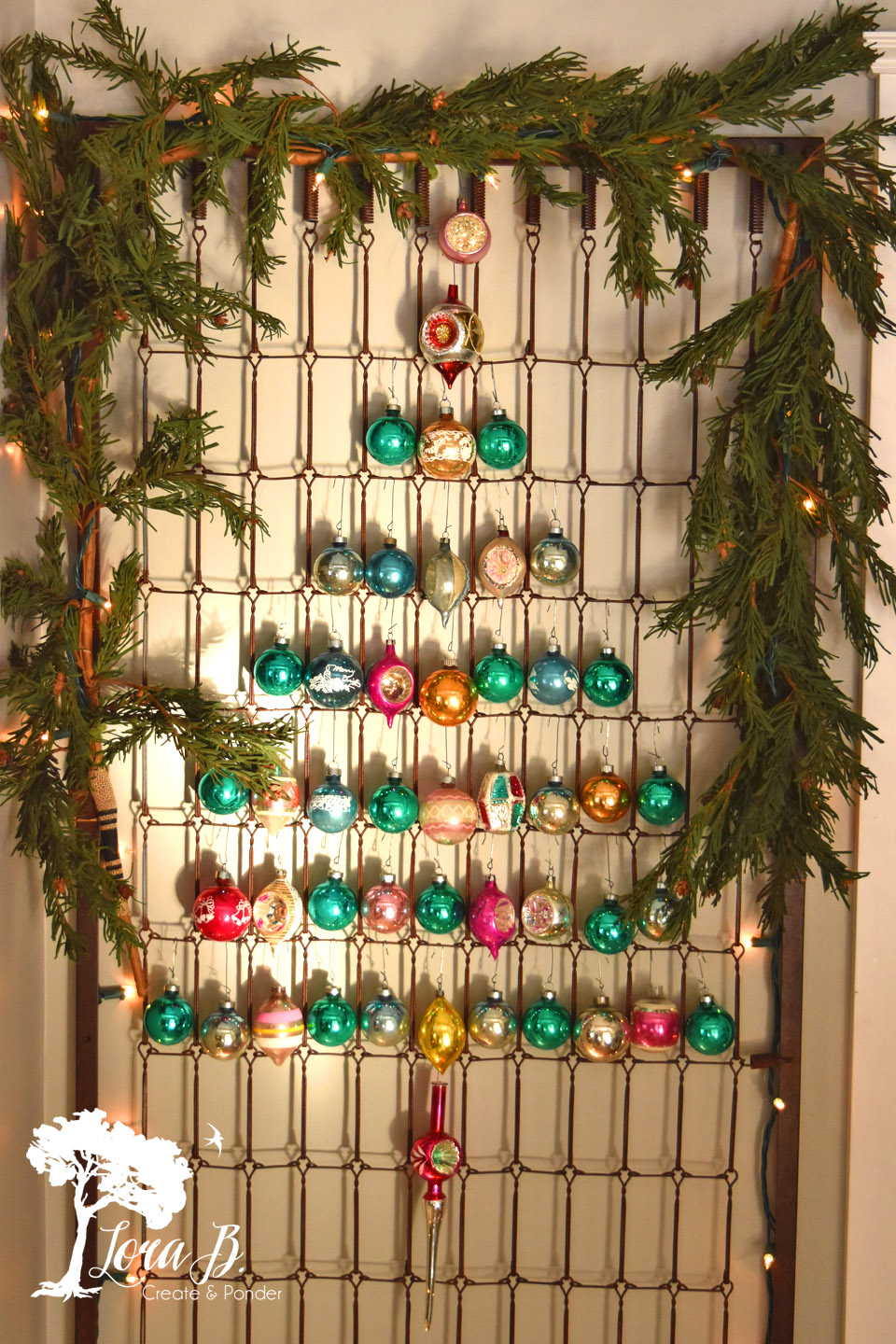 Nancy of The New Country Home fills clear glass jars with a little faux snow for the perfect place to show off a collection of Shiny Brites.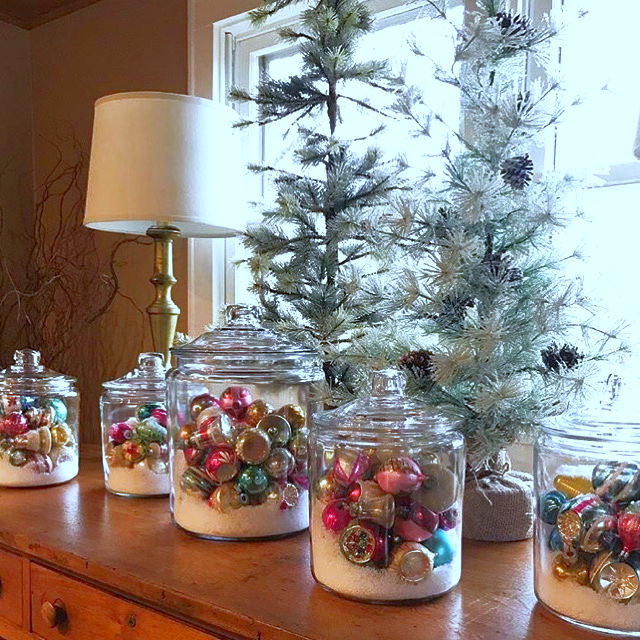 When the boxes are as cool as the ornaments themselves, you display those Shiny Brite boxes both like Erica of Vintage Sister 76 did!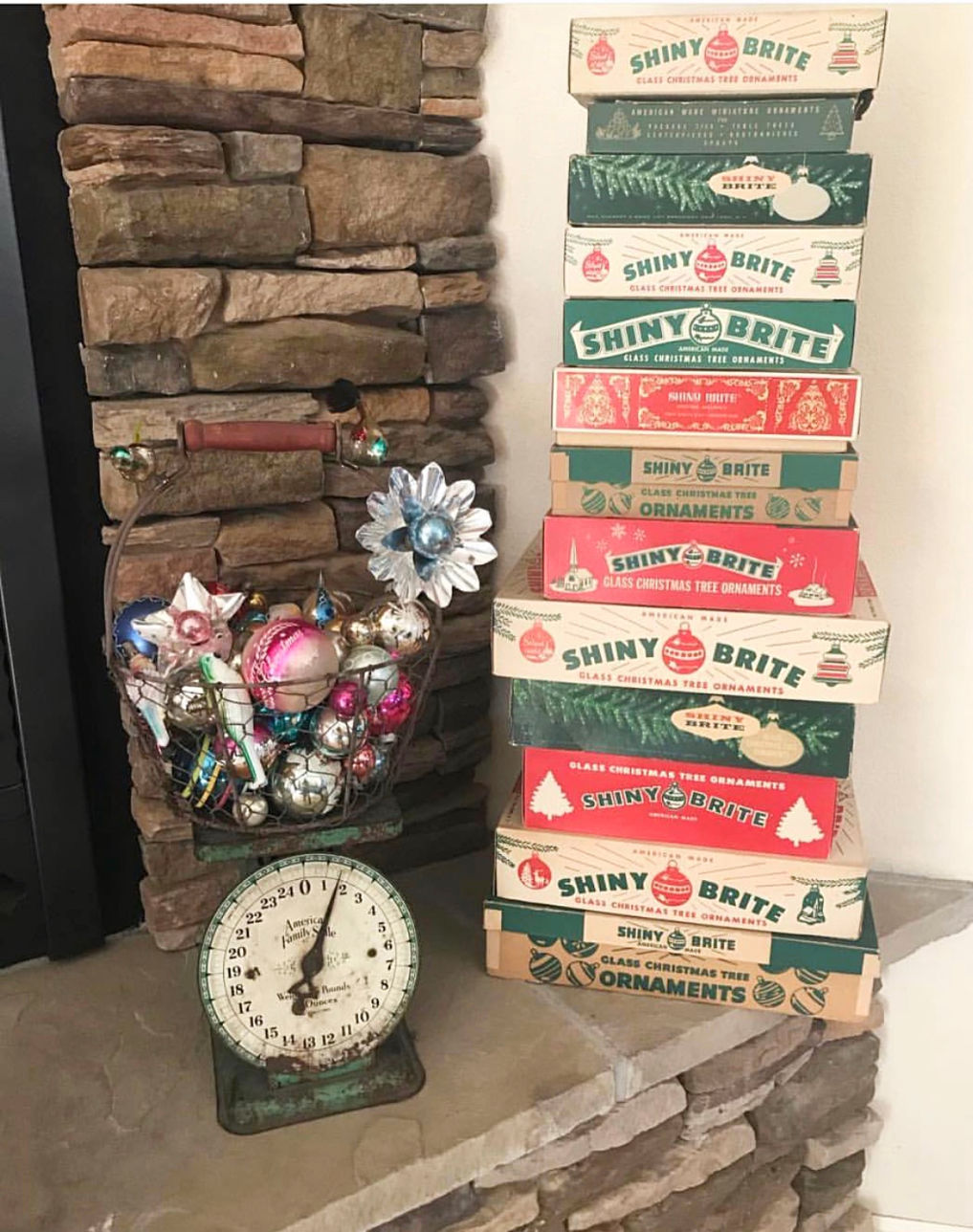 Speaking of displaying ornament boxes, I love the way Cloverhouse Vintage displayed this ornament box filled with ornaments inside a bowl also filled with ornaments!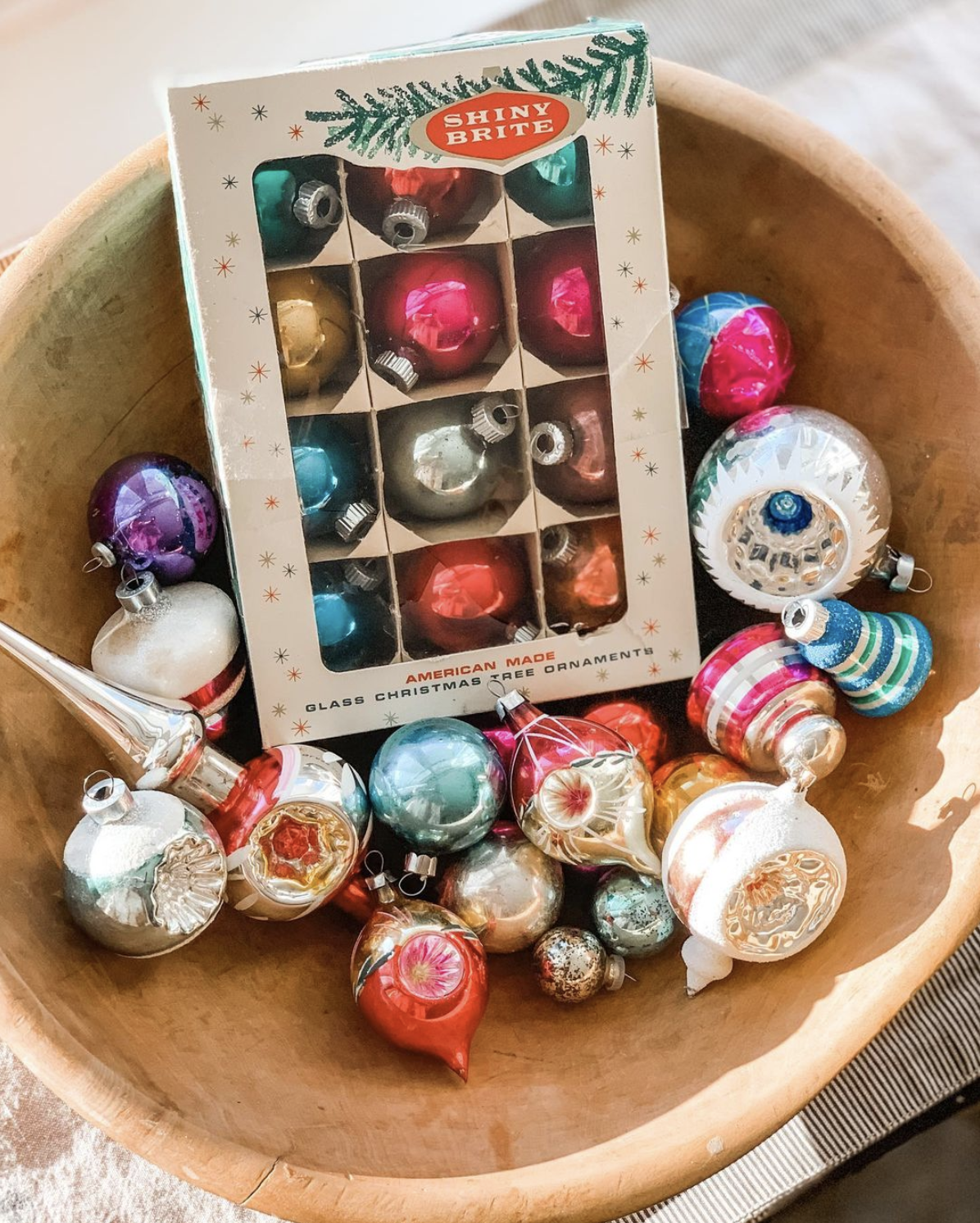 My friend Amy at Atta Girl Says loves pink and aqua and displays her favorite ornaments on a festive pink tree!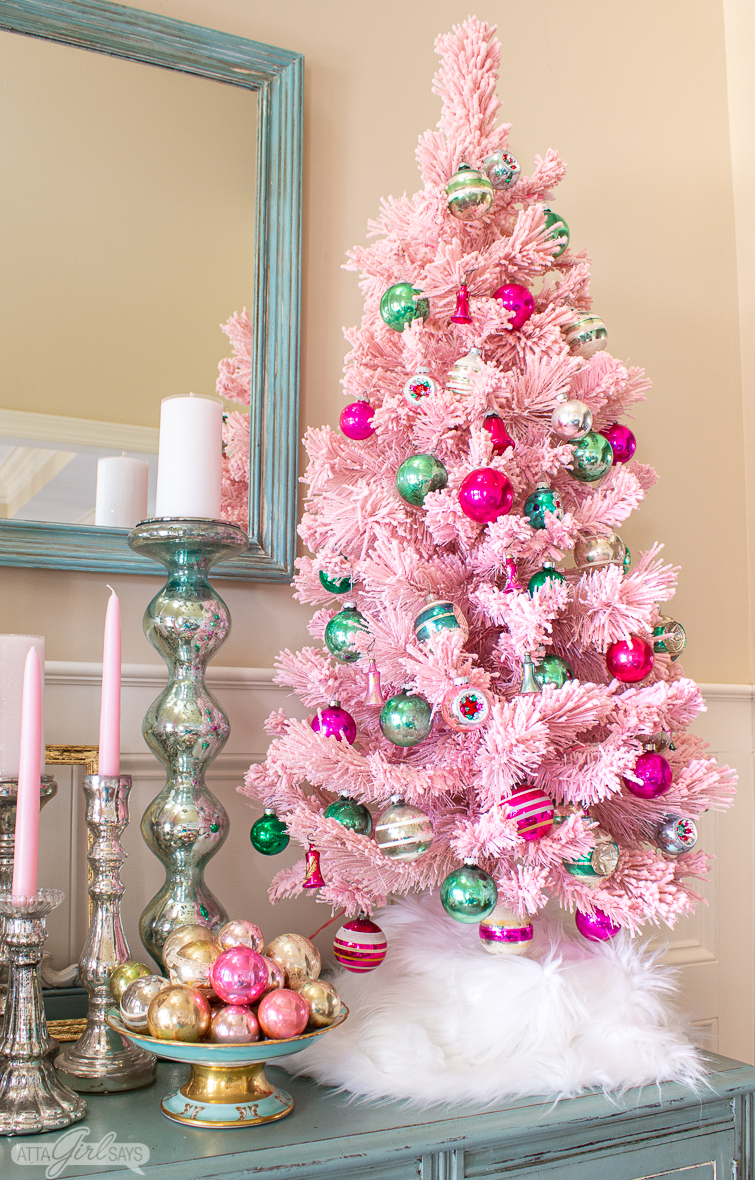 I am desperate to find one of the huge ornaments that stores used for display like this one from Hilary Prall.
This jumbo store display Shiny Brite is a little bit out of my budget!!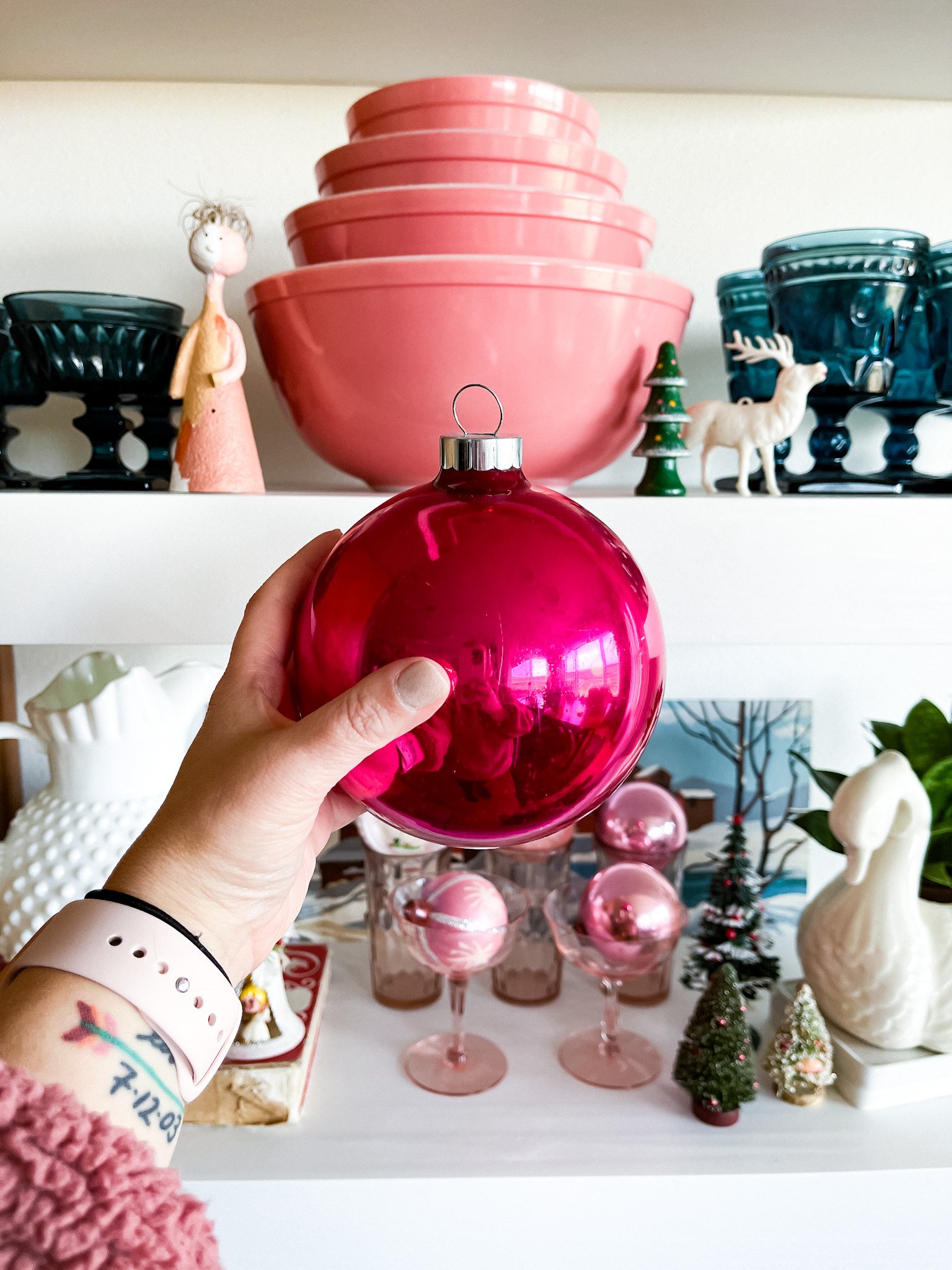 Last year, I covered this huge tree with my entire collection of Shiny Brites! The key is to hang ornaments deep within the branches as well as on the tips for a full, lush and colorful look. Don't for the lights! I strung 1600 lights from this tree and it positively glows. Add a colorful throw blanket around the base of the tree to finish off the look.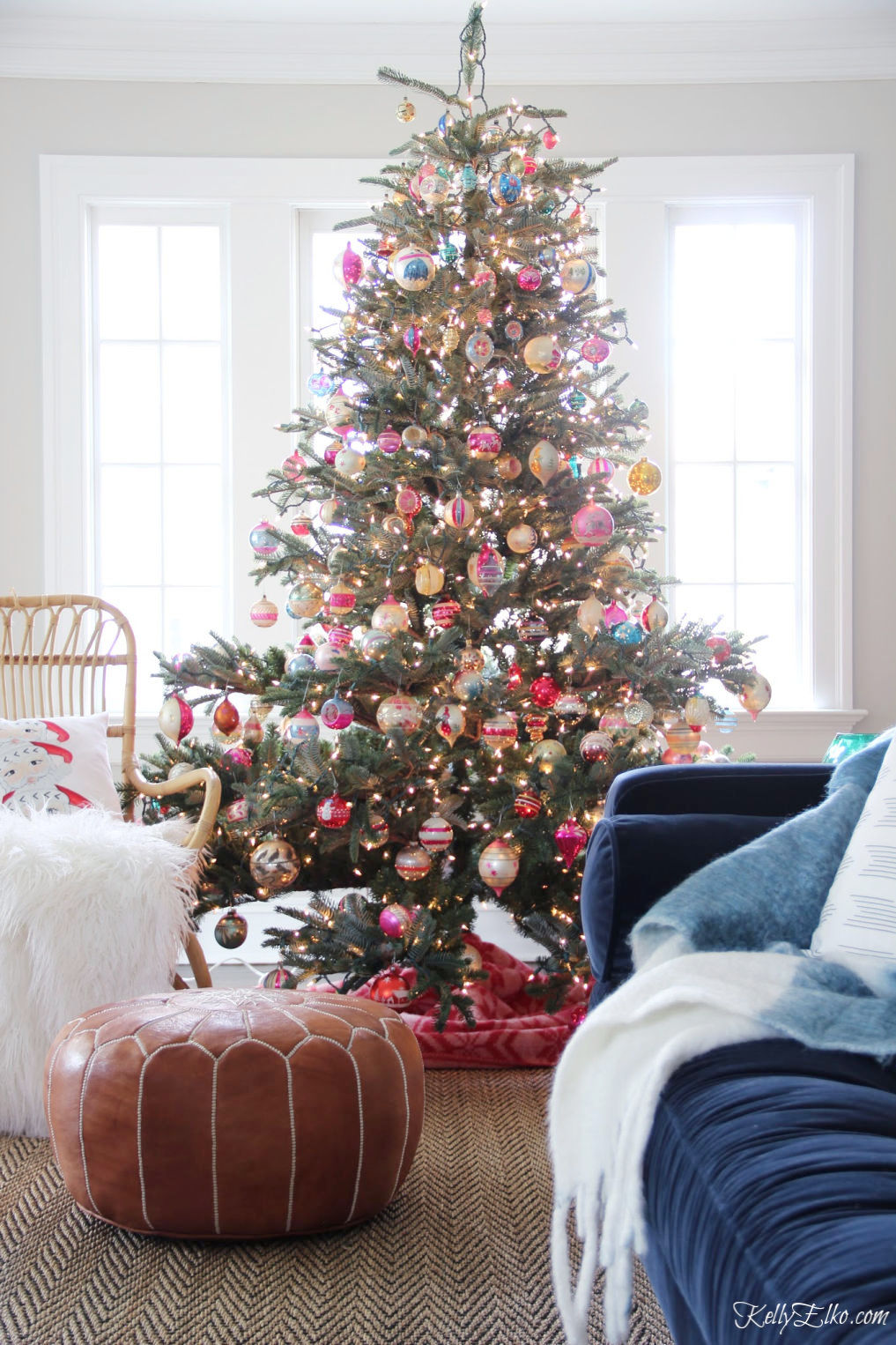 I've never met a Shiny Brite I didn't like as you can see from my twin dining room trees covered in them.
I recommend buying a sparse Christmas tree because their spaced branches are perfect for showing off prized ornaments.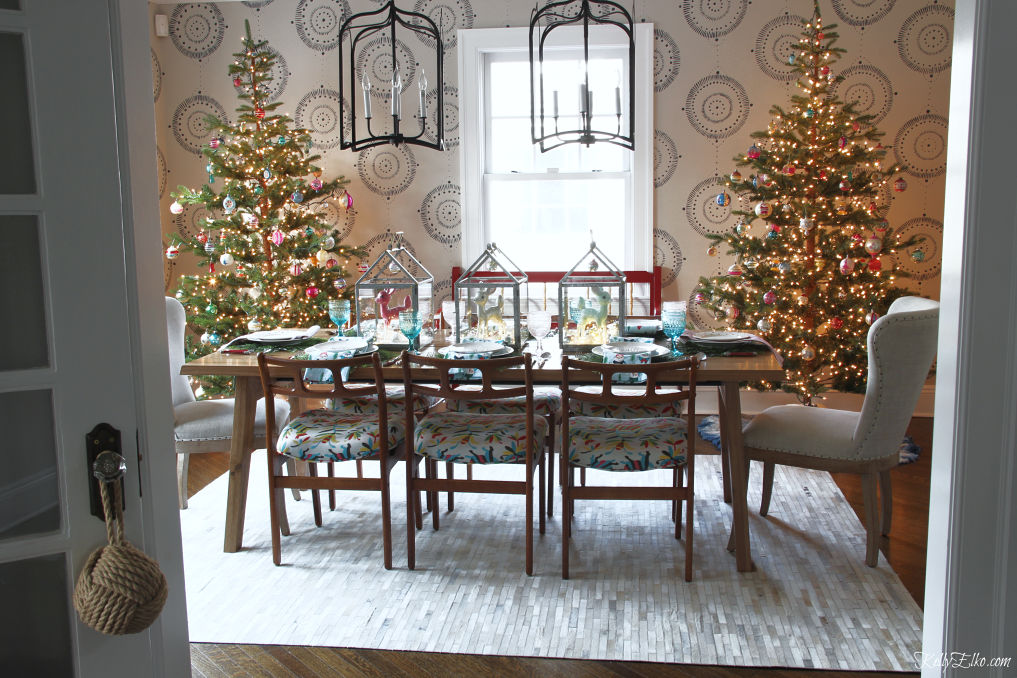 I recommend scouring estate sales (I love looking in basements and garages) for these beauties. Prices have definitely increased recently but deals are still out there!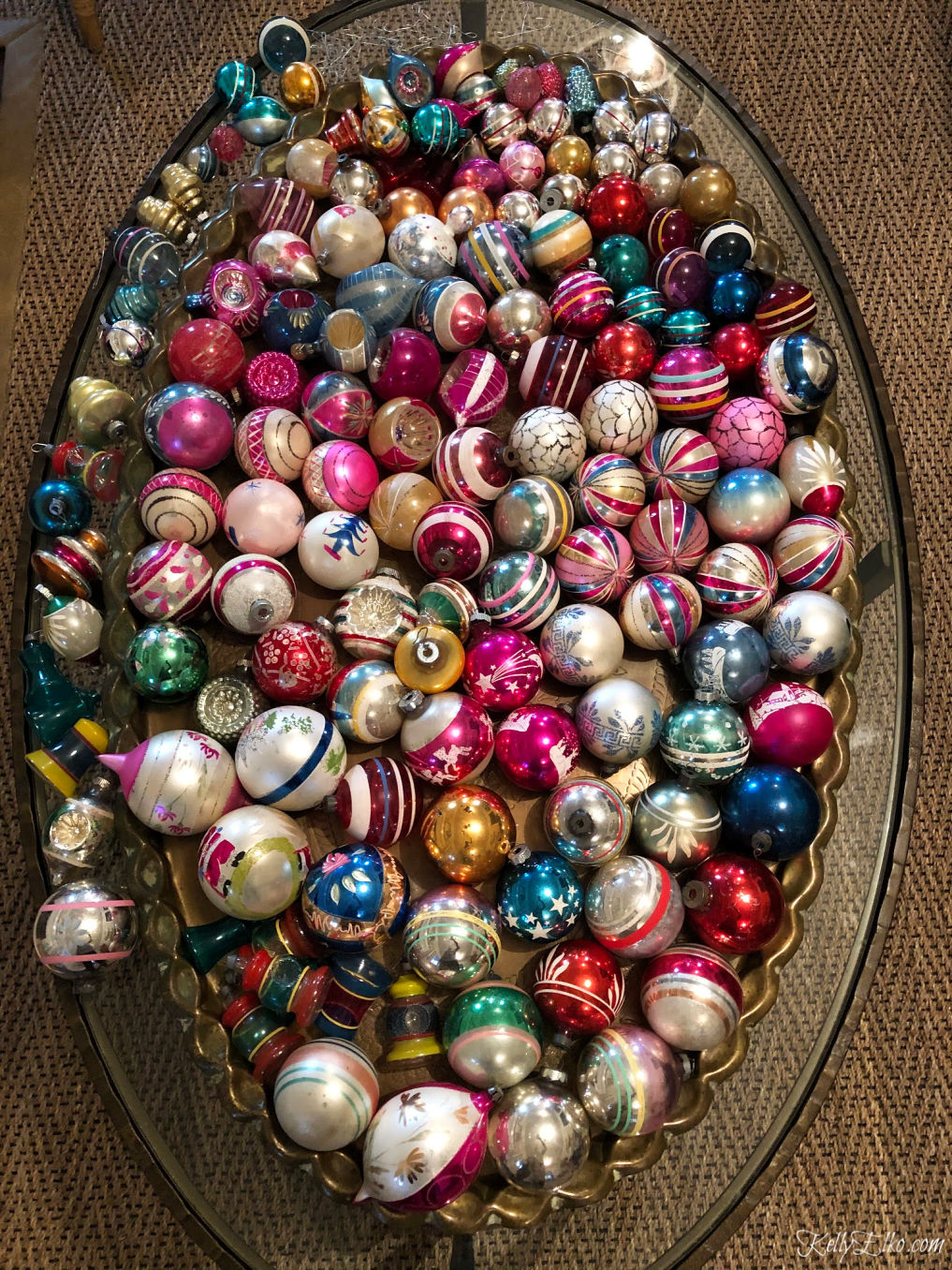 Do you collect Shiny Brites or is a new collection in your future?
One of my favorite ornaments is this jolly old St. Nick!
If you are searching for a certain type, Etsy has tons of beautiful vintage ornaments.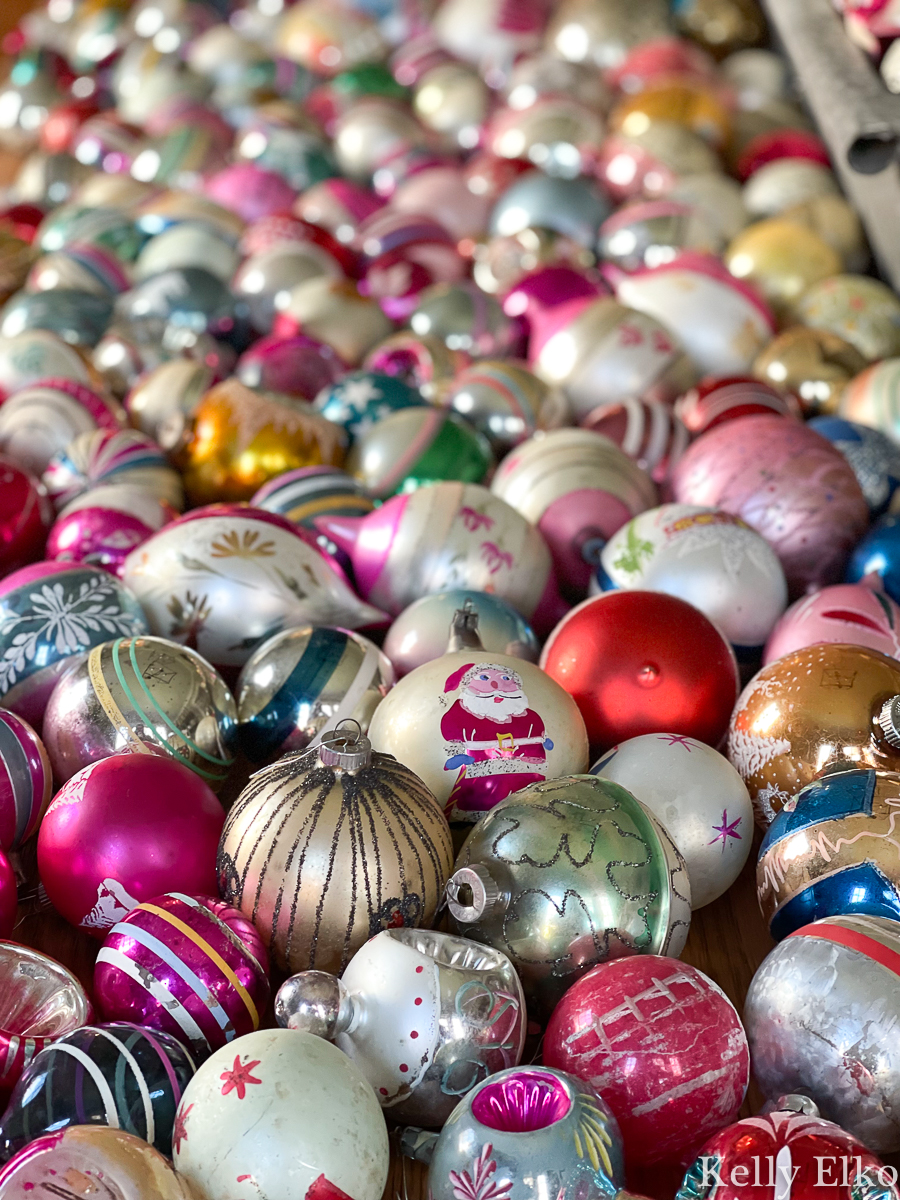 I love a sparse Christmas tree for showing off special ornaments. The branches are spaced to allow the ornaments to hang freely.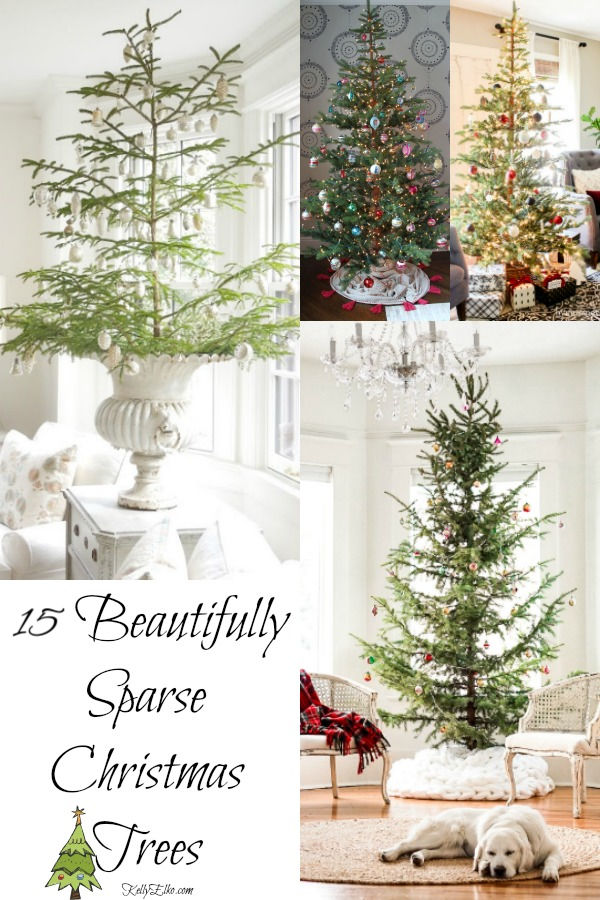 This one appeared in Better Homes & Gardens this year and last and the chalkboard art is a favorite of mine.