My Vintage Shiny Brite Christmas Tree in All Its Glory!
I am excited to share my favorite Christmas tree of all time decked out from head to toe in vintage Shiny Brite ornaments! It's a sight to behold and I have no idea how many ornaments are on the tree but it's easily over 300! I just know that this tree is going to put on Santa's nice list … finally! If one decked out Christmas tree is good then 35 decked out Christmas trees are 35 times better and I'm part of a fun group of friends who are showing off their creative Christmas trees so if you need some decorating inspiration, you've come to the right place.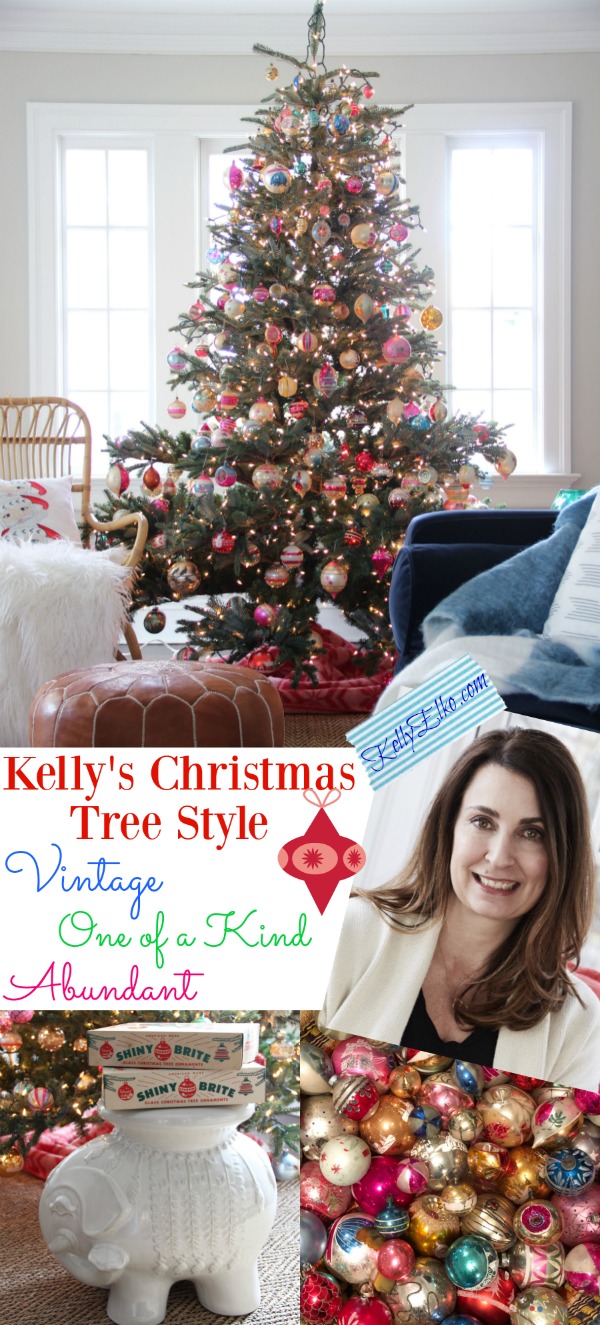 My friend Stephanie of Casa Watkins Living asked me to join in her My Home Style: Christmas Tree Edition Hop. I added links to all of their trees at the end of this post. If you're visiting from my friend Carmel of Our Fifth House, welcome. Carmel and I have something in common … we both love color! If you're a color lover too, I think you'll love the explosion of color on my tree. I was asked to come up with three words that best describe my Christmas tree decorating style and they are …
Vintage – One of a Kind – Abundant
Vintage – Delicate ornaments in every color of the rainbow sparkle and shine.
One of a Kind – You'll never see another tree quite like it since each ornament is hand painted. A throw blanket takes the place of a typical tree skirt. 
Abundant – I like using lots of the same thing on a tree for maximum impact and I have no idea how many ornaments are on my tree but it's easily over 300!
The secret to getting this abundant look is to hang ornaments deep within the branches, hang some on different parts of the same branch and even lay them on open branches (make sure to secure them with ornament hooks). Keep stepping back to make sure everything looks balanced.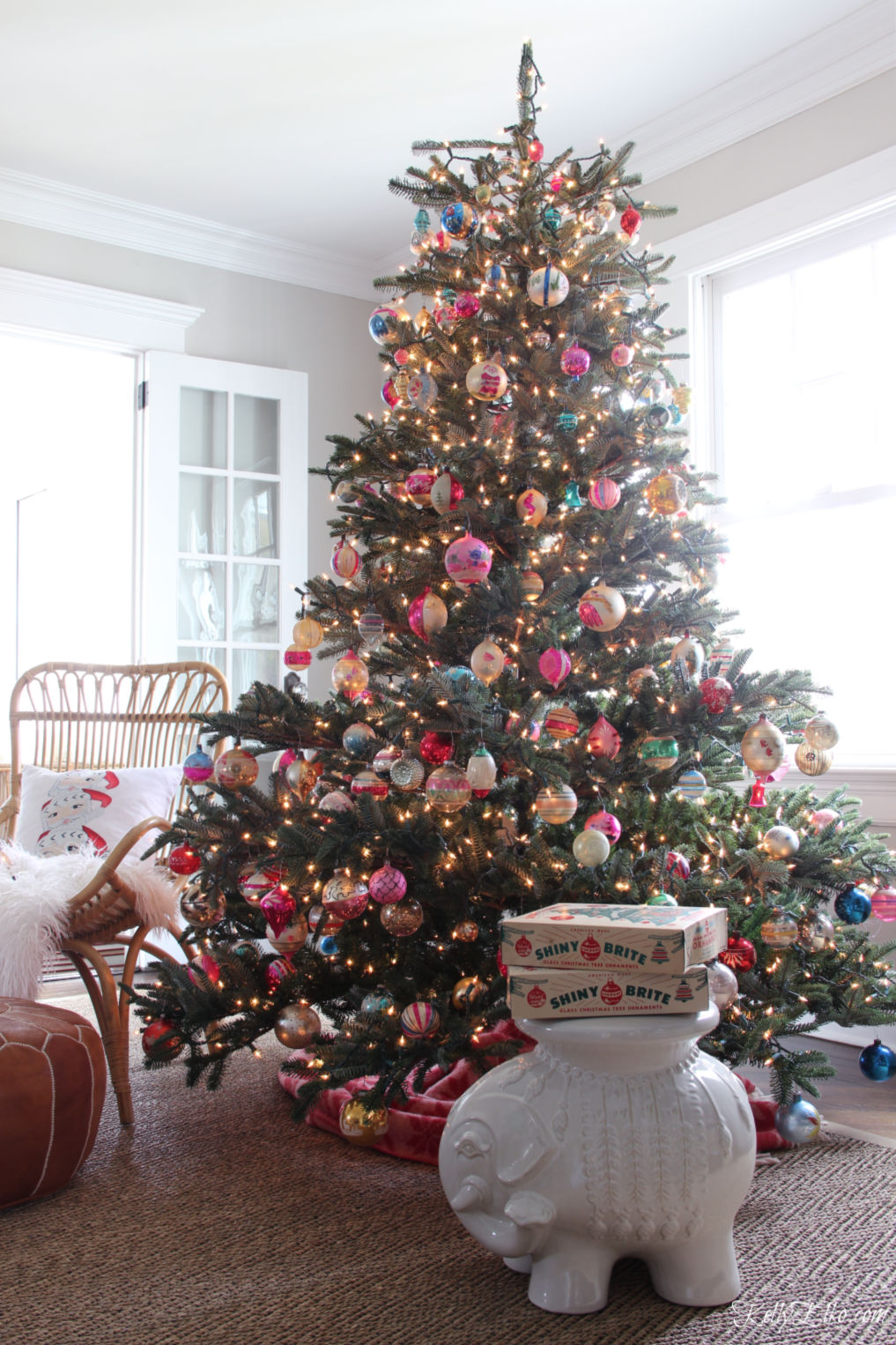 This post contains affiliate links which means if you purchase something, I will earn a small commission at no extra cost to you.
I already shared my whimsical white Christmas Countdown tree that you can see here and will be sharing more of my decked out trees soon but I think this tree might just be my favorite tree I've ever done! Pictures do not do it justice and it's breathtaking in person! When I got my recent thrift score of over 100 vintage Shiny Brite ornaments to add to my already big collection, I felt I finally had enough to fill my large Christmas tree. I failed to realize how long it would take to strategically place each ornament and needed a stiff cocktail when I finally finished. 
Do you remember I decked out two sparse trees with these vintage ornaments in my Shiny Brite Dining Room.
You can find vintage ornaments at estate sales, flea markets and thrift shops and Etsy has a beautiful selection of old ornaments too.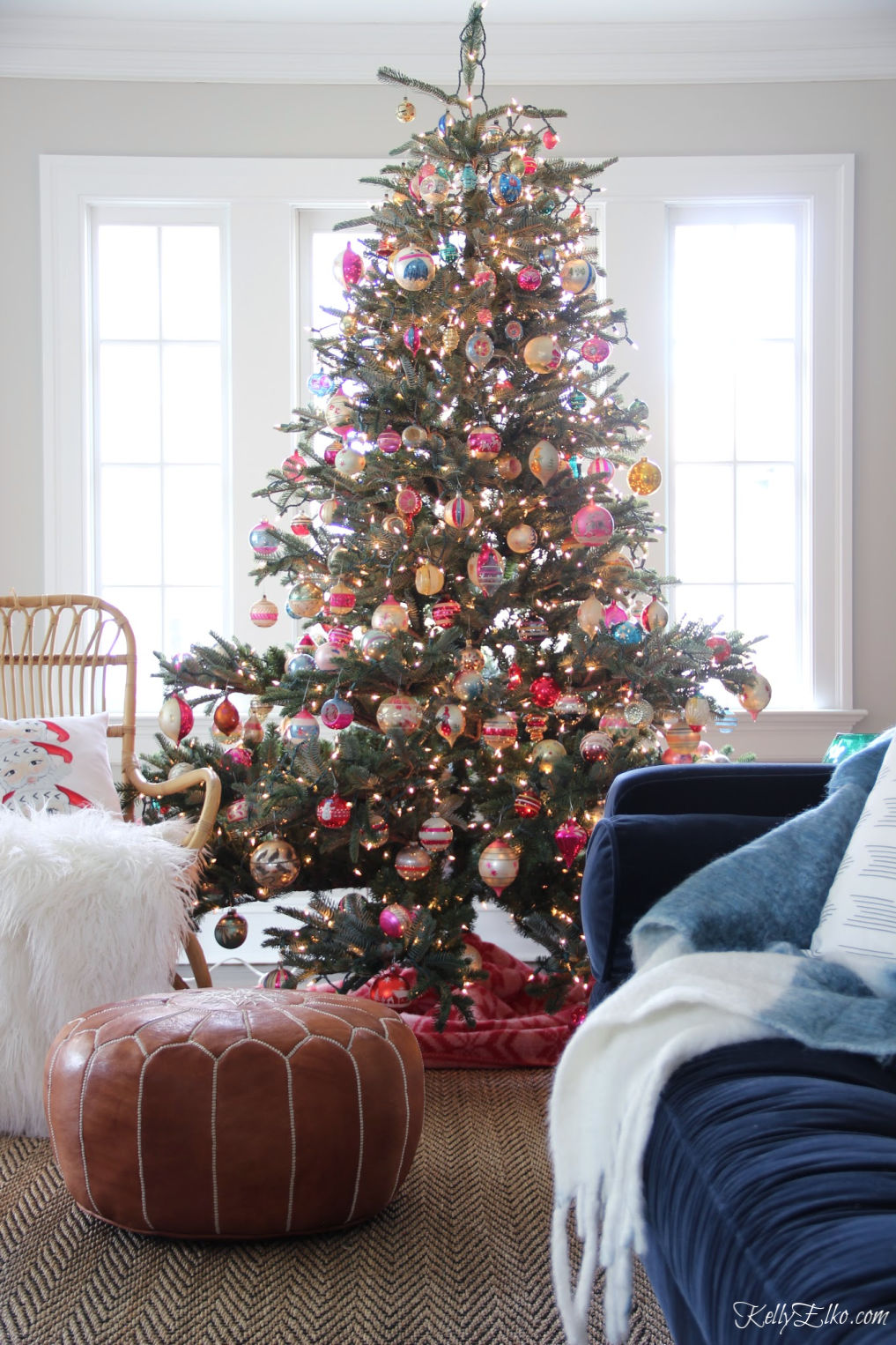 This is just part of my collection that doesn't include the 103 ornaments I recently found! I'm giving away three of these ornaments so make sure you enter here.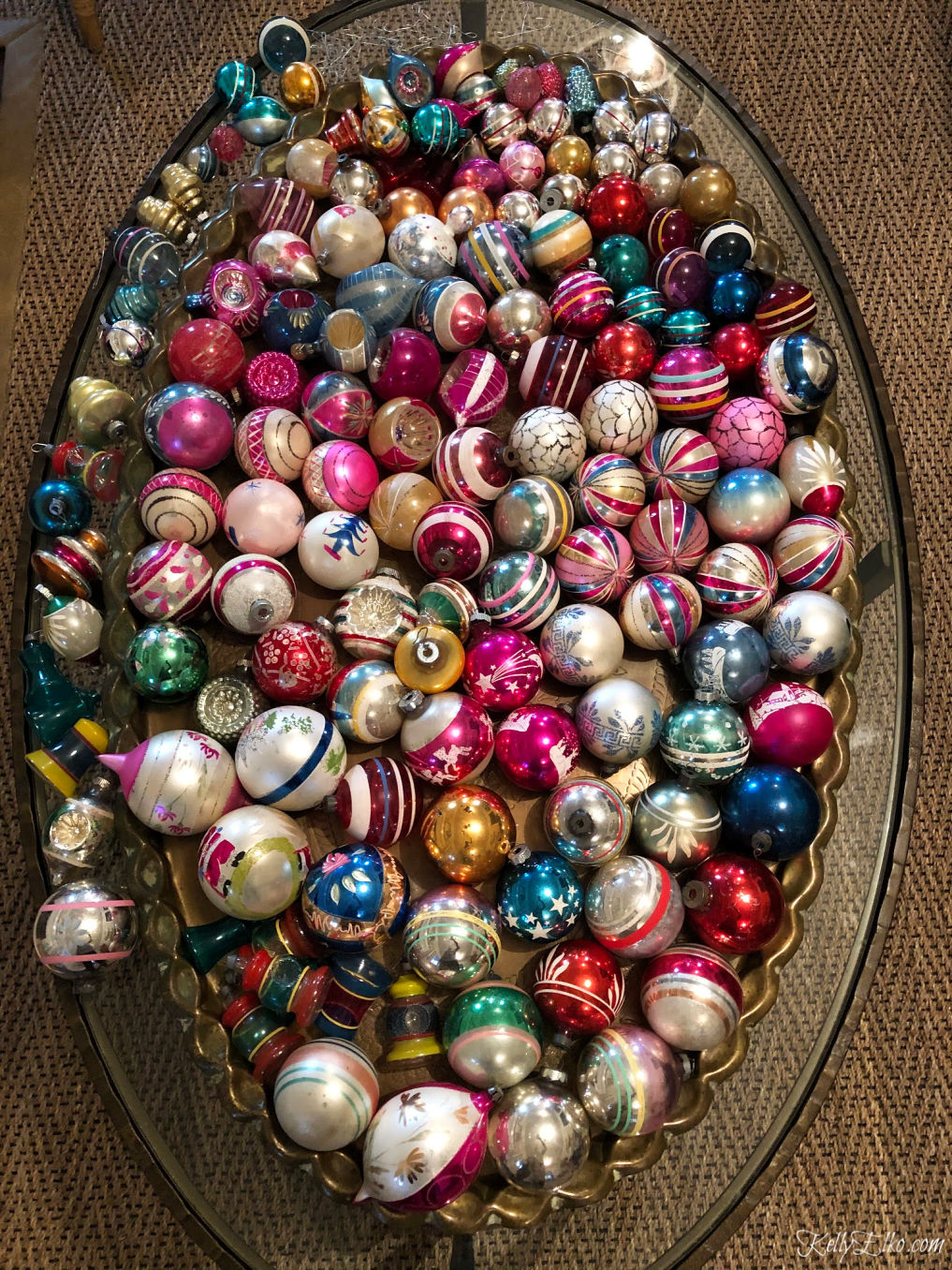 This pillow with a trio of vintage Santa mugs looks right at home but my everyday style is more of a vintage-modern mix as you can see from this outdoor rattan chair and leather pouf. 
My tree is from Balsam Hill and I love that the branches aren't packed tightly together. It looks so real and is perfect for displaying ornaments. I love sparse Christmas trees for this very reason and share my favorite sparse Christmas trees here. 
Click the Pics to Shop the Look

The detail in the ornaments is incredible and something you just don't see today.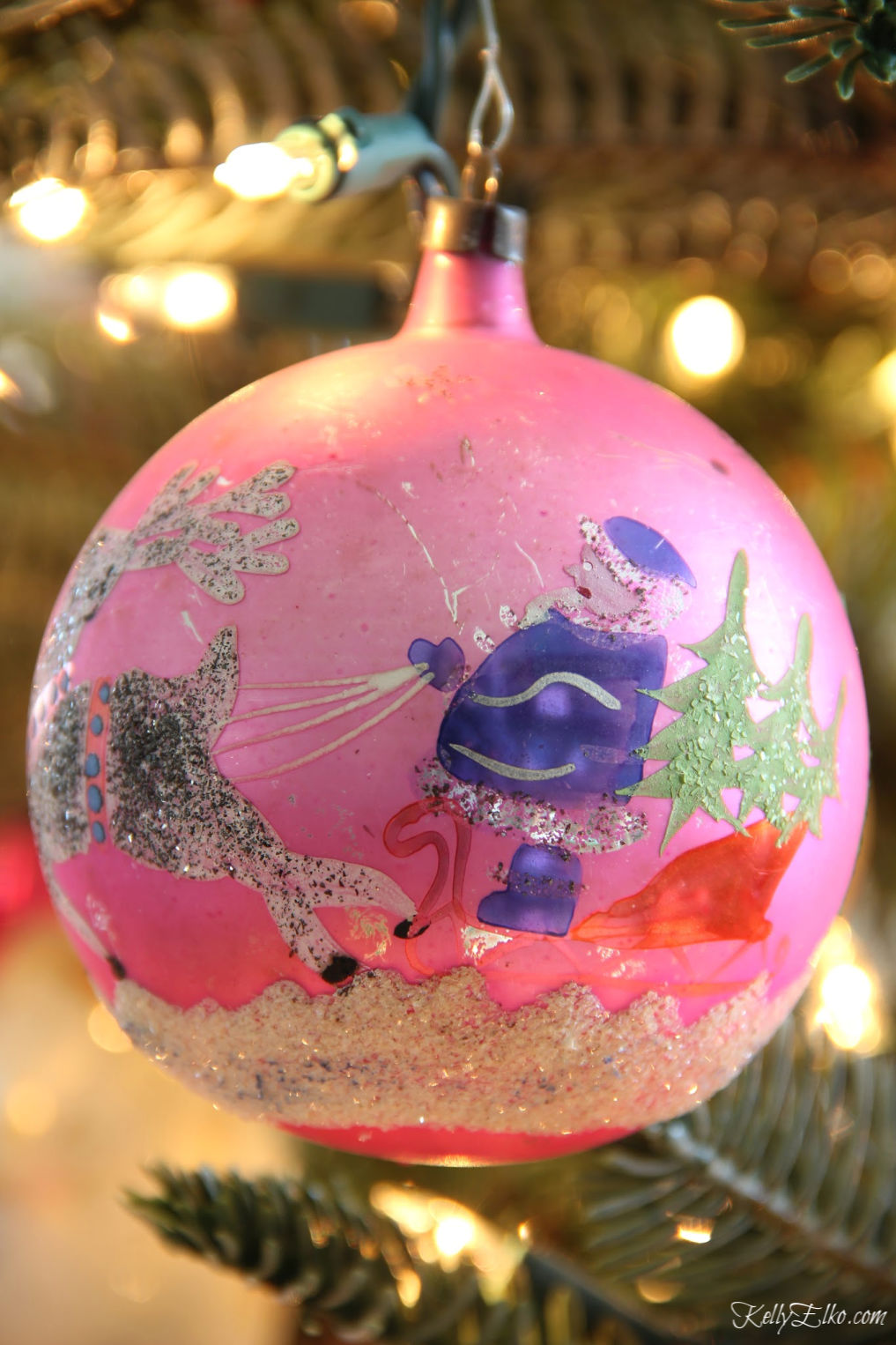 When it comes to Christmas decorating, my philosophy is more is more but it's easy to recreate the look by using lots of the same thing. 
Now it's time to visit Becky of Daly Digs to unveil her mixed metal farmhouse Christmas tree. See all of the Christmas trees by clicking on the links below.
Monday
Casa Watkins Living // Up To Date Interiors // Delineate Your Dwelling // Thou Swell // House Of Hipsters // French & French Interiors // Haneen's Haven
Tuesday
Two Twenty One // Jeweled Interiors // Dimples and Tangles // PMQ For Two // Kaleidoscope Living // Reality Daydream //
Heathered Nest
Wednesday
Setting For Four // Monica Want's It // Domicile 37 // The Happy Housie // Lovely Indeed // Lemon Thistle // Amber Oliver
Thursday
Taryn Whiteaker Designs // Cherished Bliss // Lovely Etc. // The Honeycomb Home // My Sweet Savannah // Cuckoo For Design //
Kate Decorates
Friday
Our Fifth House // Kelly Elko // Daly Digs // Tag & Tibby // House Homemade // Lolly Jane // The DIY Mommy