10 Fun Vintage Christmas Decorations to Collect!
These vintage Christmas decorations are a blast from the past!  I'm sharing 10 fun vintage Christmas decorations to collect with a little background on each so you'll be armed with the information needed to expertly hunt for these vintage treasures at flea markets and yard sales. Get ready to start a new collection and have fun decking your halls with all things vintage!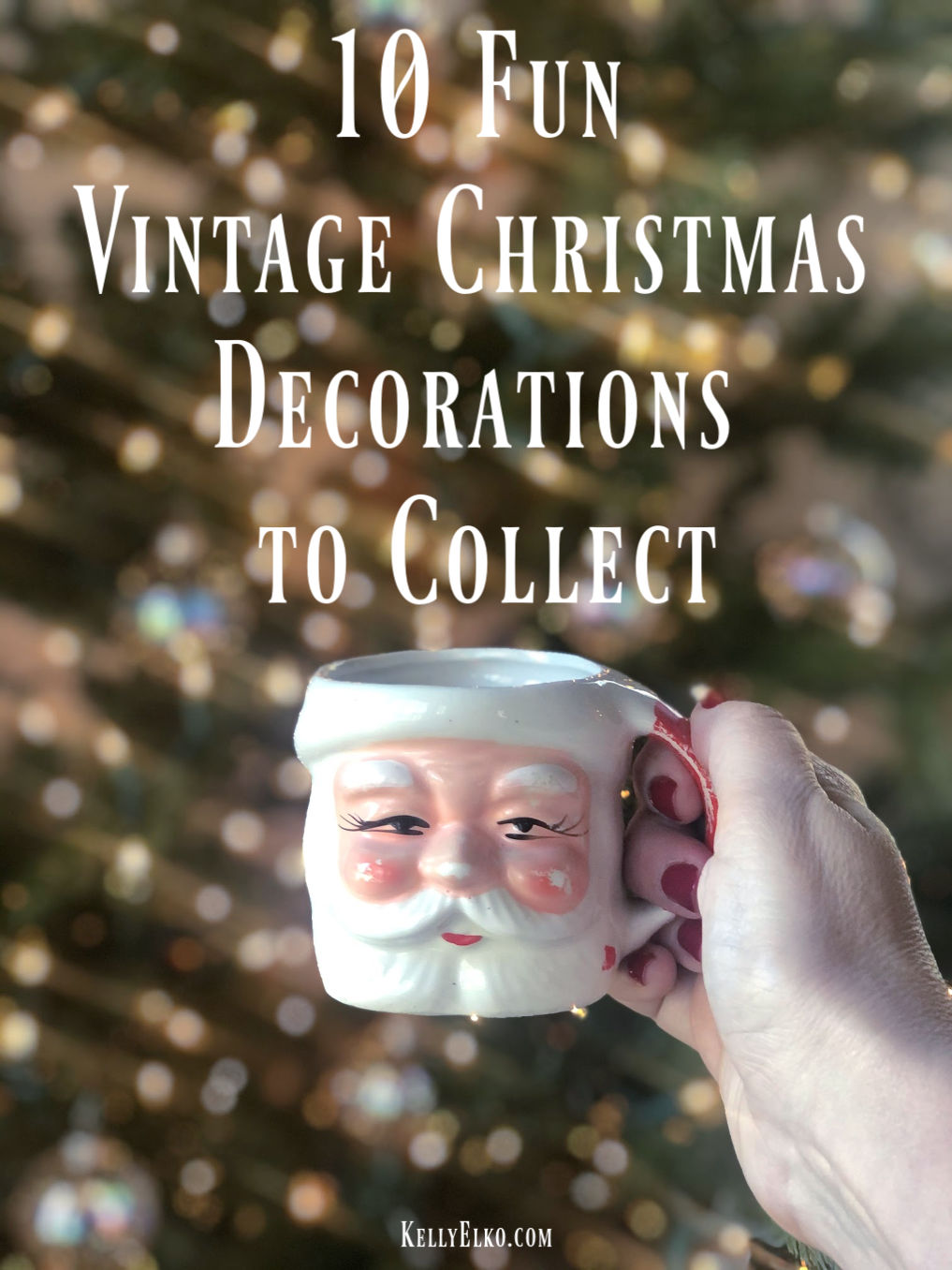 Don't forget to follow me on Instagram here and tag your vintage treasures with #KellyElkoThriftingDiaries. I'll feature my favorites on Insta and here on the blog!
This post contains affiliate links which means if you purchase something, I will earn a small commission at no extra cost to you.
Melted Popcorn Decorations – Originally called "glitter plaques" when the Kage Company of Manchester, CT first produced them, they are commonly referred to as melted popcorn because, you guessed it, they look like melted popcorn. The inventor has his daughter to thank for their huge success because she found a box of colorful plastic chips and formed them into the shape of a chicken. Her proud father humored her, baked her creation in the oven and the rest is melted popcorn chicken history. More than 80 million have been sold over the years and there are almost 200 different designs


I have a leprechaun I found at a thrift shop but have always wanted a Santa! I think it would be adorable tied to a front door wreath.
Knee Huggers – Way before the Elf on the Shelf arrived, these adorable little bendable elves were all the rage. Made in Japan in the 1960's by a company called Yuletide of Japan, they come in lots of cute colors but red and green are the most common. A gal I follow on Instagram just found a rare pink one!


Like everything old, you can find reproductions of these cuties and I especially love
this trio of knee huggers
. This little guy is from my hubby's childhood and now he's trapped for all eternity in a jar of old Christmas bulbs!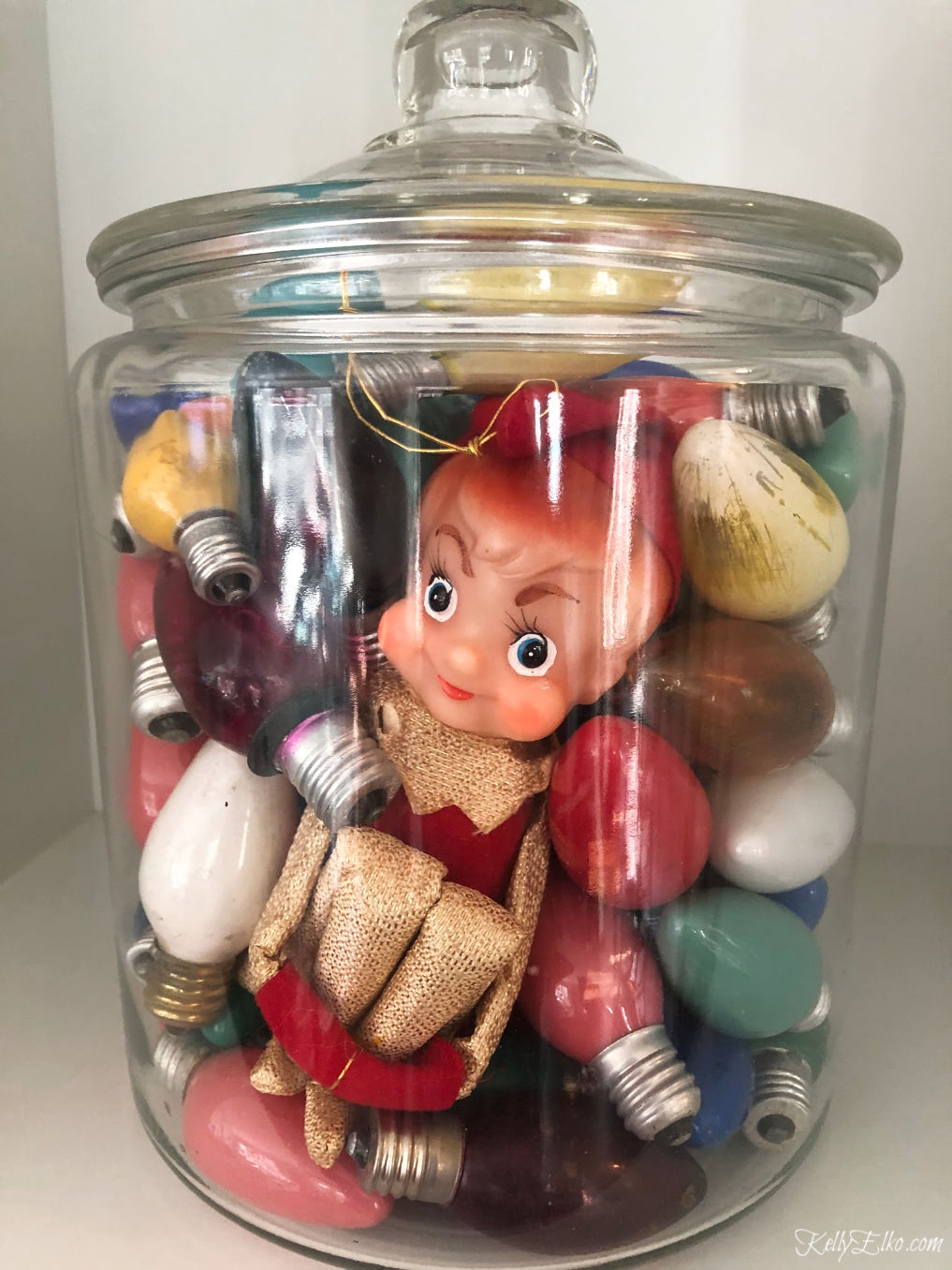 Bubble Lights – In 1944, Carl Otis received a patent for Christmas tree bubble lights, which he called "Ornamental Illuminating Devices." A company called NOMA bought his patent, hired Carl and within the first two years, they made more than 25 million Bubble Lites!
Gurley Candles – These candles were created in 1939 in Buffalo, NY by Gurley Novelty as a way to recycle parrafin that was a by-product of oil refining.

Ceramic Light Up Christmas Trees – In the 1960's and 70's, people loved to dress up in bell bottoms, get stoned and paint their own pottery (not necessarily all at once)! A few companies started making bare ceramic Christmas trees for the masses to paint. Each tree came with colorful plastic light "bulbs" and a lightbulb inside to make the tree glow!


I have
this reproduction ceramic Christmas tree
that looks just like the vintage ones (mine is white but it comes in green too) and I love that it's battery operated so I can put it anywhere.
Putz Houses – In 1928, these little paper houses began production in Germany. The term "putz" comes from the German word meaning ornament or  decoration but they were also referred to as glitter houses.


If you can't find vintage putz houses, you can buy a
make your own putz house ki
t or buy
reproductions putz houses in a rainbow of colors
.
Vintage Blow Molds – If you've driven by a church and seen a plastic nativity set or Santa on his sleigh being pulled by plastic reindeer, you've seen a blow mold. Glass blowers Enoch Ferngren and William Kopitke invented the blow molding machine that would turn hot plastic into popular plastic decorations. They were wildly popular in the 1940's and 50's and are pricey today because improper storage in hot attics melted so many of them.
Aluminum Christmas Trees – The "Evergleam" was invented in 1959 by the Aluminum Specialty Company in Manitowoc, Wisconsin. Interest in these kitschy trees faded in the 1970's but they are popular once again and sell for hundreds, even thousands of dollars. Silver is the most common but they come in other colors including the rare pink color.


Santa Mugs – In the 1950's Santa coffee mugs and pitchers were produced by the Holt-Howard company. The mugs were wildly popular so the company started making everyday coffee mugs and are now credited with developing the coffee mug as we know it today.


I have one lonely vintage Santa mug and am on the hunt for more. Luckily, I have four of these adorable
Santa mug reproductions
that I love.
Shiny Brite Ornaments – You all know I'm obsessed with vintage Shiny Brites and hung over 300 on my tree this year.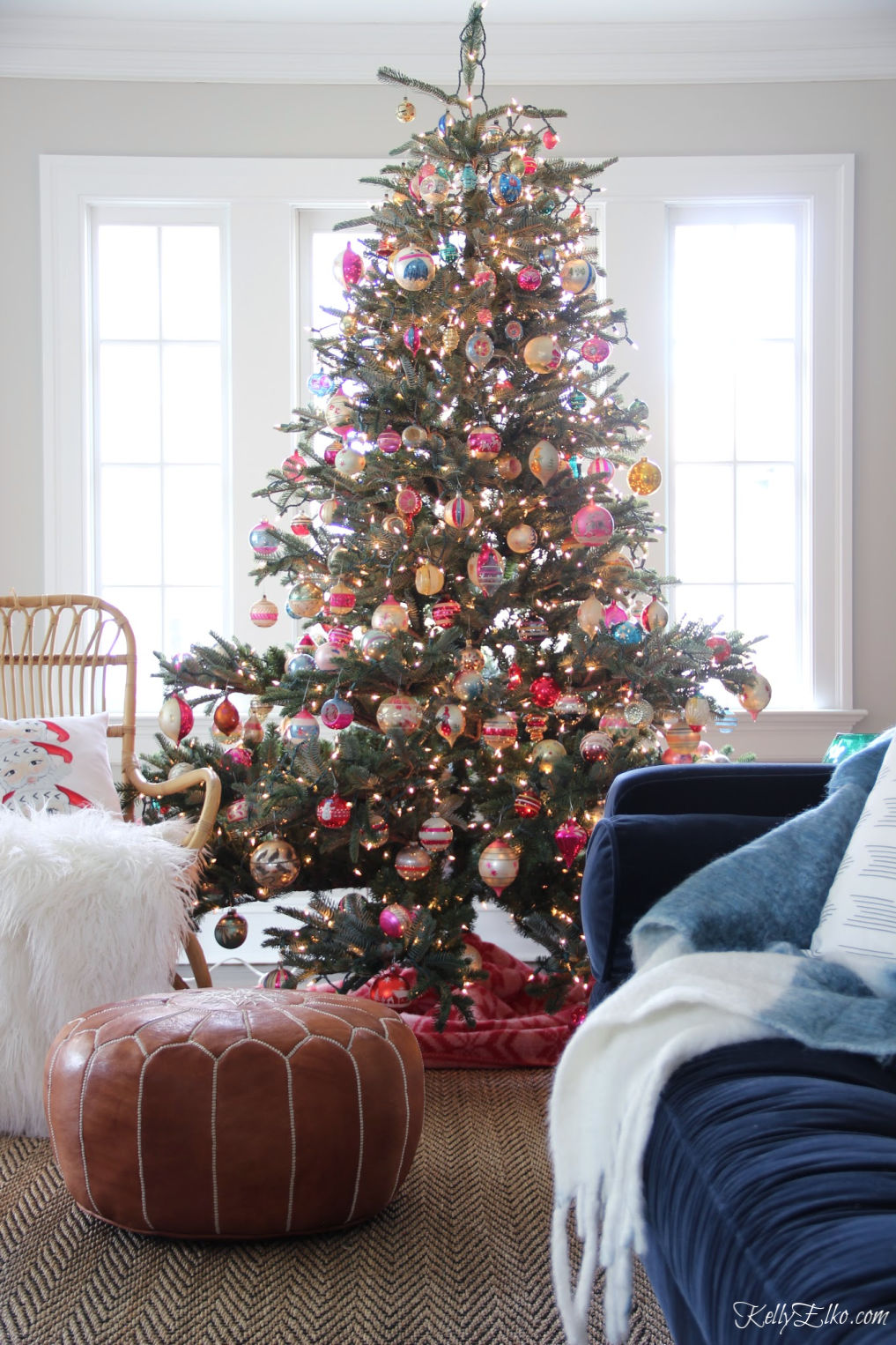 Don't miss this post I wrote about creative ways to display your ornaments. How amazing is that wreath that is over three feet in diameter.