My Thrifted Vintage Christmas Hauls – Sneak Peek!
It seems like Santa finally took me off the naughty list because I have been on a vintage Christmas thrifting role! Every time I walked into a thrift store over the last couple of months, the coolest Christmas decorations jumped into my cart! I thought it would be fun to share my most recent thrifted vintage Christmas hauls with you and give you a sneak peek of some of the things you'll see on my Christmas home tour this year!
Mark your calendar for the Monday after Thanksgiving … the date of my 2021 Christmas Home Tour (my 11th tour)! I've already started decking my halls (the life of a blogger!) and really love the way things are coming together!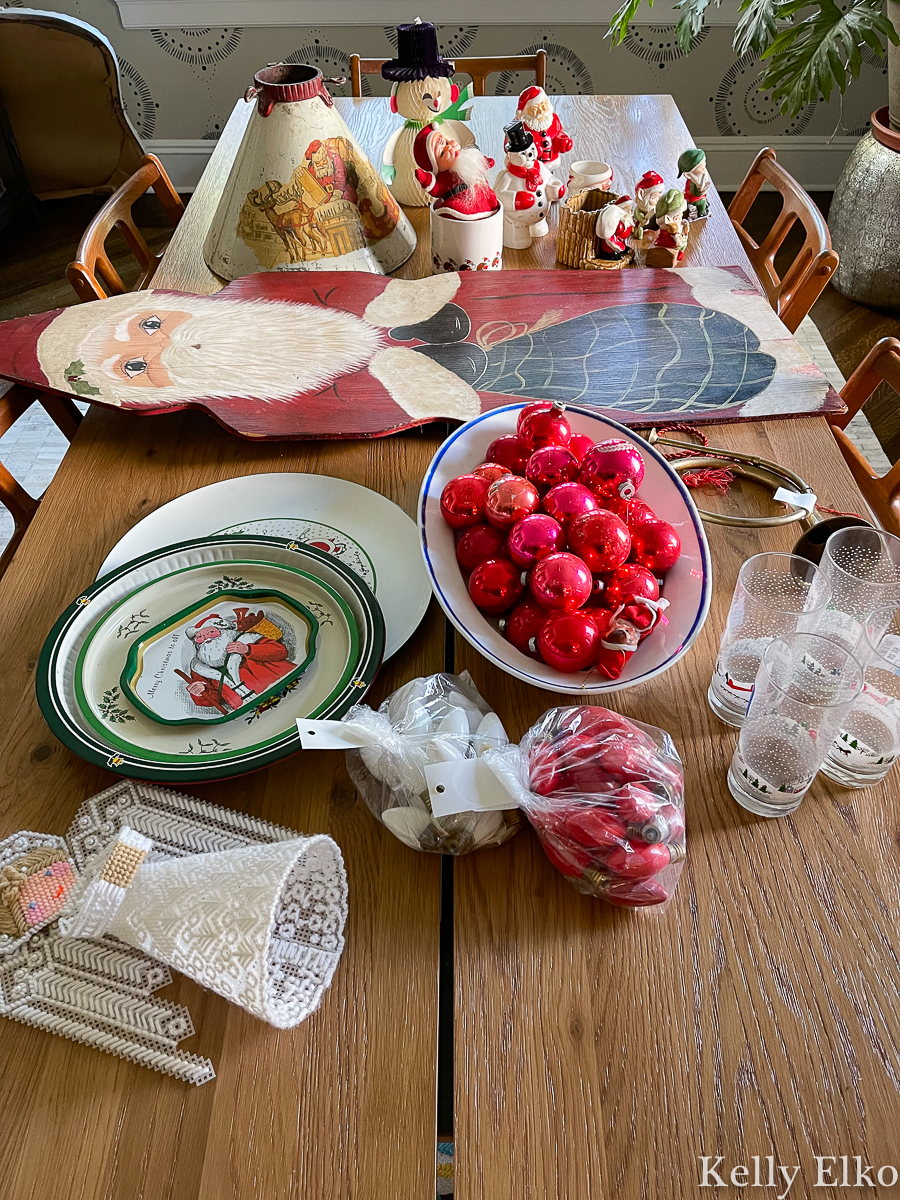 I had to bring home the giant hand-painted wood Santa. It's signed and dated 1999 on the back which officially makes it vintage (20 years is vintage, 100 years is antique).
When you stumble across something one-of-a-kind like Mr. Claus, it's always a good idea to scoop it up! This is the best way to create a unique look that you know nobody else is going to have.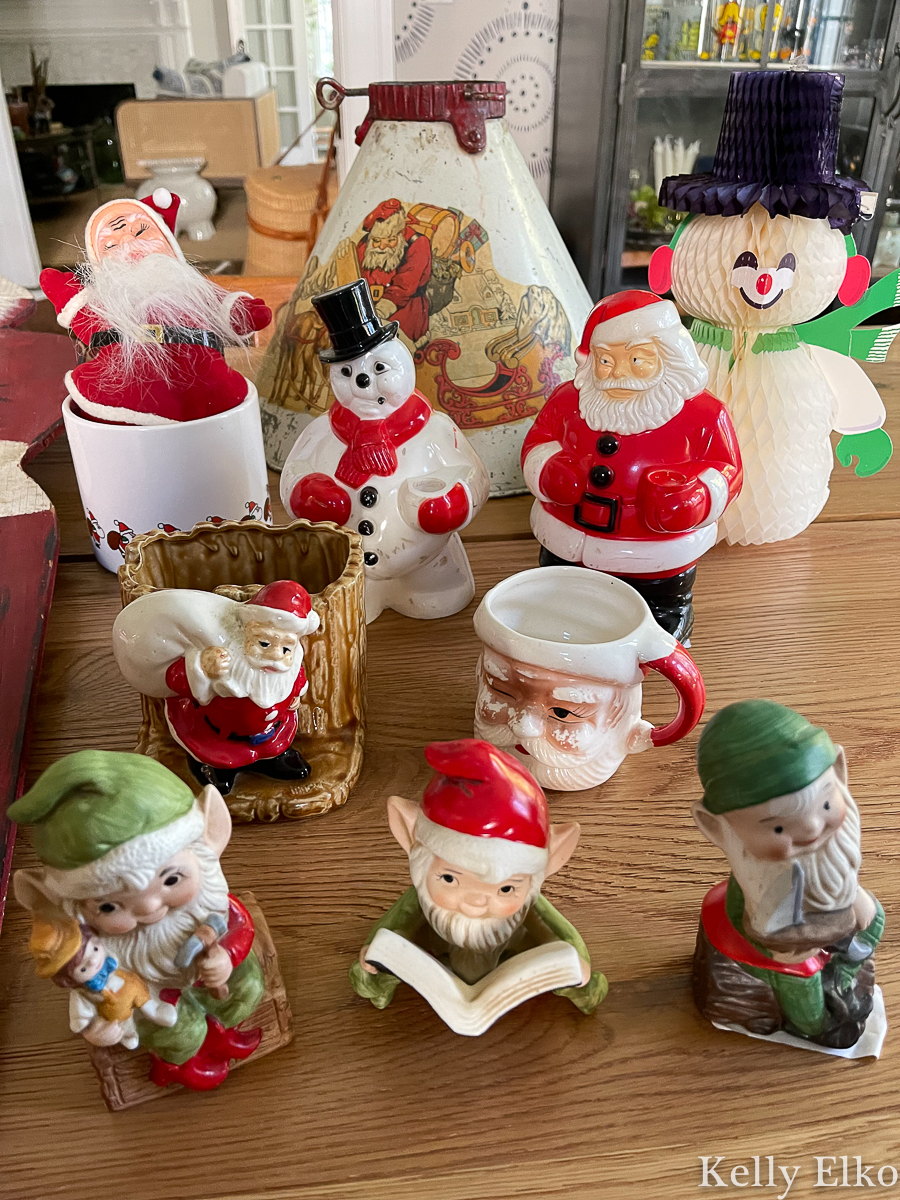 This post contains affiliate links which means if you make a purchase, I may earn a small commission at no extra cost to you.
My smalls are all about Santas, snowmen and elves! My favorite find is the old metal Christmas tree stand with a fun Santa delivering gifts graphic! Can you guess how I'll be using this tree stand?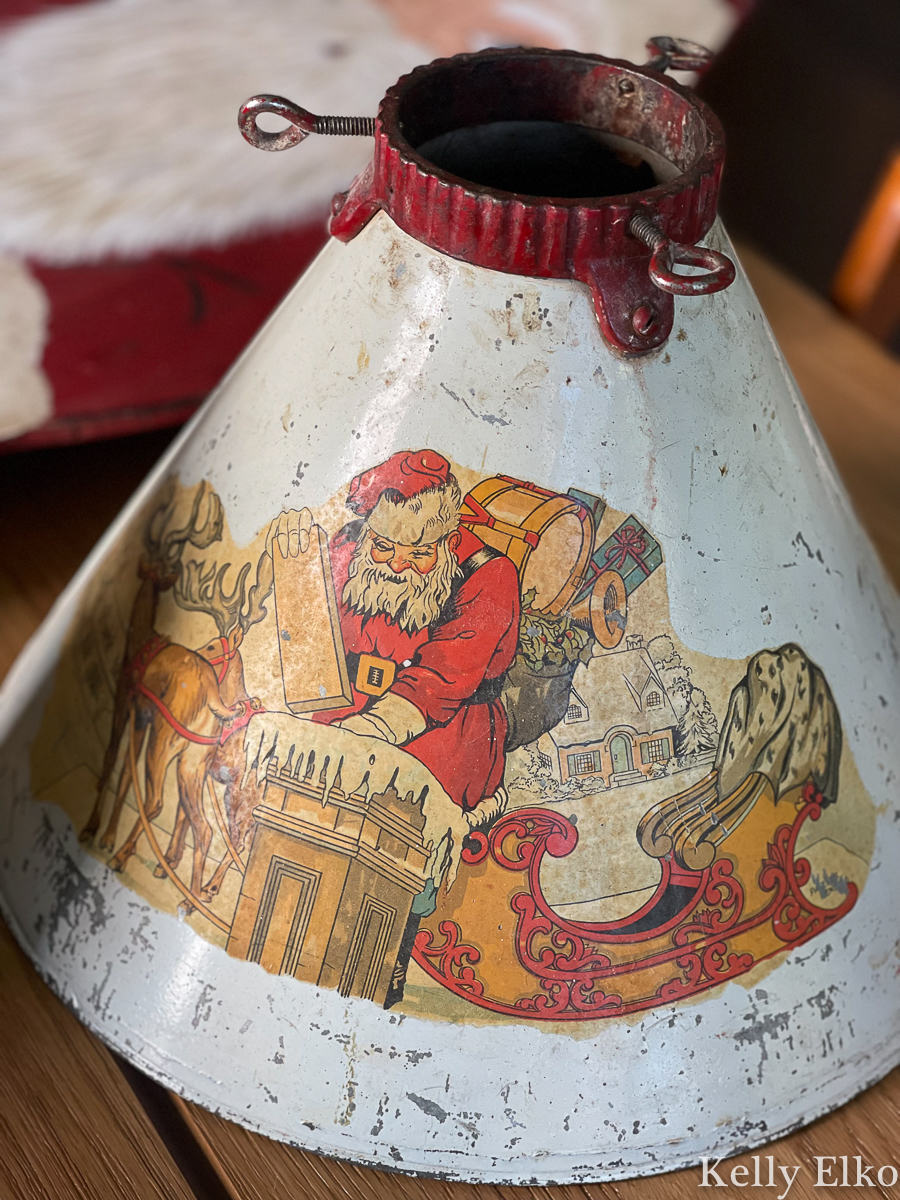 I also love the pair of small, hard plastic blow molds of Santa (it looks like he had a little too much spiked eggnog) and Frosty. They are missing their light cords (notice the burn marks on them) and the things they are supposed to be holding but I'm ok with that because they are hard to find and oh so adorable.
See what Santa looks holding the thing that's missing from his hand here.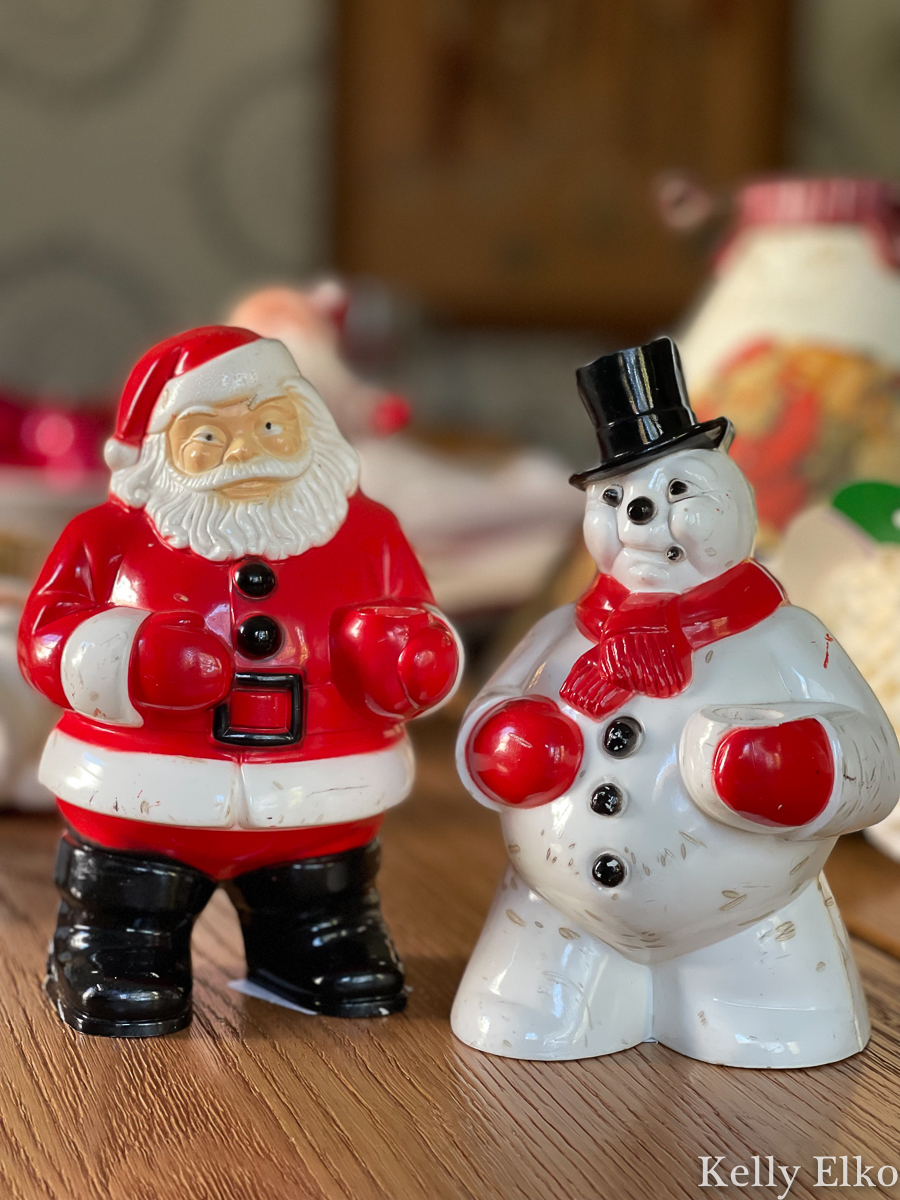 Thrift stores always seem to have stacks of old metal Christmas trays so I chose my favorites and I have an idea of how to display them that I can't wait to share!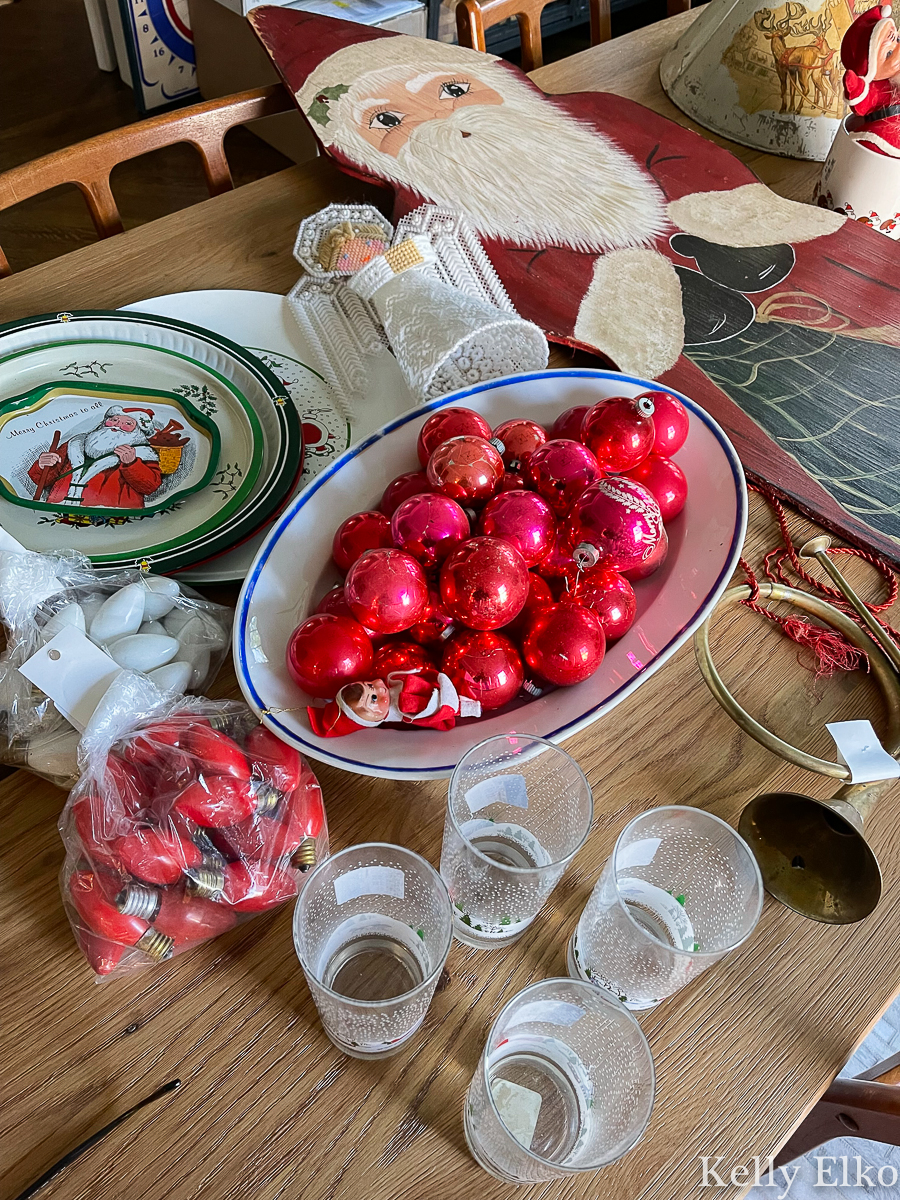 What is Christmas without vintage drinking glasses (see the way I displayed my collection of vintage drinking glass here) and old glass bulbs and ornaments? Since these ornaments are plain, I focused on buying just one color to make a big impact. Even the old ironstone platter they're displayed in was a recent thrift find.
I love shopping for Christmas all year long and I find the prices to be much lower in spring, summer and fall.
These are just my most recent finds over the last couple of months. It doesn't even include the mother load of vintage Shiny Brite ornaments (over 200 more!) I found recently to add to my growing collection. I'll share that haul with you soon and wait until you see how I display them!
Need more decorating inspiration? Don't miss last year's tour below and you'll get a peek at my ultimate Christmas scores from last year – the cutest blow mold Elf and the huge metal numbers!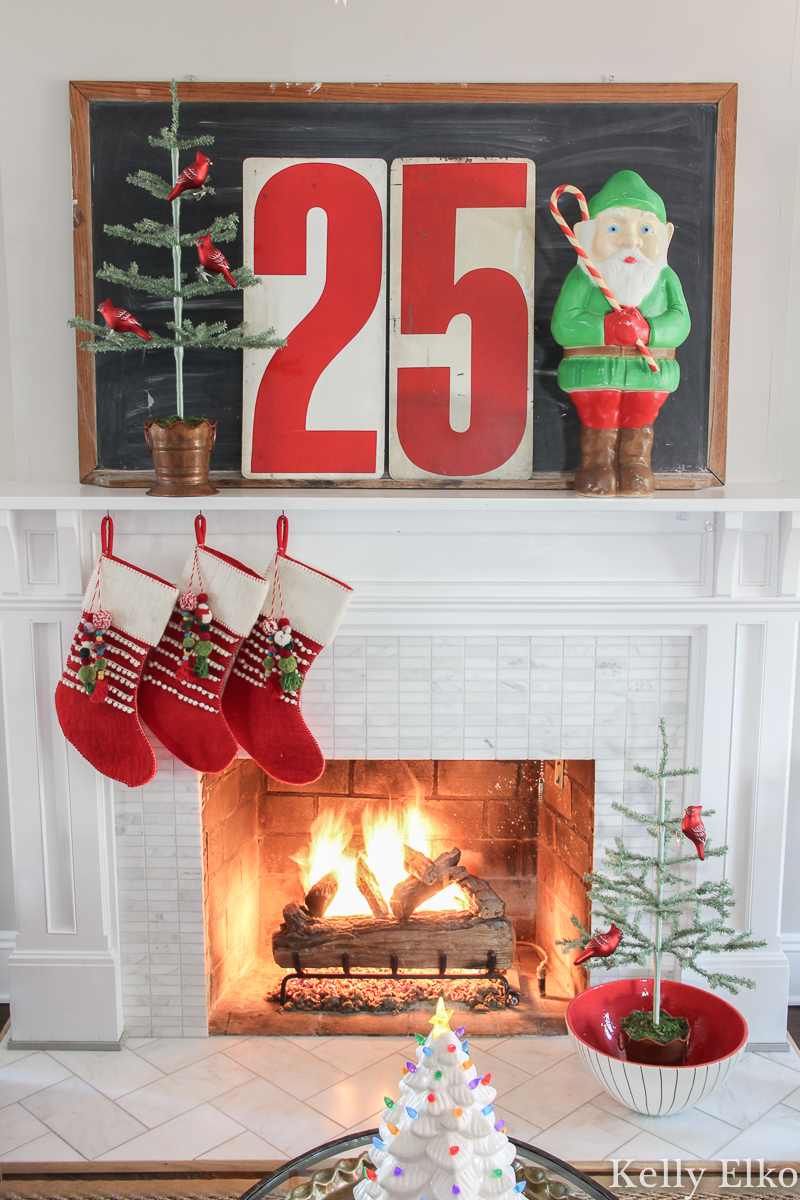 What's your favorite thing from my Christmas haul?
What's your favorite vintage Christmas find? Share in the comments.
P.S. Cheers to my hubby on his birthday today!