How to Decorate for Winter After Christmas
There is something so bleak and dreary about a house once the festive Christmas decorations are packed away. The house feels so empty and so sad! Winter is the perfect time to add a little bit of much needed coziness to the house and I'm sharing my 7 favorite tips on how to decorate for winter after Christmas.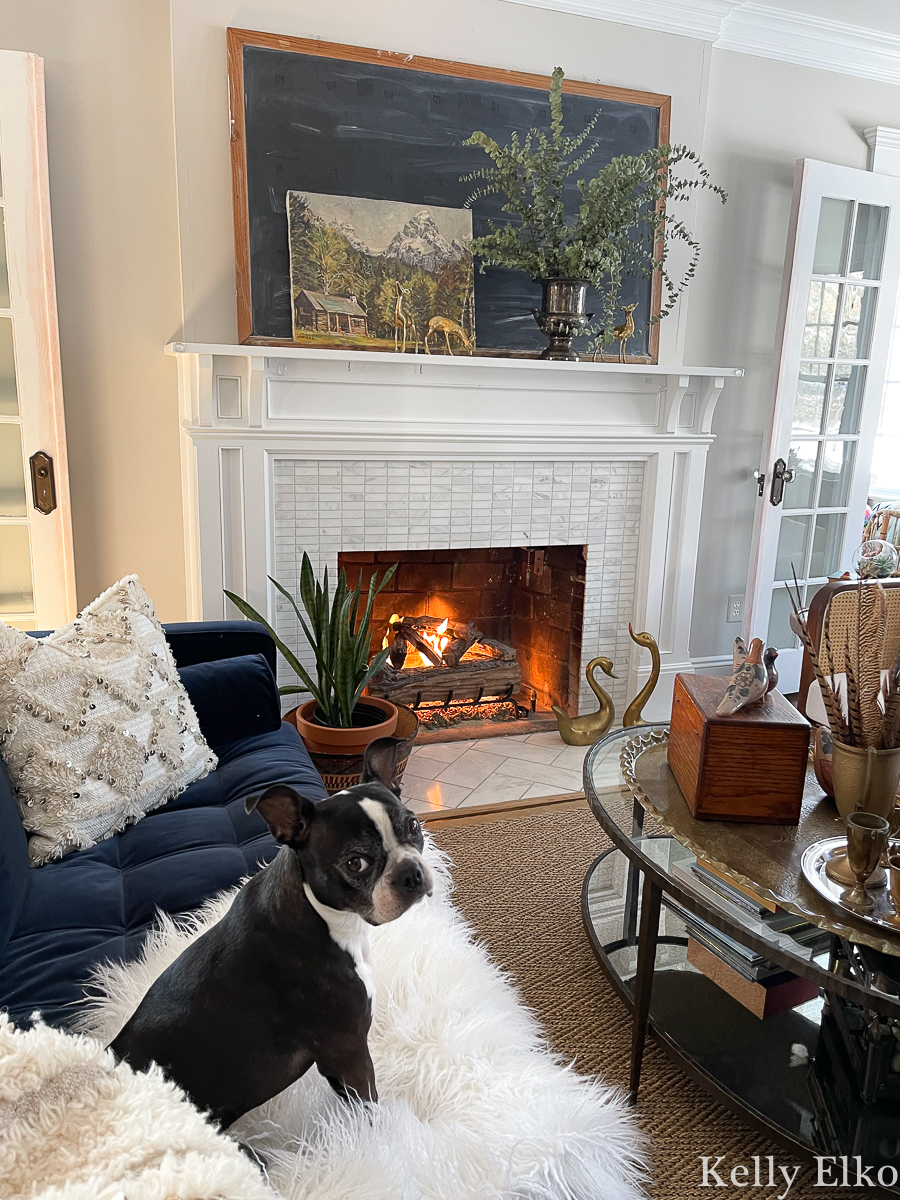 If you haven't heard of hygge, it's a Danish way of living that focuses on enjoying the simple pleasures in life including friend and family, contentment, good feelings, and a warm glow. So let's get hygge with it this winter season because I'm sharing my  tips on how to decorate for winter after Christmas.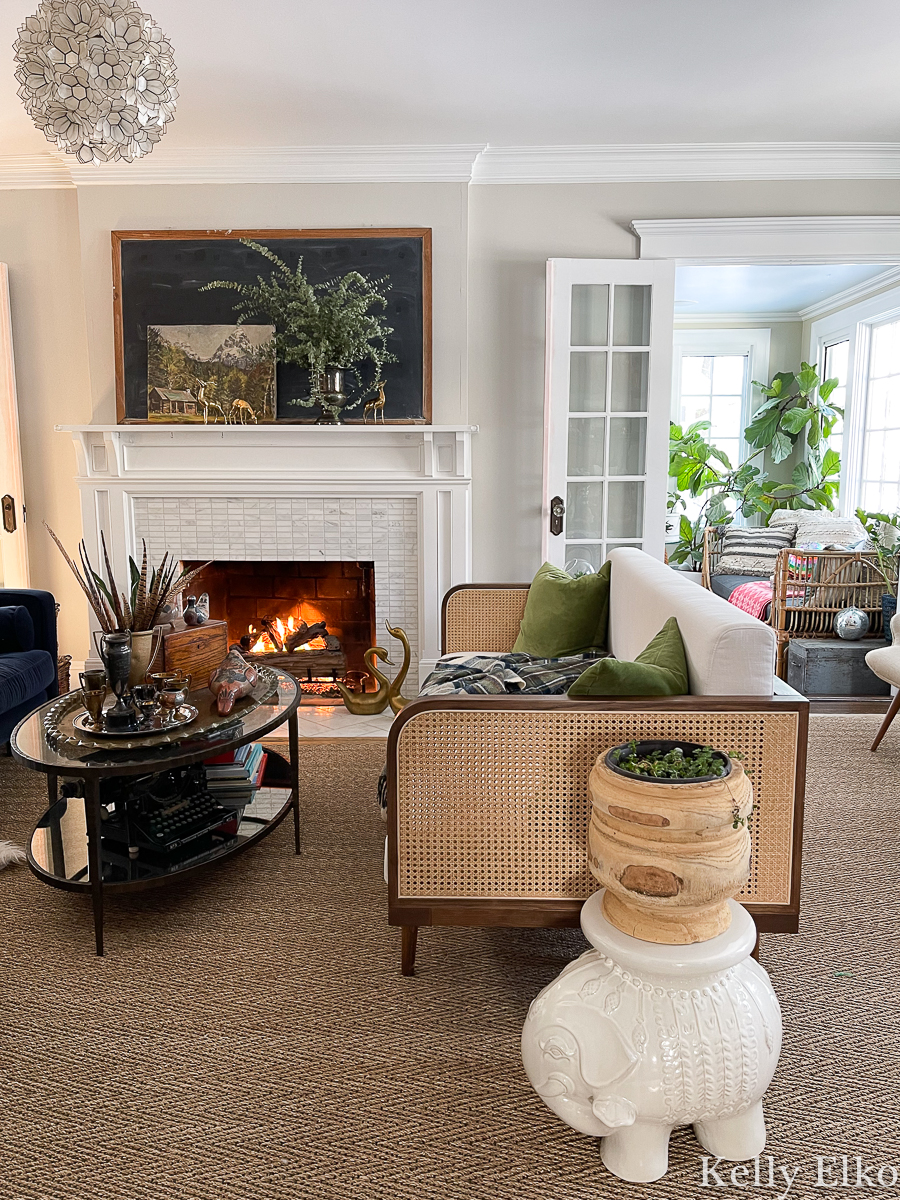 Furniture Placement
The way furniture is arranged in a room can help create intimate seating areas or the perfect cozy corner to curl up with a good book. So go ahead and move that chair closer to a sunny window or a fireplace so you can have the best seat in the house.
I really like the way my two different sofas look facing each other and I am completely in love with my cane sofa that adds a natural and eclectic look to the room.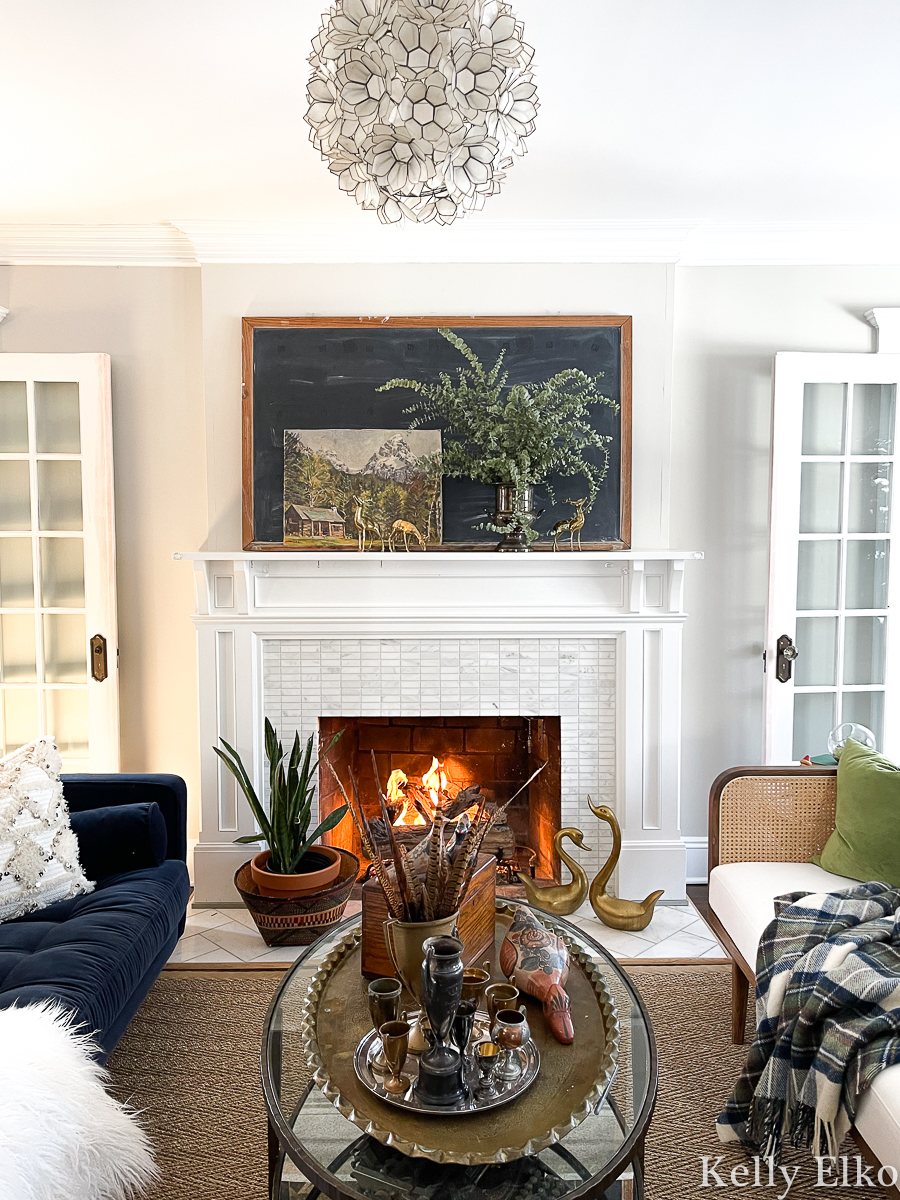 This post contains affiliate links which means if you make a purchase, I may earn a small commission at no extra cost to you.
My giant old slate chalkboard is the perfect backdrop for any season and I love the way it frames whatever I display in front of it.
I love the wild look of this giant bouquet of fresh eucalyptus that I bought at the farmers market last summer and it has dried to perfection.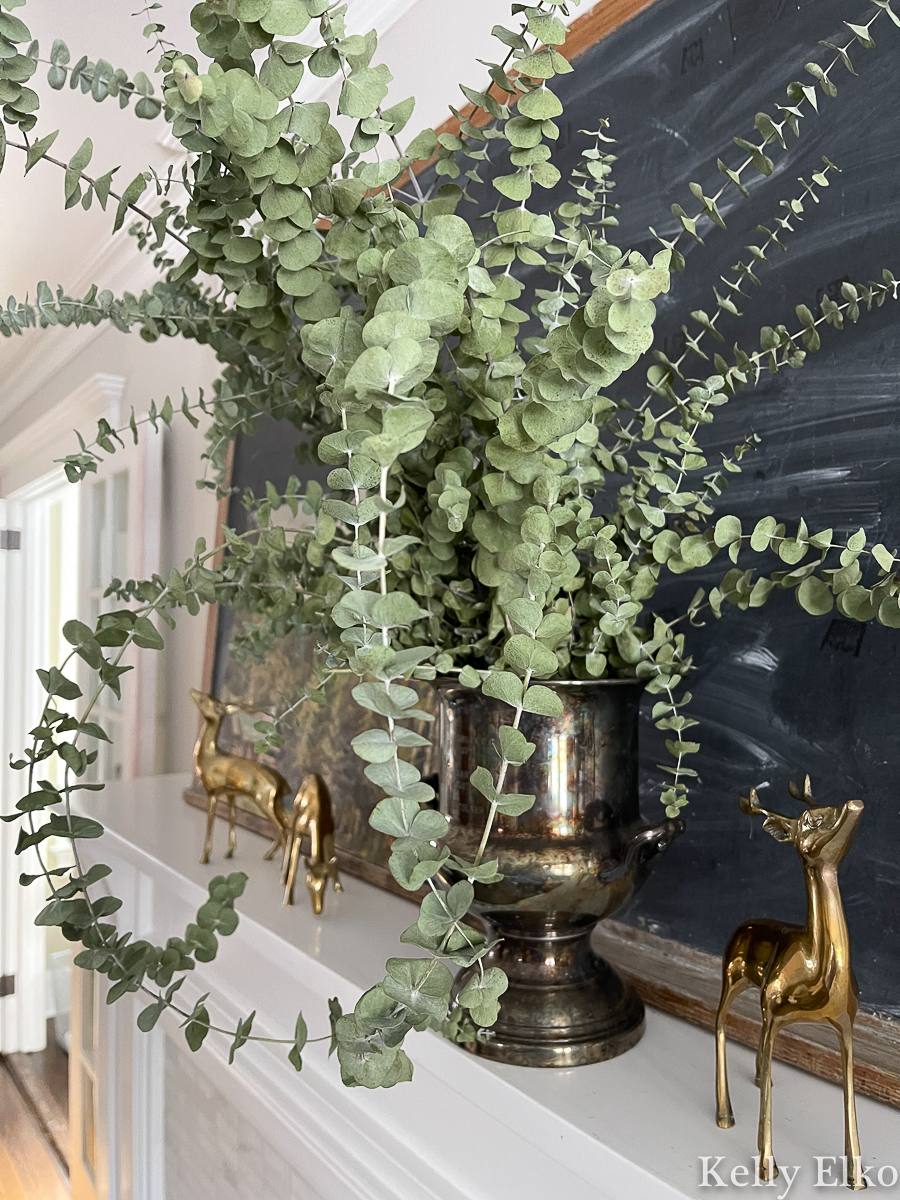 Don't be afraid to mix metals like this trio of thrifted brass deer with a huge silver loving cup.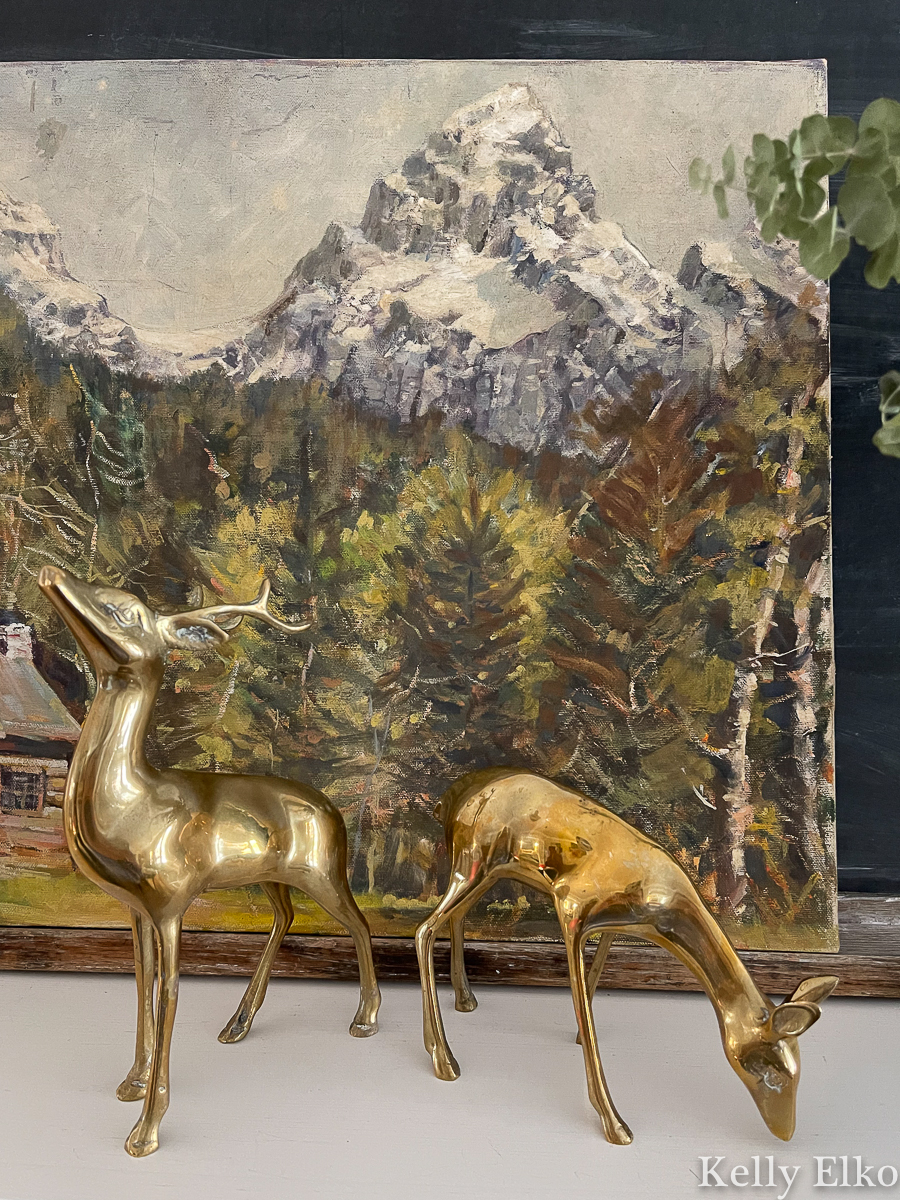 Meaningful Things
Displaying things that have meaning is a great way to add hygge to your house. My art wall is filled with vintage landscapes that I have been collecting for over 20 years. It's fun to remember where in my travels I found each one and remember friends who gifted art to me.
Art ledges are the perfect way to display a revolving collection of art and photographs without damaging walls.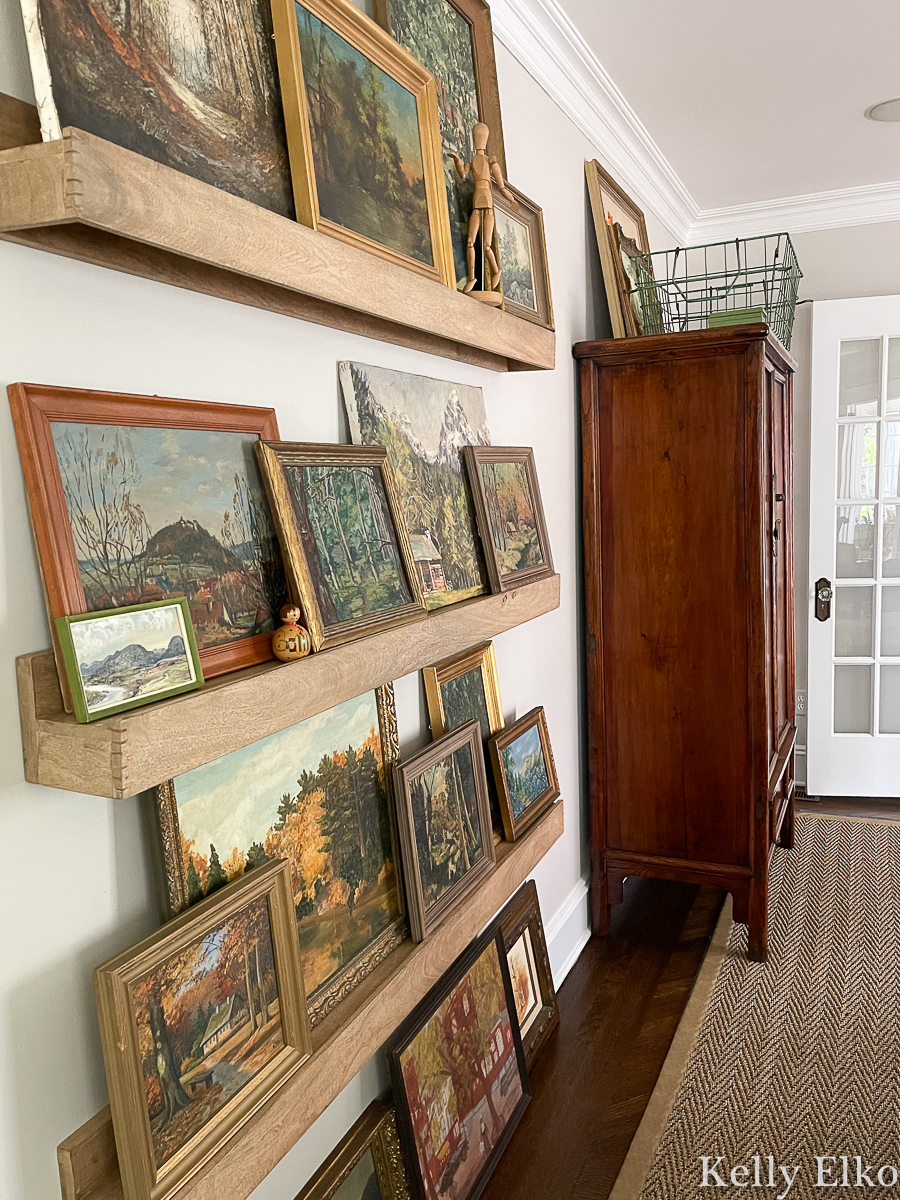 Texture
Add depth and interest to a more neutral space with furniture and baskets in natural wicker and rattan.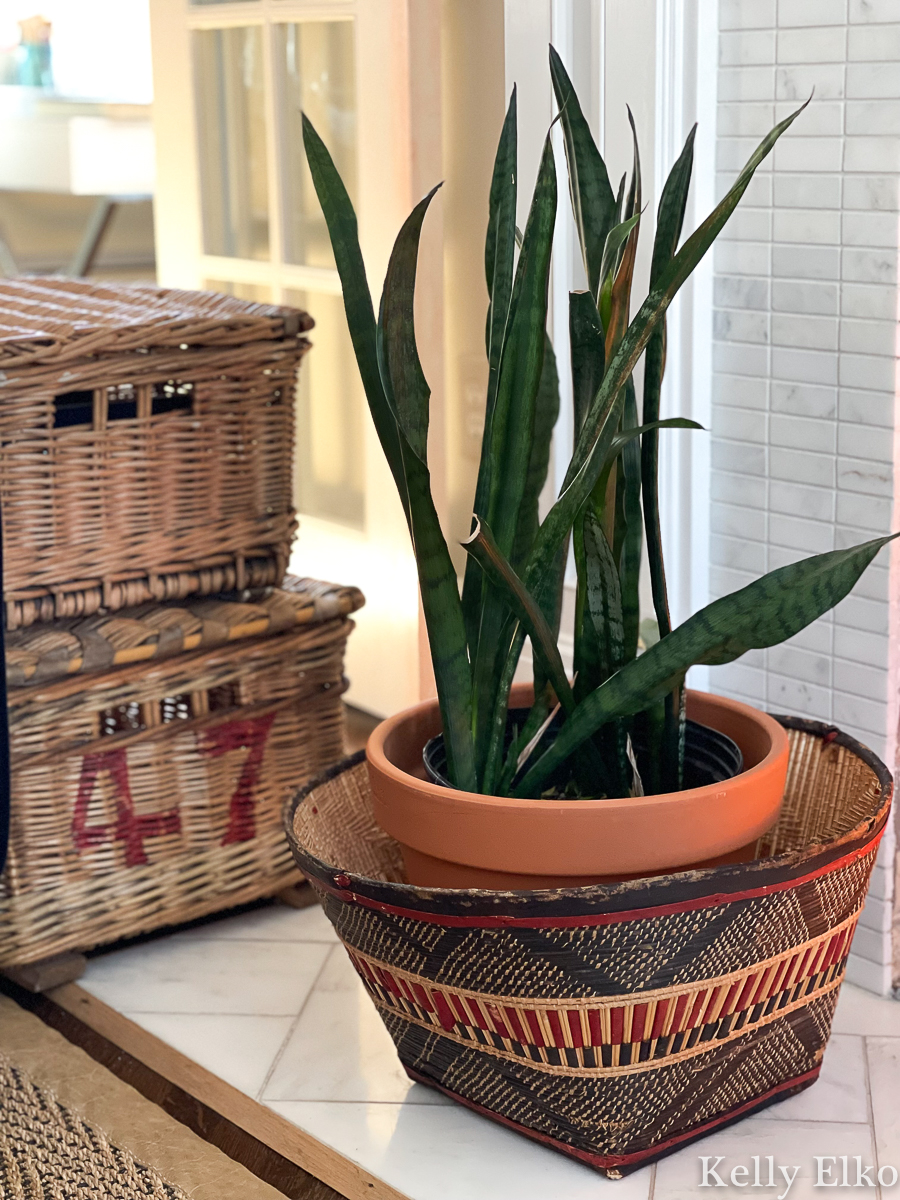 Greenery
Nothing brings life to a house better than plants and fresh (or dried) greenery! For those who think they have a black thumb, a snake plant is one of the easiest houseplants to care for (translation: it's practically impossible to kill)!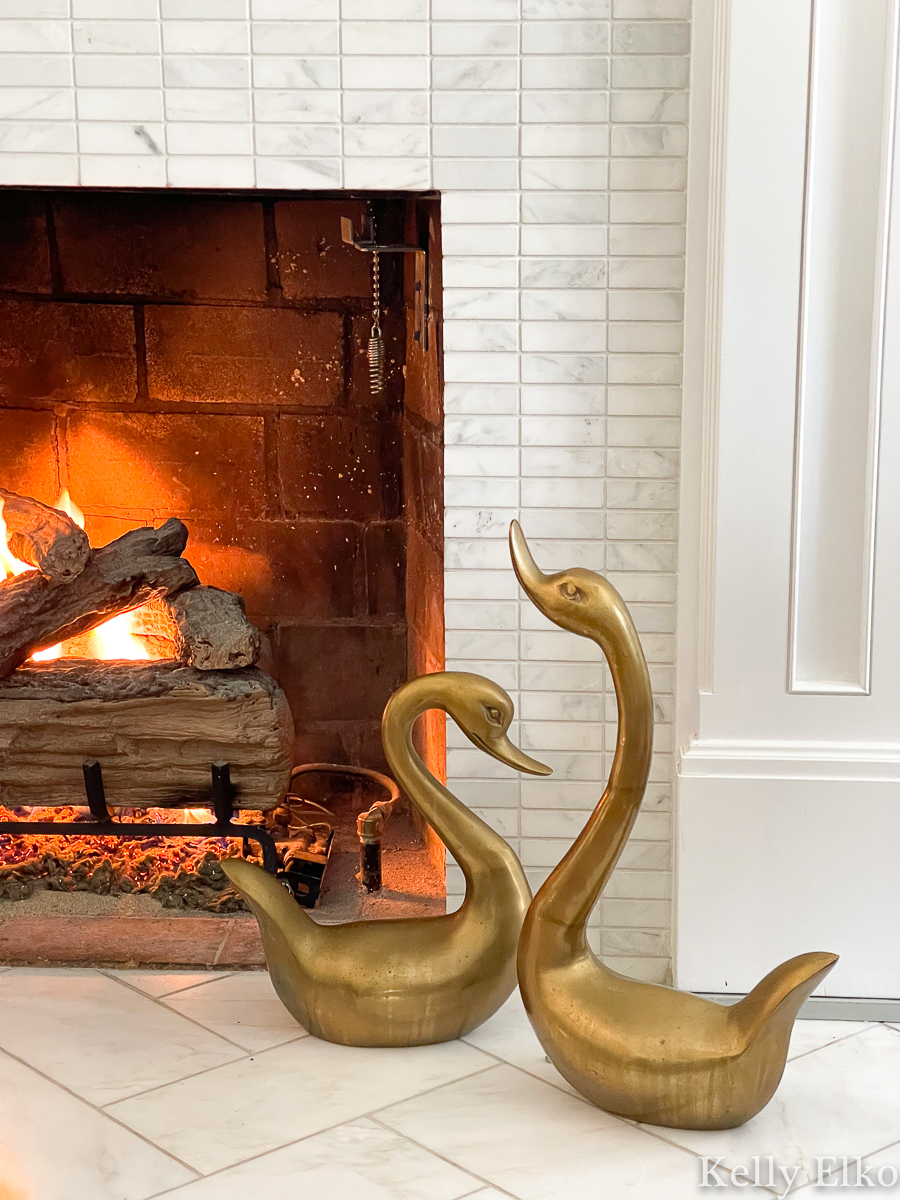 Neutrals
I LOVE color but after Christmas, I crave simplicity and I get that by surrounding myself with neutrals. Some of my favorite vintage finds in brass, silver and painted pottery fit the bill nicely.
I have amassed quite the collection of vintage brass figurines and these huge brass swans are favorites. I love the way they look sitting on the hearth.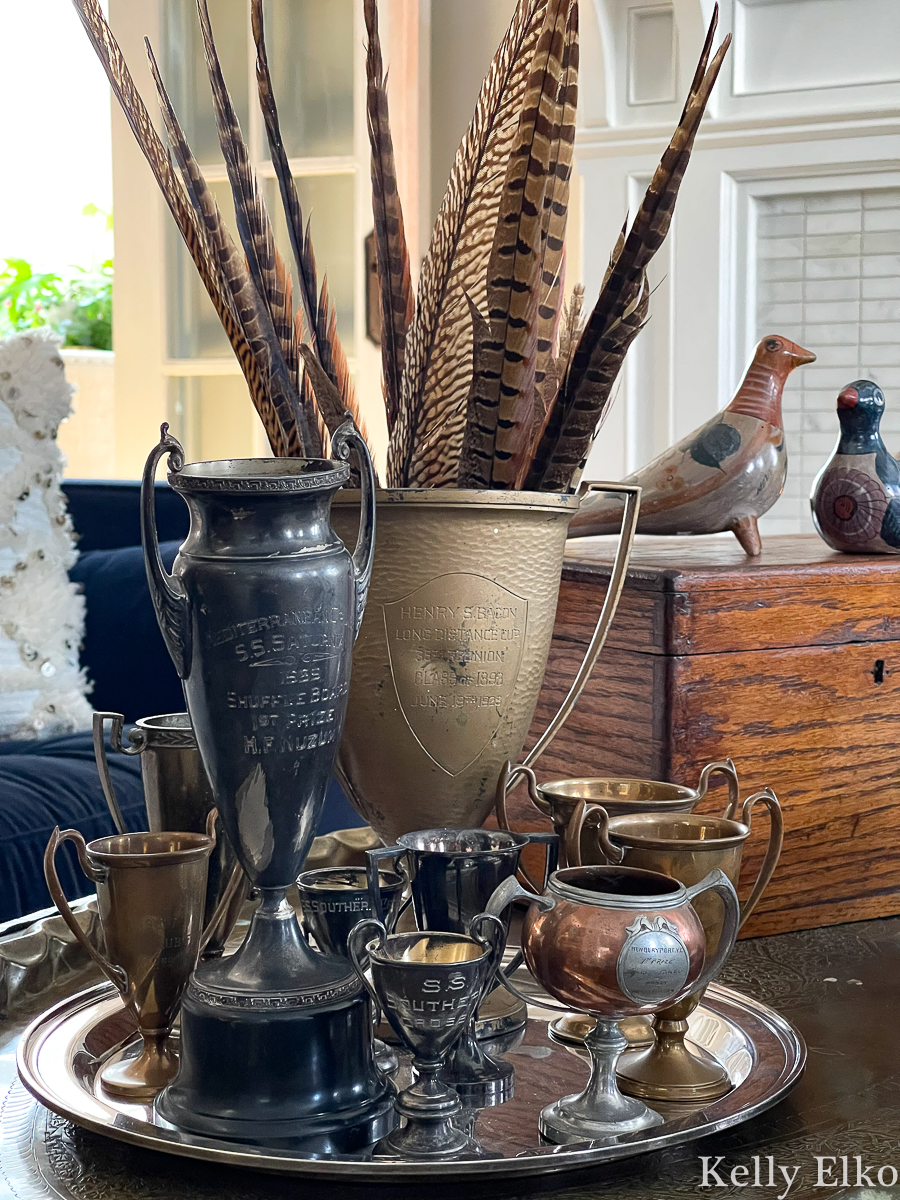 Natural Elements
Things plucked from nature add a sense of calm and interest to a room as can be seen from the vase filled with feathers and the turned wood planter.
These vintage loving cups held bottle brush trees for Christmas but look equally beautiful empty (except for one) and gathered together on a silver tray.
Mexican Tonala pottery animals are one of my latest collections and I love the their neutral, muted colors and floral patterns.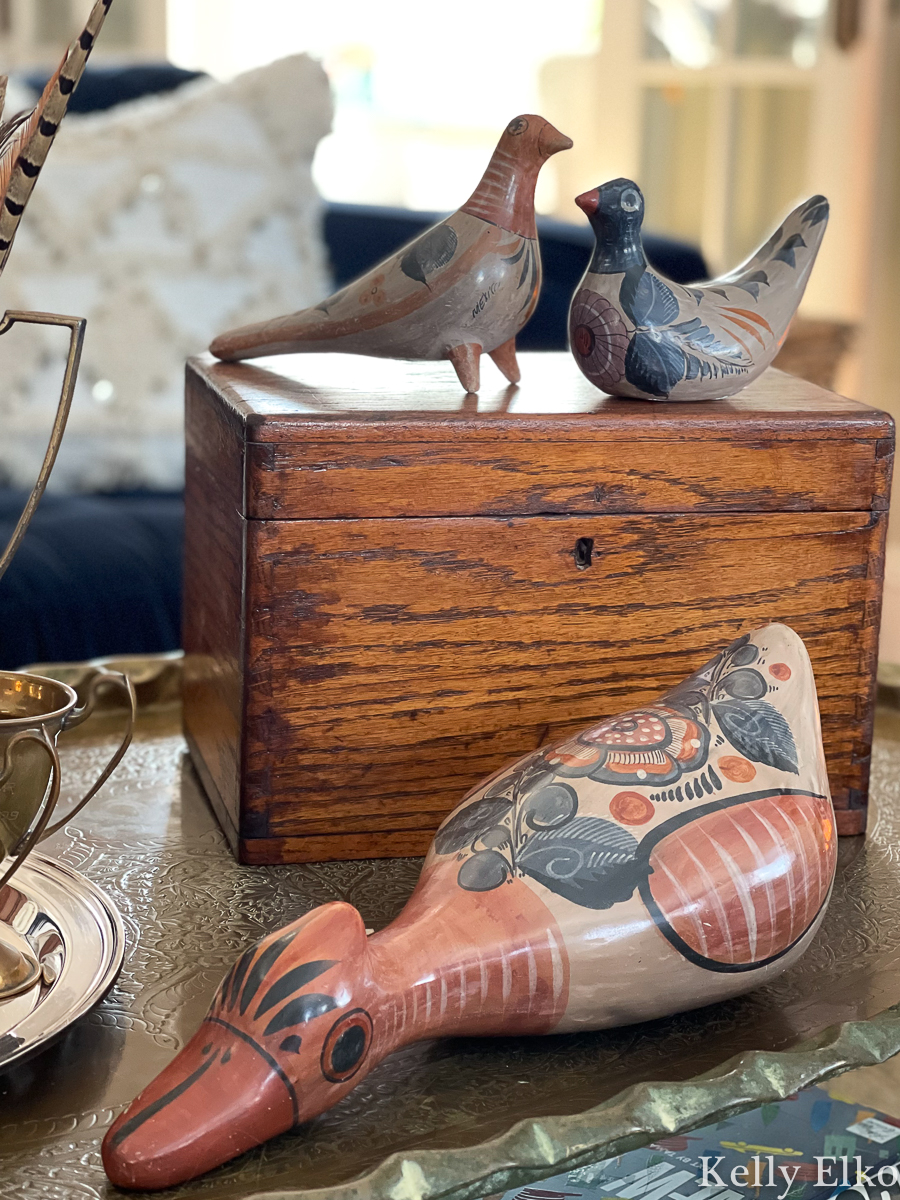 Cozy
I love having a big basket overflowing with cozy throw blankets and there is nothing better than a faux fur throw or a velvet pillow to warm up a cold winter night while watching Netflix.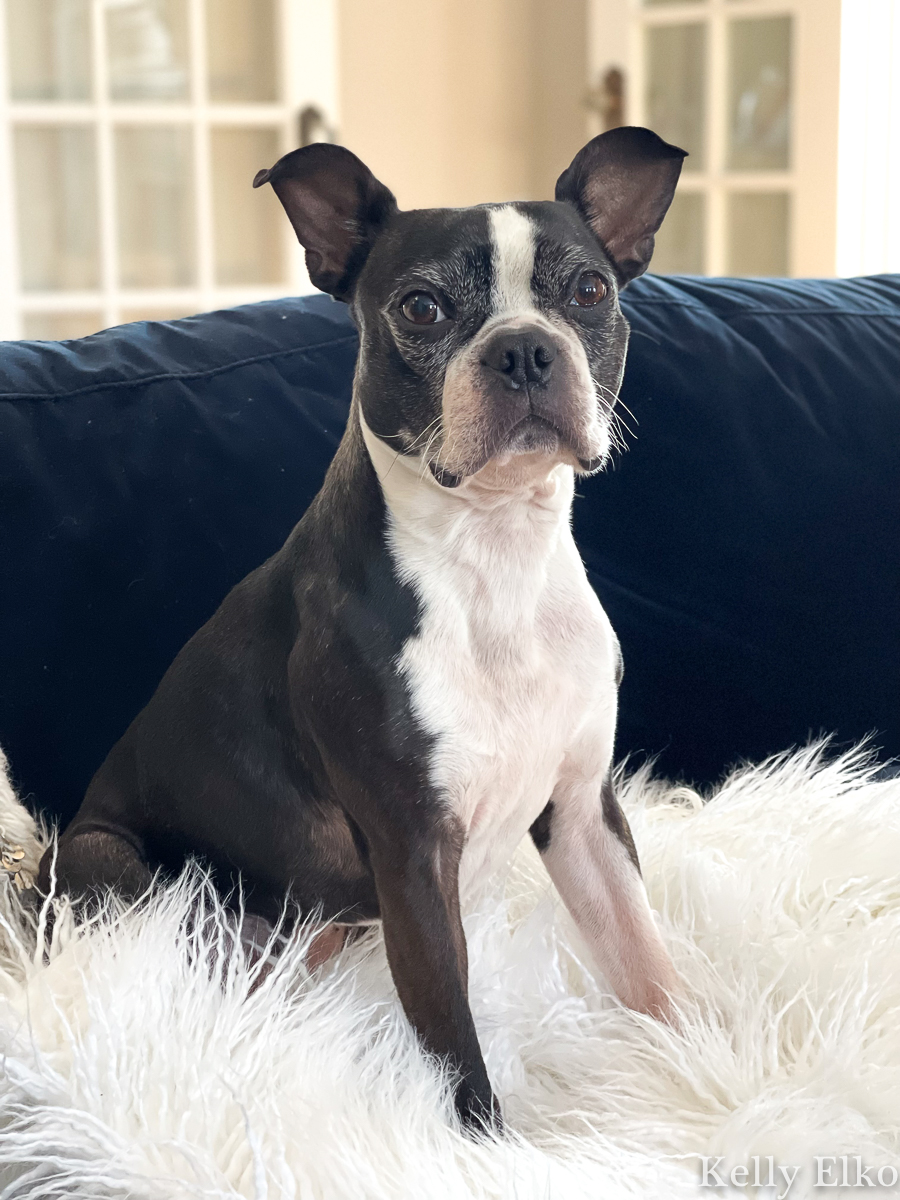 Sushi is the queen of hygge! She's happy to snuggle up on a furry throw by a roaring fire.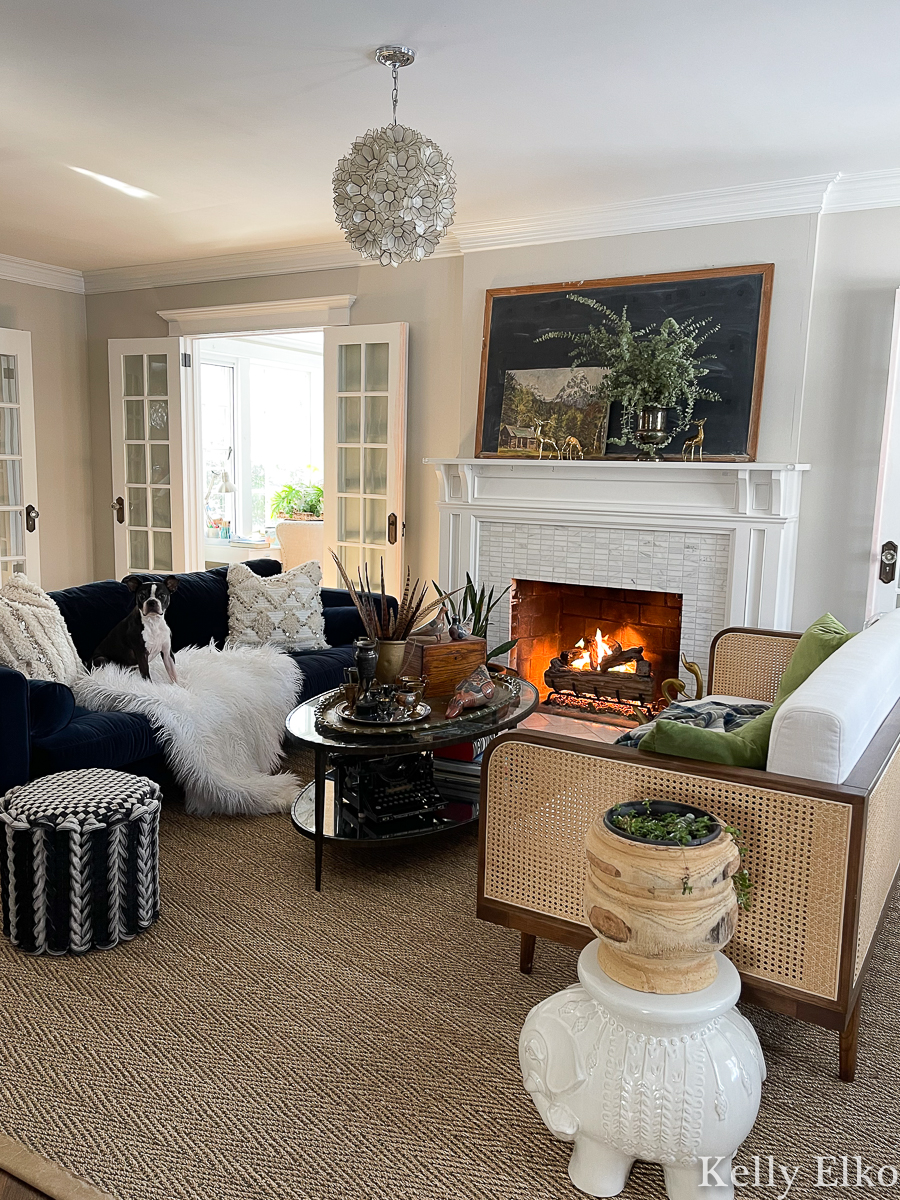 A sea grass rug, capiz shell chandelier, slate chalkboard, cane sofa, wood accessories, plants and greenery, feathers, and pottery all combine to create a cozy winter living room.
Throw in some meaningful objects like original art and prized collections to create a cozy and welcoming winter home long after Christmas has passed.