Let It Go! – 10 Steps to Clutter Free (and How to Maintain It)
I am a failure! I went on a mad purge of my basement a couple of years ago but, like my gray roots, the clutter has crept back! I am determined to make 2022 the year I conquer my basement once and for all. If you, like me, are drowning in clutter, here are my tips to finally getting rid of the clutter, get organized and maintain it! My decluttering tips will help you to know what to get rid of and how to make money doing it.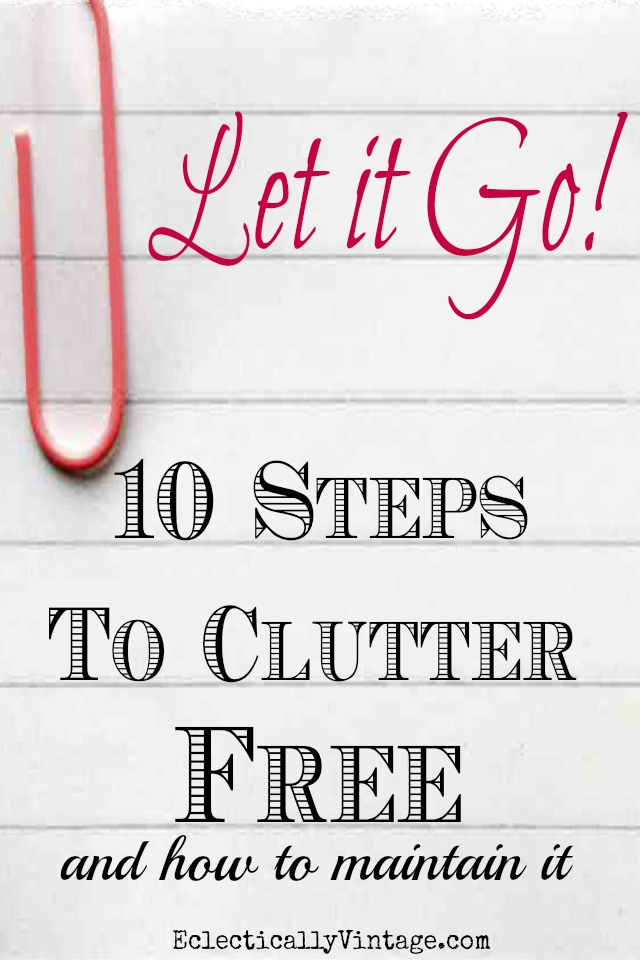 Let it Go!
I have piles of clutter that threaten to topple upon me causing serious bodily injury – maybe even death – so I have vowed that it's time to live with only the things that I truly love and get rid of the rest.
Excess stuff causes us stress (living with piles of stuff surrounding us is exhausting), money (we buy things we already own but either can't find or forget we have) and time (the constant search for that thing we can never find).
It's time to free ourselves of the excess and focus only on what brings us happiness with these decluttering tips.
"Have nothing in your house that you do not know to be useful, or believe to be beautiful." Following this famous golden rule of William Morris is a good way to avoid accumulating too much stuff.
Let it Go – 10 Steps to Clutter Free
1) Be a Robot (emotionless!)
Let's face it, we would have tossed most of this stuff long ago if we didn't have some weirdly dependent thing going on.  Time to focus and look at each and every item we own and if we haven't used or worn it within a year it's time to donate it (or toss it) to someone who will love it (remember, it's just stuff).
DON'T TREAT YOUR HOME LIKE A STORAGE UNIT!
2) Make Piles
Donate, Trash, Keep (this one should be the smallest!). Torn on what to do?  Put those few things you just aren't sure about in a box, put the box in an out of the way spot like the basement and revisit it in six months. Chances are, you'll have an easier time letting go once you realize you haven't missed anything.
3) Baby Steps
Start what you finish instead of hopping from room to room. Dump the contents of a drawer out then sort through it and you'll be amazed at how much ends up in the trash. With each organized area, it will get easier.
4) Get Creative
Can't stand to part with little Billy's three foot pile of drawings from Pre-K? Take pictures of your little Picasso's artwork and print out a little booklet that you can keep on your coffee table and actually admire (and toss the originals that have probably been gathering dust in the basement anyway).
5) Get the Family Involved
I gave my girls garbage bags and told them to fill them up with anything they didn't use or need anymore. I'm still a little distraught over the fact that they tossed my original Tickle Me Elmo doll but seeing their rooms with some semblance of order more then makes up for it (tip – check their bags before you donate if you don't want them tossing something of value).
6) A Place for Everything
Make storage a priority for the things you keep because if you can't see it, you'll forget about it and you'll probably buy more of it and then the clutter will begin again. Only purchase baskets, bins and storage containers after you declutter so you'll know exactly what you need.
You've Done It – Now What?
7) Weekly Purge
The hard part is over – now keep up the good work with a weekly purge. Do a clean sweep of tabletops, closets, drawers and paperwork then sit down to your spotless table and enjoy a glass of wine.
8) Buy Only What You Love
Now that you have the world's most organized home, be picky about what you bring into it. Buy it only if you love it and can't live without it and have a place for it (you can always sell something that you don't love on Craigslist).
In other words, does it spark joy as Marie Kondo would ask.
9) One In, One Out
Can't resist that cute new pair of peep toe sandals? Go ahead and buy them but donate a pair of shoes in the process. For everything you buy, donate (or toss) one thing (this will make you extra picky at the check out counter).
Keep a box designated for outgoing donations.
And last but not least …
10) When in Doubt, Throw it Out (or donate it or sell it)
Your sanity is more important than buying that 15th coffee mug. Keep only your absolute favorites of duplicate items and donate the rest. And remember, just because someone gifted it to you, you are not obligated to keep it for all eternity.
It's important to remember that what you keep costs you a lot!
So when you are tempted to hang on to things because you might need them again some day, you need to think about where to store it, give up the actual storage space, or take up precious empty space. Not to mention losing your sanity in the process.
Who's with me?  Let's make this the year we live mindfully and with less stuff and less stress.
And remember to let it go!
Please leave your tips for getting and staying organized in the comments – because we're all in this together.