Hoarders Basement Tour & The Big Purge
Do you feel overwhelmed by clutter? Don't fret because I am here to tell you that you are definitely not alone. Today, I'm going to completely humiliate myself by letting you peek inside the cluttered underbelly of my house and I'll take you on my video hoarders basement tour purge! I'm exposing my basement shame for the world to see so I can hold myself accountable in reaching my goal which is world basement domination … otherwise known as clean and clutter free!
Studies show that clutter has negative effects on our mental and physical health and can leave us feeling anxious, stressed, or even depressed. I have been feeling completely overwhelmed with the amount of stuff I have and it's time for a big change.
Take a Video Tour of My Basement Below (don't judge)!
According to the National Association of Professional Organizers …
80% of what we keep, we never use.
Getting rid of clutter eliminates 40% of housework in the average home.
The average American burns 55 minutes a day – roughly 12 days a year – looking for things they know they own but cannot find.
50% of homeowners rate the garage as the most disorganized place in the house.
We wear 20% of the clothes we own 80% of the time. The rest just hangs there, just in case.
80% of the clutter in most homes is a result of disorganization, not lack of space.
The average American spends one year of their life looking for lost or misplaced items at home and in the office.
I've cleaned out my basement before but like the hair on my chin, the clutter has come back with a vengeance! This time, I'm taking no prisoners and will ruthlessly weed out the things I don't need, don't use, don't care about and that aren't sparking joy!
Don't let that smile fool you – he's crying on the inside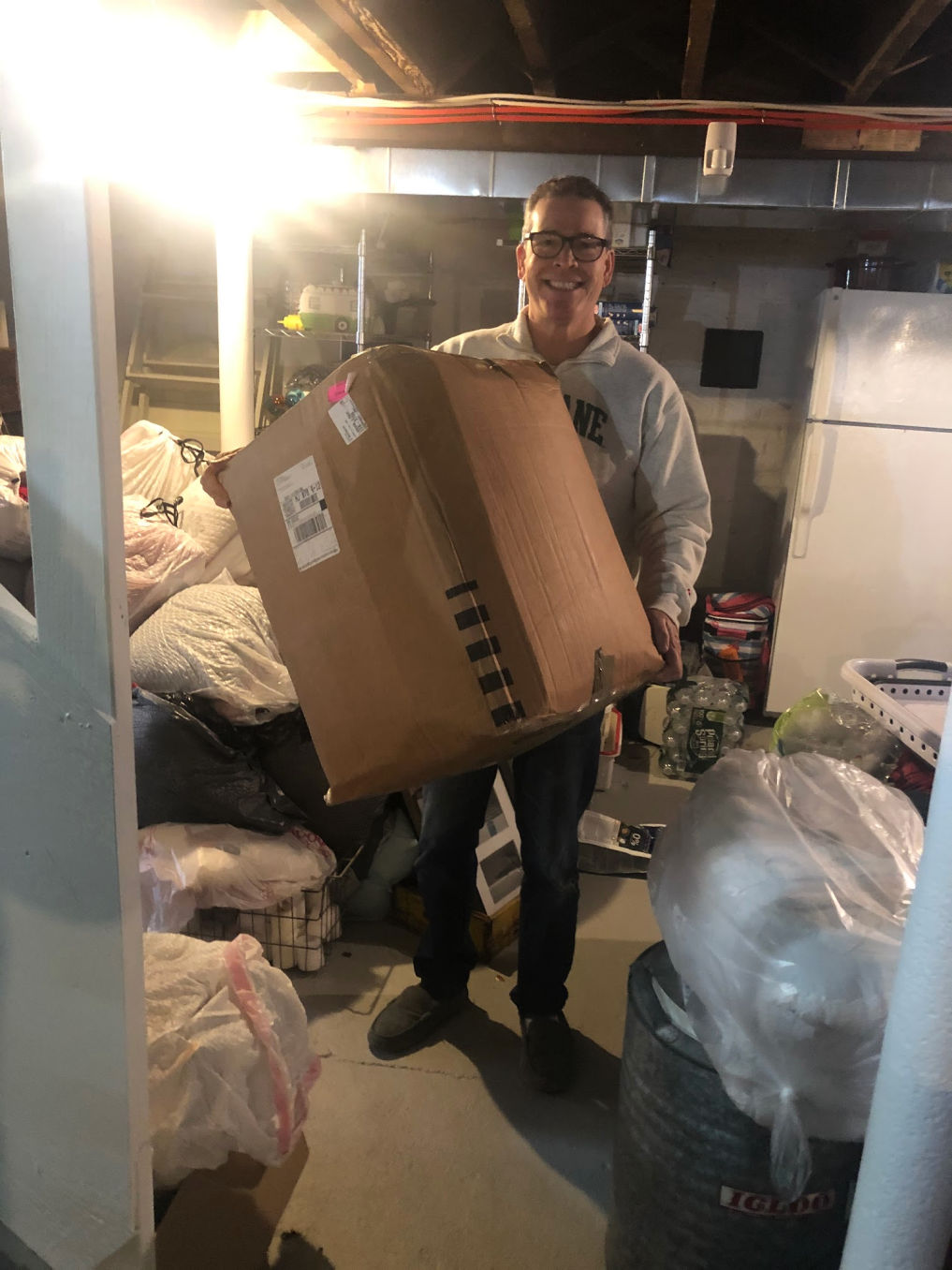 Decluttering Plan of Attack
Now I know how archaeologist Indiana Jones felt as he traversed his way through a maze of preying tarantulas, booby-traps, and collapsing caves, in his quest for the lost Ark of the Covenant!
My hubby and I fought our way through the underbelly of our home for two solid days and lived to tell the tale. My plan of attack …
Toss the trash (we filled up an entire carload and hauled it to the dump and have a second carload ready to go)
Post things of value for sale on Facebook Marketplace (I sold one thing within an hour of posting and counted a total of 14 pillows that will be soon be making an appearance on a thrift shop shelf)
Donate the rest (I like donating to the Vietnam Vets and the bonus is they pickup).
I had to give myself some tough love and vowed that if whatever didn't sell by the time the donation truck rolls up to my house, it gets donated.
We have a long way to go and will be spending much more quality time in our basement. Once the purge is complete, I can't wait to organize everything so I can actually find what I need, when I need it. A girl needs a dream after all.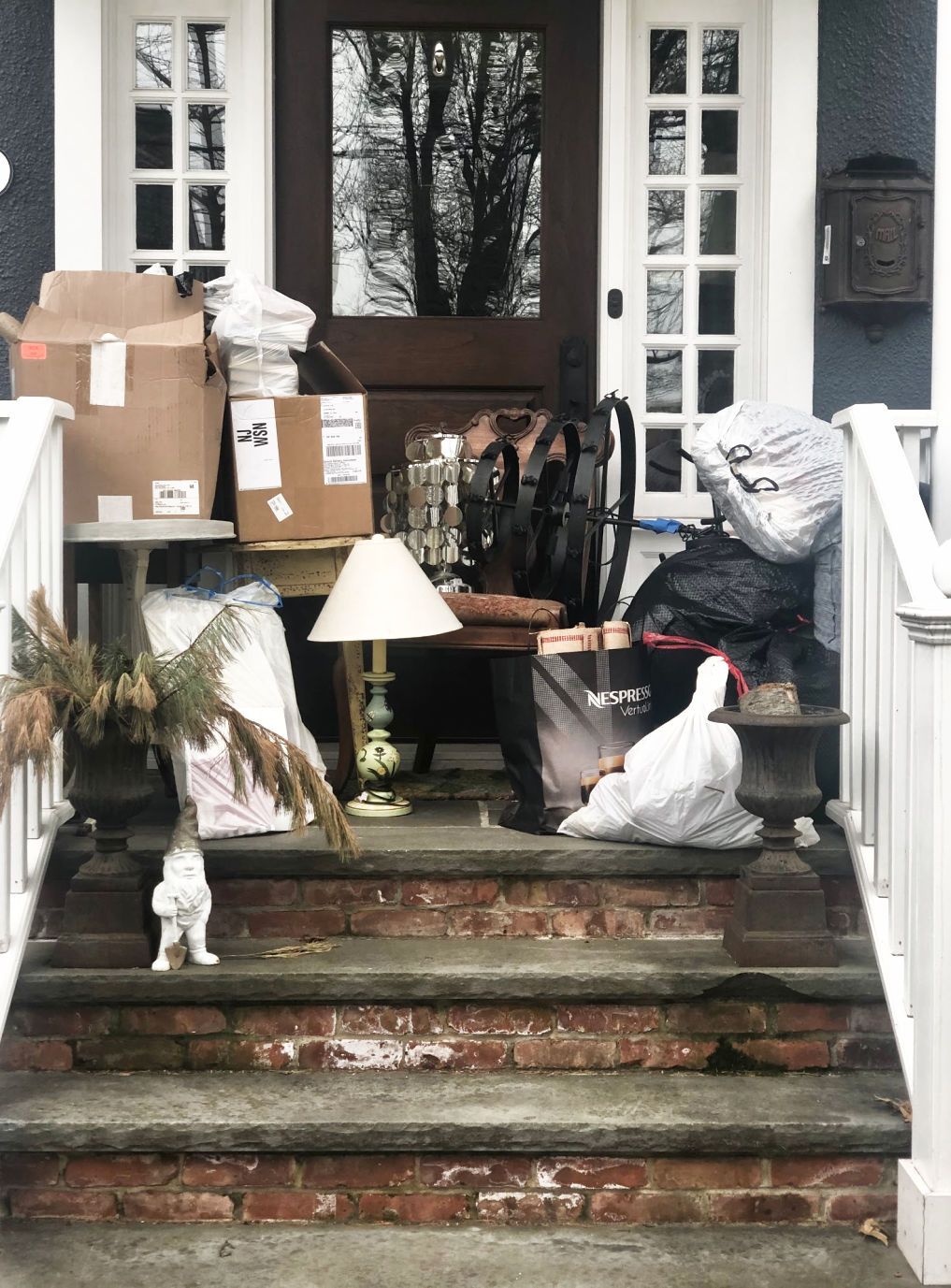 No gnomes were harmed in this process of this purge and I made sure to move him before the donation truck pulled up.
In exchange for purging all the things that are weighing me down, I hope to be rewarded with a clean, clutter free, easy to navigate basement. The thought of being able to find exactly what I'm looking for is such an exhilarating thought!
I will keep you posted on my progress but I hope to complete this daunting task over the next few weeks.
If you are in the same cluttered boat, leave a comment so we can cheer each other on!