How to Make Money in Facebook Buy & Sell Groups!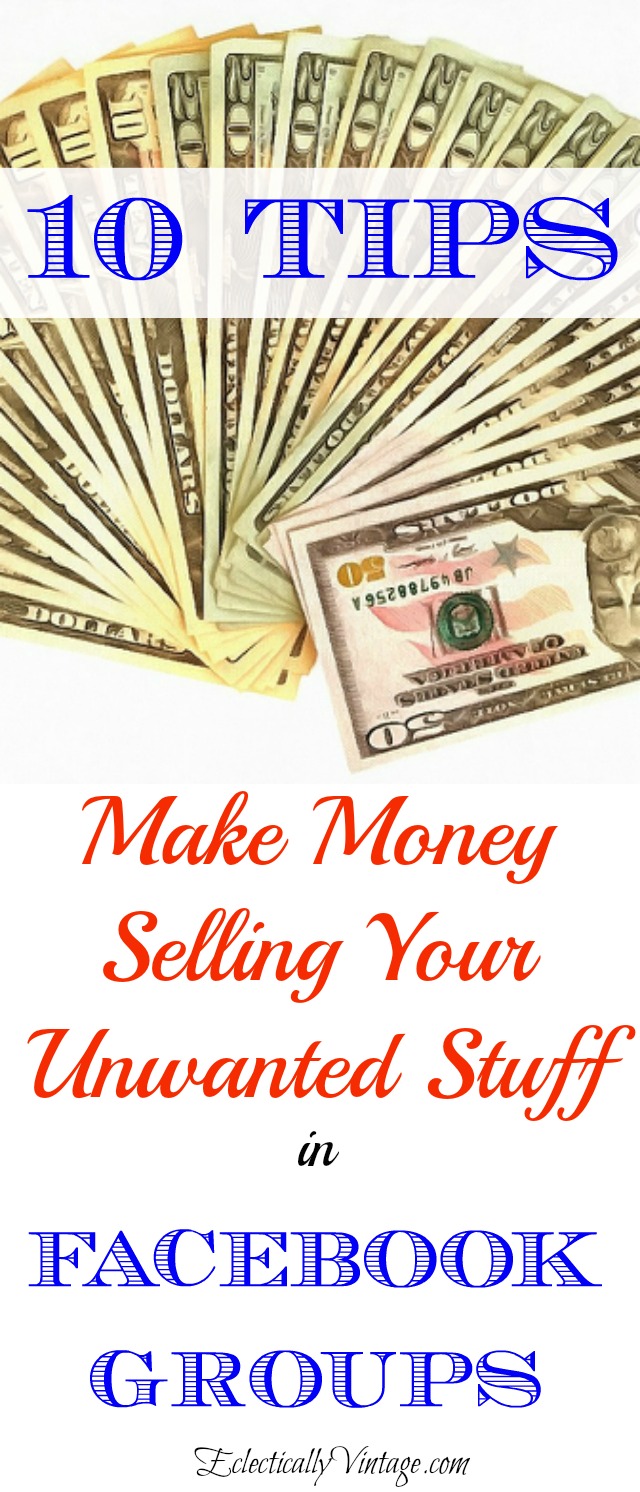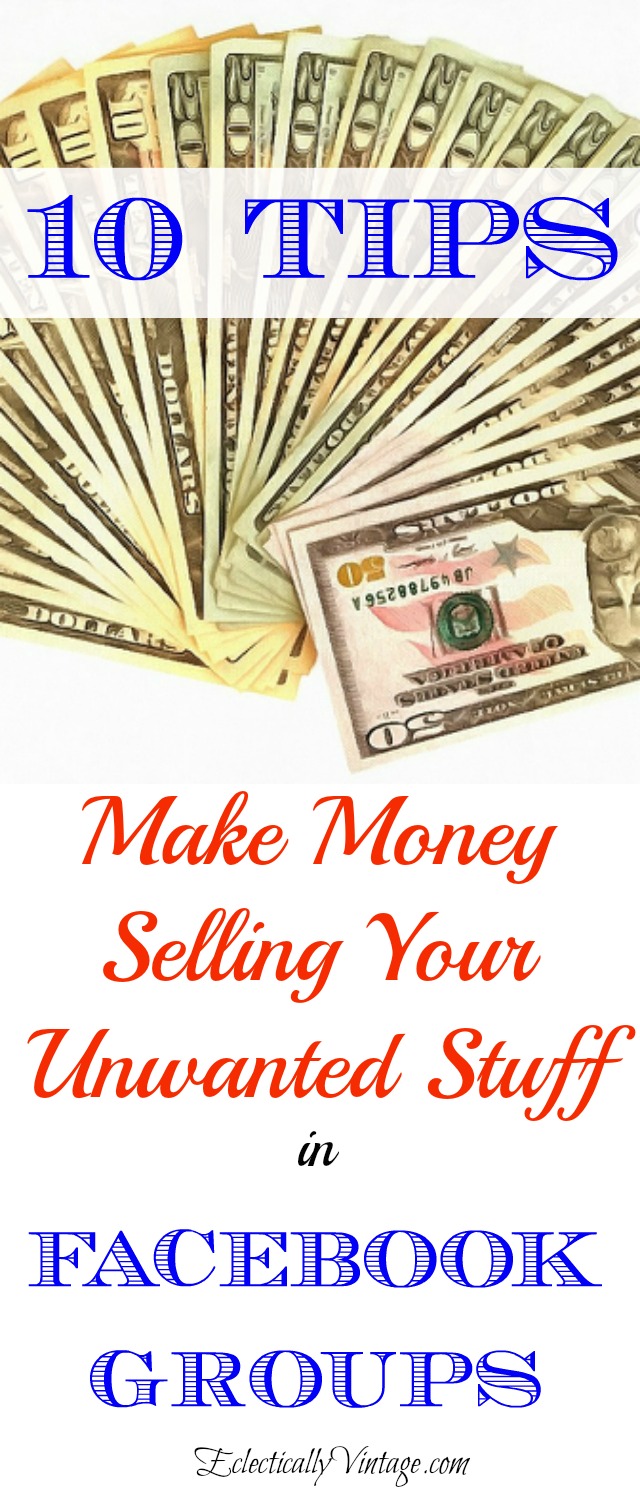 Warning: BUYING AND SELLING ON FACEBOOK IS ADDICTIVE!
I recently joined one of the popular Facebook Buy and Sell Groups that are popping up all over the place and have been loving it!
It's an easy way to sell unwanted stuff to people that live nearby. In one week, I listed a pair of pillows, two terracotta strawberry pots, a floor lamp and three French platters.
Cha-ching – yes that's $120 burning a hole in my pocket just by getting rid of stuff that has been gathering dust in my house. Bonus: my hubby is thrilled I'm letting go and cleaning out the clutter!
I've been learning to let things go to create a calmer less clutter filled home (read my Decluttering Tips) and the extra money is a bonus.
How to Make Money or Find Bargains in Facebook Buy and Sell Groups
1) Find Buy Sell Groups
I did a search for "NJ Buy Sell Trade" or "New Jersey Buy" or "my town sell", etc. Try searching multiple ways and matches should pop up. Click on them to learn more and ask to join groups that are a good fit.
Not finding a group in your area? You can always start your own and spread the word to your local friends.
2) Read Group Description
Most groups are closed which means you have to ask permission to join but many will have a description for you to read the rules before joining. Some limit the amount of posts, some only want certain items (one of my group excludes kids stuff and personal items – it's solely for household goods and furniture).
Some groups are larger than others (one of mine has over 4,700 members) and the bigger the group, the more likely your things will sell quickly.
3) Start Selling
(Can't part with your stuff? Start with my Tips for Letting Go and Decluttering Your Home).
Using Cell Phone: make sure you have the Facebook app on your phone. Take photos then share to your Facebook page. Click on your name, then click on Group and choose the buy/sell group you want to post to. There you can add your description and price.
Using Computer: Go to your buy/sell group and click "sell something" then add title, price, zip code, description and finally upload photos then click done.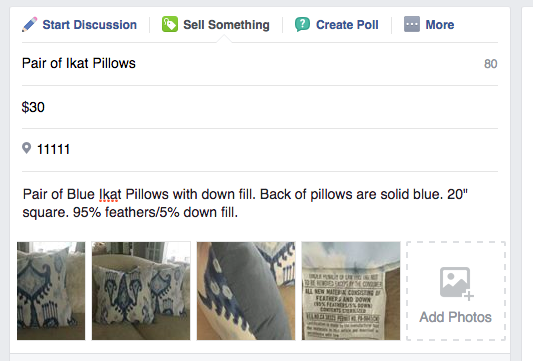 4) Detailed Descriptions
Include important information including measurements, age, any damaged areas and price.
5) Photos
Cell phone pics are fine just make sure they are clear and bright with minimal stuff in the background. Take close ups of details, important markings and damaged areas.
6) Price
My goal is to clear the clutter while making some extra cash so I price things fairly. I think 1/3 of the retail price is a great starting point (remember people want a bargain).
7) Be Available
I suggest downloading the Facebook app to your phone and turning on notifications so you can easily answer questions from buyers.
In my group, if someone is interested, the seller will leave a comment on the post letting the interested buyer know they sent them a direct message so they can work out the details. Because these people aren't your FB friends, sometimes their Direct Messages will go to your "Other" folder so remember you might have to search for it.
8) Pick Up 
Some people prefer pick ups at their house while others prefer a public place like a busy parking lot. Choose what works for you and be safe!
9) Edit Post
Once it sells, make sure to go back in and mark it as sold or delete the post.
10) Multiple Groups
Try a few different groups to see which one works best for you. If you do post the same item in more than one group, put in the description that it was "cross-posted."
How Facebook Buy/Sell Groups Compare to …
Yard Sales – Although I love a good yard sale (see my Tips on Throwing a Killer Yard Sale), I can sell on Facebook at my own pace without having to lug everything outside.
Craigslist – you'll have access to a larger audience but it is more time consuming to post.
eBay – great for expensive collectibles or one of a kind items but you'll have to pay shipping charges and fees.
Let me know if you have ever bought or sold something in one of these Facebook groups or if you have any other tips to add?
Now I'm off to find more stuff to sell (and maybe find a few bargains to buy)!
Don't miss these related posts …
Tips for Throwing a Killer Yard Sale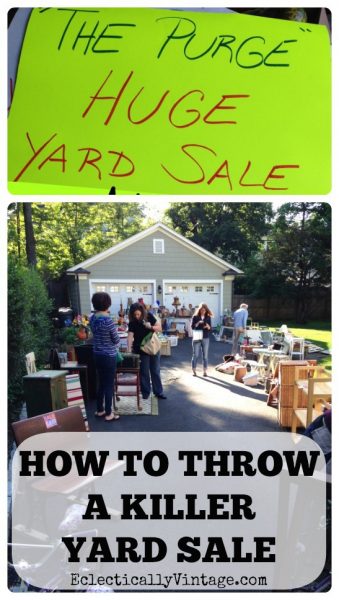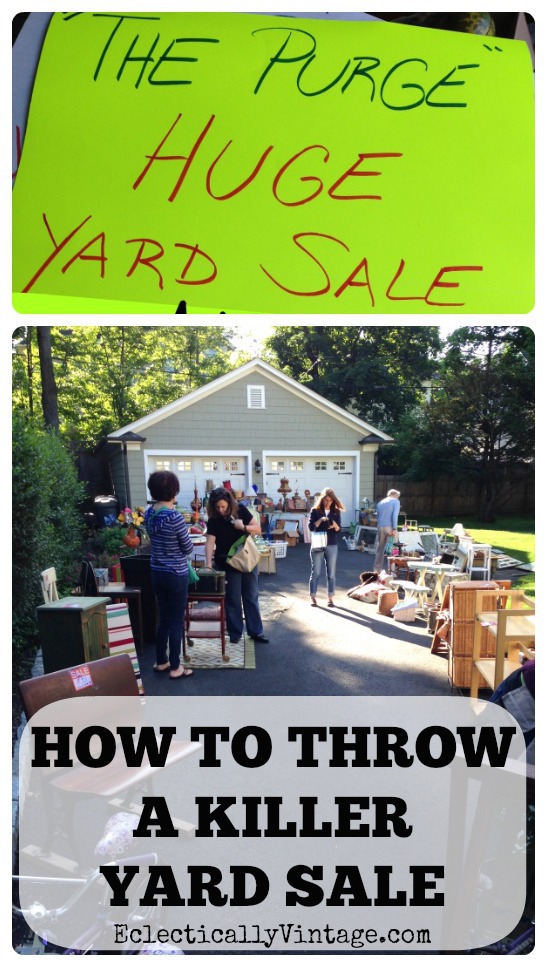 Let It Go – 10 Steps to Clutter Free