7 Tips to Get Your Home Fall Ready
Welcome pumpkin spice lattes, leather boots and crunching leaves underfoot – I've been waiting for you! I'm sharing 7 fall home decorating tips to easily transition your house from summer to fall. These affordable ideas will get you to think outside what people typically consider fall decor and inspire your creativity!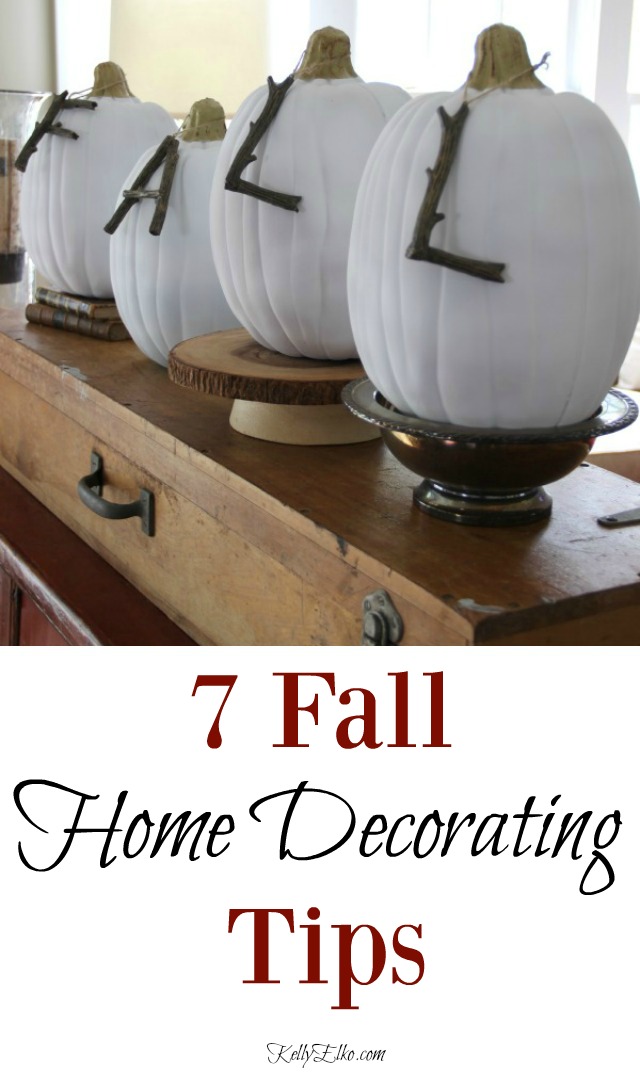 There's something about a change in seasons that makes me want to nest even more and I'm sharing my fall home decorating tips for a stress free transition from summer into fall.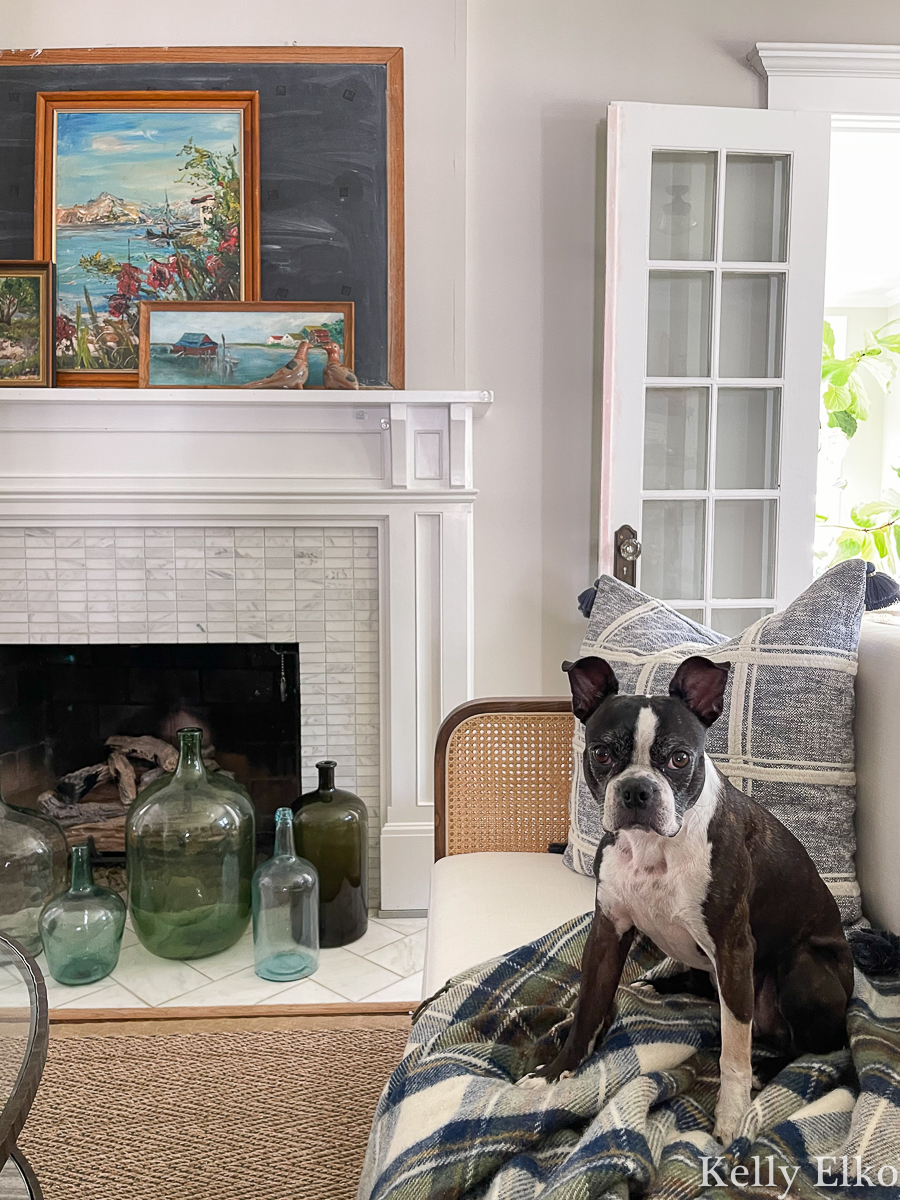 1) PURGE
If you're like me, you have bins filled with tons of seasonal stuff that you NEVER use! Why do I have such an emotional attachment to plastic snakes and fake pumpkins?
This year, instead of letting these useless tchotchkes clutter up my basement (and my life), I'm kicking them to the curb. I'll sell, donate or trash most of it. Make sure to read these Tips to Make Money on Facebook Buy and Sell Groups if you have things to purge.
Didn't that feel good? Bonus – now you can actually see, remember and use what you decide to keep!
Or try repurposing what you already have …
2) FOCUS
Don't feel the need to cover every visible surface with pumpkins and corn stalks. Instead, pick one or two key areas in your home and focus on those.
Go crazy on a mantel or dining room table. For the rest of the house, simply scatter a few mini pumpkins, bowl of nuts, or a branch of fall leaves.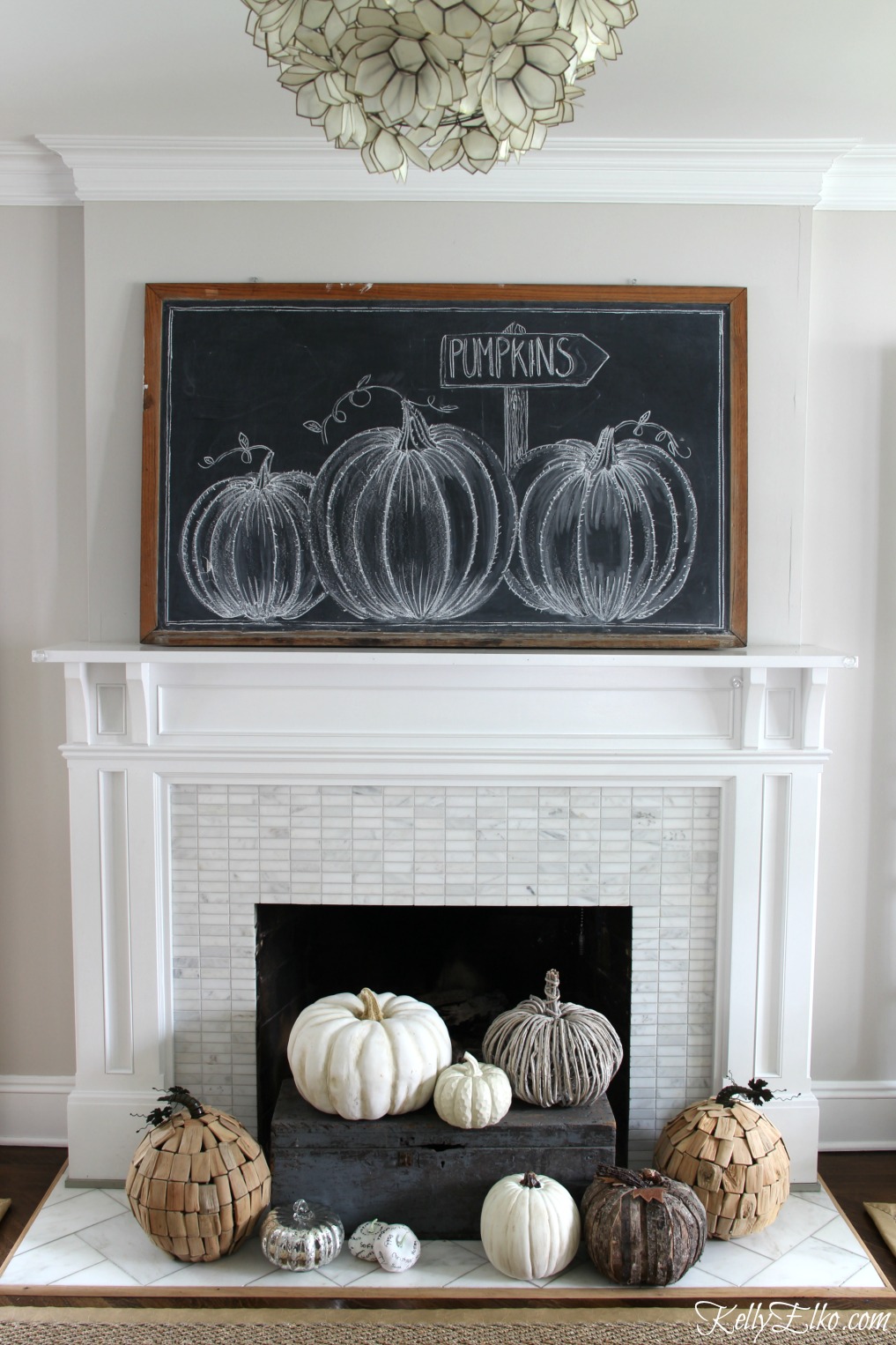 3) DOUBLE DUTY
Think beyond what is considered typical fall decor.
Use your everyday items in a new way. Stack books or plates and add a mini pumpkin on top. Fill an old colander or bowl with apples. Use jars and cloches to display favorite collections.
You know I'm a big believer in using vintage finds in my home. They are the best way to make sure your house is one of a kind!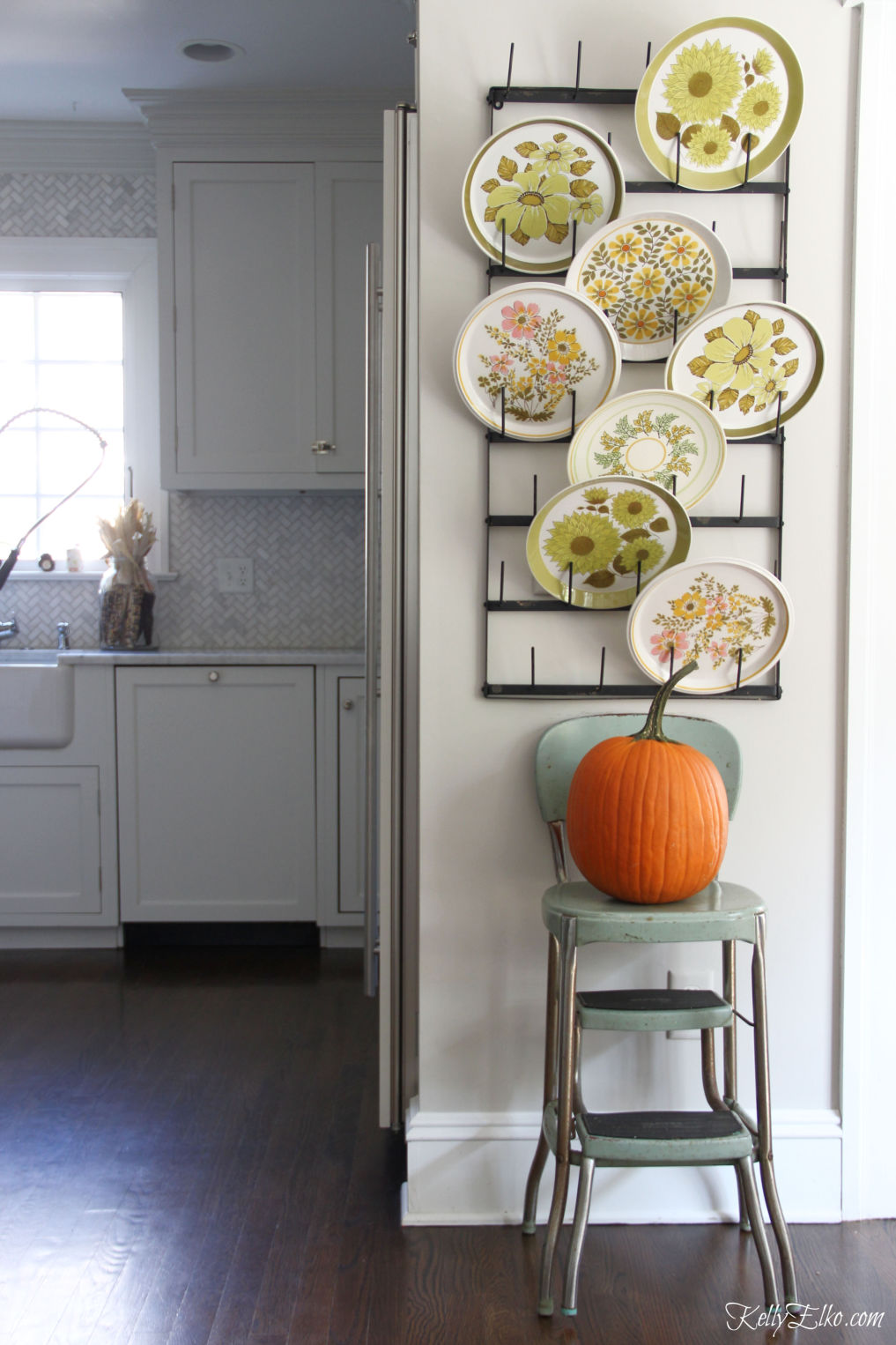 4) GET OUTSIDE
Snip branches, gather pinecones and acorns (remember this Acorn Vase I made years ago), cut sedum or hydrangeas and bring them inside. All my kitchen counter needs is a huge arrangement of dried hydrangeas for a simple fall look.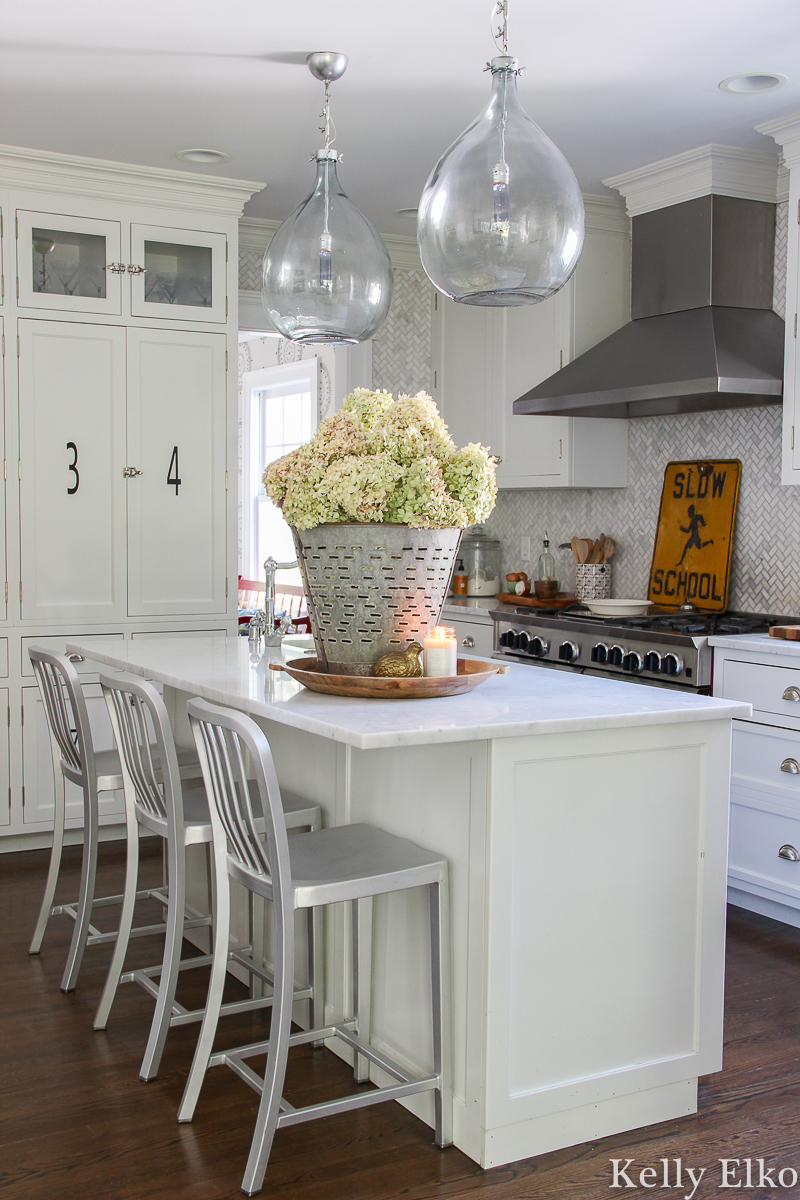 5) GET COZY
Pillows and throws are my favorite way to add seasonal flair. I love draping throws on the sofa for color and texture then piling more throws (one for everyone in the family) in a woven basket for binge watching our favorite shows.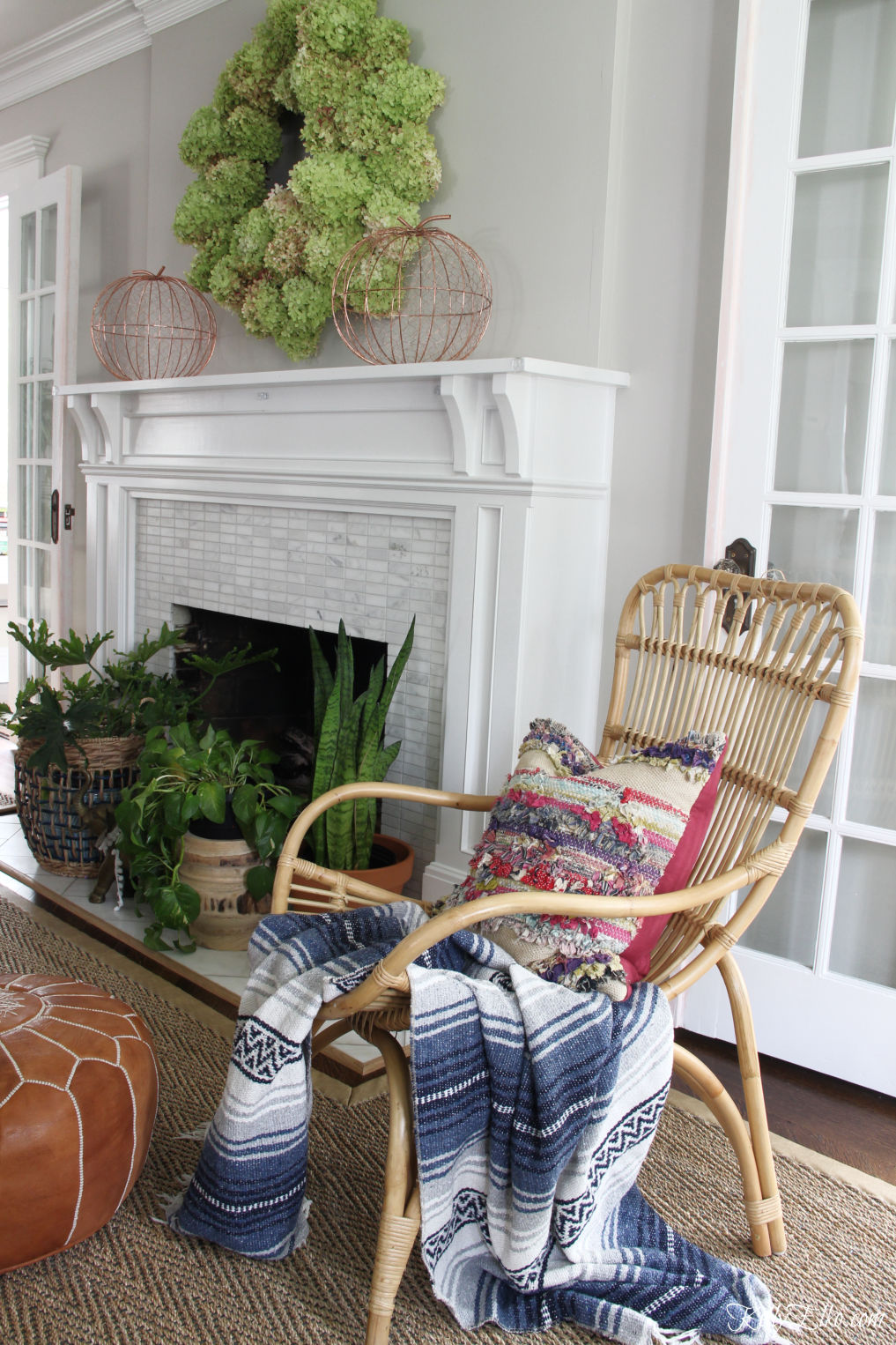 6) SOMETHING NEW 
It's always fun to add something new every year and I love searching for the perfect pillow, dishtowel, candle or wreath.
When I say new, I also mean new to you so hit the thrift stores and flea markets and add some vintage touches to your fall home.
Or get crafty and create something fun like the giant dried hydrangea wreath hung over my mantel.
7) ENJOY
Use colors that make you happy and don't feel obligated to incorporate "typical" fall colors like orange or rust. If you love pink, then pink has a place in your fall decor!
Don't forget to light a pumpkin scented candle, wrap yourself in that cozy throw and enjoy a pumpkin latte because before you know it, it will be time to decorate for Christmas!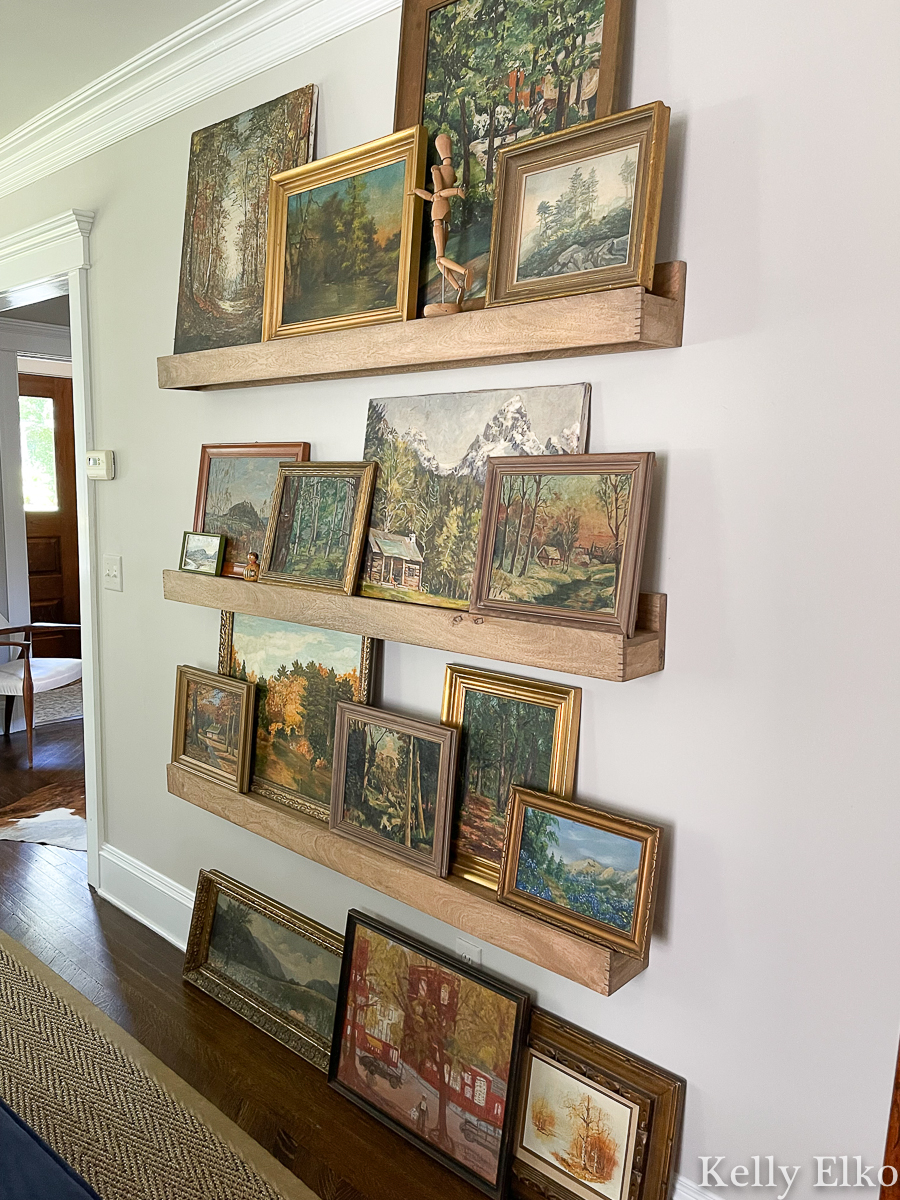 P.S. I actually hate pumpkin spice anything. How about you?