I started this blog on September 12, 2011 and have loved sharing decorating and gardening tips as well as travel adventures and a random recipe thrown in for good measure with all of you. Writing this blog has been an incredible adventure and I've really enjoyed connecting with all of you. To celebrate my 8 year blog-aversary, I thought it would be fun to look back and see just how much my decorating style has changed over the years. Let's channel the Great Pumpkin to take us back in time to look back on all of my fall mantel decorating ideas … but only if you promise not to laugh!
2019 – This mantel is a lesson in less is definitely more. I really enjoyed making my huge hydrangea wreath and love the natural look it brings to my living room. You know I hate the big black dark hole of a fireplace so when it's not in use, I love covering it up. Plants add color and texture and mimic the green in the wreath.
Get the affiliate capiz shell chandelier here.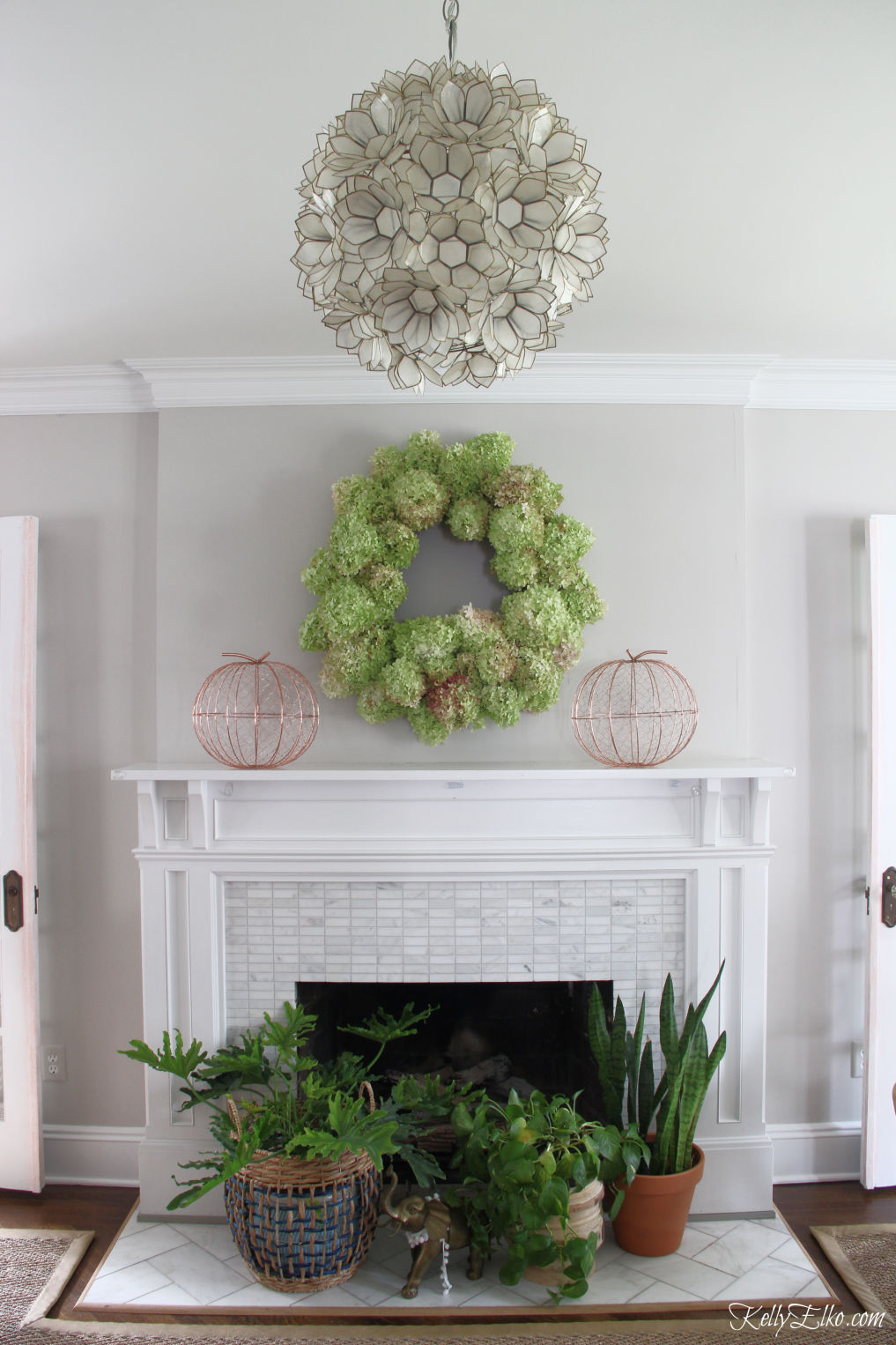 2018 – I am a color lover but sometimes a gal likes to embrace her neutral side and I did just that with last year's mantel. The old chalkboard I got for free at a garage sale is the only thing on my mantel and it leads to a pumpkin patch in everything from driftwood to tree bark to twigs and more. I used an old blue chest to elevate some pumpkins to really help disguise the fireplace hole.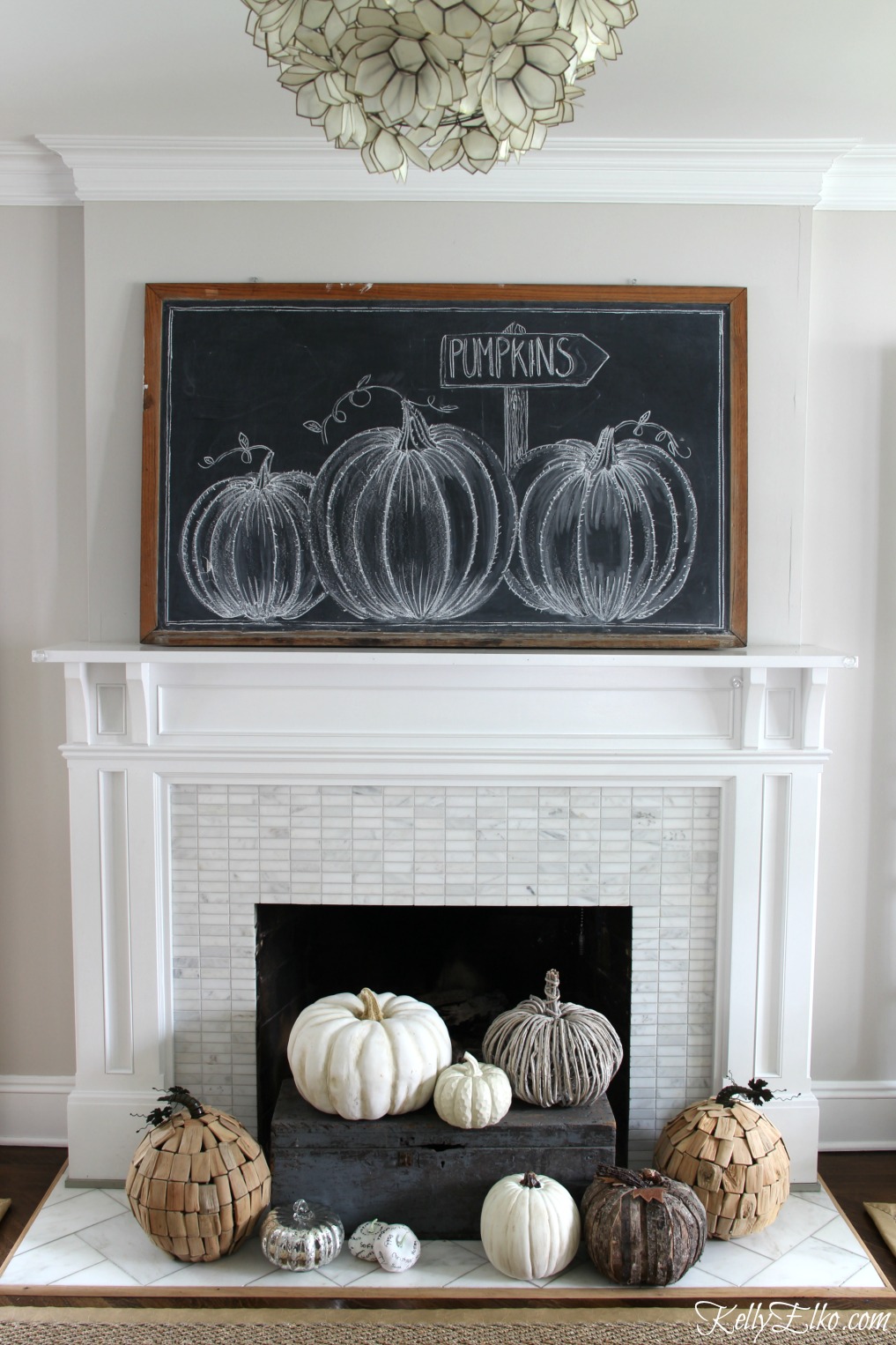 2017 – This is the first year I had the huge chalkboard so I was super excited to have this beautiful chalk art featuring my dog Sushi! I loved it so much, I hated to erase it so before I did, I made sure to turn it into a free printable! Dried hydrangeas in a vintage milk crate sit on top of an old Whitman's chocolate crate that mimics the color of the chalkboard frame.
See my 2017 Fall Home Tour here.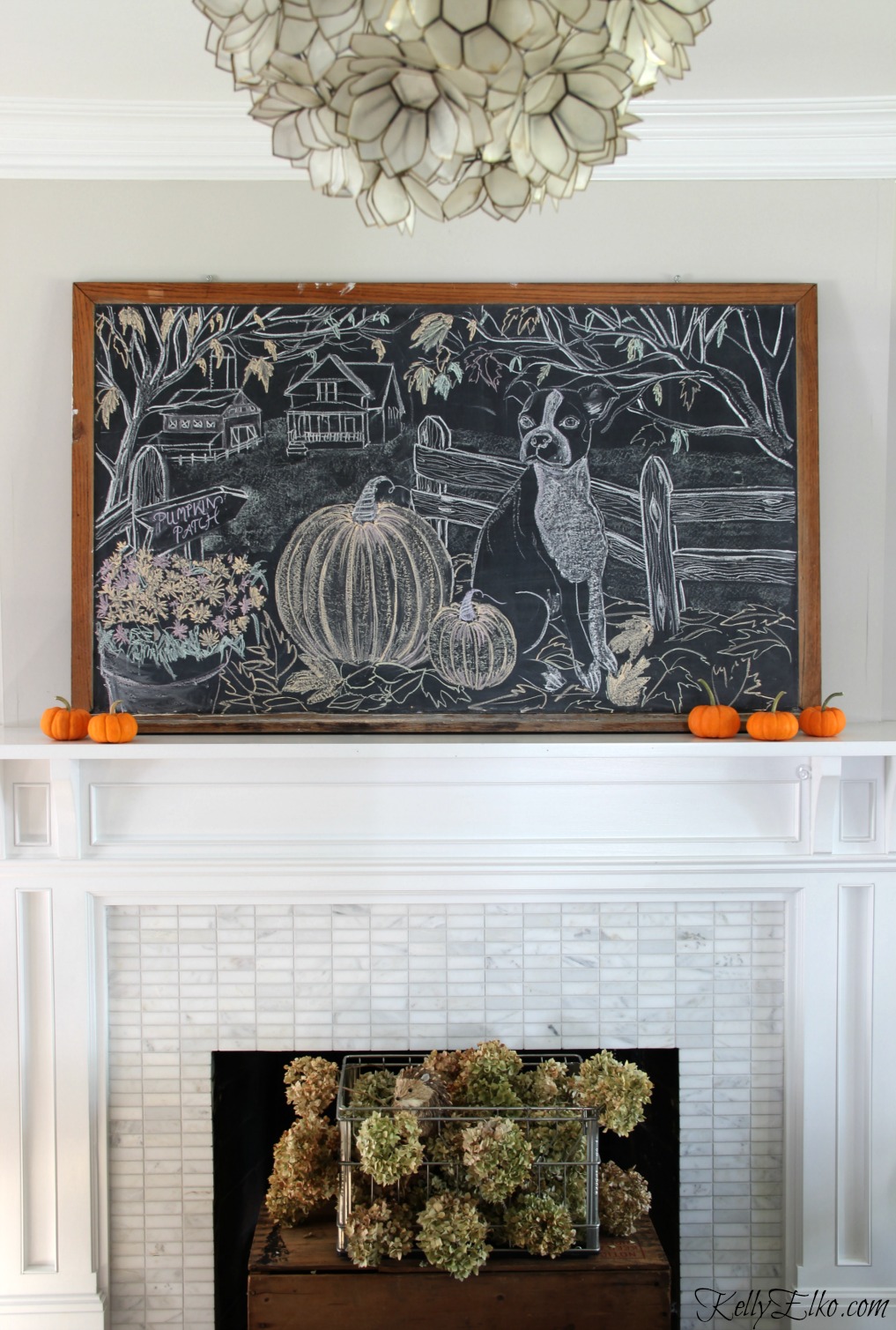 2016 – From my demijohn (old wine jugs) collection to an old green croquet box to a worn and crackled landscape painting right down to the little brass quail, I love that every single thing on this mantel is thrifted vintage finds. This is where the basket of dried hydrangeas started and you can see I really love that little hedgehog!
See my 2016 Fall Home Tour here.
Take my 2016 Fall Home VIDEO TOUR here.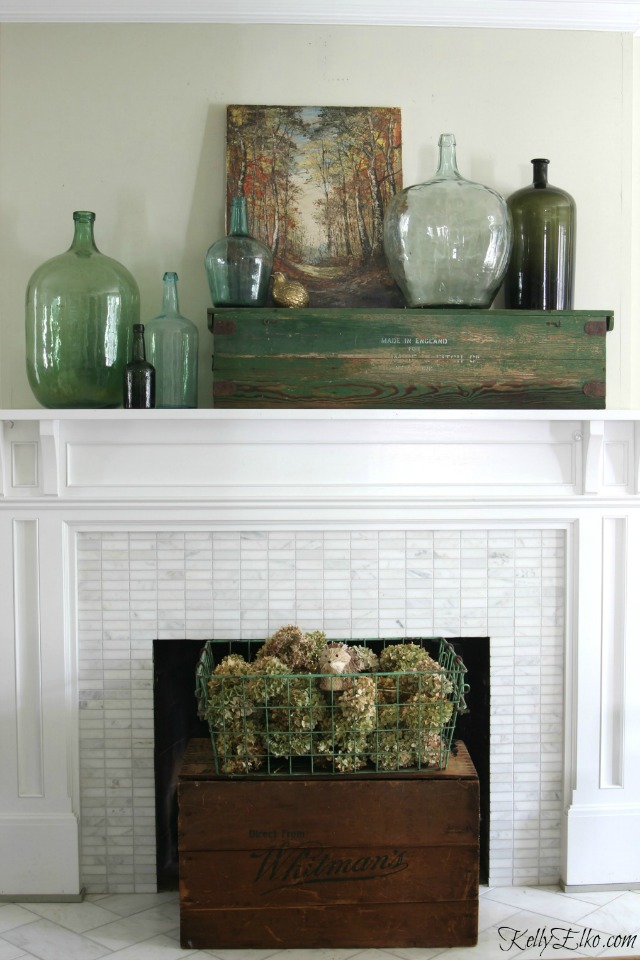 2015 – Let's look past the bad photography (and the fact that my blog had a different name as you can see from the watermark) to this chalkboard printable I tacked onto an old tabletop. An old window covers the ugly fireplace hole but I wish I would have ditched the burlap under the pumpkins. I think it's missing a pop of color too.
Take my 2015 Fall Home Tour here.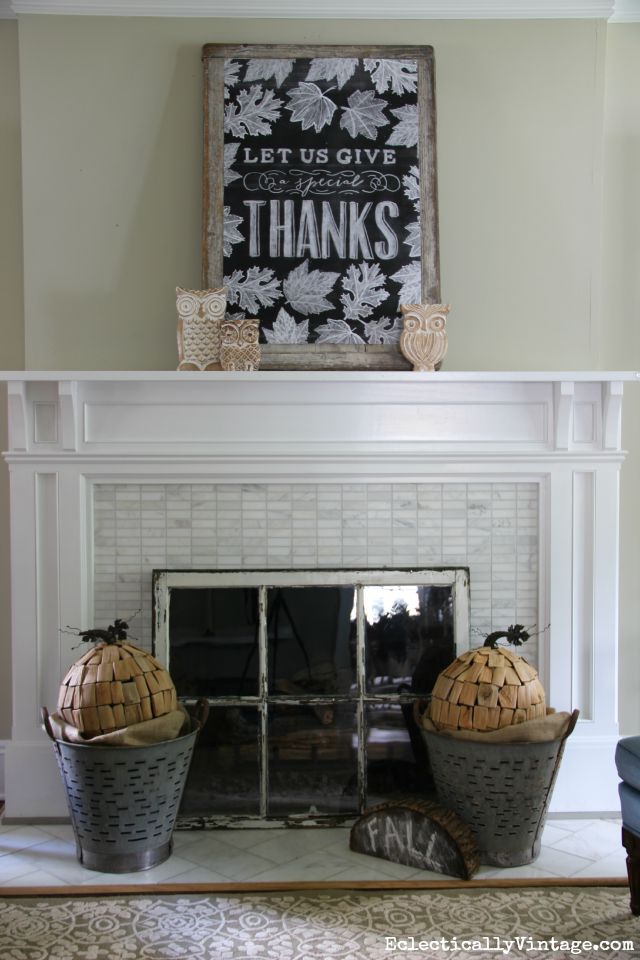 2014 – I love the fabric-less chair as a "fireplace screen" and the simplicity of an old window as a backdrop to a heavily textured wreath. I wish I had added a bit more color to the mantel. I like the color that comes from the hydrangeas and vintage bottles.
Take my 2014 Fall Home Tour here.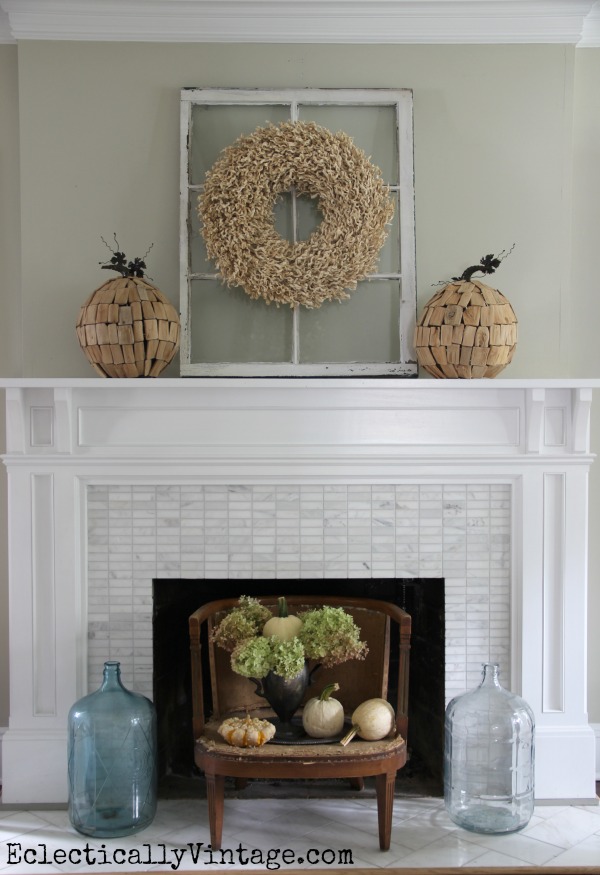 2013 – This is where things start to get embarrassing ! Obviously I have a thing for old chalkboards and I do love the green schoolhouse board but those fake leaves probably need to go and not sure how I'm feeling about that branch!
Take my 2013 Fall Home Tour here.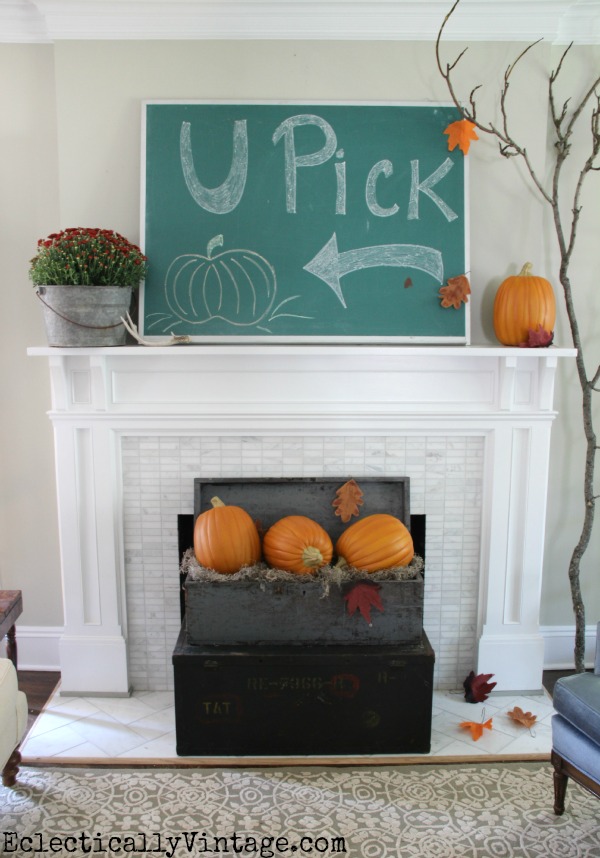 2012 – Let's not discuss the bad photography in tis mantel filled with real pears and jars filled with big brown branches. It's not my finest work!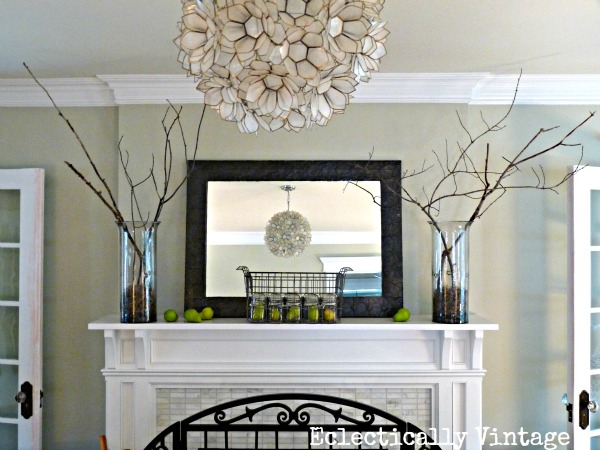 2011 – There are no words!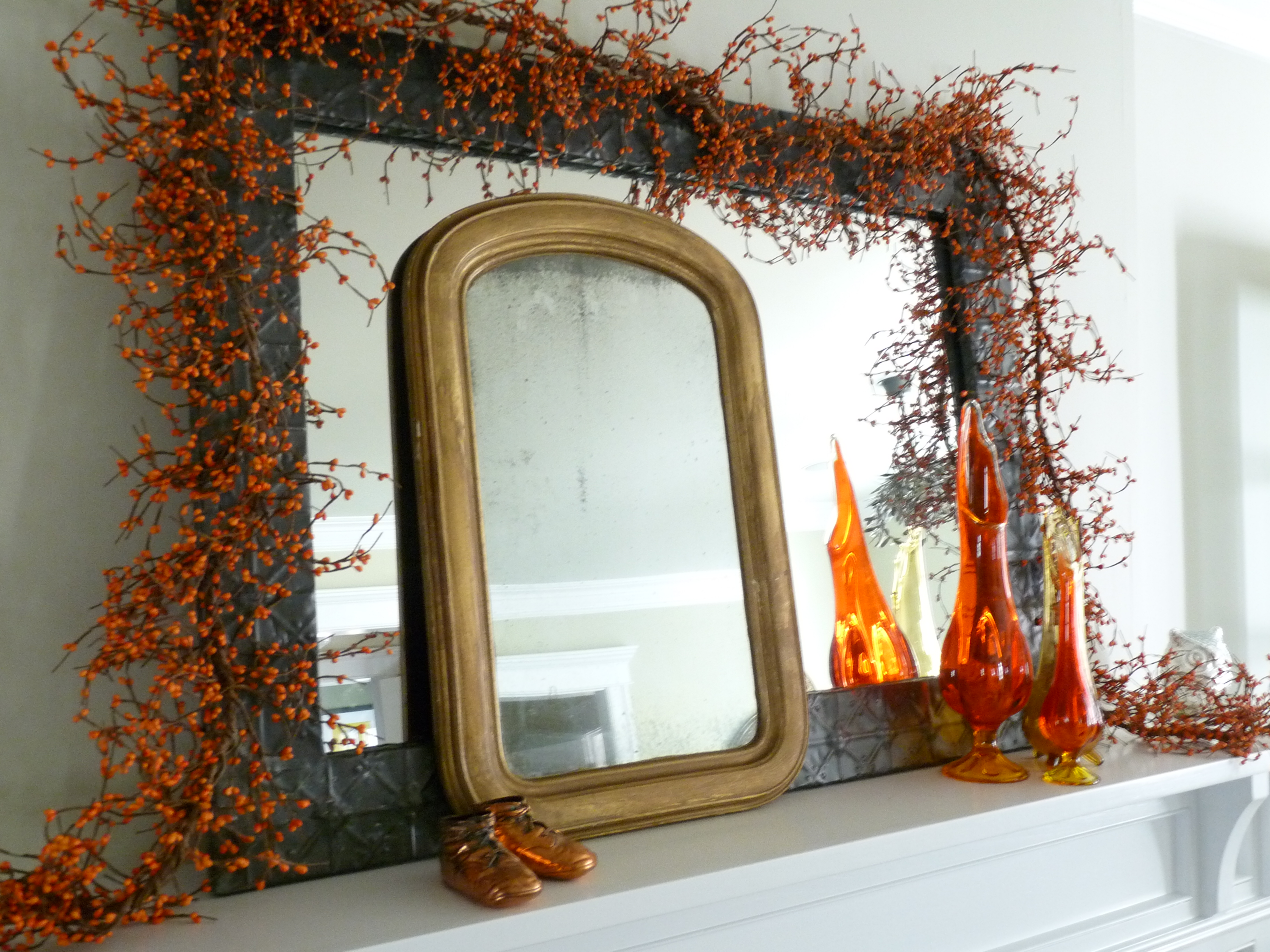 Do you have a favorite?
How has your style evolved over the years?
Share in the comments so we can all get a good chuckle!