Vintage Lovers Fall Home Tour
Forget that it's 80 degrees outside because it's finally fall so I'm breaking out my favorite boots, jackets and scarves and sharing my vintage lovers fall home tour! If you love vintage finds, fun collections and interesting ways to decorate your home, this fall home tour is for you. I used what I had and only bought one new thing (go me!) plus a bunch of pumpkins and gourds and a big bold bouquet of gladiolus in an unexpected color.
Find a source list at the end of this post.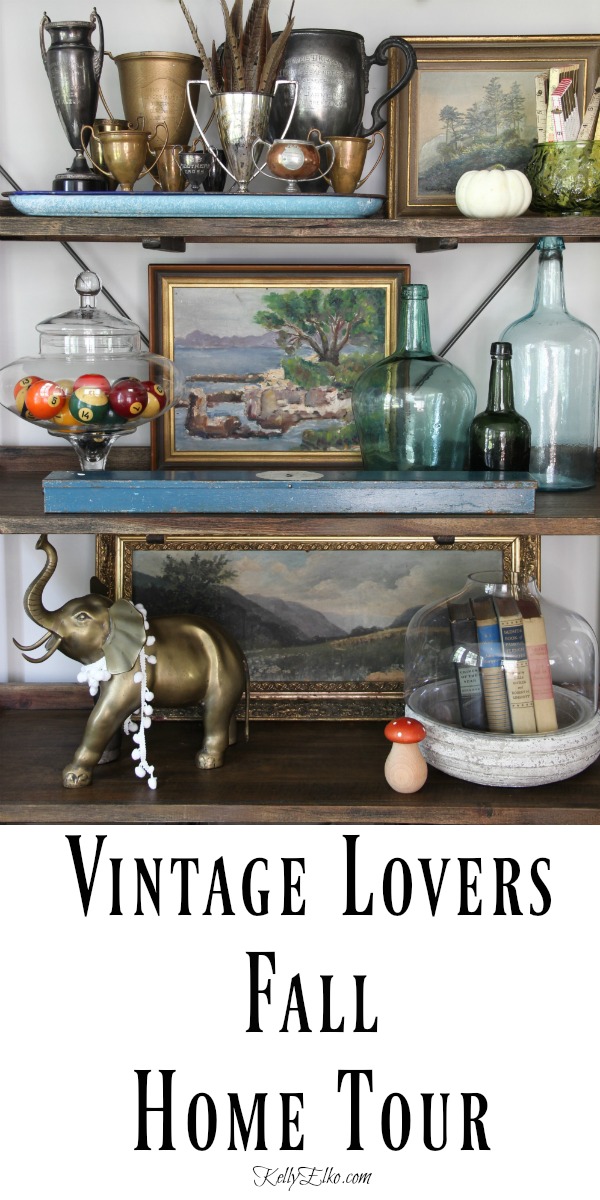 Last year, I piled all of my neutral pumpkins in front of my fireplace and I love the way they look this year all lined up like soldiers on my staircase. I added mini pumpkins and gourds for some color.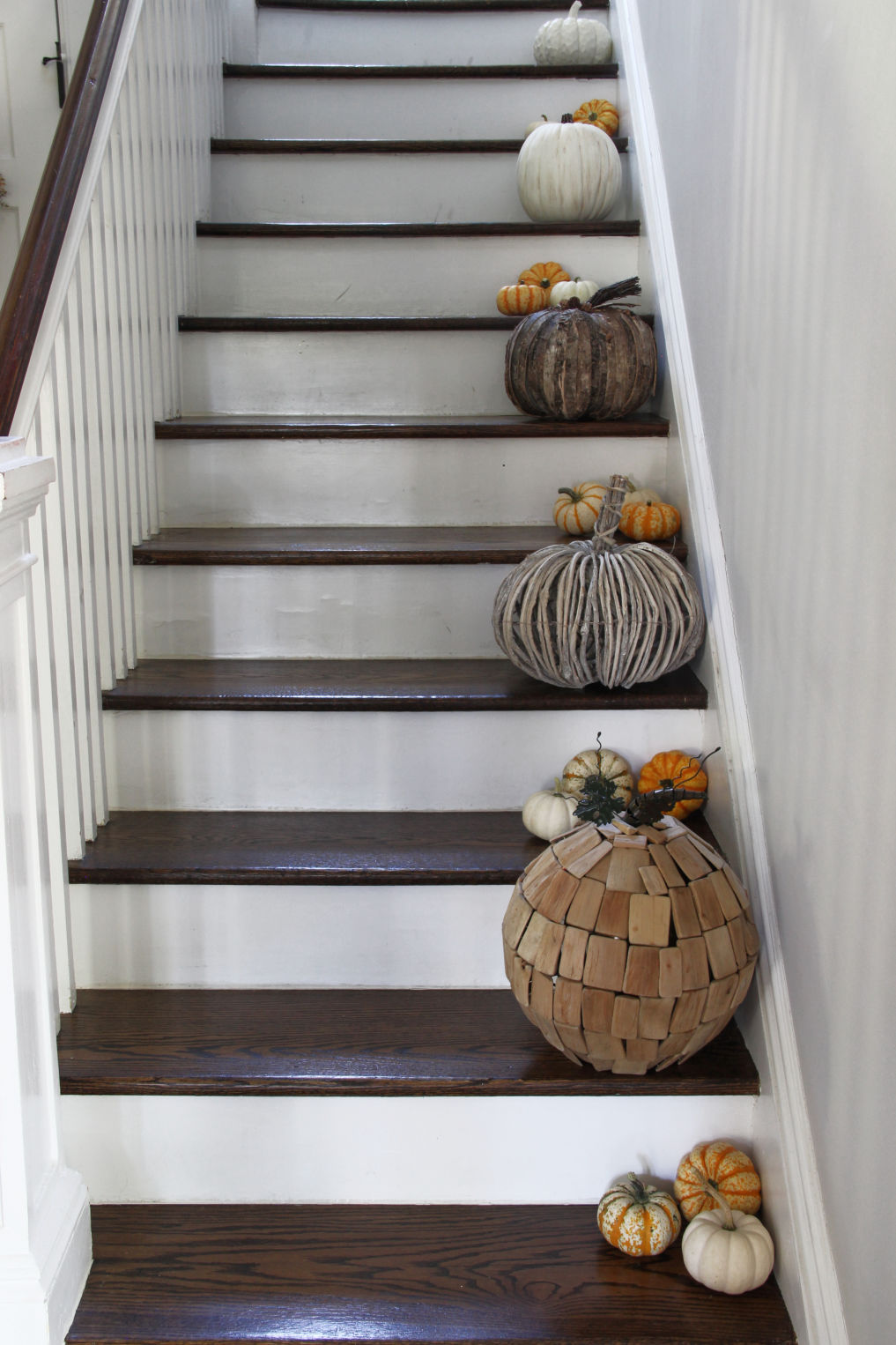 post contains affiliate links
More texture comes from this woven black and white bench. The feather art was a consignment sale score and was only $90!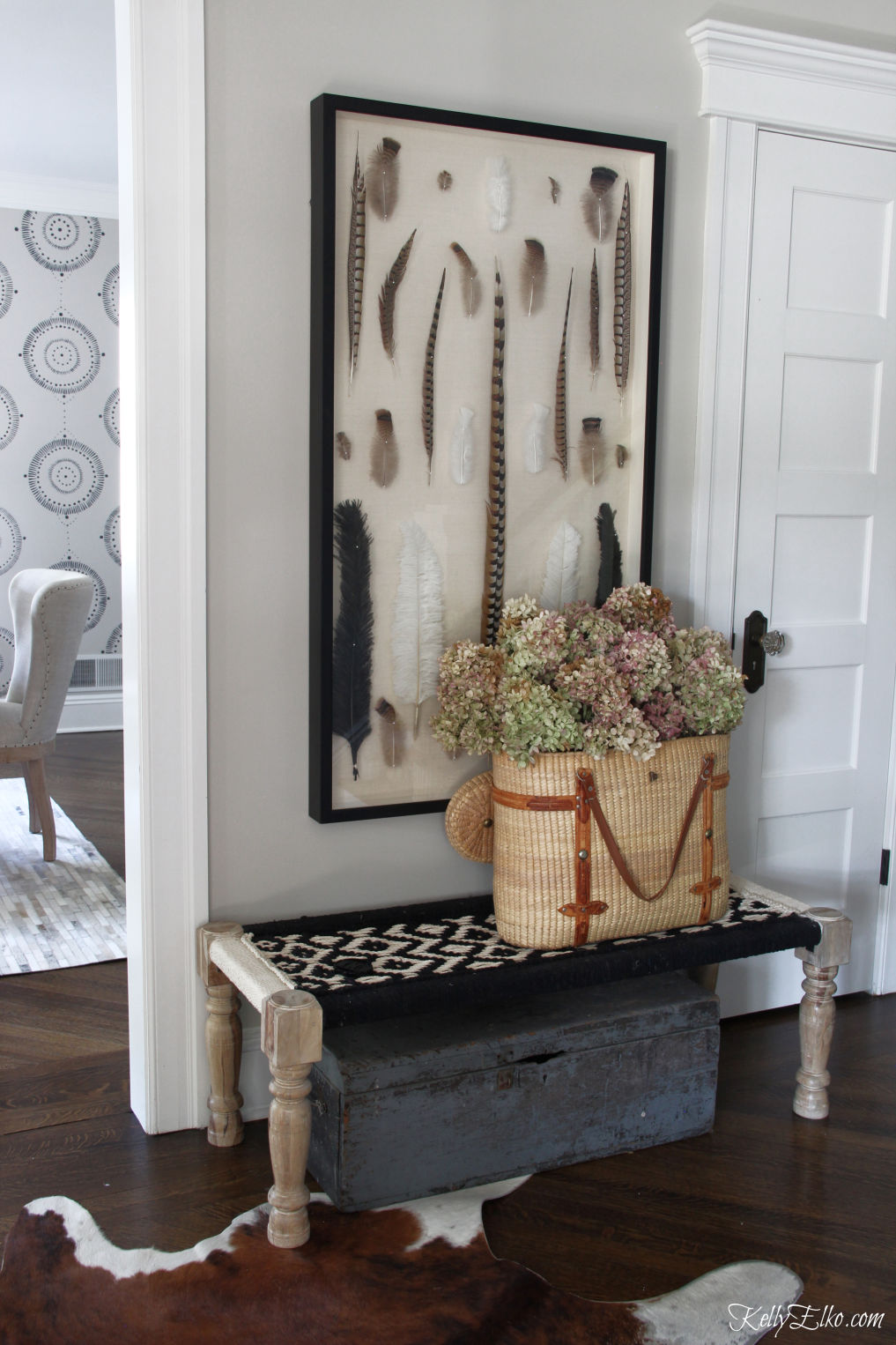 Plucked from my garden, I filled my house with dried hydrangeas. The old basket was an estate sale find and you'll see lots of baskets throughout my house because they add so much texture and storage.
I love a cowhide rug and have a few in my house.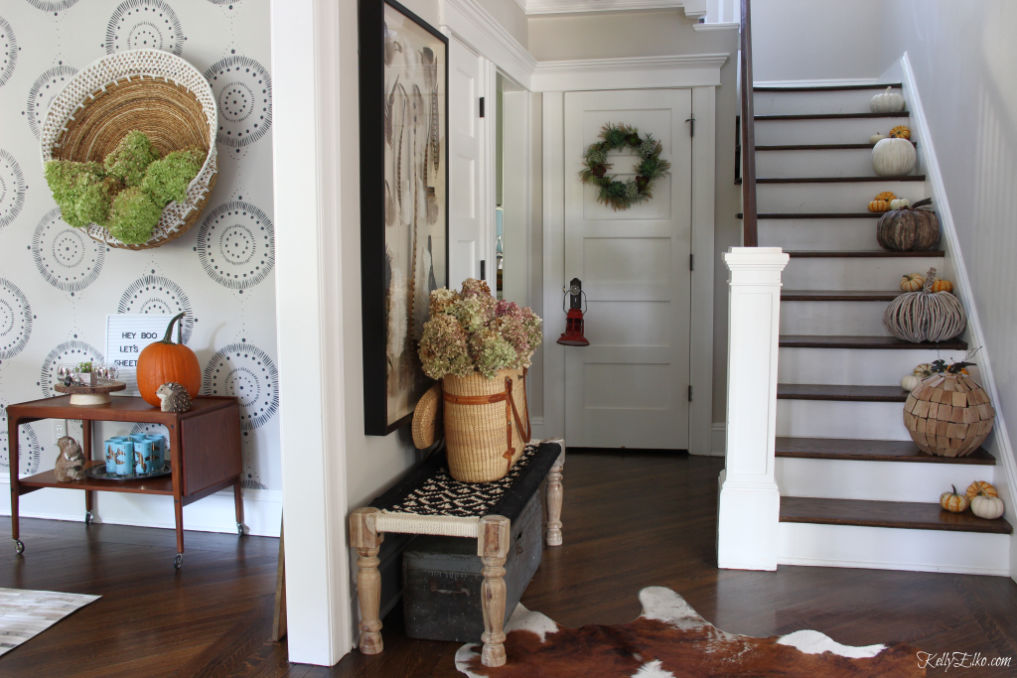 The other day, I shared my vintage bar cart styled three ways and loved all the looks so much it was hard to choose a favorite. See the three different bar cart looks here.
This huge wall basket was my one new purchase. I love the little pouch for display and think it would equally great in a bathroom holding towels.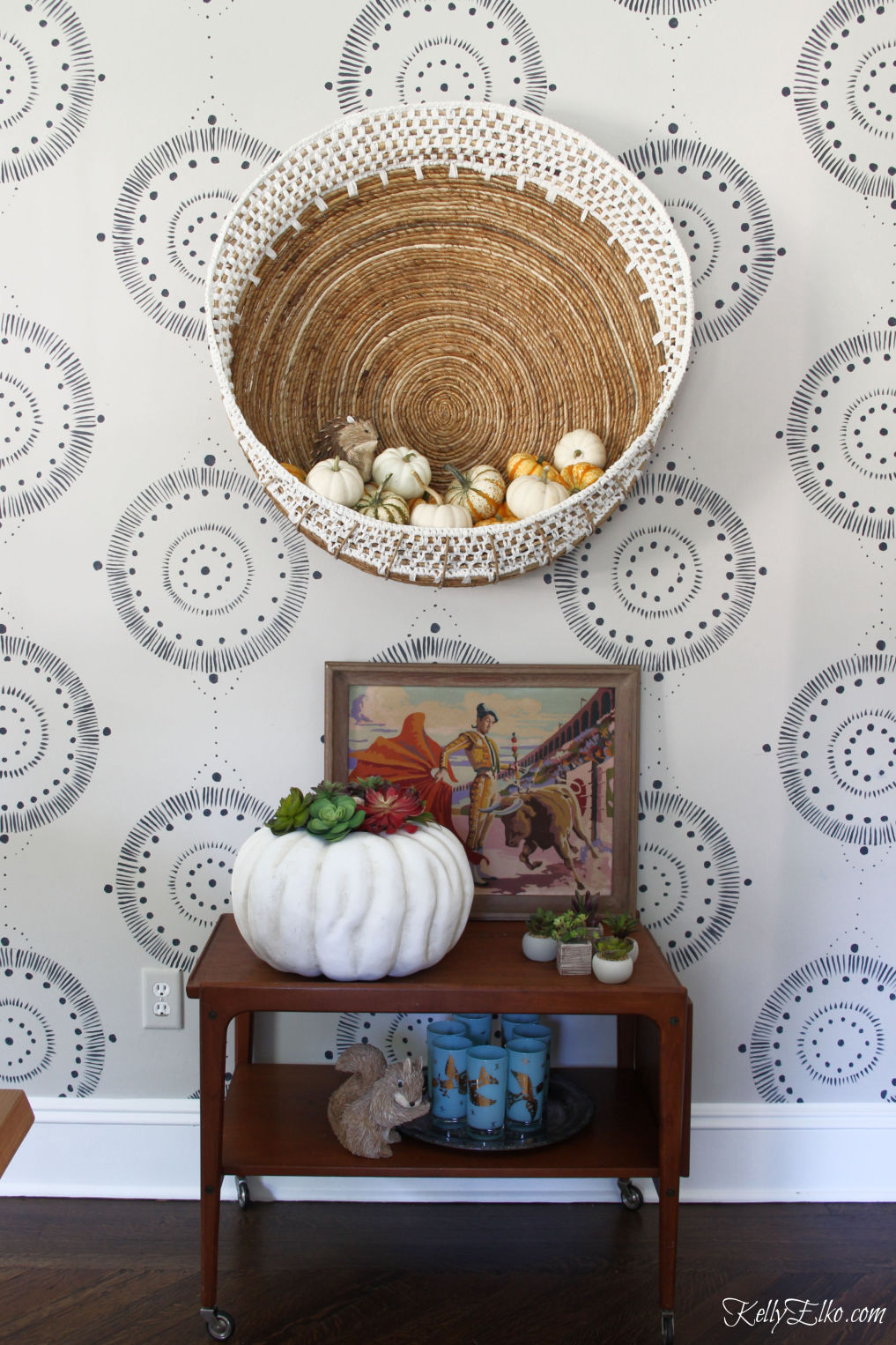 I can't resist gladiolus, especially when this big bunch is only $5 at Trader Joe's!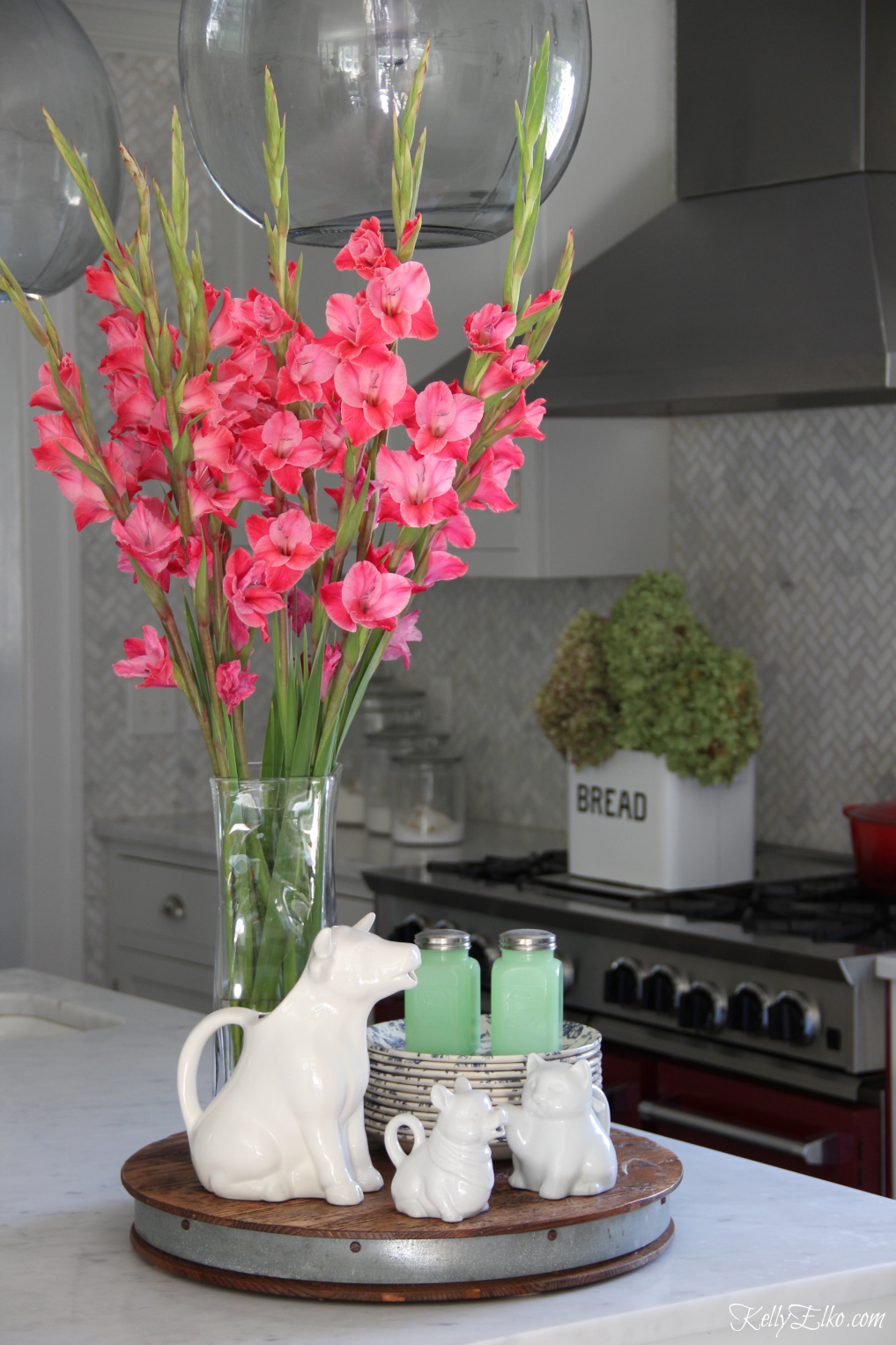 In addition to thrift shops, I love scouring Facebook Marketplace for bargains and scored these blue and white pheasant plates there. See my tips on making money in Facebook buy and sell groups here. You'll be amazed at all the things you can find and the money you can make getting rid of your old stuff.
New green salt and pepper shakers look like vintage jadeite.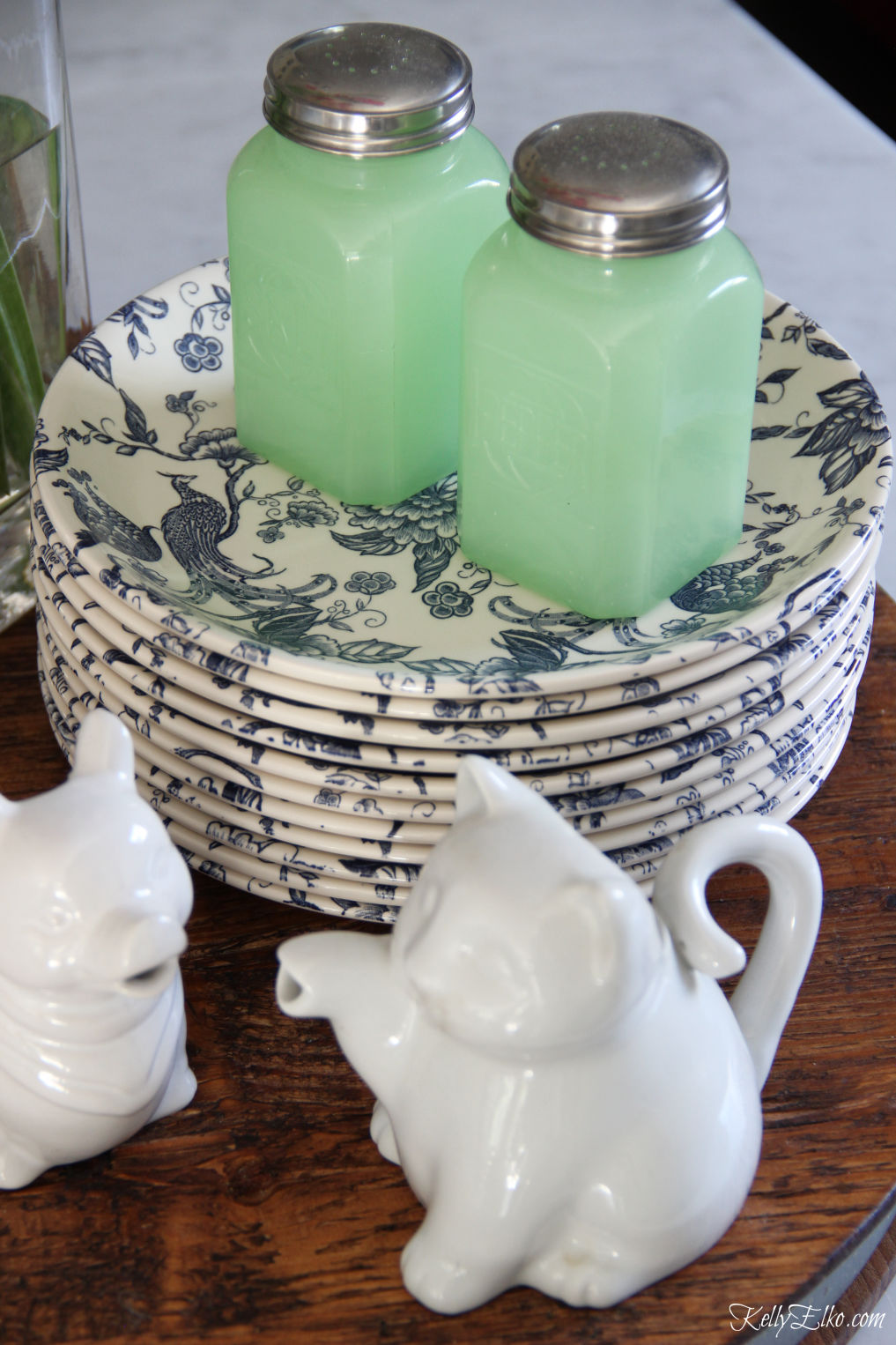 It's been 10 years since I renovated my house and I'm still loving all of my design choices including this bold red stove!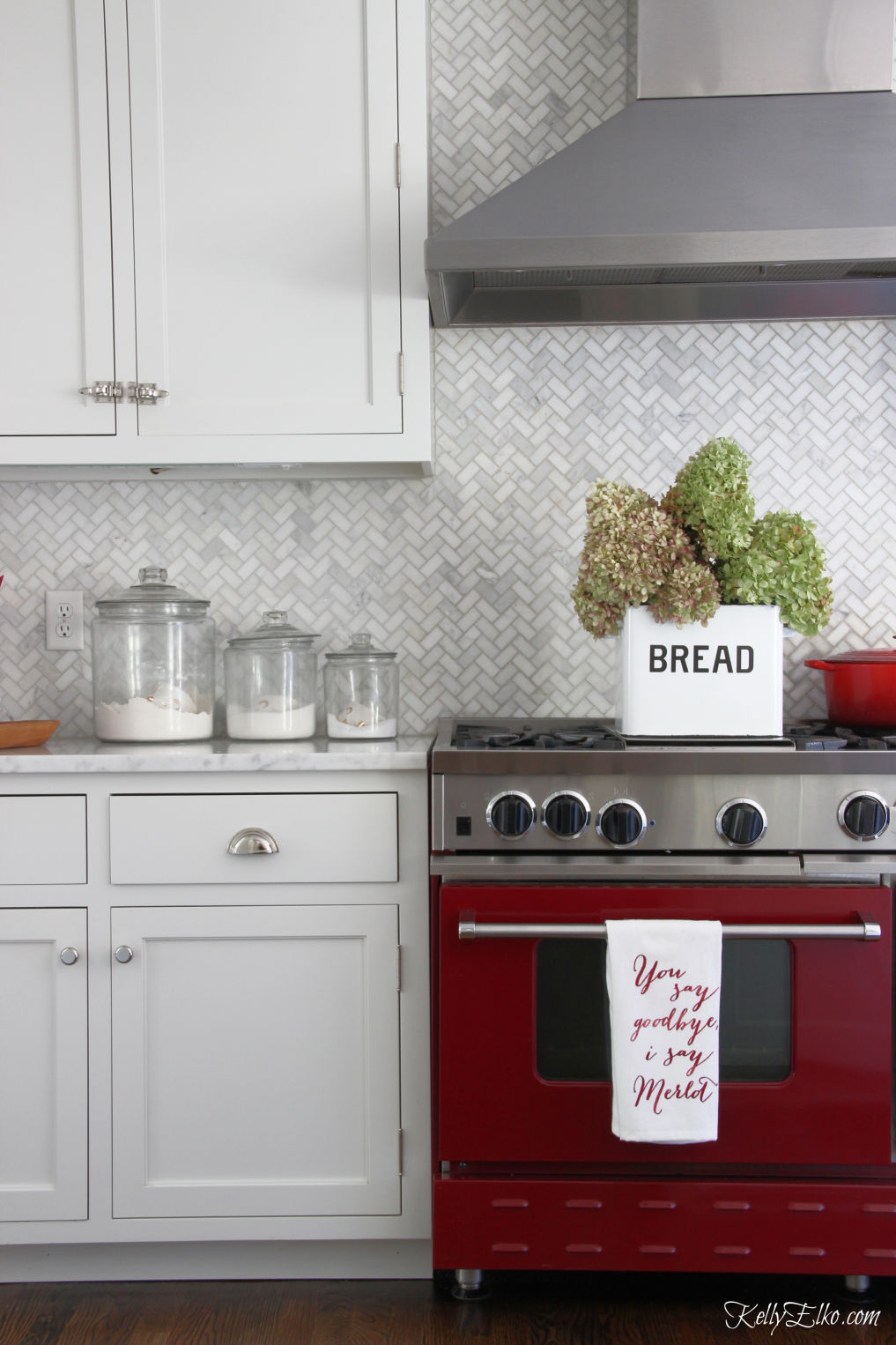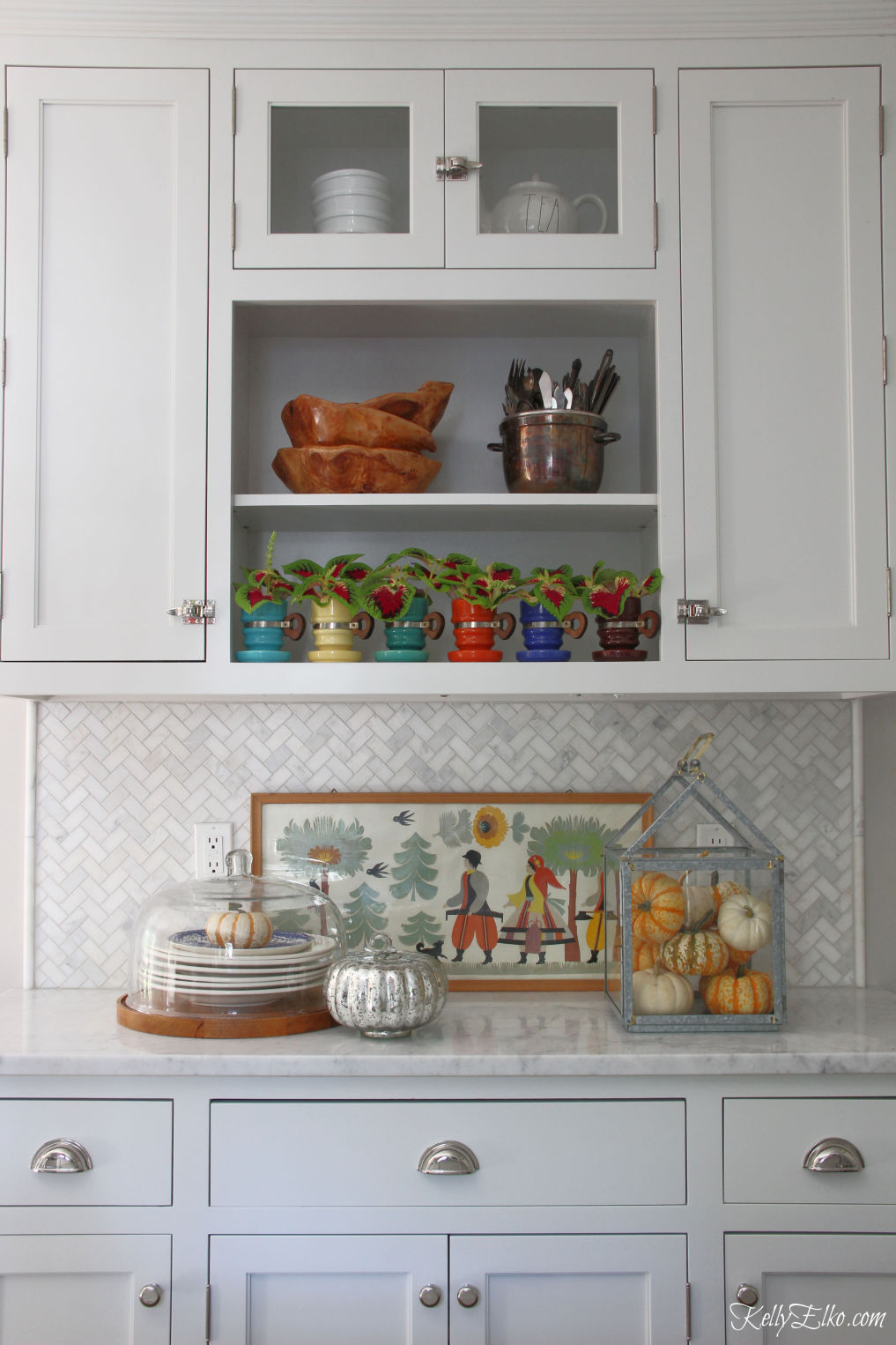 The art is actually a very intricate paper cutting that I found for $10 at the thrift store.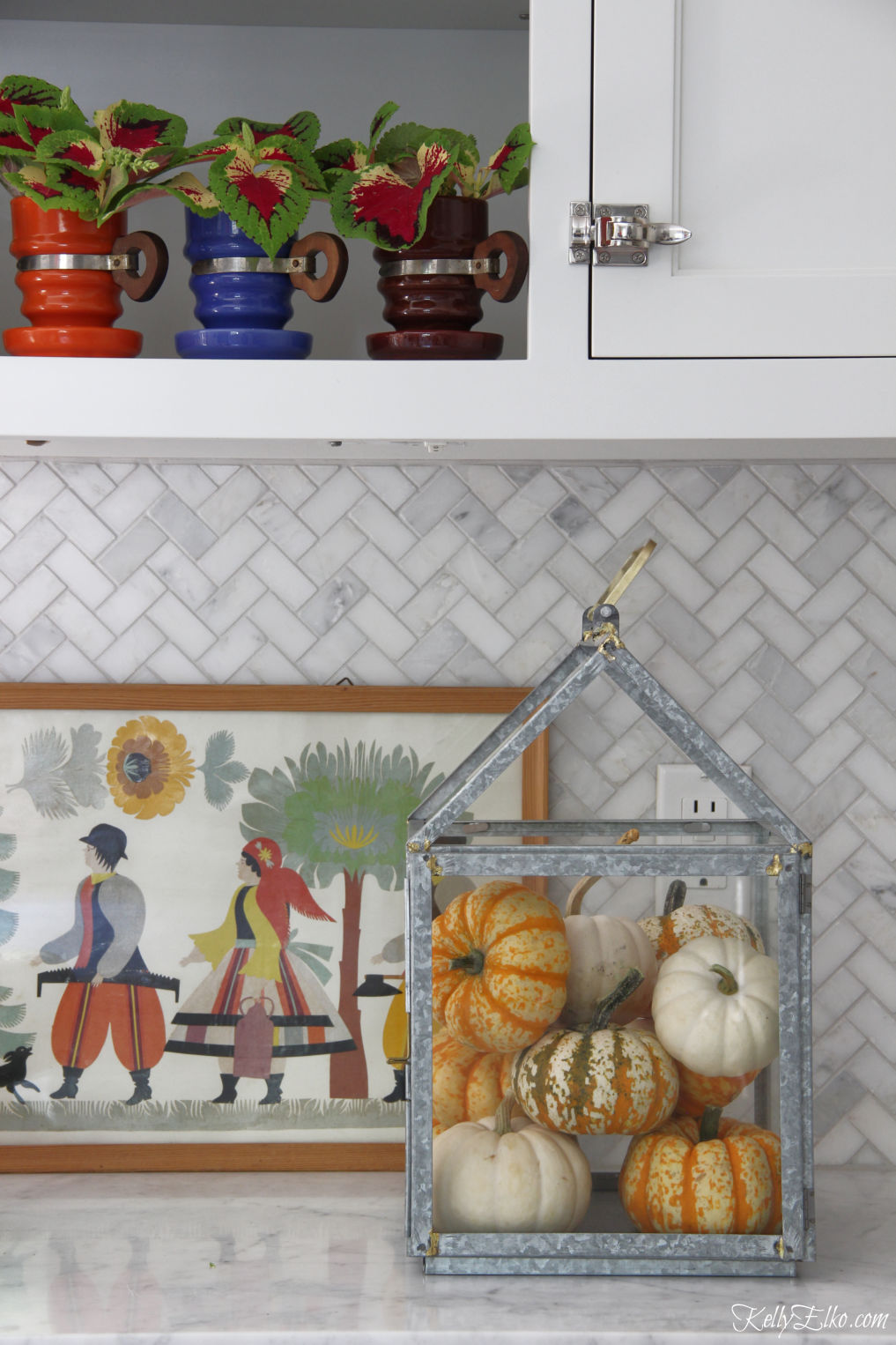 These Metlox mugs from the 1930's are called Poppy Trail and I love the little wood handles. Mine are from the thrift store but I found a similar set of colorful Metlox mugs here. The saucers serve double duty and if you place them on top of the mug, they keep your beverages steaming hot. Coleus from my front porch urns turns the mugs into the cutest little vases.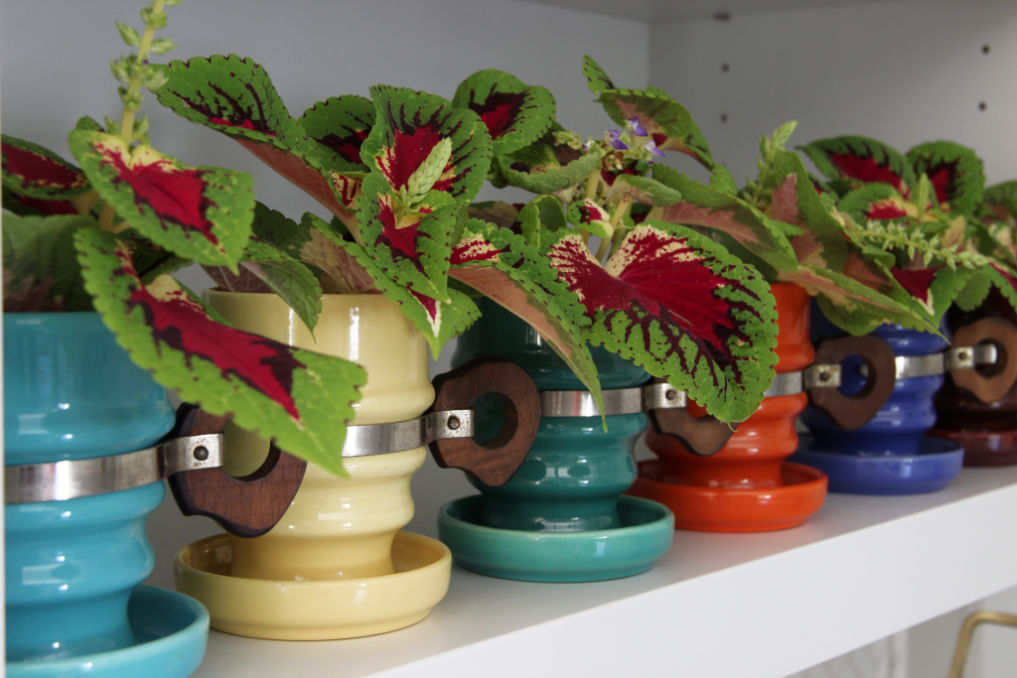 Growing up, we had an avocado green oven and it was pretty hideous! These retro plates give me the color in small doses and I love the fun floral patterns. I found the old blue Costco step stool at an estate sale on the last day as they were tossing it in the dumpster. I offered $1 for it and the rest is vintage stool loving history.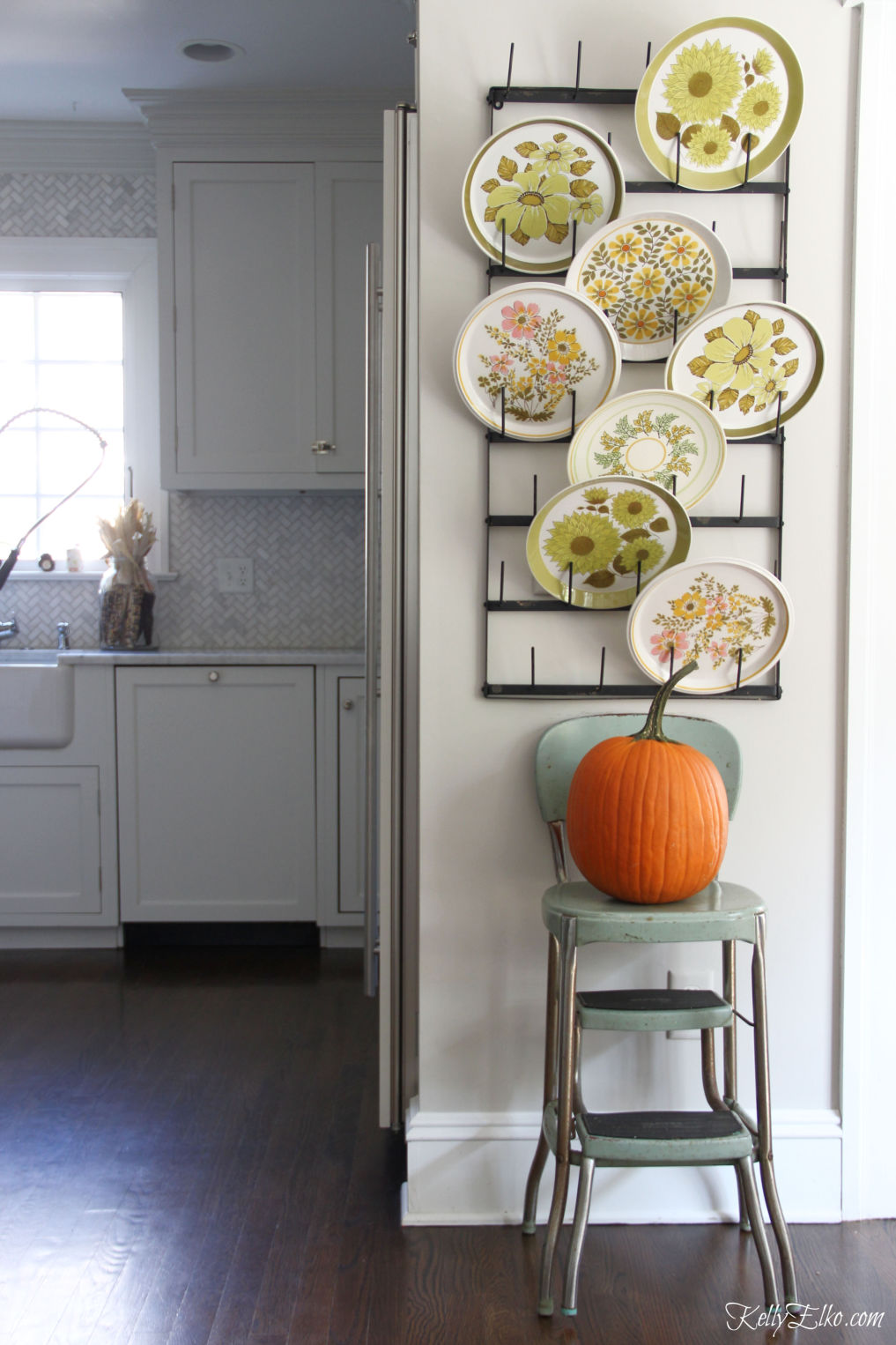 Channeling my inner Brady Bunch.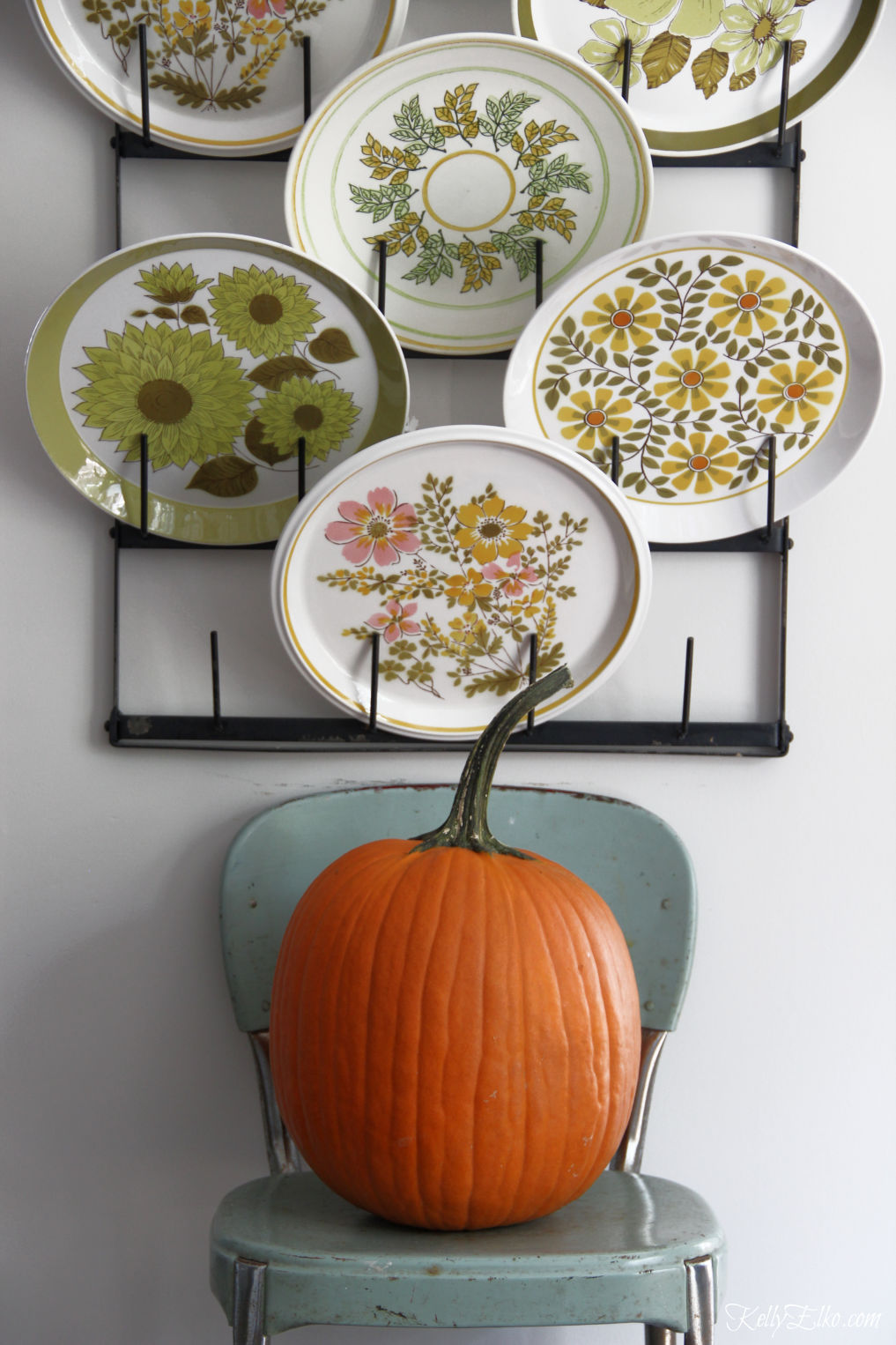 I made this GIANT hydrangea wreath and love the simplicity it brings to my mantel. See how to make your own hydrangea wreath here.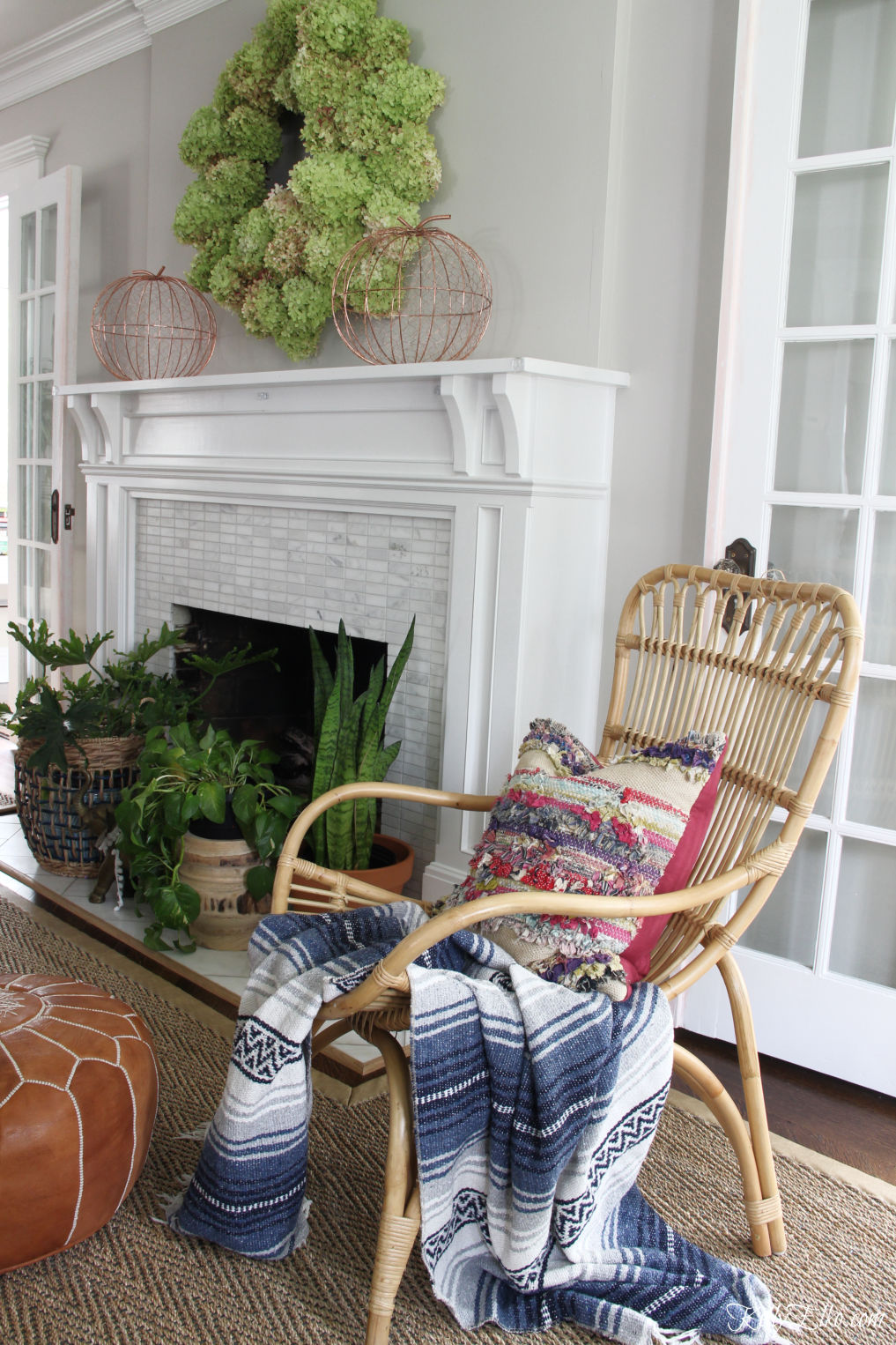 It's official, I'm the crazy plant lady. They bring so much life and color to my house and I love the way they conceal the big black hole of a fireplace.
These easy care plants are a split leaf philodendron, pothos and snake plant.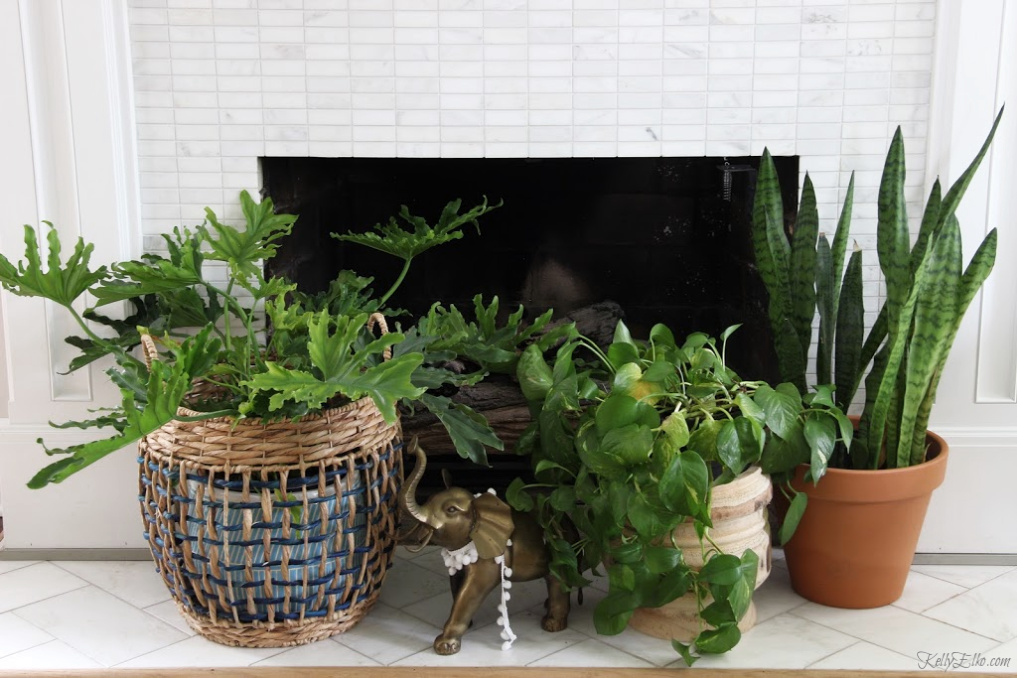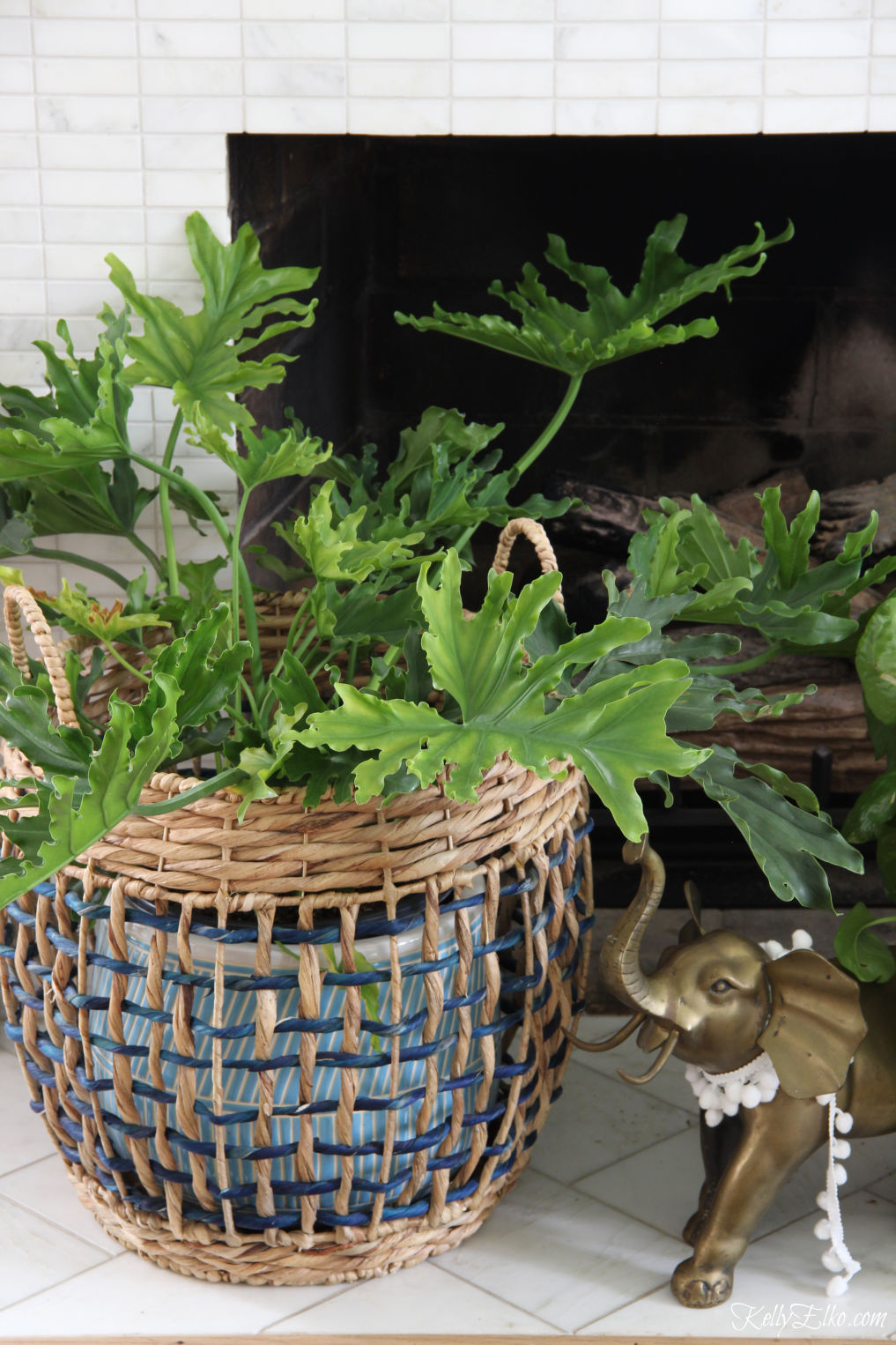 Three stacked picture ledges are perfect for easily changing the look of my gallery wall and I like mixing in something seasonal and little knick knacks.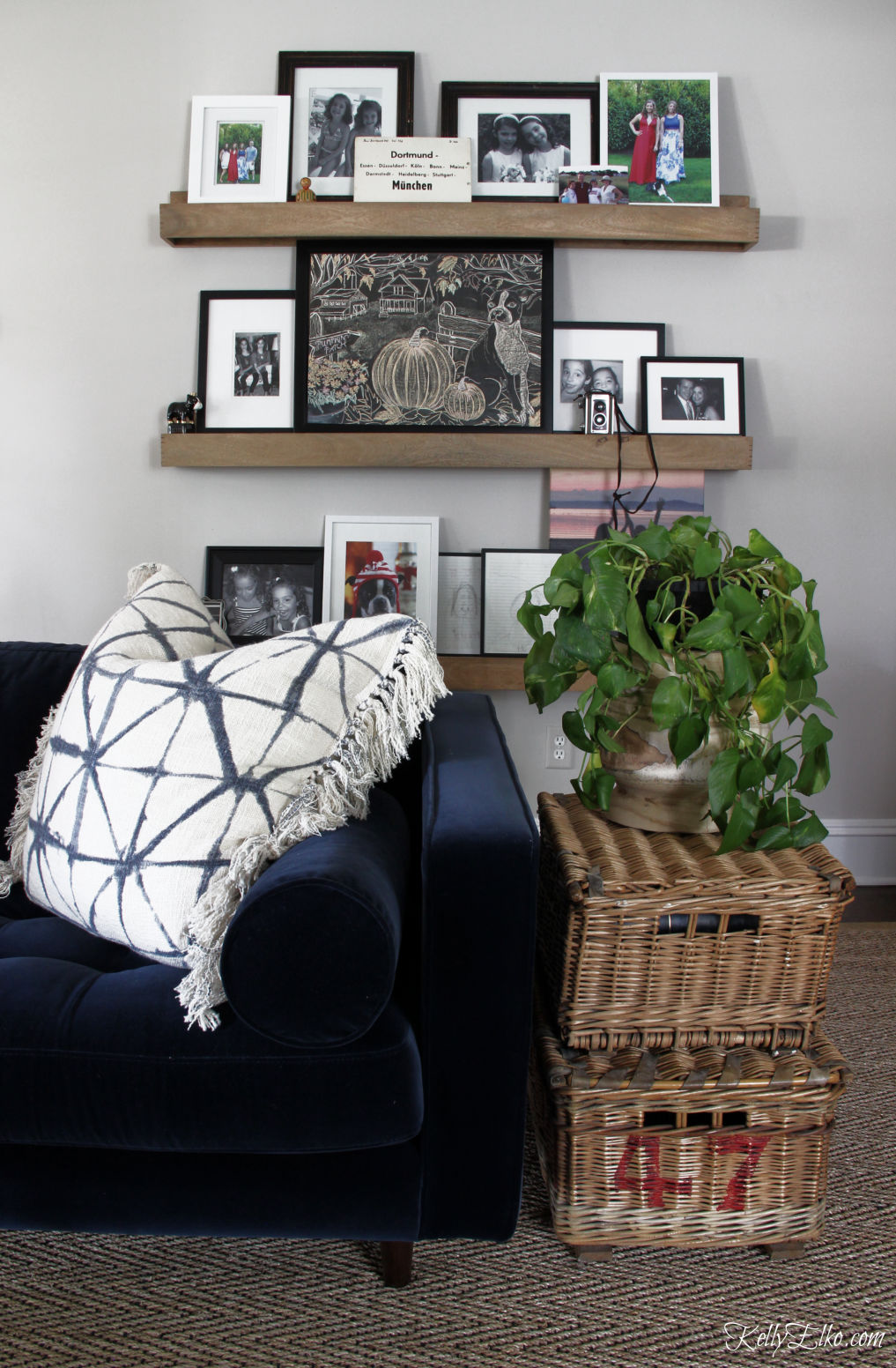 I turned the original chalkboard art into this free fall printable and love  that it features my dog Sushi frolicking on a pumpkin farm.
My dad gave me that old double sided metal train station sign that a friend gave him ages ago. I have lots of things my dad collected over the years (guess the collecting apple doesn't fall far from the tree).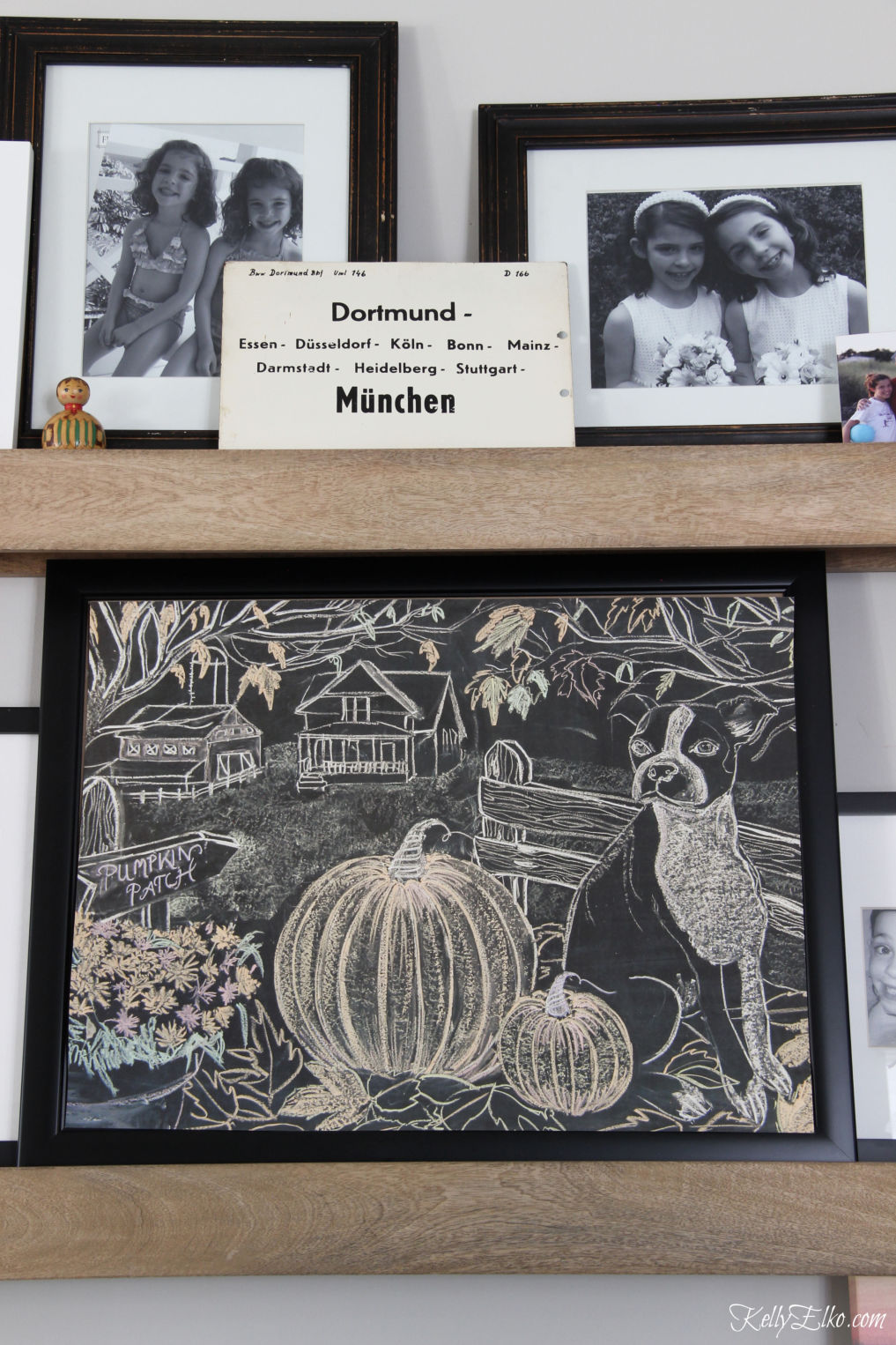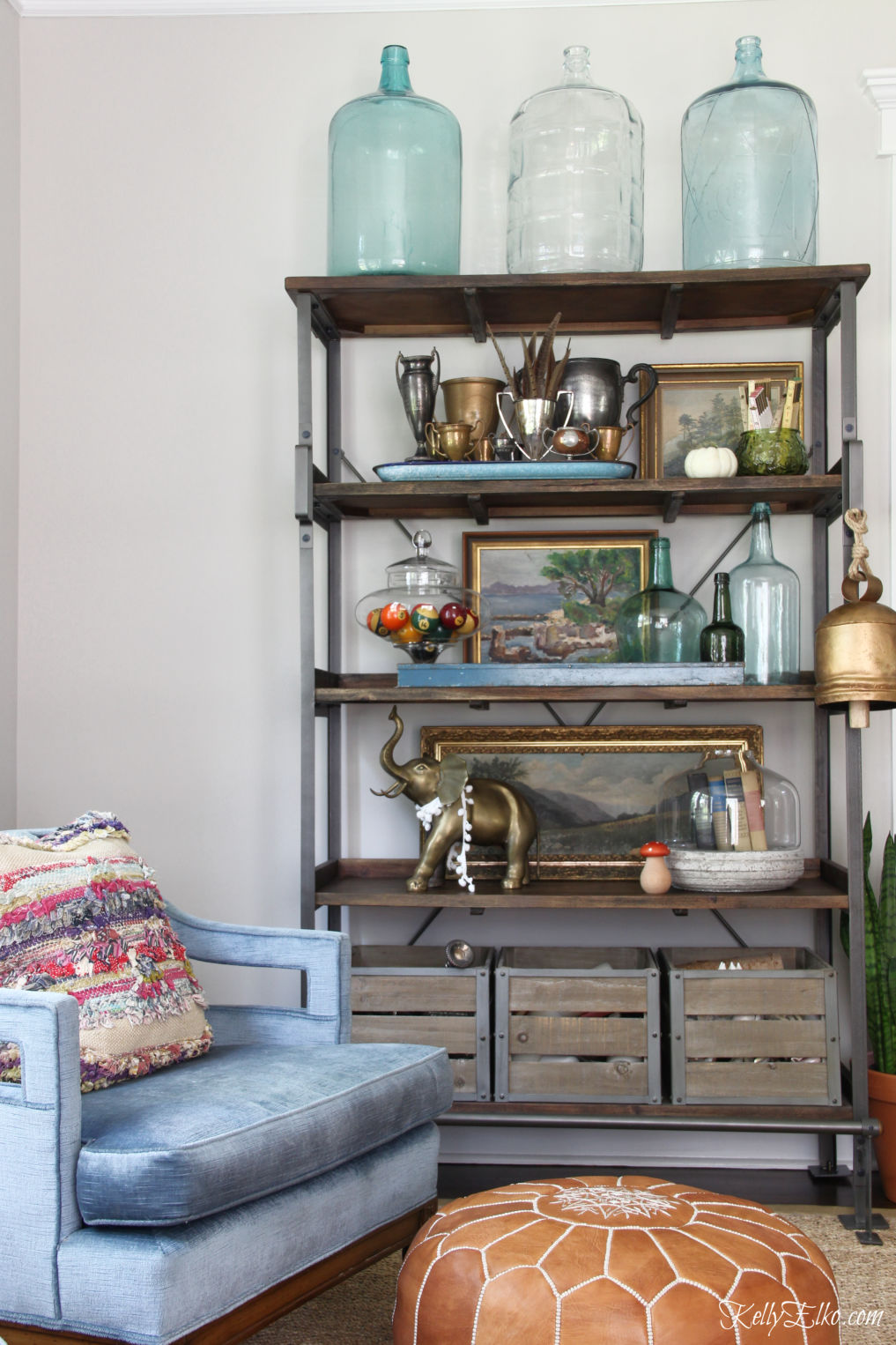 My industrial shelves are so much fun to decorate for every season. I love layering art in the back and these three vintage landscapes are just a few from my collection. Vintage loving cups are my prized possession and I have a thing for glass bottles, old books and brass animals.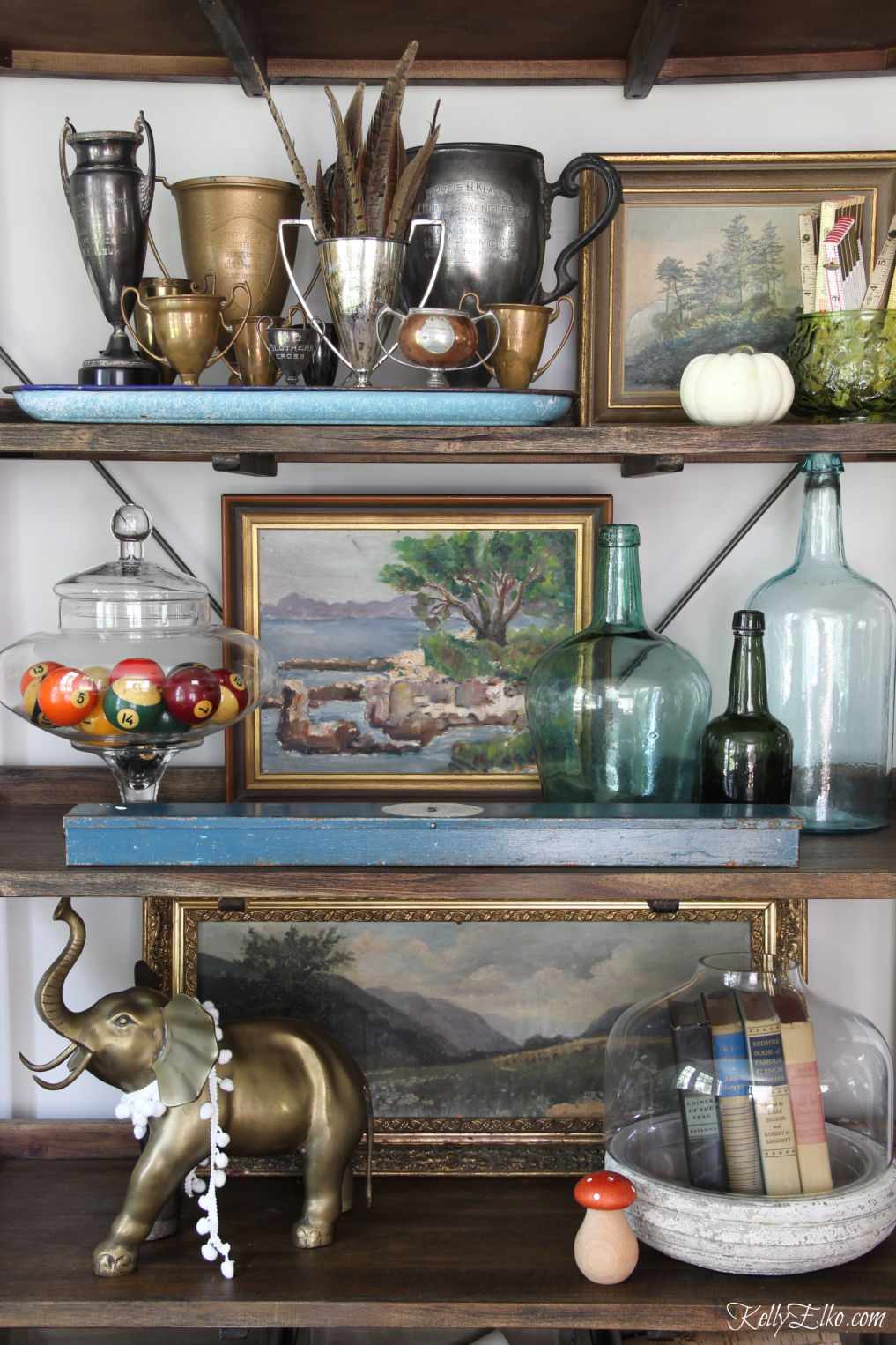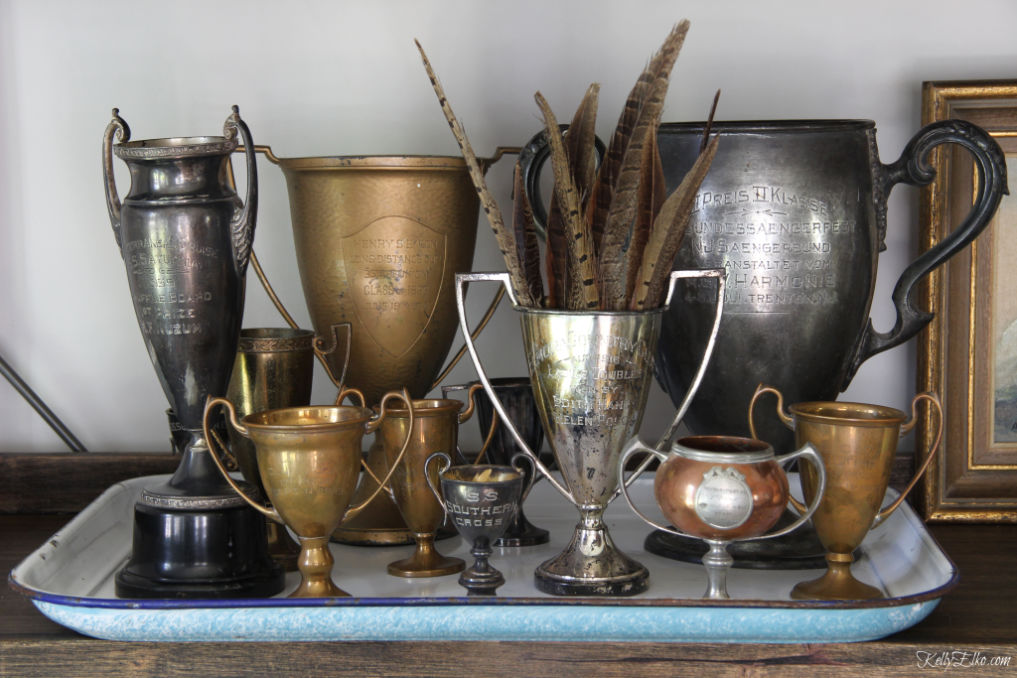 When in doubt, put it under glass. It makes even the simplest thing look important.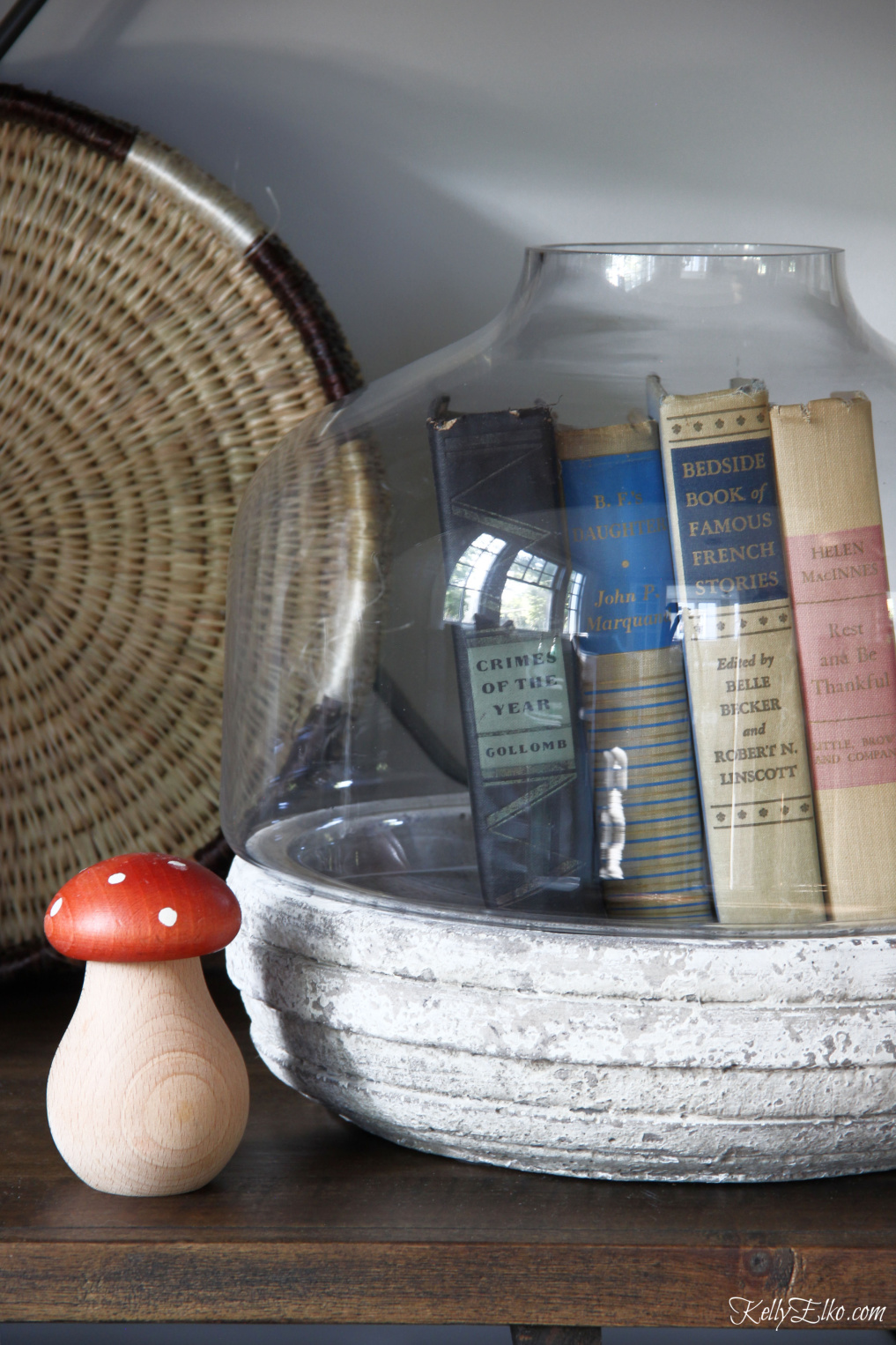 Oh, there is one thing I don't like about fall. Pumpkin spice anything! Not even Starbucks lattes everyone raves about. Are you a pumpkin spice lover or hater?
I'd love for you to follow me on Instagram here.
Shop My Fall Home