I Decorated My Friend's House! Living Room, Dining Room, Porch and Exterior Before & After
One of the perks that comes with being my friend is that I'll butt in and decorate your house (but only if you want me to)! I'm sharing a slow decorating home makeover that I did for my friend that includes the exterior, front porch, living and dining rooms. If you love a good before and after reveal, then you're going to love this! I also include a price breakdown and total spent for each room. I'm a big believer in the slow method of decorating. By taking it slow, I can decorate every room on a budget while getting exactly what I'm looking for.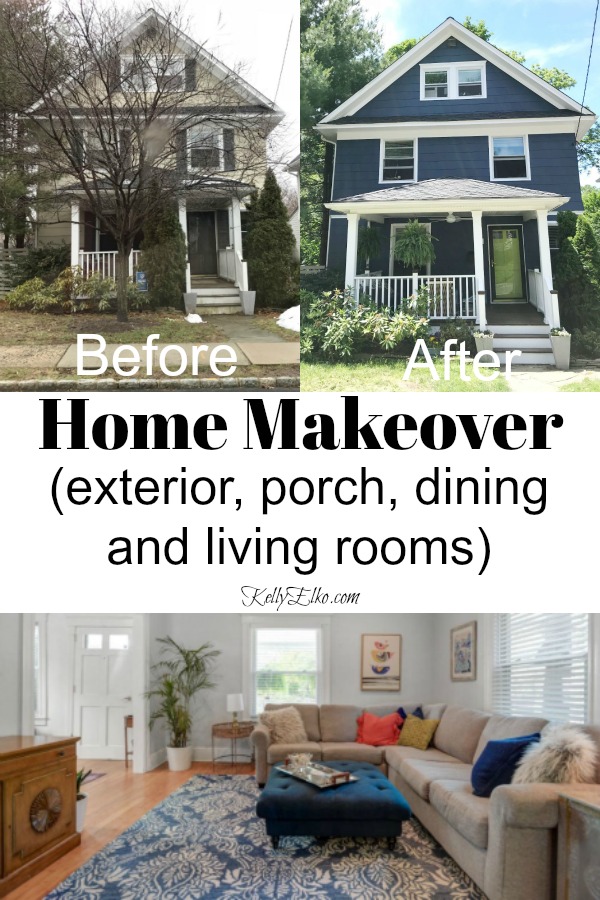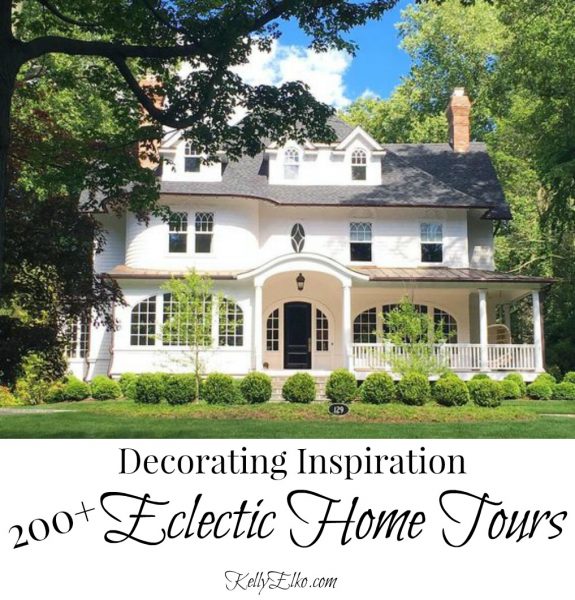 Lisa is my estate sale partner in crime and a few years ago, she downsized into this much smaller house. She lives in this 1900 home with her hubby, four kids (including triplets) and Hazel, a King Charles Cavalier. Over the years, I've been helping her redecorate the house.
Do you hear that? It's the house crying out for a makeover!
Before – diseased tree that blocks the entire house, overgrown bushes, drab color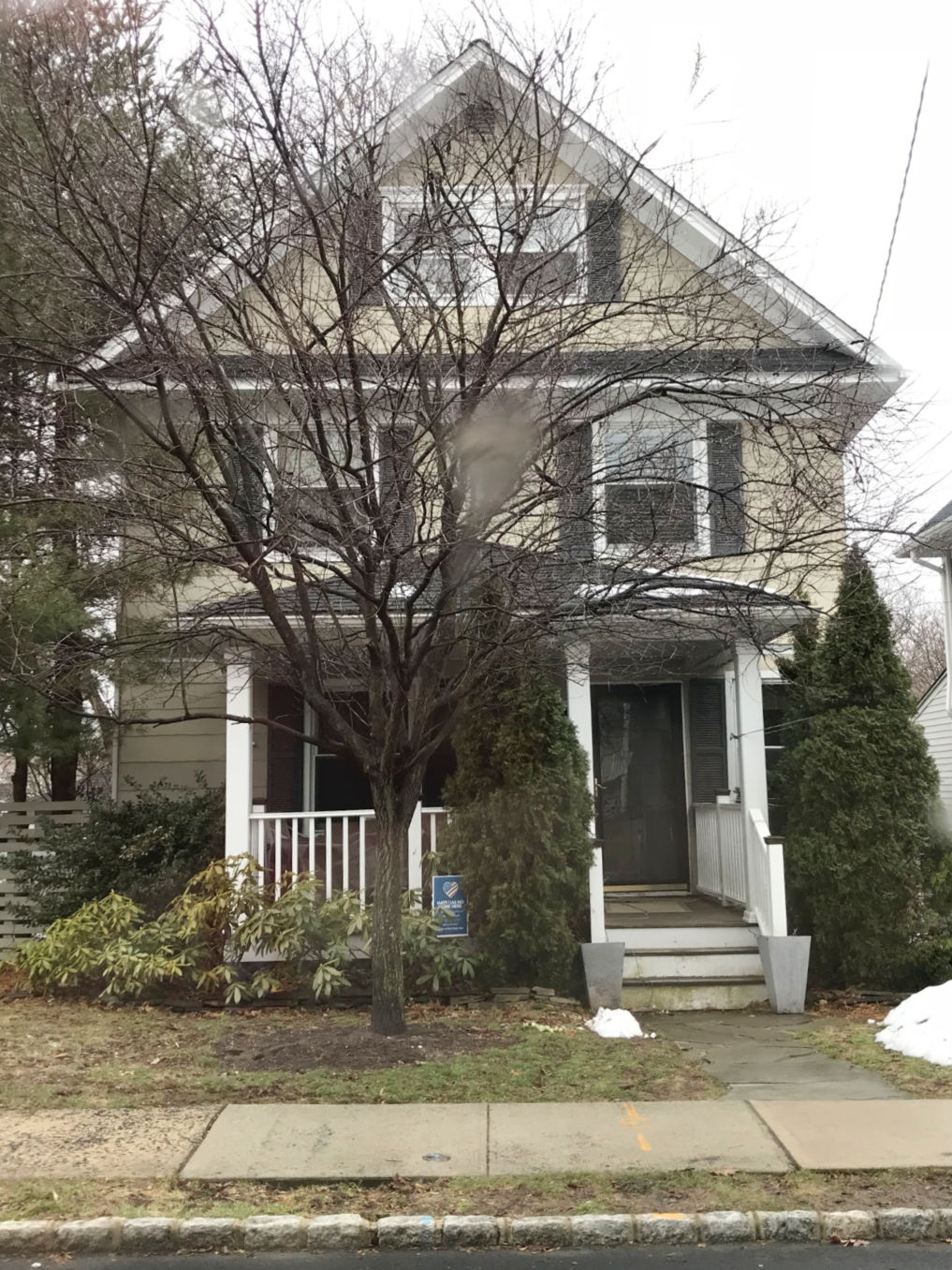 After – major curb appeal with a bold color, bright front door and elimination of overgrown shrubs that blocked the light and view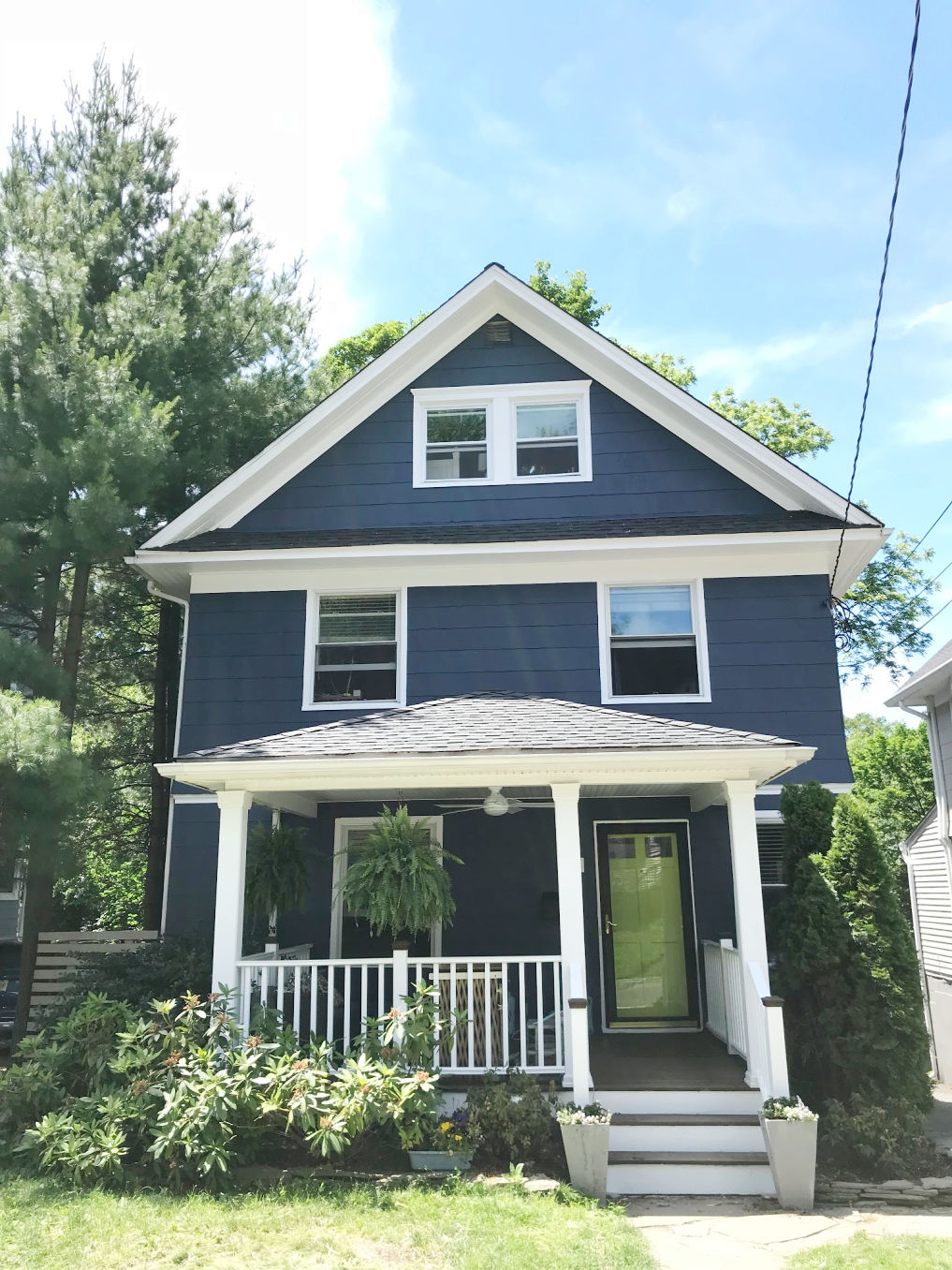 Once the diseased tree was taken down and we could actually see the house, it was time to choose a color. Lisa loves my navy blue house and wanted a similar look so she tested out a few colors and settled on this rich color. We chose apple green for the front door but she was under a time crunch with the painters and almost told them to paint it boring white! This is where I had to give her some tough love and insist she race to the paint store pronto. I also suggested she remove the plastic shutters because they are not real working shutters and they are too small for the windows. She said she never would have thought to remove them but loves the clean look.
Paint Colors: House – Hardy Board Deep Ocean (color matched by Benjamin Moore), Front Door – Benjamin Moore Apple Green
I don't have a before picture of the porch but it was a mis-mash of large pieces of furniture. I found the outdoor sectional sofa and matching coffee table on Facebook Marketplace. The low profile is perfect for the small porch. Lisa sewed new covers for them to freshen them up. We found the pair of ceramic stools at an estate sale around the block and the little blue accent chair is a HomeGoods find.
Porch Price Breakdown: outdoor sectional sofa and coffee table $250 / 2 ceramic stools $80 / blue chair $50 = Total $380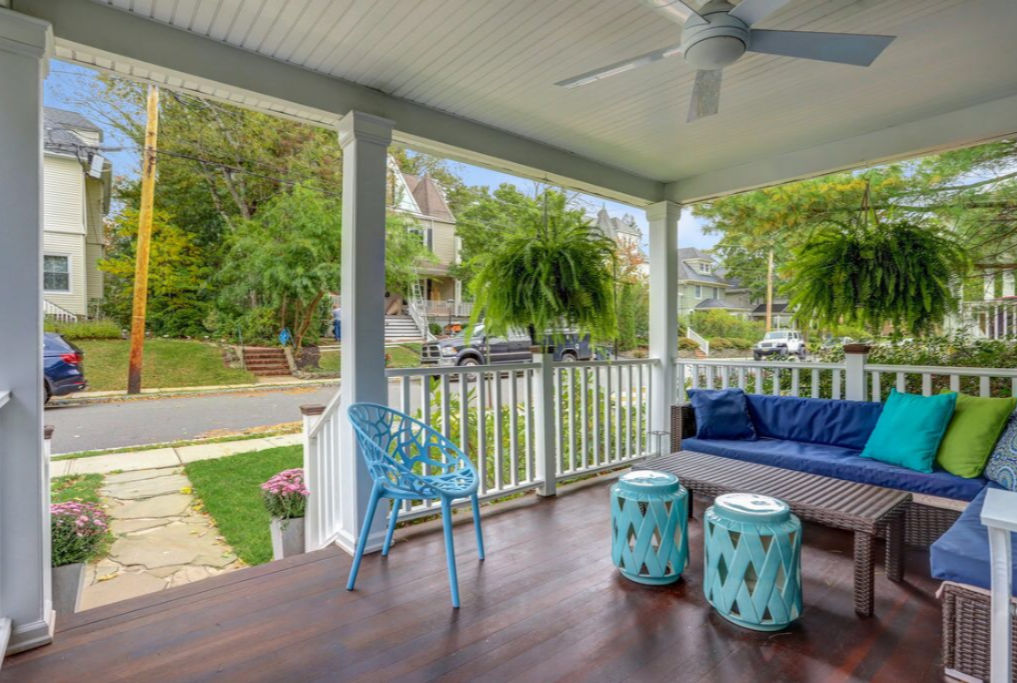 Click the video player below to watch a quick video tour
Before Living Room – small room, large furniture, too small rug (it's actually a Mexican blanket)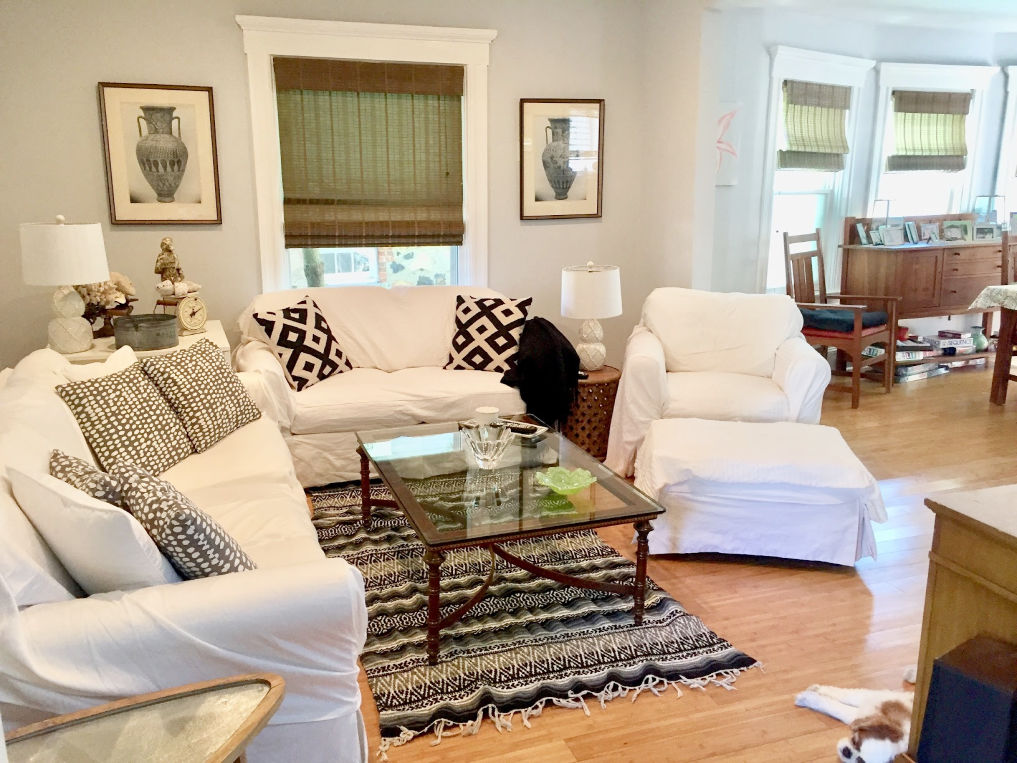 Progress – I gave Lisa this right size rug that used to be in my dining room
Lisa snuck that blue chair in when I wasn't looking but it doesn't even fit into the room. She also angled the furniture which wastes precious space in this small room! Once again, I had to give her some tough love and convince her the furniture is just way too big for the space.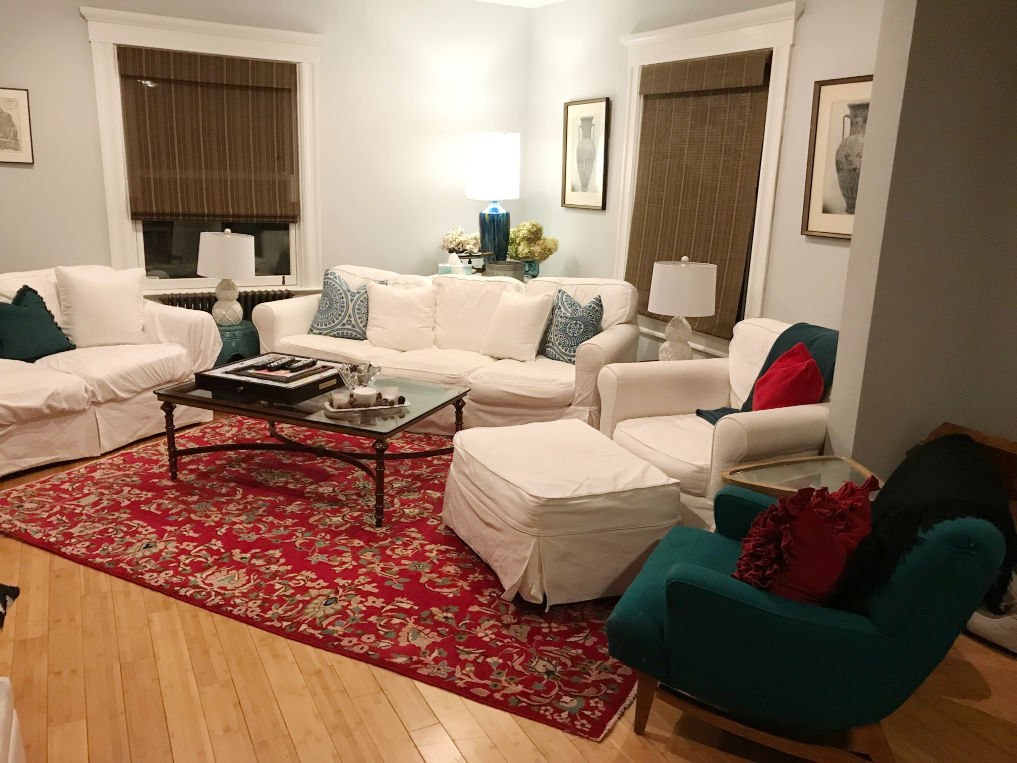 After Living Room – furniture that fits the space!
I was on a mission to find an affordable, comfortable, sectional sofa and when I found this one at HomeSense, I immediately texted a pic to Lisa. She raced over to buy it and it looks like it was made for this room. She loves that her whole family can lounge on it.
My next find was this 8′ x 10′ wool rug that I found at HomeGoods for only $200. It adds color, pattern and interest and is the perfect size. I scored the tufted ottoman from Wayfair and over time, I found the art and side table from HomeGoods. Dark woven shades were replaced with white blinds cut to size for free at Home Depot. I love adding plants to every room in the house and this palm thrives by the window. The lamp is too small so it looks like I'll have to have another intervention with Lisa!
I think painting the interior side of the front door a vibrant color would be fun!
Isn't this Central Park artwork fun! A different scene hangs on the other side of the window. The brass floor lamp is perfect for tight spaces. Lisa found the beautiful handwoven throw blanket at West Elm.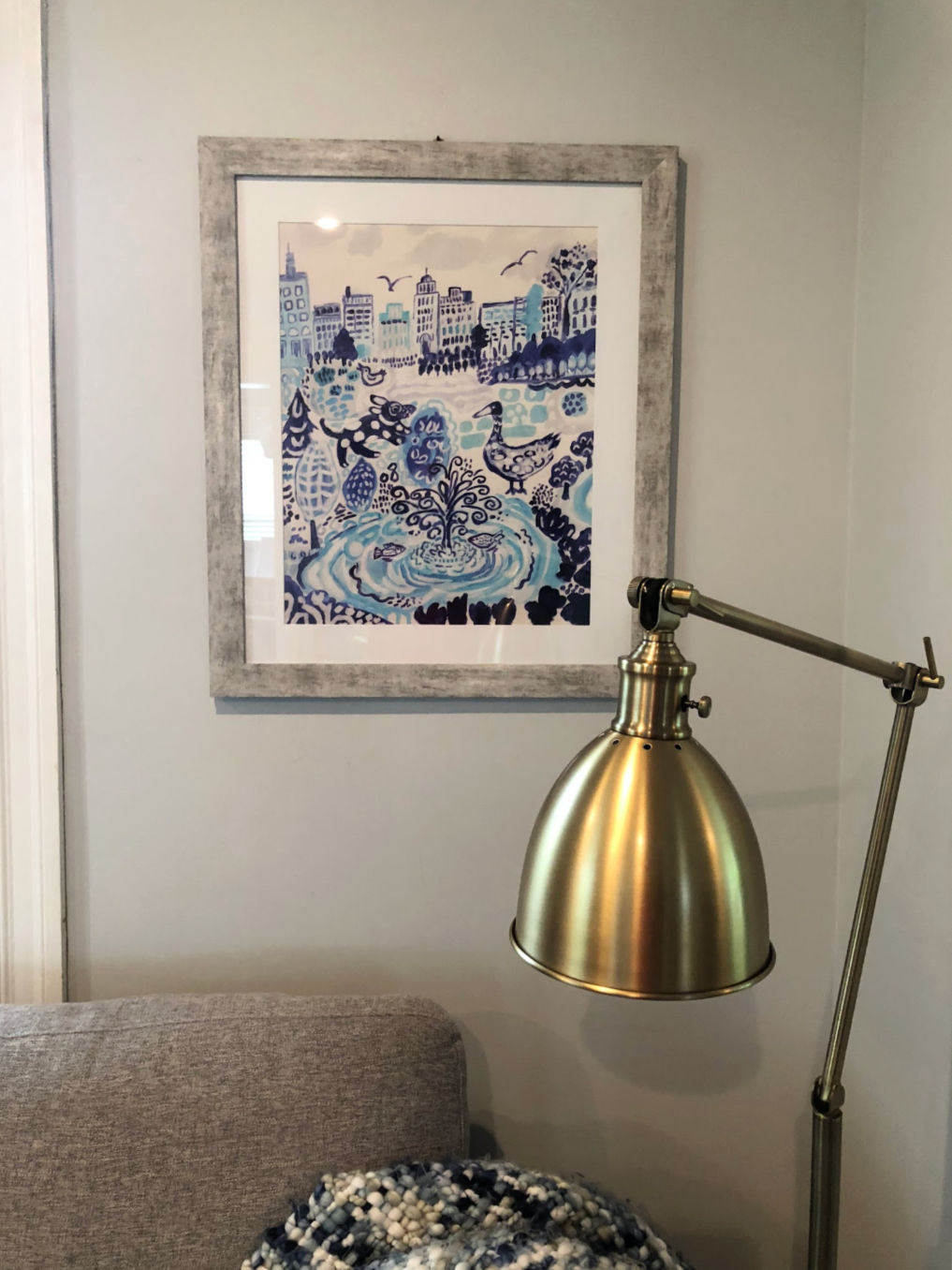 Living Room Price Breakdown: sectional sofa $1600 (similar and less expensive sofa here) / rug $200 / ottoman $237 / round side table $40 / artwork $85 (3 pieces) / brass floor lamp $67 / hand woven throw blanket $62 / blinds for two windows $60 = Total $2,289
Before Dining Room – a whole lot of brown!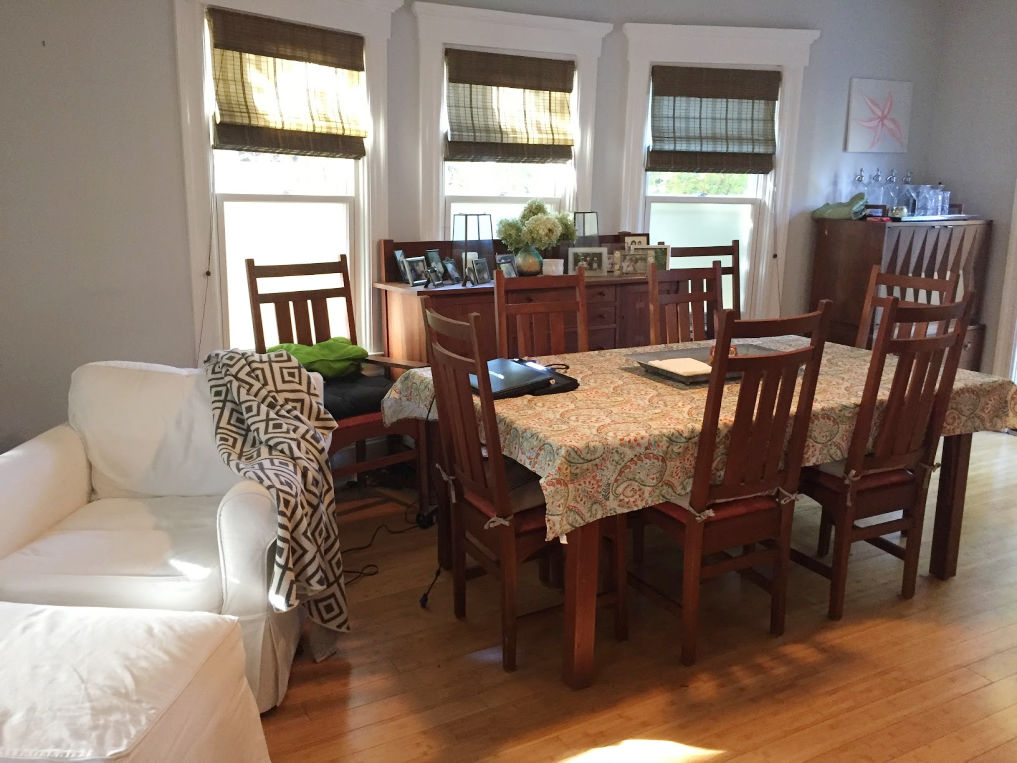 After Dining Room – color and comfort combine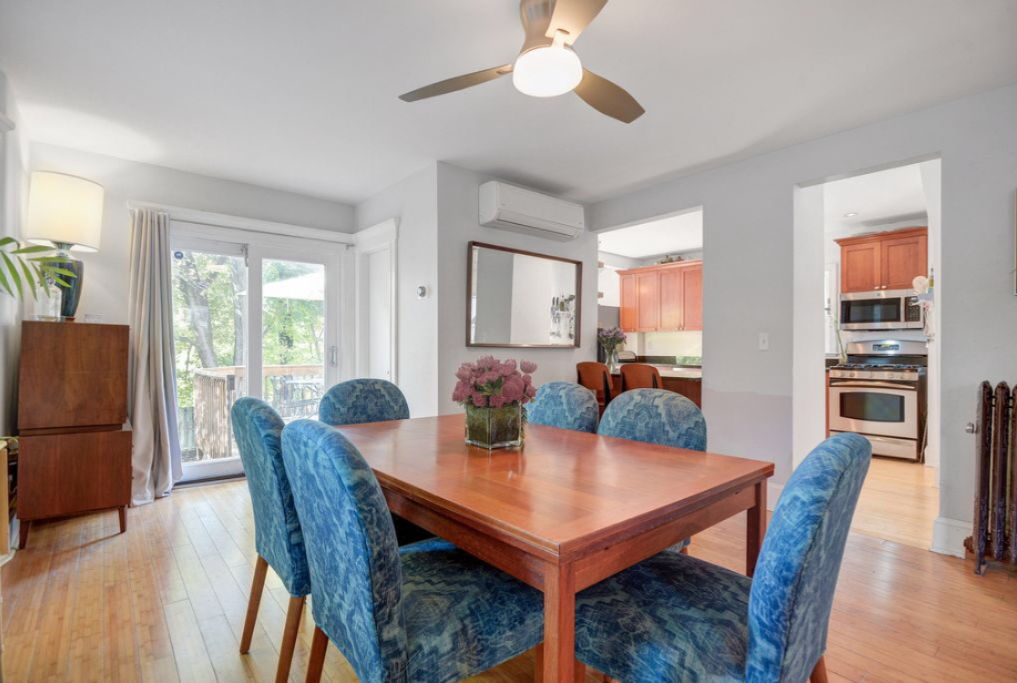 Lisa is all about comfort and she wasn't happy with the hard wood chairs. I found these upholstered chairs on major sale at Target (I think they were around $70 each). This color is no longer available but the chairs come in lots of other colors and patterns here.
The little bamboo cart under the window was another Facebook Marketplace find and we drove an hour to get it. We were thinking we would paint it but when Lisa got it inside, she found she liked it just the way it was.
Dining Room Price Breakdown: blue chairs $70 on sale each ($420 total) / vintage bamboo cart $50 / blinds for three windows $90 = Total $560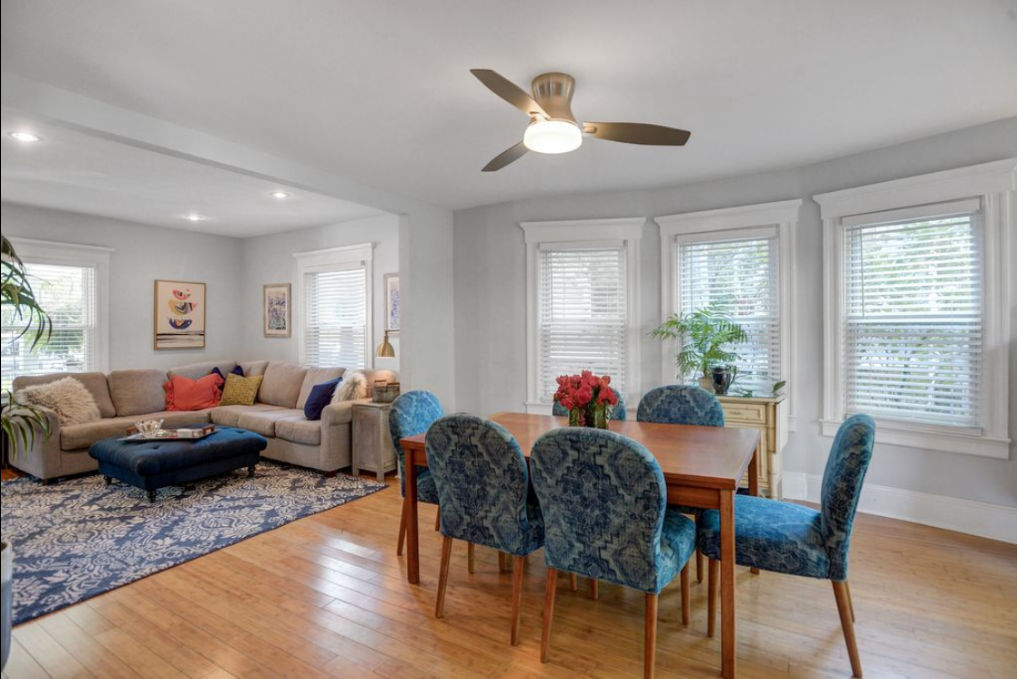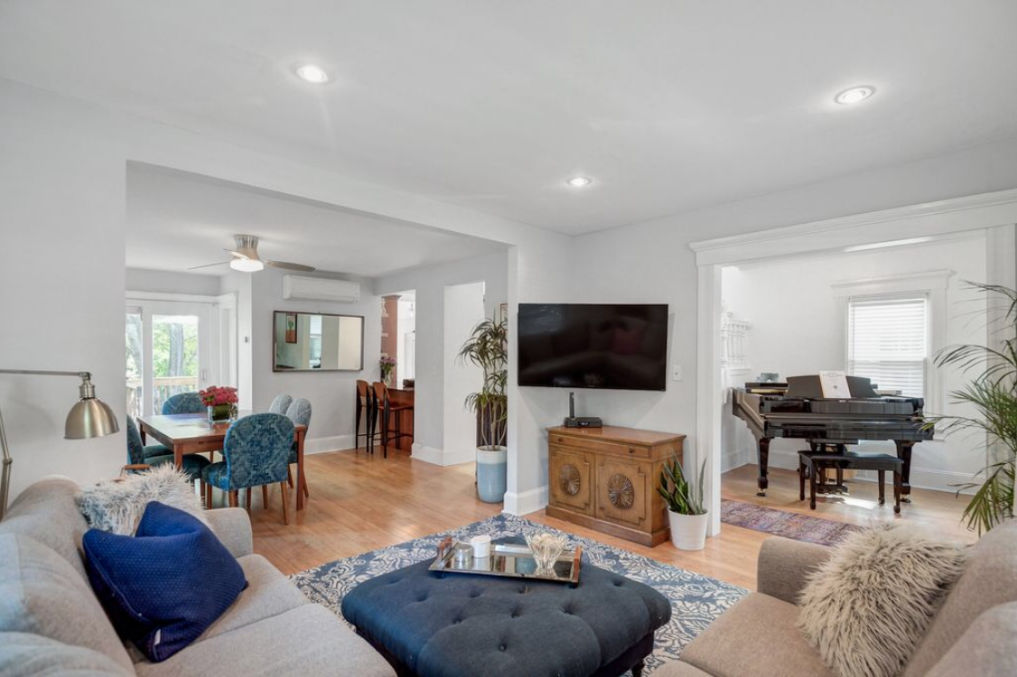 These makeovers were done over time which shows that you don't have to rush and can slow down and look for the perfect pieces to fit your space.
Lisa and her family are thrilled with the house but it doesn't make up for the small size so they just just sold it and moved into a home that is about the same square footage but has so much more living space. The best part is that it has a pool and she's now living even closer to me (less than a 5 minute walk) so we can meet up for cocktails more often!
Cocktail Price Breakdown: Priceless!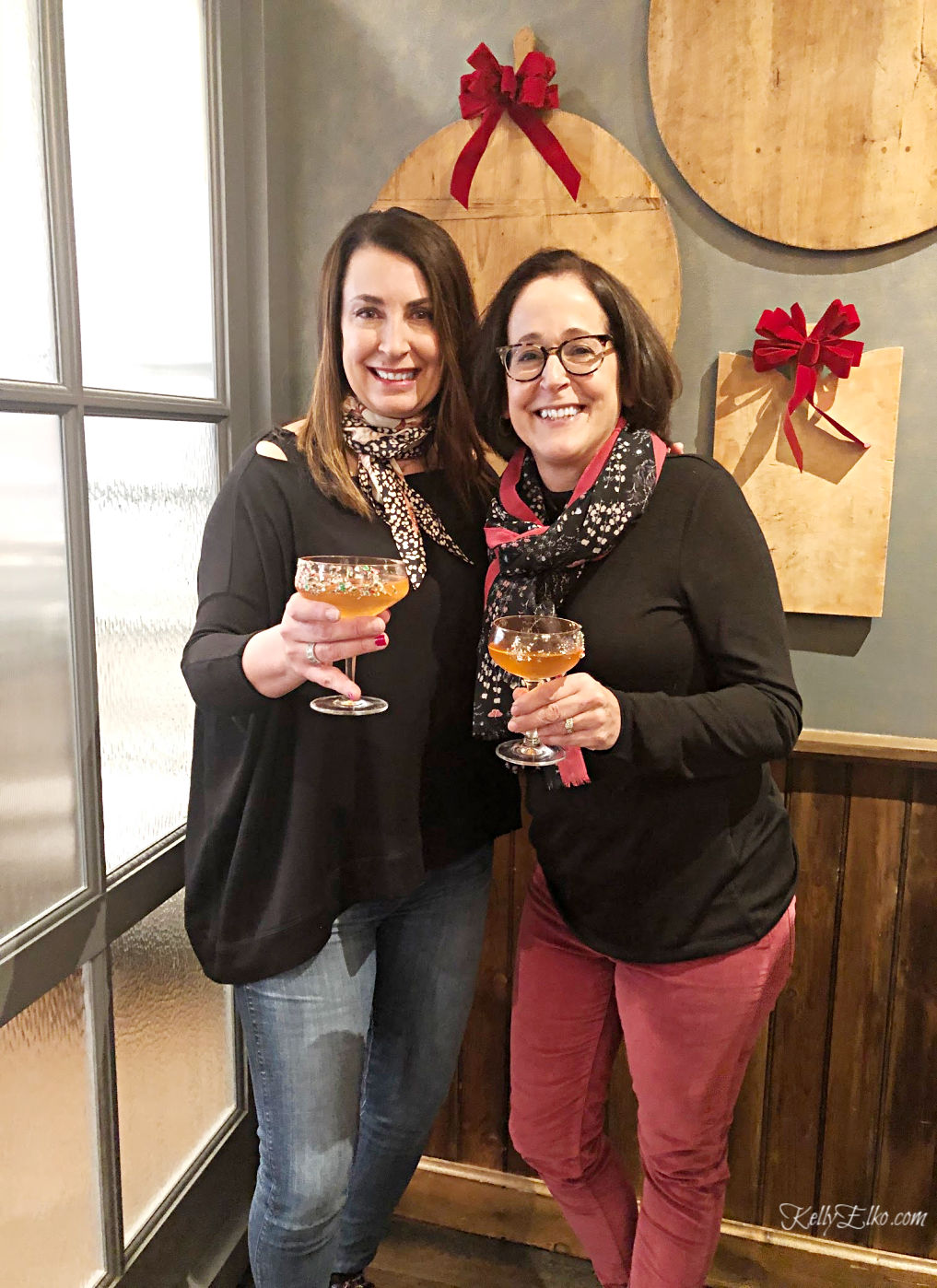 I hope you enjoyed the world's slowest makeover because I really enjoyed doing it. Cheers!