Eclectic Home Tour – Lala Saks
Today's Eclectic Home Tour of Lala Saks is unapologetically one-of-a-kind! I'm calling this home "traditional-whimsical" because it is the perfect blend of COLOR and pattern with some grandmillennial thrown in with the cherry on top being the most amazing vintage collections!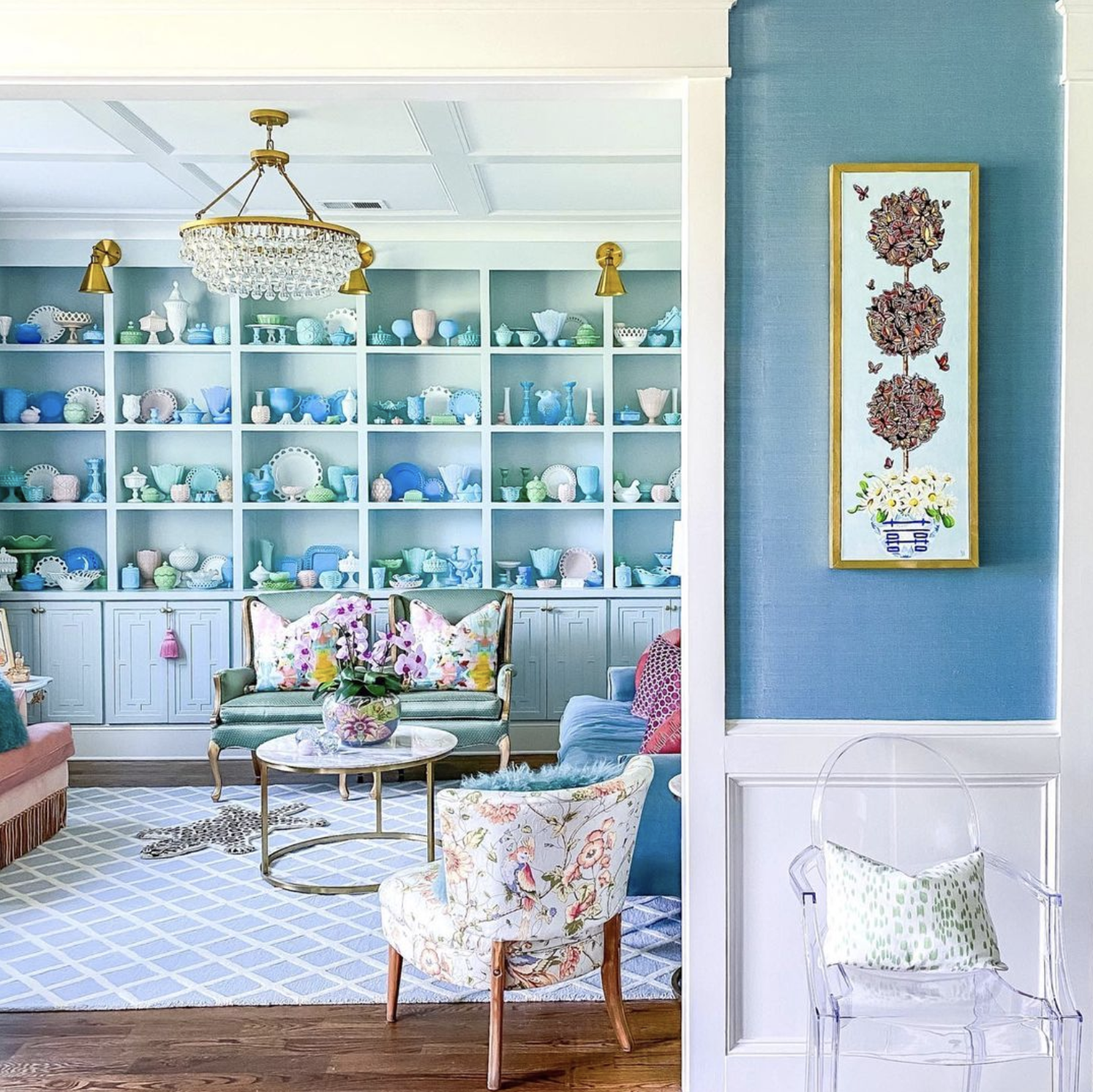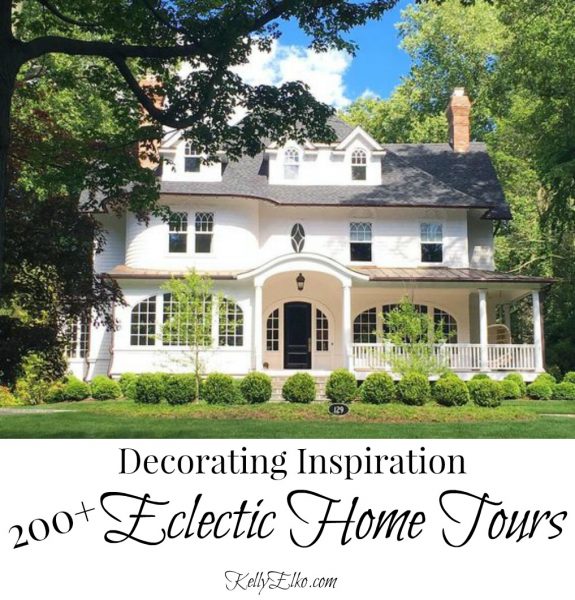 Lauren says, "I'm a southern girl residing in Mississippi with my husband and two boys. I have a lifelong passion for all things home decor. I acquired my first piece of milk glass about 14 years ago and have been an avid collector ever since. I love to mix vintage finds with new pieces and traditional decor with a little bit of whimsy. I feel it's important to decorate your home with what you love and then add lots of color!"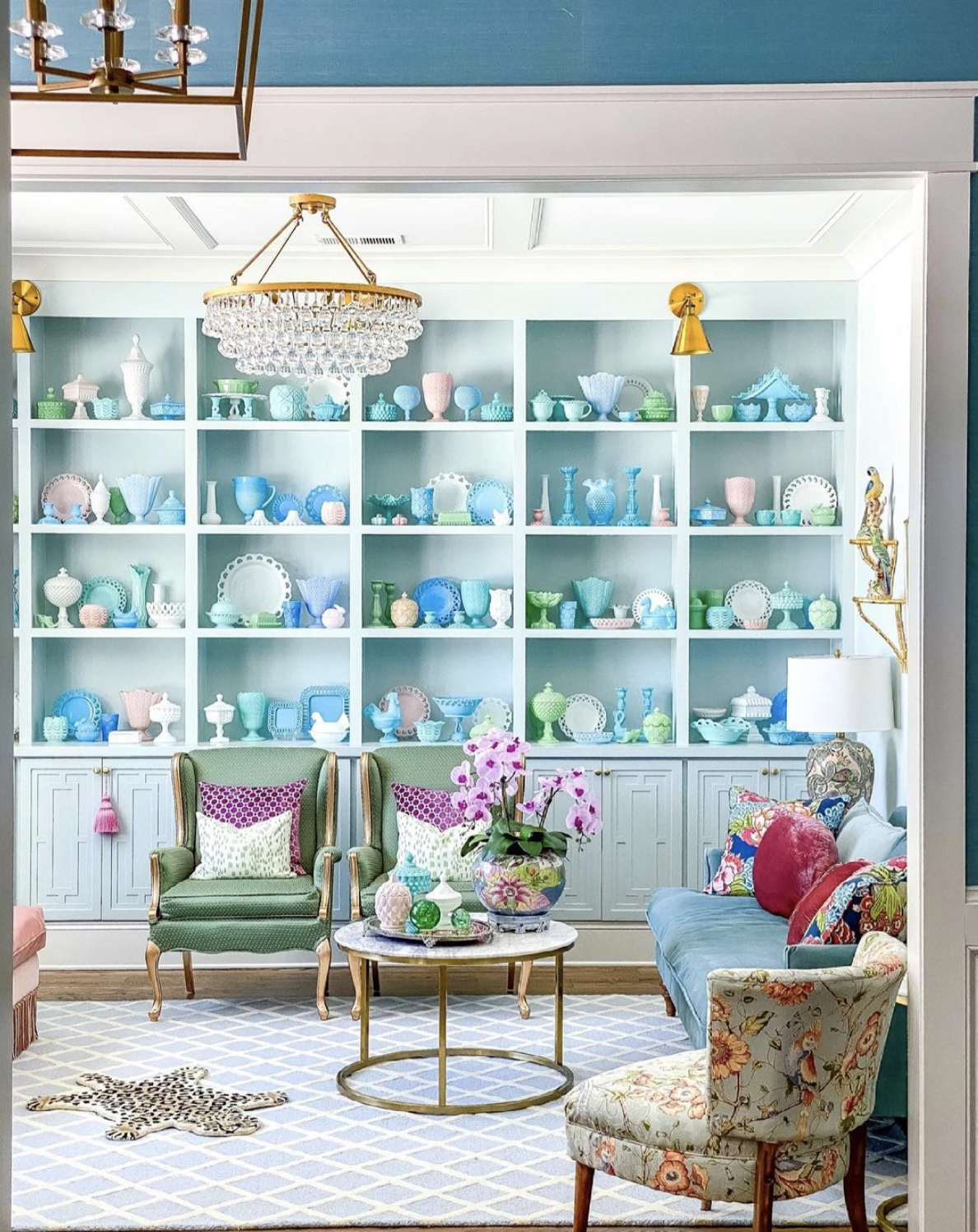 "The hobby of collecting… I call this my unintentional collection. I didn't start out with these pastel filled shelves in mind…it just happened over time because, well, pretty colorful things appeal to me, especially if they are vintage. So, 14 years later, this is my end result and I have to say it brings me much joy", says Lauren.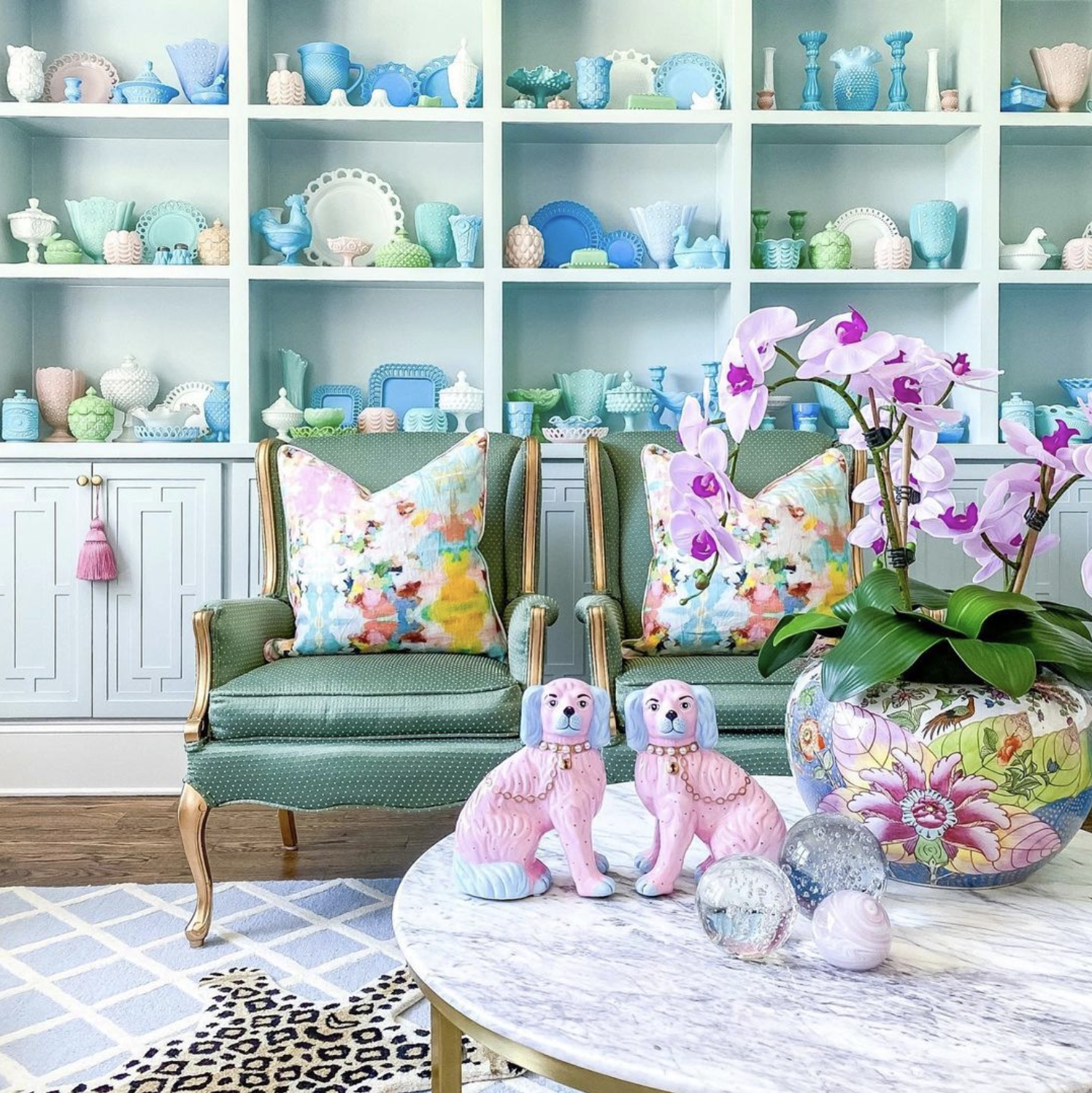 Most of the milk glass is either Fenton or Fostoria with a few pieces of pink Jeanette.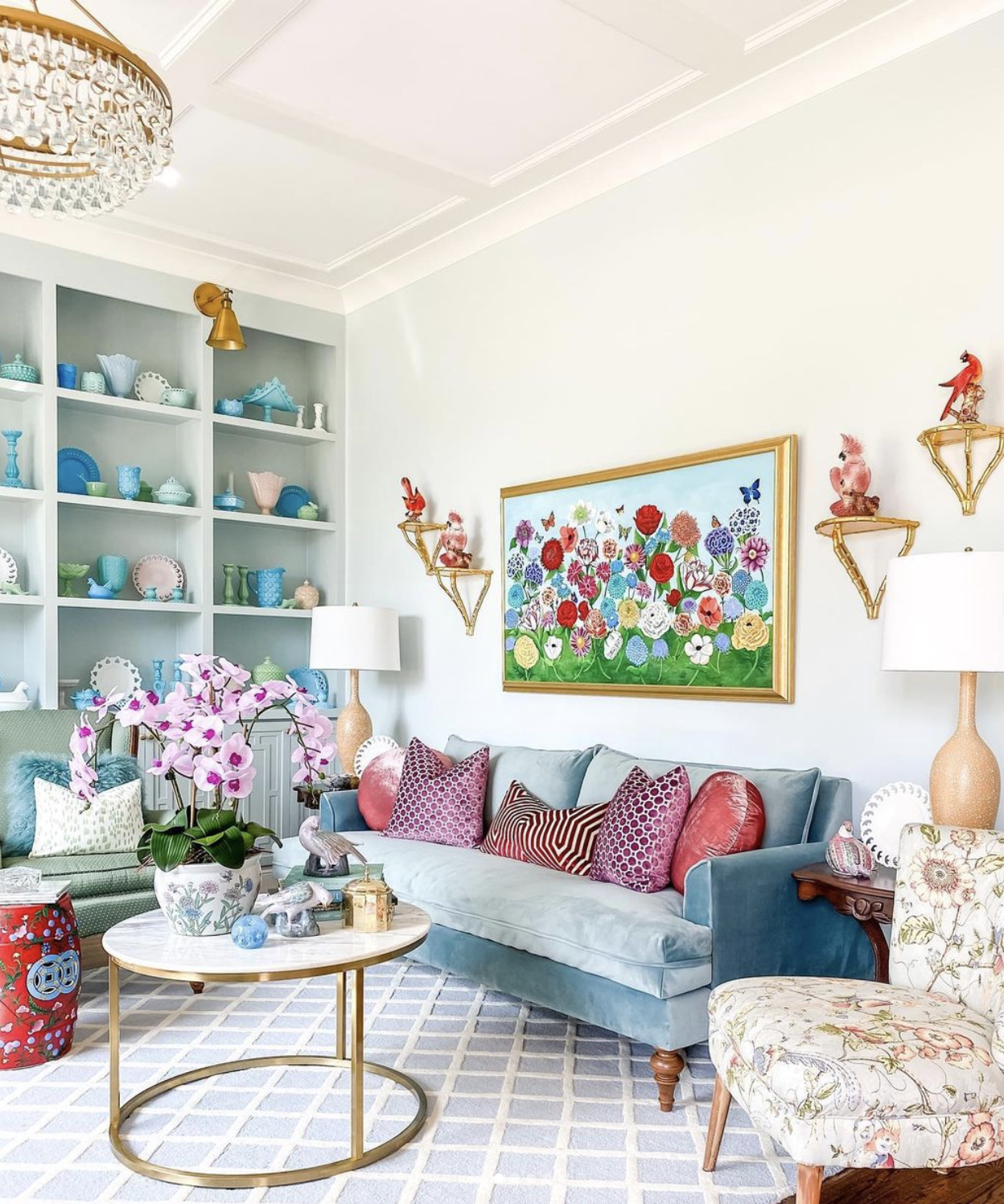 The colorful floral art throughout the house was painted by Lauren!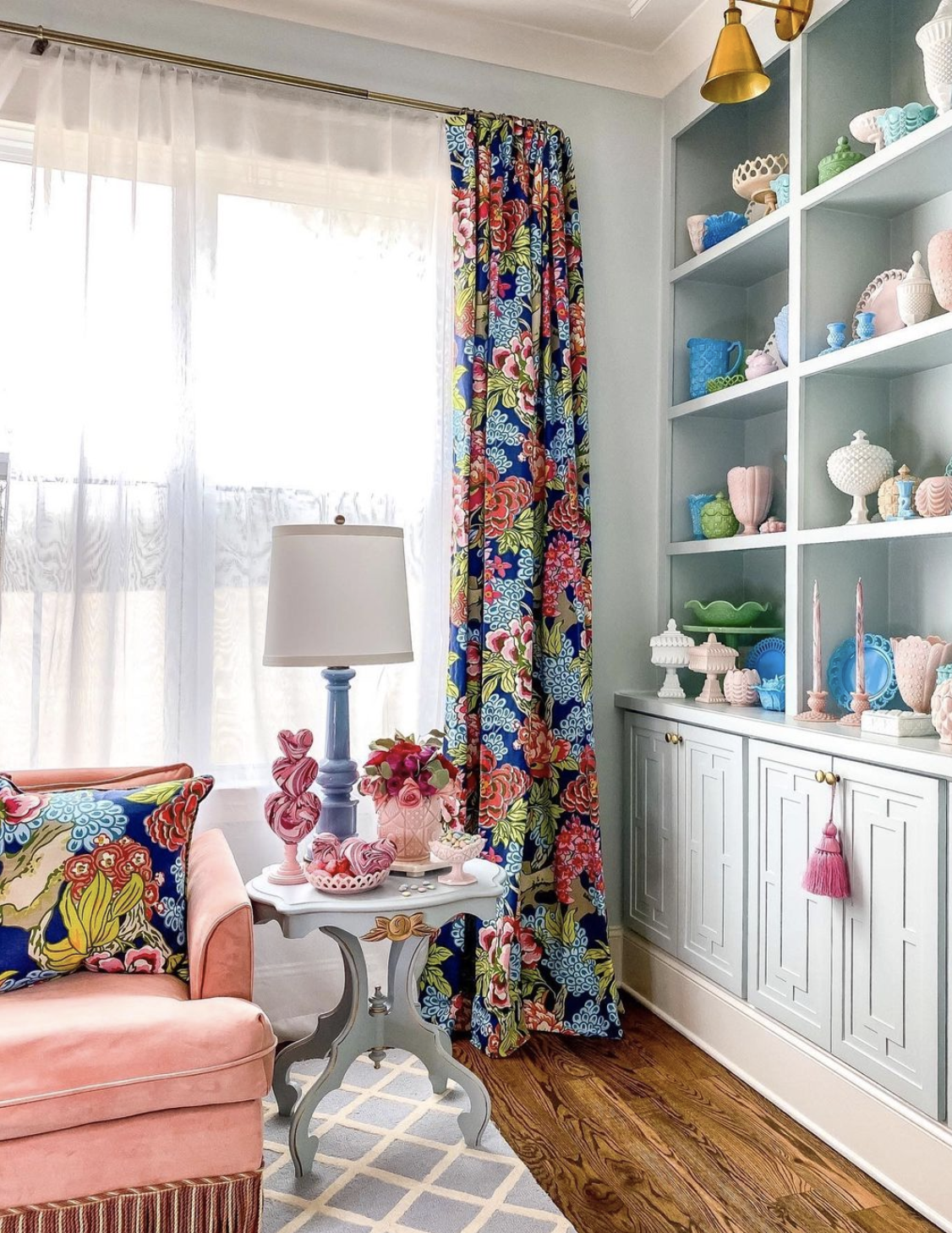 With so many people painting their cabinets white, Lauren went in the opposite direction and painted her white cabinets blue. Rattan counter stools and brass pendant lights help to create a natural feel to the kitchen.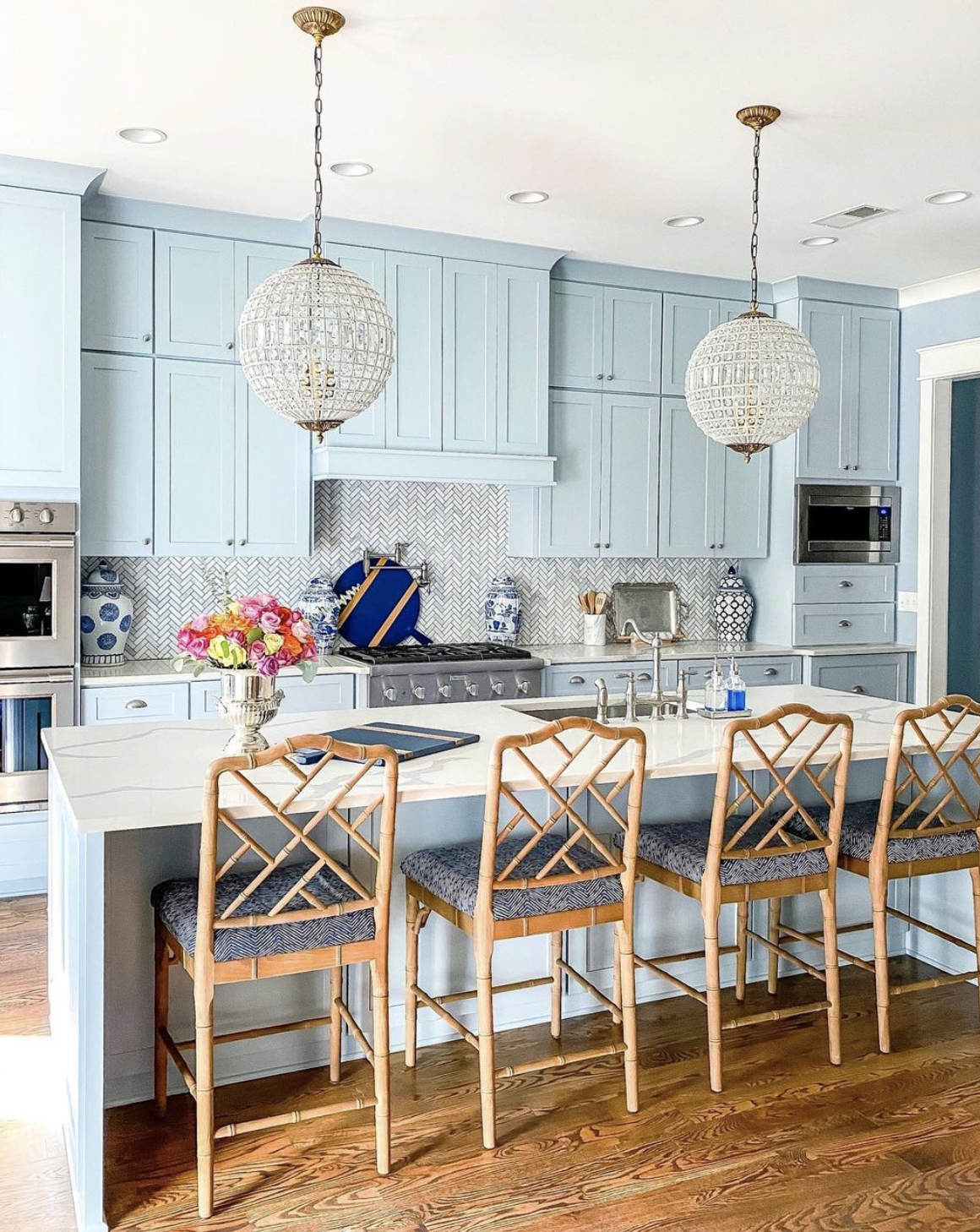 Ginger jars get a modern update in pink and gold.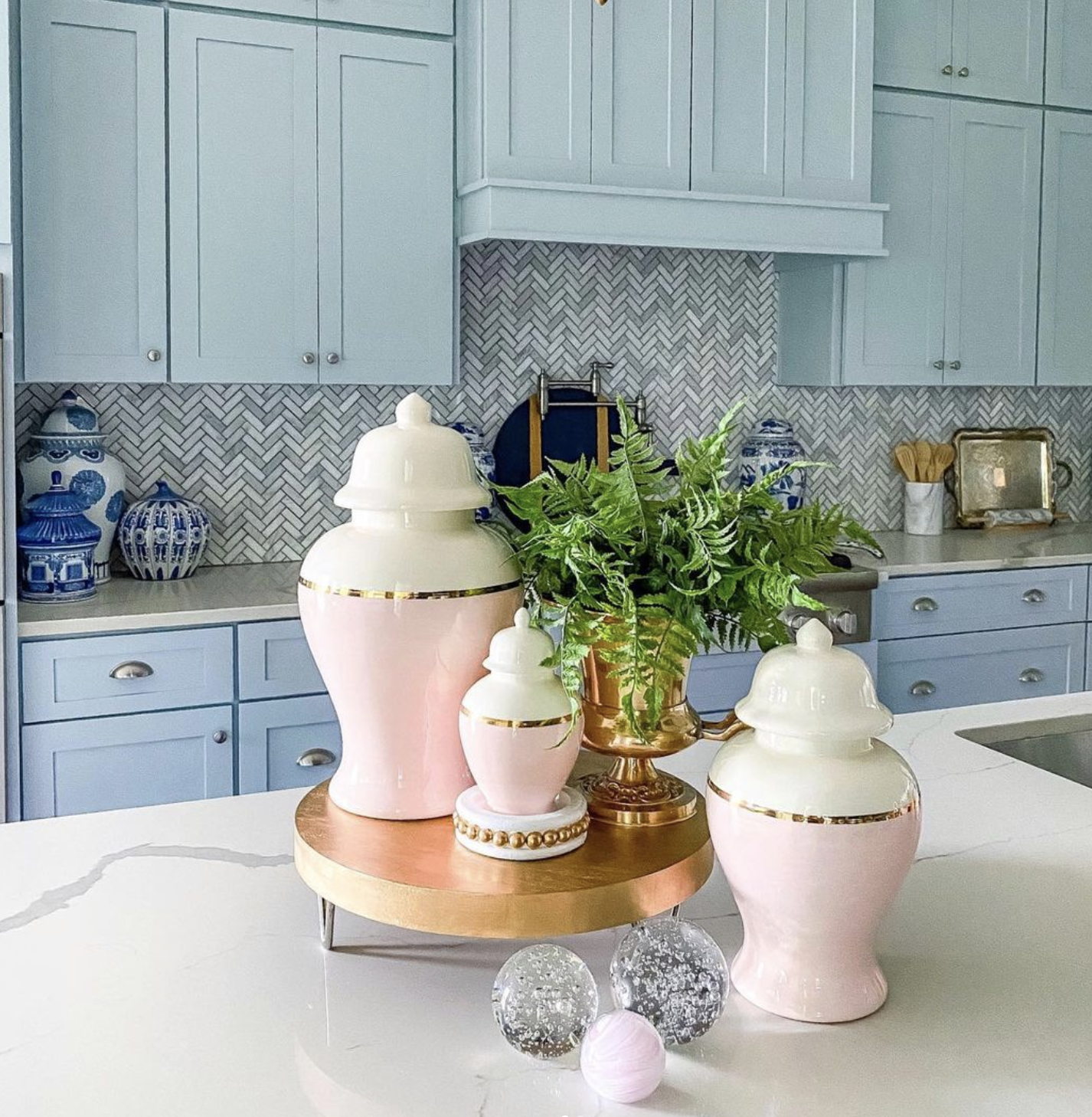 The pink cabinet was a baby's changing table in a past life but Lauren added bamboo trim then gave it a coat of fresh pink paint.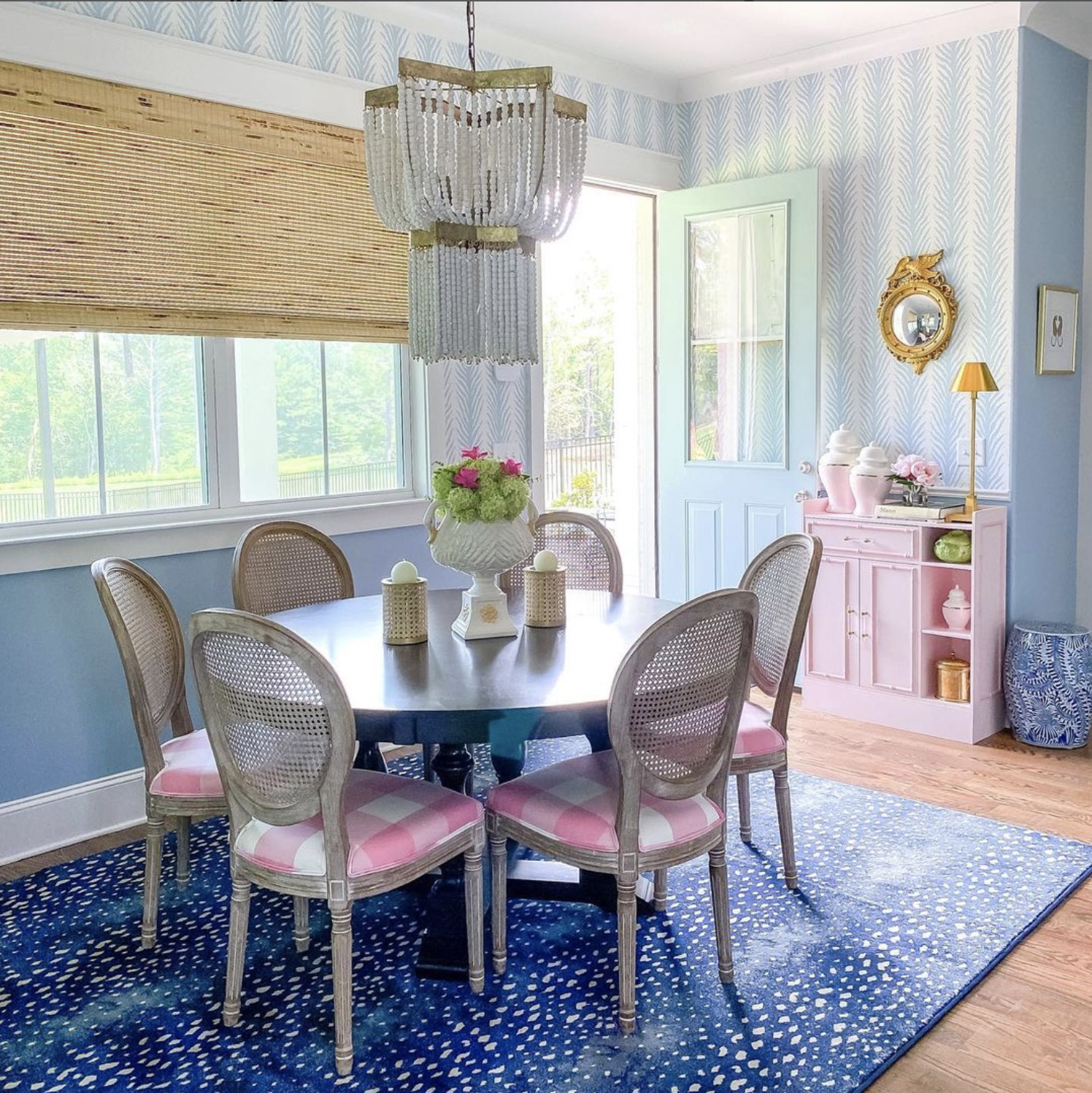 Says Lauren, "My first collecting love is milk glass but my second is definitely tobacco leaf china. It's the colors for me. The pinks, blues and greens are so cheerful. Throw in a few cute monkeys and we're good to go!"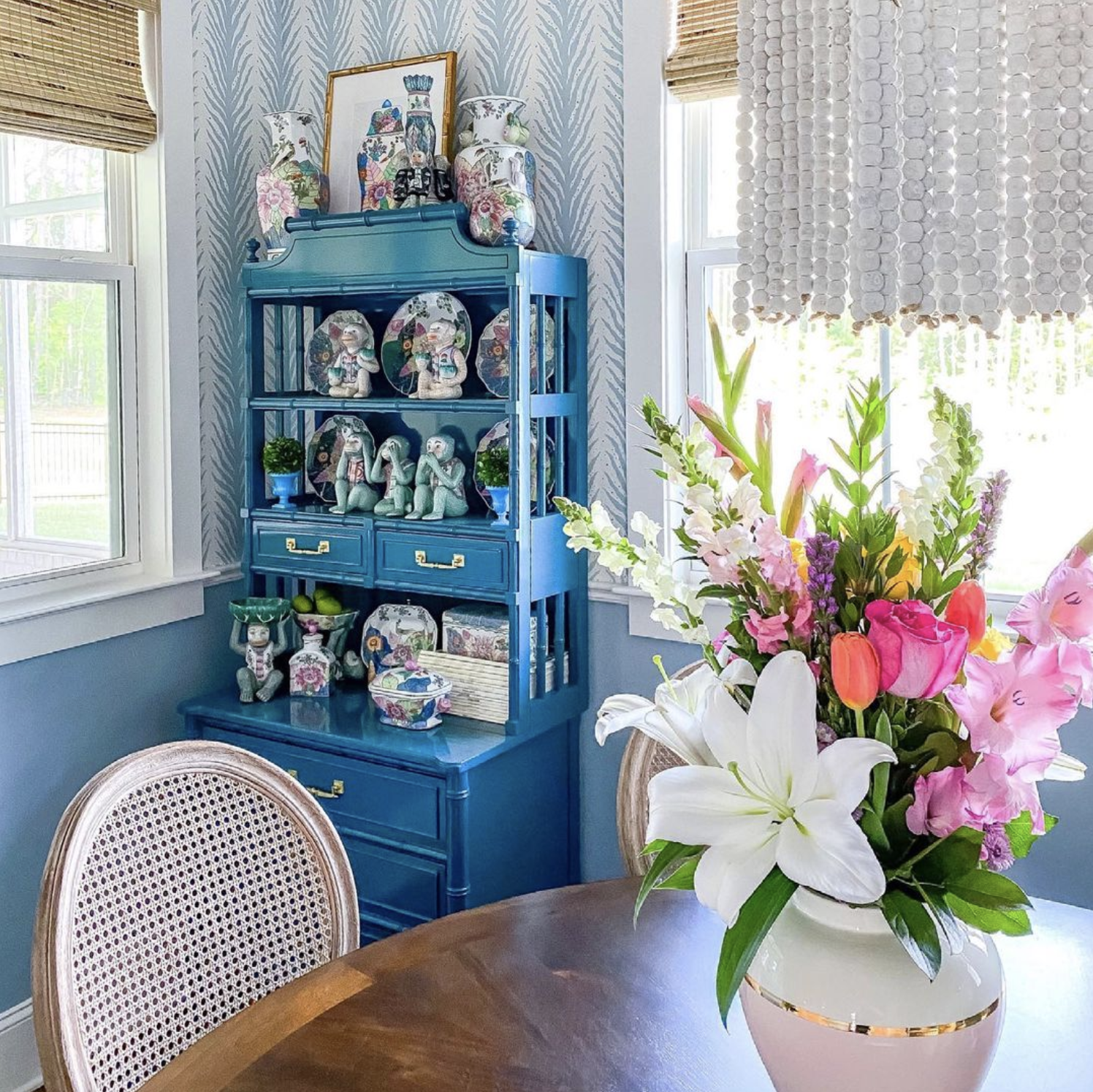 Shades of blue are layered from the walls all the way down to the rug.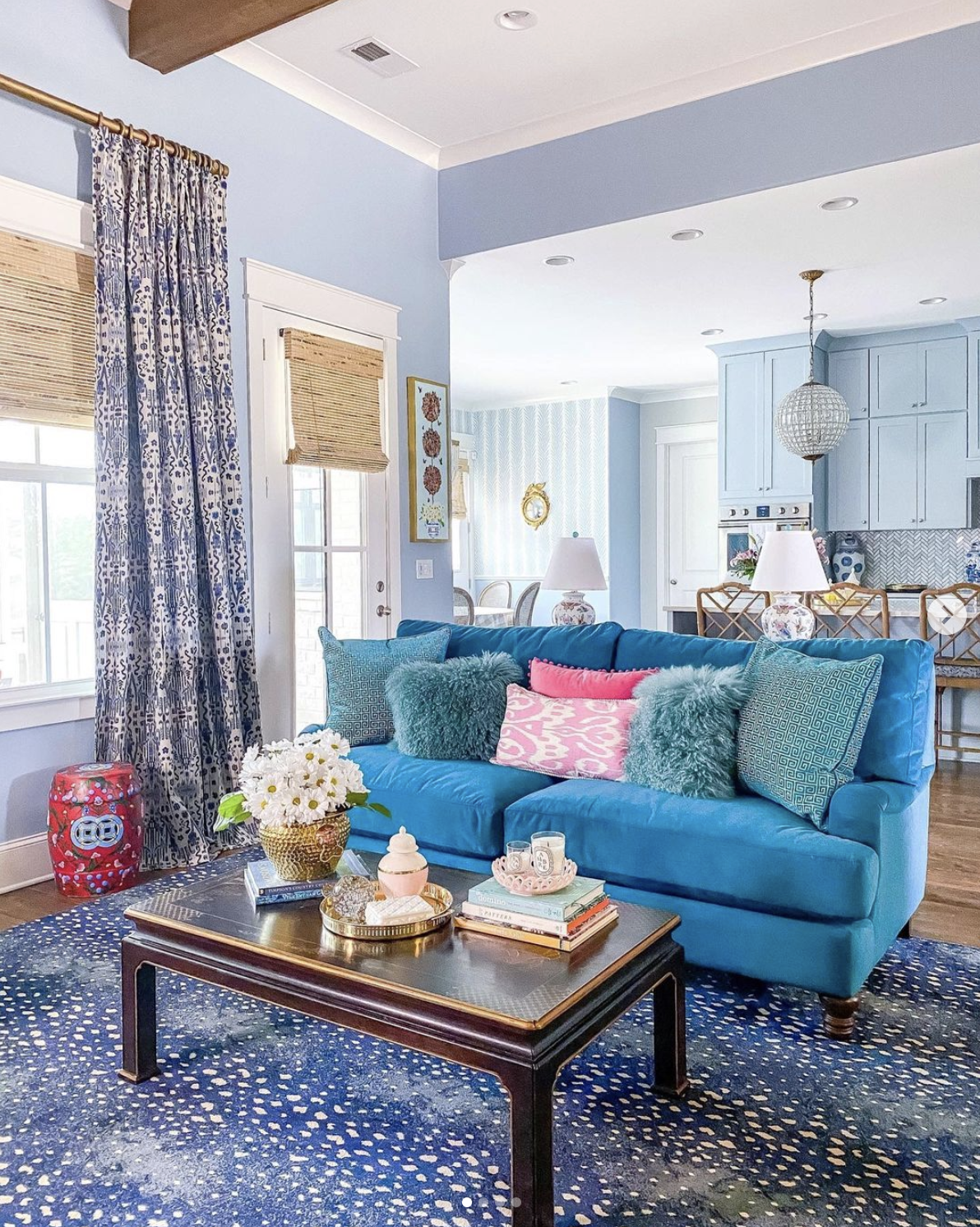 The family room gets its personality from a collection of books arranged by color.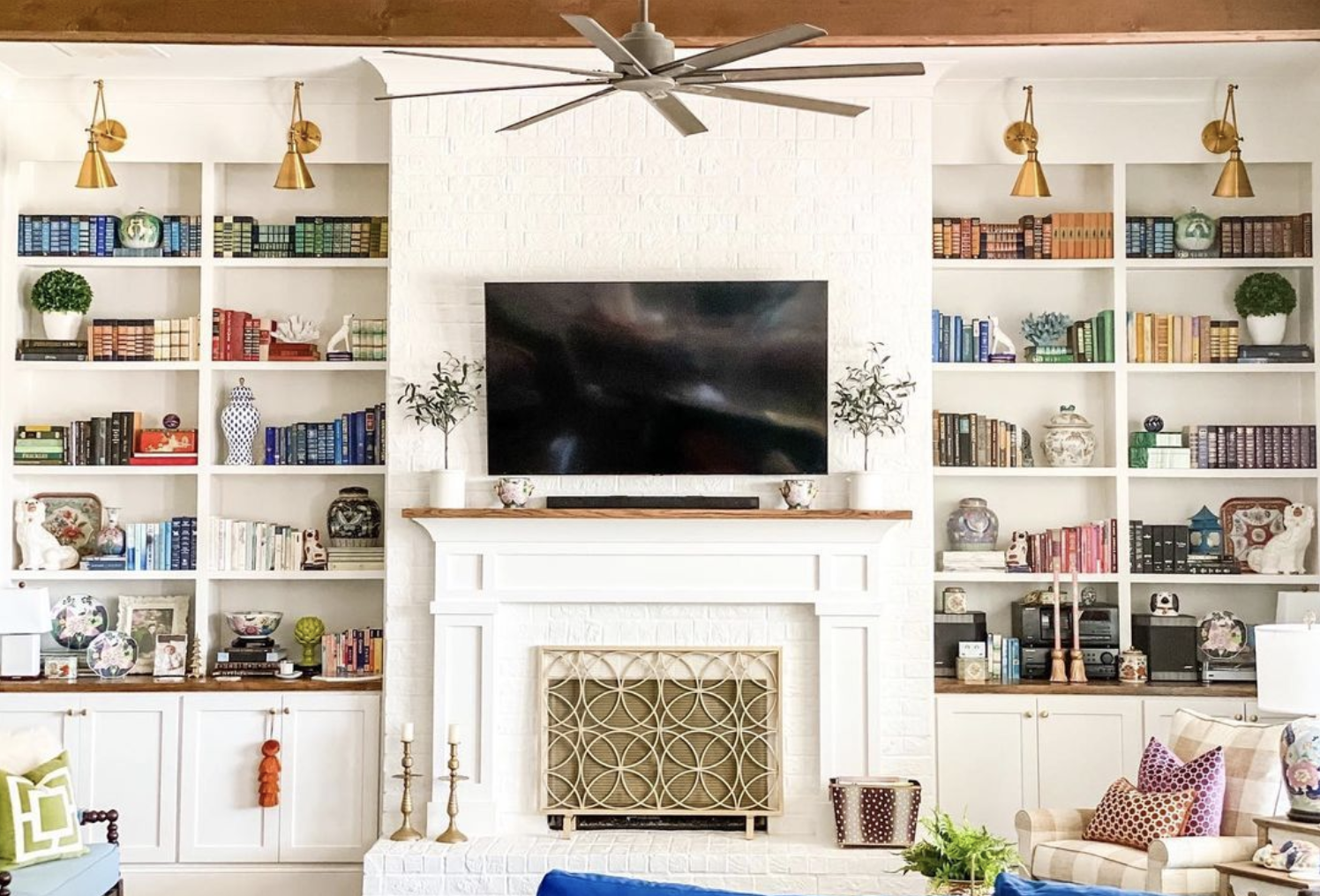 Every lover of blue needs a collection of vintage drinking glasses (and I need that disco ball ice bucket)!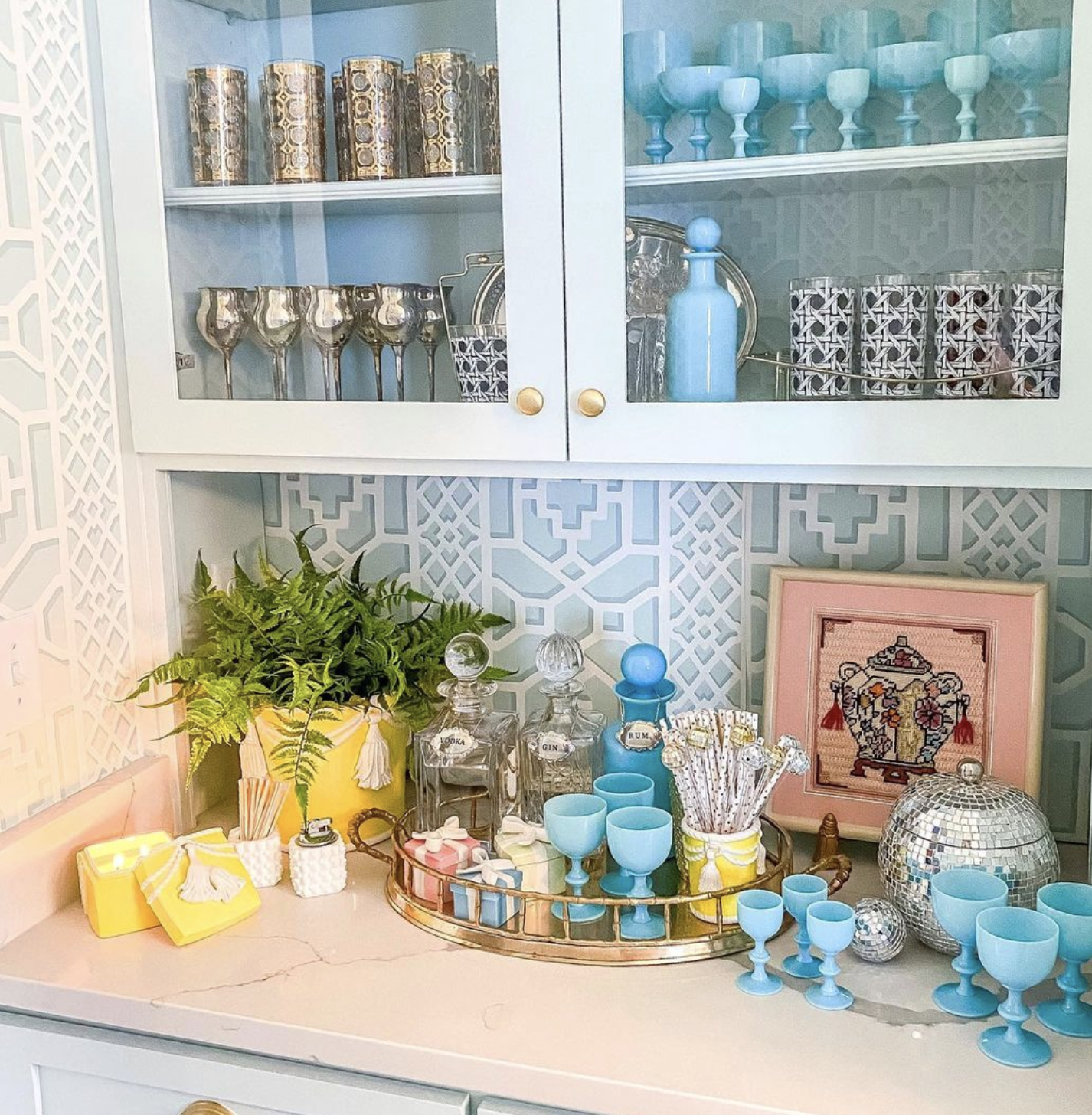 Natural wood furniture and dark wood floors help ground the lighter shades in the house.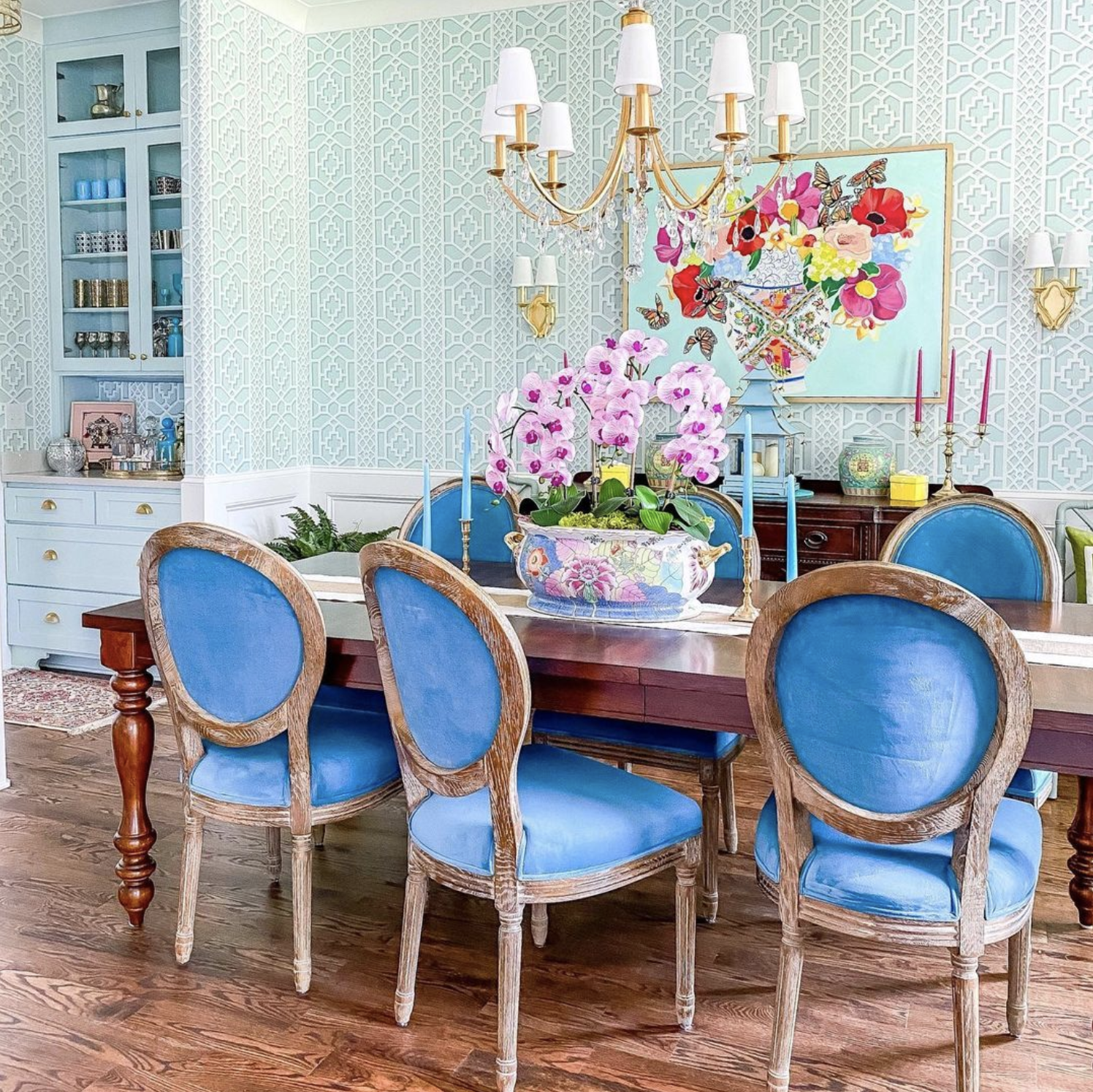 Milk glass makes the perfect centerpiece.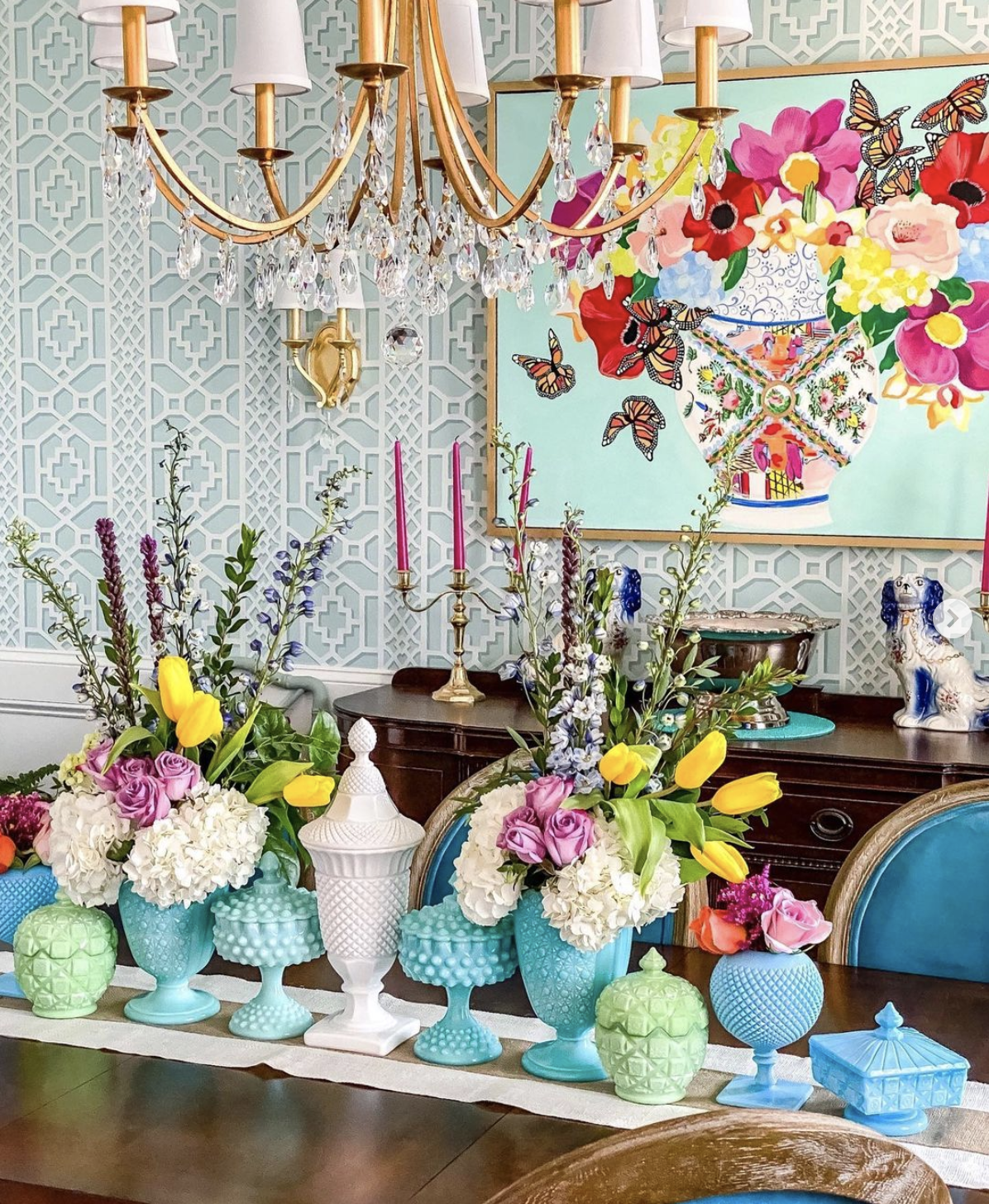 Lauren chose these colorful drapes before her house was even built! She says, "when you know, you know… know what I mean?!"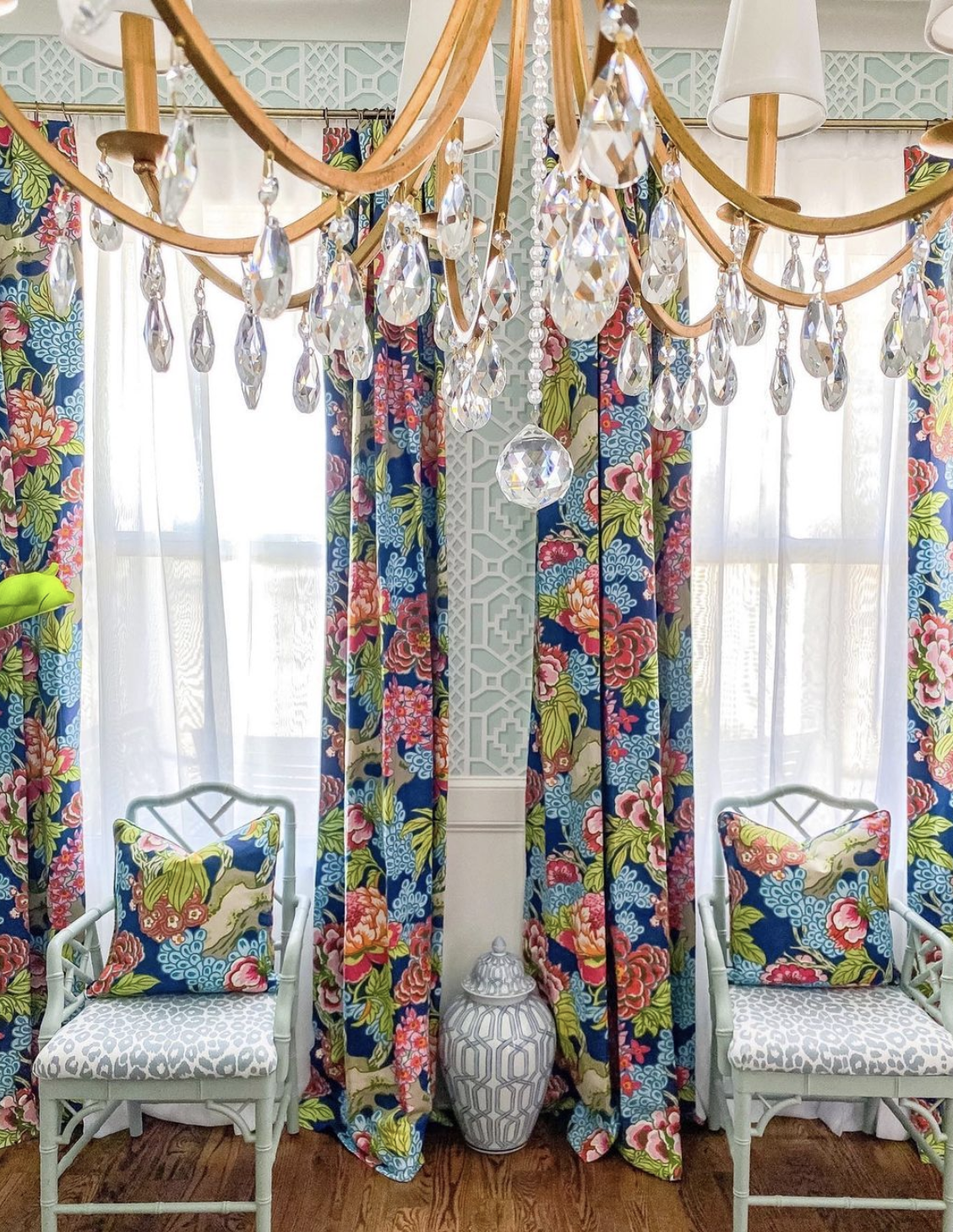 Wallpaper makes a huge statement, especially in small spaces like bathrooms.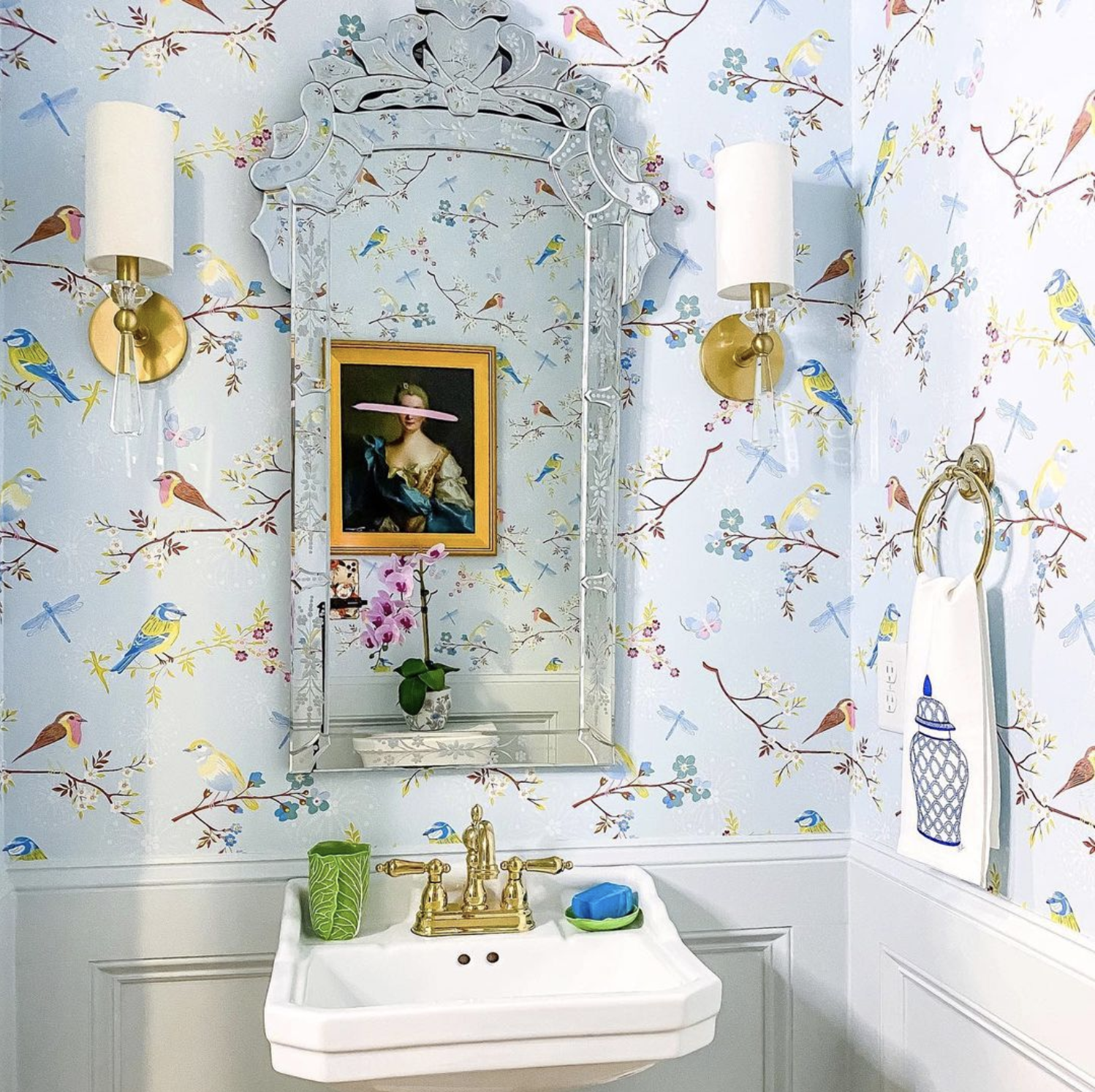 The plain beige bed was reupholstered in a beautiful blue fabric and a trio of colorful juju hats are the art above the bed.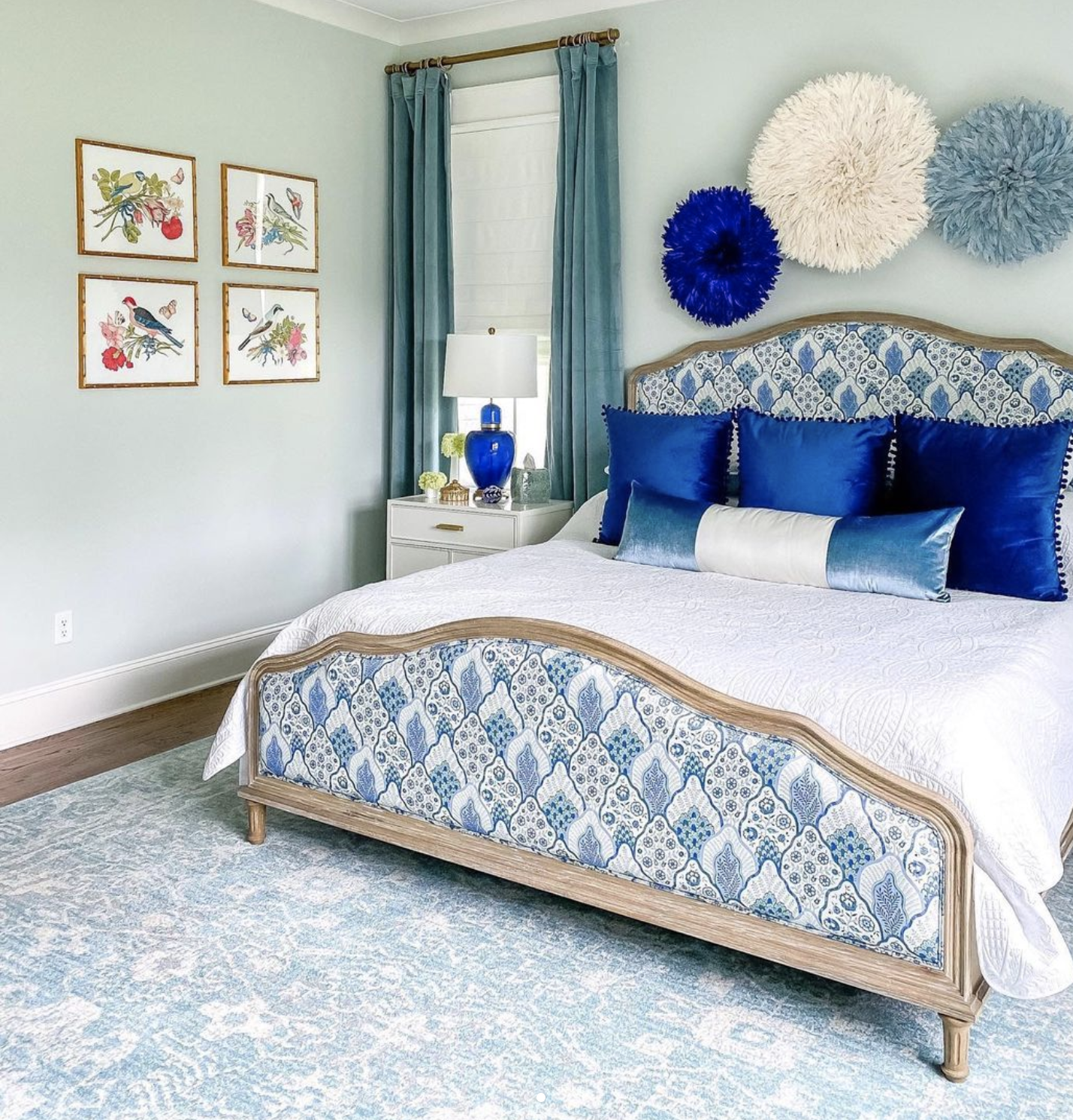 The home is a new build so Lauren was able to make all the design choices including going with a drop-in tub. She says she considered a freestanding tub but loves her choice.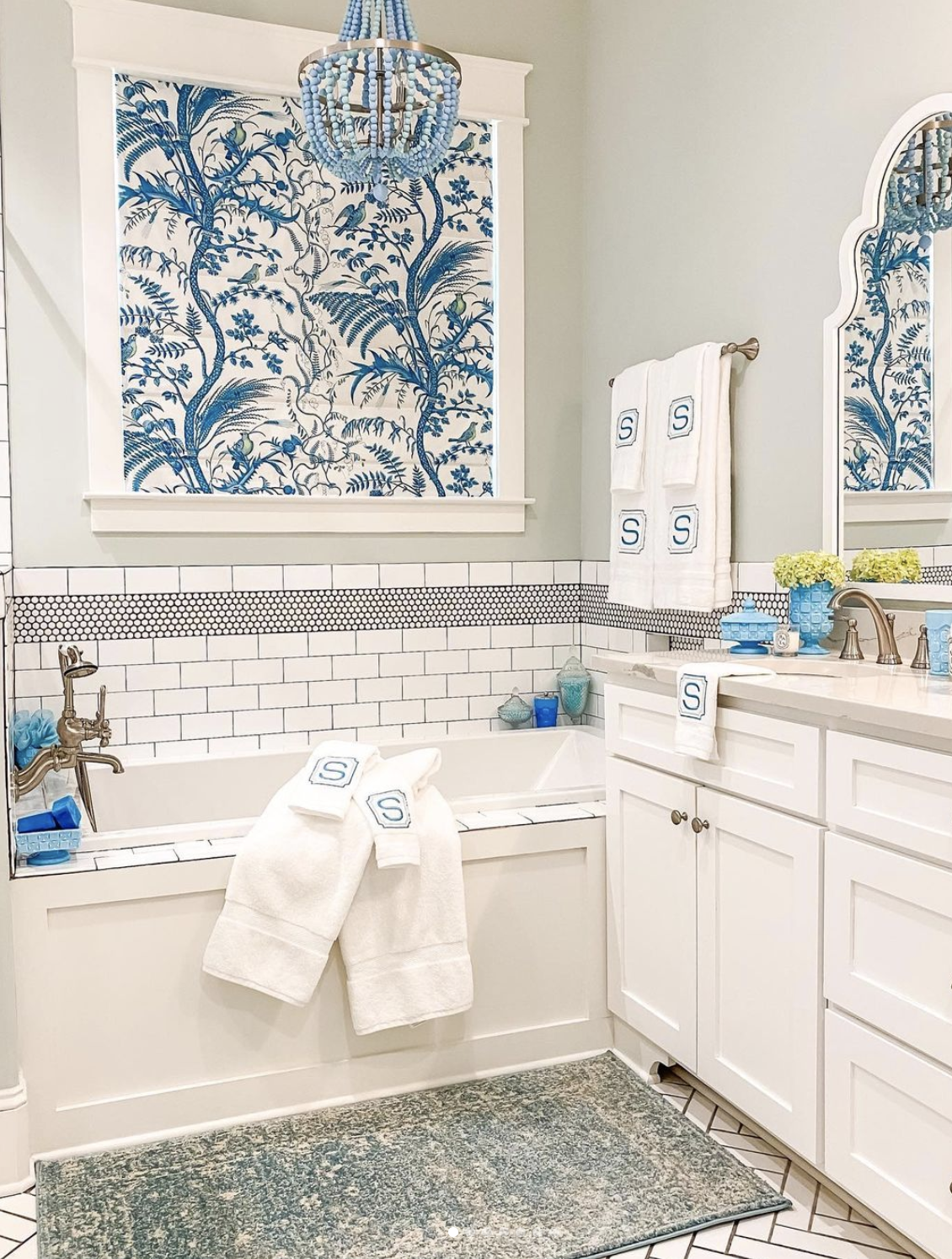 This bathroom is pretty in pink and shows that you can go wild with pattern in a small space.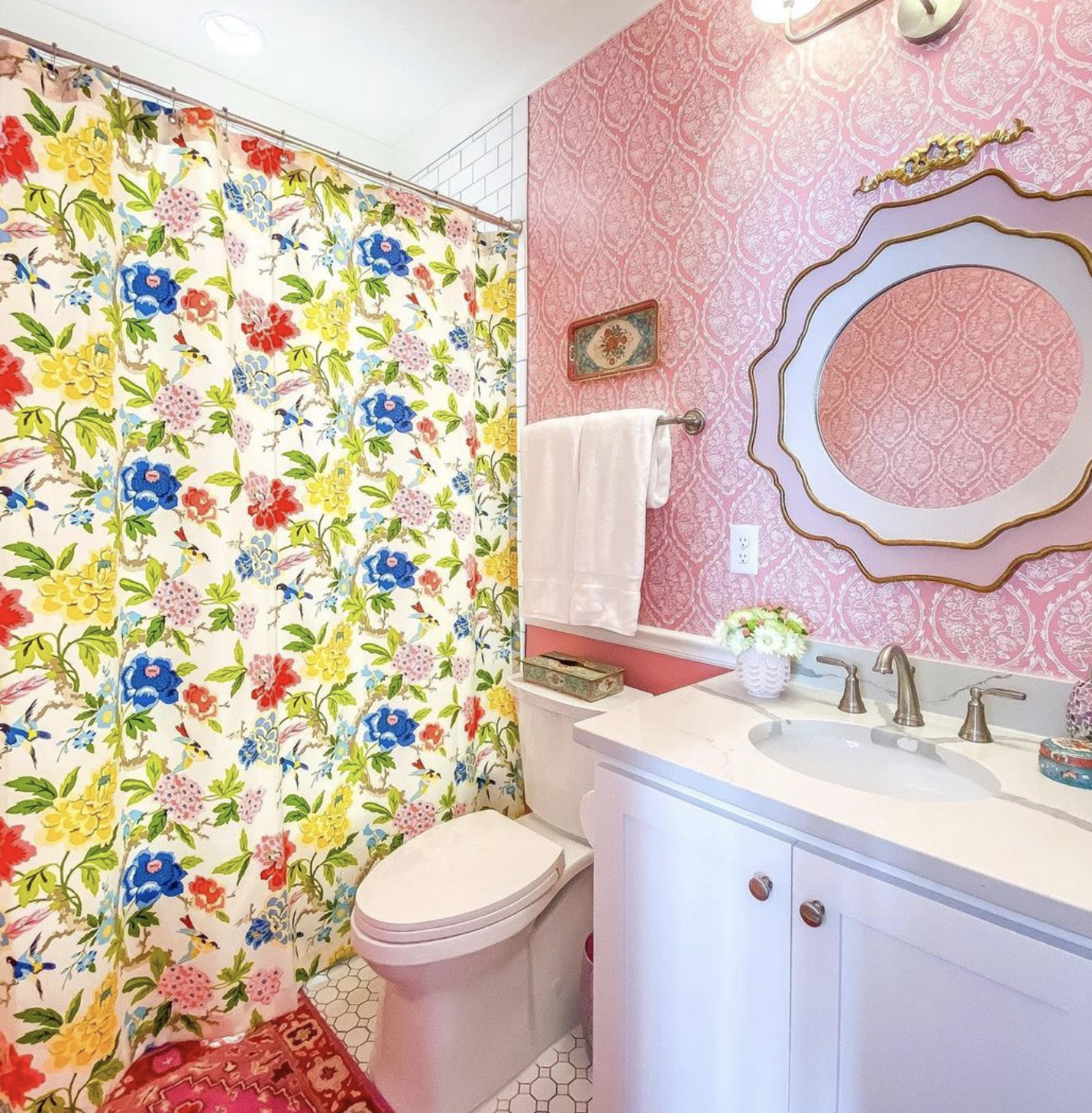 Even the laundry beads are displayed in vintage glass jars.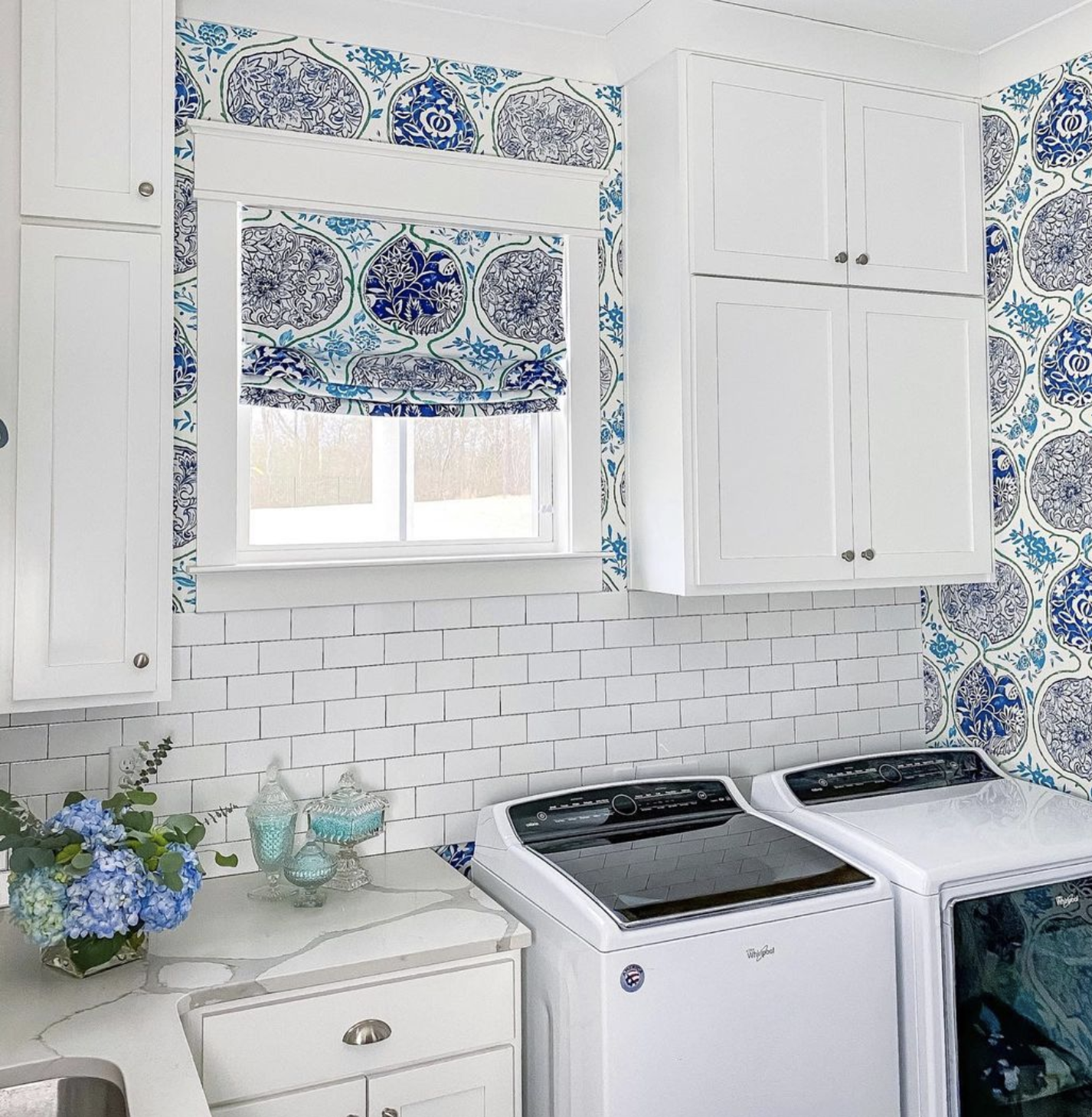 Lauren's poodle is the perfect shade of blue in a painting done by her sister.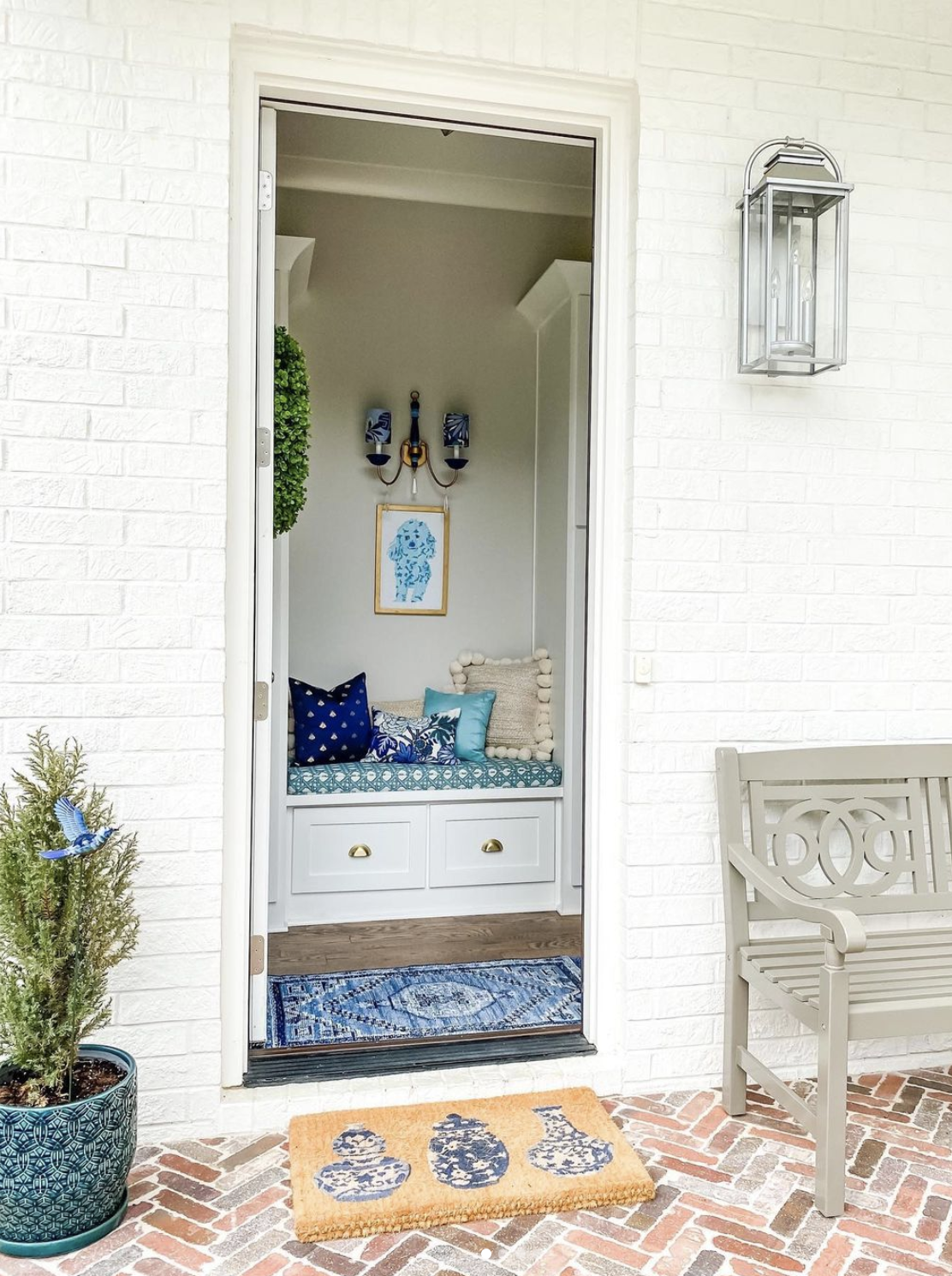 I always enjoy touring homes where the owners are unafraid to express themselves and this is definitely a happy, one-of-a-kind home.
Love home tours? There is something for everyone so don't miss browsing through to see your favorites …