Extra! Extra! 6 read all about it! I'm sharing all the things I've been doing, loving, visiting, decorating, thrifting (I scored big time!), gifting, plus the coolest vintage collection and display idea I know you are going to LOVE! I had an epic weekend visiting my daughter in New Orleans only to return feeling sick as a dog. I'm not sure if it had anything to do with the scorpion shot I drank (yes, I swallowed a real scorpion and have the t-shirt to prove it)! Here's to a great week of fun things including …
Collecting
I love a good vintage collection and I am in love with the way Lora Bloomquist displayed her vintage Christmas trees stands on an old ladder!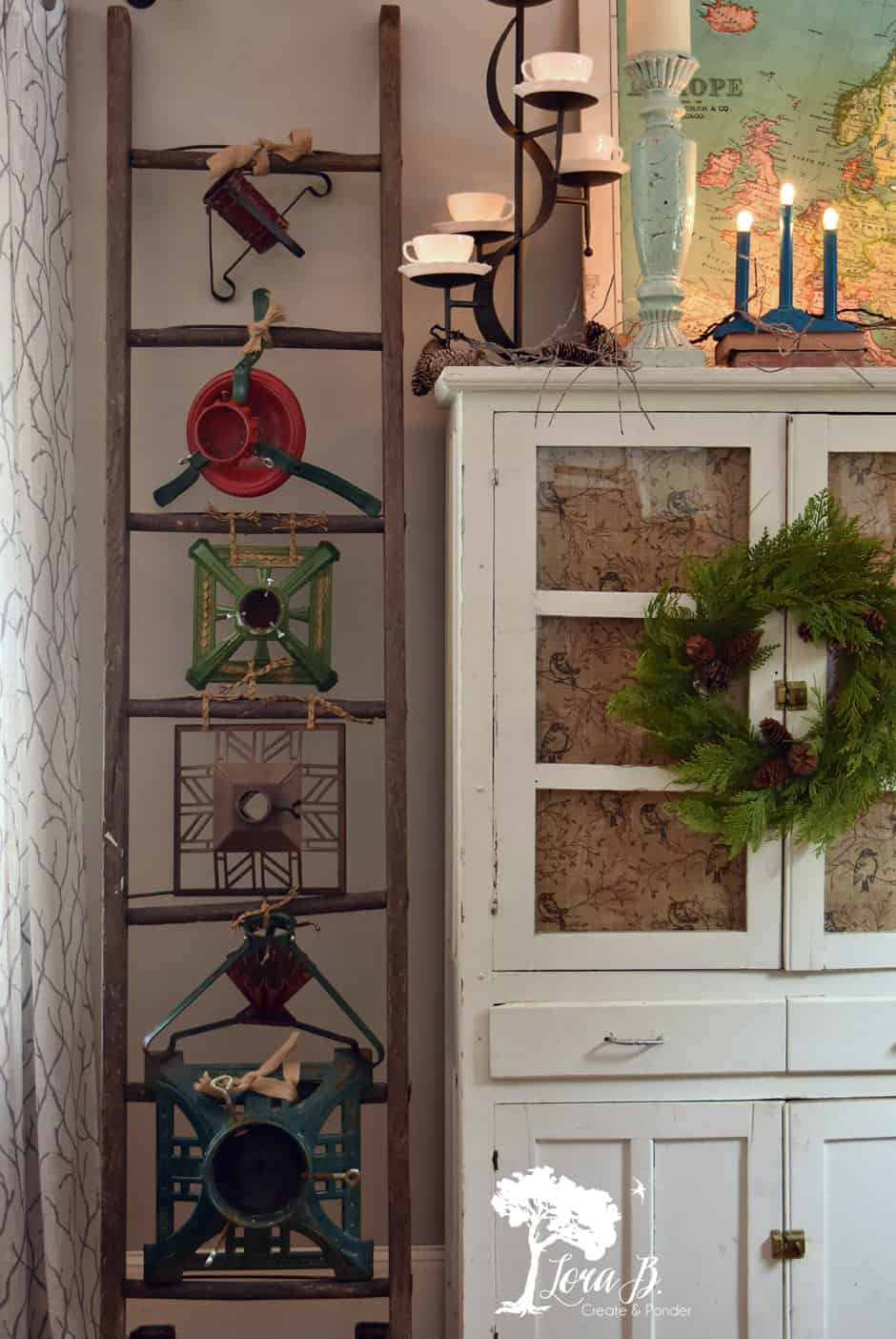 Decorating
Remember my Christmas chalkboard mantel that was featured in Better Homes & Gardens magazine? I'm excited to announce that you can buy your own art print, canvas or even pillow!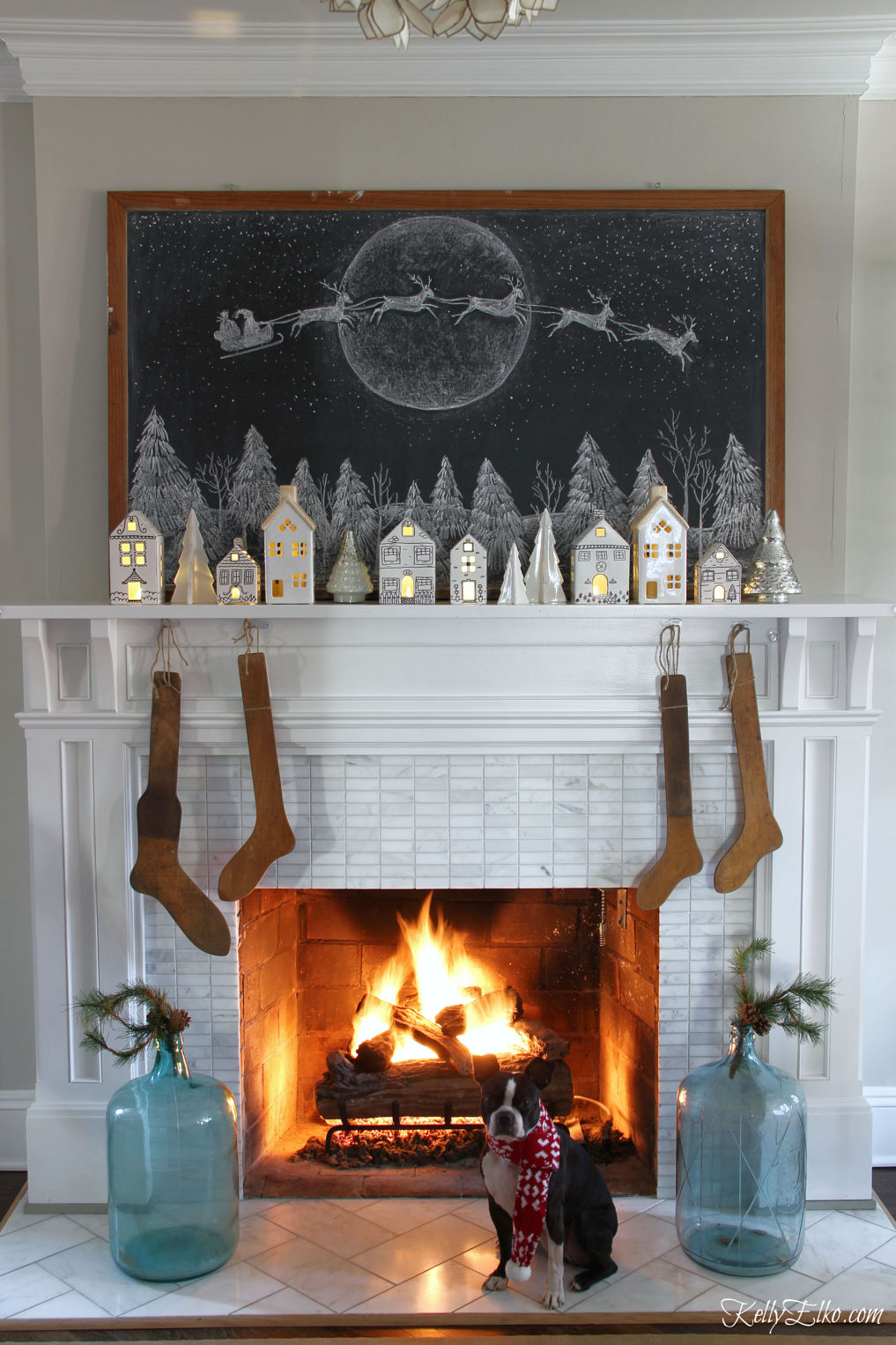 Wearing
I had fun at my last parents weekend in New Orleans last weekend and made sure to show my school spirit (notice I even got a green mani)!
If you're looking for a one of a kind gift for your favorite sports fan or college student, parent (or yourself!), my beaded purse strap is it! It can be personalized with any saying and colors (I have a red one for my other daughter's school). Every single mom was asking me where I got it!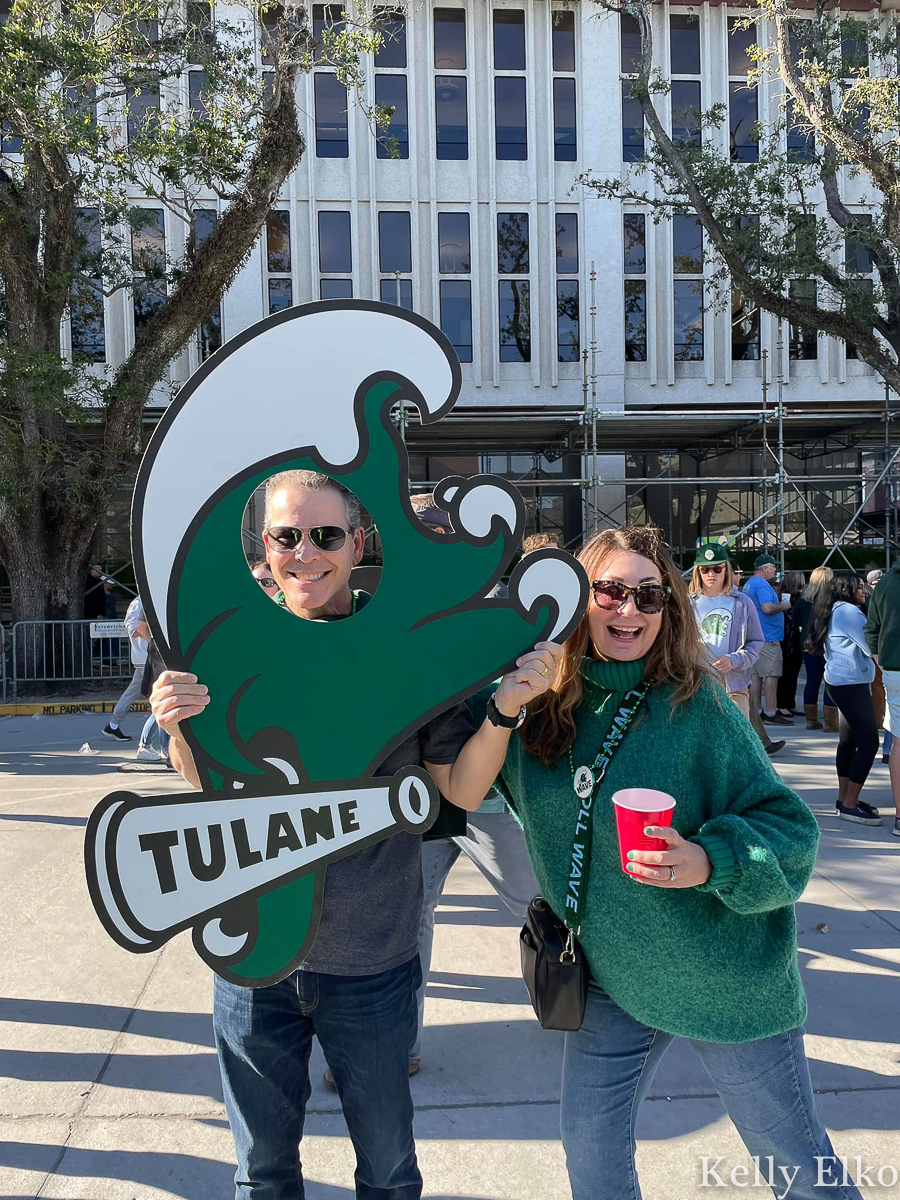 Get my favorite green sweater here (I sized down two sizes to a small – it runs large).
Thrifting
Merry Christmas to me! Seems like Santa finally took me off the naughty list and made sure I got an early Christmas gift! I could not believe it when I found this pair of Santa & Mrs. Claus vintage blow molds on Facebook Marketplace that still have their light cords!
Last year, I was lucky to find a little elf blow mold (see him on my Christmas mantel here). I guess this means I am officially a collector of Christmas blow molds now (since three is a collection).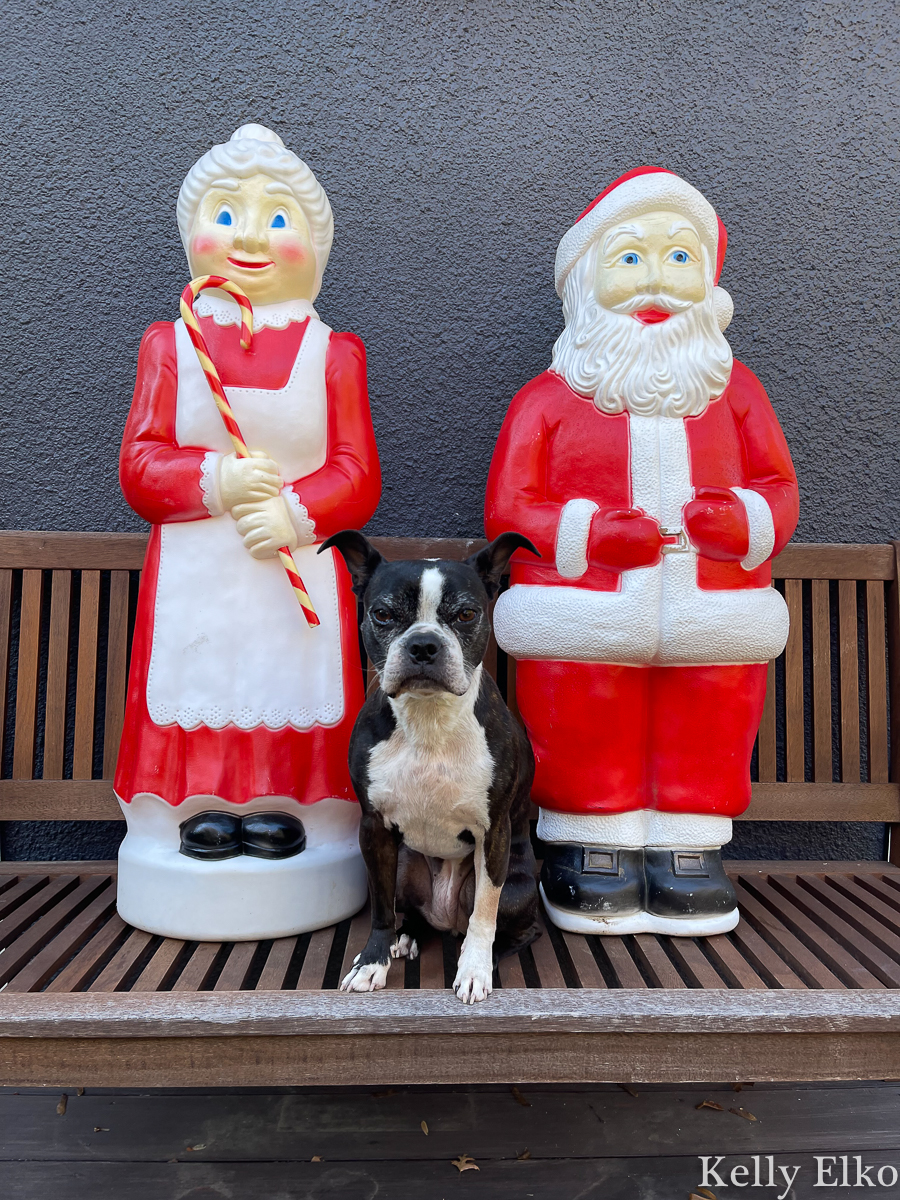 Watching
I finally finished binge watching Broadchurch on Netflix (you only have until November 26 to watch it). I have to say, I thought it was ok … not as amazing as everyone else on the planet seems to think. Have you seen it?
Next on my watch list … Ted Lasso.
Creating
If you love plants and art, then you need this plant coloring book in your life. My friend Jen created it and I've been having fun getting my creative juices flowing (plus it's very therapeutic)!
I think it would make a great gift when paired with a box of colored pencils, a beautiful mug and an assortment of teas.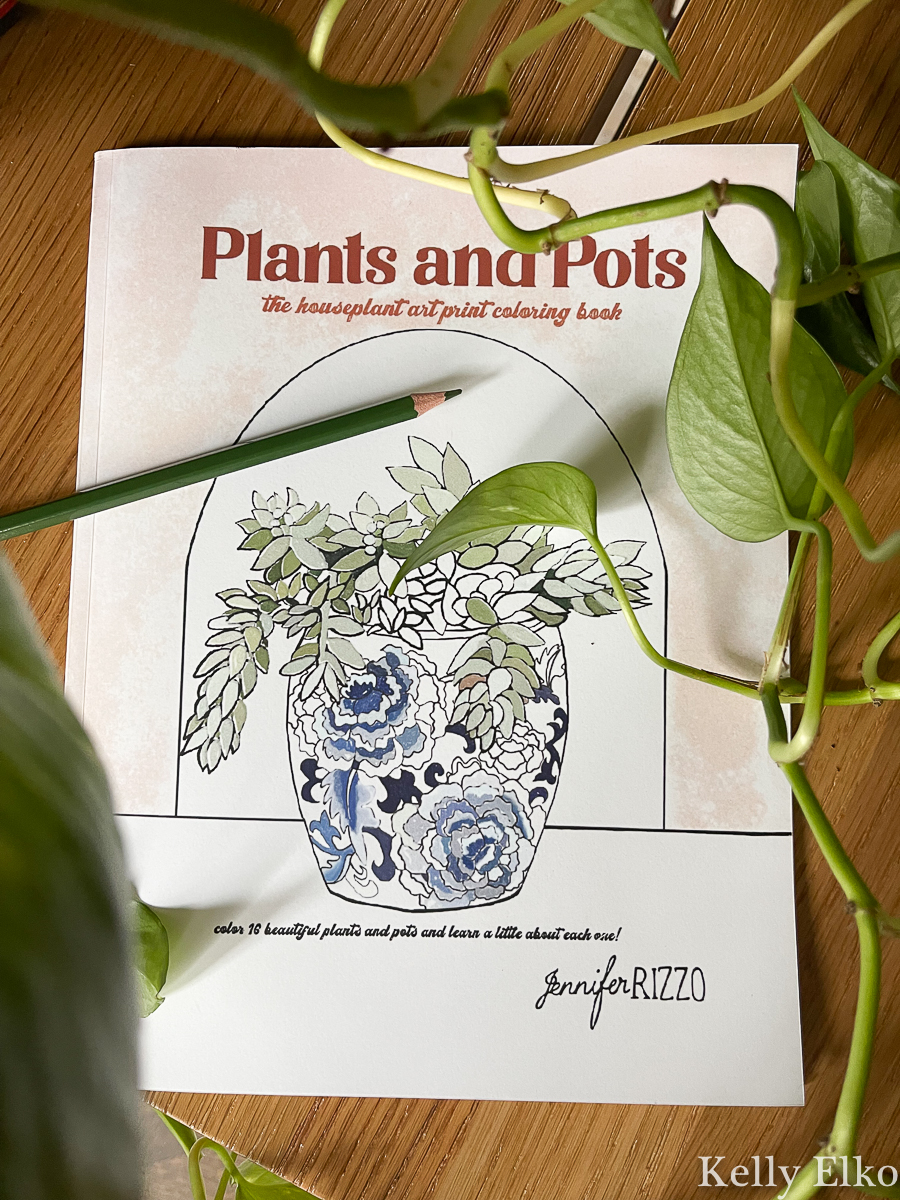 Wishing everyone a wonderful Thanksgiving! Hope you get the long end of the wishbone!
P.S. Don't miss this weeks posts where I look back on my 10 years of blogging and mantels of falls past here!