During the Great Depression, citrus fruit was considered a luxury and you were lucky if you got one in your Christmas stocking! Today, it's fun to decorate with dried orange slices (and other citrus). I'm sharing how to dry citrus slices including oranges, lemons, limes, grapefruit and more because each one needs a different drying time to achieve perfect results. Then it's on to the fun part … I'm sharing some of my favorite creative ways to decorate and use your citrus slices.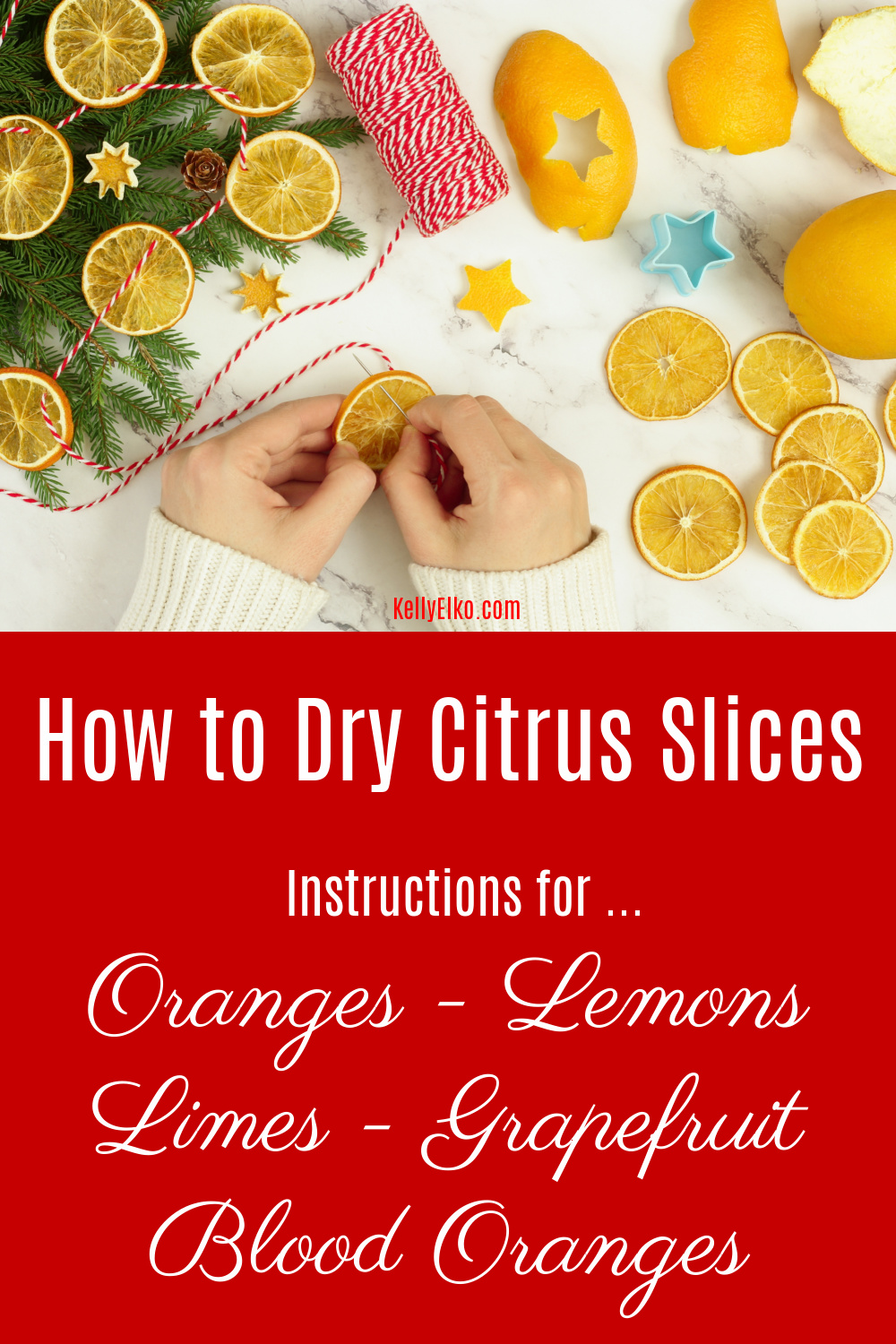 This post contains affiliate links which means if you make a purchase, I may get a small commission at no extra cost to you.
How to Dry Citrus Slices
Preheat your oven to 200 degrees.
Using a very sharp or serrated knife (or a mandolin like this one to ensure perfect slices), cut the citrus into 1/4″ thick slices. You don't want them to be too thick (they won't fully dry and will become moldy) or too thin (they may crumble).
Place the citrus slices on a cookie drying rack placed on a cookie sheet. This allows the air to circulate so they dry faster.
Place the citrus slices in the oven and let them roast for several hours.
Check on them every hour or so and rotate cookie sheets if you have them on more than one rack.
The citrus is ready when the peel turns a deep golden orange/brown and they don't feel sticky to the touch. Make sure no moisture remains or they will get moldy.
Your citrus slices should last for years. When they begin to discolor, toss them and make some new ones!
Citrus Roasting Times
My friend has roasted all kinds of citrus and these are the approximate roasting times in a 200 degree oven. Be sure to check your citrus every hour or so and rotate cookie sheets every couple of hours if necessary.
Oranges: 5 1/5 to 6 hours
Lemons: 4 to 5 hours
Limes: 4 to 5 hours
Blood Oranges: 6 to 7 hours
Grapefruits: 8 to 9 hours
If you don't want to do it yourself, you can always buy dried citrus slices …

Once your citrus is dried, there are tons of things you can do with them. See some of my favorites below.
This tree looks like it was plucked straight from the forest with ornaments to match the natural theme. I love the old fashioned popcorn and cranberry garlands paired with the orange slice ornaments.
Natural Orange Slice Christmas Tree Ornaments
Decorate a store bought or box cake with dried orange slices and star anise for a show stopping dessert.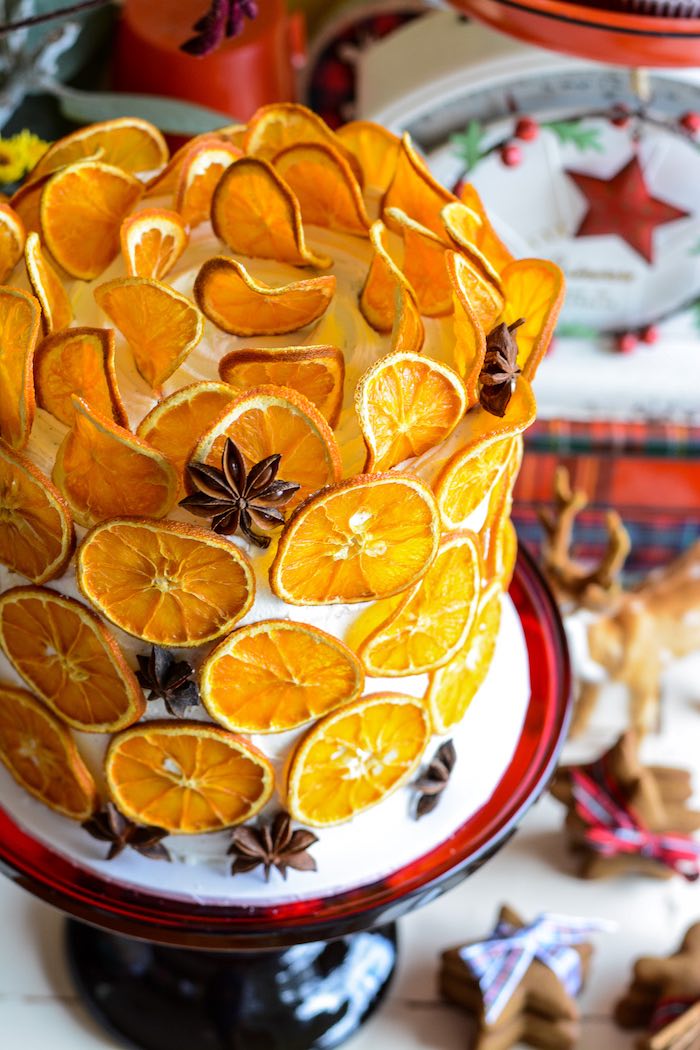 I am head over heels in love with this lush garland layered with beads, pinecones and ribbon.
Lush Orange Slice Christmas Garland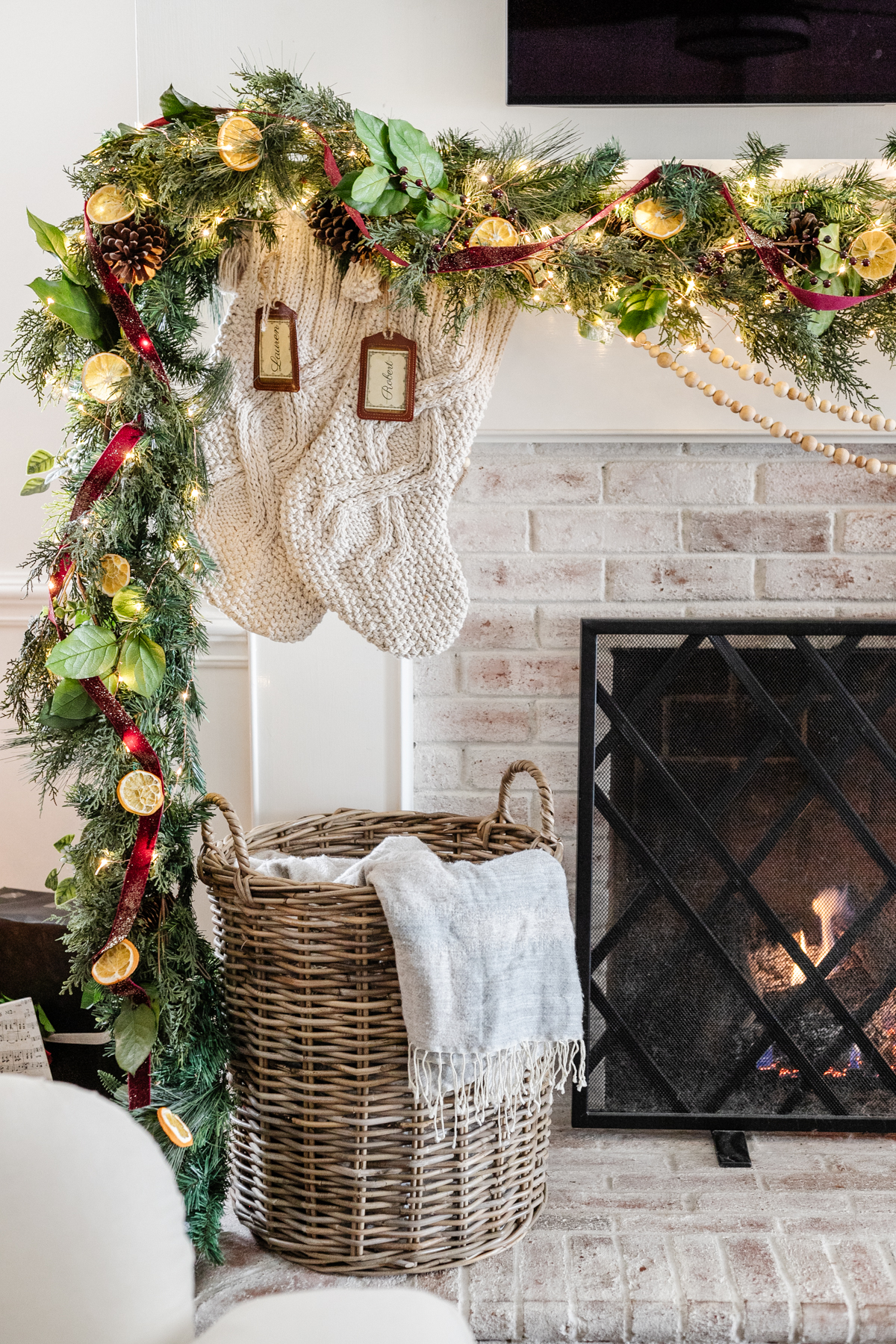 It's all about the presentation and adding an orange slice to a gift takes it to the next level.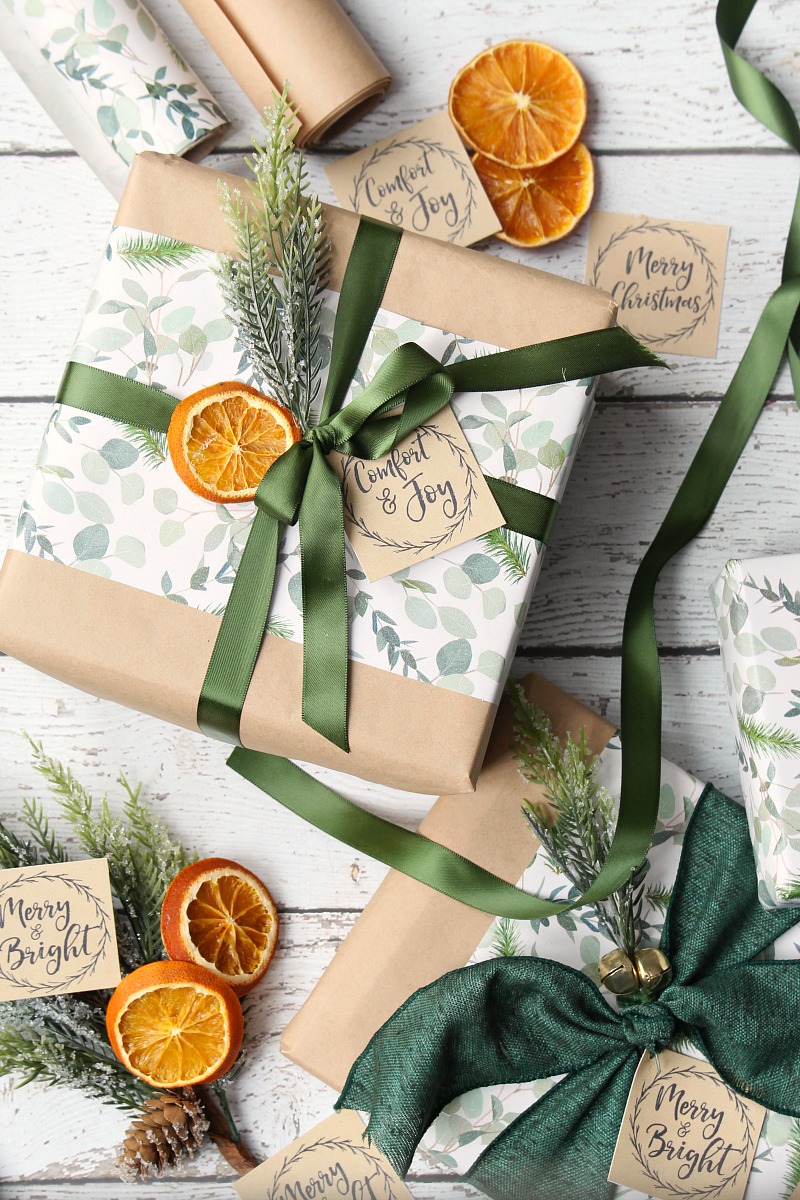 Float a citrus slice in any cocktail (or cup of tea) to elevate it like this especially festive one.
Blood Orange Gin Sour Cocktail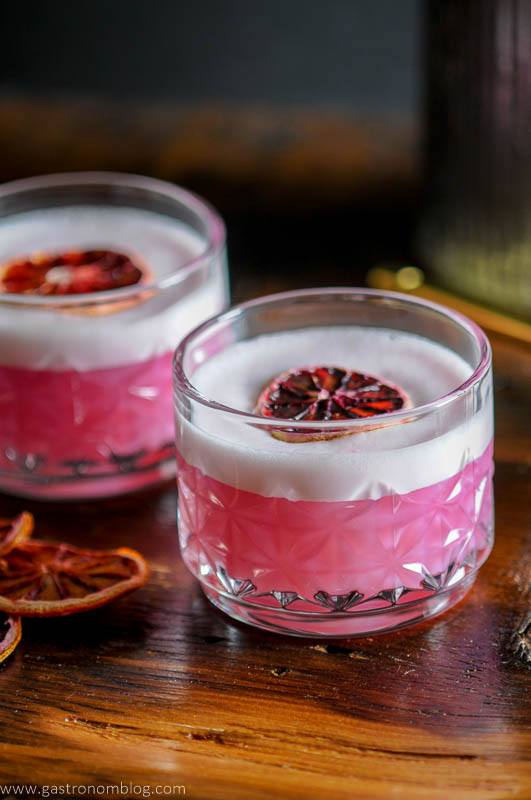 This centerpiece is good enough to eat! I love the way the dried orange slices look scattered among the little cake gingerbread houses with fresh eucalyptus and dried hydrangeas.
Orange Slice and Gingerbread House Centerpiece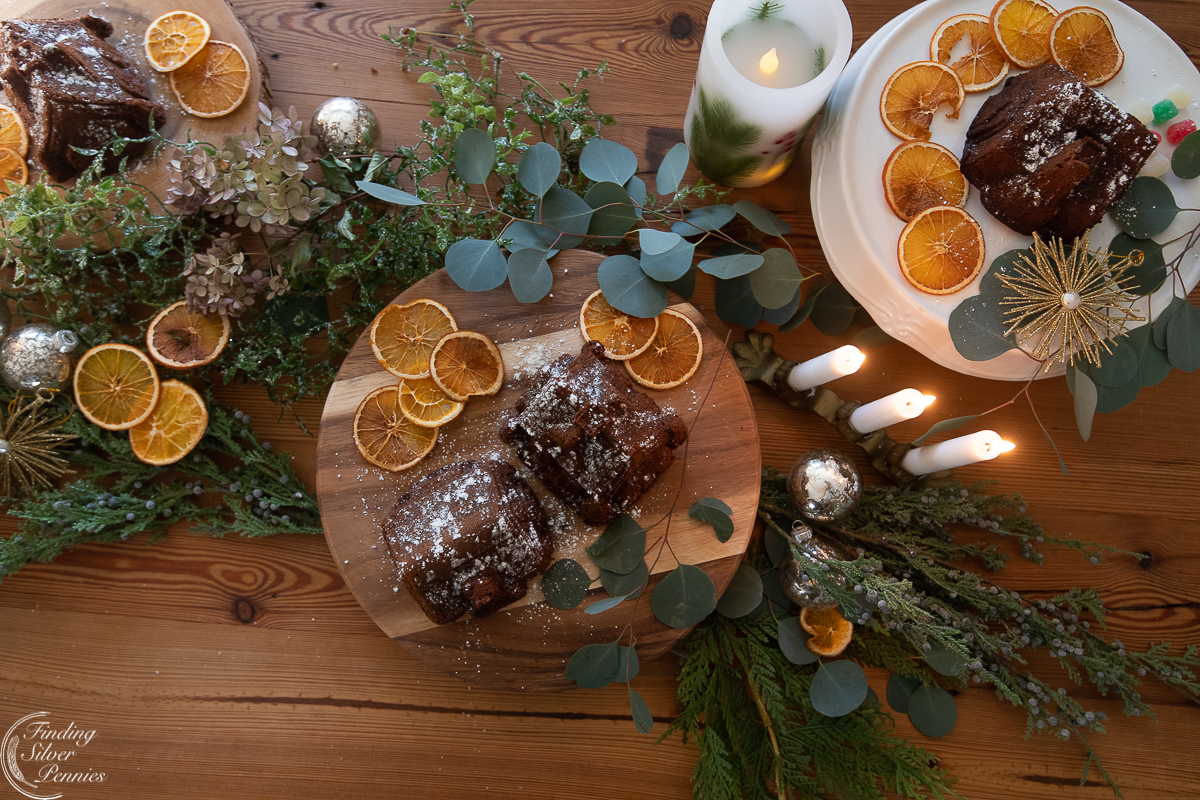 This asymmetry of this orange slice wreath gives it a more modern look. If you don't want to make your own, this fresh evergreen and dried citrus wreath is stunning.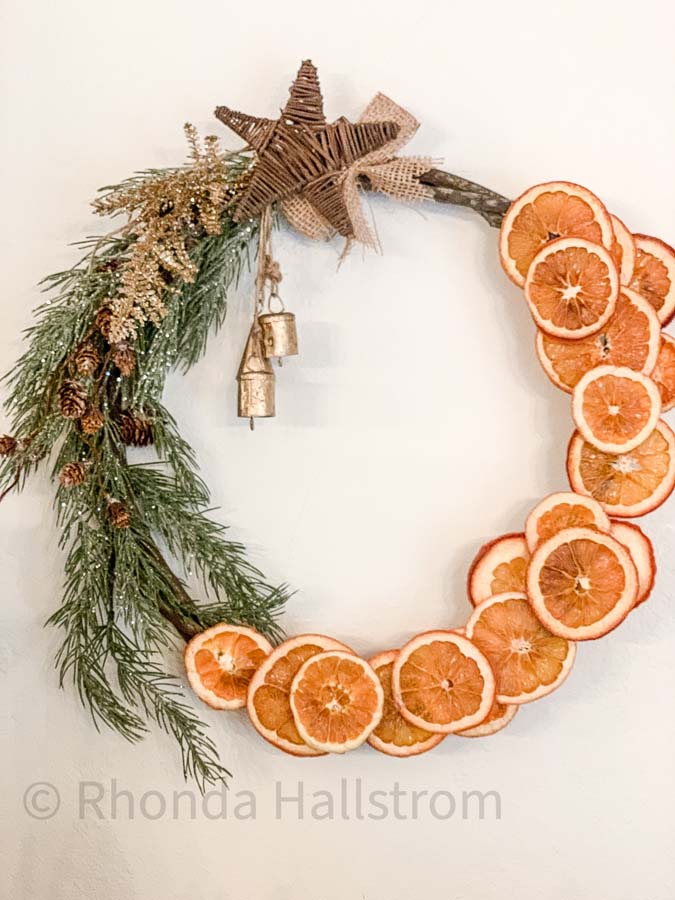 I love that drying citrus slices is such an inexpensive way to add festive cheer and nostalgia to your holiday home.