Kelly's Stamp of Approval 7
This week in Kelly's Stamp of Approval 7, it's all about Christmas on my porch plus I'll take you into one of my favorite local antique shops that has the best Christmas displays (from a former Anthropologie prop stylist). We will walk past the place where we found Sushi's sweater wearing twin, share all about the festive drink I created at a cocktail making class plus my favorite make ahead crowd pleasing cocktail and discuss why taping fresh fruit to walls is trending!
I bought a real Christmas tree! I'm a fake tree devotee inside my house but I've always wanted a real tree on my porch. I was wreath shopping at my local tree lot when I stumbled across the sparse tree of my dreams and dragged that thing home quicker than Santa can shimmy down a chimney. The best part is it was only $30 for this 7 footer! If you get a real tree, make sure you ask them to cut a few inches off of the trunk and drill a hole in the bottom to help it absorb more water which will keep it alive longer.
I couldn't wait to share so here's a late night cell phone pic that includes a mess on my doormat and a rotten black leaf stuck to my railing! It was freezing yesterday but we braved the cold and hung some fresh garland and I managed to fill only one of my two urns with clippings before my hands froze and I had to run inside and clutch a mug of hot chocolate.
Don't miss my Favorite Sparse Christmas Trees here.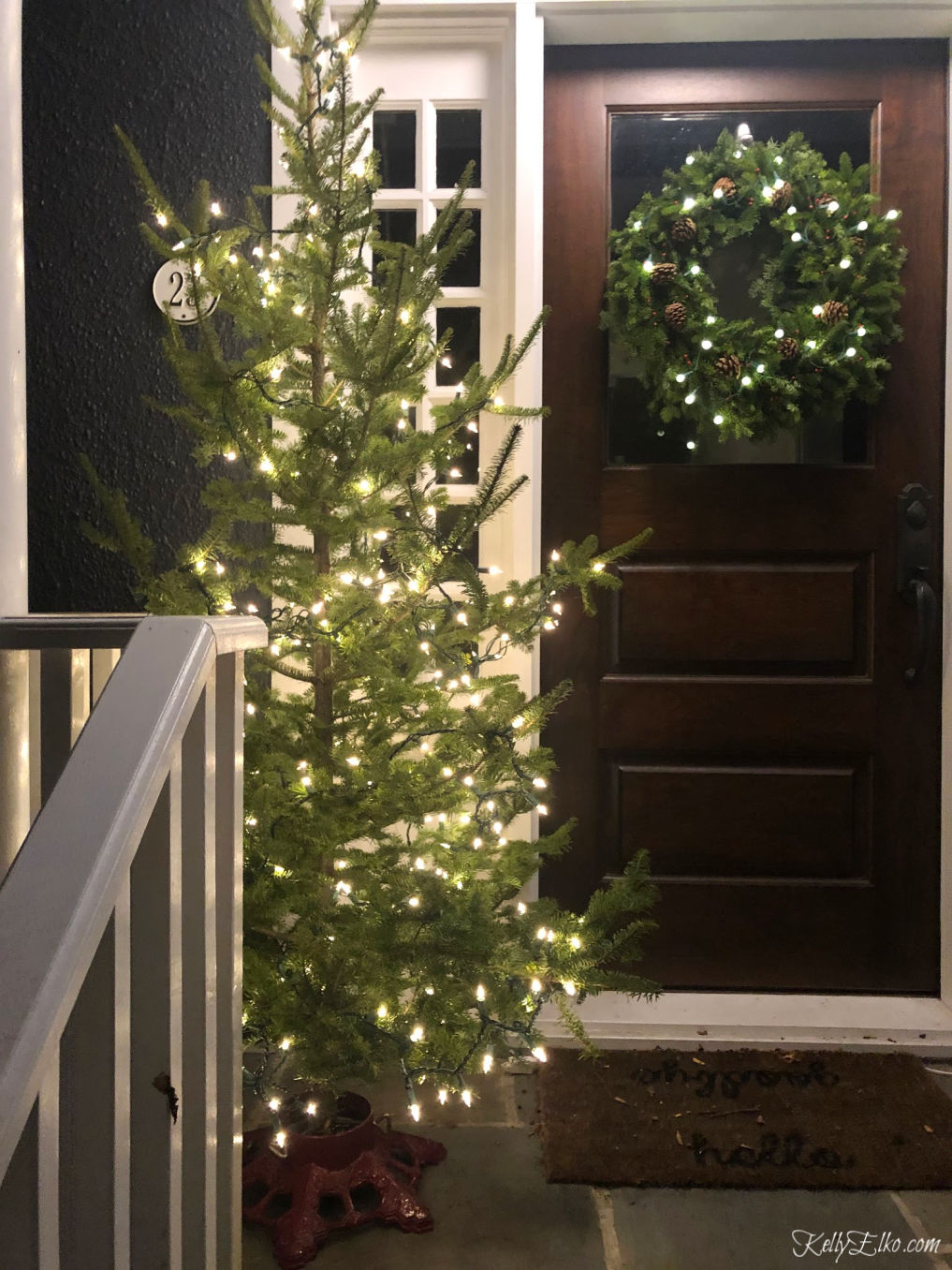 If you live in NJ, Great House is a must visit shop that's filled with antiques, vintage, handmade, unique and unusual finds. The displays rival those of Anthropologie (maybe because a former Anthro prop stylist works there).
This is the most epic winter planter of all time! Pine cones, snow shoes, antlers, ice skates, birch wood and cedar nestle inside white branches that sweep a curvy line all the way across the shops store front.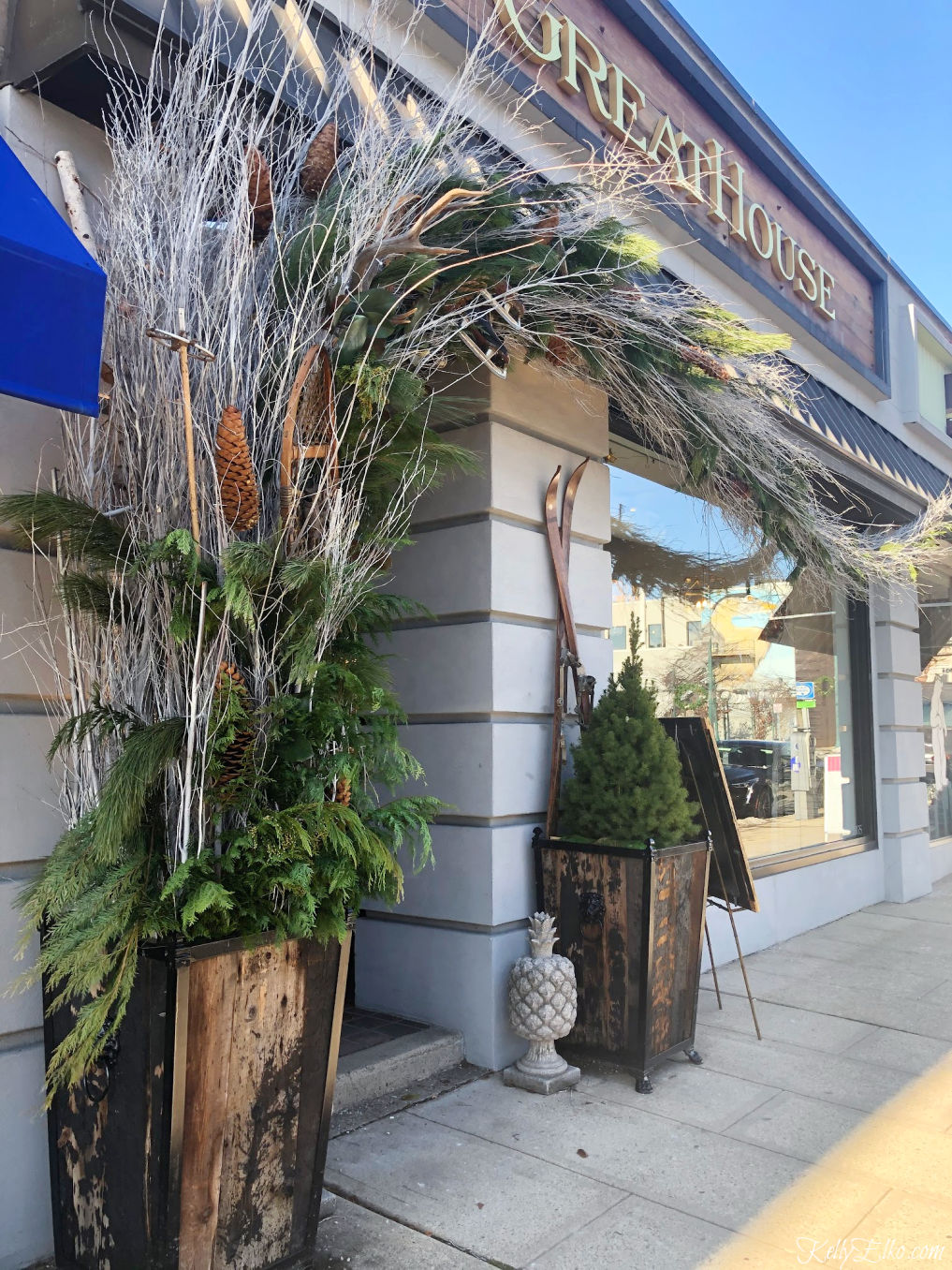 The window display sparks major joy and the winter village is so whimsical! Can you spy the owner, Bonny?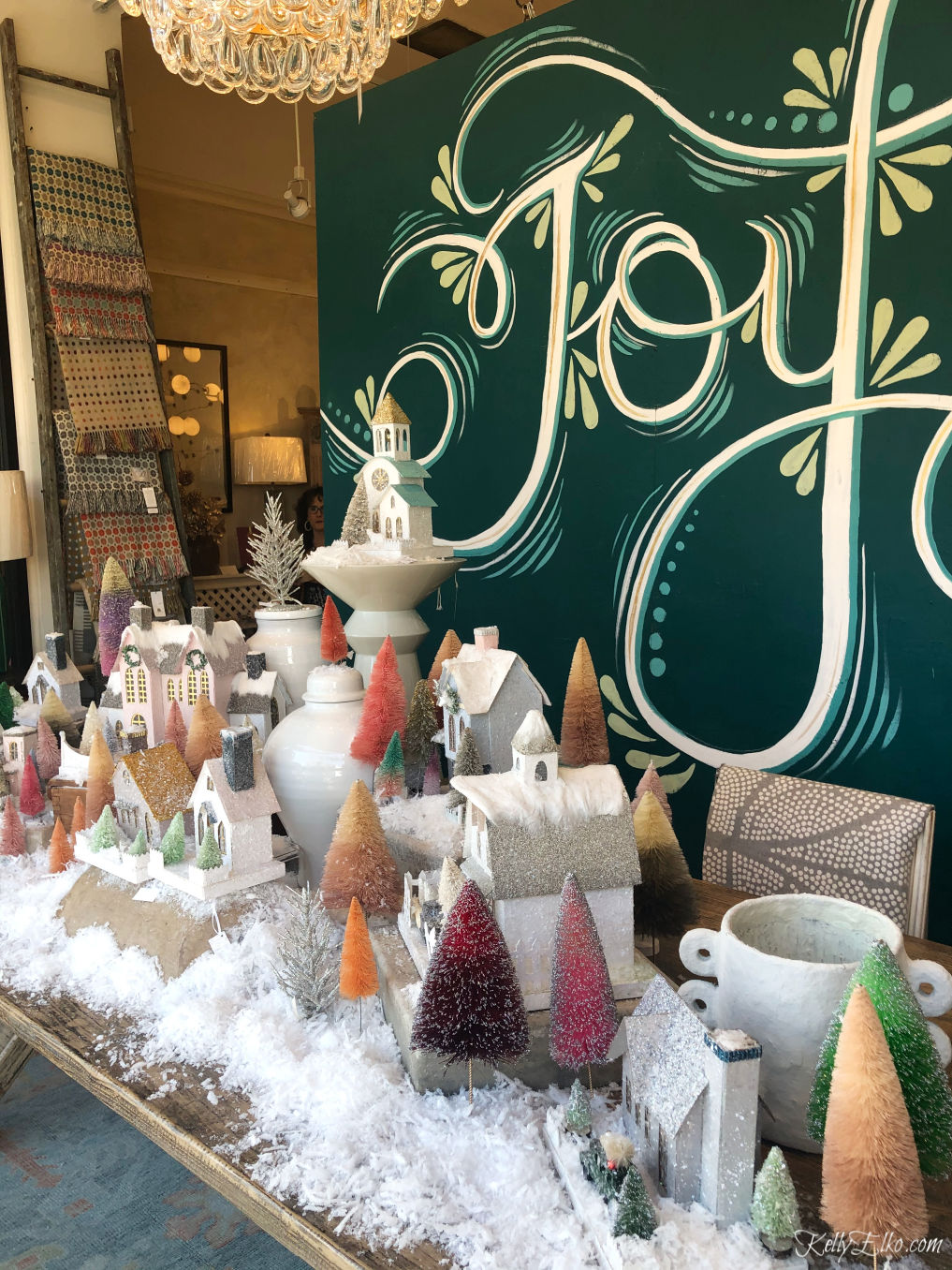 I love the vintage boxes of ornaments underneath the tree and how fun is the cowhide used as a tree skirt!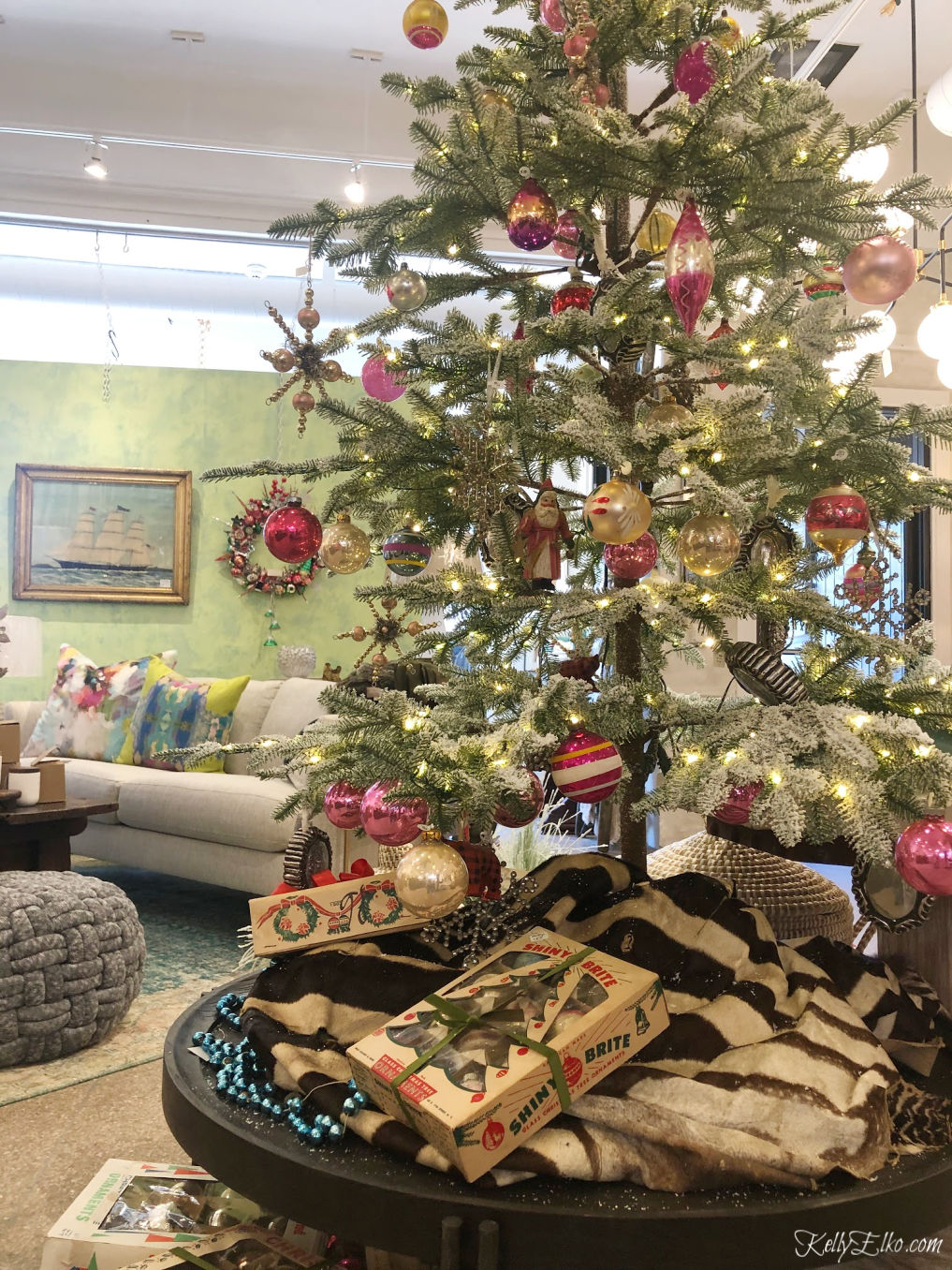 This post contains affiliate links which means if you purchase something, I will earn a small commission at no extra cost to you.
The shop always has the best vintage ornament wreaths with the really good ornaments (not just the plain old boring ones)!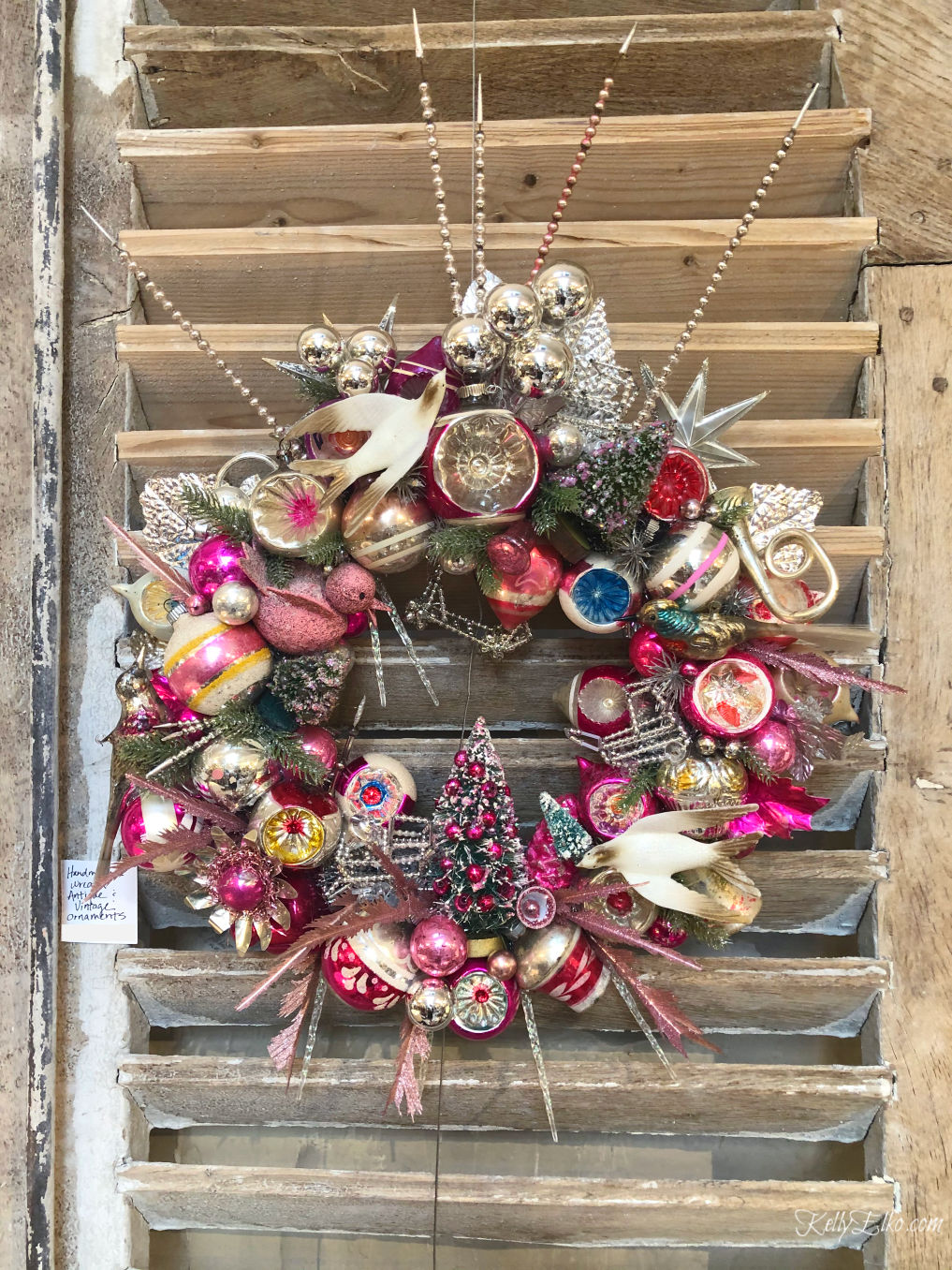 I love shopping small for creative decorating and gift ideas like a bottle brush tree in a mug or a tray with a hand towel all wrapped up in a shiny red ribbon.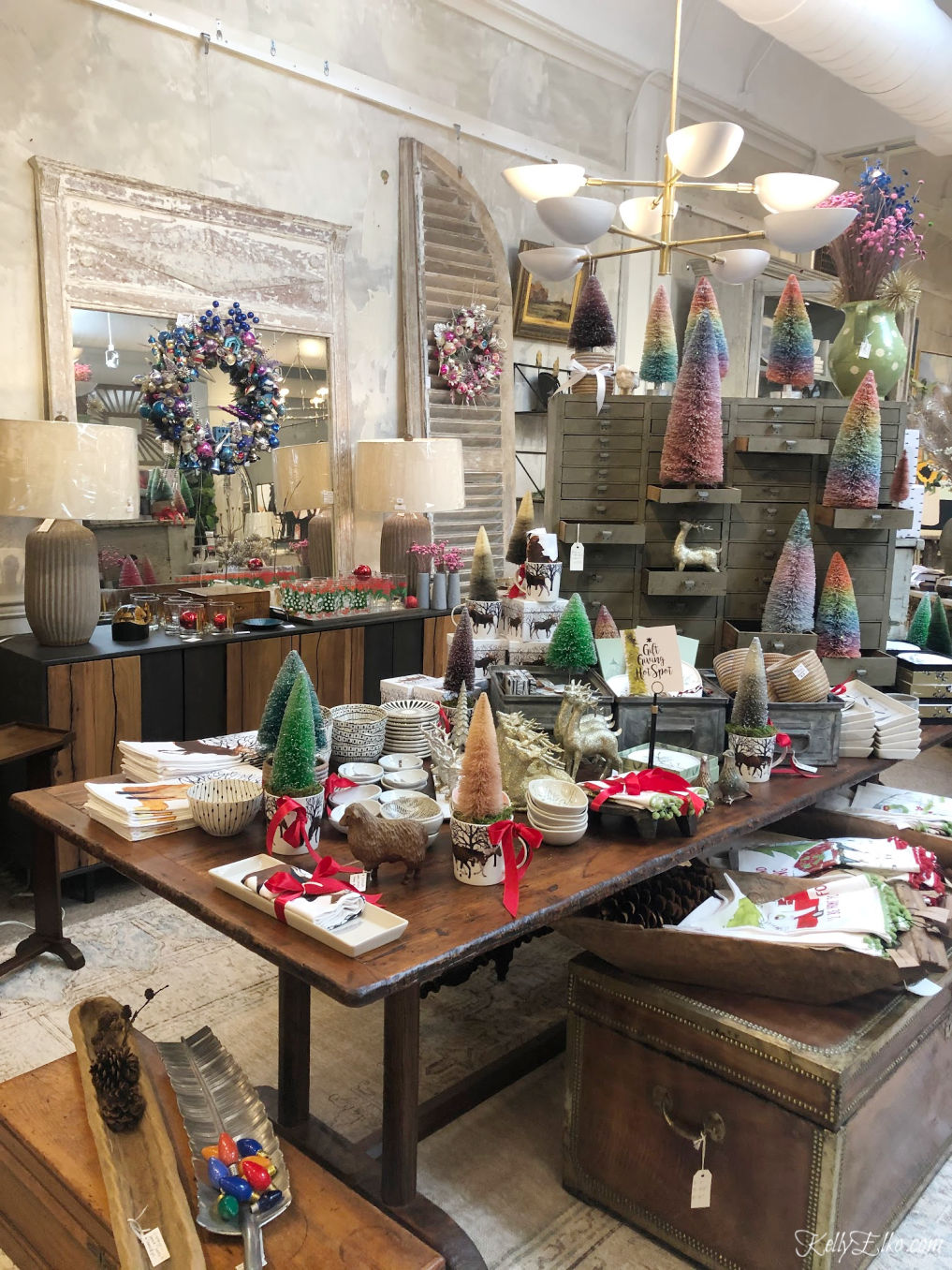 The best part is this store is pet friendly so I brought Sushi along and she was showered with attention. When we left, we walked over to Paper Source which is another favorite shop. Remember my Christmas mantel "art" that is actually this piece of wrapping paper is from there.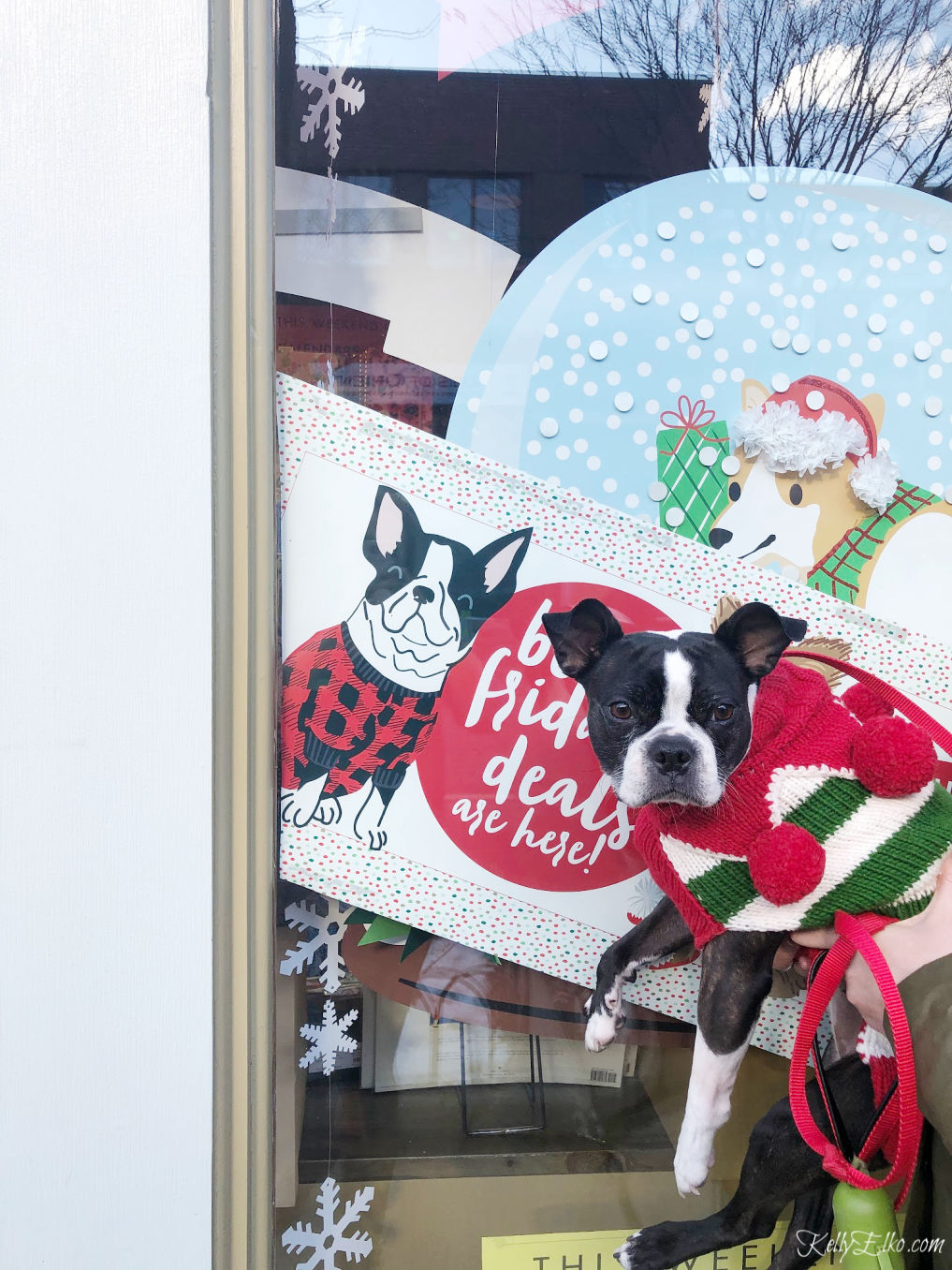 Did someone say cocktail? When a favorite restaurant offered a lunch and learn where the bartender would lead us in making festive cocktails that we would drink while we dined, I of course signed up.
The bartender showed us how to make clarified lemon juice (the juice isn't cloudy which makes for a prettier cocktail) and came prepared with rum and simple syrup that he had infused with candy canes. He even showed us the proper way to hold the long handled cocktail spoon when stirring the drink (because shaking would cloud our masterpieces) so we could impress our guests. Needless to say, nobody was impressed when I held onto that spoon like a turkey leg at a Renaissance Fair.
Meet Santa's Little Helper complete with crushed candy cane rim!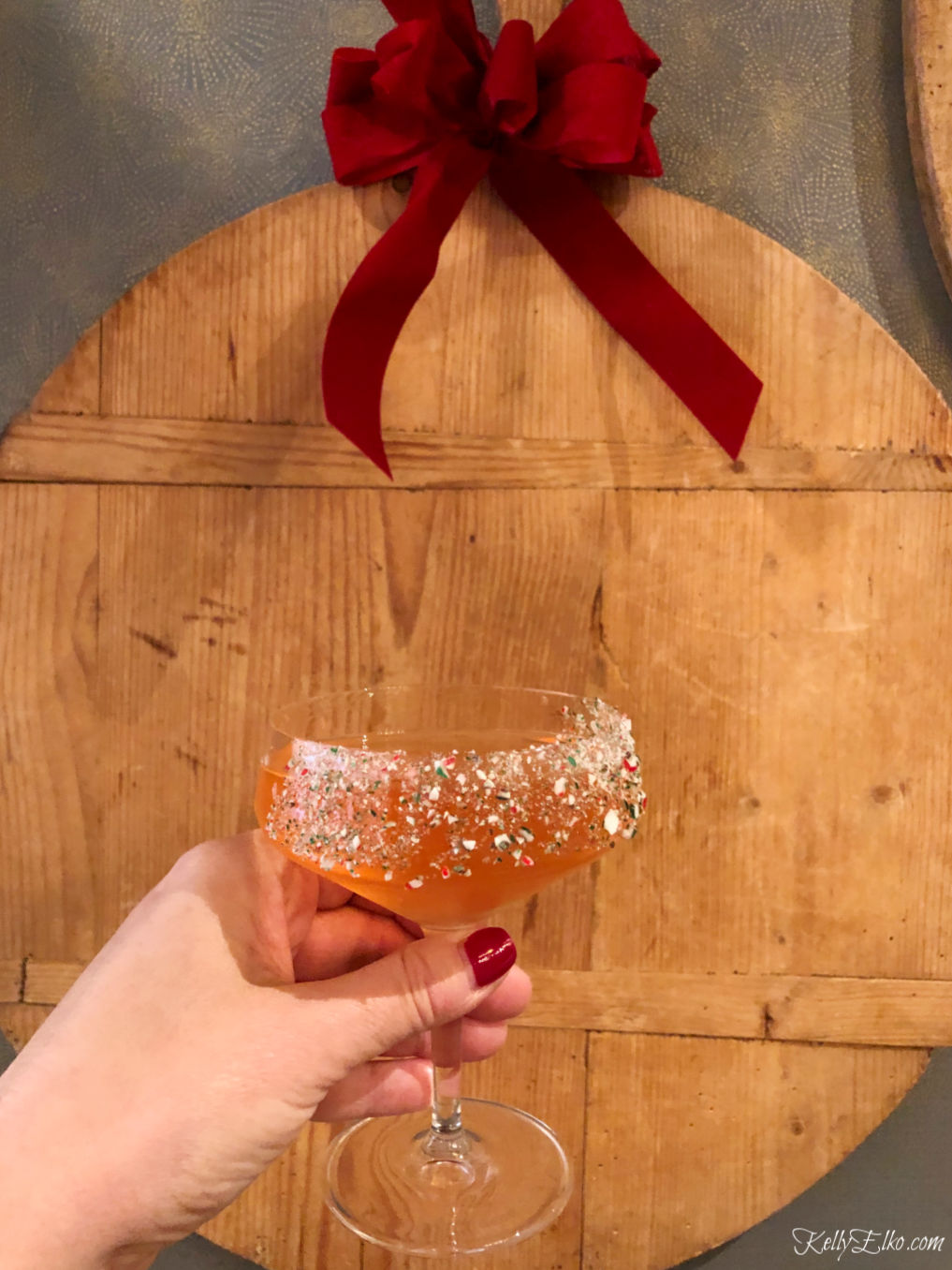 The cocktail was delish but let's face it, ain't nobody got time to clarify lemon juice! You could use vanilla extract in place of vanilla pods and you can use plain old lemon juice.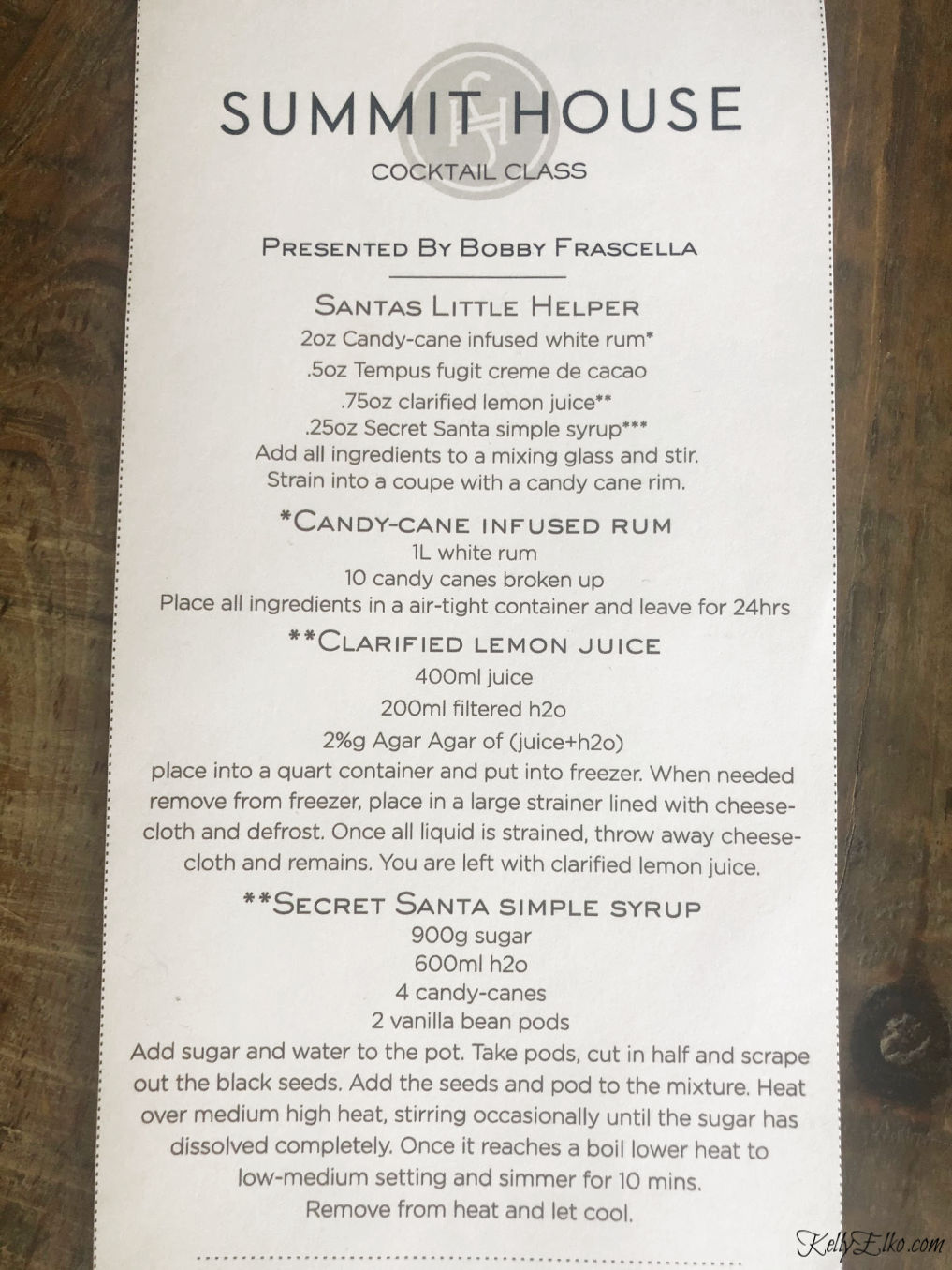 Speaking of cocktails, this is my favorite one to serve at parties and the red color makes it especially perfect for Christmas. It's such a crowd pleaser and I like to mix up a big batch in advance. Or really wow your guests by shaking up cocktails for a crowd in this GIANT cocktail shaker!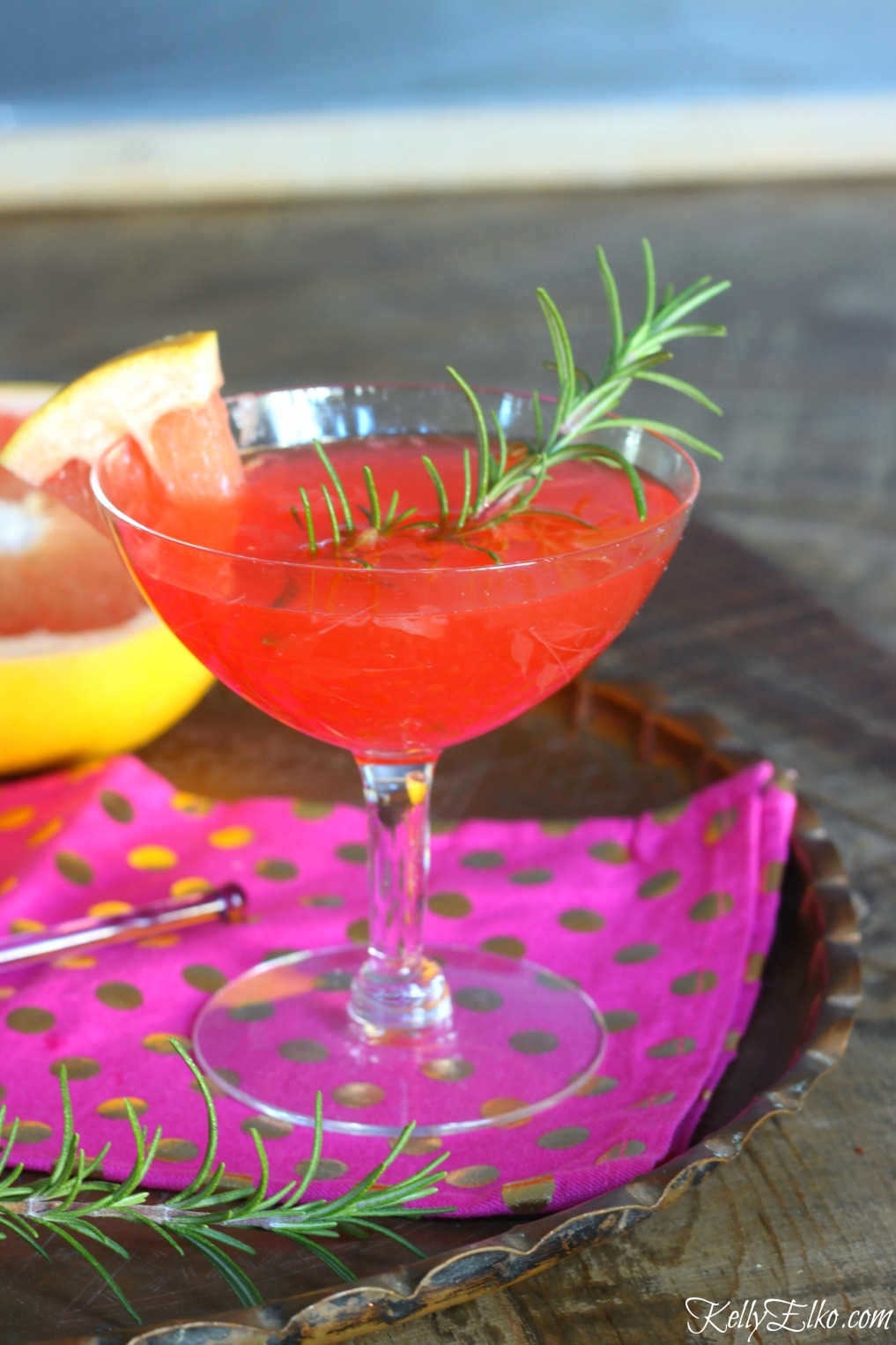 All those cocktails have given me major fruitcake muffin top but this sweater hides my sins and is so flattering that I got it in two colors – black and blue. The fabric is so soft and almost velvet like and if you see me anytime during the next five months, you'll mumble to yourself, "there goes Kelly in that damn sweater again."
For the person who has everything! Someone paid $120,000 for a real banana duct taped to a wall! At Art Basel Miami, Italian artist Maurizio Cattelan taped a banana to a wall, called it art and walked away with a cool $120,000. This is the second banana sold and they plan to up the price to $150,000 on banana number three! Now I'm kicking myself that I didn't scoop up banana number two at that great bargain price.
This gal is offering this painted rendition of said duct tape banana for the bargain basement price of $12 and the best part is no fruit flies!
Photo: Sara Cascone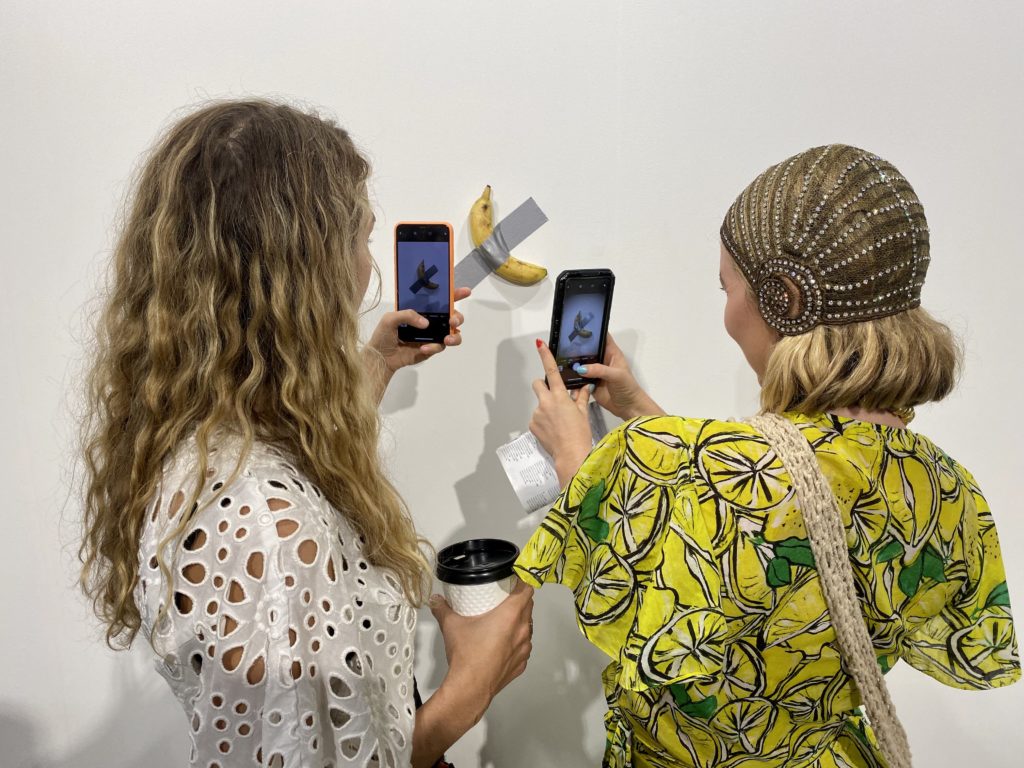 Do you think fruit taped to walls will be trending in 2020?