You're invited into my backyard for my summer patio tour in pics and I even made a fun little video at the end of this post so don't miss it! Just like the interior of my home, my patio is a blend of vintage and modern. I love nothing more than hanging out on my patio and I'm sharing some of my favorite ways to really turn your yard into an outdoor oasis where you'll love to spend time.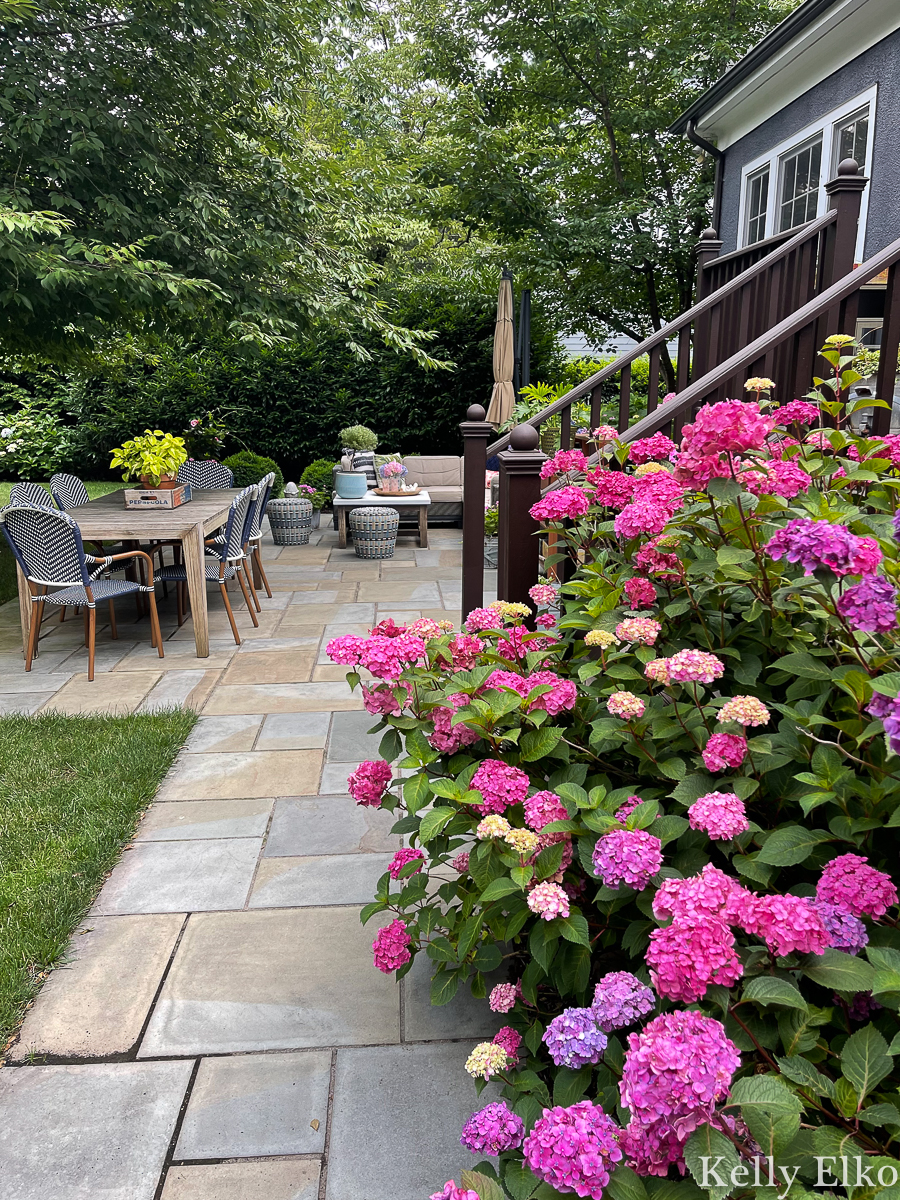 this post contains affiliate links which means if you make a purchase, I may earn a small commission at no extra cost to you
My outdoor must haves include this battery powered leaf blower which makes patio and porch cleanup a cinch and this miracle working patio shield mosquito repellent that has been a lifesaver at keeping my family bite free all summer long!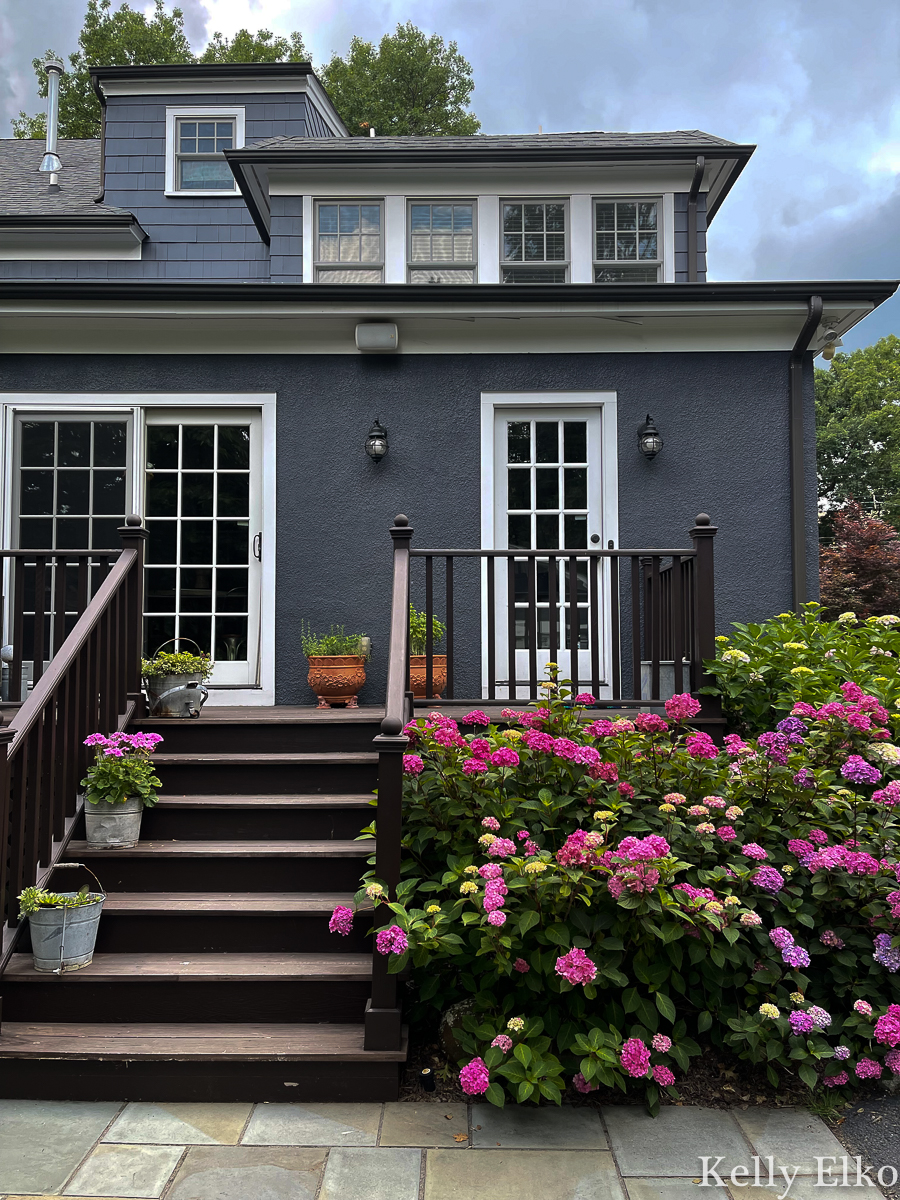 This has been a banner year for my hydrangeas and I love being greeted by this explosion of color when I step outside. I planted two Endless Summer Bloom Struck hydrangeas four years ago and look at them now! I like that they bloom on old and new wood so if we get a spring frost, I'm still guaranteed to get blooms! The huge hydrangea on the right is a Nikko Blue (not an Endless Summer) and it hasn't bloomed in years! This year, I'm happy to report that it's blooming it's head off!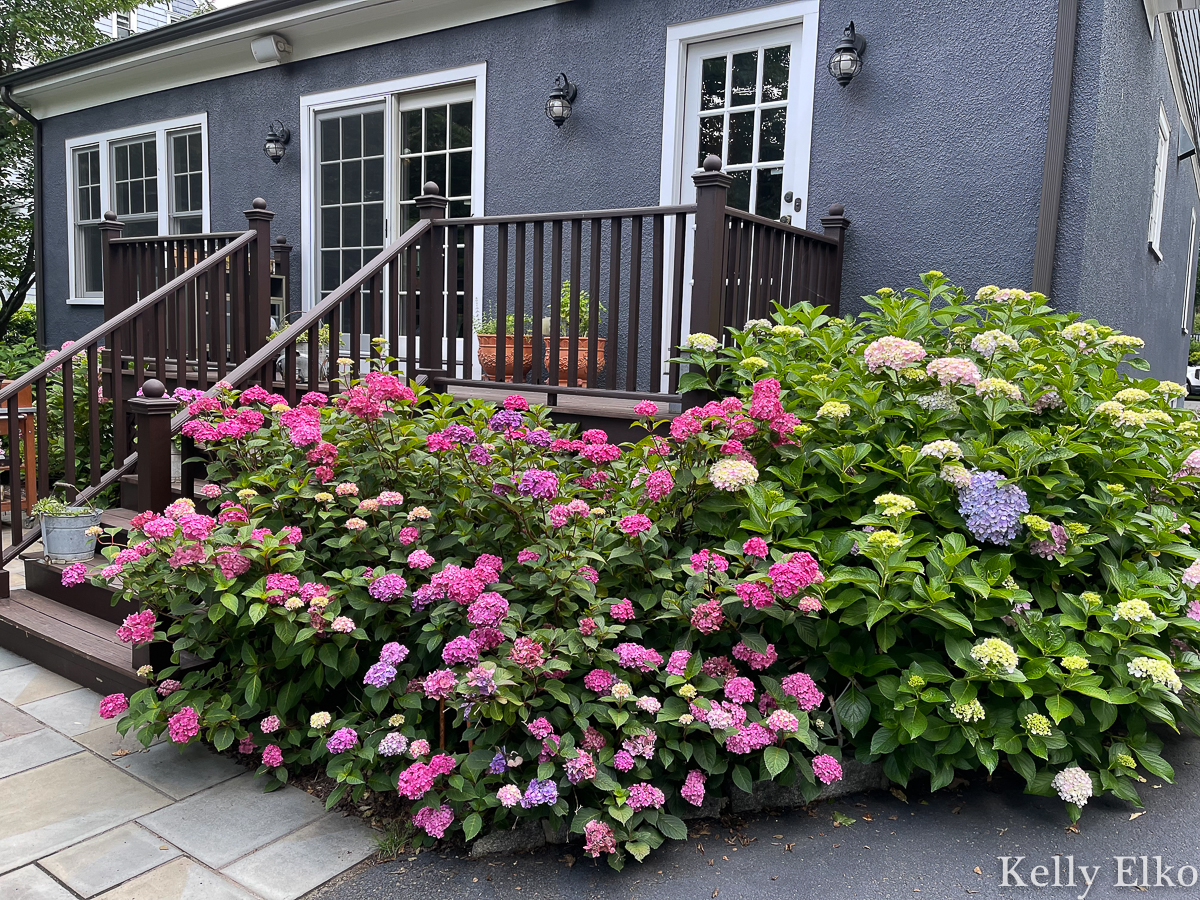 If you have space in your backyard, I highly recommend that you plant a tree! We planted this Cherry Blossom when we moved in 12 years ago and it provides much needed shade not to mention it's a beautiful focal point and when it blooms in spring, it's a real show stopper!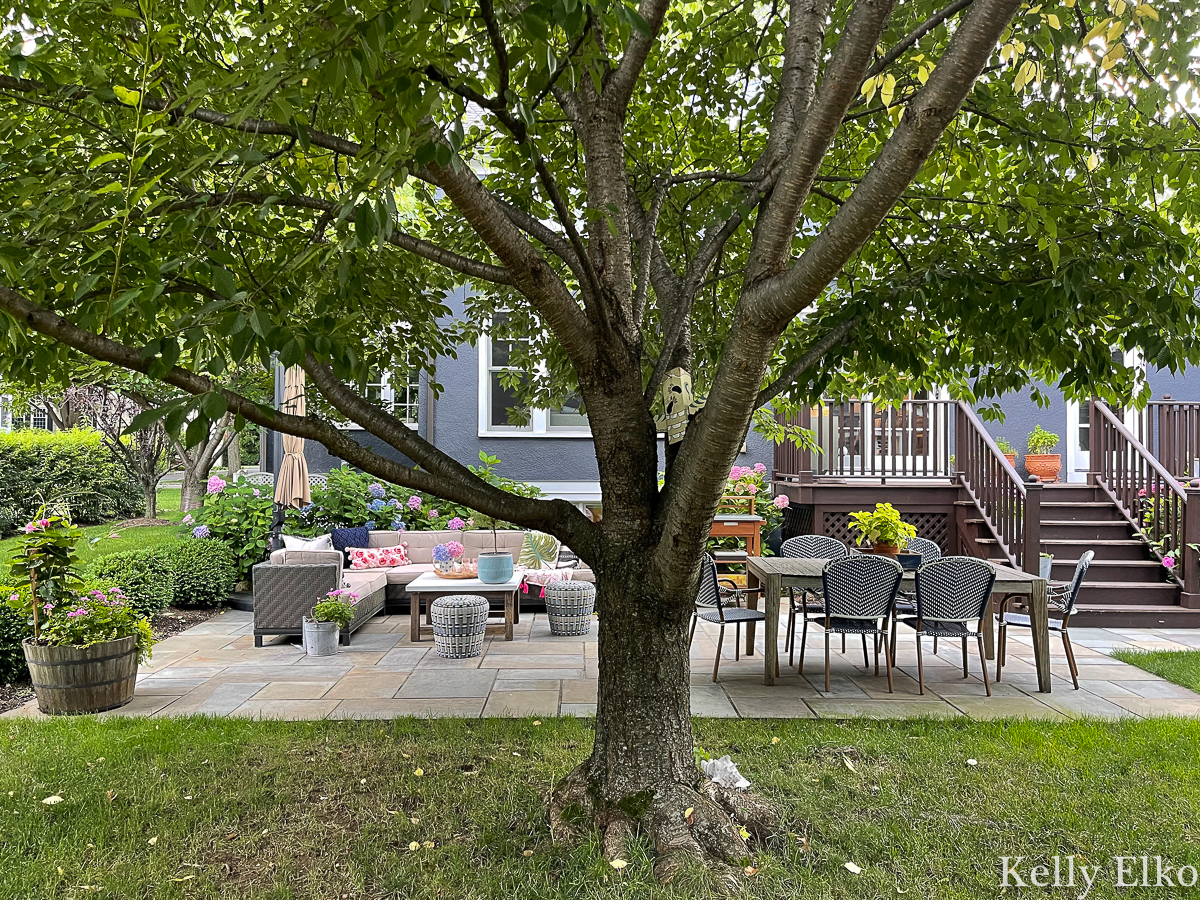 My outdoor sectional sofa provides tons of seating and I love that it's so low maintenance. We leave it out all year long and it's exposed to all kinds of rain and sleet and snow and still looks great. We do make sure to store the cushions inside when we aren't using them. I also highly recommend a cantilever umbrella and when this one is open, it provides shade for almost the entire sofa.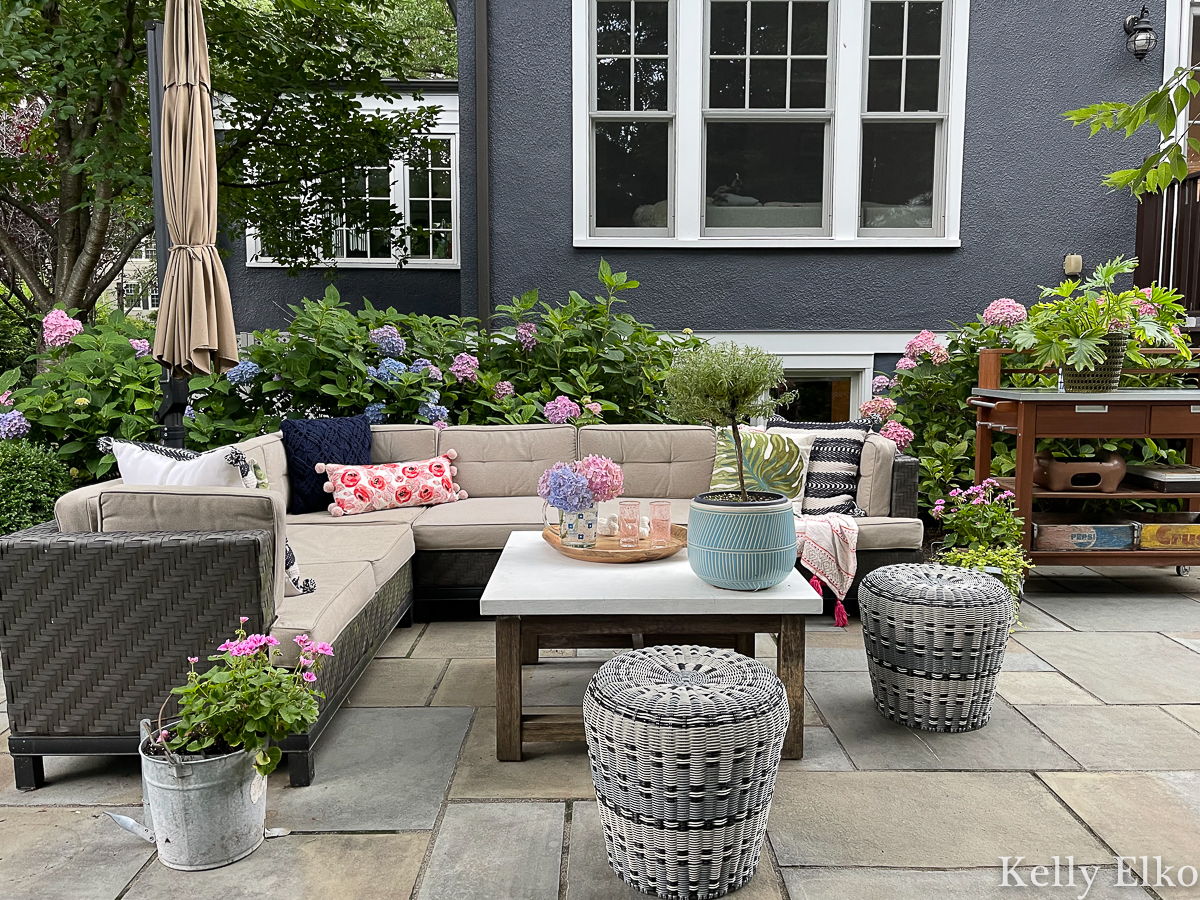 This potting bench (mine is no longer for sale but here is a similar and more affordable potting bench) turned bar cart gets a lot of use when we have friends over. We protect it with a grill cover when not in use which is why it still looks brand new after five years.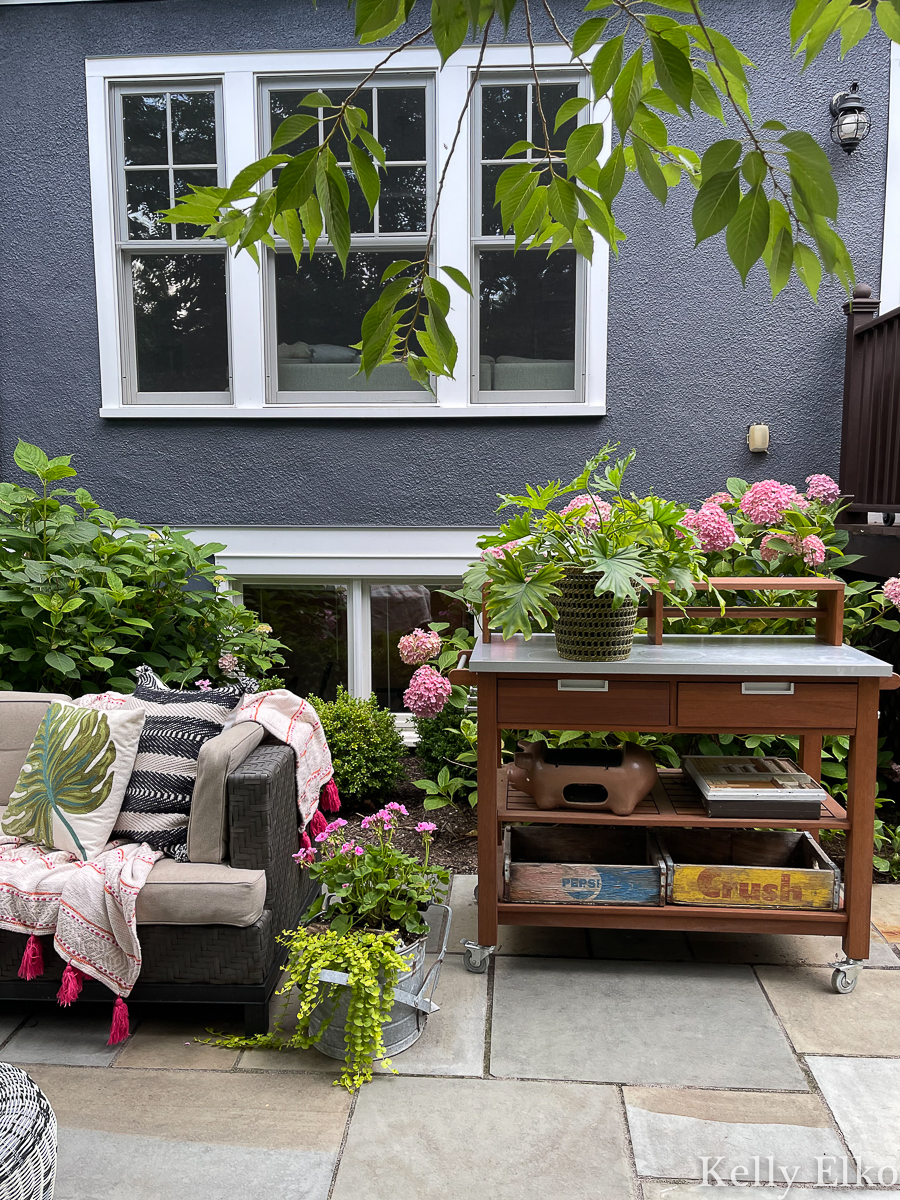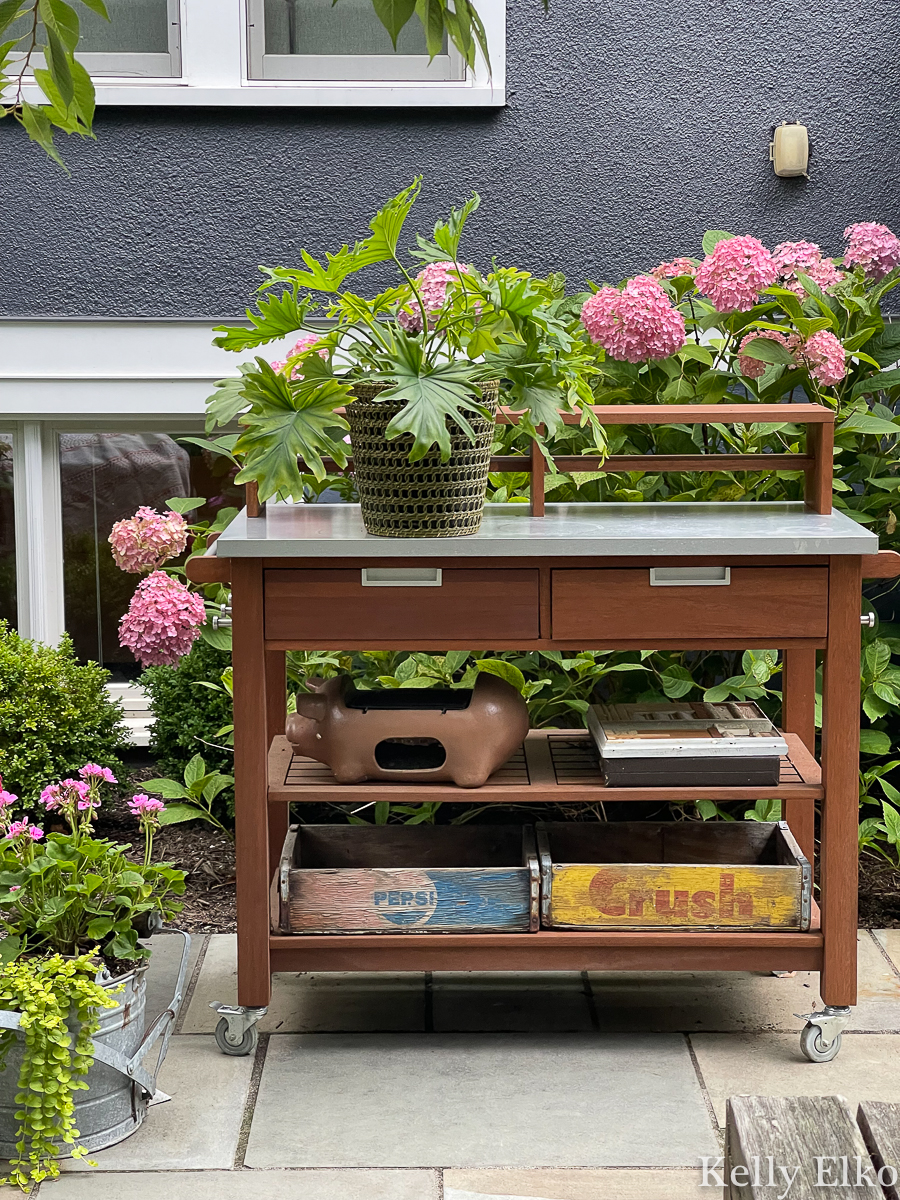 More Endless Summer hydrangeas (this is a different variety called The Original Bigleaf) create a cozy backdrop and helps the space feel more enclosed and cozy. The coffee table has a faux concrete top which I DO NOT RECOMMEND anyone get because it chipped like crazy so I primed it last summer but have yet to put a coat of paint on it because I'm such a procrastinator!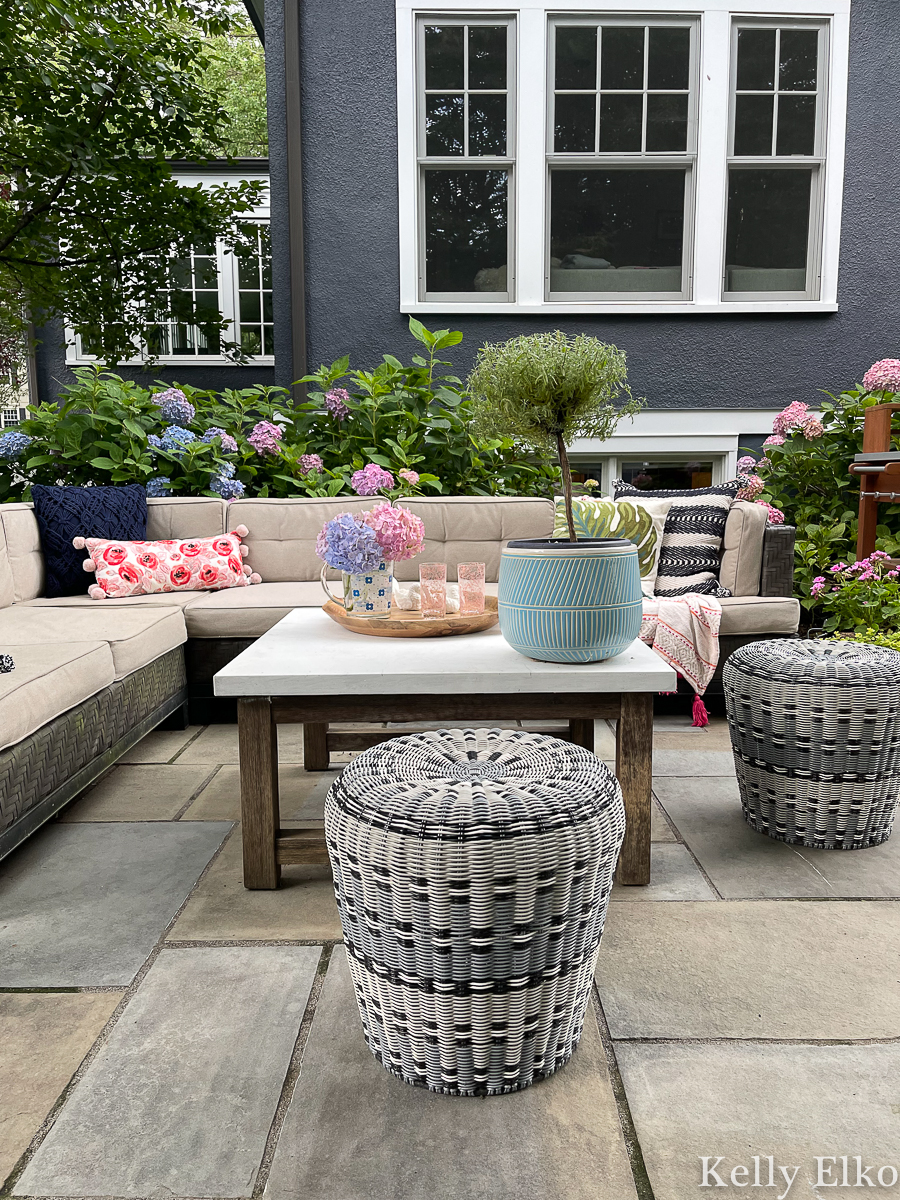 I've been using an assortment of old galvanized mop buckets as planters for years and love the rustic touch it provides.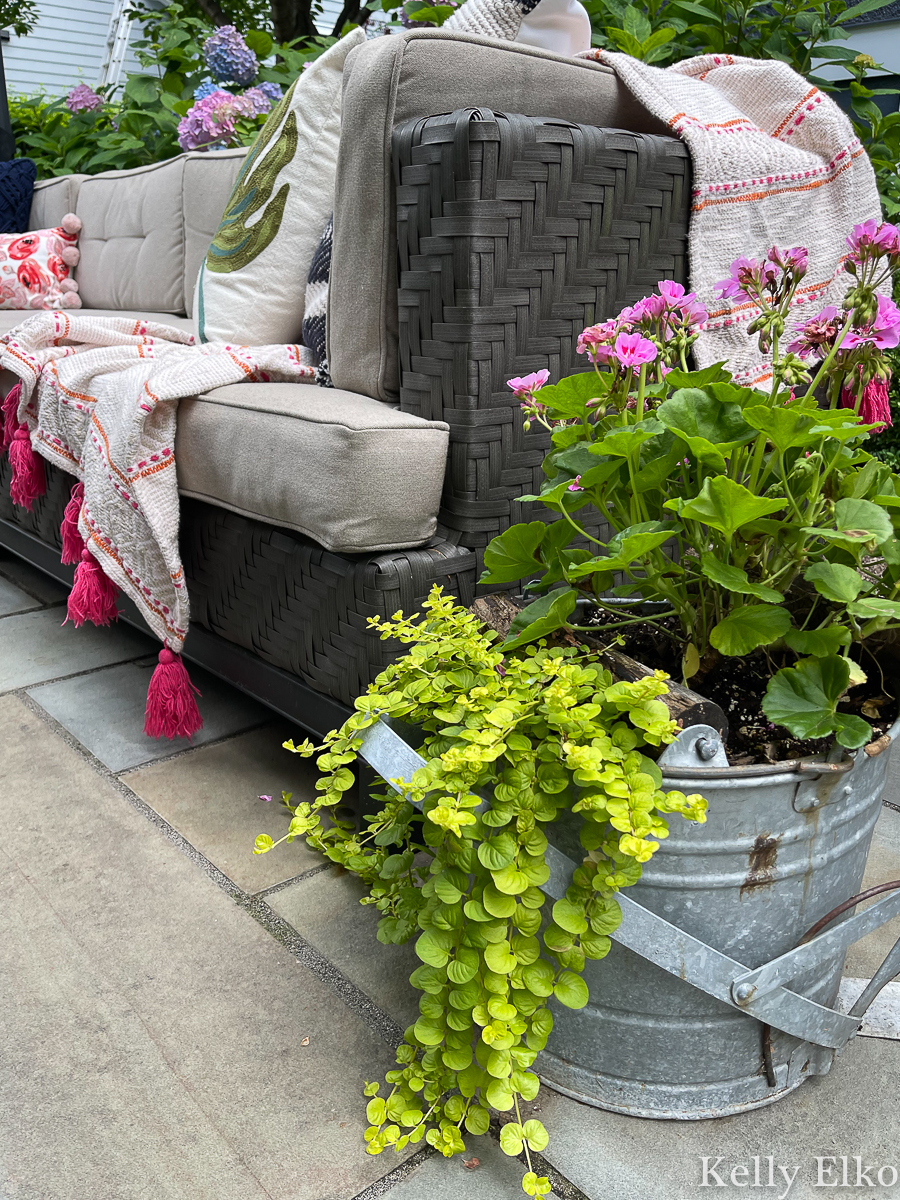 Pops of color come from outdoor pillows and a tasseled throw.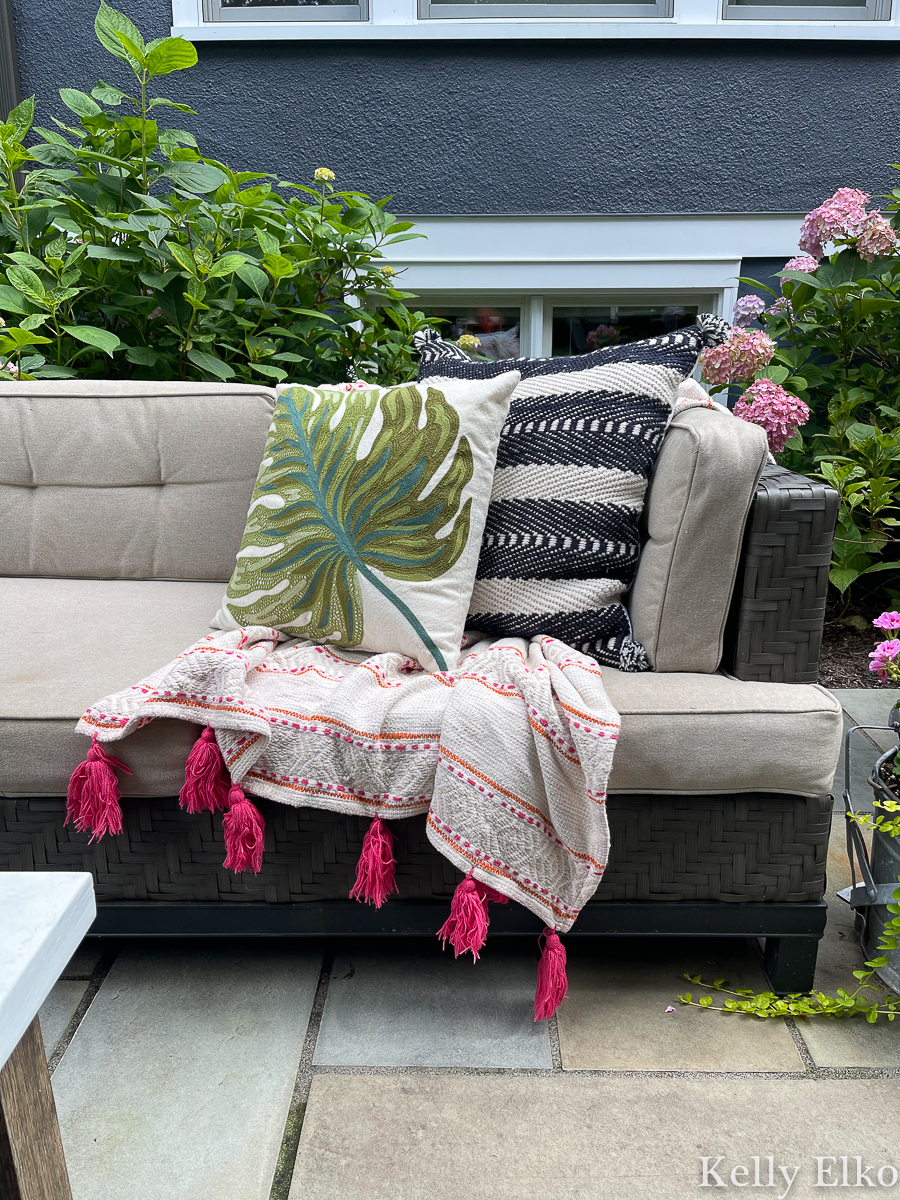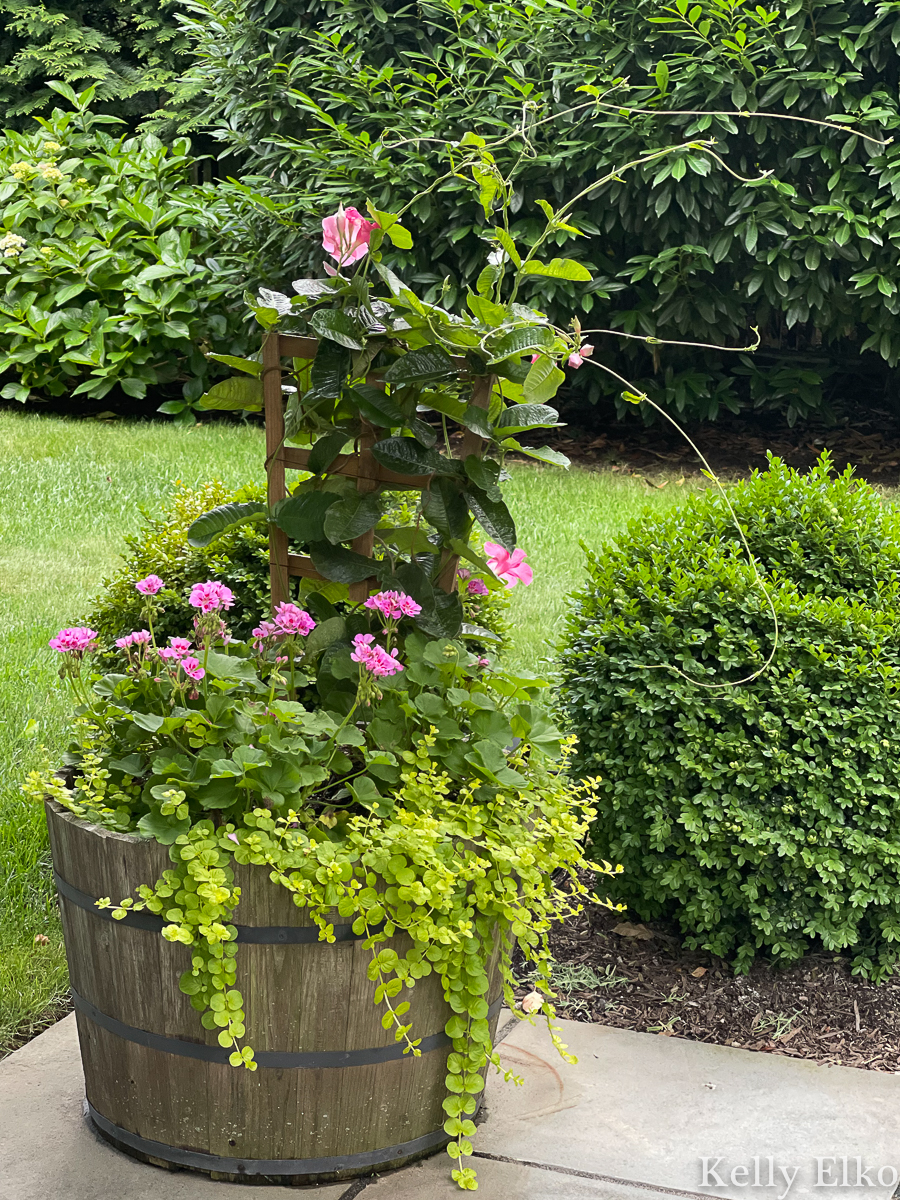 Creeping Jenny spills out of this huge whiskey barrel planter that gets height from a tropical, climbing Mandevilla with geraniums tucked around it.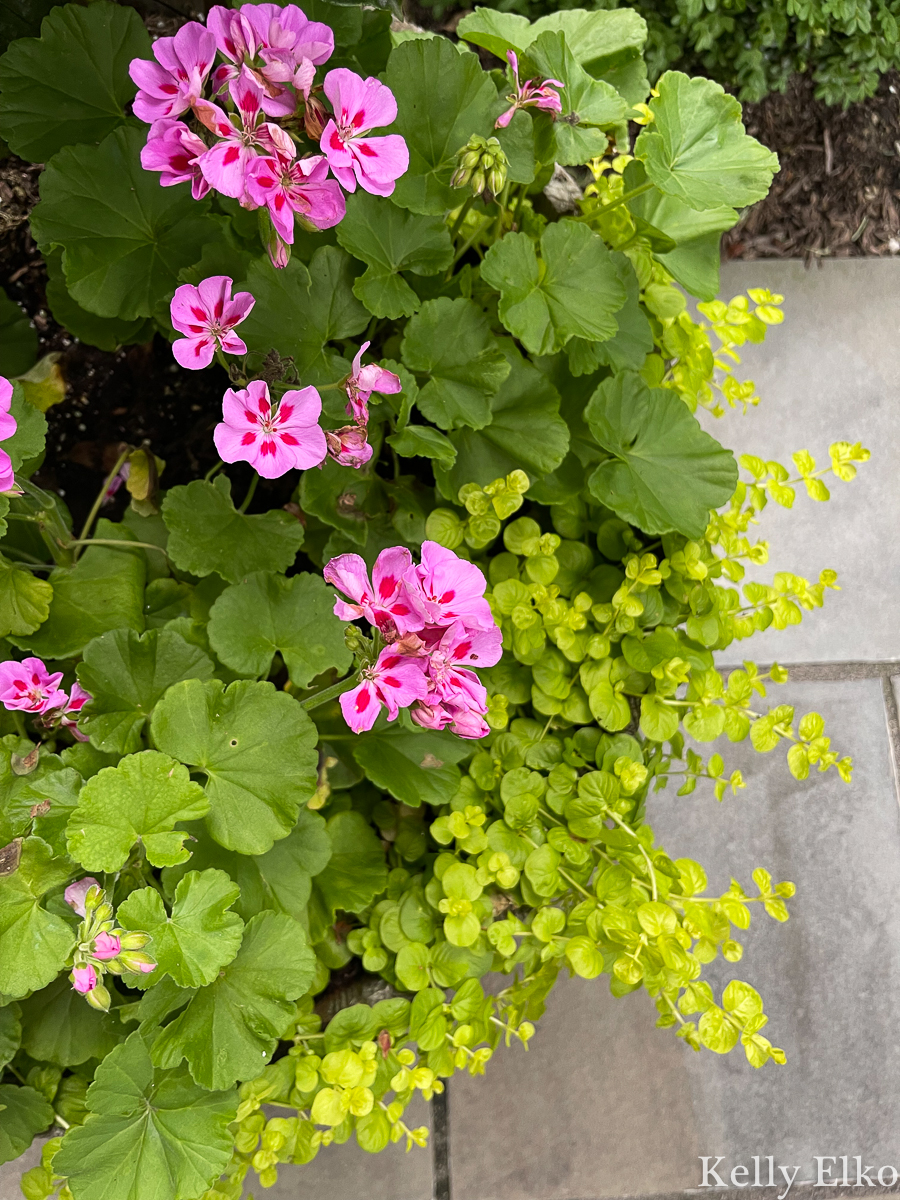 A shade loving Coleus in an old Pepsi crate is a simple centerpiece that can be left out all summer long.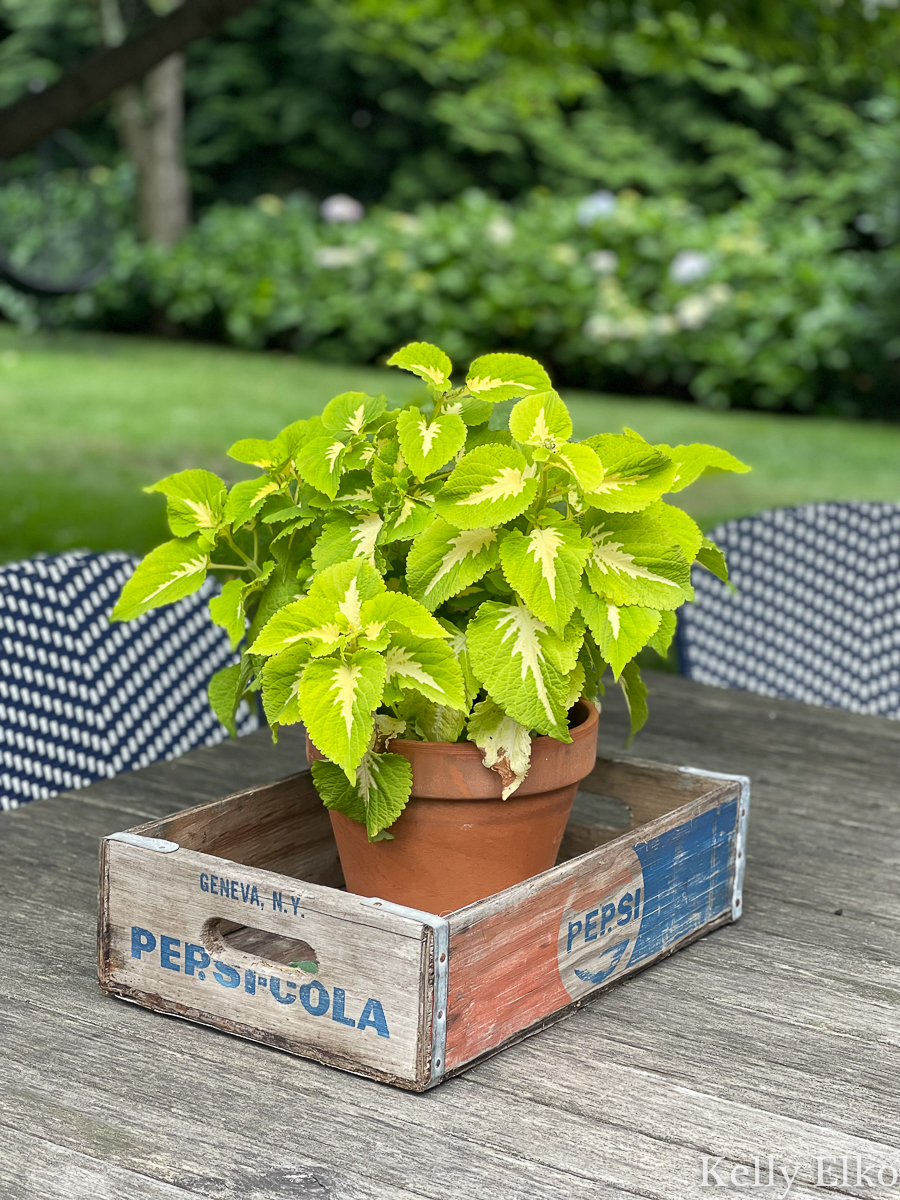 I know, I know, my patio dining table could use a good power wash but it was free so don't judge me too harshly. I've been on the hunt for a new one but can't find one I love that is also affordable! I scored these bistro chairs a couple of years ago but they are still for sale here. They are stackable which is perfect for winter storage in my garage.

Just as I was about to take photos, my daughter came outside and plopped down in one of the chairs! I had to kick her to the curb so inside she went (can you spot her).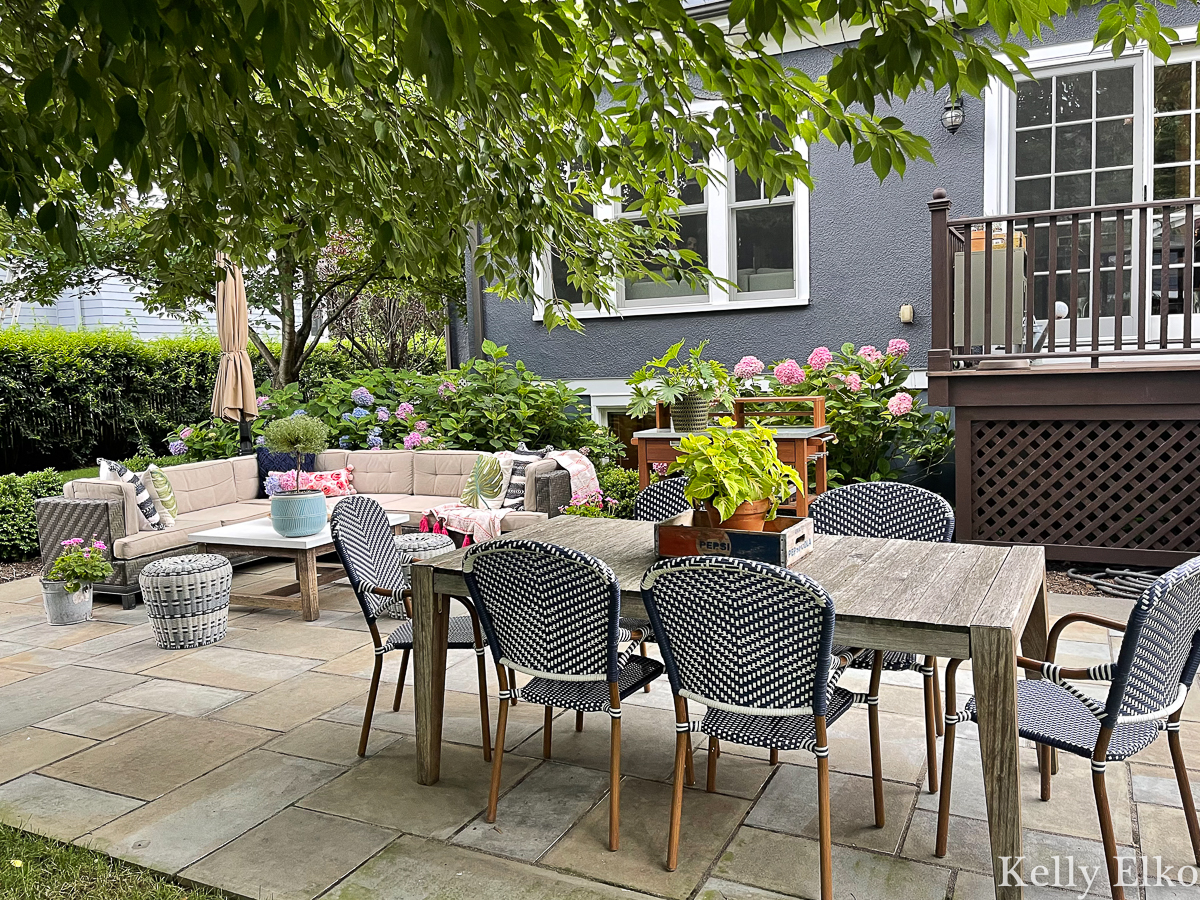 Seconds after scrambling to photograph my patio, the skies opened and I was drenched by a torrential downpour! I guess that was my punishment for making my daughter go inside!
I'll share more of my yard when all of my hydrangeas are in full bloom!
Who wants to check out my one minute video tour of my summer patio? It will begin after the short ad.