Thrift Shopping Tips from a Pro and My Latest Thrift Haul!
In honor of National Thrift Store Day today, I'm sharing my thrift shopping tips that help me score the best stuff. I'm also sharing my latest thrift haul and how I styled some of my finds! Thrifting is a marathon, not a sprint. You'll need stamina, patience and mental fortitude (and sometimes a strong stomach) to win! I've been winning at thrifting well before thrifting was considered cool so I consider myself an expert. Whether you're a seasoned thrifter or a novice, I've got lots of great tips for you.
Here's me … winning at thrifting!! I hit the jackpot with my latest thrift haul.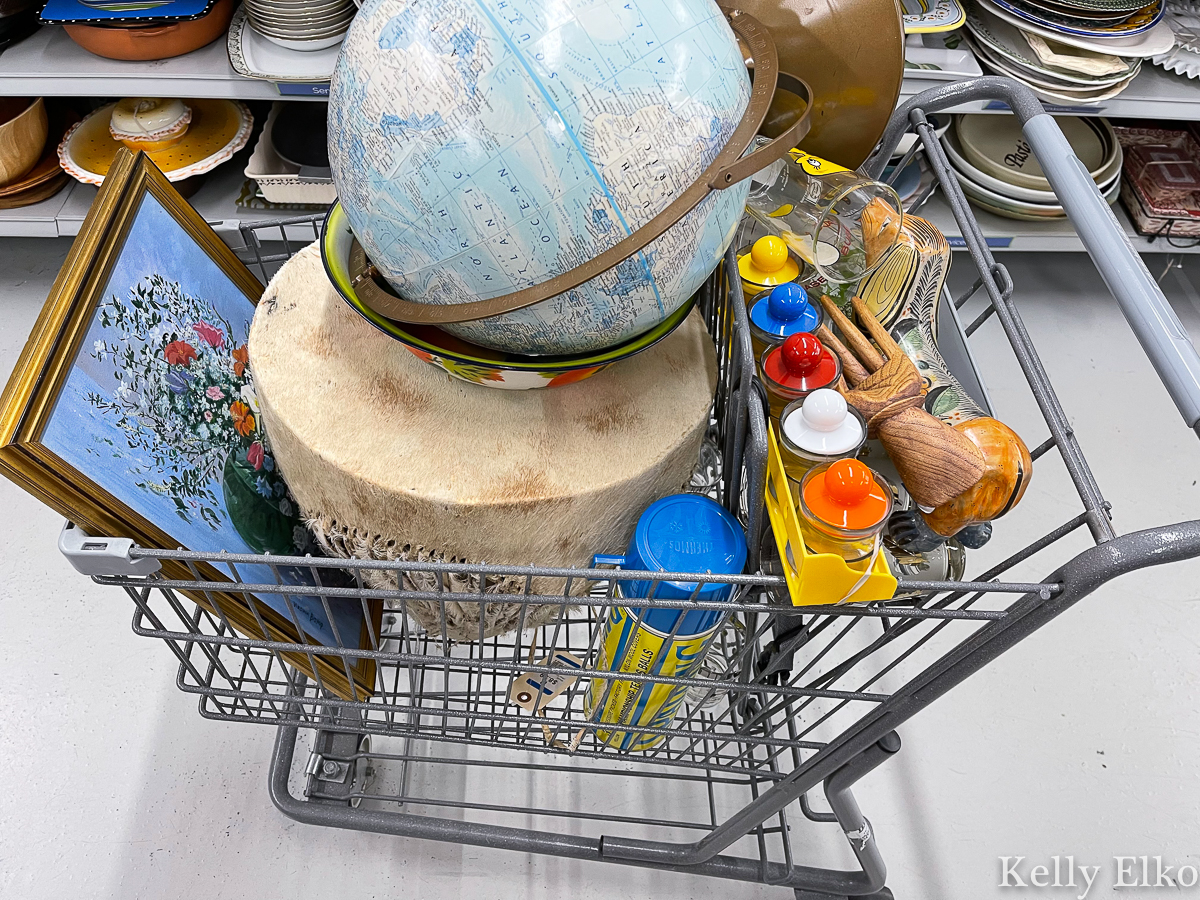 11 Essential Thrift Shopping Tips
1) Go Often – Don't let that cart full of goodness fool you. I often leave the thrift store empty handed. Thrifting is all about the thrill of the hunt and like Forest Gump said, you never know what you're gonna get. So go as often as you can for a better chance at finding gold
2) Take a Lap Around the Store – I like to walk up and down every aisle to see if anything jumps out at me. If time allows, I go back and look more closely for things I may have missed.
This vintage cowhide covered African drum is my favorite find of the day and it makes the perfect little plant stand!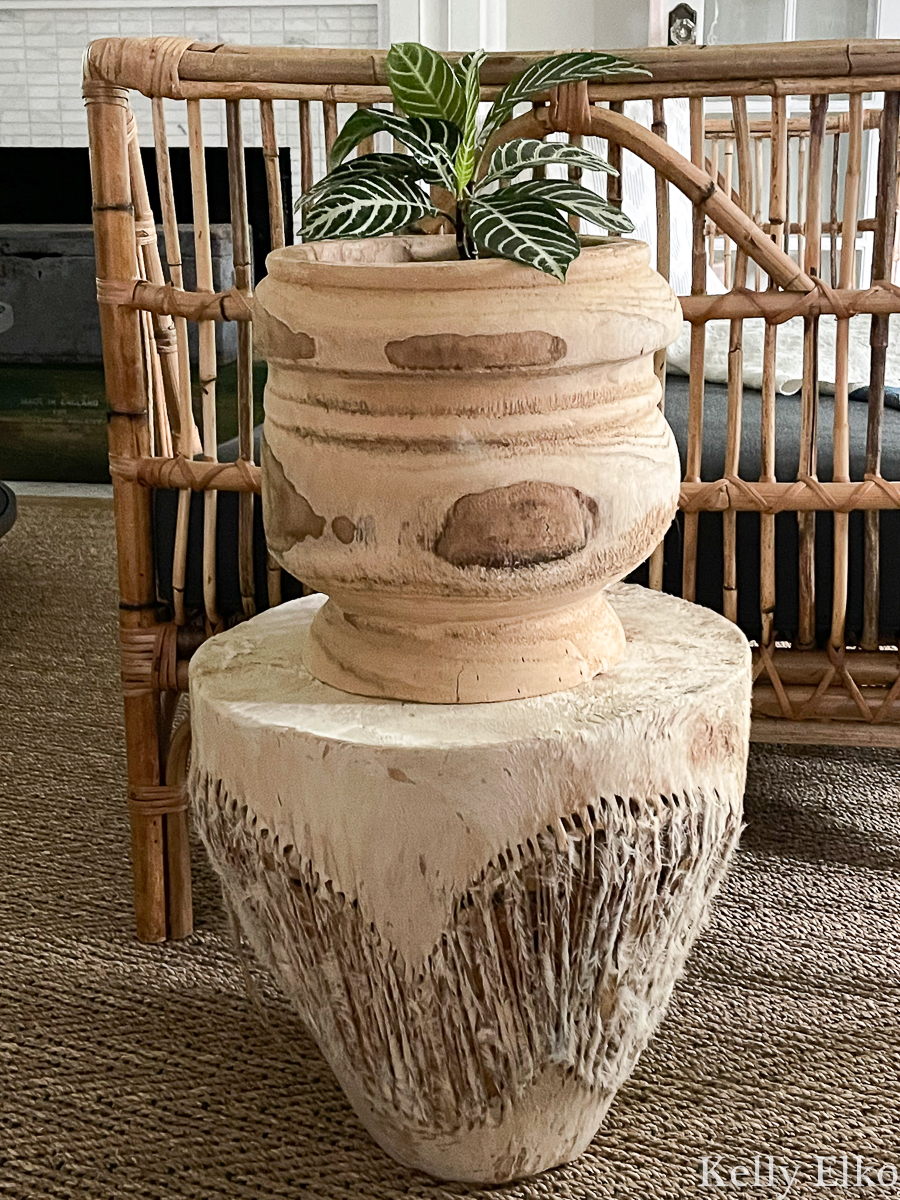 3) Keep a List – I'm usually on the lookout for cool vintage stuff but I've also found bargains for my girls college apartments (kitchen gadgets are abundant). I keep lists of things I'm in search of in the "Notes" on my smart phone.
Vintage art is ALWAYS on my list as is drinking glasses and vintage Christmas!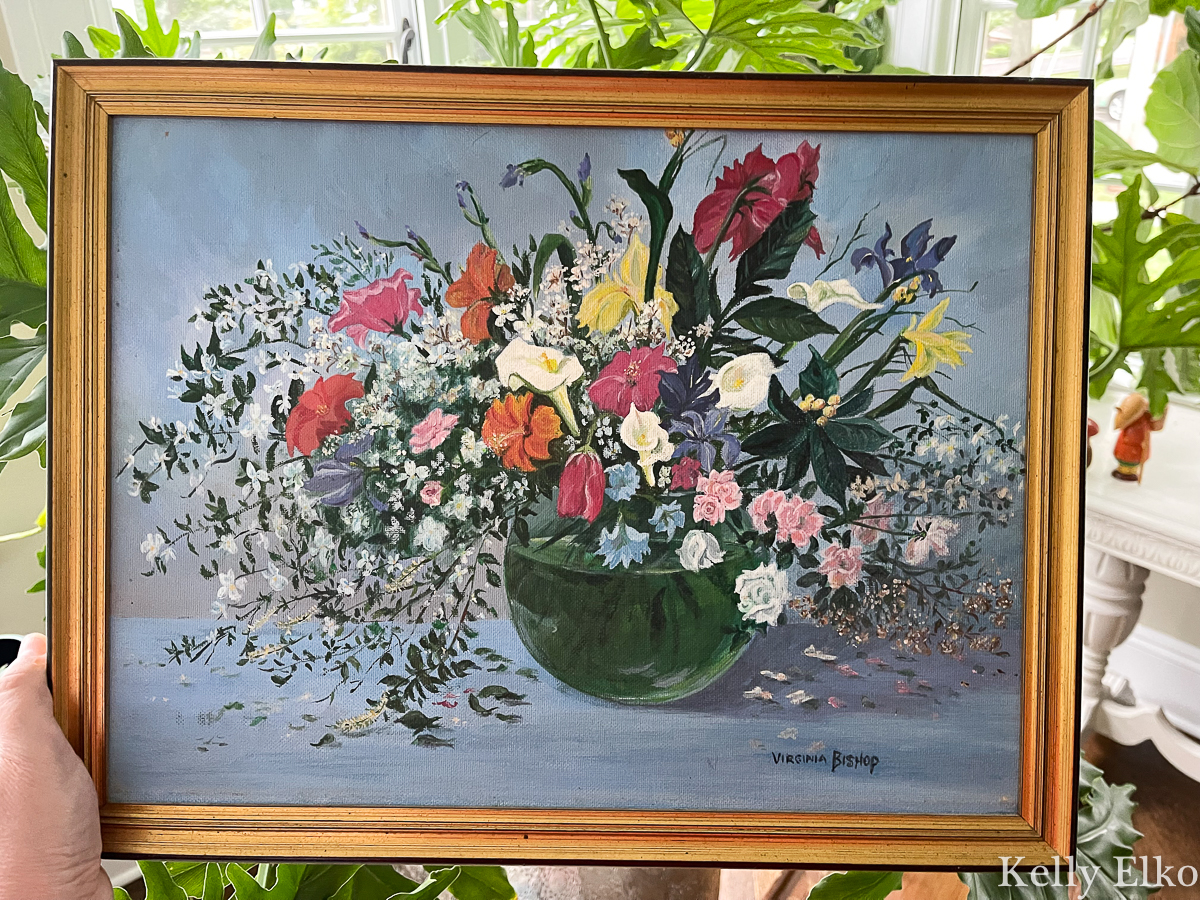 4) Keep an Open Mind – On the flip side of keeping a list, it's important to be open to all the unexpected treasures you may find. This is how I've found some of my coolest stuff. Think about how you can reimagine a piece.
I turned this old promotional Spalding thermos that once held tennis balls into a planter.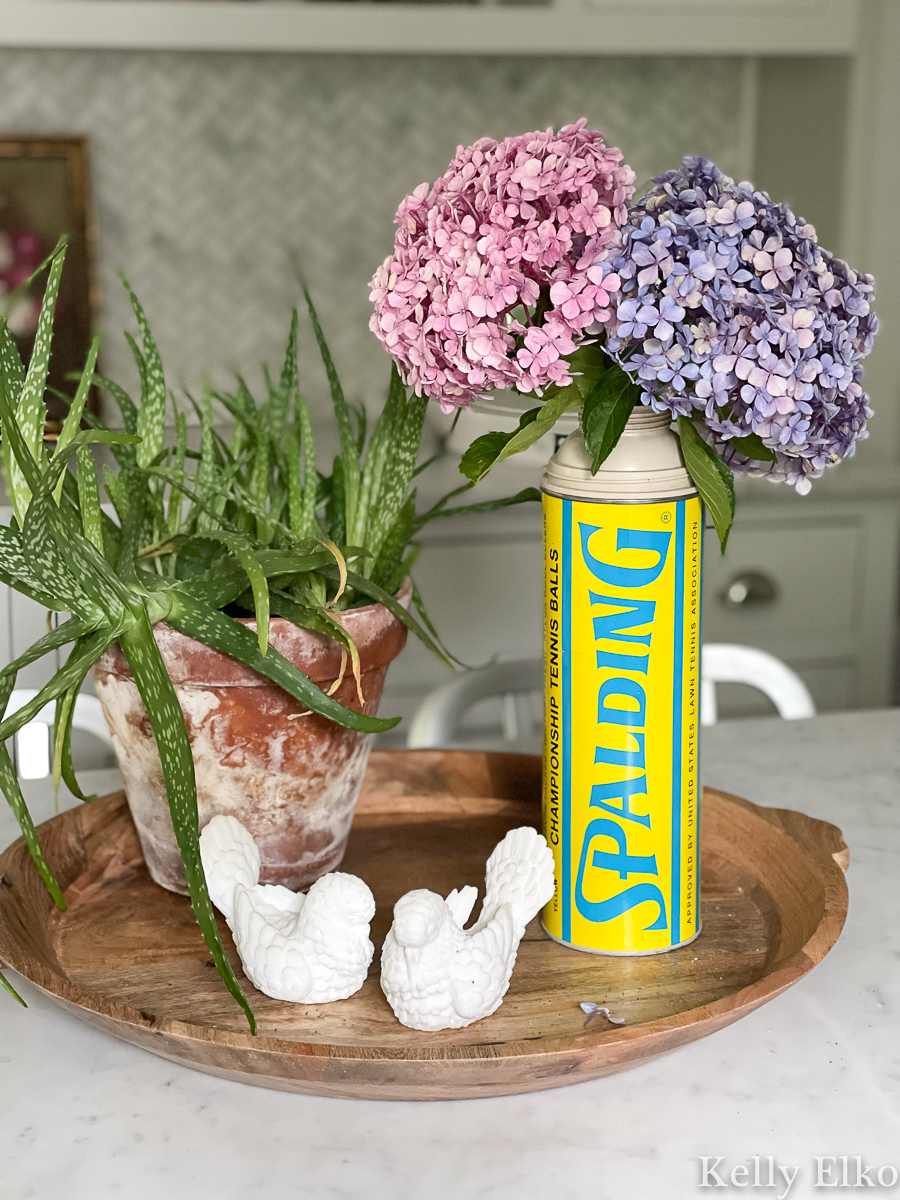 5) Shop Mid Week – Weekends are crowded and the store will probably be picked over so shop week days if you can. I love getting there right when the doors open too.
This little Mexican Tonala dog was hiding in plain site but the store was empty so I scored it!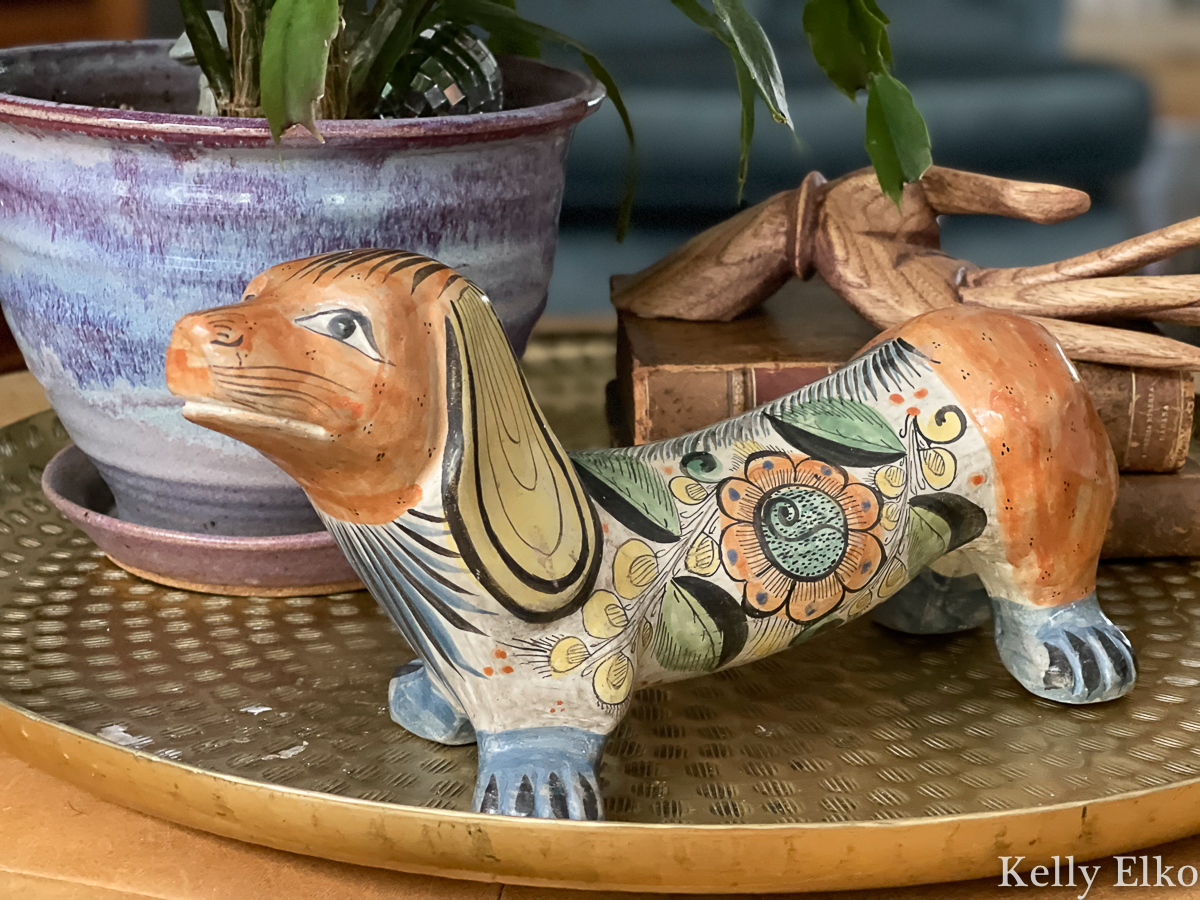 6) Shop for Quality – Solid wood furniture that's scuffed and dinged can get a new life with a couple of coats of paint. It's probably cheaper, not to mention more unique, to refinish a sturdy wood piece than it is to buy a cheap particle board piece that will fall apart in a few years. Just make sure the piece is in good condition (drawers slide out easily, etc) so you don't end up having to spend a ton of time and money to fix it.
7) Paint Cures All Evils -I found a vintage Broyhill cabinet for $50, lugged it home, doused it in blue paint, and now it's one of my favorite pieces of furniture (and so much more fun than a media cabinet from Target that everyone and their mother has). Remember, when in doubt, imagine what it would look like with a few coats of paint and you'll soon own the coolest furniture, planters, statues and other knick knacks.
8) Put it in Your Cart – If you're on the fence about something, grab it. You can always put it back on the shelf but I guarantee that if you don't scoop it up, someone else will as soon as you turn your back and you'll live with regret and sorrow for the remainder of your days on earth. If it's too big to fit in your cart, flag down an employee and ask them to bring it to the register for you.
I thought I could use a hand and I love placing unique objects on stacks of old books!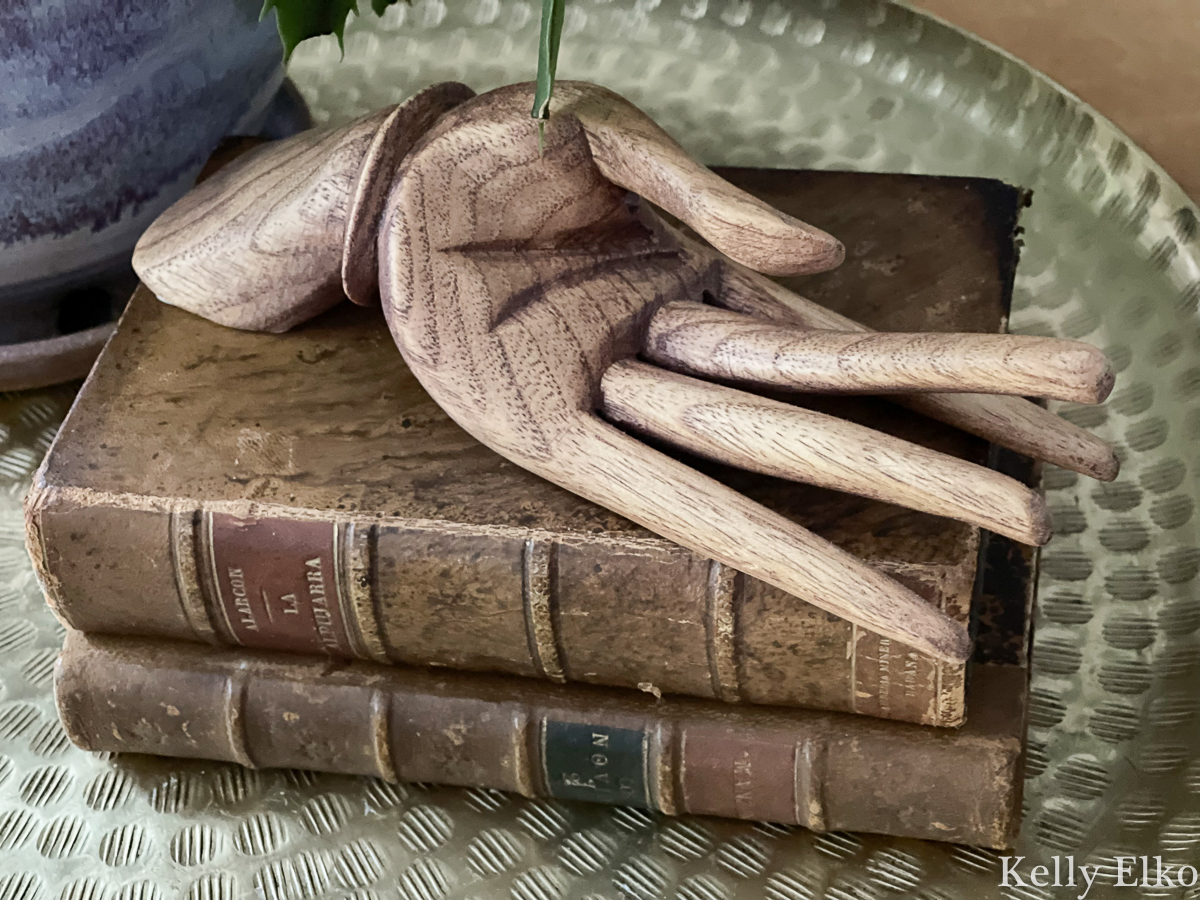 9) Don't Listen to the Haters – When I bring my friends thrifting, I can see the horror in their eyes as I pile stuff into my cart. Do I let their lack of vision ruin my fun? No, and guess what? My friends are the first ones lined up when I'm downsizing my thrifting hoard!
10) Discount Days – Get to know your thrift store discount policy. Some offer discount days where everything in the store is one sale, some rotate sales based on departments (household items may be discounted on Tuesday and clothes on sale on Thursday for example). Some thrift stores have apps or even email sign ups that keep track of your purchases and offer discounts when you reach a certain level.
Most thrift stores have a no return policy so make sure you can't live without your finds and they don't have any hidden damage before you turn over your hard earned cash.
This 1980's colorful spice rack and jars was an extra 33% off so I got it for a steal! I love the rack and it has holes in the back to hang on the wall.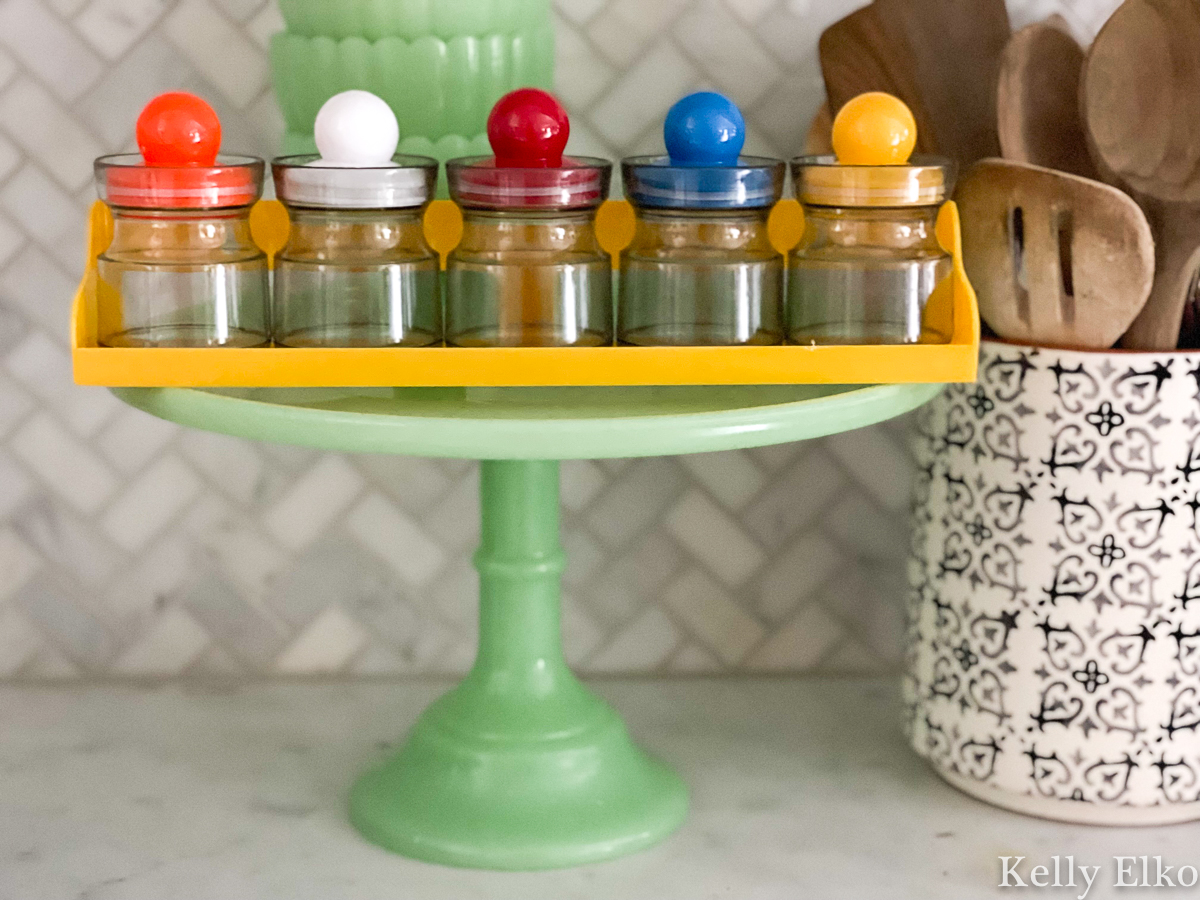 11) Be Fearless! – Cast your fears aside my friends because while you may find lots of gross and stinky stuff in thrift stores, there is also a treasure trove of finds to be had for cheap and if you don't get it, someone else (hopefully me) will!
For this thrift haul, I also scored more amazing vintage drinking glasses and an old globe both of which will be added to my ever-growing collections.
Happy National Thrifting Day! Well, what are you waiting for? Get out there and start thrifting.
P.S. I'm thinking about starting to sell some of my vintage finds because I have TOO MUCH STUFF! Let me know if you would be interested in shopping my hauls.