Eclectic Home Tour – Adored House
She dreamed of living in a charming old fixer upper. She bought a new house that had no character. See how she turned that cookie cutter home into one that looks like it was built 100 years ago. Today's Eclectic Home Tour of Adored House is a perfect blend of "coastal/boho/farmhouse" style and owner Dana says she's "filling our builder grade home with old house charm one DIY at a time."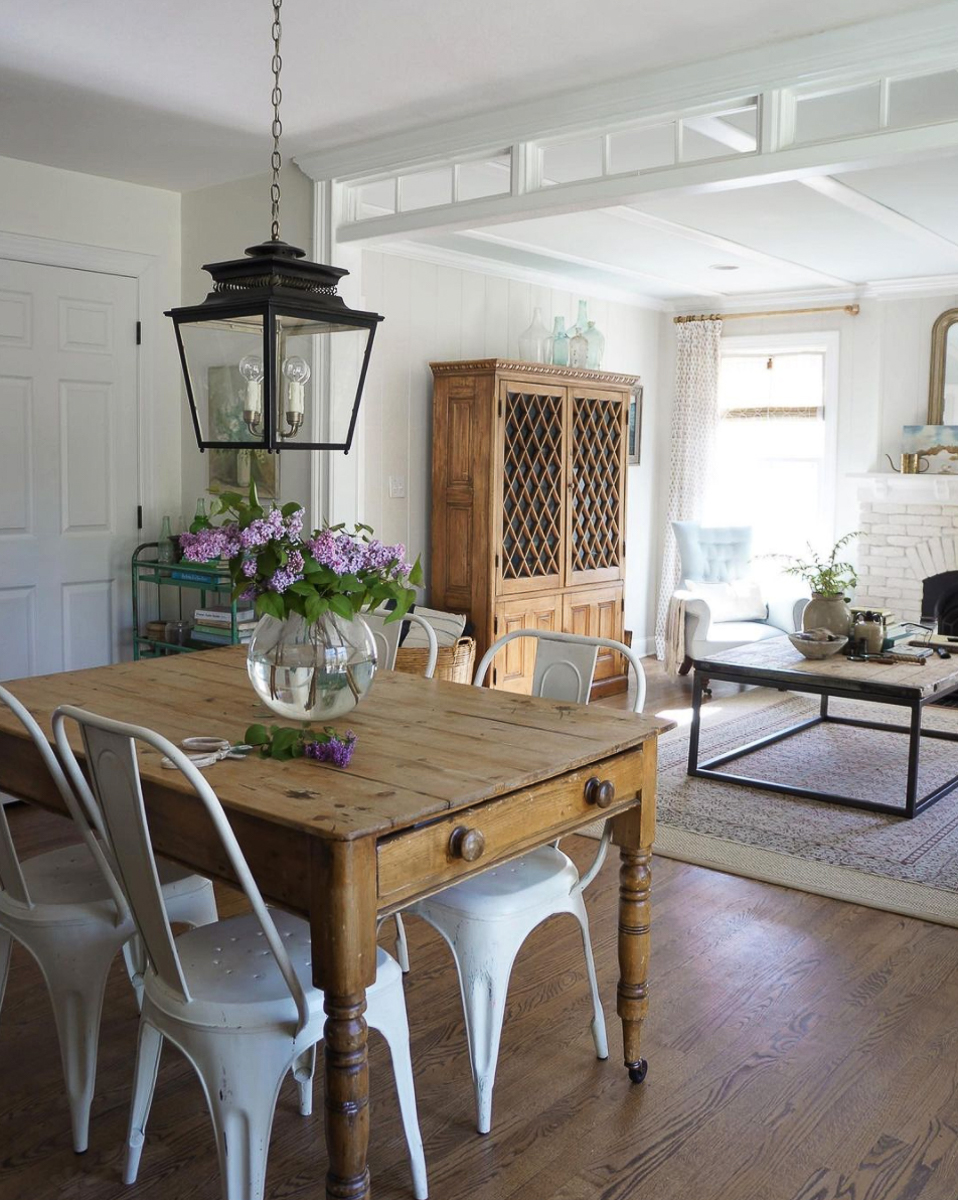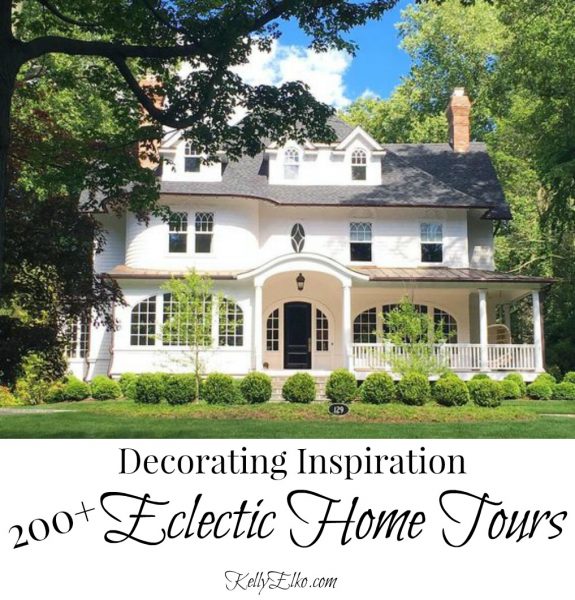 "Rather than sinking all of our money into new appliances, septic tanks, and plumbing, all of the "not-fun" things, we got to invest in moldings and trim, wallpaper, tile, and the rest of the fun stuff in our New Jersey home," says Dana.
Some additions to the house include a new transom, board and batten walls and ceiling beams that help create farmhouse appeal.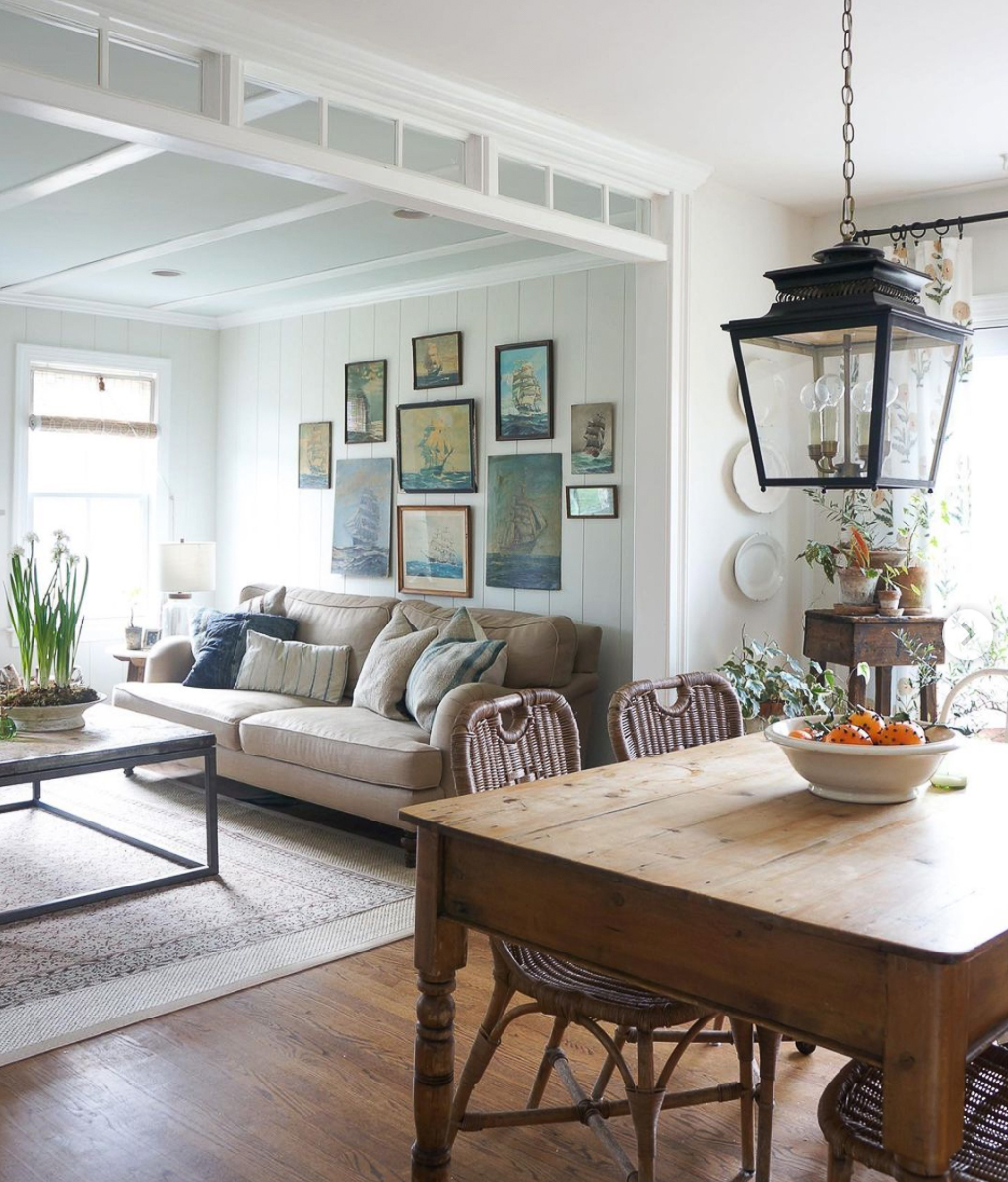 A gallery wall of vintage ship paintings is an eye catching display.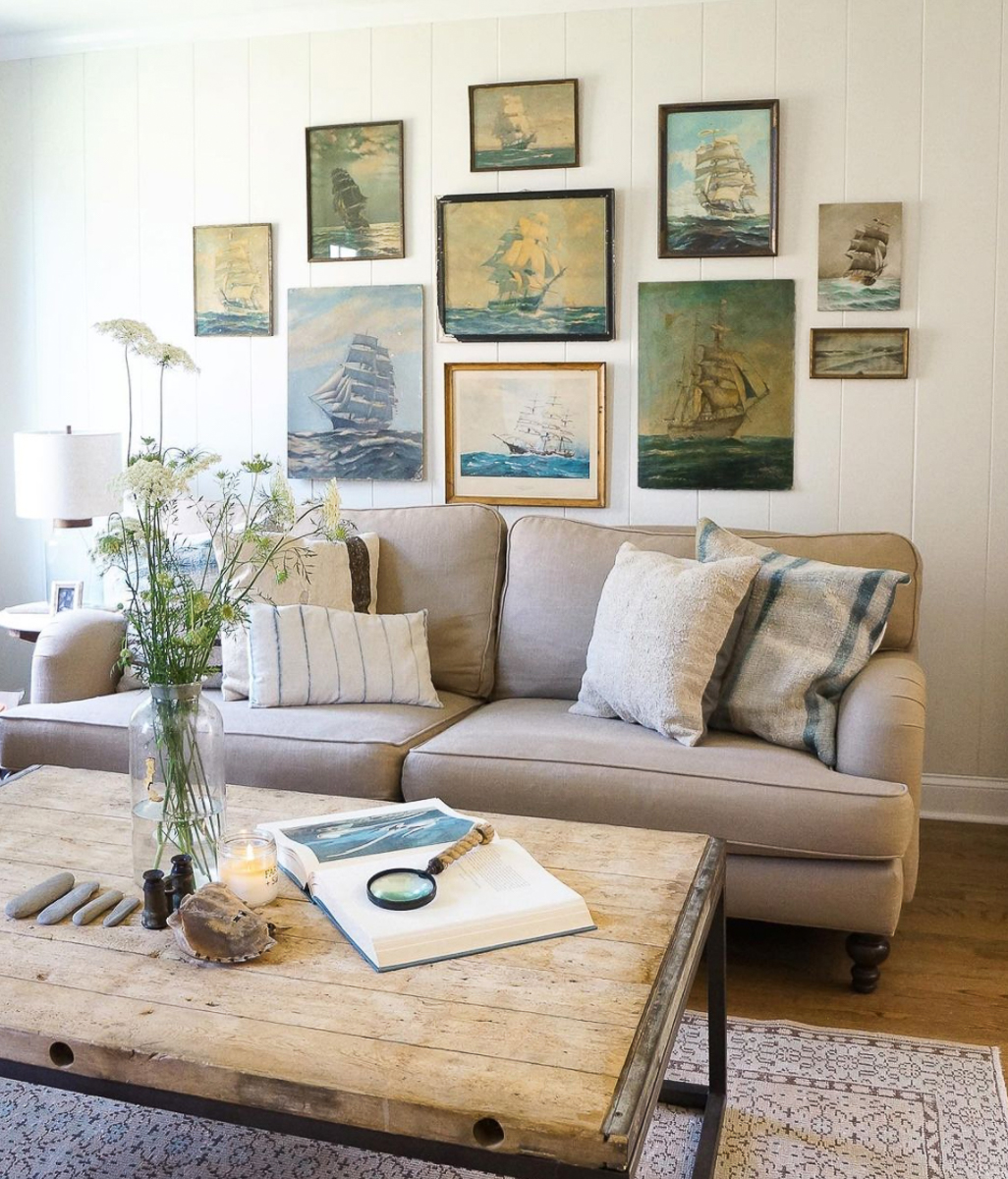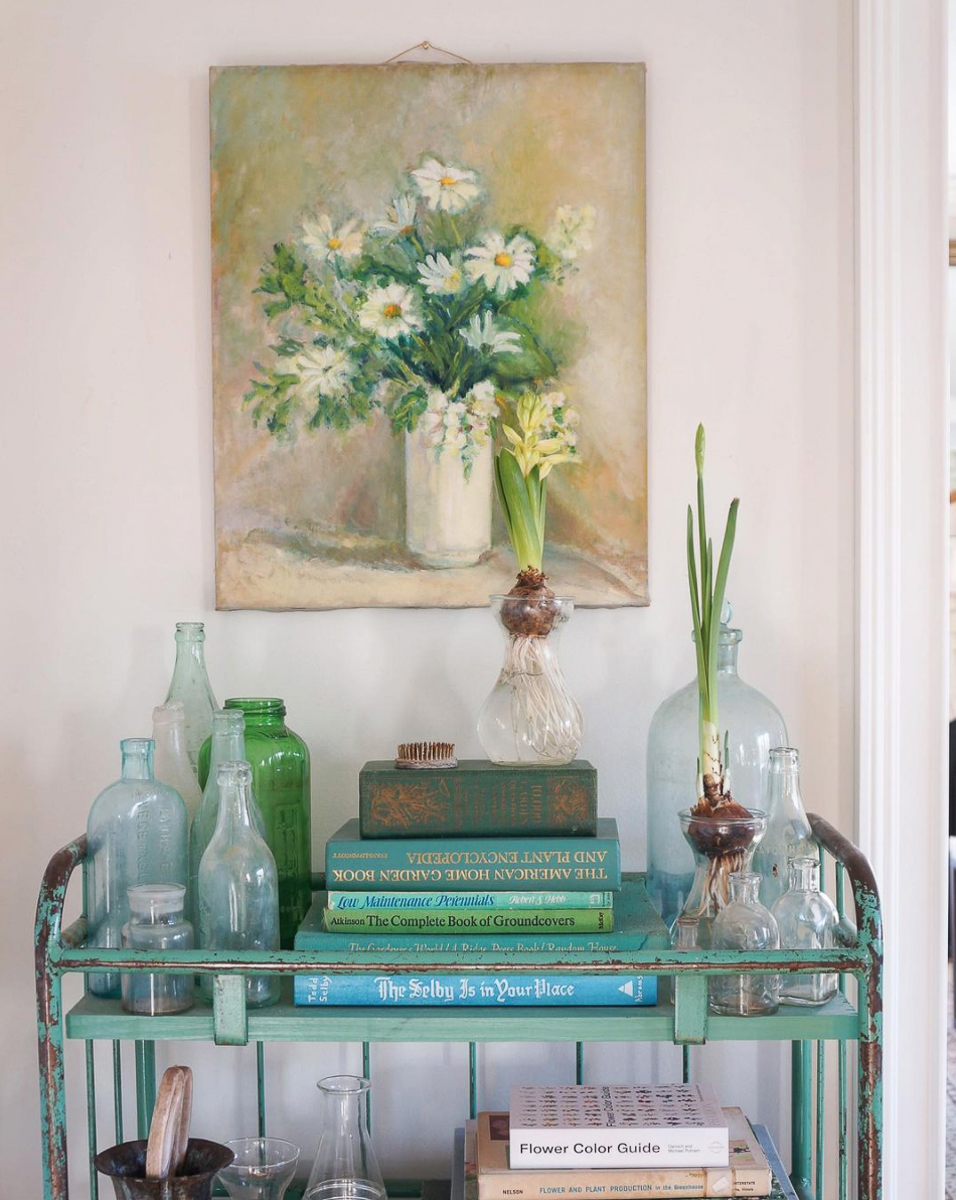 The house originally had one window smack dab in the middle of the room so Dana removed it to add the fireplace. Now she has the best of both worlds, more light from two windows and a beautiful focal point in the center of the room.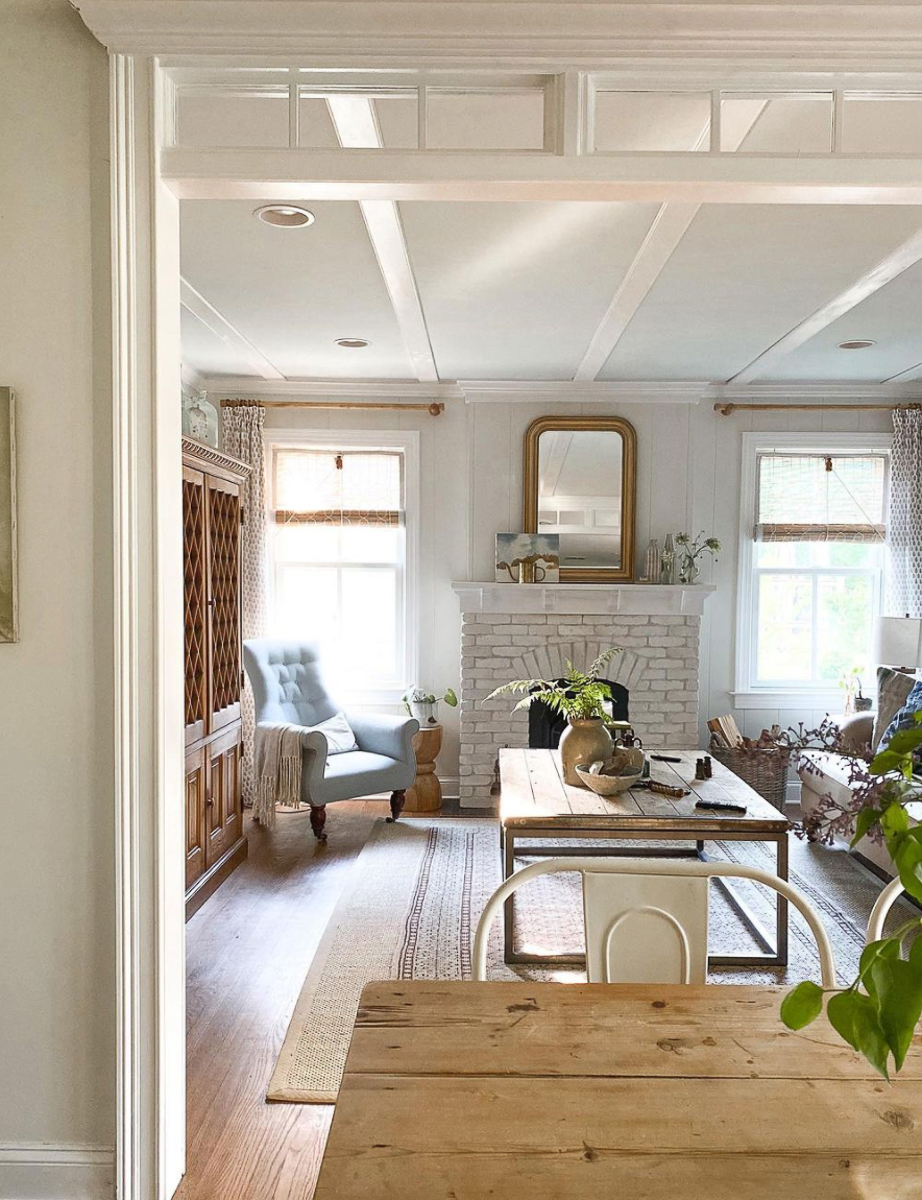 Dana says, "Elements of the outdoors also strongly influence my decorating decisions – I am drawn to botanical prints, images of trees, flowers, birds, and butterflies, and I do not think a room feels complete without a houseplant (or two)."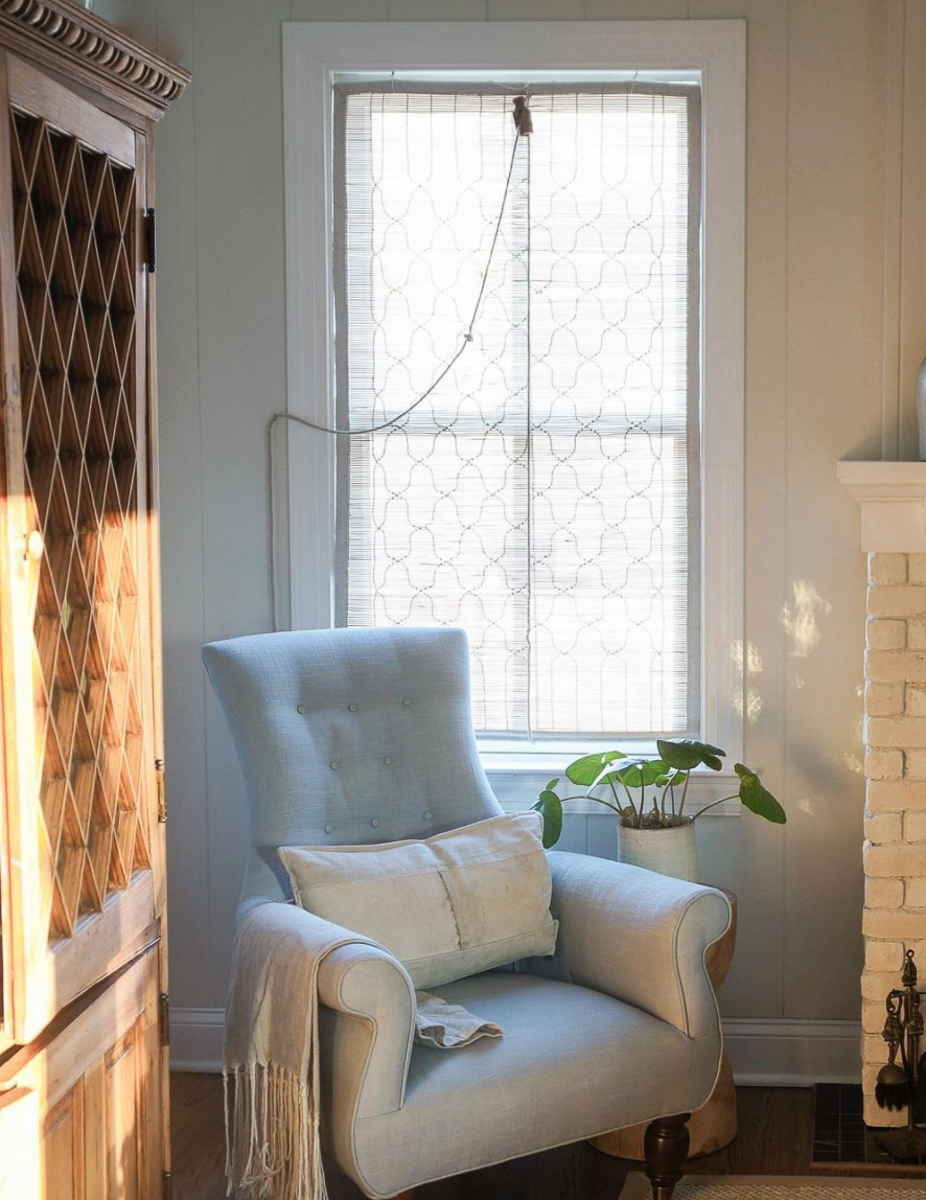 Lots of texture from painted brick, woven baskets, and rustic wood furniture add interest to this neutral space and plants and clippings and bursts of color.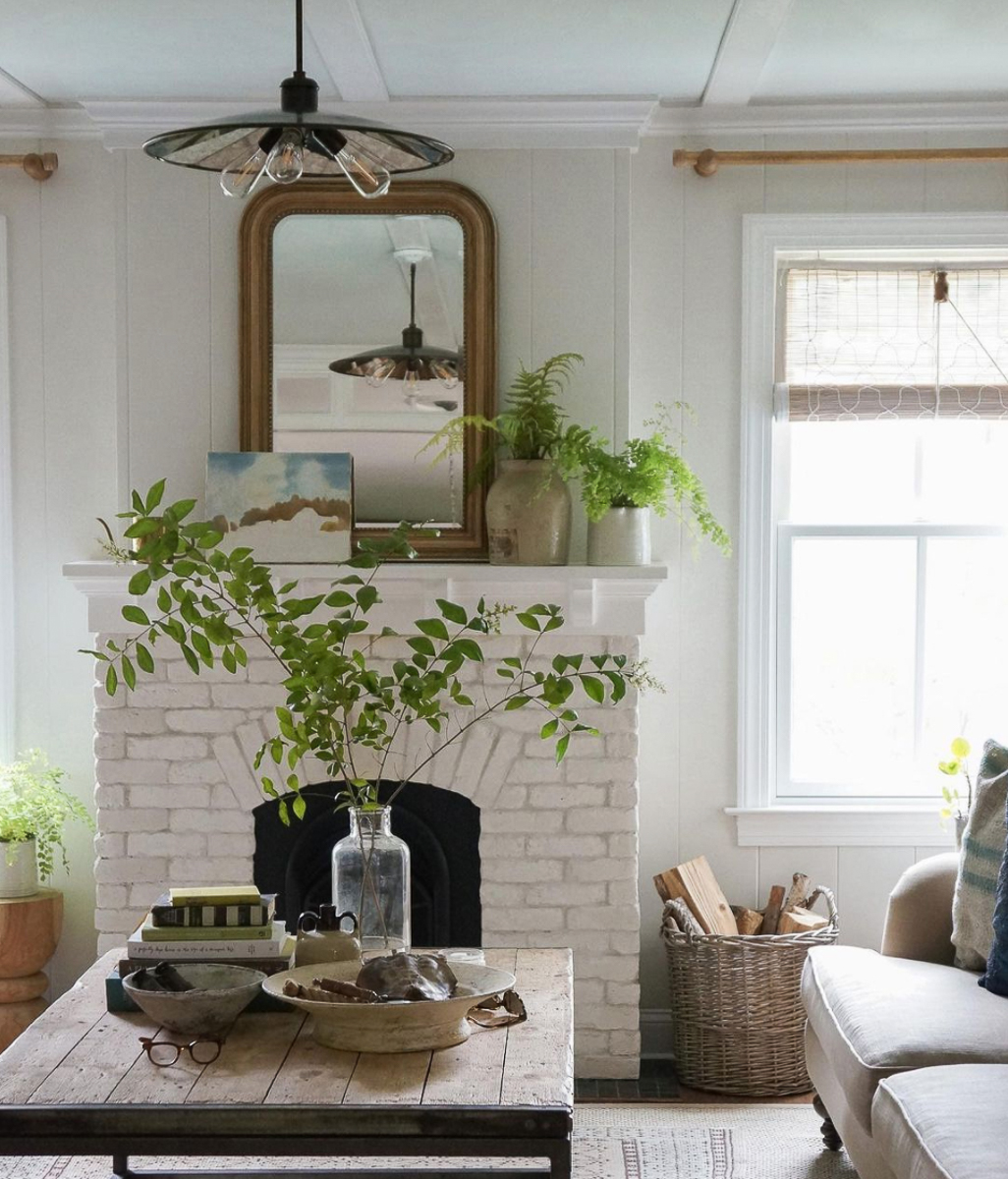 Says Dana, "Gardening is also a huge passion of mine. My parents gave me a small plot of land when I was kid to plant-out however I wished. From then on, I have loved to get my hands dirty growing flowers and vegetables. I love having fresh cut flowers in my home, and I love them even more when they are straight from my yard."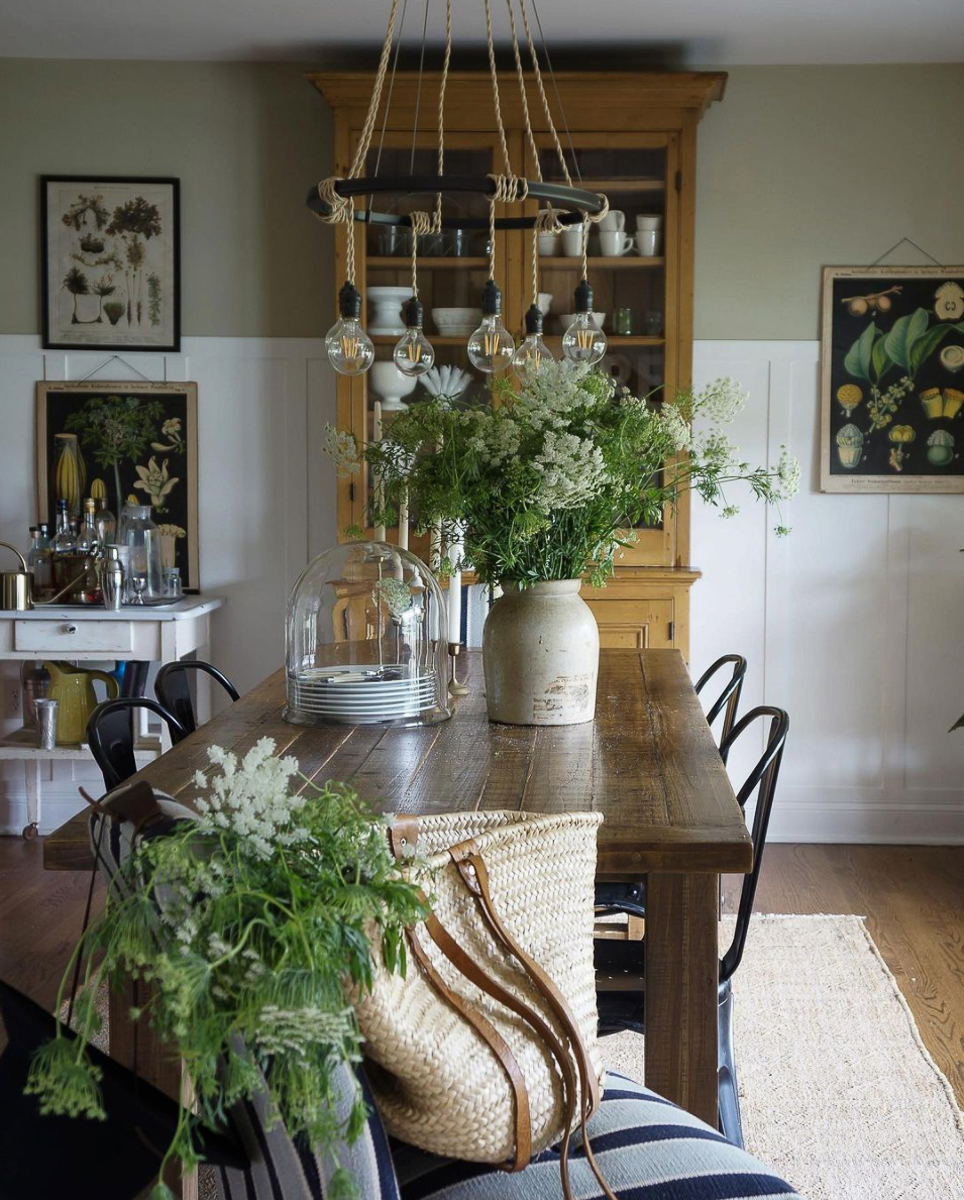 Black furniture adds drama to the dining room and is the perfect backdrop for white pottery and glass cloches and jars.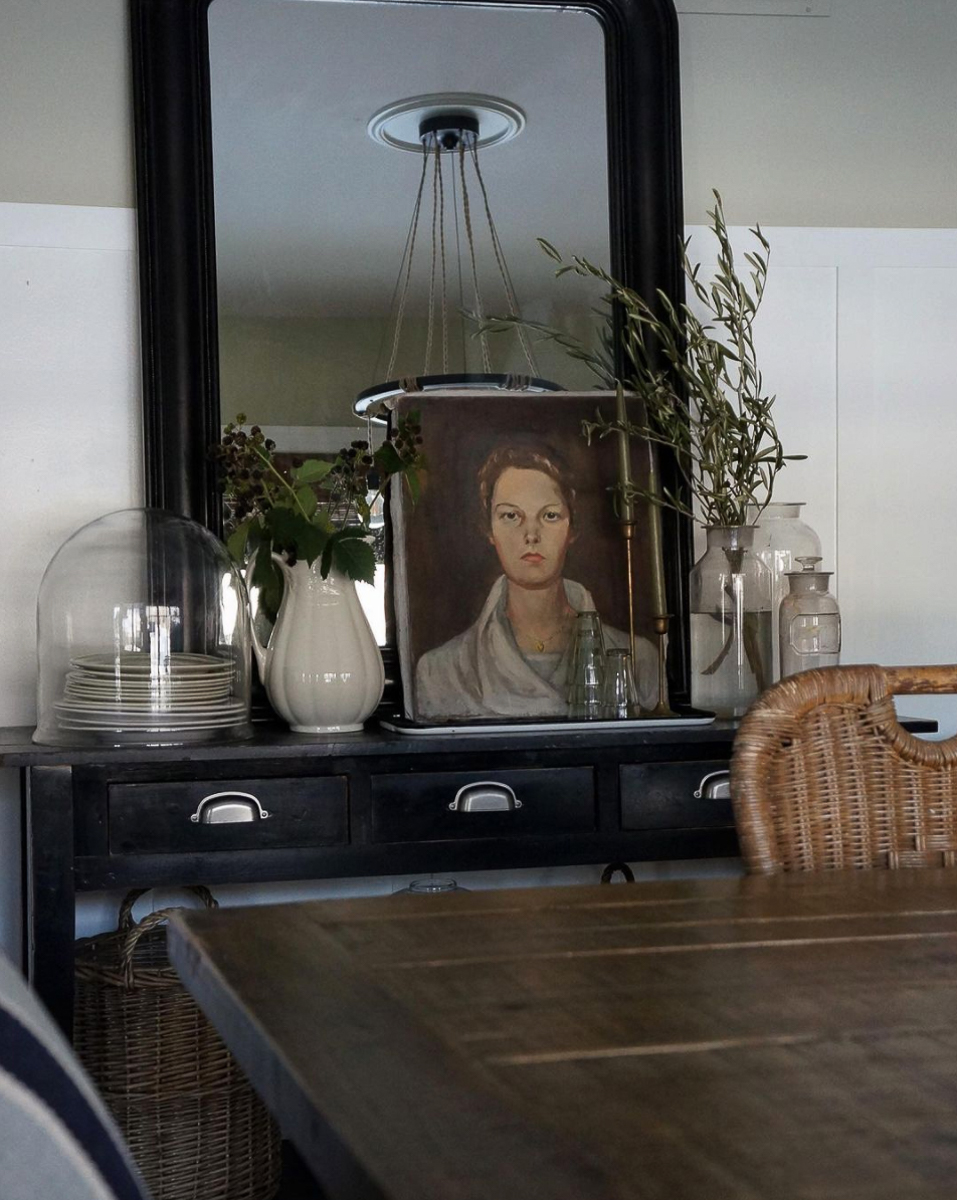 The addition of board and batten throughout the house really helps to create an old house feel.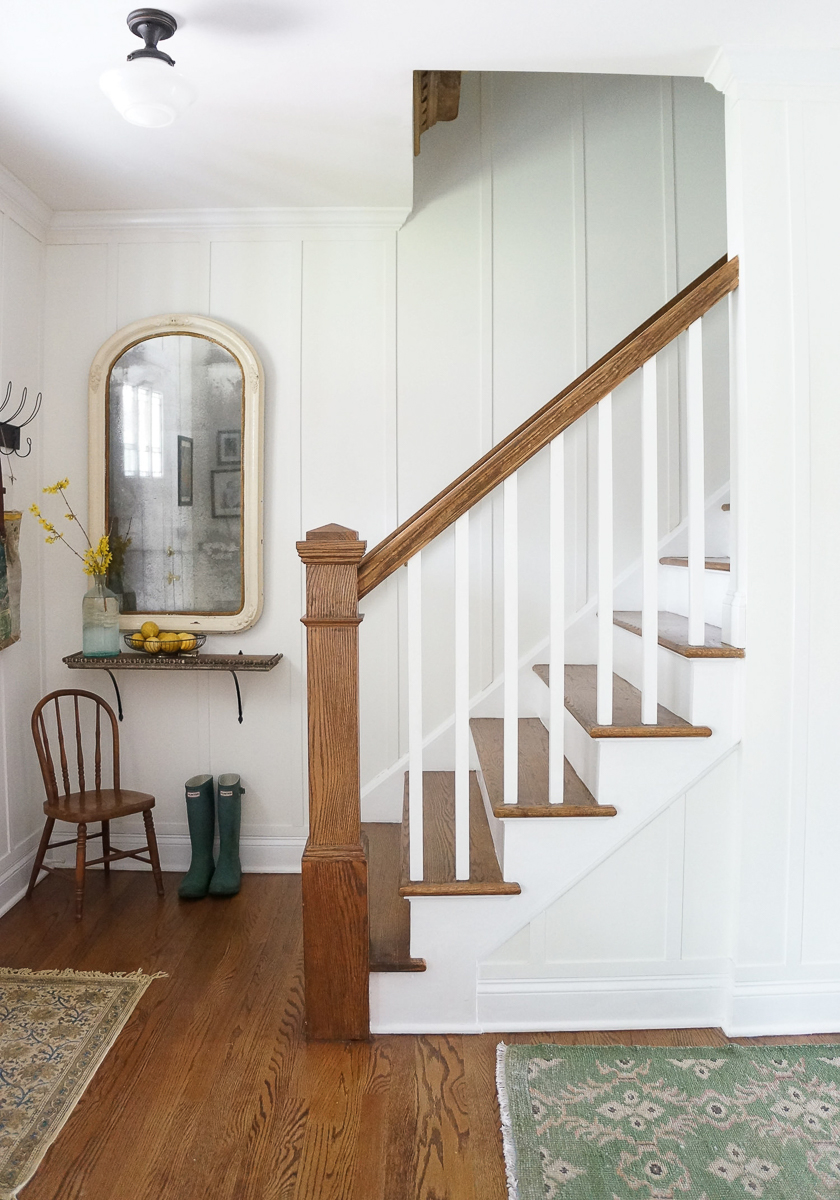 When it came time for a bedroom makeover, Dana says, "I did my best to reduce waste and the use of toxic products, reuse things I already owned, and recycle other peoples' trash into my treasures."
She took on the huge undertaking of stripping and refinishing this gorgeous oak spindle bed (that she found on Facebook Marketplace for only $25!) and hopes it will become a family heirloom.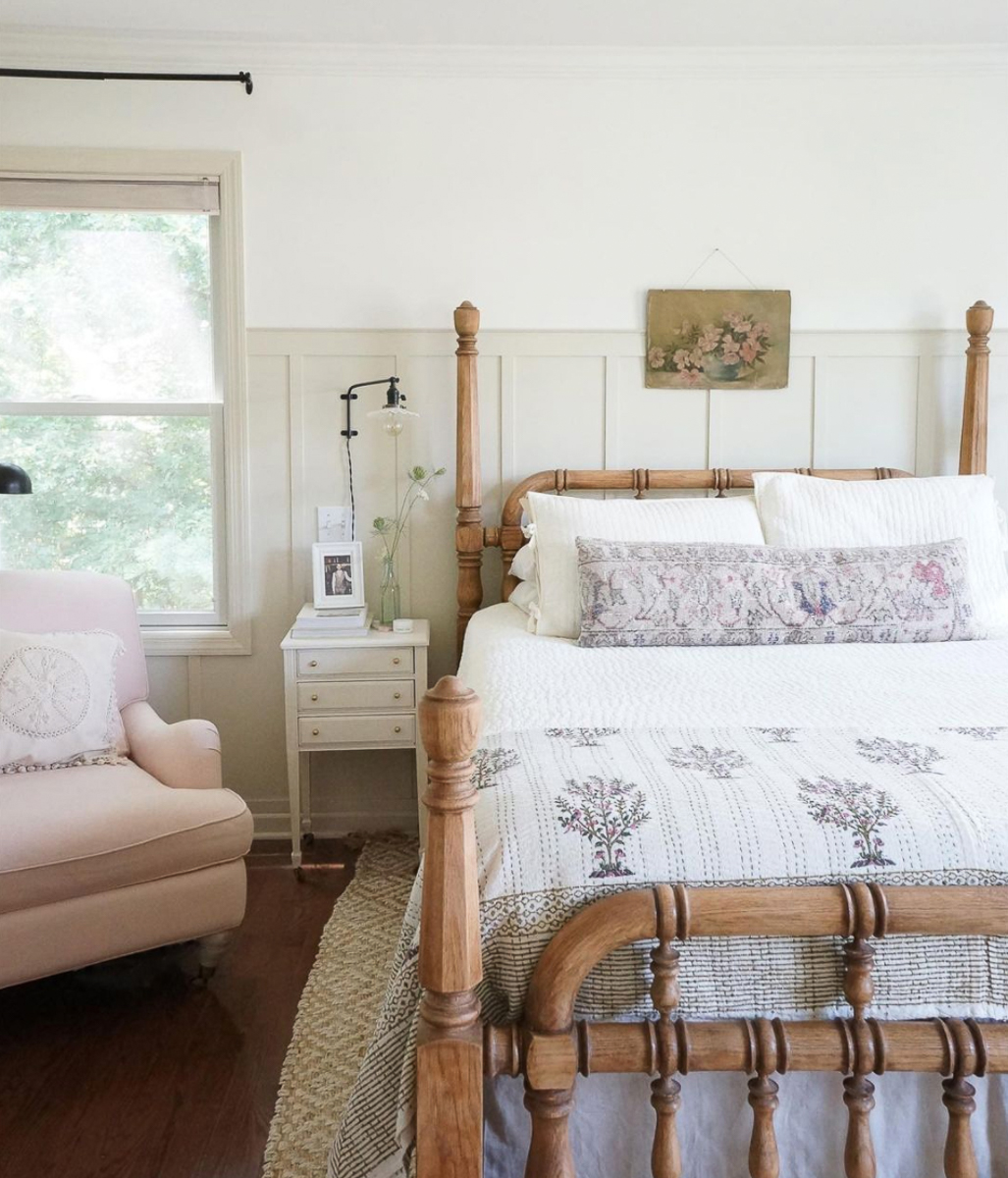 A family of mice living in this rustic pine armoire didn't scare Dana away from buying it and giving it a new lease on life.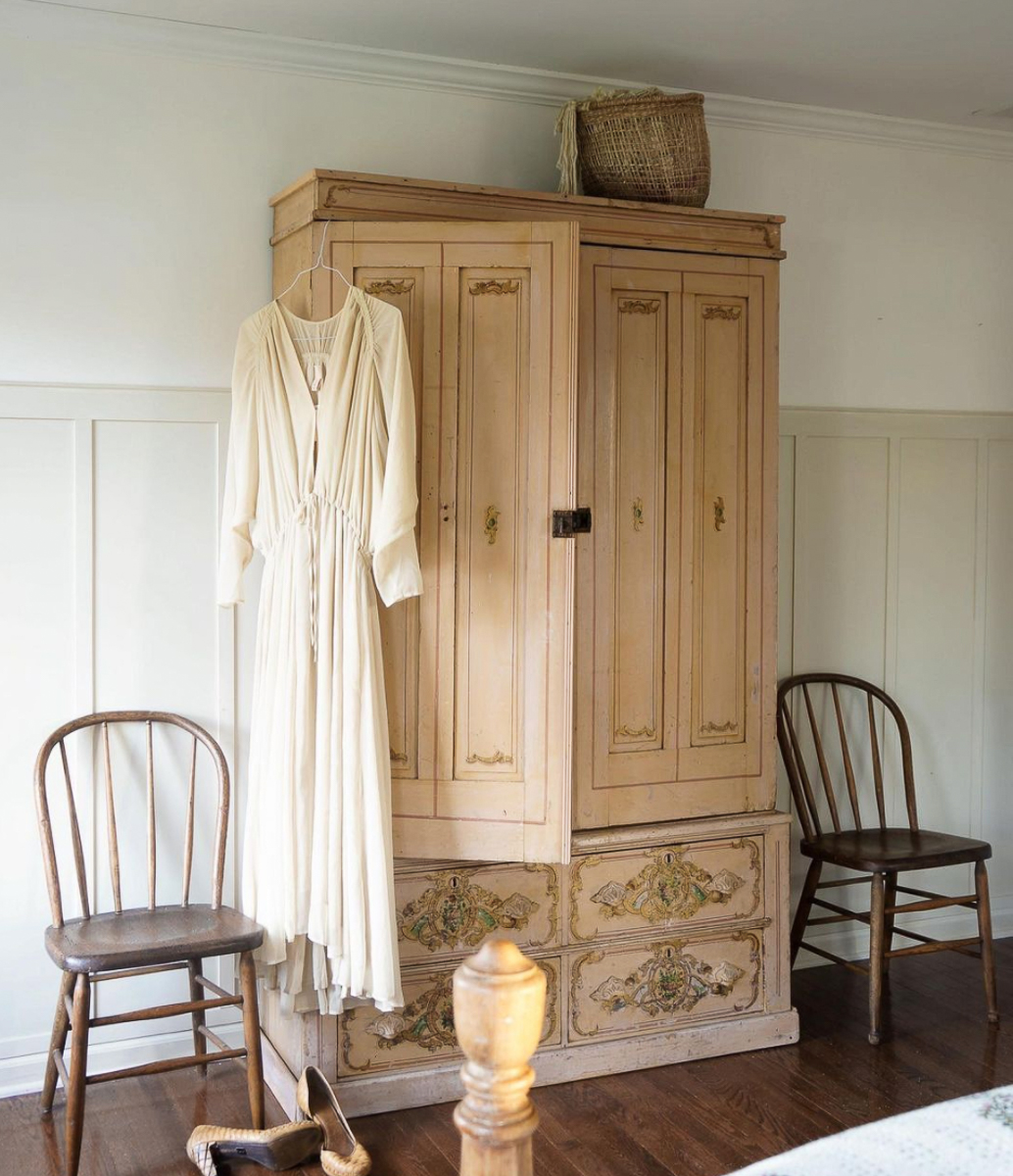 Even the upstairs hallway has style! I love the colorful Moroccan rug and the trio of brass animal hooks above the gallery wall.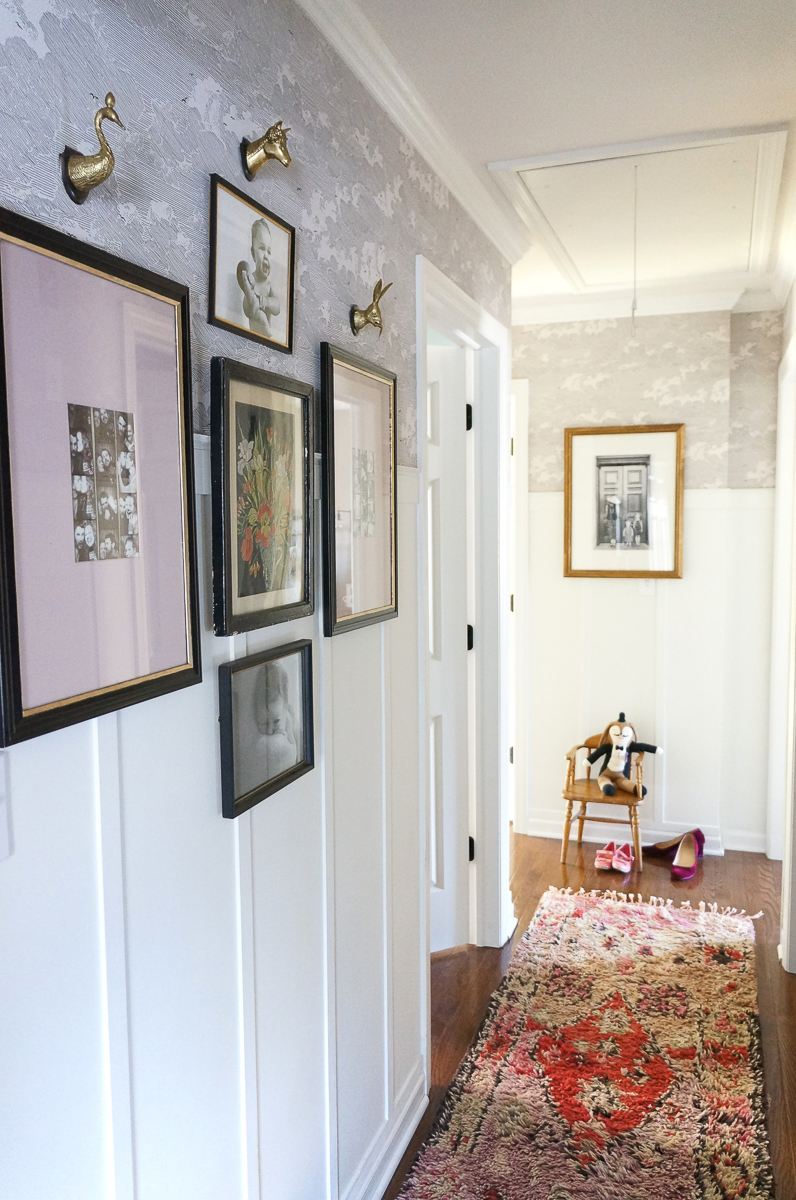 Dana is so talented at creating gorgeous floral arrangements and this huge old chalkboard is the perfect backdrop for her creations.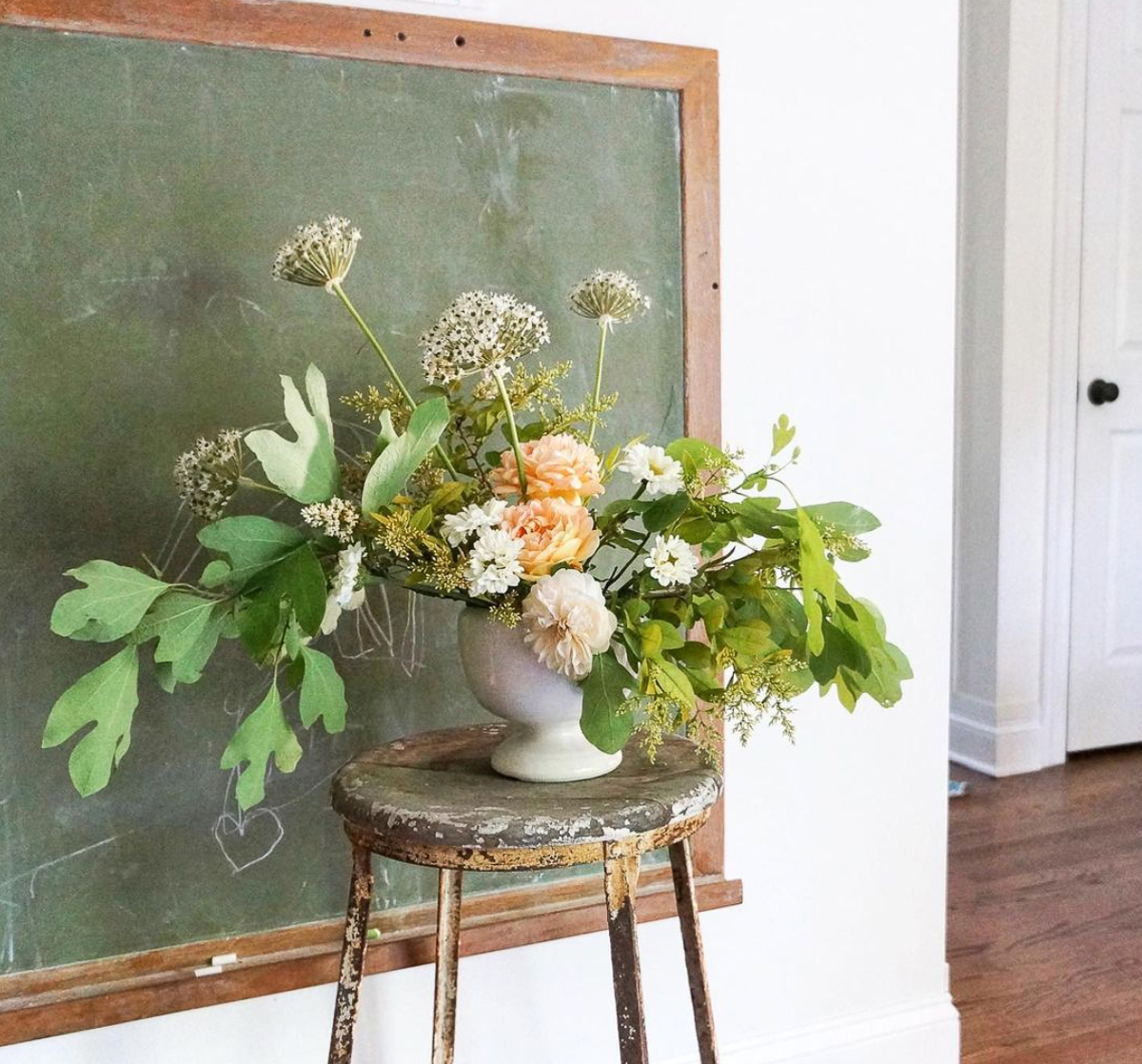 Wainscoting was added and topped with a whimsical floral wallpaper. Brass fixtures add glam to this small powder room.
This antique Arm & Hammer bird identification chart from 1912 is one of Dana's favorite flea market finds and the best part is that it was only $25!
Dana says, "It's been a slow process, and it's not even totally done, but the slow pace has allowed me to create something I am really proud of – a one of a kind home."