Eclectic Home Tour – Amanda Louise Interiors
If you love unique home design that mixes vintage and modern, color and pattern, you are going to be bowled over by today's whimsical Eclectic Home Tour of Amanda Louise Interiors. She says, "I suppose this would be my advice to anyone decorating their home: don't feel afraid to take risks or veer away from trends if they feel like YOU and buy the things that speak to you, and you will always find a place."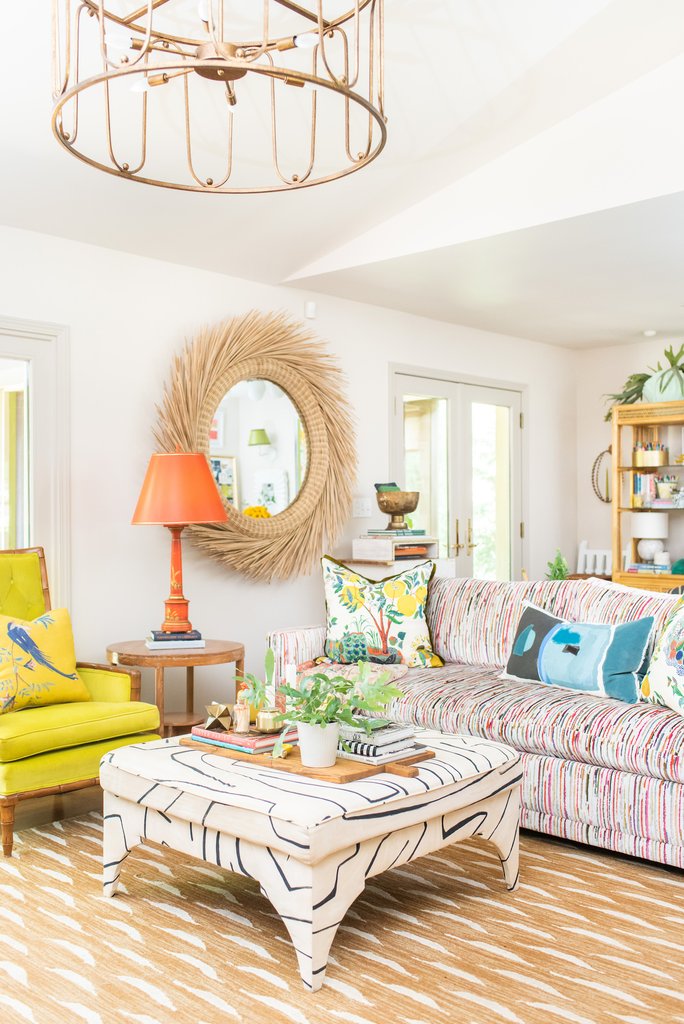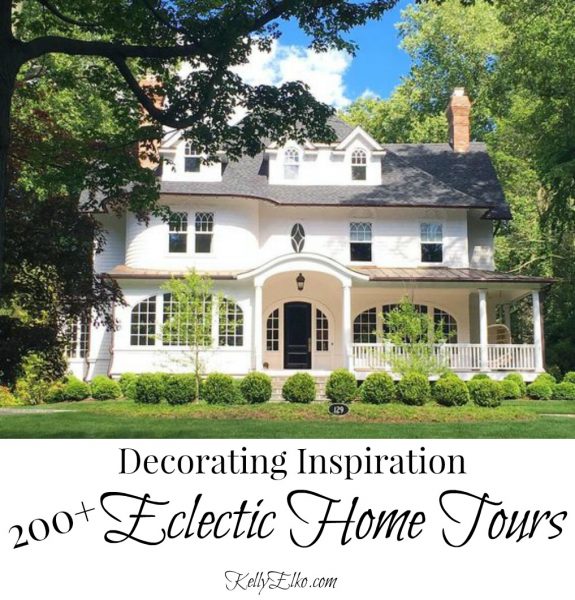 You know it's the house for you when you buy the one and only house you see! Says Amanda, "Our now home was the first and only we looked at when we began our house hunt in Greenville, SC back in 2018.
We quickly fell in love with its quirks and all that it had to offer! It's a 1960's split level just a short drive from the Blue Ridge Mountains with a great yard and a cozy screened porch."
A bold blue stripe painted on a white wall in the foyer adds a fun pop of color and gives a hint of what the rest of the house has in store.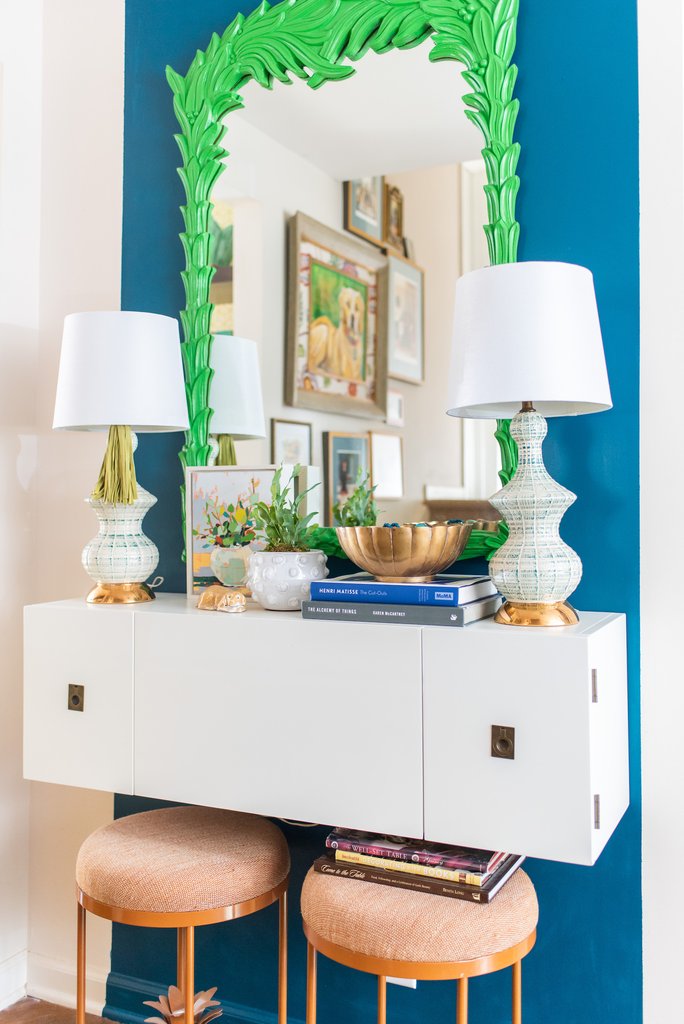 Built-in shelves in the living room were given a fresh coat of bright yellow paint to showcase all the "little bits and pieces" that she picked up over time.
The addition of color coordinating wallpaper serves as a backdrop to the shelves and makes this space read as a solid unit, keeping it from getting too busy, according to Amanda.
Amanda says, "I have bought and collected things because I love them and not necessarily purchasing for the space, making for a collected and curated look," as can be seen by this eclectic gallery wall.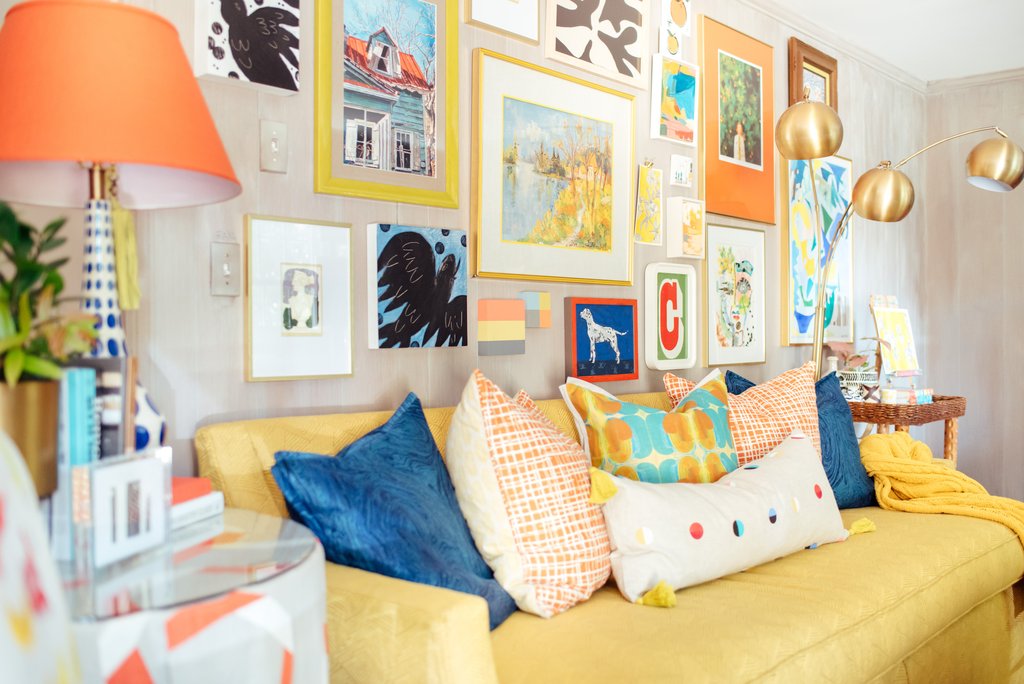 By taking her time, Amanda is slowly but surely turning her dated house into a colorful work of art.
She says, "Three years later, each space has gone through many transitions, each one making the house feel more and more like 'us'!"
The kitchen is on her to-do list but until then, she's created a cozy breakfast nook that includes a cabinet by the back door for dropping keys.
I love that she doesn't let the fact that it's not her dream kitchen stop her from inviting people over. Her advice for enjoying the kitchen you have, "just add a cheese board!"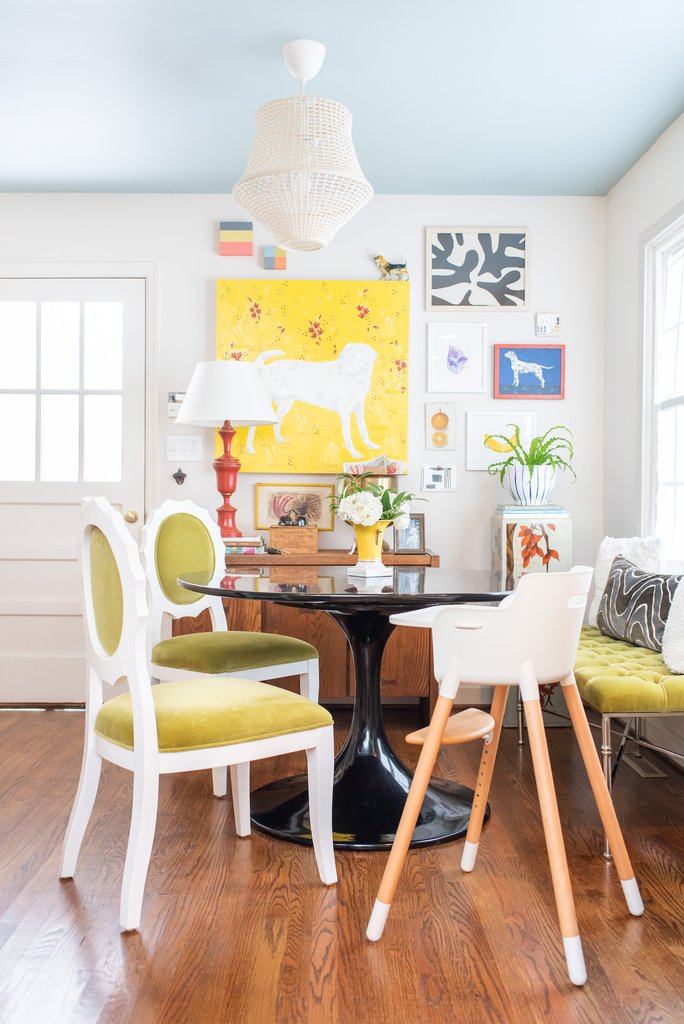 For those of us who have design paralysis when it comes to making decisions in our own homes, we could all learn a lesson from Amanda who says, "about 2 hours before we had a party, on the off chance that someone wanted a tour of the whole house, I tacked up wallpaper and tried to make it work. We've added in art and furniture from our previous master and although it is all sort of thrown together and still needs a real reboot, I have to say… it's pretty darn cozy."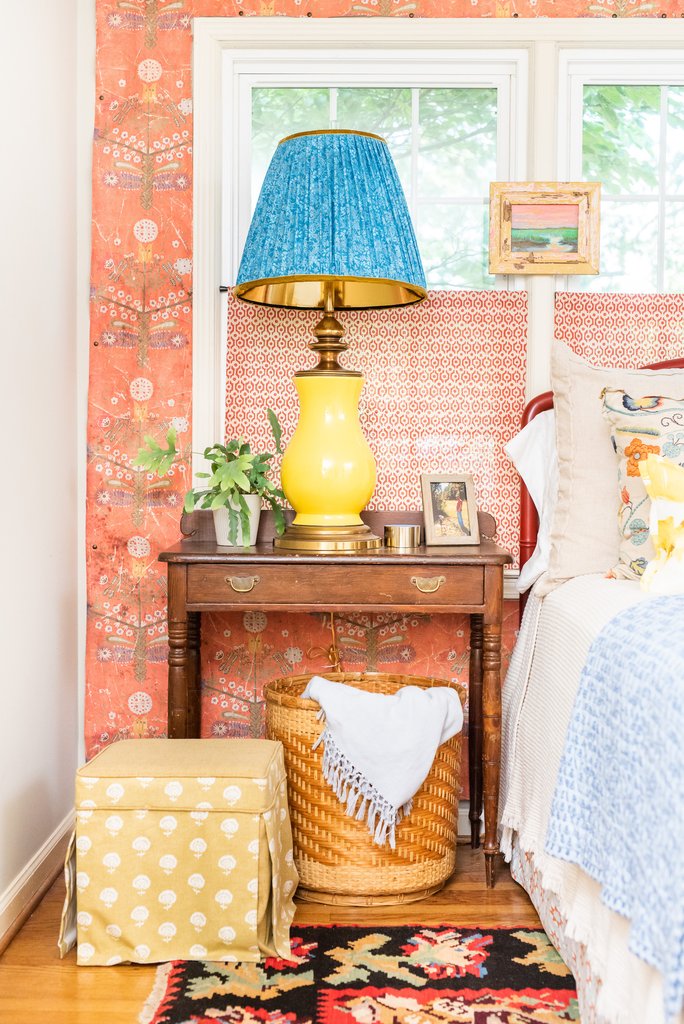 The large bedroom even has a seating area in mismatched patterns and prints on vintage furniture.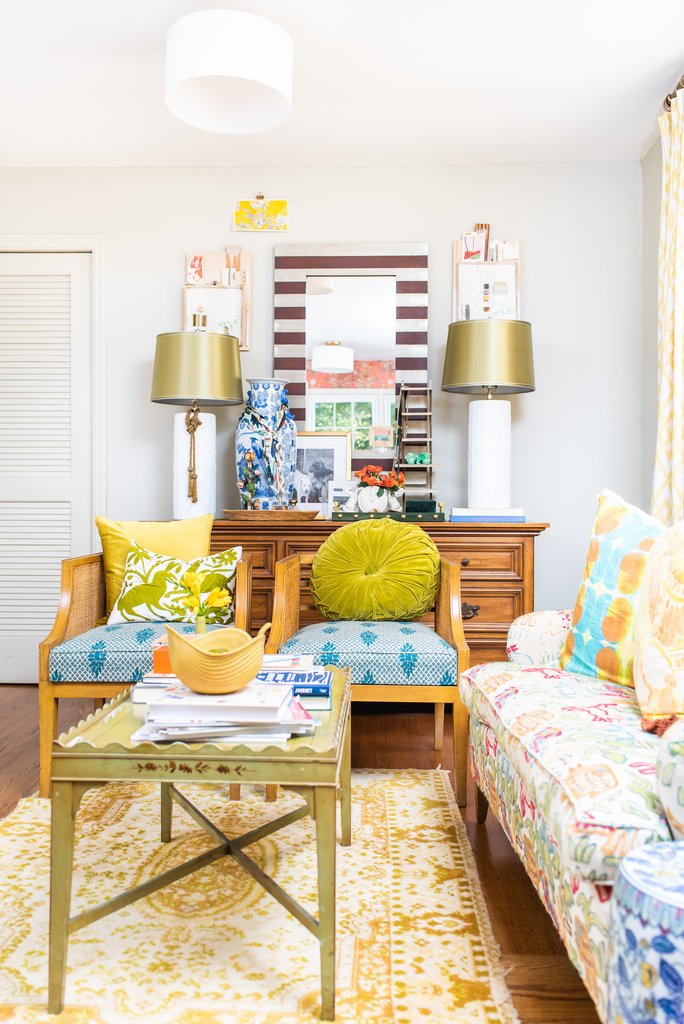 "Proof that wallpaper is everything," Amanda transformed a dated bathroom that had a "pink tub, beige and green tile, a linoleum floor. I started by painting the heck out of it with some porch and deck enamel to buy us some time, added bright, colorful wallpaper that tied all the colors together, and added a custom shower curtain that raises your eyes up and called it a day!"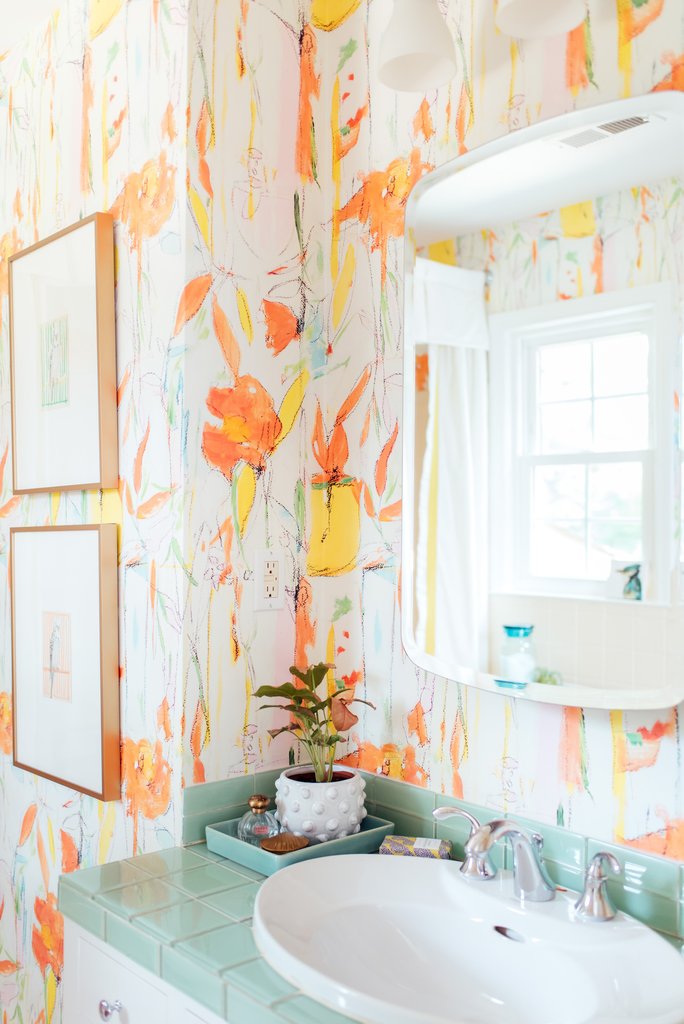 Wallpaper is definitely everything in this vibrant nursery.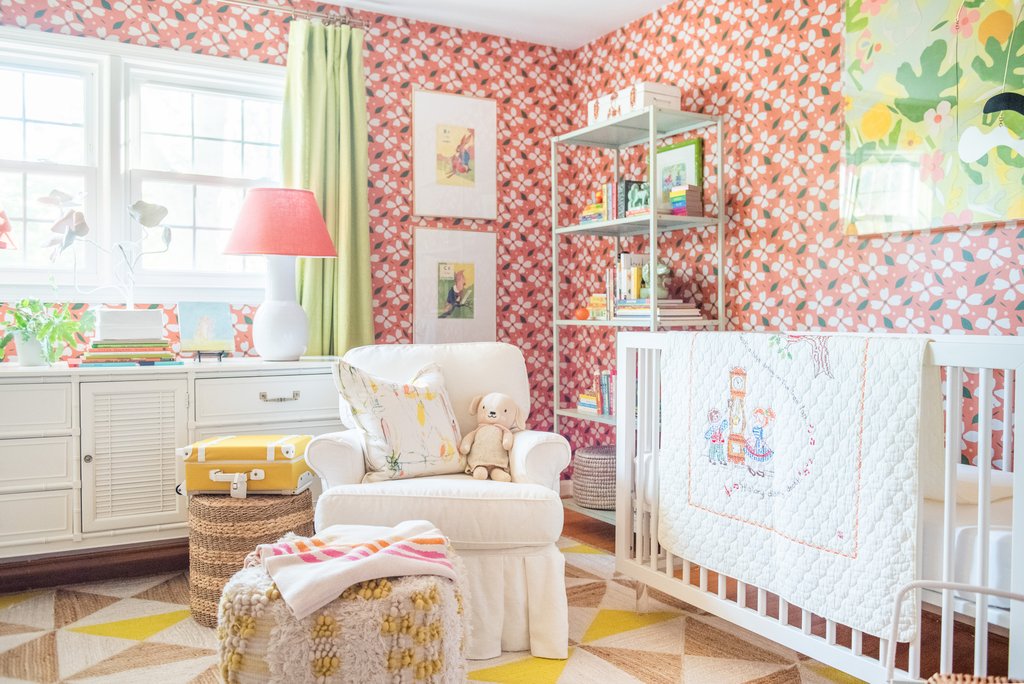 It's amazing what a bold wallpaper pattern can do to make you forget about the dated bathroom fixtures.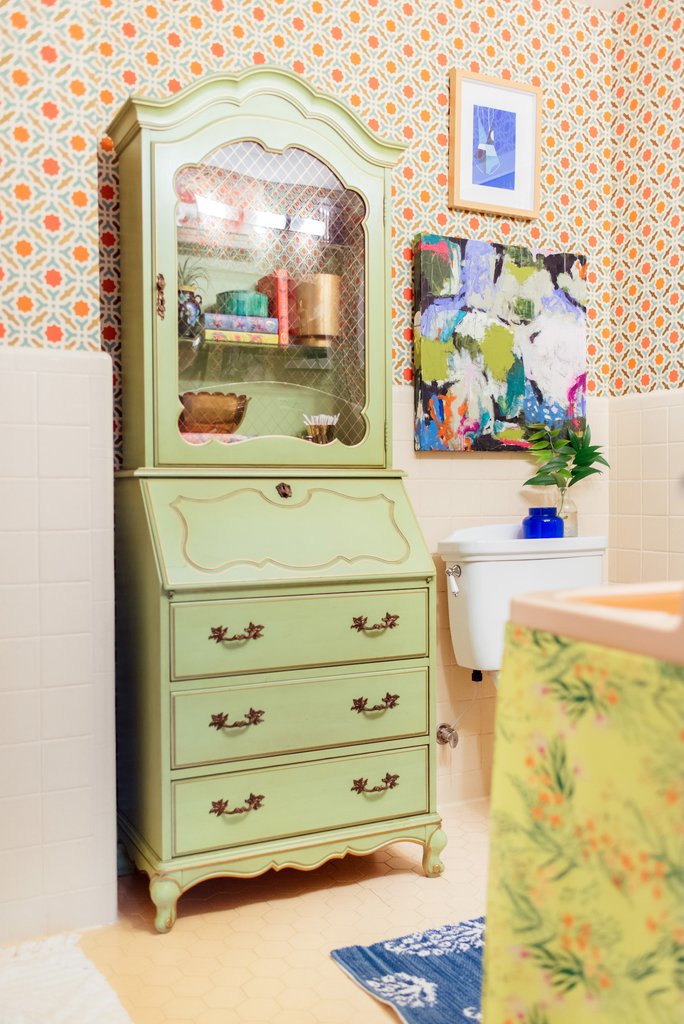 The downstairs space has gone from hangout den to home studio with furniture placement dividing the room into functional work spaces for her and her team.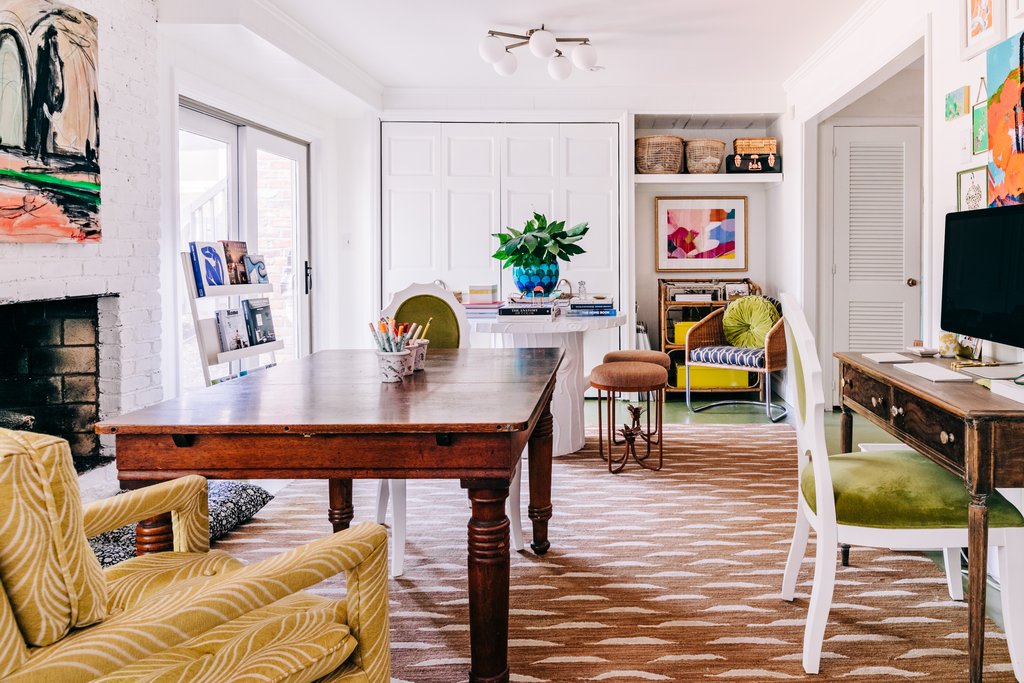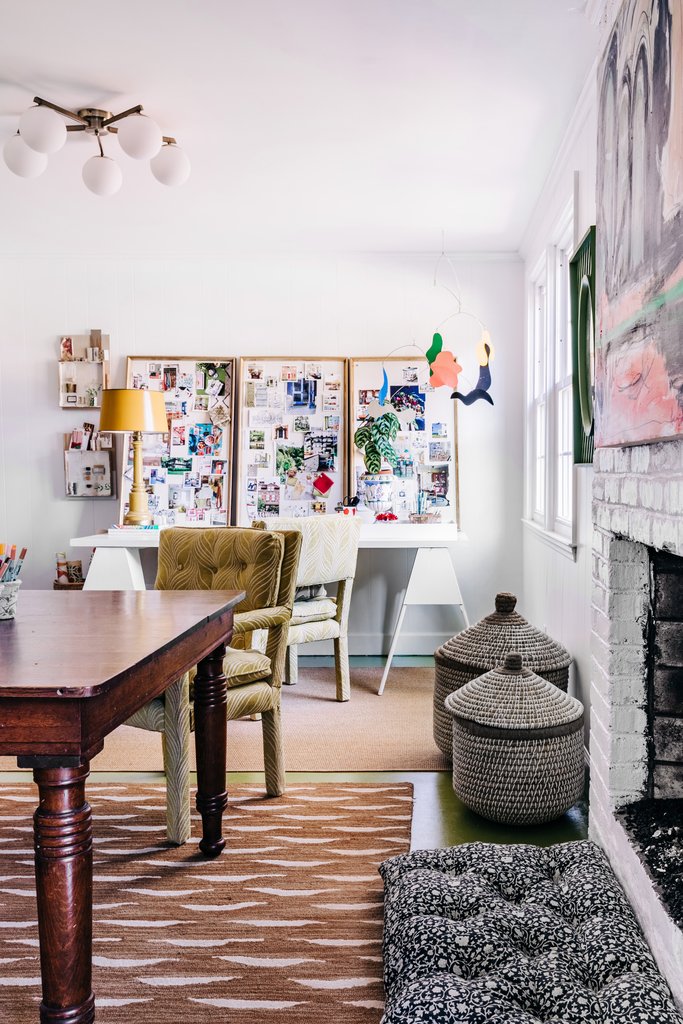 Since nobody wants to do laundry in the garage, Amanda was on a mission to convert a never-used sauna into the laundry room of her dreams. She asks, "Every laundry room needs art, right? I say yes!"
I love the mix of vintage and new artwork against the boldly patterned yellow wallpaper which Amanda thinks "energizes" the space.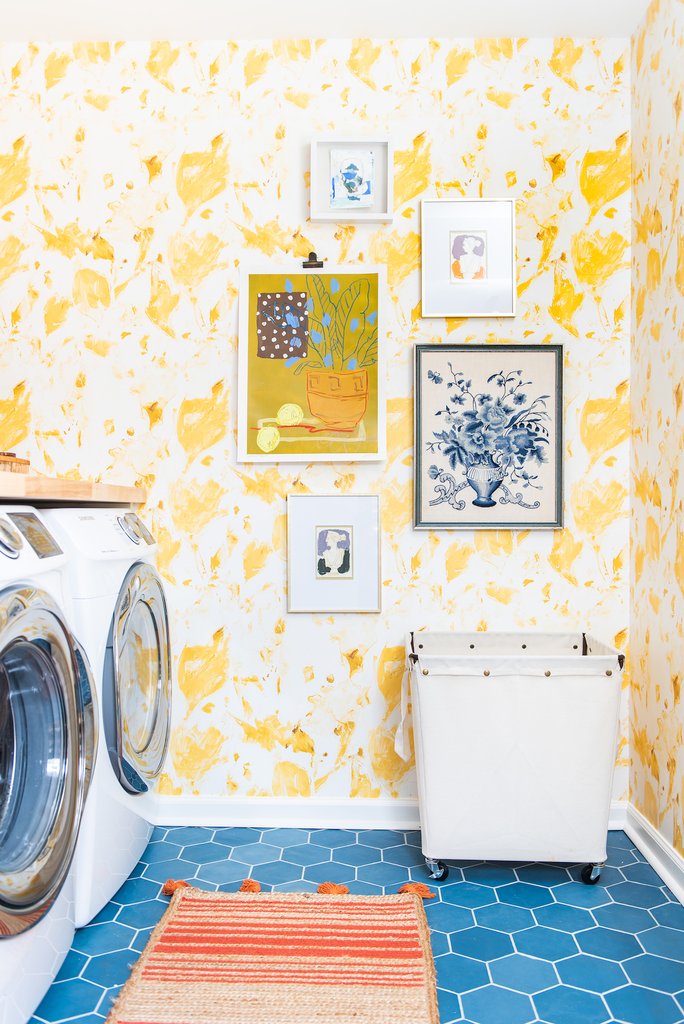 Adding a lamp to the laundry room is just one of the unexpected surprises that greet you in this house.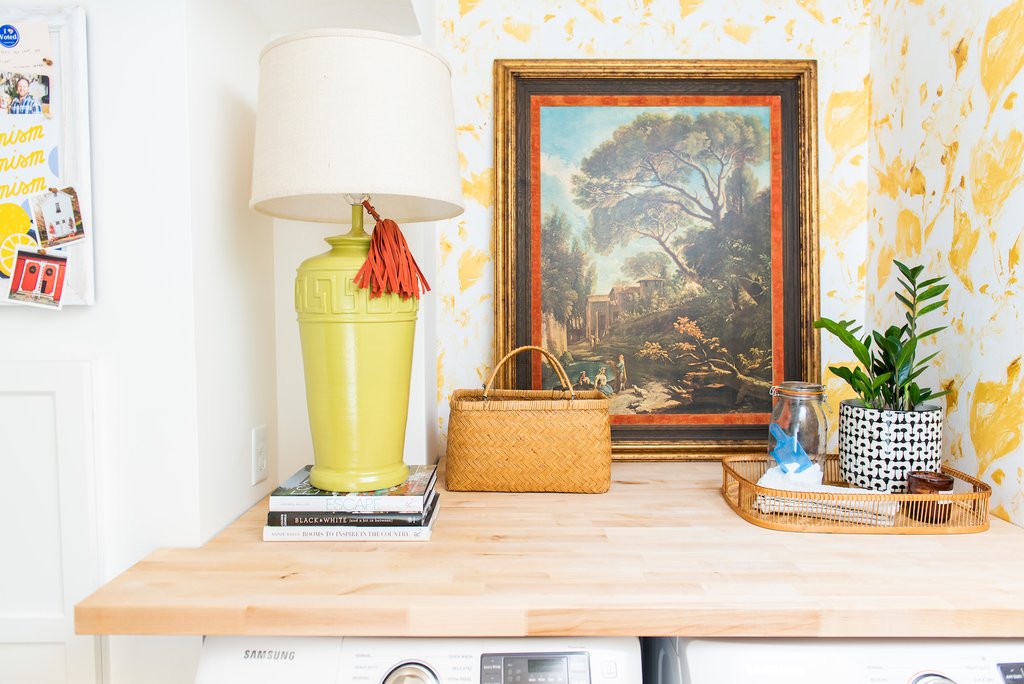 Wicker adds texture to the screened-in porch and a disco ball means it's always time for a party!
The use of lots of yellow and blue both inside and out helps tie the spaces together.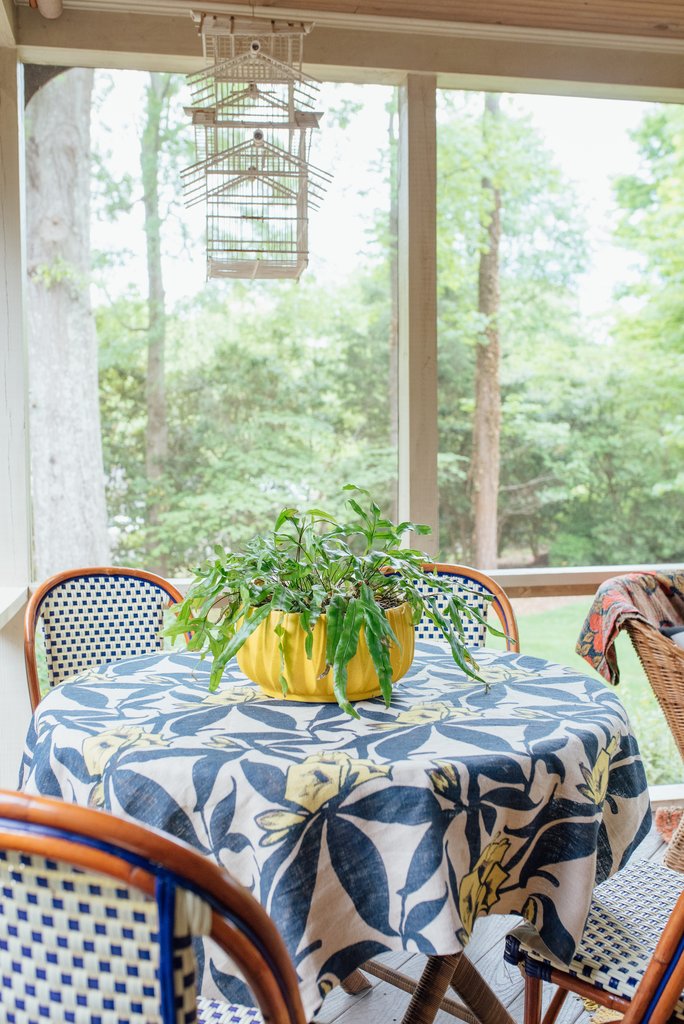 Think outside the bar cart and consider a vintage desk.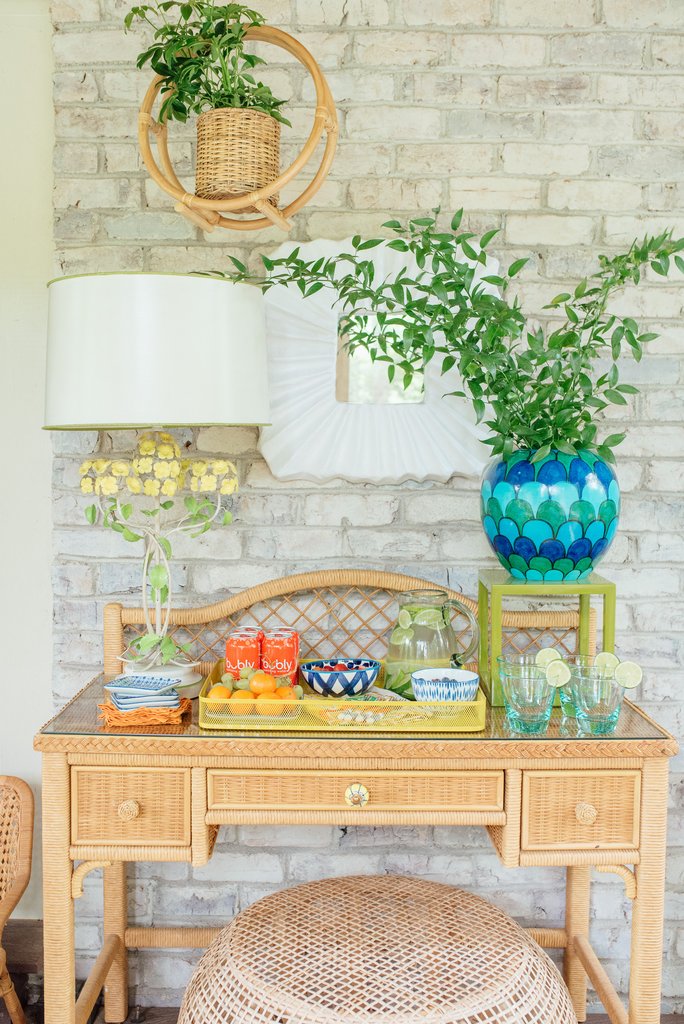 More importantly, the whole house gets two paws up from Maisy!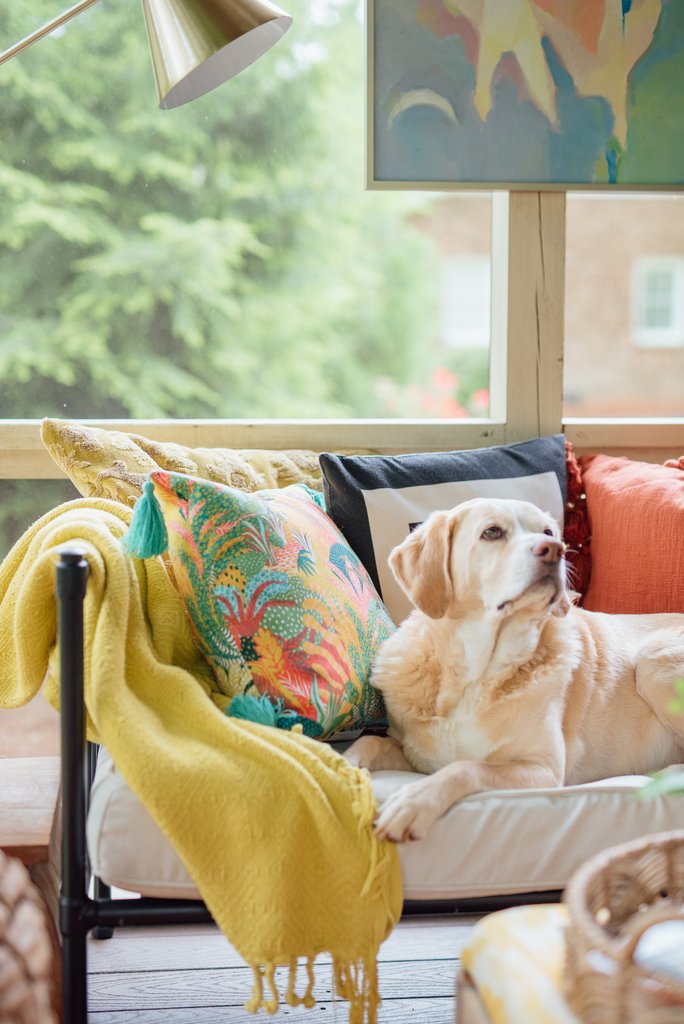 Don't miss more of Amanda's interior design work including this stunning kitchen renovation.