Eclectic Home Tour – At Home with Ashley
Somewhere over the rainbow, a 1905 cottage got a whimsical makeover. Today's Eclectic Home Tour of At Home with Ashley is a treat for the eyes and proves that the power of paint really can transform almost any surface (even a vintage stove and bathtub)! Let's do something fun today and see how many rainbows you can spot!
Interior designer Ashely says, "Decorating my house with bright colors and whimsical details was honestly a big part of me finding out who I am. It's my art and how I express myself!"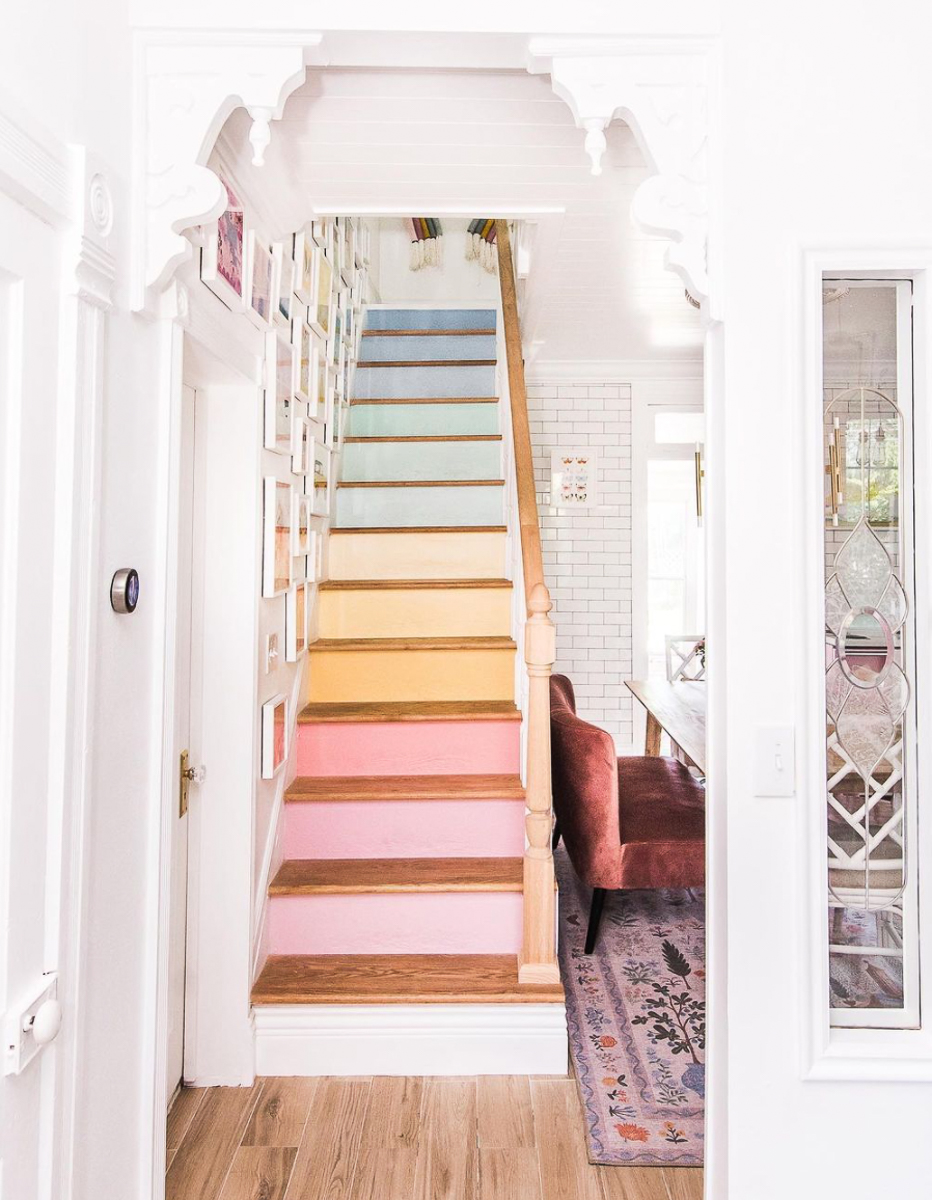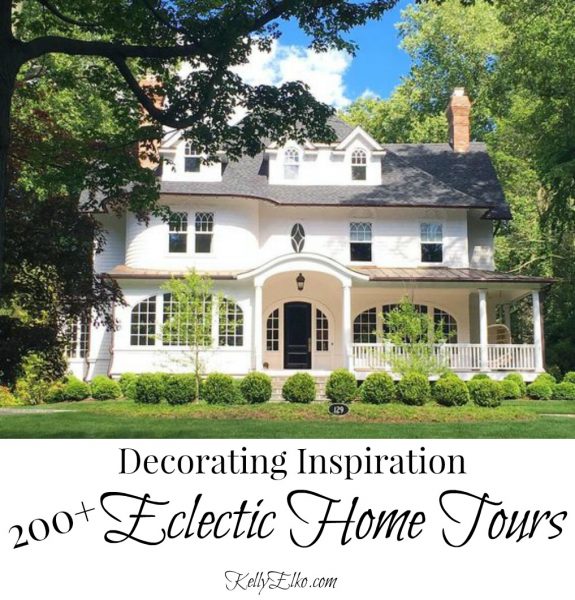 Pink shutters and front door give you a hint at what's inside of this charming 1905 house in Logan, Utah named "Fairview Cottage."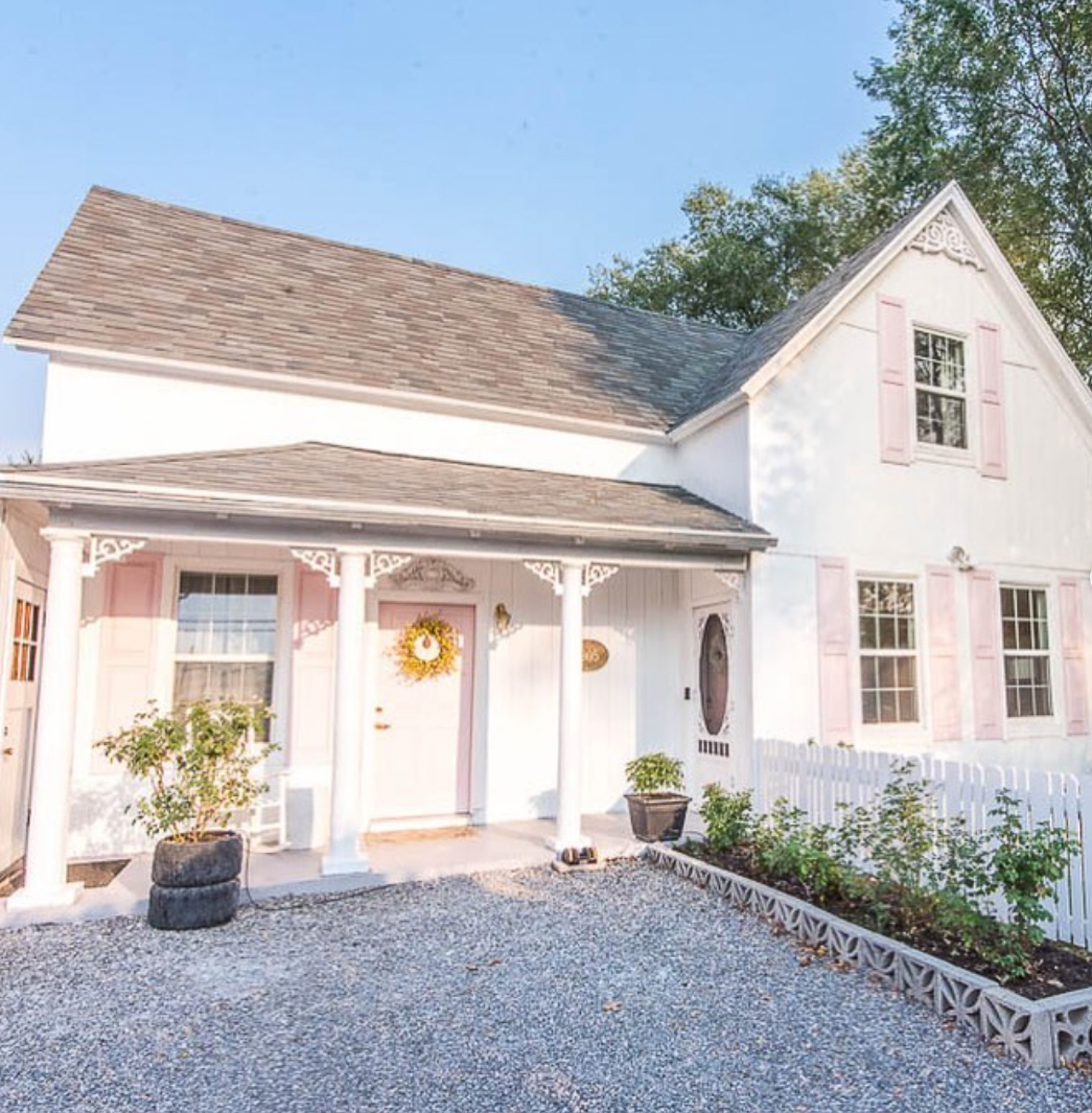 An old headboard turned bench gets in on the rainbow paint treatment.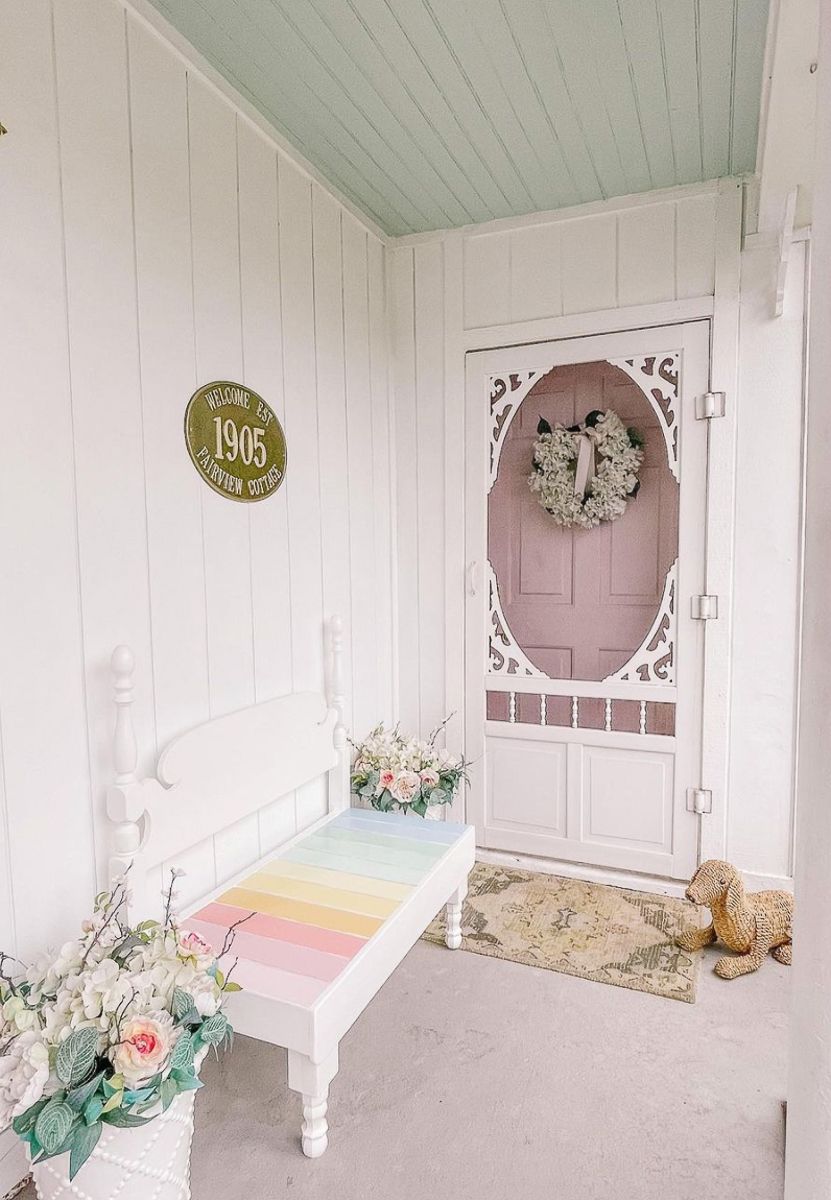 Ashley says she's, "super interested in how good design intersects with a happy life at home."
The kitchen, with mismatched chairs, whimsical wallpaper and a colorful rug, is a prime example of design and happiness meeting!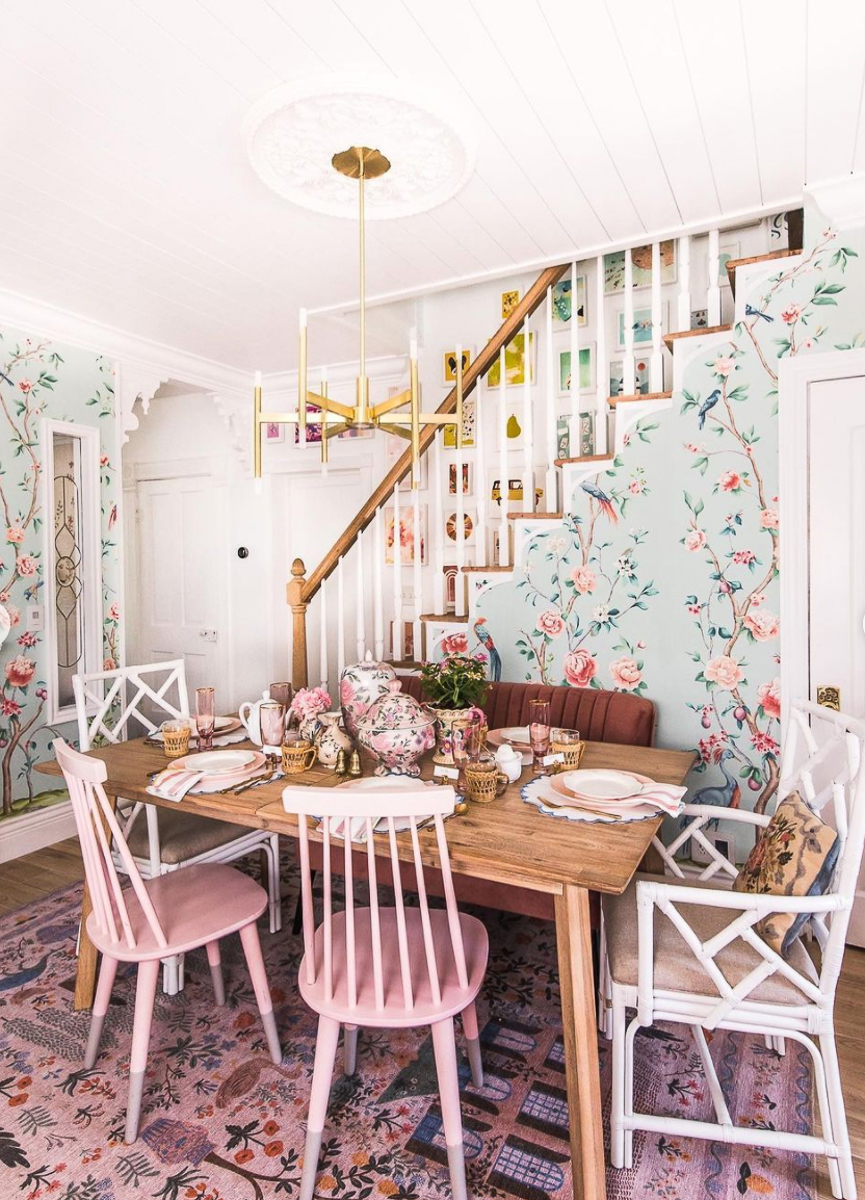 Ashely says, "On either side of the fireplace, we built in interior windows which was a way to bring light into a sometimes dark kitchen. It also adds character and interest. These windows were found at a salvage shop from an old storm door I bought for $100 and l love that we gave them new life in here!"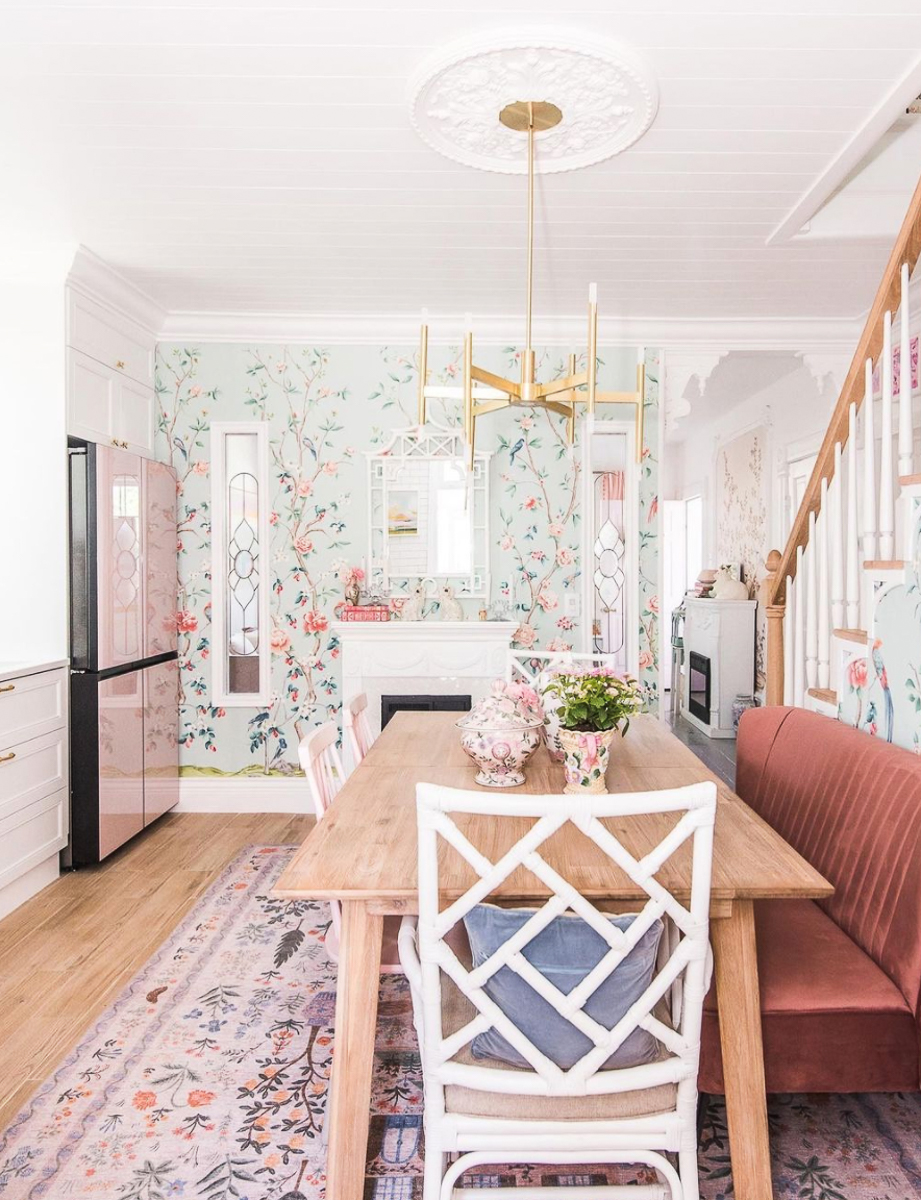 A built-in plate rack displays wedding china.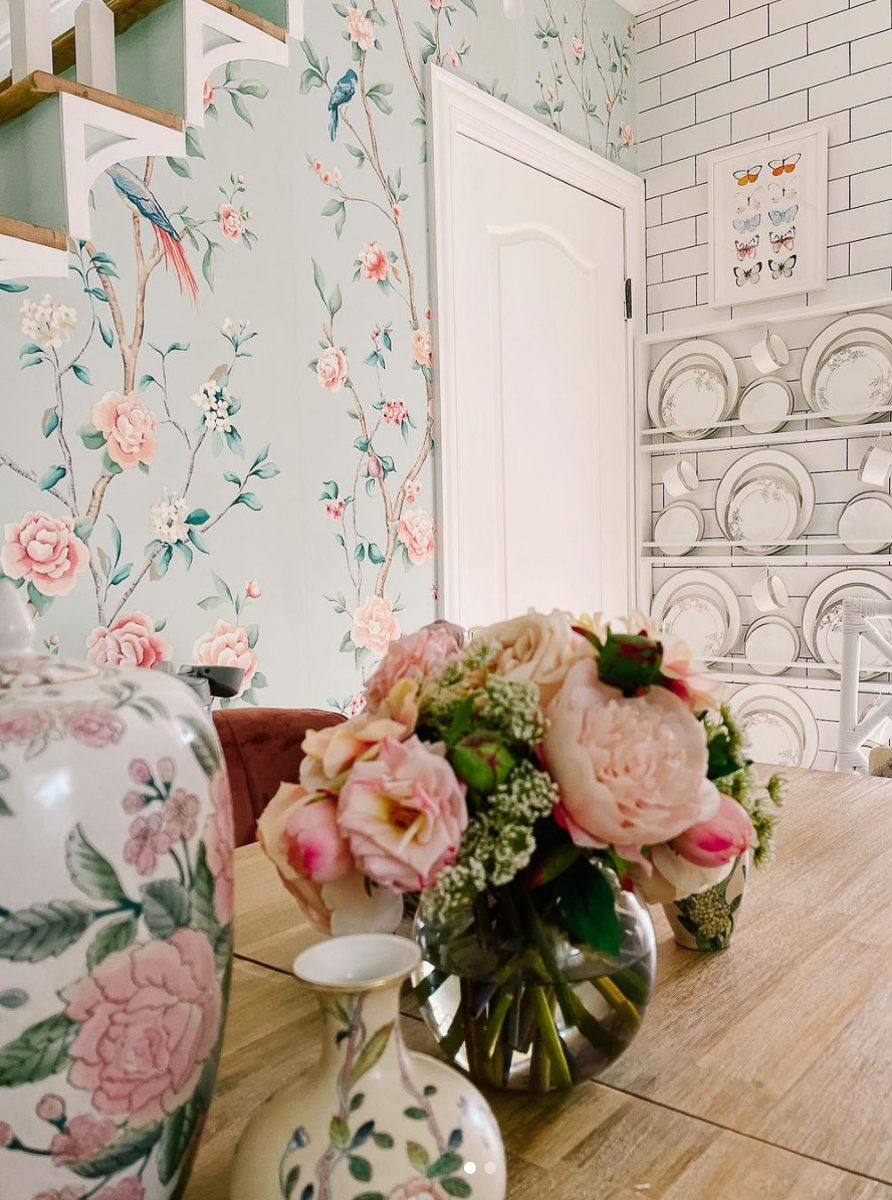 A little shelf was added between the tile and cabinets with this custom designed rainbow striped wallpaper from Spoonflower to match the stairs!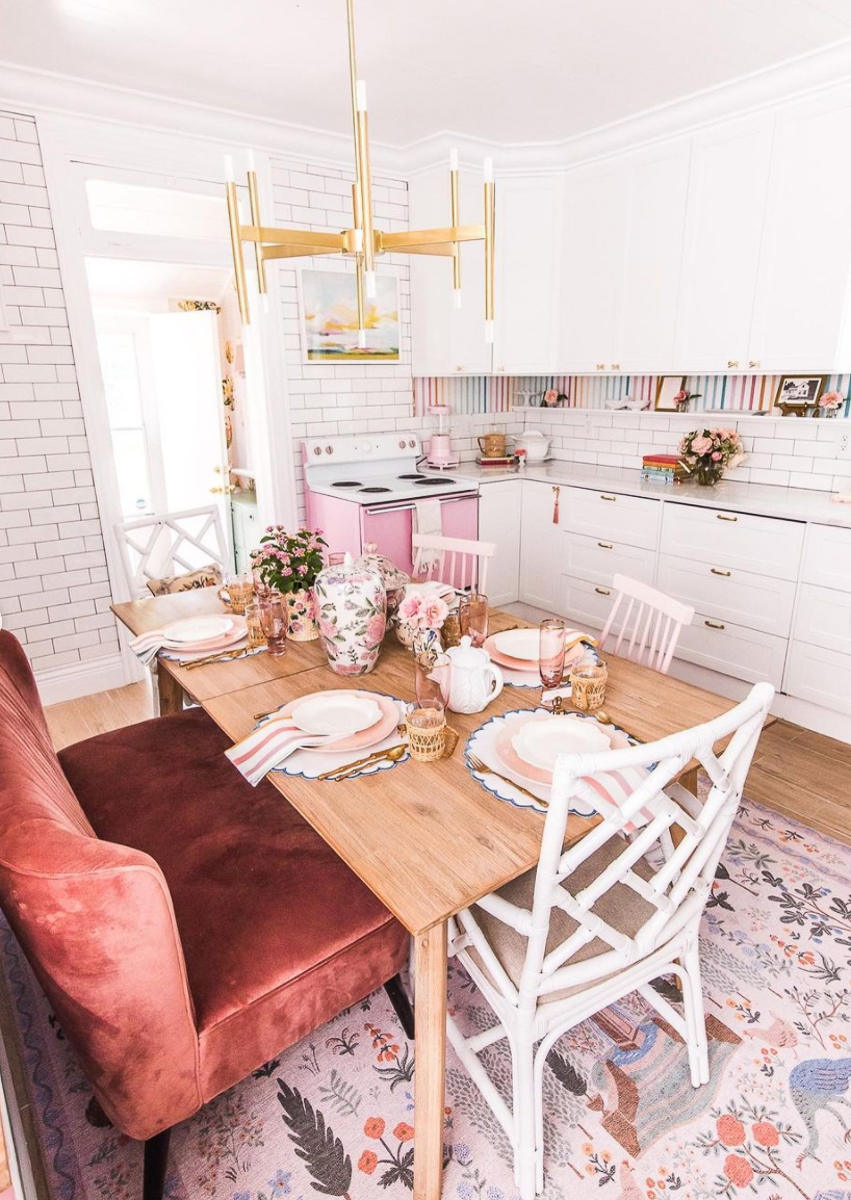 The oven that came with the house when we bought it works great, but was ugly. Instead of buying a new one, I wrapped the door in car vinyl. Then I spray painted the top that used to be black. I know a brand new stove would be prettier, but sometimes it's ok to make do with what you have. I'm proud of how this came together!, Ashley explains.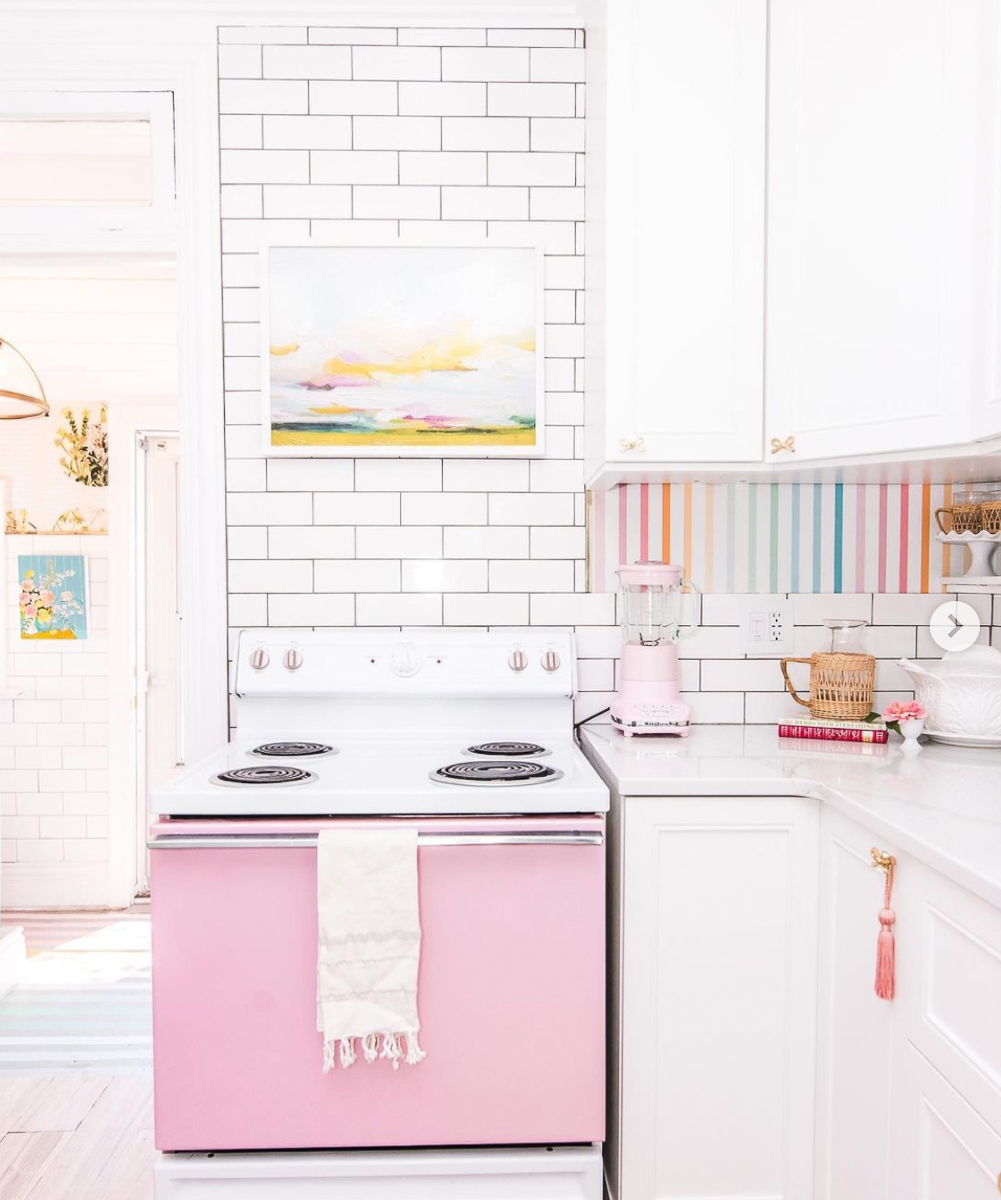 Before Ashley renovated her kitchen and added this pink Samsung refrigerator, she painted her old fridge with … wait for it … rainbow stripes!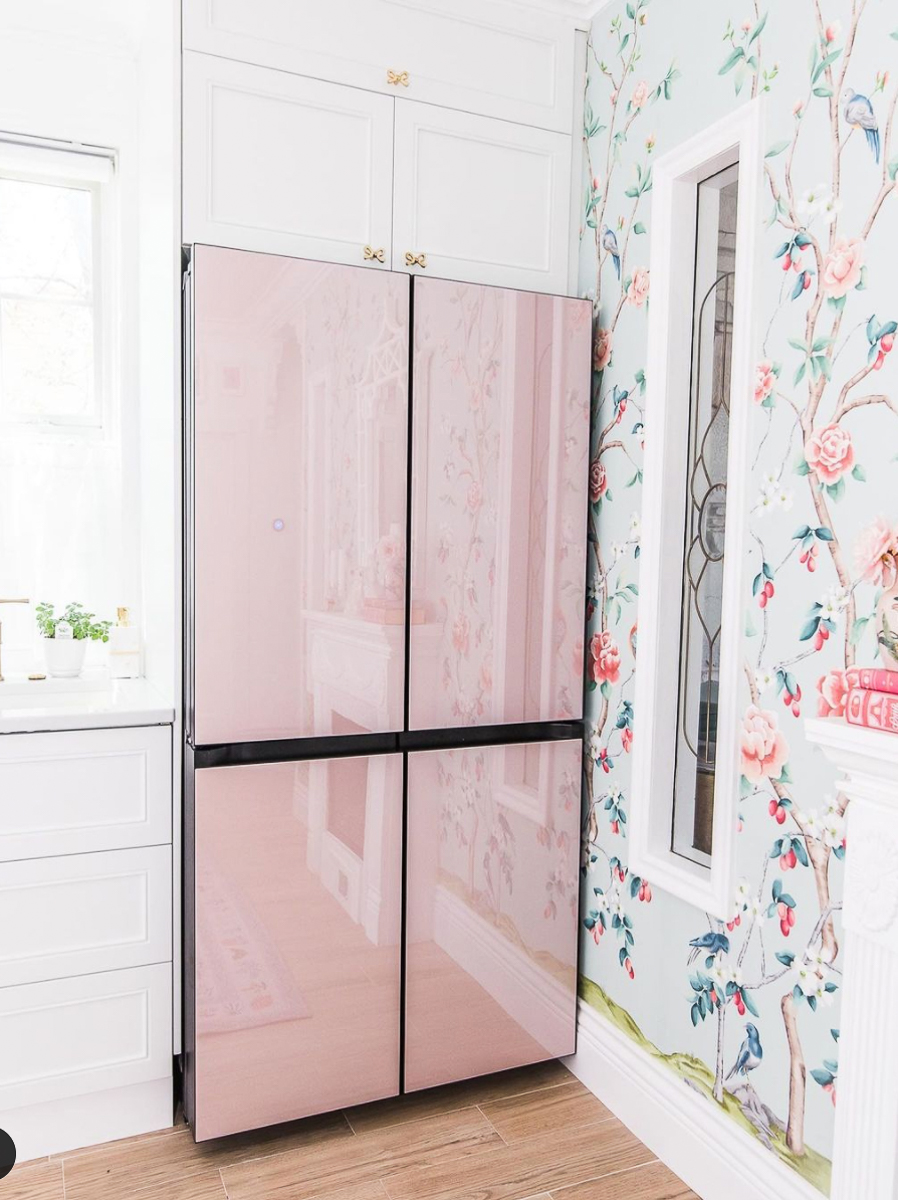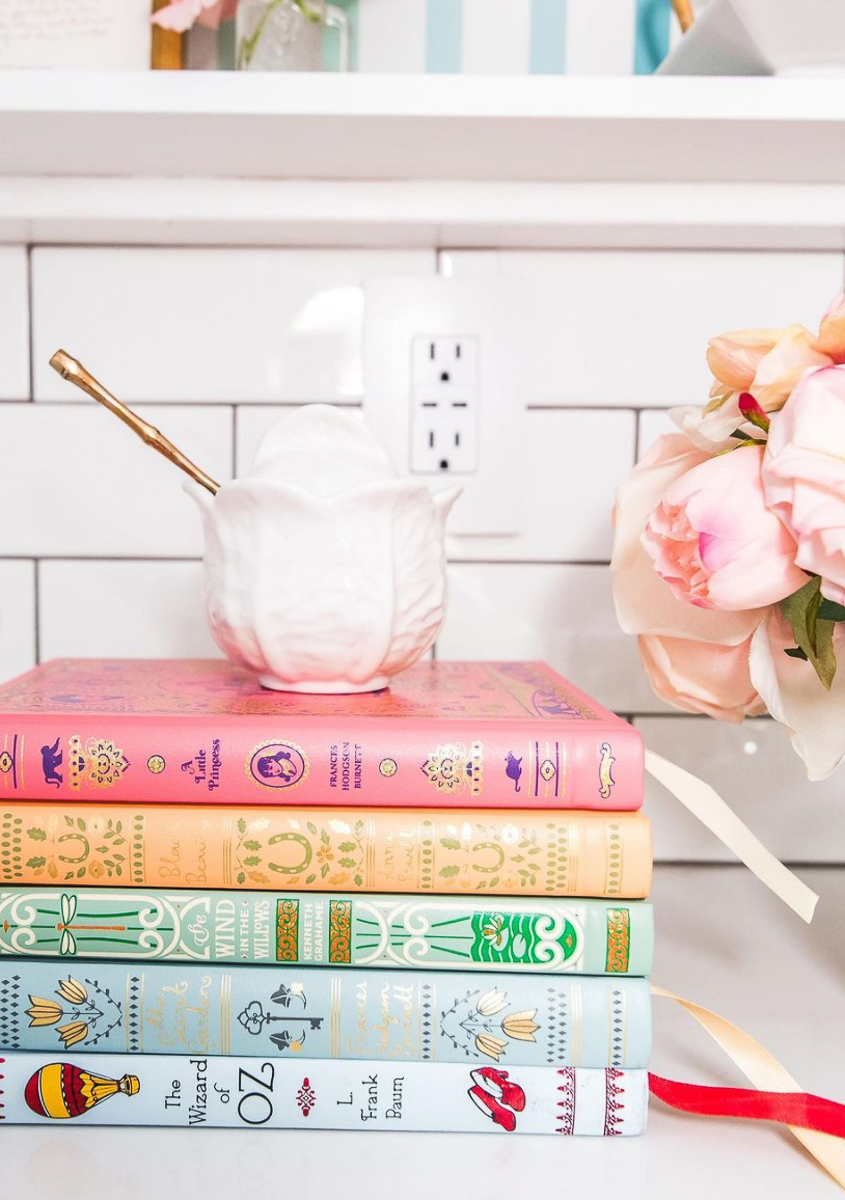 "One of my favorite ways to really make a room is to add something interesting on the ceiling. In my master bedroom and the playroom, that detail is shiplap and crown molding," says Ashley.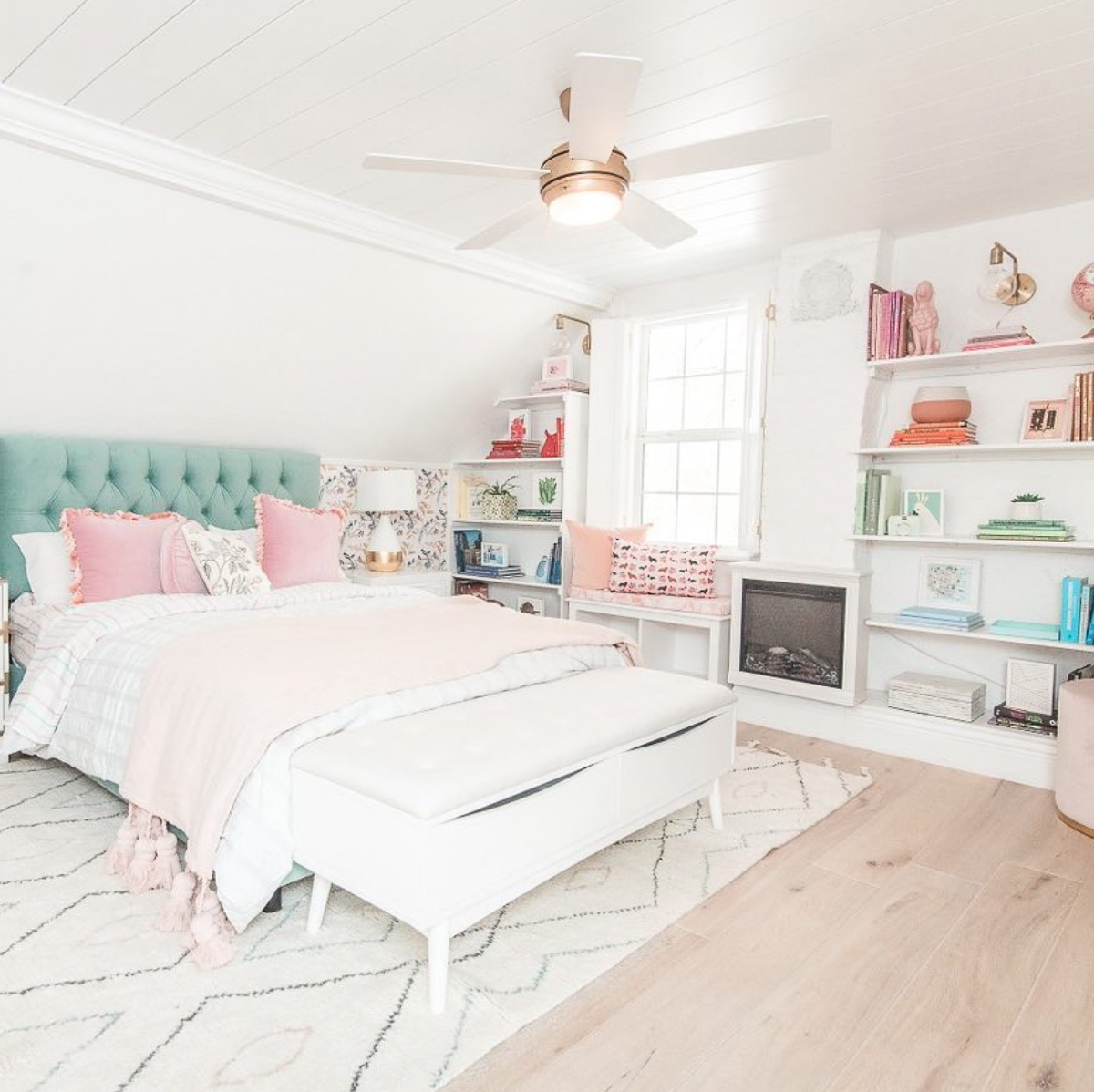 The built-in shelves in the main bedroom are "collected and interesting," according to Ashley. "There's a little Florida orange my son and I thrifted when we were just dreaming of buying our FL home and a blue mini house my sister Kate found for me and it reminds me of her, and there's a rose from my favorite rose bush next to shoes I've started collecting."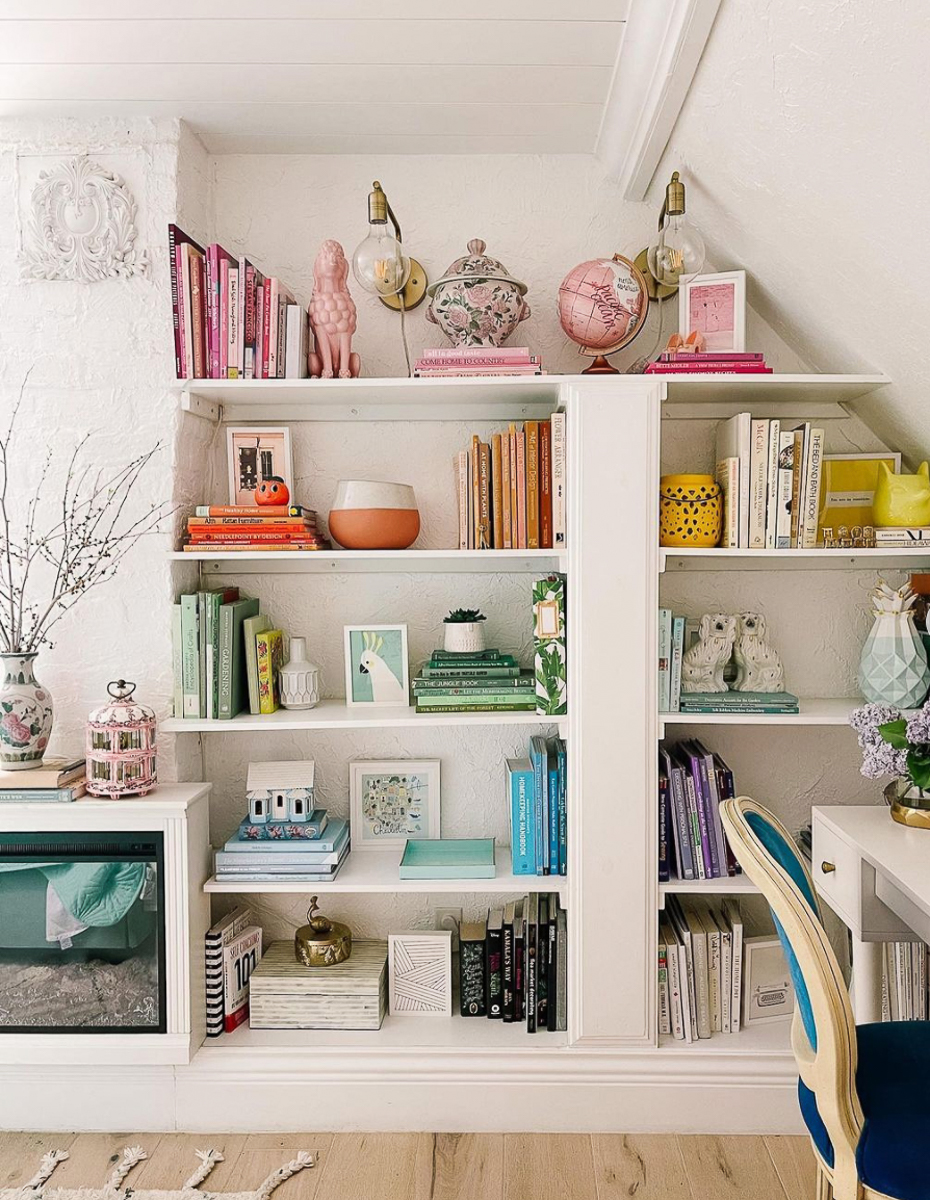 Wallpaper on the lower part of the bedroom walls only keeps it from overwhelming the space.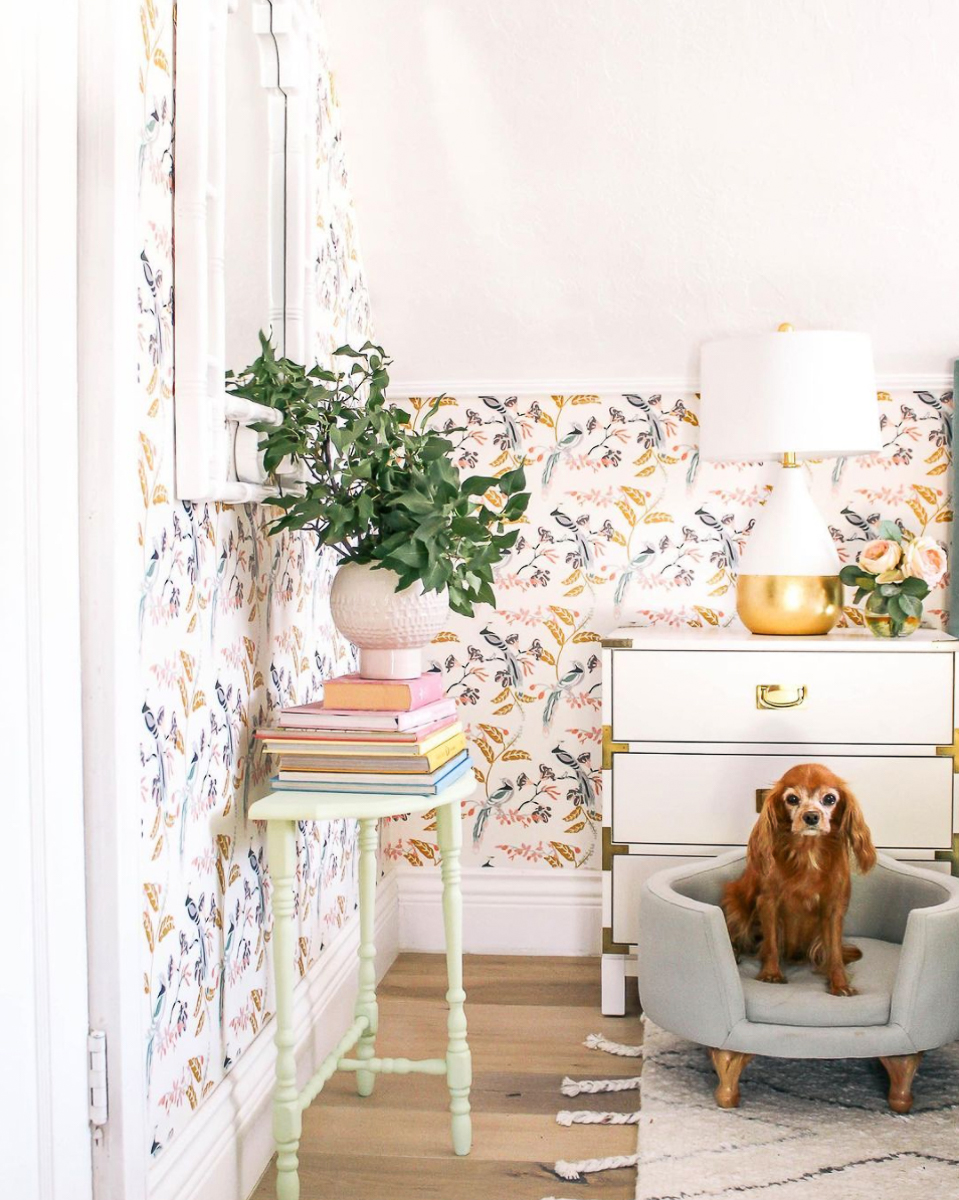 The perfect collection for a self-proclaimed shoe lover is displayed on the bedroom wall!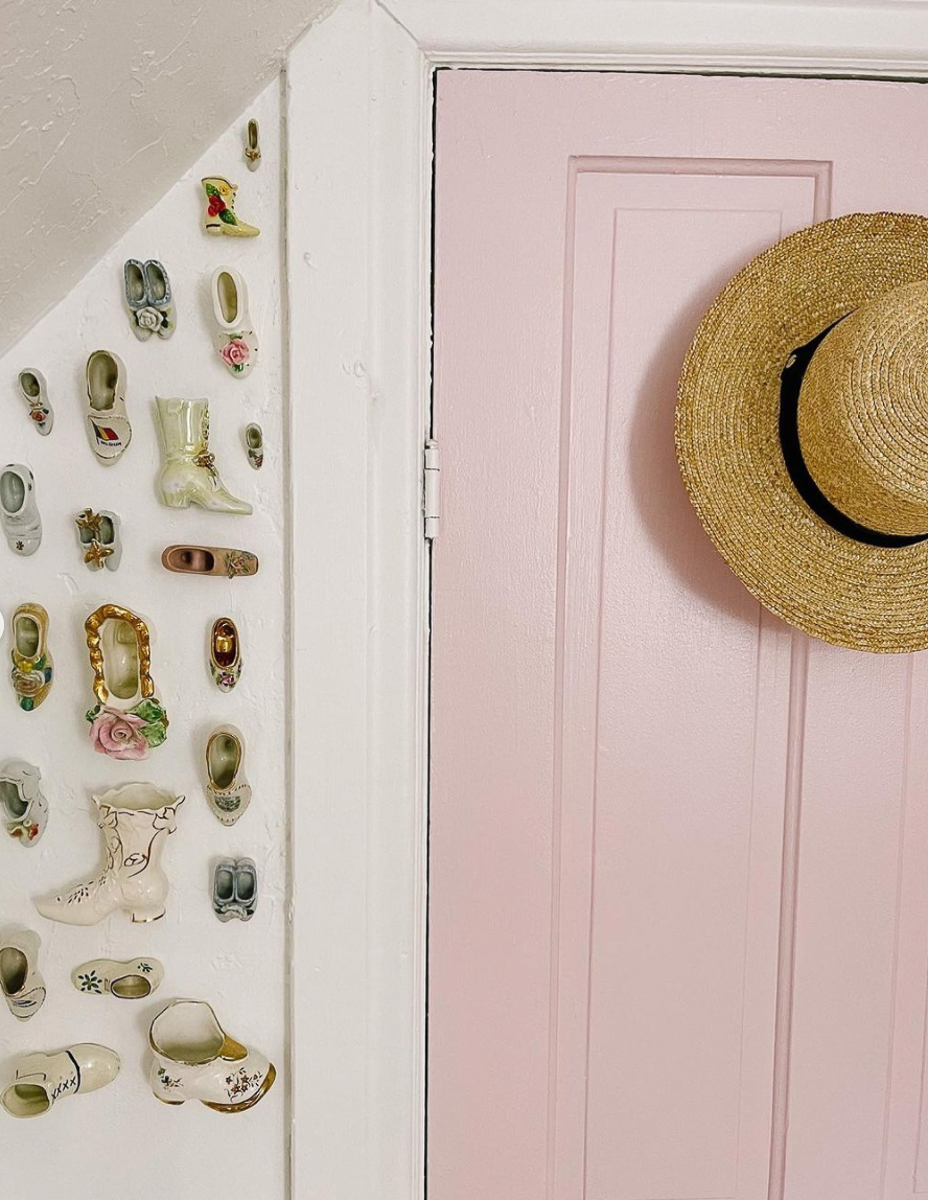 The antique clawfoot tub adds personality to a white bathroom and a matching gallery wall of rainbow prints continues the theme.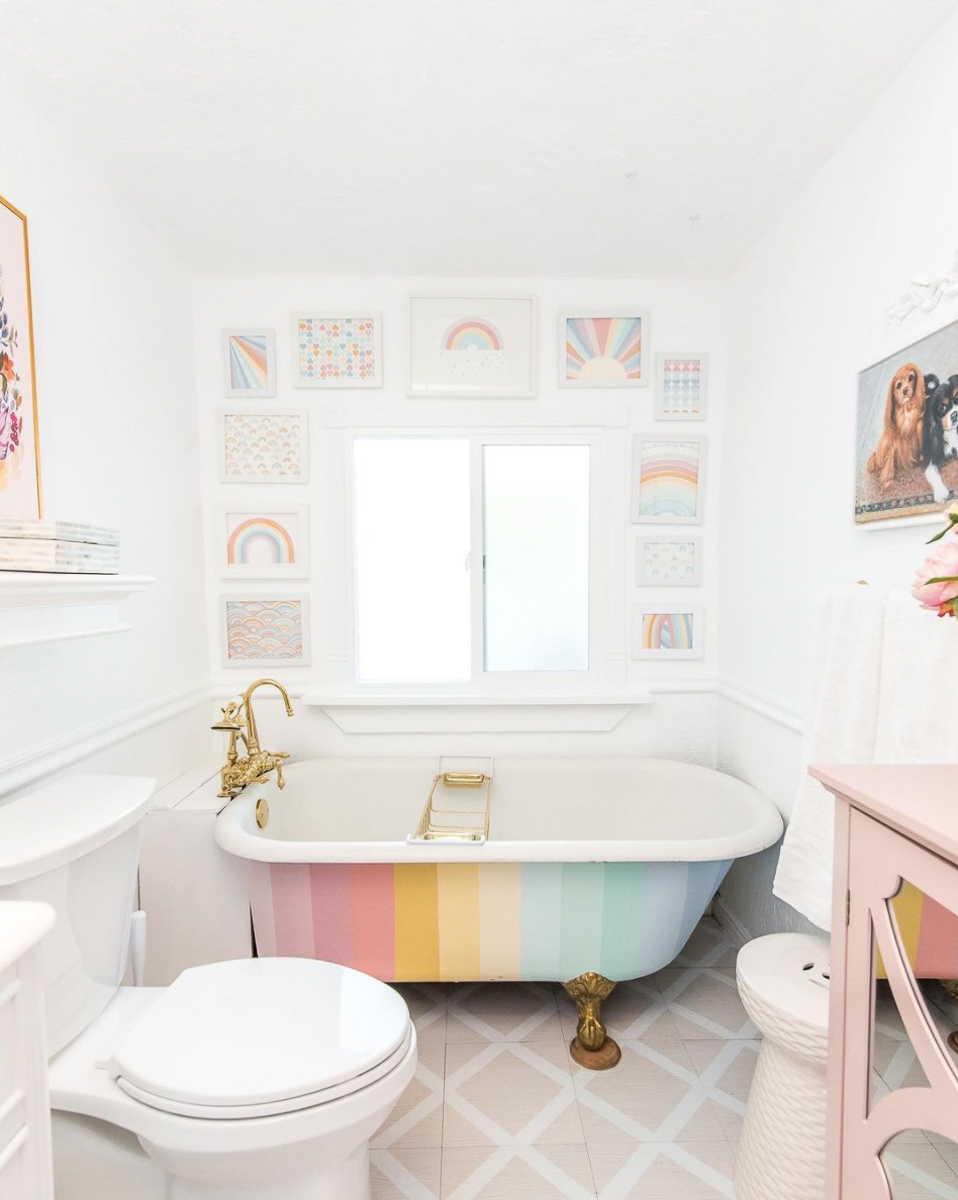 Tile creates the rainbow in this unique bathroom with a framed quote from Kermit the Frog's Rainbow Connection, one of Ashley's favorite songs (as you've probably already guessed)!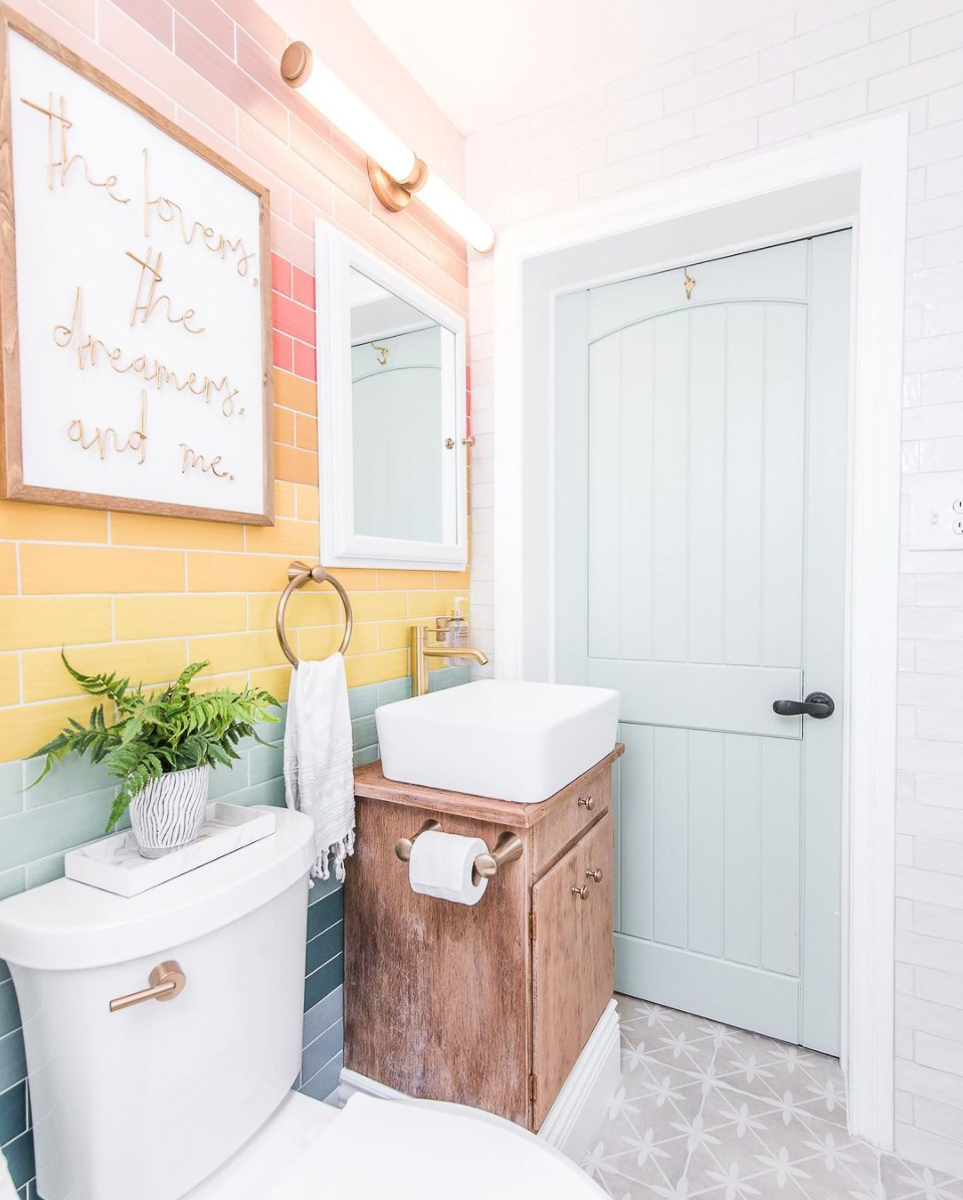 The focal point of the playroom is this fun tiger wallpaper.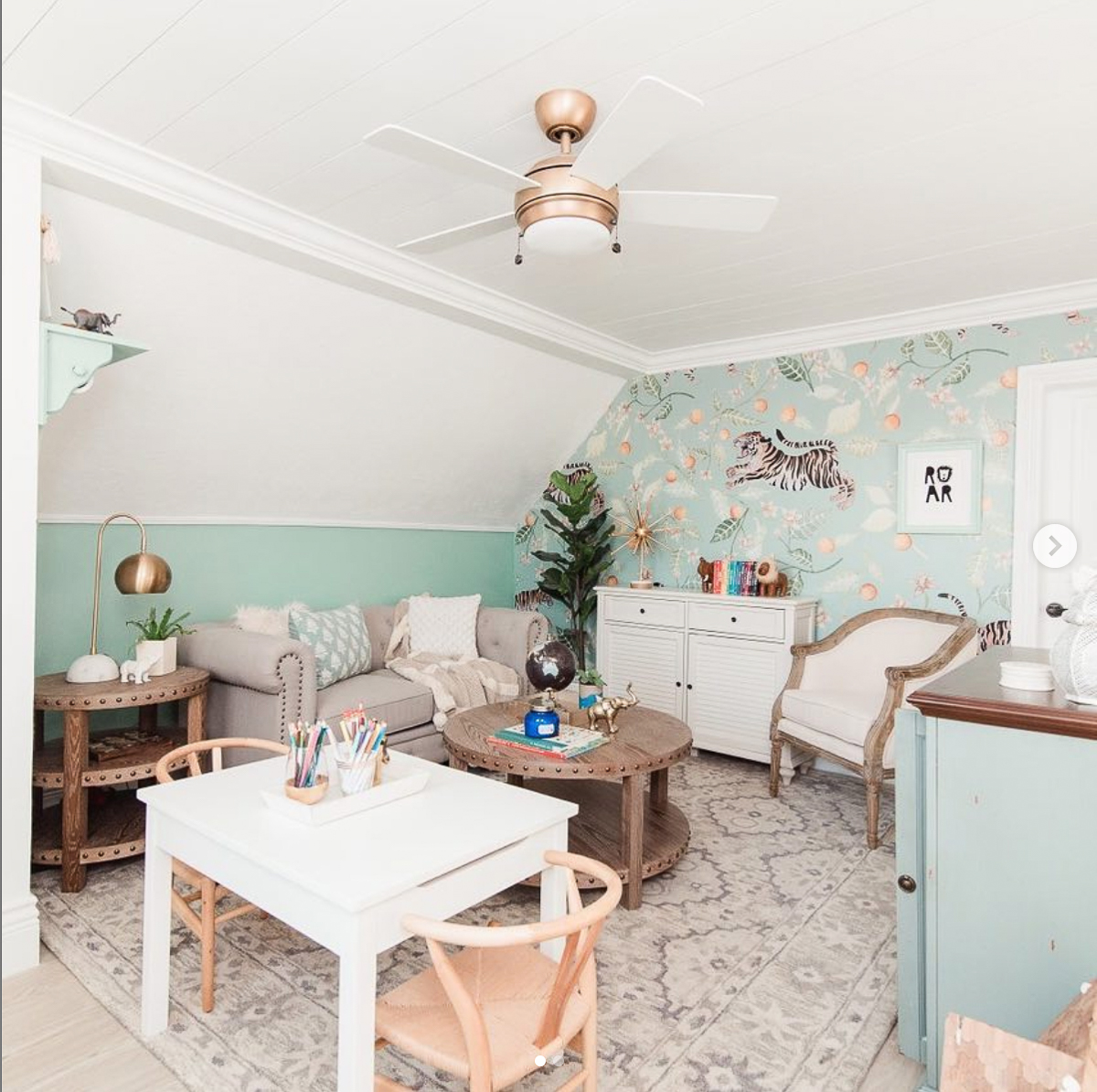 Notice how Ashley uses classic white subway tile in the laundry room and kitchen then goes wild with wallpaper that is easy to change when the mood strikes.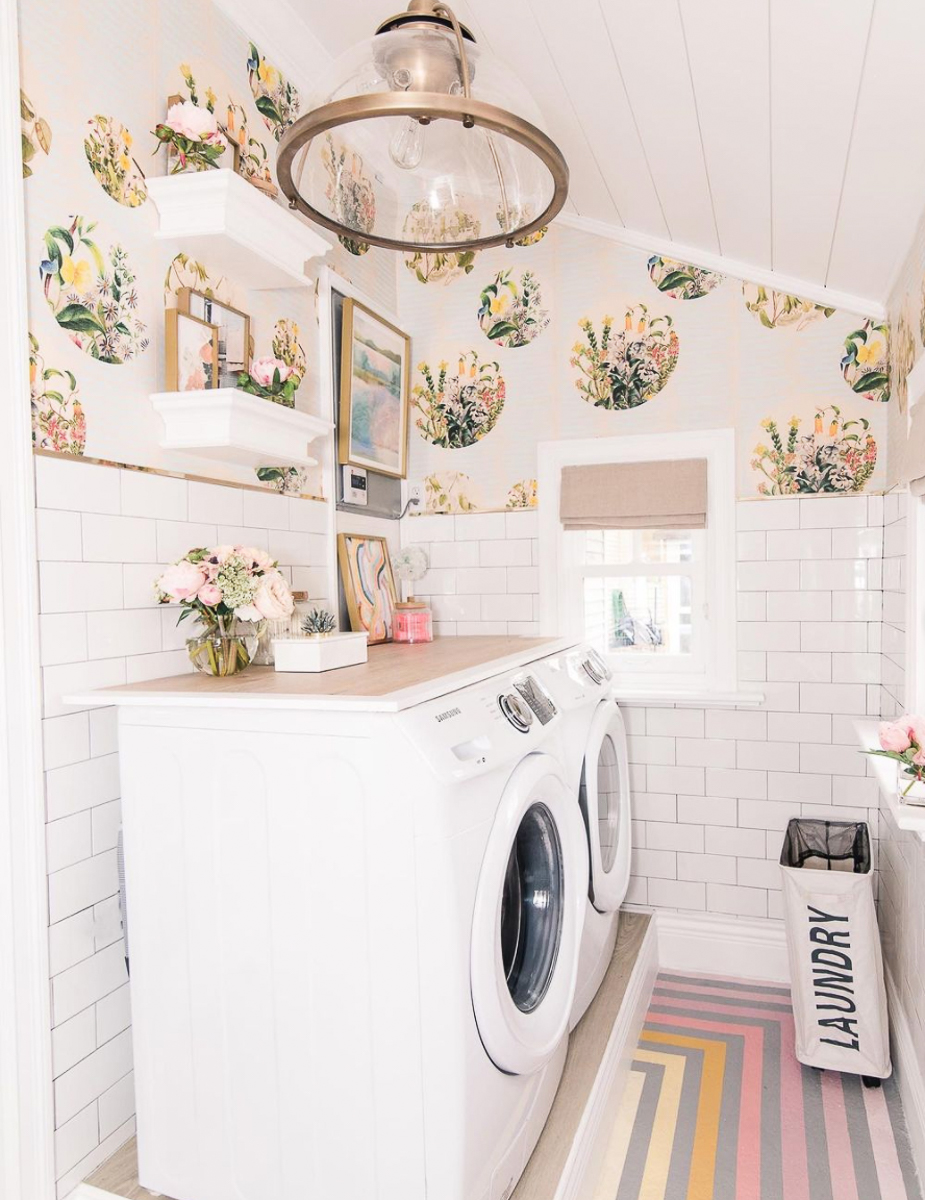 The 100 year old shed got a glam squad makeover.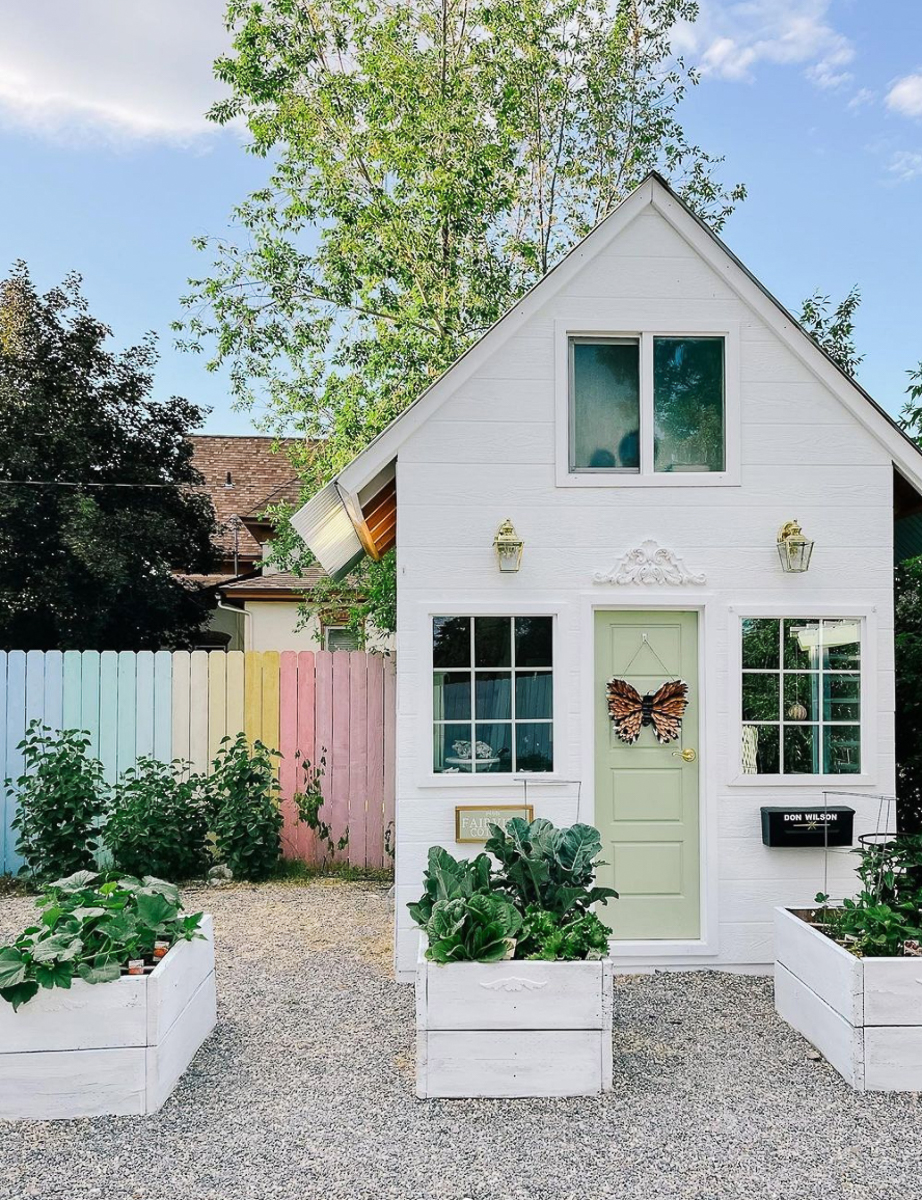 Now it's an adorable pink she shed.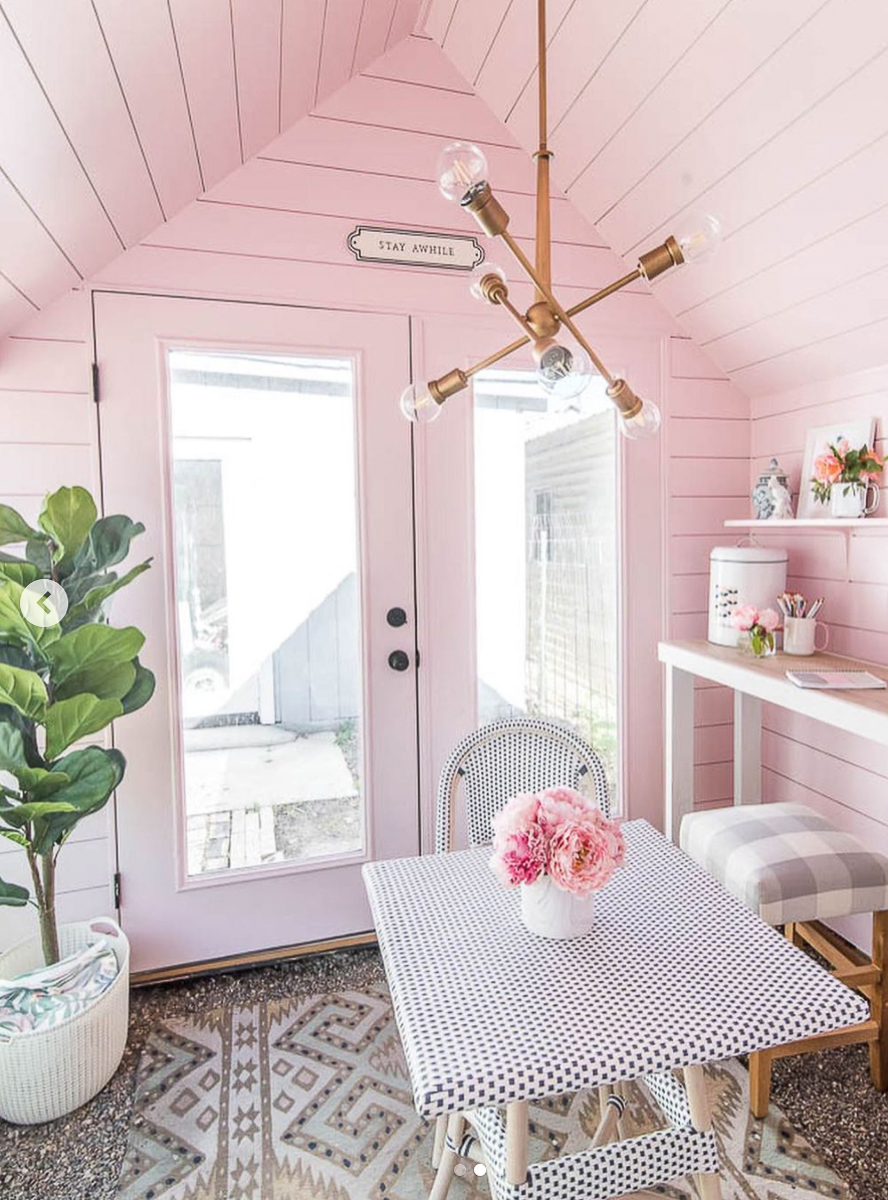 "I've been a collector since I was a kid. Then it was stickers or quarters from every state. Having a bunch of stuff that I slowly find that all relates- it just does it for me. And now that I'm really into thrifting, one of the joys is seeing if I can find something to add to my collection of state plates! It's thrilling!", says Ashley.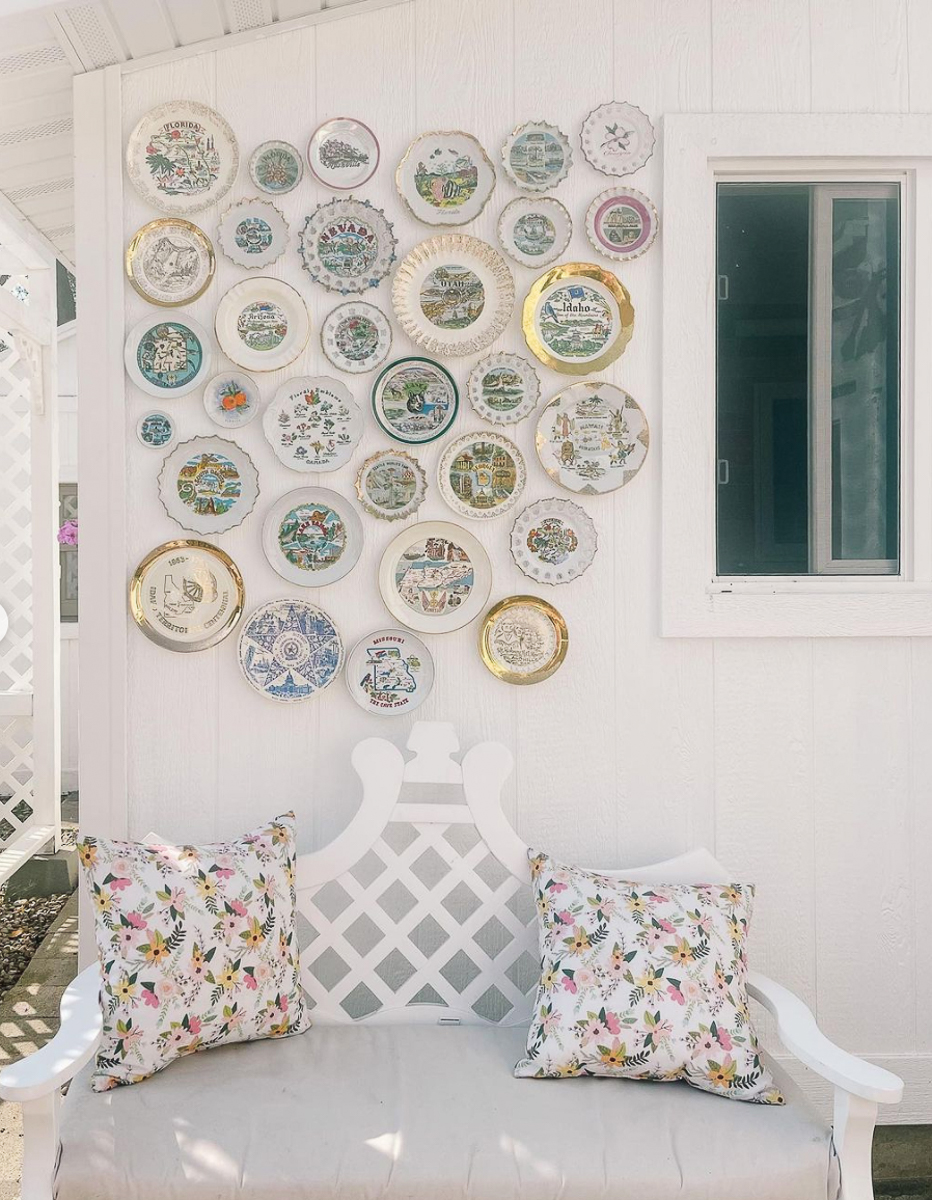 Ashley dyed drop cloths to create some much needed shade for the pergola which is "exactly where you need to be," according to the feel good sign painted onto the fence.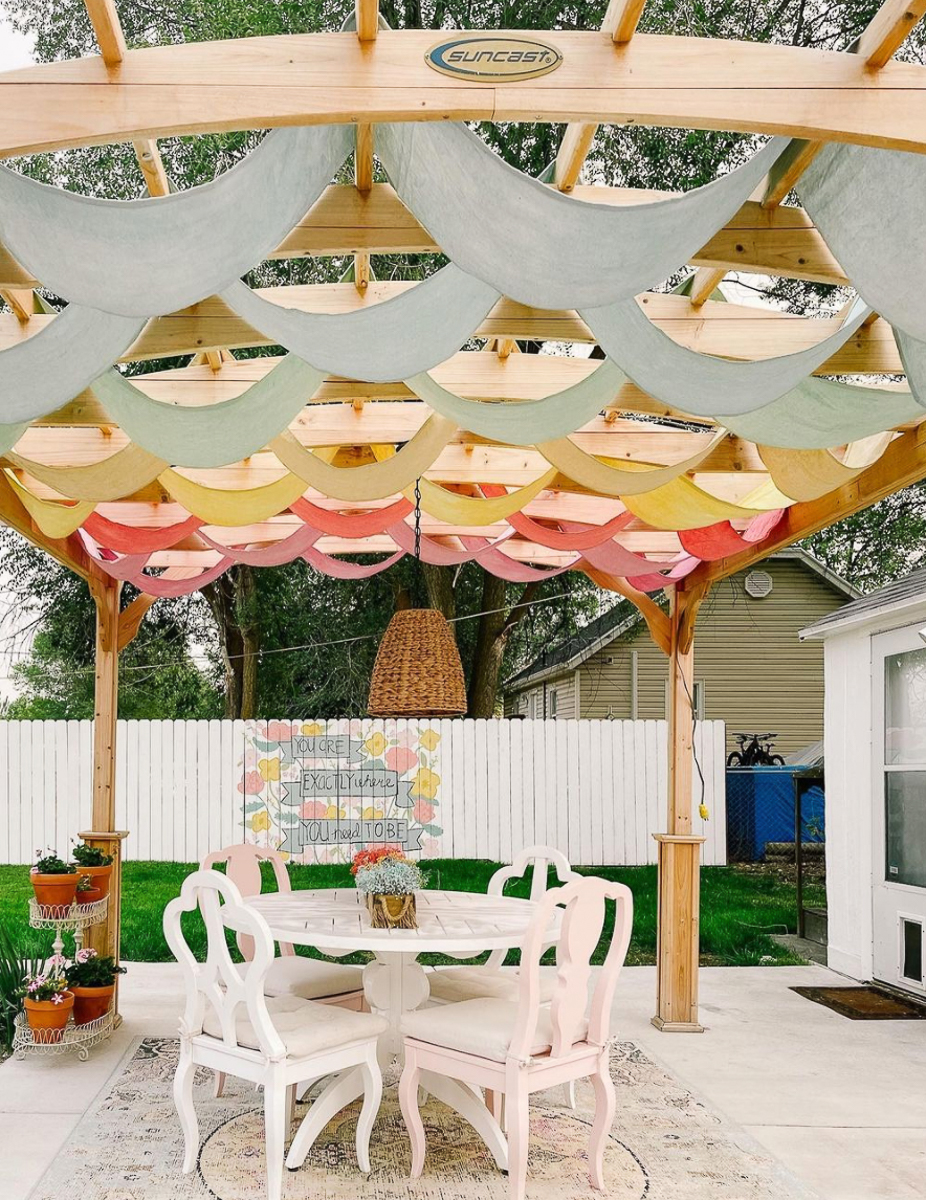 Even the stock tank pool got a paint makeover.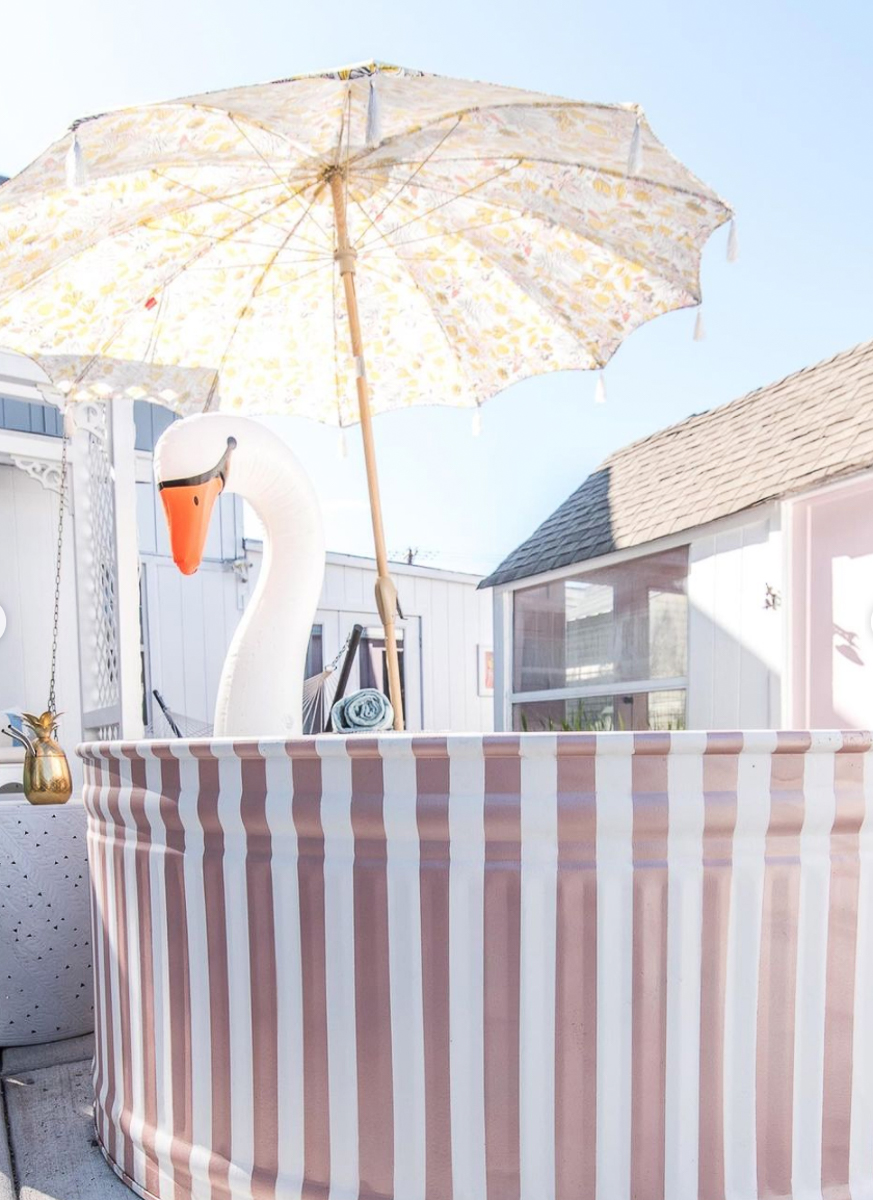 Avid reader Ashley built this free little library to share with the neighborhood. Get her free little library plans here.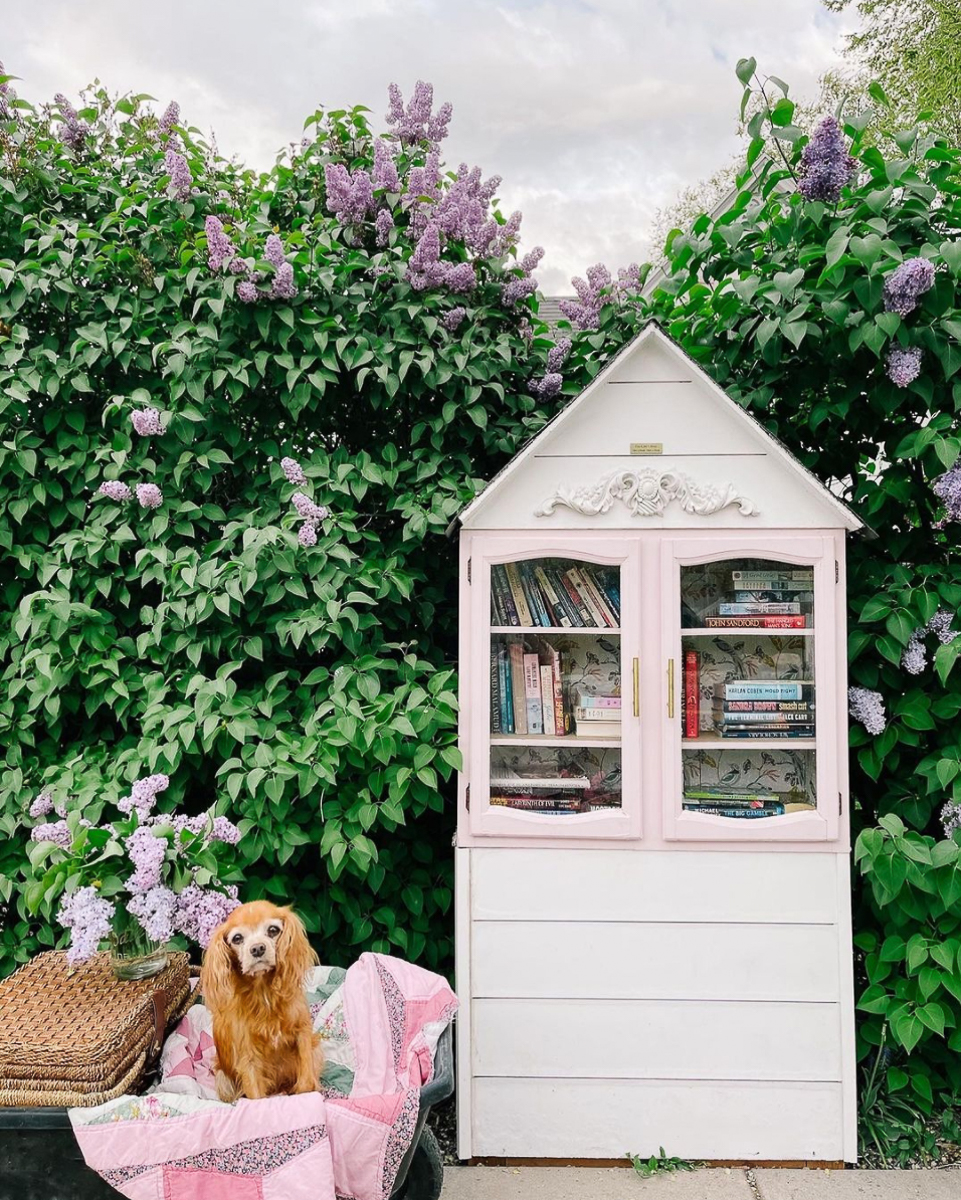 In the words of Kermit, someday we'll find it, the rainbow connection, the lovers, the dreams and me.