Vintage Paint by Numbers Displays
Paint by number kits have been around since the early 1950's with a slogan printed on each box top proclaiming, "Every man a Rembrandt!" They are easy to collect, affordable (although prices have been rising) and there are so many creative ways to display them. I'm sharing some of my favorite paint by numbers gallery walls and more creative display and hanging ideas. A brief history of this fun past time that is making a big come back plus my favorite places to score these paintings is also included so read on!
I only own two PBNs and found this one last year at an estate sale. On the back it reads: "Grandmom painted 1985". I love the small size and vibrant fall colors.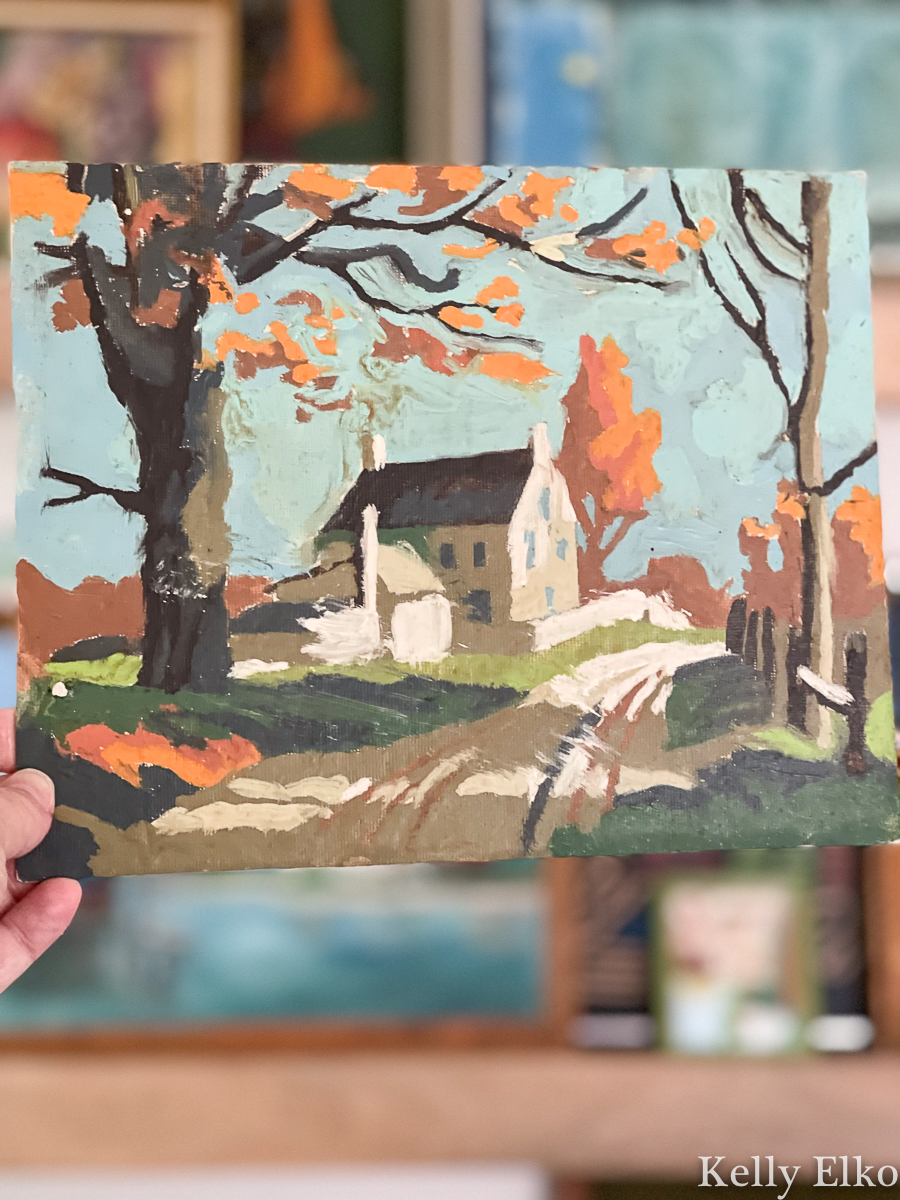 A Brief History of Paint by Numbers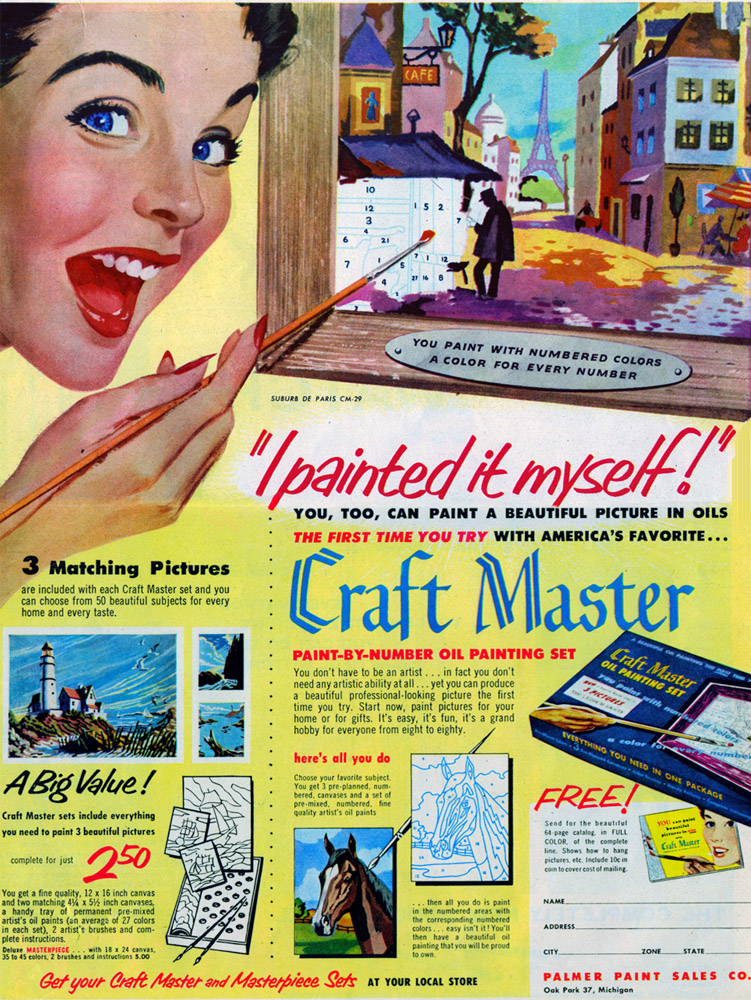 Every Man a Rembrandt
In 1949, artist Dan Robbins was hired by Max Klein, President of the Palmer Paint Company in Detroit, to create products. Robbins was inspired by Leonardo da Vinci, who would hand out numbered patterns to his apprentices to follow and wondered if he could translate this technique to teach the masses. "Why not do the same for anyone who wants to paint but does not have the talent to draw or mix colors?" he said. "All I have to do is create a numbered outline and provide the corresponding numbered colors."
Propelled by postwar prosperity, increased leisure time, and homes that needed to be decorated, paint by number became a popular pastime in the early 1950s with 12 million kits sold during the first three years!
Paint by Number Displays
Paint by numbers have had a rebirth and their popularity is on the rise as can be seen from some of my favorite modern day collectors…
Jerry says, "Daydreaming of good times, good places, good people, good things. Somehow the made up places in our collection of vintage paint by numbers helps get me there."
See how different in color, size and subject these vintage paint by numbers are, but how bunched together, they become one large statement piece?
Vintage Paint by Number Gallery Wall
When Hilary spotted two PBNs of horses, she was instantly hooked and her collection has been growing ever since! Hilary says, "They're mostly thrifted or were found at junk sales, but a few have been gifted from friends which makes them even more special!"
She prefers her paintings to be "naked" and always removes the frames!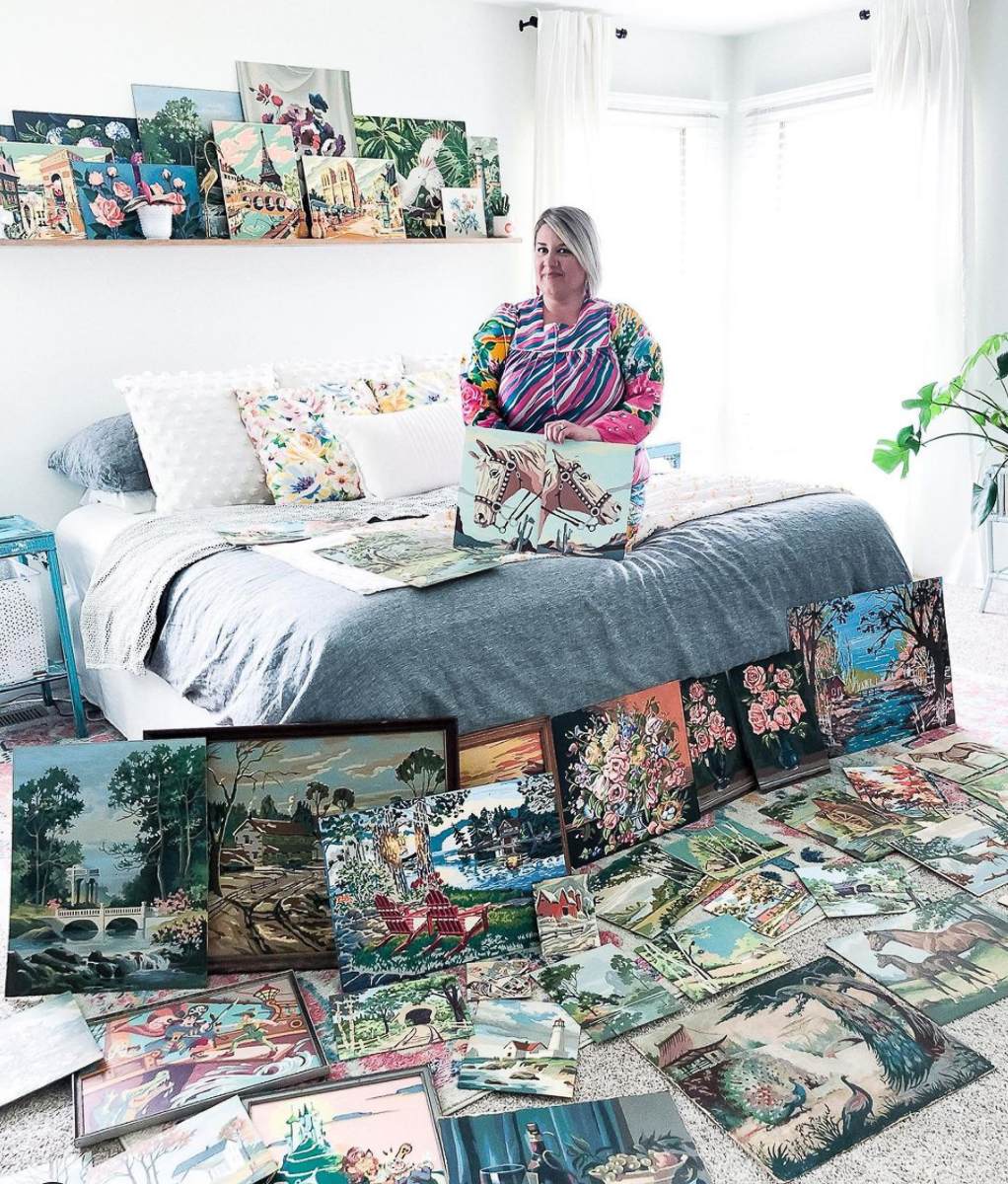 "This campy bathroom brings me so much joy," says my friend Mathew, "with the bright colors, fun patterns, PBN collection and fresh vibes!"
PBN Gallery Wall Hung with Clips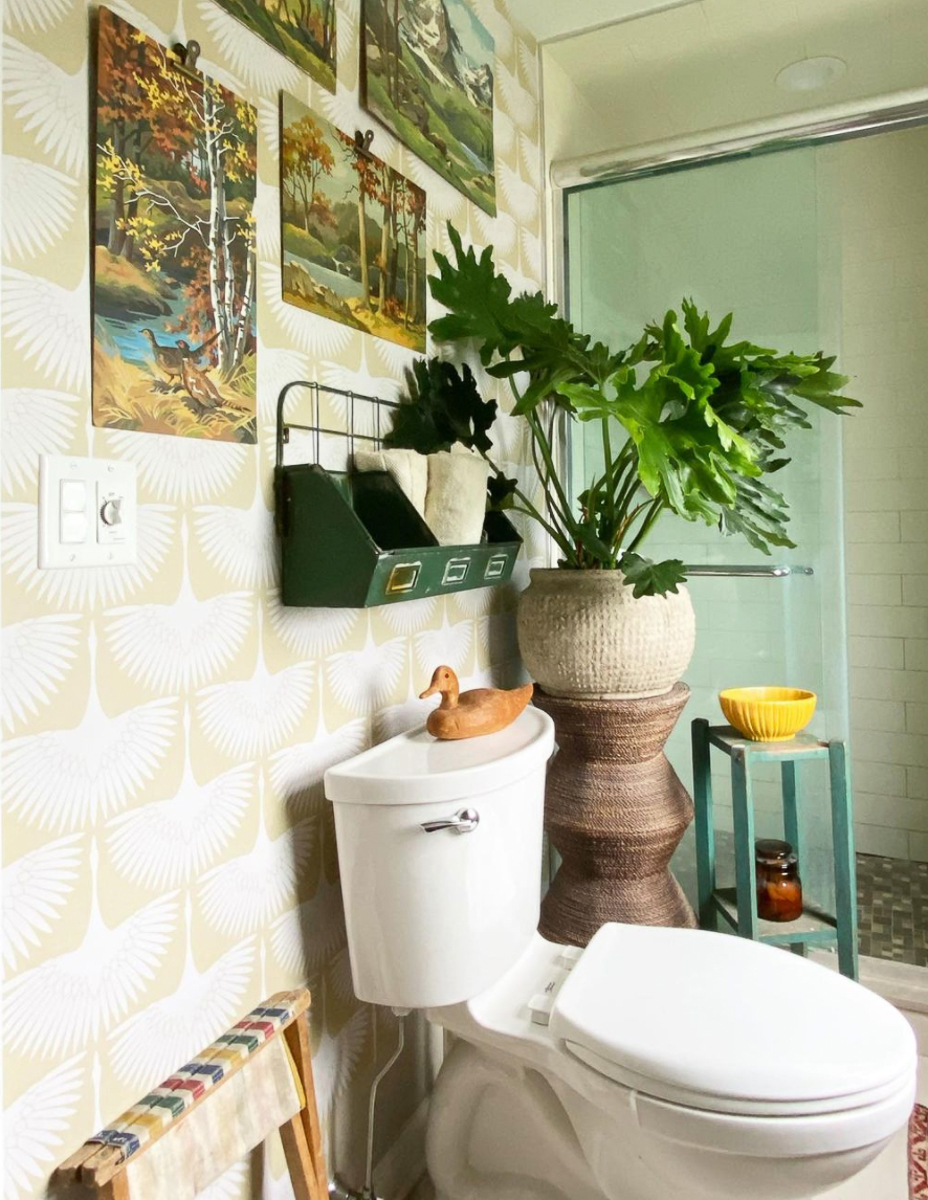 Notice the vintage clips used for hanging the PBNs!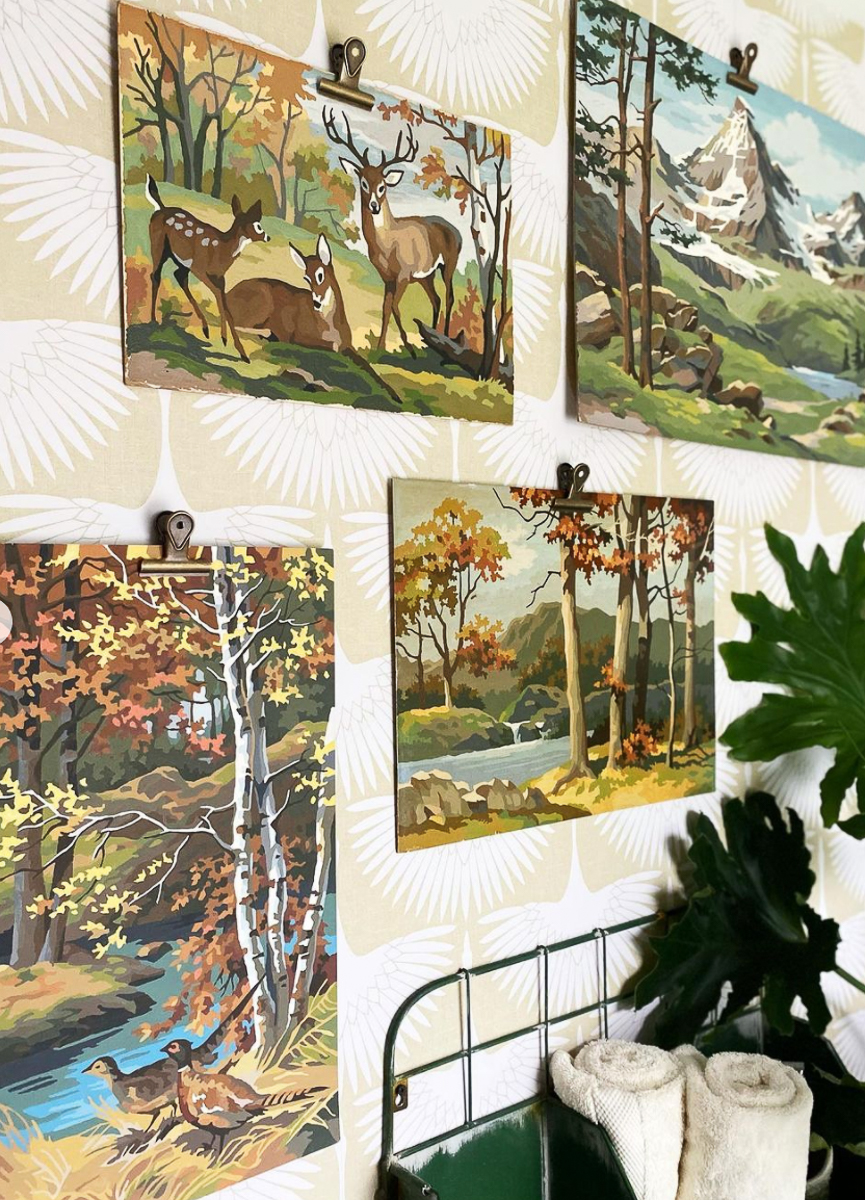 I especially love vintage paint by numbers gallery walls and using a single subject (like these tall ships) makes for a unified display like this one created by Adored House.
Ship Paint by Number Gallery Wall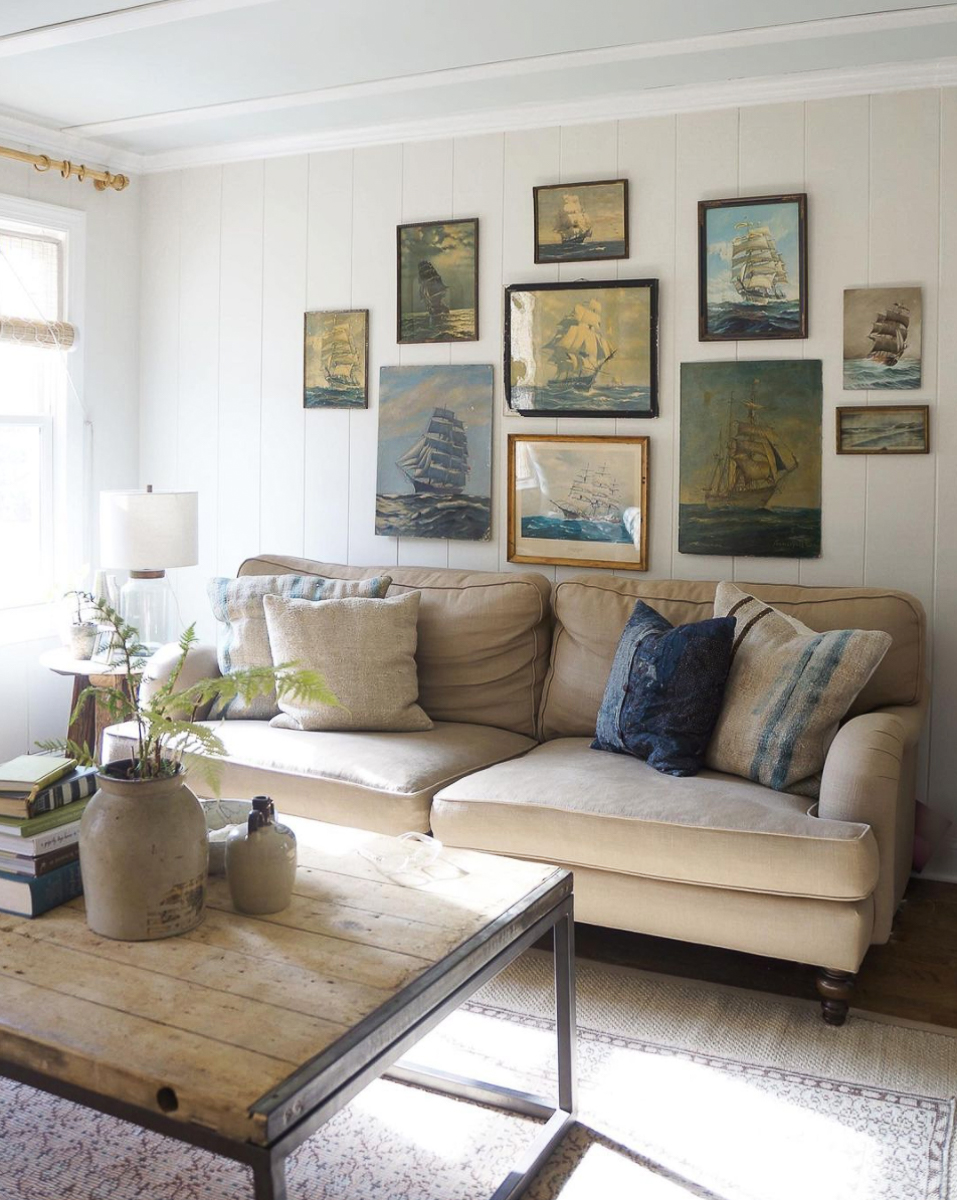 Interior designer Jen created this "fun and simple project that combines the kitschy antique paint by number and a simple side table. Investing a little sweat equity into refinishing the wood, polishing up the brass feet, adhering the painting to the drawer fronts, and finally adding new hardware gave this side table a whole new look. It's perfect for kids room or a lake house."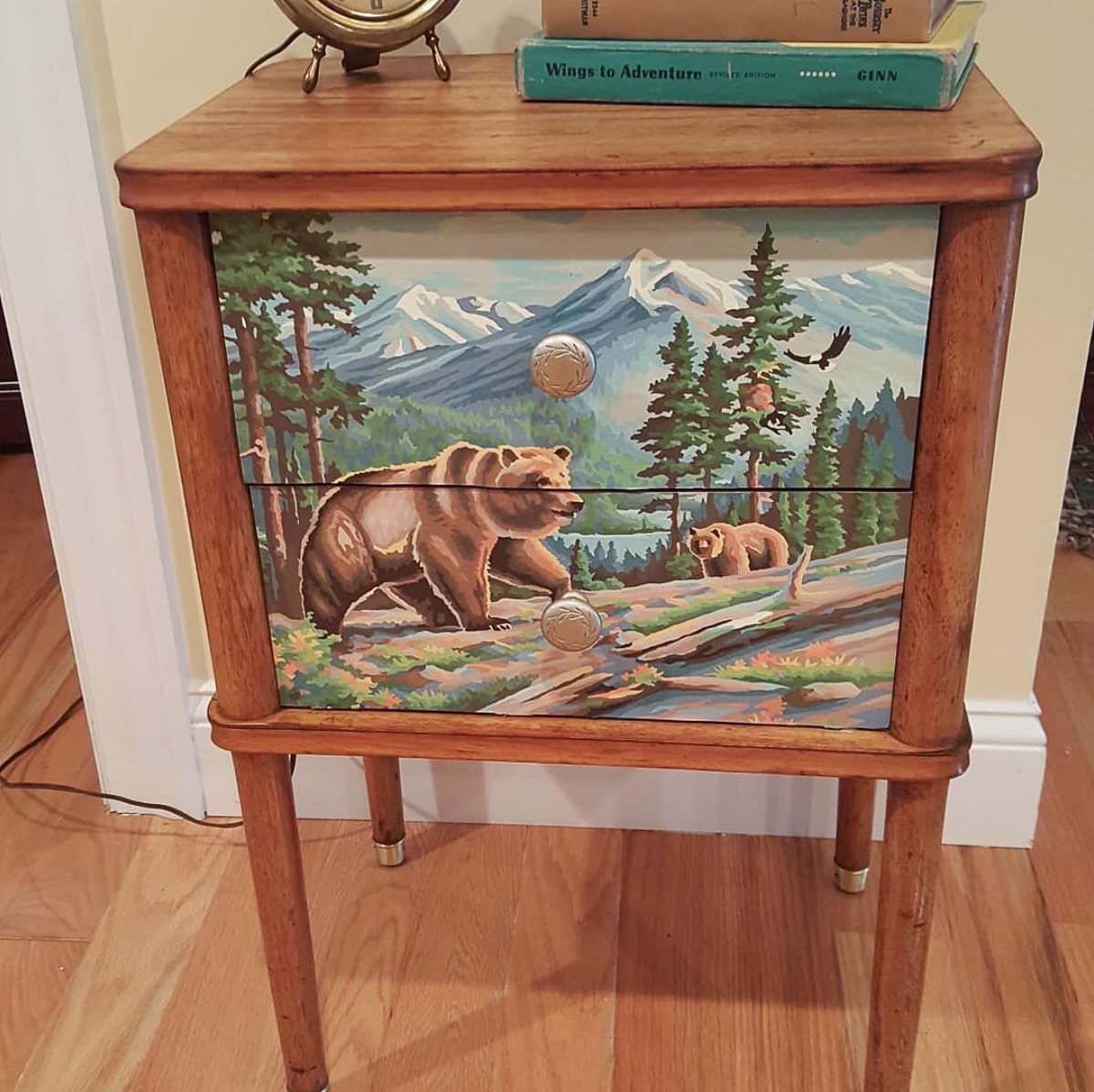 I love when people put their own spin on art!
Art Print turned DIY Paint by Number – don't miss Ashley's tips on how to do this!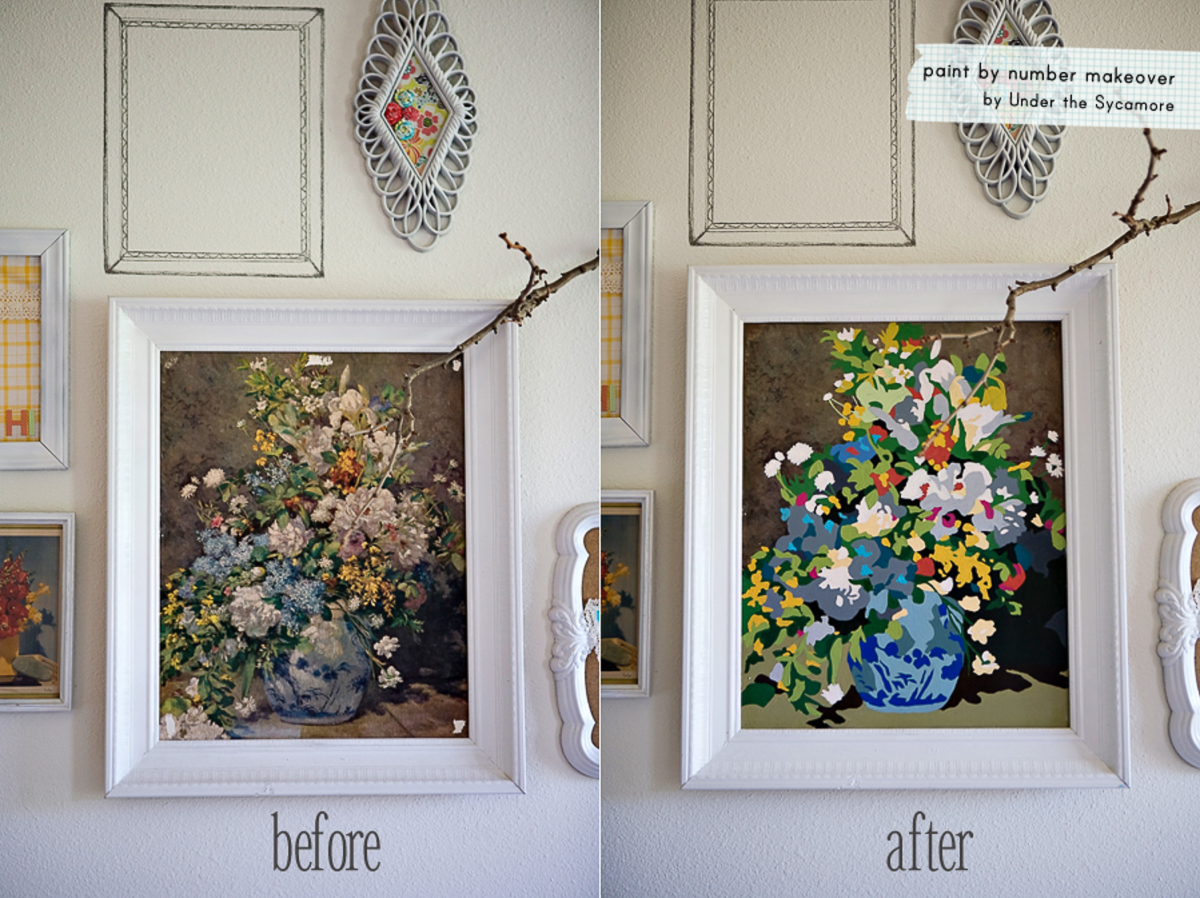 If you really want to make a statement, you can try your hand at creating a giant paint by number mural on your wall like this one!
The critics have spoken!
"I don't know what America is coming to when thousands of people, many of them adults, are willing to be regimented into brushing paint on a jig-saw miscellany of dictated shapes and all by rote. Can't you rescue some of these souls-or should I say 'morons'?" someone wrote to American Artist magazine."
On the other hand …
"I know I'm not much of an artist and never will be," another reader wrote to American Artist. "I've tried in vain repeatedly to draw or paint something recognizable… Why oh why didn't you or someone else tell me before this how much fun it is to use these wonderful 'paint by number' sets? I am on my fifth set and just can't leave them alone."
During their heyday, you could find paint by numbers on the wall of a home in California all the way to the west wing of Eisenhower's white house!
Can you guess the best selling PBN? It's this The Last Supper paint by number.
If you want to learn more about PBN, this book, Paint by Number: The How-To Craze that Swept the Nation is a great read.
This post contains affiliate links which means if you make a purchase, I may earn a small commission at no extra cost to you.
If you want to try your hand at paint by numbers, below are some of my favorite vintage style PBN kits (this Sasquatch PBN is riot)! Just click the pics below to see more.


P.S. Here's my other PBN – a matador and his bull – that I bought years ago at a rummage sale. It's a nod to my Spanish heritage 🙂