The centerpiece is a fun paper bag turkey that looks amazingly like the real bird!
He's stuffed with popcorn and will be "carved" when all the kids arrive to reveal the munchies inside (cut a slit in the top and the kids can dig right in).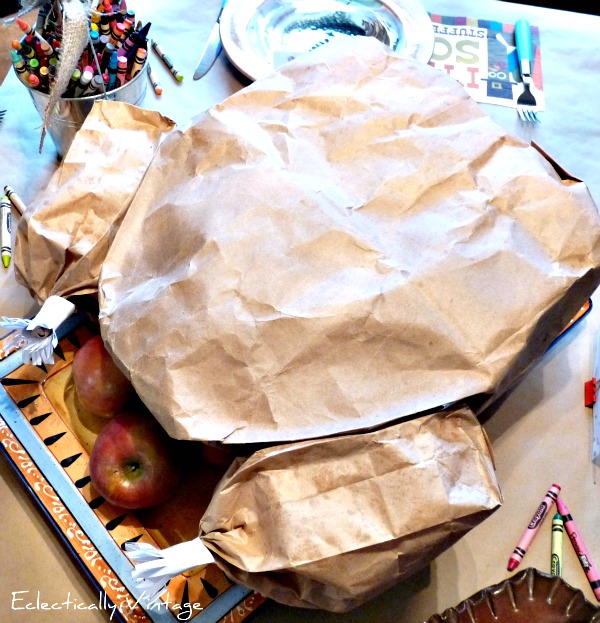 All you need is a brown paper grocery bag, two brown lunch bags, a piece of white paper, a hot glue gun (I used scotch tape and a glue stick), and a few bags of popcorn.  See the tutorial at 
here
.
It took the girls and I less than 10 minutes to create this little cutie.  Can't wait to "carve" this Tom up.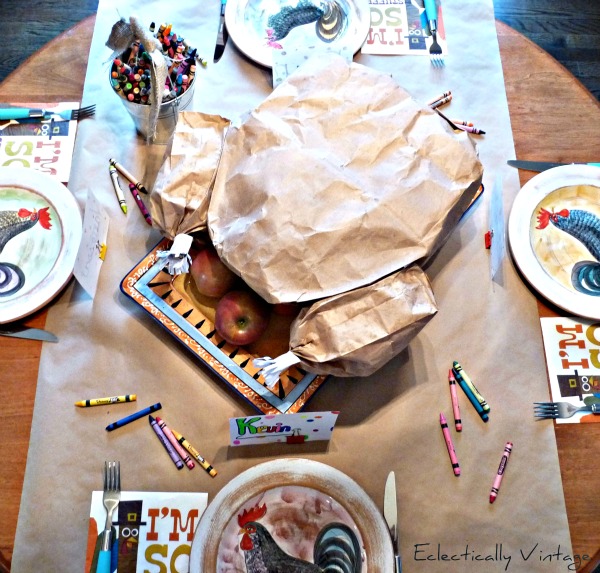 A little apple "stuffing"!
Rooster plates set on brown postal wrap, another dollar store find, will let the kids create some fun doodles while waiting for dinner.  The girls made these colorful name cards and popped them into binder clips so they stand upright.
A rustic bow made from a scrap of burlap adorns a galvanized bucket brimming with crayons.
Here's a funny little poem to welcome in the feast (author unknown).
This year on our Thanksgiving Day
My mother she had lots to say.
"We won't have Turkey, that's a fact,
the turkey is innocent so let's not act,
In a manner harsh or insincere
Instead let compassion guide our year".
But Uncle Joe was not amused,
In fact he was downright confused.
"A turkeyless Thanksgiving Day?"
Is all Uncle Joe could really say
"If this is the case I have no choice.
But this Thanksgiving I won't rejoice".